Looking for some of the most fun and enriching things to do in Istanbul with kids right now? Our first-hand guide is packed with a mix of top attractions and hidden gems geared to the whole family.
Istanbul, Turkey is a vibrant, one-of-a-kind melting pot of cultures and history and certainly one of the top cities we've visited in our travels. This dynamic destination offers endless opportunities for discovery and adventure, whether you're traveling as a family, adventuring solo, and everything in between.
Parents of two little ones, Lori and I tend to prioritize destination-focused experiences we can't do anywhere else. That means extra points for attractions and activities that delve into Istanbul's past and present in a fun and tangible way. Getting to interact with local residents and spend time outdoors are always a bonus.
So pack your fun bag and get ready to explore the best of Istanbul!
Our Favorite Things to Do in Istanbul with Kids in 2023
---
1. See Istanbul from a Double Decker Bus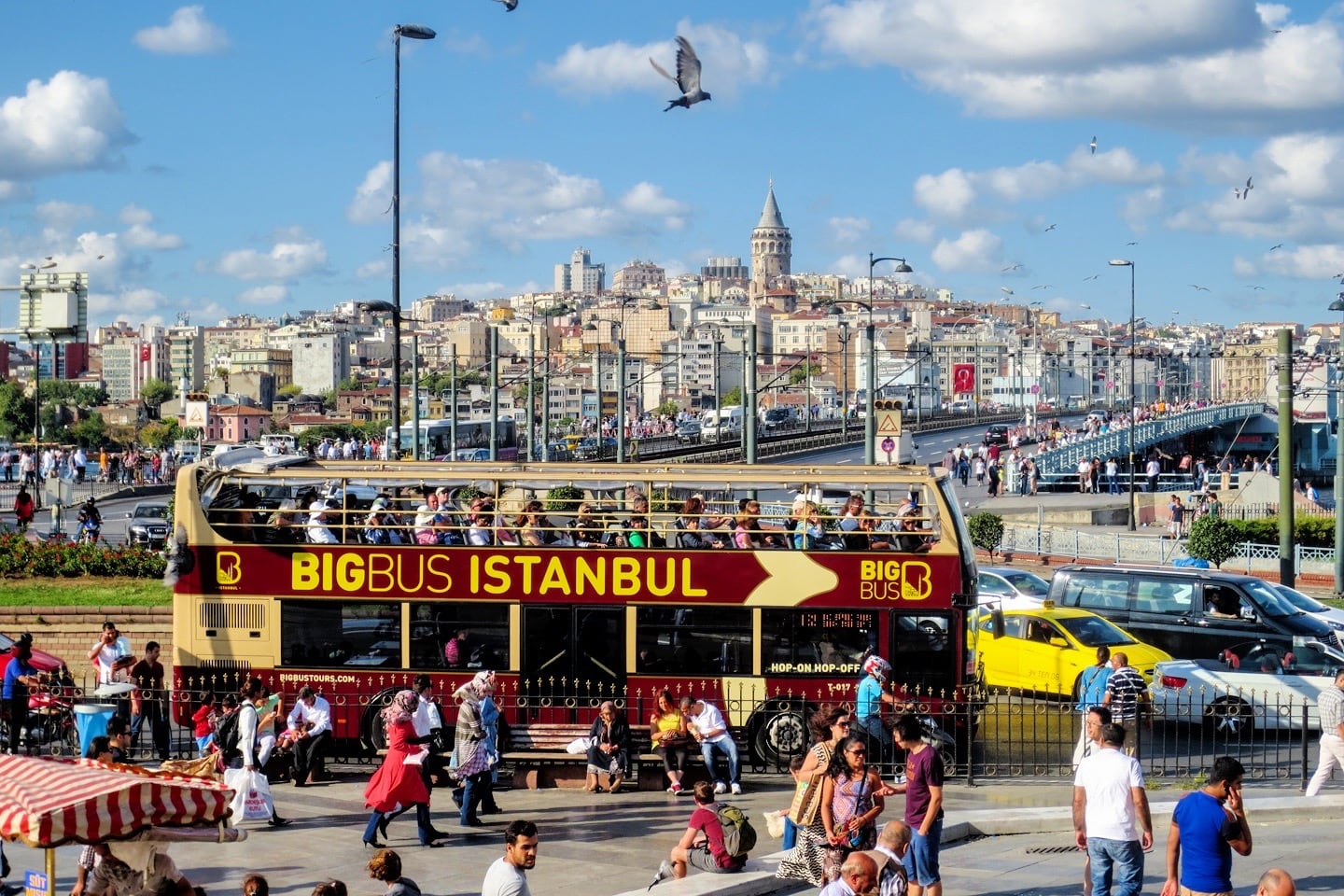 Istanbul is a huge place with lots to see, as you'll soon discover. And exploring Istanbul with little ones can make for some thoroughly exhausting days. We recommend getting a hop-on/hop-off bus ticket for a couple of days of your visit to help lighten the load.
Our kids prefer open-top buses with a knowledgeable guide to highlight the various points of interest along the way. But there are several options to suit your tastes in all times of the year.
If you're going to try to visit even half of the top things to do in Istanbul with kids in this guide, this is by far one of the best ways to get the whole crew around the city.
2. Istanbul's Mysterious Basilica Cistern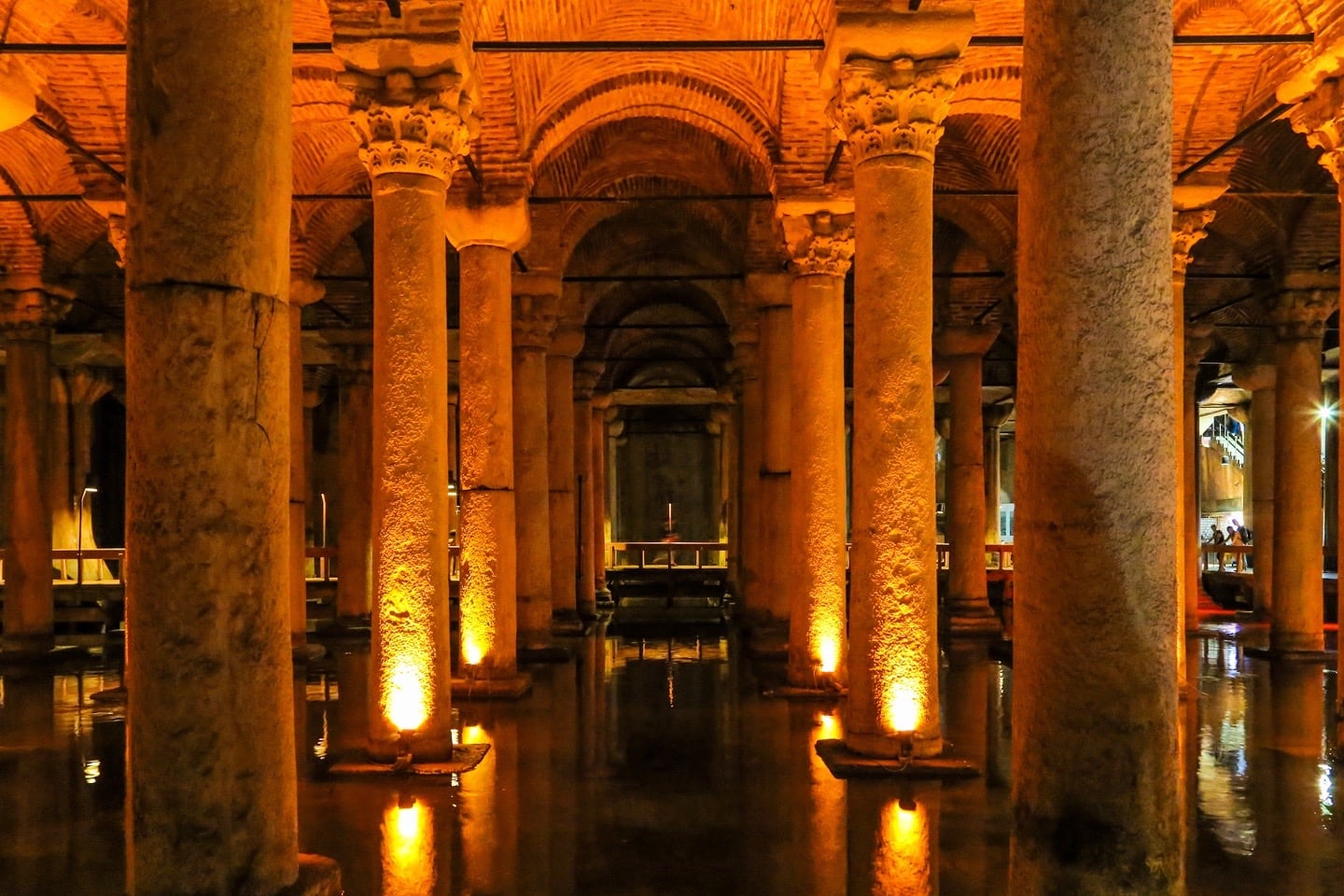 One of our favorite places in Istanbul to explore—and one of the biggest surprises of our visit—was the Basilica Cistern (or Yerebatan Sarayı, meaning "sunken palace" in Turkish), which is the largest of hundreds of ancient cisterns beneath the city.
This particular cistern was originally the crypt of the third century Stoa Basilica and was later converted into a cistern by Emperor Justinian I, with the help of 7,000 slaves.
The cistern provided a filtered water source for the city's elite up through the Ottoman conquest and into the 20th century.
All that history aside, the Basilica Cistern is one crazy place to explore, complete with giant upside-down Medusa head, resident koi fish, and much more, making it one of our favorite things to do in Istanbul with kids.
Recommended Tours
We recommend booking a top-rated Basilica Cistern guided tour through Viator. That way, you can skip the lines (they can be brutal), and cancel up to 24 hours in advance on most tours.
3. Travel Back in Time on the Heritage Tramline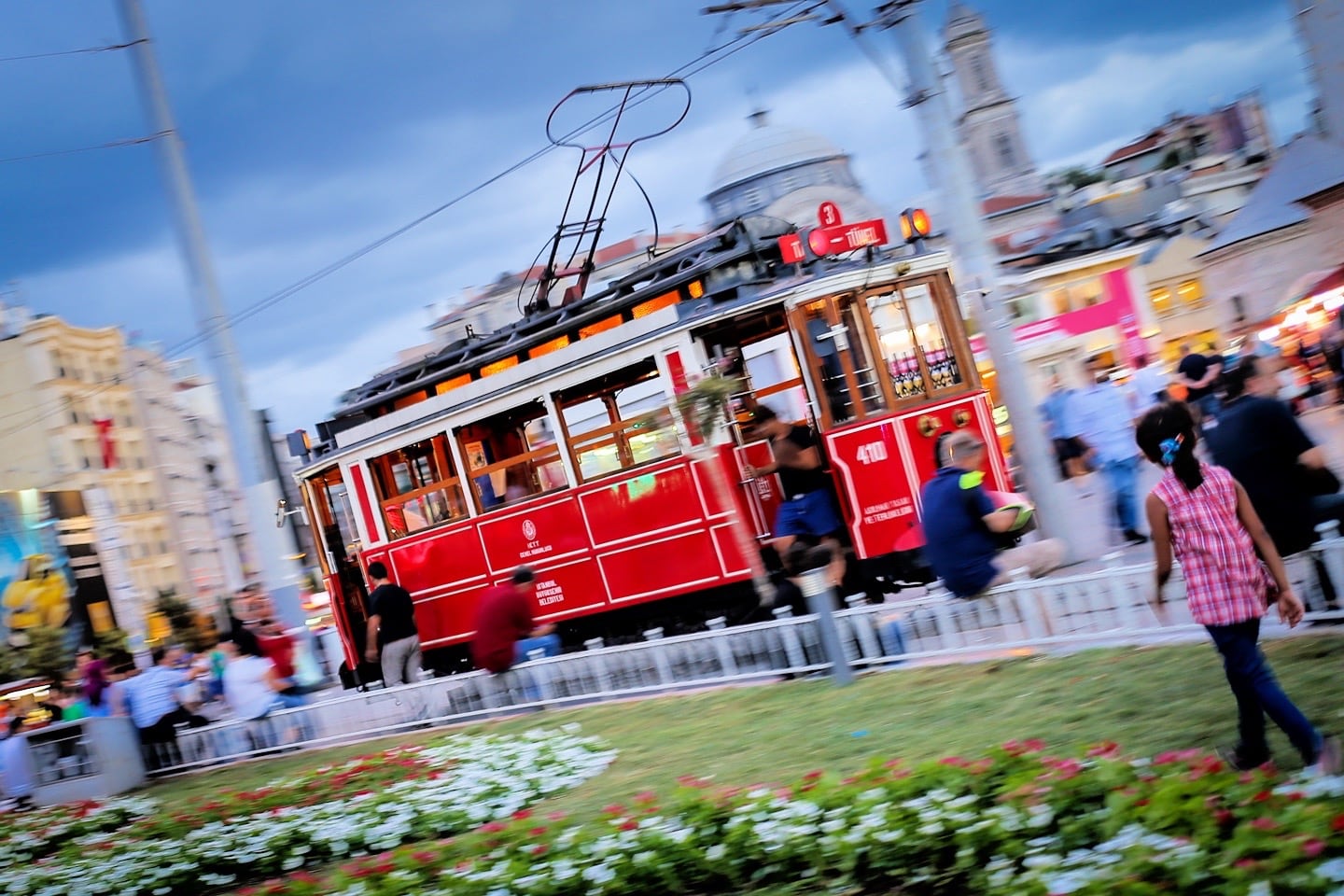 Istanbul's growing modern public transport network is another a great way to get around and see Istanbul. A lot of visitors to Istanbul don't know that there are also two heritage tram lines using vintage rolling stock, which is bound to excite train enthusiasts of any age.
Taksim-Tunel Nostalgia Tramway was the first heritage tram line to re-open in 1990. The line operates pre-1966 trams on the European side along Istiklal Caddesi between Taksim and Tunel.
A second heritage tramway, known as the T3 or Kadikoy-Moda Nostalgia Tramway, opened on the Asian side of the city in 2003 and features vintage trams imported from Germany.
In addition to getting to ride a slice of history, riding the heritage tram is also a great way for kids to experience a slice of everyday life in Istanbul.
4. Walk Istanbul's Ancient Land Walls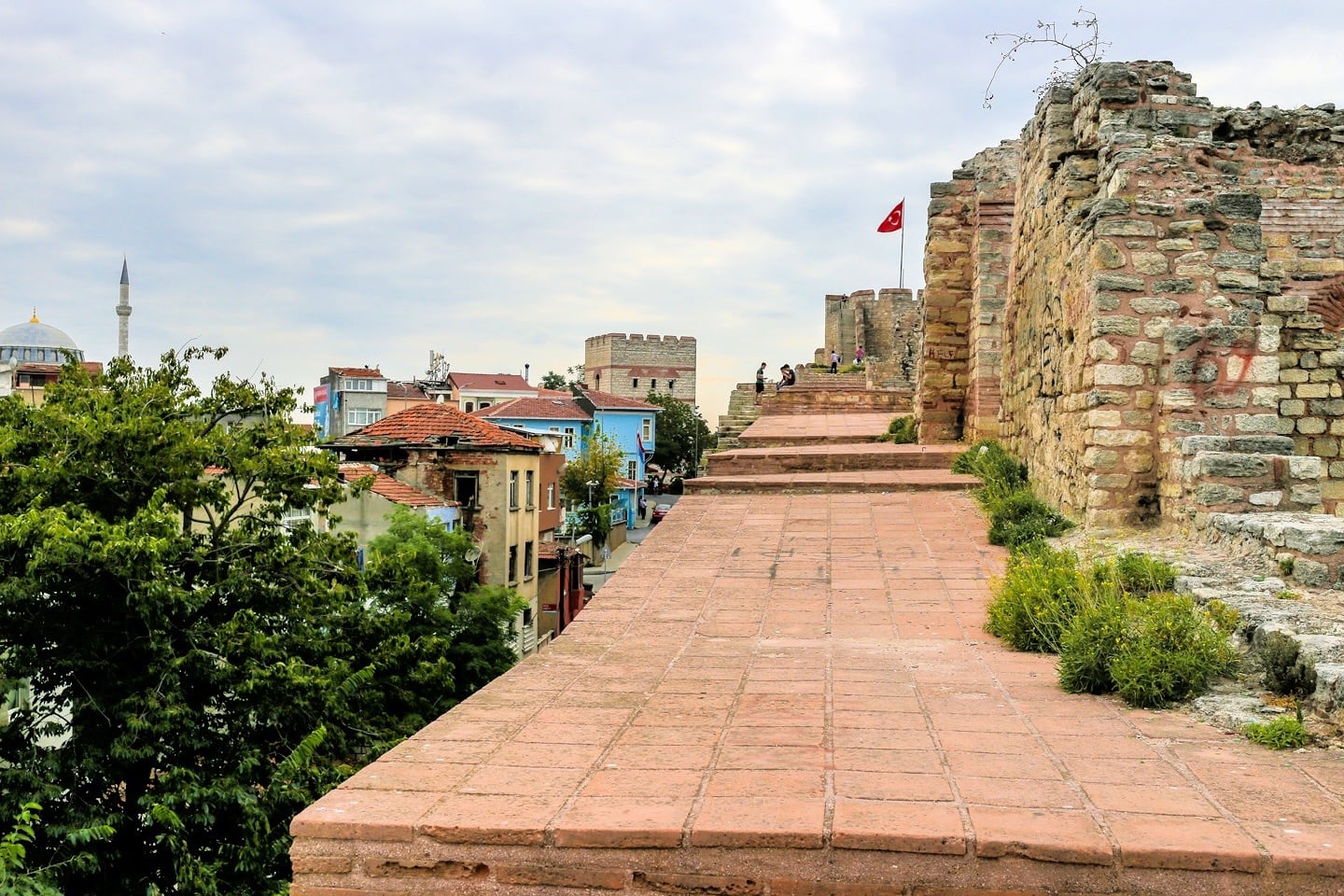 Though not as well known as many of Istanbul's top attractions, exploring the ancient land walls of Istanbul is another one of our favorite activities in the city, offering a totally different angle for kids to experience Istanbul on their visit.
If you're feeling adventurous (or just need the kids to burn off some steam), you could easily make a half-day of tracing the length of the ramparts of ancient Constantinople.
In years past, you were able to walk along the top of the walls via a number of well-marked stairways. Here in late 2023, it seems these access points are closed for renovations.
If they do reopen the stairs to the top, you'll want to be very cautious with younger kids as there are no guardrails in many areas (see photo above).
Recommended Reading
Learn more in our detailed guide to walking the Istanbul Land Walls, complete with a helpful interactive map.
5. Tour the Fairytale Blue Mosque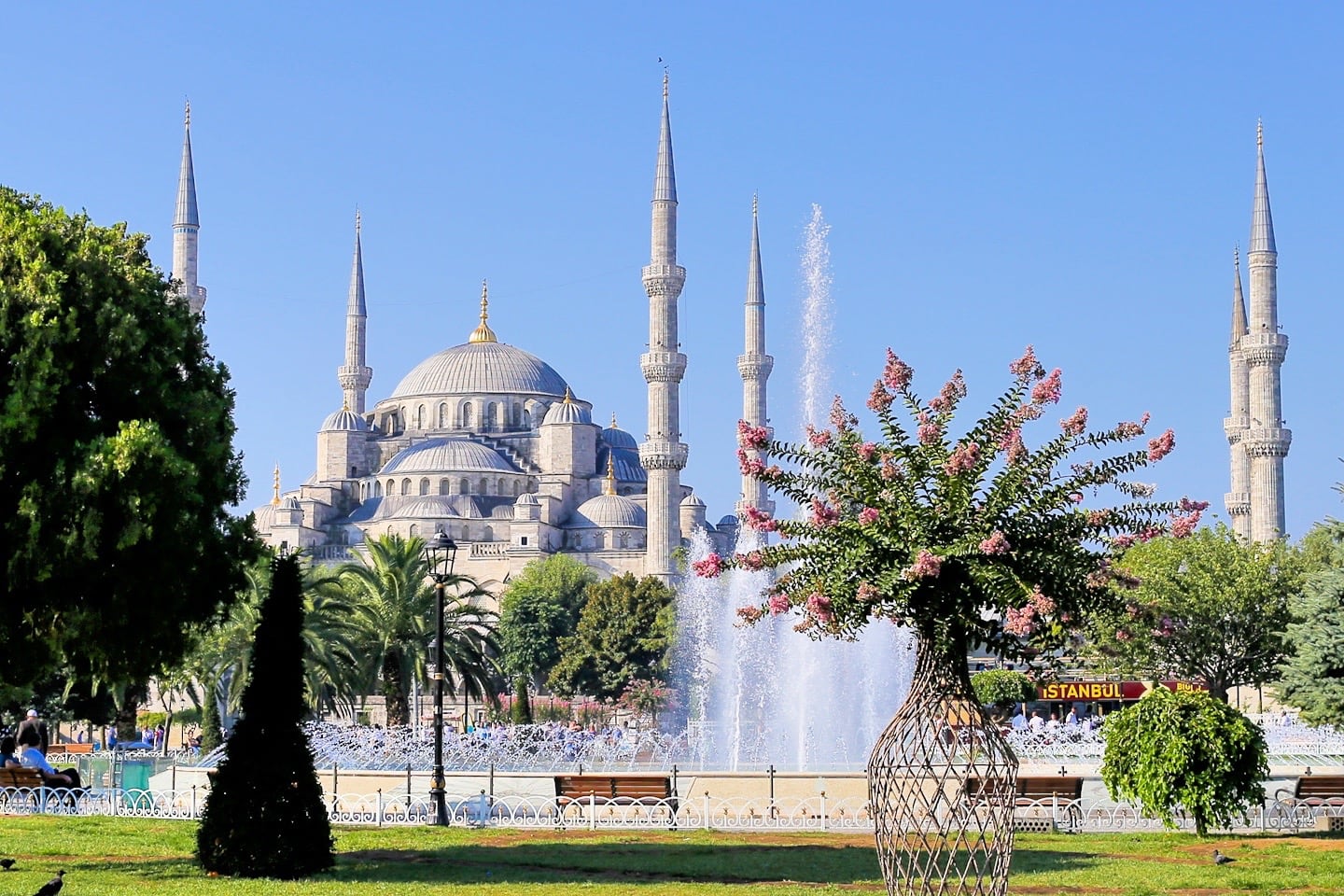 In an effort to assert Ottoman influence, Sultan Ahmed commissioned the construction of this incredibly ornate mosque on the site of the former palace in the early 17th century. The Blue Mosque of Sultanahmet is by all accounts an awe-inspiring and masterful work.
Keep in mind that Sultanahmet is an active place of worship, so you'll want to be sure to dress appropriately and pay attention to local customs and posted notices.
6. Cruise the Bosphorus to an Ancient Fortress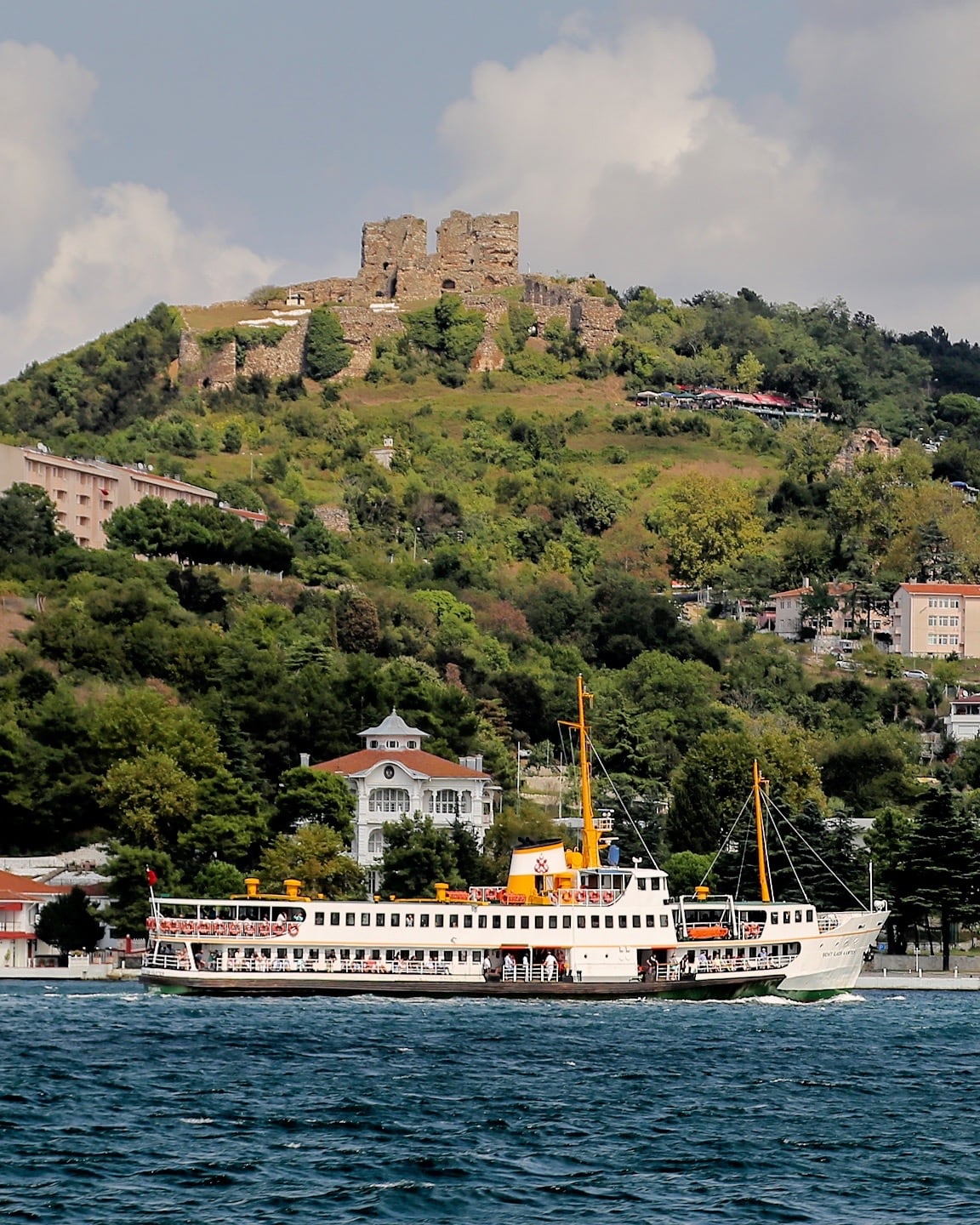 There are a ton of worthwhile things to do in Istanbul with kids, but taking a cruise on the Bosphorus is one of our favorites.
So much, in fact, that we've put together a guide to the best Bosphorus cruise tours for every travel style, including a first-hand guide to touring the Bosphorus on a budget.
Taking a boat up the Bosphorus is a fun way to give your kids an interactive overview of Istanbul geography and history while having an unforgettable experience.
Perhaps best of all, if you opt for the Long Tour cruise, you get a few hours in the middle to stretch your legs, do some short hikes to an ancient fortress, and have a relaxing lunch at a restaurant with an amazing view.
7. Adventures for the Senses at the Spice Market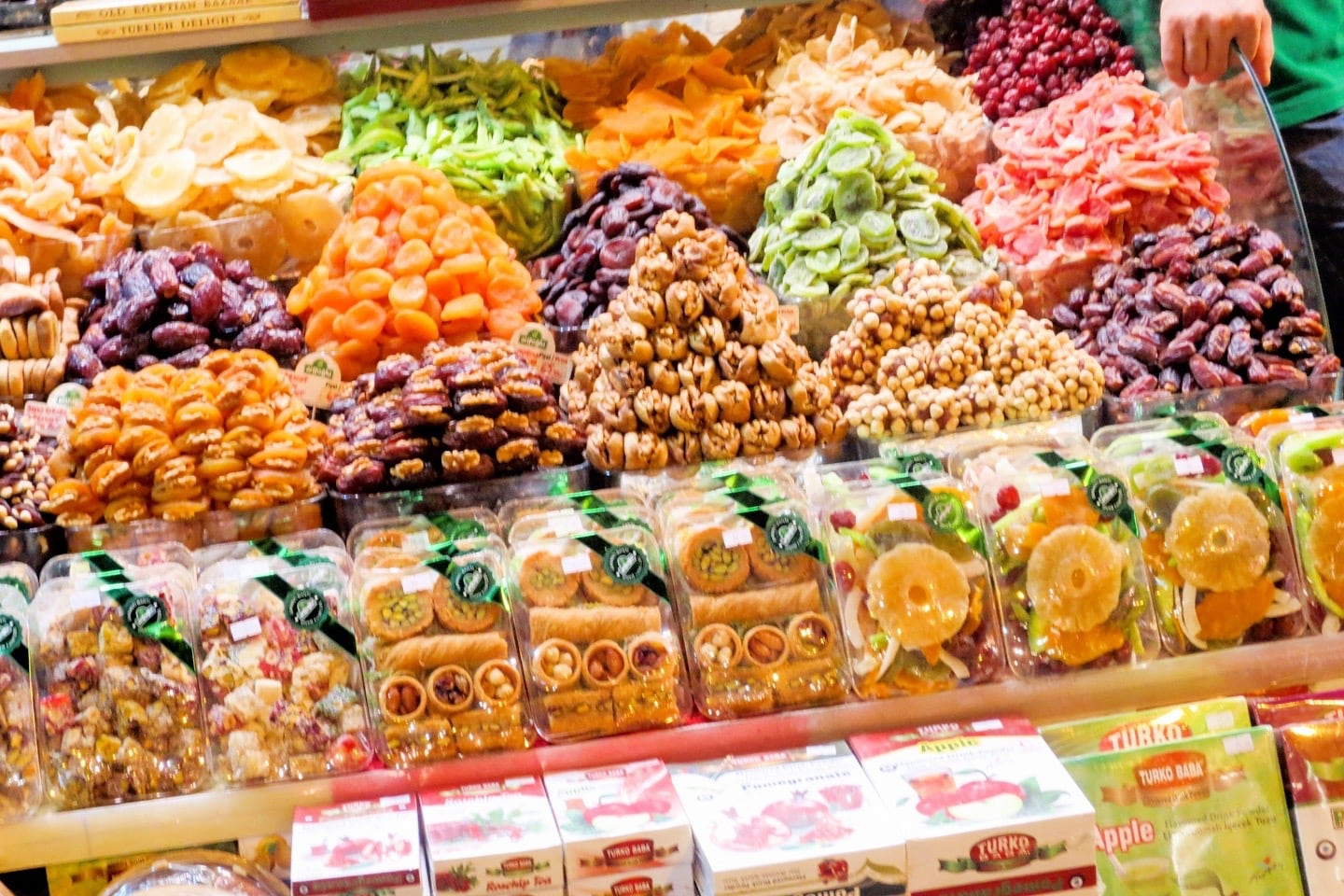 It wouldn't be a trip to Istanbul without spices and sweets!
We visited both the Spice Market and the Grand Bazaar (the ancient precursor to the modern shopping mall and still the largest covered shopping structure in the world). Between the two, we actually preferred the Spice Market, for its colors, smells, textures, and more traditional feel.
If your kids are keen on a treat (what kid wouldn't be!), this is also a great place to try all sorts of goodies from around the region. Just be warned, you may want to plan a fairly active afternoon to burn off all that "energy."
For example…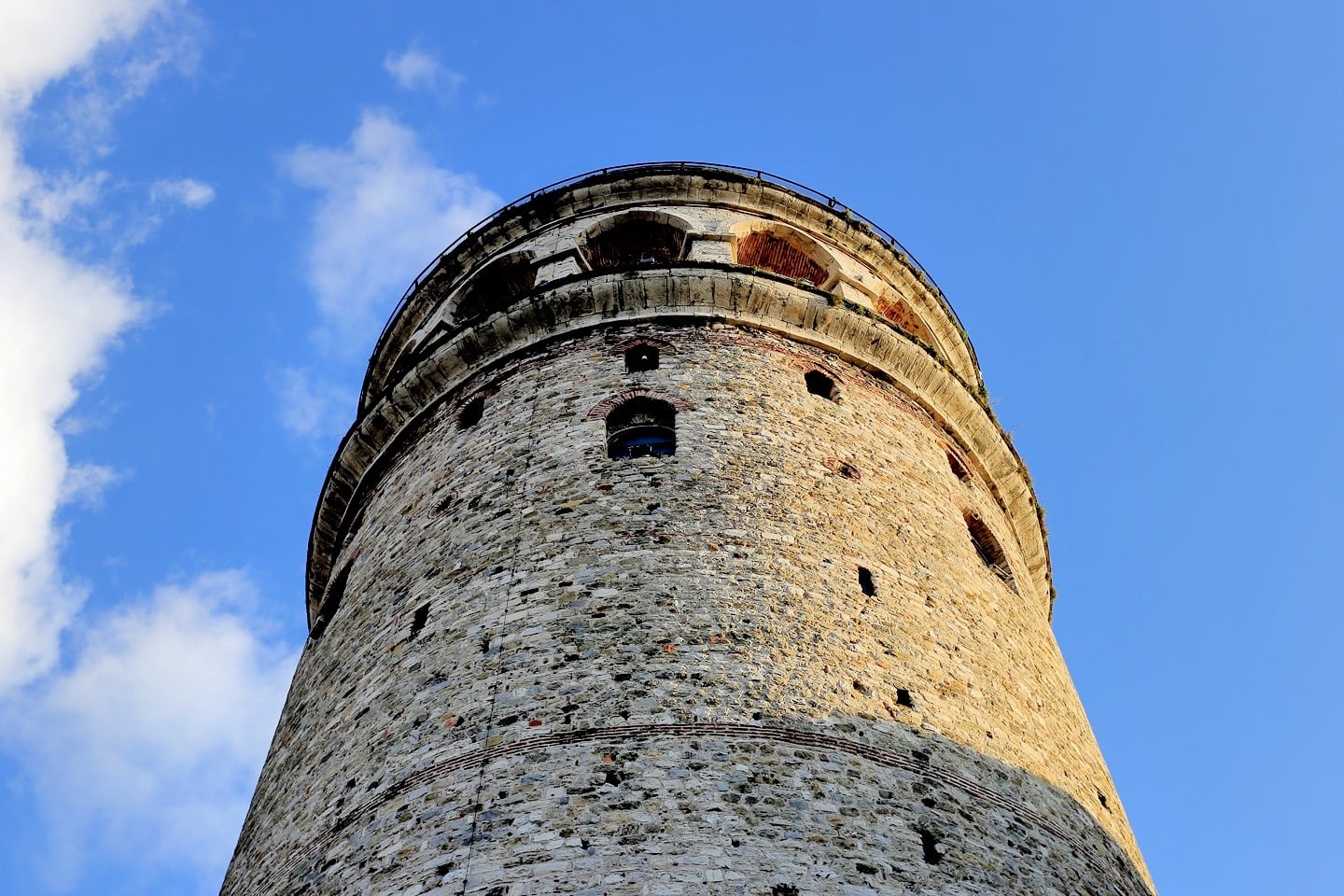 If you've been looking for nine stories of medieval stone and mortar offering incredible views, look no further! Galata Tower is all that and more.
Dating back to the Crusades, the tower was built as a symbol of Christian influence in the region but later was converted into a watchtower for spotting fires.
Today, Istanbul's dense neighborhoods and sprawling city limits make it a bit more challenging for your kids to spot potential fires, but the commanding view of this rapidly changing city might just make up for it.
🔥 HOT TIP 🔥
If you don't plan to visit early, on a weekday, and/or during low season, be prepared for a long wait! Galata Tower is one of the most popular things to do in Istanbul with kids (and everyone else, for that matter)—particularly just before sunset!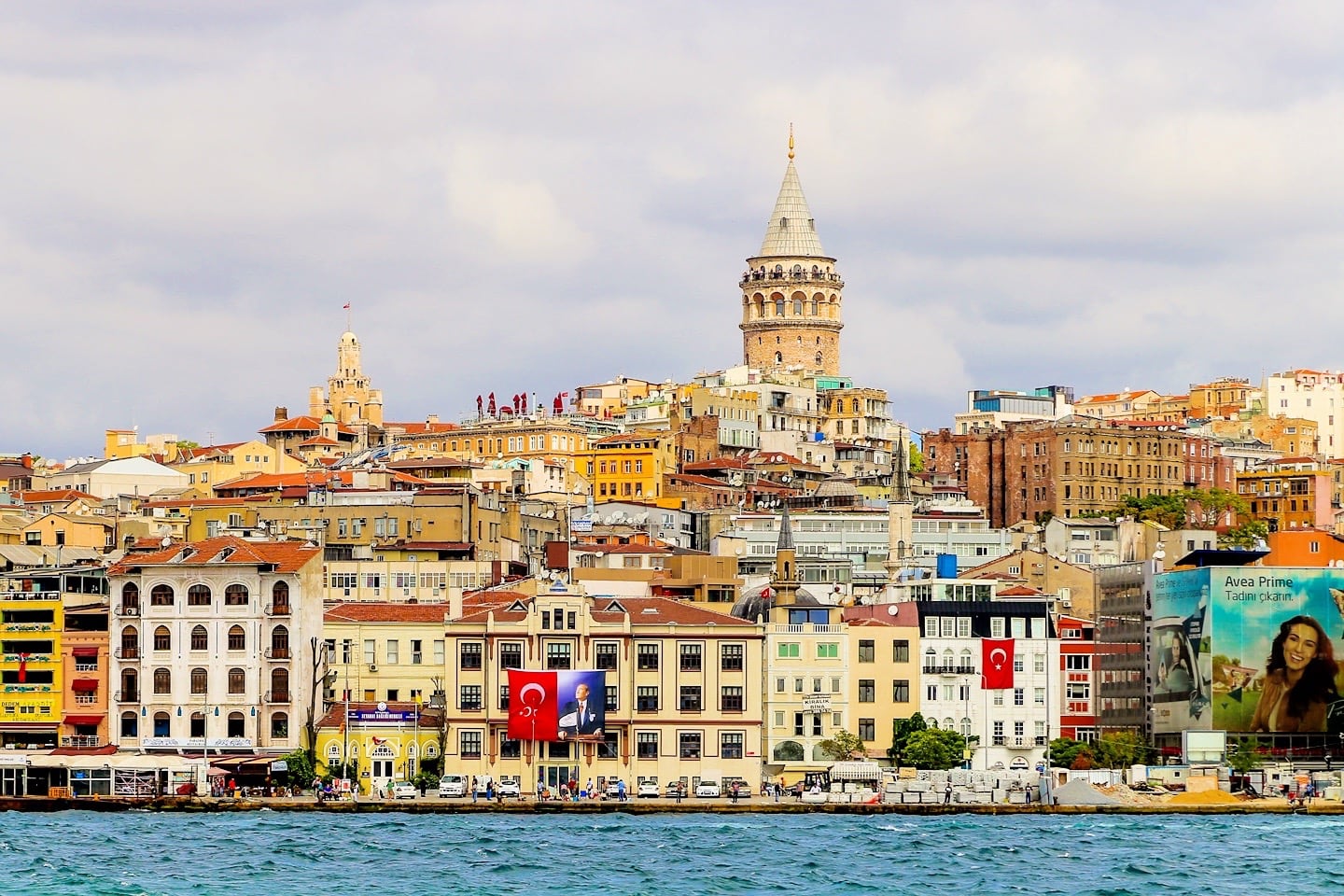 9. See the Famous Whirling Dervishes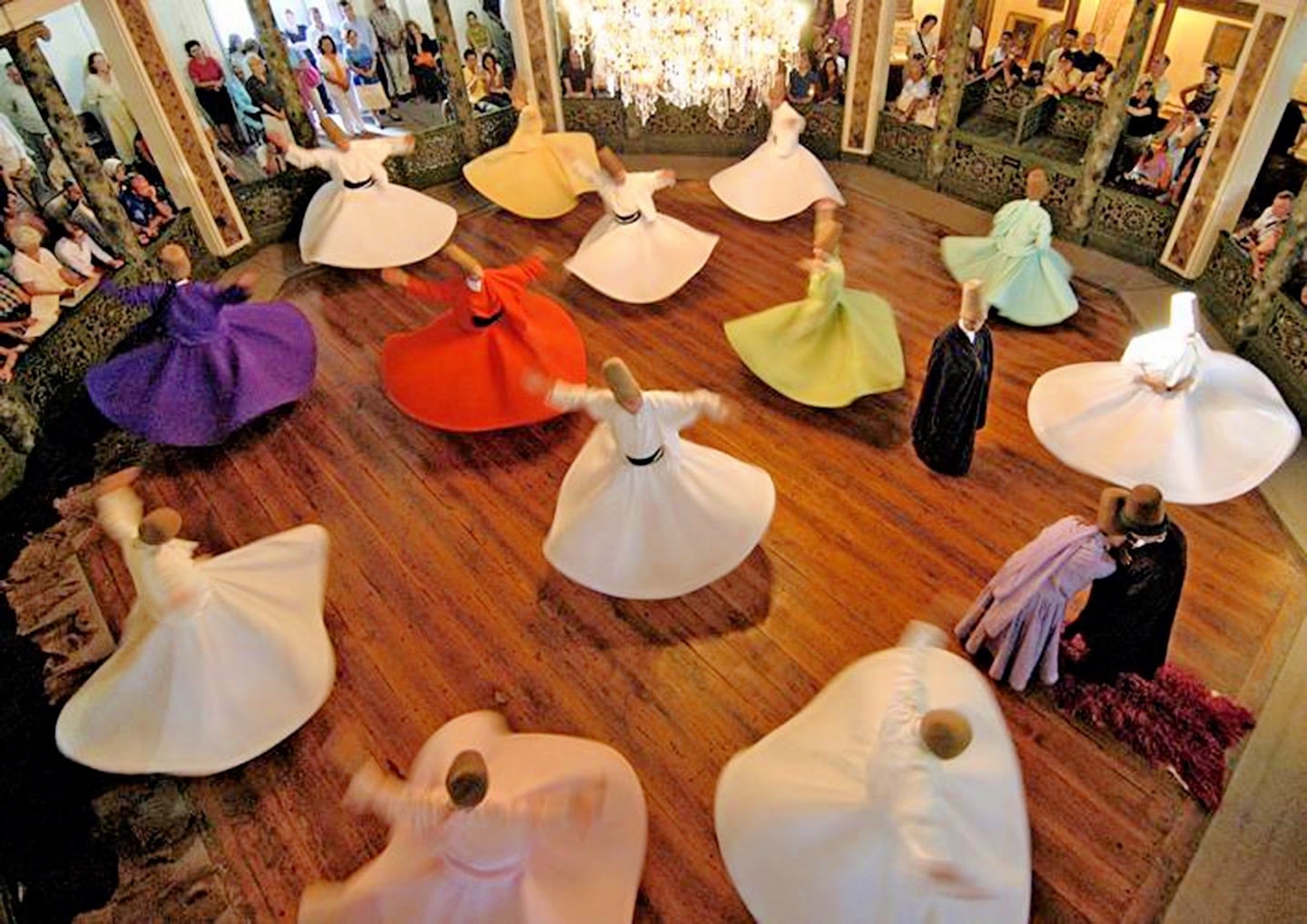 For an evening of traditional music and dance for the whole family, don't miss seeing a Whirling Dervishes show! We recommend checking out this top-rated one-hour performance.
The Whirling Dervishes of Istanbul's unique meditative art form are sure to entrance and enthrall even the tiniest tikes, making this a must-do with kids in Istanbul.
10. Visit a Coffee Shop (with Secret Dungeon!)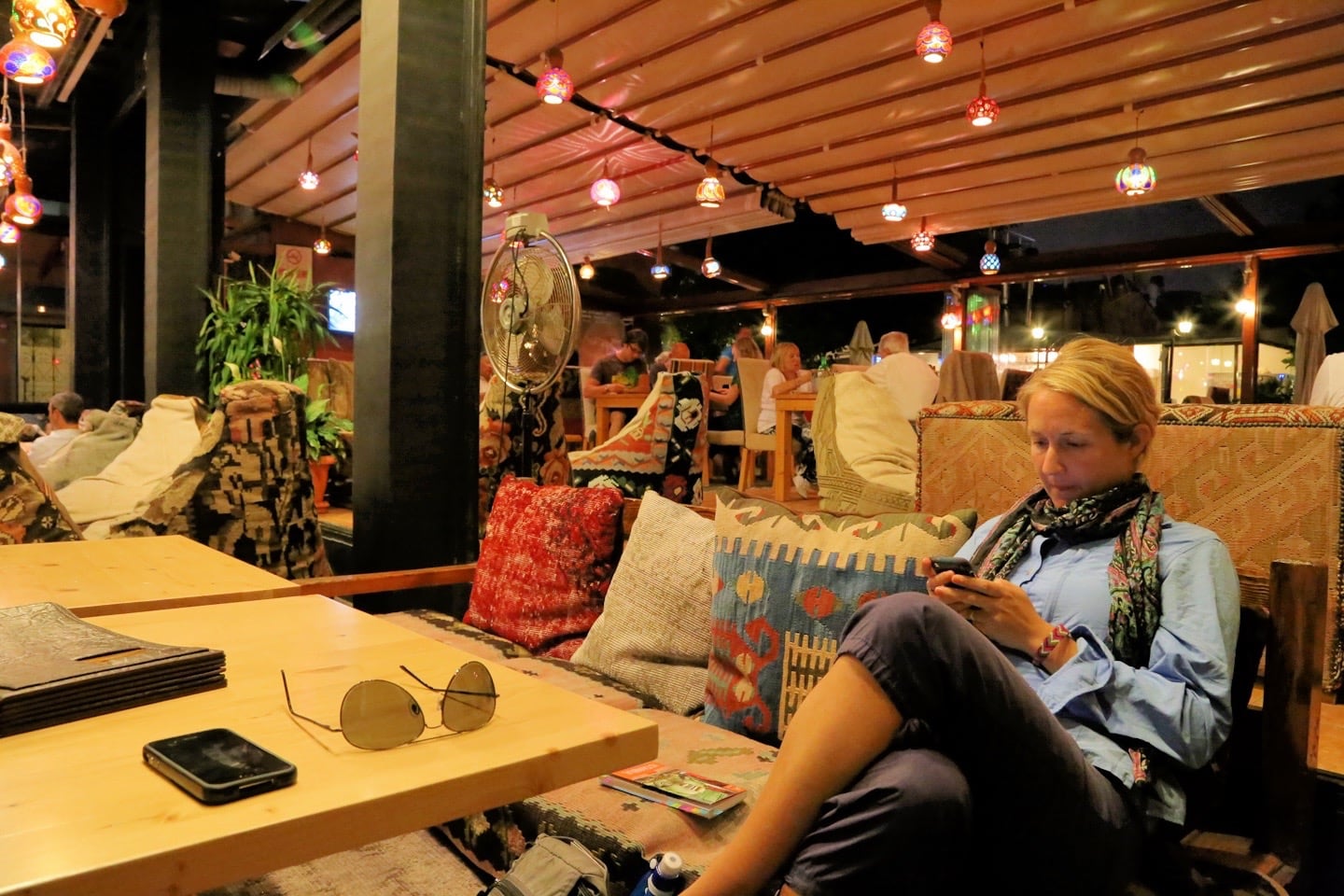 If you like your coffee shops with a side of adventure like we do (who doesn't!?), you'll want to check out Palatium Cafe. You'll love it for their wide range of coffee and pastry offerings, and the kids will love it for…well…the SECRET DUNGEON!
Head in the direction of the loo and look for the old staircase heading down into the lower recesses of this deceptively modern building. There, you'll find an active archeological site with ruins dating back a millennium (or two?) largely open for exploration.
So, you like your coffee shops retro, do you? Well, this is about as retro as it gets!
Find Palatium Cafe on the map.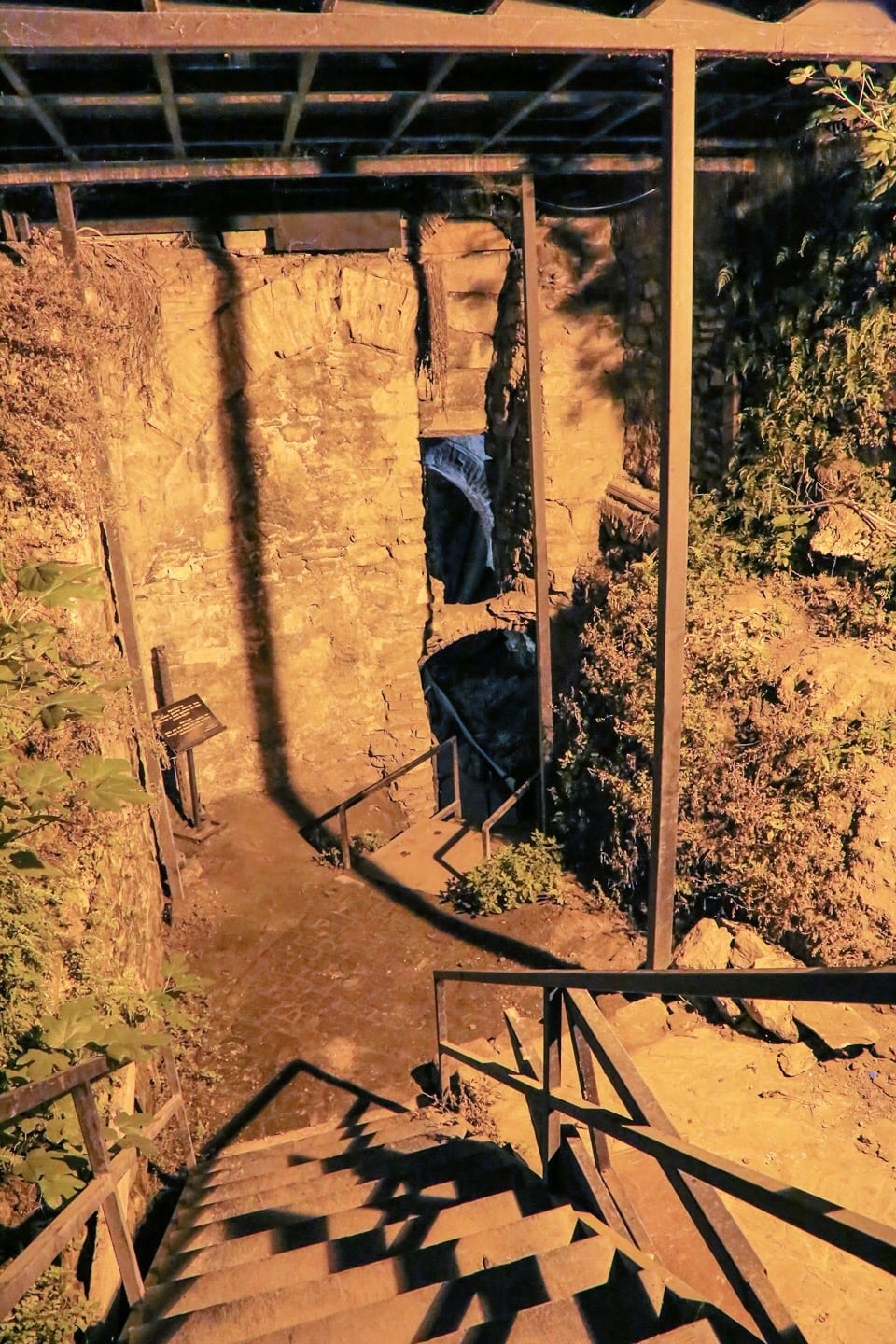 11. Delight the Kids with Turkish Desserts!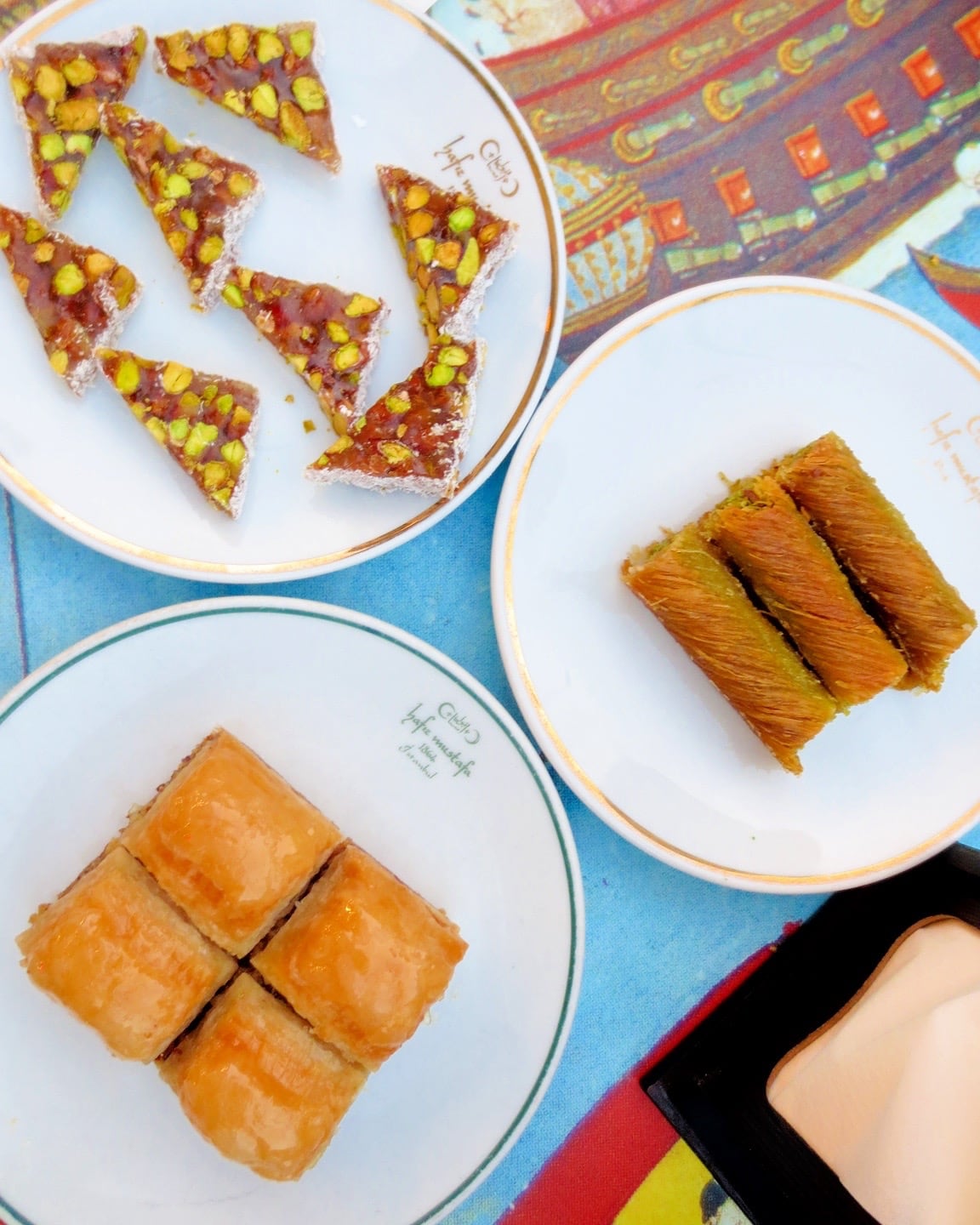 You can't visit Turkey without sampling any number of variations on the region's amazing sweets. It's not just Turkish Delight in Istanbul!
And there may be no better place to sample Turkish desserts than the venerable Hafiz Mustafa, due to their long-running history, selection, and numerous locations throughout the city.
12. Live Like a Sultan for an Hour at Topkapi Palace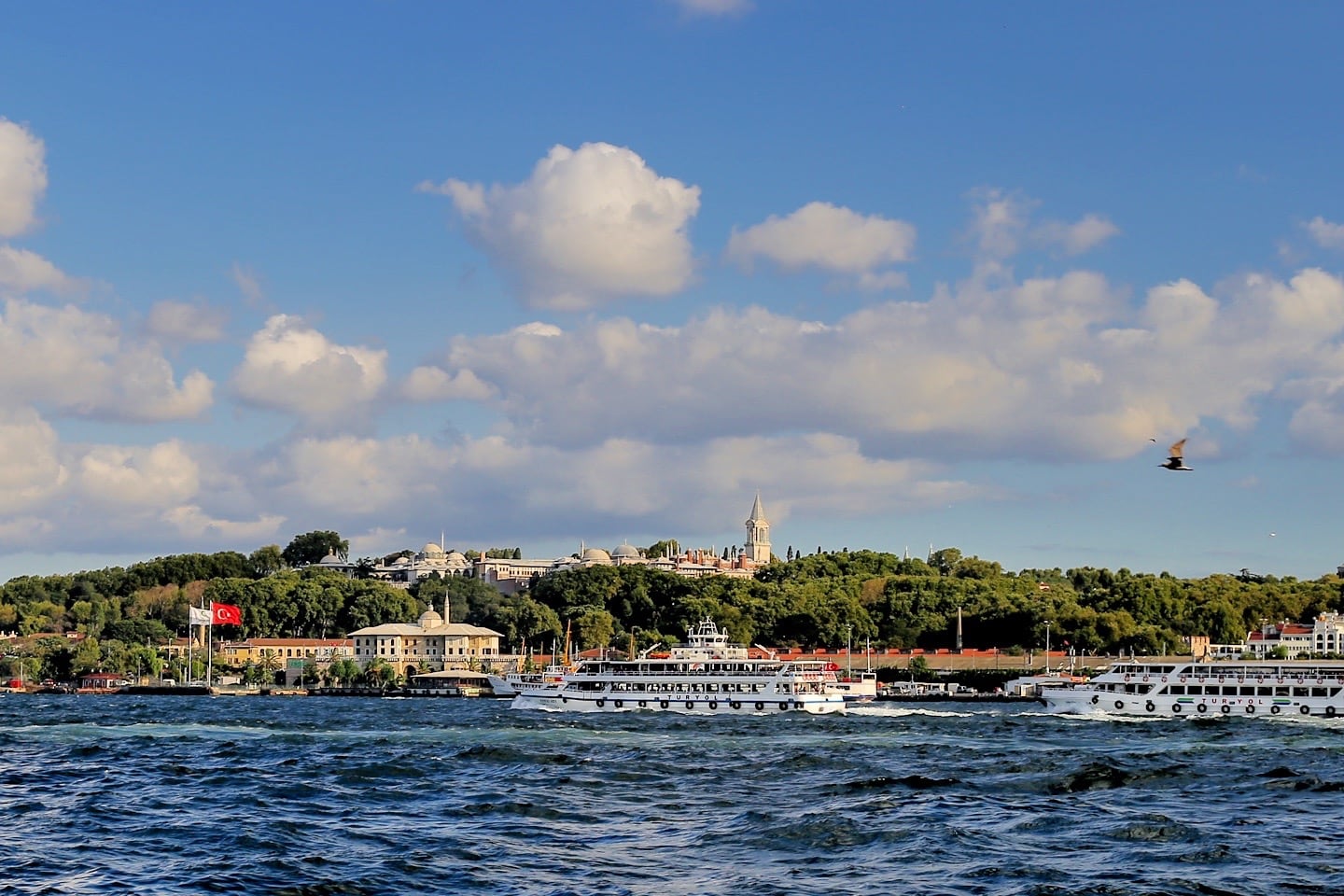 Want to see how the sultans of days gone by lived? Check out their jaw-dropping digs at Topkapi Palace Museum!
Older kids will marvel at the crown jewels and ornate accouterments of the former Sultan and his harem. Younger children are sure to love the amazing Gulhane Park [map] adjacent to the palace.
If you're traveling with youngsters, we recommend booking a guided tour ahead of time to skip the crazy lines.
Recommended Tour
For a first-rate experience, this top-rated 3-hour skip-the-line guided tour is an excellent bet.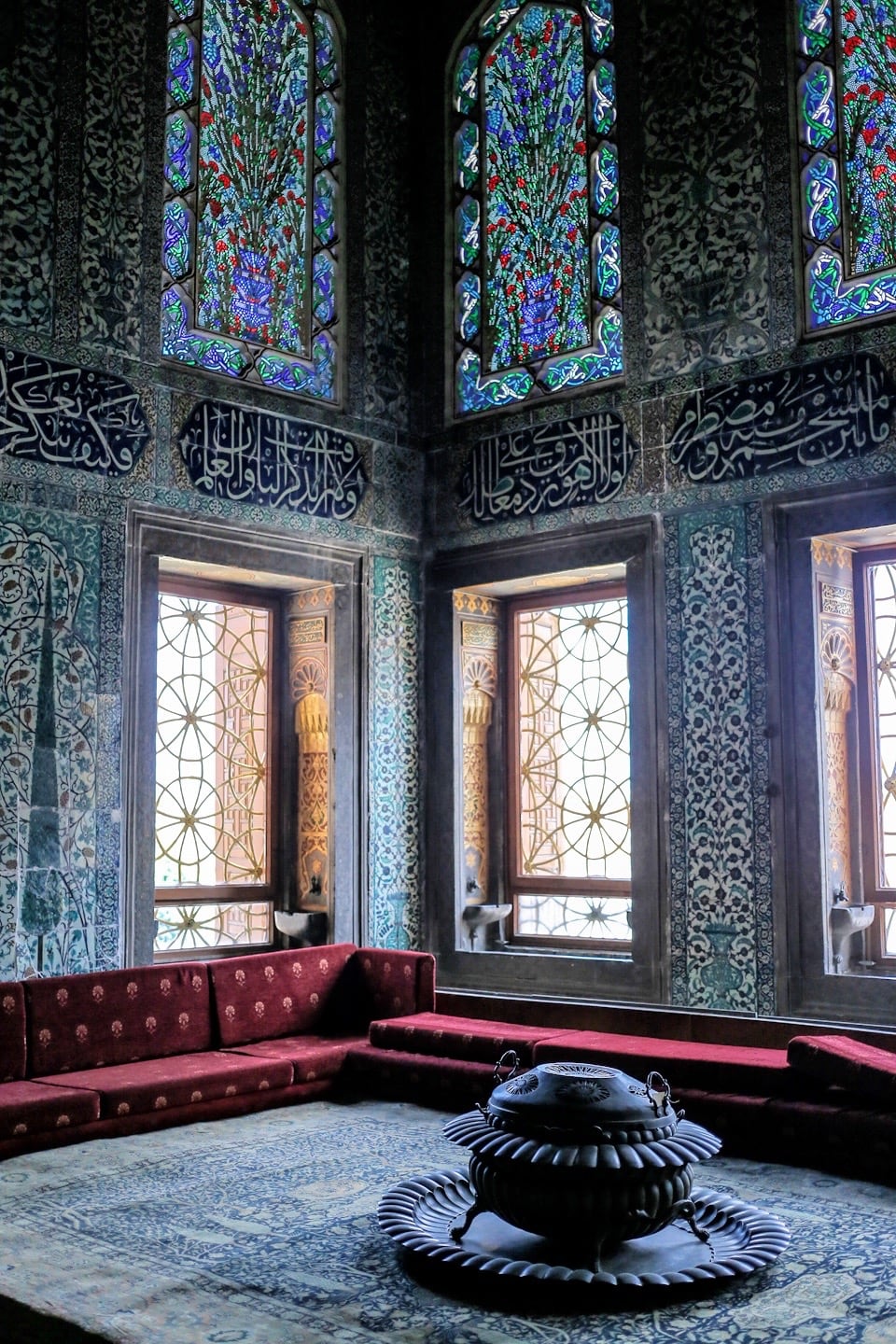 13. Ride a Ferry from Europe to Asia (and the Underground Train Back)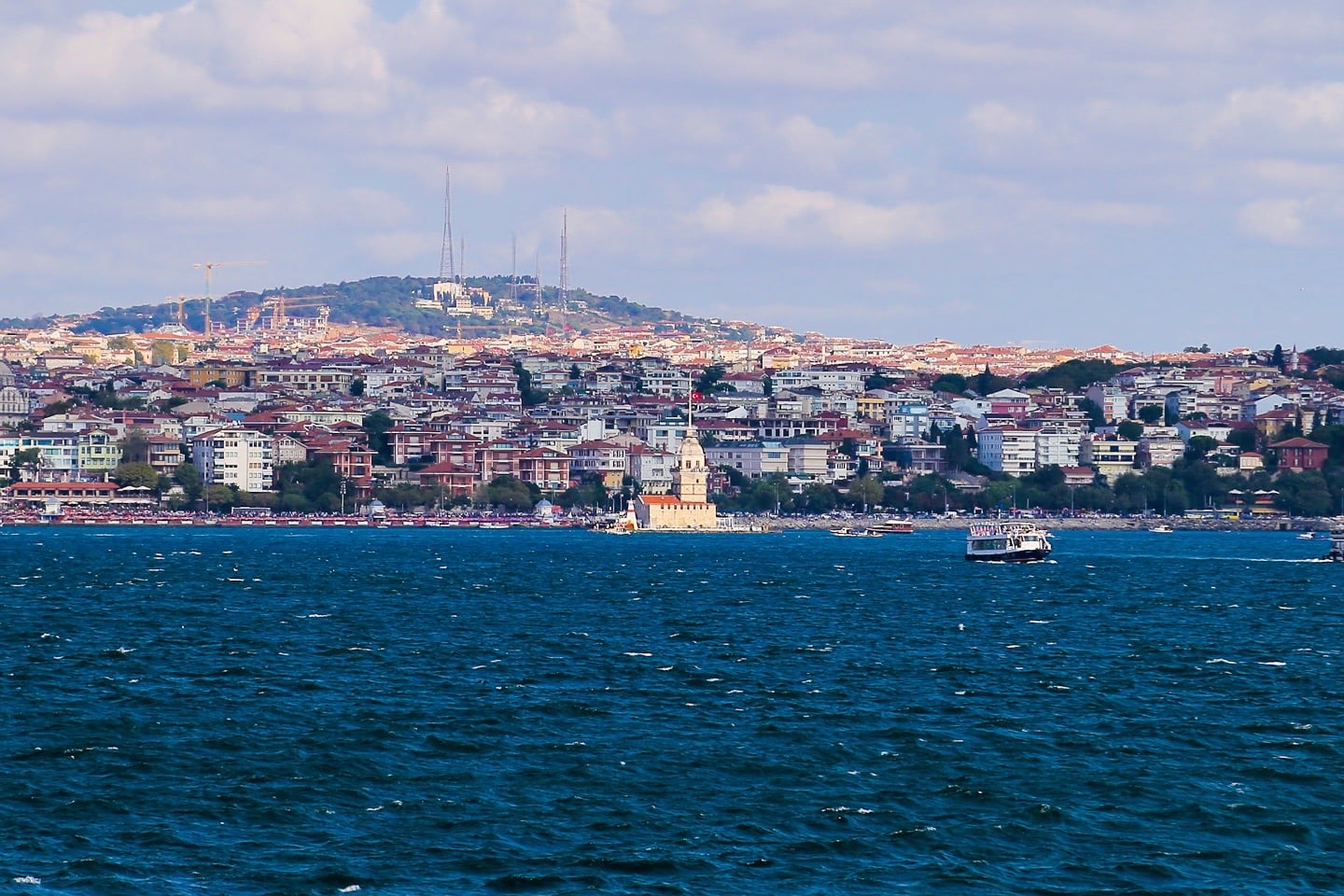 We couldn't leave visiting Asia off our list of best things to do in Istanbul with kids, now could we! After all, Istanbul straddles two continents, which is pretty darn cool if you ask us.
Perhaps the best way to see Asia from the Sultanahmet area is by public ferry one way, then Marmaray rail for the return journey.
The boat journey is great because it offers a chance to see many of Istanbul's famous landmarks along the water. And who can resist a boat ride from Europe to Asia that takes less than an hour!?
Taking the Marmaray is equally fascinating but a very different experience. Riding this fairly recent addition to the city's public transit system offers the experience of getting on a train on one continent, and—you guessed it—getting off on another!
14. Tour the Legendary Maiden's Tower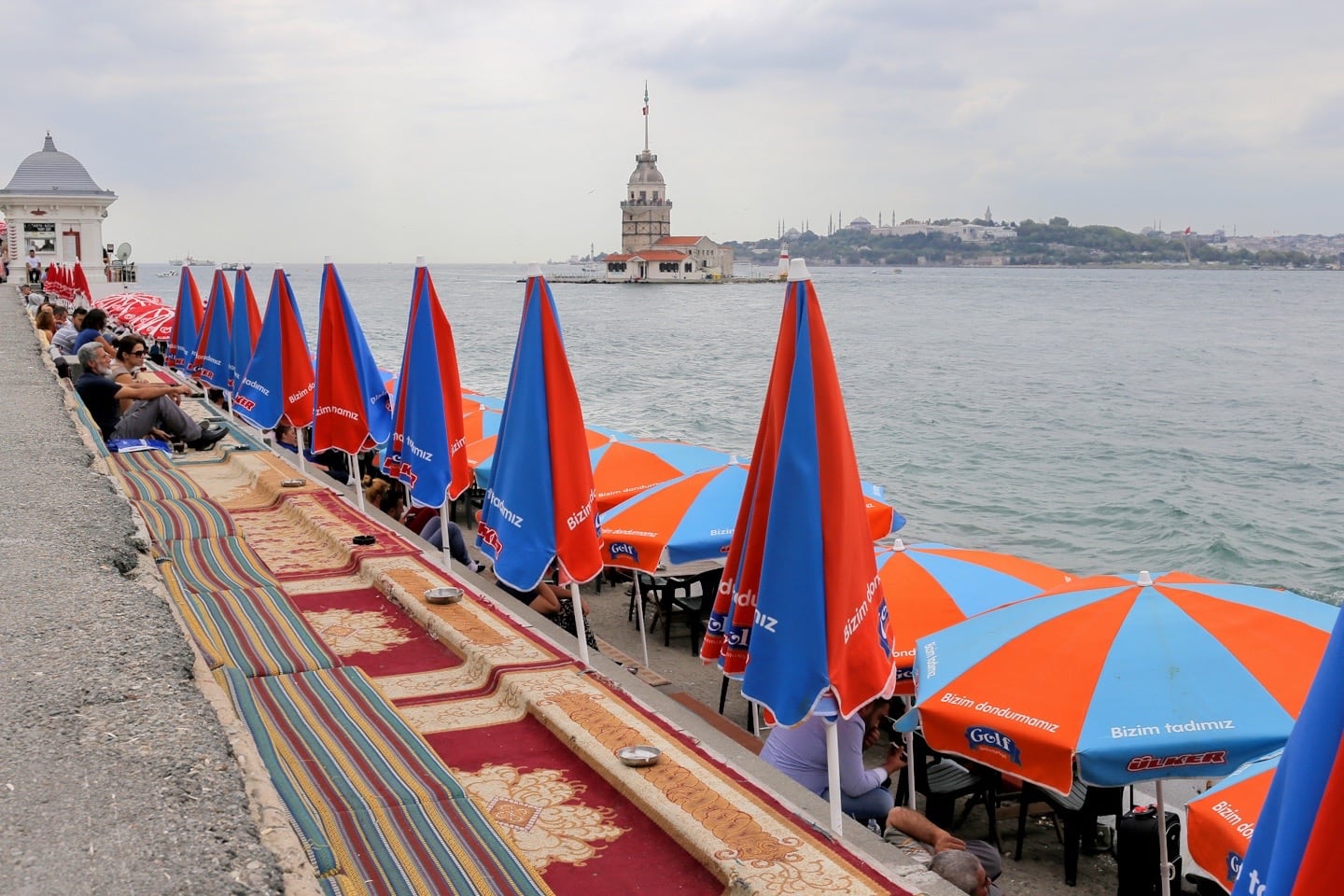 The Maiden's Tower, just off of Istanbul's Asian shore, has an interesting and varied history.
There are of course the two legends attributed to the construction of the tower—one involving an emperor's attempt to thwart an oracle by imprisoning his daughter in a tower for 18 years to protect her from snakes, only for her to be fatally bitten by one hidden in a fruit basket given by her father on her 18th birthday. The other involving a love story between two ill-fated lovers.
And then there's the historical record, which points to the tower being constructed in the 12th century for the purposes of connecting a chain across the strait in an attempt to control access to the city.
We found that the Turkish seem to prefer the legends over the historical record.
Visiting the legendary tower is not cheap, but it is a unique, one-of-a-kind experience and one of our favorite things to do in Istanbul with kids.
And, of course, you can always admire the tower (and the legend) from shore, while sipping a delicious beverage and Turkish snack from your very own Turkish comfy cushion (also pictured above).
Simply secure your snack or drink from one of the many vendors dotting the area and stake your claim on a cushion or two.
Keep in mind that sunset and weekends get busy, so plan accordingly.
15. Recharge on a Rooftop with a View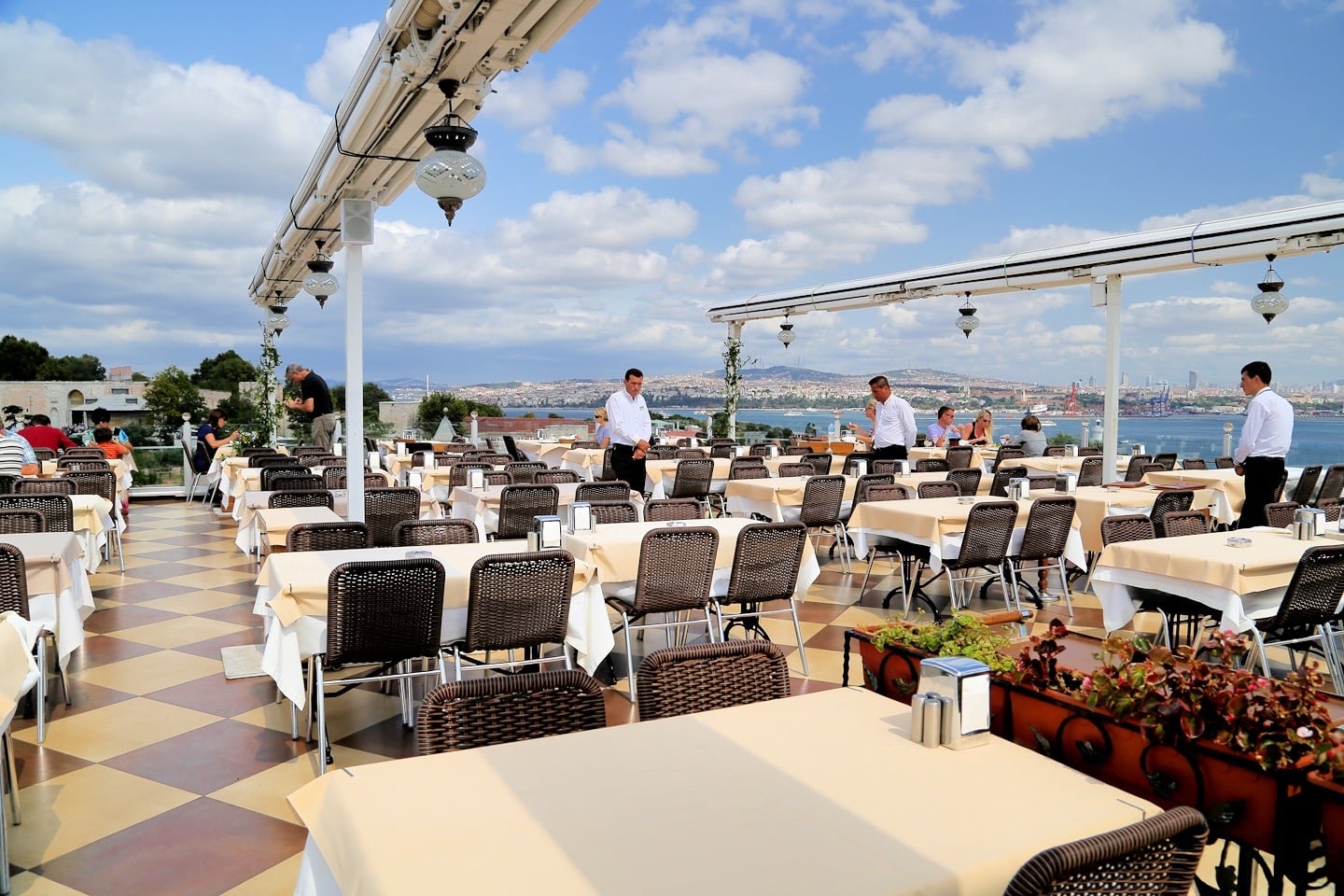 Sitting on a rooftop and enjoying a meal or drink with family may just be a national pastime here in Turkey. And there might be no better place in Istanbul to do just that than Seven Hills Restaurant.
So, what makes Seven Hills so different than all the others? It might just be the view of the place next door…
Not to mention the stunning view of the rest of the city and a couple of large bodies of water. Seven Hills isn't cheap, but coffee, pomegranate juice, and some dolmas did just fine for us.
Find Seven Hills Restaurant on the map.
A lot of people tried to sell us what's called an Istanbul Tourist Pass, which supposedly covers 30+ Istanbul attractions over 3-7 days but for a price. I suppose if you're keen on seeing EVERYTHING, then this might make sense for you. For us, it did not.
We were advised by a friend prior to visiting Istanbul to get what's called the Istanbul Museum Pass, which is completely different than the Tourist Pass.
Currently, the Museum Pass costs 2250 TL (about US$80), is good for five days, and can be purchased at a number of museums throughout the city. We calculated that even if we only visited a handful of the dozen or so attractions covered by the pass that it would pay for itself.
Plus, the pass allows you to skip the ticket lines and even provides additional discounts to attractions such as the Sehir Hatlari Bosphorus Cruise.
IMPORTANT: It's also worth mentioning that admission is free or heavily discounted for children of certain ages at most museums in Istanbul. However, you may still need to visit the ticket window to obtain a free ticket for your kids.
And That's Our Guide to the Best Things To Do in Istanbul with Kids!
Has your family visited recently? What were some of your favorite things to do in Istanbul with kids? Let us know in the comments below.
I've been a blogger and travel writer since 2010, covering everything from luxury hotels to hidden destinations and travel gear. Originally from Oregon, I've spent the majority of the past 20 years living outside of the U.S., in Mexico, the Caribbean, Southeast Asia, Africa, and Europe. I received a BA in Communications (Journalism) from Boston College, and an MA in International Development Studies from the George Washington University. I'm passionate about exploration and discovery, and providing independent, thoroughly-researched, ad-free advice for travelers.