Planning a visit to amazing Cape Town, South Africa? We've put together the ultimate Cape Town itinerary packed with bucket list adventures and the best local experiences.
Whether you're thinking of visiting for a couple of days, one week, or longer, this Cape Town itinerary makes it easy to plan the perfect South Africa getaway.
Few cities on the planet rival Cape Town's cultural, historical, and geographic significance while at the same time offering superb cuisine, jaw-dropping natural beauty, and endless options for things to see and do.
Dive headfirst into the rich cultural heritage of the region, sample the eclectic flavors of the Western Cape, learn about the challenges and achievements of modern-day South Africa, and lose yourself in the numerous outdoor adventures awaiting you on the city's doorstep.
While Cape Town's prices might not compare with Southeast Asia or Central America, once you've covered your transport here, you'll find that Cape Town is surprisingly affordable, particularly when compared to other top Africa destinations.
We've done this specific trip a few times now over the span of a decade and have managed to pick up a number of great tips and advice along the way. And we're excited to share it all for you in our detailed Cape Town itinerary.
So let's get started!
▸ Looking for travel medical insurance? SafetyWing offers low-cost overseas medical coverage tailored to international travelers.
Related Articles
We're reader supported and may earn a commission from affiliate links on our site at no cost to you.
The Perfect Cape Town Itinerary for One Week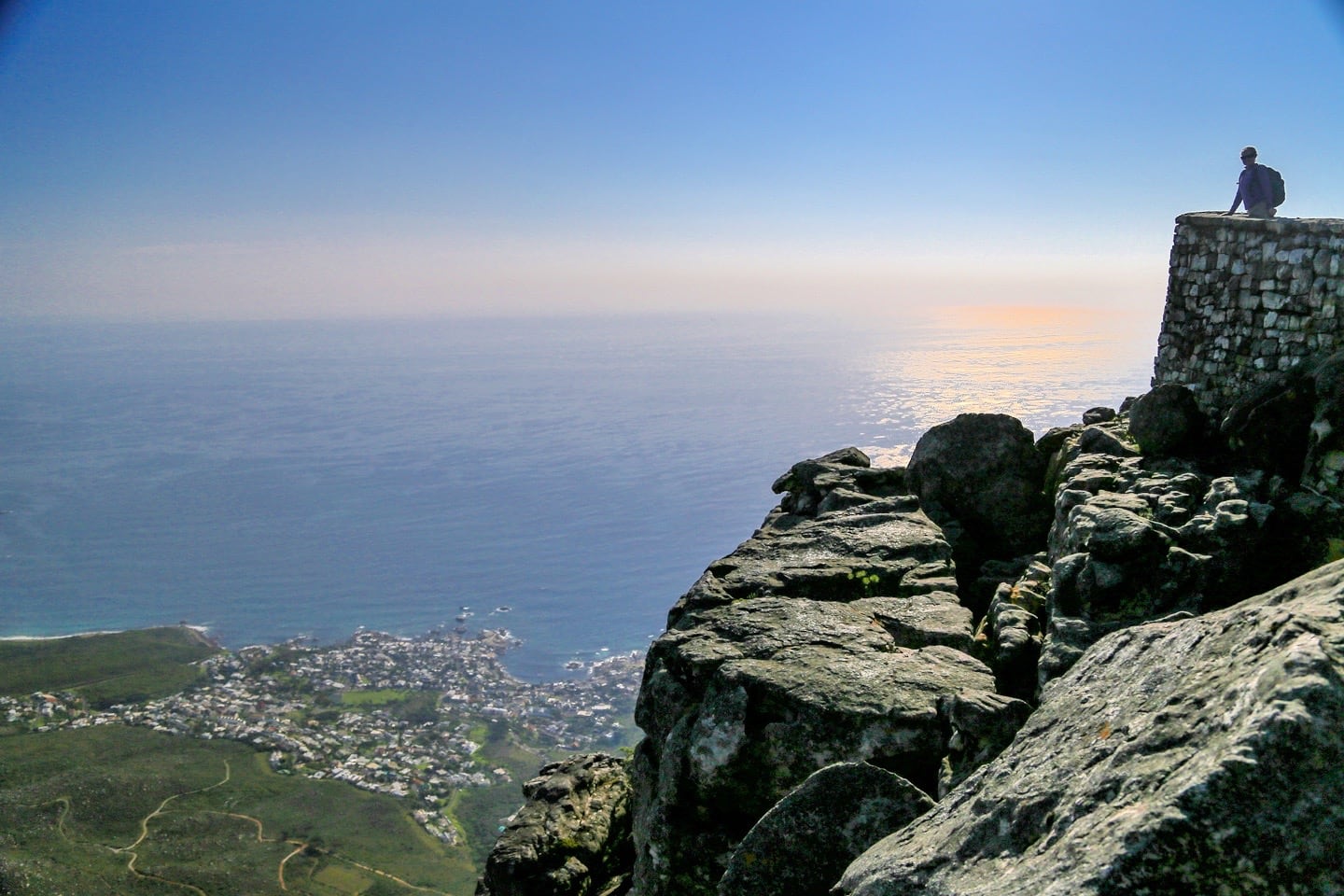 Who Is This Cape Town Itinerary For?
If you are planning on spending around one week in Cape Town, traveling on a practical budget, and prefer working with a loosely-structured itinerary with plenty of room for flexibility, you're in the right place!
We've put together this Cape Town itinerary with the independent traveler in mind. After all, if you are visiting on a package tour, you've already got your own itinerary.
What Lori and I love about independent travel is the flexibility to do and see whatever we want, for however long we want, on whichever day we want (budget providing, of course).
That flexibility allows us to take advantage of happy surprises, cut our losses with dud sights, and linger a bit longer with locals or other travelers.
And this Cape Town itinerary allows you to do just that, totally on your own for a reasonable cost.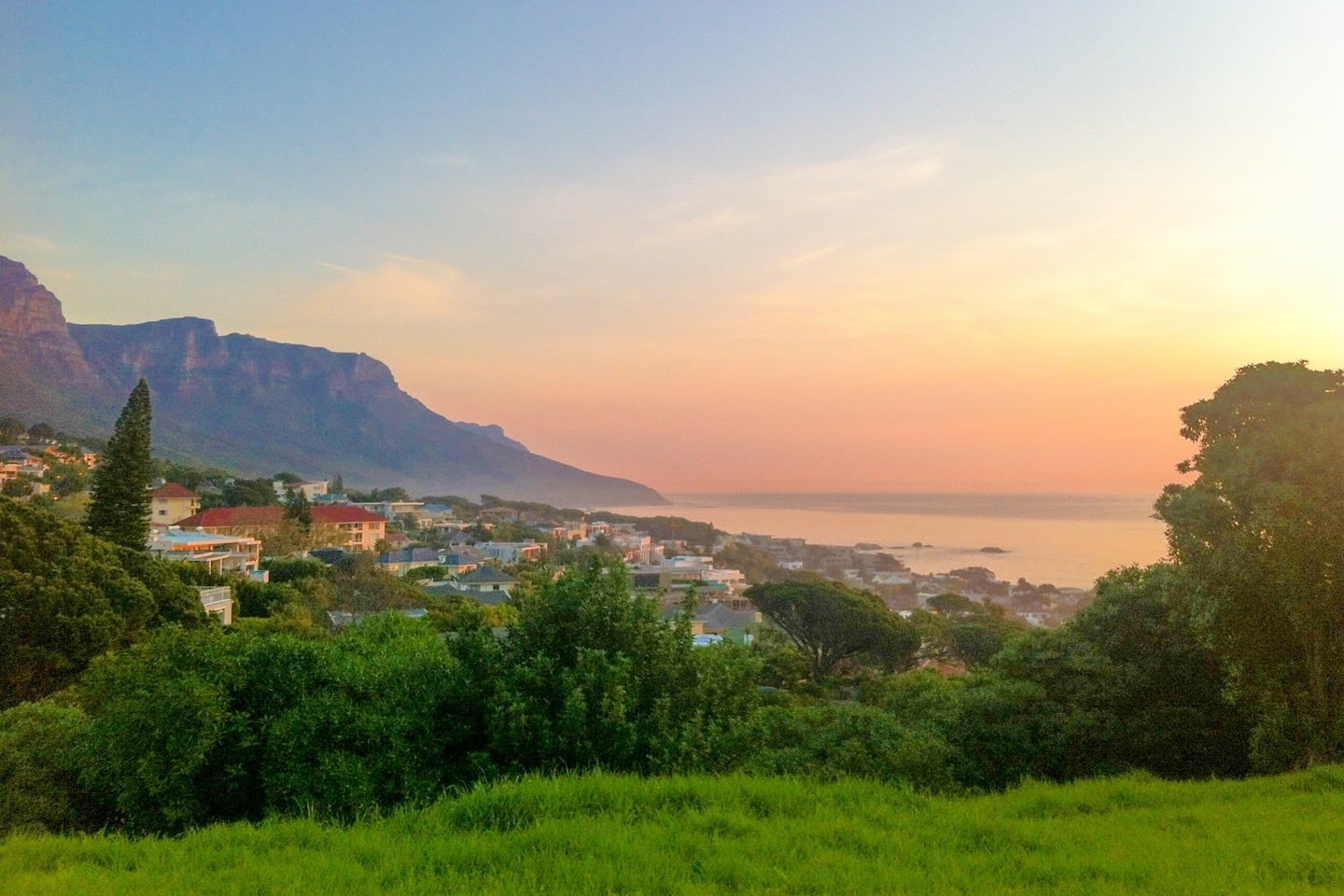 Where to Stay in Cape Town
Cape Town has no shortage of excellent accommodation for all budgets and tastes.
BUDGET ▸ If you're traveling on a shoestring or simply want to be in the heart of the action, check out stays along Long Street. V&A Waterfront is also worth considering for budget options as well.
UPMARKET ▸ If you're looking for a comfortable stay with a good number of amenities, Central Business District (CBD), Bo-Kaap and Camps Bay should be at the top of your list.
LOW-KEY ▸ If you're looking for a more laid back vibe and don't mind being outside of town, check out stays in Simonstown and the Cape Winelands.
---
▸ Be sure to check out the top stays in Cape Town!
---
One-Week Cape Town Itinerary & Essentials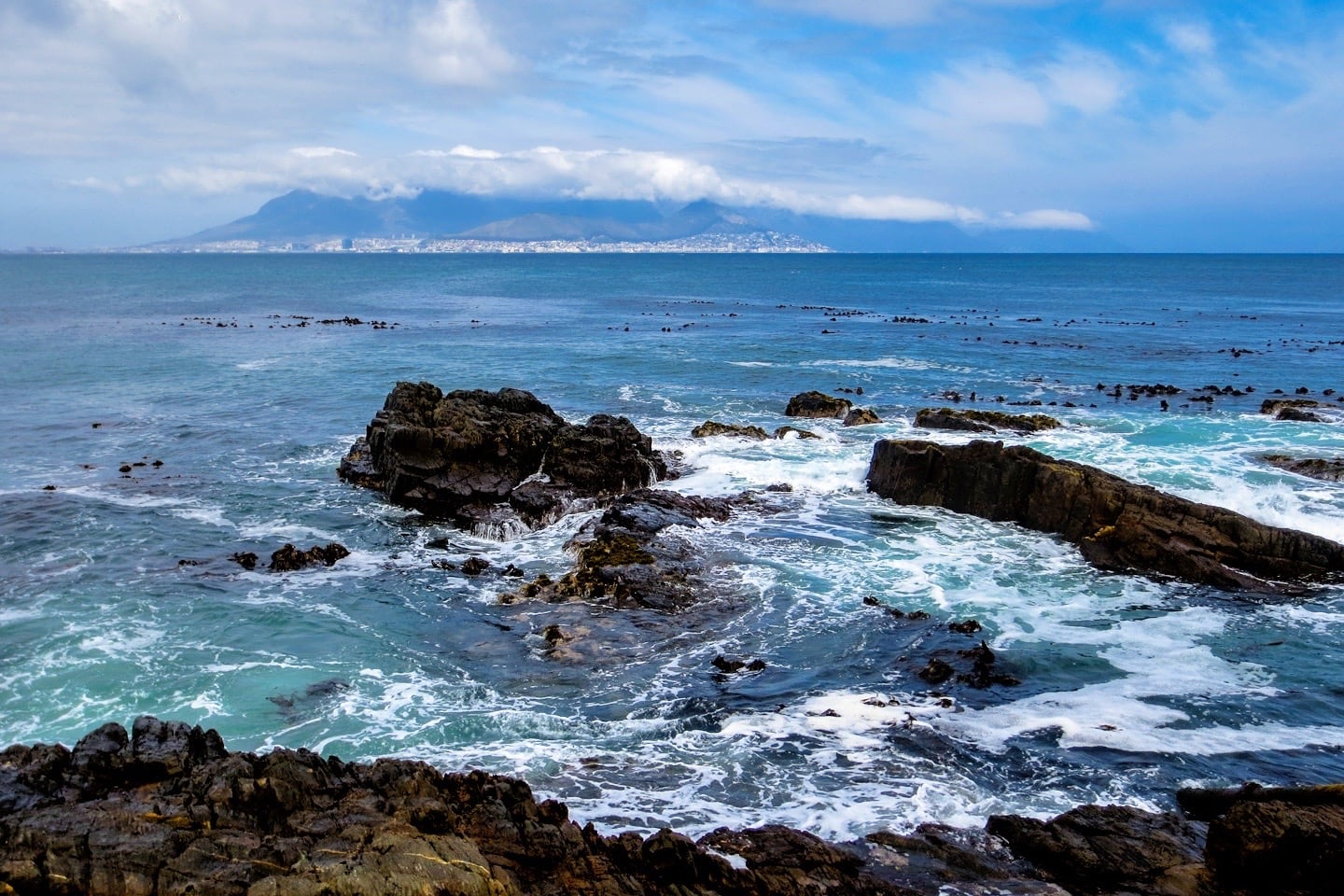 Day 1 in Cape Town
Robben Island
After a delicious breakfast and strong coffee to get you going, we start things off with a trip to quite possibly the most significant and well known of all of Cape Town's landmarks — infamous Robben Island.
Located 7 km off the coast of Cape Town, the UNESCO World Heritage Site of Robben Island houses the prison where Nelson Mandela spent 18 of his 27 years behind bars before the fall of Apartheid.
Why start with Robben Island? Taking a tour of the island provides vital background for approaching modern day Cape Town (and South Africa).
The ferry ride out to the island is also a great opportunity orienting yourself, geographically.
Additionally, tour slots fill up fast, so getting to the ticket office at the Victoria & Alfred (V&A) Waterfront early in your visit is a must.
You can also book online in advance if you have a particular day in mind. During the winter months (June-August), however, it's a good idea to wait and see how the weather pans out.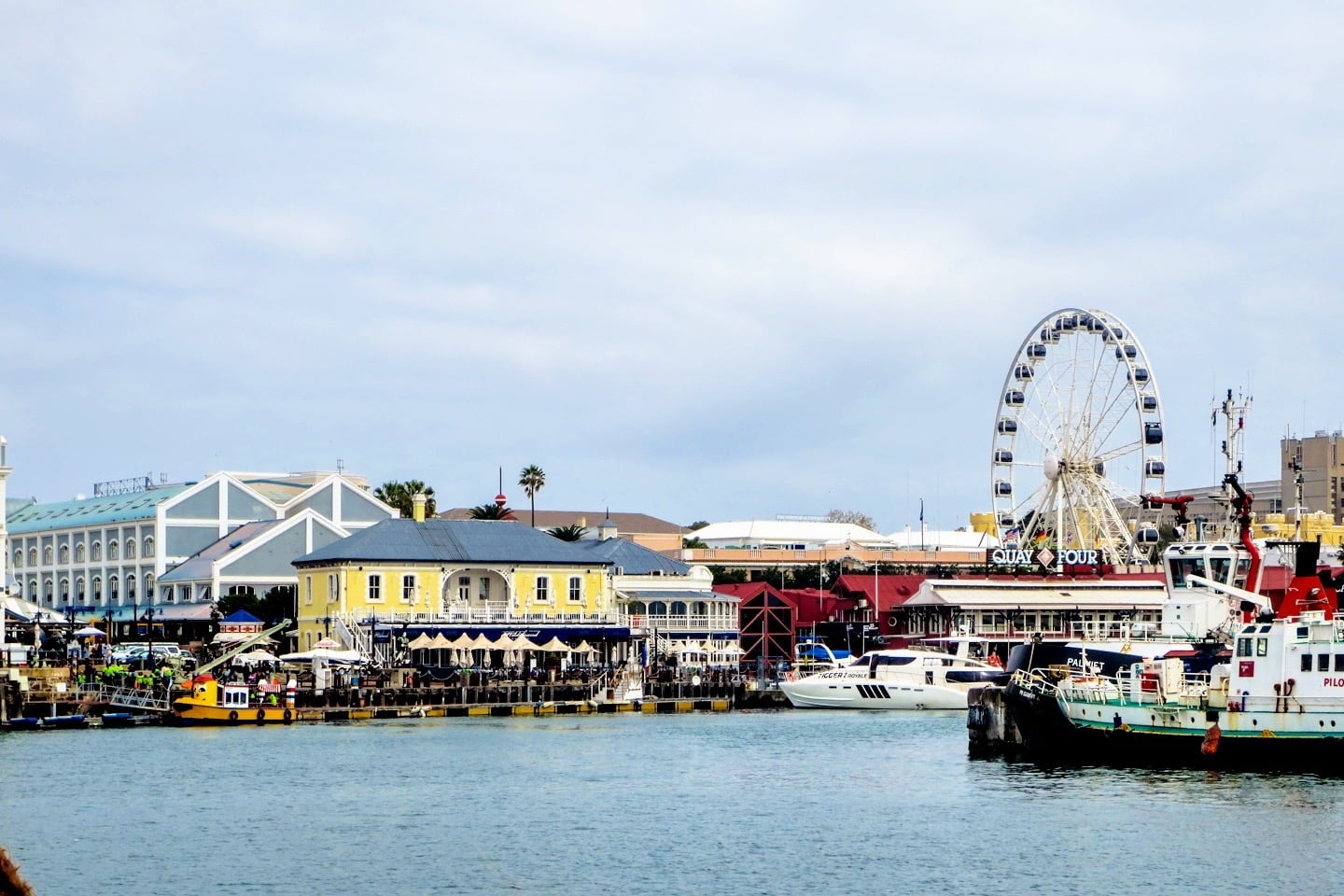 Victoria & Alfred (V&A) Waterfront
When your ferry from Robben Island returns to the mainland terminal, take this opportunity to explore V&A Waterfront.
V&A offers a wealth of fun things to see and do, excellent shops, and some of the best restaurants in town.
Highlights include taking a walking tour of the historic district, shopping for local handicrafts at the Watershed, riding the giant Cape Wheel, getting acquainted with the area's marine life at the Two Oceans Aquarium, visiting any one of several excellent museums, and striking a pose in front of V&A's historic and brightly painted clock tower.
You'll definitely want to plan to stay at V&A Waterfront into the evening, as there might be no better time to enjoy the sights and sounds, and sample the local cuisine, of this vibrant area of the city.
We've found few better ways to kick of a one-week Cape Town itinerary than a sunset stroll along the V&A Waterfront!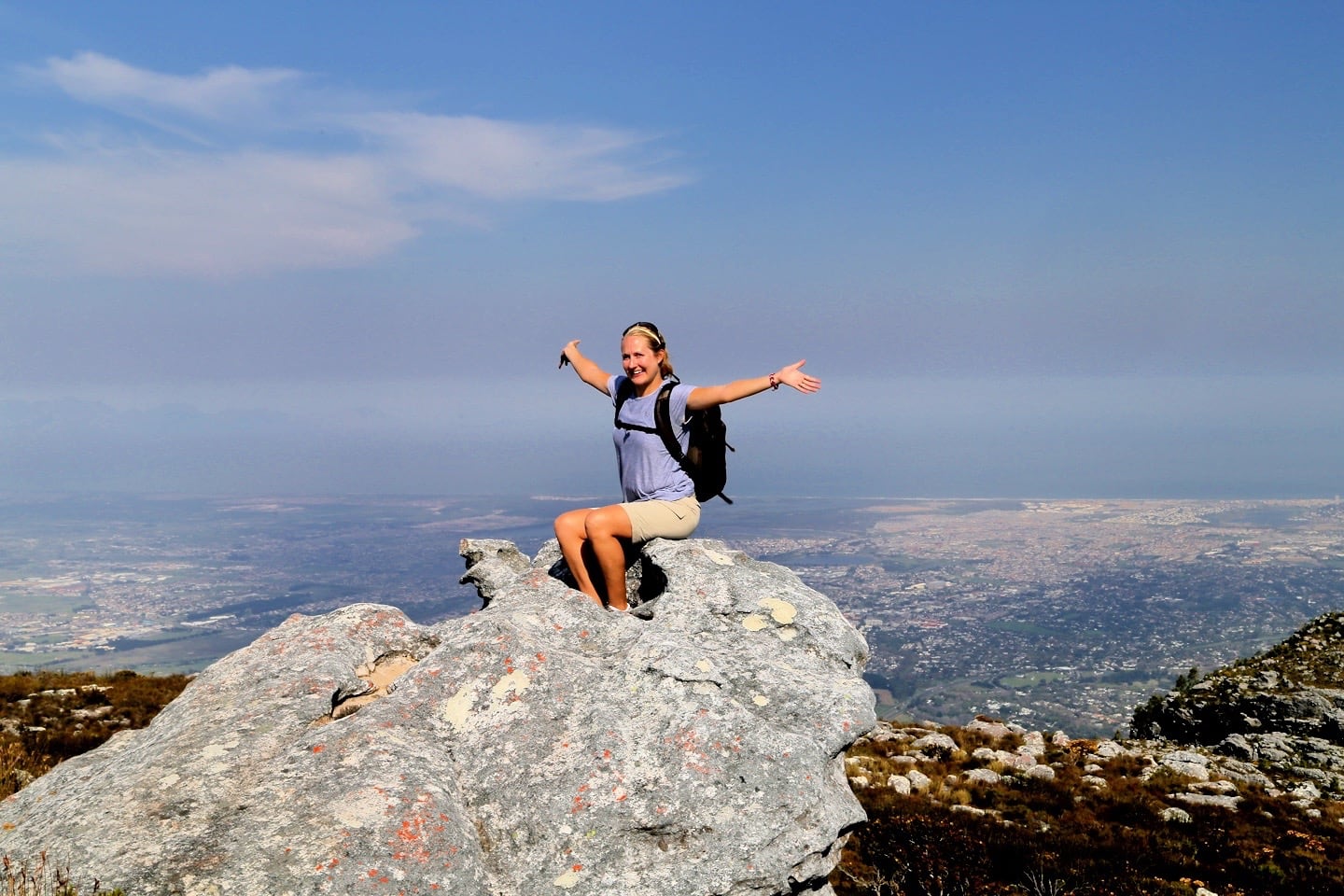 Day 2 in Cape Town
Climb Table Mountain
Ready for a little adventure? Great!
After a hearty breakfast, beeline it to Table Mountain. The tippy-top of Table Mountain, that is! This is sure to be one of the highlights of your one week Cape Town itinerary.
There are a number of ways to reach the summit of Cape Town's iconic plateau, but we recommend hiring a taxi to the Platteklip Gorge trailhead and hoofing it to the top, then riding the cable car on the return trip.
Of course, you can do the hike or cable car both ways, but we definitely encourage mixing it up for those who are in good physical condition.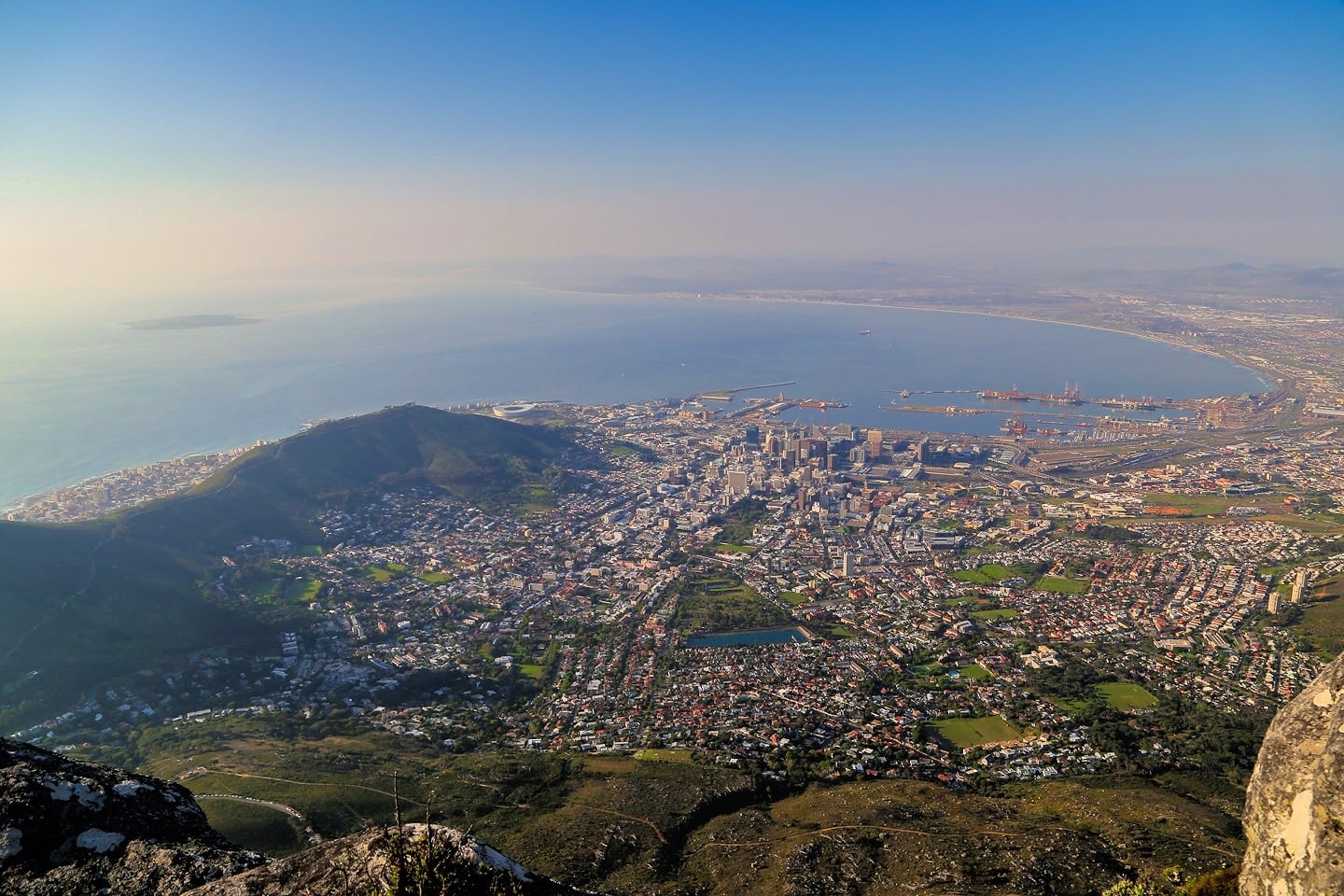 If you want even more adventure in your life, you can walk from town to the Platteklip Gorge trailhead (adding 5 km to your hike) and take the Skeleton Gorge trail down the south side of the mountain to Kirstenbosch National Botanic Garden. I've done both of these and can safely say they make for one hell of hike if you're up for it!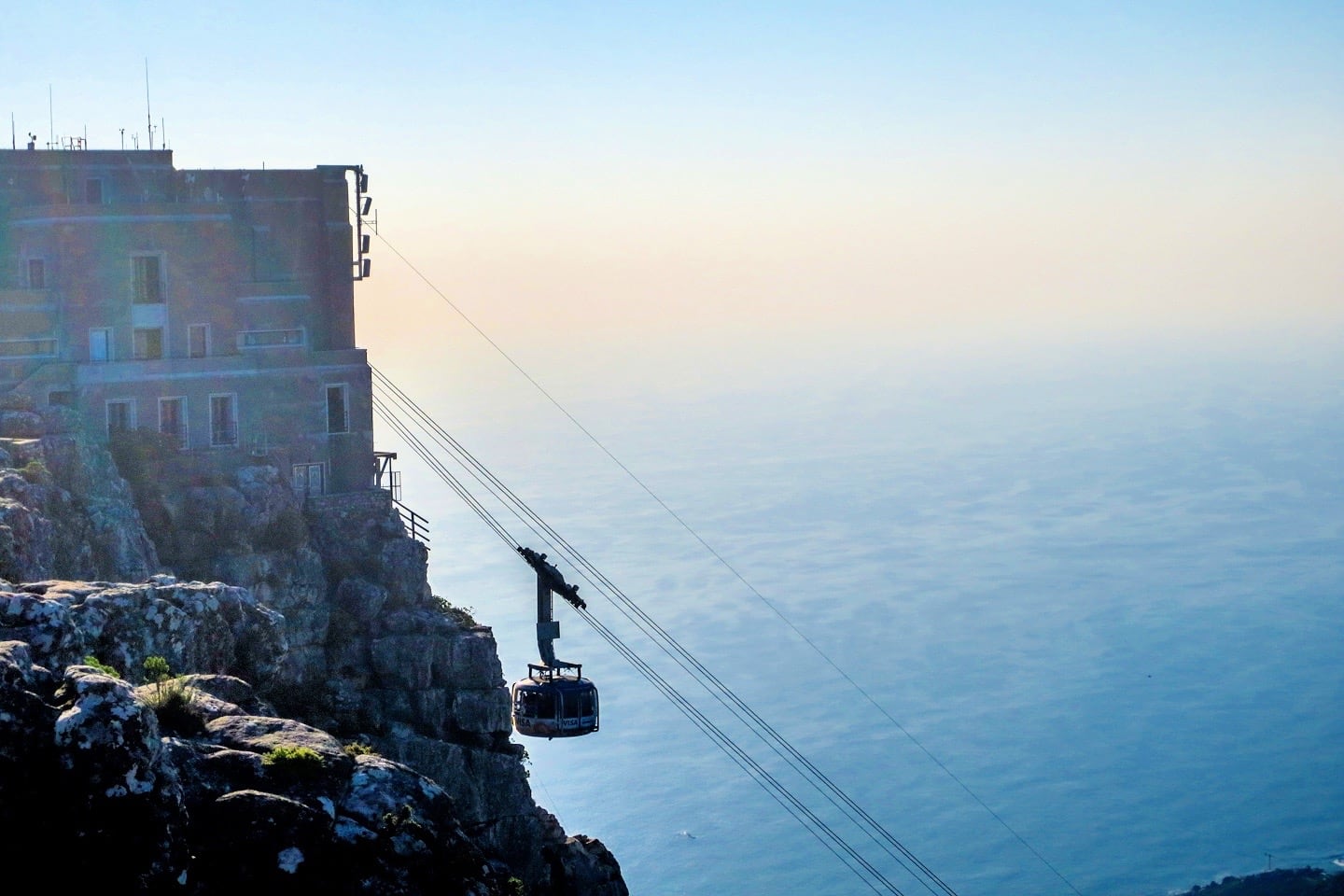 Make sure you factor in plenty of time on the top to explore the summit trails to the Aerial Cableway Cafe and Maclear's Beacon and take in the incredible views of Cape Town, the Cape of Good Hope, False Bay, and the Atlantic Ocean.
Check out this excellent guide for climbing Table Mountain for more details on doing it yourself.
If you want to simplify things and maximize your time on Table Mountain, consider going with a guided tour. There are several highly rated guides and companies that run daily all-inclusive tours.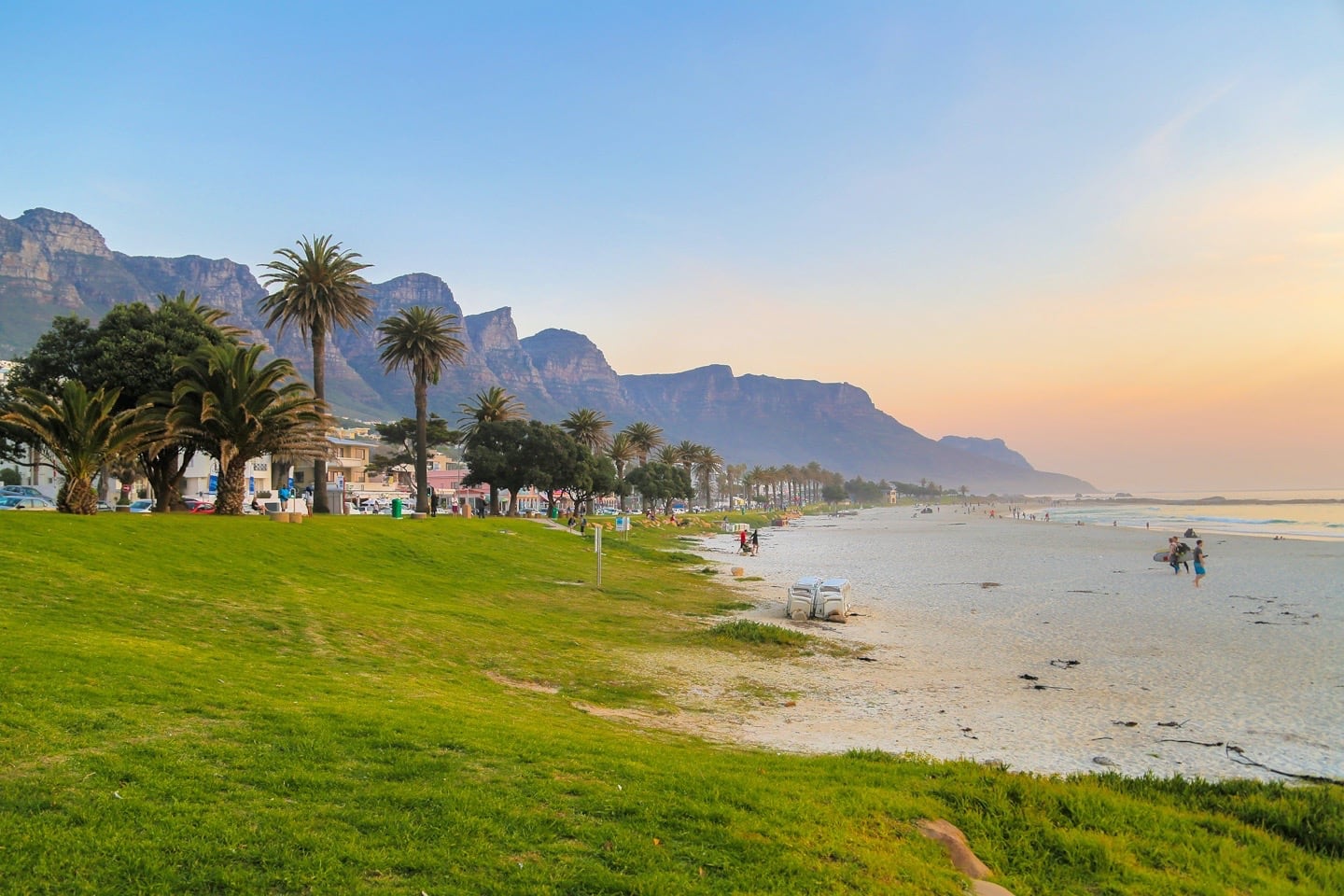 Camp's Bay
After a long and satisfying day on the mountain, take a taxi (or walk the 4 km) to stunning Camps Bay Beach for sunset, a sundowner, and dinner along Victoria Road – a perfect end to an eventful Day Two on your Cape Town itinerary.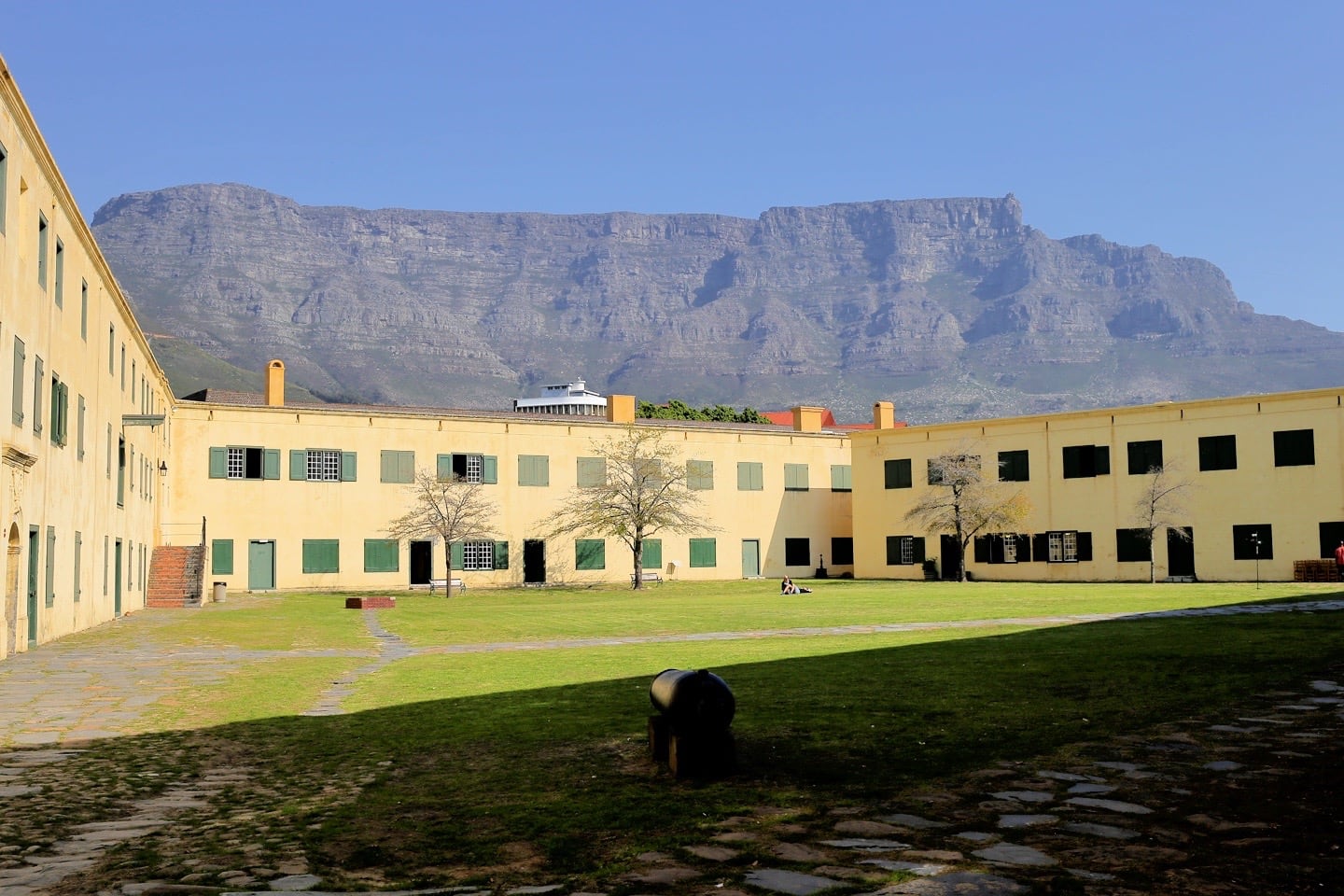 Day 3 in Cape Town
Central Business District (CBD)
It's time to explore the CBD! Chances are, you're probably staying close by. If not, pack a day pack, grab some breakfast, and walk or take a taxi to the Castle of Good Hope.
If you want a bit more structure in your life, you can also book one of our recommended walking tours which comes with the advantage of a knowledgable guide.
If doing it on your own, read on!
Castle of Good Hope
Our independent walking tour of the CBD begins at Cape Town's iconic pentagonal bastion fort built by the Dutch East India Company in the 17th century. It offers guided tours through most of the structure which has served as a fortress, prison, and now, museum.
District Six Museum
A short walk southwest of the Castle of Good Hope is the award-winning District Six Museum, which is a worthwhile companion to a visit to Robben Island.
On one level, the museum is a memorial to a once vibrant and multi-ethnic Cape Town neighborhood of 60,000 residents that was leveled in the 1970s.
On a deeper level, it offers one of the best ways to get a sense of the everyday struggles of non-white South Africans living under Apartheid.
South African National Gallery
Heading farther west, it's high time for a dose of South African art! The Iziko South African National Gallery is the country's national art gallery housing both contemporary South African works and Dutch, French, and English works from the 17th to 19th century.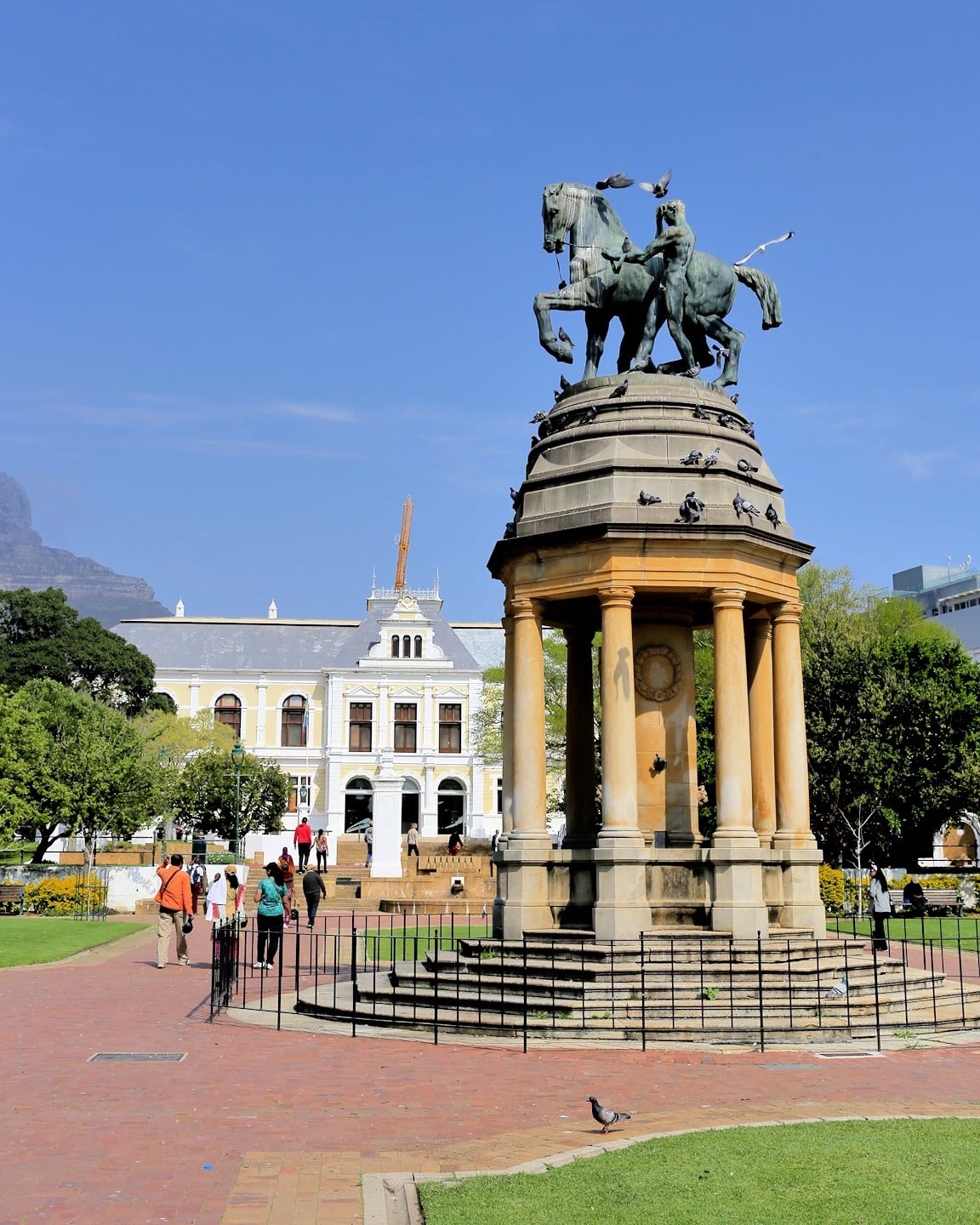 The Company's Garden
Take a few steps north or west of the National Gallery and you'll run into this sprawling park, perfect for a relaxing stroll or a break from walking.
While you're here, you can check out the various heritage memorials or take a load off in the shade of a tree and rest up for the next leg of our walking tour. From this point, it's two short blocks over to Long Street, which offers numerous good eateries where you can grab lunch.
Green Market Square
From the Company's Garden or Long Street, head northeast 3-6 blocks to Green Market Square. This is the place to peruse artwork and handicrafts from local artists and stock up on gifts and souvenirs.
Green Market Square is also the heart of the city's financial center. While there aren't a ton of landmarks here, it pays to take a stroll around to get a sense of today's City Center.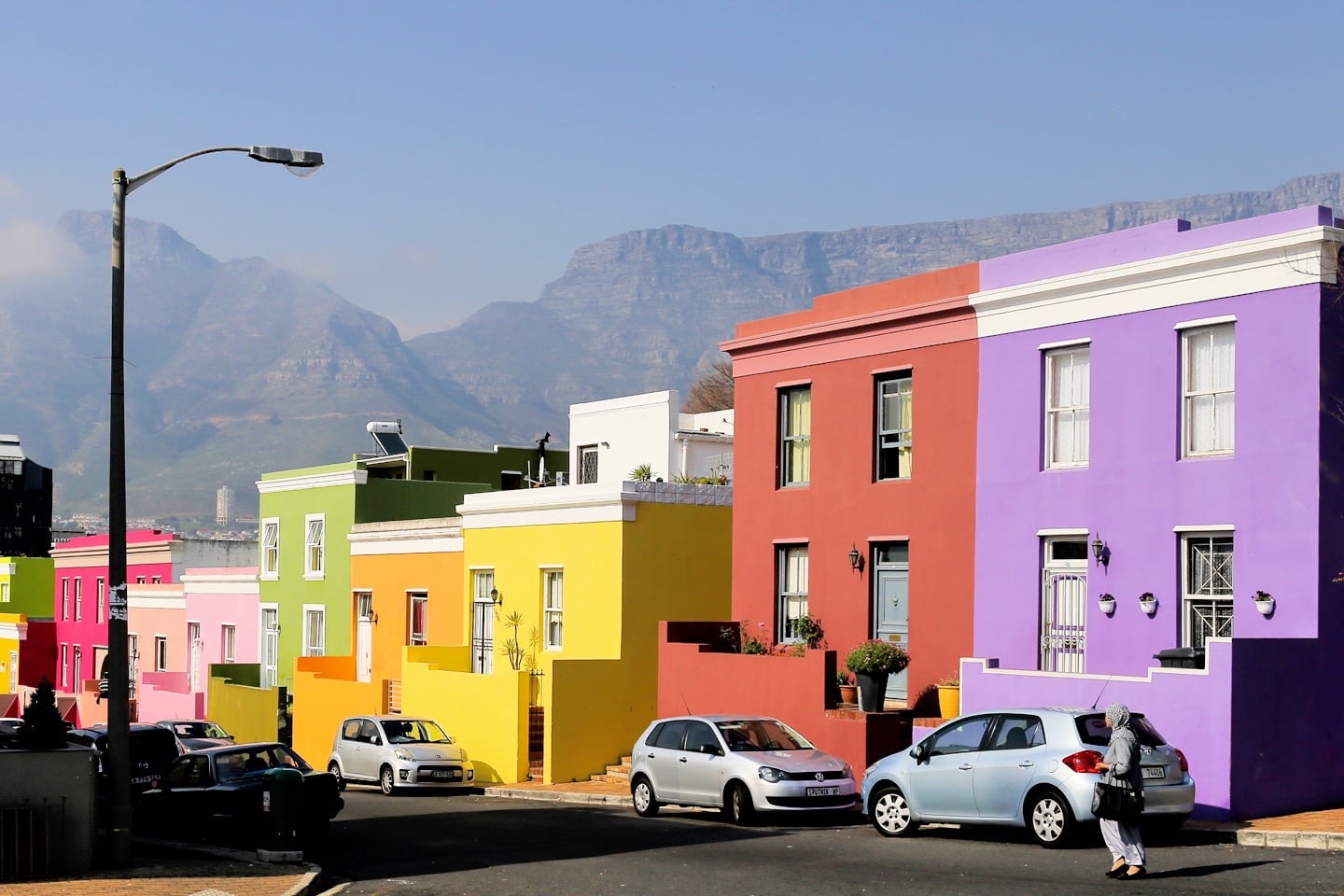 Bo-Kaap Neighborhood
A ten minute walk west of Green Market Square gets us to Cape Town's most brightly colored (and most photographed) neighborhood.
Once home to the city's highest concentration of Malay-Muslim residents, gentrification has significantly altered the fabric of this vibrant area of town.
The Bo-Kaap Museum on Wale Street offers good insight into the neighborhood's past, present, and future.
Still, we found that exploring the neighborhood on foot and interacting with residents was equally if not more insightful.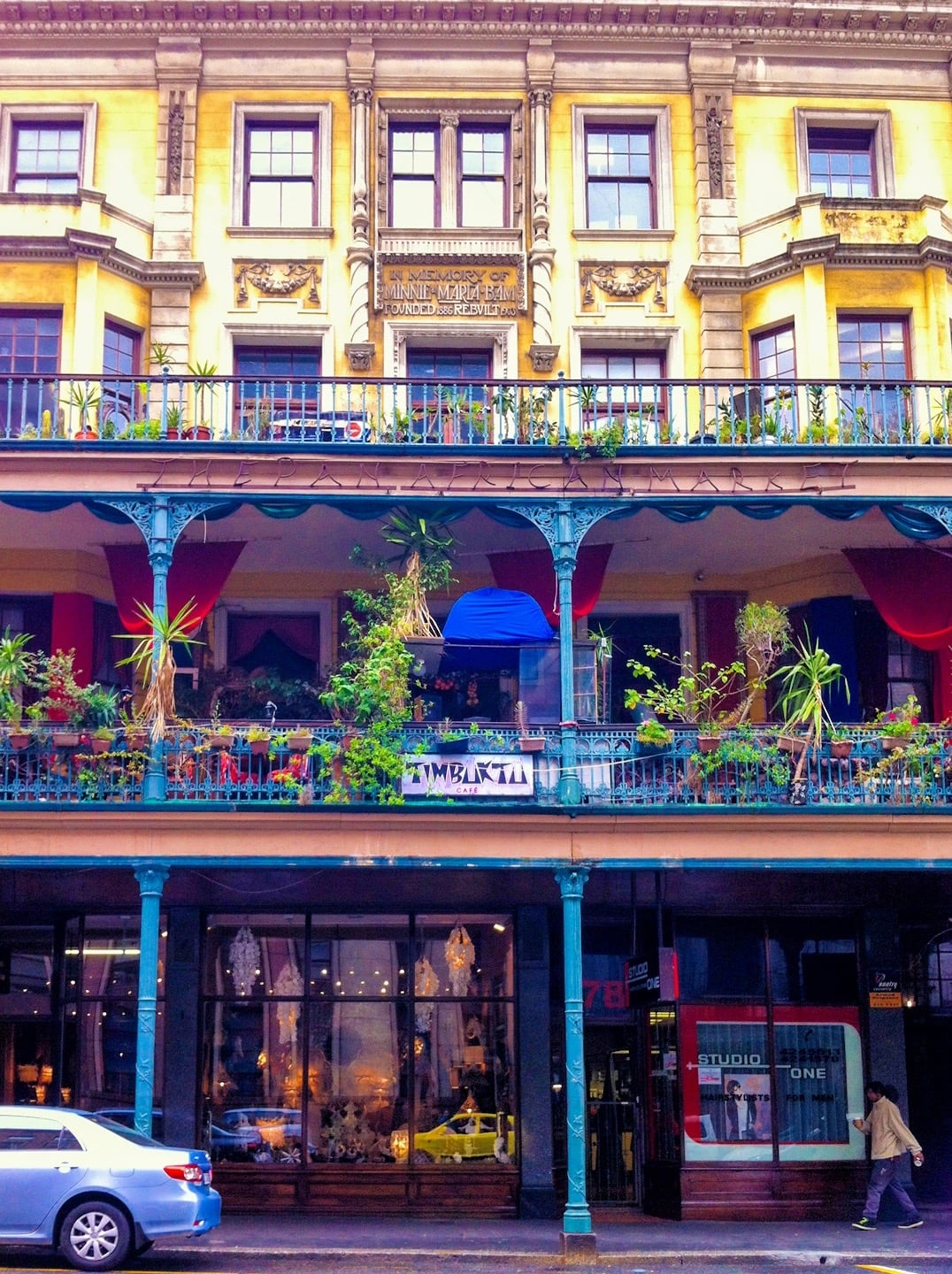 Long Street Pub Street
After a long day of sightseeing across the CBD and beyond, it's time let our hair down. And there may be no better place in Cape Town than Long Street. Long Street may be best known as Cape Town's backpacker and pub street and has become an essential stop on any Cape Town itinerary.
If that's not your scene (it's not really ours these days), Long Street is still the best place in town for happy hour drink deals, people watching, and grabbing a sidewalk table at any number of excellent eateries.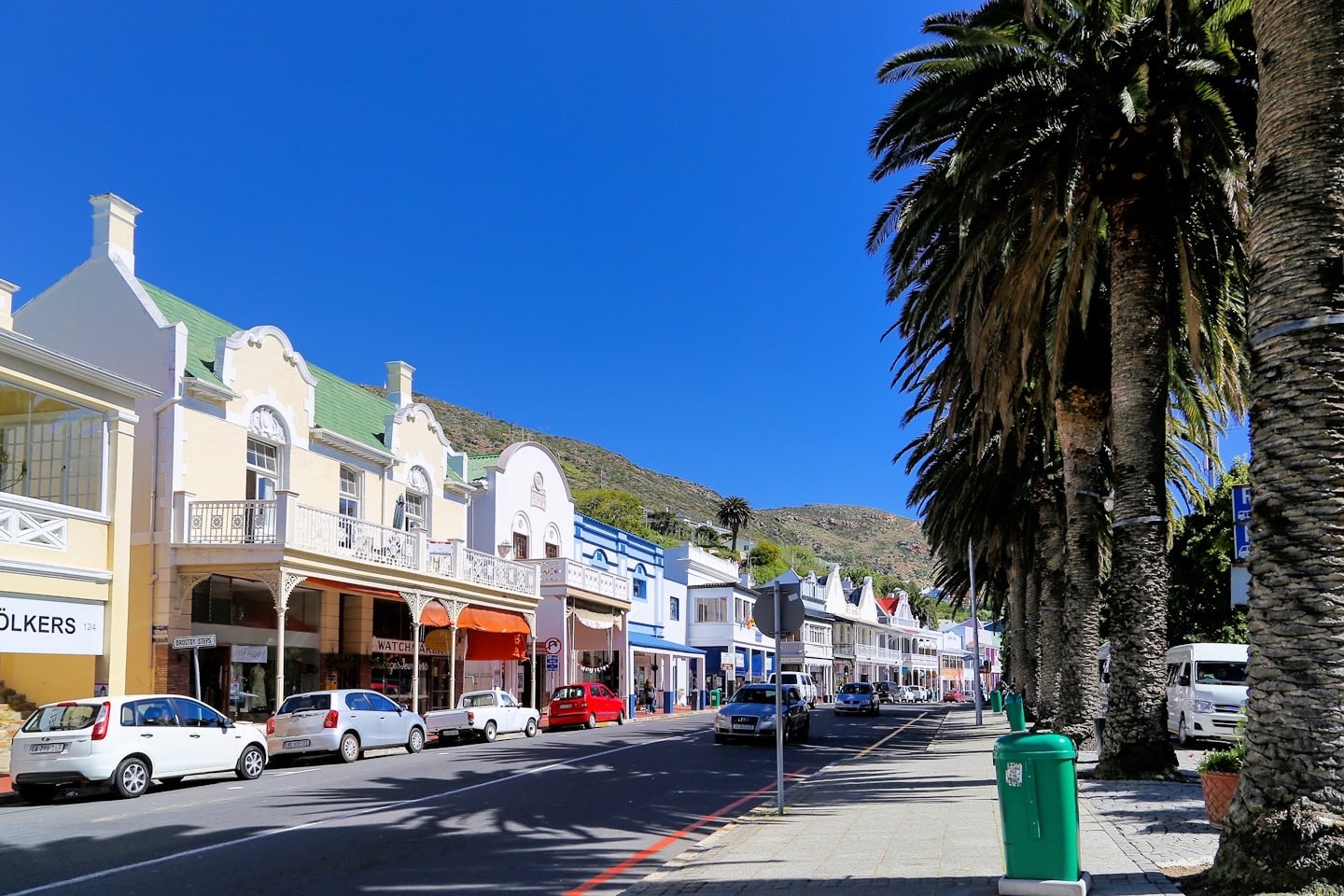 Day 4 in Cape Town
Day Trip by Train to Simon's Town
And now for something completely different. It's Day Four of our one week Cape Town itinerary and we're getting out of town!
Located 30 km south of central Cape Town on False Bay, Simon's Town is a supremely picturesque seaside community established in 1680, boasting superb sea views and early 1900s Dutch architecture. Come to explore Simon's Town, and stay for…penguins!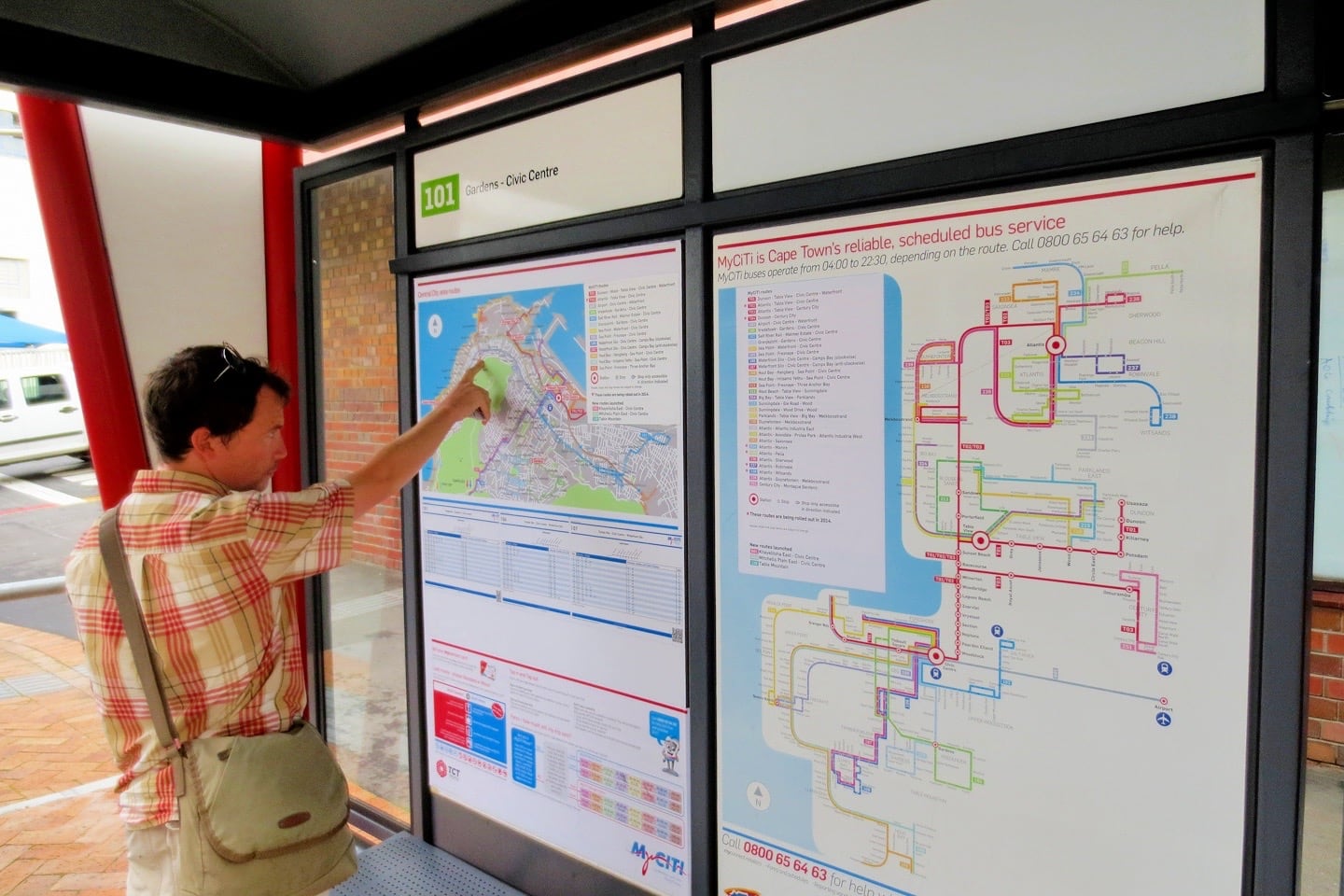 Starting in Cape Town, grab some breakfast, then get yourself to Cape Town Station on the northeast edge of the Central Business District (CBD).
Get a return rail ticket for "Simonstown," which is the last stop on the Southern Line. Trains leave about every 40 minutes or so (view timetables for your exact travel date at the Cape Town Trains official website).
Alternatively, there are a number of excellent tour packages from Cape Town to Simonstown that include guided tours of the Boulders Beach Penguin Colony (see below). Highly recommended for travelers who want to make the most of their time, especially those traveling with children.
In addition to exploring the historic waterfront district of Simon's Town, you may also want to consider a walk up the ridge behind town to pay your respects at the Grave of Able Seaman Just Nuisance.
Visiting the grave of a dog might not justify climbing the 300+ steps to get here, but the breathtaking view at the top most certainly will!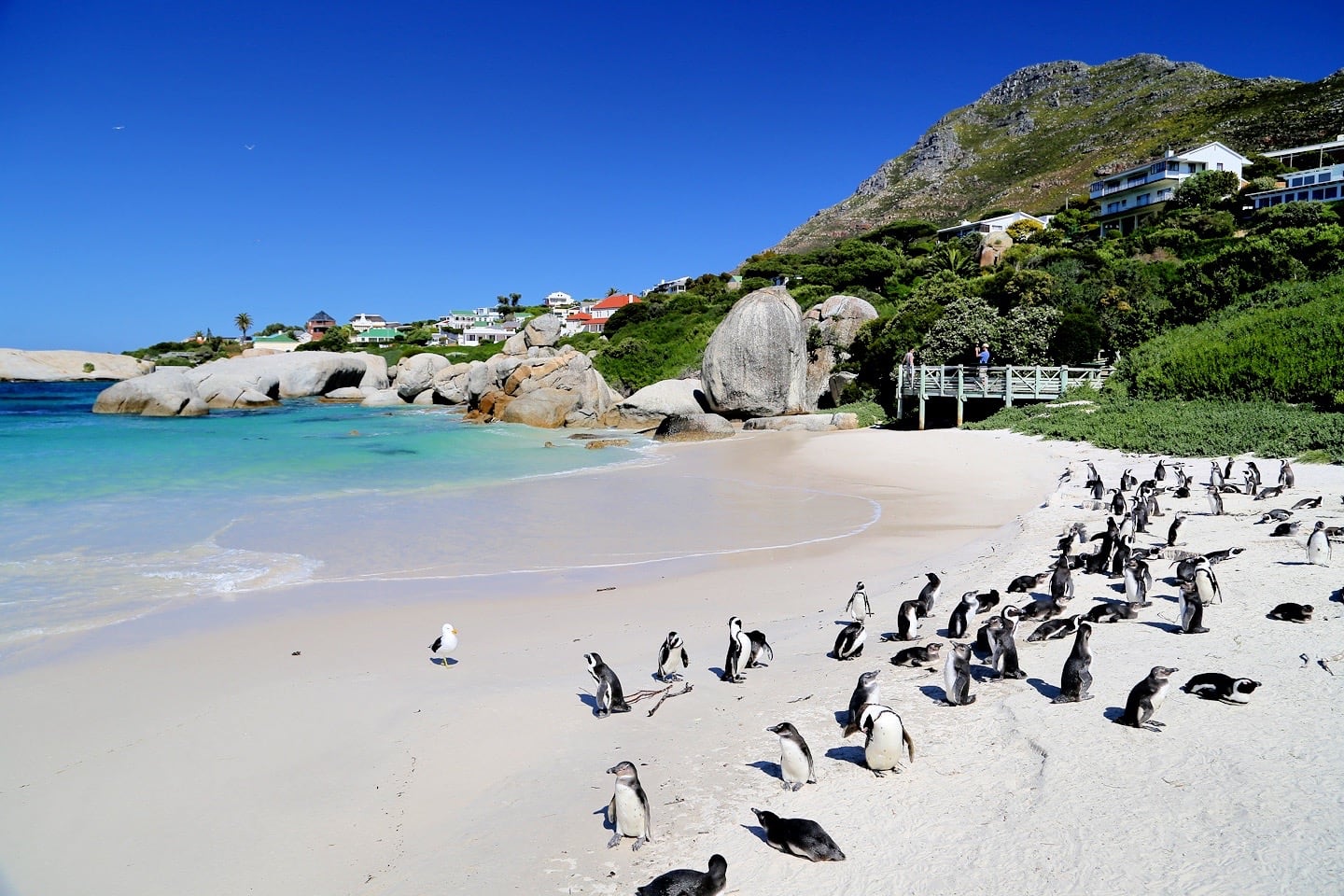 Boulders Beach Penguin Colony
After retracing your steps back down to the water, grab a bite to eat and make your way to Boulders Beach at the southeast edge of town to see some penguins!
Boulders Beach is home to around 3,000 African penguins, which first setup shop on these shores in 1985. Though the colony is very close to the residential and commercial center of Simon's Town, the penguins are both wild and endangered. So enjoy the view, but definitely keep your distance.
Penguin viewing platforms can be accessed on the northern side at Foxy Beach and Strandbad on the southern end.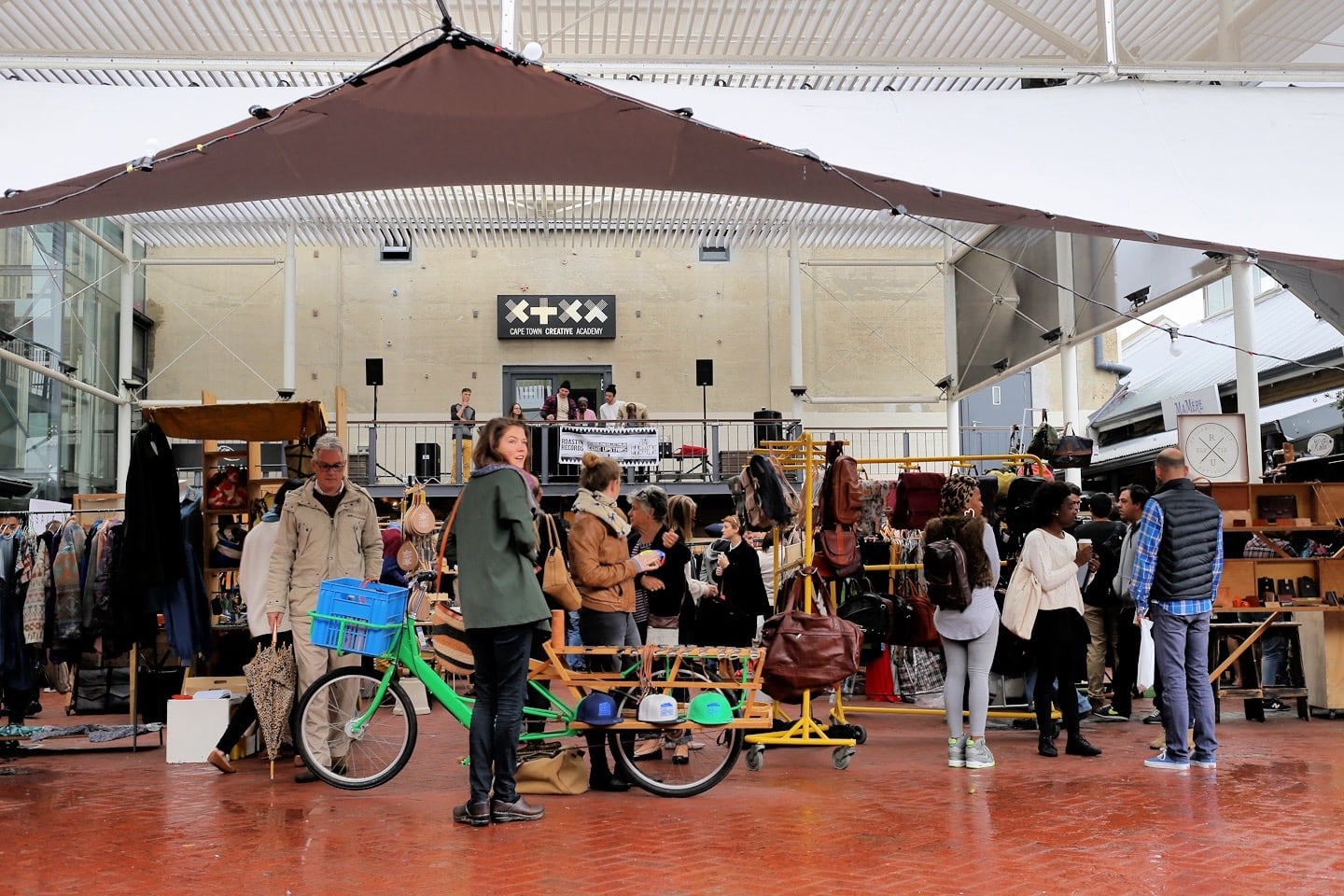 Day 5 in Cape Town
Woodstock & Neighbourgoods Market
On our fifth and final full sightseeing day of our Cape Town itinerary, we're going local, with a short trip out to the Woodstock neighborhood for a little taste of the hipster side of the city.
If time in Cape Town includes a Saturday, then you should check out Neighbourgoods Market, open Saturdays from 9am to 3pm, rain or shine. Housed in the Old Biscuit Mill warehouse, Neighbourgoods features fresh specialty foods by local vendors and growers.
While in Woodstock, peruse the funky and eclectic mix of shops while strolling along Albert Road. If you're hankering for craft beer and spirits, or specialty coffee and teas, then this is the place!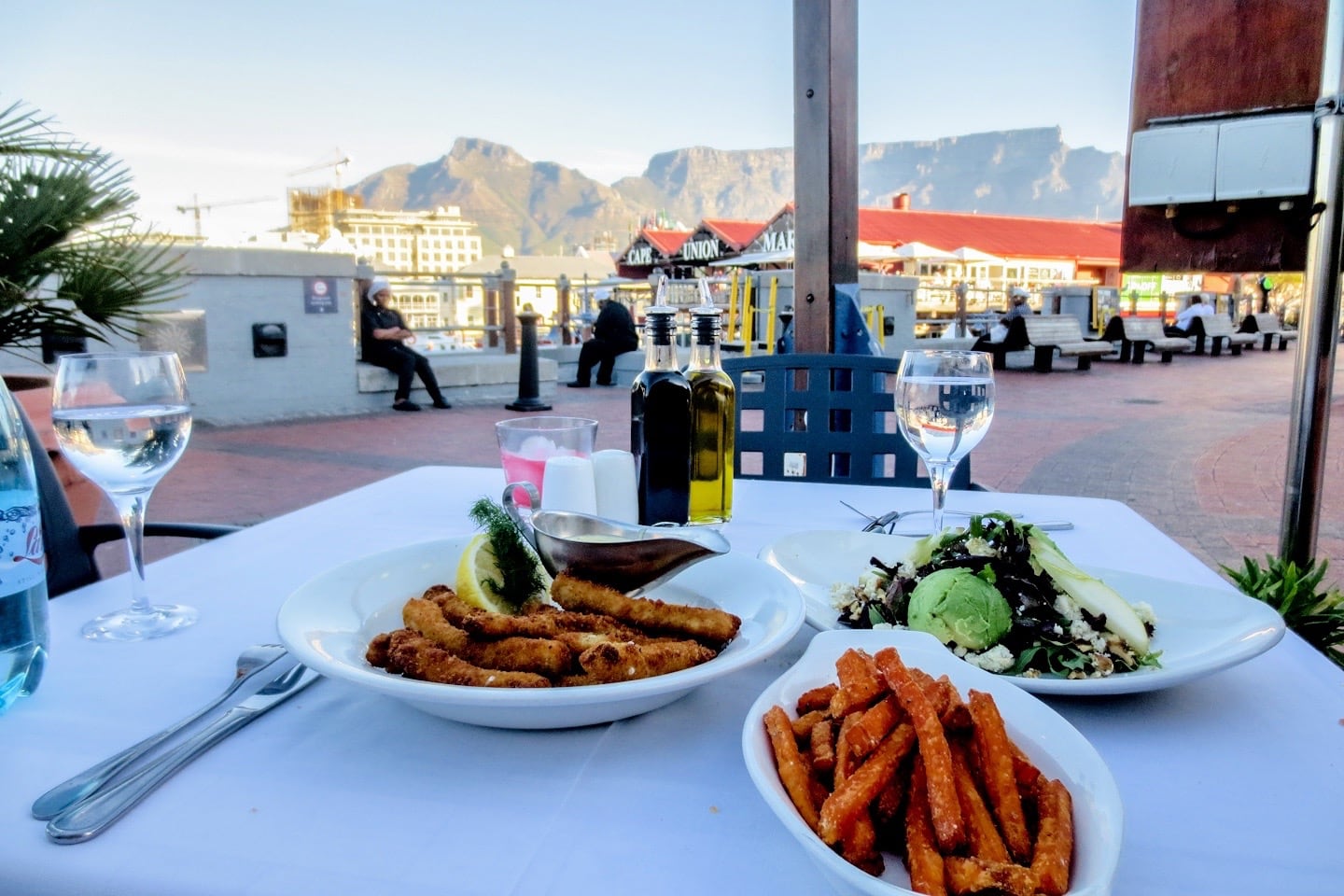 TBD Afternoon
We always like to build in a To-Be-Determined afternoon on our last full day when visiting just about anywhere.
This gives us the opportunity to visit anything we feel like we missed, revisit favorite attractions, make last-minute gift and souvenir stops, or finalize arrangements for onward travel, and is a great way to wrap up a one-week Cape Town itinerary.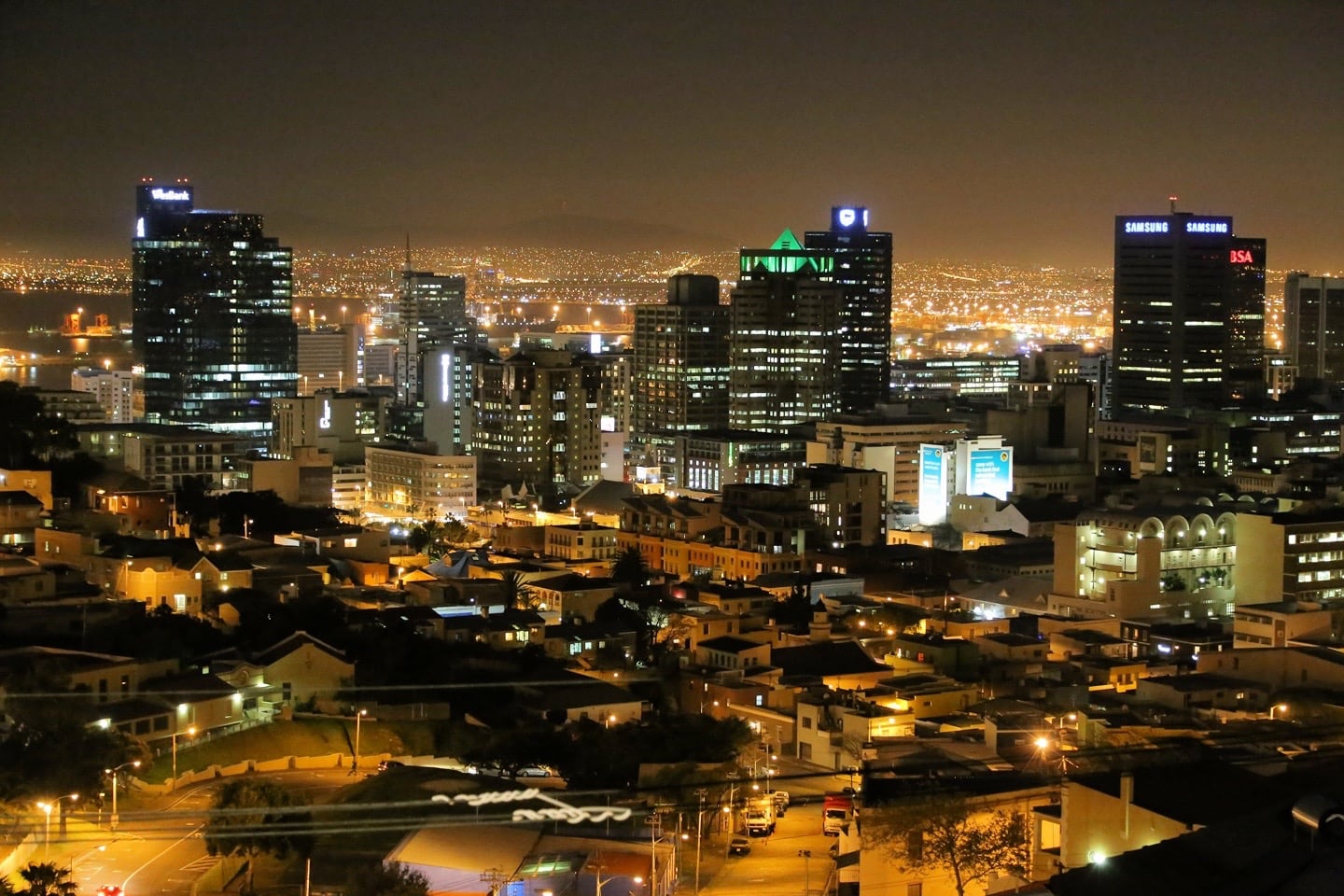 Is Cape Town Safe?
Cape Town (along with much of South Africa) often gets a bad rap in terms of crime and safety. While the hard realities of living in many communities throughout the region can't be overstated, the threat to short-term leisure travelers frequently is.
In addition to Lori and me, we've personally known dozens of people who have visited Cape Town and every one of them walked away with a very positive experience.
With that said, do be mindful of the extreme social inequities that exist here and be modest and respectful with regards to your personal belongings.
Like anywhere, stick to the well-trodden areas, avoid finding yourself out alone late at night, keep your wits about you, and you'll very likely have a great experience as well.
Be prepared, use common sense, and travel safe!
---
And That's Our One Week Cape Town Itinerary!
Have you visited Cape Town recently?
Tell us about your experience in the comments below.
---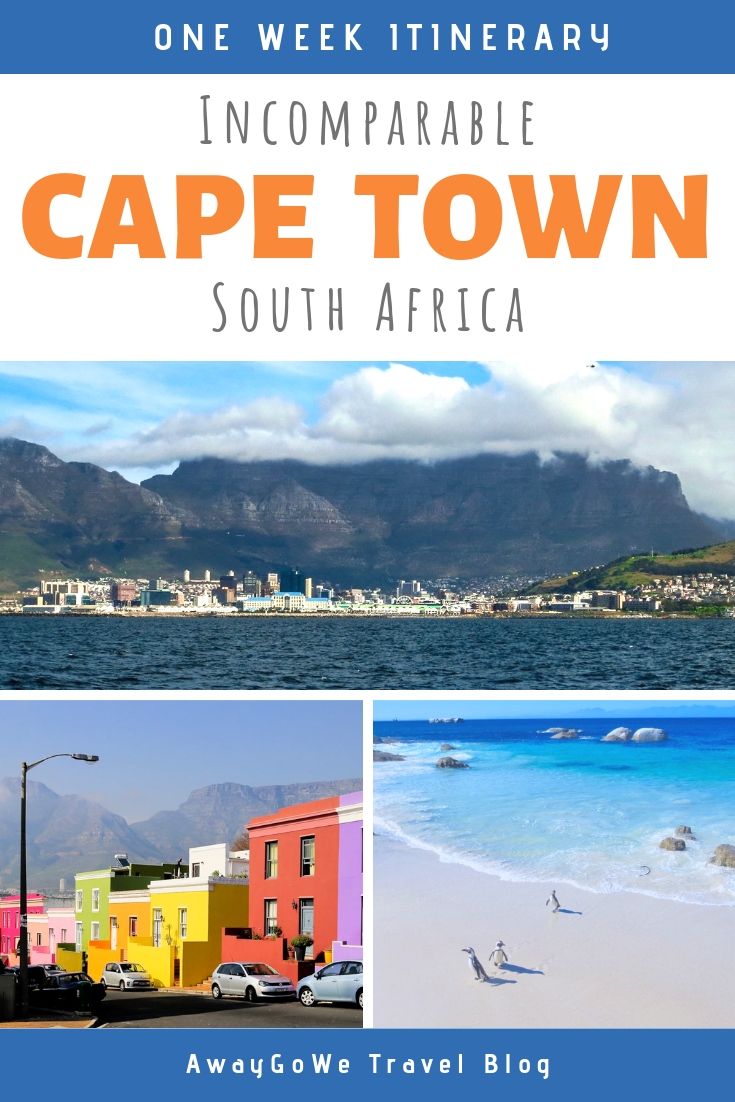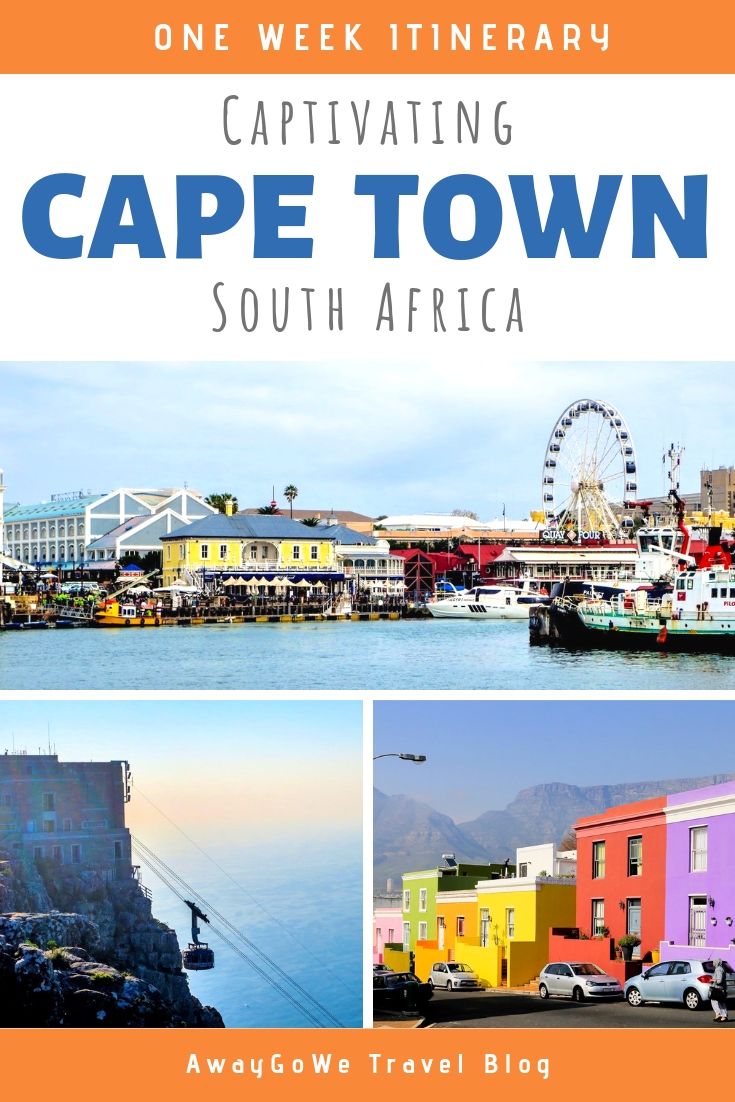 I've been a blogger and travel writer since 2010, covering everything from luxury hotels to hidden destinations and travel gear. Originally from Oregon, I've spent the majority of the past 20 years living outside of the U.S., in Mexico, the Caribbean, Southeast Asia, Africa, and Europe. I received a BA in Communications (Journalism) from Boston College, and an MA in International Development Studies from the George Washington University. I'm passionate about exploration and discovery, and providing independent, thoroughly-researched, ad-free advice for travelers.