We knew exactly two things about Mount Tai before attempting to climb it ourselves – the experience involved ascending over 6,300 individual stair steps and Taishan Mountain is very, very popular with people in China.
Well, that's not exactly true. We also had a vague understanding of its spiritual and religious significance and that emperors fancied a climb themselves every now and then.
Leaving behind the Western comforts of Shanghai and Suzhou, we were ready for a quintessential Chinese adventure – something relatively unknown to foreigners but a bucket list experience for locals.
We were also looking to test ourselves. Were we up to the challenge? Were we as fit as emperors and the tens of thousands of Chinese that make the grueling climb each year?
Lori and I were about to find out.
We also learned a ton along the way that we'd like to share with others considering their own climb up Mount Tai, such as how much time to budget for this adventure, what accommodation is actually like at the top (and where to stay), what essentials to pack, what kinds of facilities and services there are on the way up, how to catch the famous sunrise, and much more!
We also include our own detailed climbing report for those curious about what to expect.
With that, let's get to it!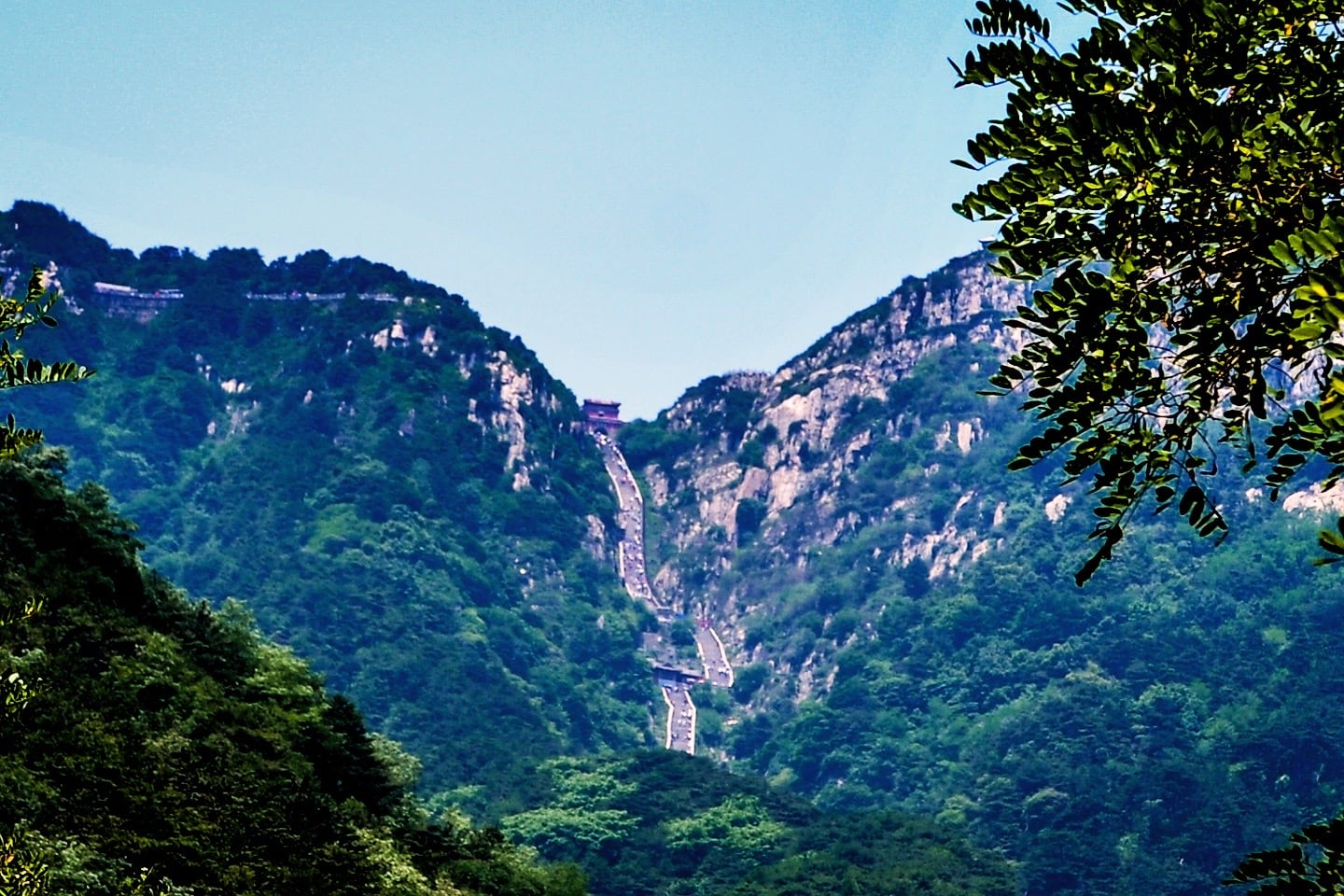 Guide to Climbing the Legendary Imperial Route of Mount Tai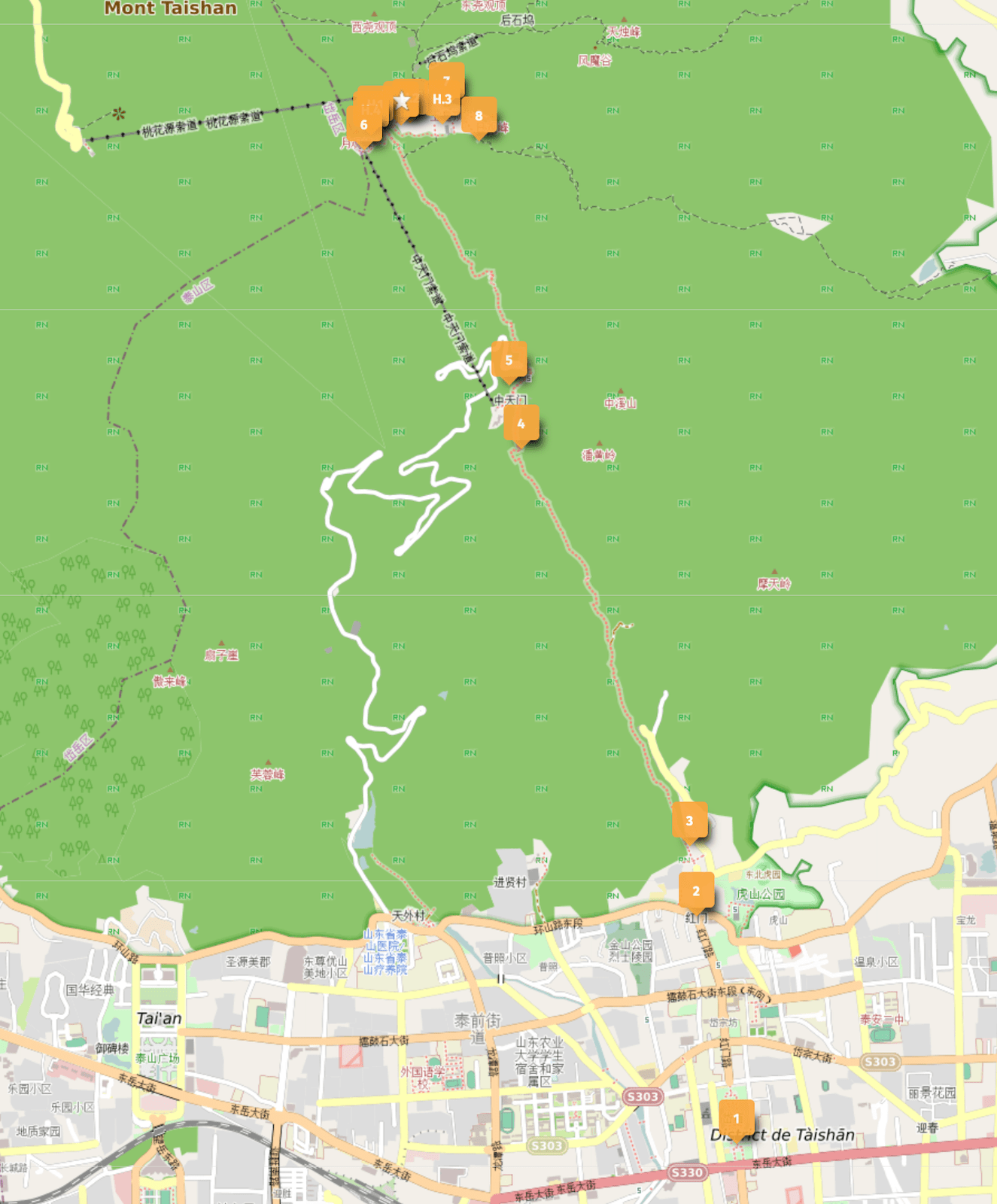 Climbing Mount Tai | An Overview
Despite reading up on climbing Mount Tai it wasn't exactly clear what we were in for.
We basically knew two things: The process of climbing the mountain involves ascending over 6,300 individual stair steps, and Taishan is very, very popular with Chinese.
These two facts alone might scare off a lot of non-Chinese-speaking foreign tourists (and indeed we only saw three non-Asian climbers during our entire two day journey), but Lori and I were excited to take on the challenge and see what all the fuss was about.
Climbing Mount Tai (like so many attractions and experiences in China) is not targeted to foreign tourists in the least, so don't expect to see much of anything written in English, French, etc., and certainly don't expect a soul to speak anything other than Mandarin or other Chinese dialect.
On Taishan, in total, there are:
7,200 total steps (including inner temple steps), with 6,293 Official Mountain Walkway Steps, lead up the East Peak of Mount Tai, along its course.
1,018 cliff-side and stone inscriptions
819 stone tablets
97 ruins
22 temples
14 archways
14 kiosks
11 gates
4 pavilions
Anywhere from 20 to 1 billion Chinese tourists (depending on the season)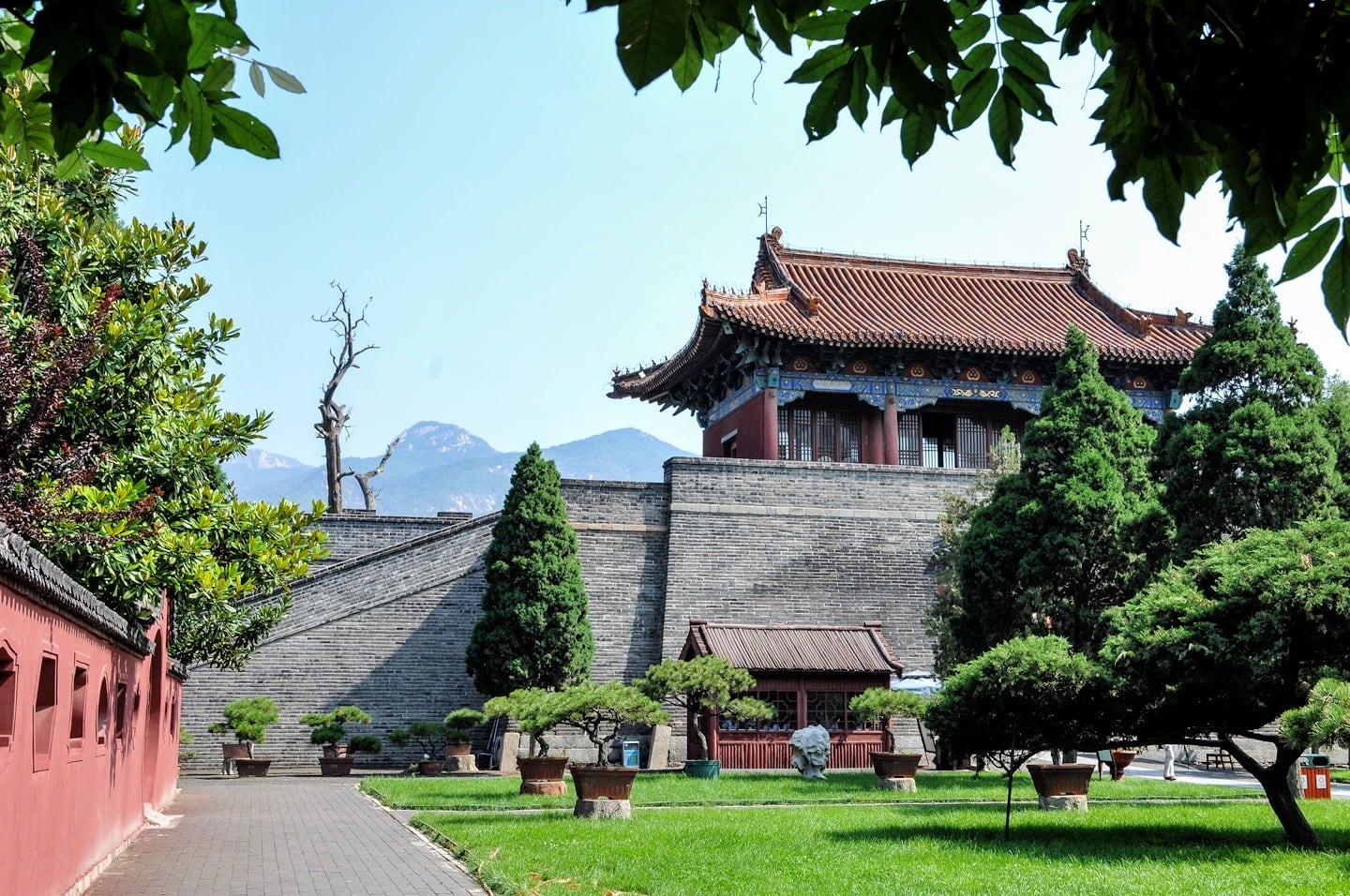 A little background on Taishan (Tai=Peace/Peaceful; Shan=Mountain) from wikipedia:
Mount Tai (Chinese: 泰山; pinyin: Tài Shān) is a mountain of historical and cultural significance located north of the city of Tai'an, in Shandong province, China. The tallest peak is the Jade Emperor Peak (Chinese: 玉皇顶; pinyin: Yùhuáng Dǐng), which is commonly reported as 1,545 metres (5,069 ft) tall, but is described by the PRC government as 1,532.7 metres (5,029 ft).

Mount Tai is one of the "Five Great Mountains". It is associated with sunrise, birth, and renewal, and is often regarded the foremost of the five. Mount Tai has been a place of worship for at least 3,000 years and served as one of the most important ceremonial centers of China during large portions of this period.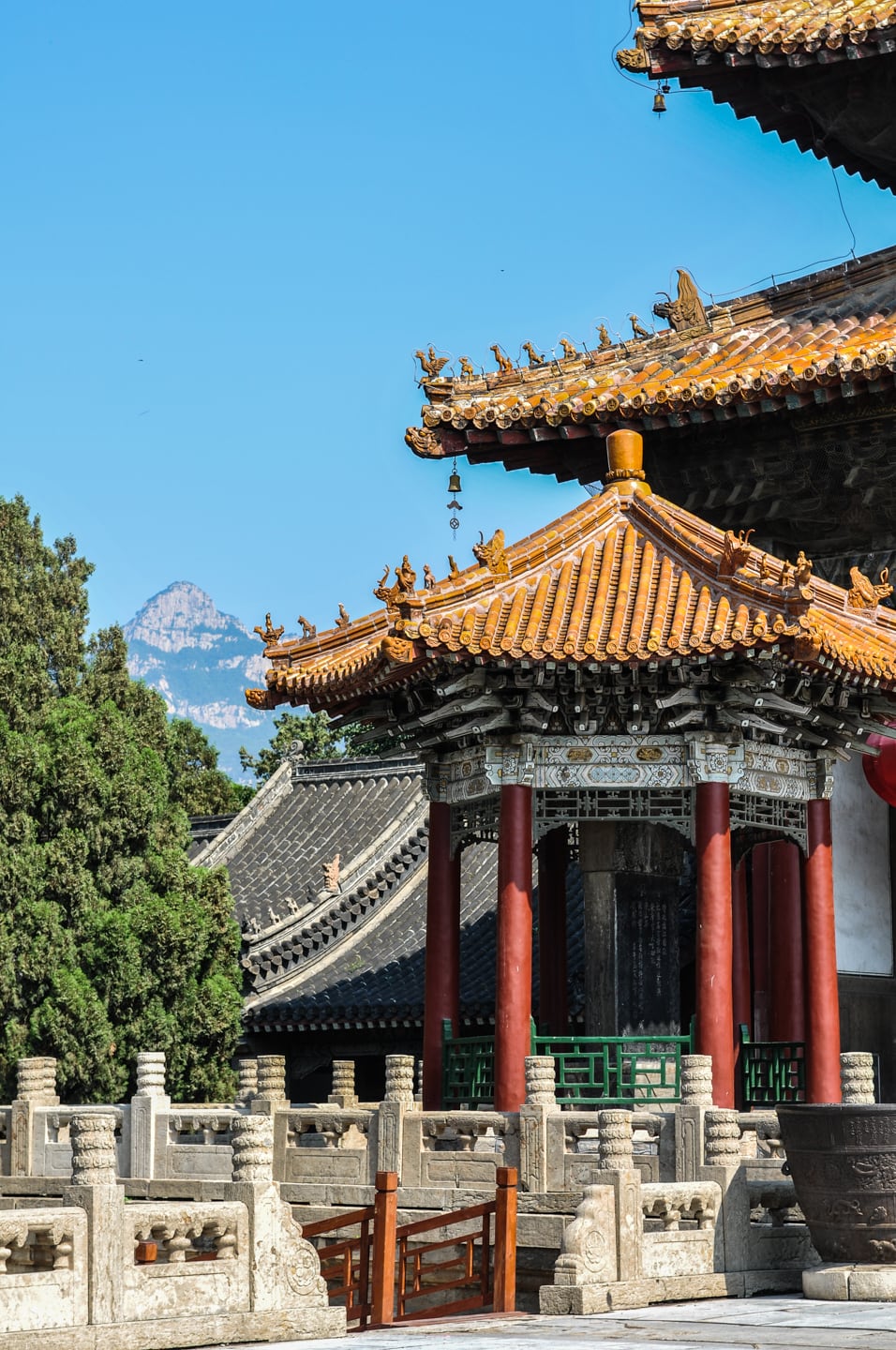 Where to Stay on Taishan Mountain
That seems to be the 1 million yuan question!
Climbing Mount Tai is so far off the average foreigner's radar that even in 2021, reliable information (in English) for places to stay on Taishan Mountain is still hard to come by.
If you want to secure your room ahead of time, start with Shenqi Hotel. If they don't have availability, we suggest moving on to Xian Ju Hotel (this is where we stayed). Some visitors to the summit have reported luck with Yunchao Hotel as well.
Keep in mind that the three options above are likely to run you between US$40-$100 per night (and are average in terms of services and amenities).
If you're on a tighter budget, you may be able to get a better deal if you're willing to wait to book until you get there (though of course this carries a certain amount of risk on the top of a mountain).
Rumor has it that there are even cheaper local dorms on the summit, but you'll likely need a fair amount of Mandarin (or friend who speaks it) to find and secure one for the night.
Where to stay in Tai'an
The night before the hike, we stayed in Tai'an (often referred to as Taishan City).
It's worth keeping in mind when you are looking for accommodation that Tai'an is a sprawling city with some two million residents.
While there are a few international brand hotels (e.g. Ramada, Holiday Inn Express), they typically tend to be located far from the beginning of the main route up Mount Tai.
The good news is that the main rail station where you'll likely arrive (Taishan Railway Station) is not far from Red Gate or Dai Temple (the two most popular starting point for Mount Tai climbers).
And…that there are a smattering of serviceable accommodation in and around this area.
However, if you are an English-speaking foreigner with no (or very limited) Mandarin speaking skills (like us), your best bet by far is going to be the Taishan International Youth Hostel (which is where we ended up).
Be forewarned, accommodation here is still fairly basic. But you have a good chance of one of the staff speaking some English, and stand the best chance of running into the one other foreigner in the whole city planning their own climb up Mount Tai.
Is an overnight stay in Tai'an necessary to climb Mount Tai?
An overnight stay in Tai'an may not be necessary if you're pressed for time, given that Mount Tai opens very early and remains open very late (perhaps even 24/7, but this is 100% dependent on ticket office hours).
Three young Chinese guys at our hostel woke up around midnight to begin their journey up the mountain in time to watch the sunrise from the top.
And, in fact, watching the sun rise atop Taishan seems to be the main attraction and even principle motivation for the long slog up Mount Tai in the first place.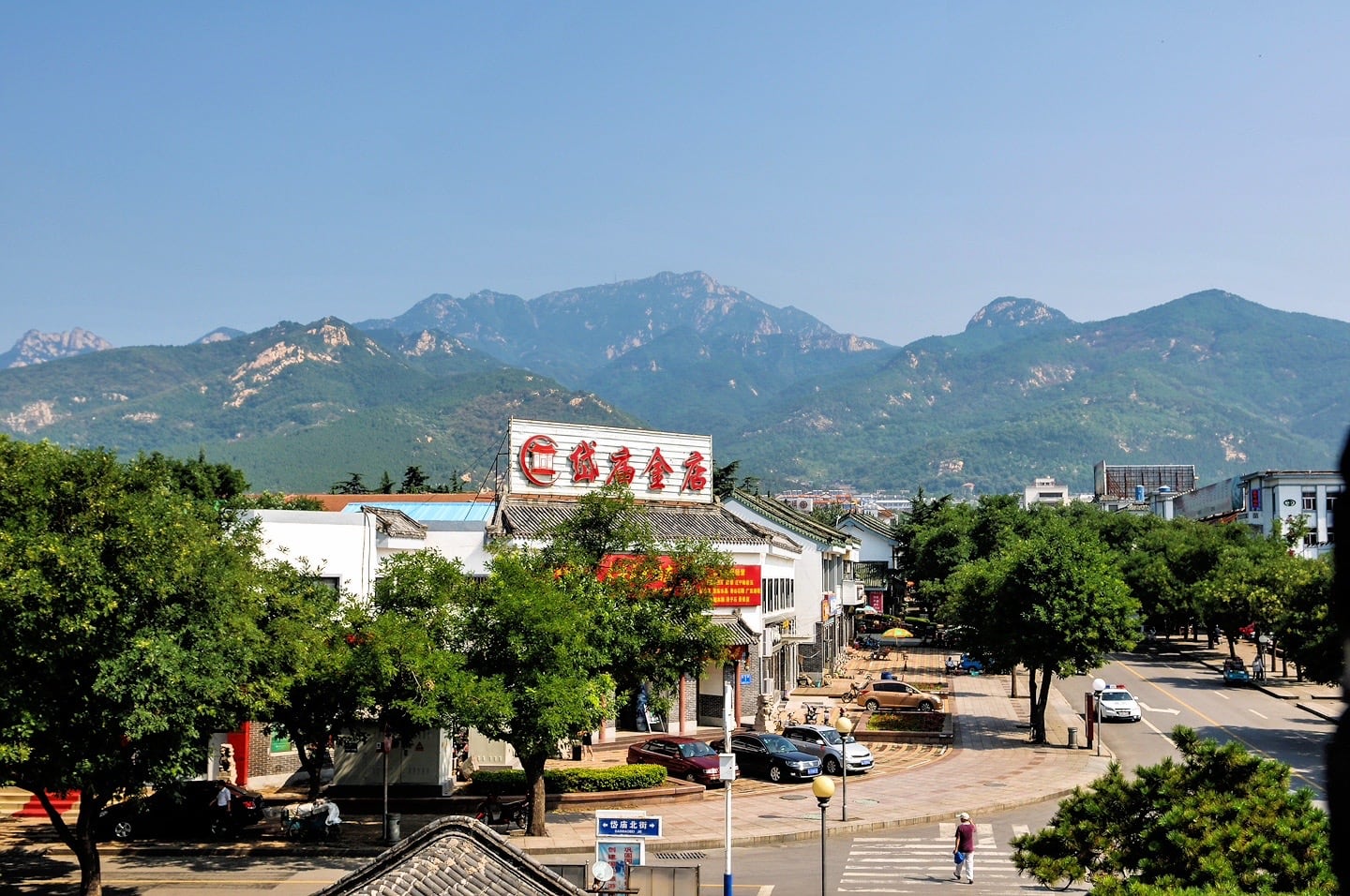 Climber's Breakfast
This might be a good time to talk breakfast. You're going to need a good, hearty breakfast to start your journey given that there aren't many places along the way to get a proper meal before the summit.
At the time of writing, our hostel had two choices: American breakfast and English breakfast (same as the American, but adds a tomato… for the same price).
Lori and I chose to eat breakfast at our hostel because it was easiest, but we didn't find the meal terribly filling, or tasty, or that cheap.
In retrospect, a better option might have been grabbing breakfast at the McDonald's (one block north and about two large blocks west of the hostel).
If you're looking for powerfood for climbing mighty Mount Tai, you're just going to have to bring your own muesli, porridge, oatmeal, fruit and yogurt, or whatever is considered a power food breakfast these days (that all sounds quite delicious, but quite unrealistic in Tai'an).
And of course, if you're into noodles in the morning, noodles in the evening, noodles at suppertime…there are always noodles (instant and otherwise) to be had nearly everywhere.
What to Pack
For climbing Mount Tai, you won't need a ton of gear. But there are a few essential items you'll want to be sure to pack.
Our best advice is to PACK LIGHT! After all, you'll be climbing 6,300 steps.
If you plan to stay the night in Tai'an on either side of your trek, be sure to use this to your advantage by asking to leave your longer-term travel gear at your hostel or guesthouse.
There are also a few places offering Left Luggage (storage) services in the Red Gate area near the beginning of the route.
Your top two priorities climbing Taishan Mountain will be to stay hydrated and protect yourself from sun exposure.
While much of the route up is blissfully shady, there are enough exposed areas over the course of four or so hours to warrant the use of sunscreen and some sort of head covering like a sun hat.
A neck cover (shemagh) is also a great idea, not just for protecting your neck from the sun, but for wiping sweat off your brow (of which you should expect copious amounts!!!).
As for hydration, ideally you'd want to have a lightweight hydration backpack, but of course a reusable water bottle will work just fine.
If you forget your water bottle in Tai'an (or run out of water en route) there are numerous places to buy water and other beverages on the way (just keep in mind that as the elevation increases, so does the price!).
You'll definitely want a comfortable pair of walking shoes or hikers for this adventure. You may want to pass on the hiking sandals. Why? Think of Mount Tai as the ultimate stair workout. Would you do a stair workout in sandals?
I've trekked all over the world in my Lowa Renegades and absolutely love them.
Telescopic trekking poles may improve the experience for a lot of people, particularly on the way back down. If you've got any concerns about your balance or tackling 6,300 steps up and also down, these may be essential kit to bring along if you can.
If you plan on heading up the mountain before sunrise (or after sunset), or catching the sunrise while staying on the summit, we also recommend packing a headlamp.
Other essential items you'll definitely want to have on hand is more than enough money for your time on Mount Tai (at the time of writing there are no ATMs on the summit (that we know of), but plenty down in Tai'an). And don't forget a pack towel and toilet paper!
Finally, your trusty camera (I love my Sony a7iii mirrorless camera) for capturing this unique, once-in-a-lifetime trek.
Other Frequently Asked Questions
Are there really 6,300 steps to the top of Mount Tai?
More or less, depending on who you ask.
The lowest number we've seen reported is 6,000 stone steps and the highest is 7,200. At some point along the route, we came across the number 6,293 on an information placard and rounded it up to 6,300.
Our understanding is that there are somewhere in the ballpark of 7,200 steps overall, including all the steps in the pavilions and temples along the route, and 6,293 official steps leading up the Imperial Route.
How much time for Mount Tai?
For most climbers, we recommend budgeting about 24 hours for Mount Tai.
Taishan can be experienced in a lot less time, with the majority of visitors these days making a day trip out of it via a combination of bus and cable car to get up and down the mountain. In this way, Mount Tai could be experienced in a matter of hours.
However, if you plan to do the classic emperor's pilgrimage along the Imperial Route like we did (6,300 stairs up and 6,300 stairs down), you are far better off giving yourself a night on the mountain and half day or more on both sides of your trek.
The climb from the ticket office to the summit of Mount Tai (Jade Emperor Peak) will take most people 4-6 hours, depending on personal fitness level, weather, and how many stops you make. Expect the descent to take an hour less than that.
There are several worthy points of interest on the summit and you should a lot enough time to casually make your way around the small village as well. With that said, most visitors won't find reason on the summit to extend their visit beyond one night.
Are there other climbing routes to the top?
Yes! While there are technically four routes to chose from to the top of Mount Tai, two of those involve utilizing transport options such as bus and cable car.
This guide is geared towards those planning to climb Taishan in the steps of the emperors, so you won't find information on bus and cable car prices and schedules here (not to mention its hard to stay current on all the information).
The fourth route to the top of Mount Tai (Tianzhu Peak Route) is a rugged hiking trail. While this route definitely sounds intriguing, we've chosen to stick to what we know and what we've done ourselves in our guide, which is the classic Imperial Route.
Our Complete Mount Tai Trip Report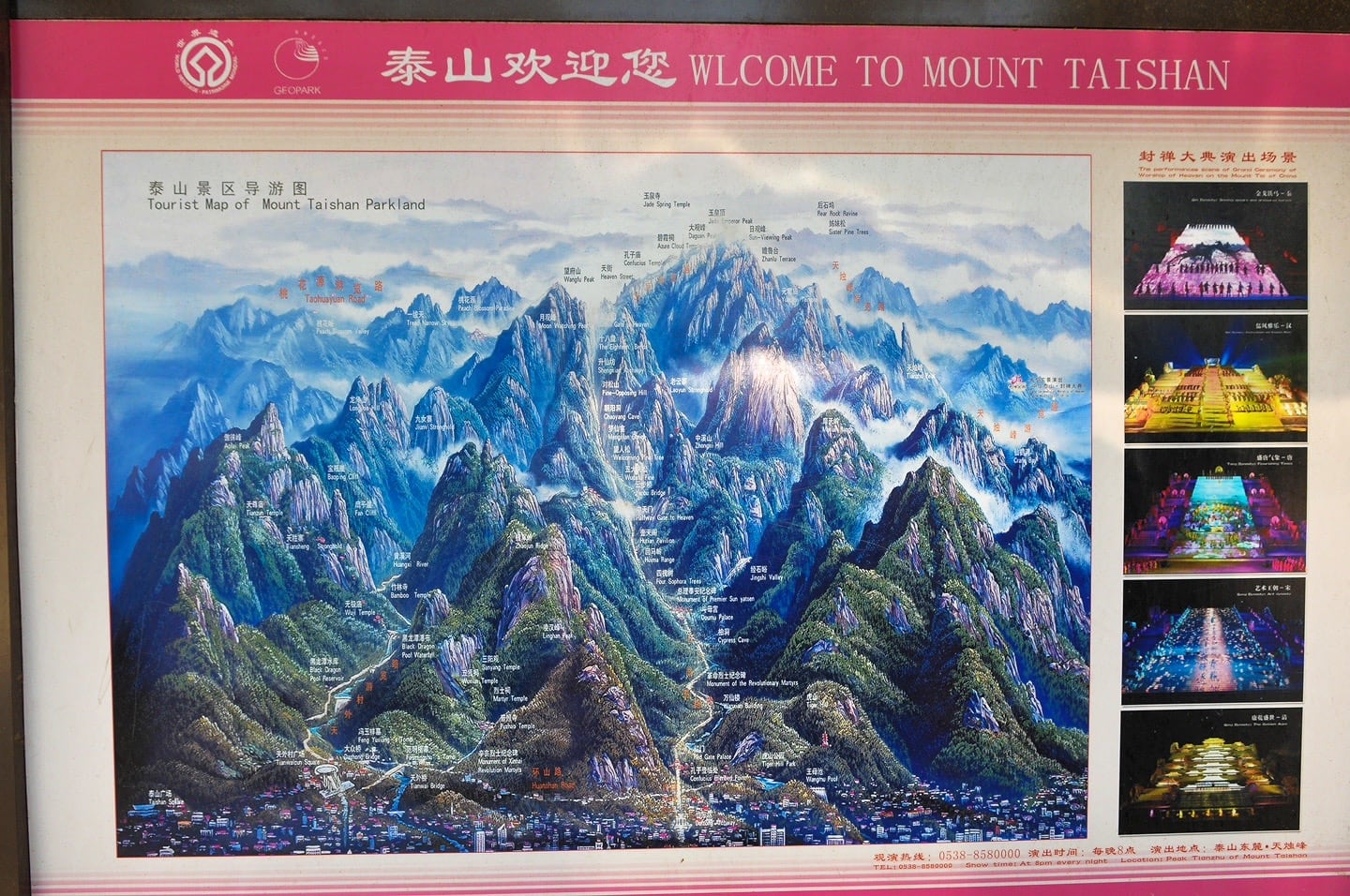 6,300 Steps :: The Climb
From ChinaCulture.com:
Taishan Mountain rises abruptly to 1,300 meters (4,265 feet) above the vast plain of north China. The sharp contrast between Taishan Mountain and its surrounding plain and hills makes it especially majestic.

Taishan Mountain rises from about 150m (492 ft.) above sea level (north of Tai'an City), to the Middle Gate to Heaven at 847m (2,778 ft.), to the Southern Gate to Heaven at 1,460m (4,790 ft.), and finally to the Jade Emperor Peak at 1,545m (5,068 ft.). Standing in the central part of Shandong, the mountain stretches 100 kilometers (60 miles).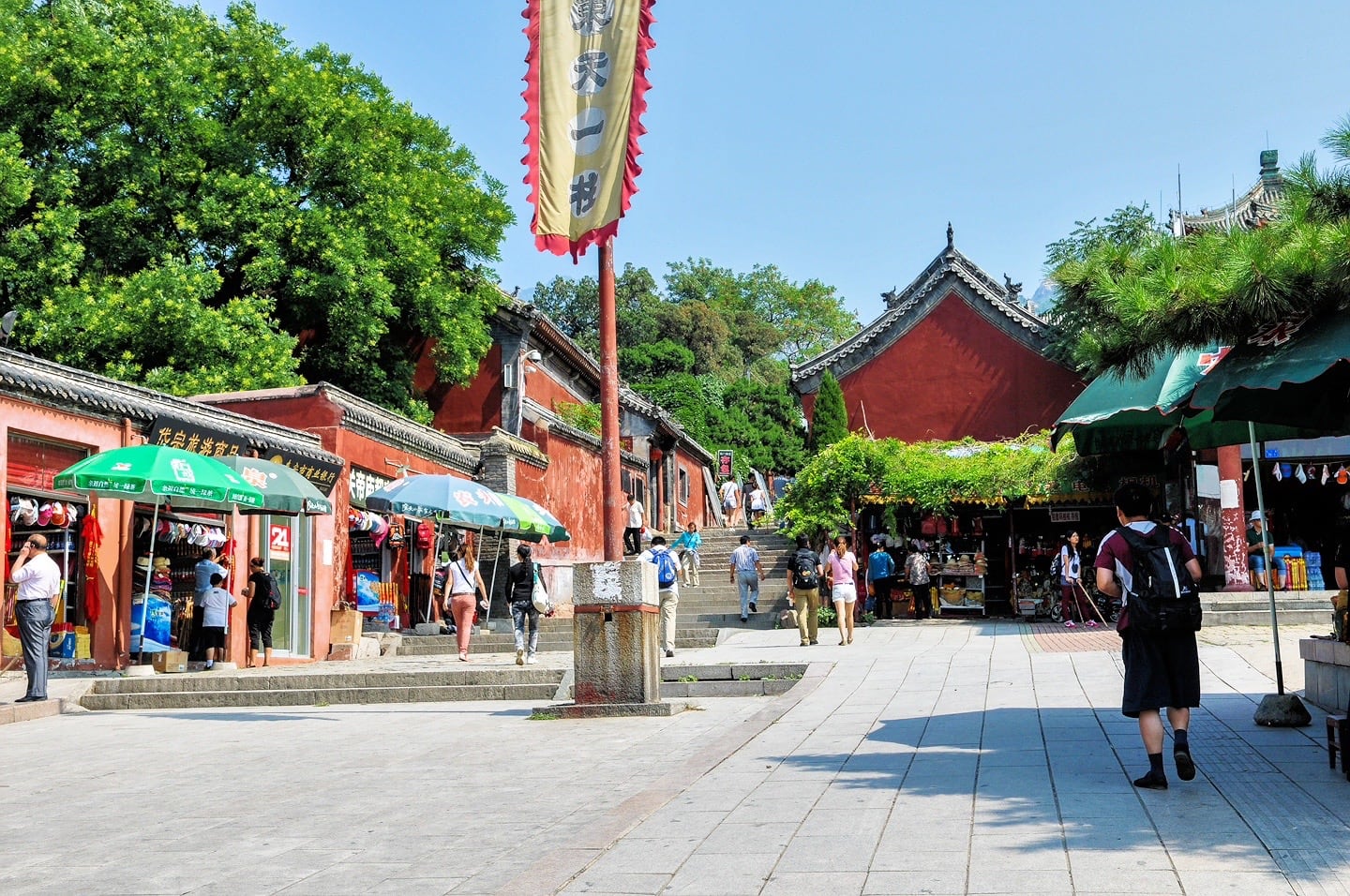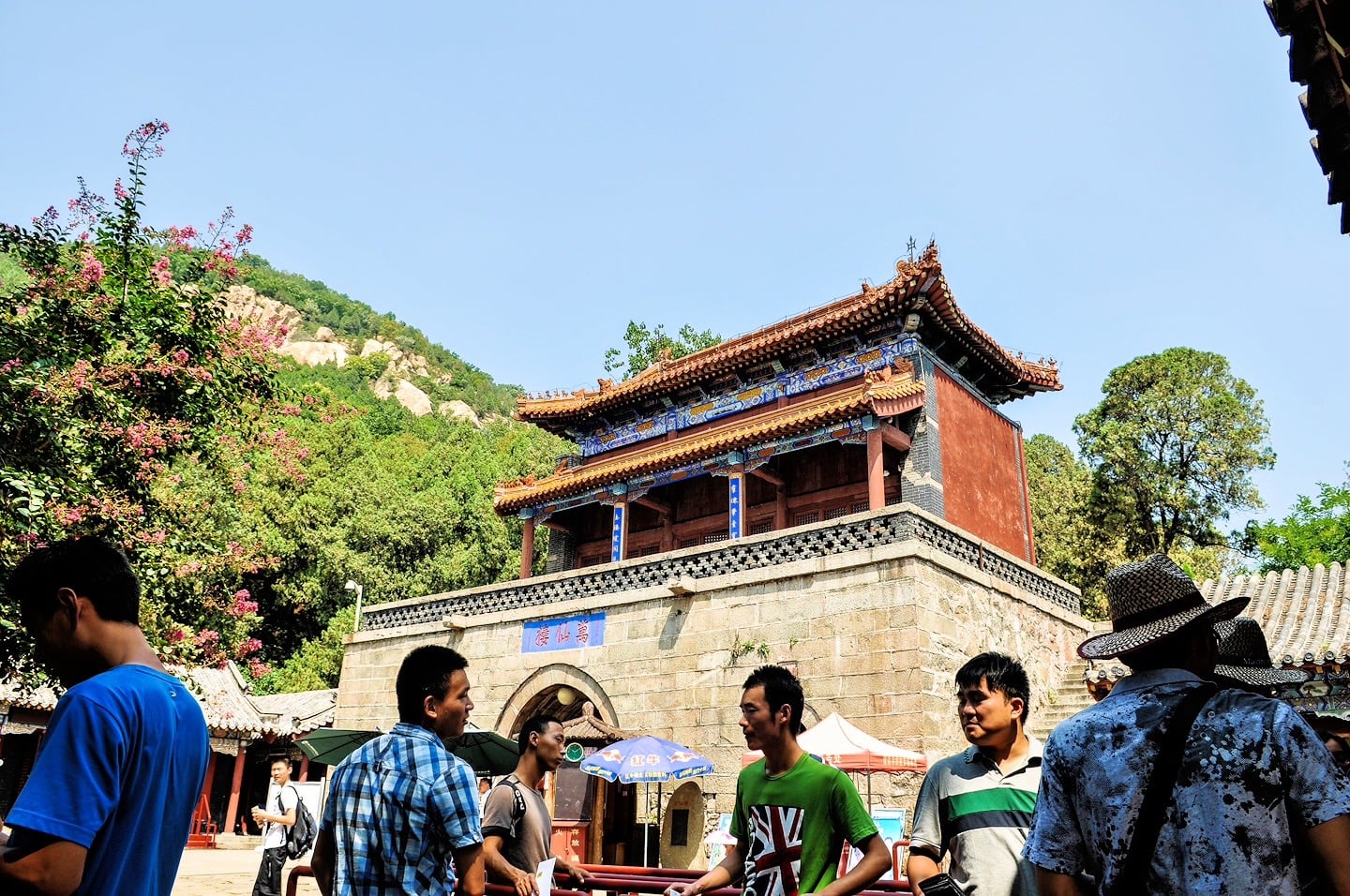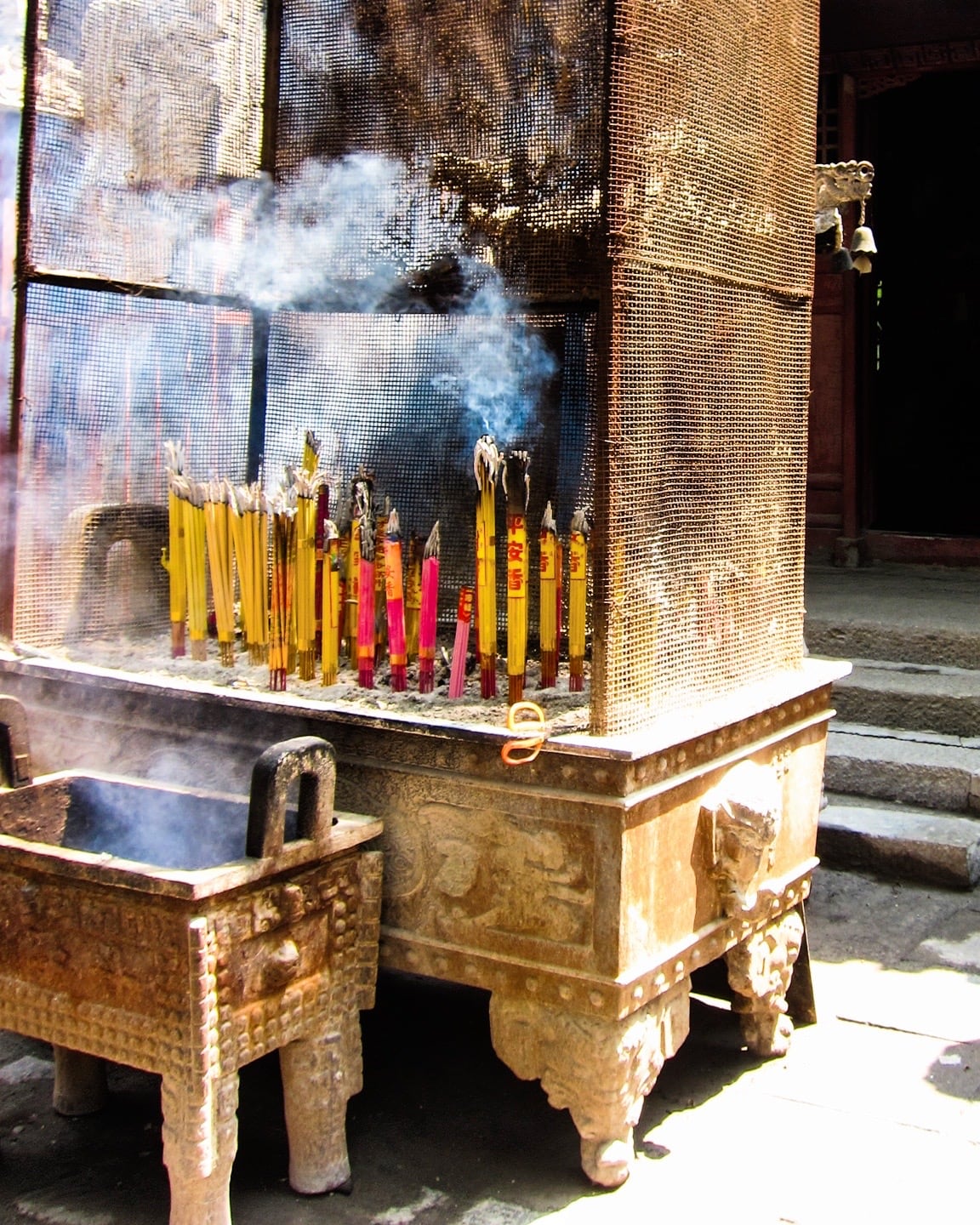 Once you get to the park entrance, it's about 500m to the Taishan Mountain ticket office (don't forget your student ID if you've still got one!).
Also, don't forget to stock up on water.
We brought about 2.5L of water and Propel with us. The day we climbed up was a scorcher and we could have easily brought more water.
Water, Propel, soda and even Red Bull (the Chinese love their Red Bull) can be purchased at regular intervals along the way up Mount Tai, but the prices increase as the elevation does.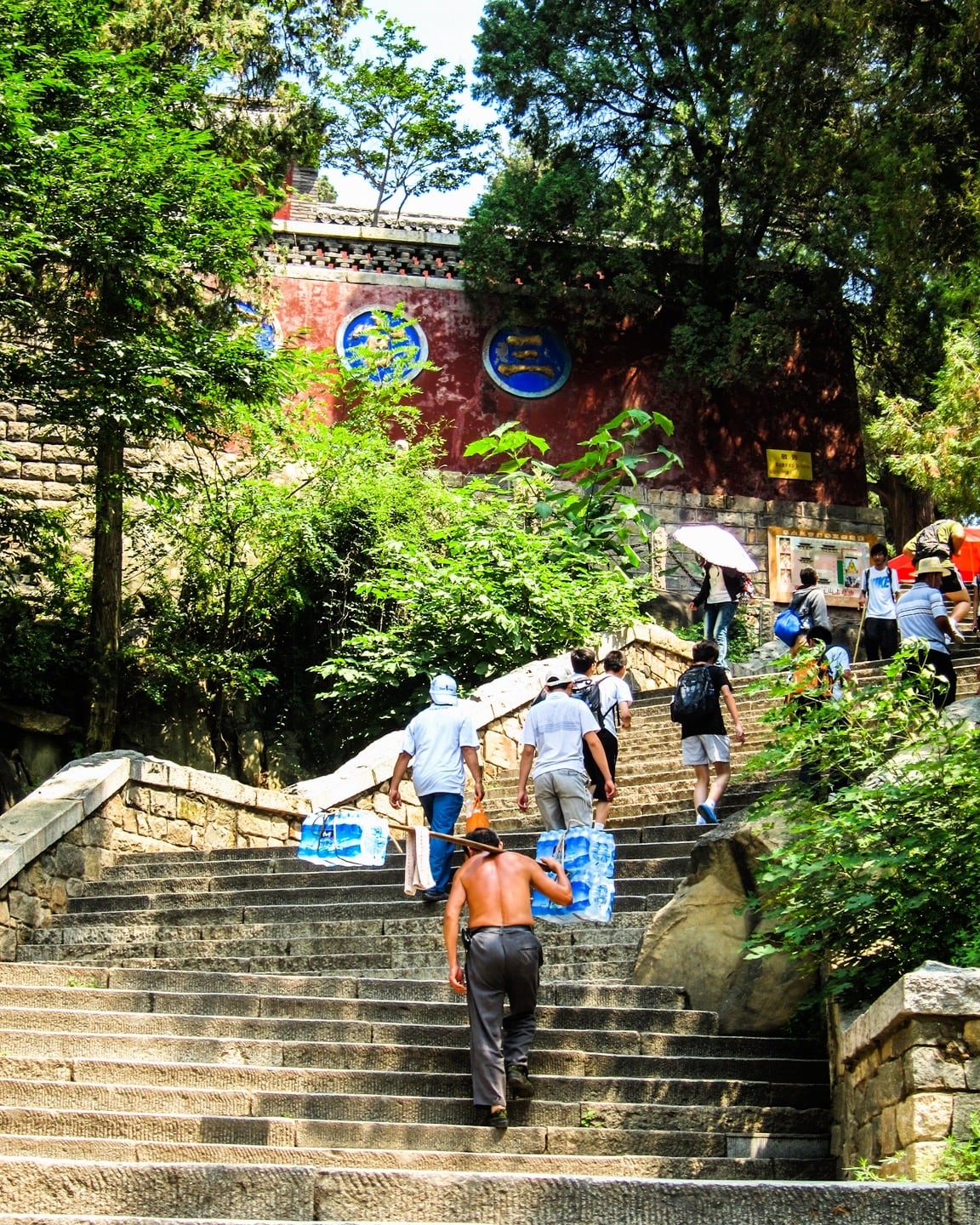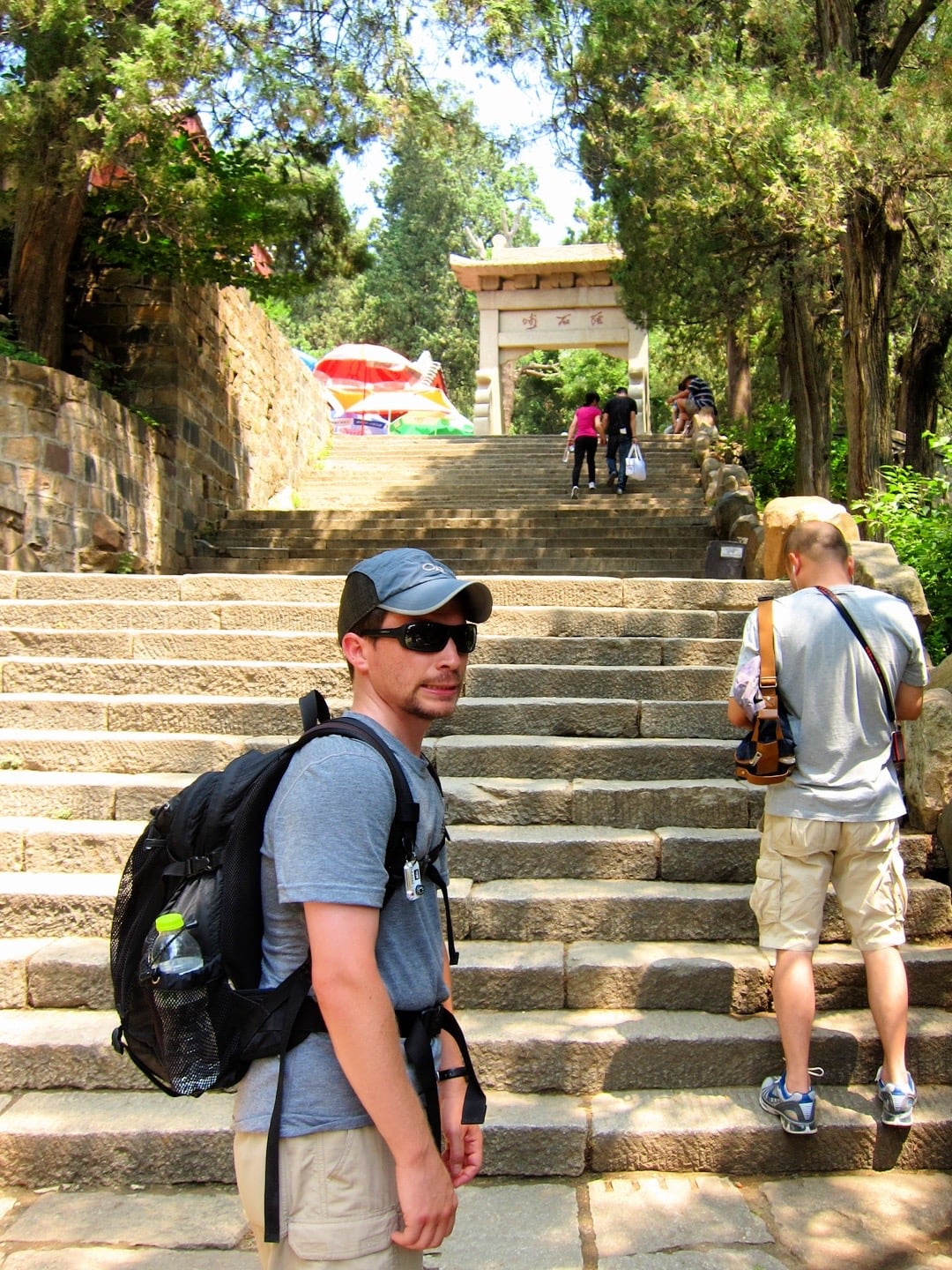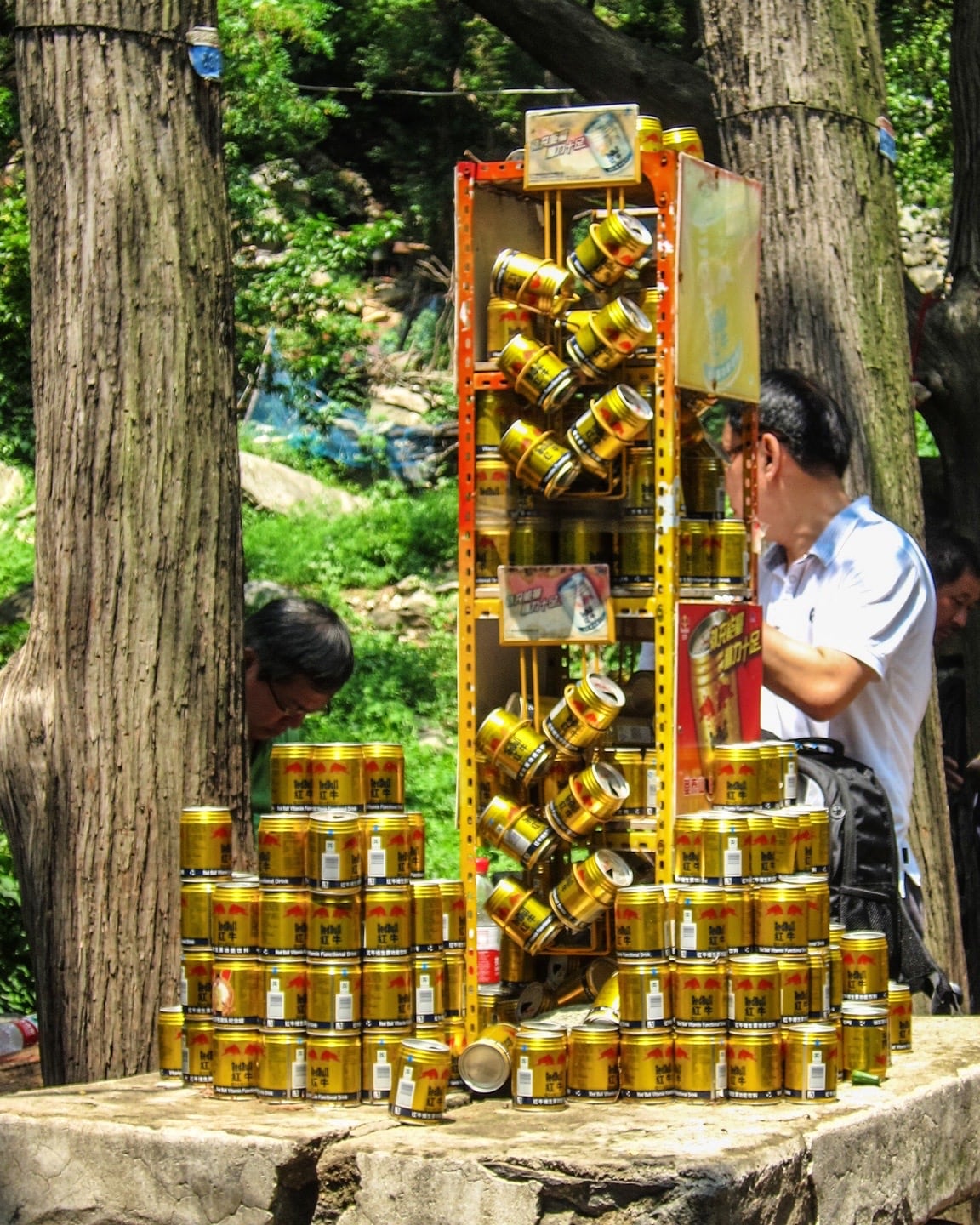 The climb can be done in a variety of ways to suit nearly every taste.
Heck, to ascend this holiest of mountains one need not climb anything! And indeed it appears that most visitors to Mount Tai take a bus to the half-way point, then a cable car the remaining way to the summit.
Many also appear to either walk the first half (the easier half) to the cable car station at the half-way point, or take the bus to the half-way point and walk the balance of the hike to the summit.
Alternatively, you can hike the whole thing up, then take the cable car/ bus combo down. Choose your own adventure!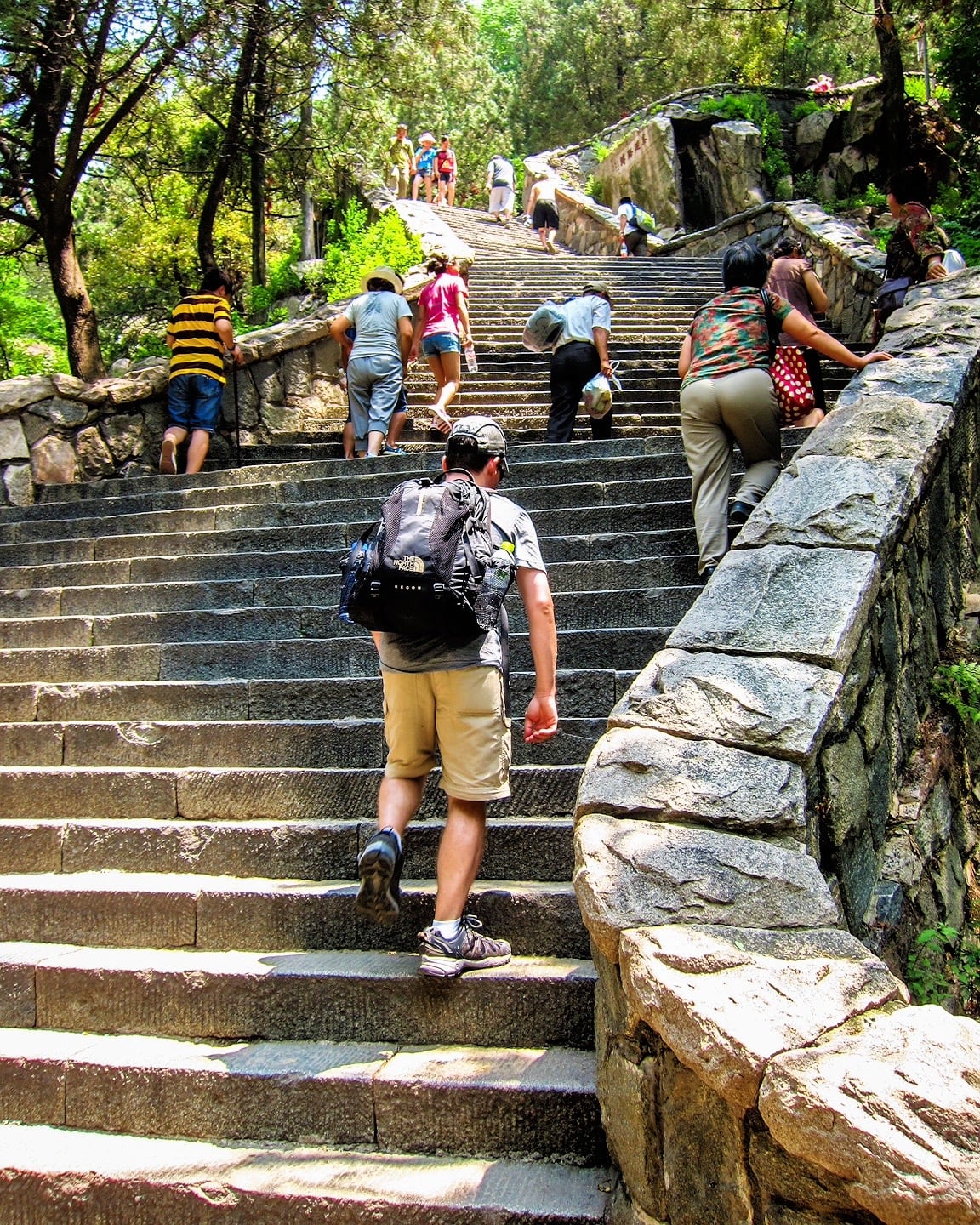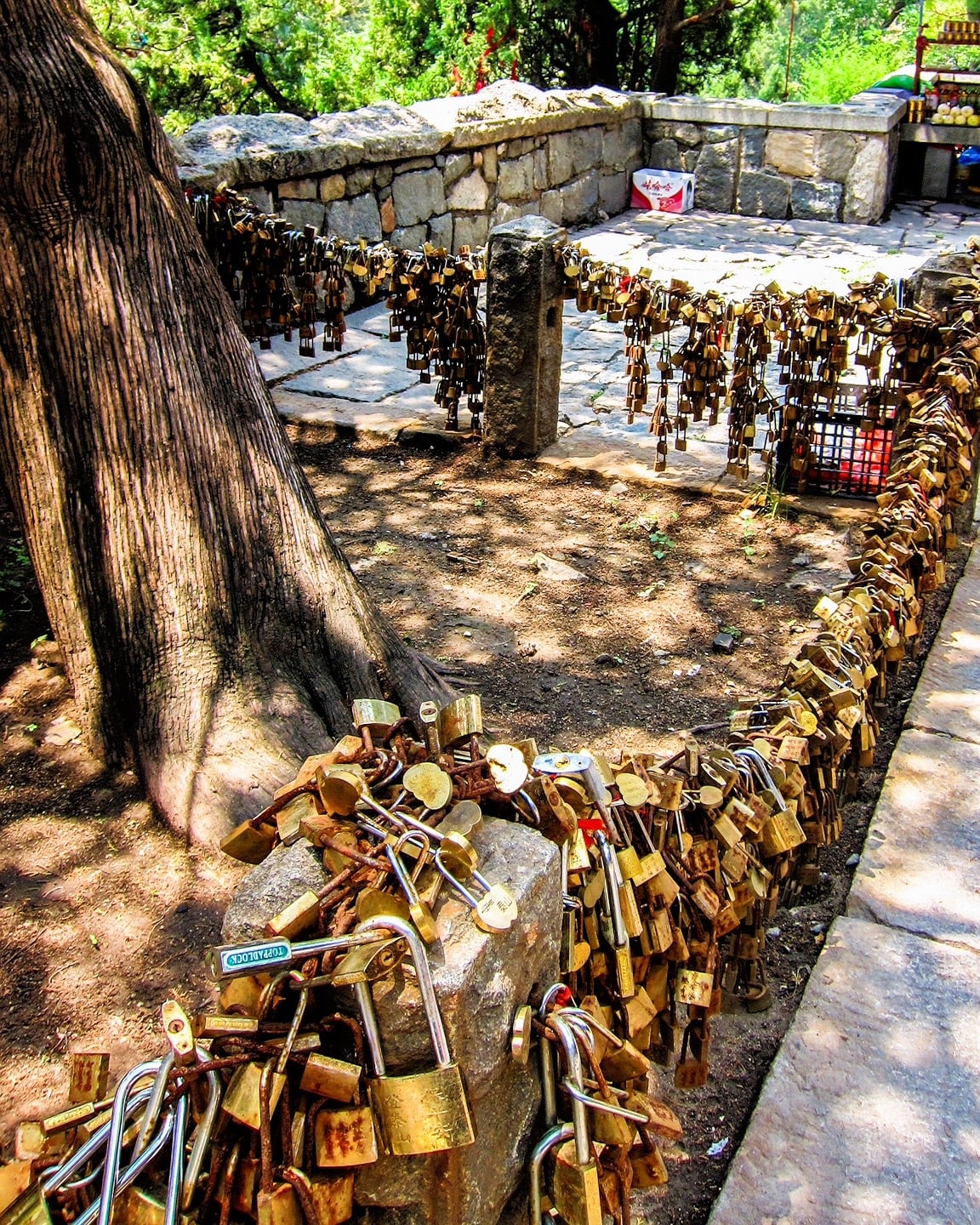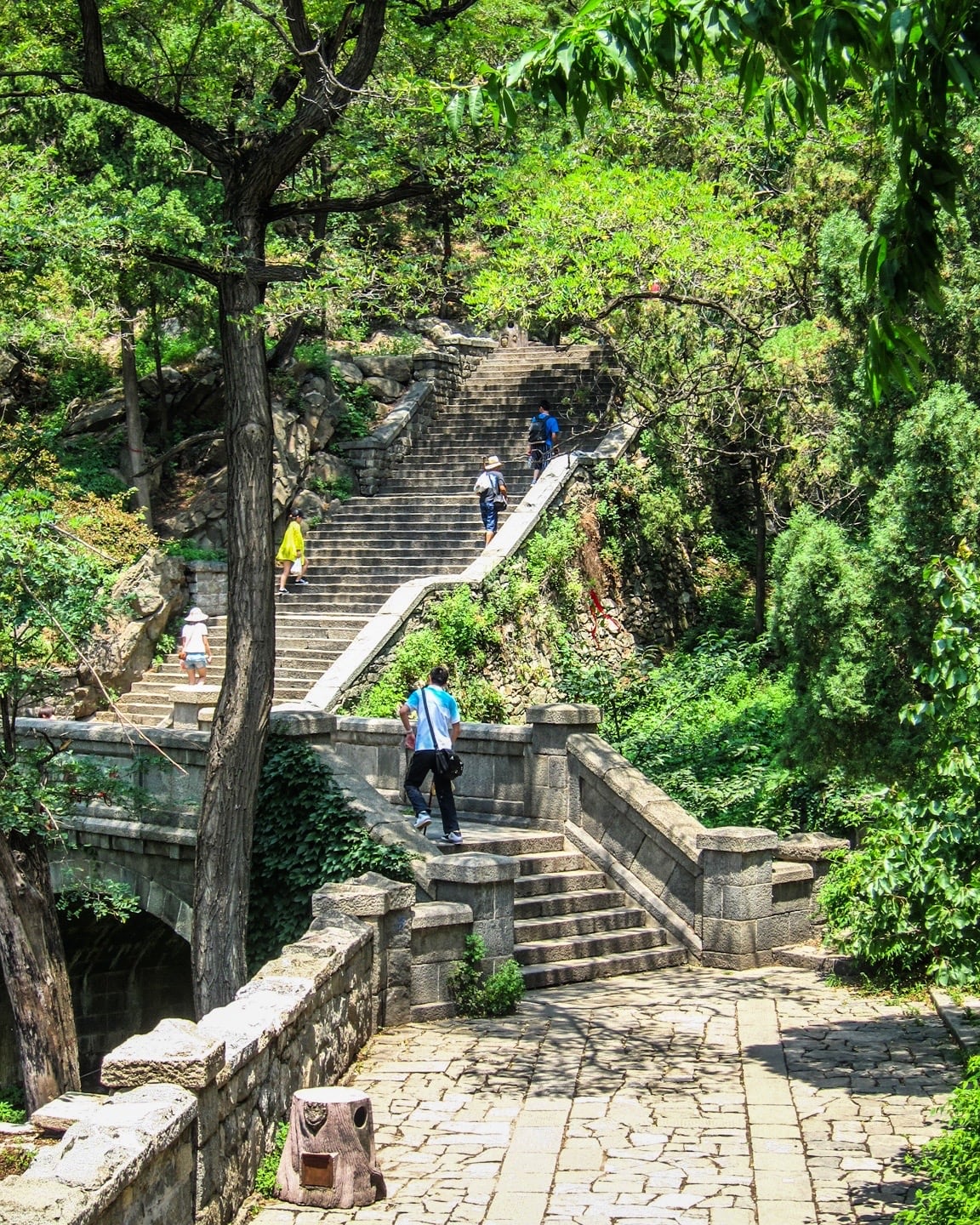 Ascending Mount Tai generally takes 4 hours beginning at the ticket office, stopping only occasionally to catch your breath and get a swig of water.
The descent averages about 3 hours.
Some choose to do the entire hike in a day (with a couple of hours at the top for resting and sightseeing) while others choose to stay overnight at the top.
Lori and I opted for the latter and were quite happy we did.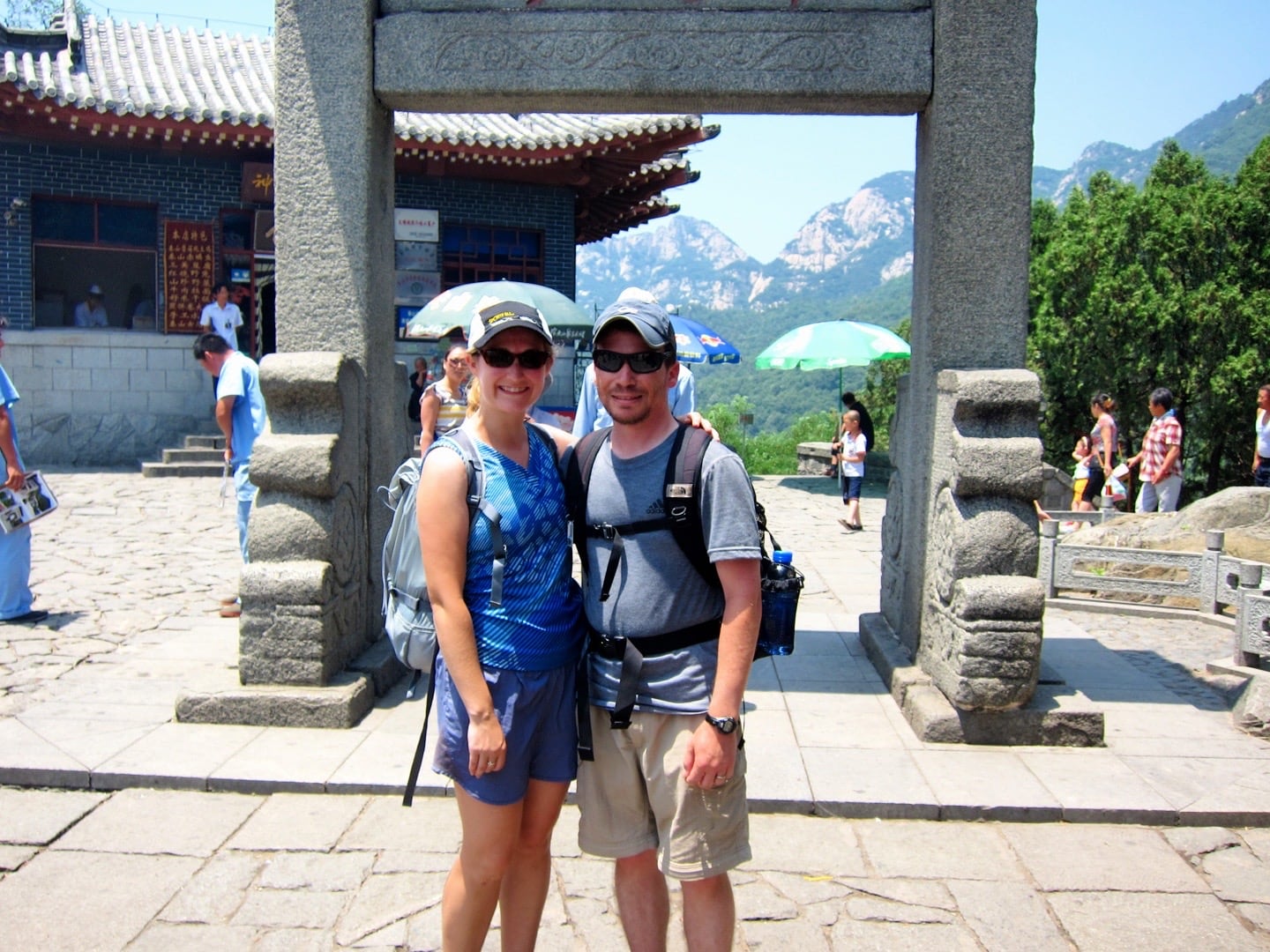 Mid-way Point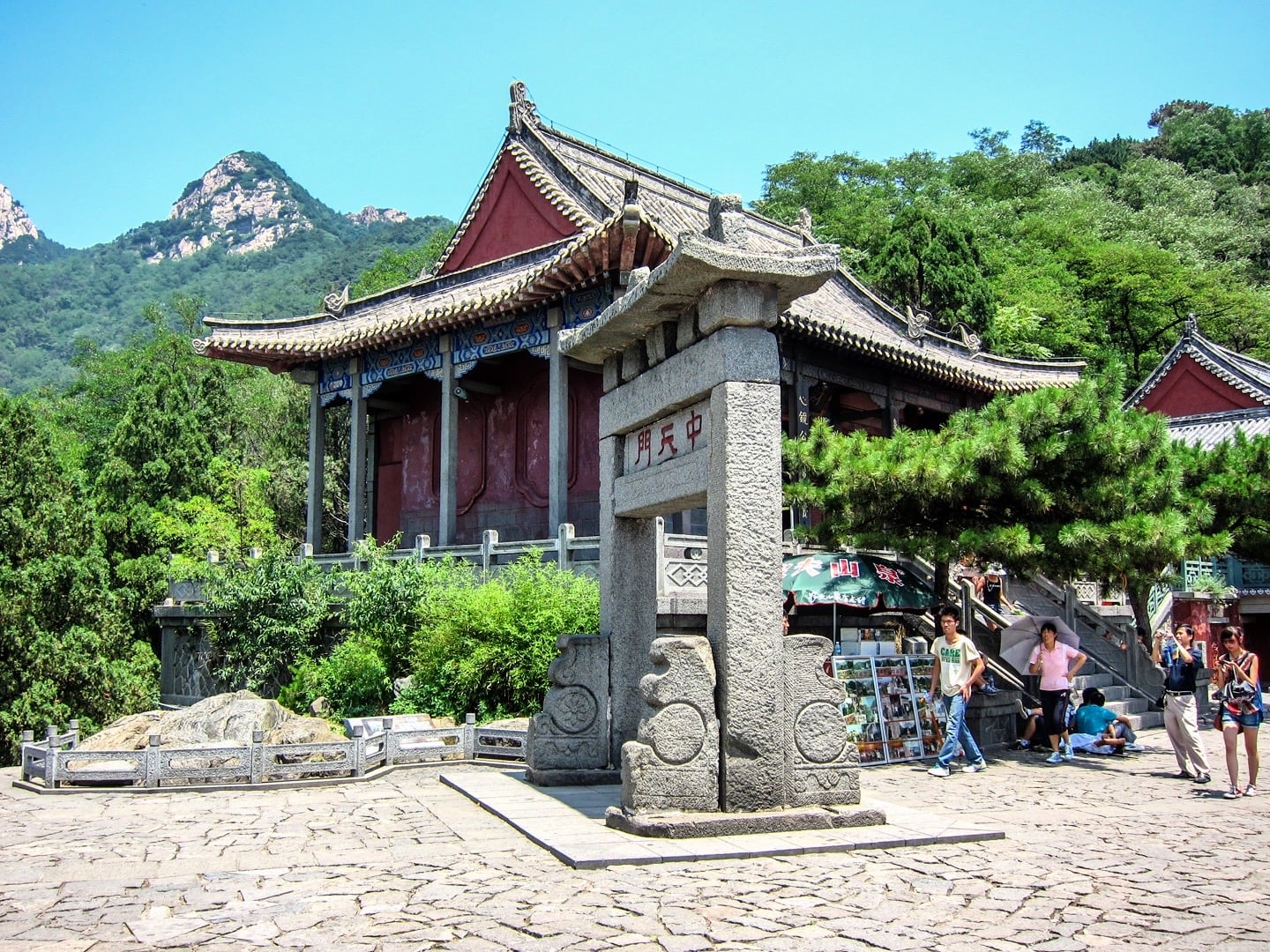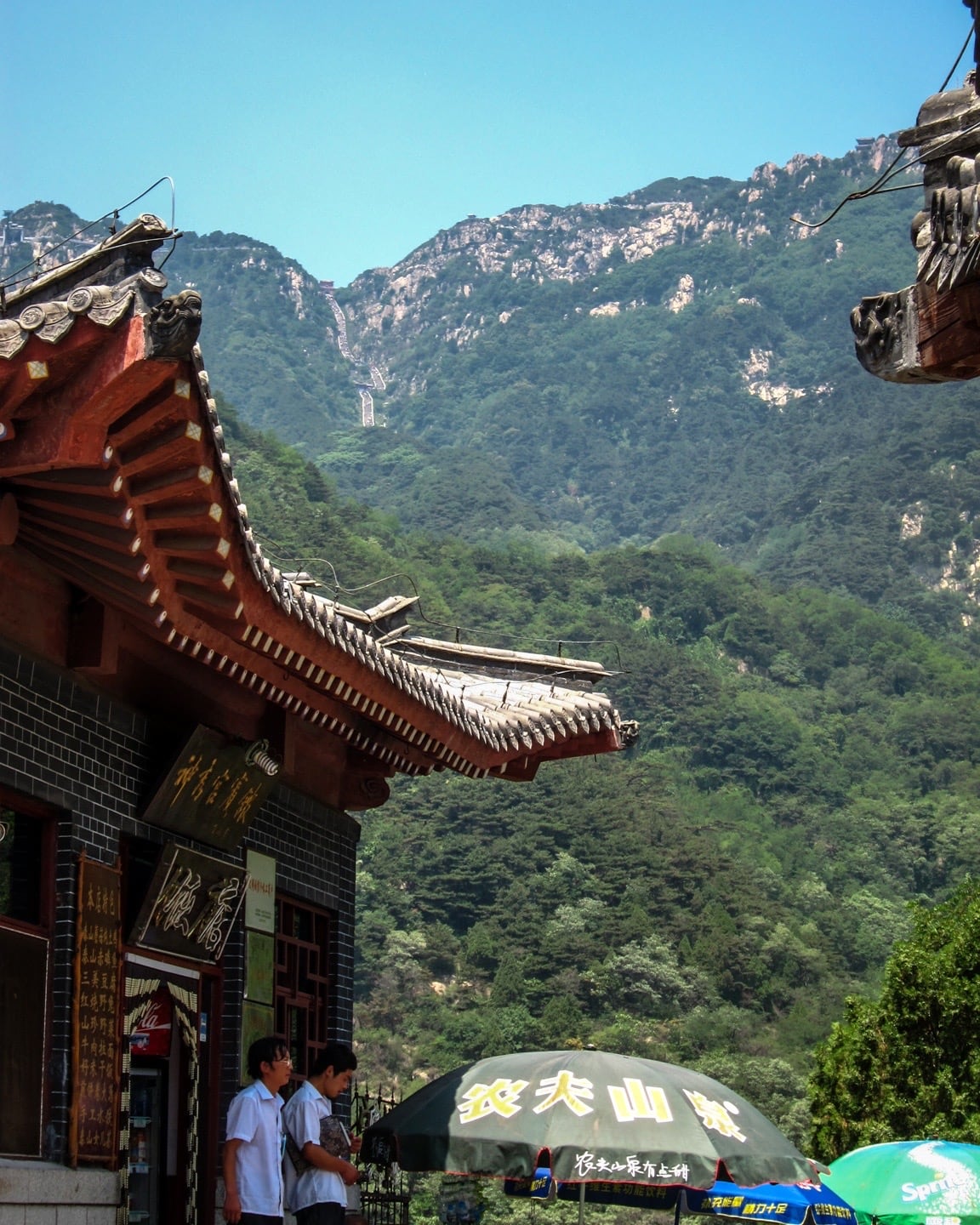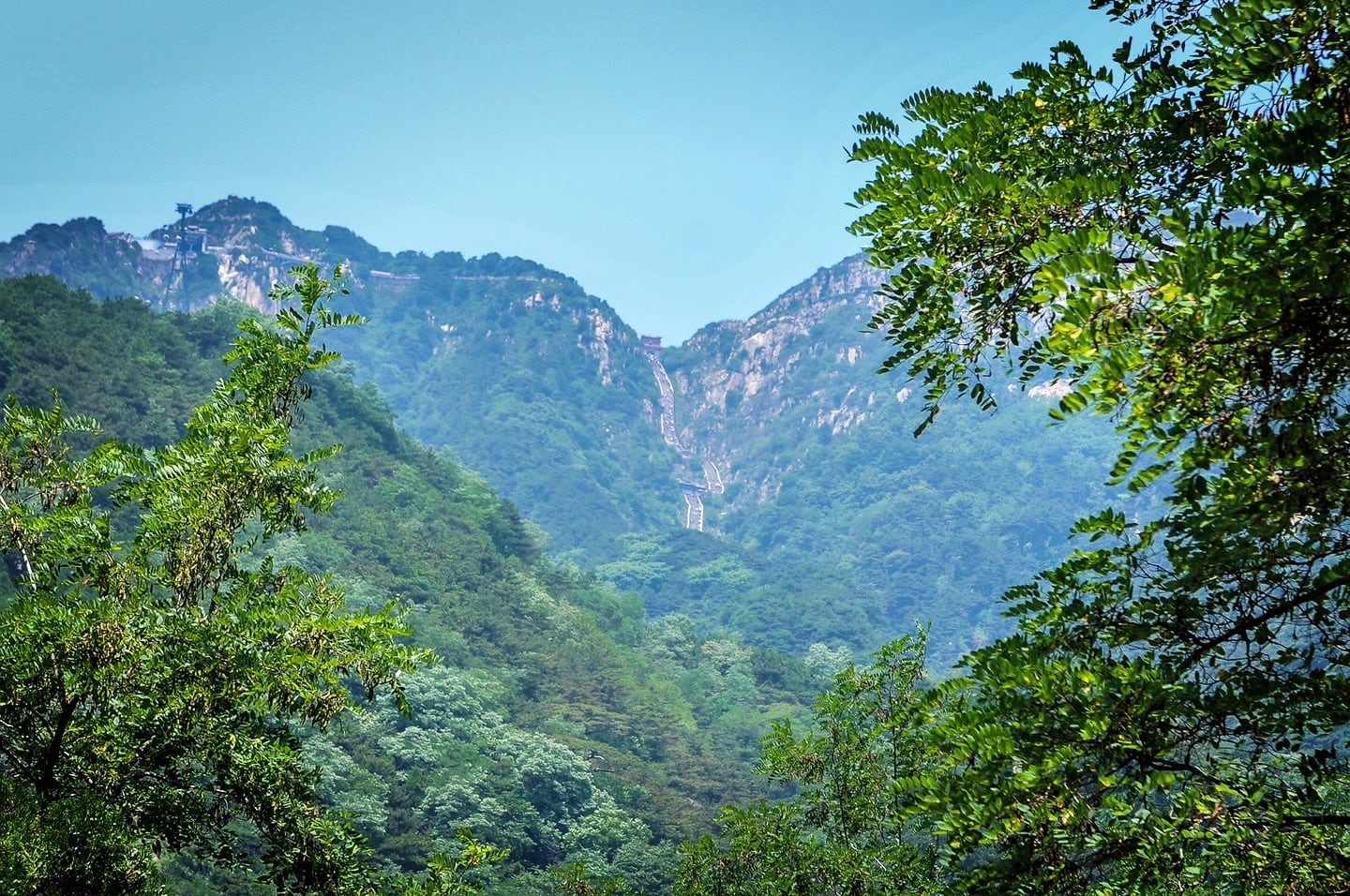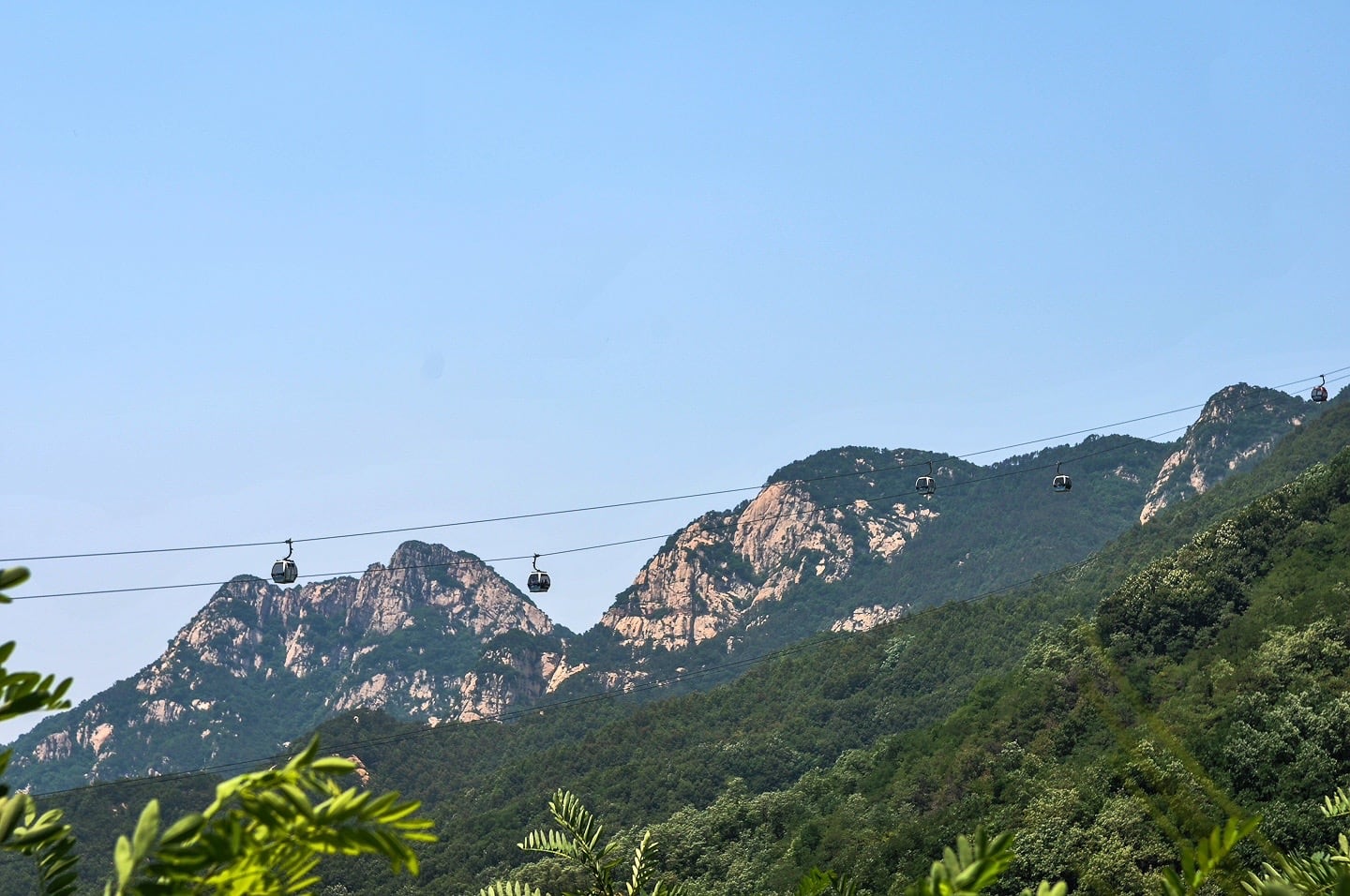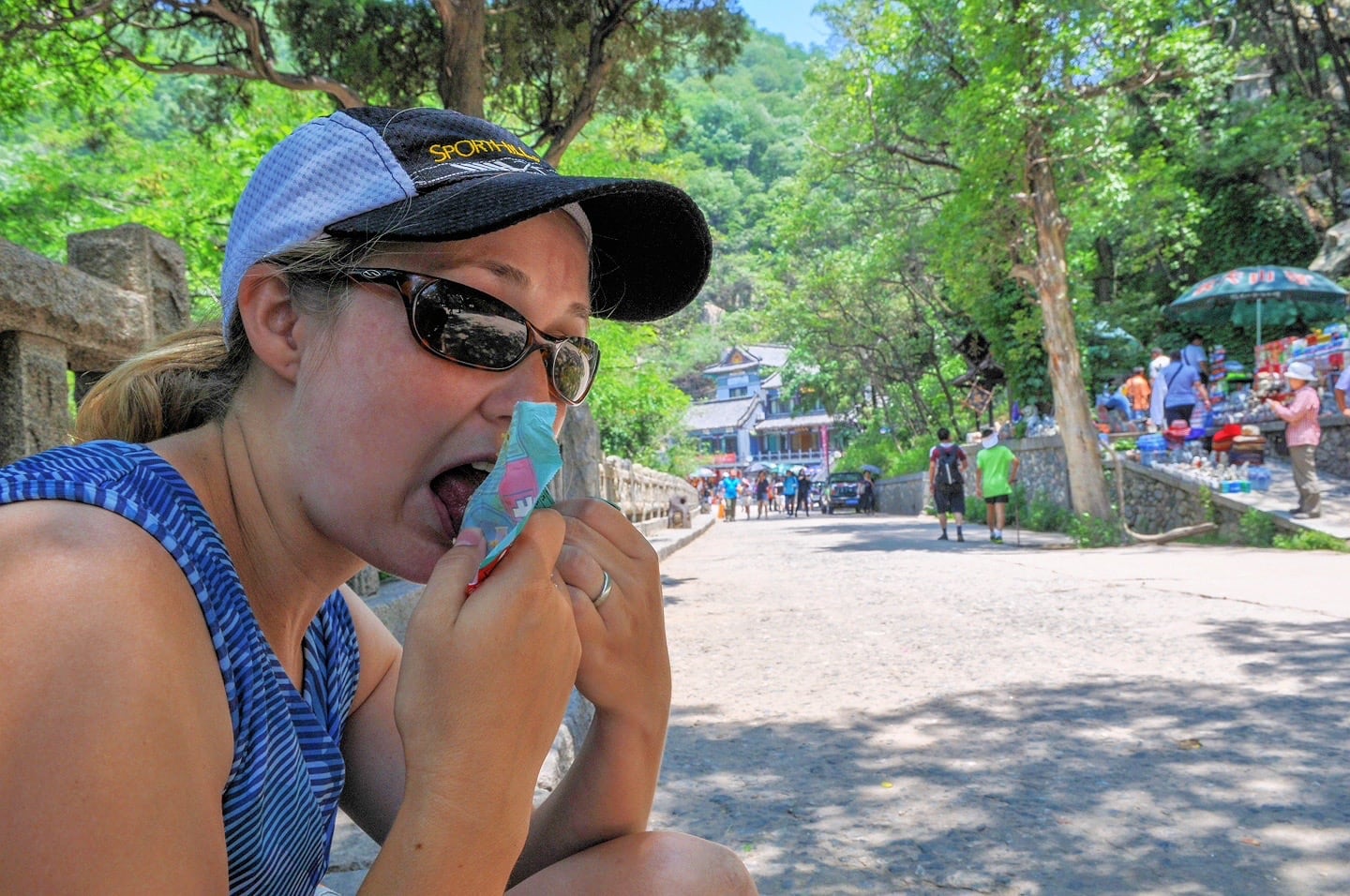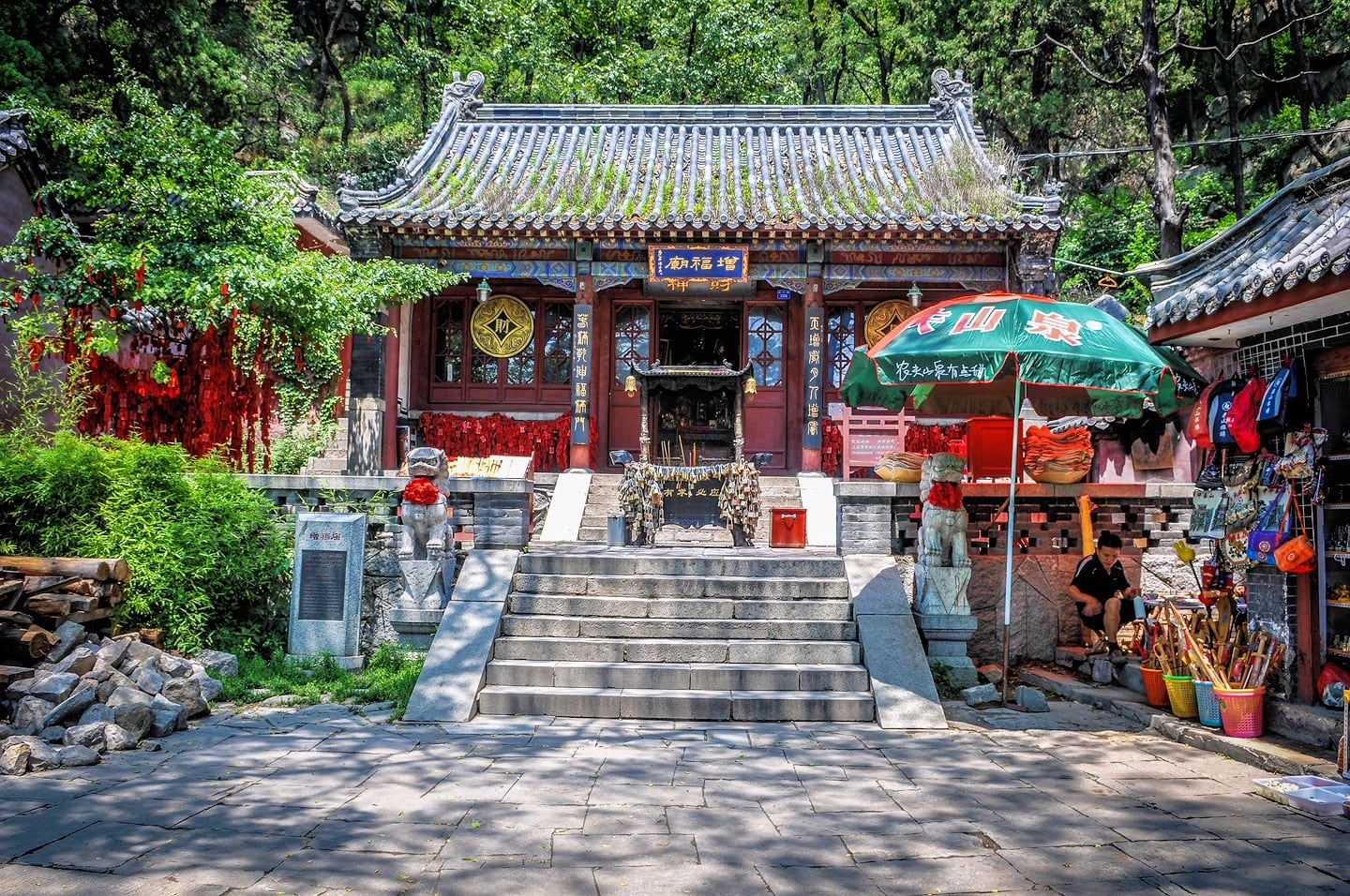 Shortly after Middle Gate to Heaven is where the main trail joins up with the bus road and the cable car station.
Due to this juncture, the crowds momentarily swell as dozens of groups of tourists hopping on and off buses collide with hoards coming up from the lower half of the trail and down from the upper trail.
And then there are those fighting the crowds to get across to (or come from) the cable car station.
It vaguely resembles rush-hour outside of Beijing's central railway station, but hotter, sweatier and without the romantic subtext of rail travel.
The good news is that if you're climbing Mount Tai on foot, the throngs quickly dissipate after five minutes back on the stairway to heaven (or hell, if your knees have already begun to give out).
After another 20 minutes, it can feel downright lonely, with only another 20 or so climbers keeping you company.
But no need to worry, you'll meet the crowds again at the grueling last climb to the Southern Gate to Heaven.
🔥 HOT TIP 🔥
While on the whole, things are pricier at the Middle Gate to Heaven (half-way point) than at the bottom of Taishan Mountain, prices DON'T necessarily rise as you ascend.
In fact, we found everything to be significantly more expensive at the half-way complex than just 5-10 minutes beyond.
So if you're thinking of stocking up on water and snacks half way through your journey, hold off just a little while longer and you'll be greatly rewarded.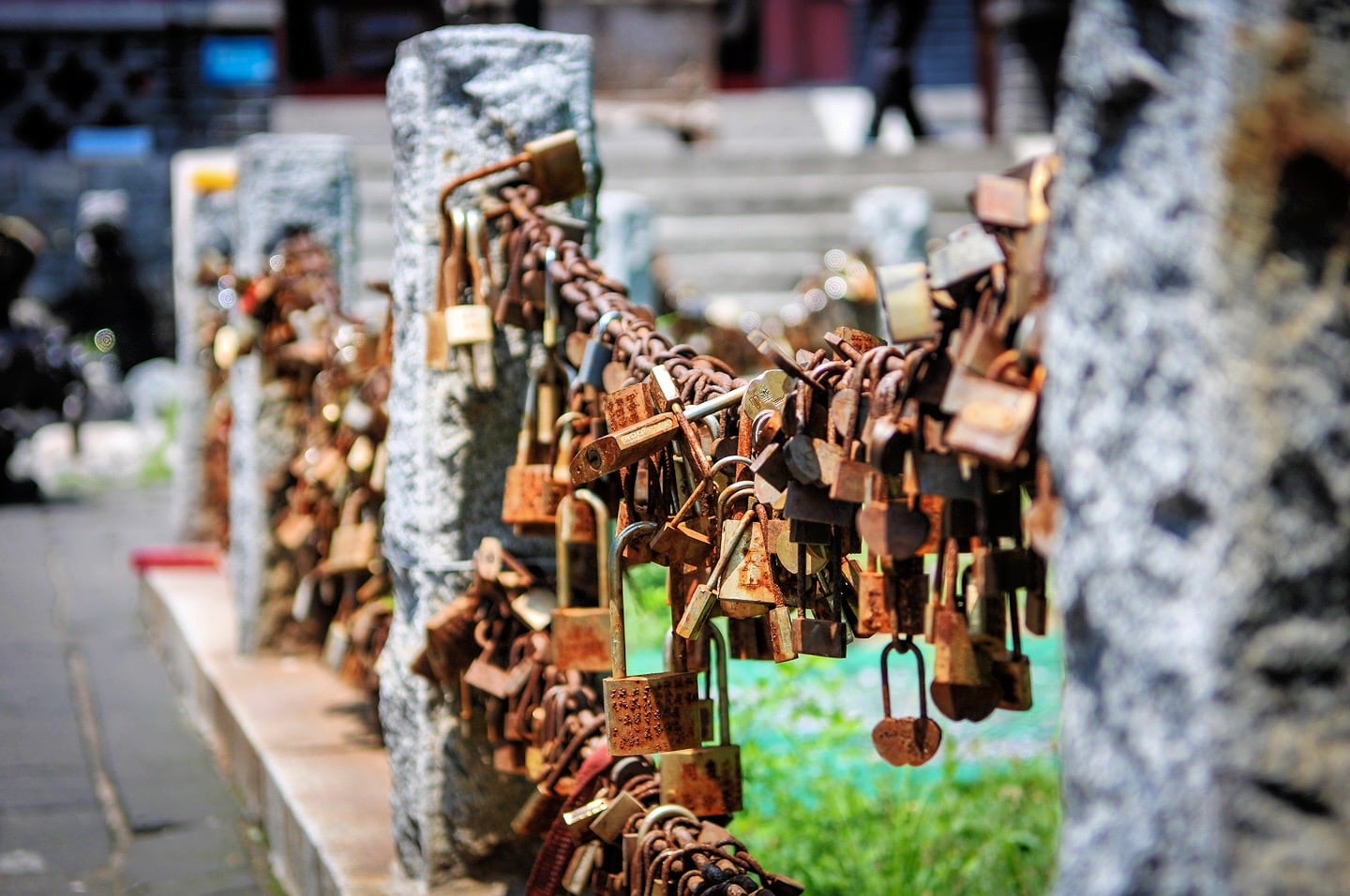 Lori and I had wondered about the significance of the hundreds and hundreds of padlocks which can be seen up the trail (especially in the many temples dotting the main trail).
Unfortunately at the time, our Mandarin skills were not enough to find the answer, and what a shame.
Turns out (from a quick web search) they are commonly referred to as "love locks."
In Chinese culture, it is believed that if a couple secure a lock on a high mountain in the clouds and throw away the key, their love will last forever.
Given that Lori and I are technically on our honeymoon, it would have been a fitting gesture (and fun story nonetheless).
Oh well.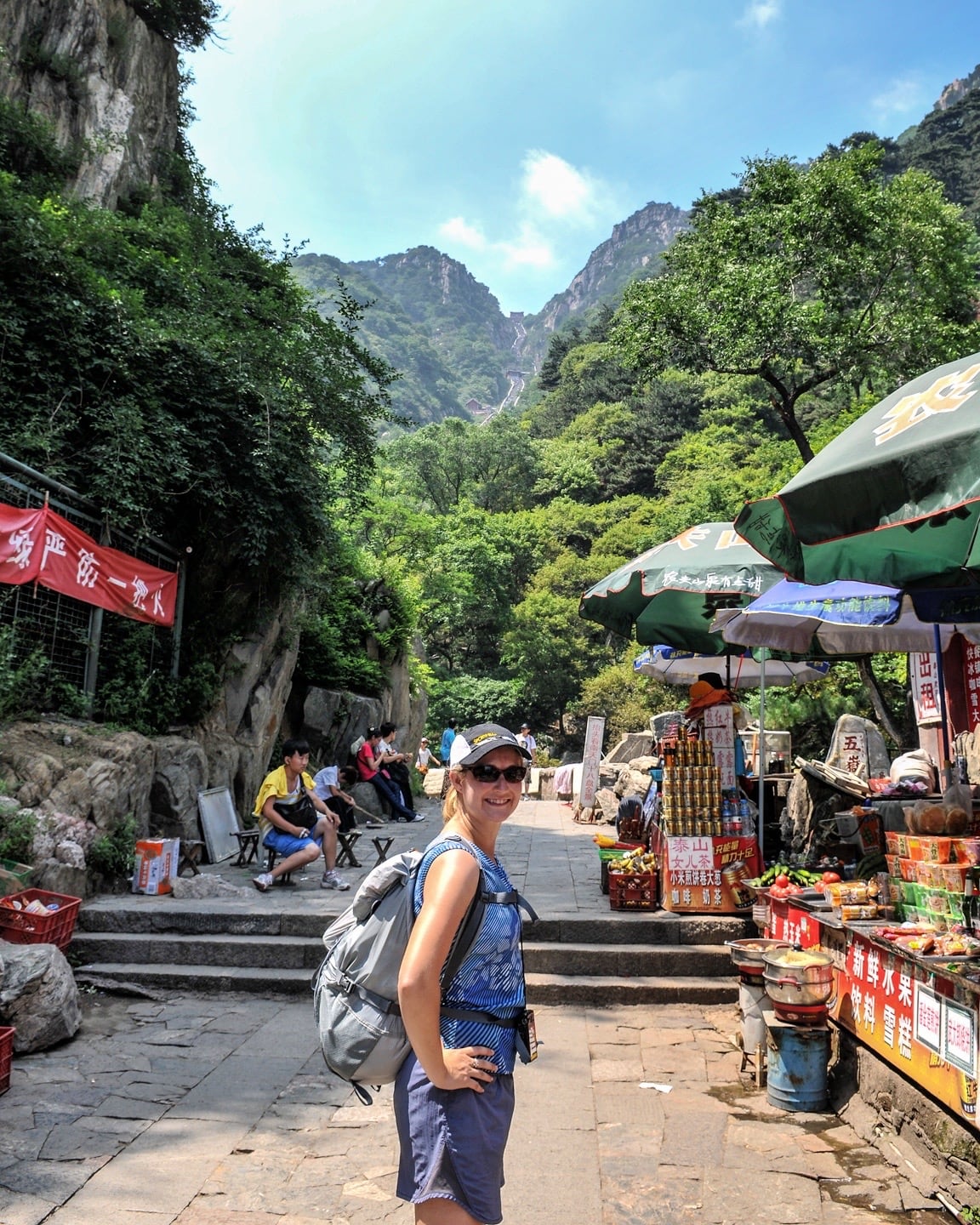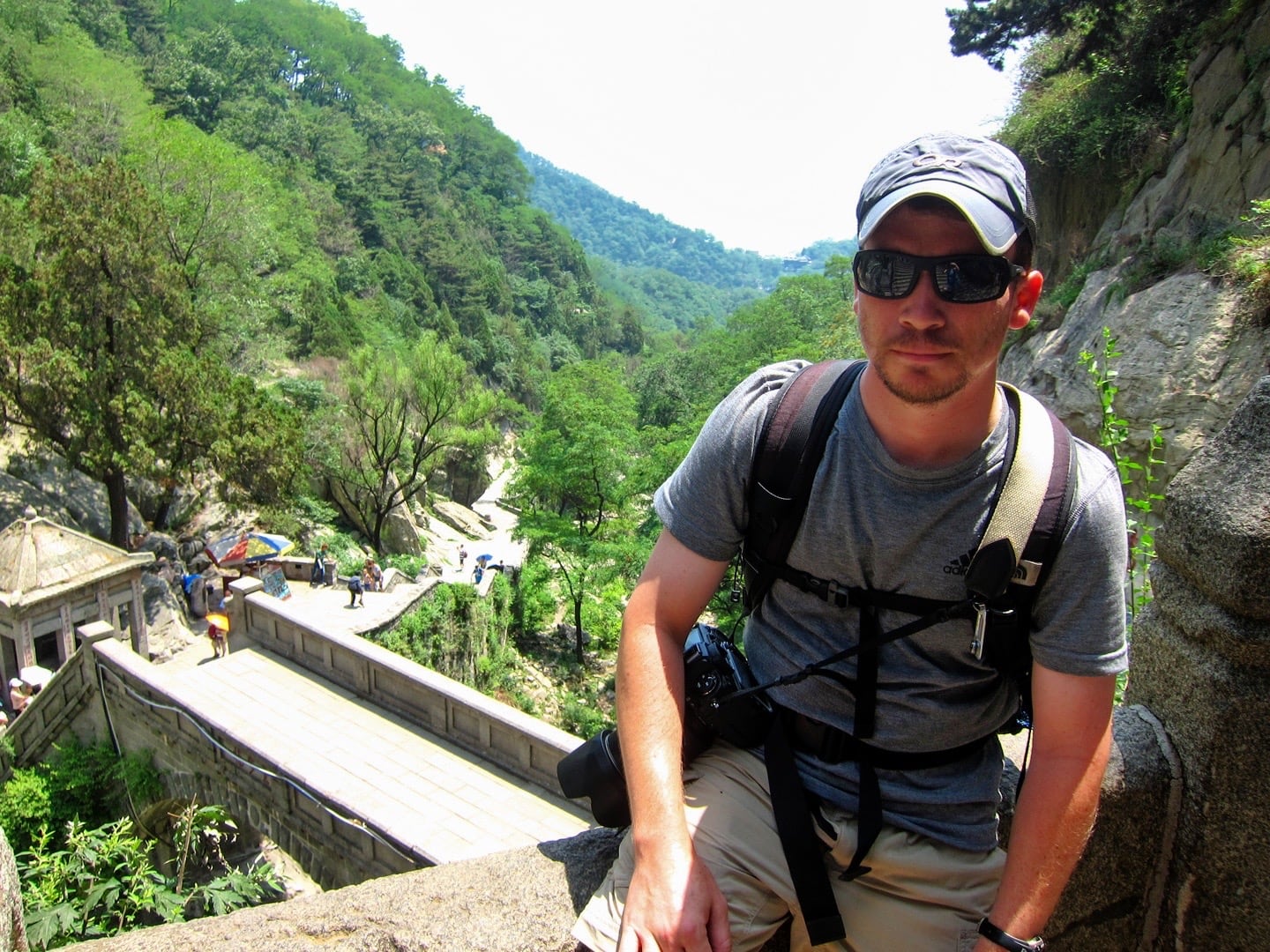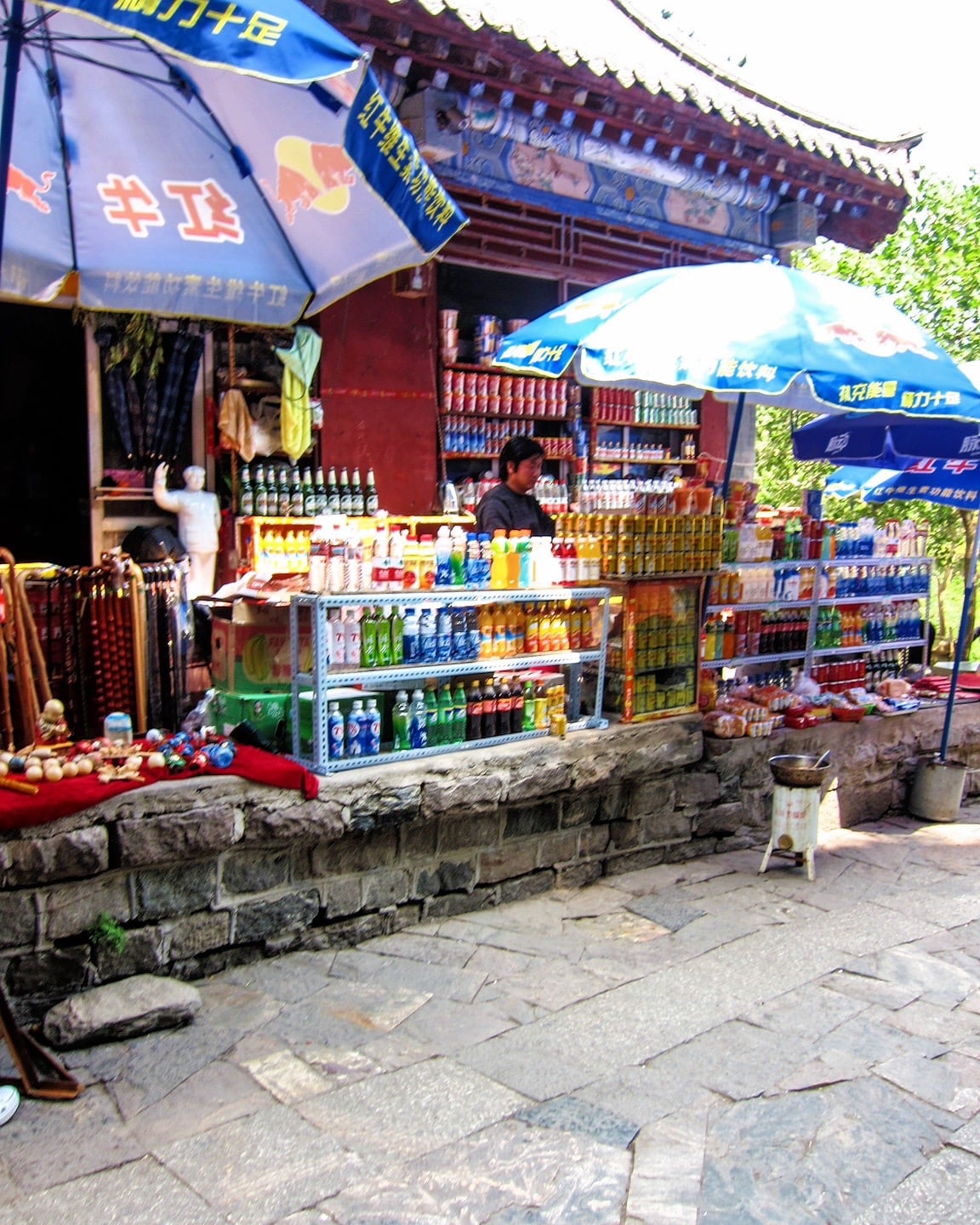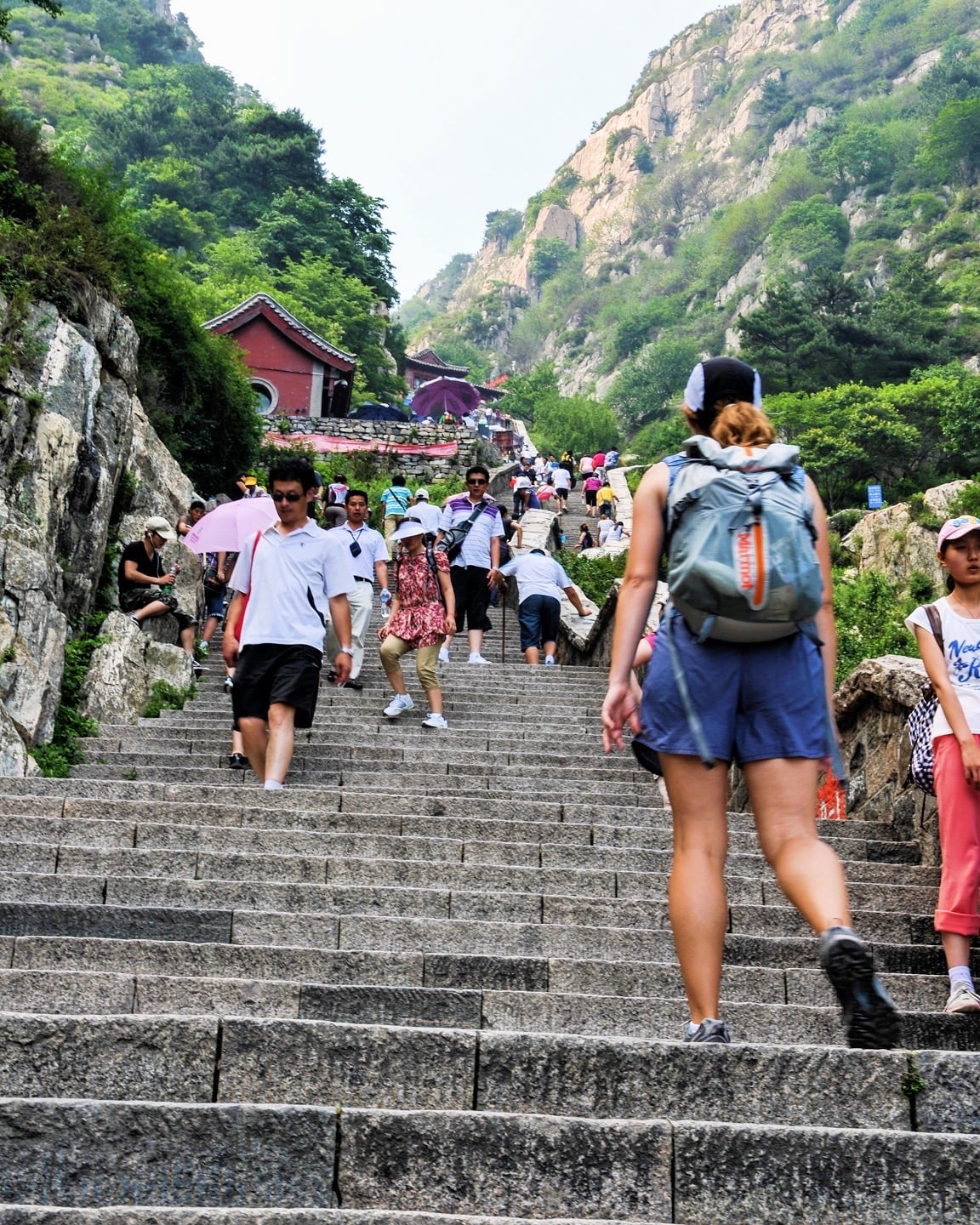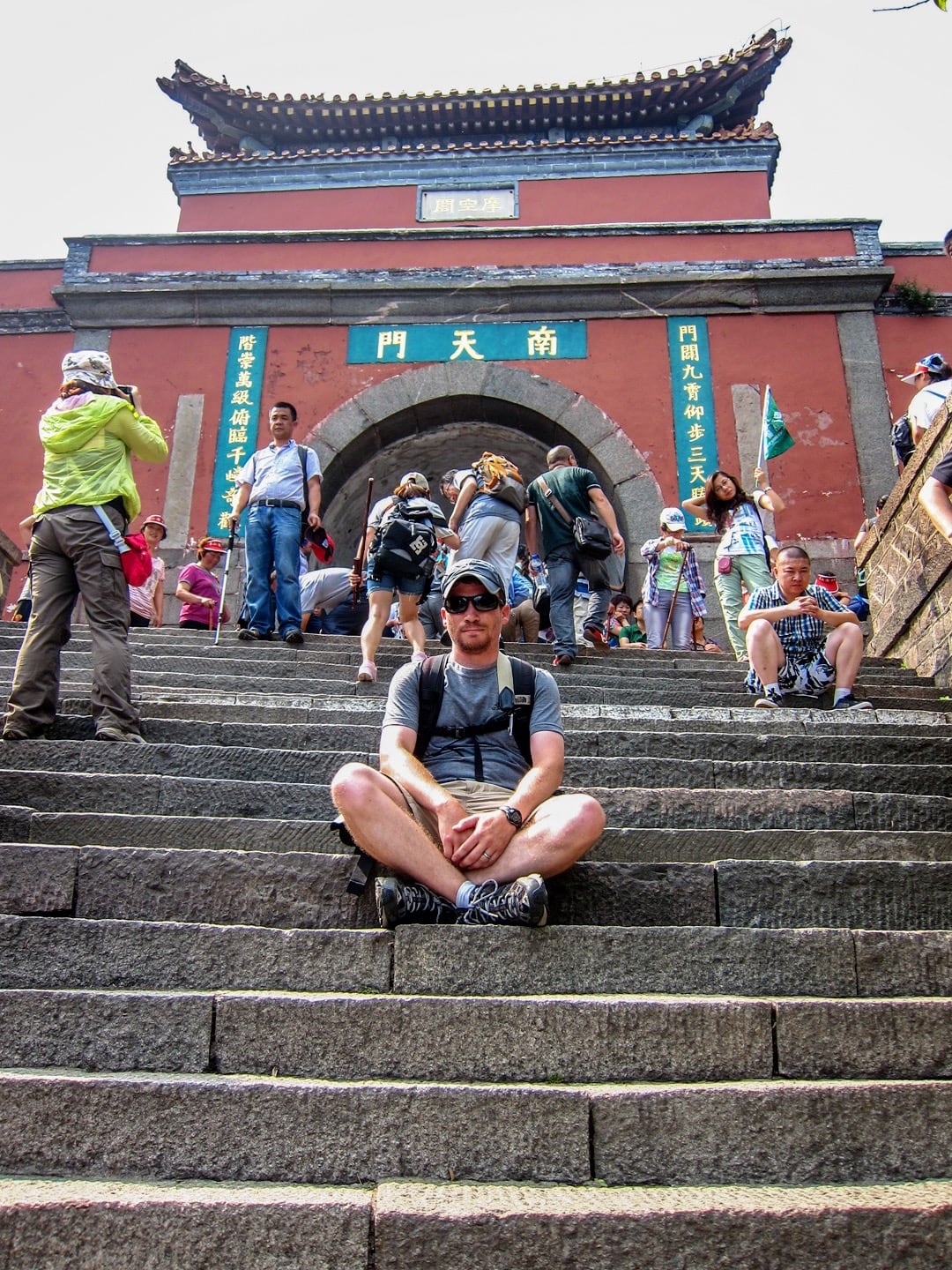 On the Top of Taishan Mountain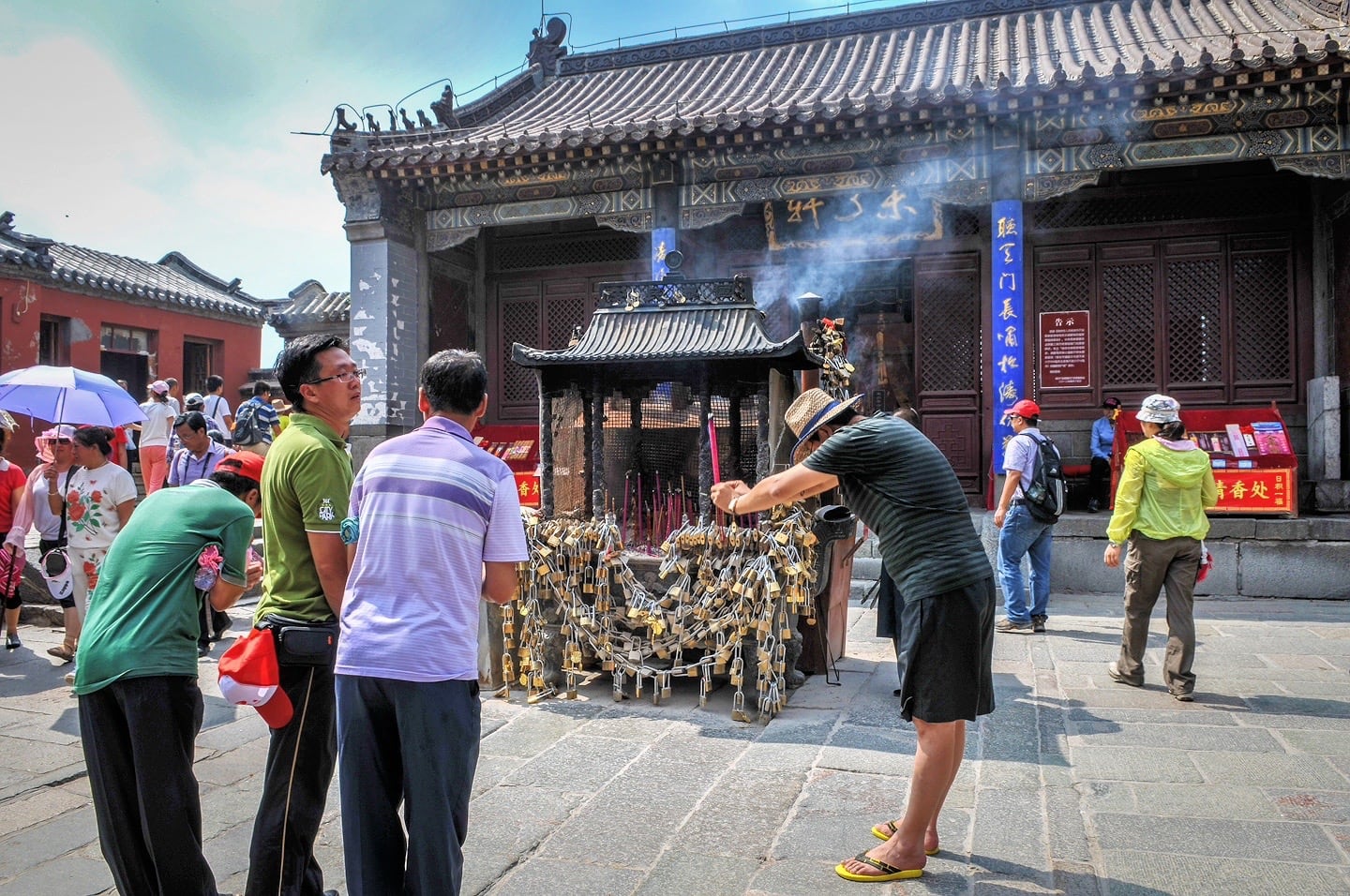 After reaching the Southern Gate to Heaven, we were greeted by a small pavilion which opens up into the sprawling village on the summit.
For such a popular attraction (and UNESCO World Heritage site) we were stunned to find that lodging options were quite sparse on the summit of Mount Tai.
We stayed at the Xian Ju Hotel (also styled Xianju Hotel or Xianju Binguan) which is located on your immediate left after ascending through the first gate in the summit village complex.
It can further be identified by the yellow and red flags and army jackets which are rented in the evening out front.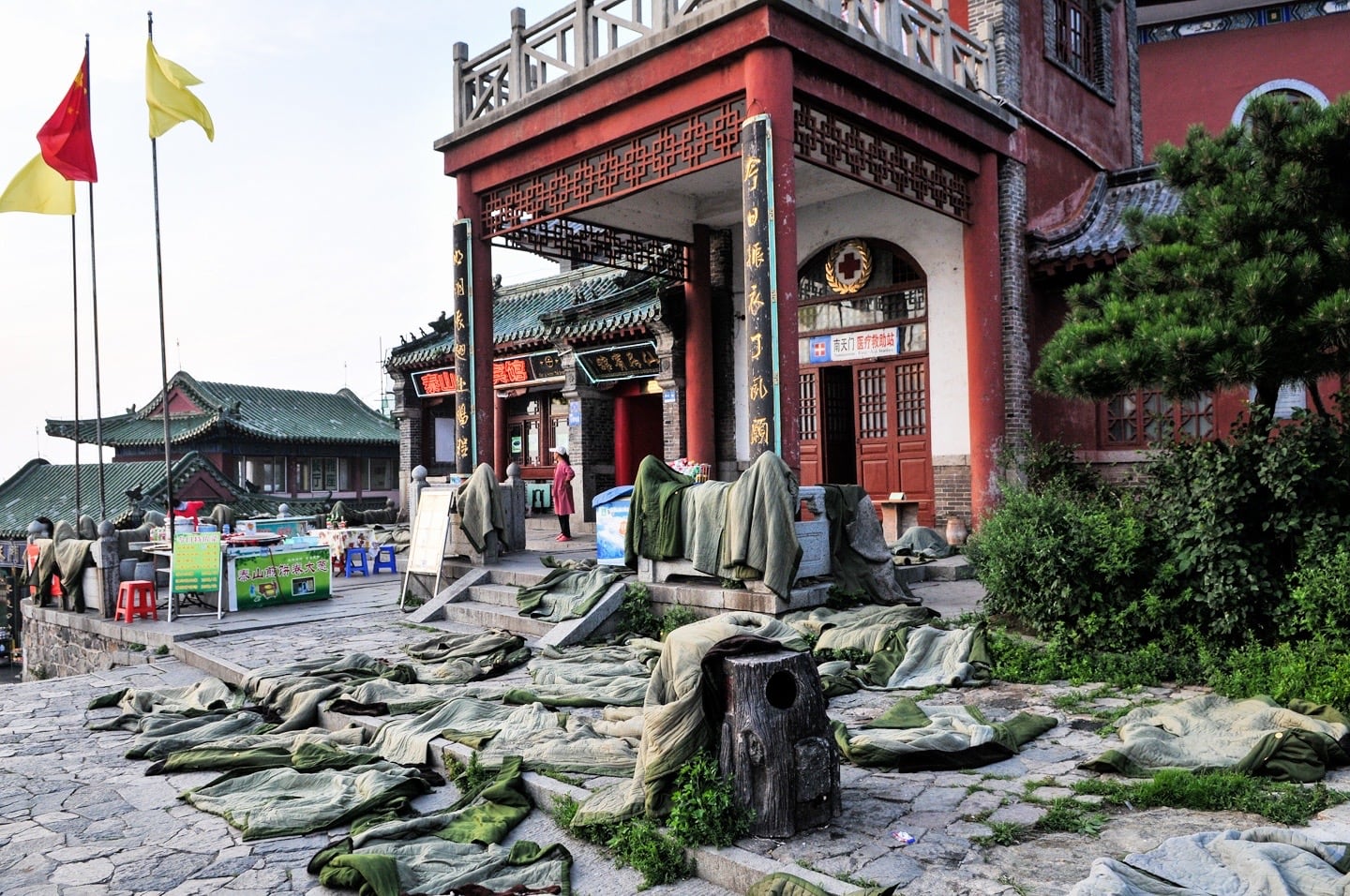 At reception, the posted placard says rooms start at a staggering 600 RMB ($95 USD!).
But we knew better. Fortunately, we had gotten a hot tip before our climb to always ask for a discount. Knowing all of three words of Mandarin, we were miraculously able to bargain with the front desk down to half the posted rate.
By merely pointing to key phrases in our Mandarin phrasebook such as "How much is a room?" and "Can you offer a discount?" we were able to get a 50% discount down to a more reasonable 300 RMB (still $47, but by far the best deal on the summit of Taishan that we could find).
We did come across another hotel near the top of the mountain next to the Confucian Temple, but swanky Shenqi Hotel was a bit out of our price range.
Later, we did stumble across what appeared to be two potential budget accommodations, but we weren't able to verify this given our limited Mandarin.
The first one we came across was a complex of very basic rooms below the Xian Ju Hotel on the first road leading from the Southern Gate to Heaven complex.
The second was discovered during a toilet visit off the main road (pic below). It's basically a series of rooms hidden behind one of the shops (you have to walk through an alleyway that doubles as a curio store).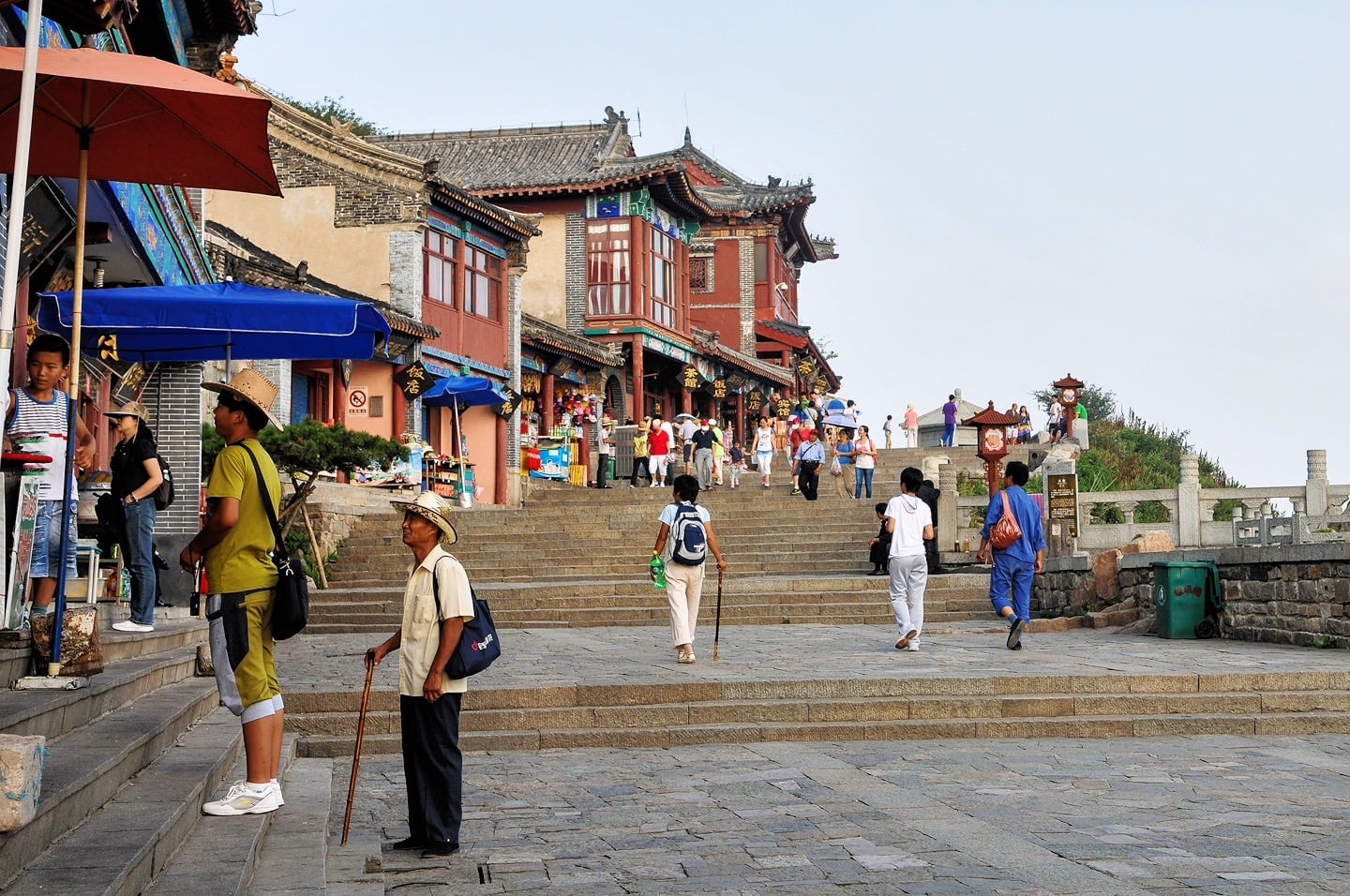 If your Mandarin is serviceable, you can probably find it pretty easily, but if you're Mandarin-challenged like we are, you may easily find yourself in the back of a dark alley in a semi-sketchy (and exceedingly awkward) situation.
We also saw a few random tents scattered about the summit, but have no idea if this is condoned, simply tolerated, or if the campers just got lucky.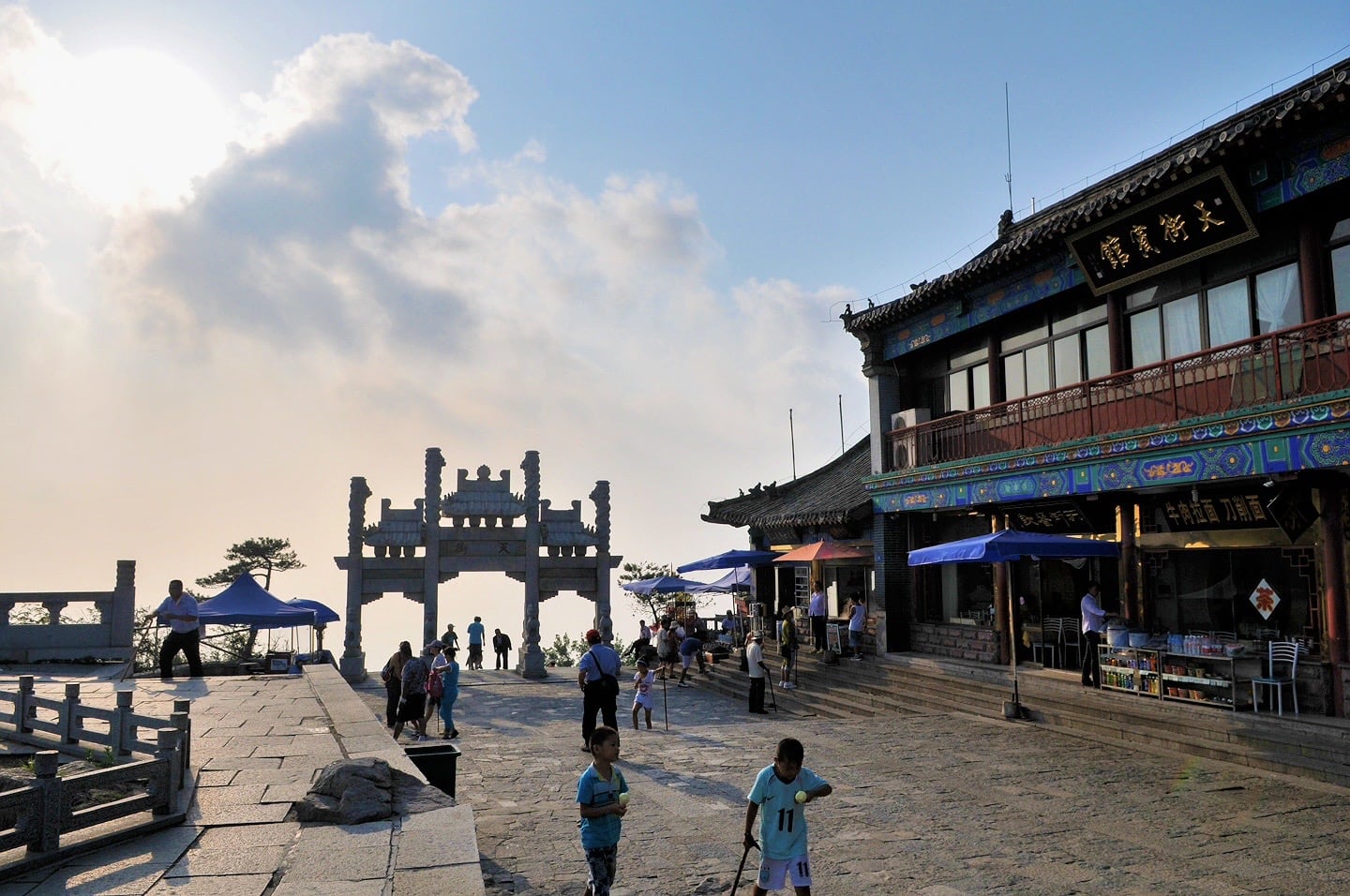 Eating & Drinking on Taishan Mountain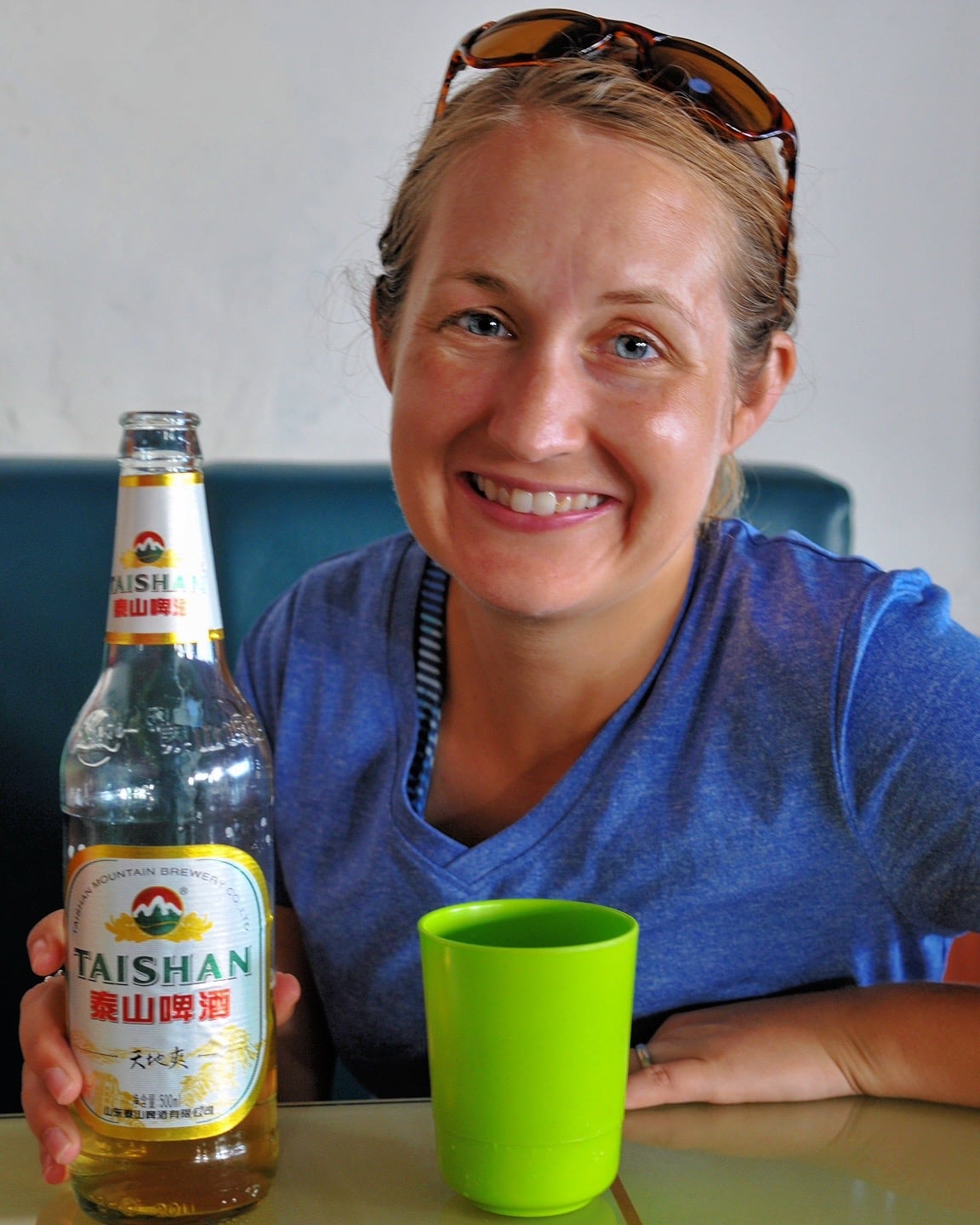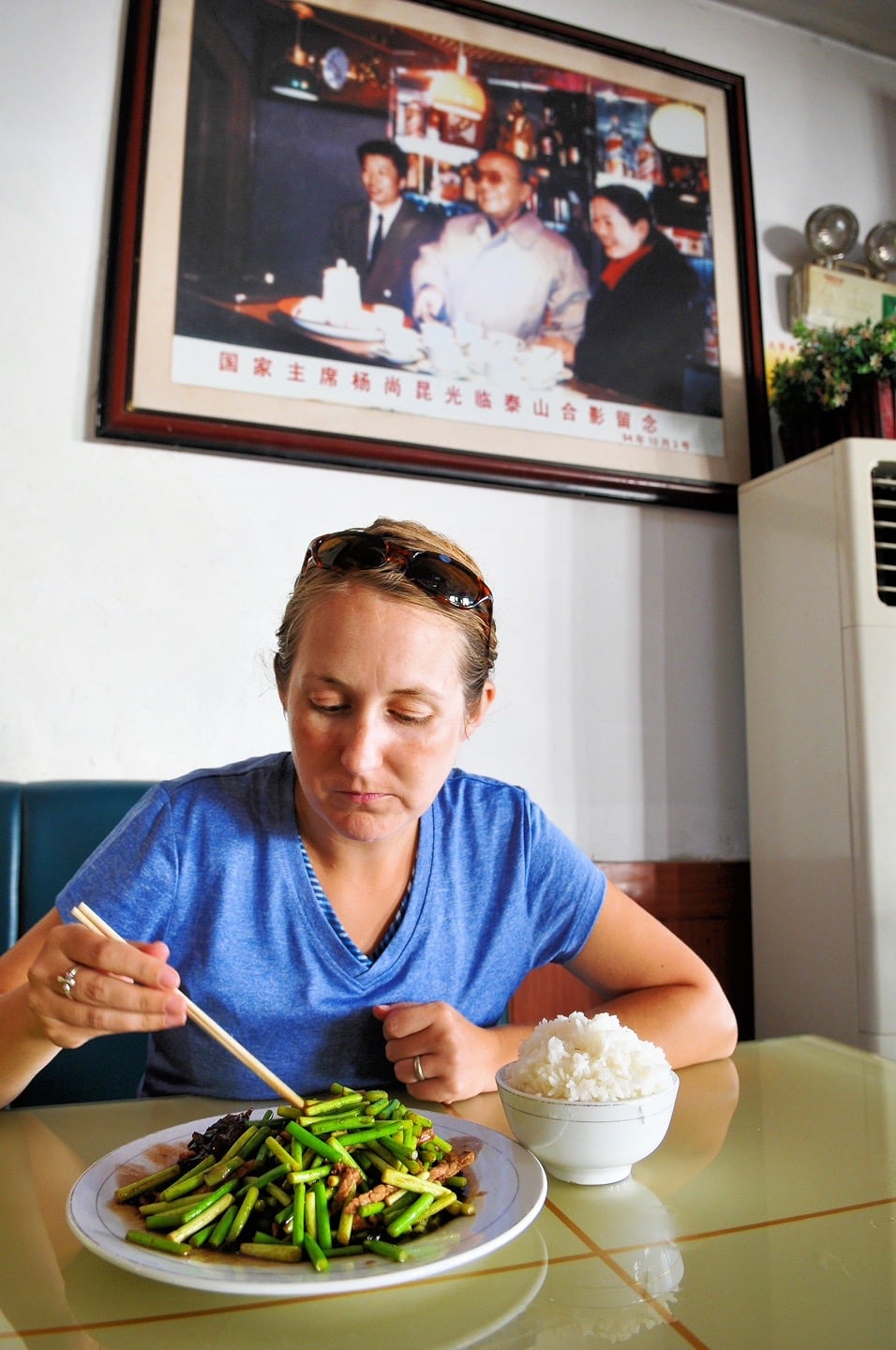 As is often the case atop mountains, dining options are quite limited on the summit of Mount Tai.
Don't expect to find a western cafe with a killer view because you won't find it on this mountain.
What you will find is standard Northern Chinese cuisine done well for big-city local prices, accompanied by the local Taishan street food offerings such as savory Taishan pancake (look for the women spinning dough on a wheel), the all-pervasive wiener wrap, and fried bread sticks (the latter was our favorite).
Expect also to find instant noodles (apparently the official food of the Taishan mountain climber) in great abundance.
🔥 HOT TIP 🔥
Snack supplies and toilet paper are extremely hard to find on the summit, so it is strongly advised to bring your own.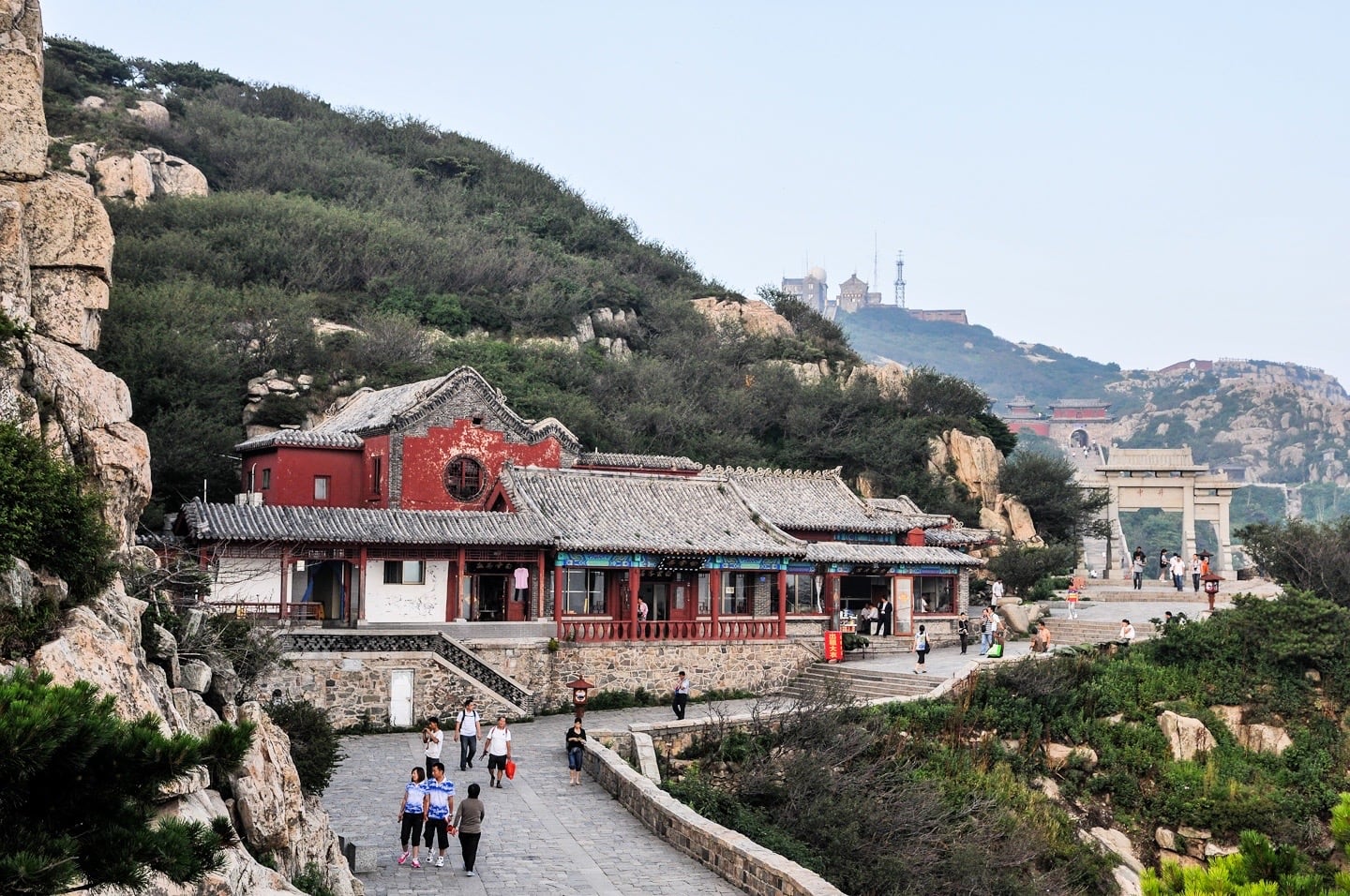 Main summit road leading up to the Jade Emperor Temple.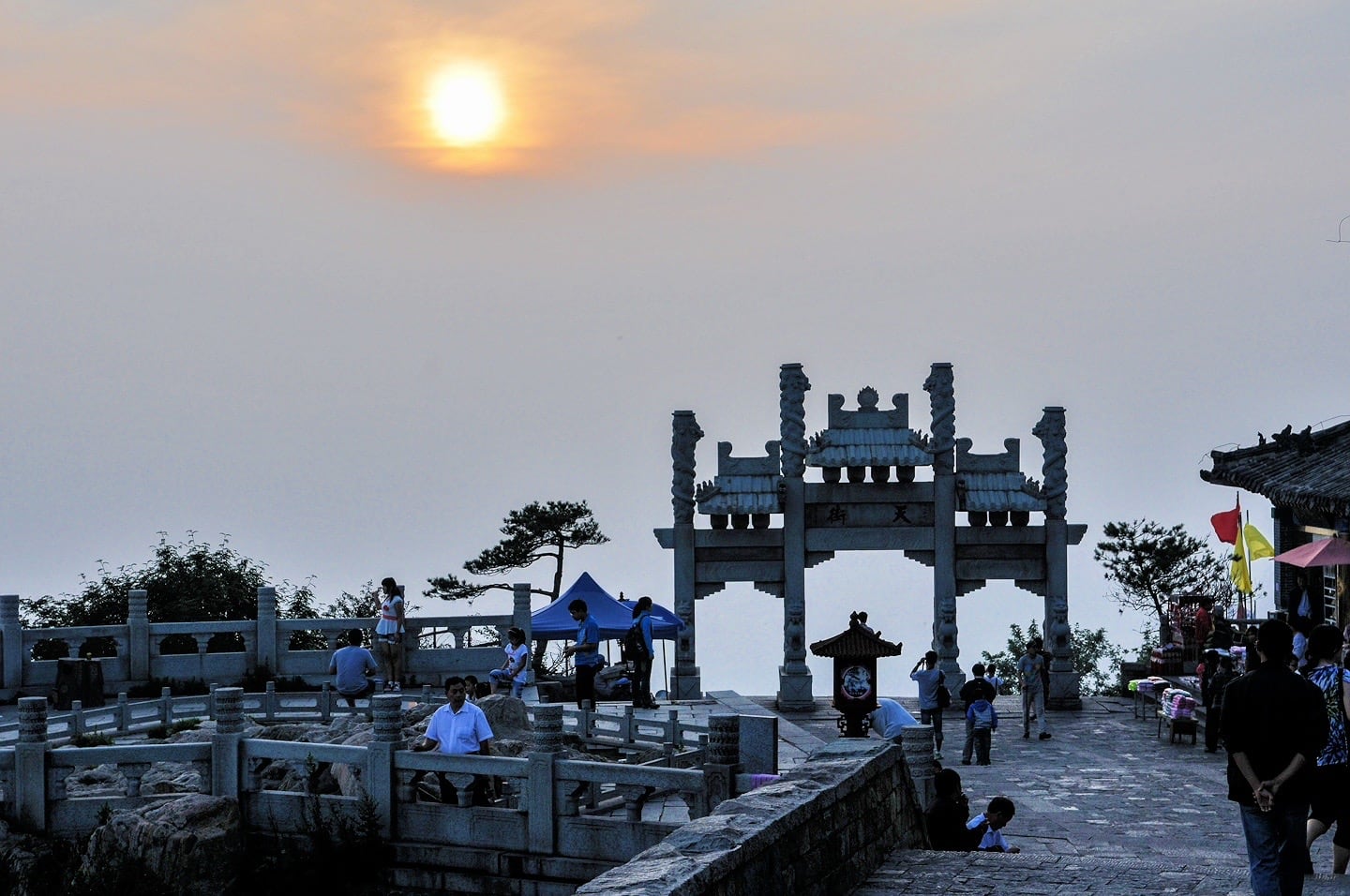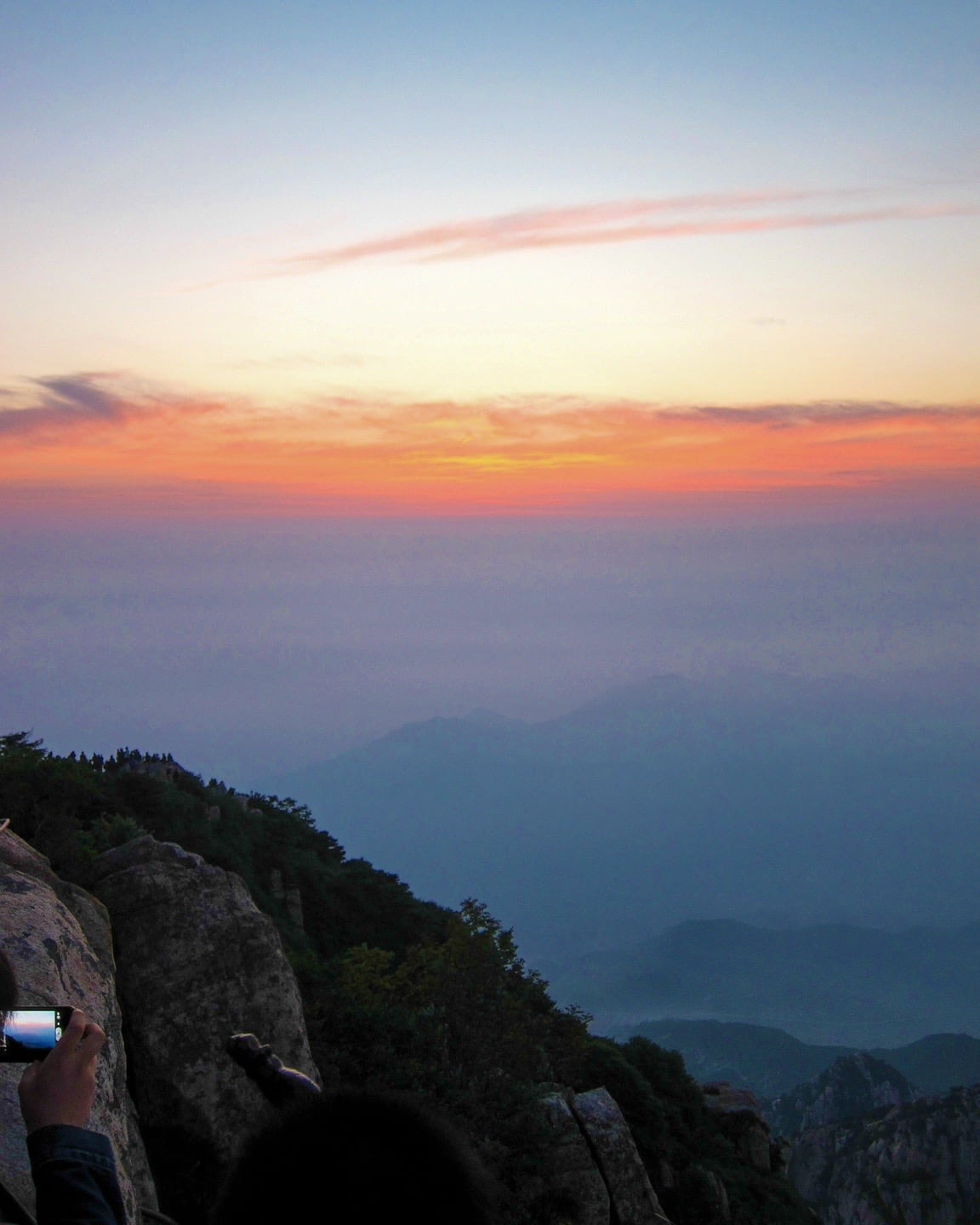 Day Two ⏤ Sunrise
After a restful night atop the mountain, we awake a little after 4am for sunrise before starting the long and arduous task of coming down.
Sunrise as viewed from the summit of Taishan Mountain is the undisputed main event on the mountaintop.
Many climbers ascend through the night to witness the spectacle from the aptly "Sun Viewing Peak."
Others (like us) stay the night on the summit.
It's such a big event that staff at our hotel came through at 4am to wake guests with a knock on the door and a couple of words.
We're here in summer and sunrise is EARLY (4:47am on 7 July), but a can't-miss experience.
On this particular morning, a thick haze delayed the emergence of the sun into view, muting the impact substantially.
While one can certainly imagine how brilliant and magnificent the sunrise would be on a crisp, autumn morning, the view (and more importantly, the experience) was well worth the early rise.
Being able to share an experience that is so quintessentially Chinese with hundreds of Chinese people in China is perhaps more rewarding than the view, though the view of the sun rising from high atop Mount Tai was nothing to sneeze at either.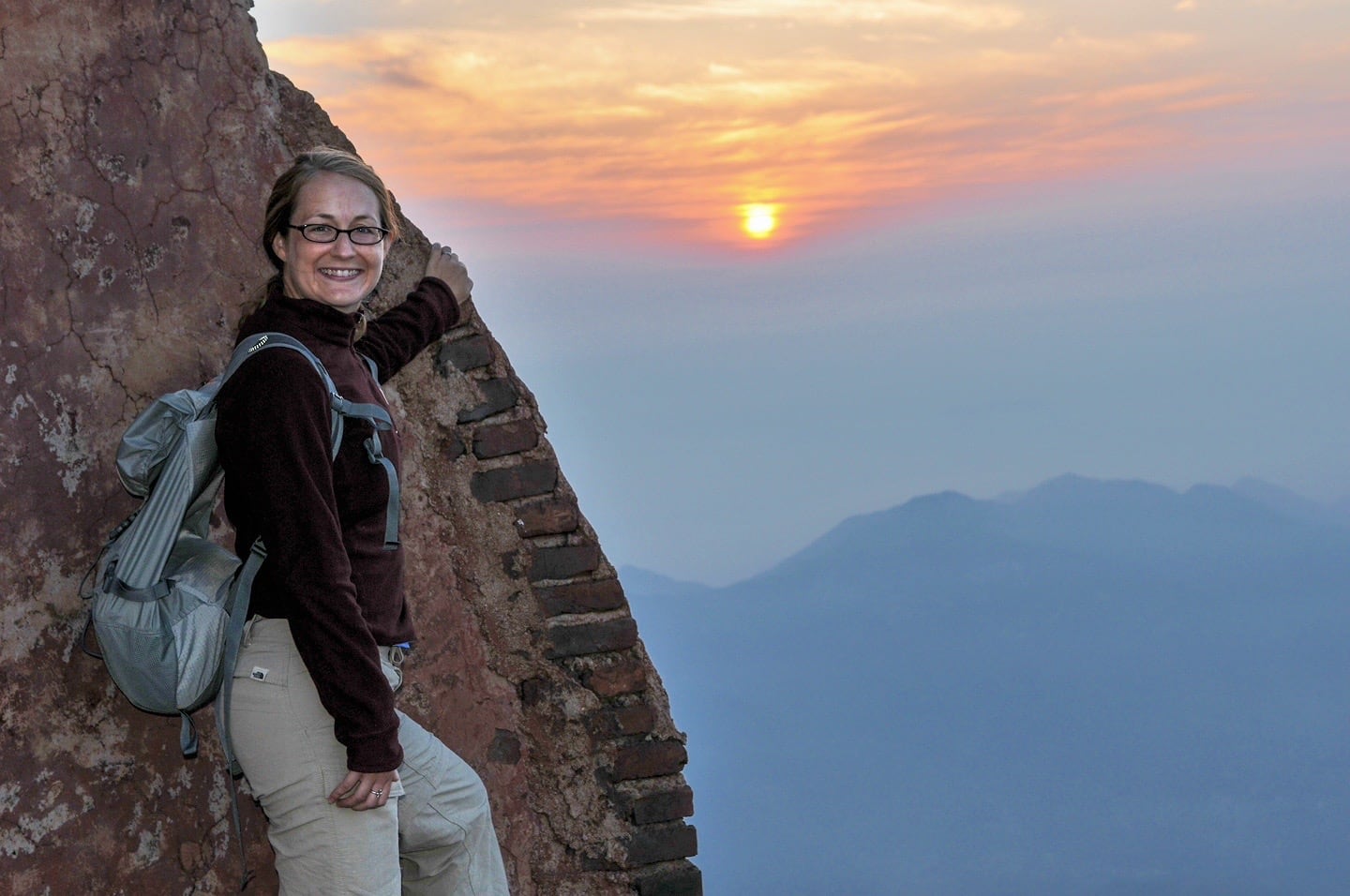 Sunrise on Taishan Mountain…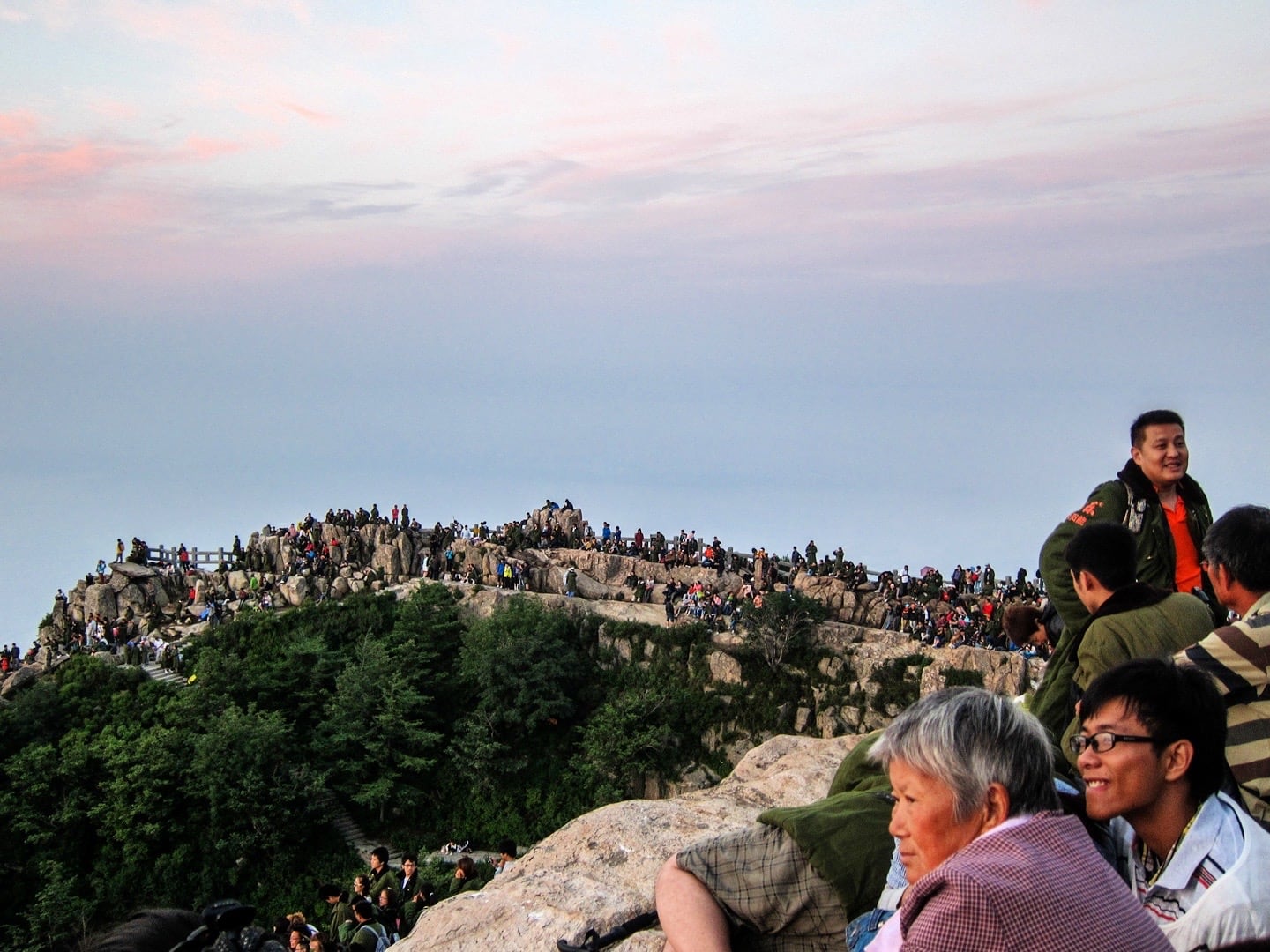 …with a few hundred of our closest Chinese friends.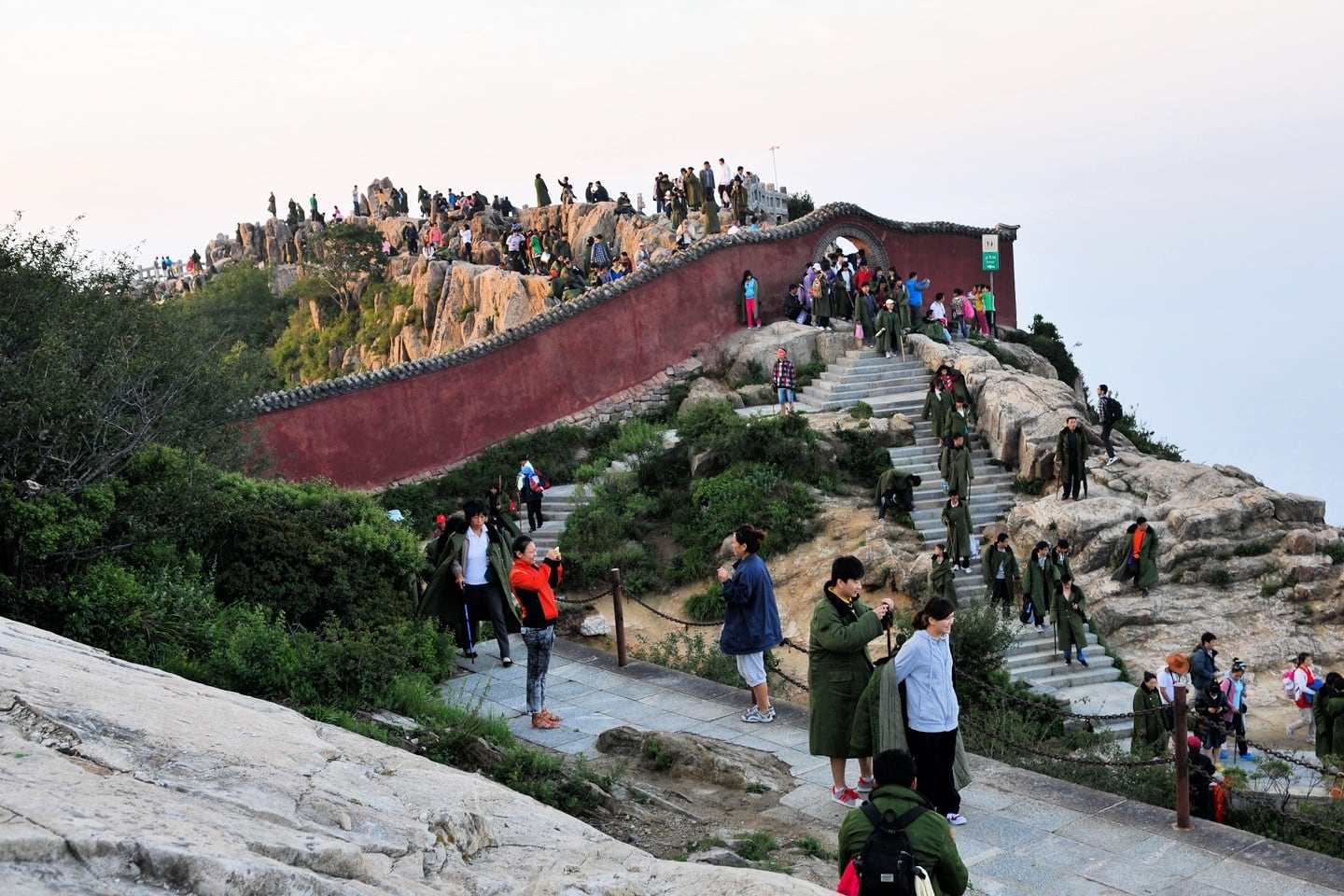 The After-Party.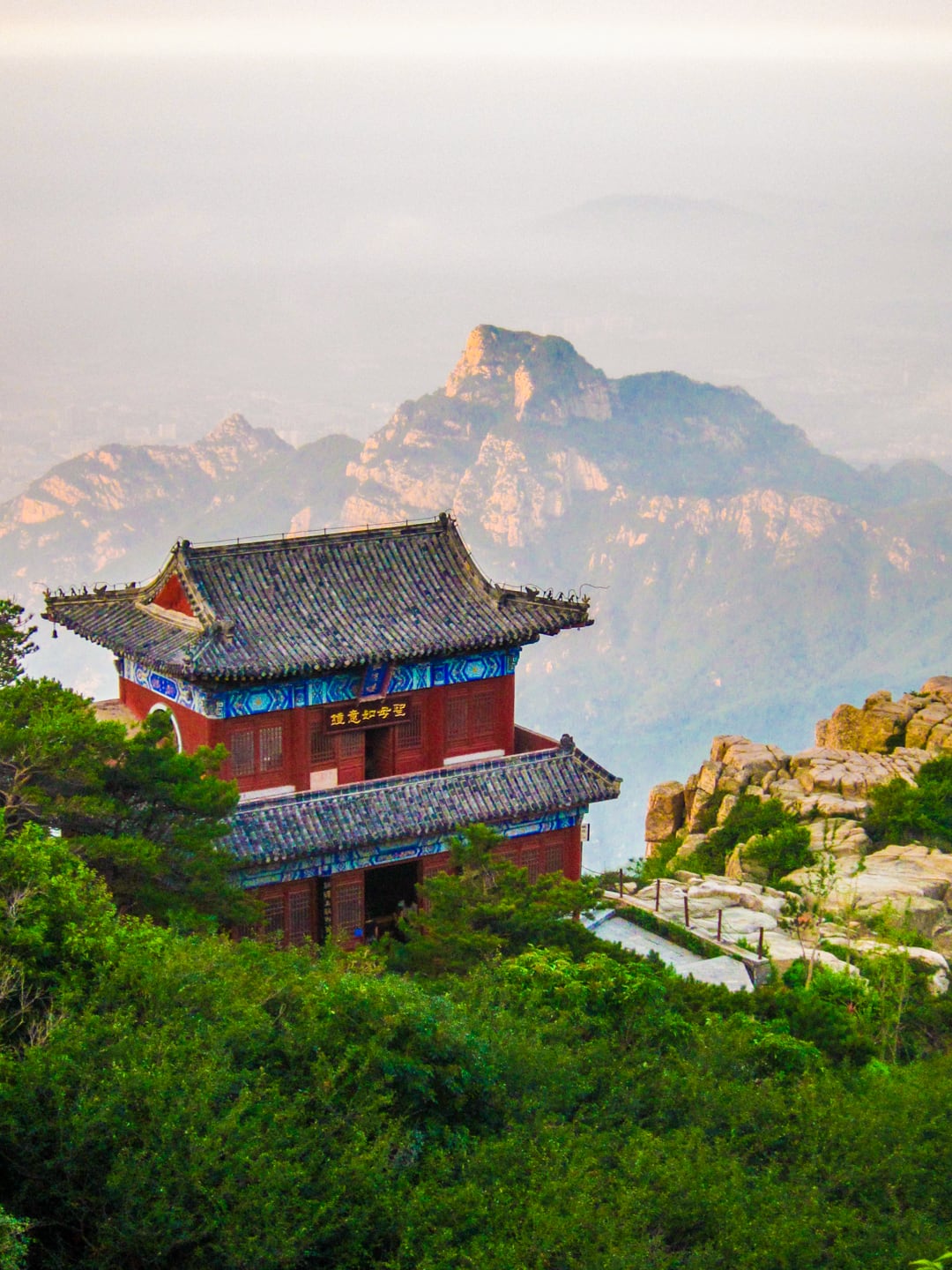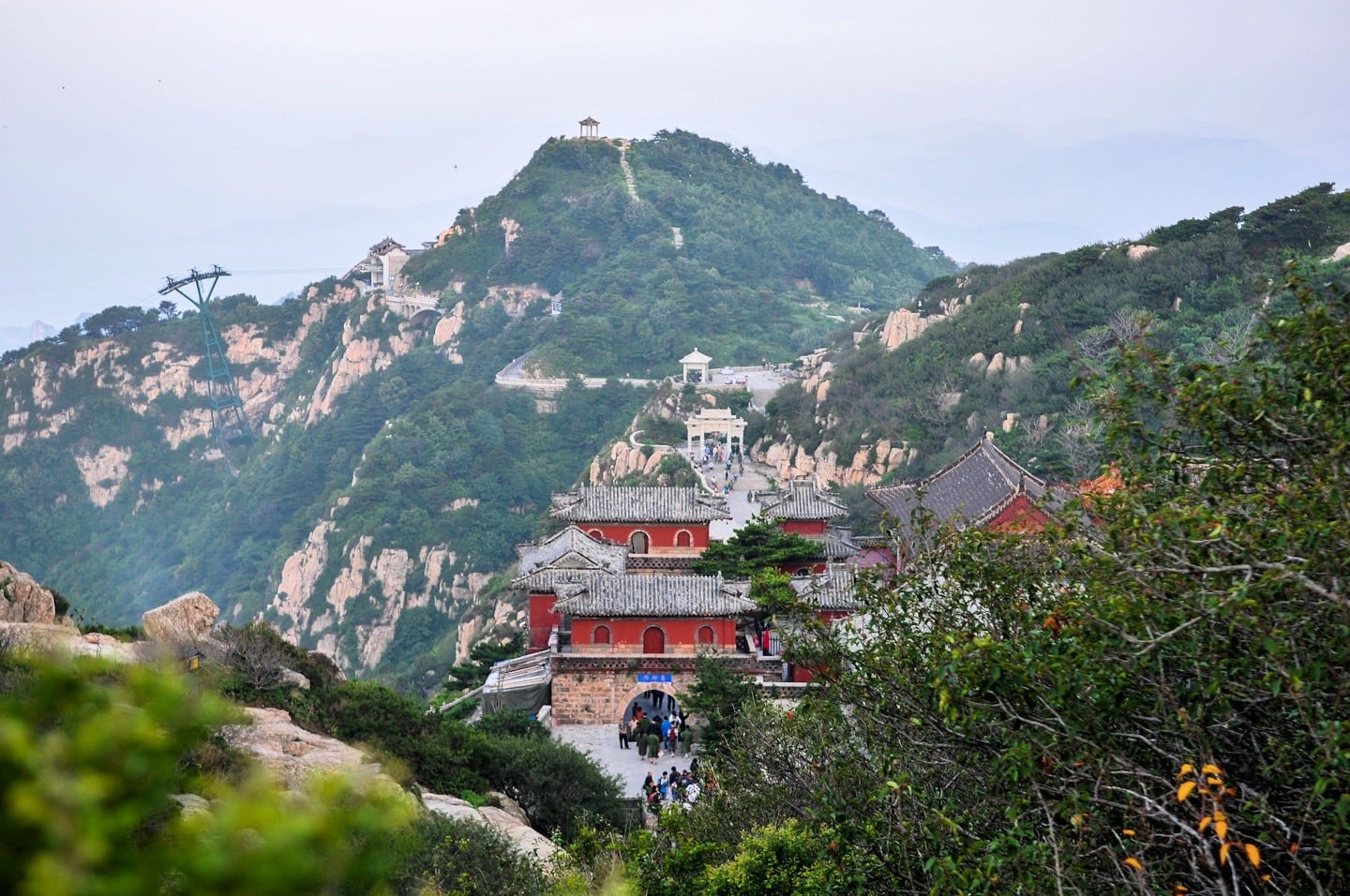 The view along the ridge of the summit.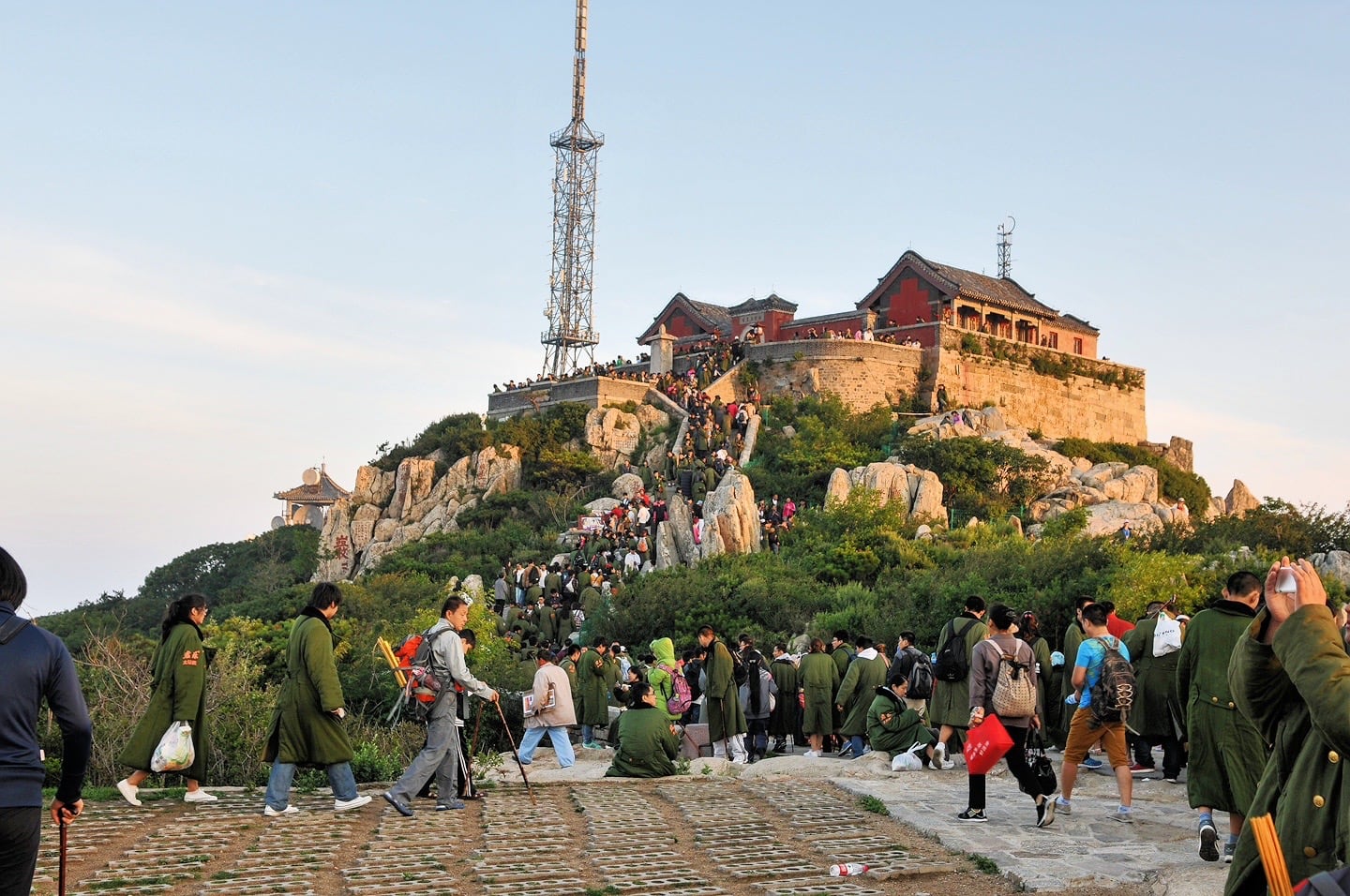 After the sunrise, the crowds didn't scatter in every direction but rather headed up in one massive group to the Jade Emperor Temple, the highest point on the mountain.
We had most definitely missed that memo, but followed the throngs nonetheless.
The morning air was still crisp and chilly so many morning revelers continued to wear their rented army jackets well into the day.
The cool temperatures were a most welcome respite from the agonizing heat of Shanghai and Suzhou.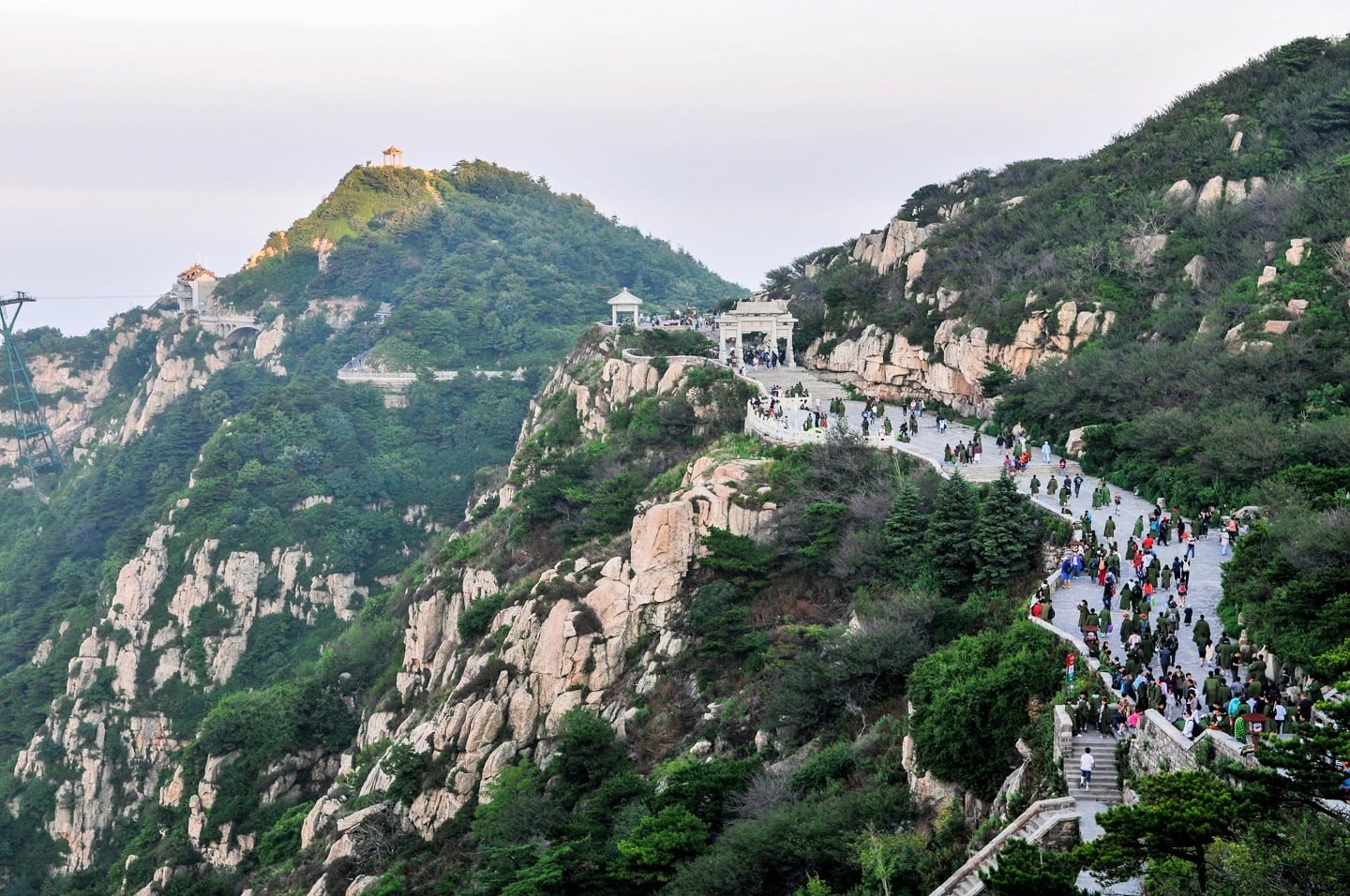 Main road on the summit of Mount Tai, 05:30, Saturday, 7 July 2012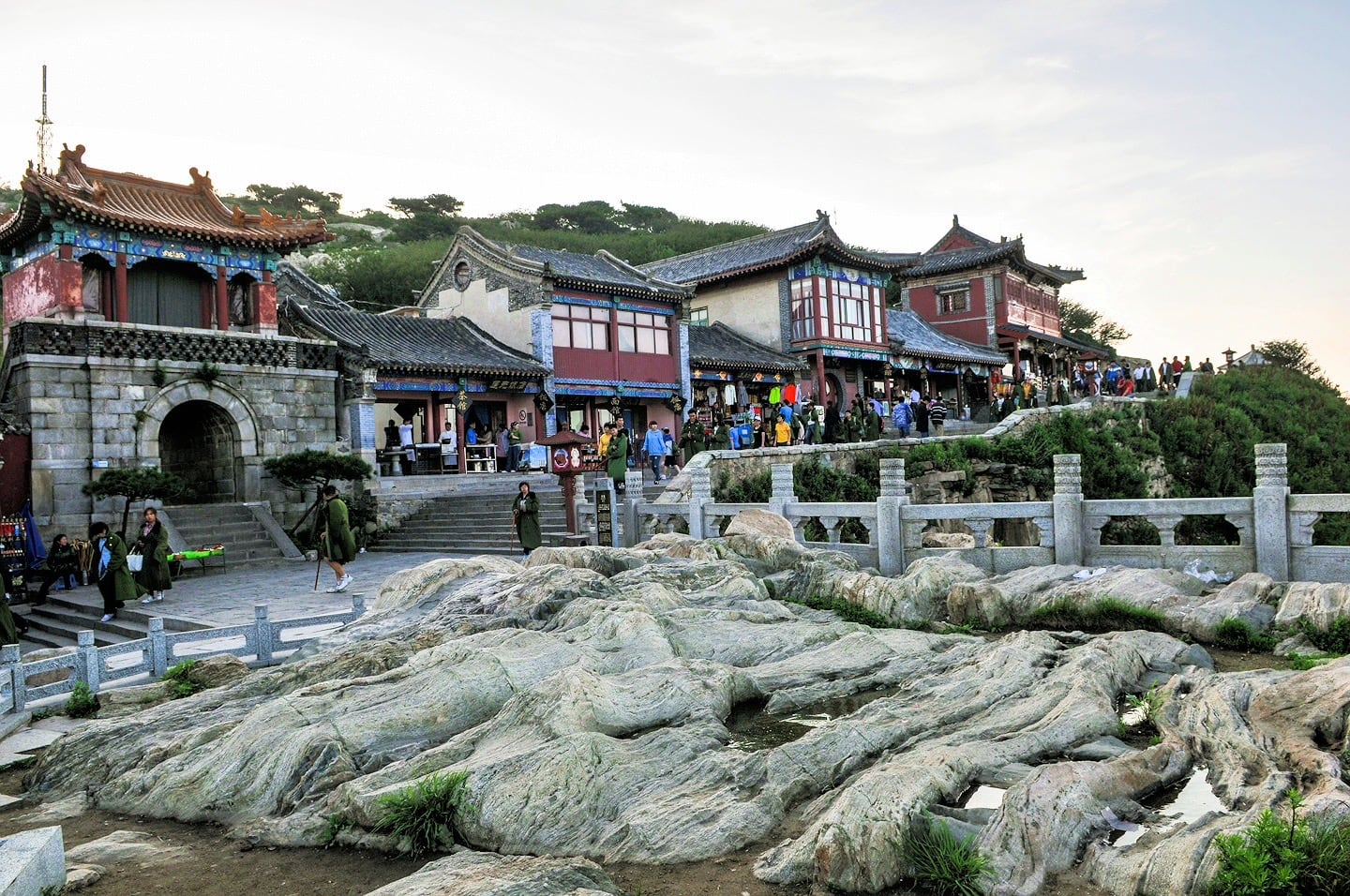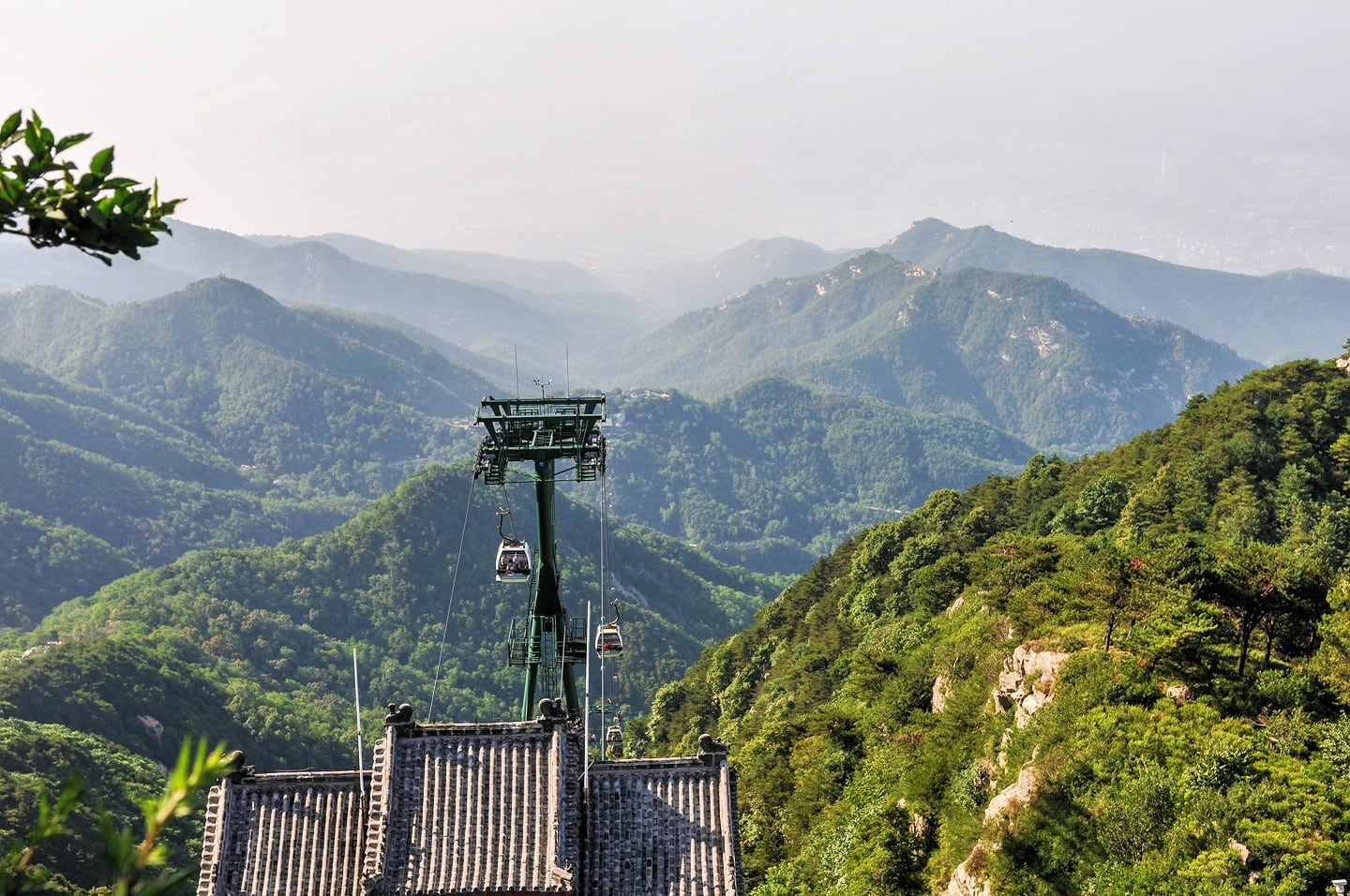 By mid-morning, the cable cars were roaring along, ferrying visitors up and down the mountain.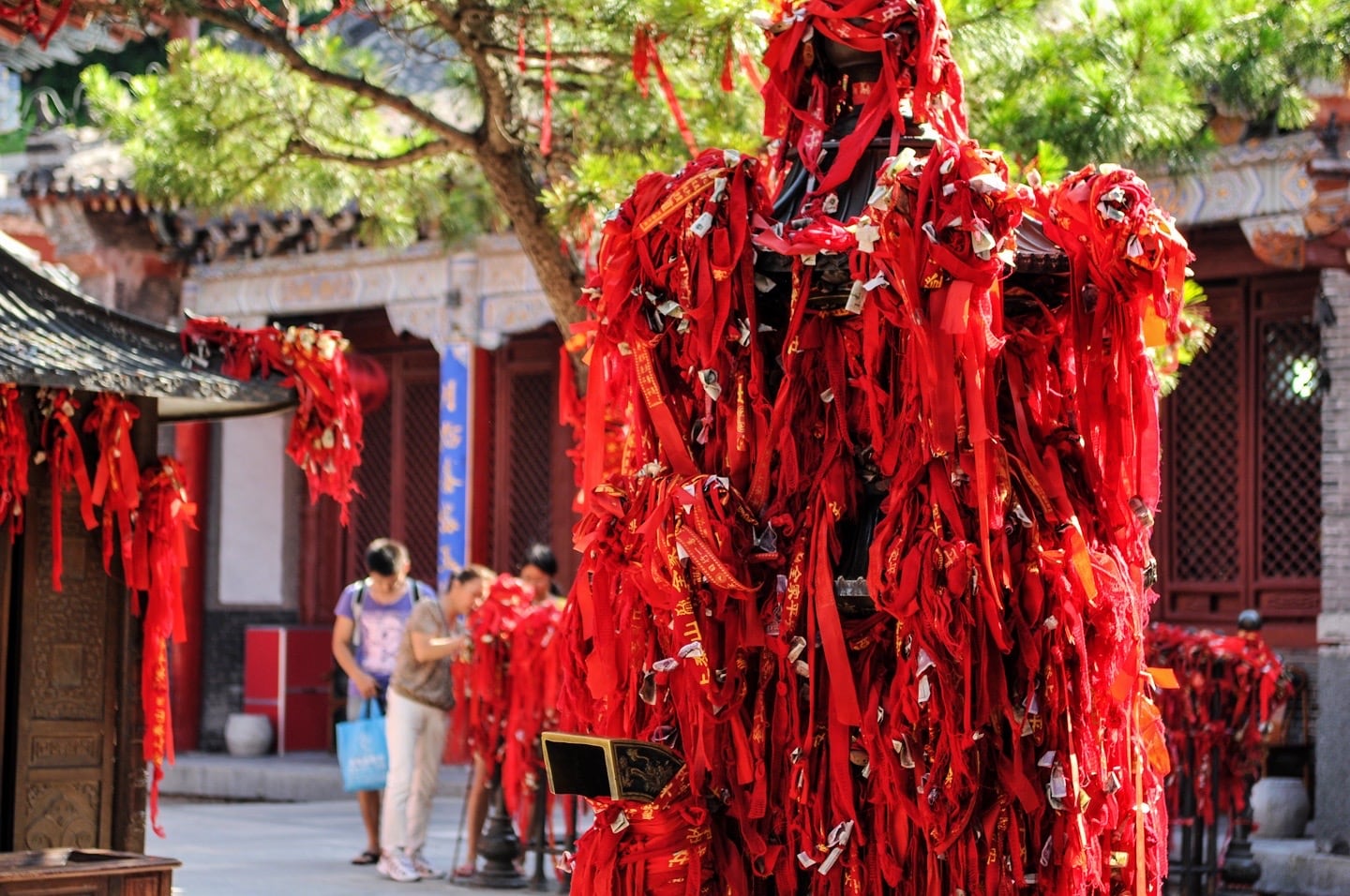 Red ribbons tied for fortune in Azure Clouds Temple.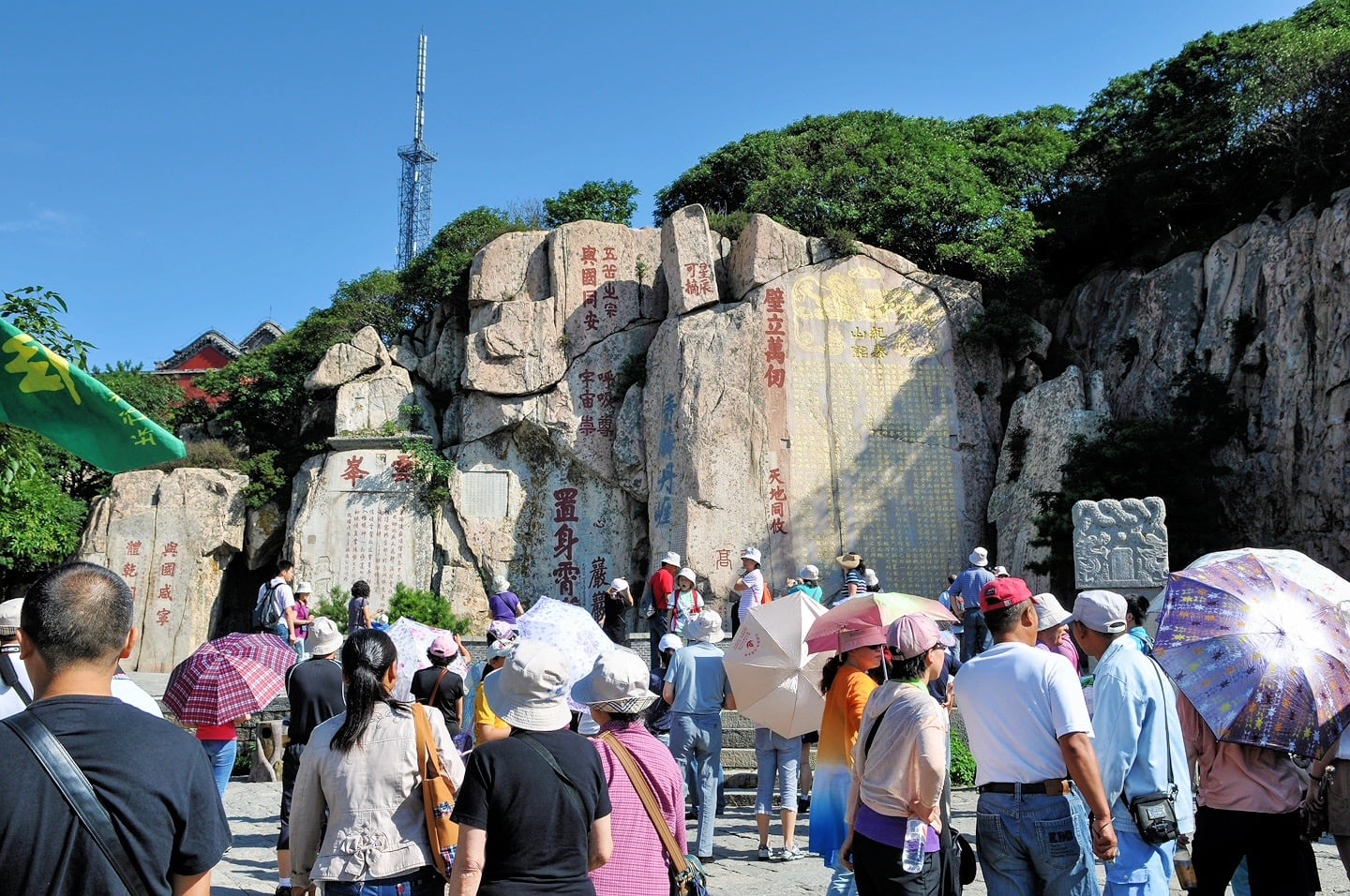 Rock inscriptions of Mount Tai.
"Love Locks" ring the center of Taishan's highest point, the Jade Emperor Temple.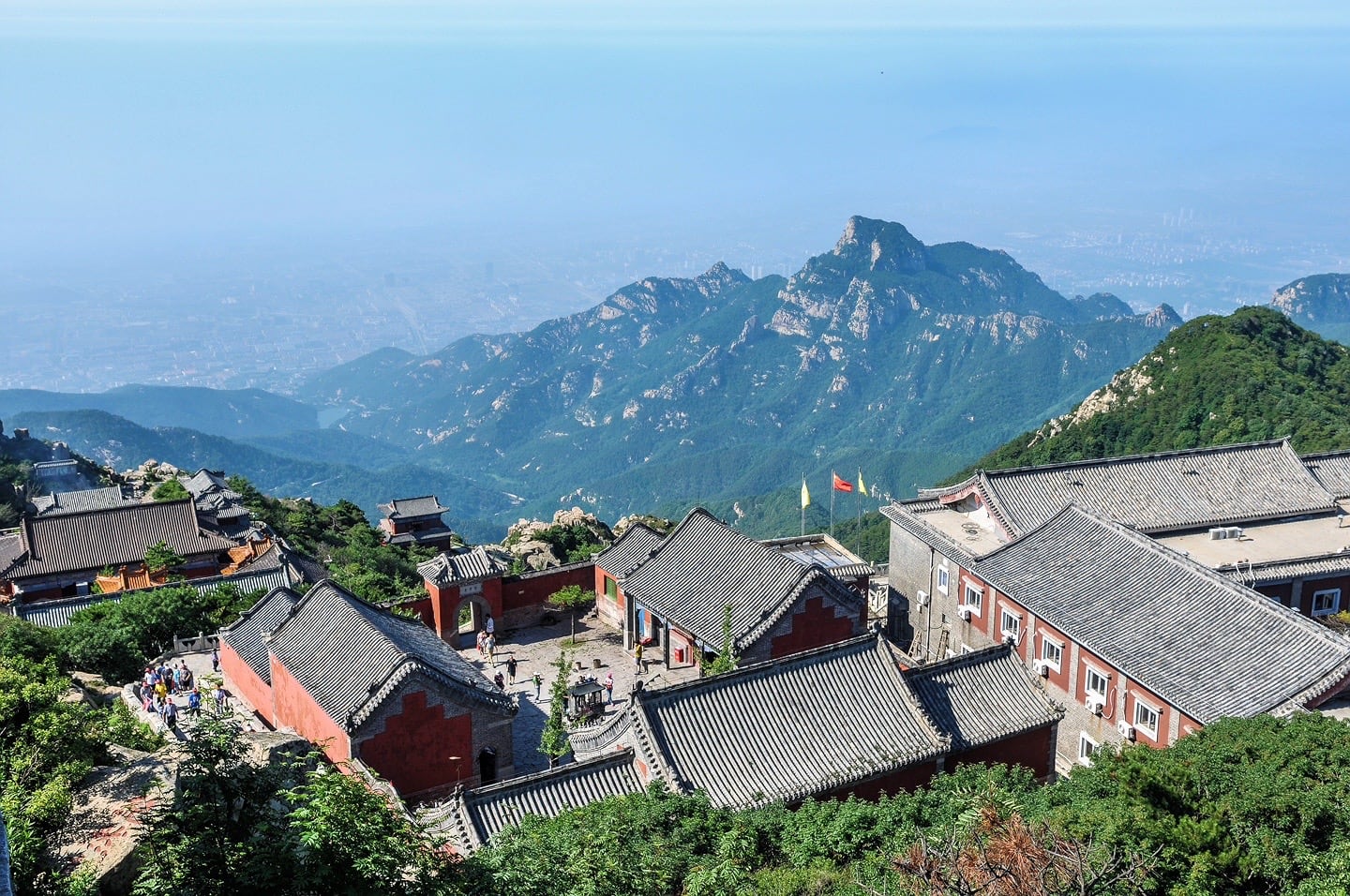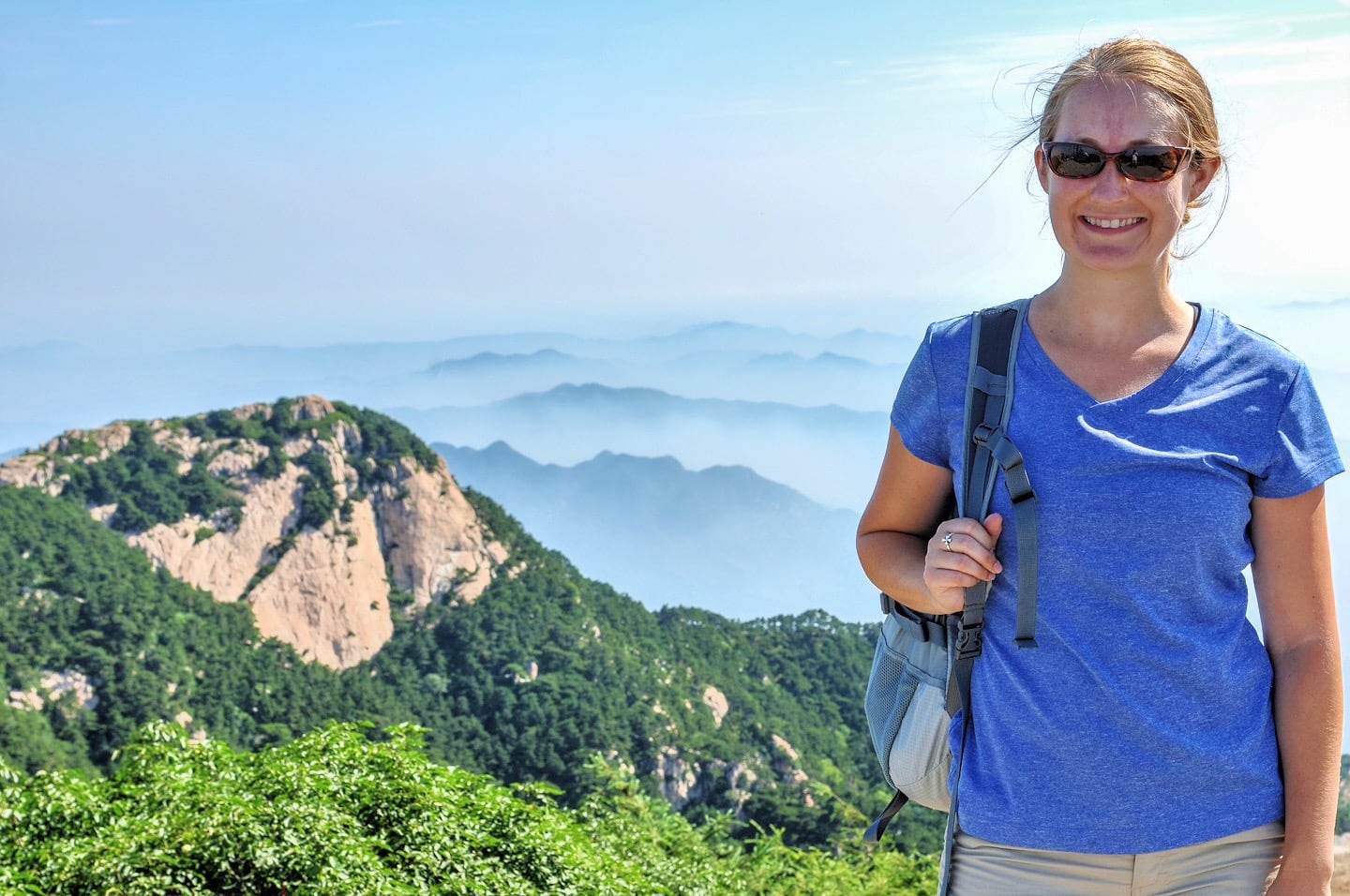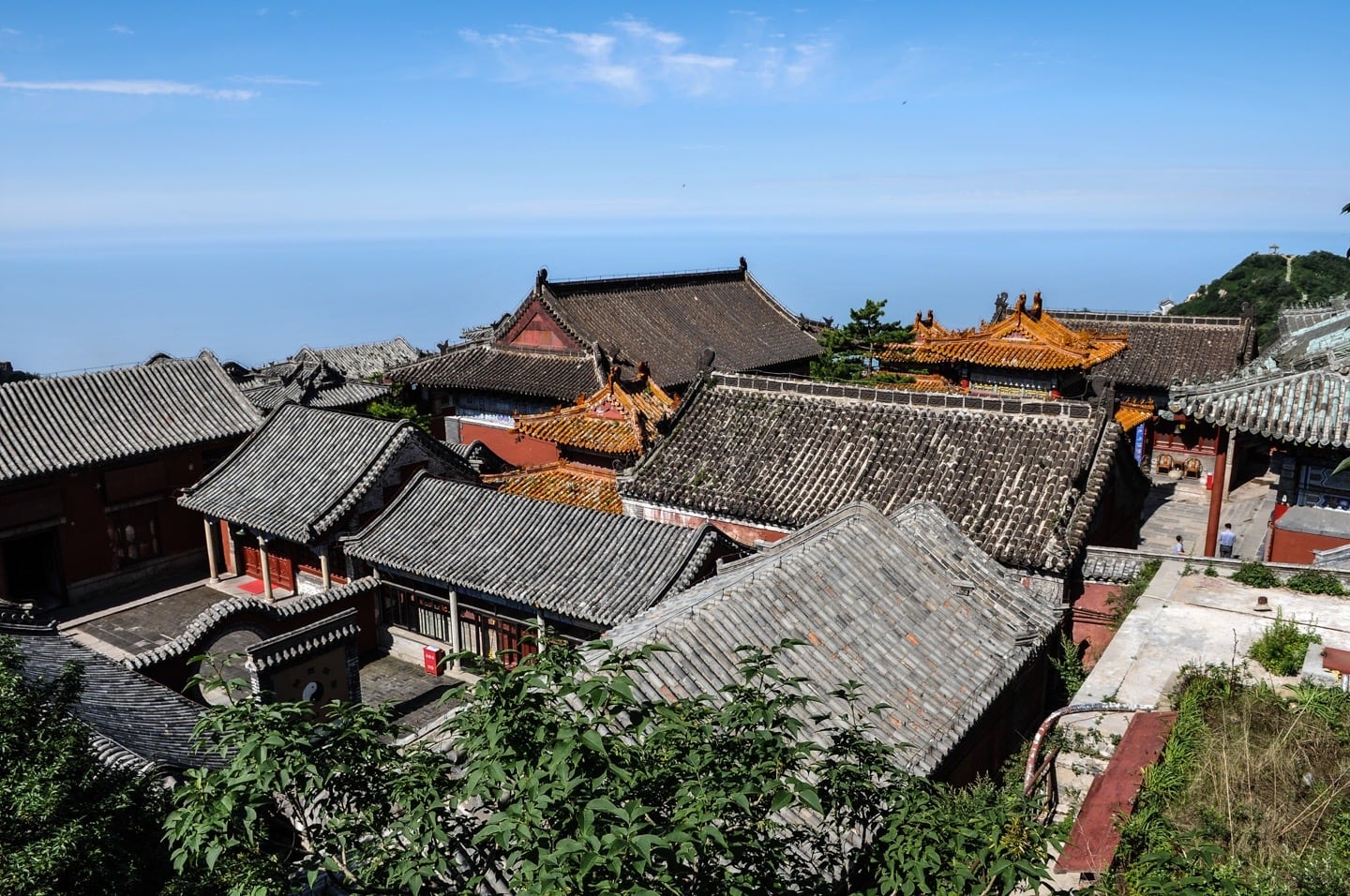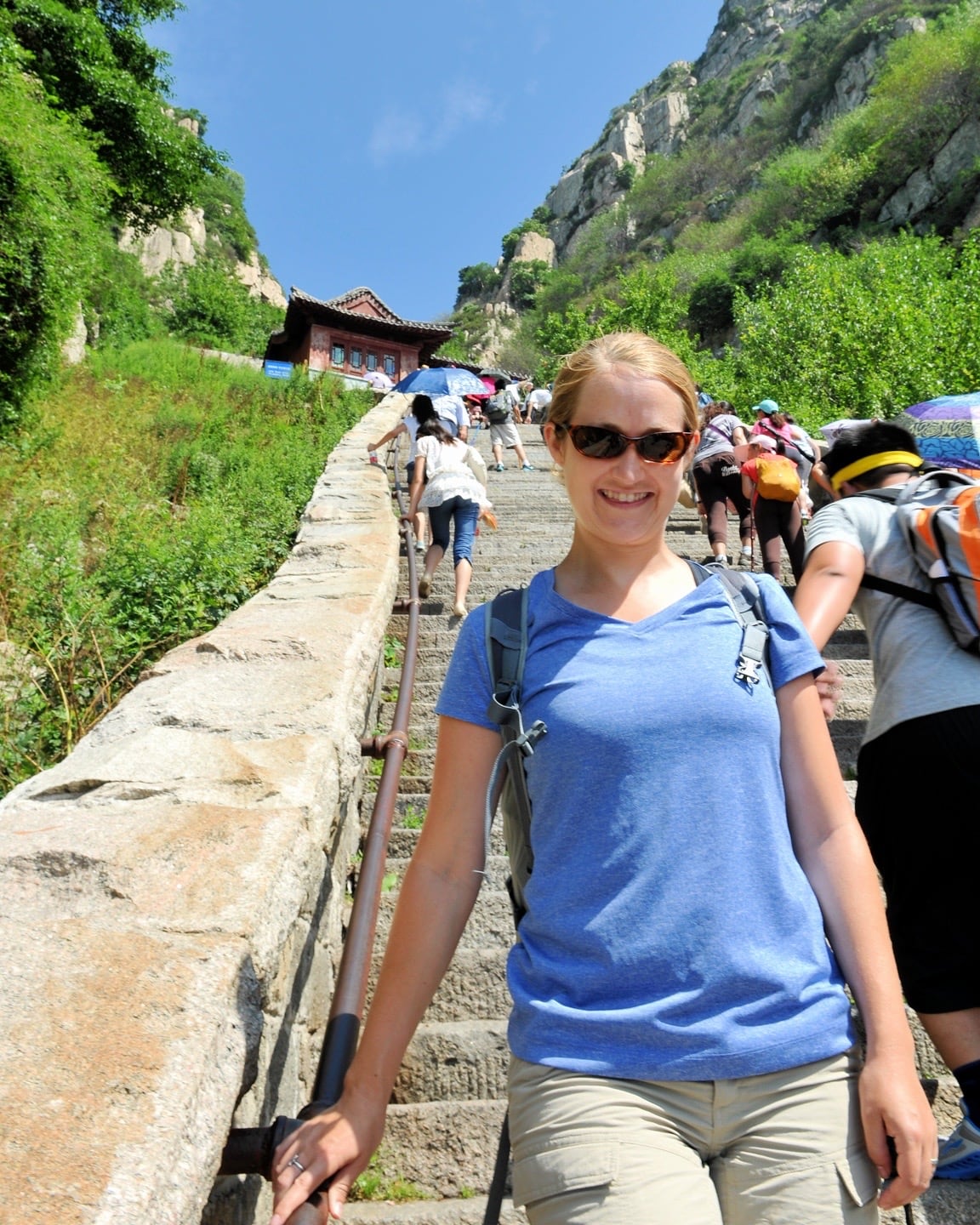 The Descent
As all good things eventually do, our trip atop China's holiest mountain finally came to an end.
The trip back down the 6,000+ steps took but a fraction of the time as expected, though the toll on our legs was much higher this time around (and we paid for it for several days after, especially descending flights of stairs in Beijing's various metro stations).
Friday's ascent was muggy and cloud-covered, but Saturday's descent was a bit different. A cloudless sky meant higher temps and we were very thankful we were on our way down.
Saturday also brought with it many more tourists in both directions, though the walk down from the half-way point was pleasantly sparse and shaded.
One thing that colored our Taishan Mountain experience was a dramatic increase in Chinese taking photographs of the two of us.
Certainly, this happened in other places during our six weeks backpacking around China, but none so much as up, down, and all around Mount Tai.
At one point it started to really annoy us. But we soon came to feel that on the whole, the picture taking was quite innocent and it seemed to make people genuinely happy (especially the one's who asked to have a picture taken with us).
Westerners in a lot of parts of China are still quite rare, and media is still largely controlled, which is perhaps the reason why so many young Chinese seem so eager and excited to engage with foreigners like us.
In the end, it was just as much the people we encountered and observed along the way, as well as following in the footsteps of emperors and the shared sunrise experience that made climbing Mount Tai an absolutely worthwhile and unforgettable experience for us.
Have You Climbed Mount Tai?
What was your experience like? Did we miss anything? Let us know in the comments below.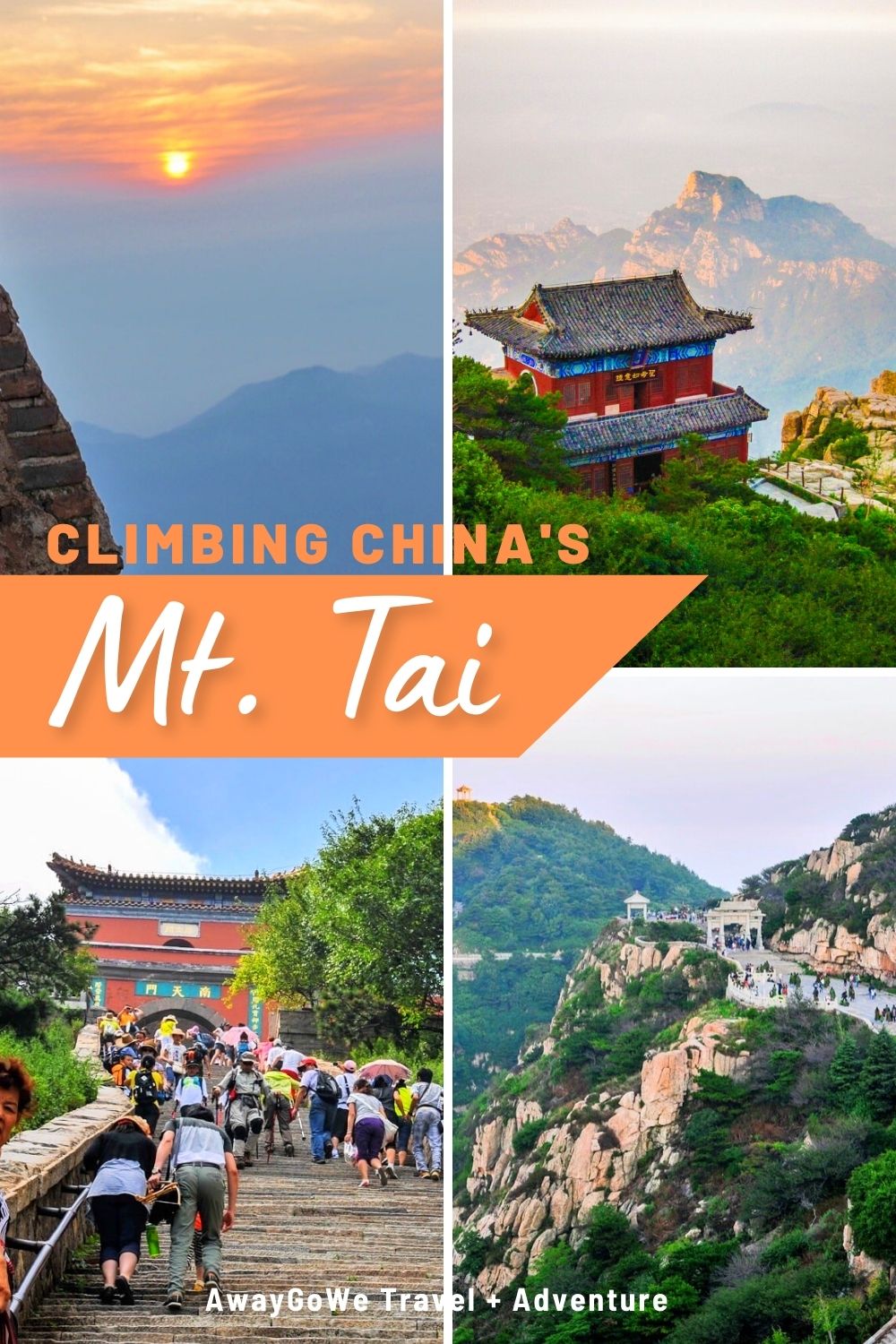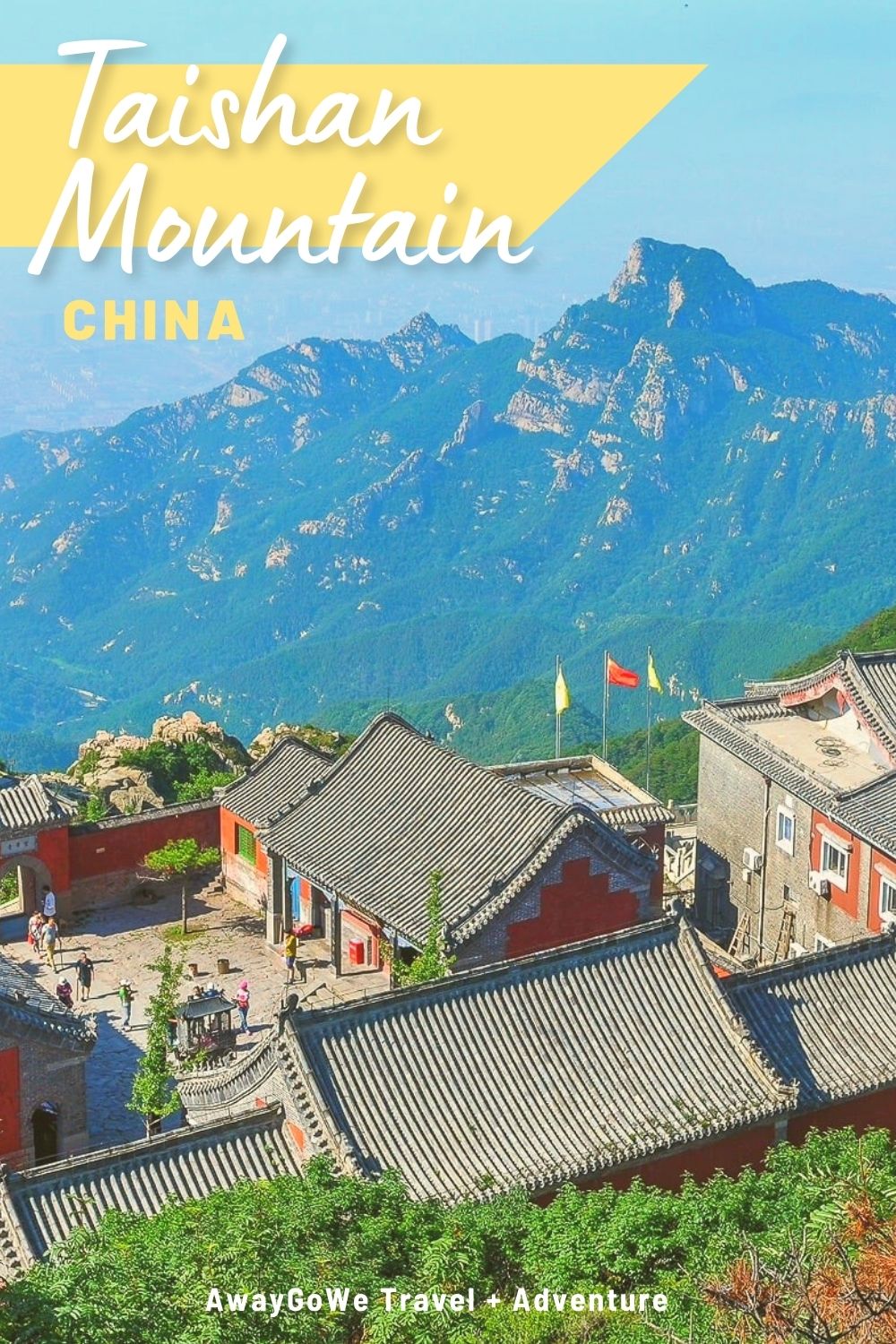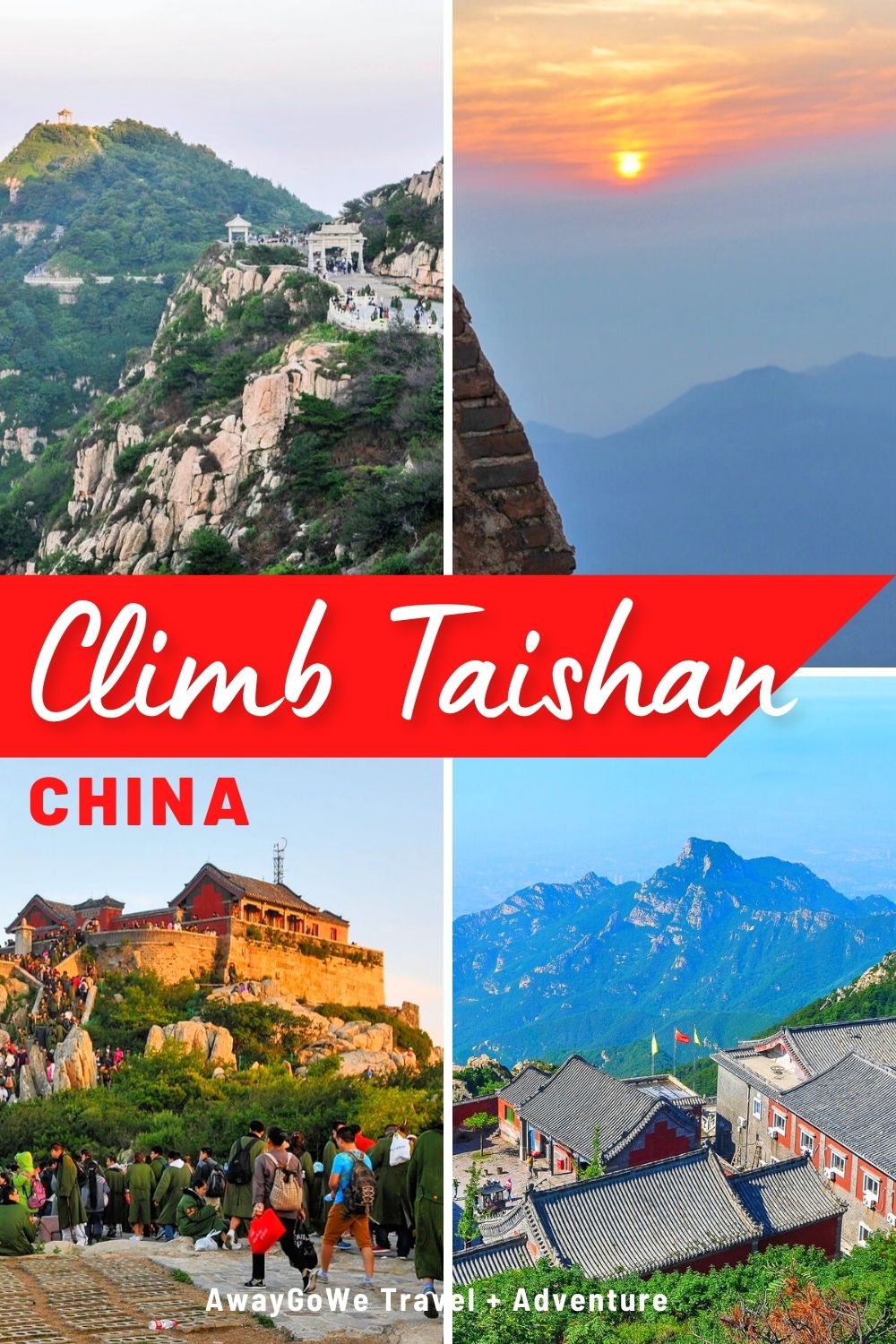 19 Jul 2021
06 Jul 2012
I've been a blogger and travel writer since 2010, covering everything from luxury hotels to hidden destinations and travel gear. Originally from Oregon, I've spent the majority of the past 20 years living outside of the U.S., in Mexico, the Caribbean, Southeast Asia, Africa, and Europe. I received a BA in Communications (Journalism) from Boston College, and an MA in International Development Studies from the George Washington University. I'm passionate about exploration and discovery, and providing independent, thoroughly-researched, ad-free advice for travelers.