There are so many interesting and worthwhile things to do in Suzhou it can seem like an impossible task narrowing your travel itinerary down to only the best.
Here's our guide packed with the best of the best of Suzhou, with essential information on visiting many of Suzhou's top attractions and helpful tips for making your trip more fun and enjoyable.
Please note that this isn't meant to be a comprehensive travel guide for Suzhou. We've chosen only to highlight the attractions that blew us away or left a lasting impression in this historic, vibrant, and often overlooked corner of China.
Best Things to Do in Suzhou: A Guide for Travelers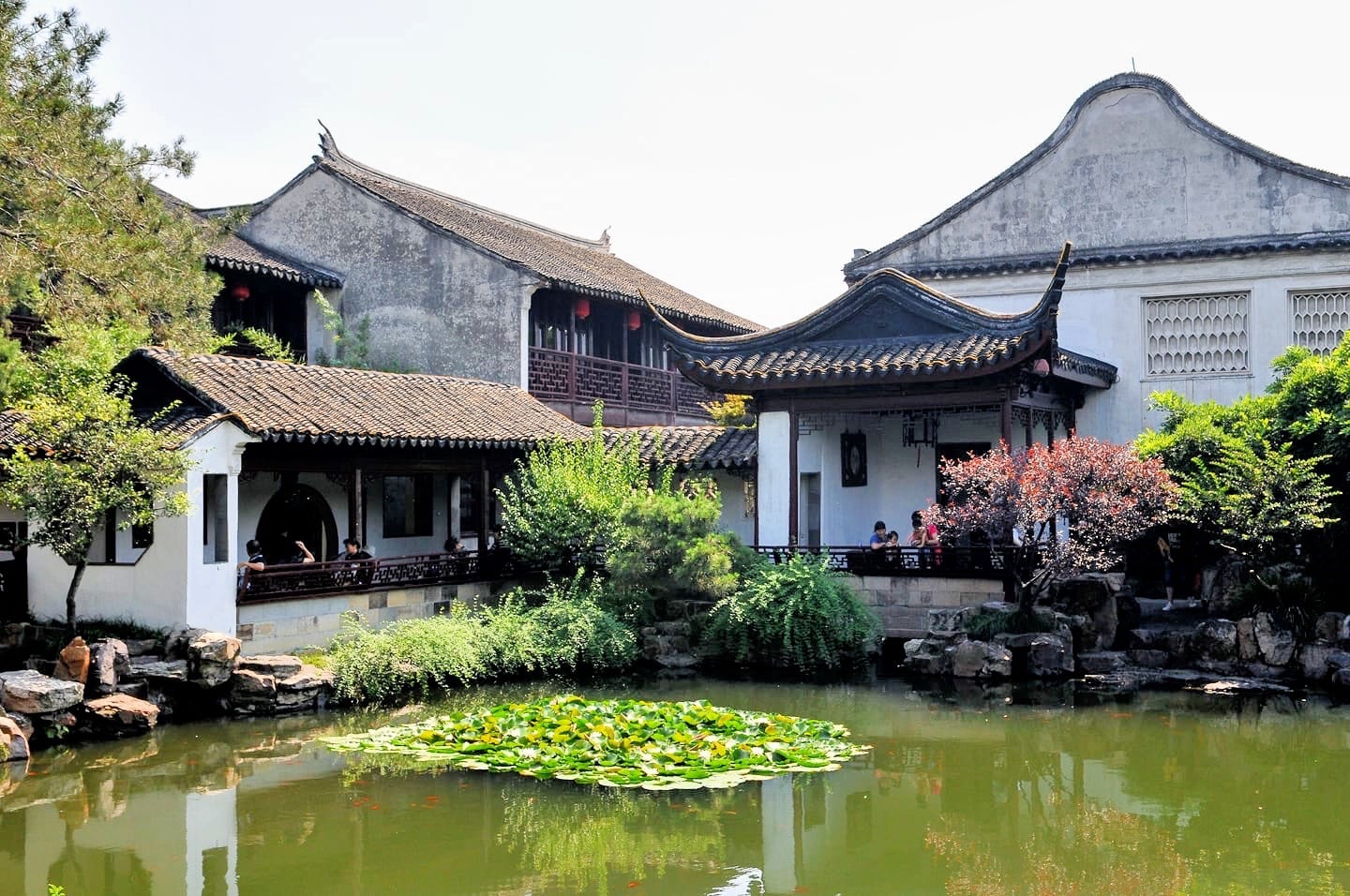 Why Visit Suzhou, China?
Suzhou has been popular with travelers for centuries, largely owing to its location along the Silk Road, and later, two of the city's unique attractions: It's world-class classical gardens, and well-preserved network of ancient canals.
A native of Venice, himself, Marco Polo paid Suzhou the ultimate Venitian compliment while traveling through the region in the 13th century, calling Suzhou the "Venice of the East."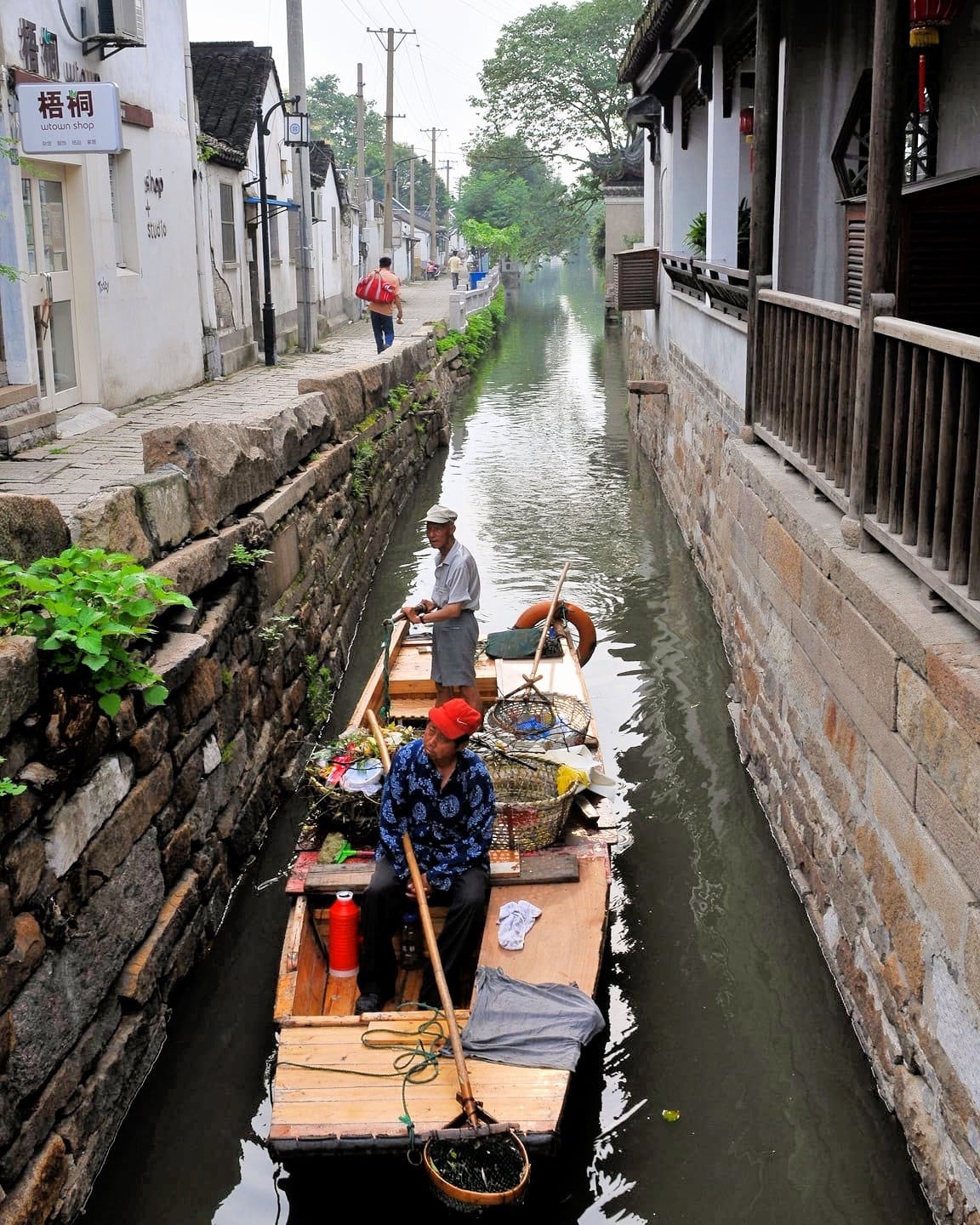 Undoubtedly, much has changed in the 800 years since, but even in the 21st century, you can easily get some sense of why Marco Polo may have felt that way.
Visit Suzhou for some of the best examples of classical Chinese gardens in the world, evocative canal walks, a vibrant night market, delicious cuisine, a UNESCO heritage quarter largely off the radar of Western tourists, and so much more!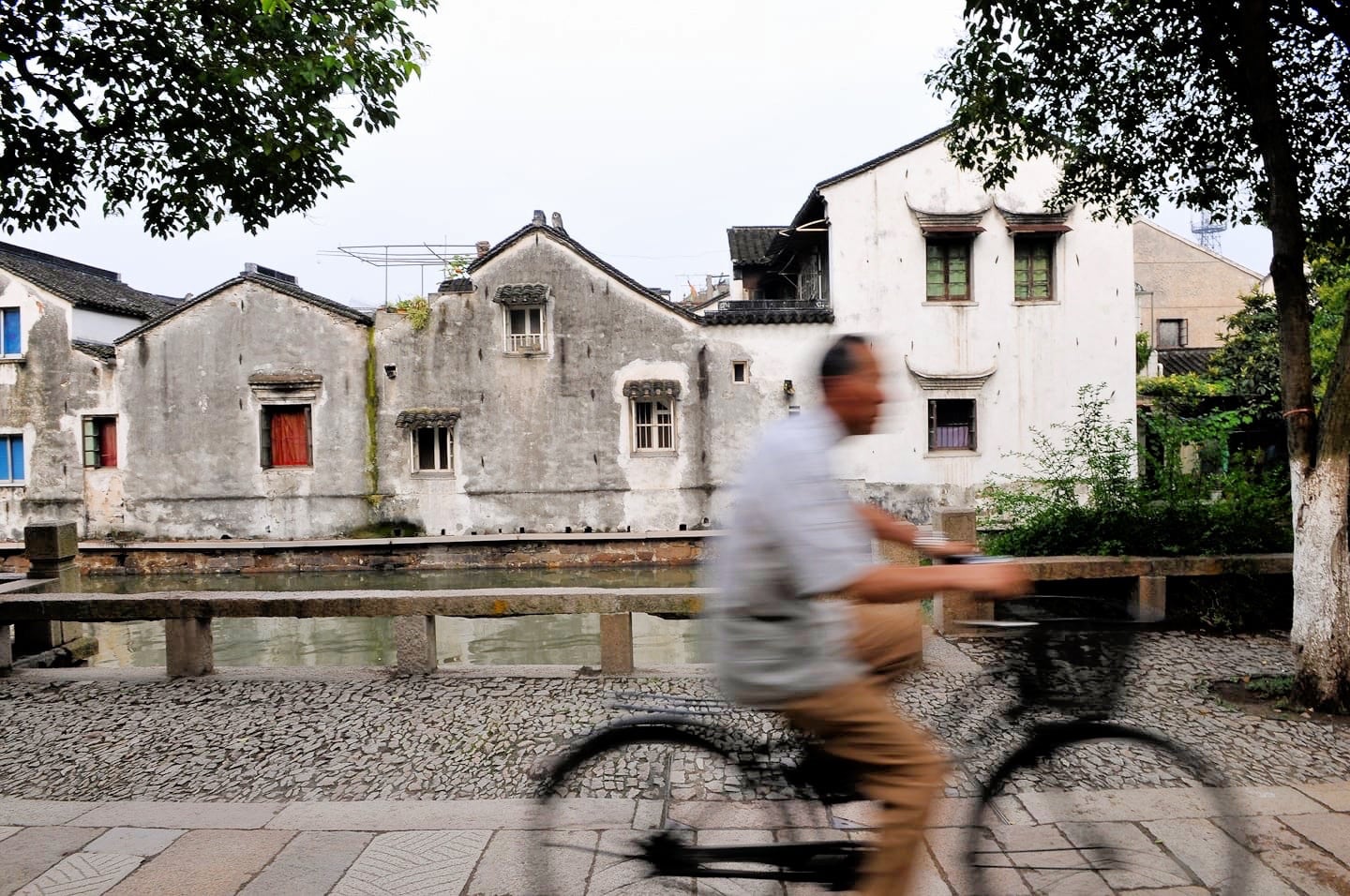 When to Visit
We arrived in Suzhou in July, still hoping somehow to beat the summer heat. Instead, we encountered daily highs in the mid to upper 90s with a generous helping of humidity.
The good news is that Old Town Suzhou's Pingjiang district lends itself to strolling around slowly and aimlessly with plenty of frigid shops, teahouses, and cafes to duck into when you've reached your limit with the heat.
If you want to avoid the heat altogether (and the cold!), the best time to visit Suzhou is in spring or autumn (April-May or September-October). But do keep in mind, these months also tend to coincide with tourist high season (both foreign and domestic).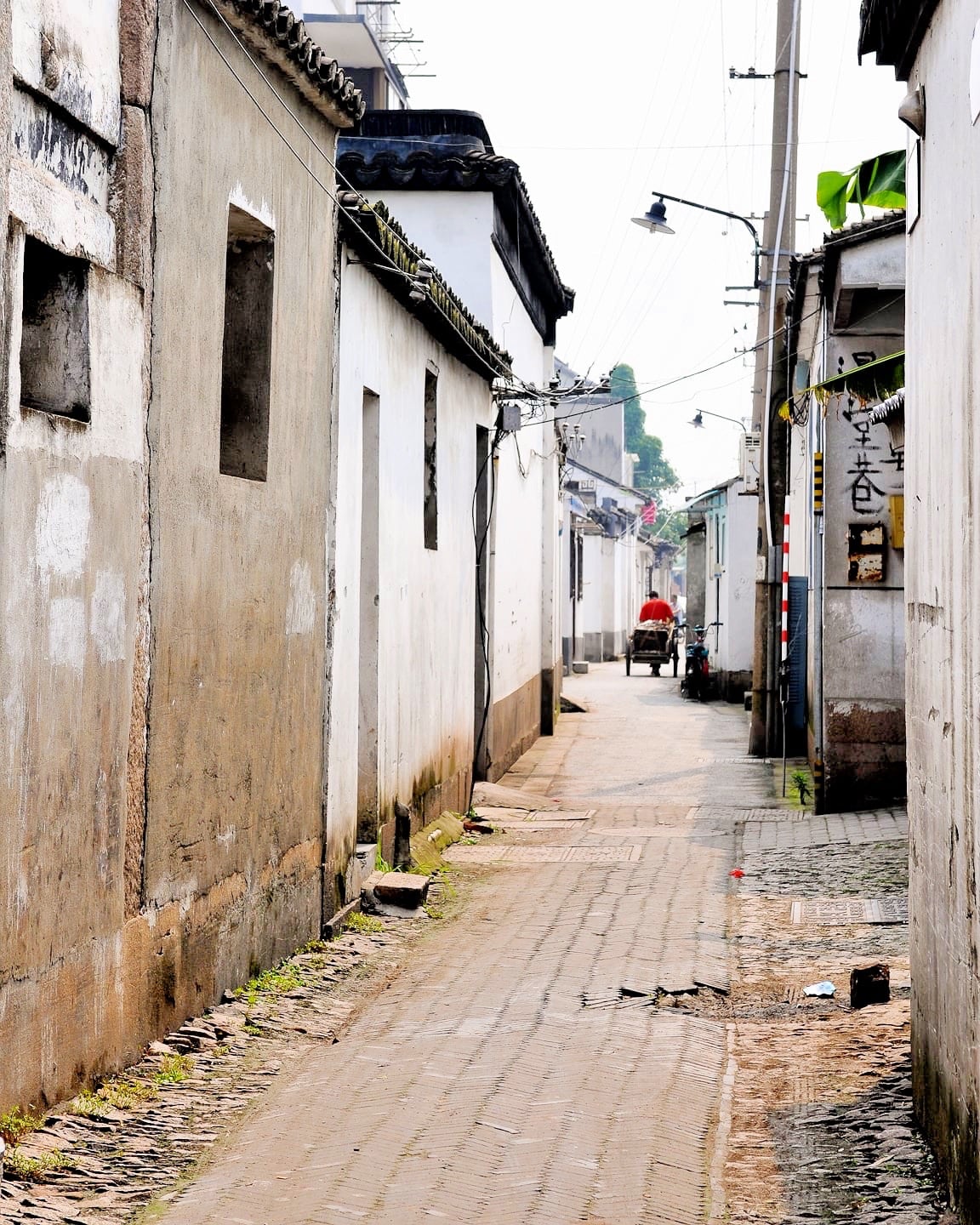 Full-sized vehicles are not permitted in Old Town, but bicycles and motorbikes are, which can be an occasional hazard to your health and sanity on Suzhou's narrow cobblestone streets.
An added benefit of strolling in the midday heat is that you won't find a lot of motorbikes vying for precious cobblestone—though you'll want to stock up on water in the morning as we also found few street vendors out in the heat of the day.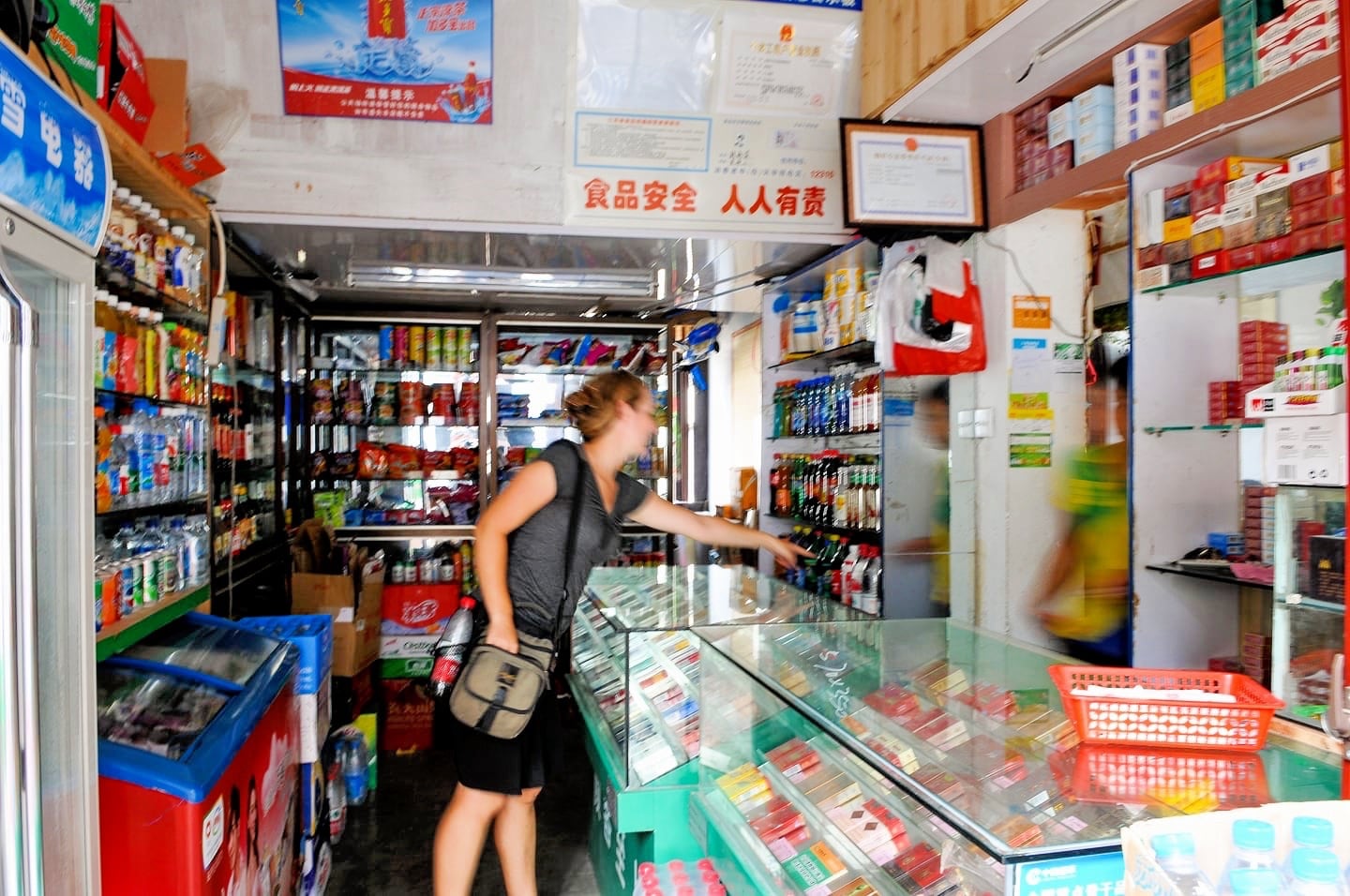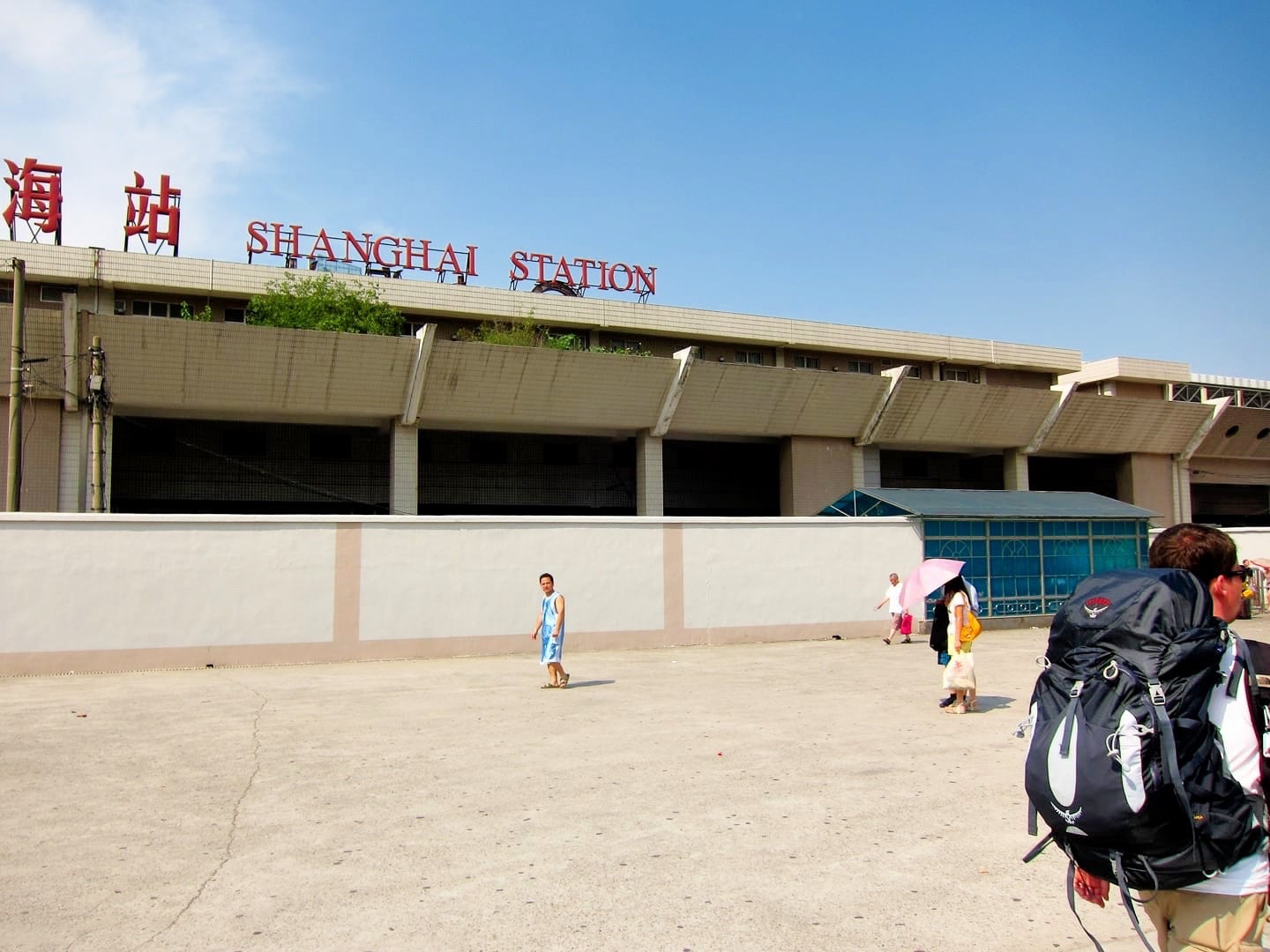 How to Get From Shanghai to Suzhou
With the arrival of the bullet train a decade ago covering the 70 km between Suzhou and Shanghai, it's easier than ever to visit this ancient city.
We left Shanghai on a blazing-fast Suzhou-bound G-train, arriving a mere 25 minutes later—a journey that still takes 1.5 hours by K (fast) trains and even longer by freeway.
The G-train is not cheap, but unless you are on an extreme budget (which is pretty close to describing our backpacker budget at the time), we'd encourage you to splurge for a G-train ticket for this journey.
Because of the relatively short distance, it's one of the cheaper ultra-fast train tickets between two major cities in China. If you've ever wanted to ride a 300 km/h train, you'll never get a better opportunity.
In addition to the cost, the only other downside to doing the journey by bullet train means you'll need to access the ultra-modern train terminals that the G- and D-trains service, which can be quite a ways outside of the urban core.
The journey can still be done by K train ("fast" train), which takes about 3x the amount of time but is quite a bit cheaper. When we visited, K trains were still servicing stations within the urban core, but this very well could have changed, as transport infrastructure in China is constantly in flux these days.
Check with your guesthouse/hotel before leaving Shanghai for the latest updates and information for your journey.
A number of travel agencies and tour companies in Shanghai also run group tours to Suzhou via bus.
Going with a tour group has the advantages of having someone else figure out the logistics for you (which can be daunting if it's your first time in China and you don't speak Mandarin), door-to-door transport, and an English speaking guide for seeing Suzhou's attractions, if that's your thing.
As always, the trade-offs will be independence and flexibility, but you'll also spend a lot more time traveling between the two cities when you could be strolling the ancient canals and UNESCO classical gardens.
While it is possible to make a day trip to Suzhou from Shanghai, we strongly advise against doing so. Sights are spread out across the sprawling Old Town, there's way too much to see in a matter of hours, it can get very hot in the summer months, and evening is by far the most pleasant time to find yourself strolling along Suzhou's evocative canals.
Add some time time to your visit to Suzhou to fully explore this ancient and modern Chinese city and you won't be disappointed.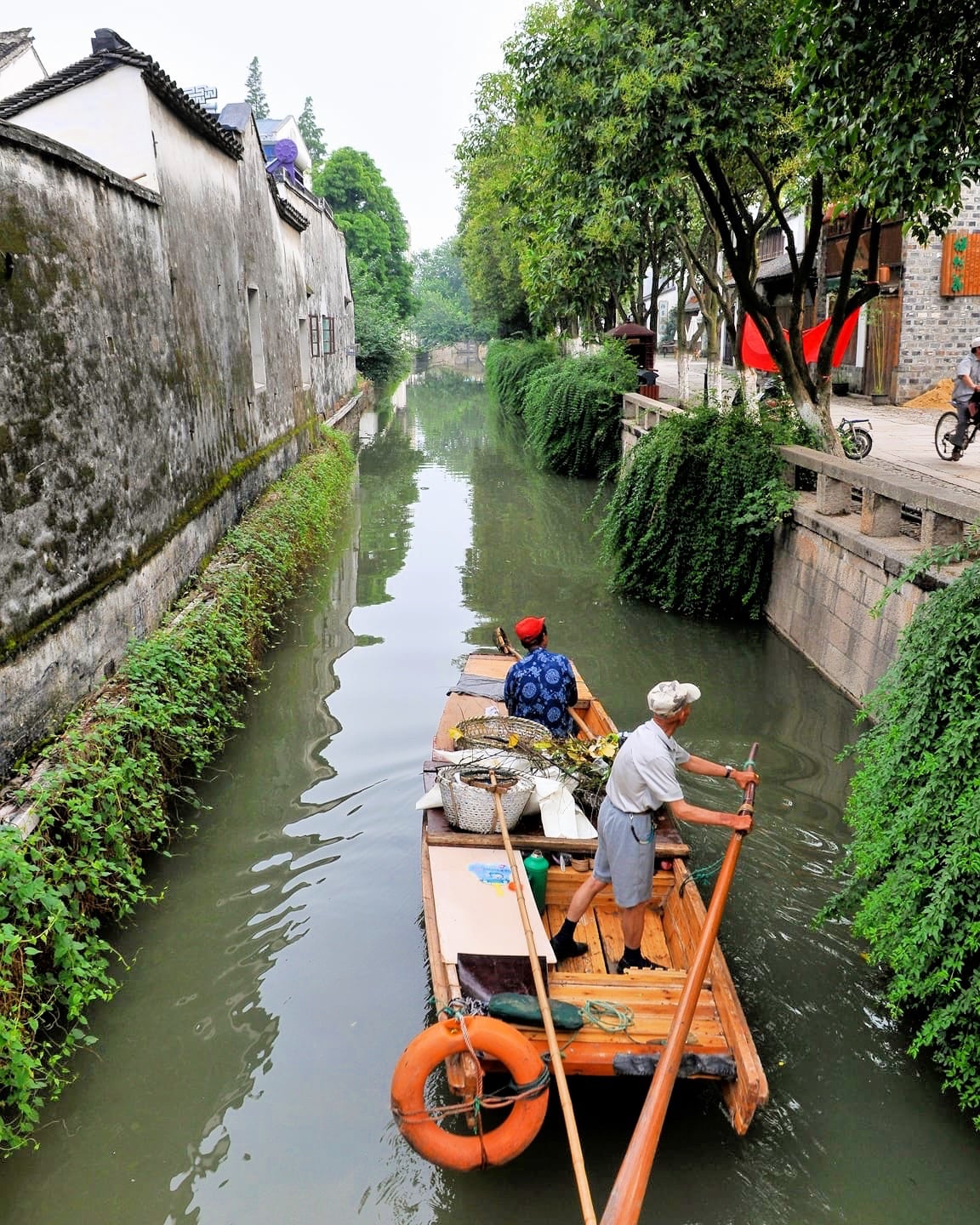 Orientation
The city of Suzhou is massive, stretching from the Yangtze River in the north to Taihu Lake in the southwest.
Most of Suzhou's attractions for foreign visitors, however, are located within the perimeter of the Weicheng River in the very manageable 3 km x 4 km historic center.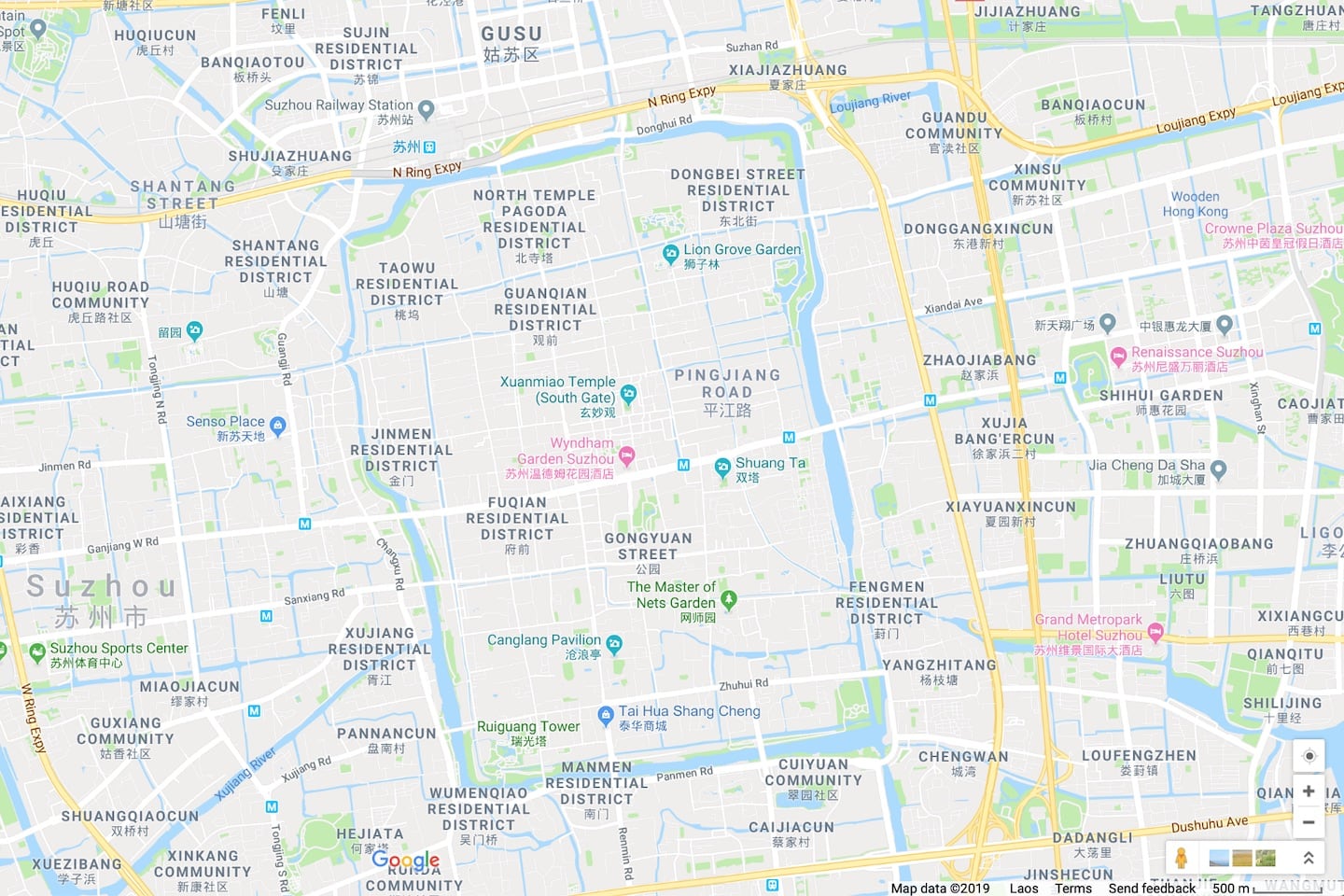 Suzhou's classical gardens are scattered across the central Water Town district within the Weicheng perimeter.
We recommend basing yourself near Pingjiang Road, which parallels the picturesque Pingjiang canal with its 800-year-old footbridges and is centrally located in the middle of Suzhou's top attractions.
Best Things to Do in Suzhou
Stroll the Ancient Canals of Old Town
Suzhou has long been popular with travelers (for somewhere in the neighborhood of 2,500 years). Beginning during the Song Dynasty (960-1279) it became an important center for the Silk trade, growing into a garden city beloved throughout the world.
With that said, Suzhou's picturesque network of canals also remains a big attraction as well.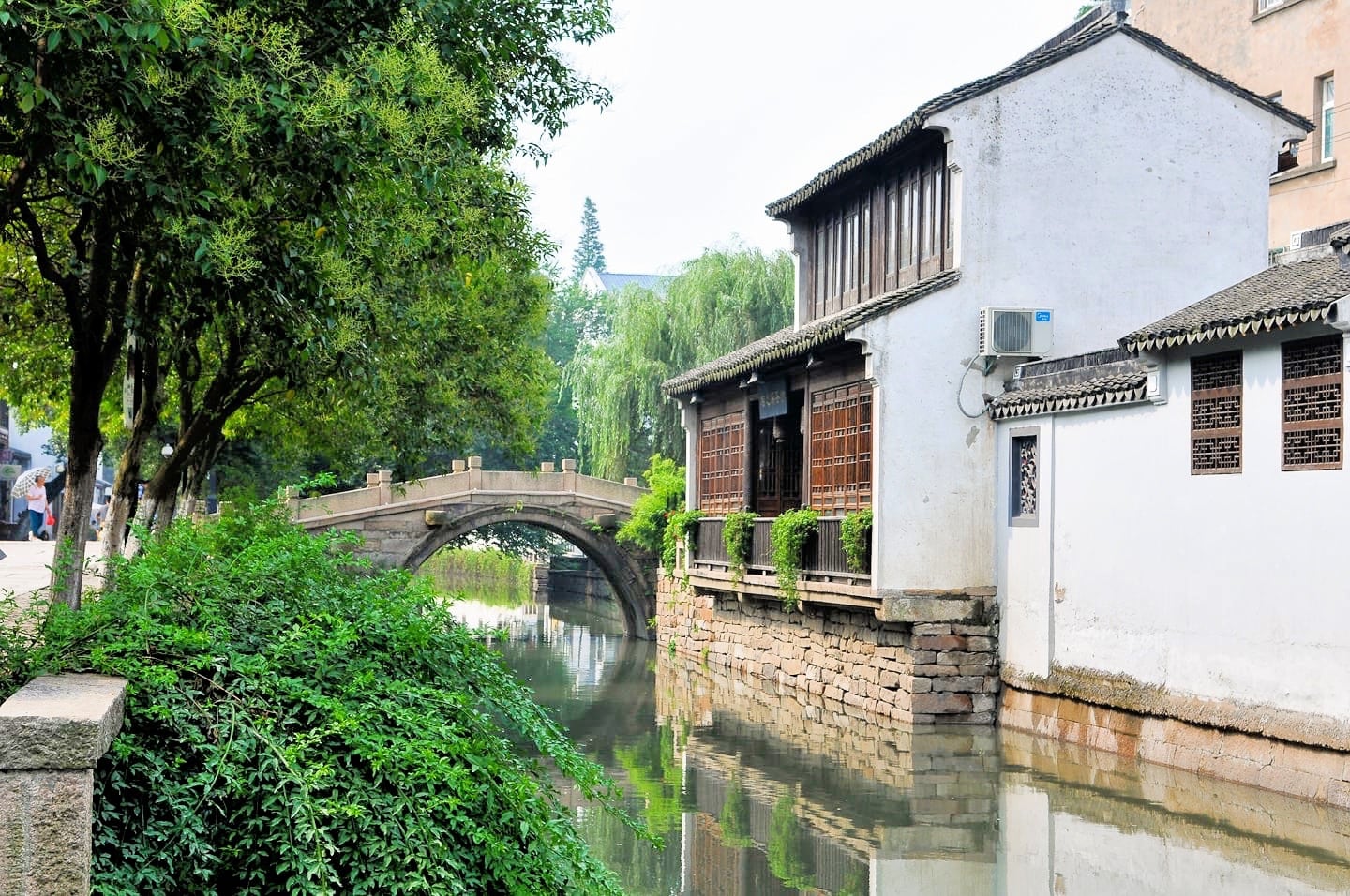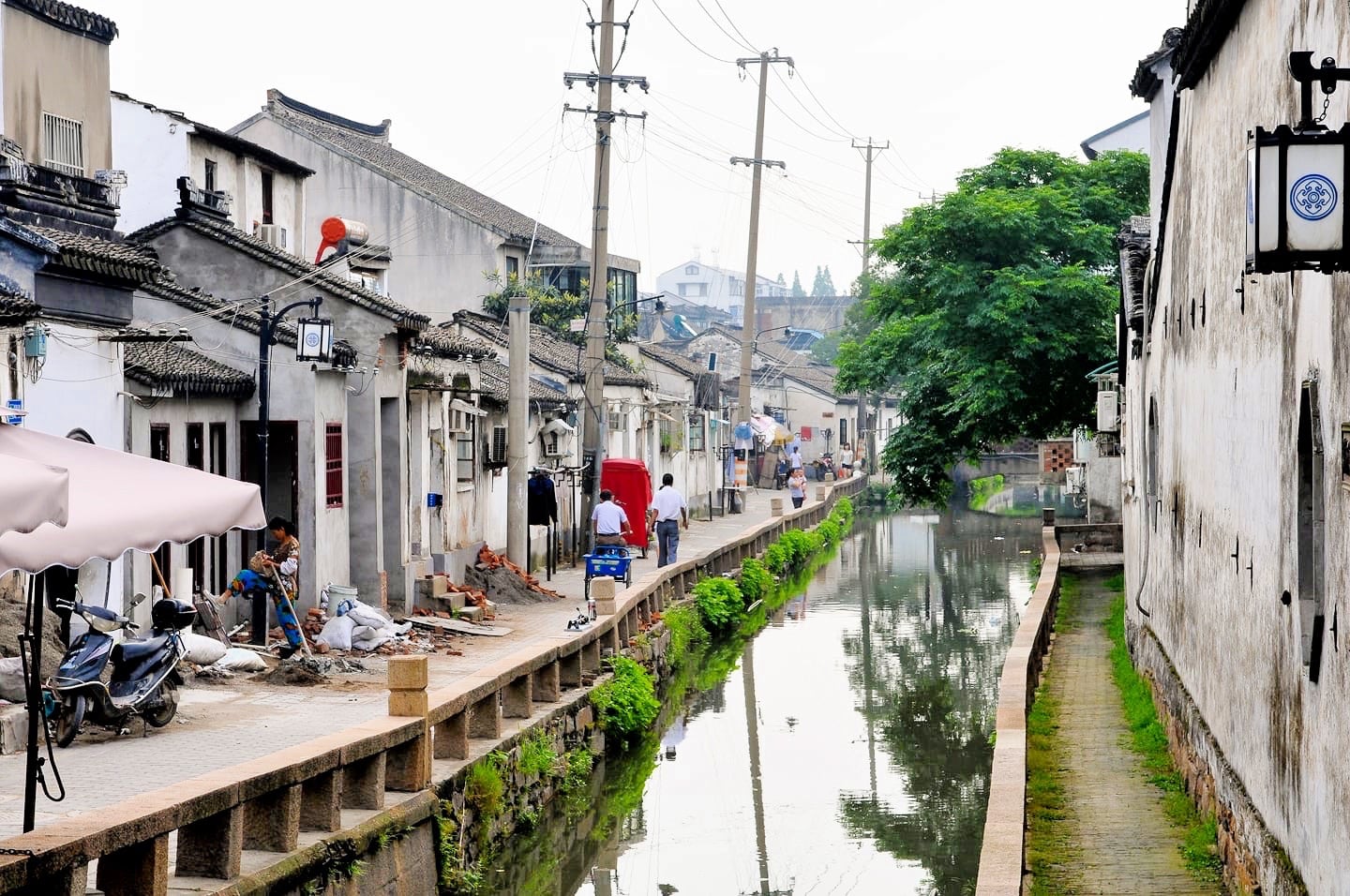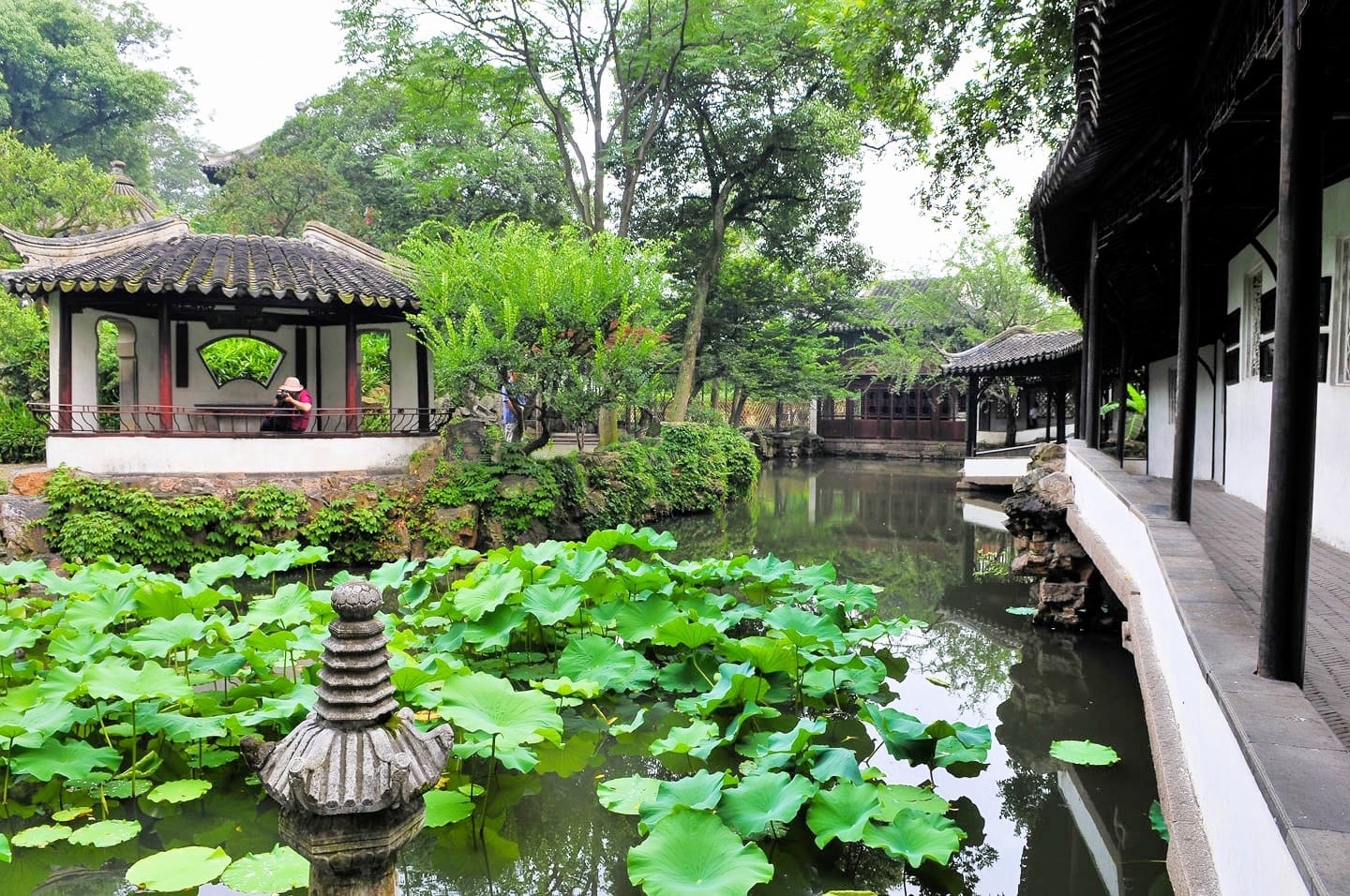 Touring Suzhou's Classical Gardens
Suzhou has long been known for its incredible classical gardens, and let's face it, they're probably the main attraction you've traveled to Suzhou to see.
We could easily devote an entire website to covering the classical gardens of Suzhou, but in this article, we've decided to focus on three of the best:
The huge Humble Administrator's Garden, the old Master of the Nets garden, and the ancient Panmen complex.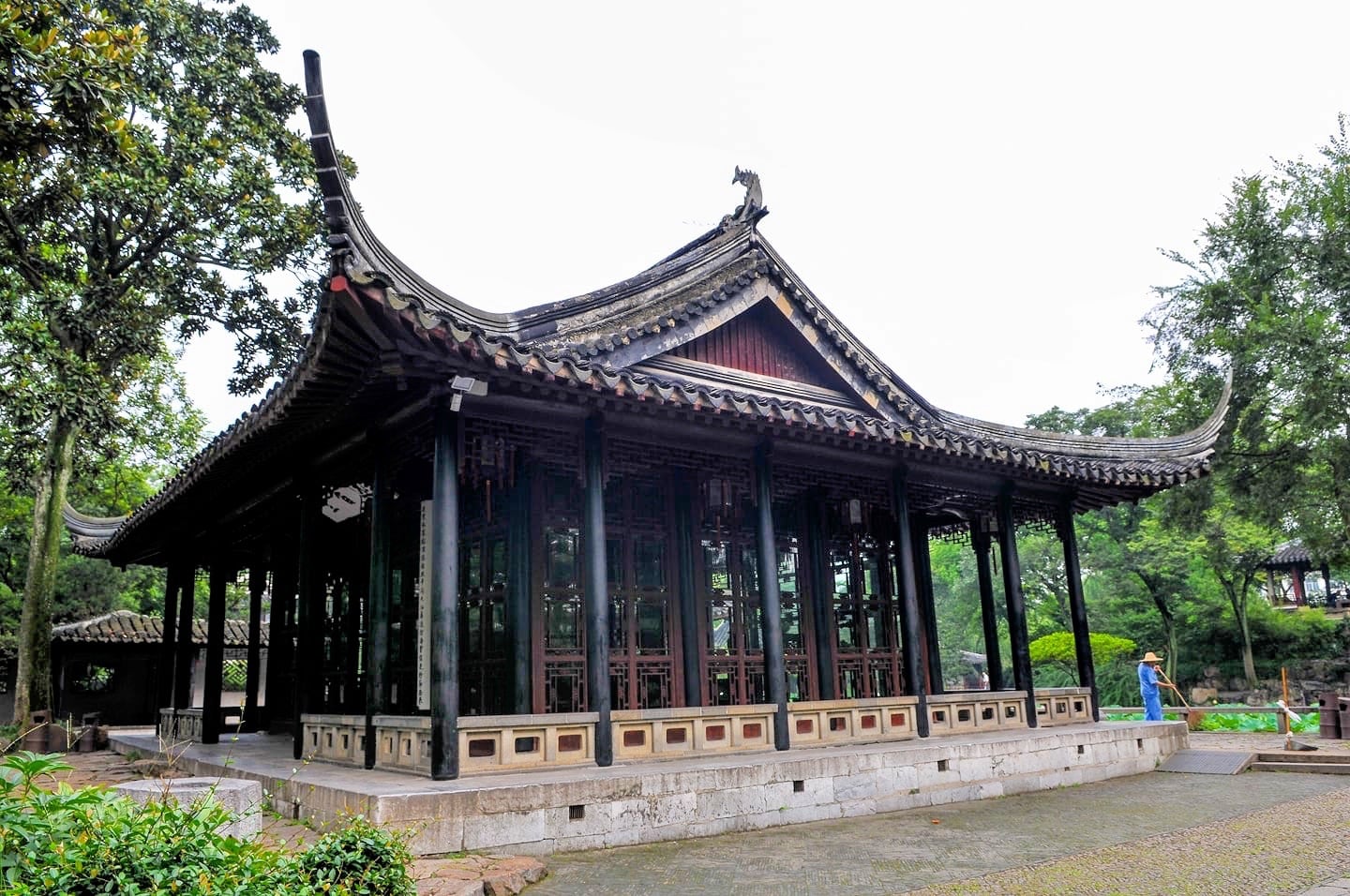 The Humble Administrator's Garden
(Pinyin: Zhuōzhèng Yuán | Chinese: 拙政园)
The Humble Administrator's Garden is the largest and most popular garden in Suzhou and is anything but humble.
With origins dating back to the 16th century, it is also frequently considered the finest garden in Southern China.
For whatever reason (call it ignorance) neither Lori nor I expected to find anything like the gardens we encountered in Suzhou in China — in Japan, yes. But for our time in China, they weren't originally on the radar.
To say we were pleasantly surprised with our discovery would be an understatement.
🔥 HOT TIP 🔥
Visit the gardens as early as possible!
If you plan to stay in Suzhou a few days, visit the Humble Administrator's Garden and the Master of the Nets Garden each on separate days, and be at the gate when they open.
Crowds are VERY manageable first thing in the morning, but can get ridiculous after just an hour.
If you plan to visit in the summer, seeing the gardens first thing in the morning will ensure that you're also visiting during the coolest time of day, as it can get bloody hot in Suzhou in July and August.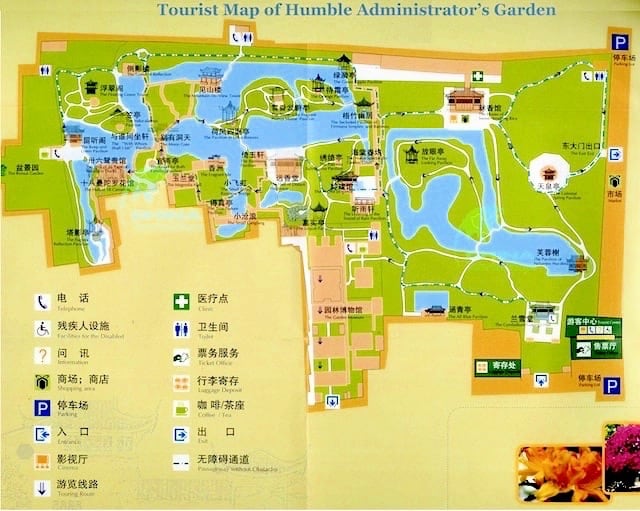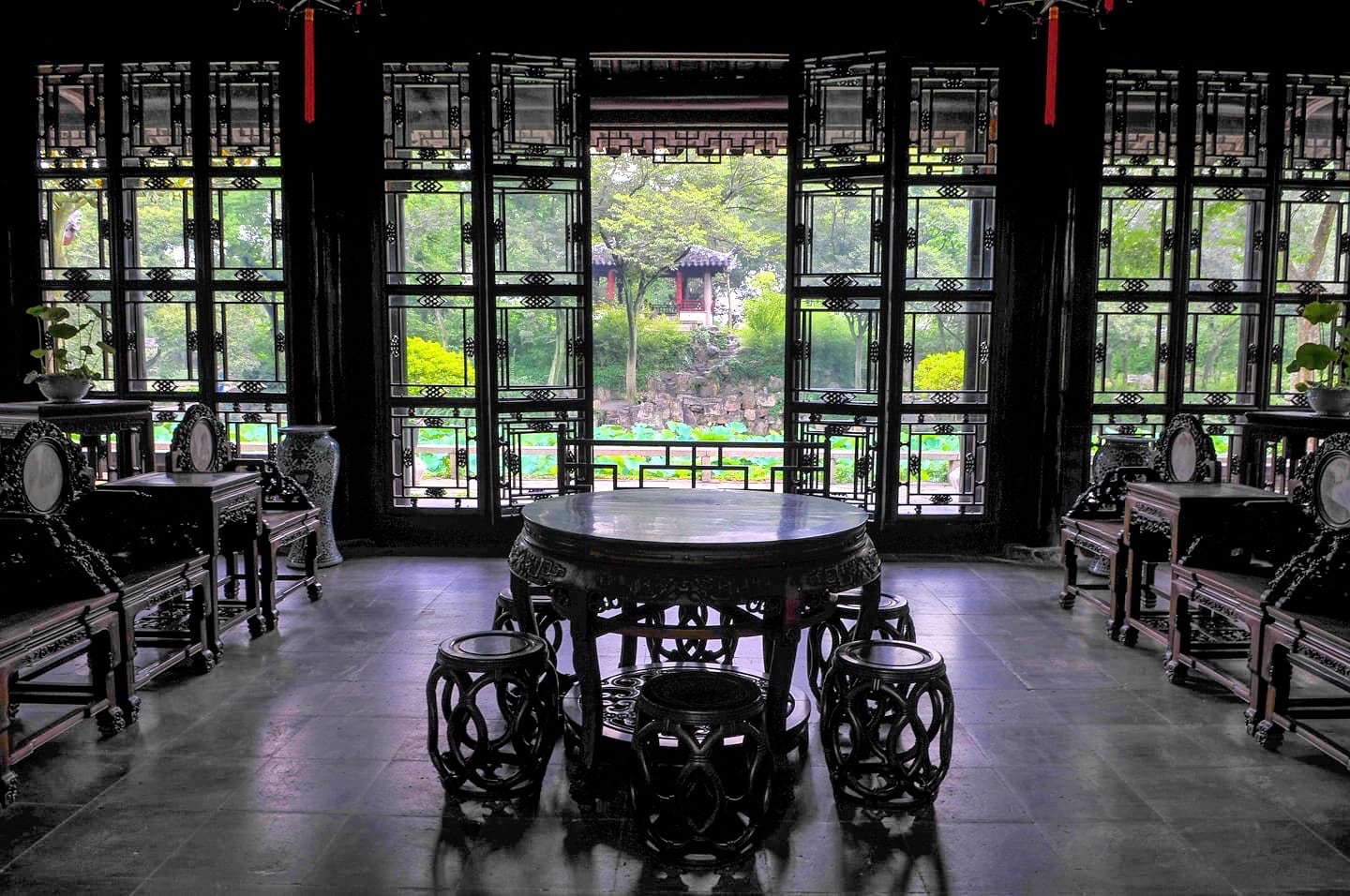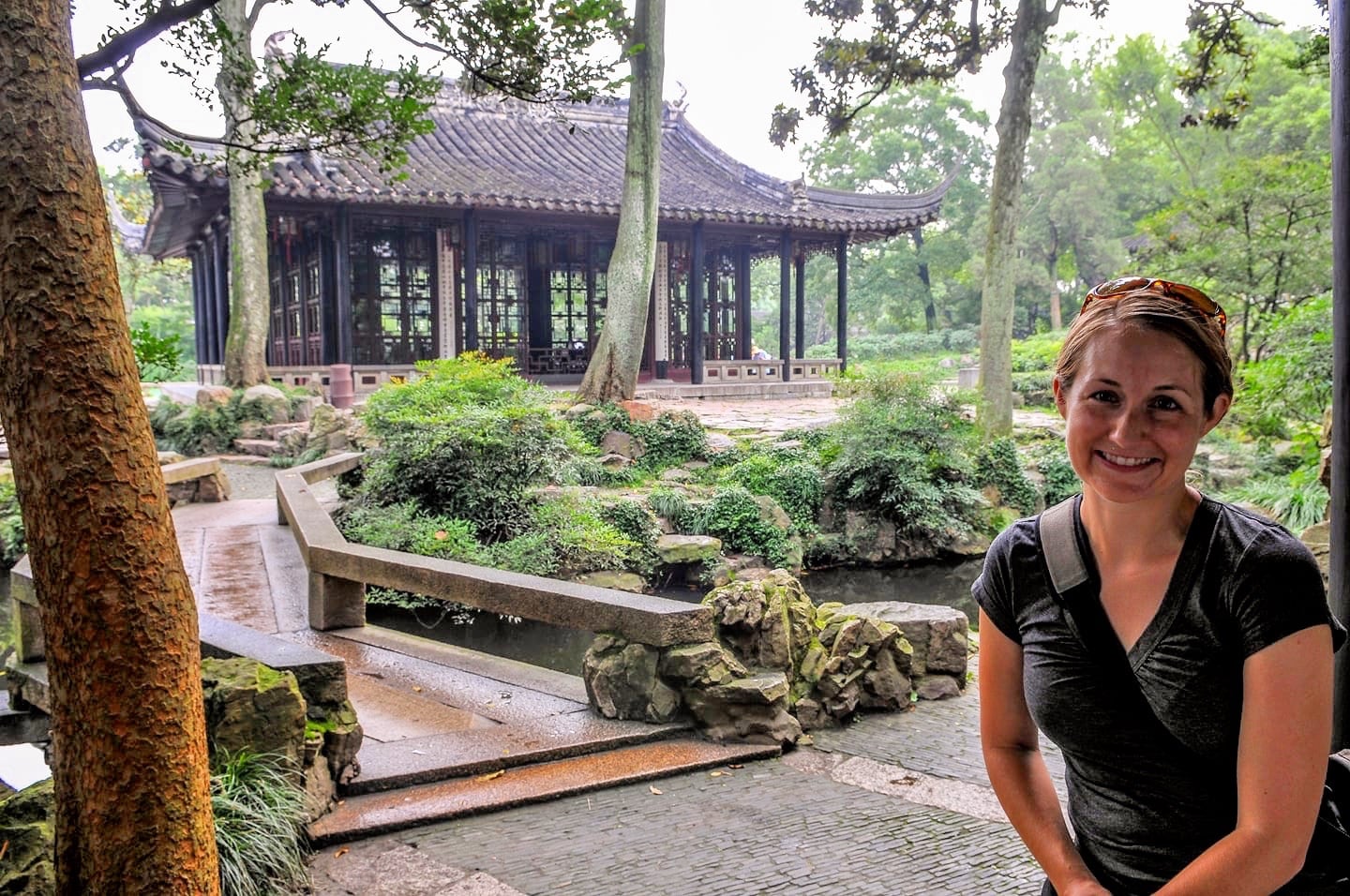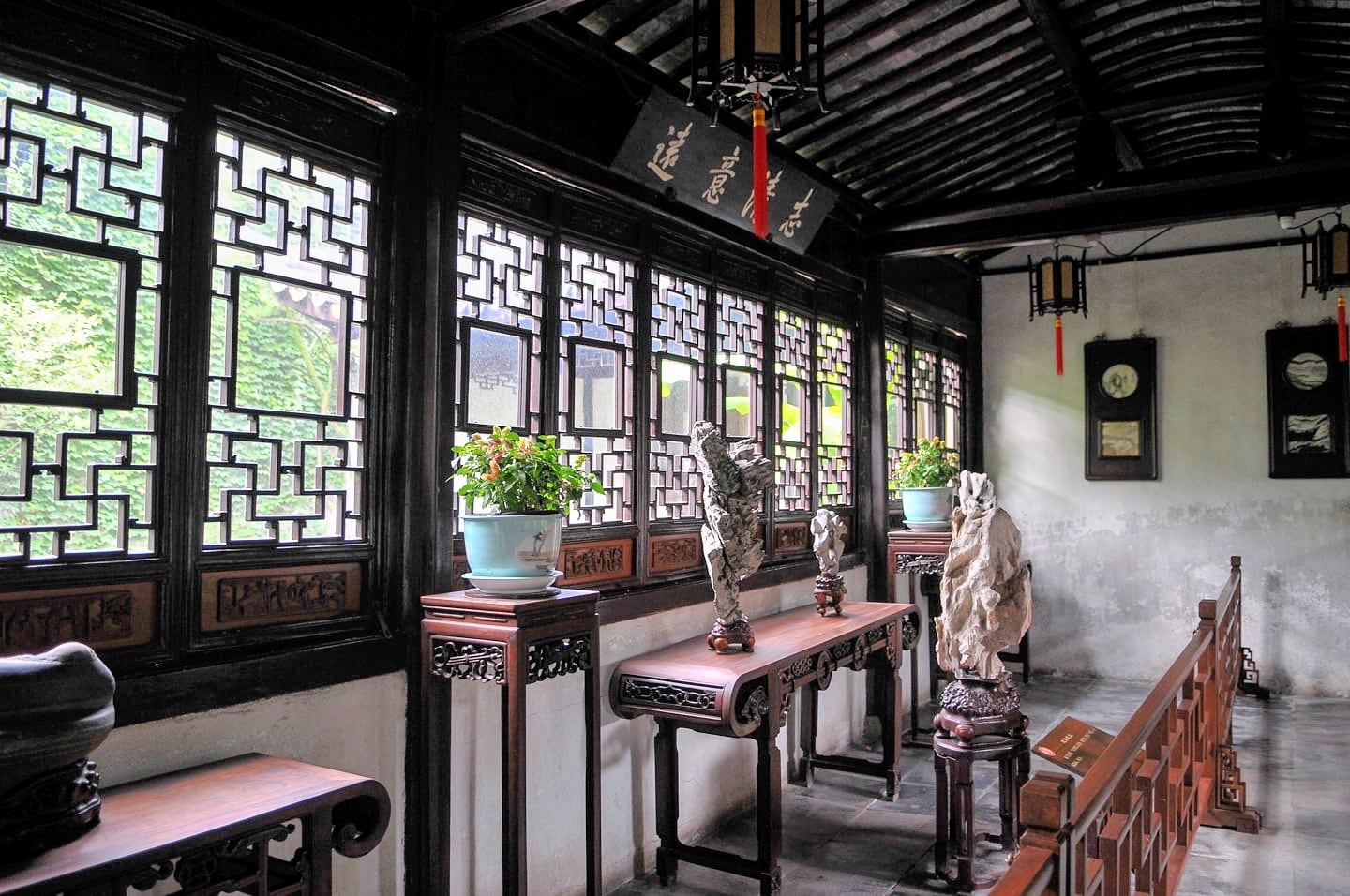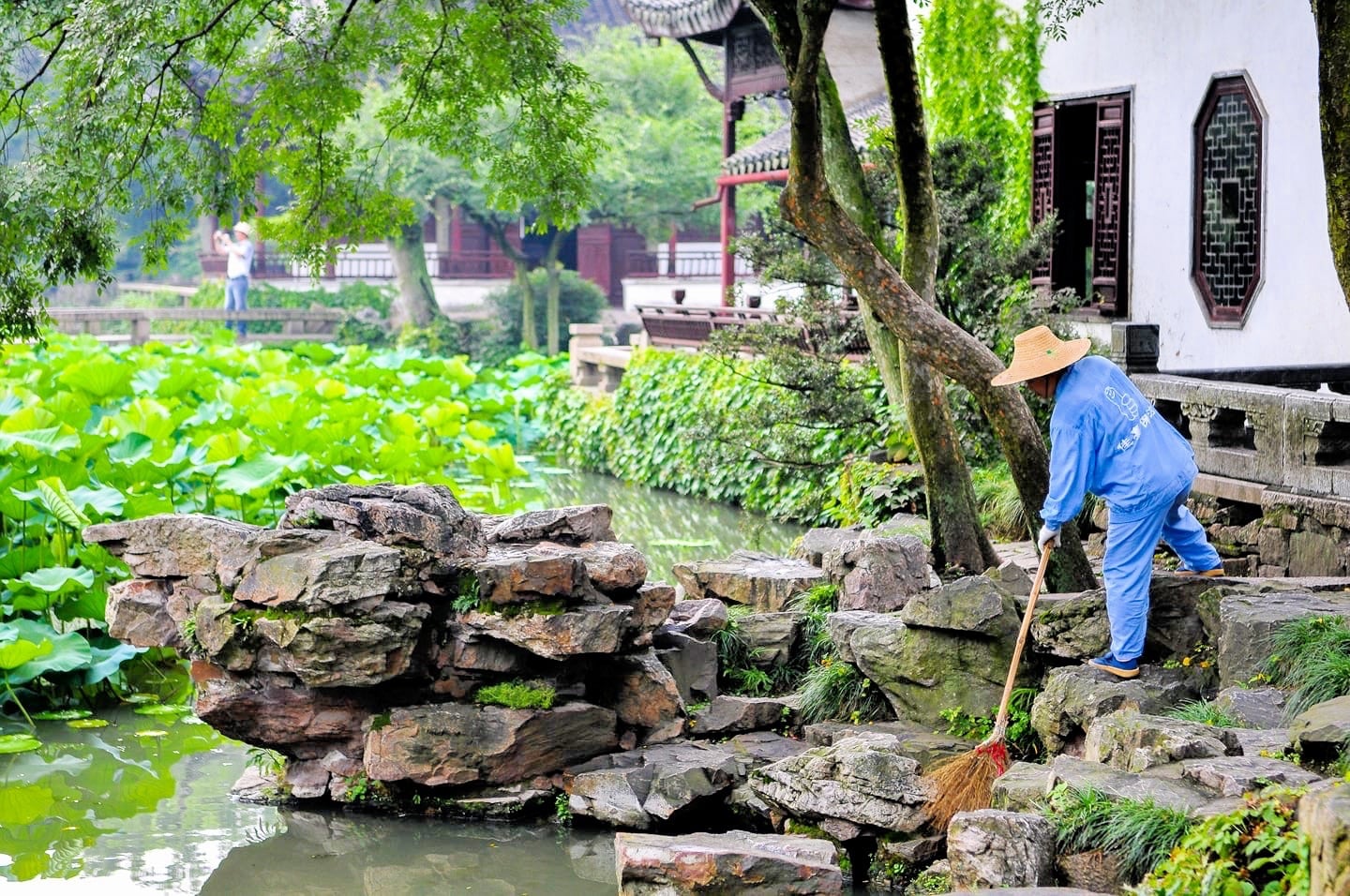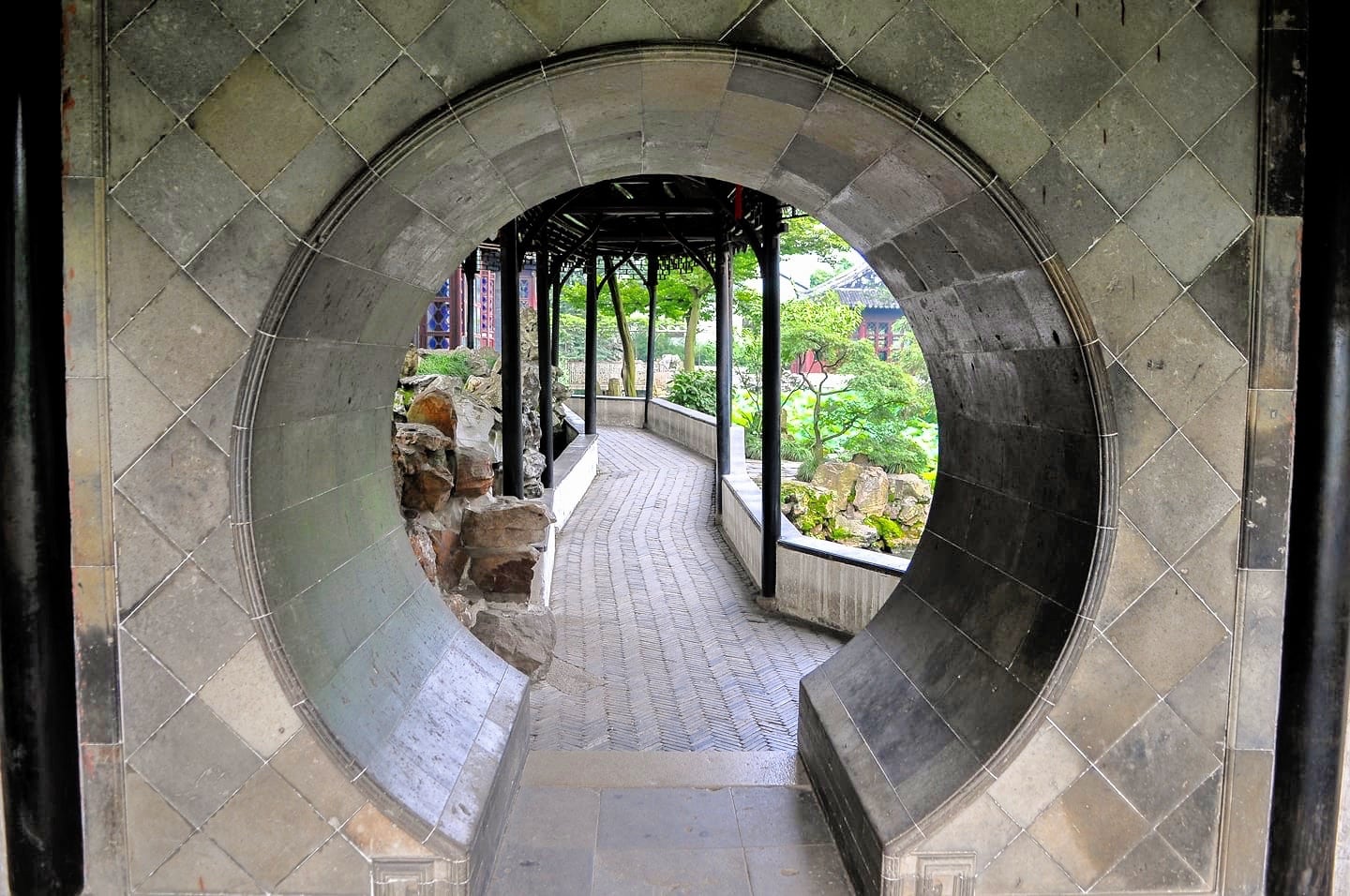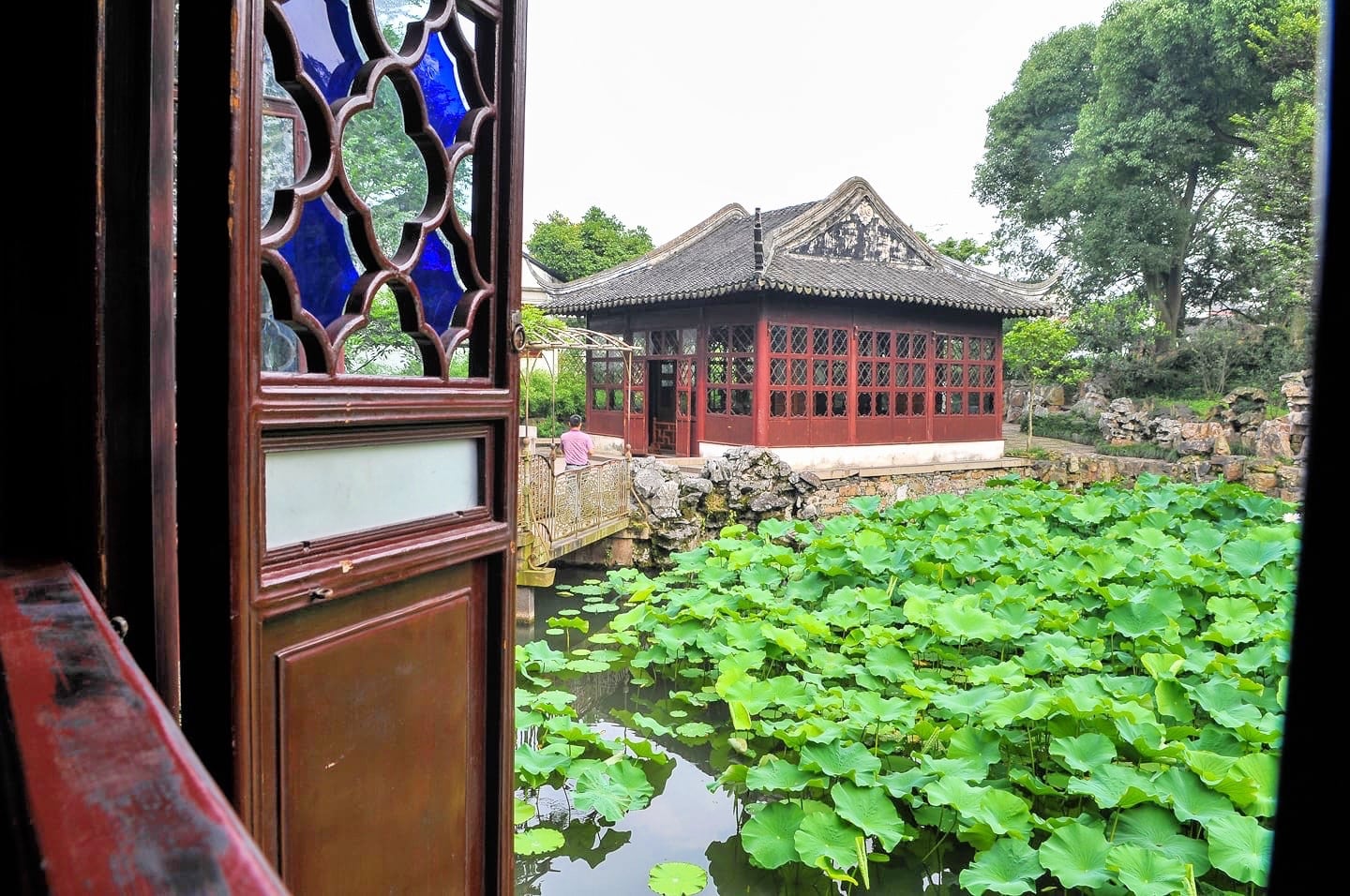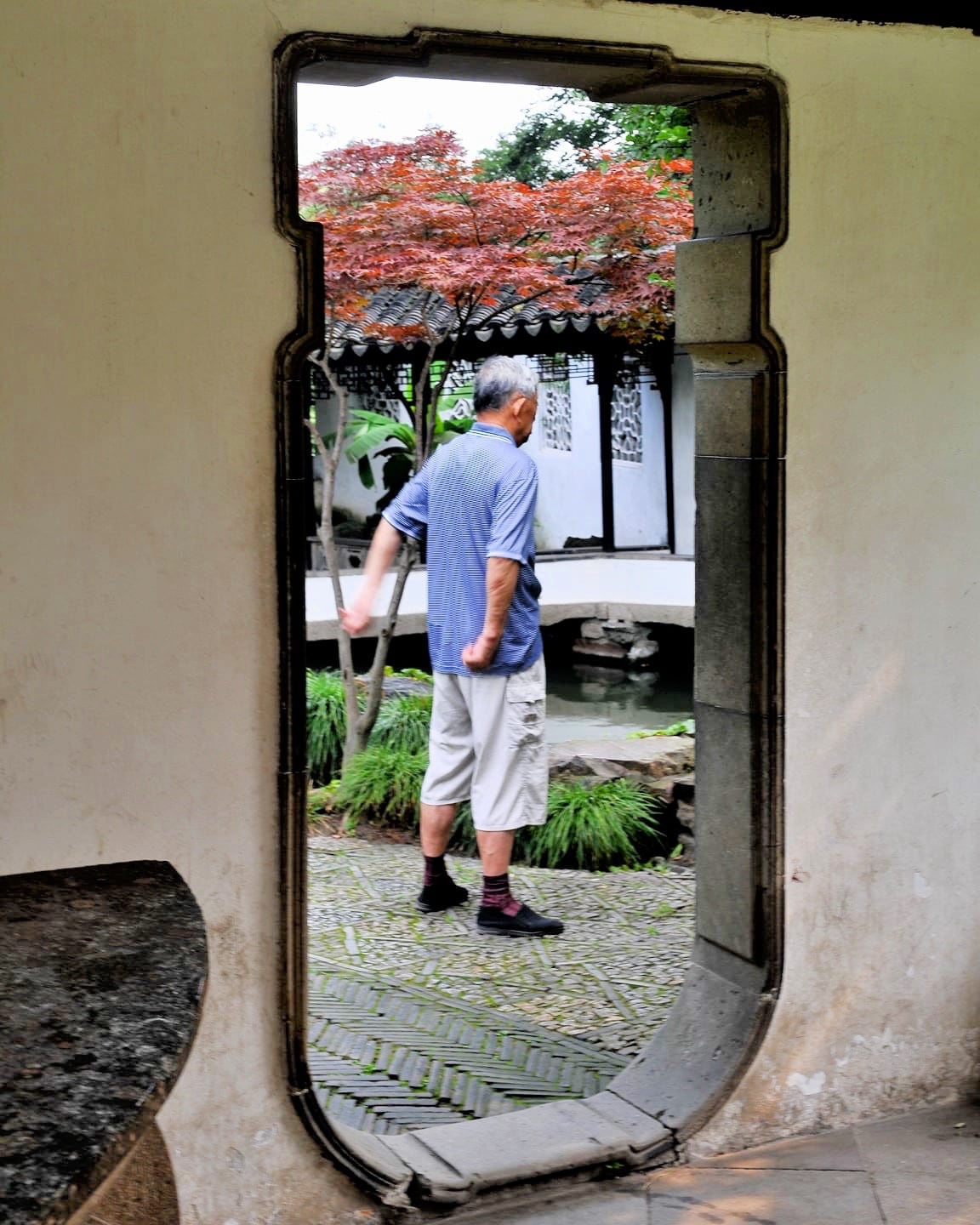 We came across several garden visitors (like the one above) taking advantage of the peaceful surroundings to get in some morning Tai Chi before the crowds completely took over the compound (and they certainly did).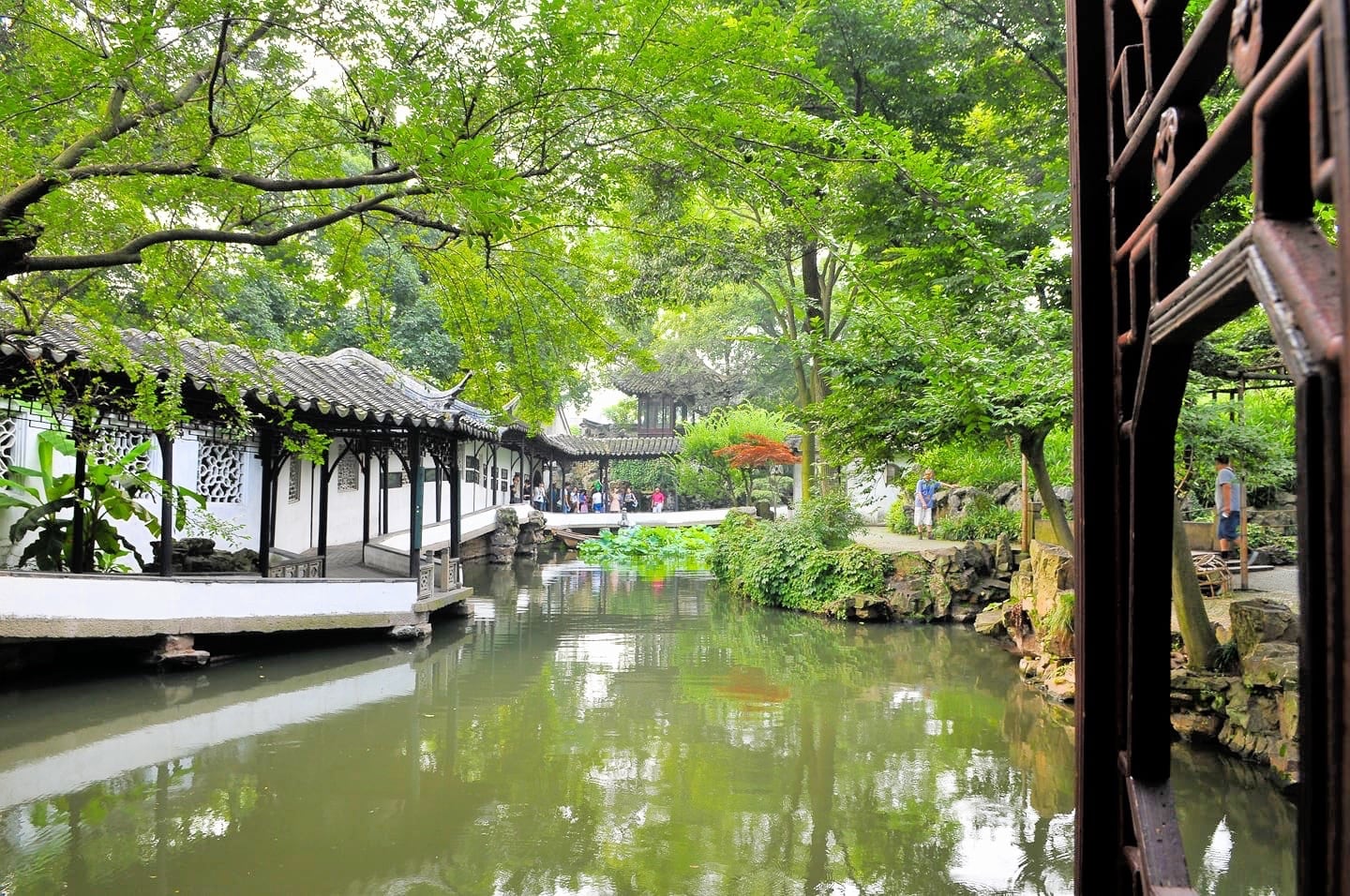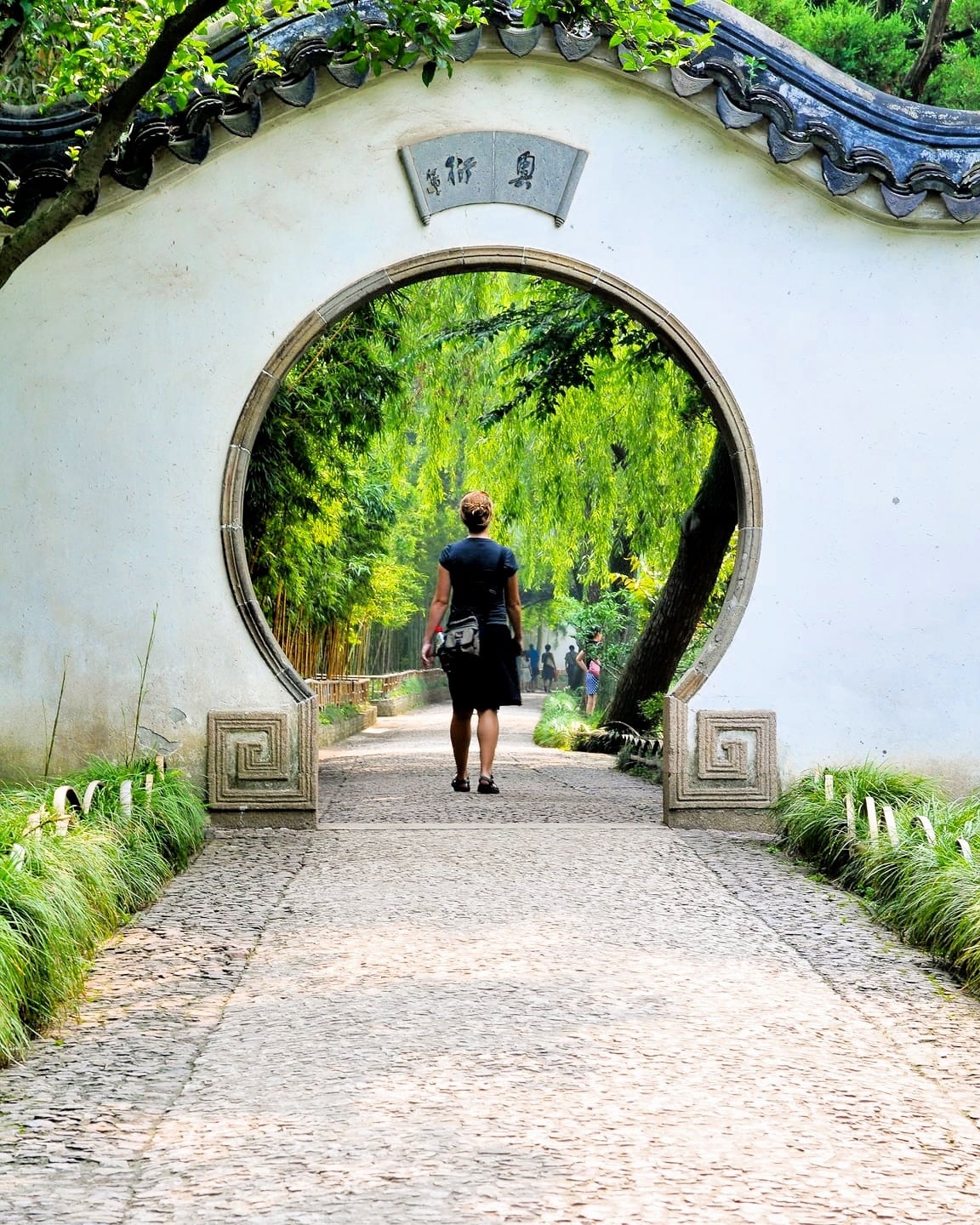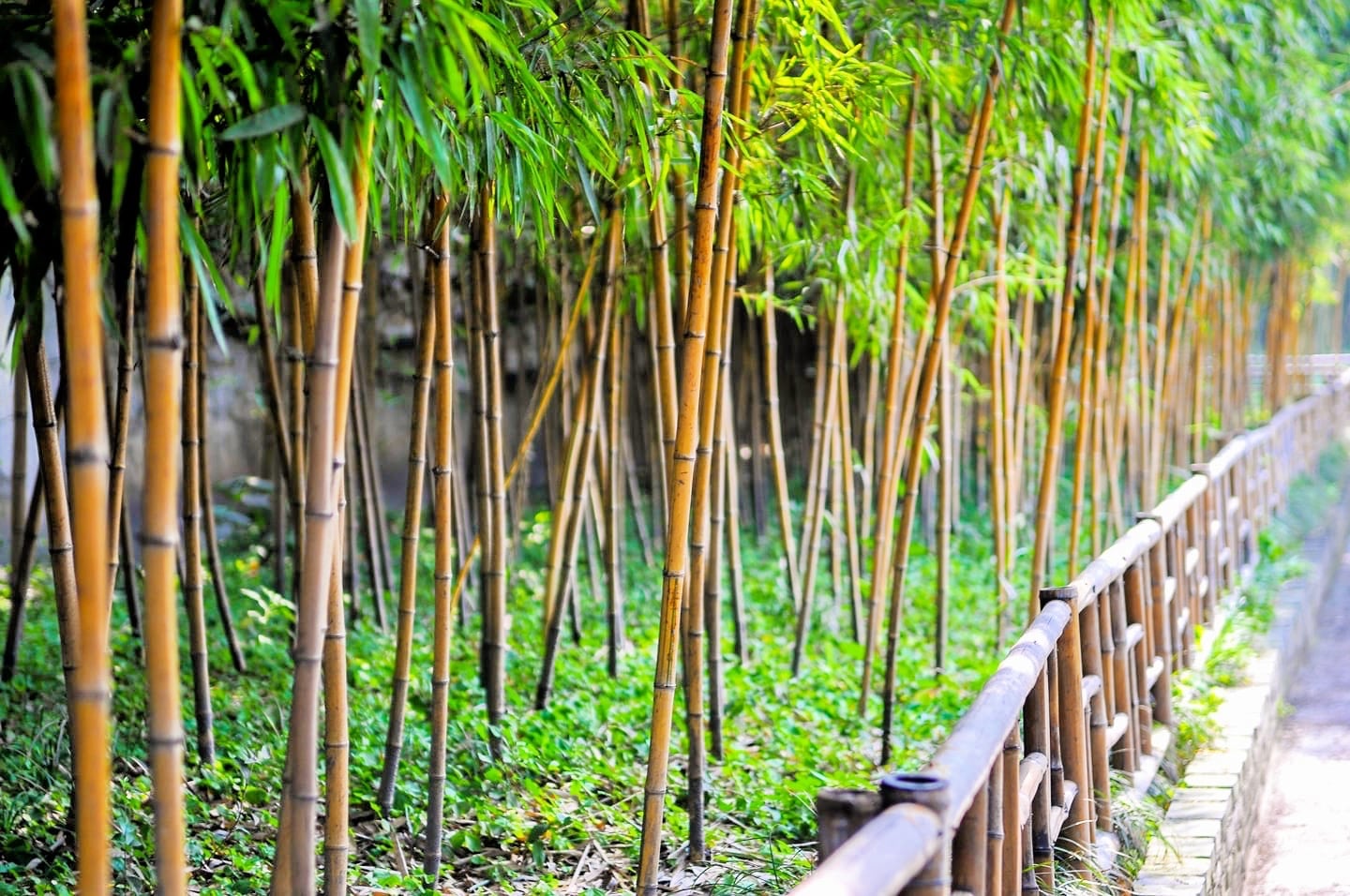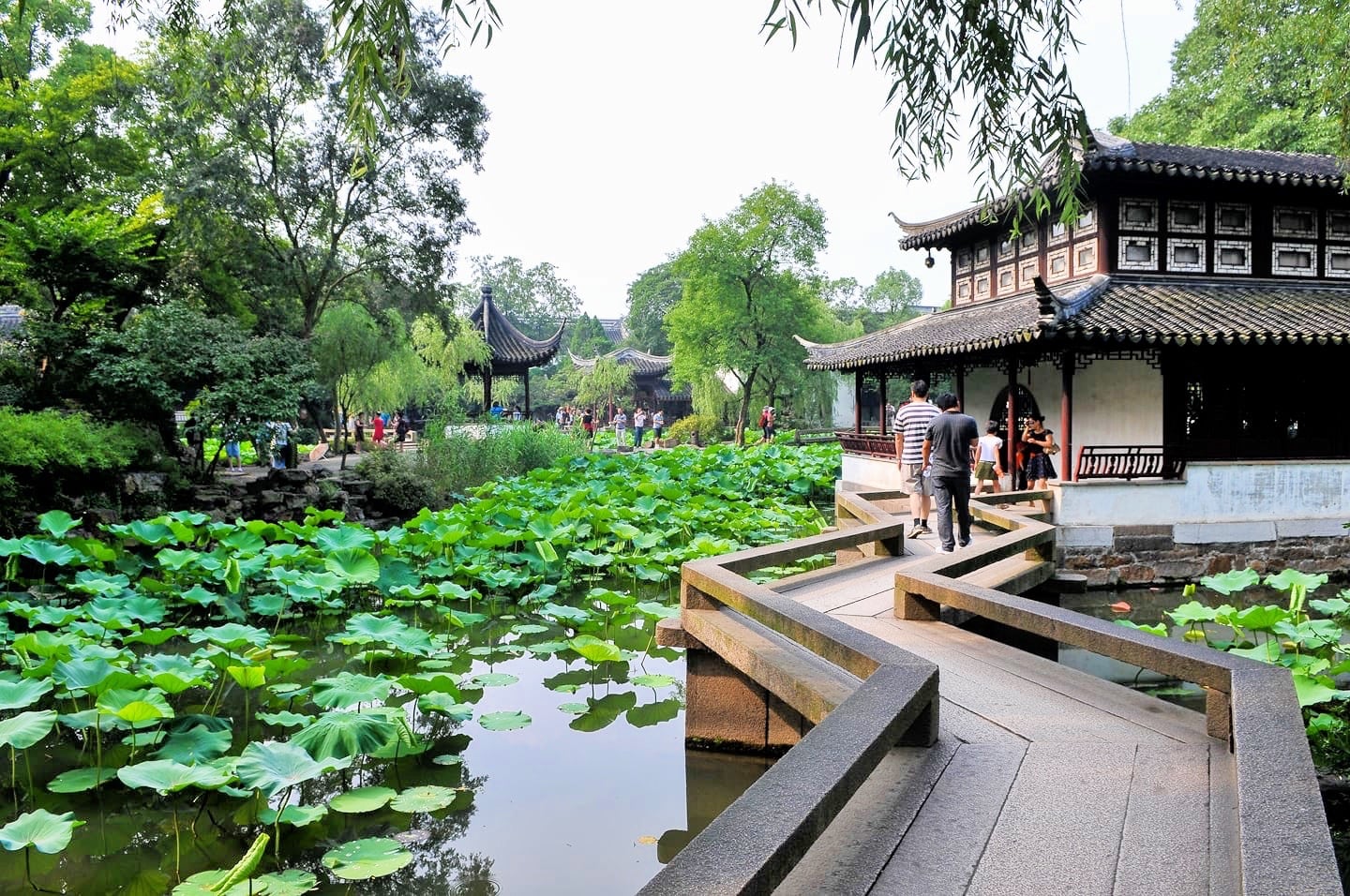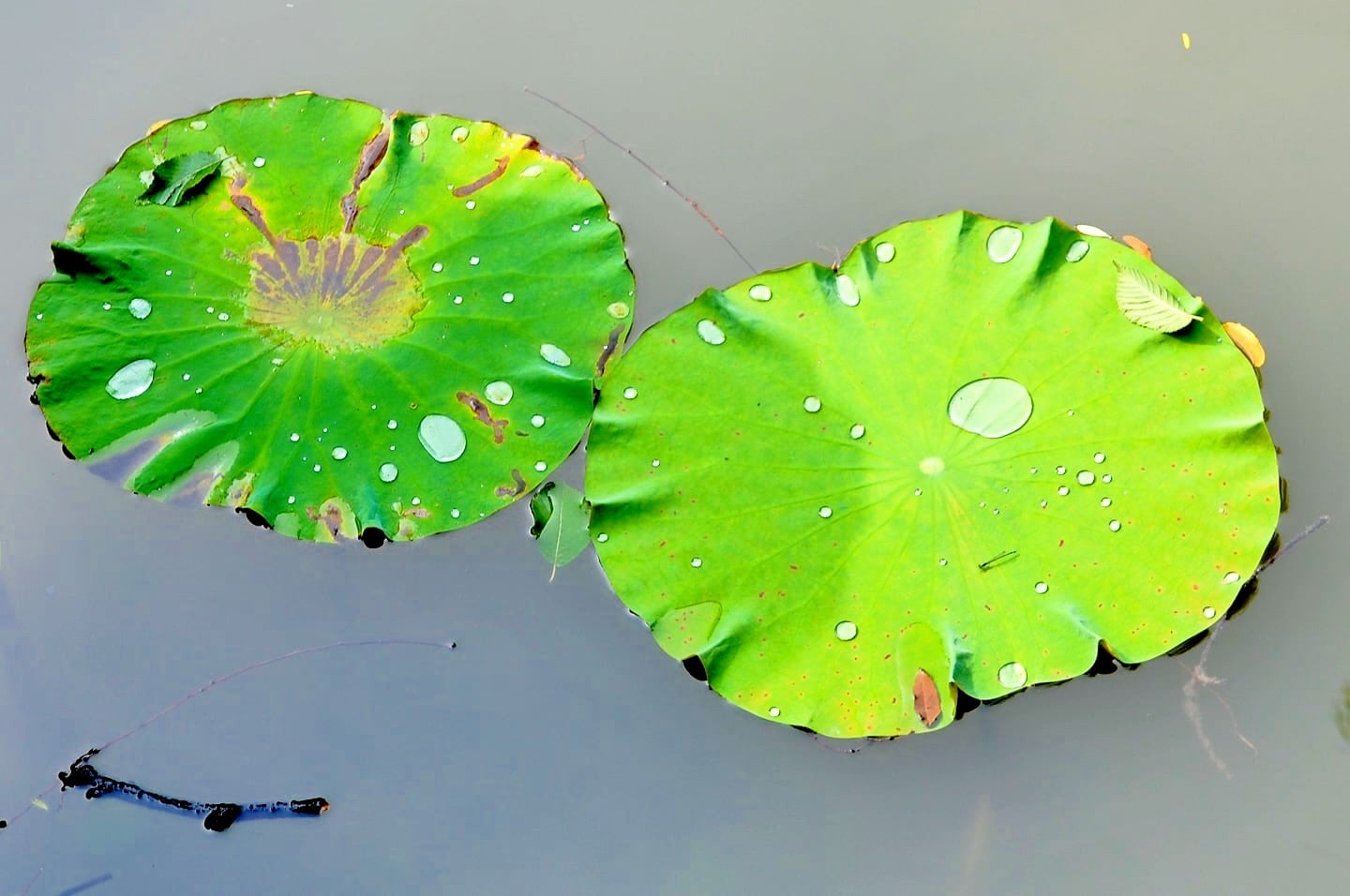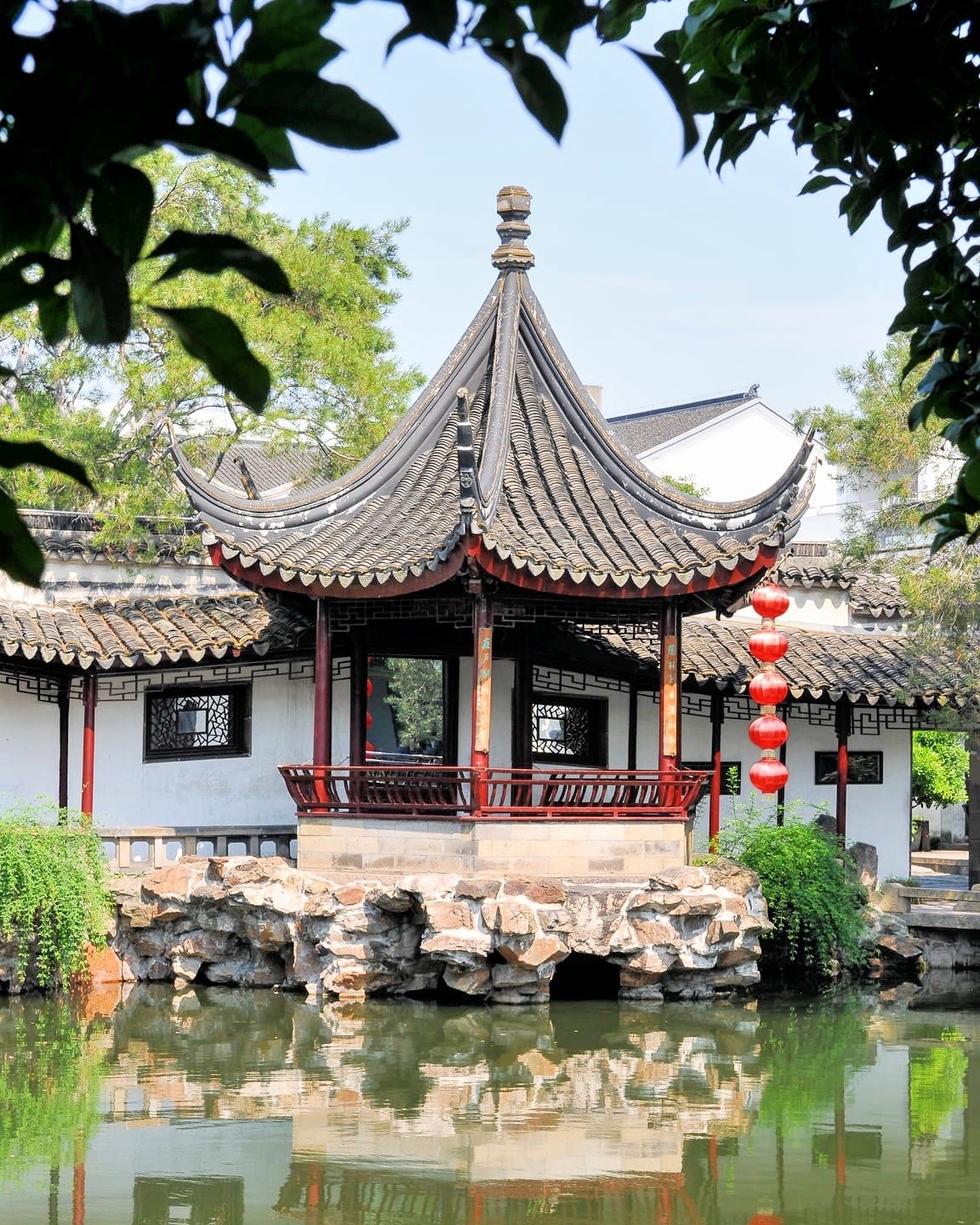 Master of the Nets Garden
(Pinyin: Wǎngshī Yuán | Chinese: 网师园)
I'm not going to say much about these next two, given that Lori and I are actively traveling and sightseeing as we speak, but you can click here for background on the Master of the Nets garden. They do a better job of explaining the history than I can, and unless you're a Chinese history buff, images of the gardens speak more loudly than words.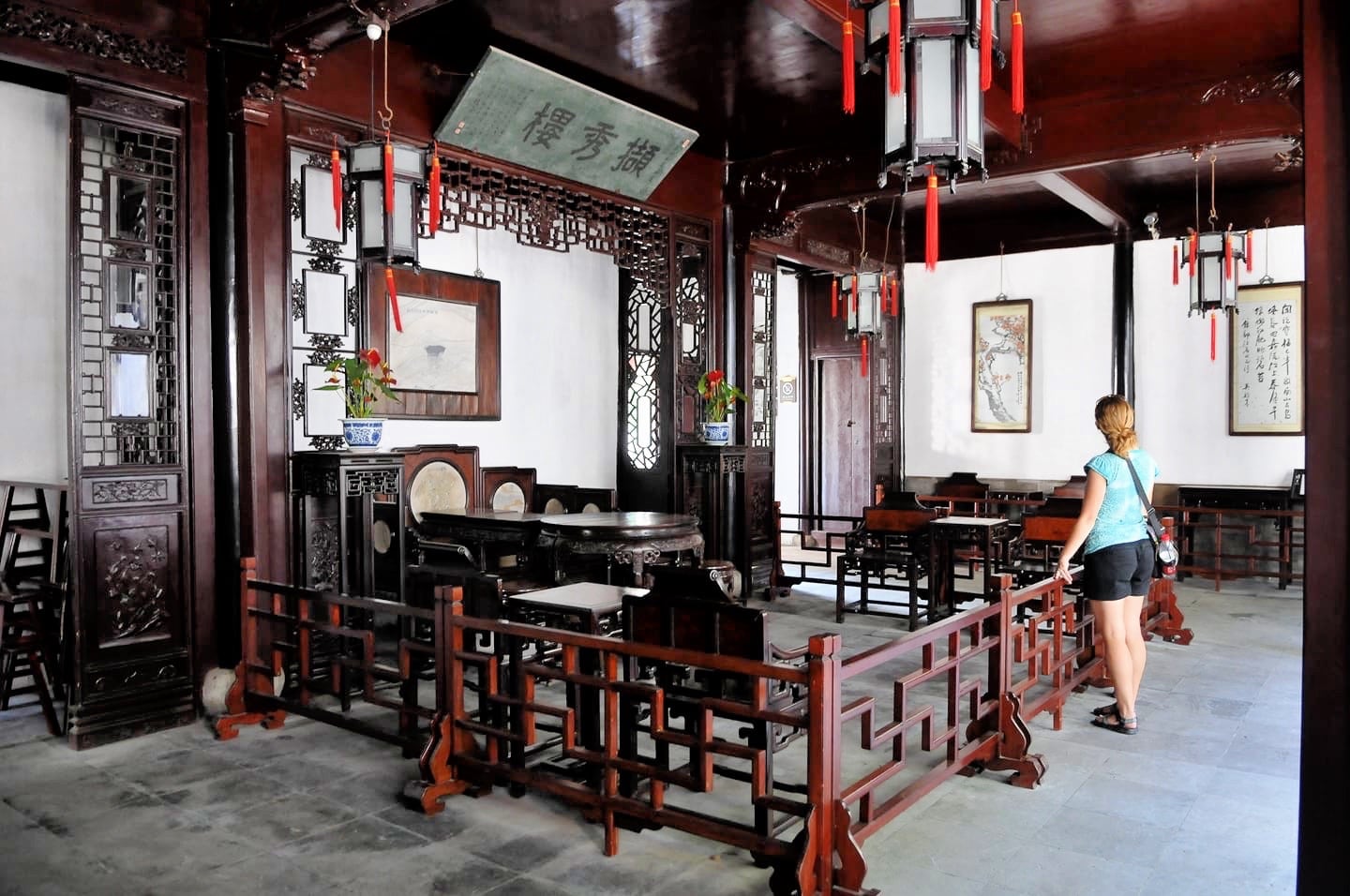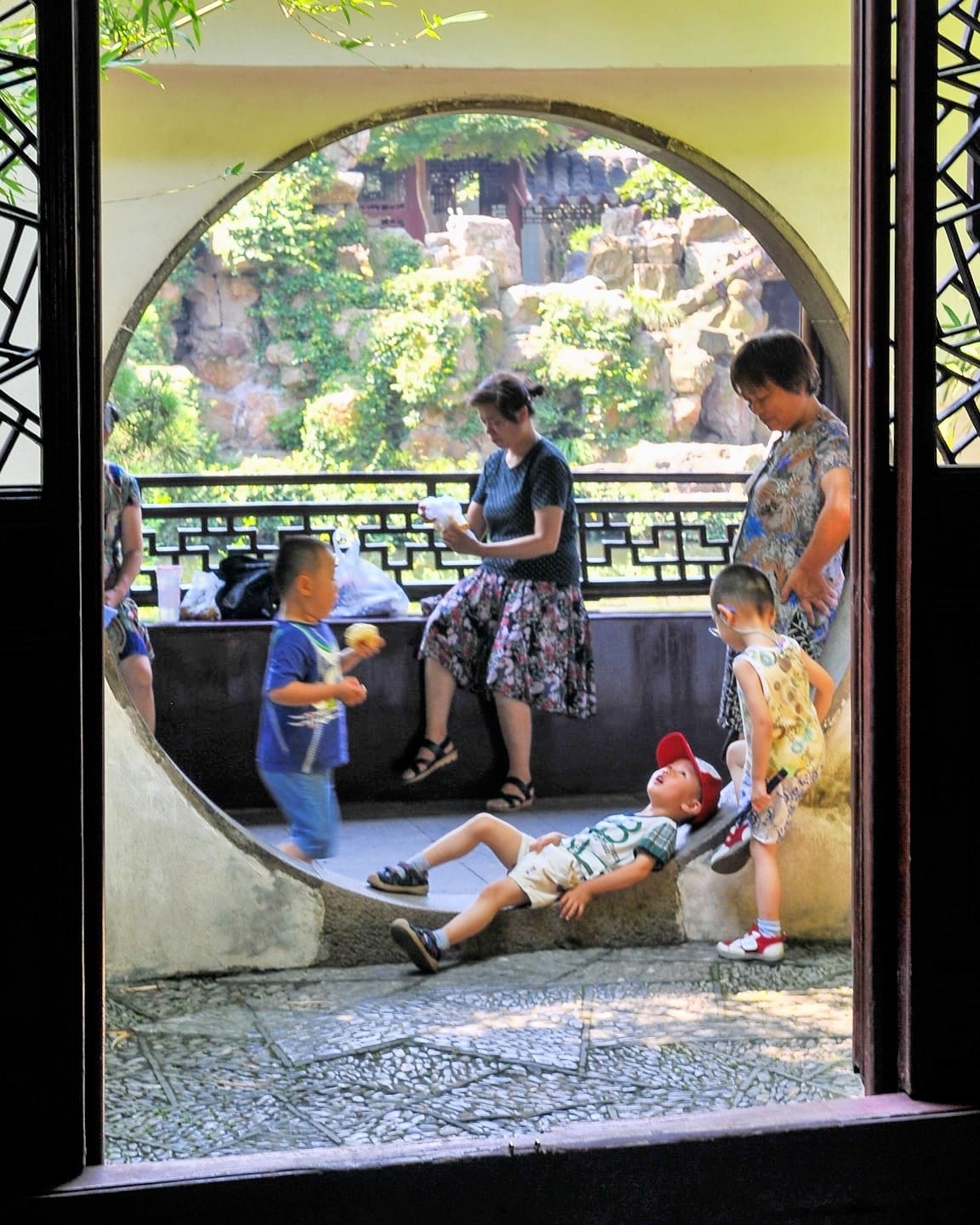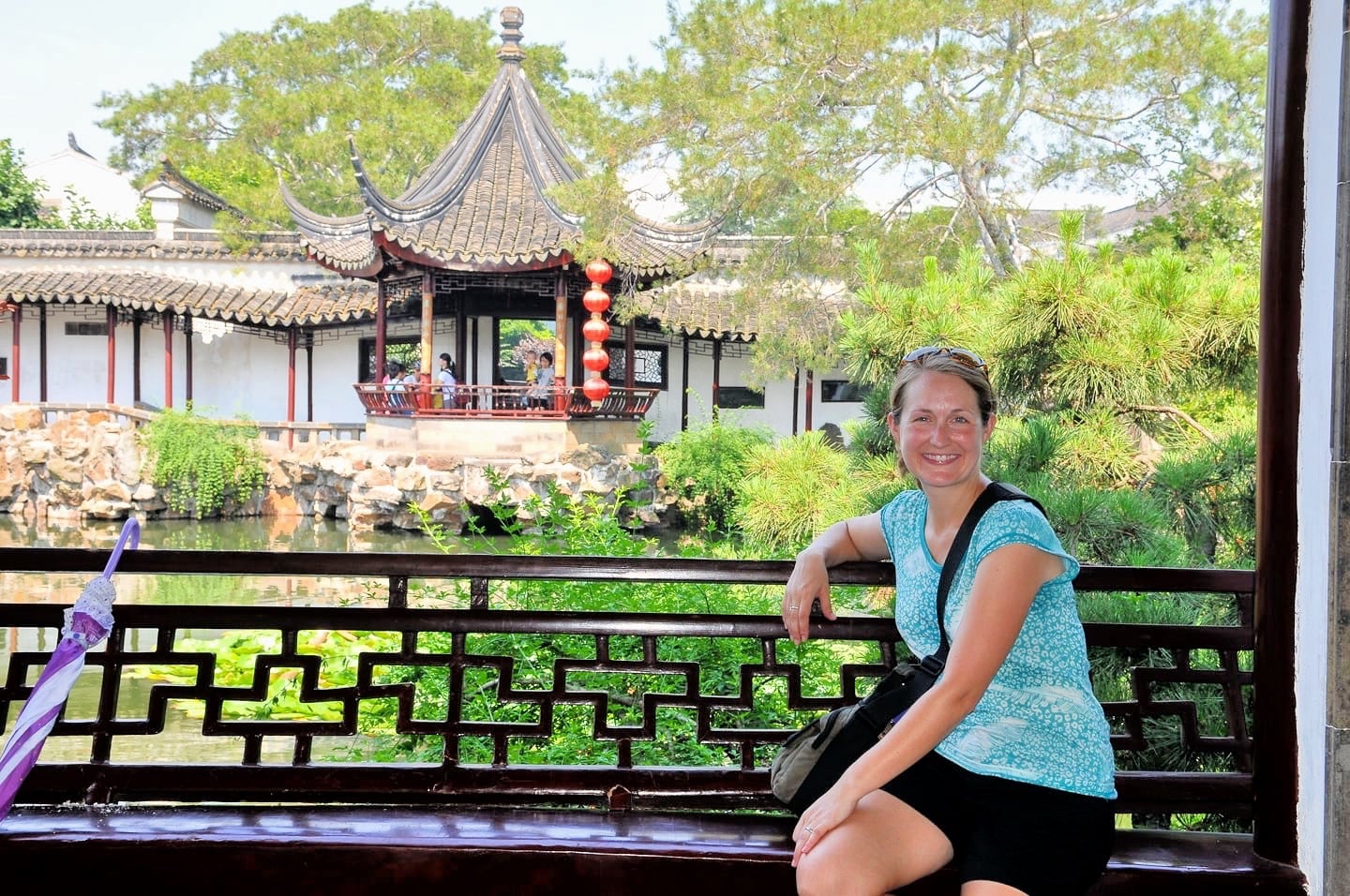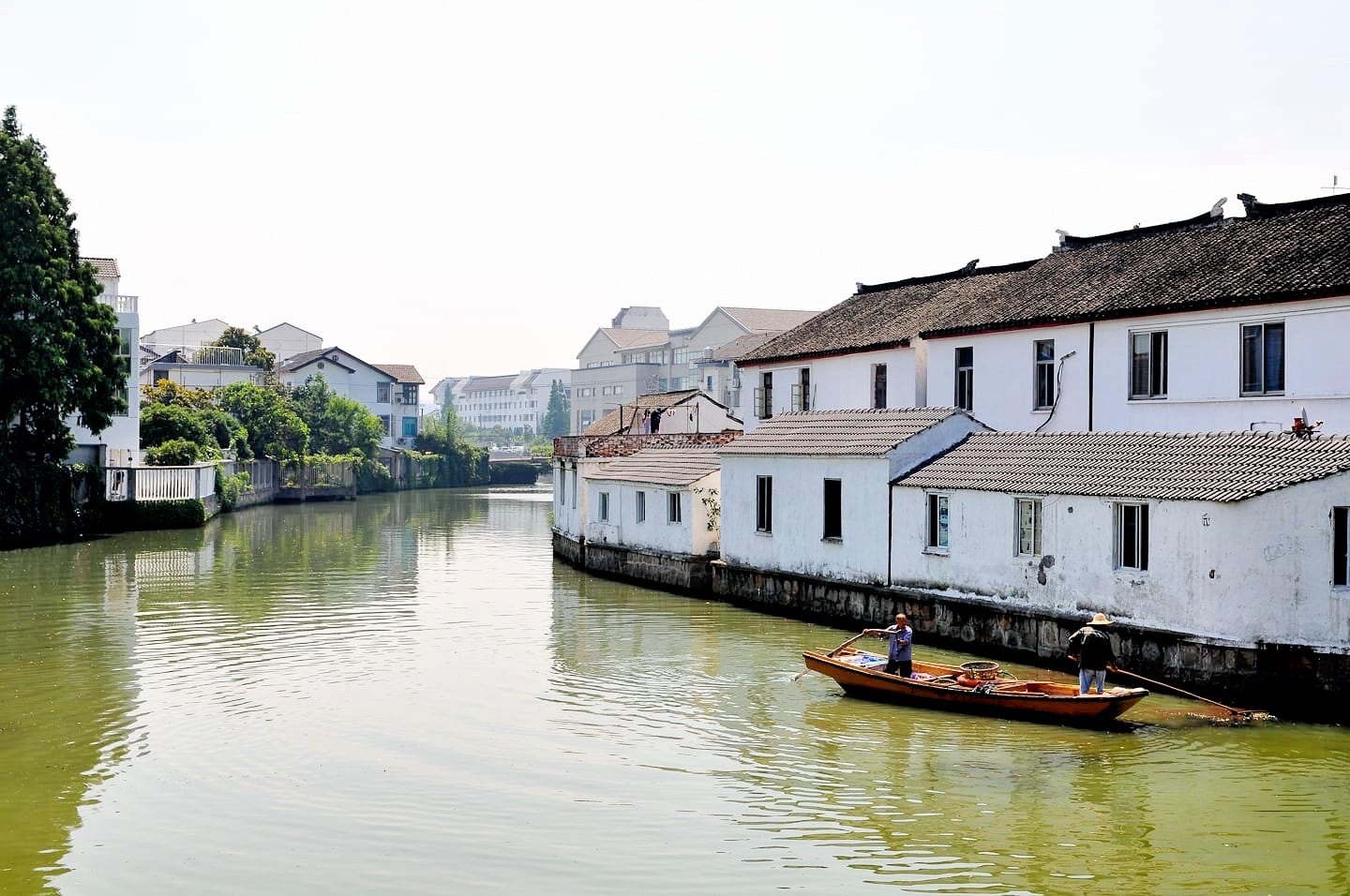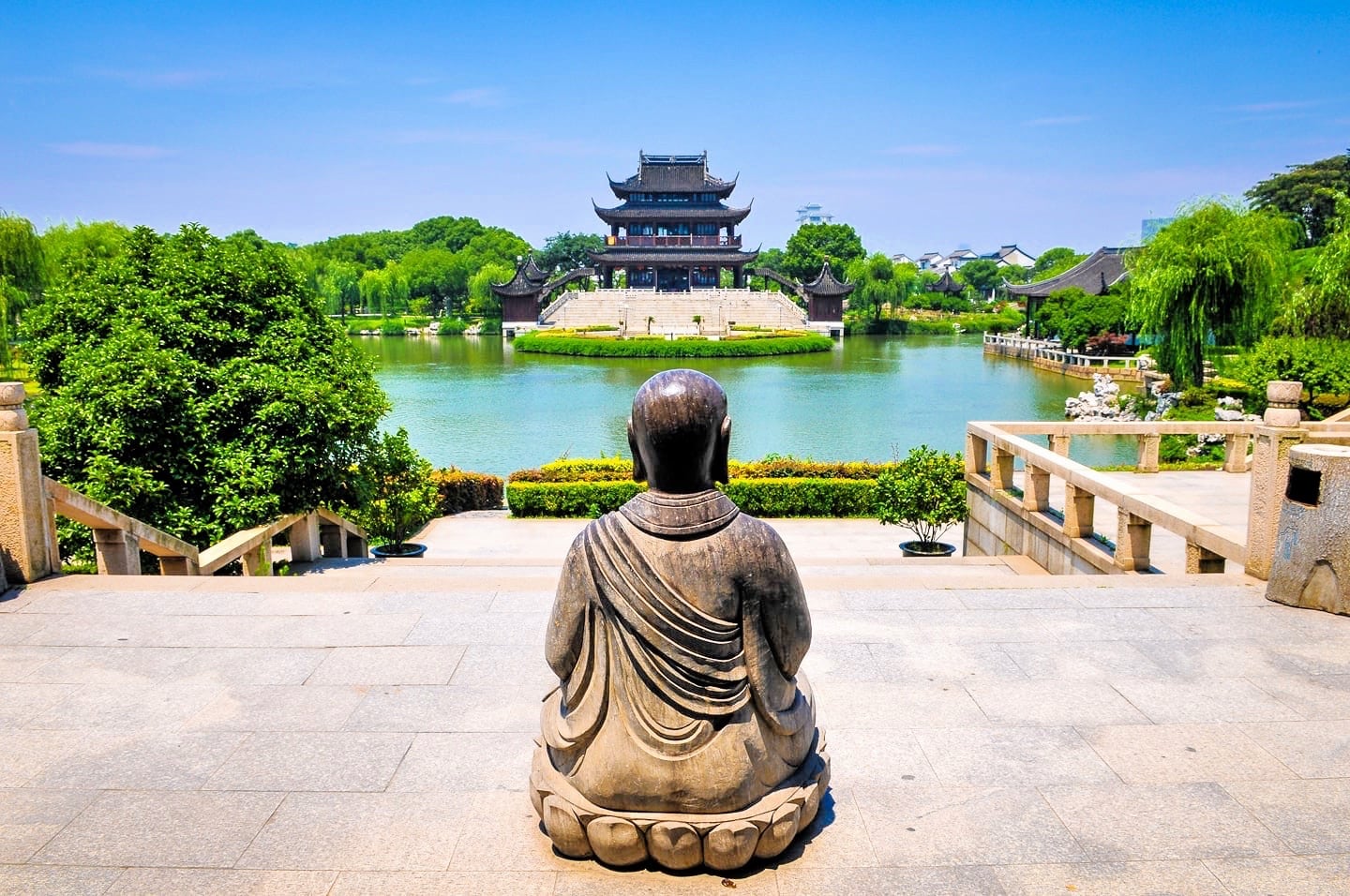 Panmen Scenic Area
(Pinyin: Pán Mén | Chinese: 盘门)
The Panmen complex is located about 3 km southwest of Pingjiang historic district and is known for its huge Ruiguang pagoda, Wu Gate Bridge and Pan City Gate.
While a bit more difficult to get to from the Pingjiang area, the Panmen complex is a must-see Suzhou attraction and should not be missed.
🔥 HOT TIP 🔥
If you still have one, don't forget your Student ID!
Expect big discounts with your school-issued identification card on attractions across China, regardless of which country it was issued in.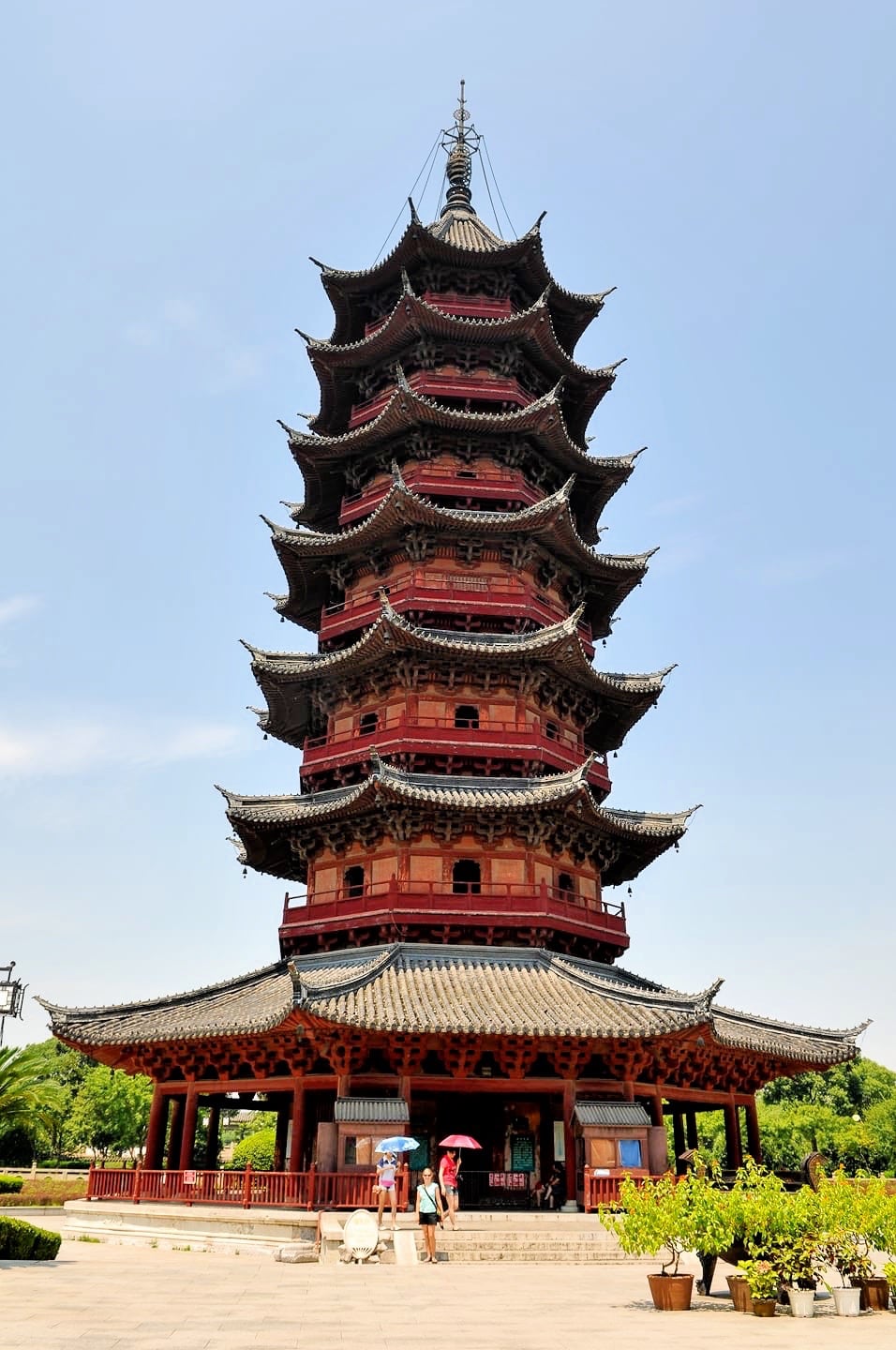 There's lots to see and do in the Panmen complex, making the trip across Old Town very much worth the effort.
The highlight for us in the vast scenic area was the stunning seven-story Ruiguang Pagoda. Constructed in 247, it is the oldest pagoda in Suzhou.
For a small fee you can even ascend the pagoda to the 4th floor for awesome views of new and old Suzhou.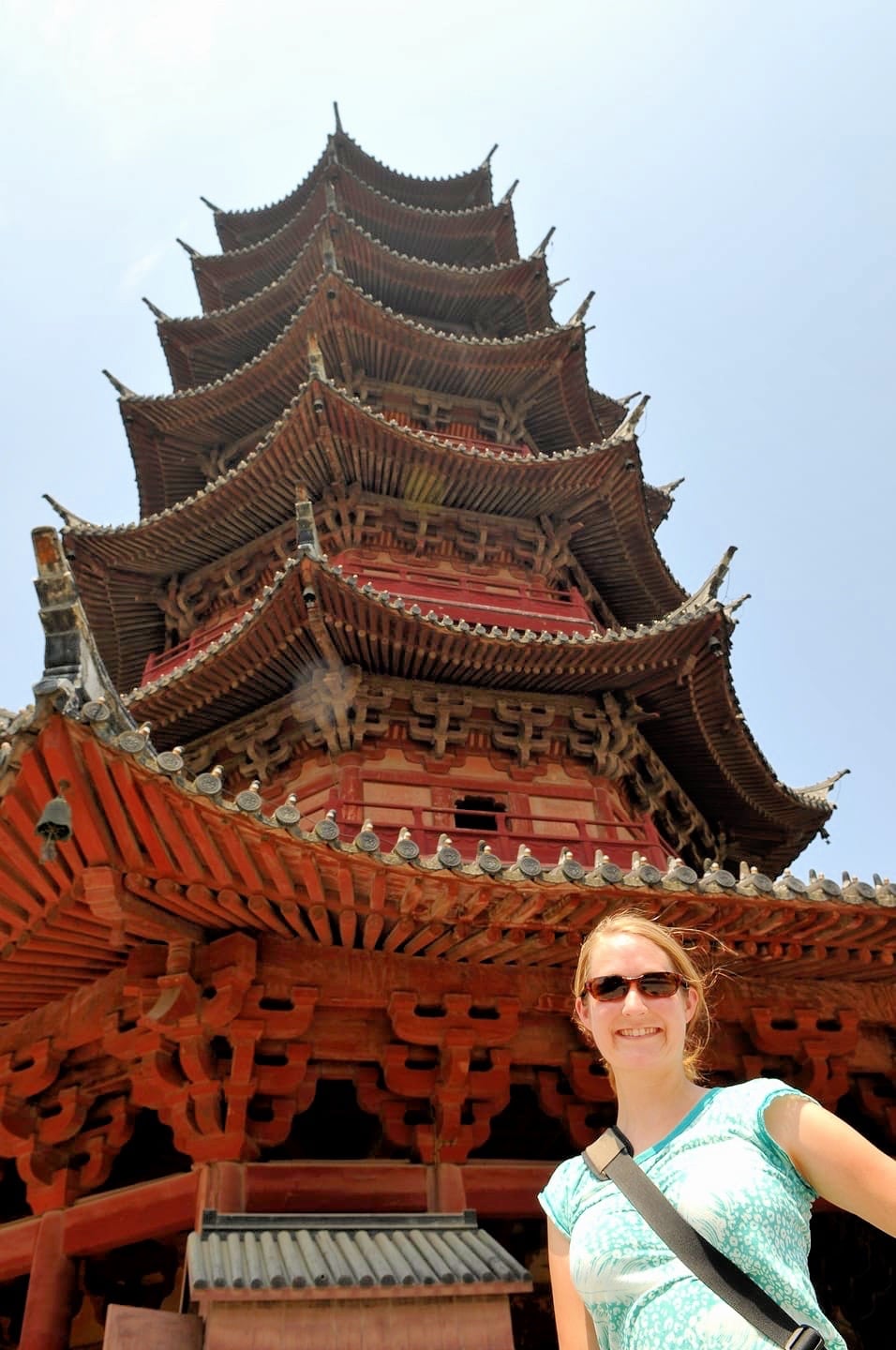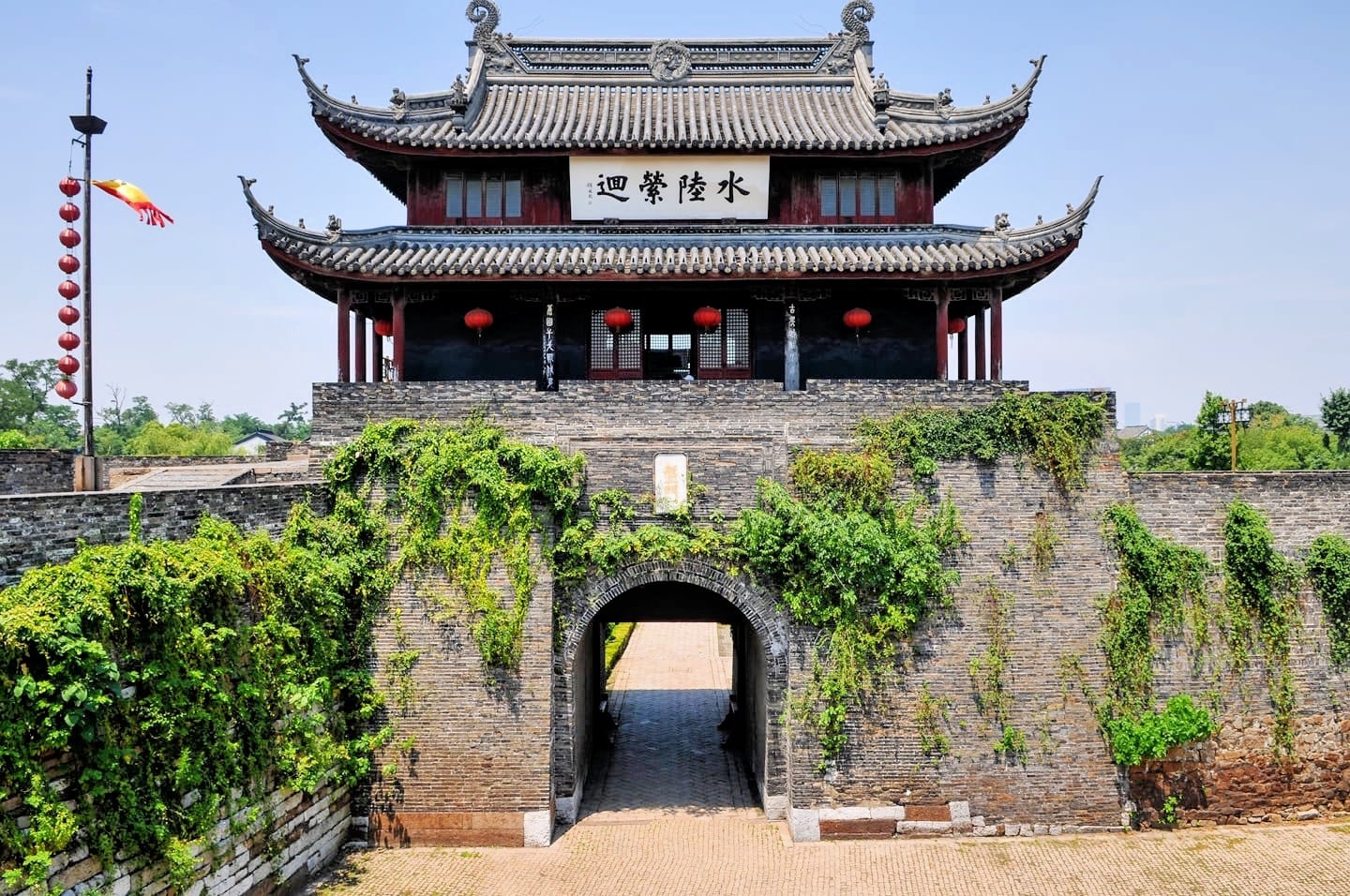 Pan Gate is part of the city wall that surrounded ancient Suzhou. It was constructed about 2,500 years ago and is commonly referred to as the "Land and Water Gate". The present structure that sits atop the stone gate dates to the 14th century.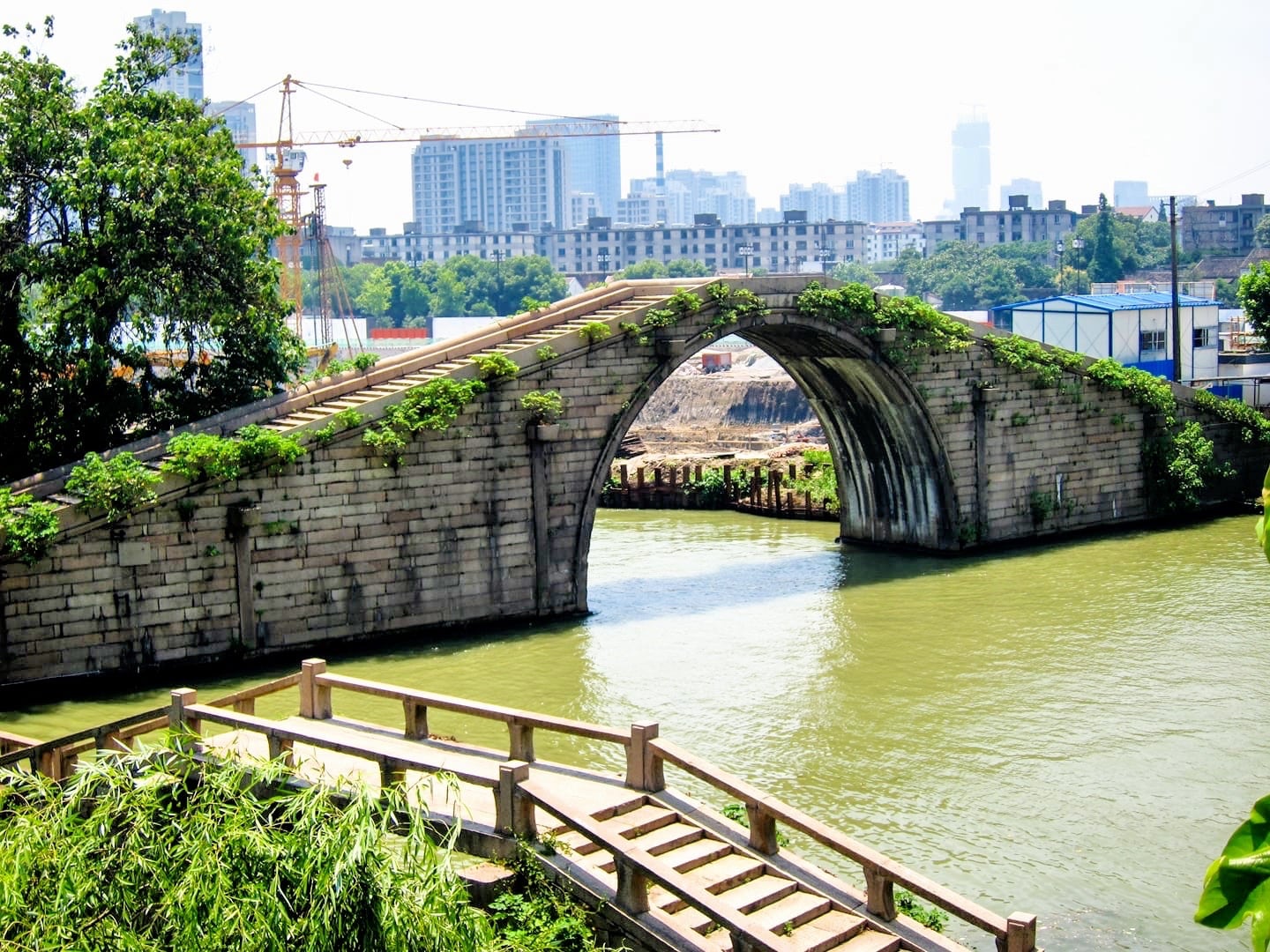 Wu Gate Bridge is part of the ancient Land and Water Gate.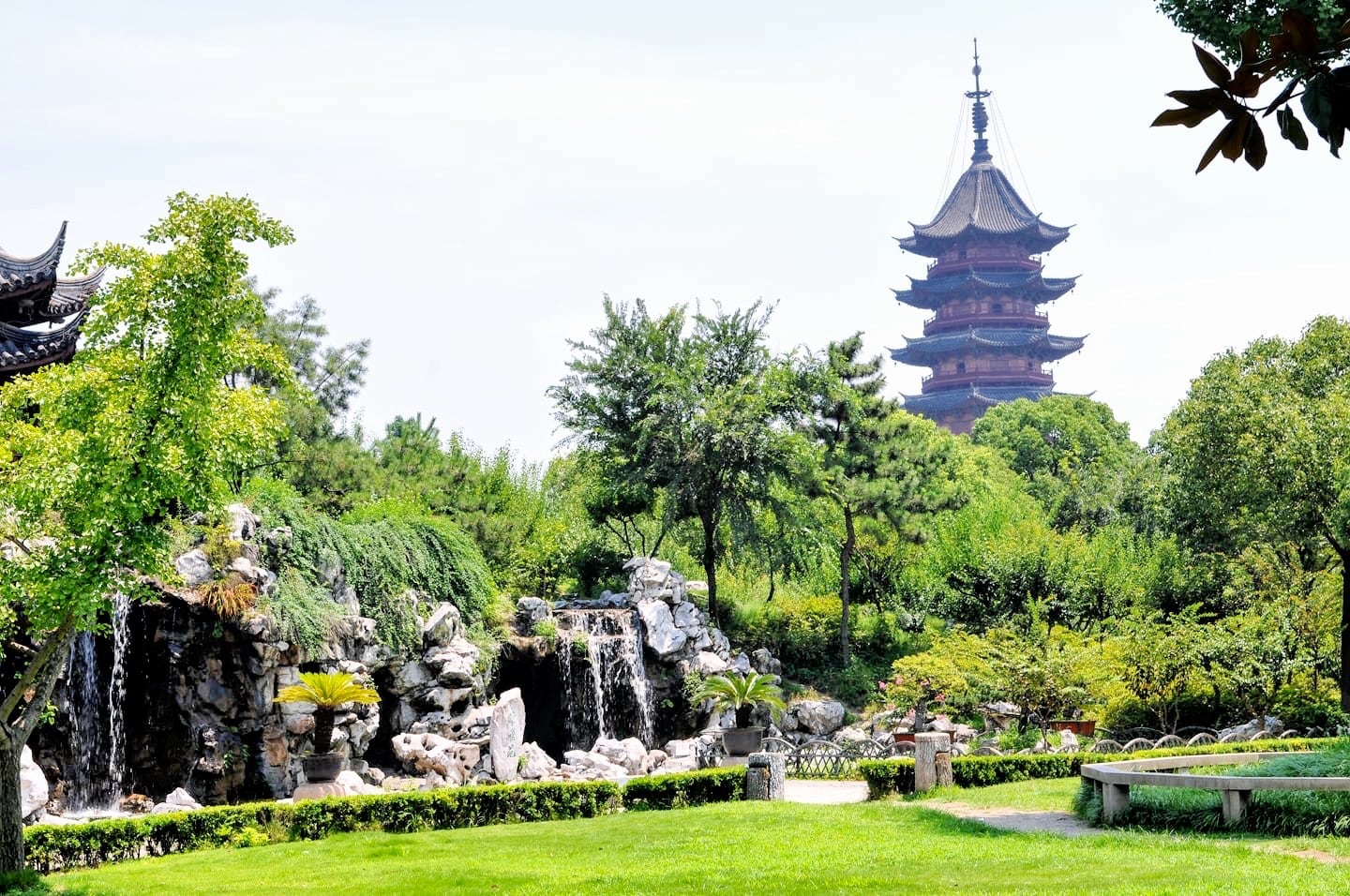 The grounds of the Panmen complex are landscaped in the classical style, integrating numerous water features.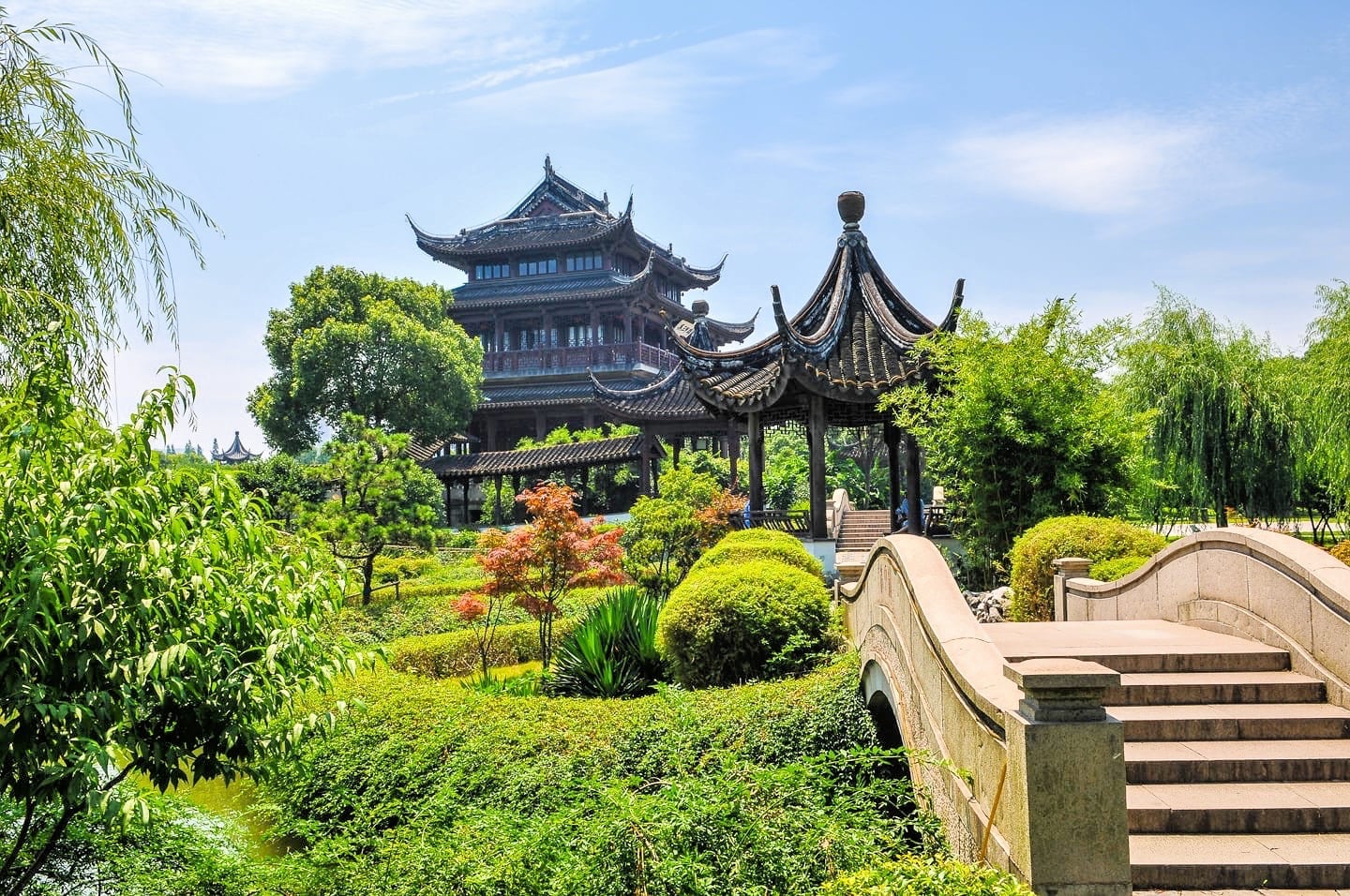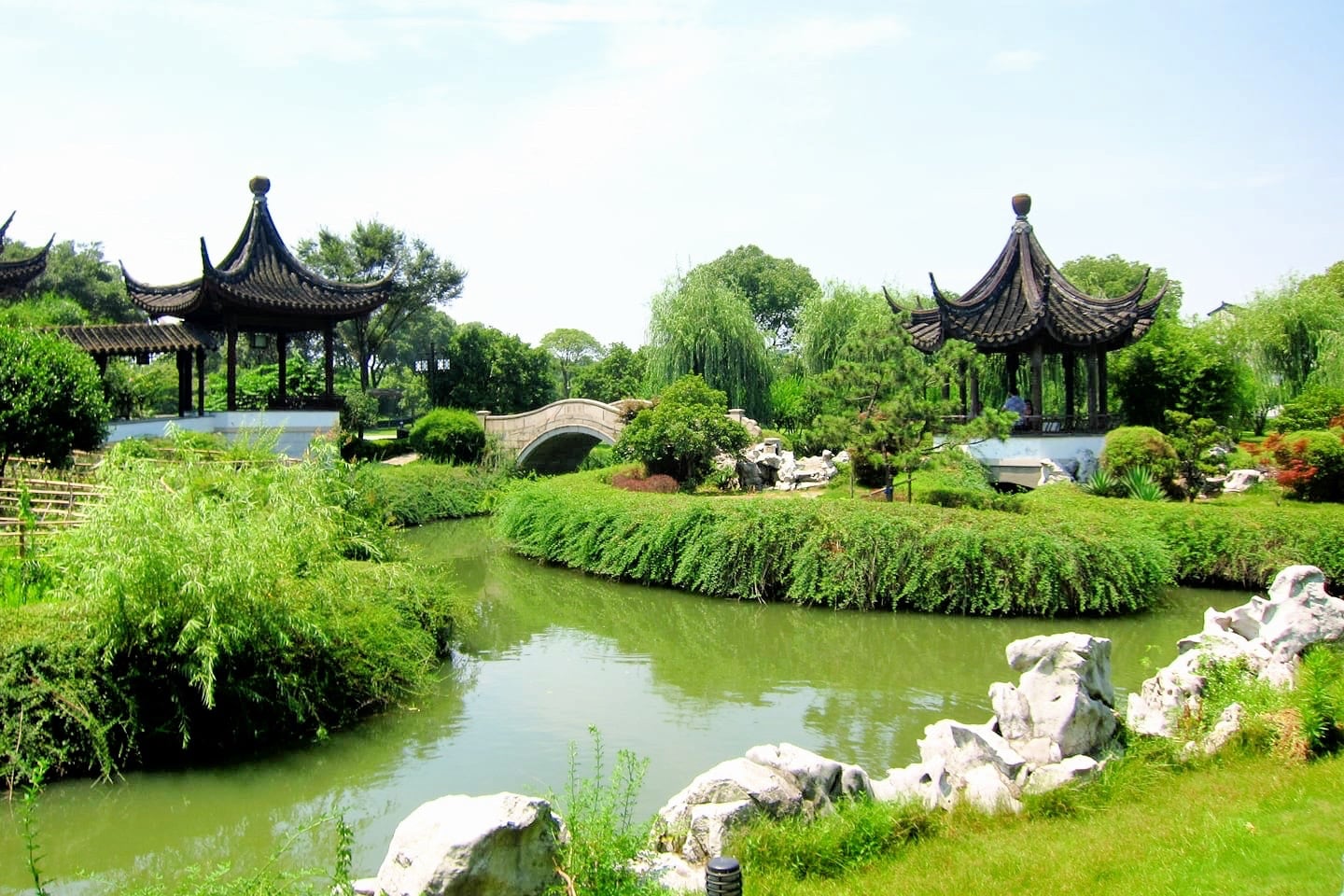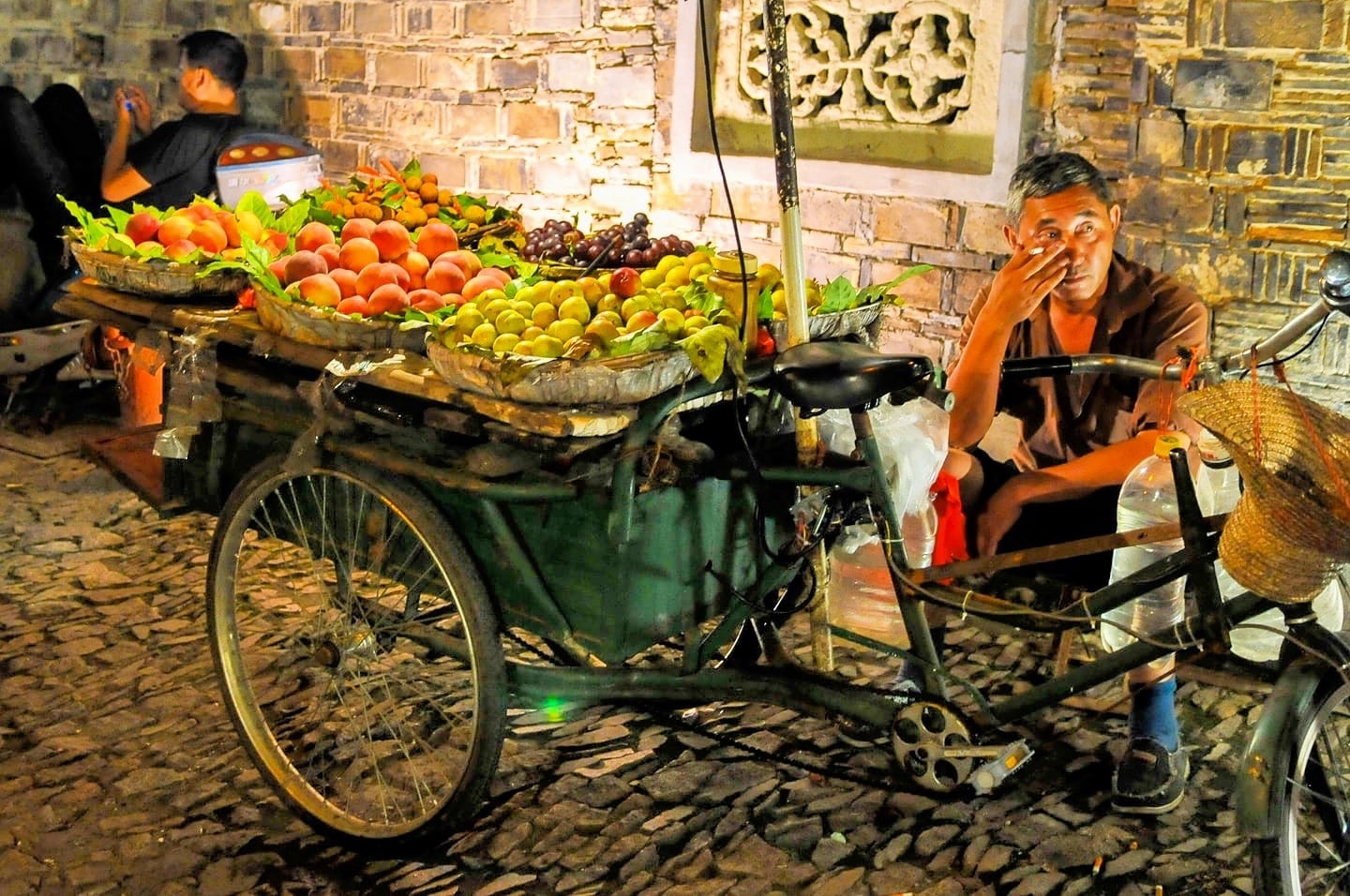 Pingjiang Night Market
Suzhou Night Market delights with its colors, tastes, and energy. Visiting Suzhou? Exploring Pingjiang Road at night is a must!
Suzhou at night came as a very pleasant surprise. The old town is beautiful by day of course, but we had no idea what was in store for us when we emerged from our air-conditioned oasis after the sun had gone down.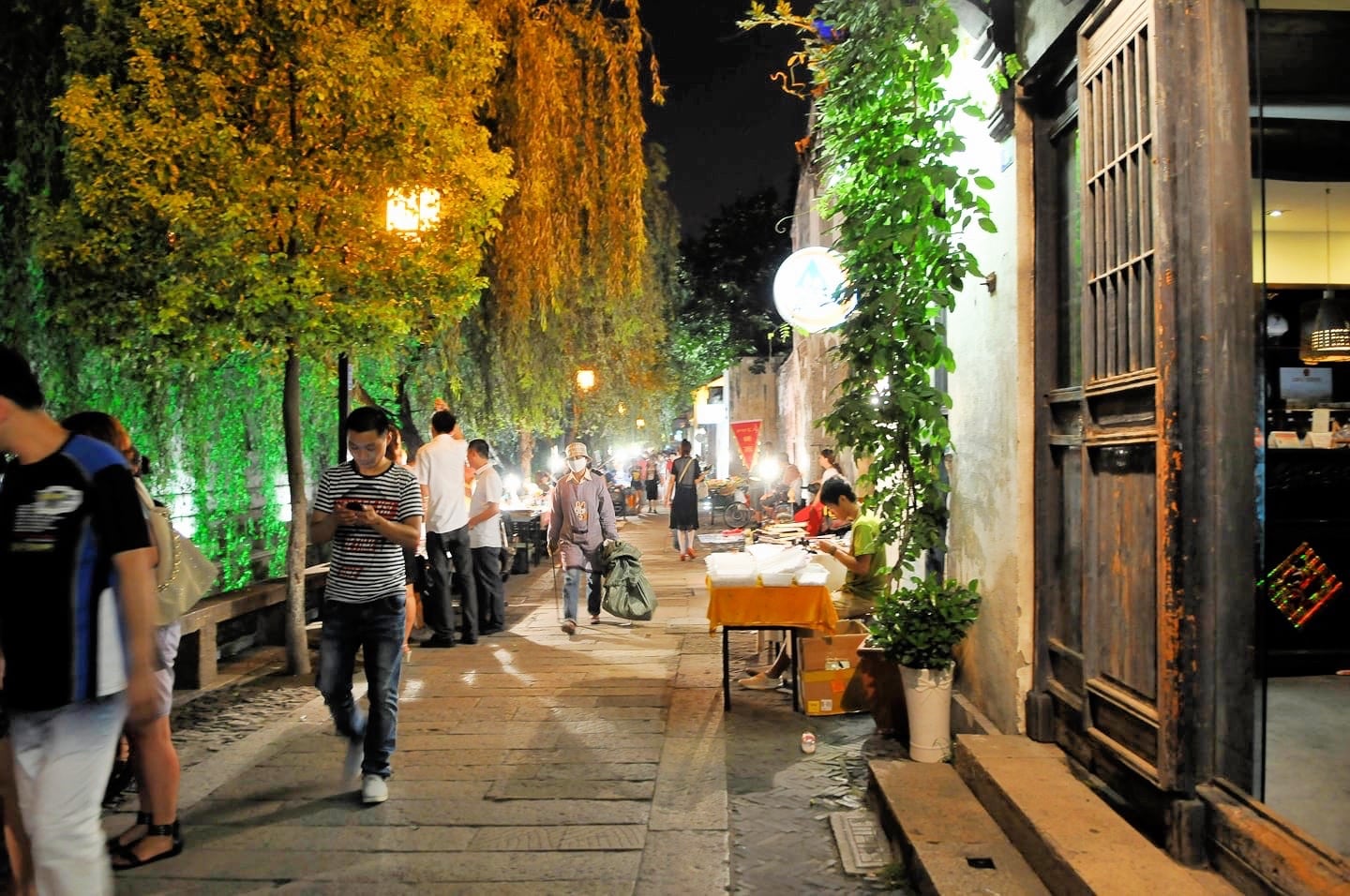 It was a nice surprise, right at the doorstep of Mingtown hostel where we were staying — stretching the entire length of Pingjiang Road (about 1 km).
Night markets seem to be quite popular in this part of China. In Suzhou, in July it only makes sense given the incredible heat and humidity.
This particular evening, the humidity remained high but temperatures had dropped making an outdoor stroll very pleasant.
It was great to see local life happening in the streets of this ancient town and one does get the sense that this is indeed a real living, breathing community with or without the tourists, even if tourism accounts for a good portion of residents' livelihood in this part of town.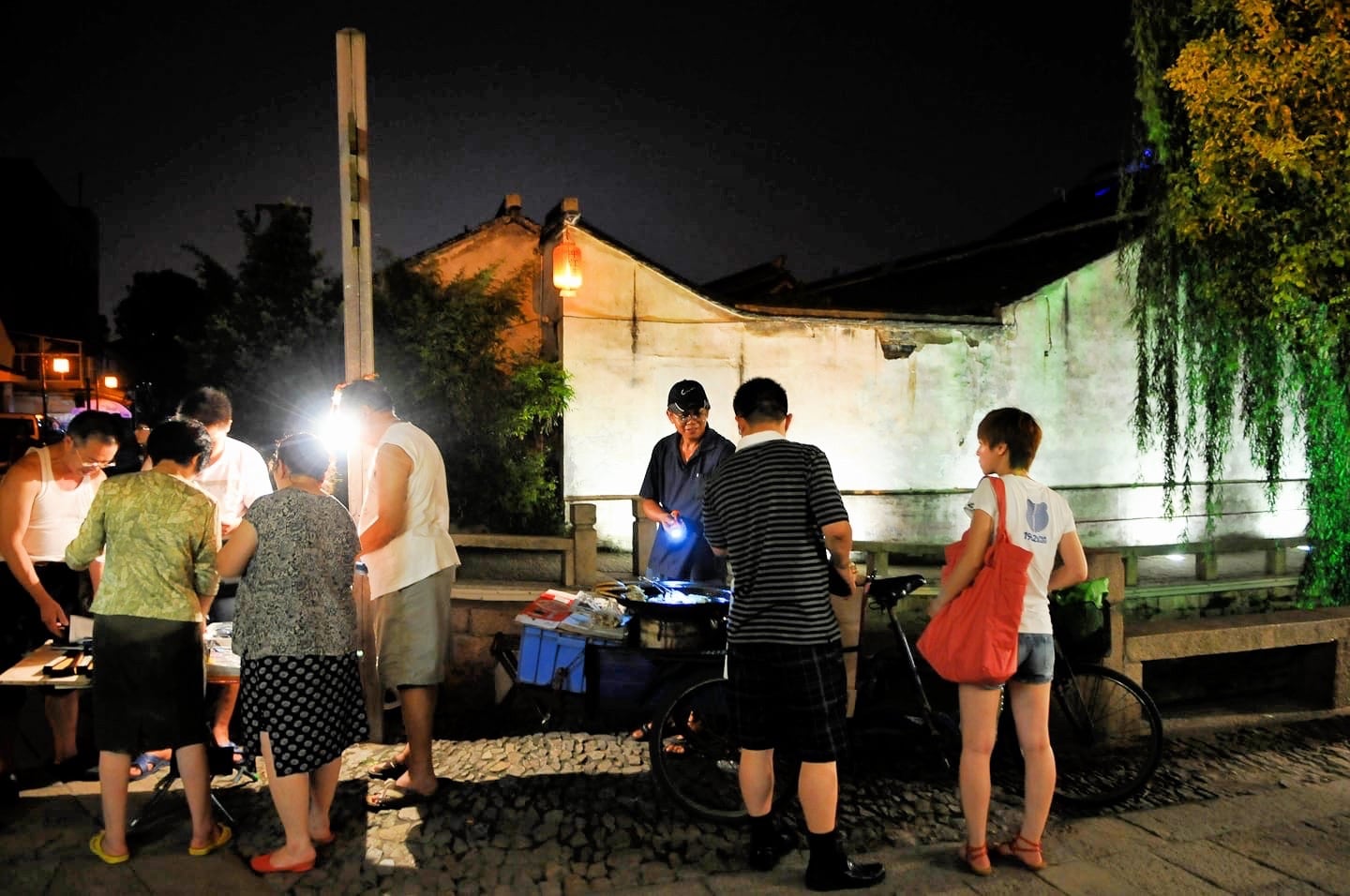 Food prices in China for travelers are not the cheapest in East Asia. But fresh, hot street food at these sorts of night markets seems to be a pretty good bet for getting inexpensive, tasty, and relatively safe evening fare.
This guy [above] was conveniently located directly in front of our hostel serving up hot, fresh (and huge) dumplings and potstickers.
The two of us filled up for about US$4.75. We carried our dinner across the small stone bridge nearby and perched ourselves on a set of old crumbling stairs overlooking the canal and the night-time activity.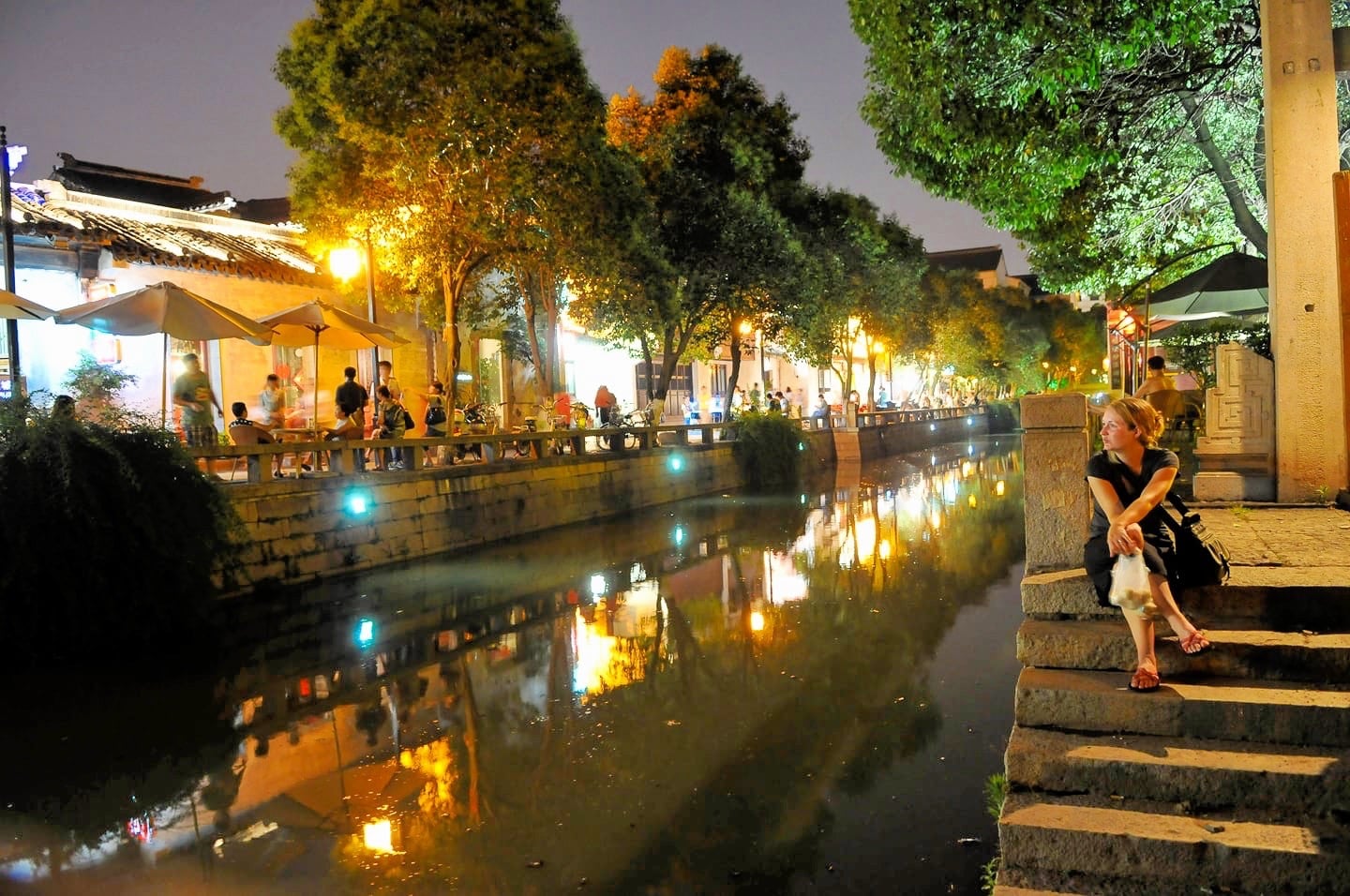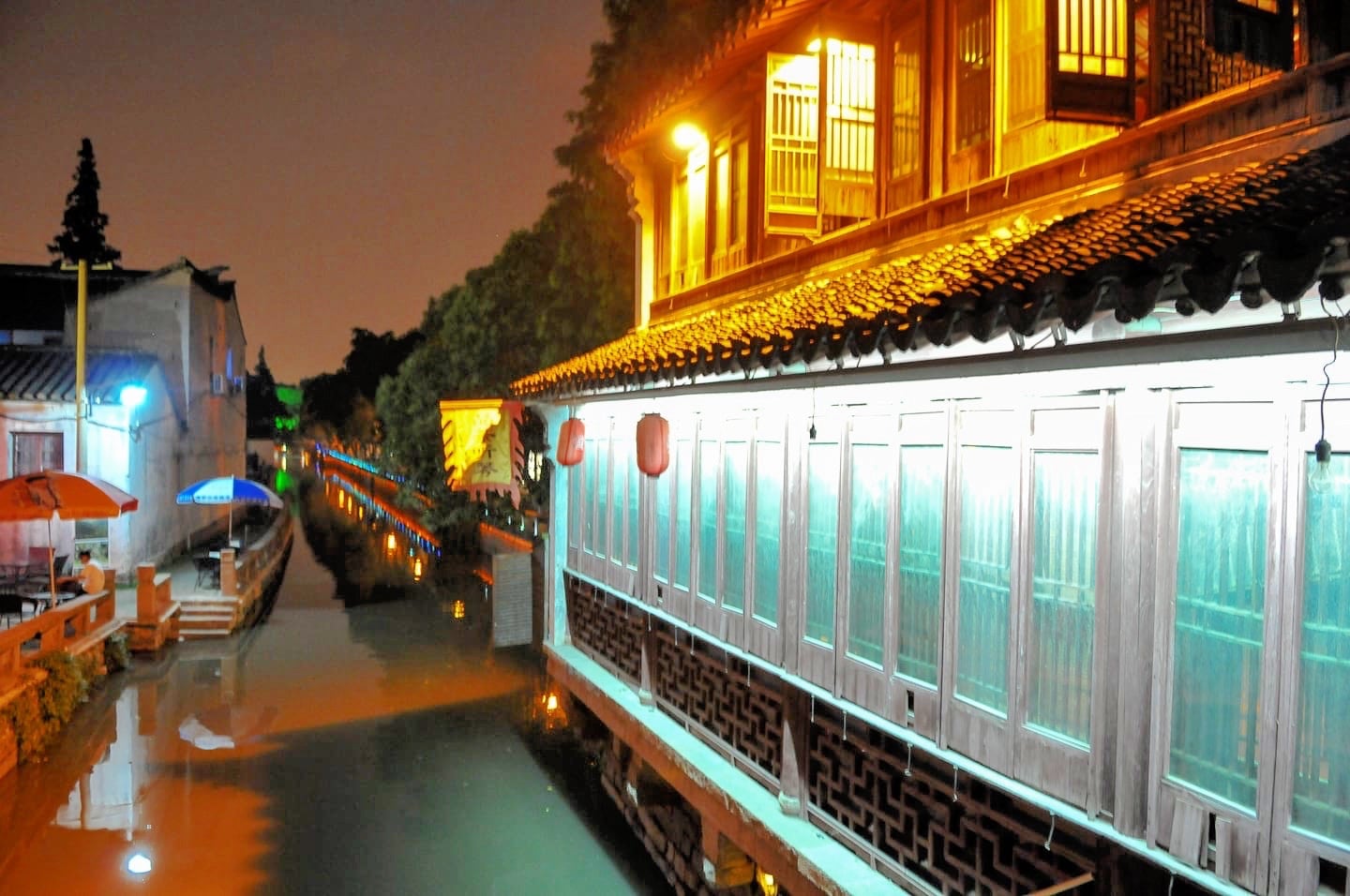 After dinner, we strolled the narrow cobblestone Pingjiang Road, which at this hour had become inundated with vendors and curiosities.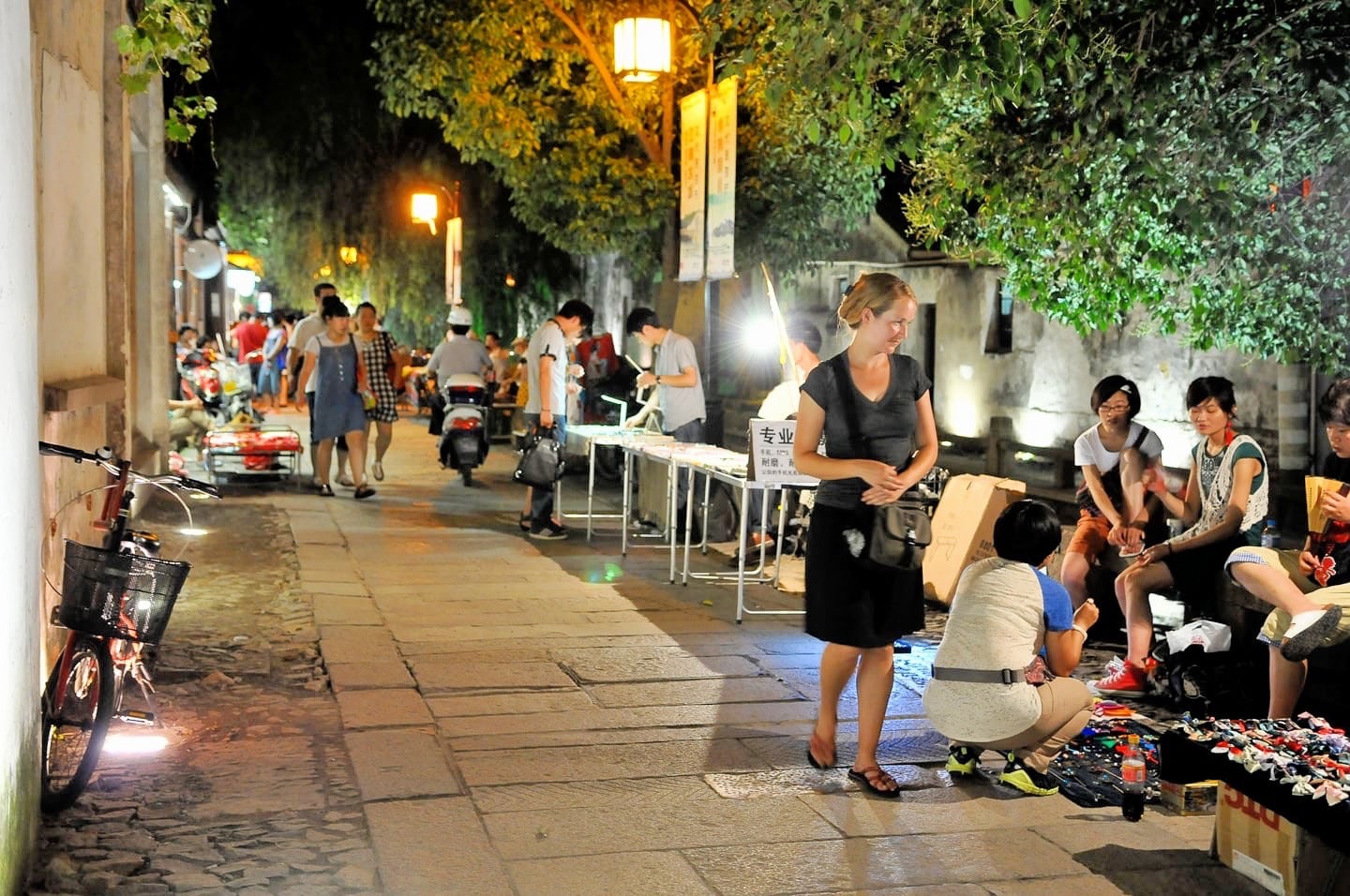 The guy, below, is actually making large custom lollipops before a sea of curious onlookers.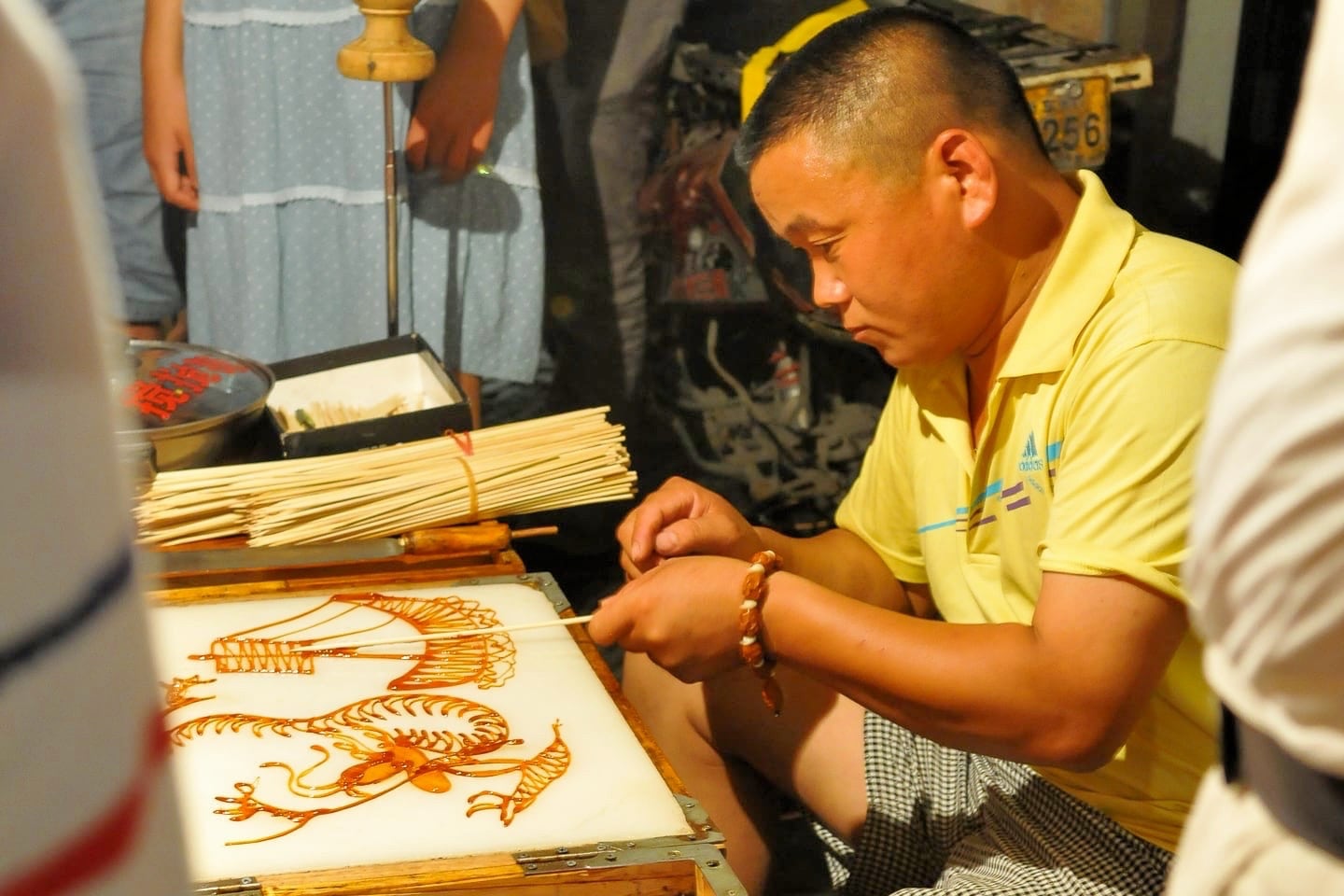 The tedious process involves drawing a design on wax paper using a squirt bottle full of hot liquid that dries quickly and very hard.
When he's finished "drawing" his creation, he lays a skewer on top before the liquid hardens, then carefully pulls the sucker away from the wax paper and BAM! Instant lolli.
The most fascinating part of the process is watching how quickly and skillfully he squirts out any number of designs.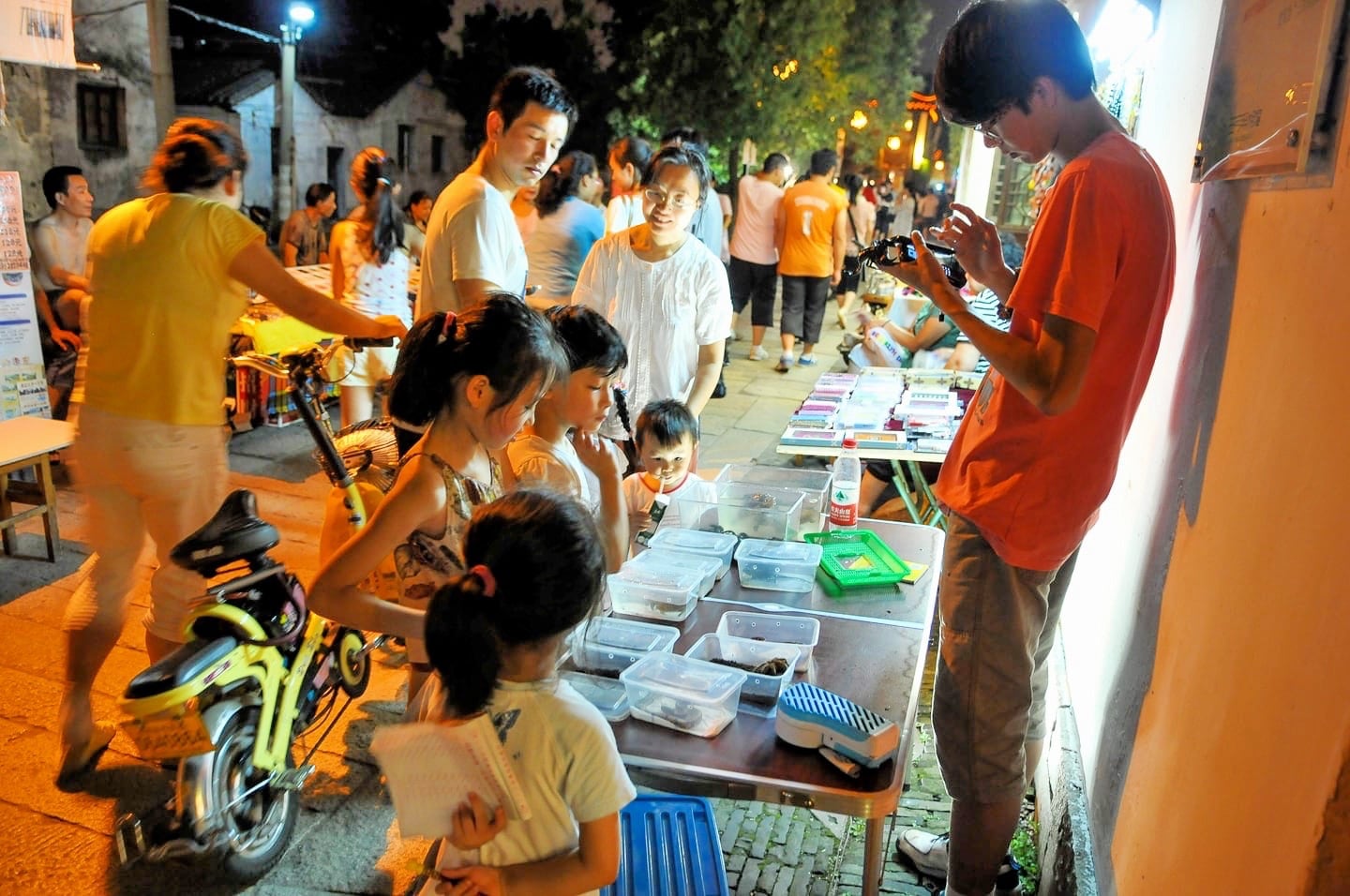 Hard to tell from the photo, above, but this guy is selling a variety of exotic critters in plastic containers, from spiders to snakes (as he plays on his iPhone with cigarette and live scorpion in hand).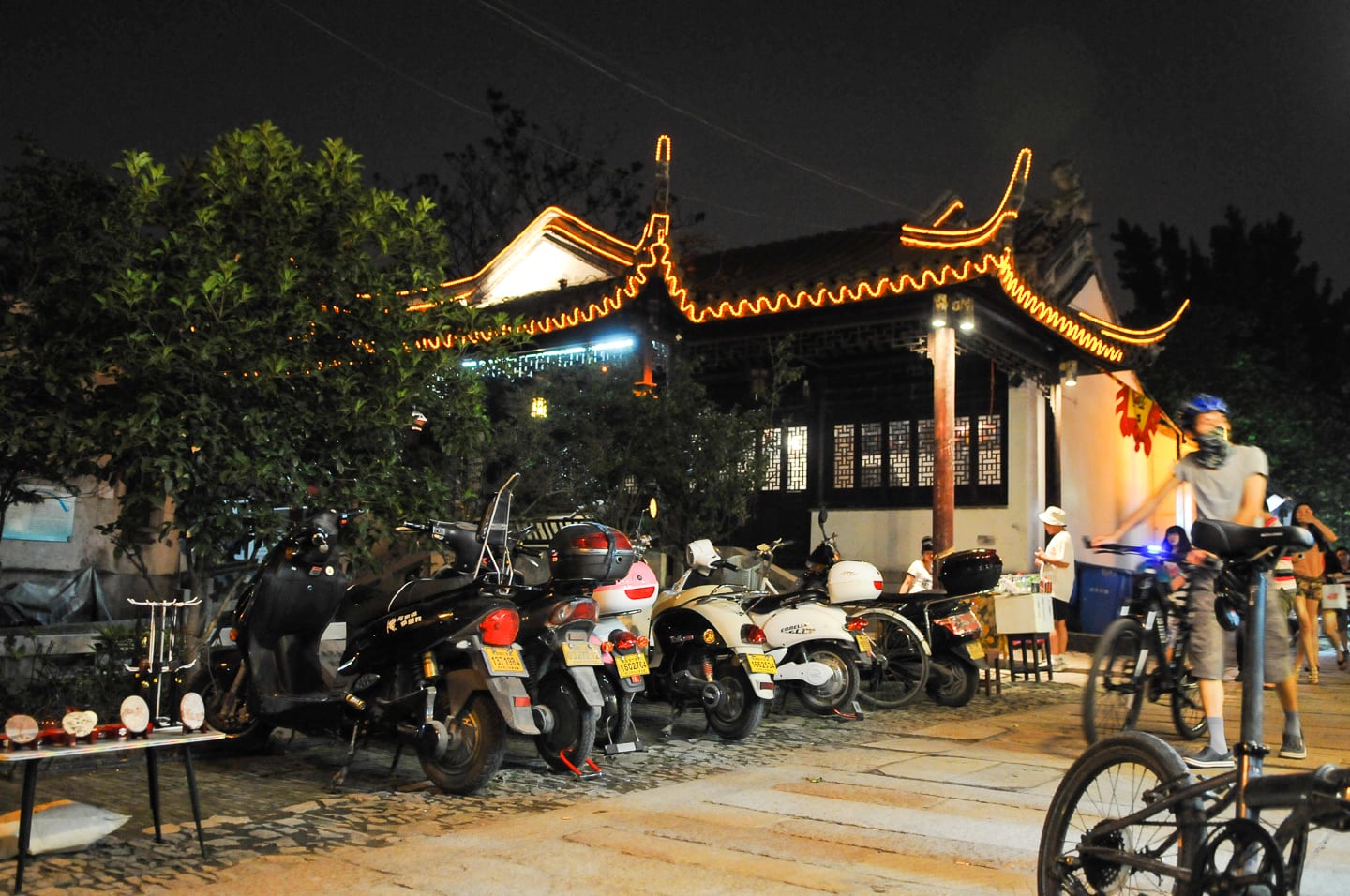 The ubiquitous scooter finds a resting place (and friends!)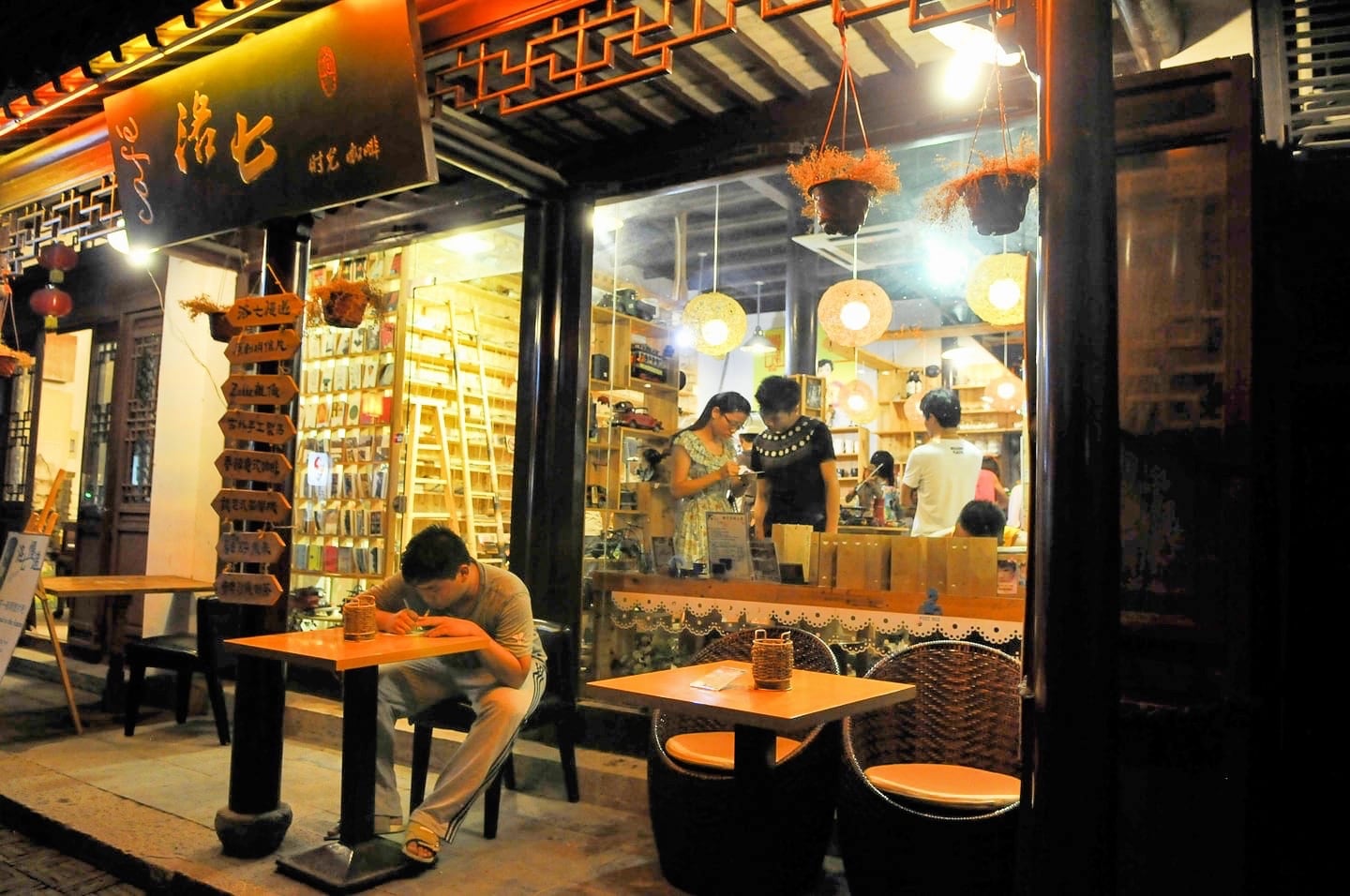 Also ubiquitous in China, the random (and always packed with teens) postcard / birthday card shop.
Young people seem to love to sit for hours and customize their cards before mailing them to their friends.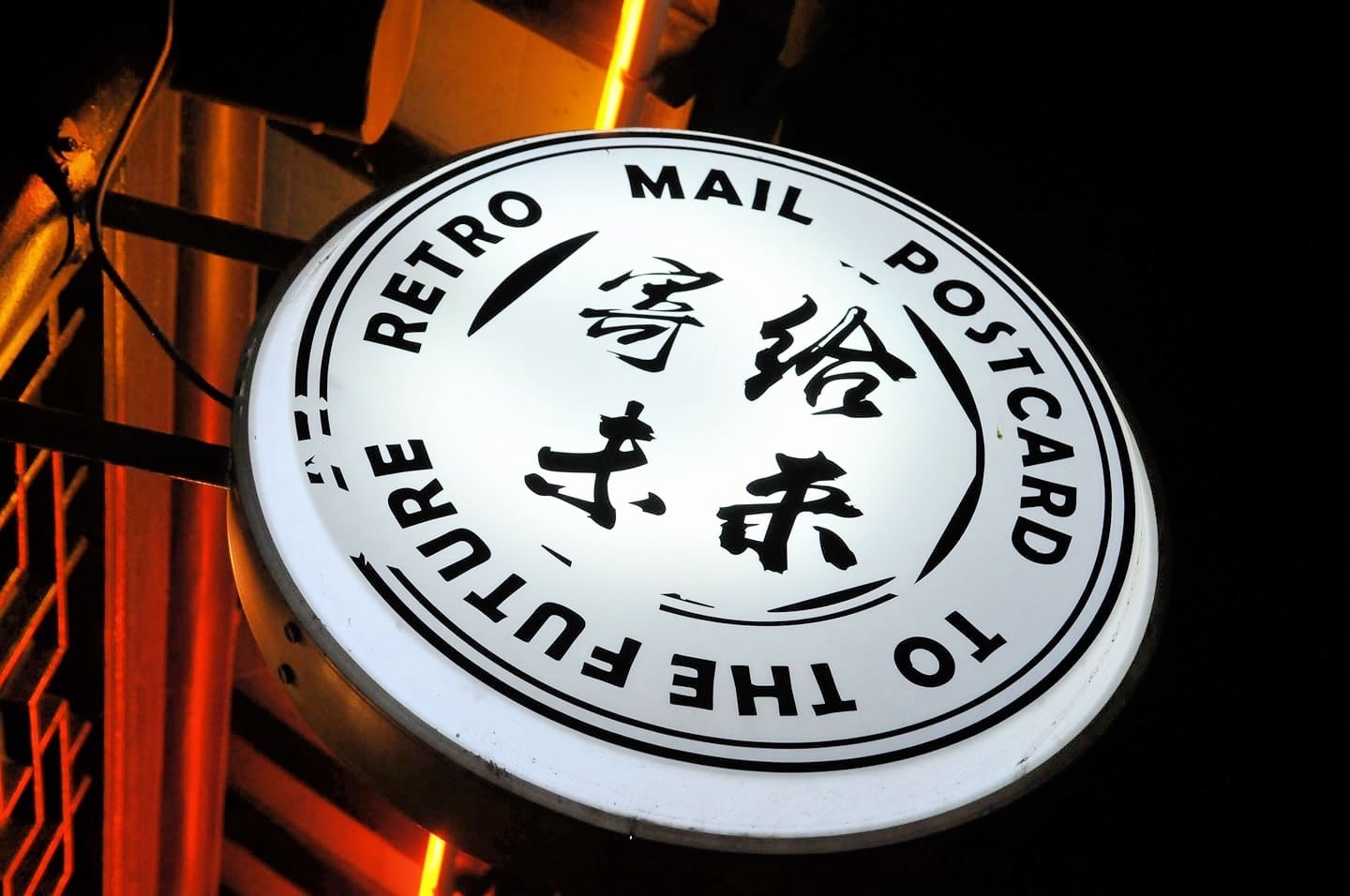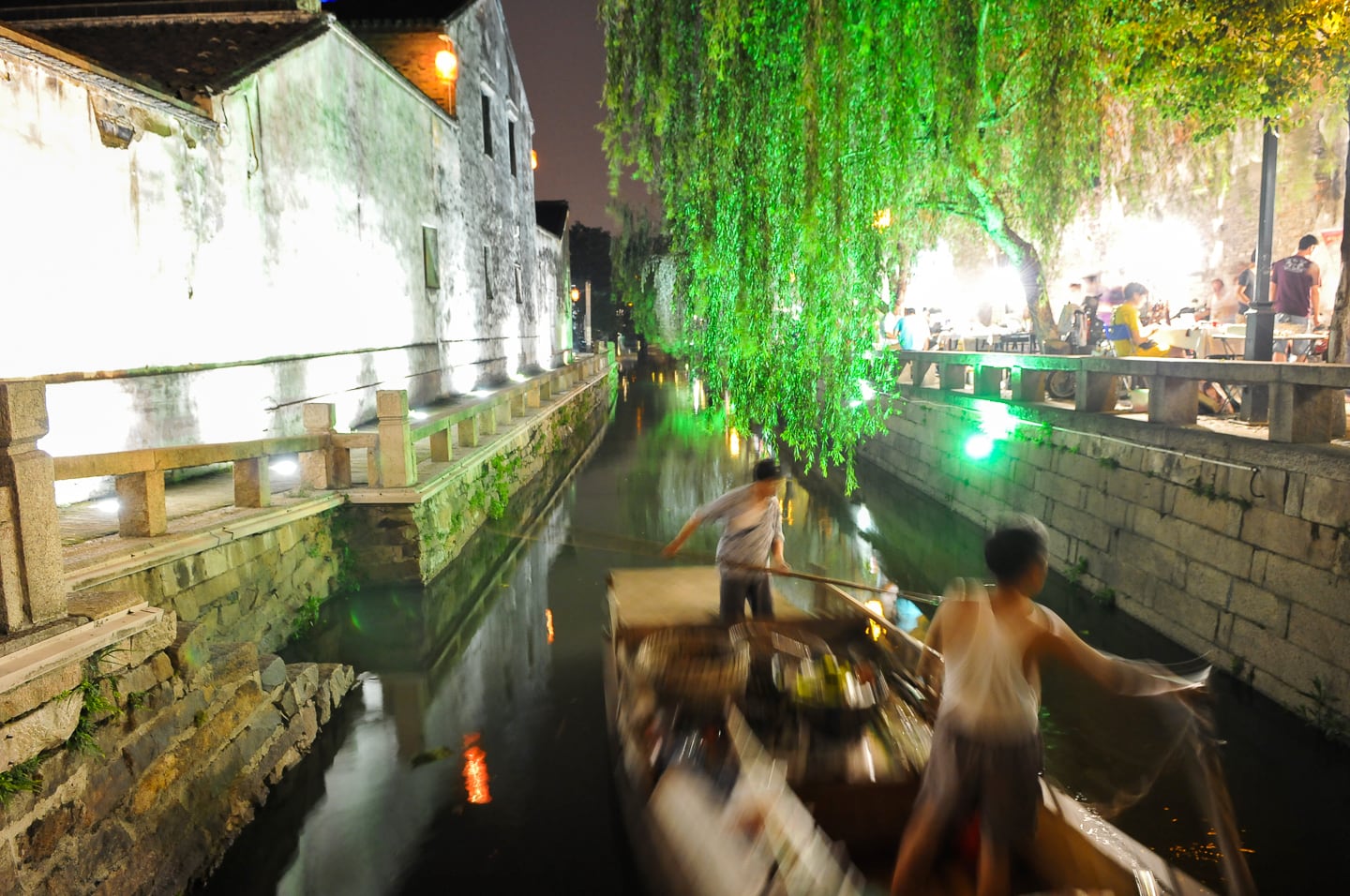 Even by night, the canal garbage collectors keep the canals virtually trash-free, which is no easy task in China where people seem accustomed to depositing whatever, wherever.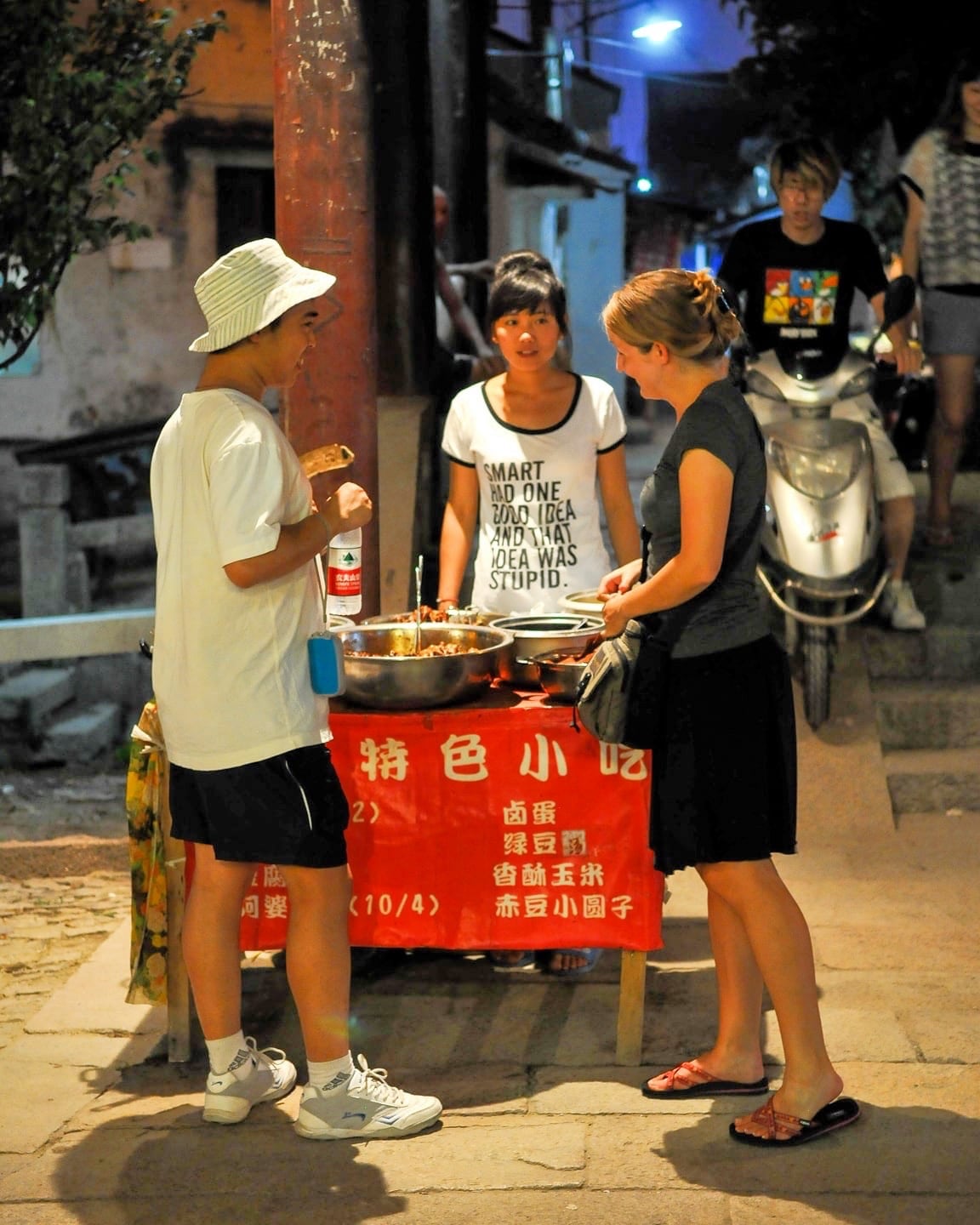 Lori, trying to break through the language barrier to find out what each food item is, which is very often easier said than done in China.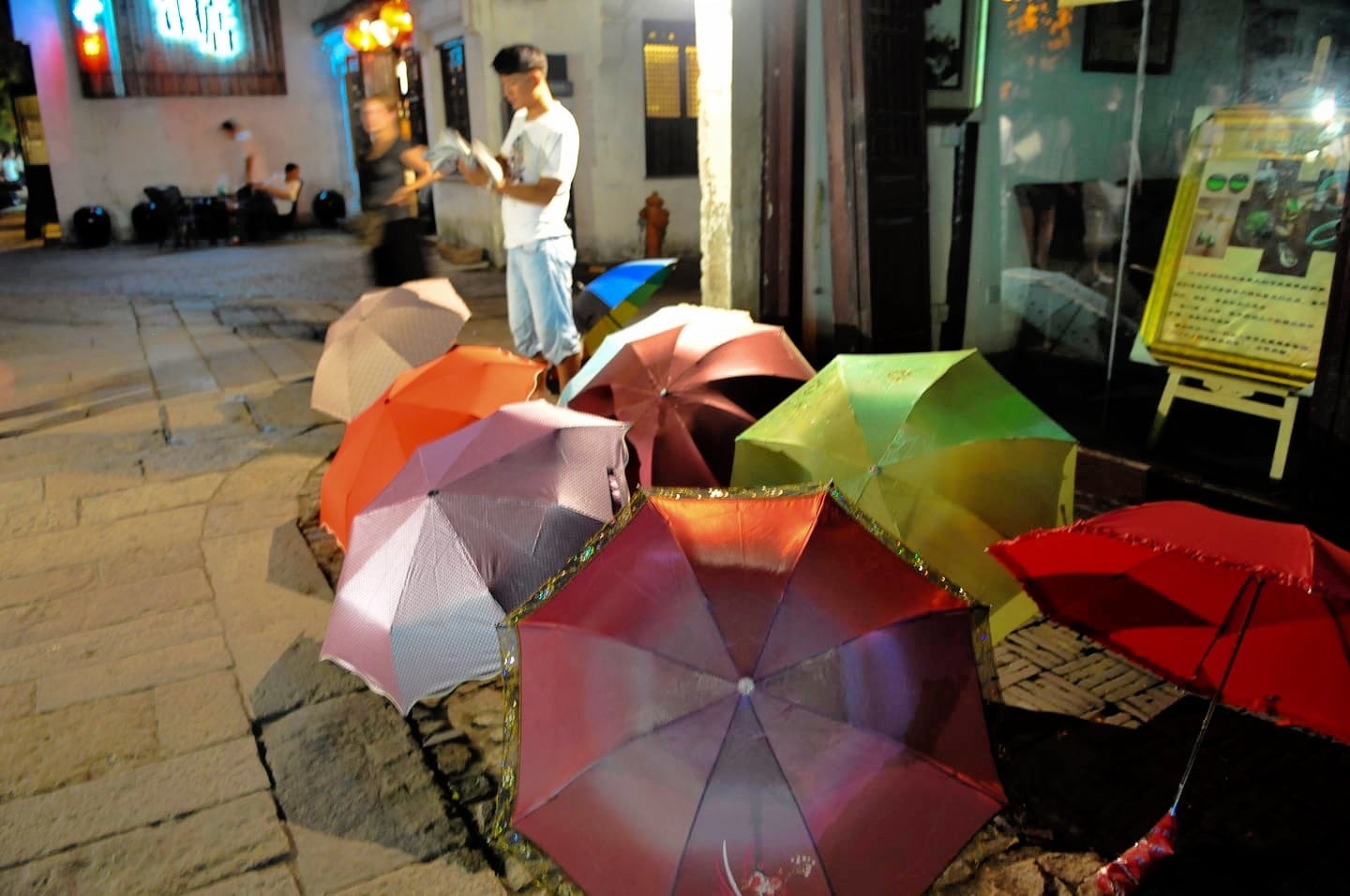 The Chinese LOVE their umbrellas, employing them equally rain or shine.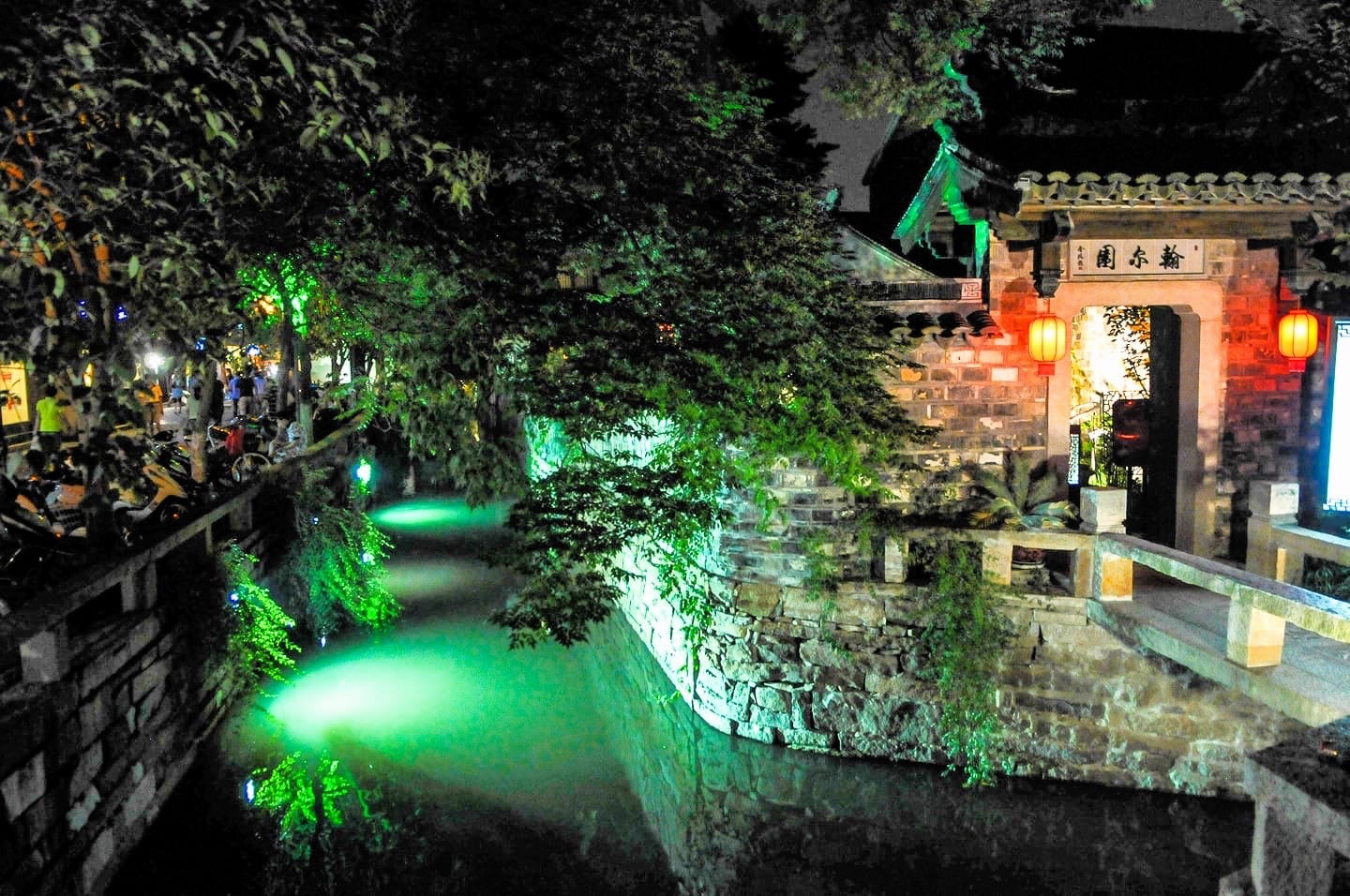 This corner of the canal at the entrance of a hotel struck me as one particular place in Suzhou that may look much the same as it did a century or two ago.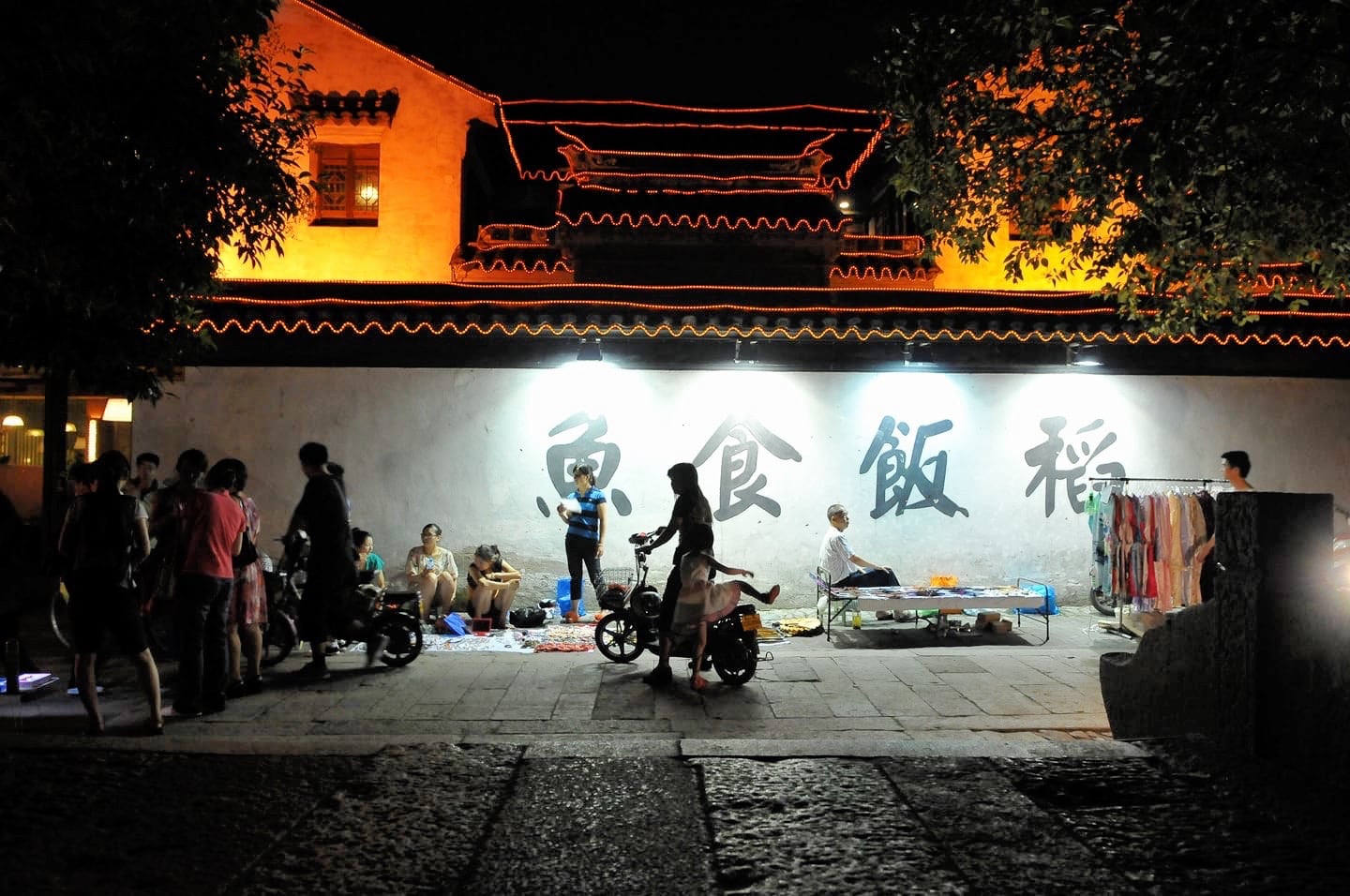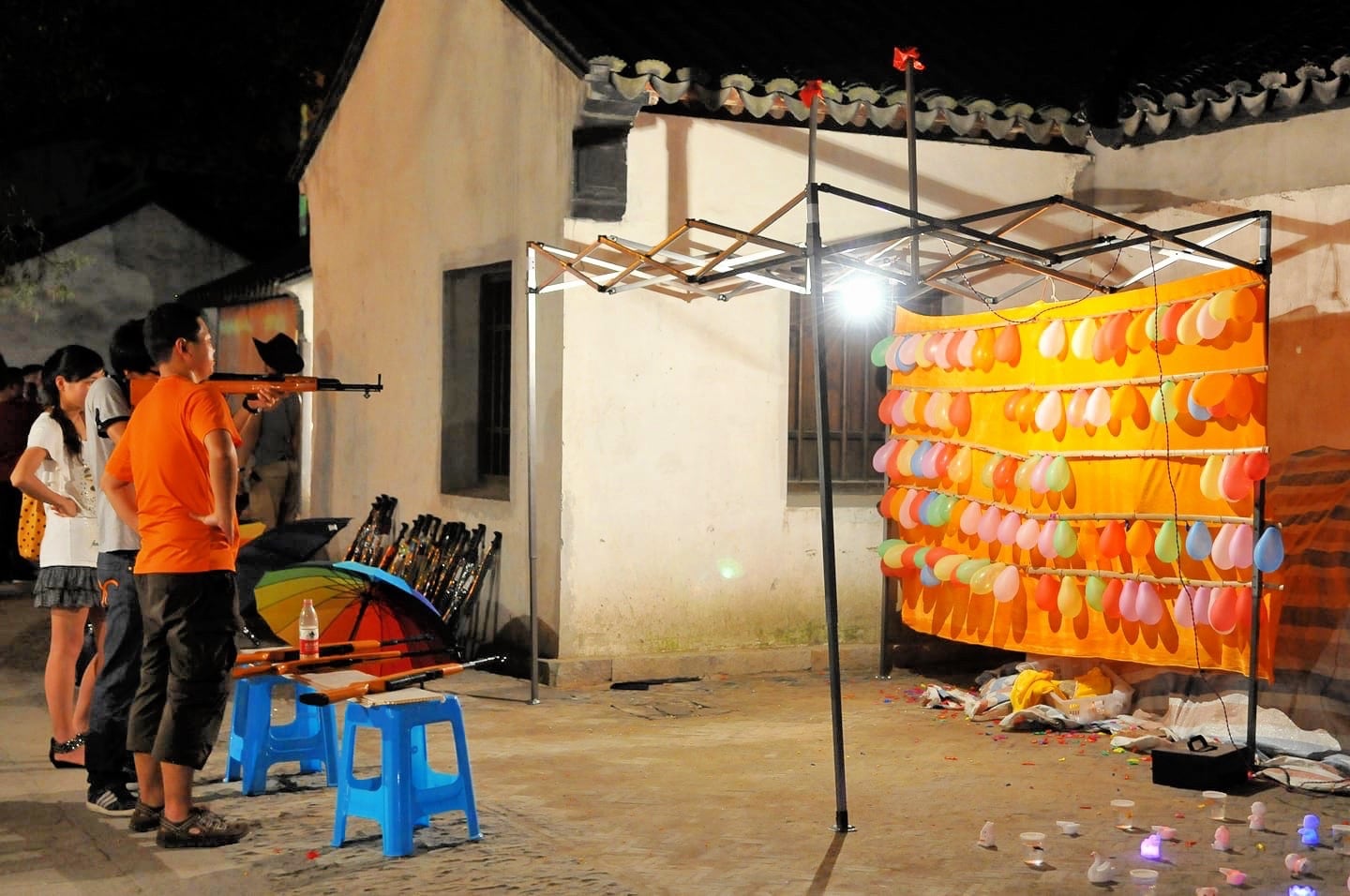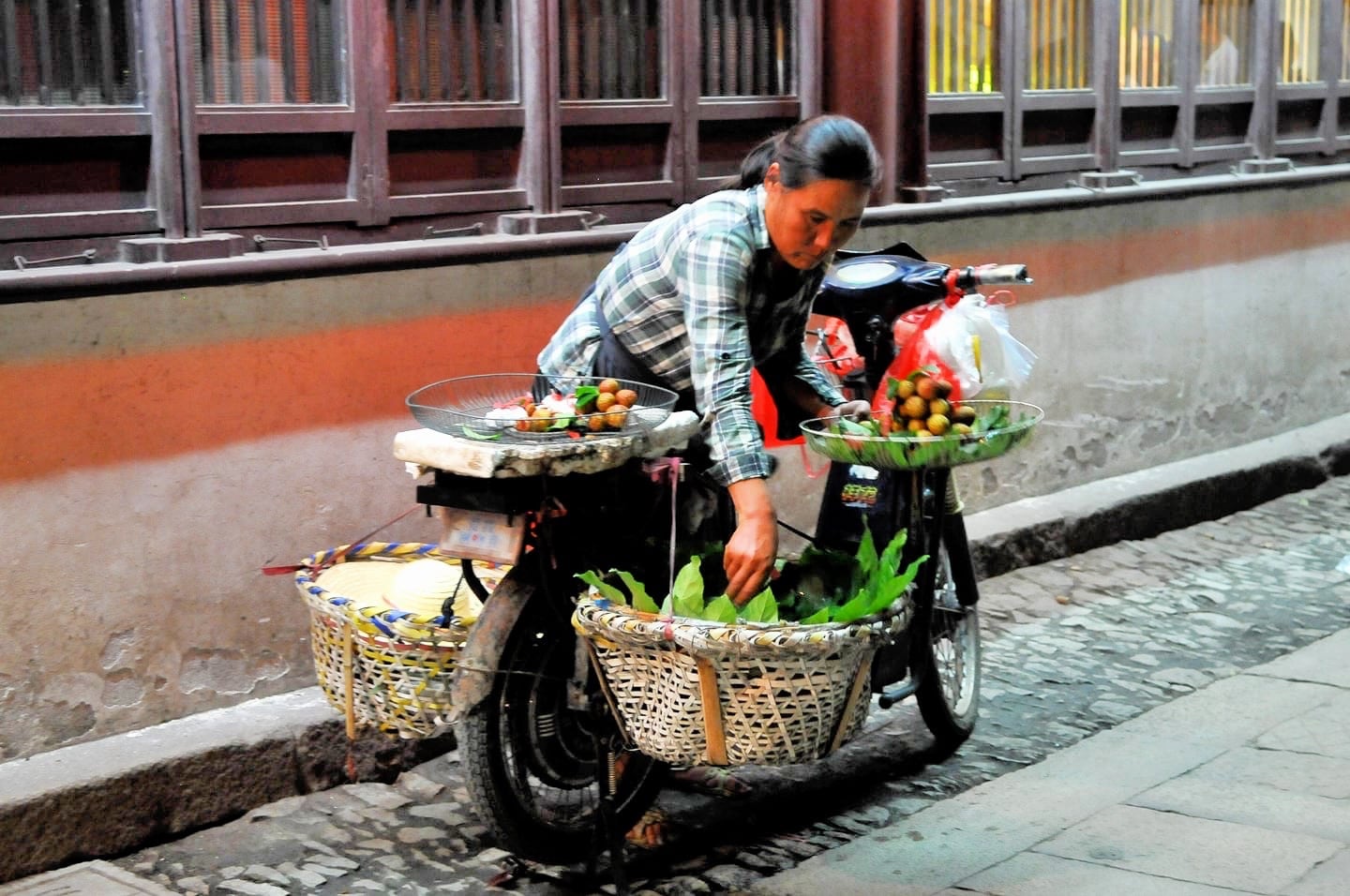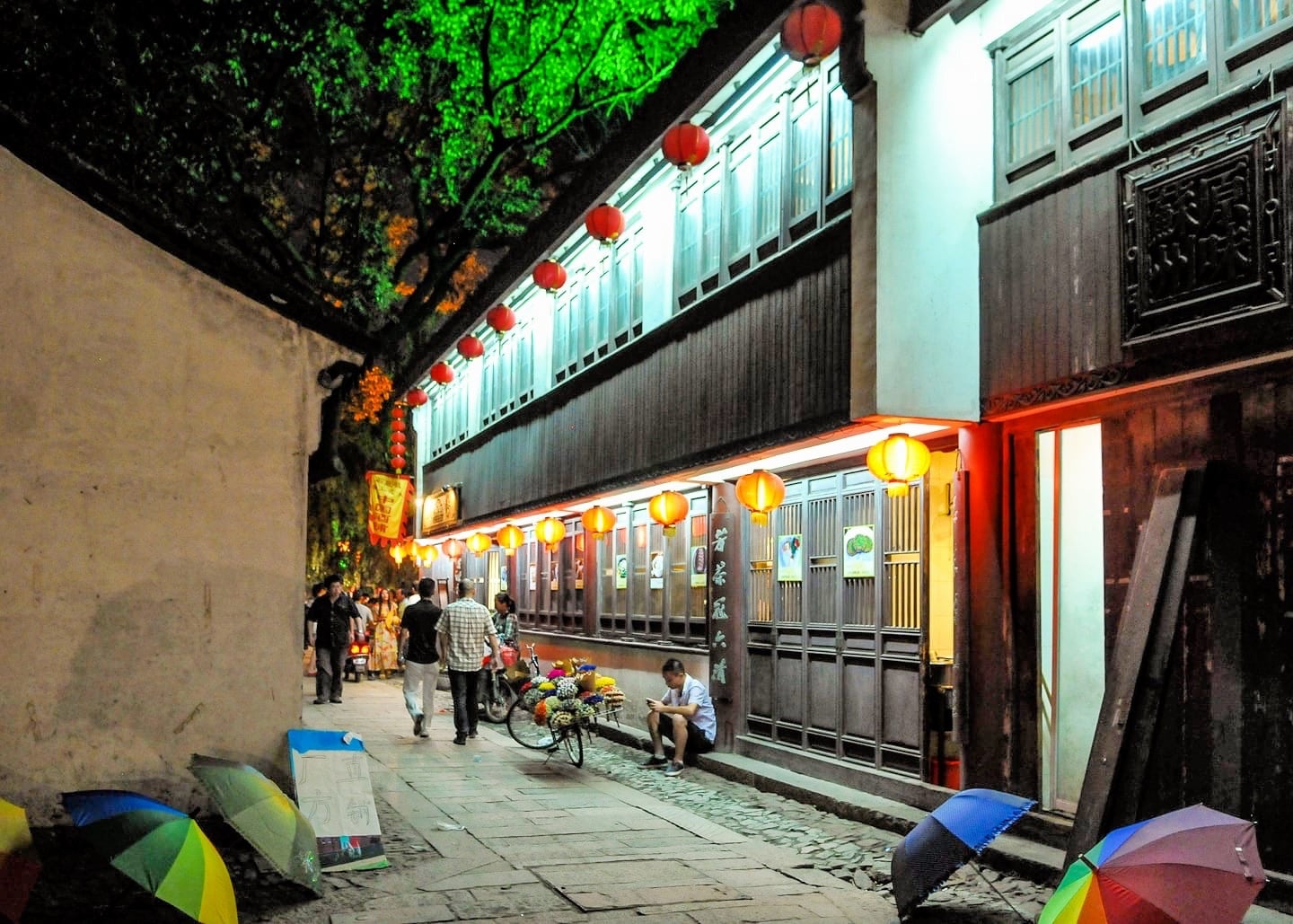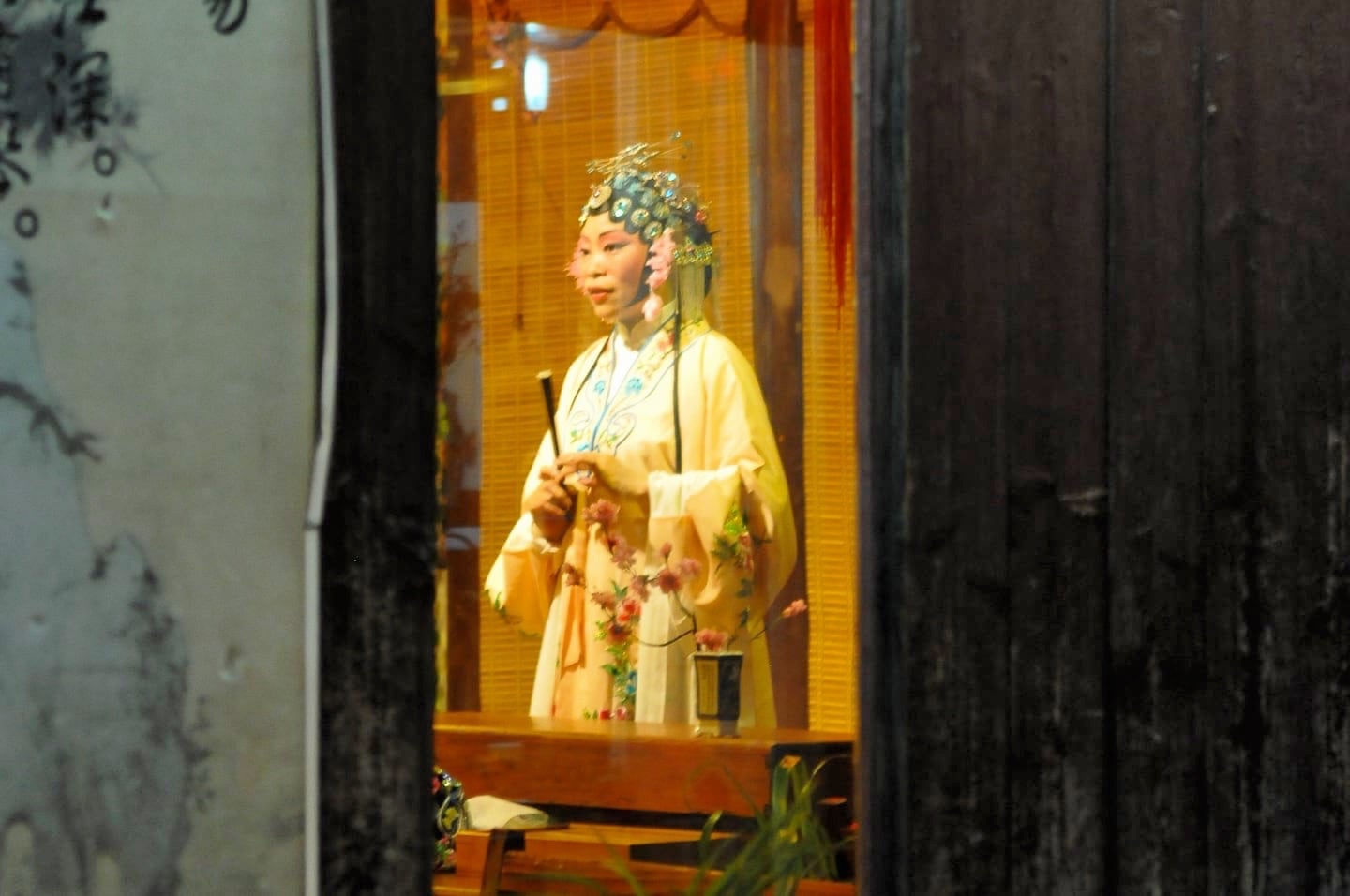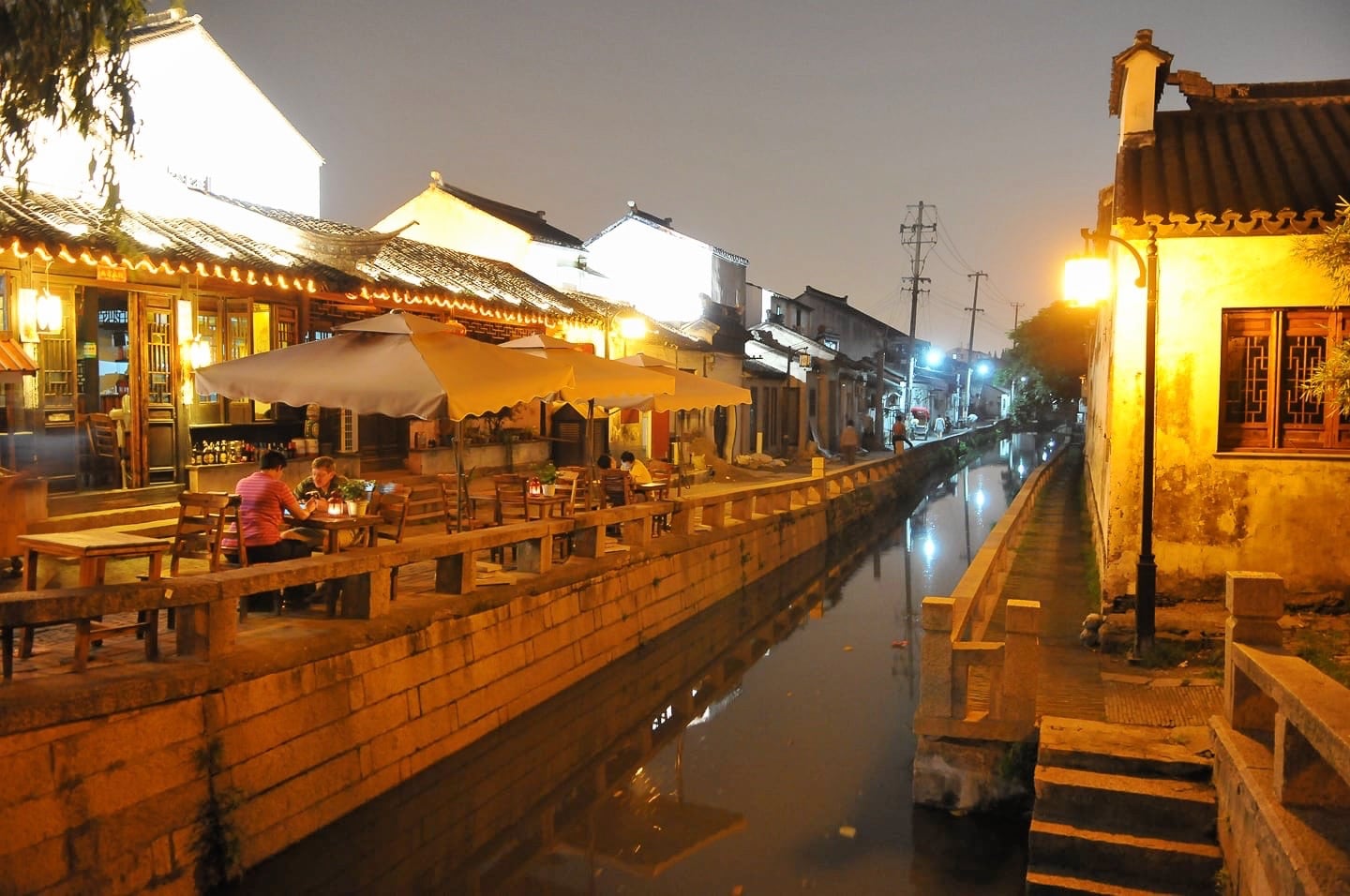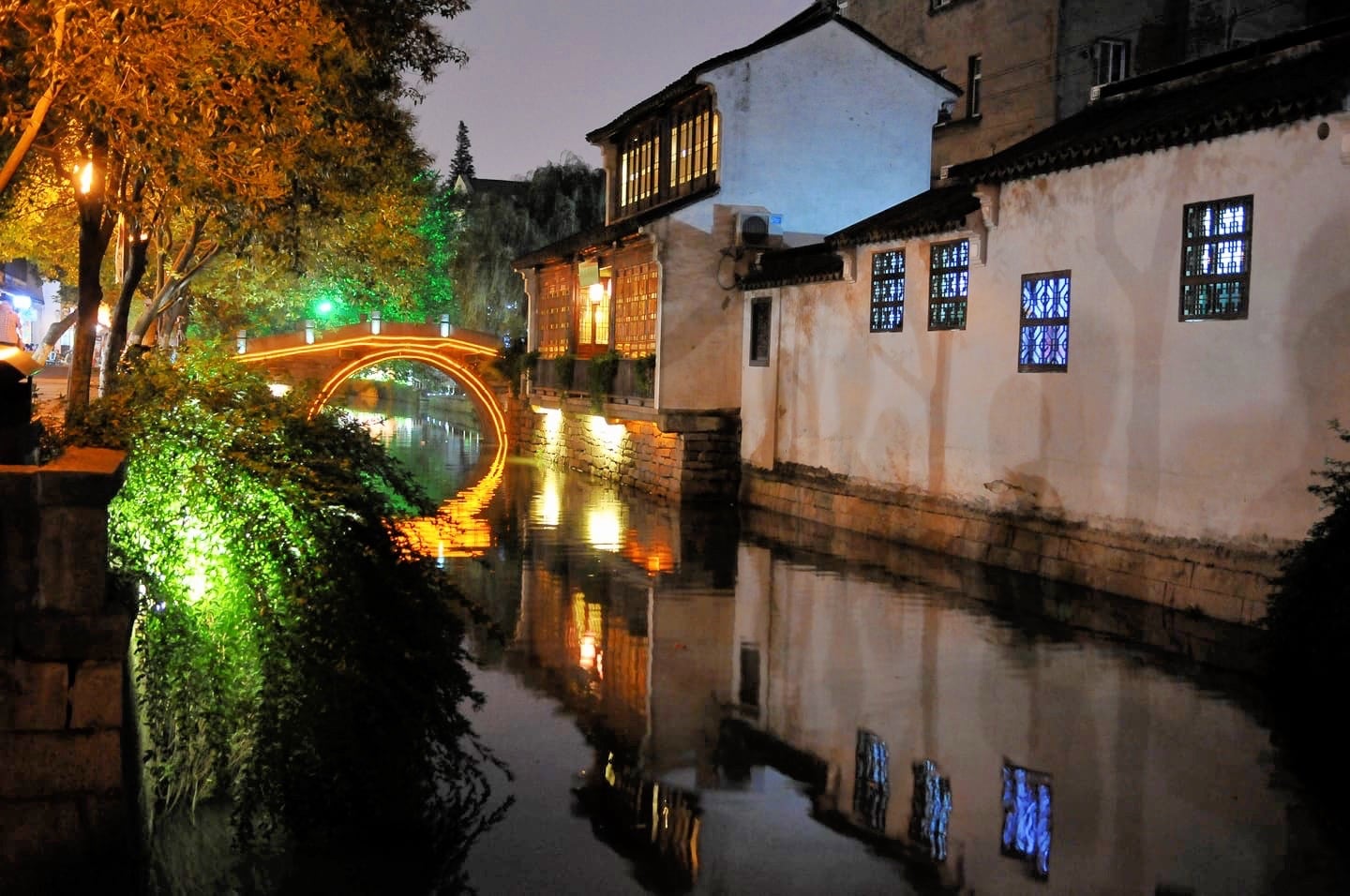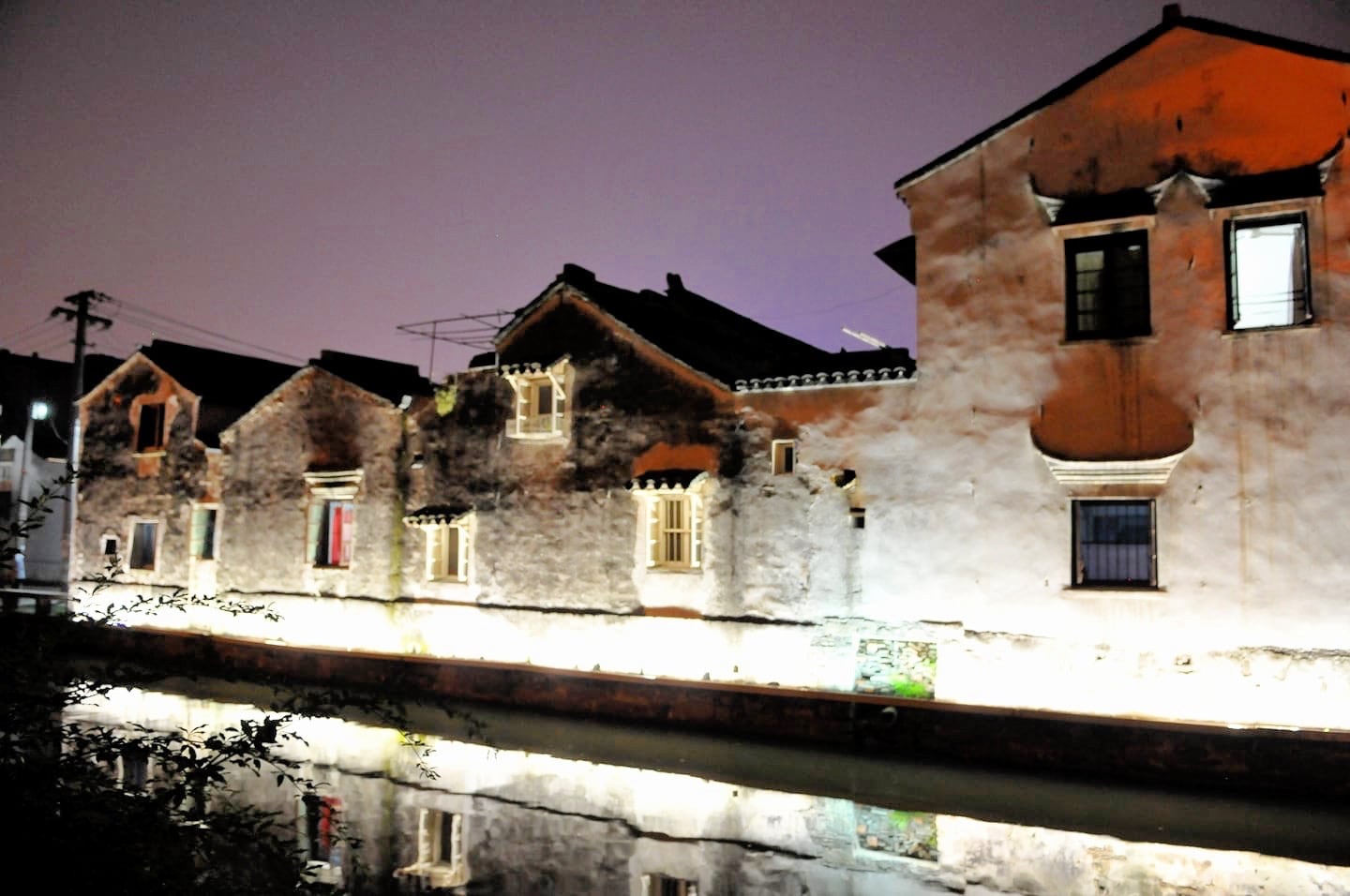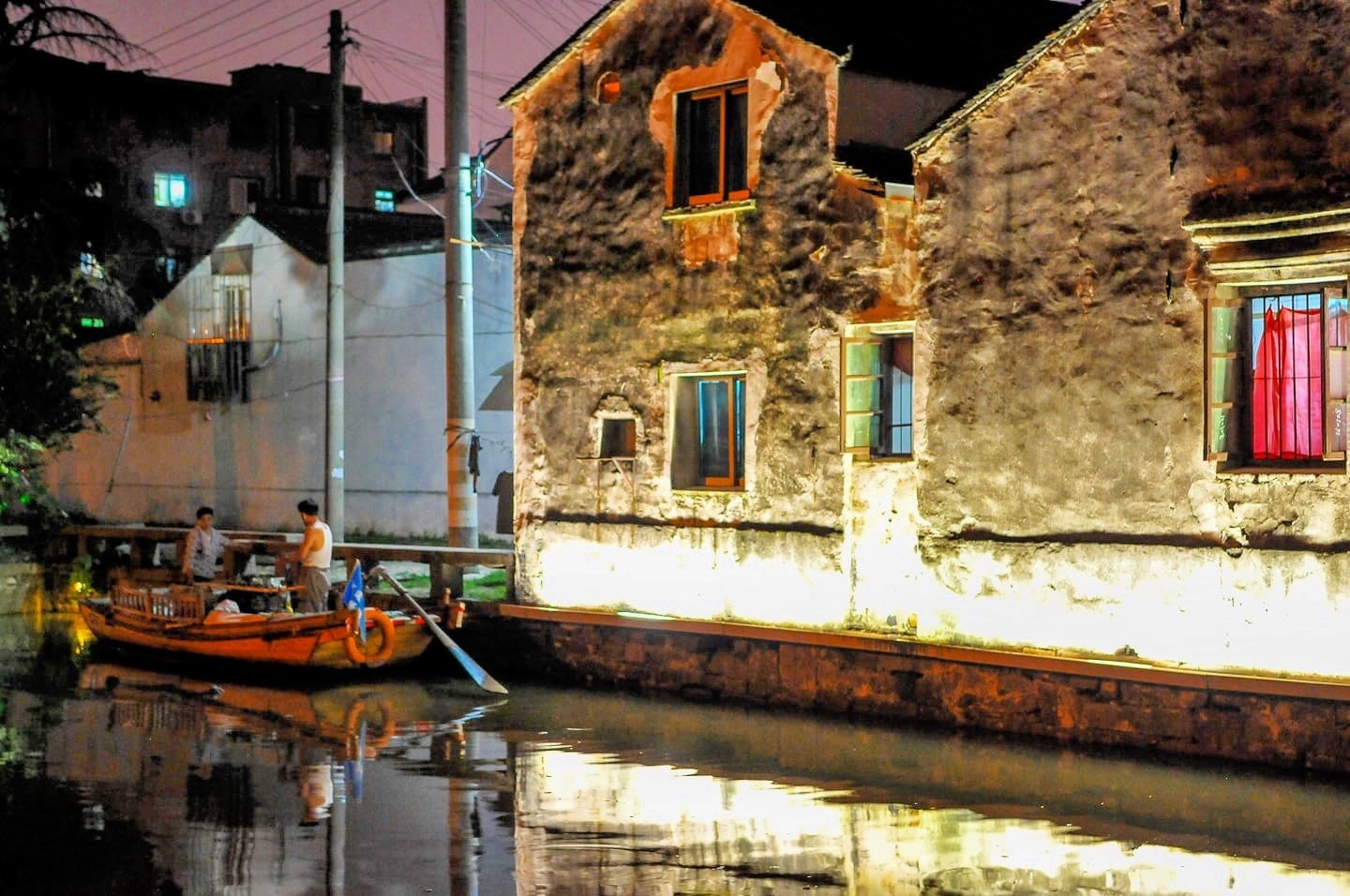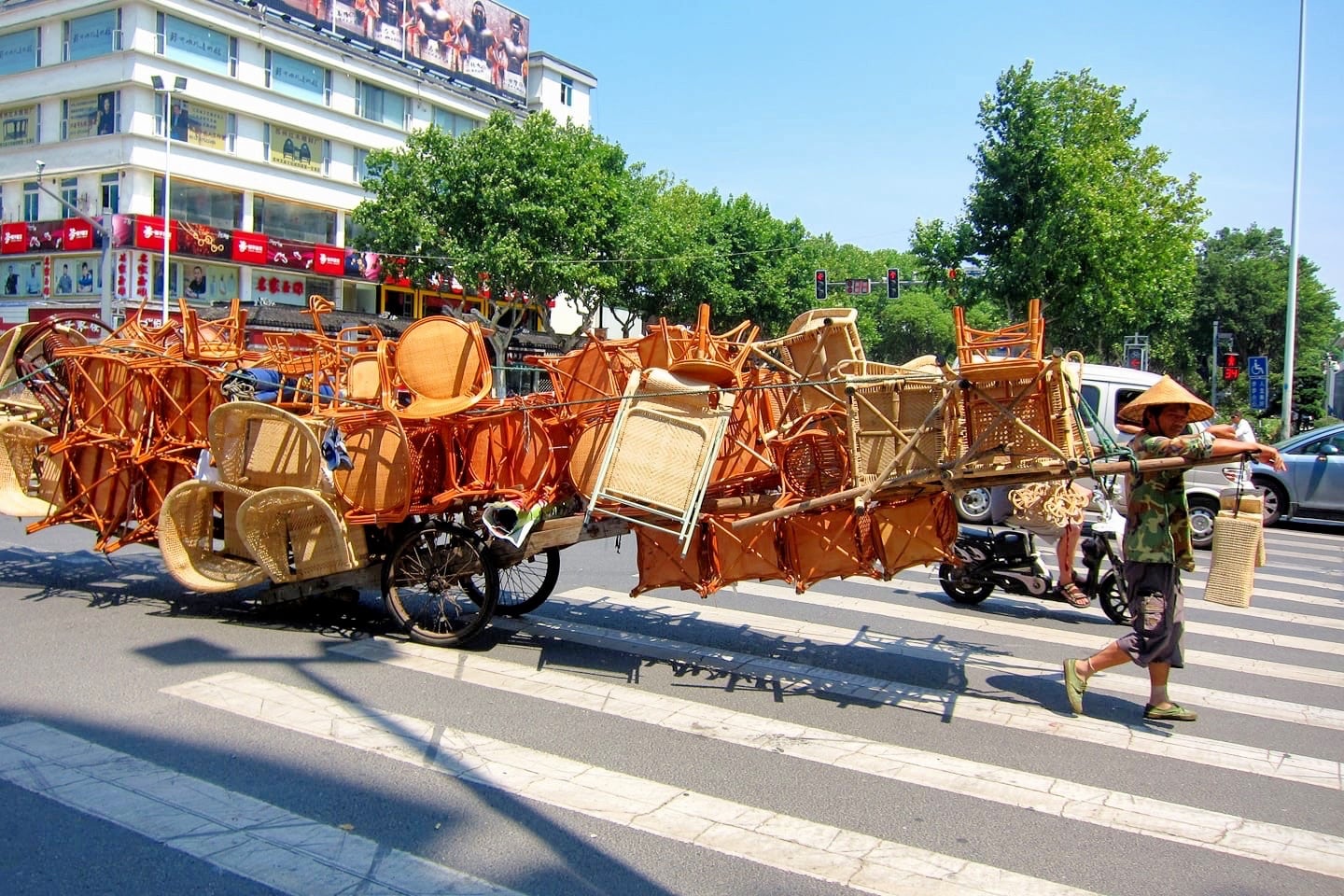 Suzhou New City
It would be difficult to spend any amount of time in Suzhou and not be somewhat cognizant of the world that lies beyond the ancient canals and pathways of Old Town.
From Pingjiang Road, walk in any direction for 10 to 15 minutes and you will most certainly find yourself crossing a very wide and busy avenue unceremoniously depositing you back into modern China, with all the hustle and bustle you'd expect from a city of millions.
Unlike many other large cities in China, Suzhou's modern city is remarkably tidy and efficient with a highly livable quality to it.
And did I mention Suzhou is huge? — 4 million people — with an administrative/metro area encompassing a population of over 10 million!
Yet, strolling down one of Old Town's cobblestone pathways around midday, you'd never know it.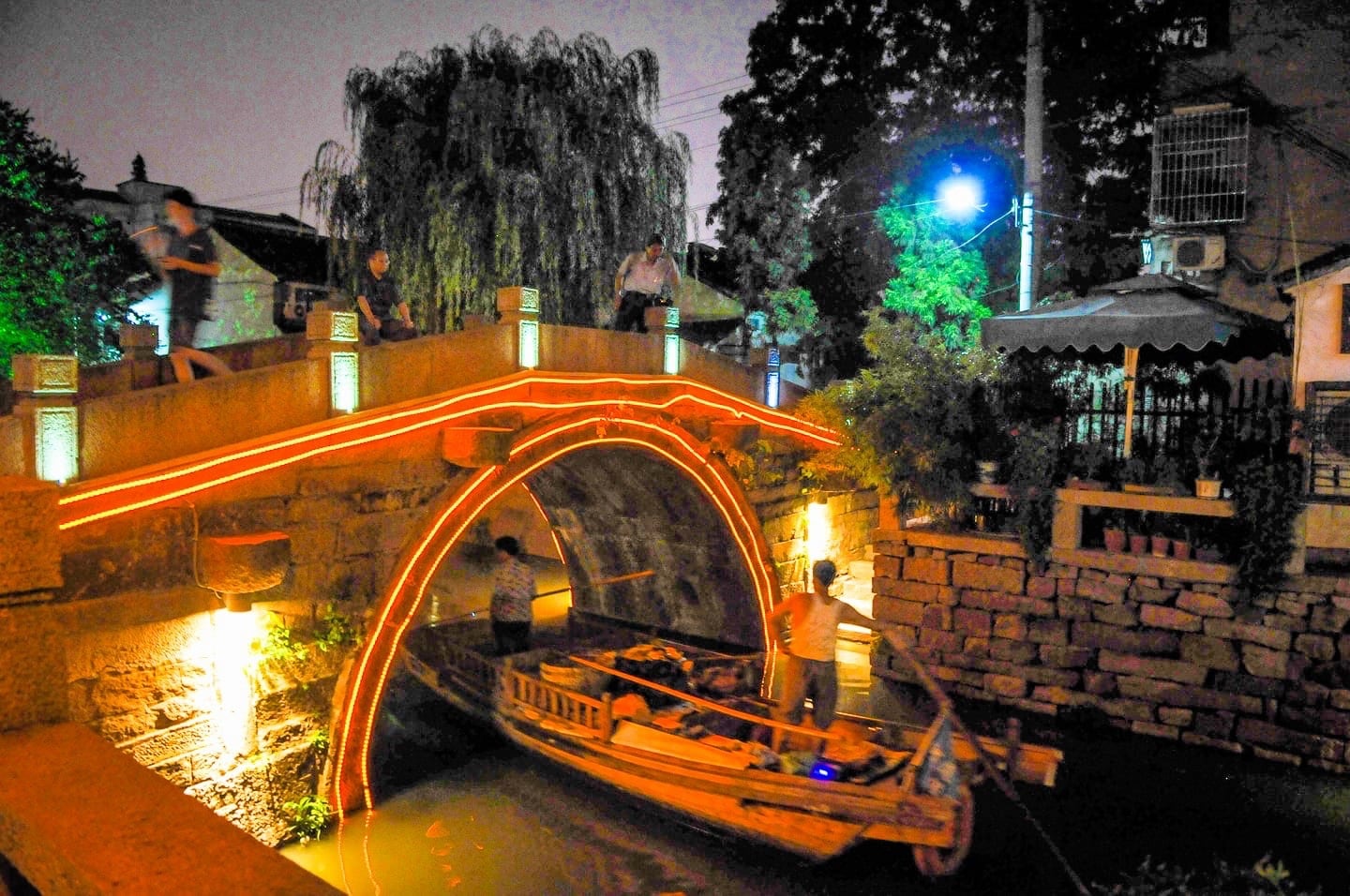 Where to Eat in Suzhou
Suzhou is a huge city, and one could spend a lifetime trying to explore the city's eateries, so we're not going to even try to list them all. For us, there were three places that stood out from the rest.
Suzhou Night Market
As previously mentioned, the Suzhou Night Market along Pingjiang Road is a must-visit for the atmosphere, but also for a bit of traditional street food. It's also one of the cheaper options in this part of town.
Pin Von Teahouse
Suzhou's famous Pin Von Teahouse is considered one of the world's best teahouses. And best of all, it's right in the heart of Suzhou Old Town along Pingjiang Road.
This unassuming teahouse right on the Pingjiang canal has been featured in a number of top ten lists of teahouses over the years, and I'll agree, it's not one to be missed if you find yourself in Suzhou.
Pin Von serves up a number of delicious treats throughout the day, but is best known for their dim sum style dumplings and potstickers, which is exactly what we ordered. And they were awesome.
Being that Pin Von is a teahouse (and a really amazing one at that), I also felt obligated to try some tea.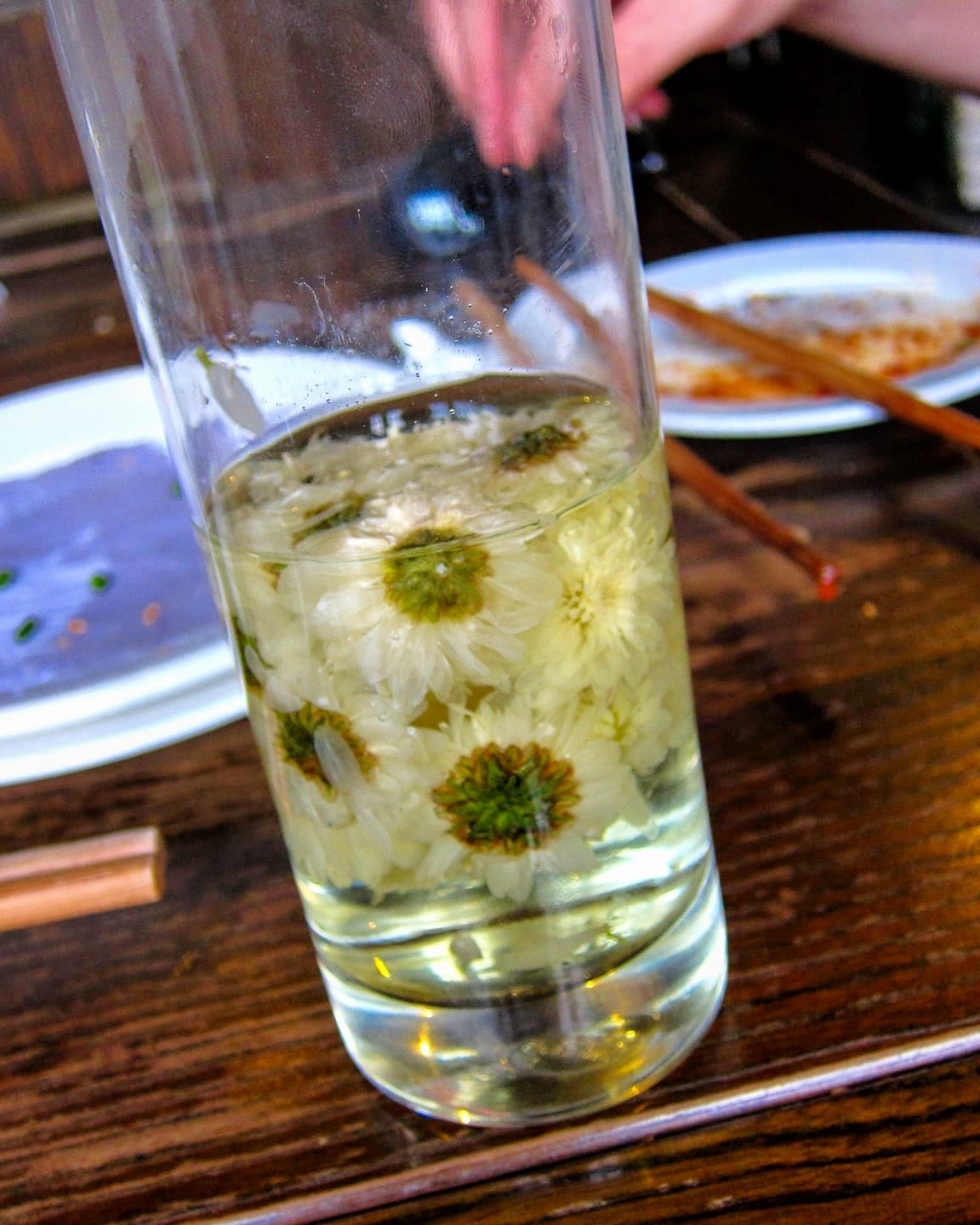 I went with the local Chrysanthemum variety, which not only had the appearance of a glass full of hot water and wildflowers, but tasted as such.
The next day, I tried one of their black teas, and it was awesome.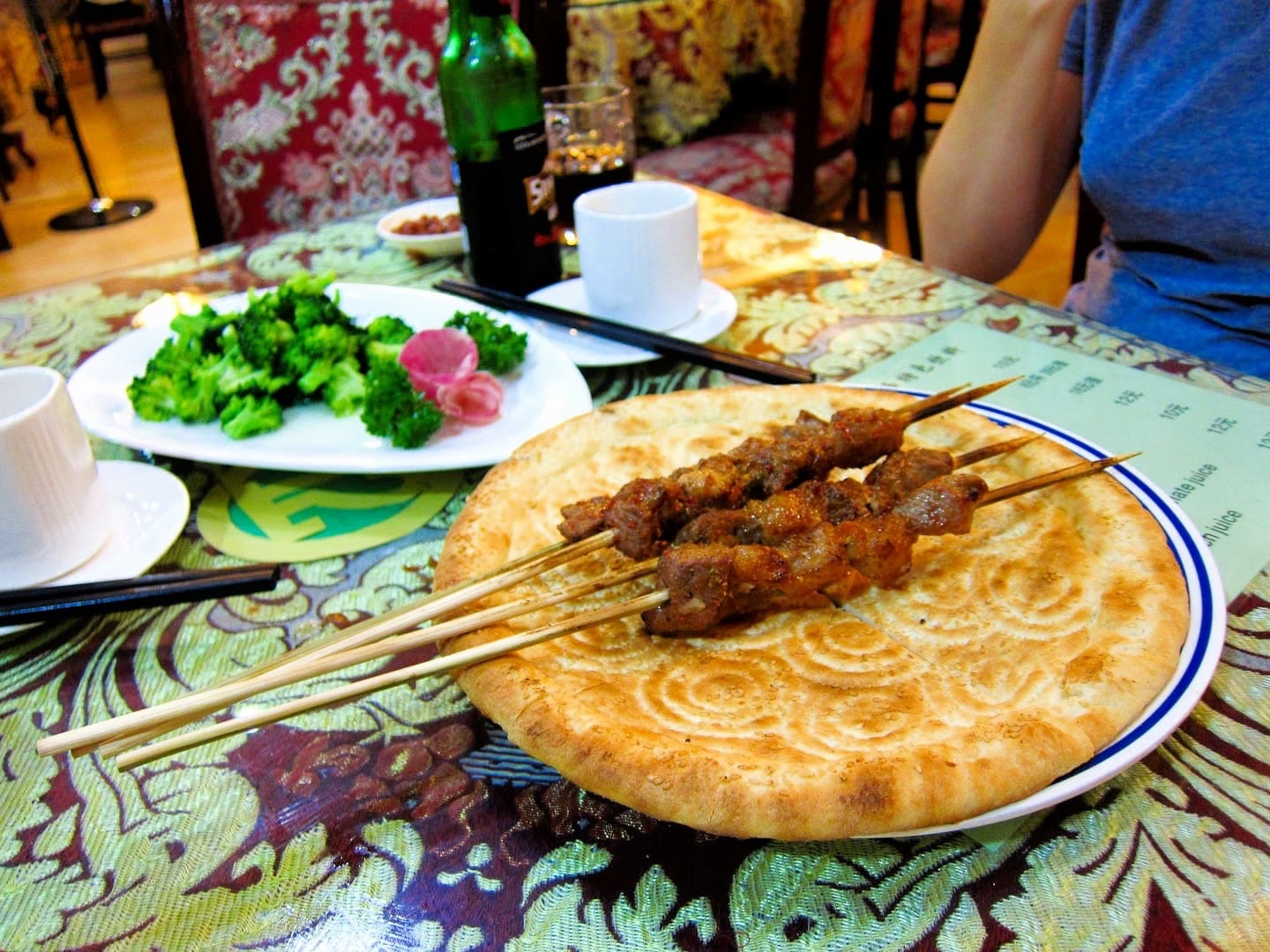 Xinjiang Ya'kexi
A short ride from Pingjiang District in Suzhou, Xinjiang Yakexi restaurant (pronounced Shin'jang Ya-KESH-ee) serves up delicious Uyghur (WEE'ger) Muslim cuisine for those craving something apart from the city's norm.
Yakexi is a bit of a walk from the main tourist area, but well worth the effort.
We chose four delicious food items — lamb kabob, flatbread, veggies, and rice — from what must have been a menu of over 100.
The food was tasty, but the highlight of the menu (at least for me) was the unusual Uyghur Sinkiang Black Beer which, according to RateBeer.com, is actual an Amber Lager…a very dark Amber Lager at that.
Very tasty and very unlike any other beer I've had in China.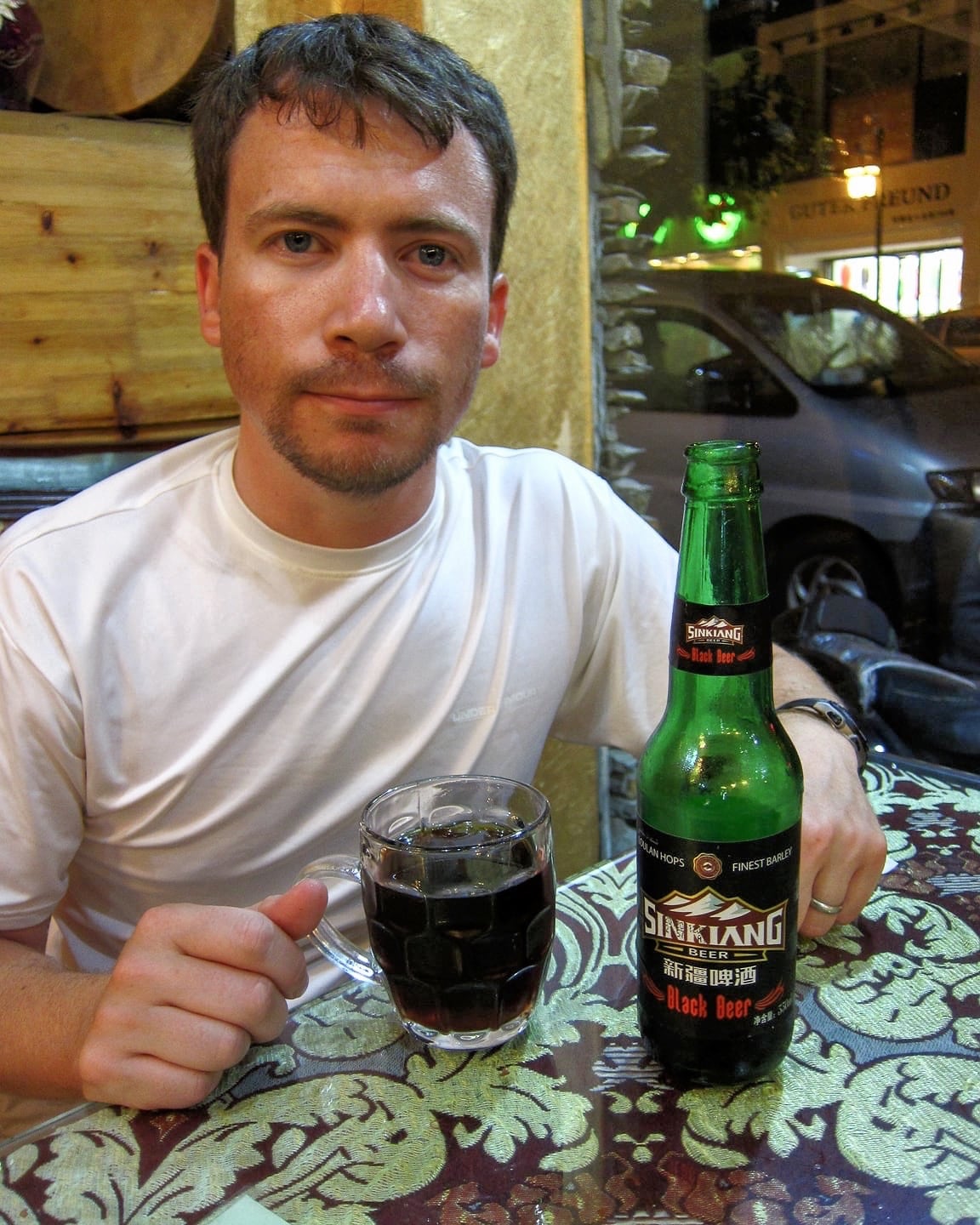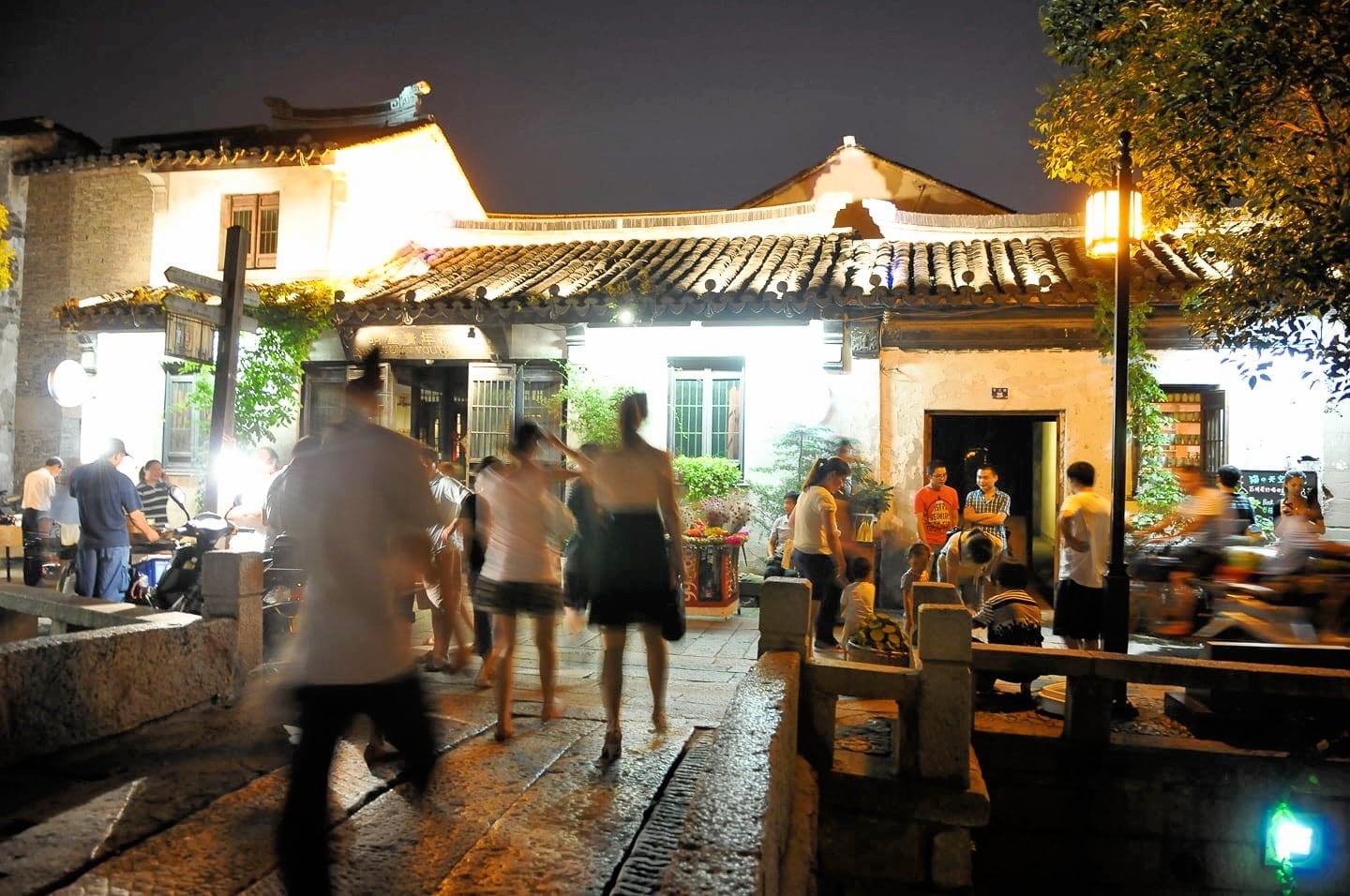 Where to Stay in Suzhou
Mingtown Youth Hostel isn't your typical youth hostel. In fact, I'd put it squarely in the budget-midrange guesthouse category, with budget rates (at least for China).
Mingtown is located in a historic building right on the Pingjiang Canal (and Night Market), and is centrally located between Suzhou's top attractions.
We stayed in a double room which came with air conditioning, en suite bathroom, and standard amenities. Rates are currently US$30 per night after taxes (2019).
The staff were friendly, incredibly knowledgable, AND spoke excellent English. There is an excellent coffee shop attached that serves Western standards, and washing machine and drying area on the top floor.
It's been a few years since our stay, but I'm very pleased to see that (here in 2019) Mingtown's still getting excellent reviews.
Highly recommended if you are visiting Suzhou!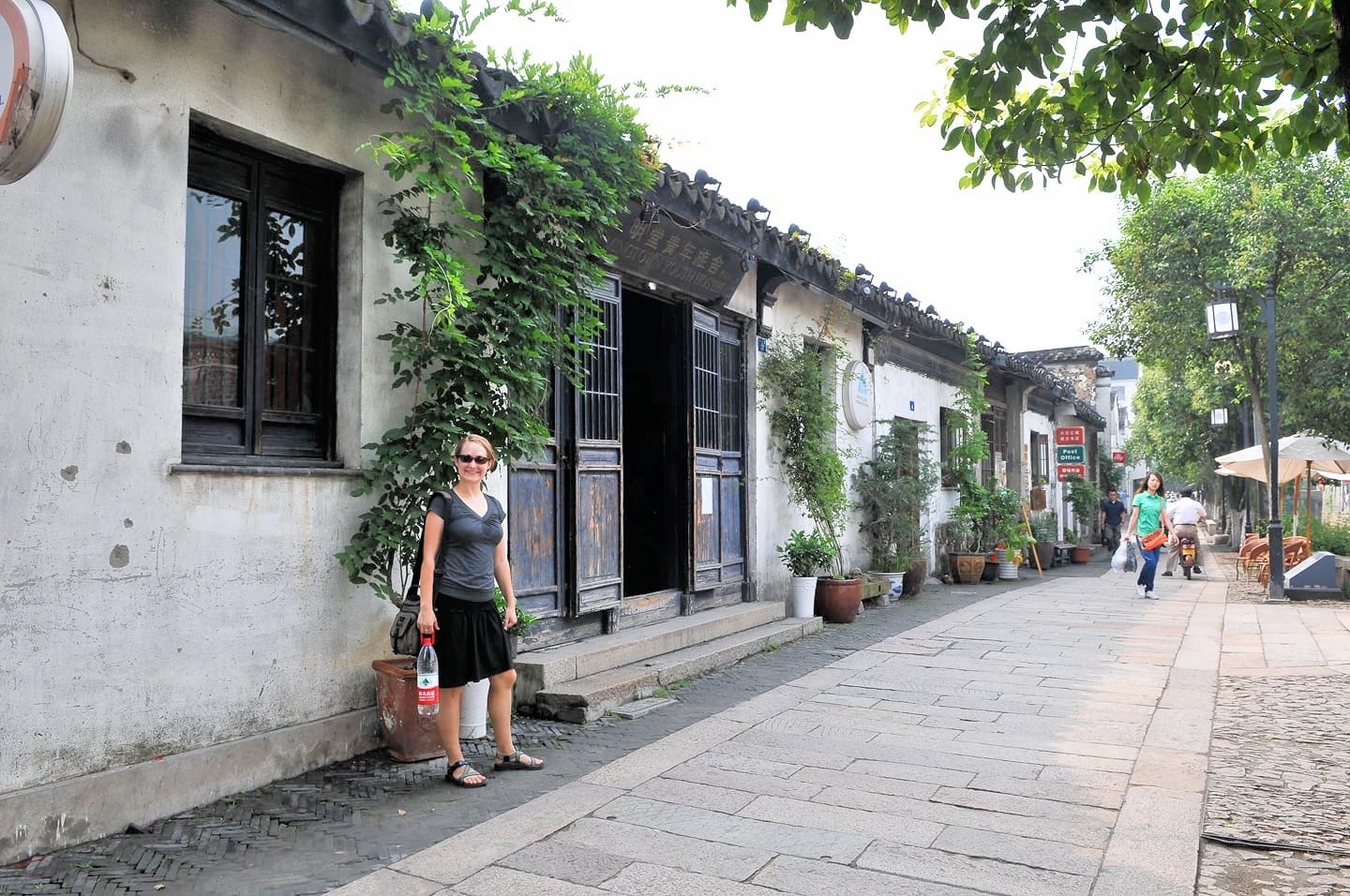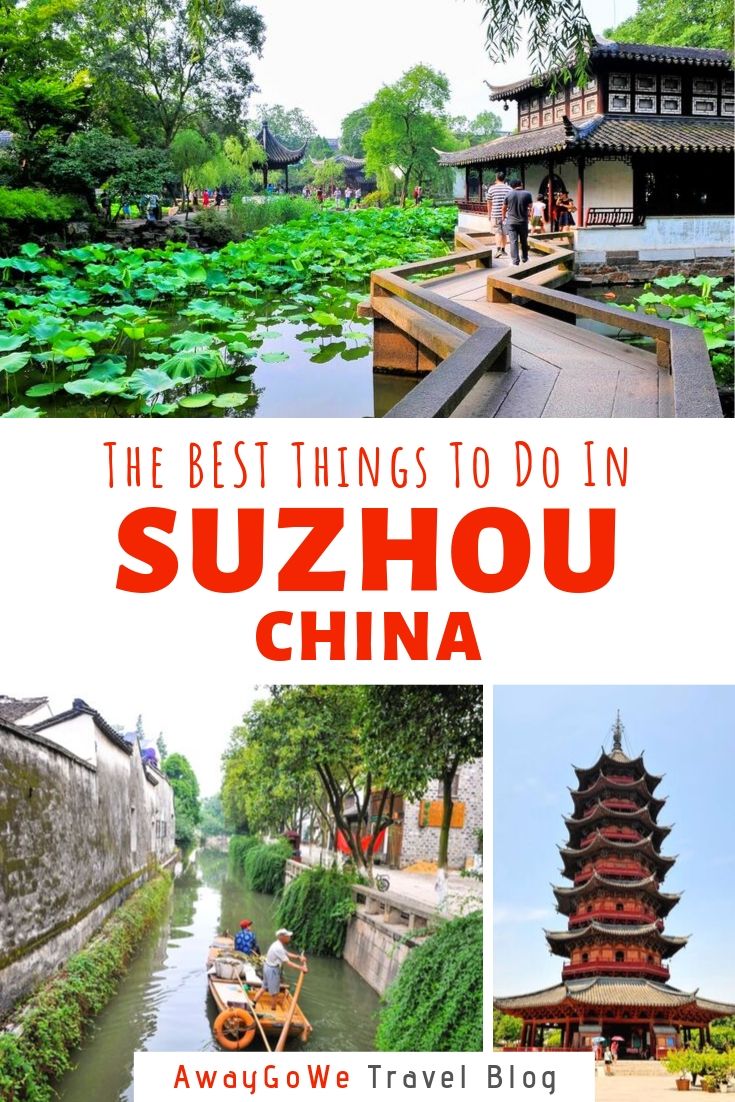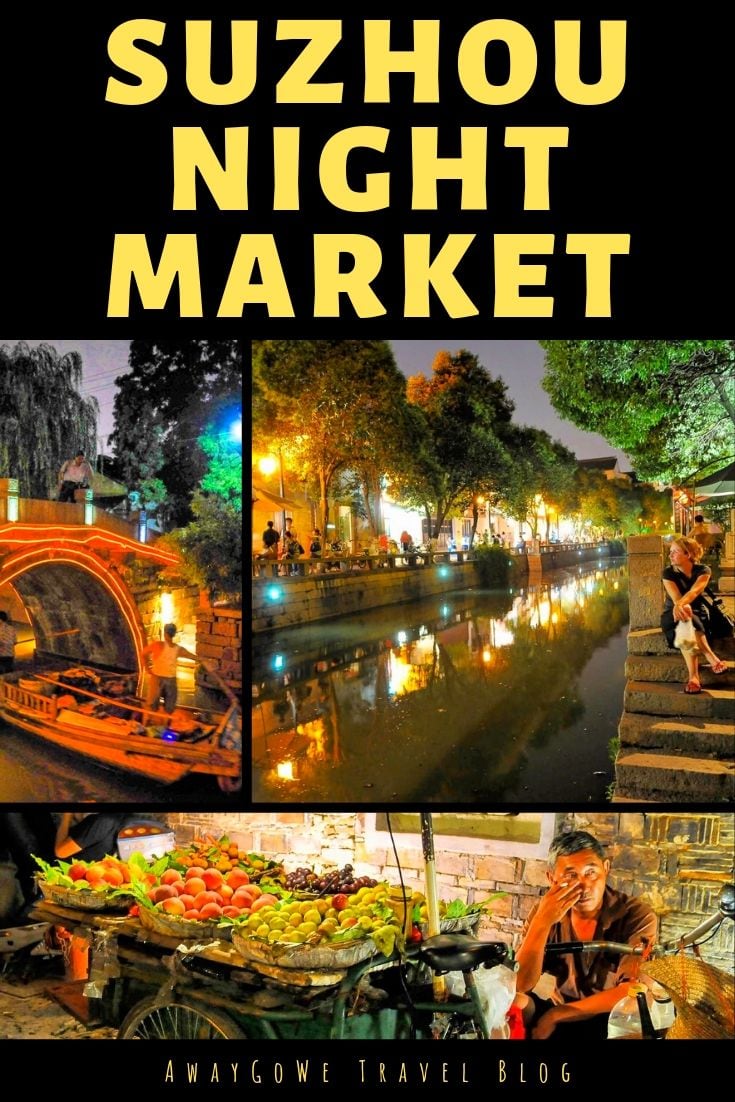 03 Oct 2019
5 Jul 2012
I've been a blogger and travel writer since 2010, covering everything from luxury hotels to hidden destinations and travel gear. Originally from Oregon, I've spent the majority of the past 20 years living outside of the U.S., in Mexico, the Caribbean, Southeast Asia, Africa, and Europe. I received a BA in Communications (Journalism) from Boston College, and an MA in International Development Studies from the George Washington University. I'm passionate about exploration and discovery, and providing independent, thoroughly-researched, ad-free advice for travelers.