We left central Hong Kong for a day to visit the island of Lantau, particularly the stilted fishing village of Tai O and the aptly named Hong Kong Big Buddha (a.k.a. Tian Tan Buddha or 天壇大佛).
Instead of signing up for a tour, we chose to put the trip together ourselves for pennies, relying on Hong Kong's excellent public transportation network, which worked out swimmingly.
Read more about getting to Lantau and Big Buddha independently, or continue on for more about the fascinating Hong Kong Big Buddha.
For some background on what brings us to Hong Kong Big Buddha, read up on our Asia honeymoon backpacking adventure and what brought us to China.
Hong Kong Tian Tan Buddha Quick Facts
| | |
| --- | --- |
| Also Known As: | Tian Tan or 天壇大佛 |
| Location: | Ngong Ping Village, Lantau Island, Hong Kong |
| GPS: | N22°15'15.451″ E113°54'17.981″ |
| Height: | 34 meters (112 feet) |
| Year Constructed: | Began: 1990, Unveiled: 1993 |
| Stair Steps to Big Buddha: | 268 |
| Kid-Friendly?: | Yes! |
| Time Requirement: | 1-2 hours at Big Buddha complex; 4-6 hours on Lantau, including travel time from central Hong Kong. |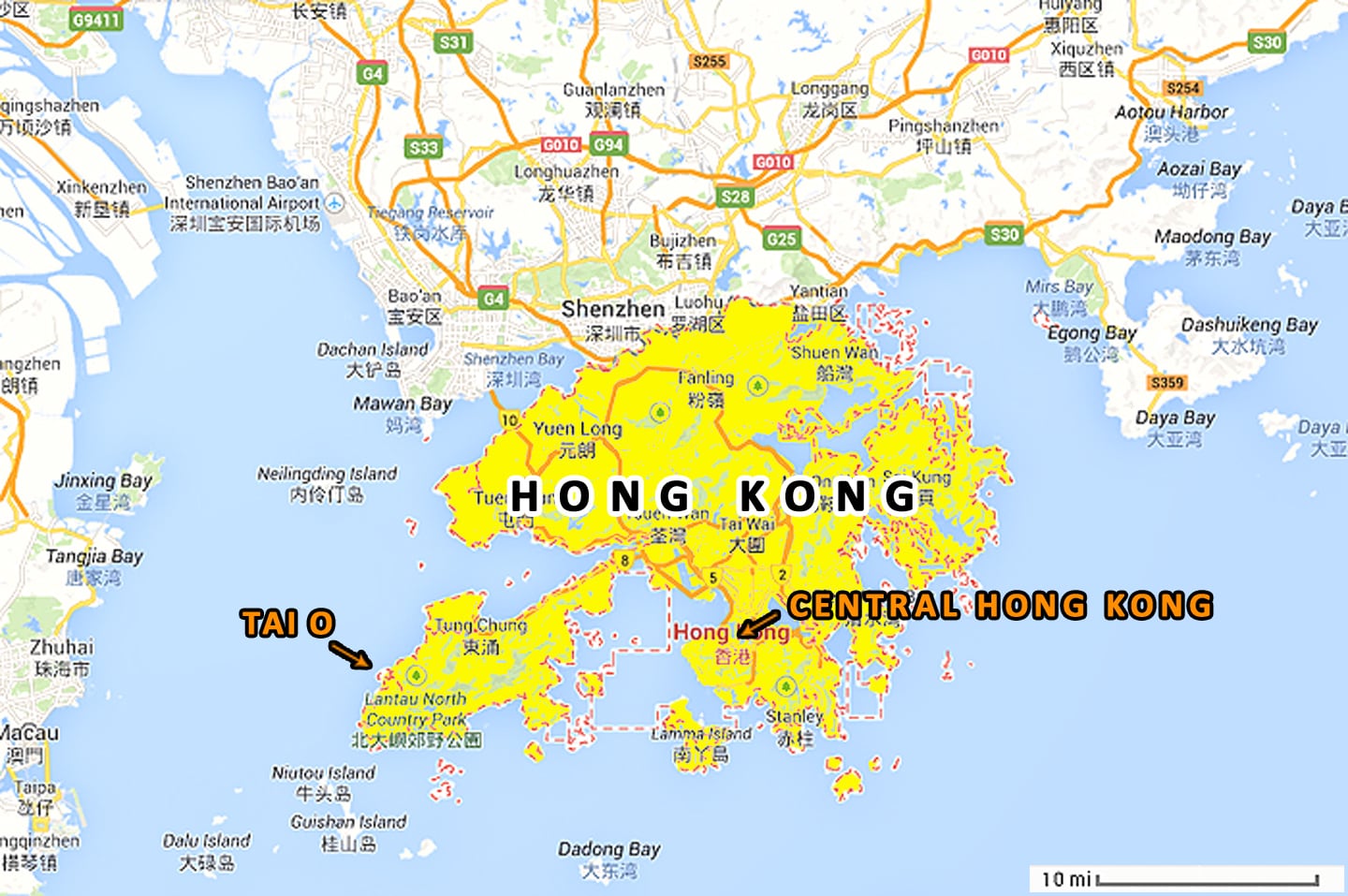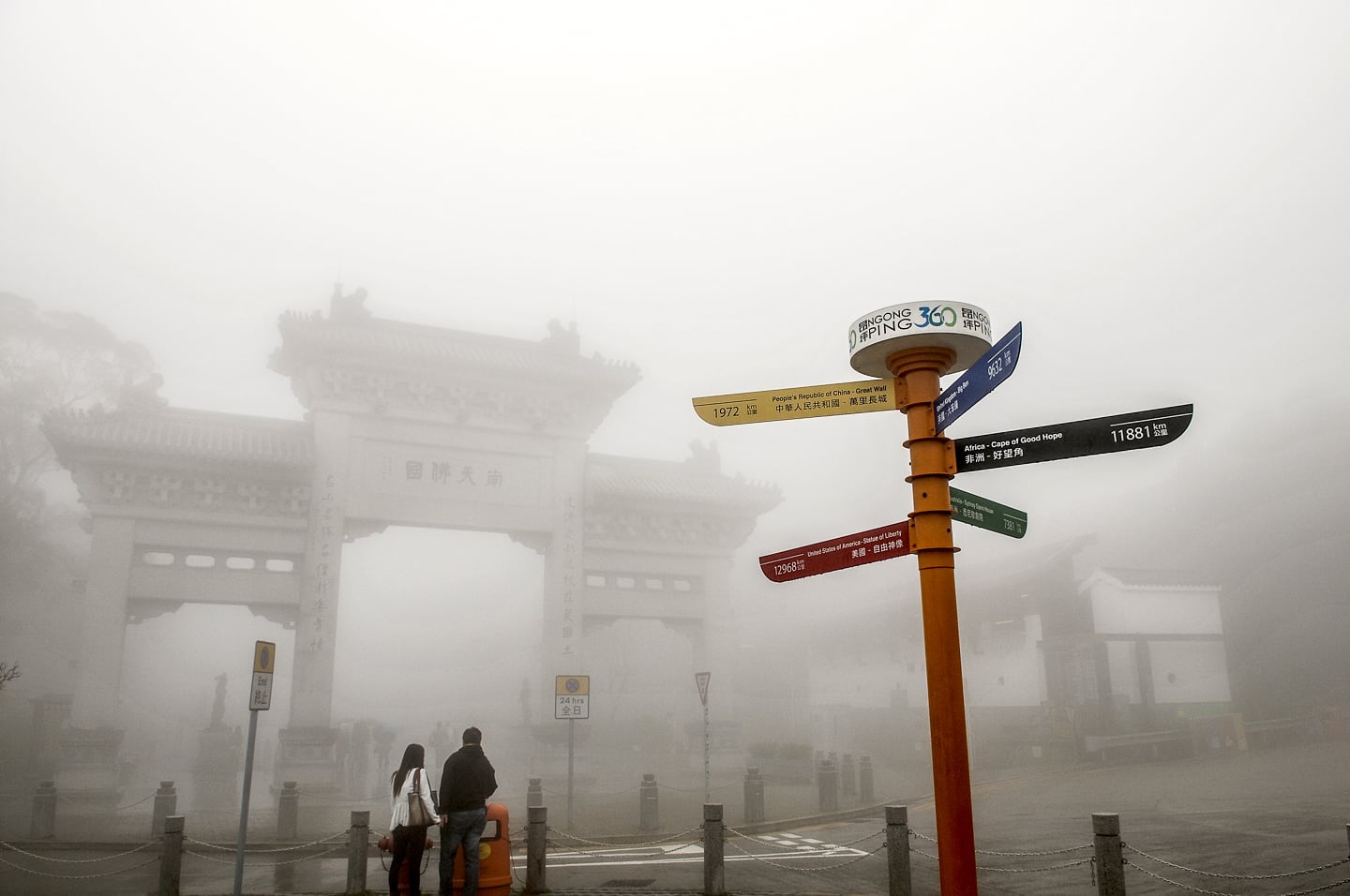 We visited Hong Kong in early December. Temperatures were chilly but comfortable.
The Big Buddha sits high upon a hill in Lantau's interior and can be seen from as far away as Macau on a clear day (as you might expect from a 10-story bronze statue sitting atop a hill of 268 steps).
This, however, was not a clear day. More on that in a moment.
On the plus side, the fog did help to dramatically reduce the number of visitors to the Big Buddha, which is huge given the popularity of the site.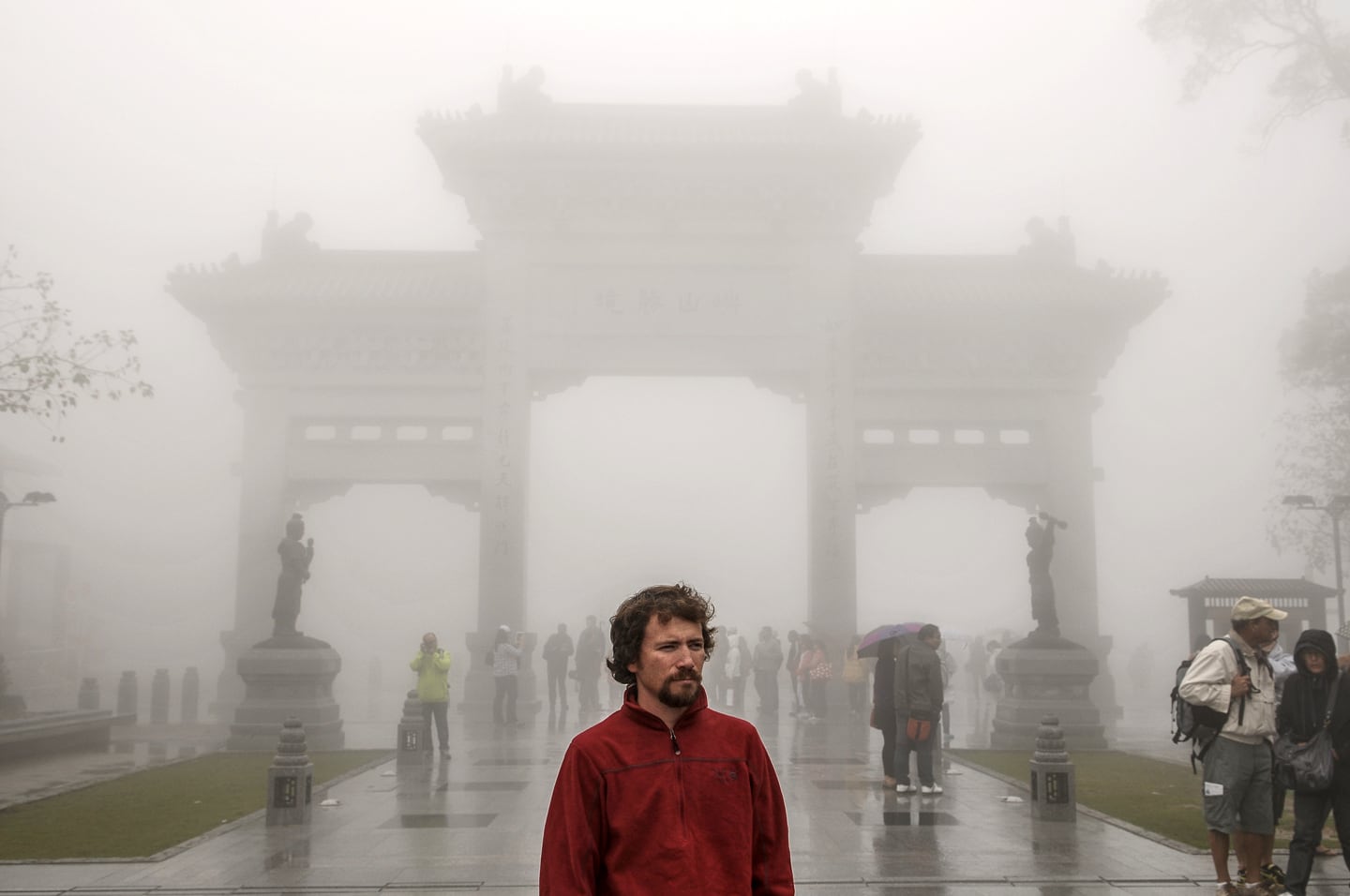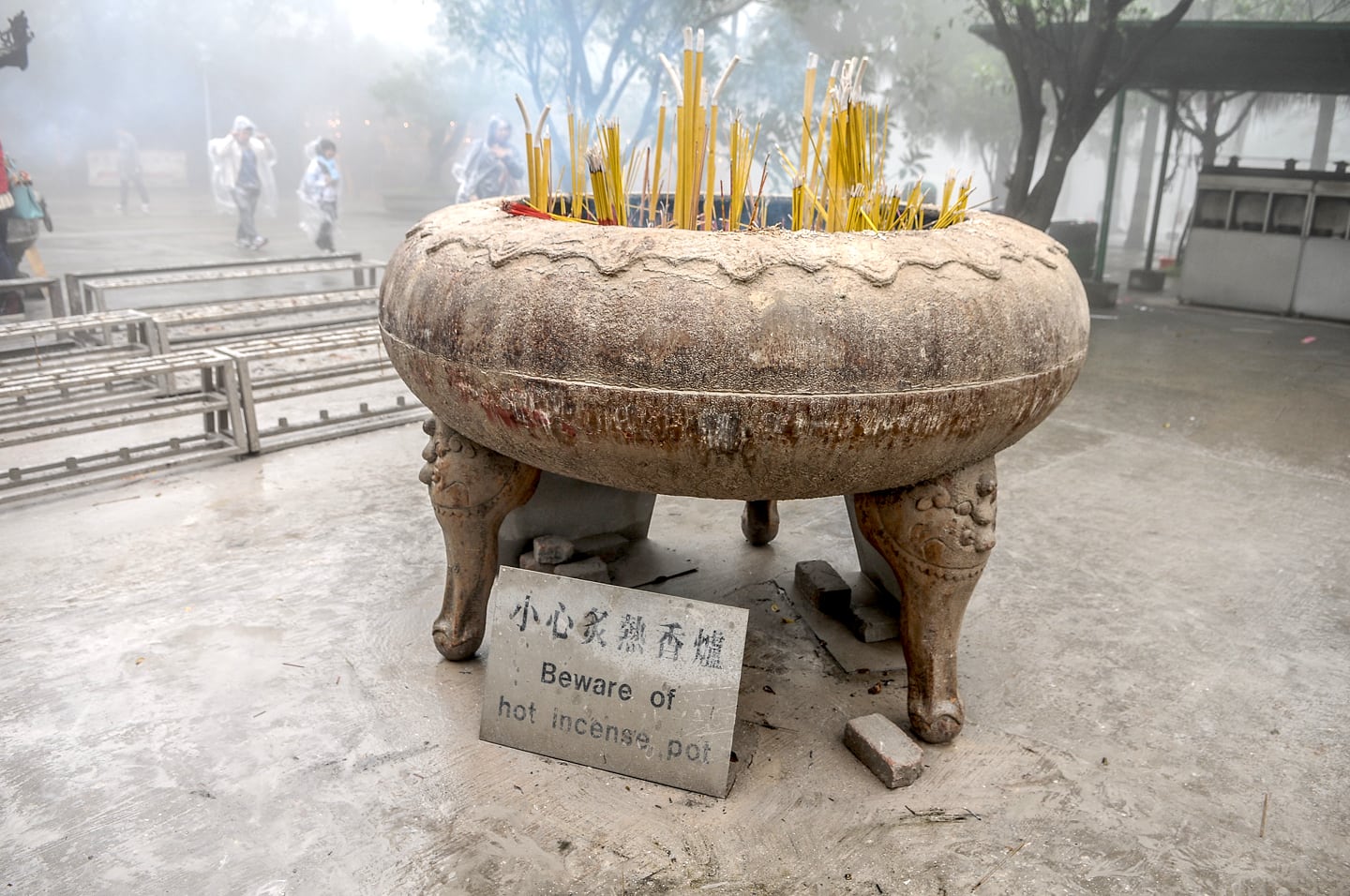 The Hong Kong Big Buddha has become one of the area's biggest tourist attractions, so it's sometimes easy to forget that the complex is an important place of worship for many.
Be respectful and plan accordingly.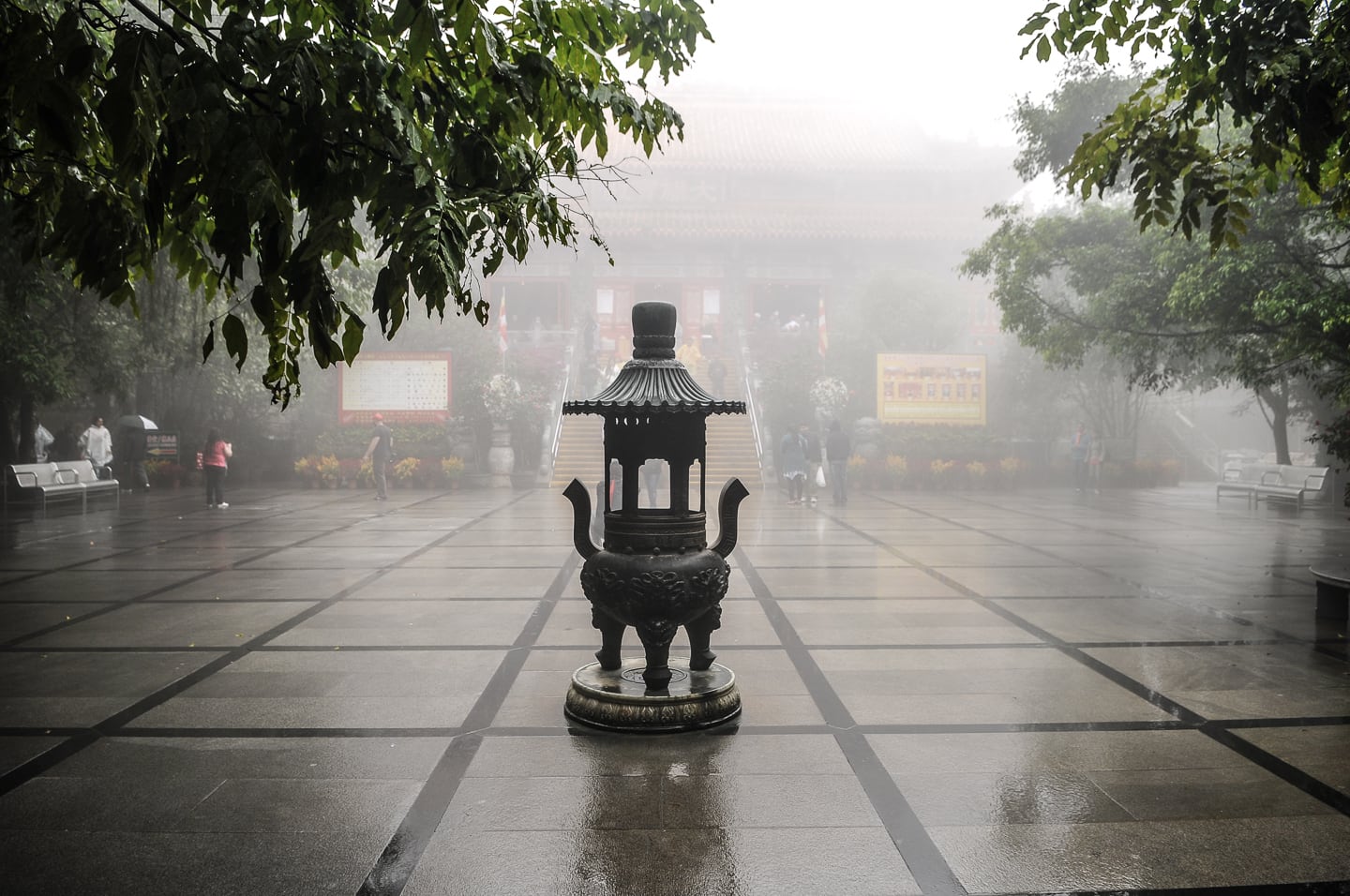 Po Lin Monastery
The Hong Kong Big Buddha shares the site with a sprawling pavilion complex, the Po Lin Monastery, which was lovely in its own right — even on a dreary day.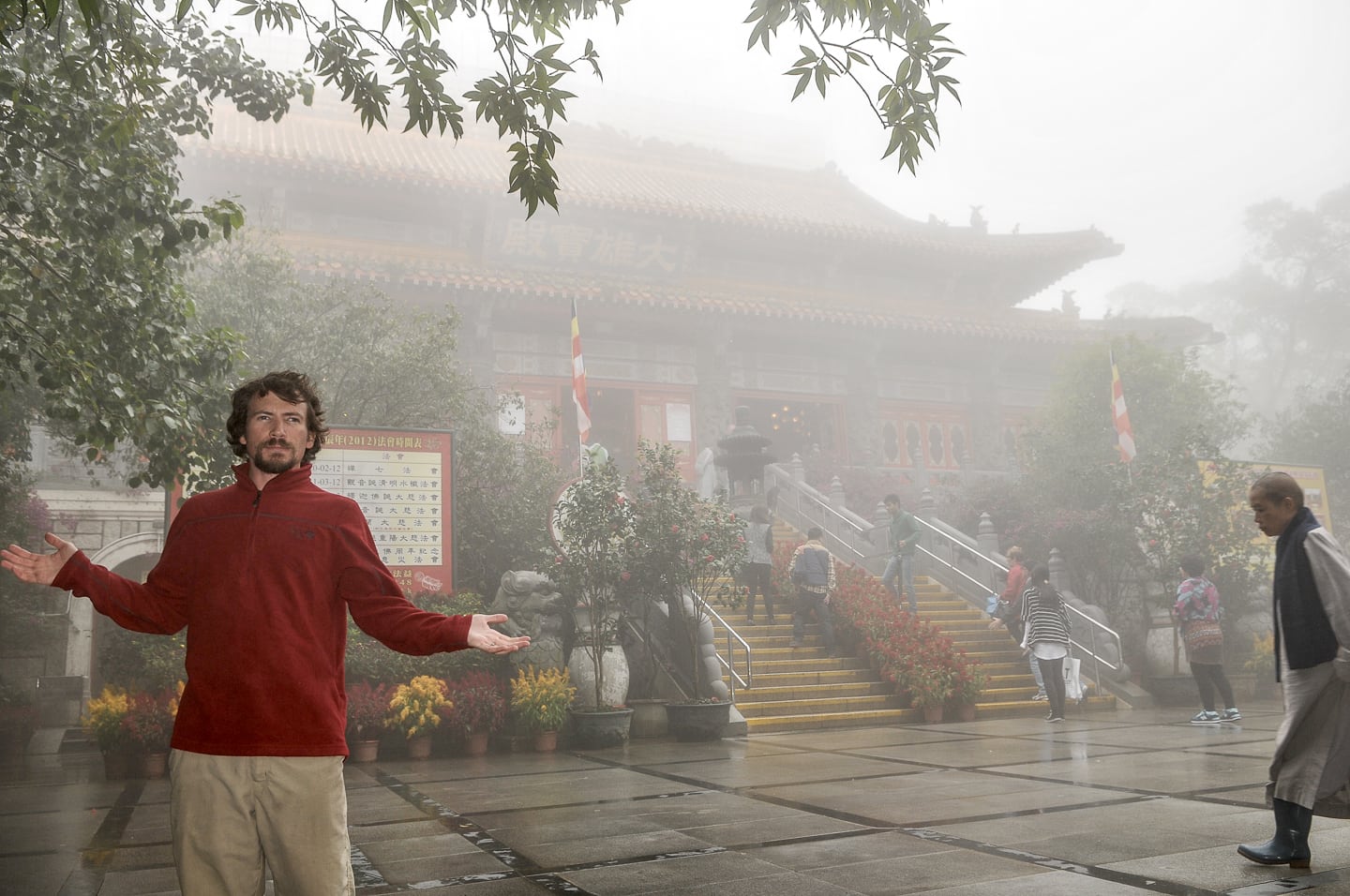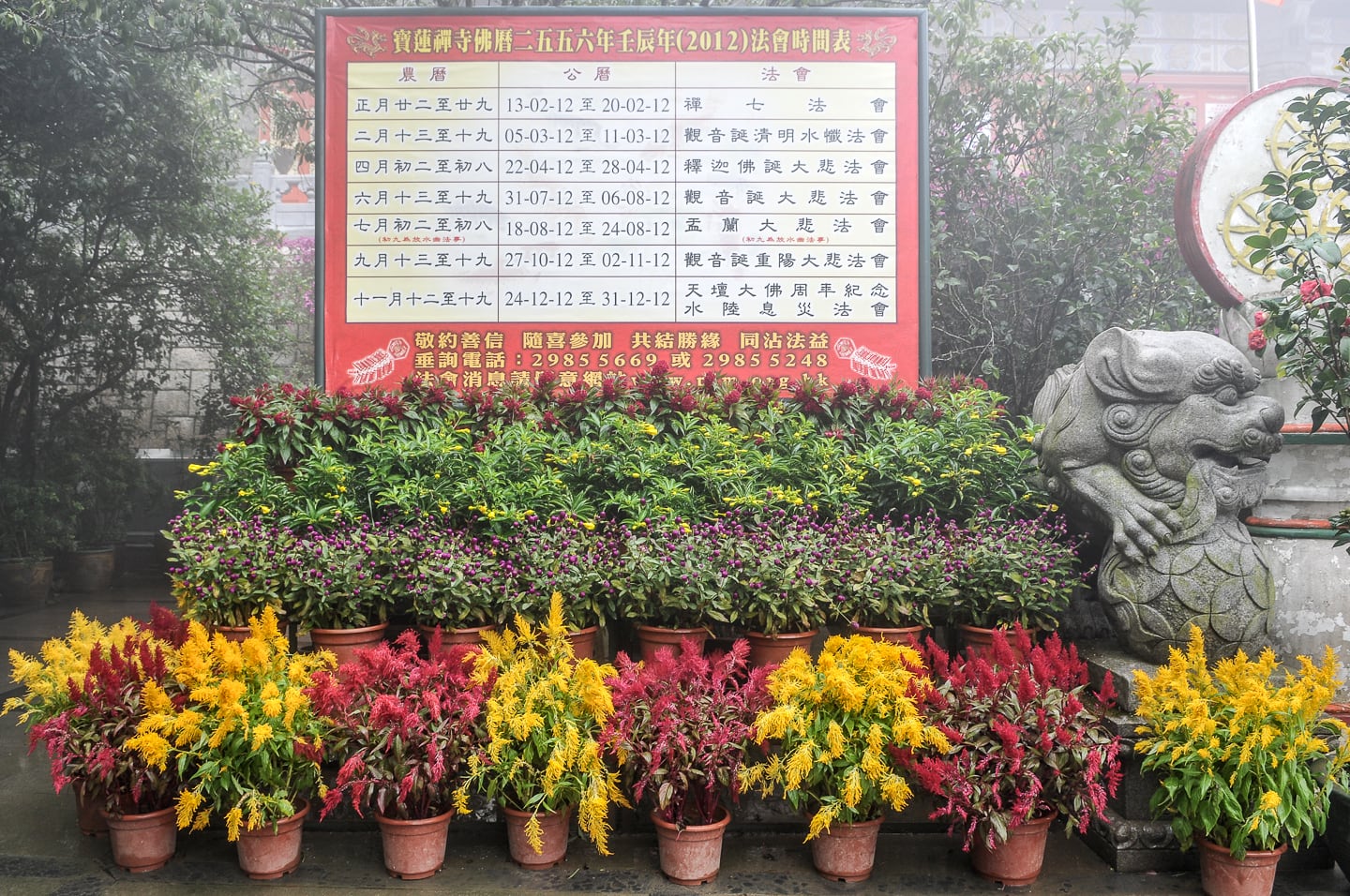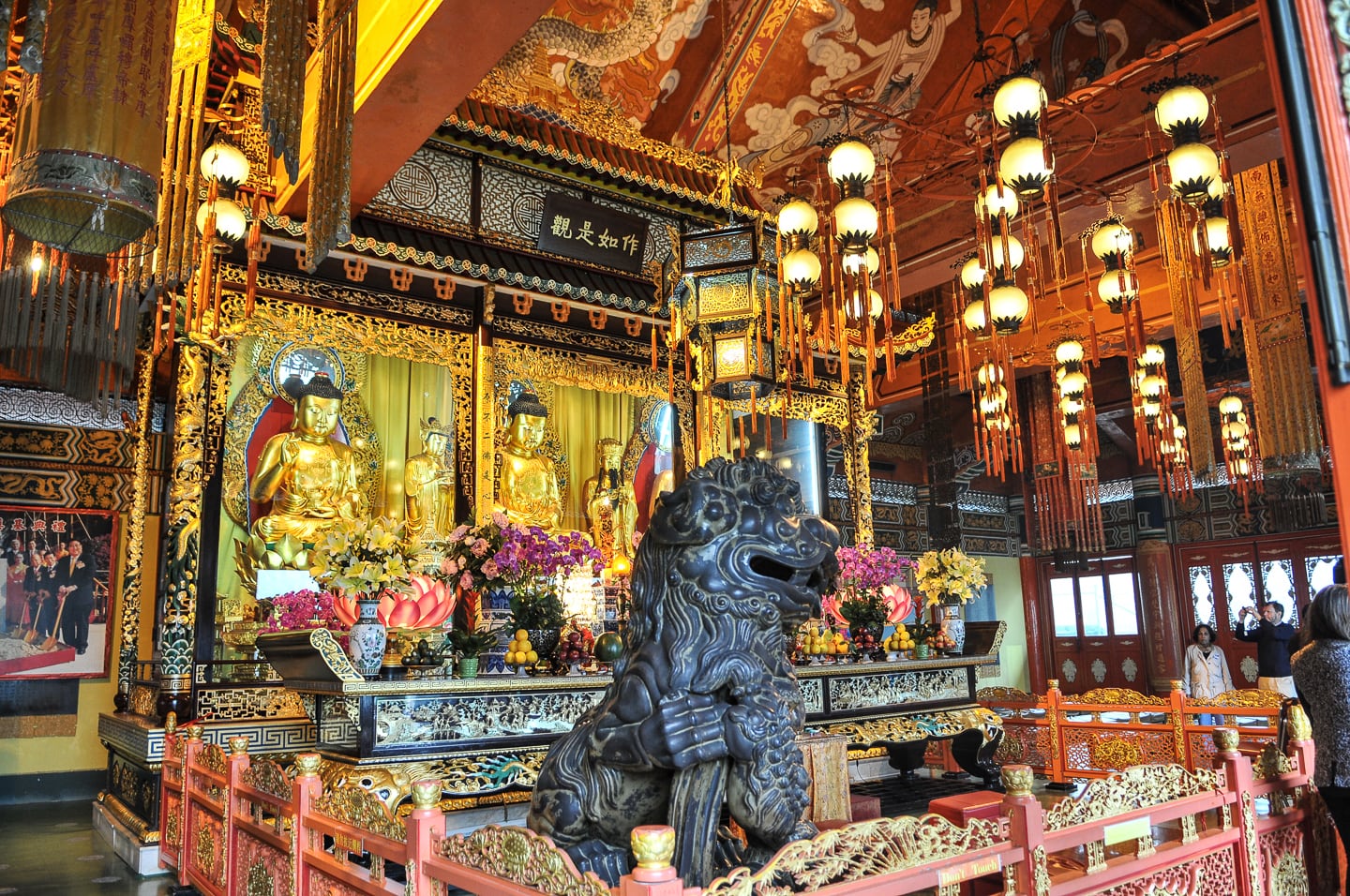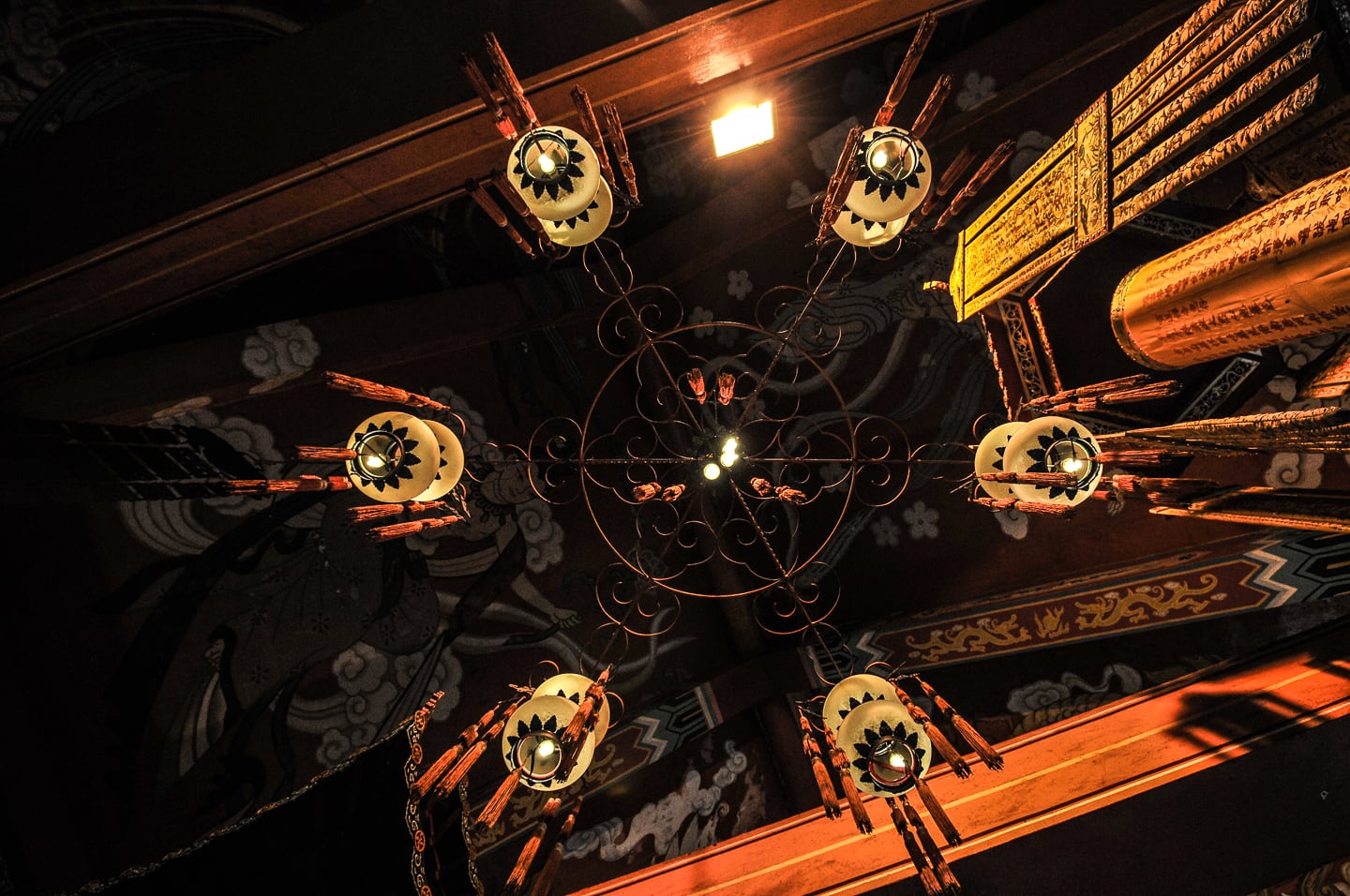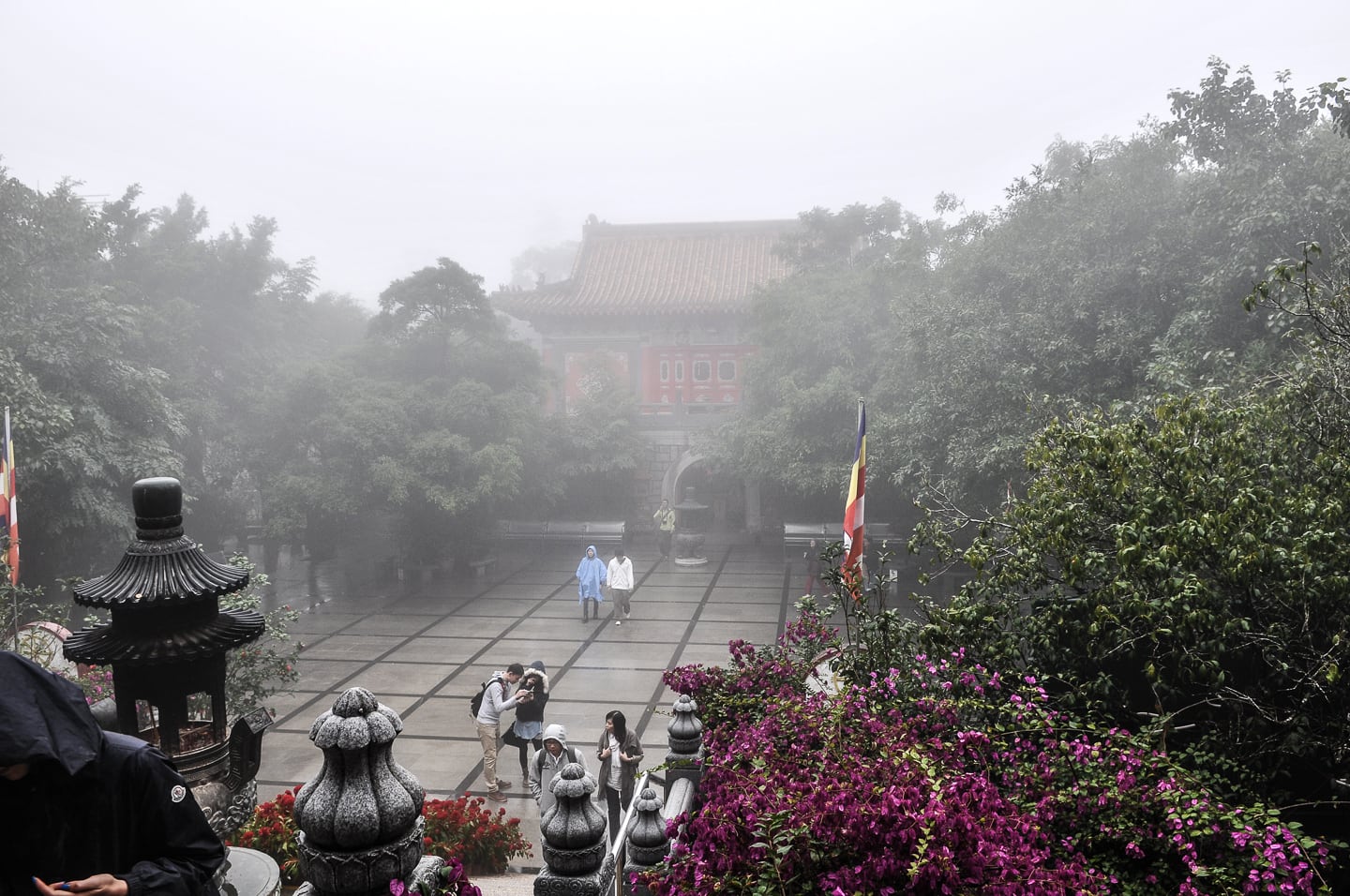 Enough already! On to the Buddha!
…and, which way might that be again? Ah, right!
Skip the Hassle
Buy Tickets In Advance
Ascending the Stairs to Big Buddha
Construction of the Tian Tan Buddha began in 1990 and was completed on 29 December 1993, which marks the anniversary of the day the original Buddha achieved enlightenment.
The Buddha faces north, which makes this statue unique, as great Buddha statues generally face south.
Climbing the steps and still not seeing the massive Buddha likeness, but we know he's around here somewhere… 234…235…236…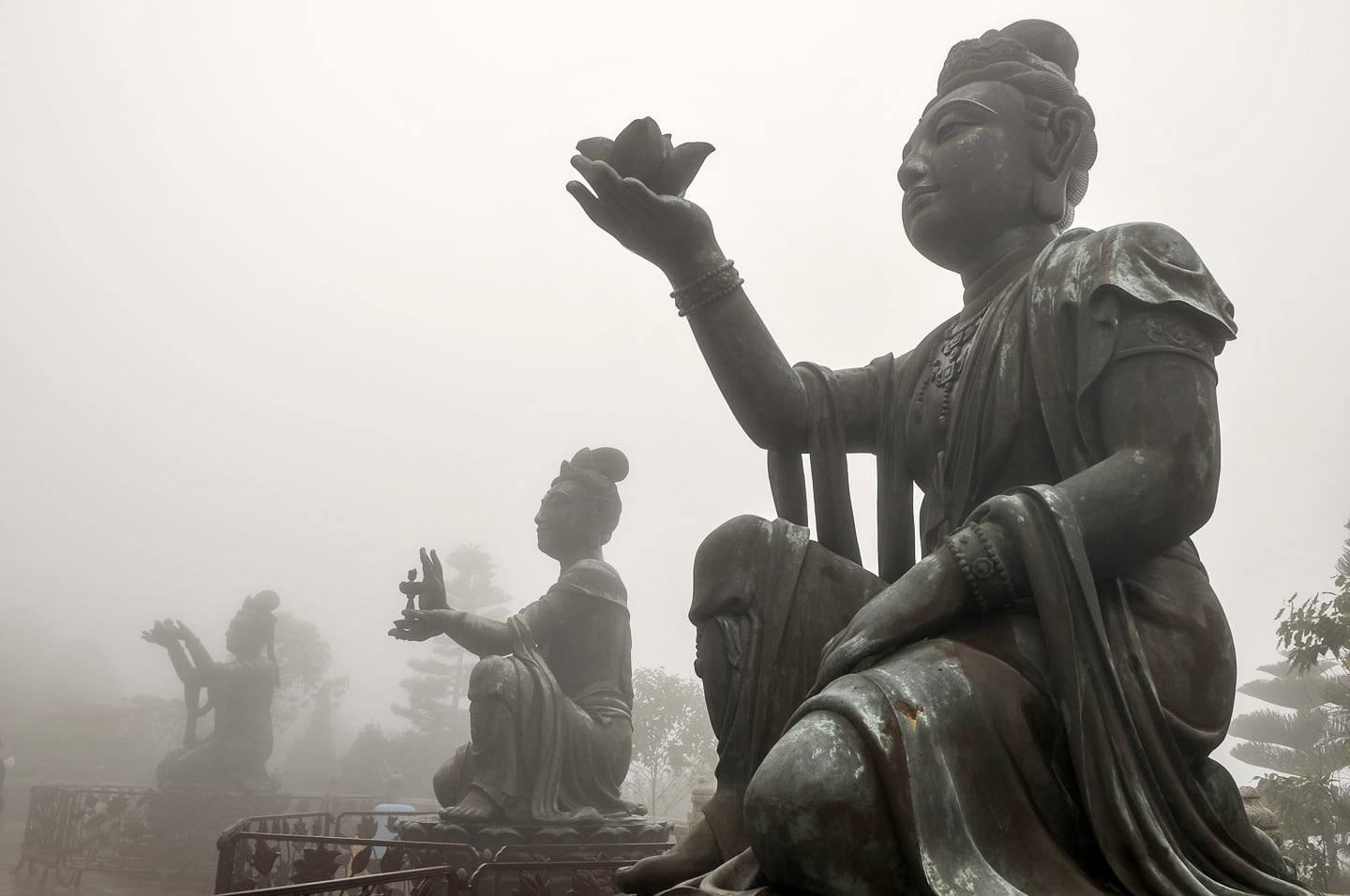 The Buddha is ringed by six smaller statues known as the "Offering of the Six Devas"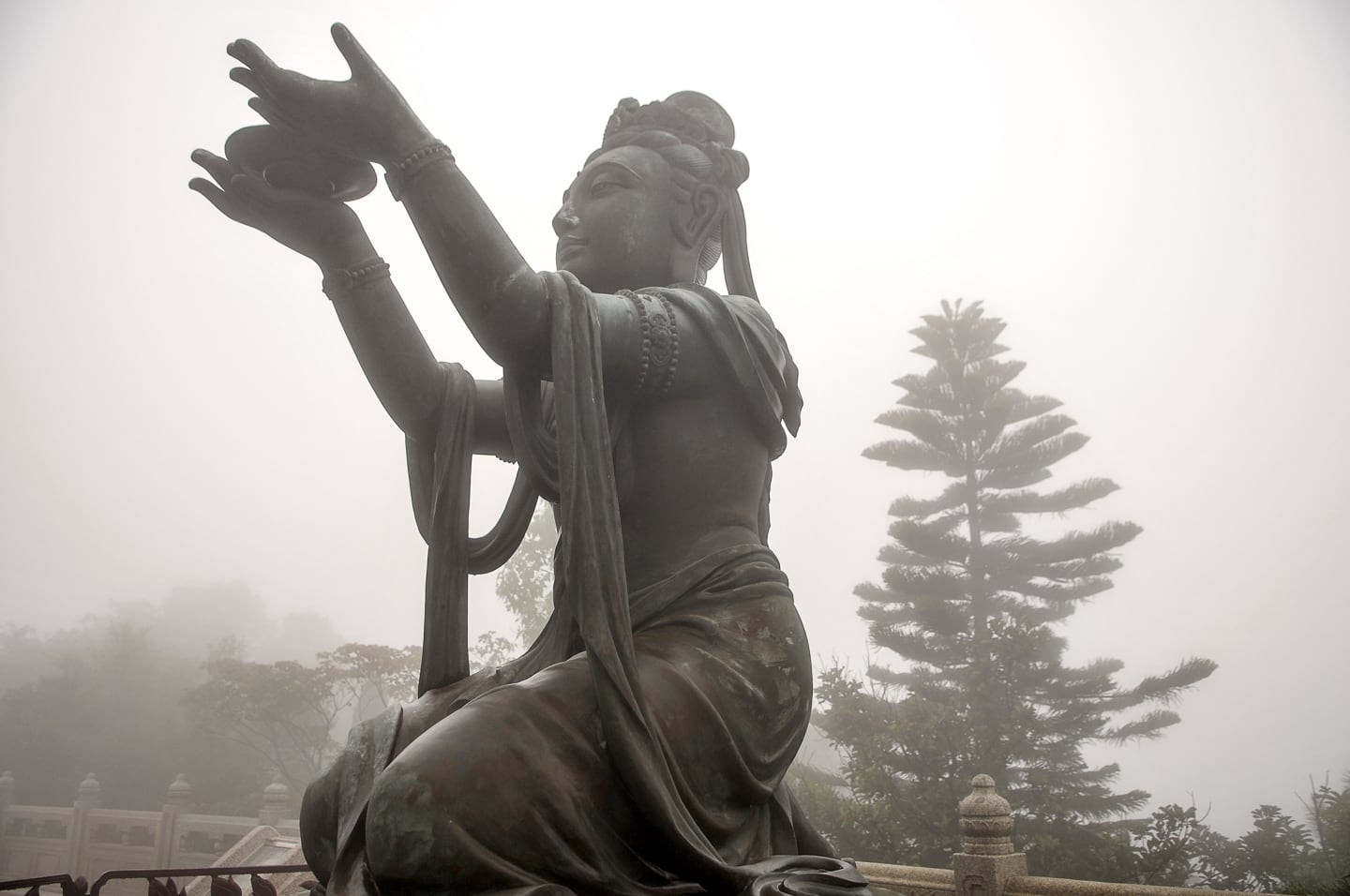 Finally, after climbing 268 steps the magnificent Tien Tan Buddha comes into focus…well, sort of.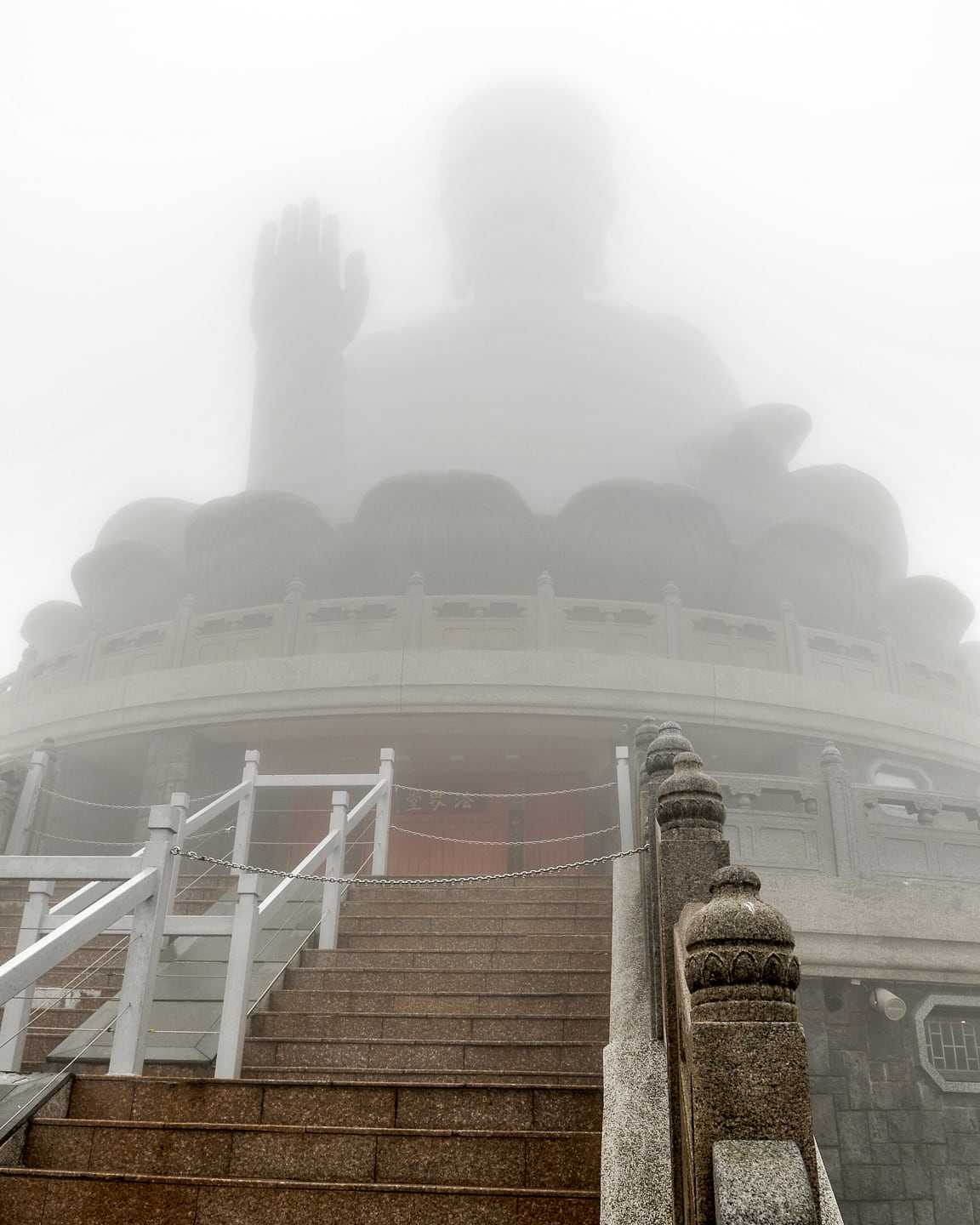 Is that you Big Buddha?
"Hi, Guys…"
And then all of a sudden the earth begins to move and the clouds part and…
…TA DA!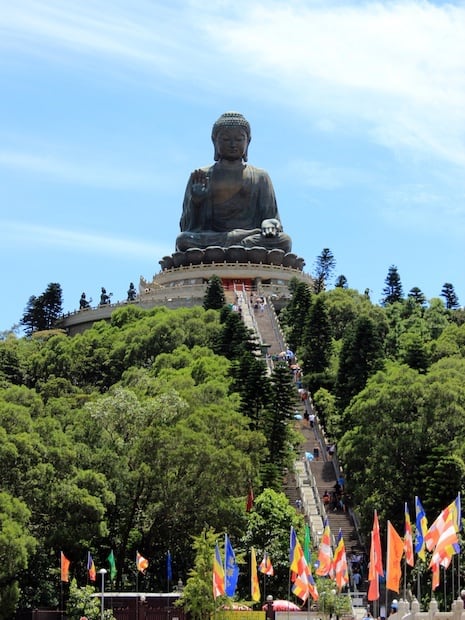 Yeah…not so much.
But just in case you are wondering what this guy really looks like, I yanked a pic from wikicommons.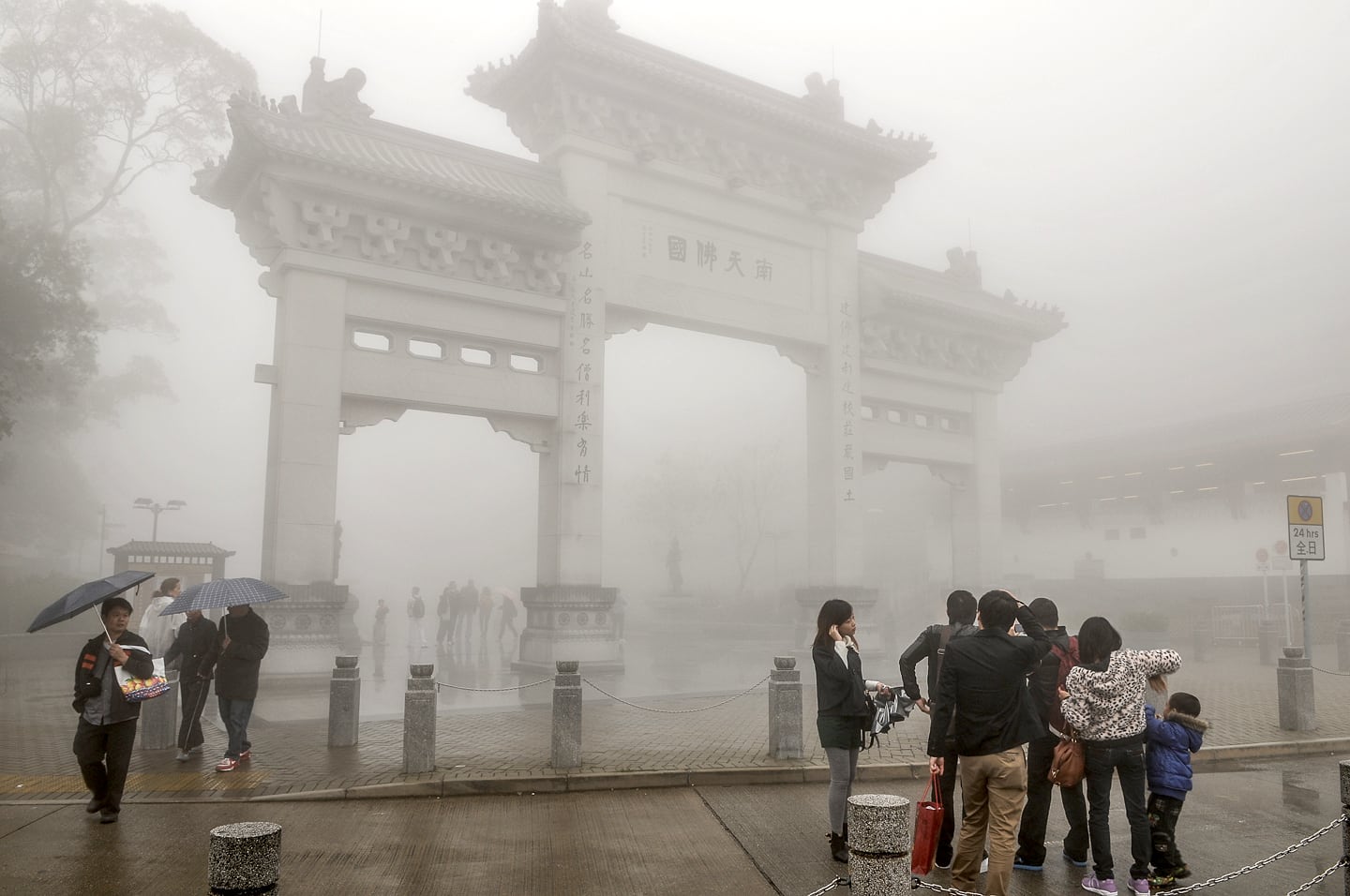 2019 Update
Things change so rapidly in this part of the world that it's next to impossible to keep up (but we try our best).
Ngong Ping Village
Since our visit, an entire tourist village has sprung up at the foot of Hong Kong Big Buddha called Ngong Ping Village.
But don't be fooled!
While the village is built in the classical style, it is a very recent addition specifically aimed at meeting the growing influx of domestic and international visitors to the Hong Kong Big Buddha complex.
Ngong Ping offers everything you'd expect from a wholly commercial endeavor meant to satisfy the insatiable material needs of today's growing tourist masses, such as gift shops, interpretive exhibitions, and an array of dining options (including…um…Starbucks and Subway…).
Our advice is to skip the eateries at Ngong Ping and eat inside Po Lin monastery.
The village also offers an informational film on the life of the Buddha, which might be a good place to start, depending on your personal knowledge of Siddhartha Gautama.
Ngong Ping 360 Cable Car
Pre-cable car, Lori and I took a public ferry to Lantau from central Hong Kong and returned on the MTR, utilizing public buses to get around the island.
Now, they've made it easy to skip all the fun of discovering any semblance of real Lantau Island life and beeline it to the Hong Kong Big Buddha, taking the MTR to Tung Chung station (in Tung Chung Town), then transferring to the Ngong Ping Cable Car (sometimes called the Big Buddha Hong Kong cable car) that zips you up and over Tung Chung Bay dropping you about 1 km away from the base of the statue.
Lines for the cable car can be horrendously long, so it's best to get your cable car tickets in advance, which can be done at many large international hotels in the area.
Traveling with Kids to Hong Kong Big Buddha
I know a lot of you with little ones might be going 'woohoo!' to the prospect of getting to Hong Kong Big Buddha faster and with less effort.
My personal advice?
Don't take the easy road just for the sake of avoiding a bit of discomfort. You've made it this far, and Lantau is a truly fun and interesting place to explore on your own. Give your family plenty of time to explore and get around by yourself.
Not going on an organized tour (or jetting there and back via MTR/cable car) doesn't mean not planning ahead.
Get your hands on the local bus schedule and get lost! Even with kids.
The beauty of Hong Kong is the worst that will likely happen is the experience will lead to a bit of unexpected interaction with locals and memories that will last a lifetime.
If your family is into hiking, there are dozens of kilometers of paths around the Big Buddha complex to explore.
There are also a number of fascinating villages on the island to poke around in as well. Getting out of the tourist areas and exploring the neighboring communities was the highlight of our day trip.
Don't miss our guide for the best things to do and where to stay in Tai O fishing village.
One Final Word of Advice
The vast majority of travelers to Hong Kong don't encounter serious issues with safety and security. With that said, we've had stuff happen affecting our travel — severe weather, road accidents, broken bones, and other nasties.
When we've had these sorts of setbacks while traveling, it's been a huge relief to have insurance — from a financial standpoint, but also to have the support of English-speaking health care experts at any hour.
We use and recommend World Nomads for all of our independent travel overseas. We also have close family who have had good experiences with Allianz as well.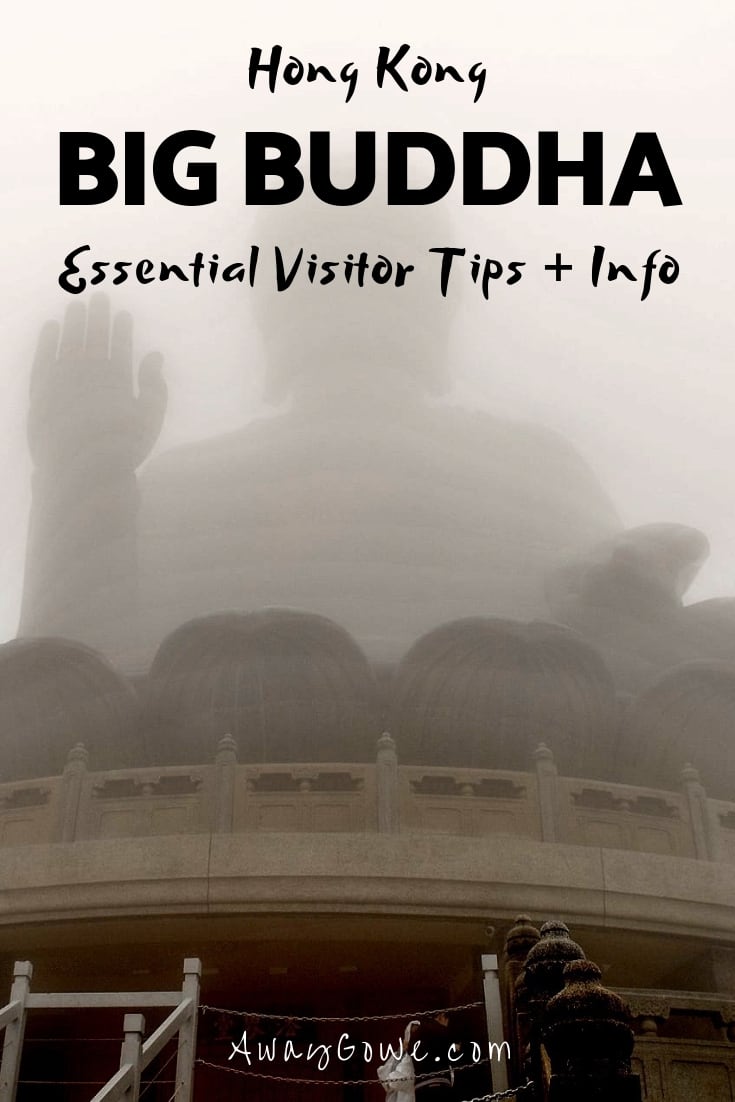 24 Sep 2019
3 Dec 2012