Looking for a worthwhile hike not far from Vientiane? Check out this 2.5-mile loop trail at Wealth Coffee (Cafe Tum Wealth) to a 300 meter high viewpoint in Phou Phanang National Biodiversity Conservation Area.
Over the past 2.5 years, Lori and I have been hard pressed to find anything resembling a proper hike within an hour's drive of the capital.
While the mountainous region to the north of Vientiane is known by travelers and locals for the countless hiking trails on offer, low-lying, brushy, and flat Vientiane is most certainly not.
Which is why we were excited to discover Wealth Coffee and their vast network of trails.
Here is our experience doing this easy day trip from Vientiane, plus helpful tips and a map for doing the hike yourself.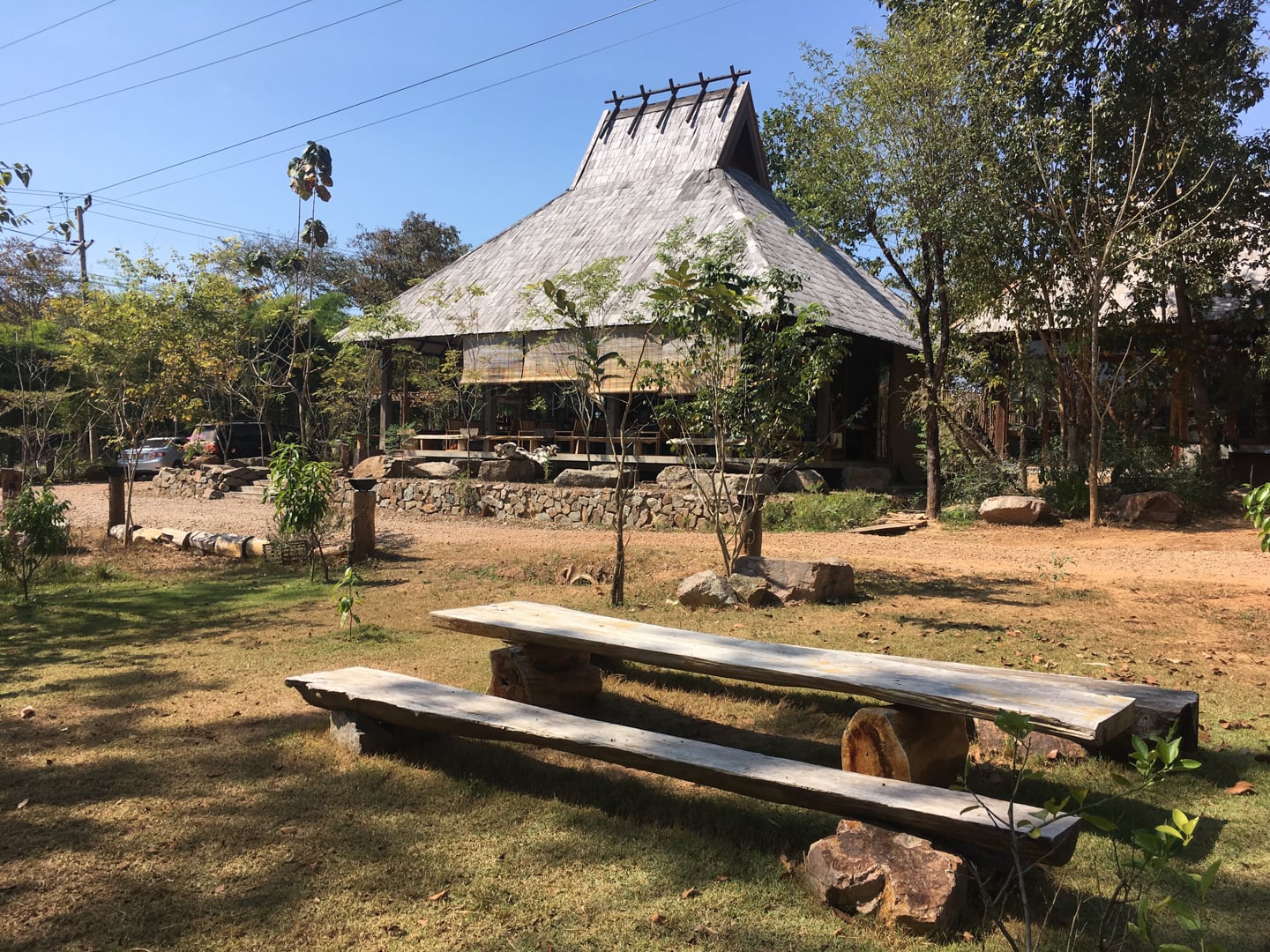 Wealth Coffee
The hike up the mountain begins at Wealth Coffee [find it on the map]. It's not enough to say that Wealth Coffee is a unique coffee shop here in the Capital region, as there are so many unique coffee shops and business models. But Wealth Coffee truly is a place apart.
For one, it's out seemingly in the middle of nowhere (a 40-minute drive from the city center). It sits on a large tract of land that appears to have been set aside for the purposes of being out in nature.
There's not a lot of information online about Wealth Coffee or its trails, and if I hadn't been cattle-rustling two little boys I may have been inclined to enquire with the staff in Lao-glish.
What I can say is that the coffee shop, itself, is a first-rate operation (no instant coffee in a plastic bag here), serving locally grown Lao coffee, along with an extensive menu of Lao and Thai food (with a handful of Western offerings).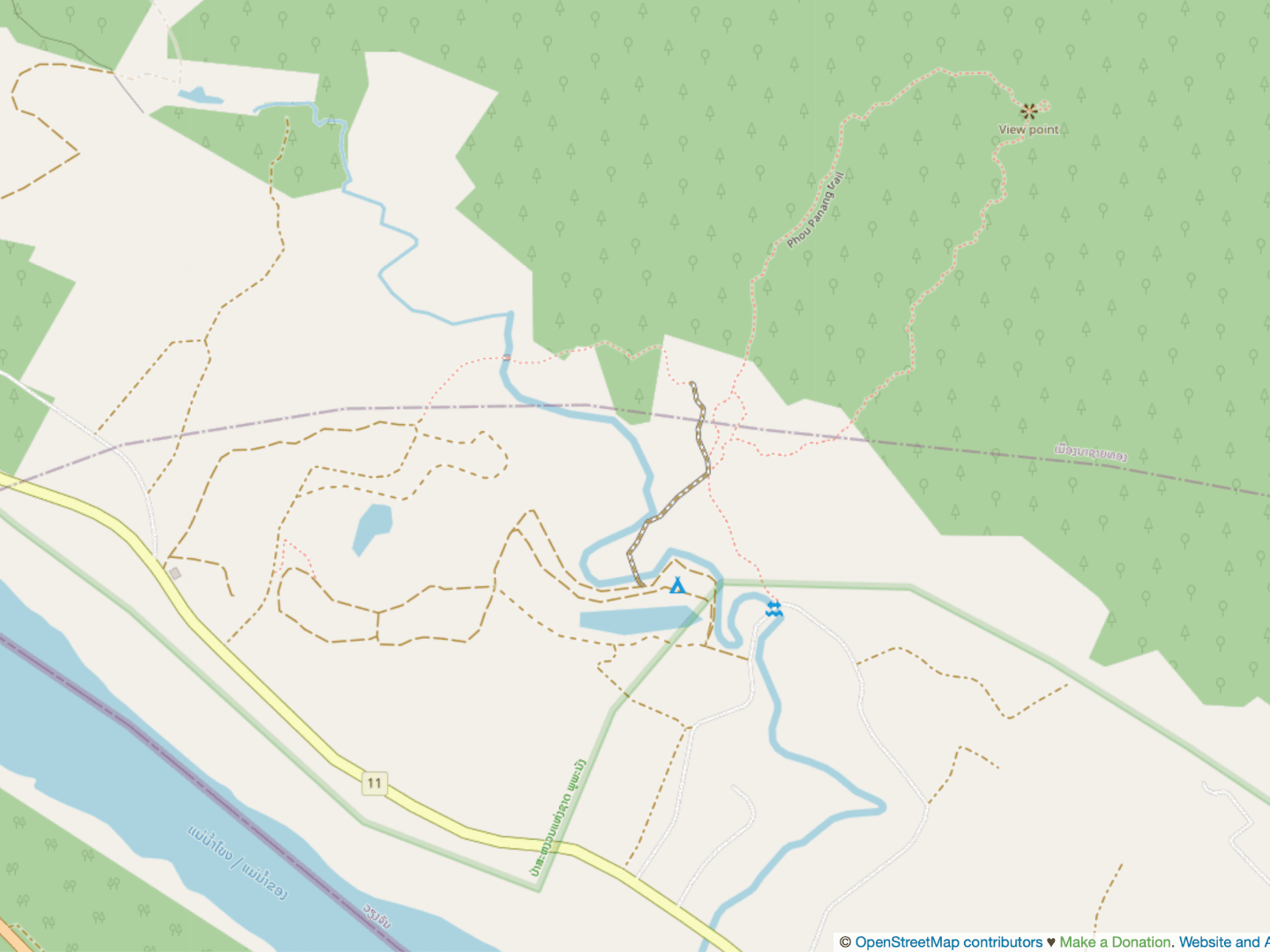 About the Hikes
You can approach this hike two different ways: A relatively flat meander around a semi-forested agricultural area. Or a more strenuous and challenging hike to a scenic viewpoint.
Pond Trails
There are 3 to 5 km worth of trails around the coffee shop encircling a pond and weaving in and out of secondary forest. These trails are excellent for trail running or if you happen to be hiking with small children like we were. This route is the focus of our trip report, and we dive deeper into the hike later.
TRAILHEAD:
Wealth Coffee parking lot.
GPS: 18°01'54.0084″N 102°22'22.4724″E
HIKE TYPE:
Loop/ Out-and-Back
DISTANCE:
About 3-5 km (2-3 miles)
ELEVATION GAIN:
25 m (80 feet)
DIFFICULTY:
Very Easy
EXPOSURE:
Mostly exposed with several pockets of shade.
KID FRIENDLY?:
Yes
Viewpoint Trail
Alternatively, you can skip the walk in the park, so to speak, and head up the mountain to the viewpoint. This provides you with a 2.5-mile loop trail into the Phou Phanang National Bio Diversity Conservation Area with an overall elevation gain of around 300 meters (1,000 ft.) and commanding views of the Mekong valley.
The hike to the viewpoint takes about 2 hours roundtrip and requires good, sturdy footwear, as the trail gets pretty steep and loose in parts. We do not recommend doing this hike during the wet season (May through October) when the area becomes very muddy.
In the past, you had to ask for a key at Wealth Coffee to access the upper portion to the viewpoint. This might not be the case any more, but it never hurts to ask.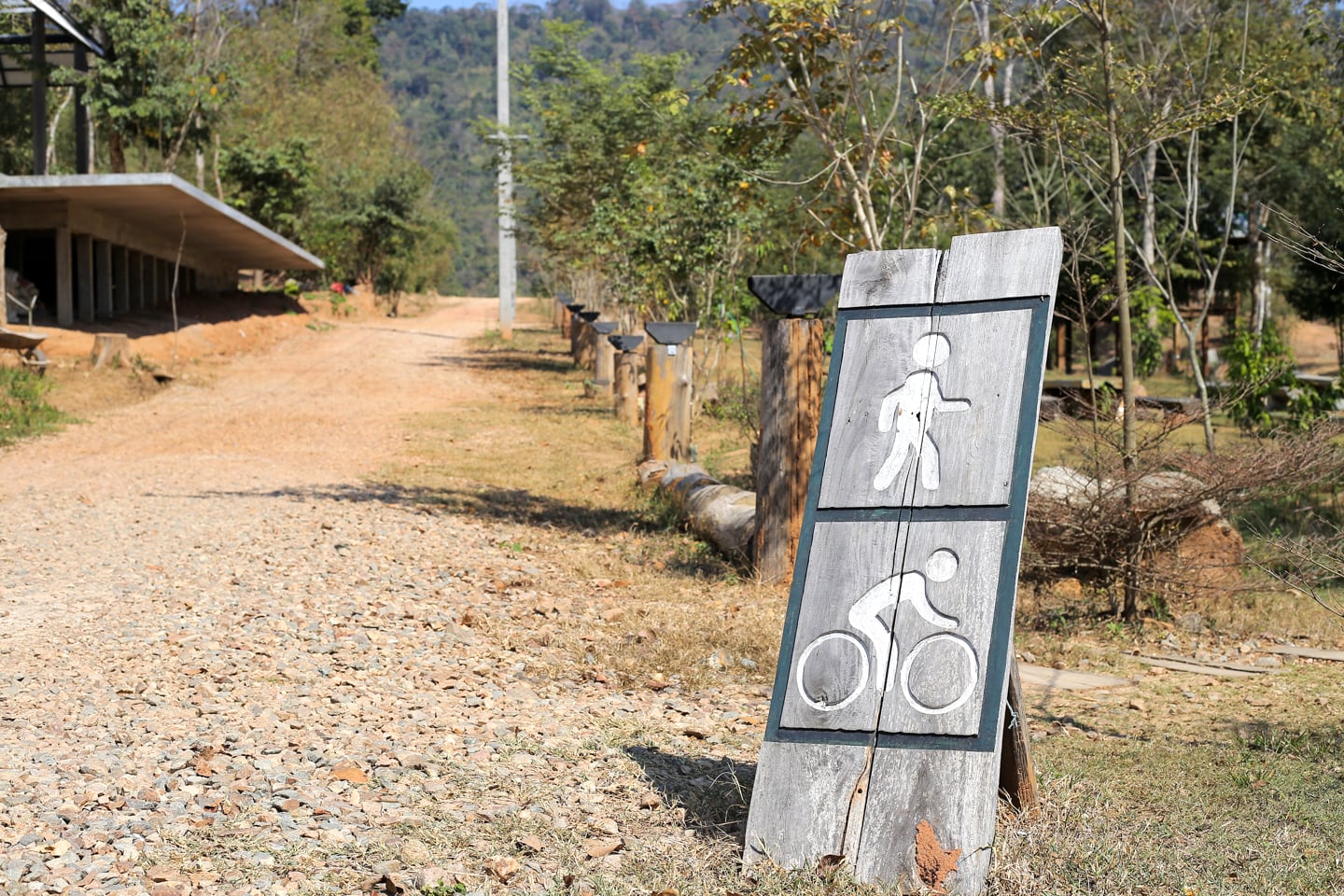 Our Hike Report
On this particular outing with the kids, we stuck to the trails around the pond. We would have like to ascend to the viewpoint, but found the trails in the valley to be a worthwhile outing as well.
The outing was more of an hour-long meandering than a hike, considering that the property is a large, relatively open area and there are several paths you could choose to follow.
We initially chose to hug what appeared to be the western perimeter of the property and essentially traced the perimeter around until we ended up back where we started.
It's fair to say it wasn't the most spectacular hike we've ever been on, but this fairly well-maintained property alternating between pasture, small wooded groves, and open fields offers a day out in nature that's hard to come by in the capital region.
It's the four of us on this 'hike' today: Lori, Noe (our 2.5 year old), Riley (our 4-month-old), and me.
I have the questionable honor of carrying the toddler on my back in the mid-morning heat. We're hoping there will be some nice stretches that he can walk himself, but the first portion is pretty uneven, which means I'll be getting a fair workout despite the fairly level path.
Due to the semi-exposed nature of the hike (and that we're in the tropics) we brought along more than enough water for the three of us (Riley only drinks mom's milk right now for hydration).
Since I have a monkey on my back, Lori's the one carrying the hydration pack on hers (and the baby on the front, which feels like carrying a finch around in your front pocket compared to Noe these days.
We've got snacks, we've got bandaids, burp rags, and a couple of UV-blocking umbrellas for the sun. Oh, and Noe's sporting a lightweight, long-sleeve shirt, harem pants, socks, shoes, sunhat and high SPF sunscreen, all in the name of sun protection (when in Southeast Asia…).
Now, on with the hike!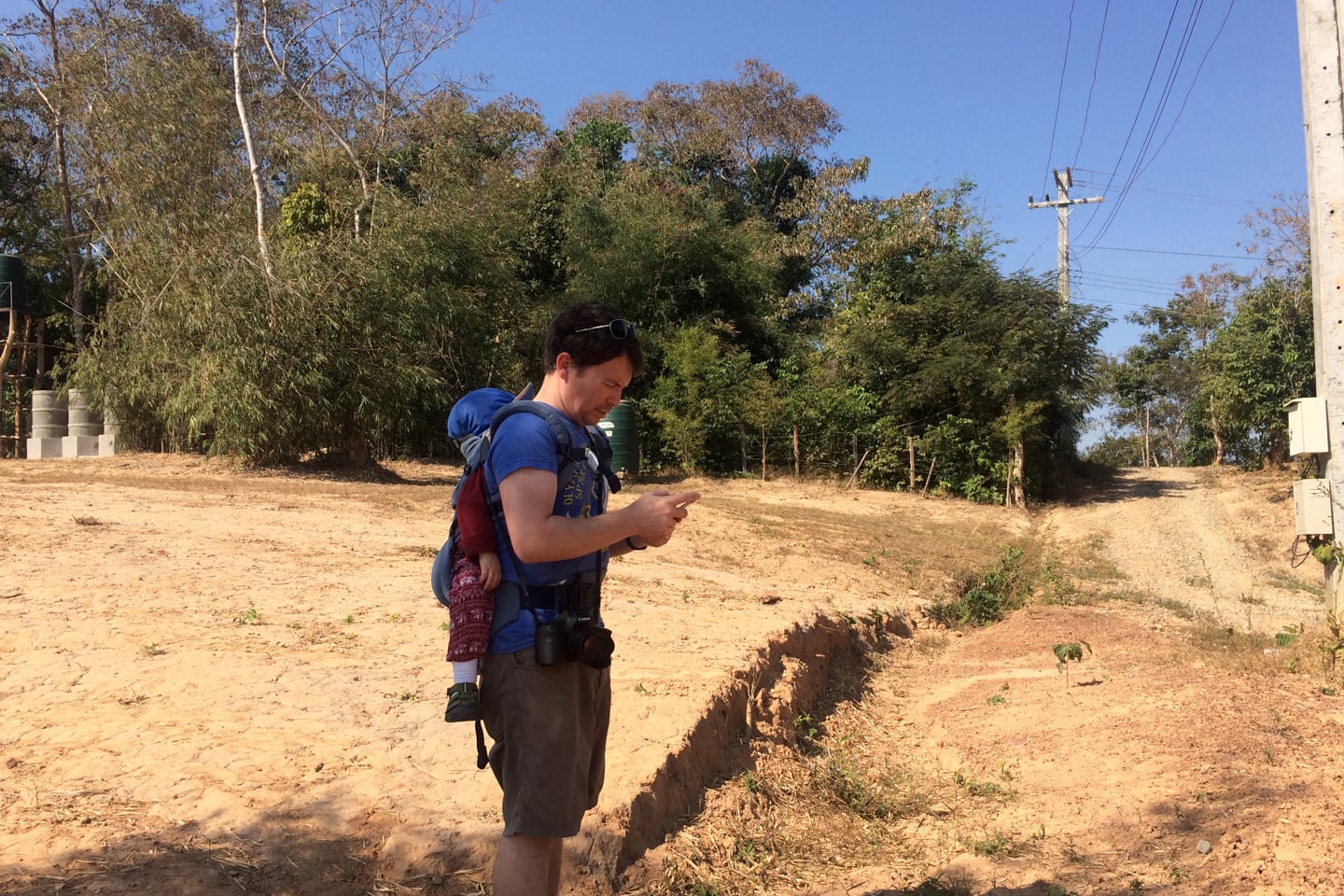 Right out the gate, we knew this 'hike' was going to be interesting.
After deciphering the only informational placard on the property (which had nothing more than a bicycle and walking person), we walked a long, exposed path for about five minutes before arriving at a junction of five paths.
In retrospect, we realized that we could have taken any one of the paths and not ventured off the property.
However, we decided to take a sharp left, tracing the boundary fence of the property, which ended up having the added advantage of ensuring we saw (what we think was) most of the reserve.
In the pic above, I'm trying to decipher satellite imagery to get a sense of the lay of the land. But really, this property is made for meandering, and that's really how it should be approached.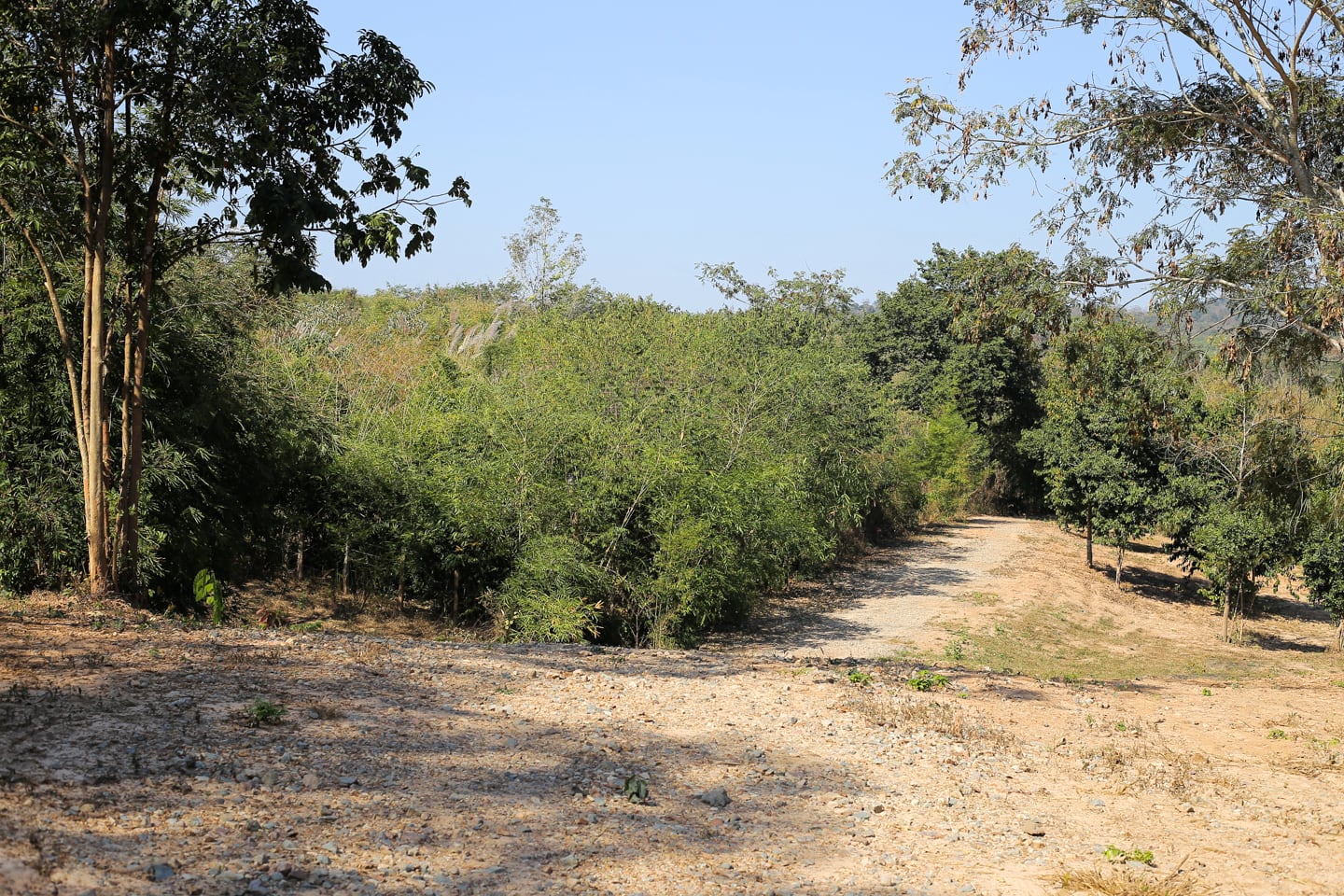 We were introduced to this hidden hiking gem by colleagues of Lori who come up here to do trail running. Knowing what I know now, I'm confident I'd get a satisfying workout in if I were to come out here again.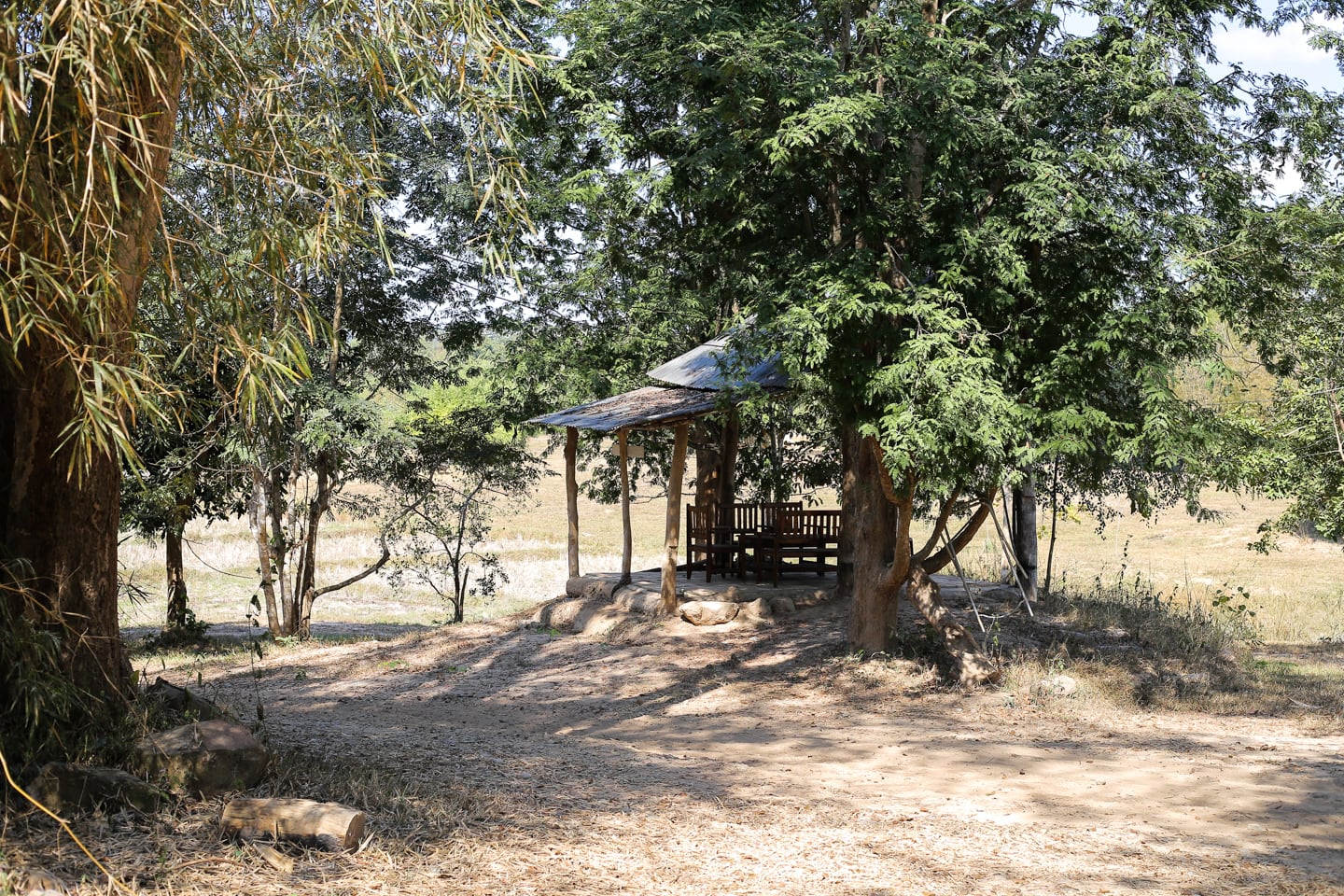 A short while later, we arrived at what appeared to be a picnic shelter in a grove of trees, looking out onto a serene pasture. Much of the path is exposed, with pockets of shade as you wind through small groves.
I'd imagine this hike would be ideal just after sunrise or just before sunset, though the long drive from town and lack of lodging options in the area make doing so more challenging.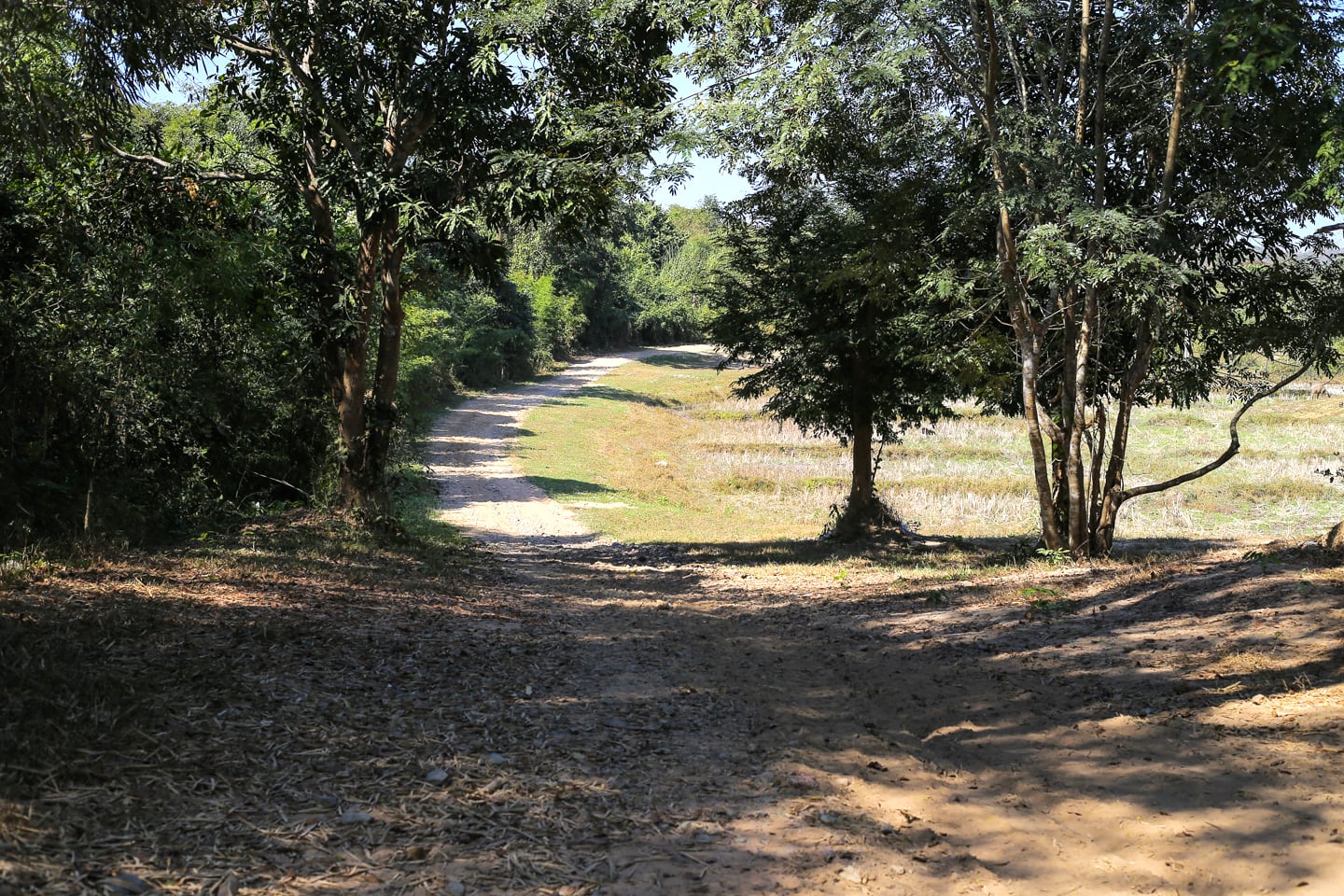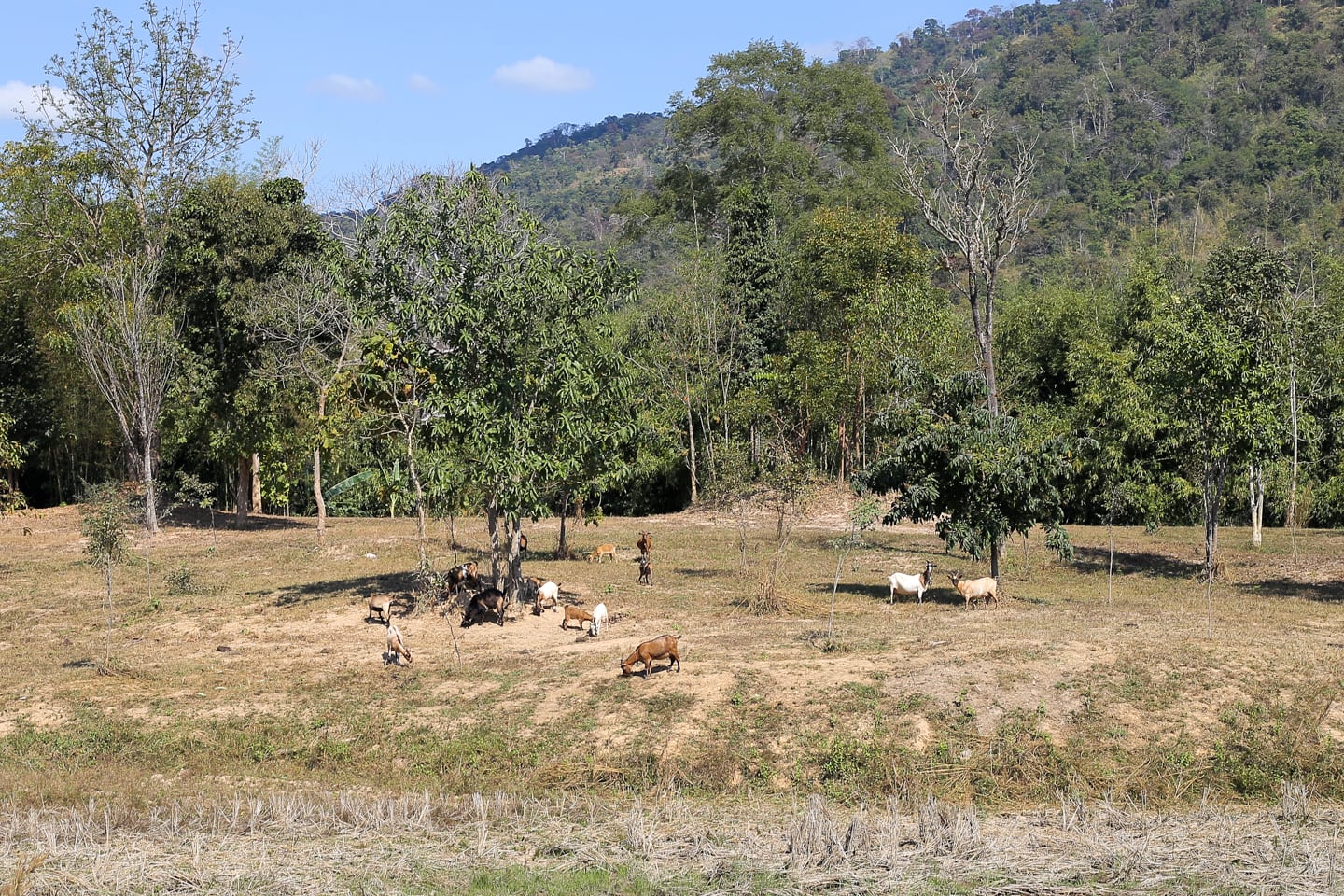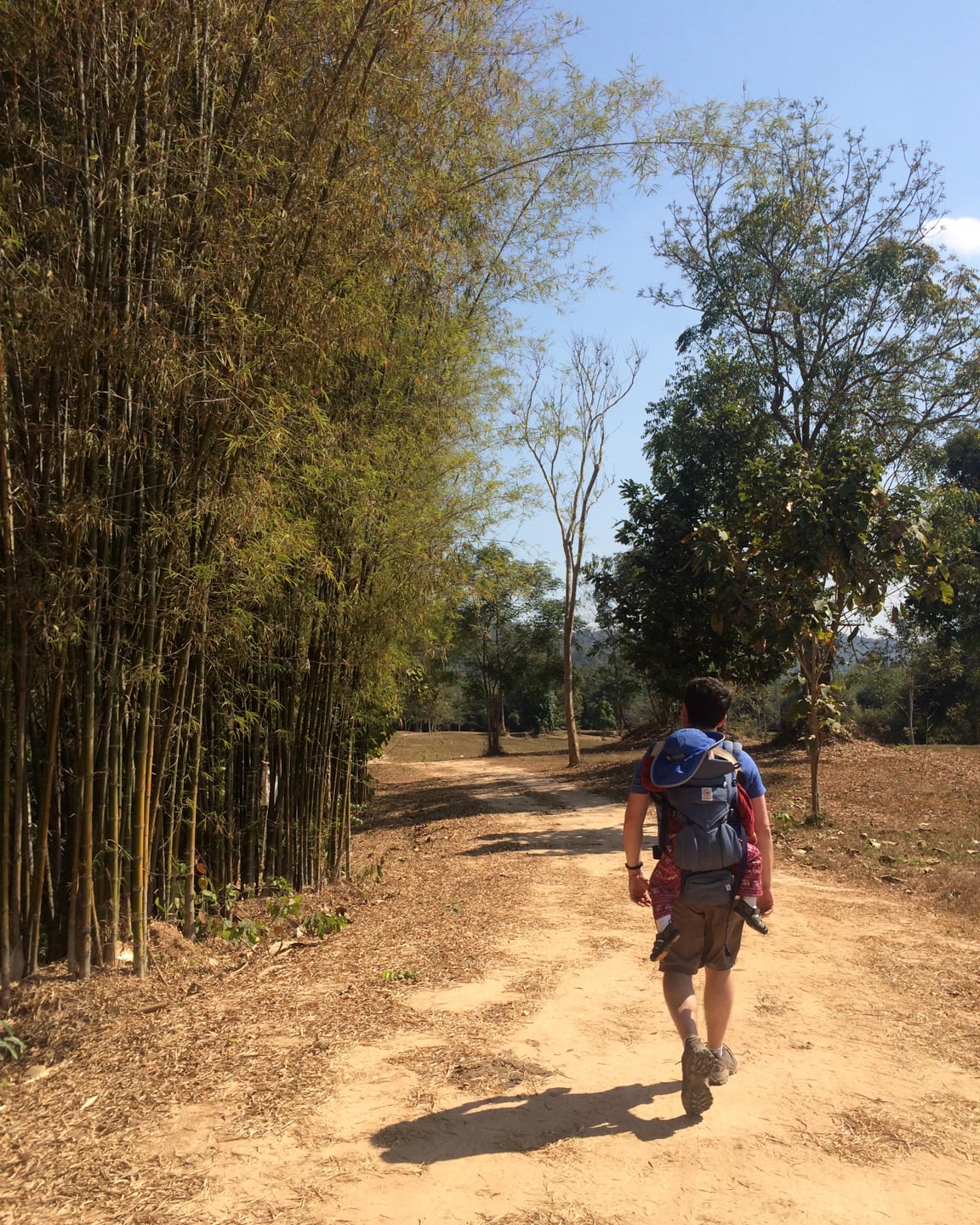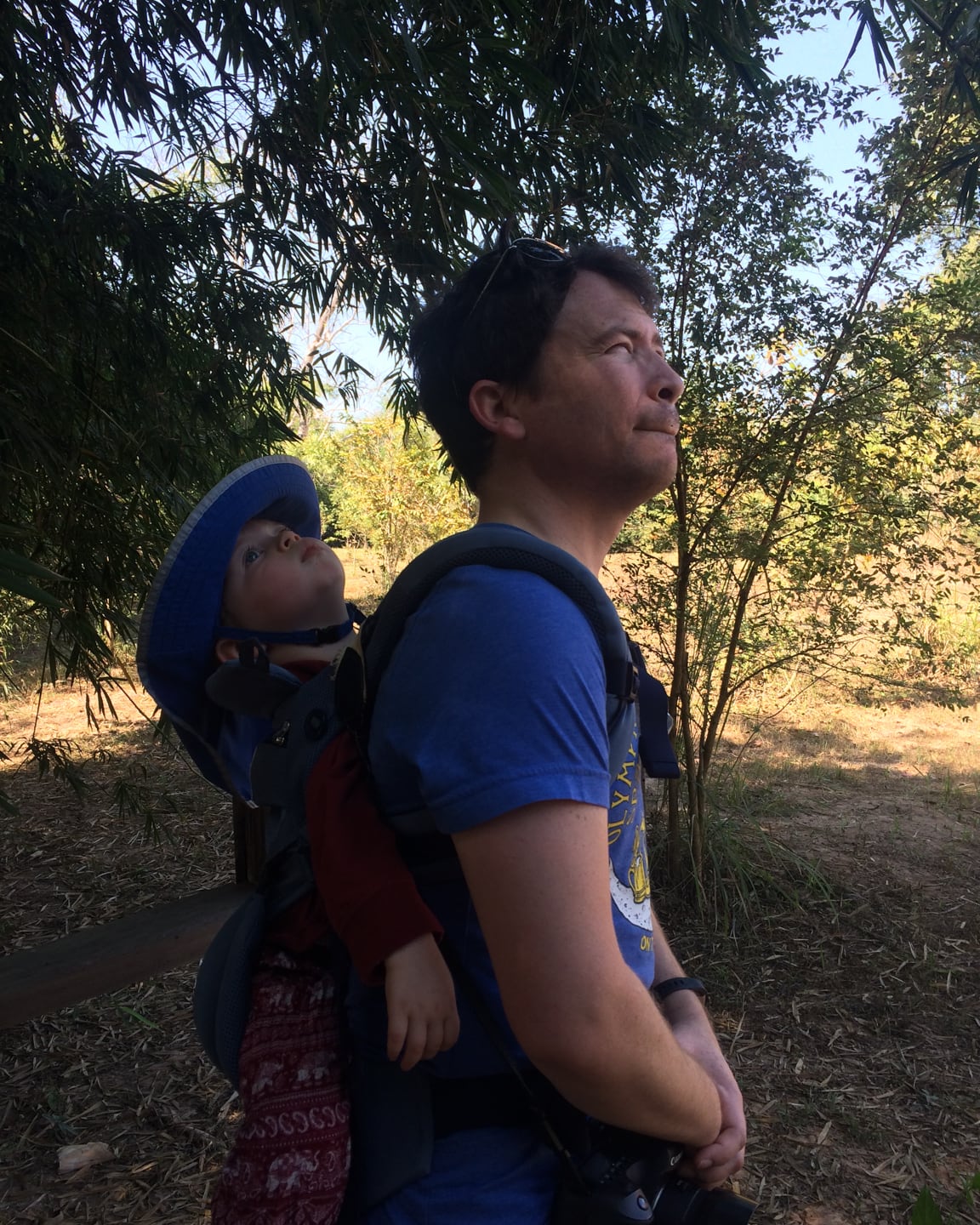 Noe seemed to enjoy the experience for the first ten minutes, tolerated the next twenty, then was over it.
In hindsight, I should have let him walk when we got to this part of the trail, as it was level and packed. Yet, not knowing how long of a morning or how many miles we were in for, I was hesitant to do so this early on.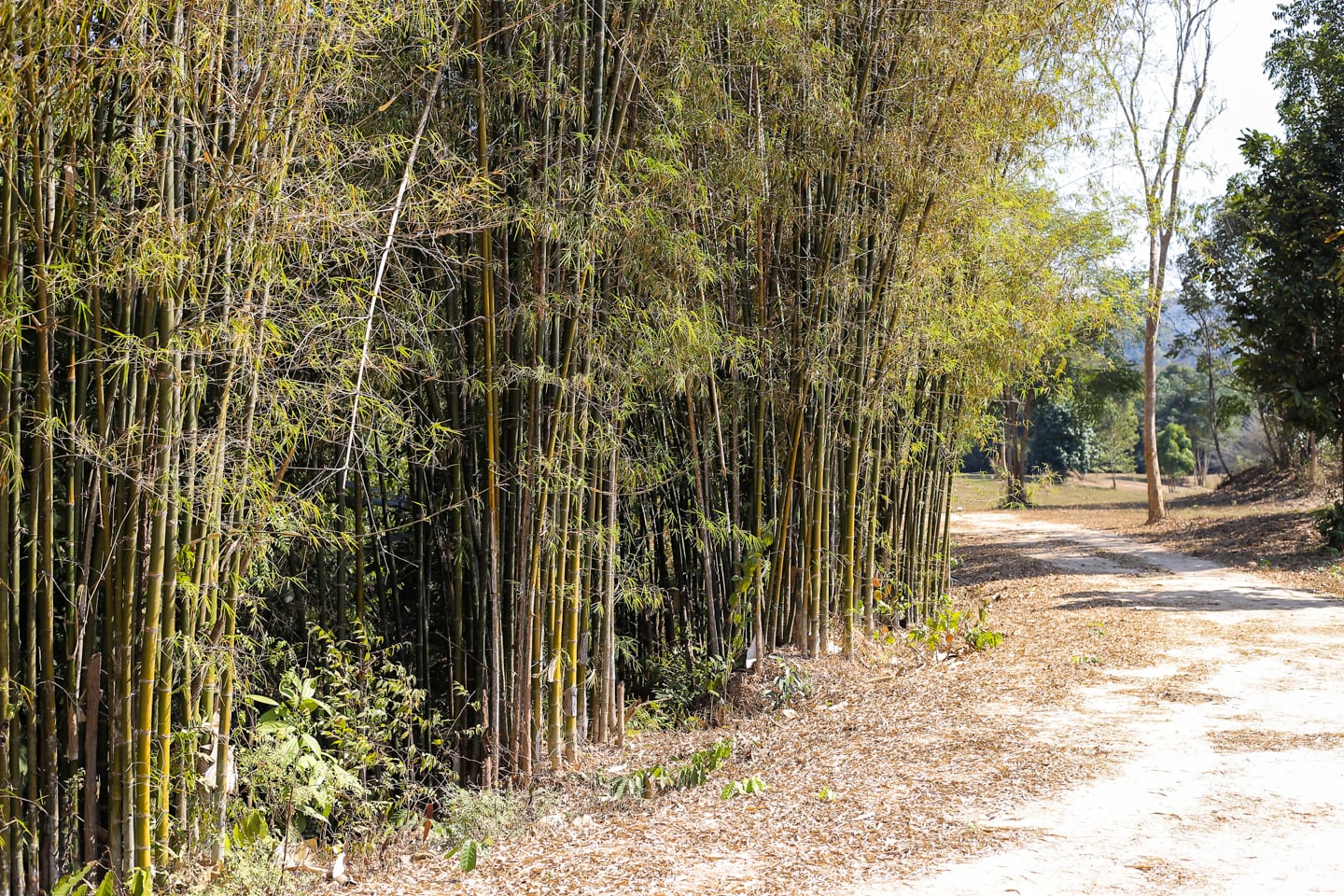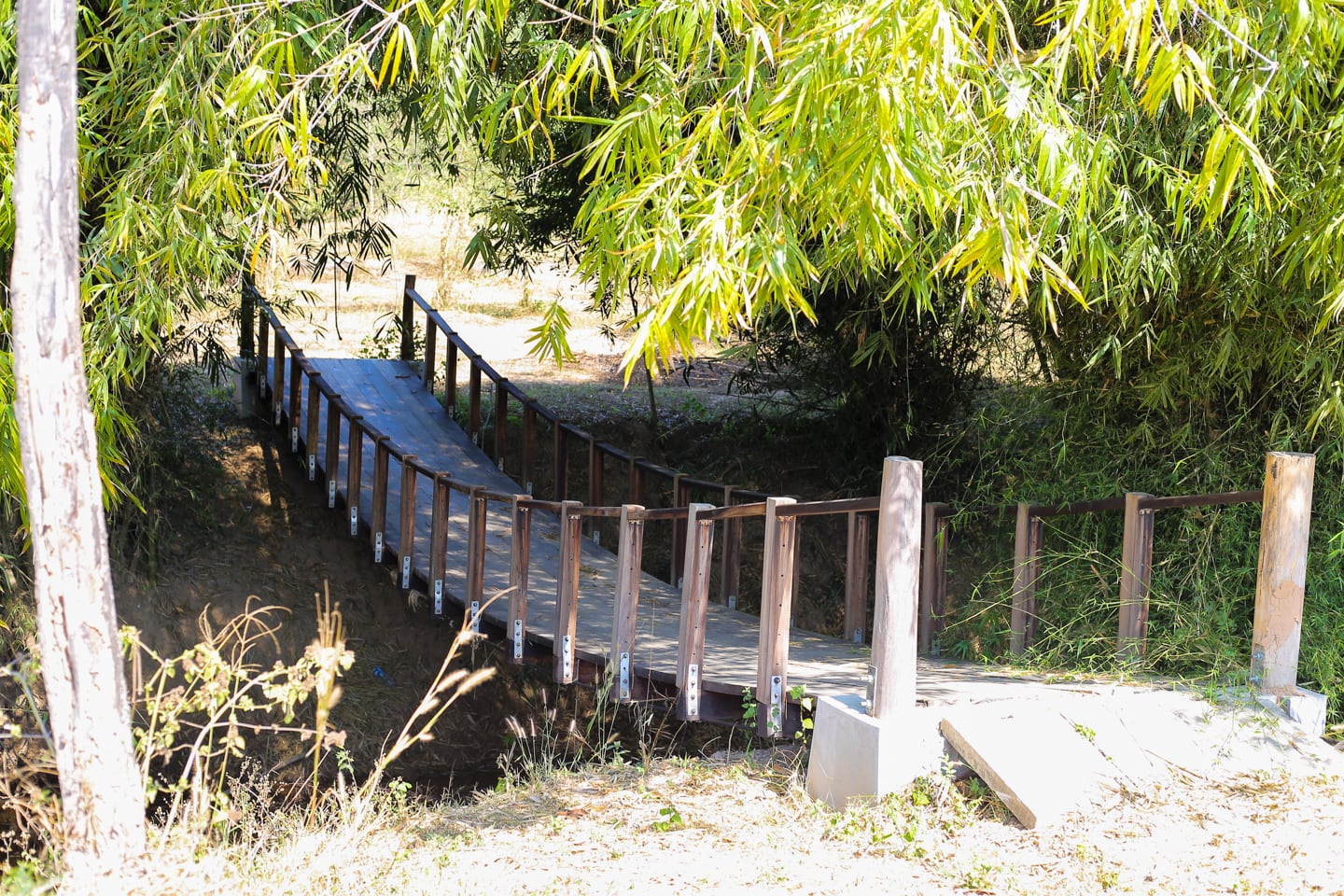 We arrived at a bridge that passed over a small creek.The creek had hemmed us in to this point, so we were excited to explore the other side.
Once over there, we couldn't find any discernible path in any direction, but rather an open meadow. Given the heat of the morning, we decided to cross back and continue on.
I had seen a photo online associated with Wealth Coffee of a clear and inviting stream weaving around boulders, but this most certainly was not it, at least not in the dry season.
I hoped to find something resembling that photo later on, but never did. Maybe we missed it?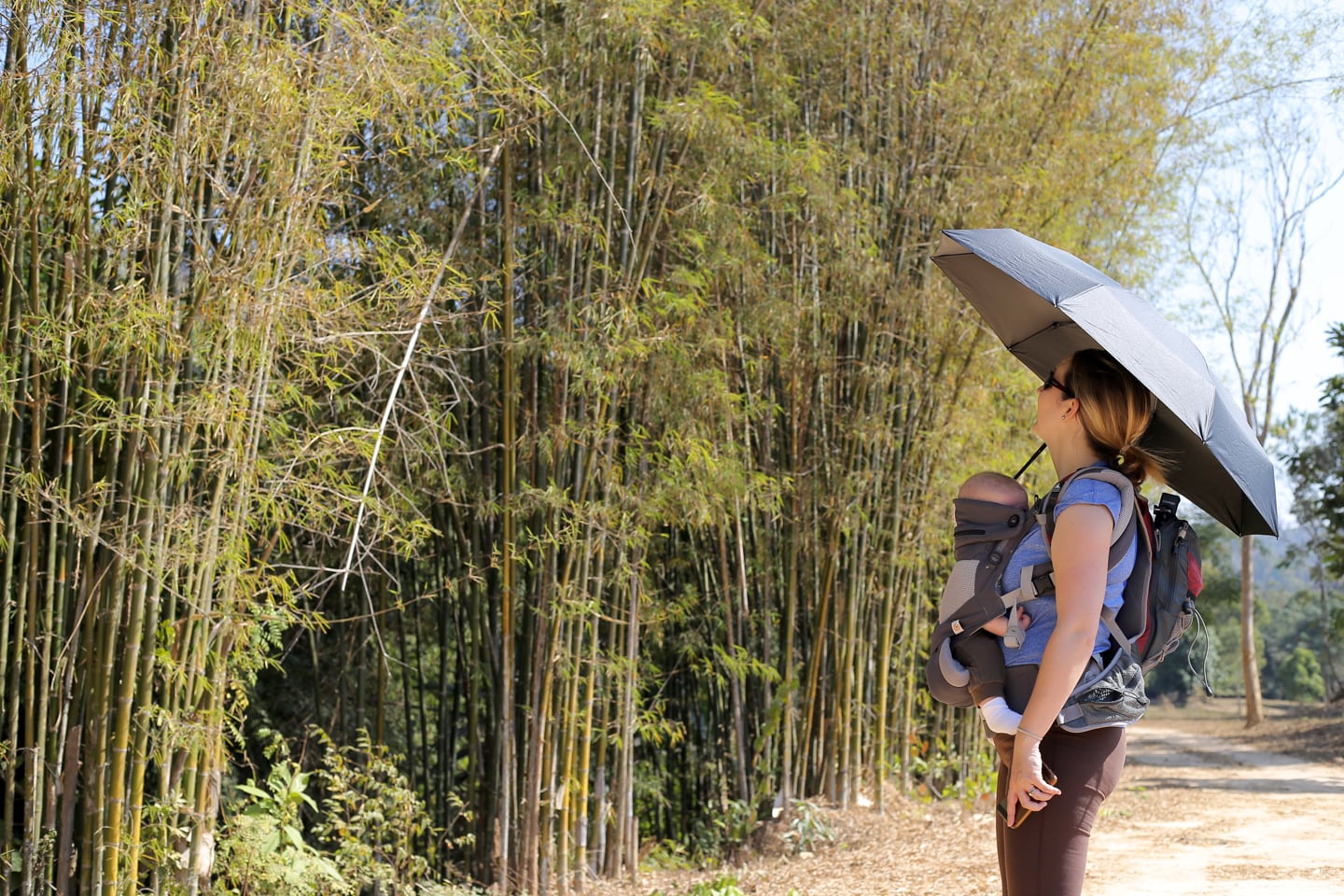 Forty-five minutes into our adventure, we came upon another bridge crossing a small ravine with a locked gate and a handwritten sign posted on it. We assumed it was some sort of boundary to the reserve and carried on.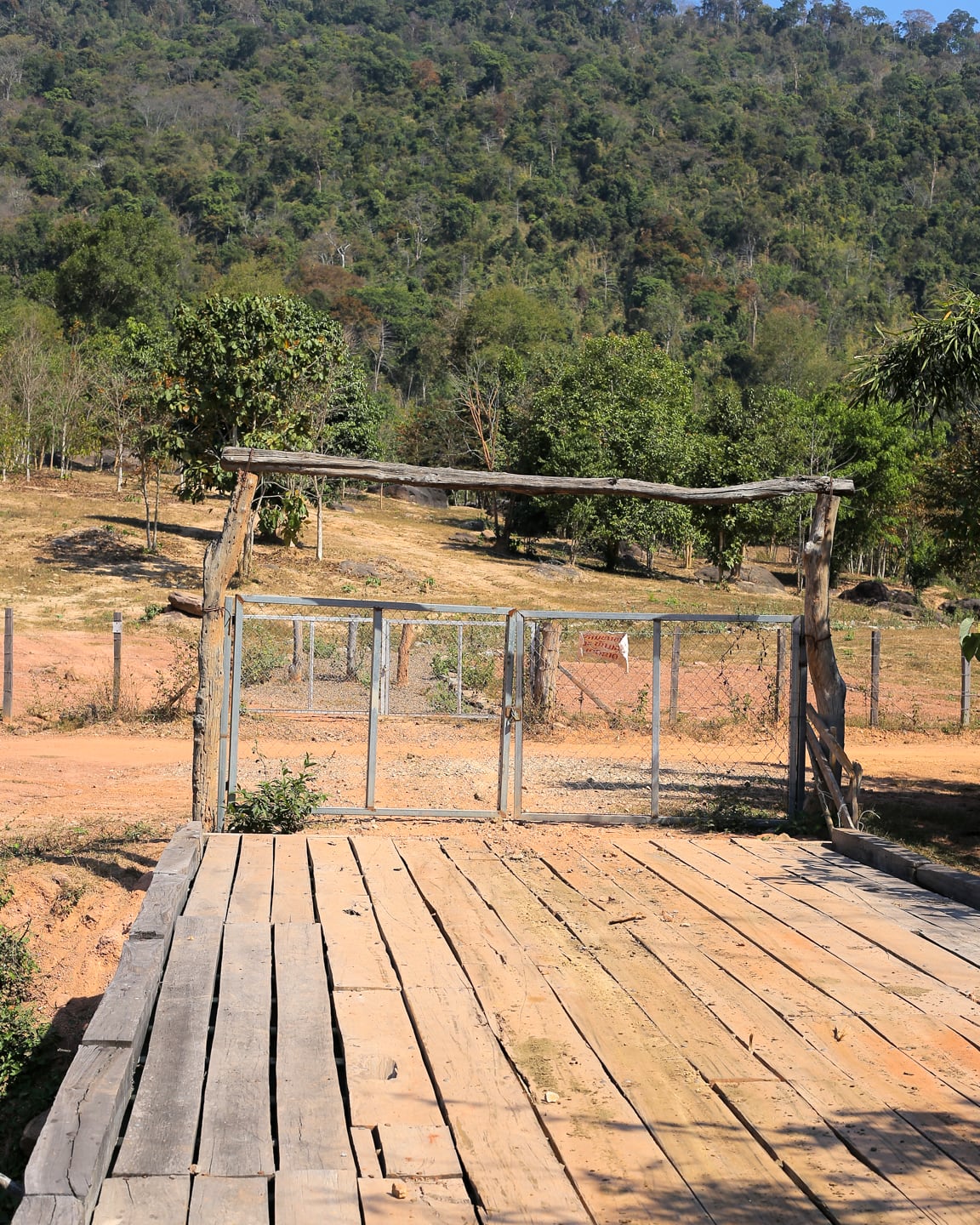 Noe got to walk the last 15-20 minutes. The path at this point wound up a small hill and was a bit rockier than the lower path, but Noe managed without complaint. He was just happy to be walking, and I don't blame him.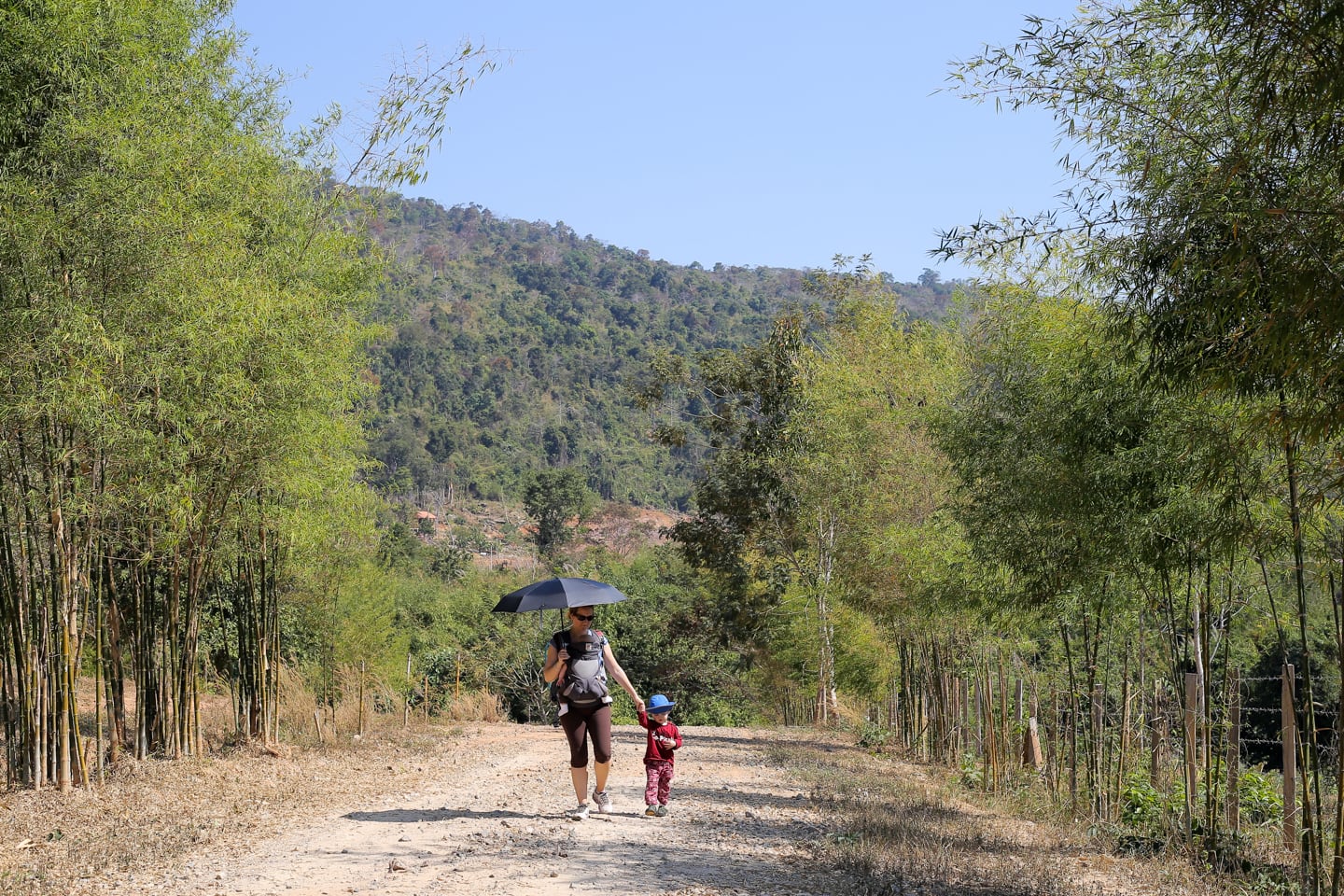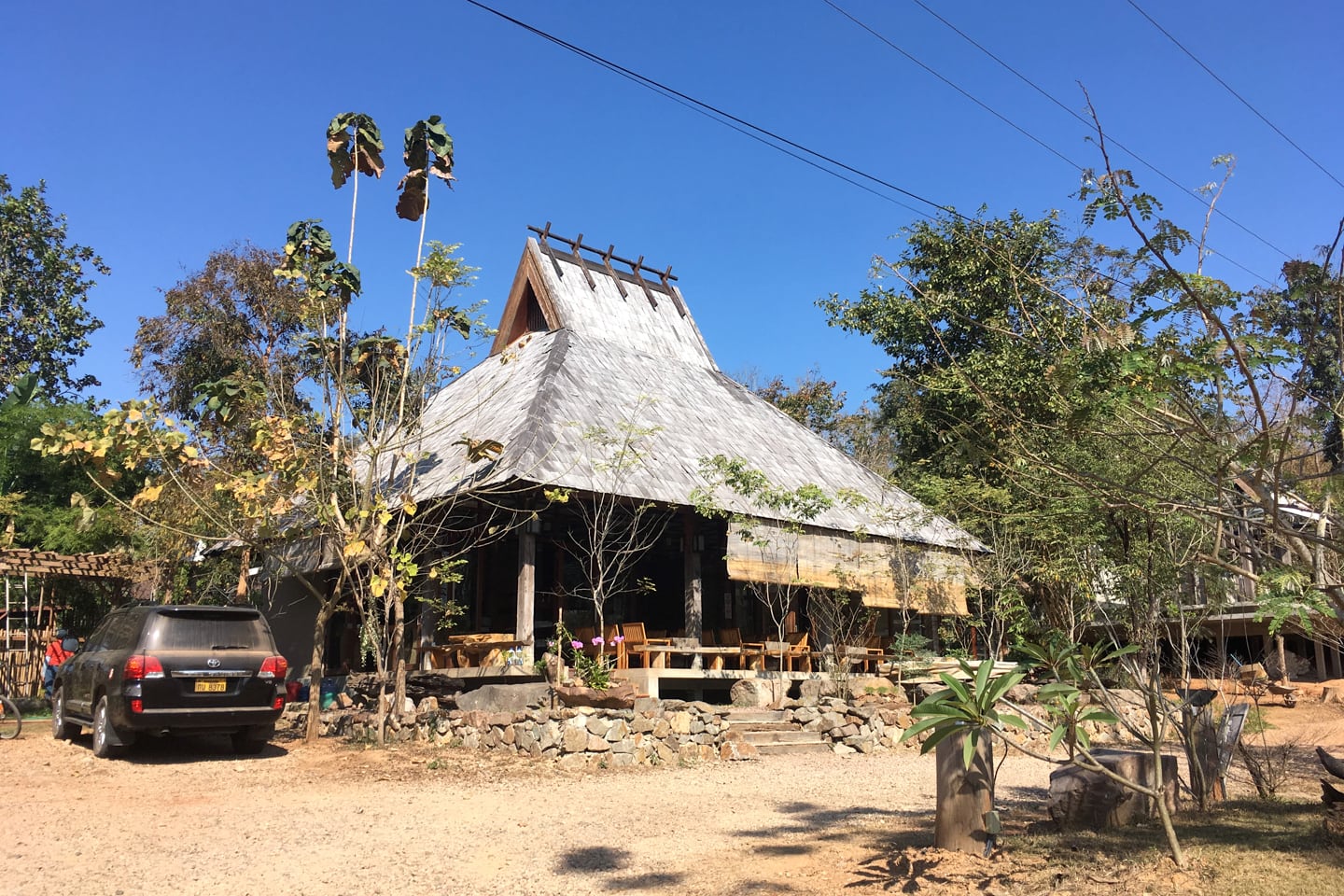 We returned to the coffee shop exactly one hour from setting out, covering just over 2.6 km (1.6 mi). Initially, that might not sound like a lot, but it was more than enough for us on this particular day, taking into account our late start and looming nap times.
Visiting Vientiane? Check out these helpful resources:
Have You Hiked Wealth Coffee trails to Phou Phanang viewpoint?
What was your experience like? Did you hike the hidden trails? Let us know in the comments below.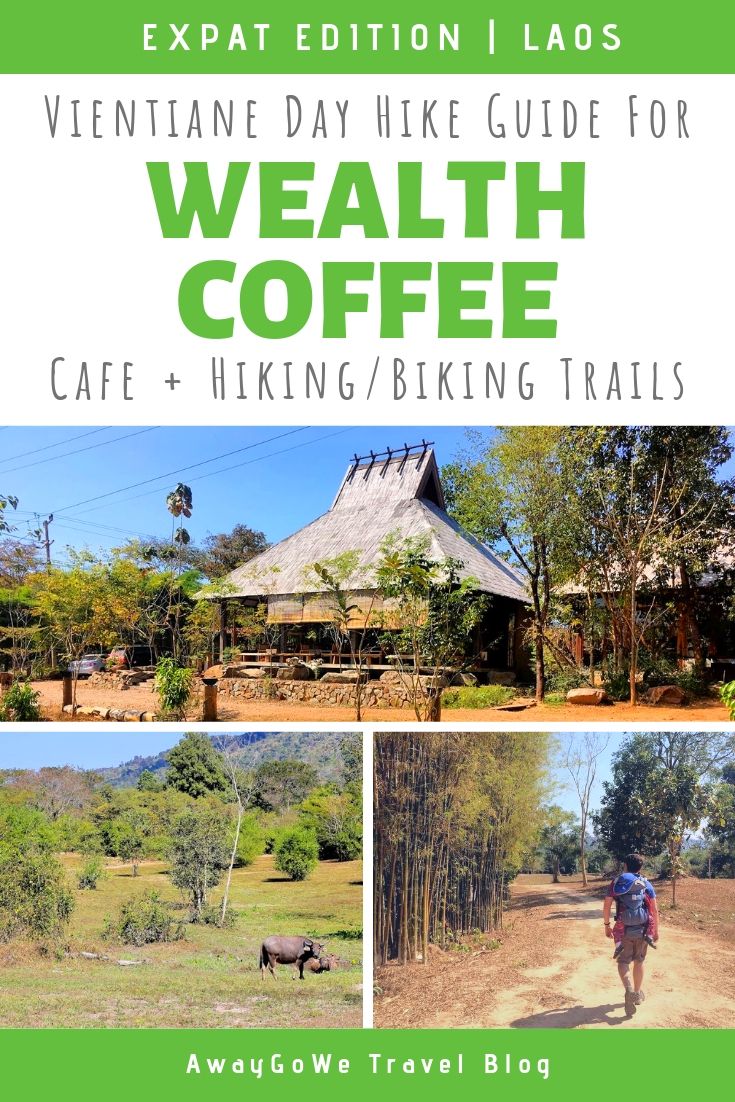 I've been a blogger and travel writer since 2010, covering everything from luxury hotels to hidden destinations and travel gear. Originally from Oregon, I've spent the majority of the past 20 years living outside of the U.S., in Mexico, the Caribbean, Southeast Asia, Africa, and Europe. I received a BA in Communications (Journalism) from Boston College, and an MA in International Development Studies from the George Washington University. I'm passionate about exploration and discovery, and providing independent, thoroughly-researched, ad-free advice for travelers.