Braving South Africa's Sani Pass to Africa's highest pub (and deeper into Lesotho) is a high-elevation, cross-border adventure that literally took our breath away at every turn.
Here's our experience doing this incredible Lesotho day trip driving tour from Underberg, South Africa, including why we were glad we didn't self-drive and important tips and considerations for arranging your own Sani Pass South Africa adventure.
▸ Looking for travel medical insurance? SafetyWing offers low-cost overseas medical coverage tailored to international travelers.
We're reader supported and may earn a commission from affiliate links on our site at no cost to you.
Sani Pass South Africa Driving Tour – First-Hand Guide
About the Sani Pass South Africa Driving Tour
Sani Pass is a route that cuts through the Drakensberg mountains. Completed in 1950, it is one of the primary border crossings from South Africa into eastern Lesotho.
The final kilometer is well-known across Southern Africa for its sudden elevation gain via a dozen treacherous hairpin curves along a steep gravel track.
Sani Pass is also famous for its stunning views and highest pub in Africa on the 9,400
Lori and I awoke early, climbed into a Land Rover Defender (the quintessential 4×4 African Safari rig), and set off for a day completely off-the-tarmac and high up in the mountains straddling two countries.
After two weeks of driving ourselves in South Africa, Lori and I were looking forward to someone else taking the wheel on this one.
And we were sure glad we did! As the day rolled on, it became increasingly apparent that this was the right decision for us (more on that later).
Our Sani Pass driving tour adventure began in South Africa at Sani Lodge at just over 5,000 feet elevation, climbing to 9,400 feet at the Lesotho border, and topping out at around 10,400 feet for lunch and a view.
Highlights of our day trip (in addition to braving the Sani Pass, of course) were taking in the amazing mountain scenery, spotting unique wildlife, visiting a local trading post in Lesotho, and last but not least, having a beer at the highest pub in Africa!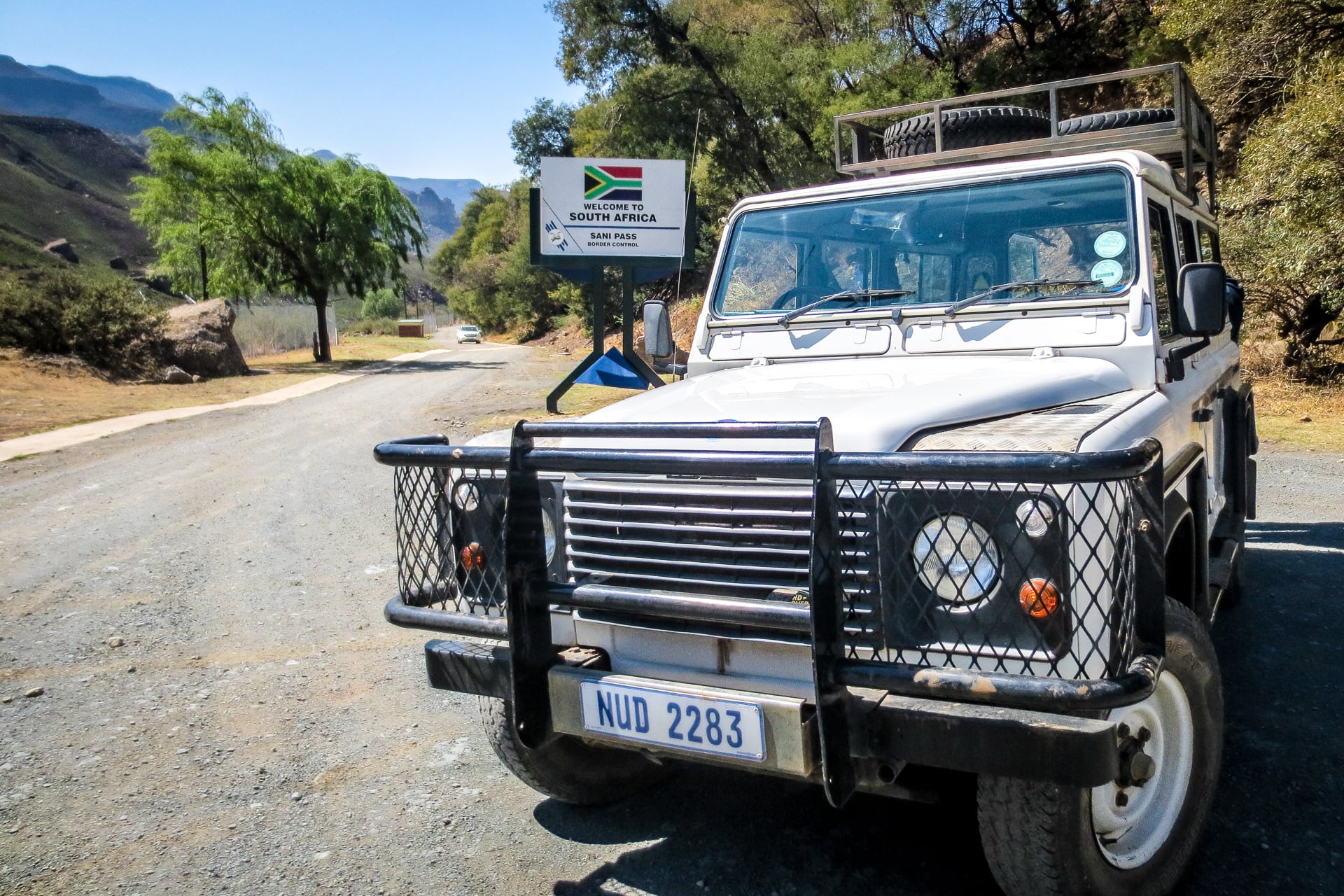 Transport & Organizing the Tour
We booked our Sani Pass tour in-person with Drakensberg Adventures through Sani Lodge Backpackers where we were staying. We had a great experience and would recommend them if that's where you happen to be staying.
Otherwise, you can book online with any number of reputable tour companies. It's worth booking well in advance — particularly if you have certain dates in mind — as the best tours often fill up quickly.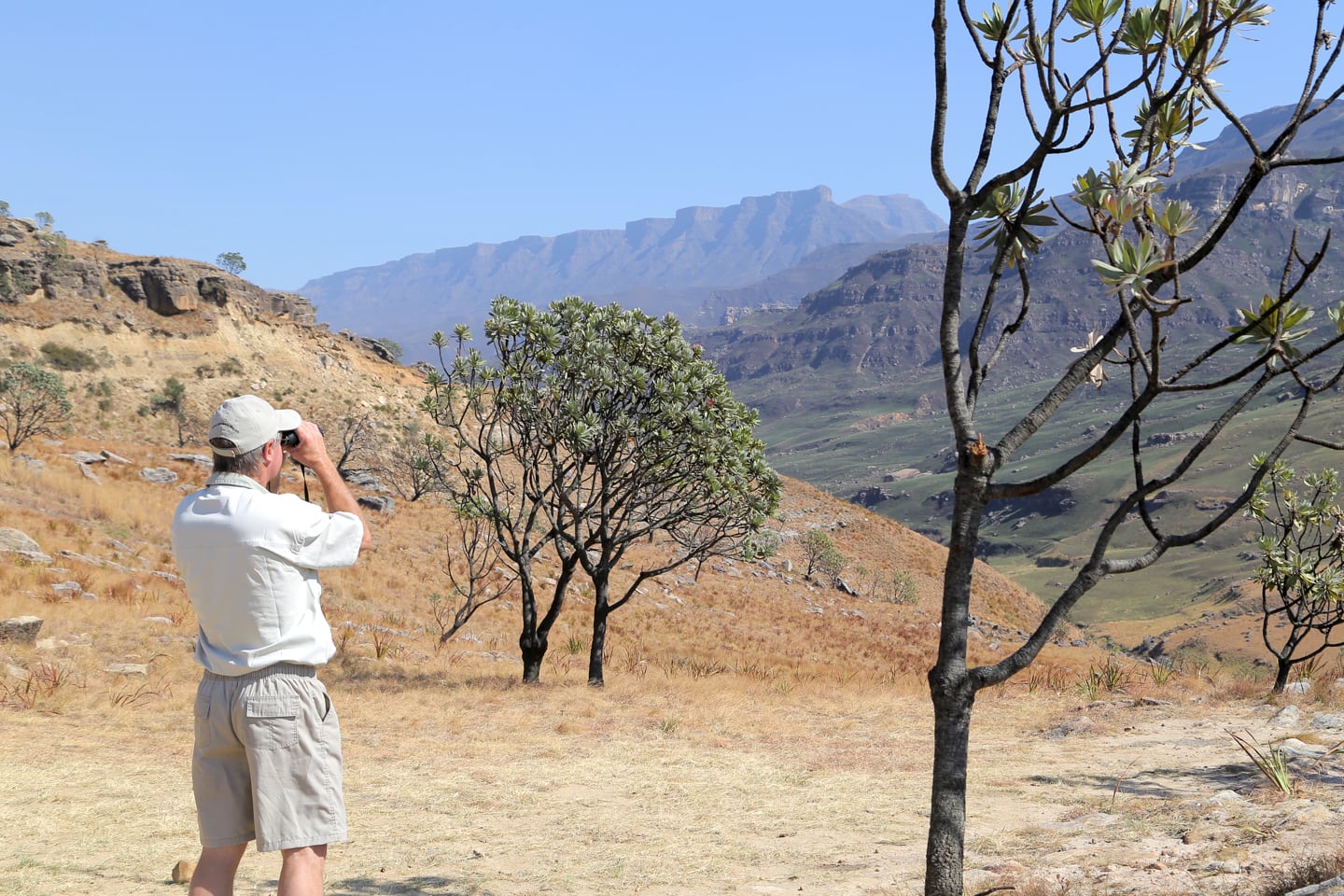 Our Sani Pass South Africa Day Trip Experience
Underberg to the South Africa Border Check Point
We spent the day with just two other travelers and Stewart, our very knowledgeable and experienced guide/driver from the area.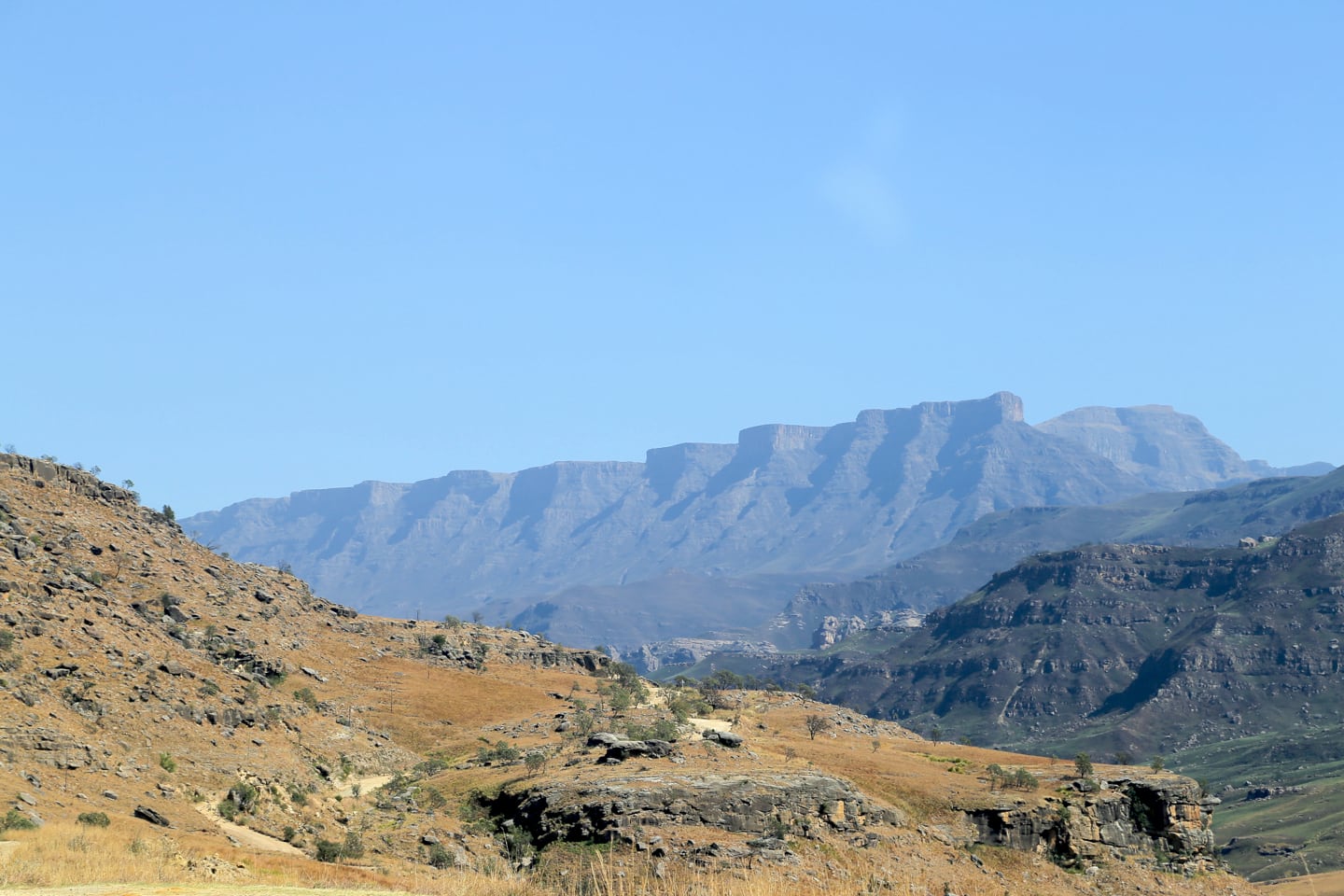 The "Twelve Apostles" are a distinctive feature to Sani Pass.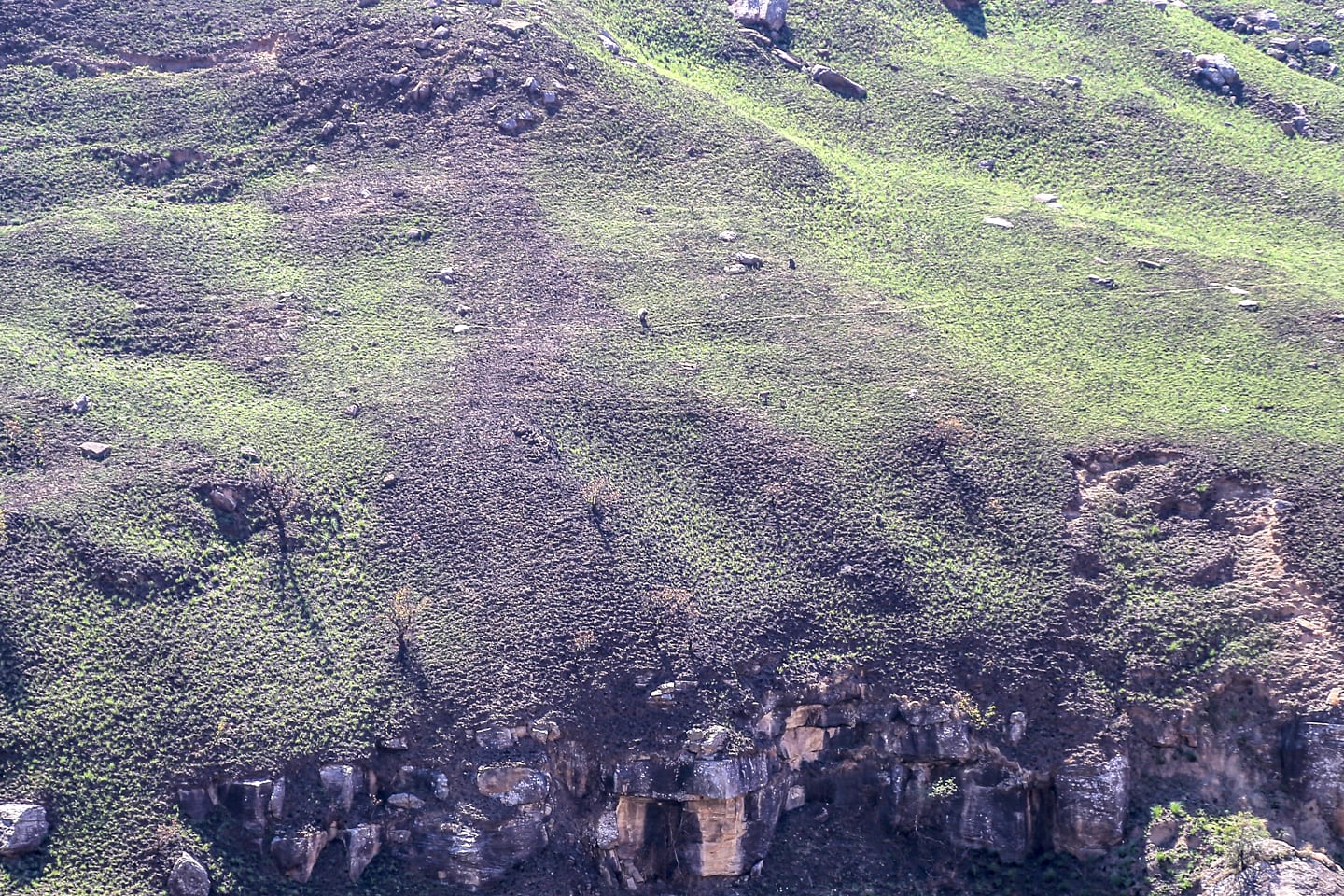 In addition to a number of different birds, Stewart spotts a variety of other wildlife for us, including these baboons across the gorge.
There are about half a dozen in this picture that could easily be mistaken for rocks. Can you spot them all?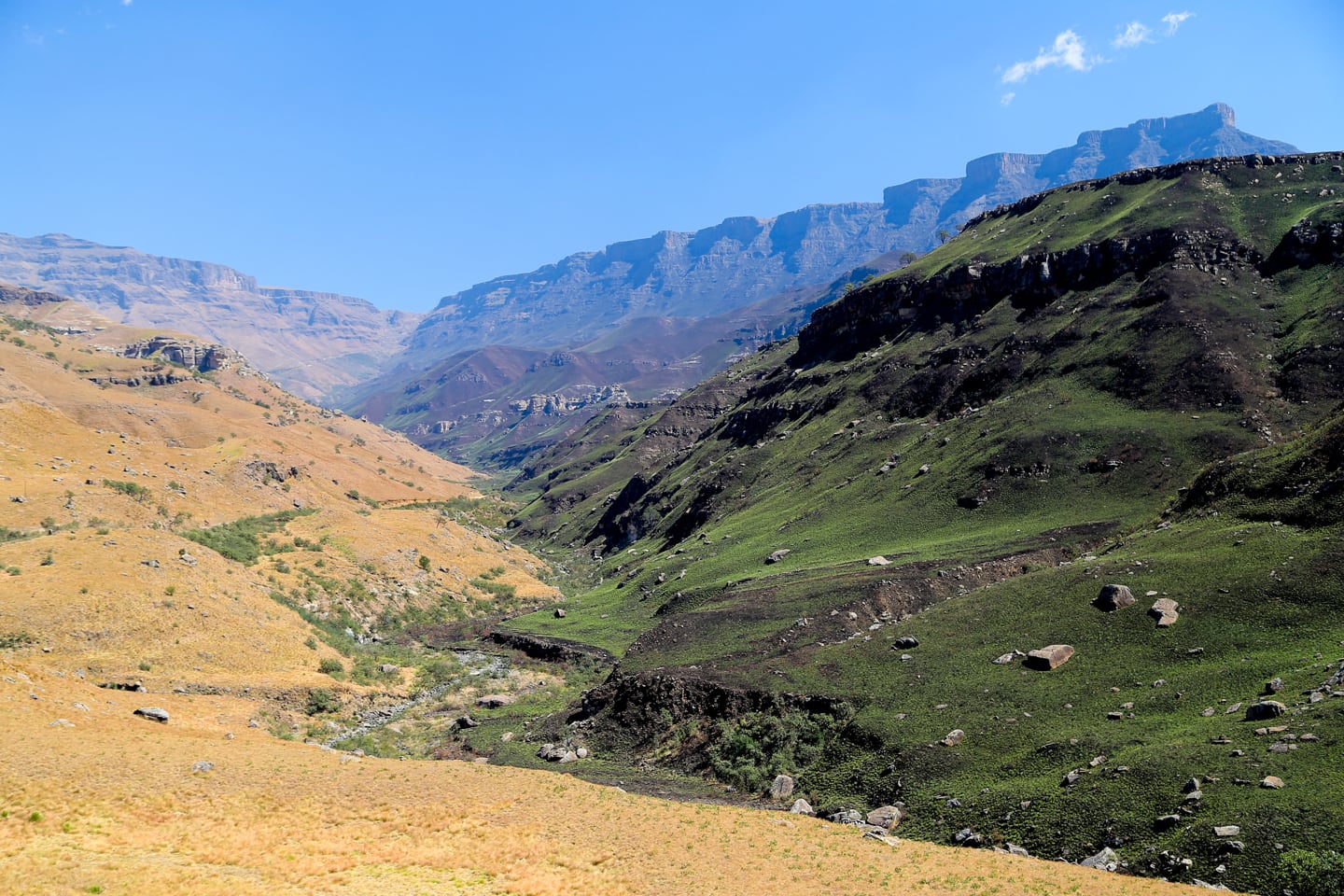 We noticed on our hike the previous day that hillsides appeared to change color dramatically — from bright yellow to bright green — along what appeared to be an artificial line.
Here in this valley, the contrast is even more stark from one side of the river to other.
Apparently, landowners (and government officials) are obliged to conduct controlled burns on their land at regular intervals. This minimizes the threat of uncontrolled wildfires and causes the soil to become more fertile.
The deep green side is a result of a recent controlled burn, while the yellow side has not been burned in some time.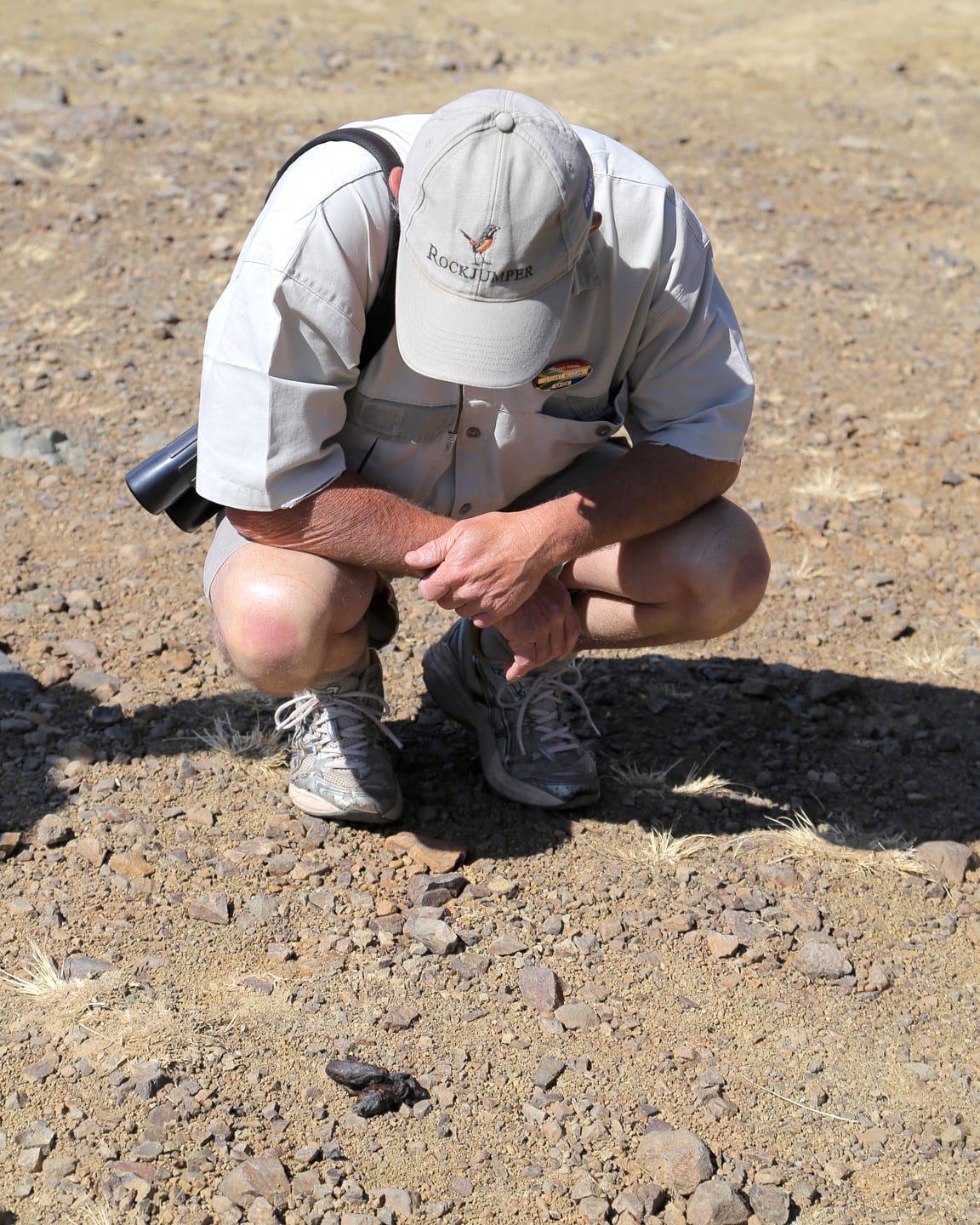 Stewart said that if any of us could spot and show him a leopard, that he would buy us as many beers as we want — in his decade of leading tours in the area (and many more decades living here), he hasn't spotted a leopard, himself.
But evidence abounds to indicate they do still inhabit this area, like the scat left behind by leopards.
Upon inspection, Stewart determines that this is not leopard scat, but perhaps something else of intrigue that we should be on the lookout for.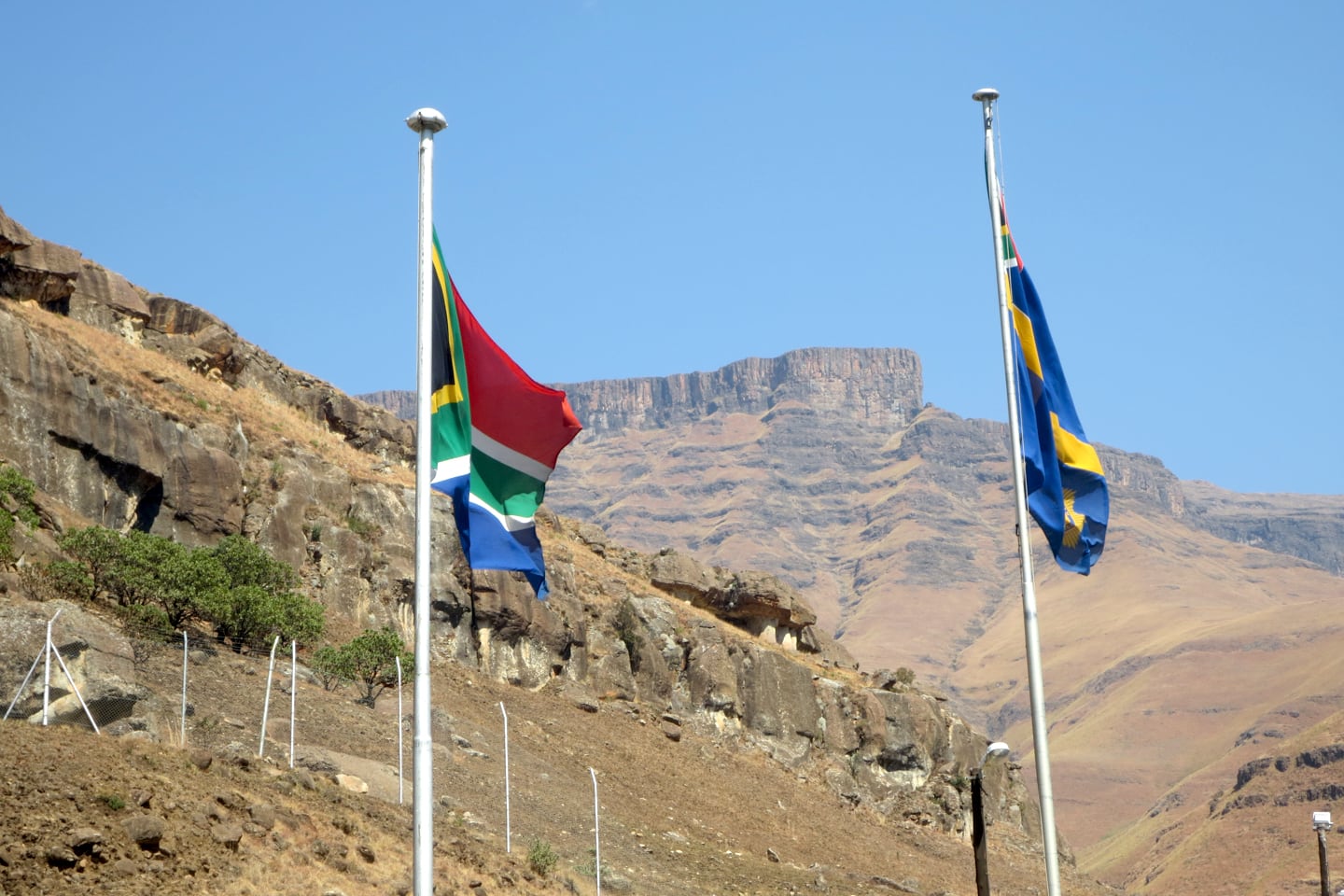 The South Africa border post is not at the actual border at the summit of the pass, but many miles beforehand near the bottom of the valley.
Apparently, the South African government officials didn't want to have to drive to the top of the Pass every day.
After heading up there ourselves, we didn't blame them.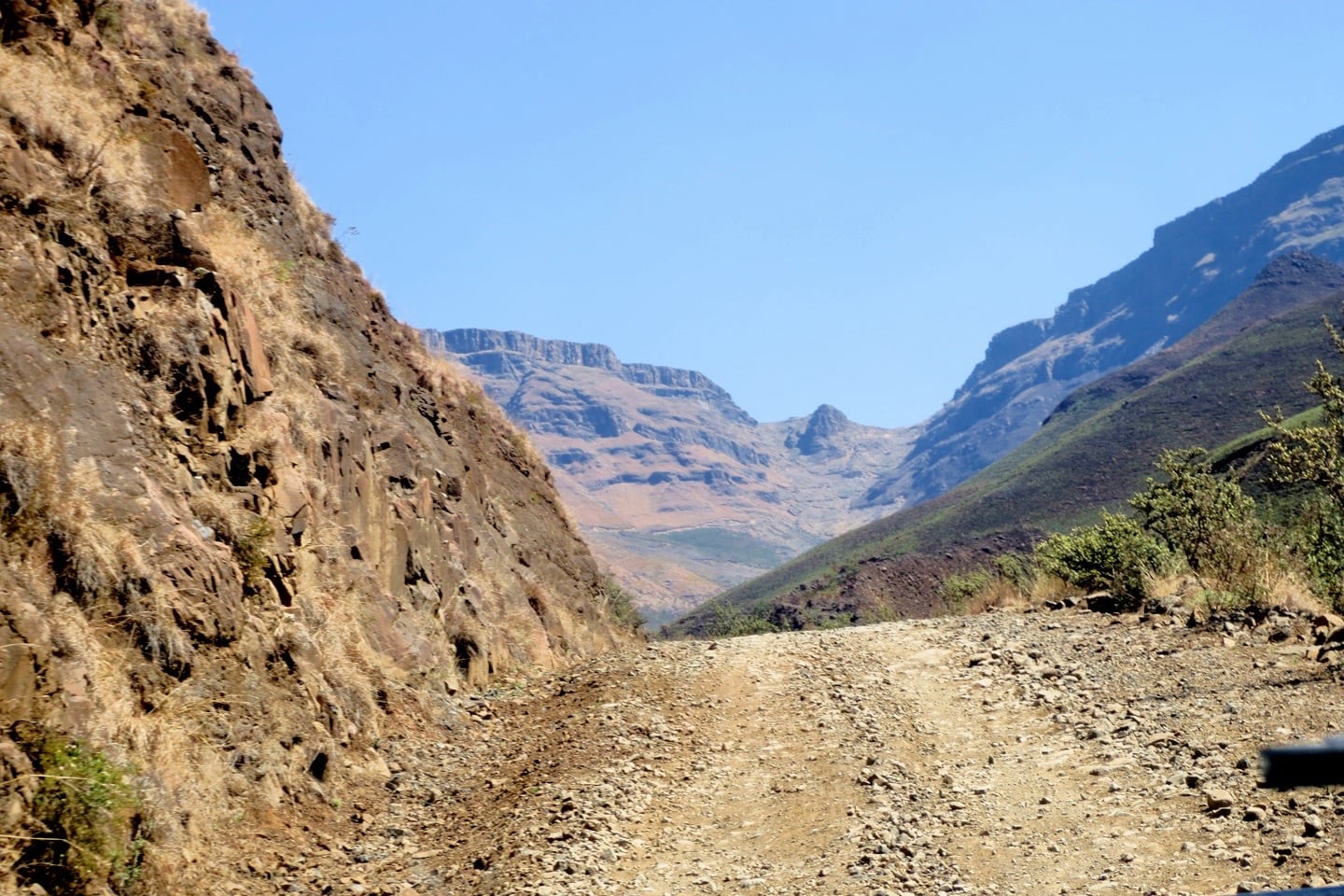 Taking on the Infamous Hairpin Track of Sani Pass
Heading up the road to Sani Pass, we look back towards South Africa to take in the valley and surroundings.
Not even half way up yet and it feels like we are already on top of the world.'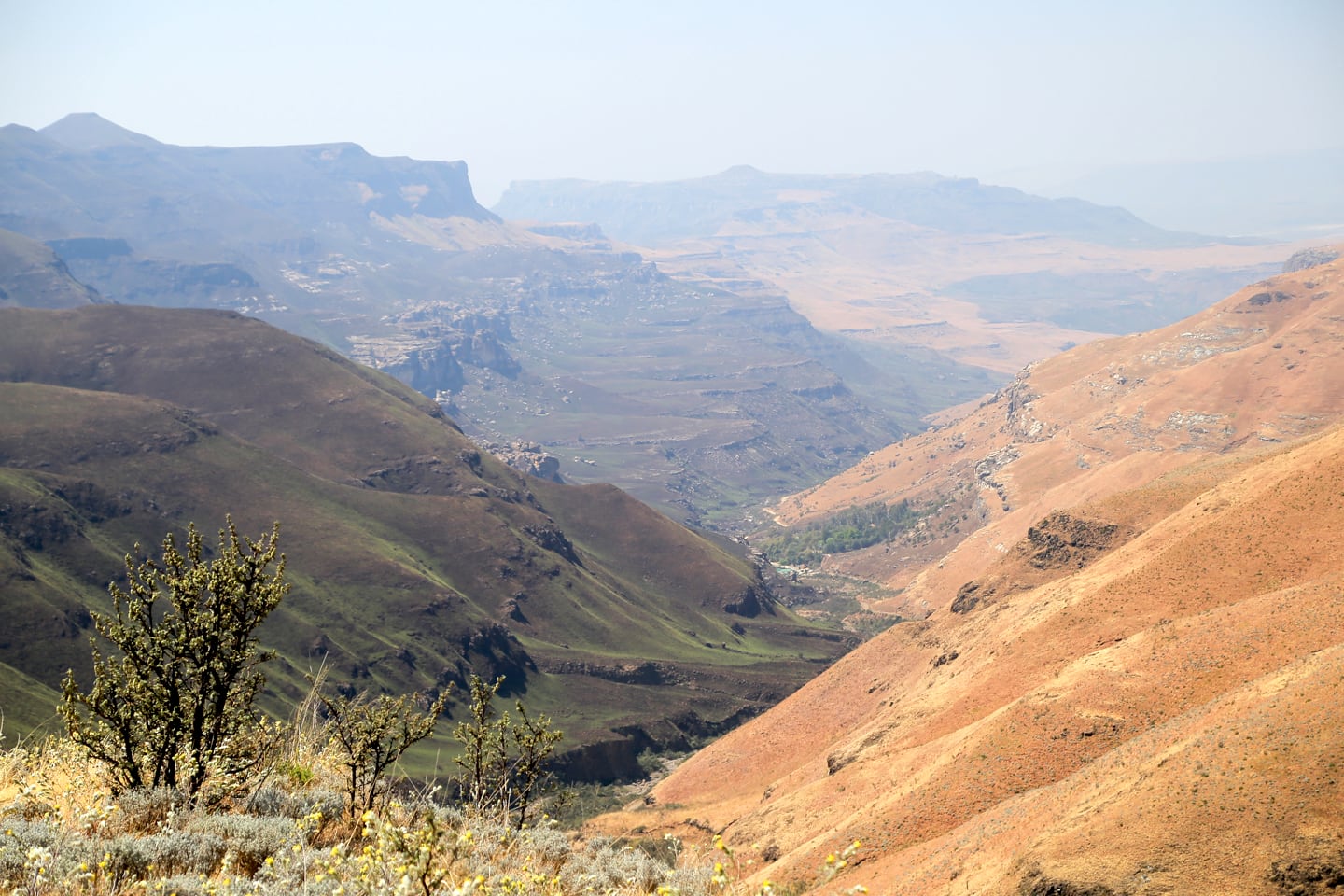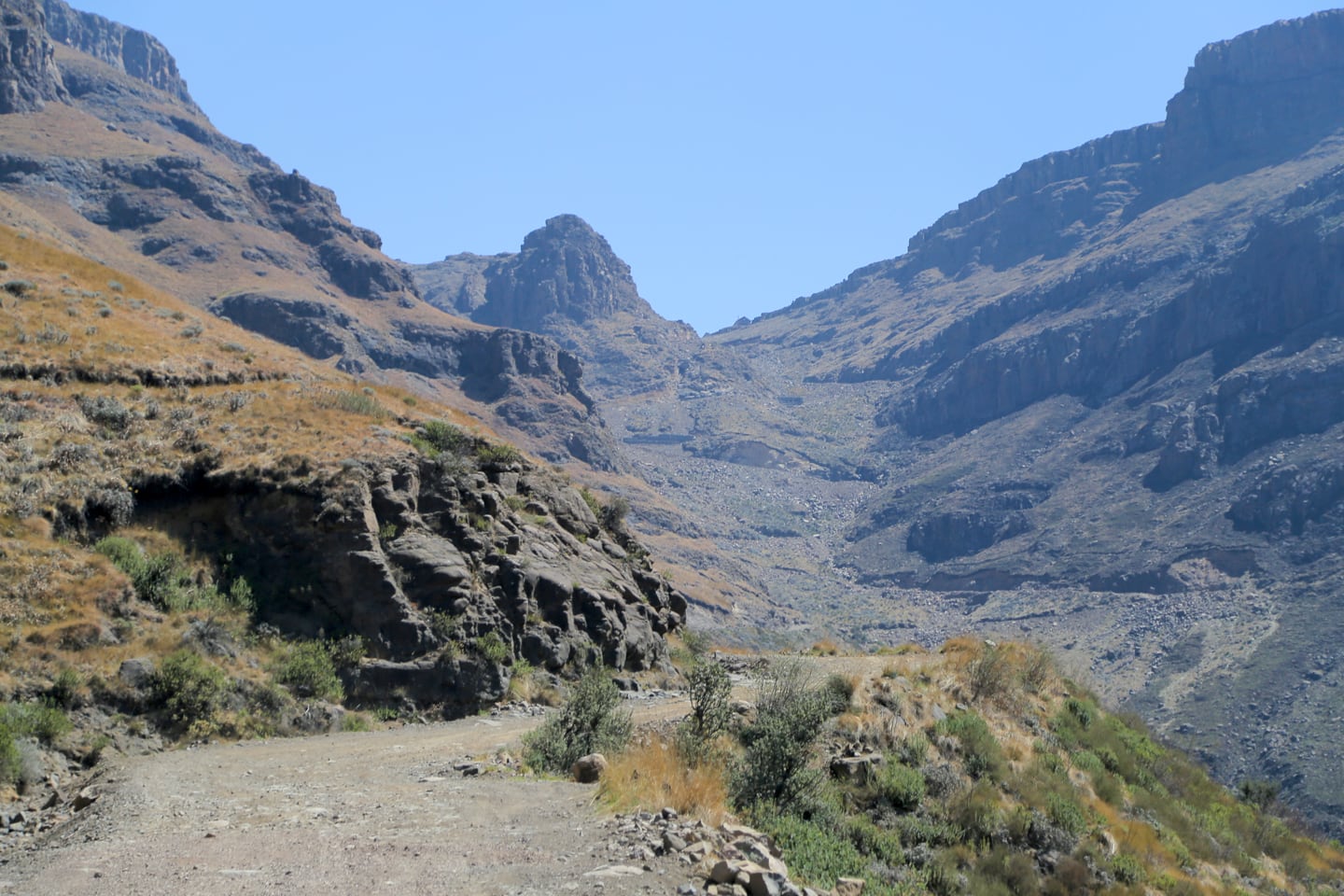 The winding road up to the pass, infamous for its hairpin curves, sheer drops, and regular vehicle accidents, has undergone major improvements in recent years.
At some point in the not too distant future, this whole thing may very well be paved and much of the adventure of the trip will be history.
For people like us (and tour guides like Stewart), that's disappointing news — but quite good news for the locals who have to make the journey regularly.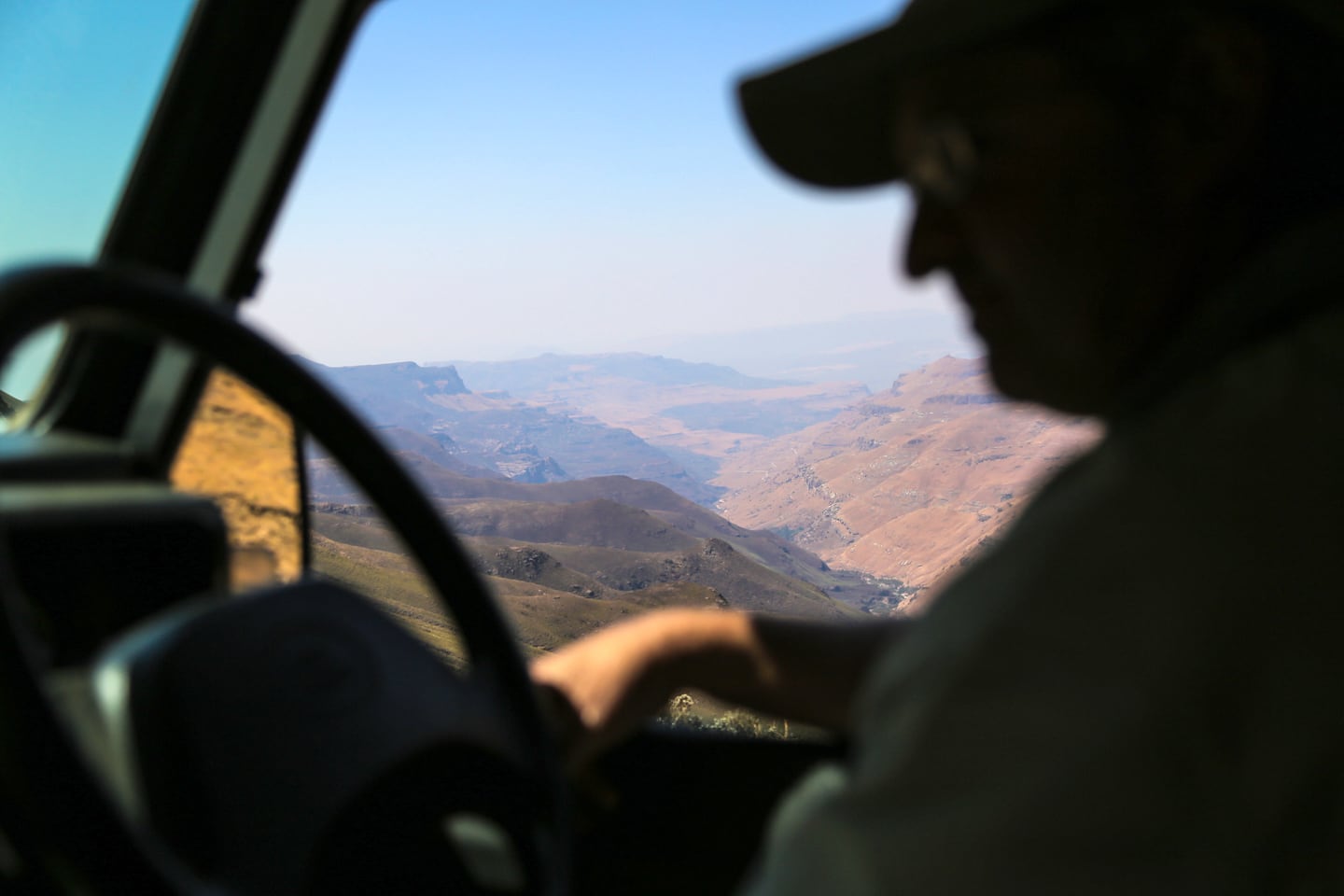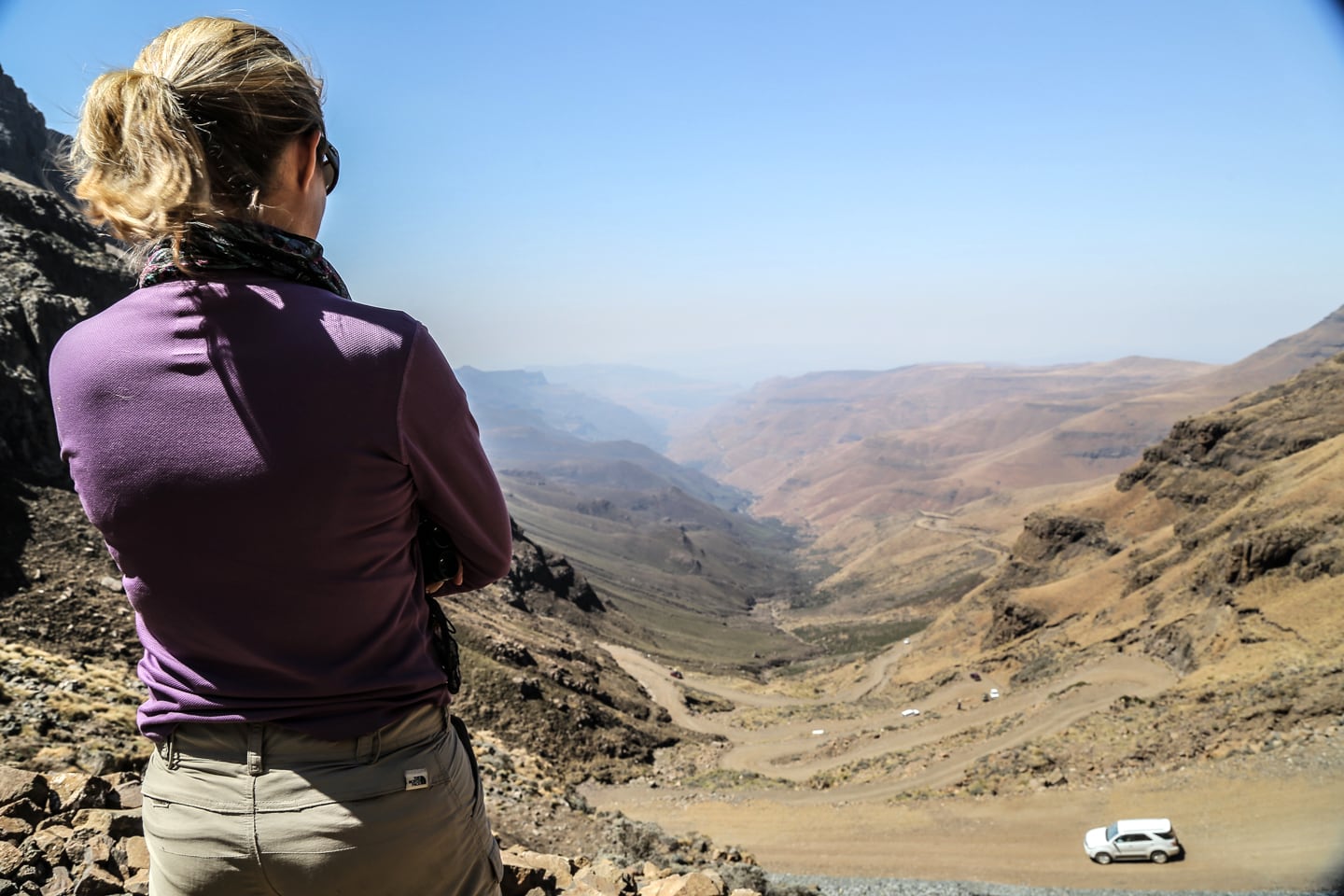 Safely at the top, we peer down to the valley below and the wild, winding mess that is the last mile of Sani Pass in South Africa, just before crossing into Lesotho.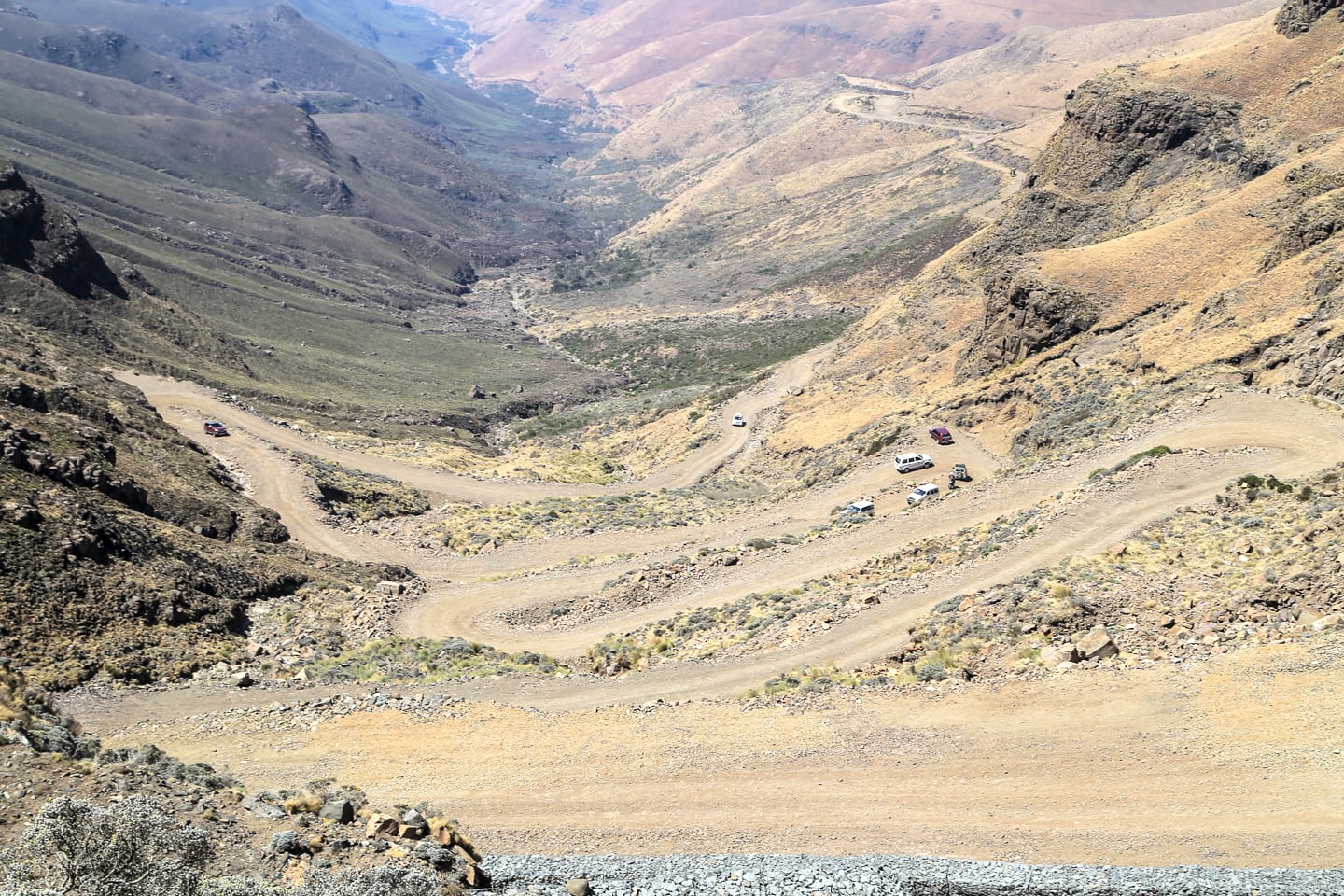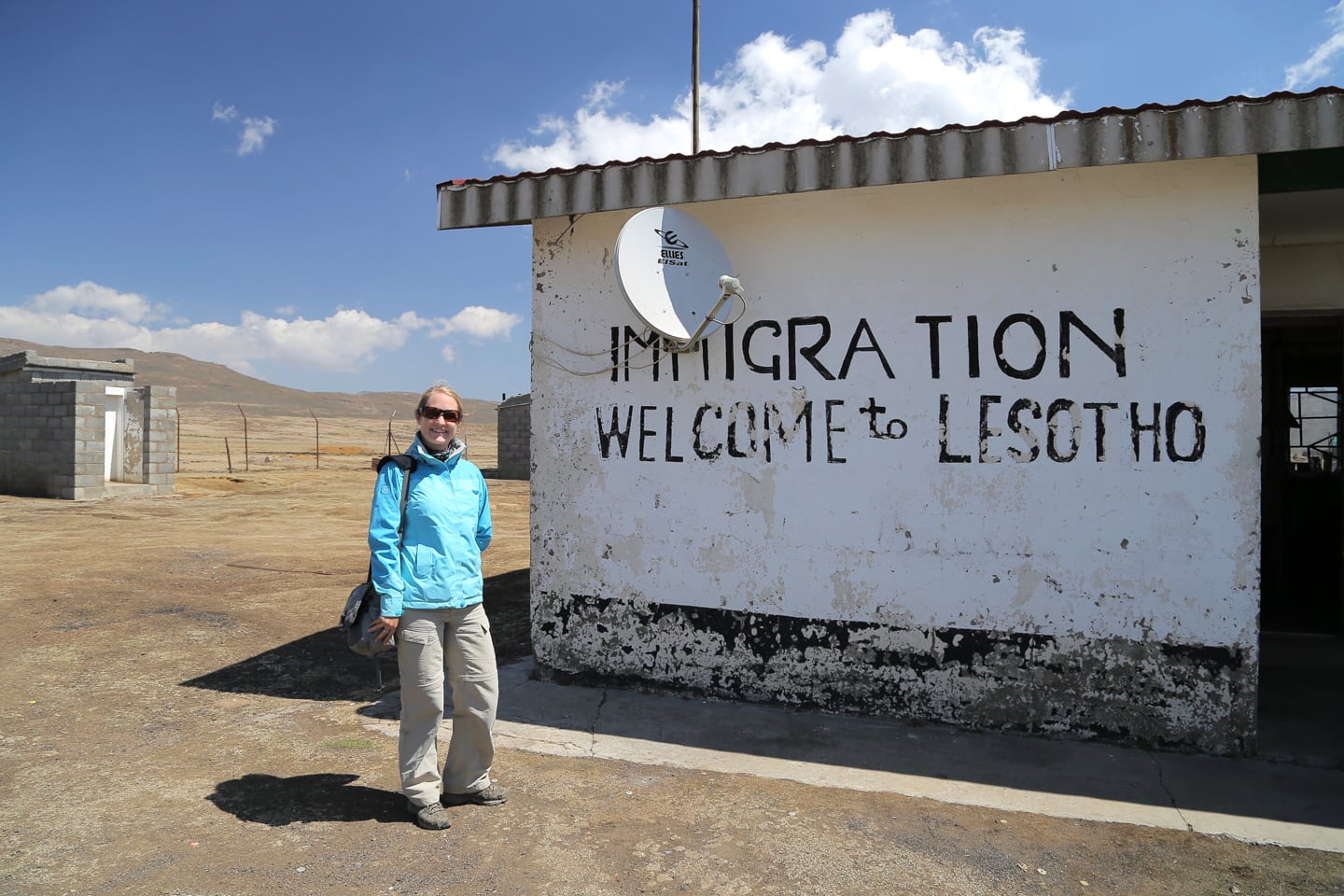 Lesotho Border & Immigration Post
The Lesotho border post is a modest facility sitting on a barren, windswept plateau.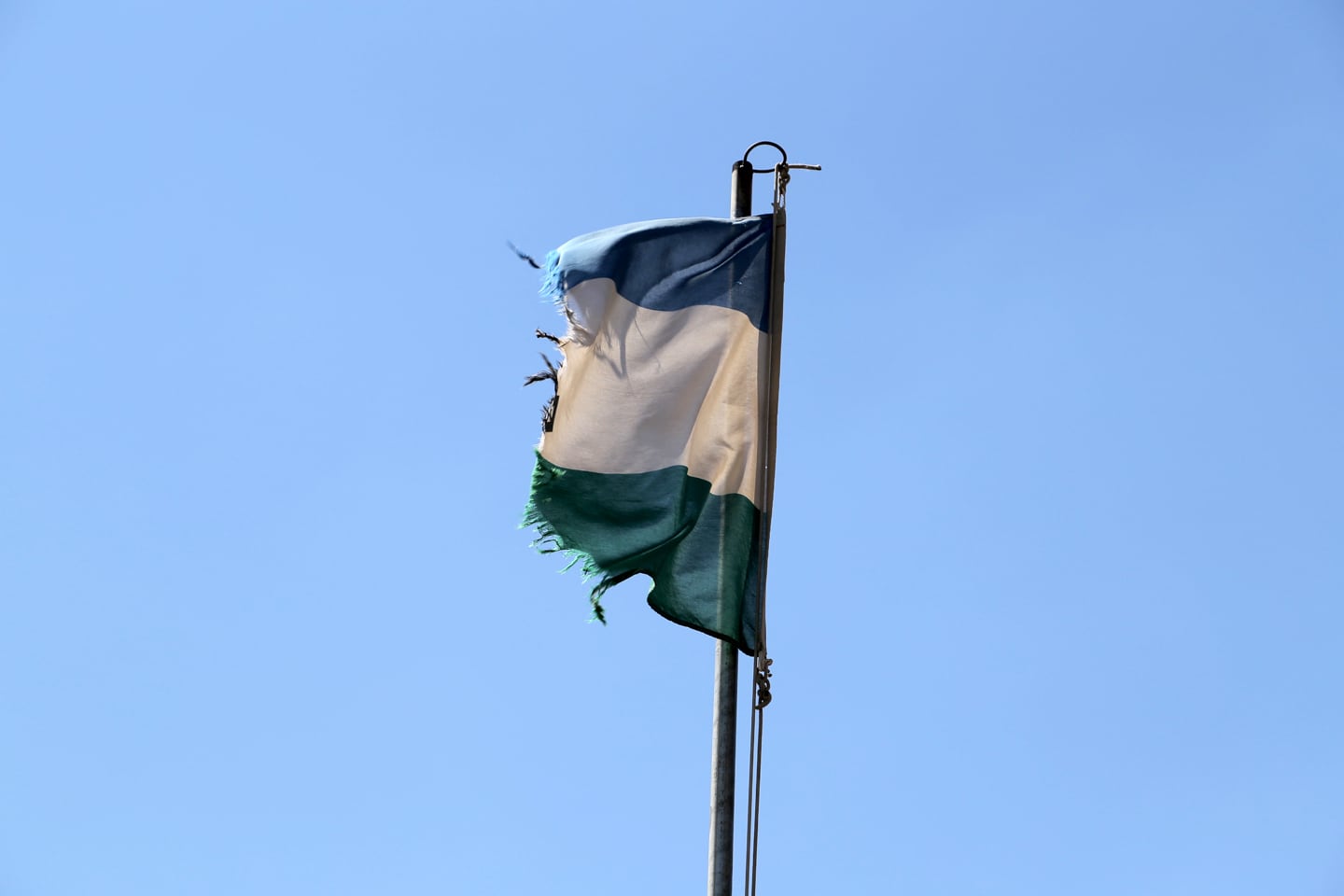 The Lesotho flag here has certainly seen better days. Given the driving wind up here, however, I can't imagine these flags have a very long lifespan.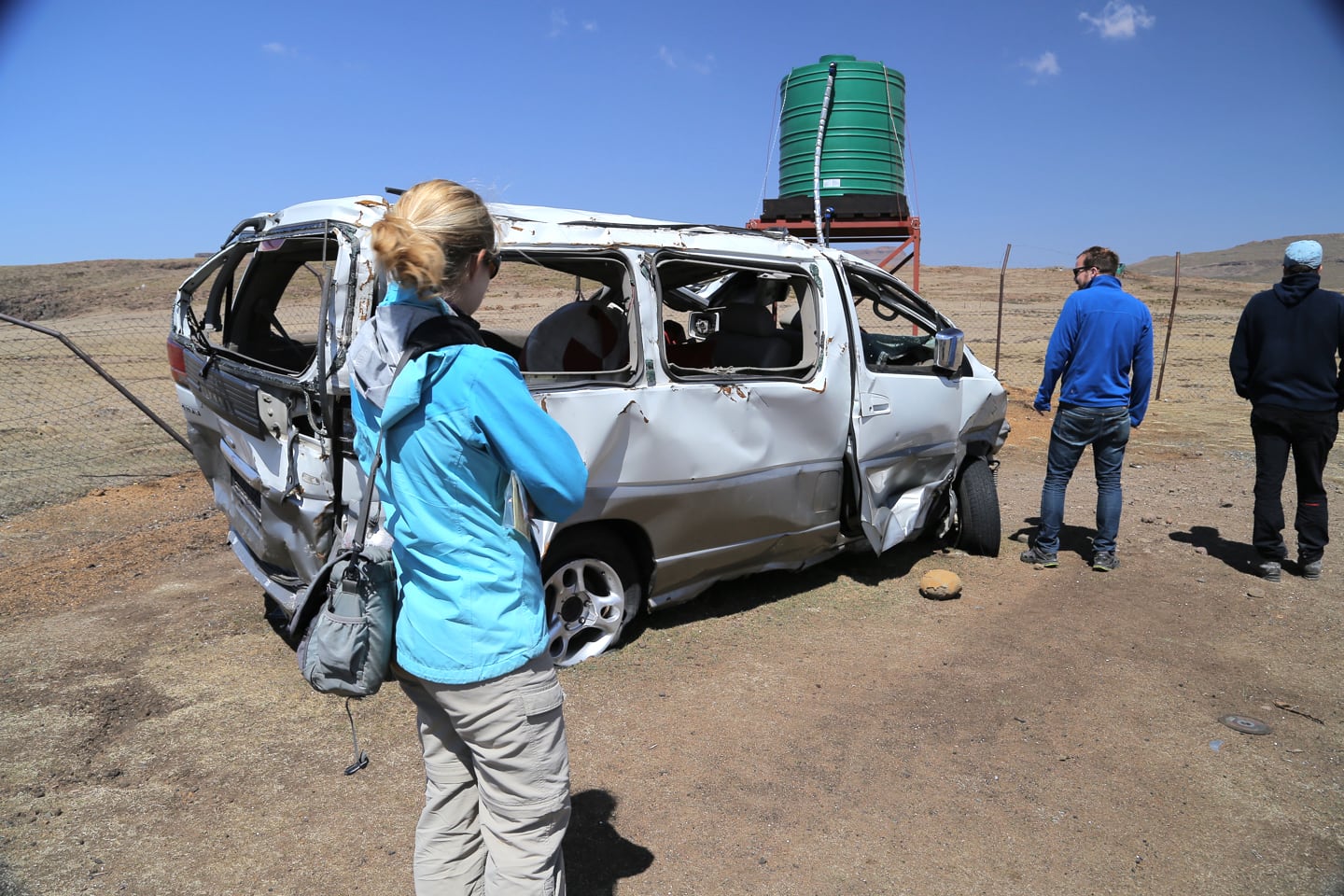 The road may be much improved, but it is still not to be taken lightly by drivers.
These are the remains of a minibus taxi which, just days prior to our visit, missed one of the hairpin turns and rolled over the edge, landing on the hairpin turn below.
Fortunately, it was only carrying a few passengers, none of which were seriously injured.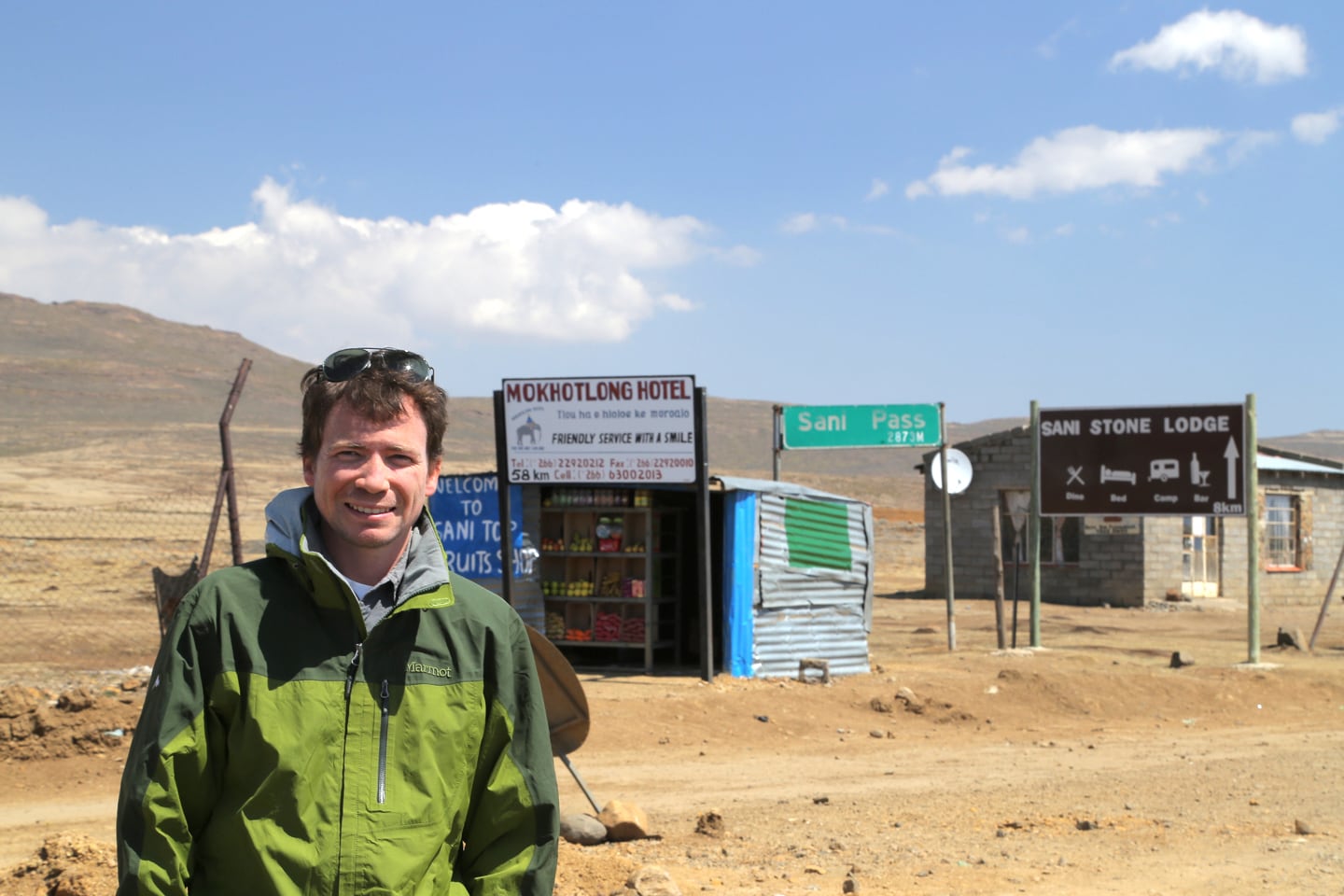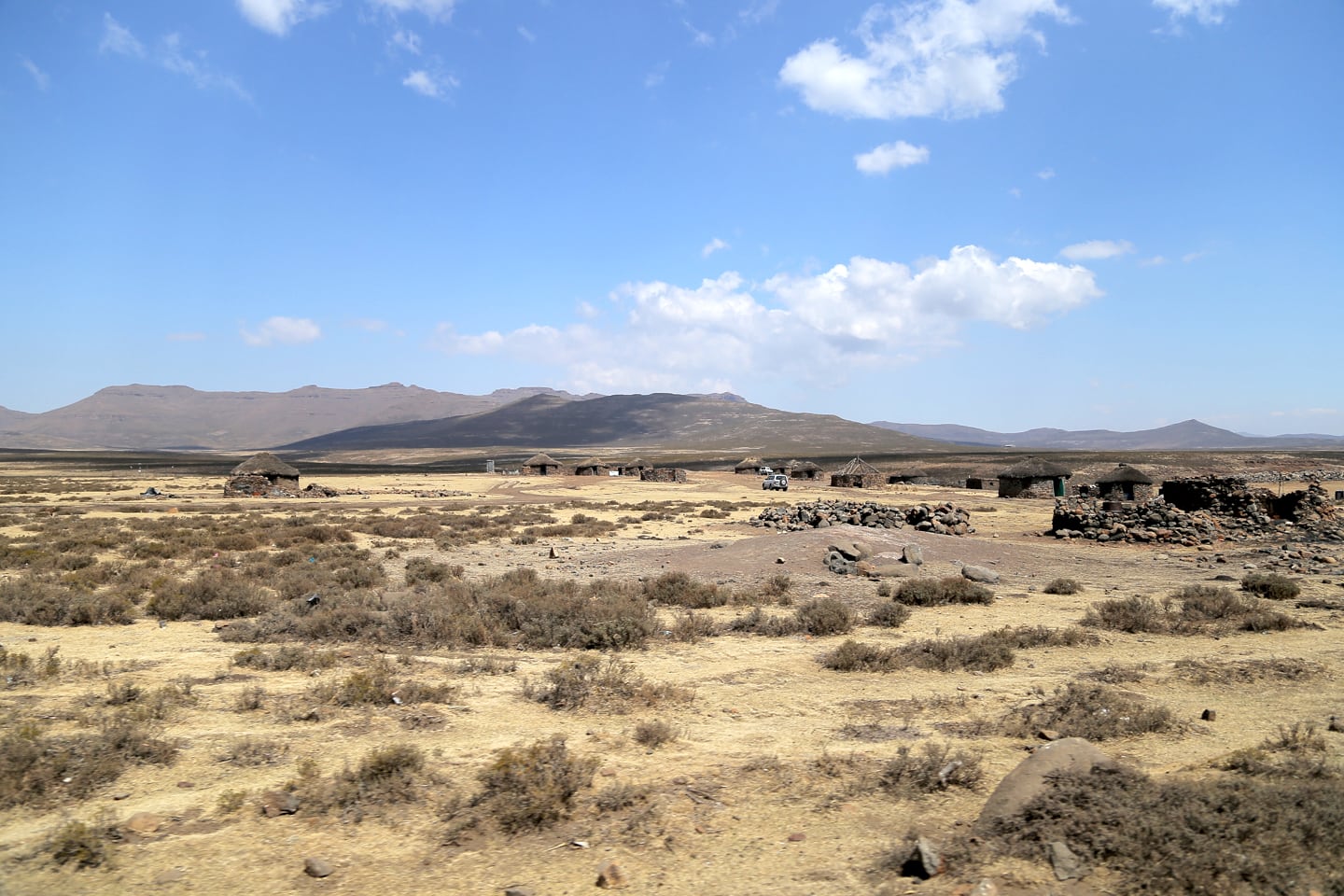 Exploring the Eastern Lesotho Plateau
Not much on the top…but a few scattered settlements, more like trading posts.
The population in these parts of Lesotho swells considerably during the warmer months when shepherds relocate to the area for the season.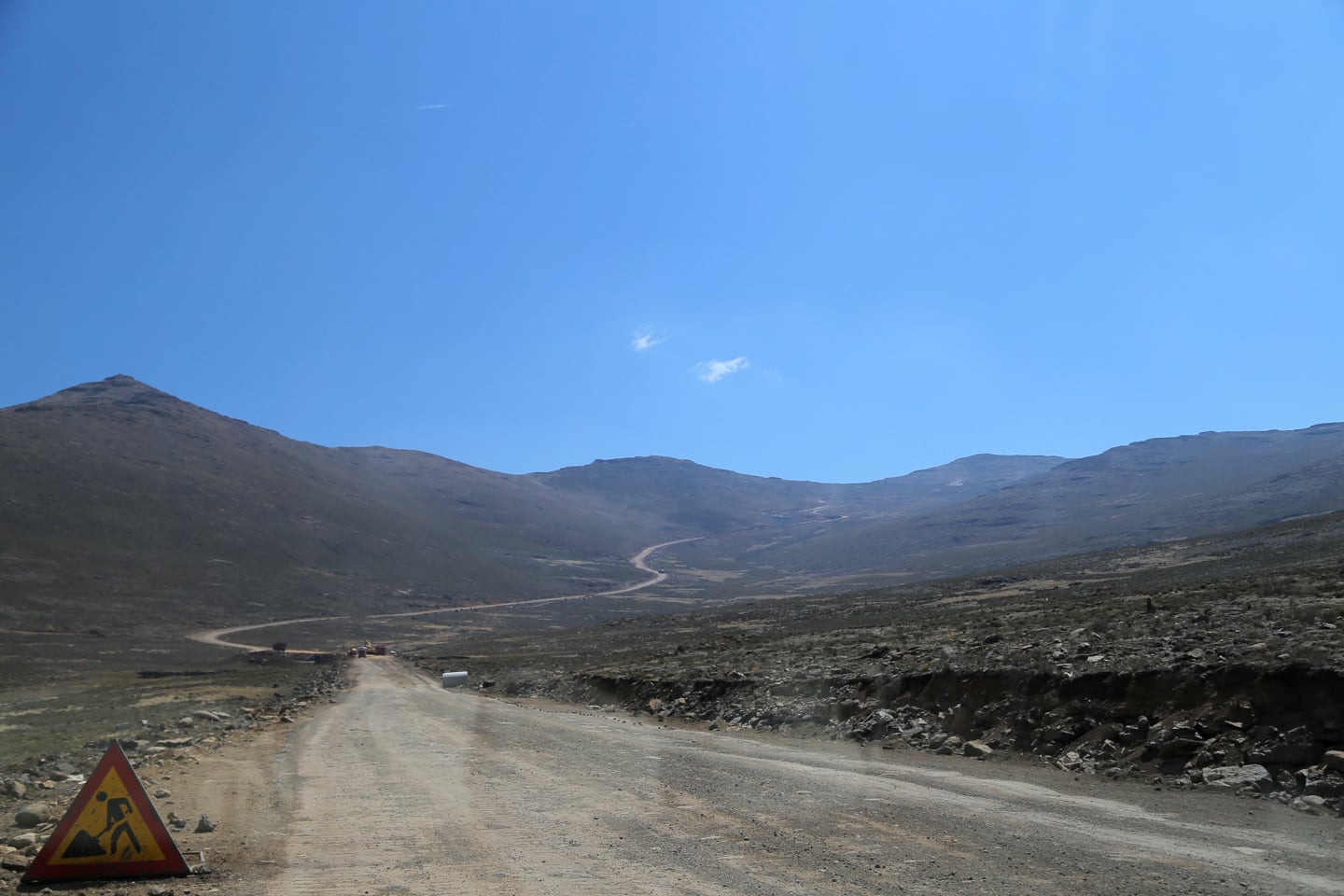 Perhaps most striking about this particular corner of Lesotho isn't the shepherds huts or the trading posts, but all of the large-scale road construction driven primarily by the Chinese.
The Chinese are in the process of improving the highway here, widening it to four lanes and eventually laying tarmac. Now, what the Chinese want with the region is anybody's guess.
Deeper into the interior, there is a small ski resort, but our guide doesn't seem to think the Chinese are interested in investing in ski slopes. Some sort of mineral extraction would be the most logical assumption. But the details unsurprisingly remain a mystery.
Nonetheless, the Chinese have a contract to improve this road to nowhere, and they are moving ahead, full bore, doing what the Chinese seem to specialize in doing in the Africa hinterland these days: blowing up hilltops and making a lot of noise.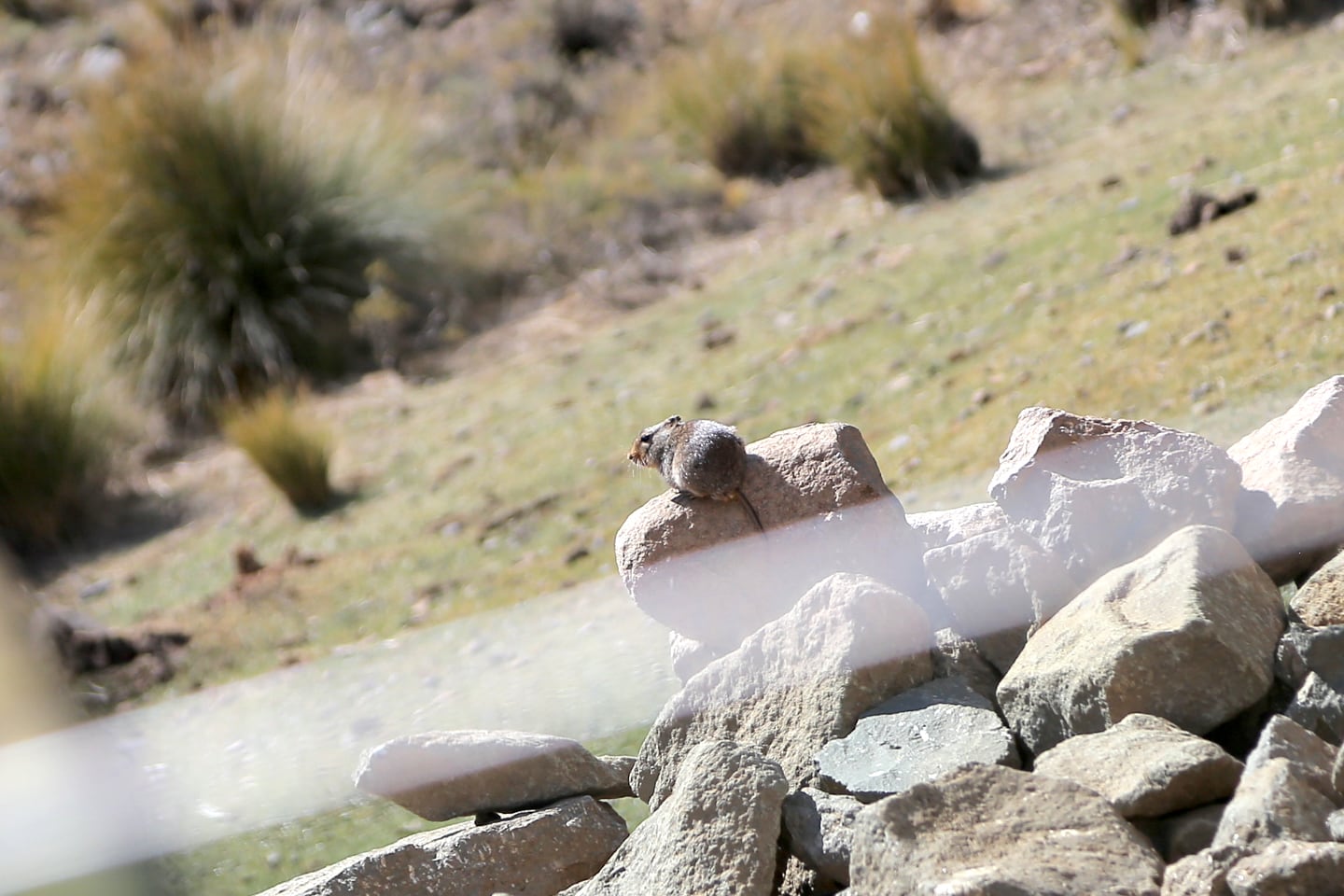 Along the way, Stewart points out a number of Ice Rats, the most common animal you're bound to see in these parts, only surpassed perhaps by goats and sheep, depending on the season.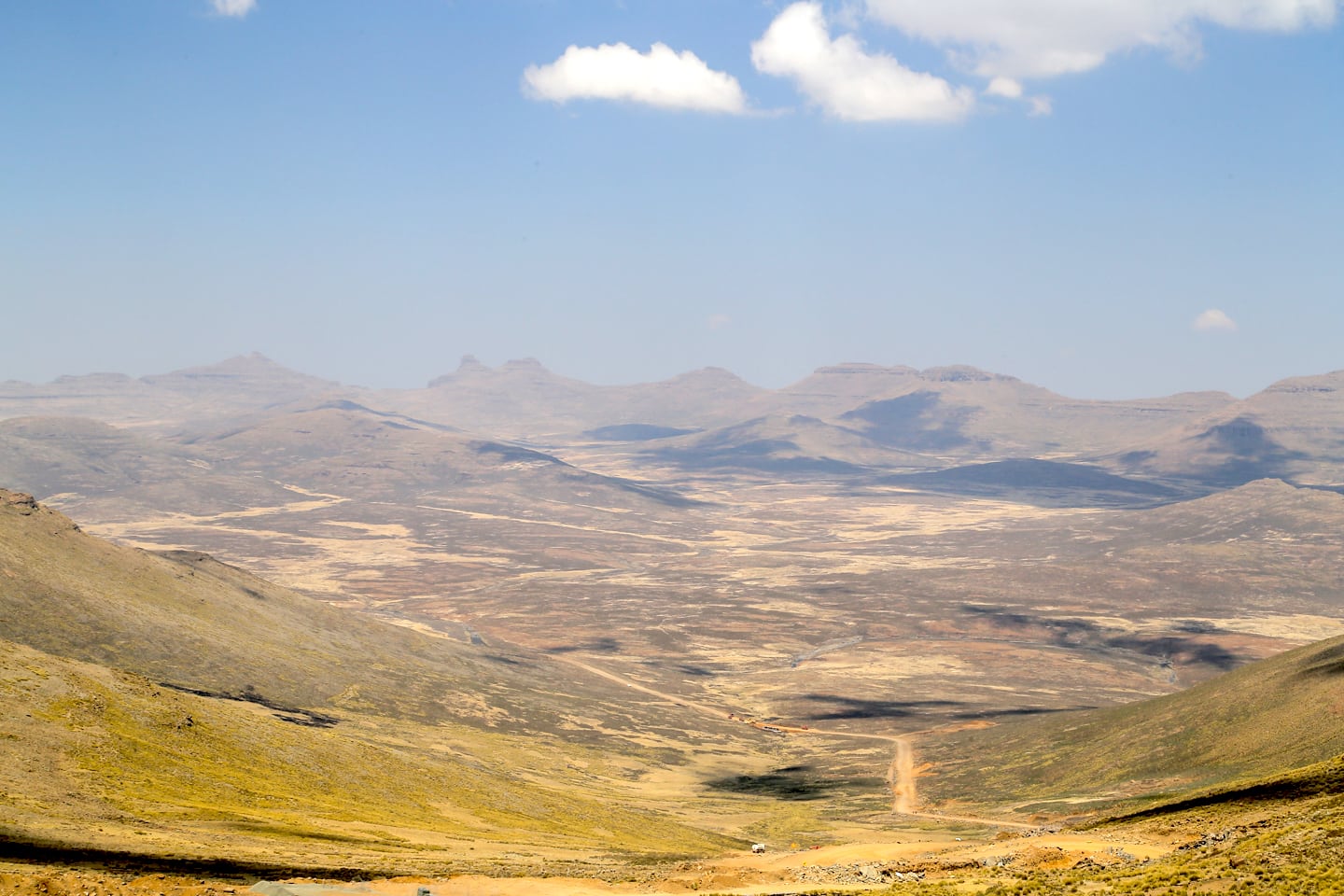 At one point, we pull over to take in the view of the Giant's Cup, a mammoth formation characterized by the long slope connecting two of the highest Drakensberg peaks.
The highest peak in South Africa (and second highest in Africa) is not far from where we are standing right now.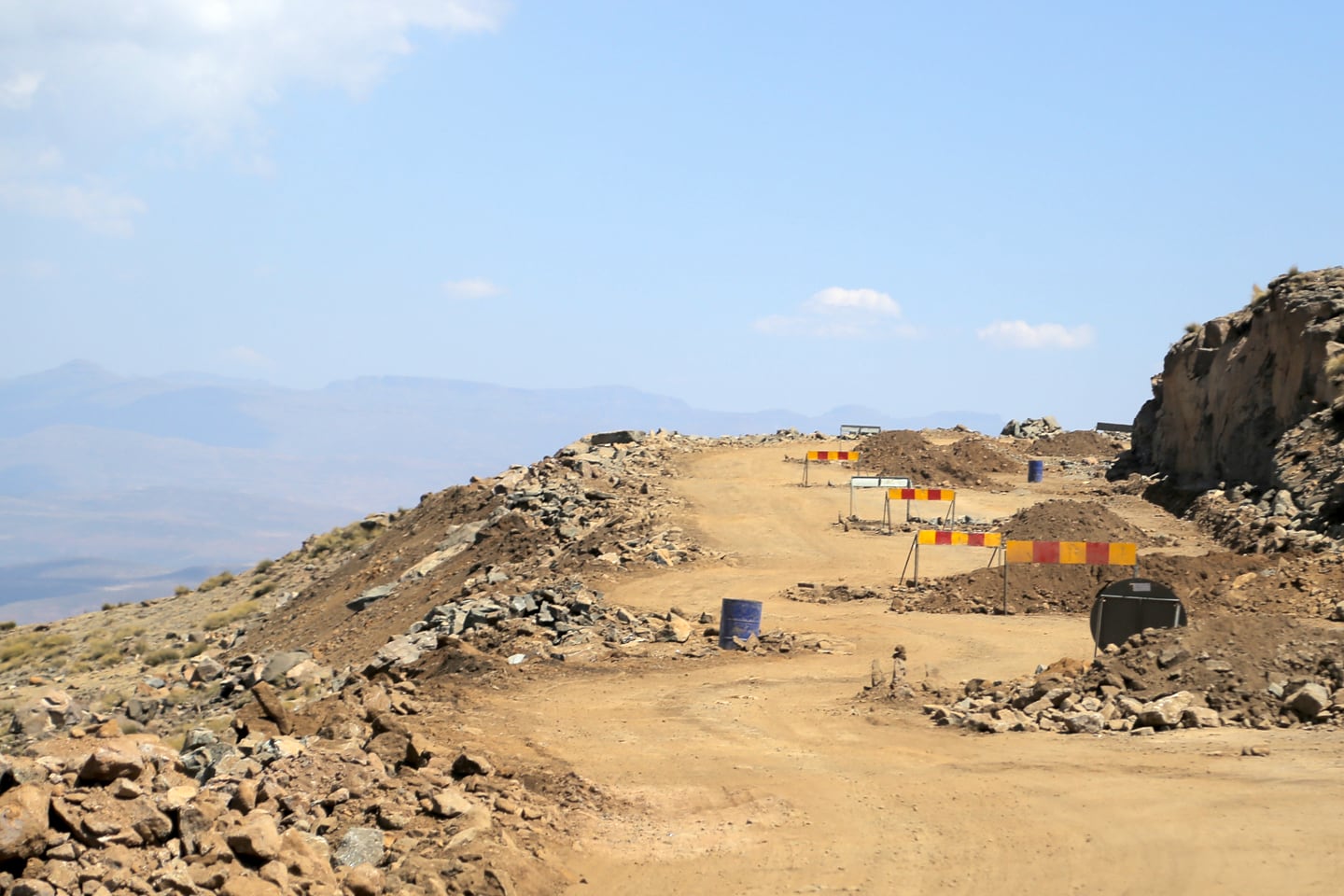 Onward and upward to our lunch spot! But not after passing through this gauntlet of roadwork.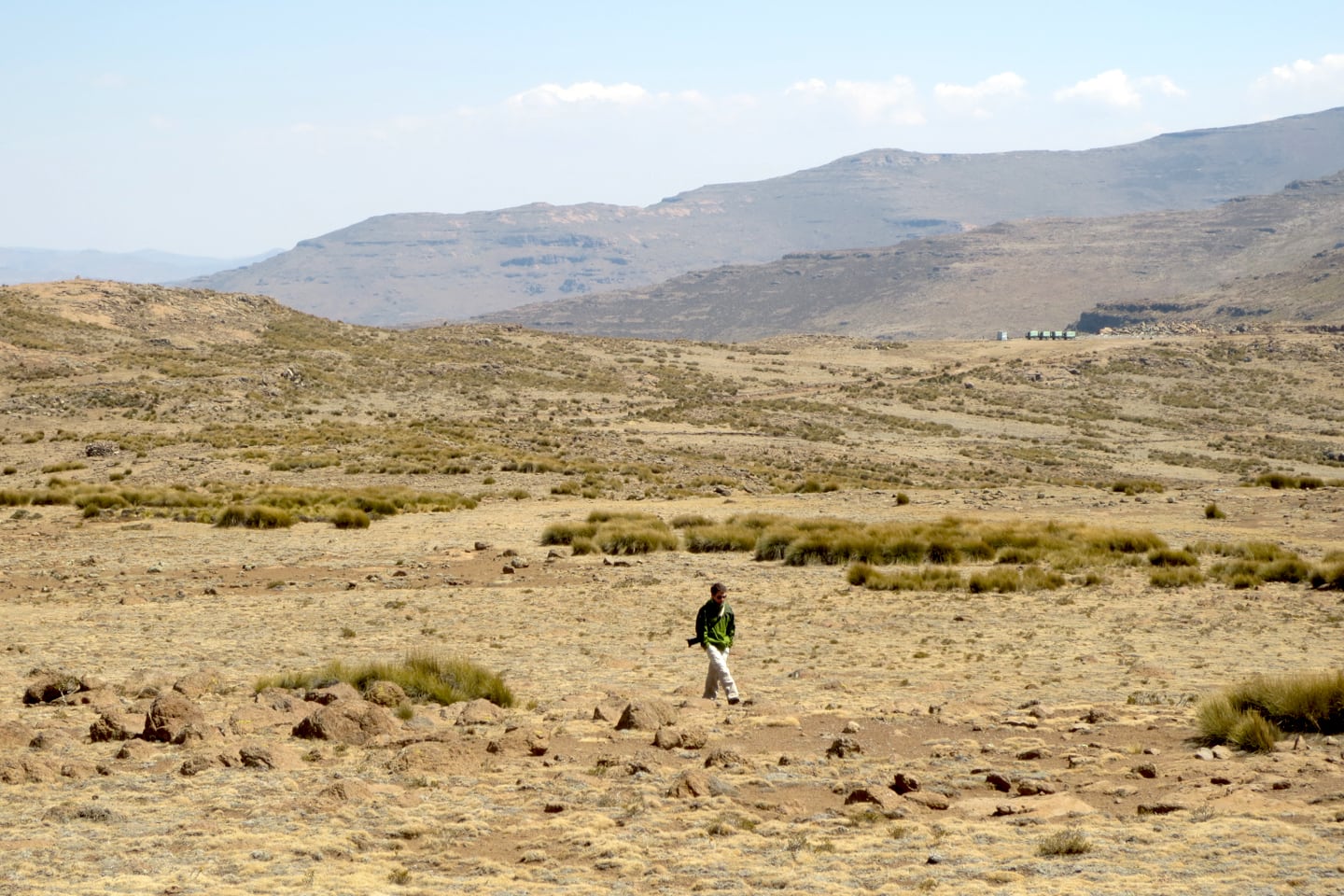 Lunch in Lesotho at 3,258 m
We leave the Land Rover and follow our guide up a hill. The air is noticeably thinner, and the landscape is stark and strangely beautiful — like being on another planet.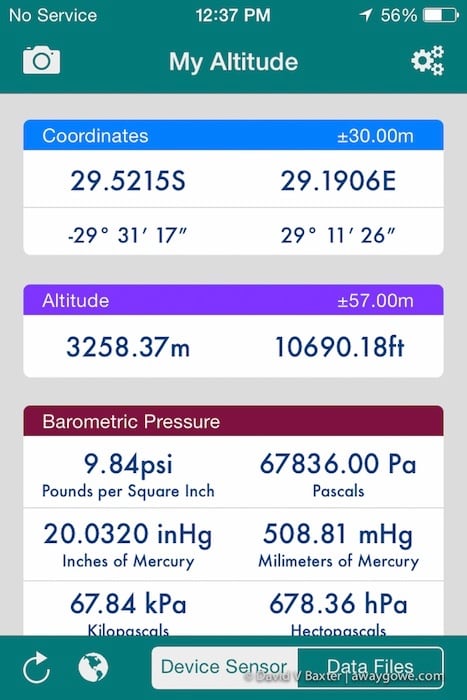 We reach our lunch stop, which happens to coincide with the highest elevation of the day: 10,691 feet (or 3,258 meters).
By the way, a really handy app for measuring these things is the aptly named app, My Altitude, which, among other features, will allow you to take pictures with your GPS coordinates, altitude, and date/time embedded. I definitely don't use this enough.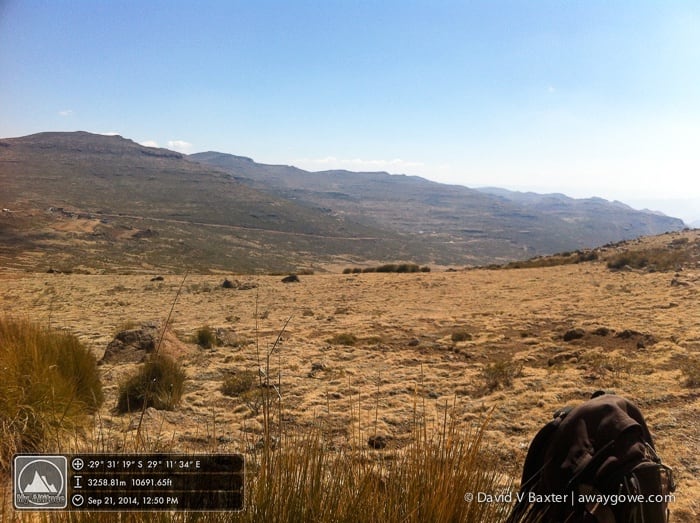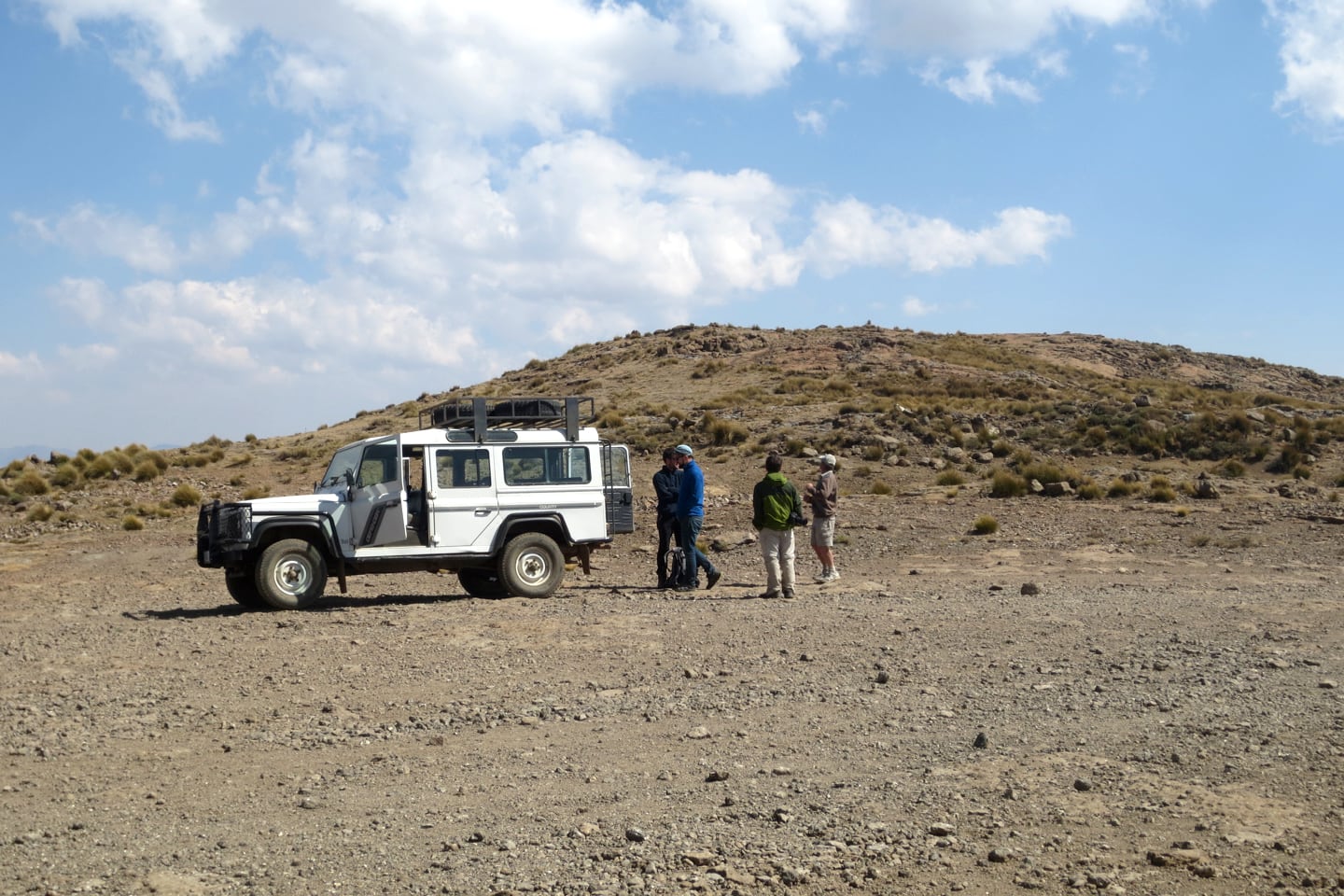 We feel very fortunate to have such a small group today — only four (two Germans and us) and our guide.
We passed a handful of other tour companies on the way up here who had many people crammed into various sizes of 4x4s. In comparison, the Land Rover felt quite luxurious, with a lot of room to spread out.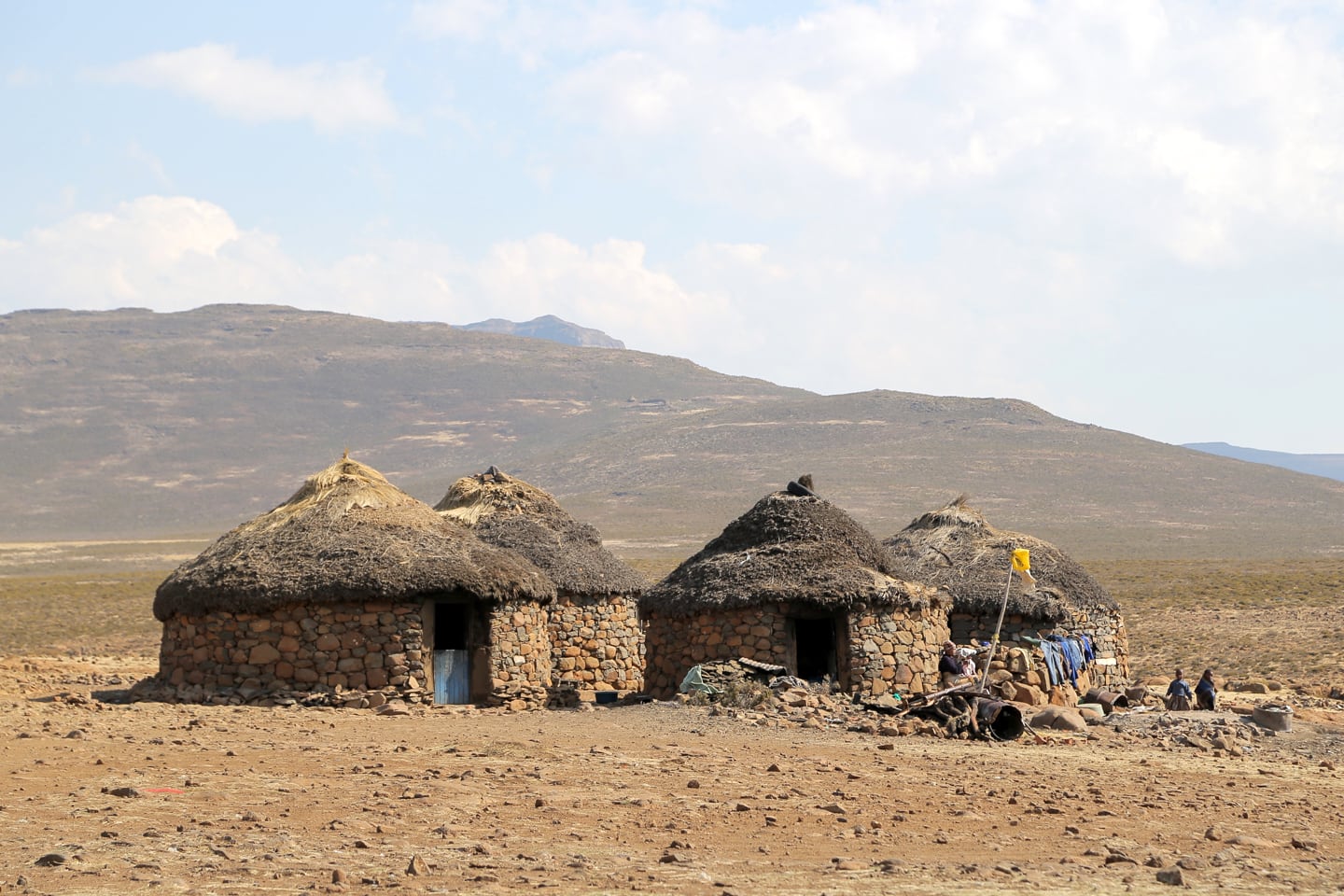 Sani Pass Trading Post Settlement
On our way back to Sani Pass, we make a stop at a trading post settlement to visit a woman who sells a variety of items, including some handicrafts made by community members.
The community is made up entirely of women, all of whom spend weeks, or months, manning these posts, isolated from the rest of their families.
Each shop generally sells something different, and their stock is always changing. They indicate what they are selling on any particular day based on the color of the flag they hoist outside of their shop.
Depending on the color, a flag may indicate bread, beer or other goods. The main clientele for these shops are nomadic herders (men) or, men traveling back and forth from jobs in South Africa, and lately, workers working on the roads.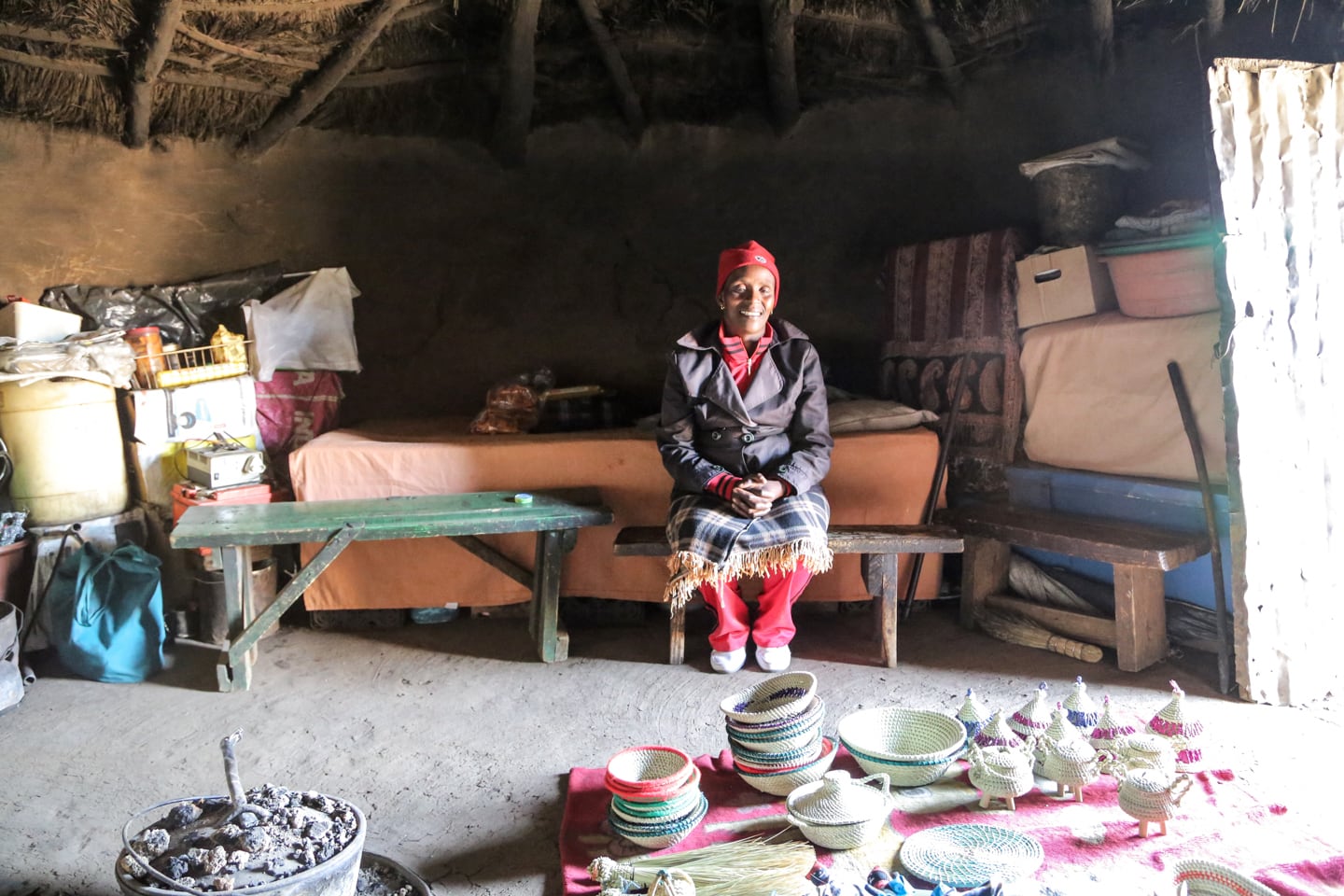 This woman has just returned from visiting her children who live a few hours away to attend school. She gets to see her children once every few weeks on average.
The night's can get bitterly cold and business can be incredibly slow at times. The women use dried sheep dung (pictured below) to cook and to warm their rondavels with.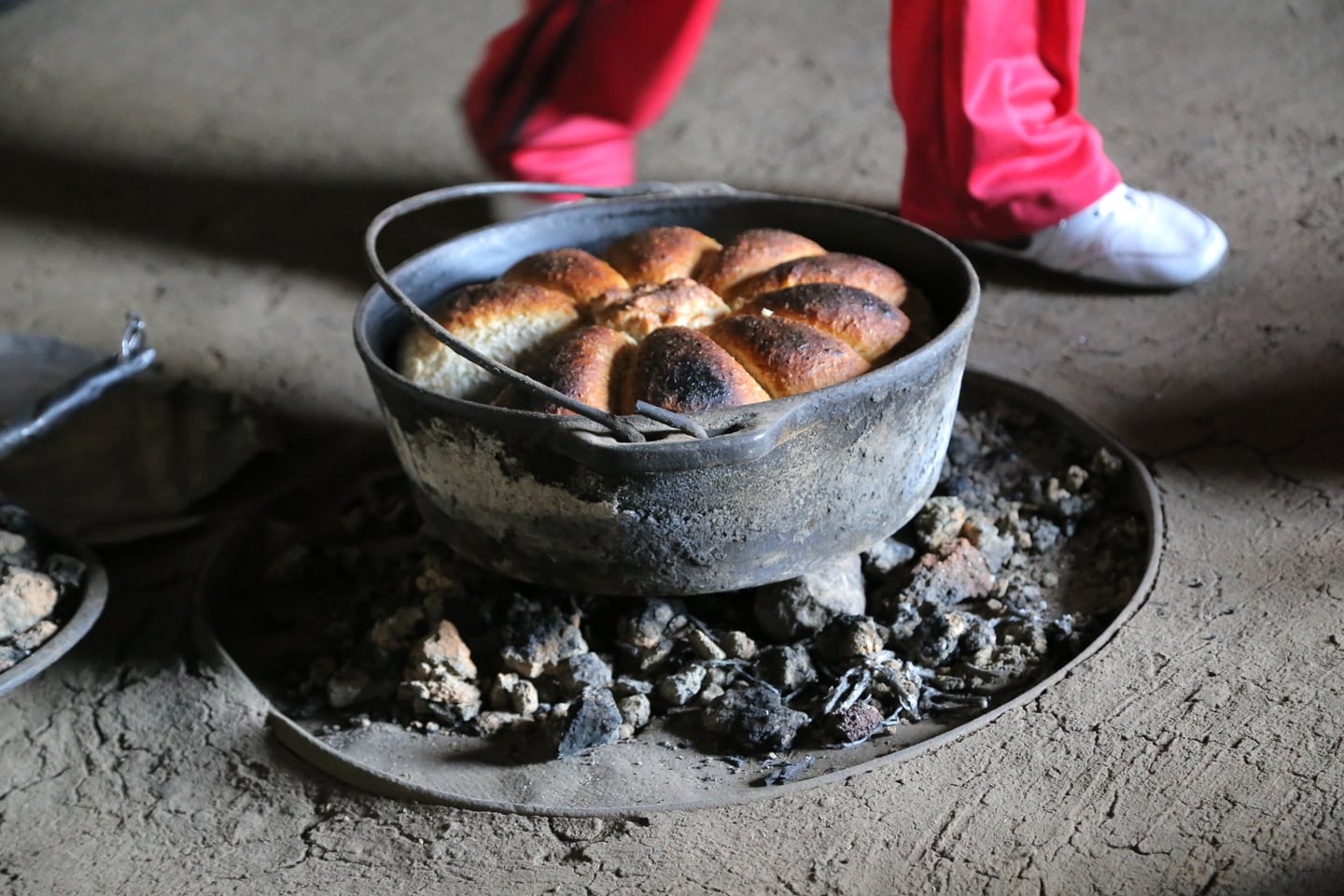 One woman in the settlement speaks English very well, and most of the tour guides choose to take their groups to her, as none of the other women speak English well (though most understand much).
Our guide, being from the area, is able to speak a common local dialect, and thus chooses to take us to another woman who guides don't visit as often (due to her lack of English skills).
We didn't know this at first, and the meeting seemed initially strained. But once we learned that she did indeed understand (and speak a little English), and that our guide was trying to do something different and give someone else business who might not otherwise have received it, it made the visit seem less superficial.
Also, it helps that our guide pre-arranged some sort of payment for her time (and her fresh bread and beer), so that the atmosphere is much more comfortable and we don't feel pressured to buy anything we might not want.
She seems happy to have us, and we're happy to be invited into her home and sample some of her delicious homemade bread and homemade traditional beer.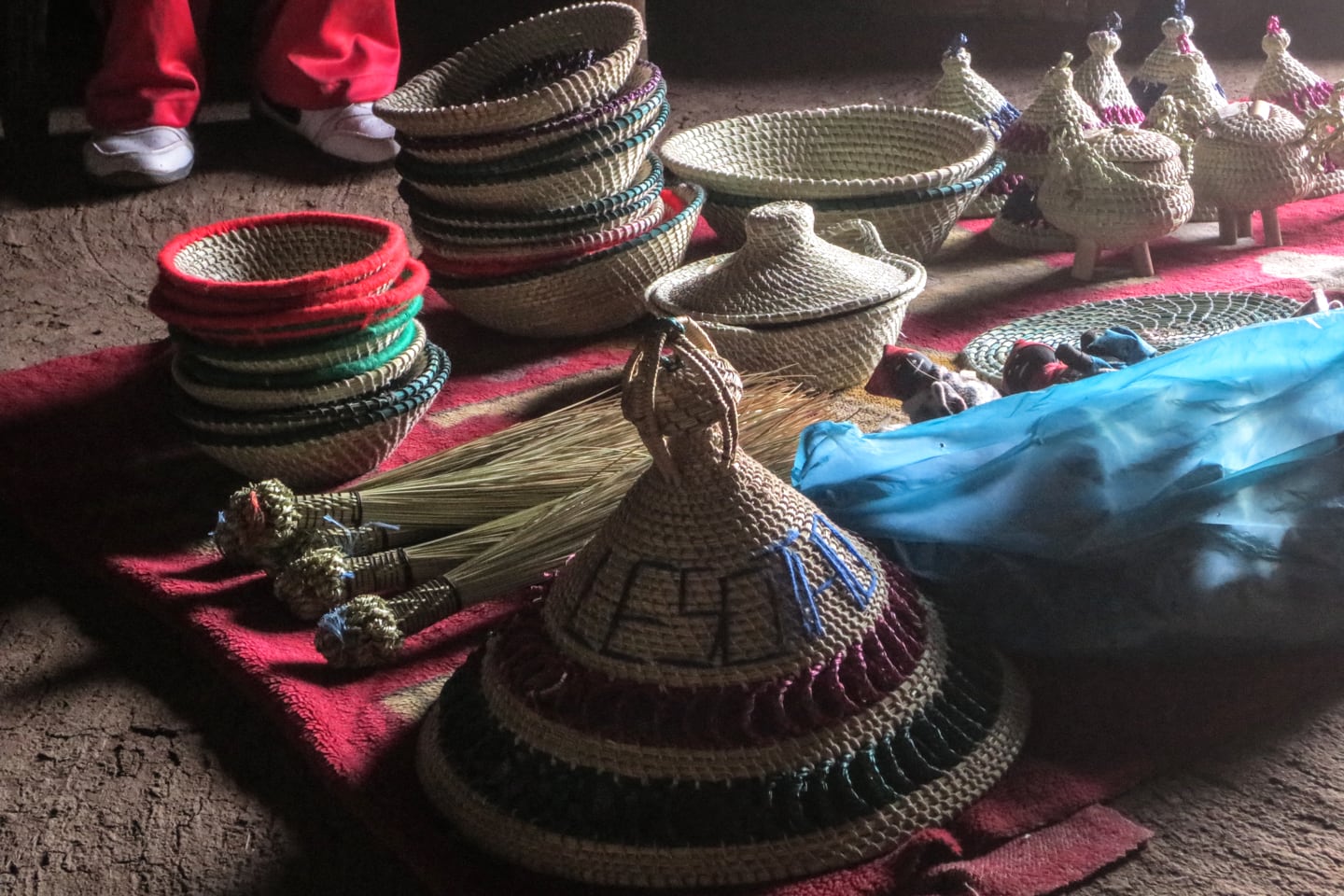 Not too long, and we're back in South Africa, ready for our final stop of our Sani Pass day tour.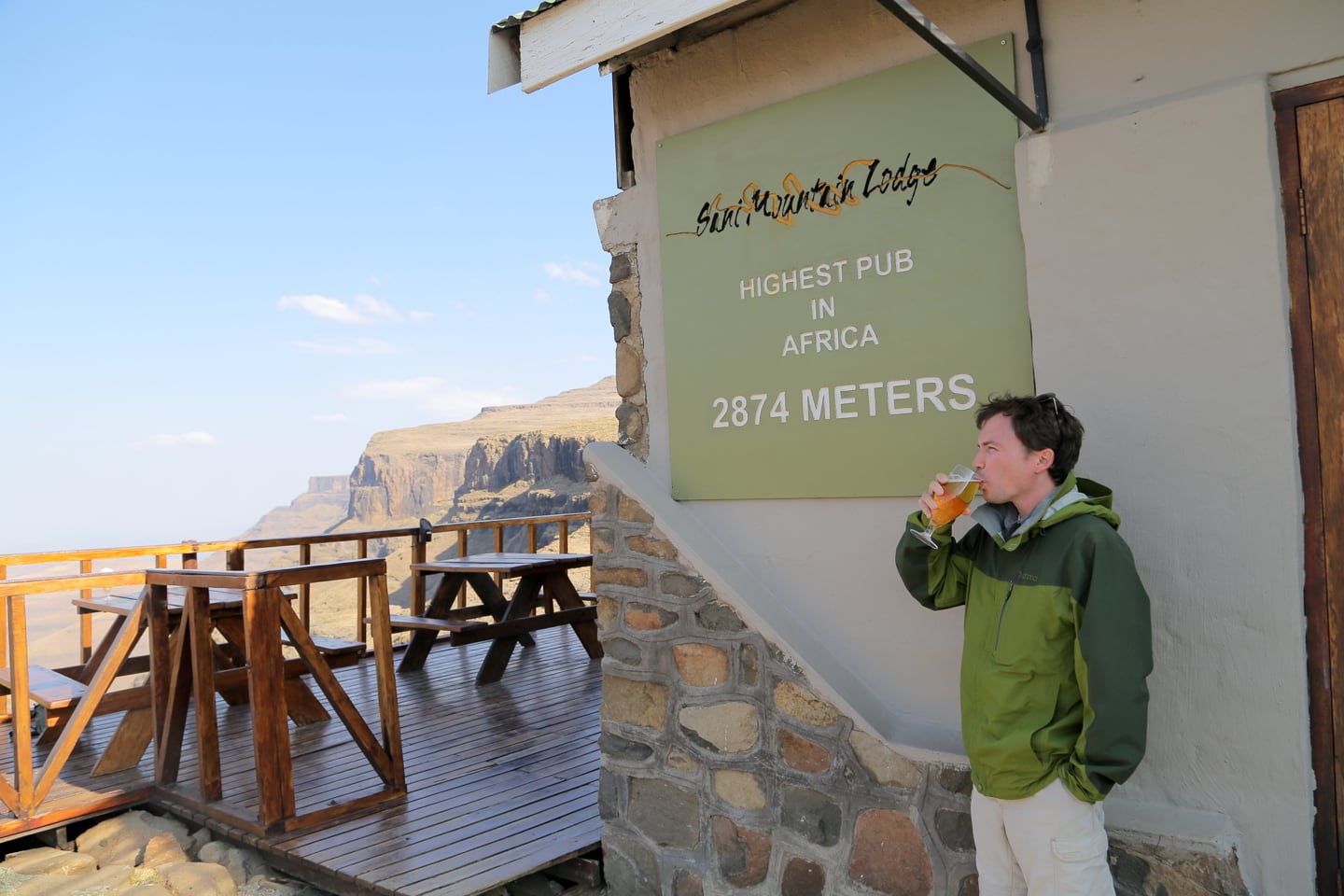 Beers & Views at the Highest Pub in Africa
And now, the moment many of you have been waiting for! A beer at The Highest Pub in Africa!
Though we now found ourselves back in South Africa, Lori and I ordered up the Lesotho beer, Maluti. It just somehow seemed fitting.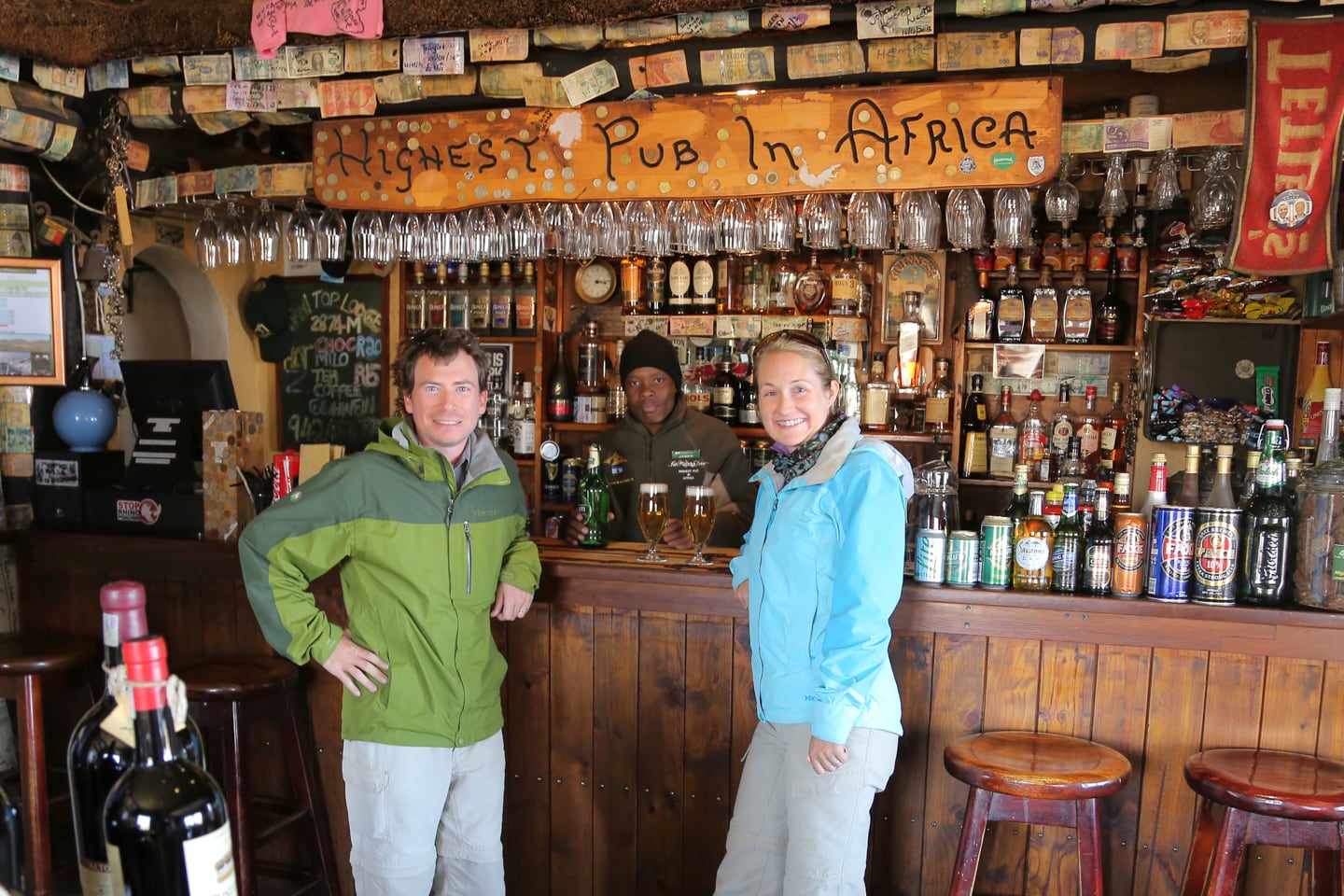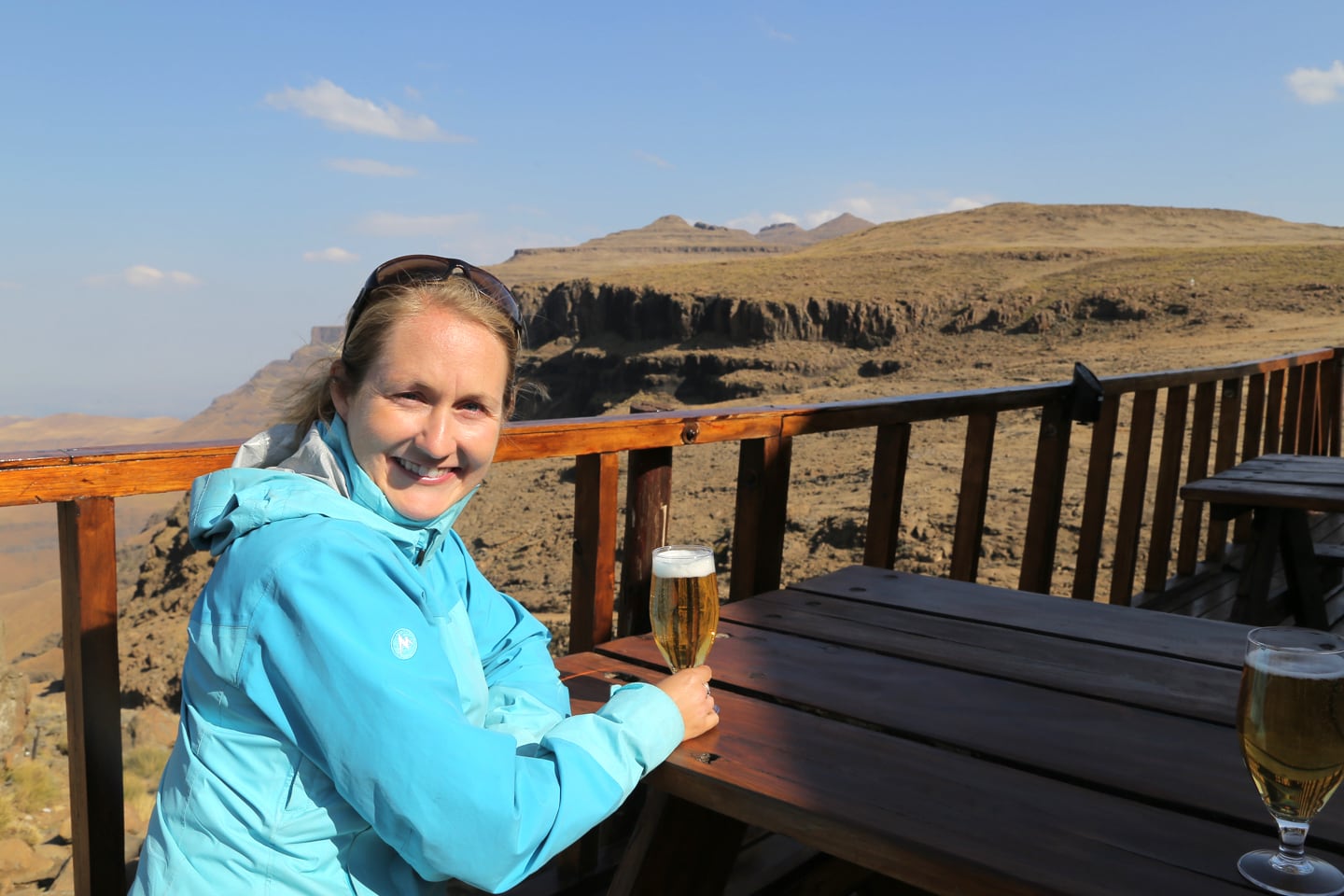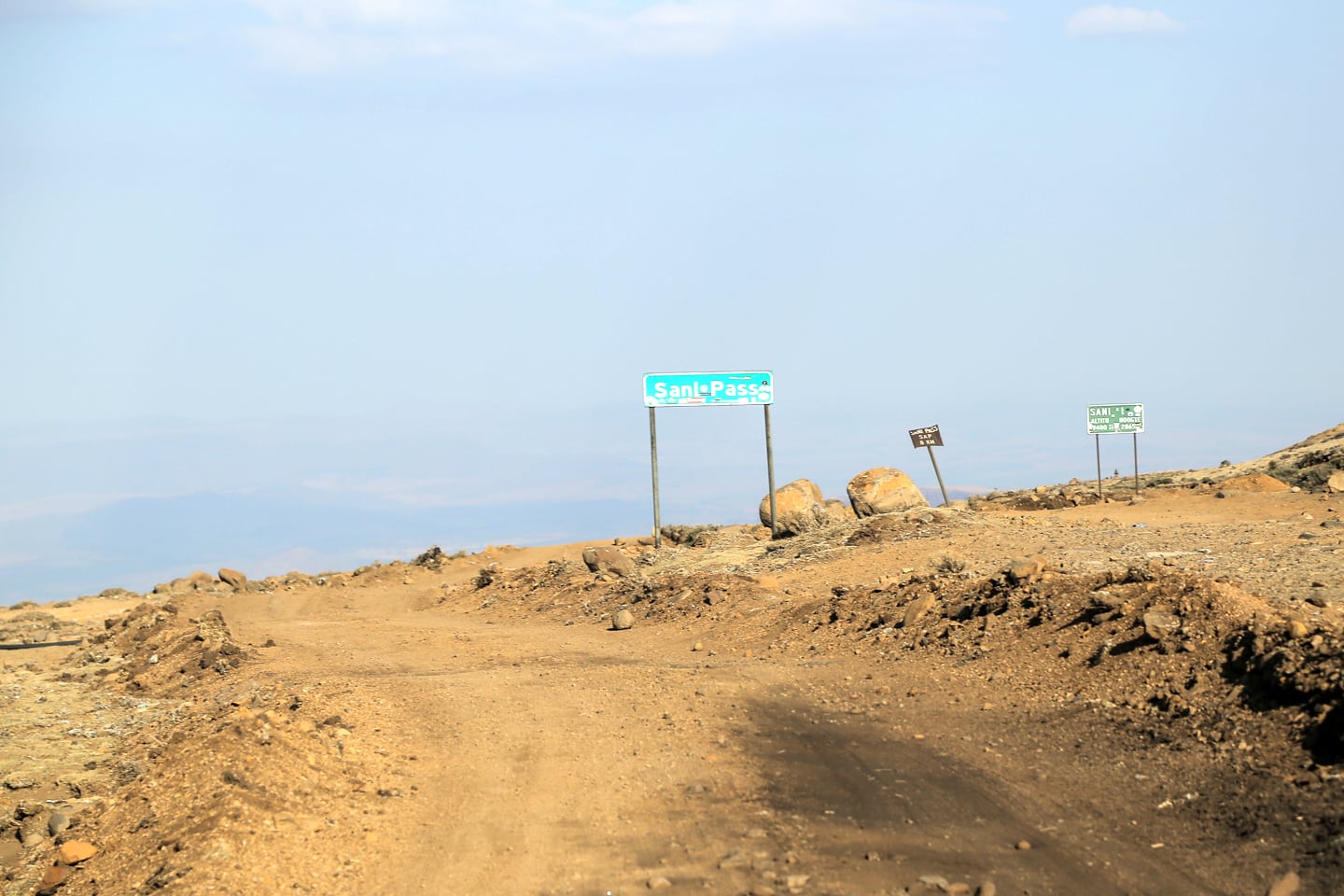 After our beers on high, we loaded up the vehicle one more time, and began the slow and arduous process of making our way safely back down Sani Pass.
Despite the many improvements, the gravel remains very loose and the road is very steep.
Take one of these corners just a little too fast and you'll end up like the minibus taxi earlier in this post.
Thankfully, Stewart is an incredibly adept driver, guiding us safely and slowly back down to the valley.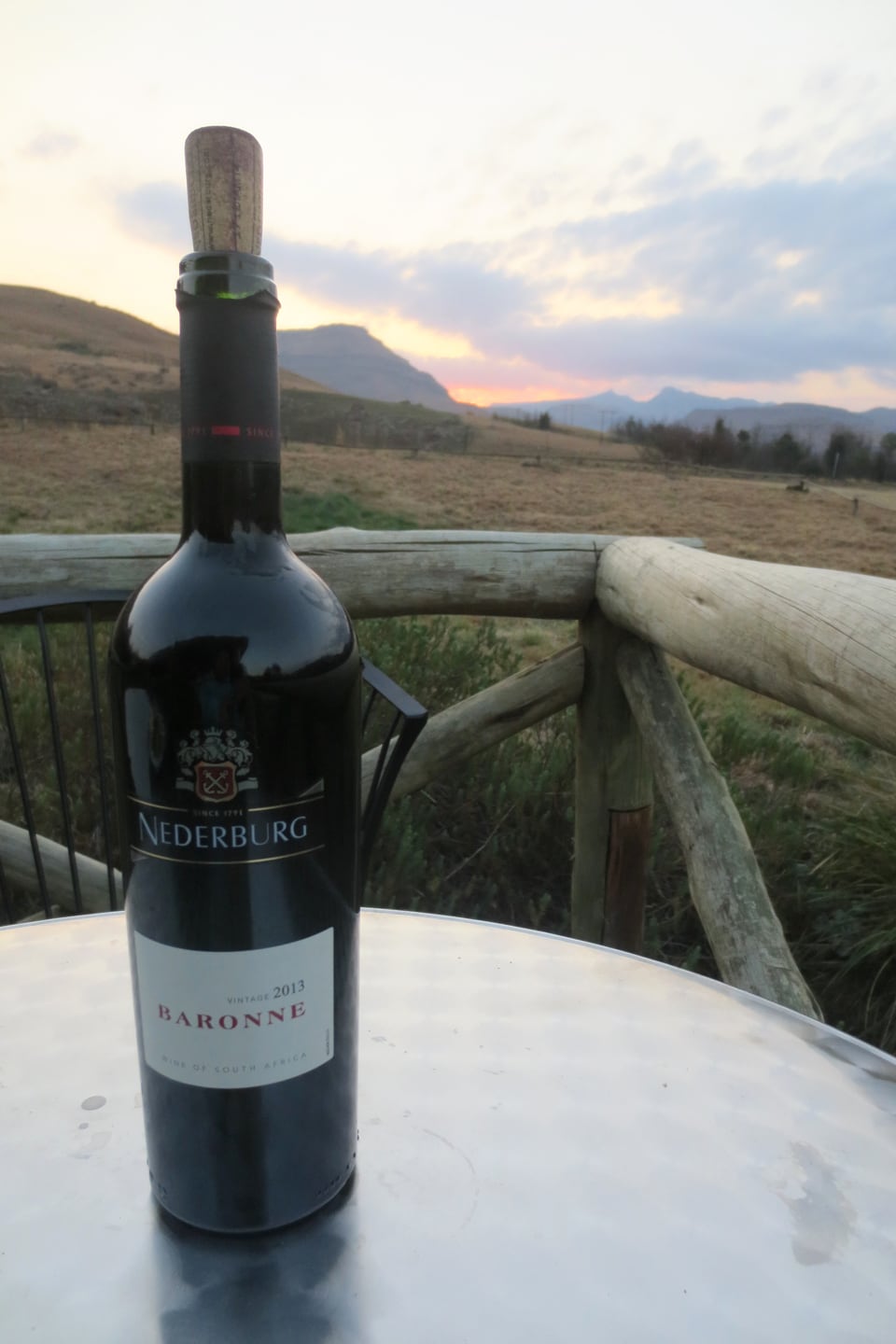 Sundowners at Sani Lodge Backpackers
Back at the lodge, we cap off a near-perfect day of cross-border adventure with a bottle of Nederburg wine.
I used to joke with Lori back in the U.S. about Nederburg, because it was the one bottle of wine I could buy in the small town in Mozambique that I lived in for two years (the rest came in a box and bordered on the disgusting).
I recall Nederburg being quite drinkable, but never thought of it as an exceptional wine.
But in South Africa, apparently it is regarded with some level of esteem, perhaps largely due to the fact that it sponsors one of SA's most popular television shows: Top Chef South Africa.
We actually tried to find the winery on our Winelands wine tour day — had directions and GPS coordinates and everything, asked around town when we couldn't find it — but still, we never found it.
Either way, the Baronne we had was pretty darn good, and a perfect cap to a memorable day.
Where to Stay Near Sani Pass
Sani Lodge Backpackers
If you're looking for an all-around awesome place to stay near Sani Pass, look no further than Sani Lodge Backpackers.
Incredibly friendly staff, wallet-friendly rates, and a multitude of very nice accommodation options for every budget.
Plus, superb Drakensberg mountain hiking just steps away from the lodge.
This is where we stayed and we can't recommend them enough.
Sani Mountain Lodge
For stunning views (but for a price), Sani Mountain Lodge perched on a cliff on the Lesotho side of the border is what you crave.
It's also home to The Highest Pub in Africa, which is not to missed if you plan on visiting Sani Pass.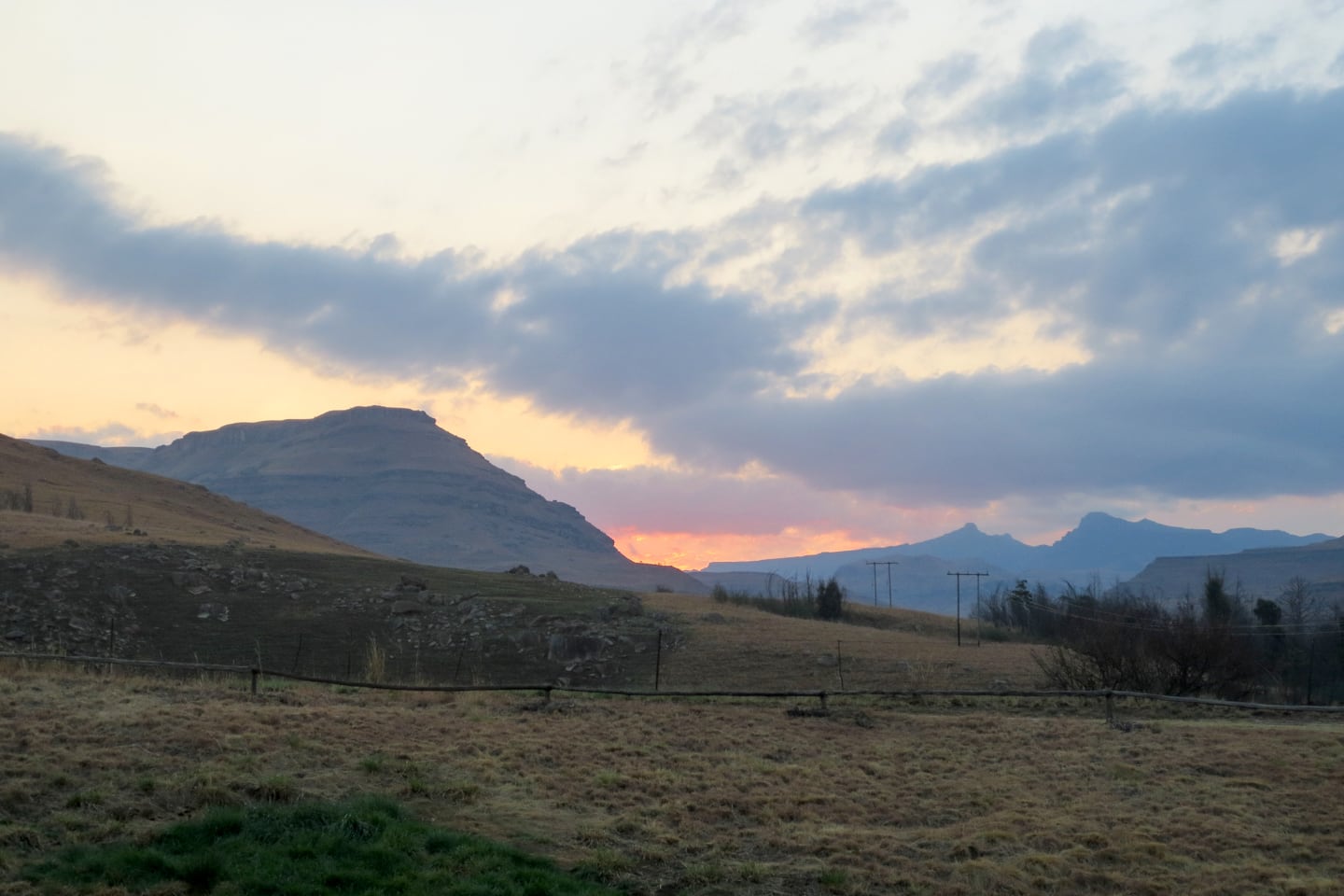 Sani Pass Tour or DIY/ Self-Drive?
We did our Sani Pass tour while on a 30-day road trip through South Africa. So, why did we choose to go with a tour company rather than simply drive the pass ourselves in our rental car?
Well, our initial reason was so that we could sit back and simply enjoy the journey, letting someone else take the helm for a day.
After having done the day trip ourselves, however, I'd be extremely hesitant to even consider self-driving, due to a multitude of factors.
For one, the condition of the road remains pretty gnarly, with deep ruts and big drop-offs at times. The loose gravel can get pretty slick around the curves and there's nothing to stop a vehicle from jumping the edge once it gets some momentum. In some seasons and weather conditions the road can be virtually impassable.
Road conditions aside, the value that our experienced guide added to the day trip was also a factor, through his personal relationships with the local communities and local knowledge.
If you do consider driving yourself, a well-equipped, well-maintained 4×4 is recommended. And don't even think about doing the drive if you have no prior experience handling a rig like that in these types of conditions.
Have You Done a Sani Pass Driving Tour in South Africa?
Were you happy with your decision? Tell us about it in the comments below.
25 May 2020
21 Sep 2014
We use affiliate links and may receive a small commission at no extra cost to you. Learn more in our privacy policy.