Vang Vieng has long been known for two things: Outdoor adventure activities and partying. So, it's no wonder that many parents of infants and toddlers might be reluctant to visit this corner of Southeast Asia—which is an absolute shame, because it is indeed an amazing, one-of-a-kind area of the globe with something significant to offer for everyone.
Here are eight totally doable (and fun!) things to do with a little one, taken from our own experience over five visits (and counting) with an infant (now, toddler)—all personally tested and approved by two well-traveled parents living in Laos.
It's important to note that most of these activities require (or are made much more enjoyable) with some sort of secure and comfortable baby carrier. We've been using the Ergobaby 360 Cool Air since Noe was about three months old for nearly all of our outdoor activities and would highly recommend it.
PS—this article contains some Amazon affiliate links (like the one above), so if you do happen to purchase something through them we get a little kickback (at no extra cost to you). Thanks for supporting the free content on this site!
And with that, on with the list!
8 Things to Do with a Baby in Vang Vieng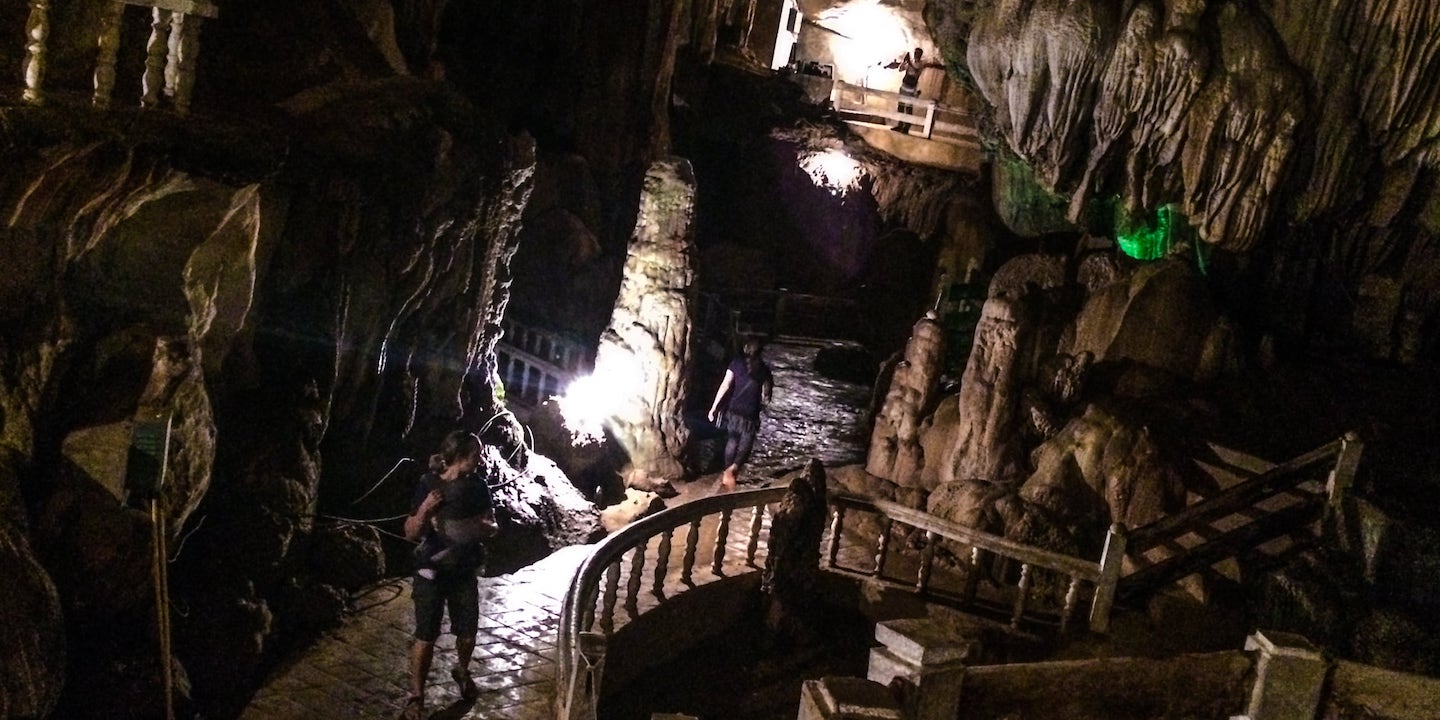 1. Explore an Amazing Cave!
With or without the babe, you shouldn't miss exploring Tham Chang (Jang Cave) [find on map].
Chang Cave is one of the larger and more developed caves around, and right outside of the main city center. That won't excite most hardcore spelunkers, but if you're traveling with an infant or toddler this activity offers just enough excitement for you and the little one, in between feedings and naps.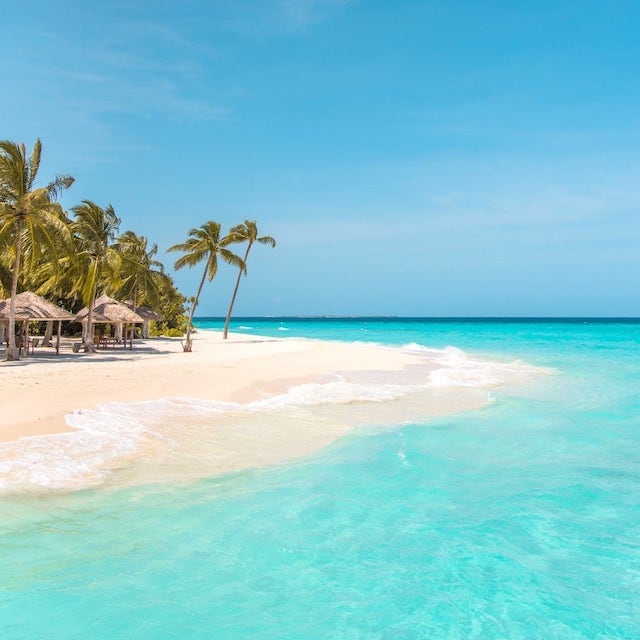 Subscribe to AwayGoWe!
Get our latest articles in your inbox, plus subscriber-only travel tips, special promotions, and more!
Once you get up to the cave, it's an easy stroll along well-lit cement walkways through the various sections. Some climbing of steps are involved, but no clambering up slippery surfaces or crawling through tight spaces.
If you don't have your own transportation, you can easily hire a tuk-tuk or songthaew to take you the short distance from town to the parking lot.
We've walked from town all the way to the cave, but much of the stretch of road is sun-exposed, so we recommend bringing ample sun protection and hydration if you are thinking of doing this.
From the parking lot, the cave is a short (and picturesque) walk over a bright-orange suspension footbridge, along a wooded path, and finally, up 147 steps (yes, 147, but you can do it!) to the cave entrance.
If you have someone to share baby duty, bring your swimsuit! There's an awesome crystal clear lagoon that disappears into its own little cave a short distance to the left of the cave ticket booth (follow the series of metal catwalks).
---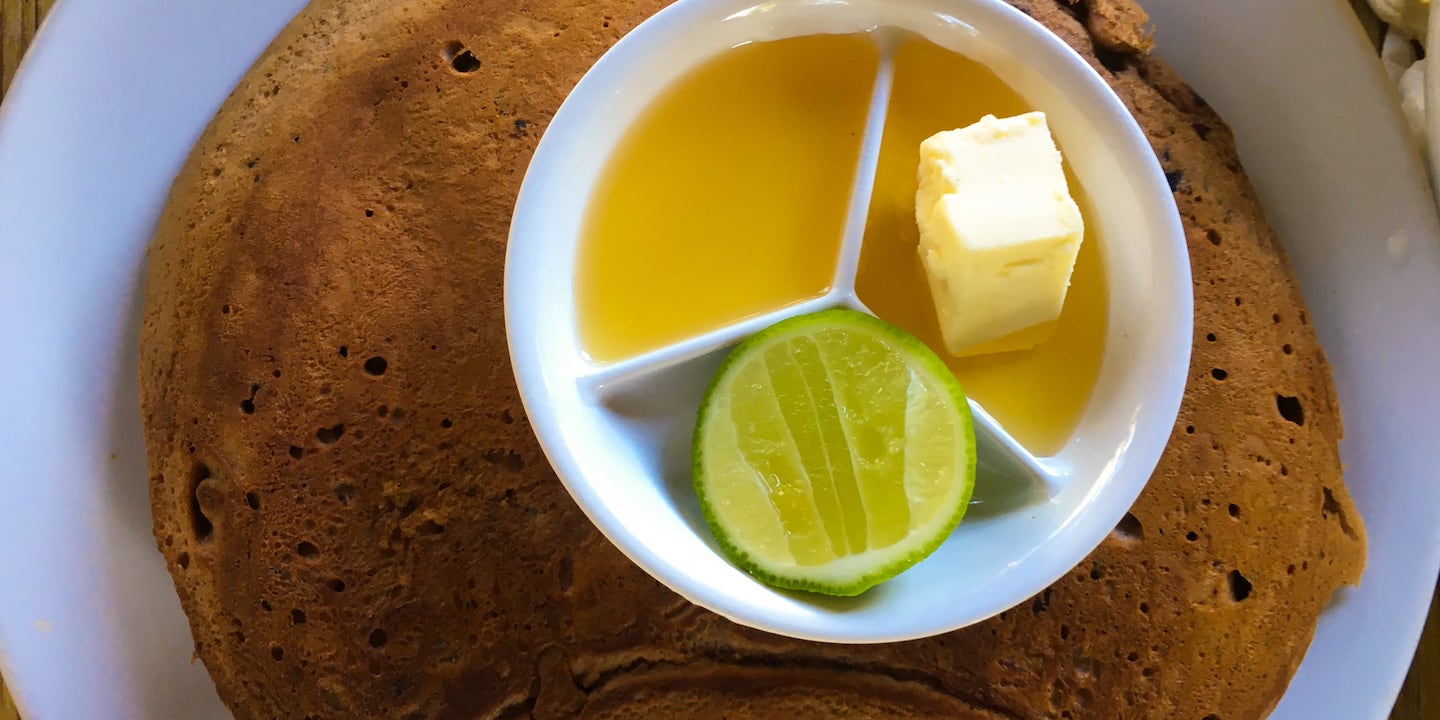 2. Eat Your Baby's Weight in Mulberry Pancakes & Goat Cheese
No trip to the Vang Vieng area is complete without a visit to the Vang Vieng Organic Farm (formerly Organic Mulberry Farm), about three miles north of town on the banks of the Song River [find on map].
Long known as the starting point for Vang Vieng's famous (or infamous) river tubing float, the farm is a superb place to relax, cool off and sample some delicious offerings, all while baby naps, feeds, or toddles around on their well-manicured lower lawn.
In addition to the restaurant offering amazing organic food sourced right from the farm, they also offer a guesthouse.
The individual dining huts on the lower lawn are prime spots to watch the comings and goings of floaters, kayakers and swimmers.
The area around the restaurant also offers countless opportunities for baby to gently explore a variety of fun and interesting native plant species.
Don't forget to try their mouth-watering mulberry pancakes and delicious goat cheese on bread!
---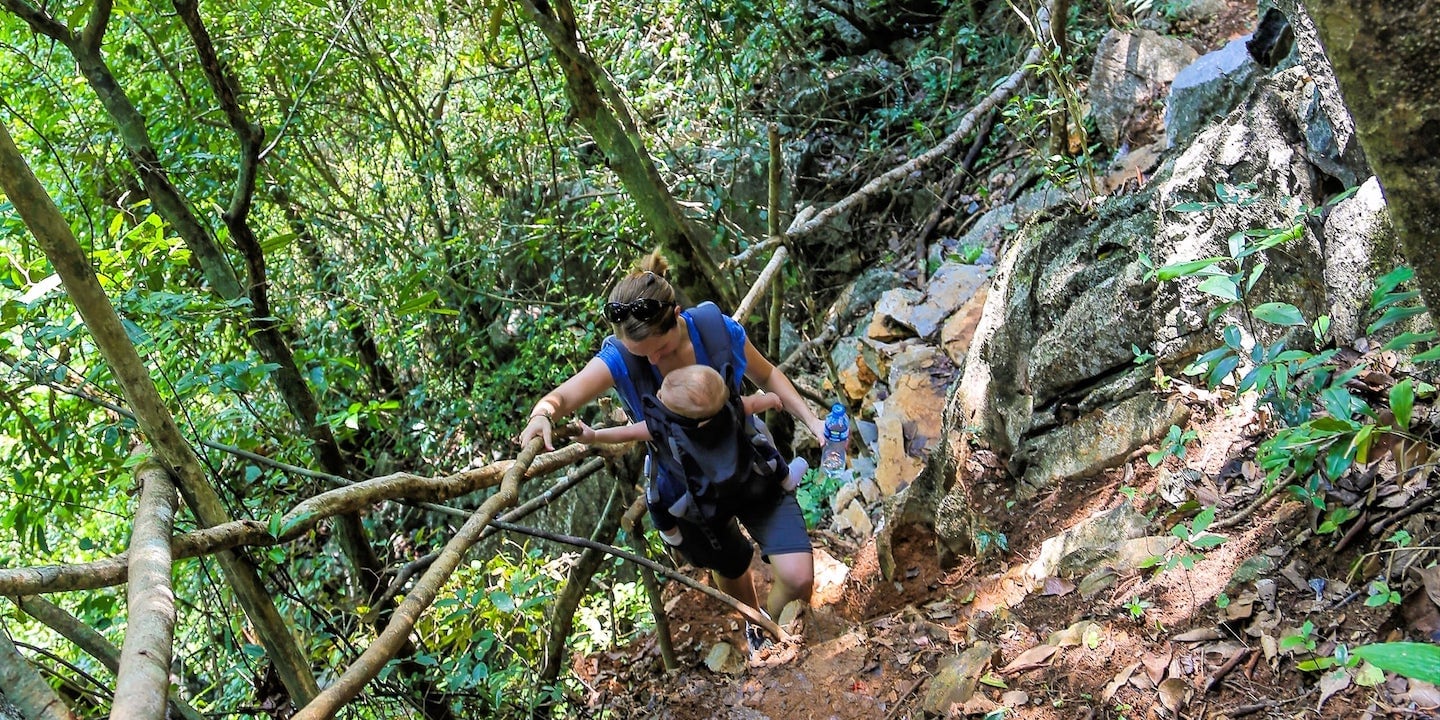 3. Climb a Mountain!
No joke! Climbing to the tippy top of Pha Ngeun (Pha Ngern) is possible and you are rewarded for your efforts with amazing panoramic views of karst peaks and rice paddies [find on map].
The climb to House #1 (Lower House) might be a mere 400 feet of elevation gain from the parking lot, but it is a pretty strenuous 400 vertical feet, nonetheless—particularly wearing 10-30 lbs. of baby and gear.
It is a farther distance than advertised and will take 2-3 hours to comfortably complete (depending on if you visit both House/Lookout #1 and #2 and the length of time you spend at each lookout).
Much of the trail is shaded, but you'll still need plenty of sun protection for you and the kid.
And don't forget to pack plenty of liquids to stay hydrated as we are talking a moderate to strenuous hike in the tropics—we recommend going as early as possible to beat the heat (and the crowds).
Refreshments are sold at the top of each lookout (House #1 and #2), so you may want to bring a little extra money for that.
While the trail can be rough and uneven at times, you won't find a lot of opportunities to use trekking poles, as much of the steeper sections require the use of the bamboo railing, particularly as you reach House #1.
If you have telescopic poles that you are able to easily stow (or that your partner or hiking buddy can carry), they may come in handy.
Note
This activity is most appropriate for infants/toddlers who are used to spending an extended period of time in a carrier/backpack. There are limited opportunities on this hike for very little ones to safely crawl/walk around.
---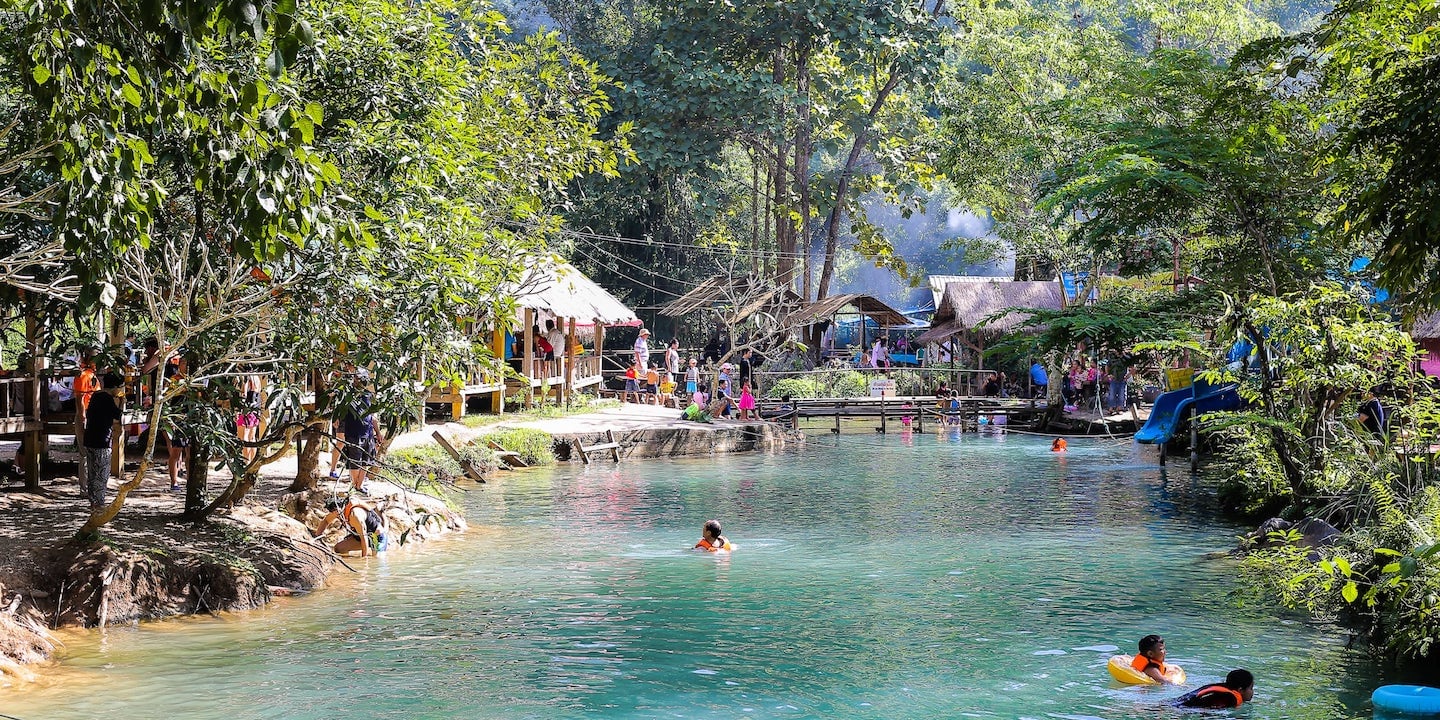 4. Picnic at a Blue Lagoon
While you're at the Vang Vieng Organic Farm, order a lunch for takeaway, or pick up some pastries or snacks at Luang Prabang Bakery in town and head west in the transport option of your choice to the Tham Poukham Blue Lagoon [find on map].
Now, unless you've got a Mer-baby on your hands, you're likely not going to be keen on actually taking them into the lagoon (water-accustomed toddlers might be okay with the help of an adult).
Nonetheless, the grounds surrounding the popular swimming hole are perfect for picnicking and other baby-friendly activities.
There are also typically a couple of local food stands for grabbing lunch or a snack at the lagoon, but options can be pretty limited.
If you have the luxury of flexibility, the Blue Lagoon is a place you're likely going to want to visit on a weekday, though weekends certainly offer the most opportunities for people watching and cross-cultural experiences (and with baby around, you're guaranteed a half dozen of these!).
🔥 HOT TIP 🔥
If you're in Vang Vieng on the weekend, not so keen on crowds, and have your own transport, then head up to Nadao (Elephant Adventure) Village (north of the Mulberry Farm), cross the pedestrian suspension bridge and follow the signs to Spring Blue Lagoon!
---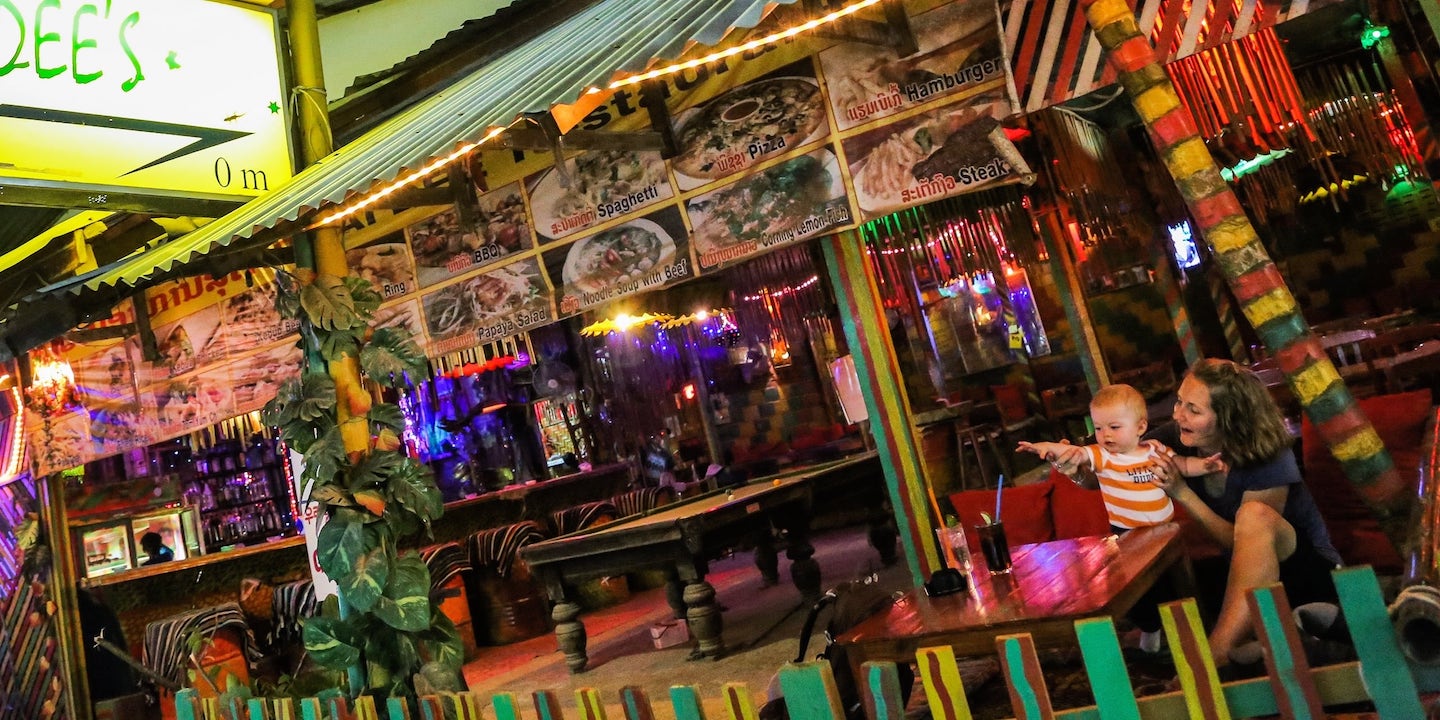 5. Comfy-Table Bar Hop!
Who says you can't let loose a little with a baby?
Vang Vieng is full of great places to chill with a baby while sipping on a cocktail or ice-cold beer.
Once known as one of the most insane places in Southeast Asia for its never-ending spring break/ full-moon party scene, Vang Vieng has long since turned a new leaf. But that doesn't mean that the nightlife has vacated.
What it does mean is that things are now generally calm and family-friendly during the day and early evening, making it easy to take advantage of the hotspots with a baby and without the riffraff (until about 9pm).
Plus, many bars in Vang Vieng offer comfy traditional-style platform seating with pillows, which are great for letting a little crawler safely explore and play with a toy while you catch some downtime with a cold beverage/snack.
Our favorites (with comfy seating) are Jaidee's, Amigo's, Vanphaxay Restaurant, Aussie Bar, and Earth Recycled.
And just a heads up here — while the drug scene here isn't what it once was, many places in town still offer a "Special" or "Happy" menu. If you're uncomfortable with potentially being next to a group of folks openly and actively partaking in alternative menu options, we recommend you do your bar hop earlier in the evening/ afternoon, or pick places like Vanphaxay that have a large amount of seating and rarely fill up.
---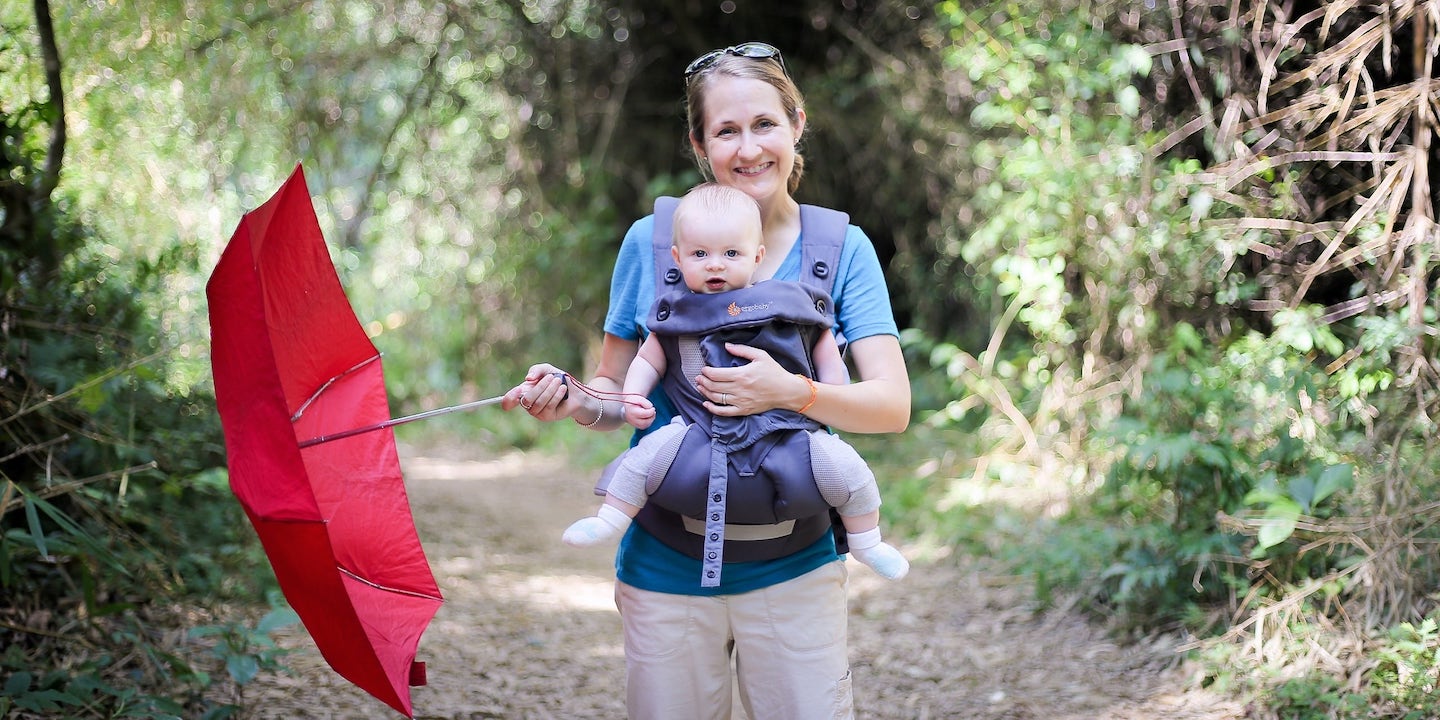 6. Take a Hike
The Vang Vieng area is full of opportunities for hiking amongst rice paddies and majestic karst peaks. Many of these hikes can easily be done with a baby.
Our favorite begins just across the bamboo bridge in the center of town and winds its way through rice paddies, past a stunning monolith (home of Pha Poak cave and viewpoint—look for the bright orange flag on the top of a lower-lying peak—cave and viewpoint aren't very baby-friendly), into a narrow valley through dense jungle, and finally ending at Lusi Cave, an awesome water cave that probably isn't suitable for babies either, but totally suitable for tag-teaming with your partner or hiking buddy, if applicable).
Even if you don't go in either of the caves, the hike to Lusi cave is still well worth the effort if you enjoy hiking. Lusi cave is about a two-mile hike (one-way) from the bamboo bridge (four miles round trip).
While much of the trail is shaded, you'll still need plenty of sun protection for you and the kid, and plenty of liquids to stay hydrated. We recommend going as early as possible to beat the heat. Refreshments are generally sold at the foot of the lookout (Pha Poak cave), and limited refreshments may be offered outside of Lusi cave (but don't count on it!).
🔥 HOT TIP 🔥
This activity is most appropriate for infants/toddlers who are used to spending an extended period of time in a carrier/backpack, though there are many opportunities for advanced toddlers to stretch their legs.
---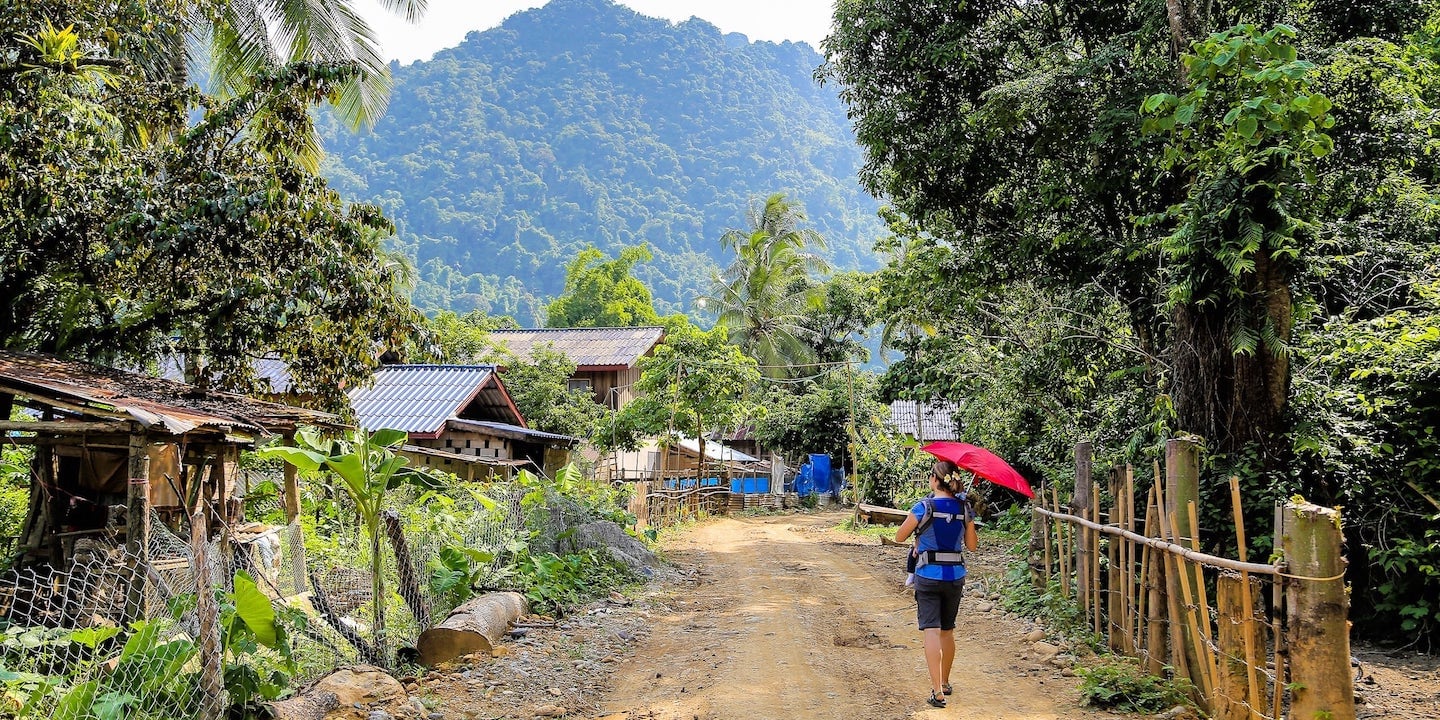 7. Explore a Traditional Village
Tour companies offer several options for visiting various rural and ethnic villages on the outskirts of Vang Vieng, but we've found few to be as walkable and accessible for an independent traveler (with a baby) as Ban Nadao, or what is now commonly referred to as Elephant Cave village or Elephant Adventure Village [find on map].
Now, don't let the name throw you. I'm sure at one point, somebody had big plans for this place, and while you may come across the occasional orange-life-vest-clad group headed down to the river, things are pretty quiet here.
Nadao is a small village with not a lot of services, but affords a nice little loop hike around the karst monolith in the center of town through rice paddies, with great views of the majestic limestone cliffs above.
There are a number of caves in the area (including one you float through on inner tubes, again another tag-teaming activity that's loads of fun), but sorry, contrary to what the name of the village suggests, you won't find elephants here.
What you will find is an easily accessible cave with an elephant-like formation inside. And this cave is 100% accessible to infants, toddlers, and pretty much everyone else.
Elephant Cave village is located about nine miles north of town off of Road 13. The village is across the river and not easily accessible by car, but there is a parking lot and a footbridge, and a short walk takes you directly to the center of the village.
---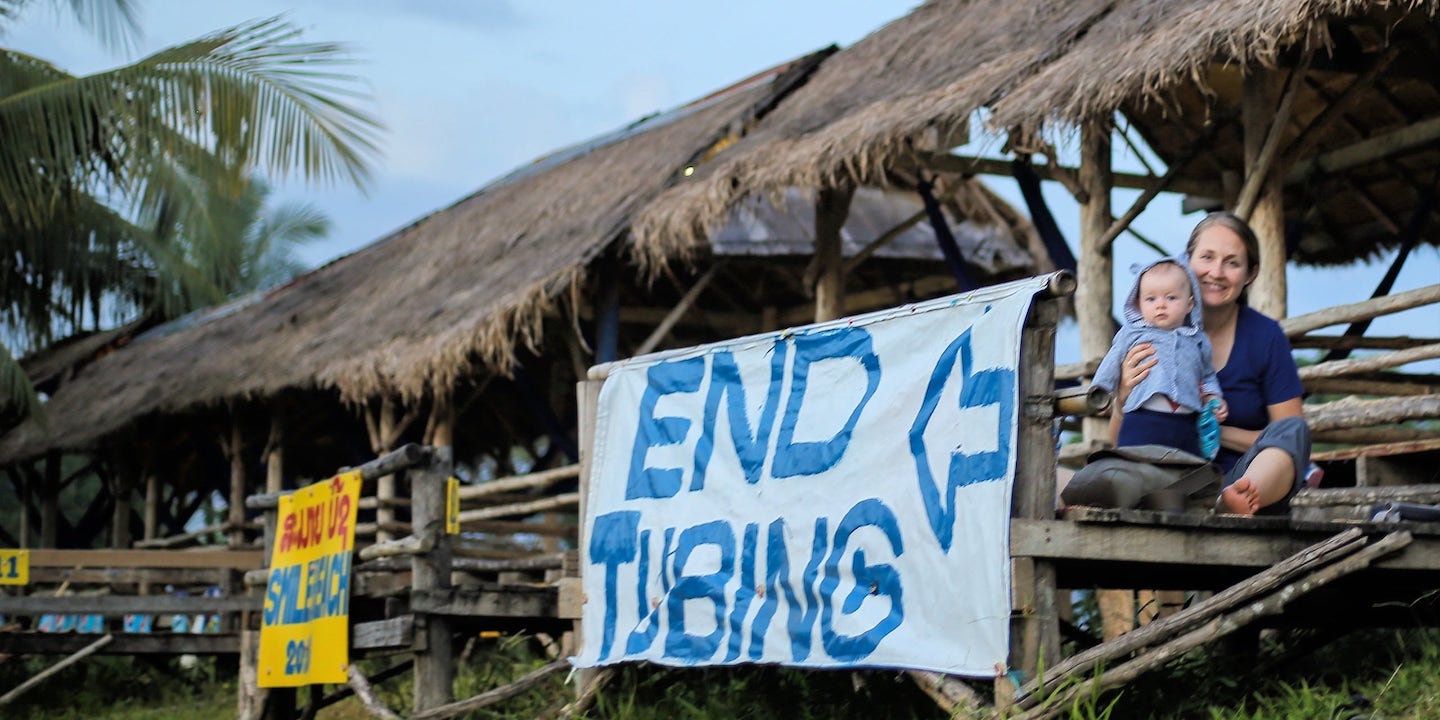 8. Sip Sundowners on the Nam Song
Lastly, it's important not to ignore Vang Vieng's reputation for being an all-around fun place to sip a drink or two.
Whether you're going virgin or fully-fortified, you can't beat sipping a cold one on the banks of the Song River while watching the sun go down over the majestic karst mountains.
Your overall enjoyment, of course, will depend a lot on baby's age and tolerance of various modes of carriage, but thankfully there are a variety of different options for those wanting to imbibe while enjoying a nice sunset.
Some of our favorite activities are watching the evening action (hot air balloons and paramotors above, kayaks and longtail motorboats below) at Phubarn Cafe (to the left of the main bamboo bridge), swinging on a hammock with baby on the banks of the river at Smile Beach Bar, or playing out on the manicured lawn or one of the private patios at one of our favorite places to stay in town, Thavonsouk Resort.
Have you been to Vang Vieng with a Baby?
Tell us about your experience in the comments section below!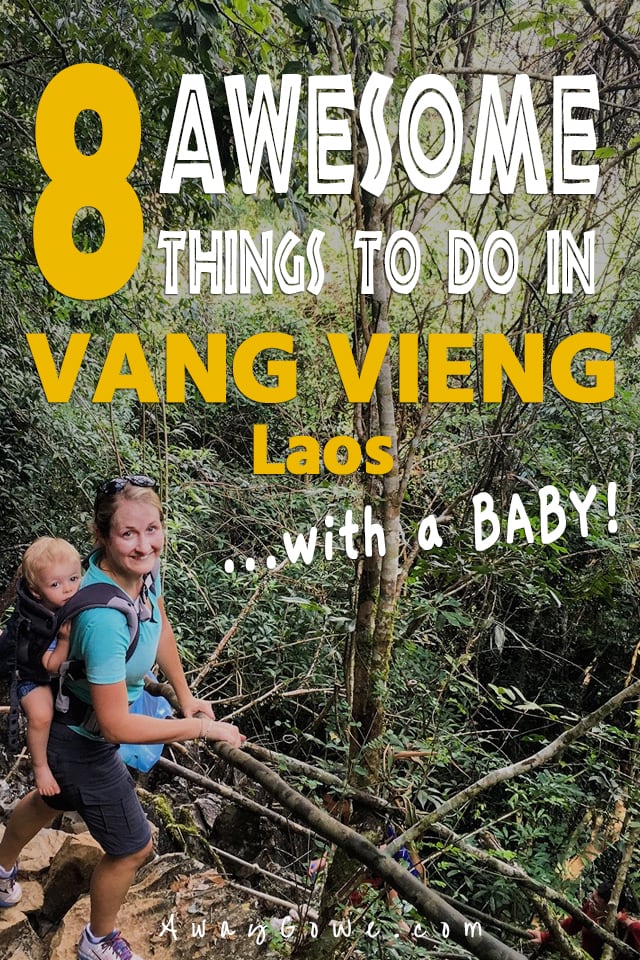 As an Amazon Associate we earn from qualifying purchases. We're also members of other affiliate programs. Learn more in our privacy policy.