The Mirror Lake Trail in Oregon's Mt. Hood National Forest offers a fun and scenic outing not far from Portland for all fitness levels. This hike can easily be combined with other nearby hikes or a visit to Timberline Lodge.
Shaking up things a bit this weekend, we decided to try some hikes around Mt. Hood rather than our usual Columbia River Gorge favorites.
On the docket for today: The Mirror Lake Trail and Trillium Lake Loop Trail.
We've been waiting for the snow to melt and temperatures to warm a bit before doing any of the hikes along Highway 26 near Government Camp, given that the trailheads in these parts averages around 3,000 feet higher elevation than those along the Columbia Gorge.
We got the green light earlier in the year than expected and set off to explore the lakes the first weekend in May.
We're continuing our hiking regimen late into Lori's pregnancy (she's nearly 8 months along now!) The size of her belly hasn't affected the frequency of our activity, but it has changed the types of hikes we're opting to do these days.
In the interest of caution, we've been trading in the strenuous and more treacherous hiking we've been accustomed to for lower impact hikes, opening an array of hiking options we hadn't previously tried out.
Oregon's Mirror Lake and Trillium Lake hikes are excellent options for hikers wanting a great workout without torturing multiple muscle groups.
These hikes might not offer the sweeping vistas of the Gorge hikes, but the up-close views of Mt. Hood more than make up for that.
Plus, if you're pregnant and want to keep hiking, these are two great hikes for that! (provided that most of the snow's melted…)
Here's our Mirror Lake Trail hiking report plus tips for your own outing in Oregon's Mt. Hood National Forest.
Mirror Lake Trail in Brief
Hiking Oregon's Mirror Lake trail is a worthwhile outing that can be combine with other short area hikes.
The trail is located just outside Government Camp about 1.5 hours east of downtown Portland.
The majority of the route is shaded, winding through secondary forest en route to small, but picturesque Mirror Lake.
There's a loop trail encircling Mirror Lake consisting of trail and plank sections.
The Mirror Lake trail makes for a fun morning hike from Portland (tie in a loop hike around nearby Trillium Lake) or a nice pitstop en route to Mt. Hood or points farther east.
Location: Mt. Hood National Forest, near Government Camp, Oregon
Distance: 3.7 miles (5.9 km) round trip
Hiking Route: Out-and-Back + Loop around the lake
Difficulty: Easy
Elevation Gain: 26 ft (8 m)
Good for Kids?: Yes!
RELATED: Detailed Guide to the Trillium Lake Hike Near Mt. Hood
How to Get to the Mirror Lake Trailhead
Both Mirror Lake and Trillium Lake trails are very close together. The trailheads for each hike are just before and after Government Camp, respectively.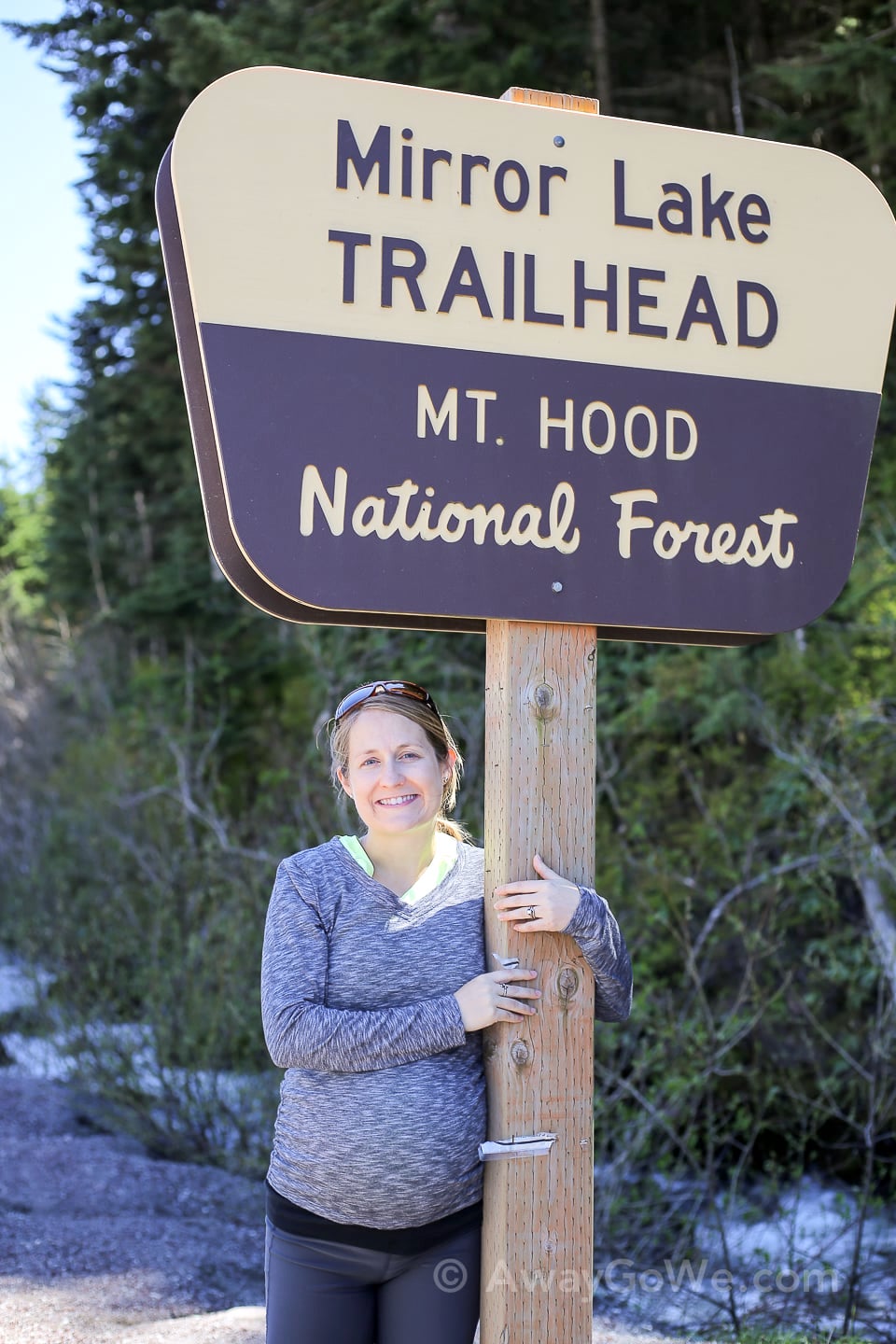 Mirror Lake Trail Hiking Report
Mirror Lake was our first hike of the day. From the trailhead parking lot just off of the Mt. Hood Highway (US 26), it's a nice and easy 1.5 mile hike up to the lake with about 700 feet of elevation gain.
2021 Trail Update
Since first publishing our trail report in 2016, the Mirror Lake trailhead has moved and the route has been re-oriented away from the highway.
The current trailhead is at 45.30242, -121.77551, and now shares a parking lot with Mt. Hood Ski Bowl.
The new trail has the added benefit of more parking and not having to walk along the highway for the first leg; this new leg is paved, though the rest of the hike remains a mix of dirt trail and wooden plank/boardwalks.
Current distance around the lake and back is 3.7 miles.
As of summer 2021, the trail is heavily used, so plan on getting here early or hiking midweek for the best chance of avoiding crowds on the trail.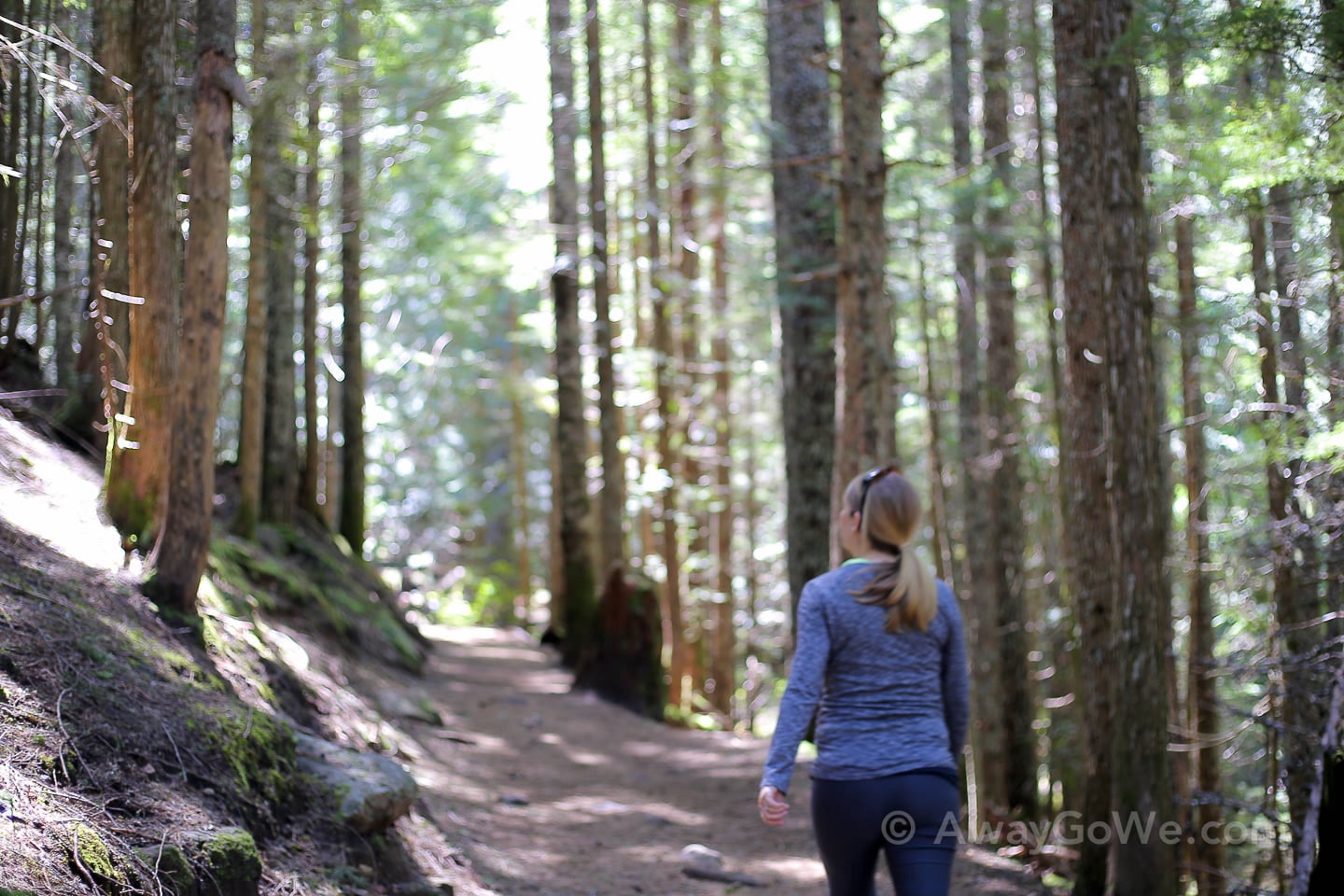 The route is well shaded for much of the hike. We arrived fairly early and didn't encouter many hikers on the way to the lake.
That all changed once we arrived at the lake, where a couple dozen hikers were slowly making their way around the lake via the narrow wooden plank boardwalk.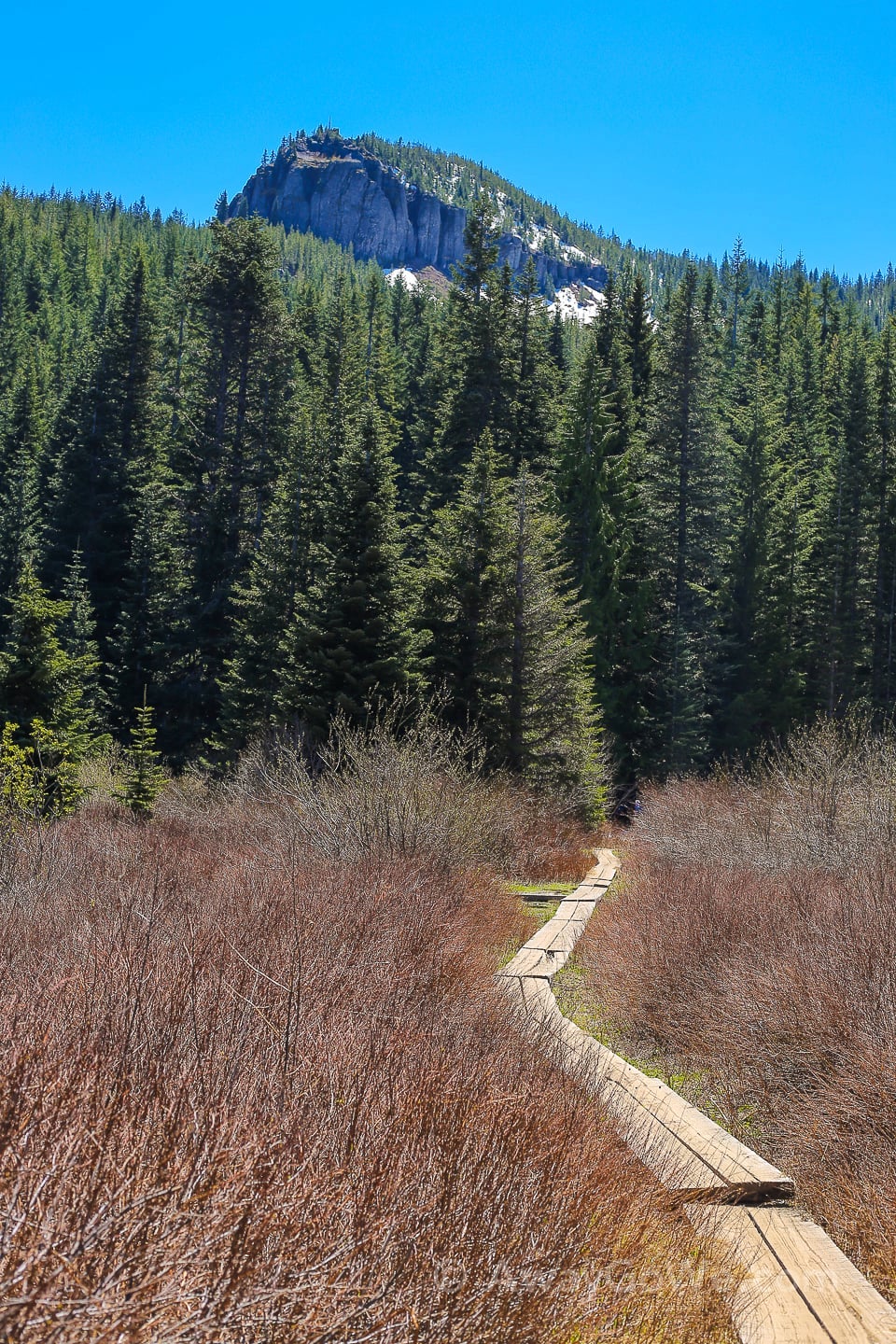 Once you arrive at the lake, there's an option to continue up to Tom, Dick, and Harry Mountain (pictured above).
In the past, we wouldn't have hesitated to continue on, but today we were content to keep the hike short.
It's only another 1.5 miles up to the West Summit, but another 1,000 feet of elevation gain (and snow to contend with).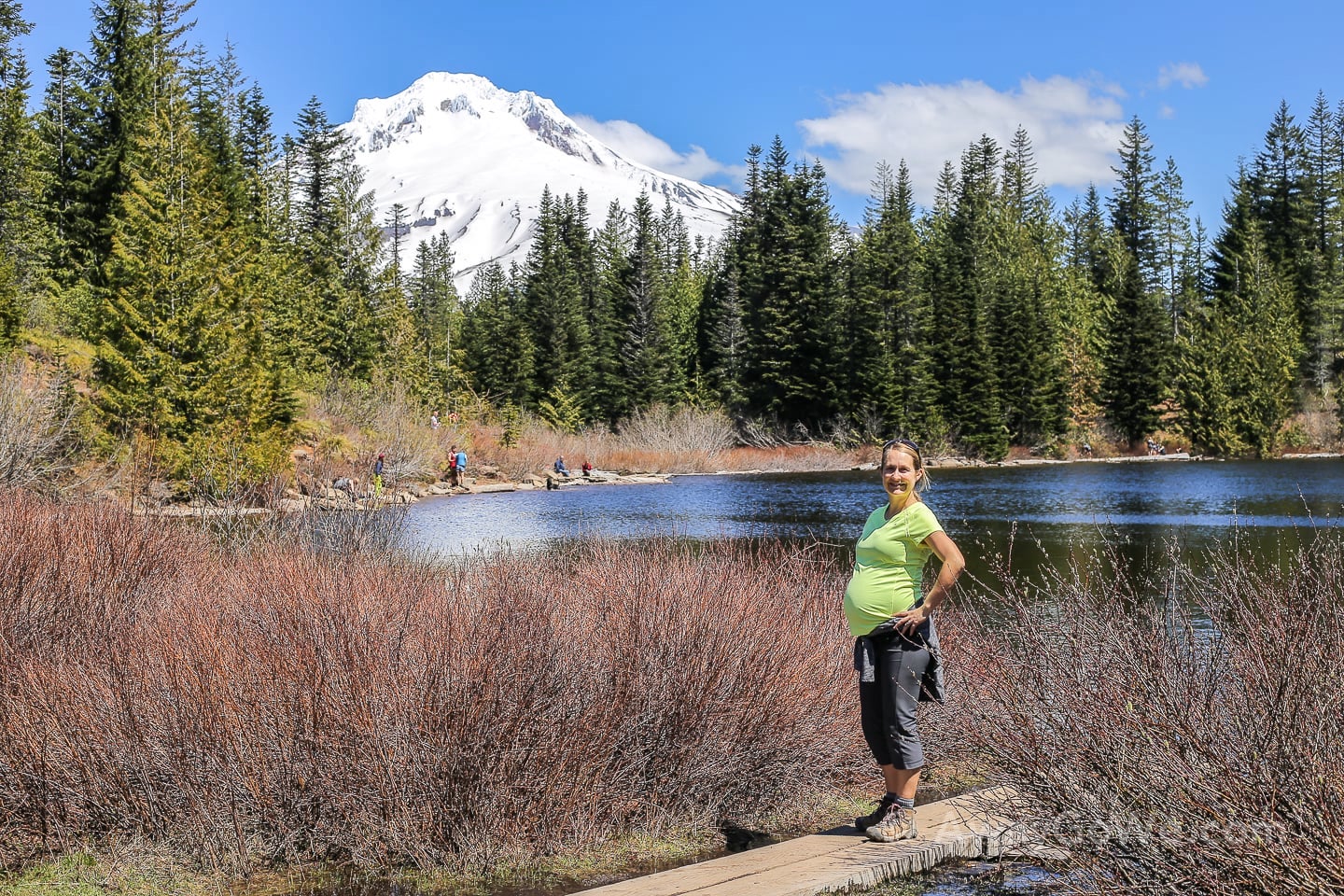 Mirror Lake has a nice loop trail around it connected by a series of boardwalks that offer awesome close-up views of Mt. Hood.
We've heard that the trail can get very crowded on the weekends, but fortunately traffic was relatively light on this Sunday — even with the unseasonably perfect weather!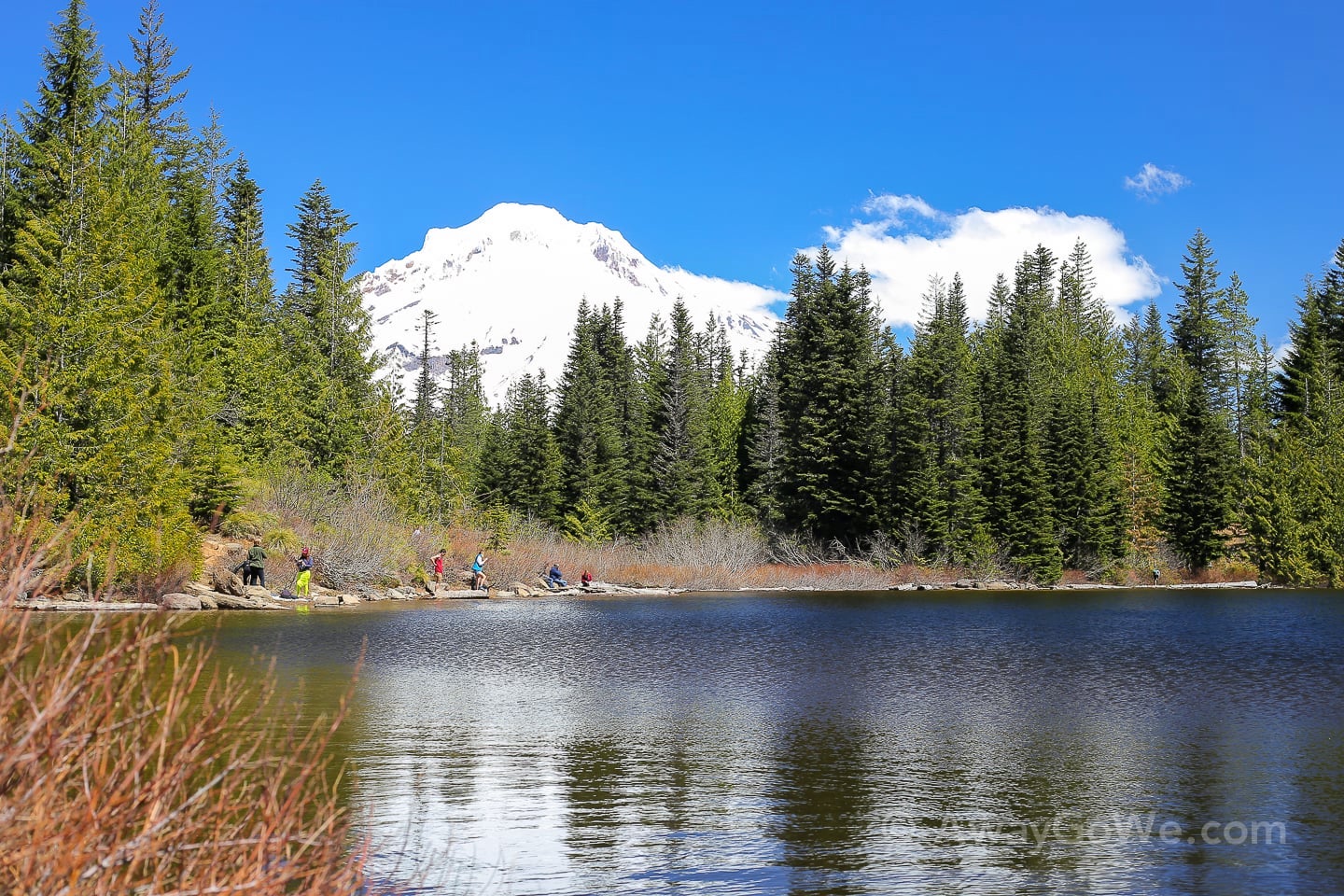 And Mt. Hood is never far from view…at least until these trees leaf out in a couple of weeks.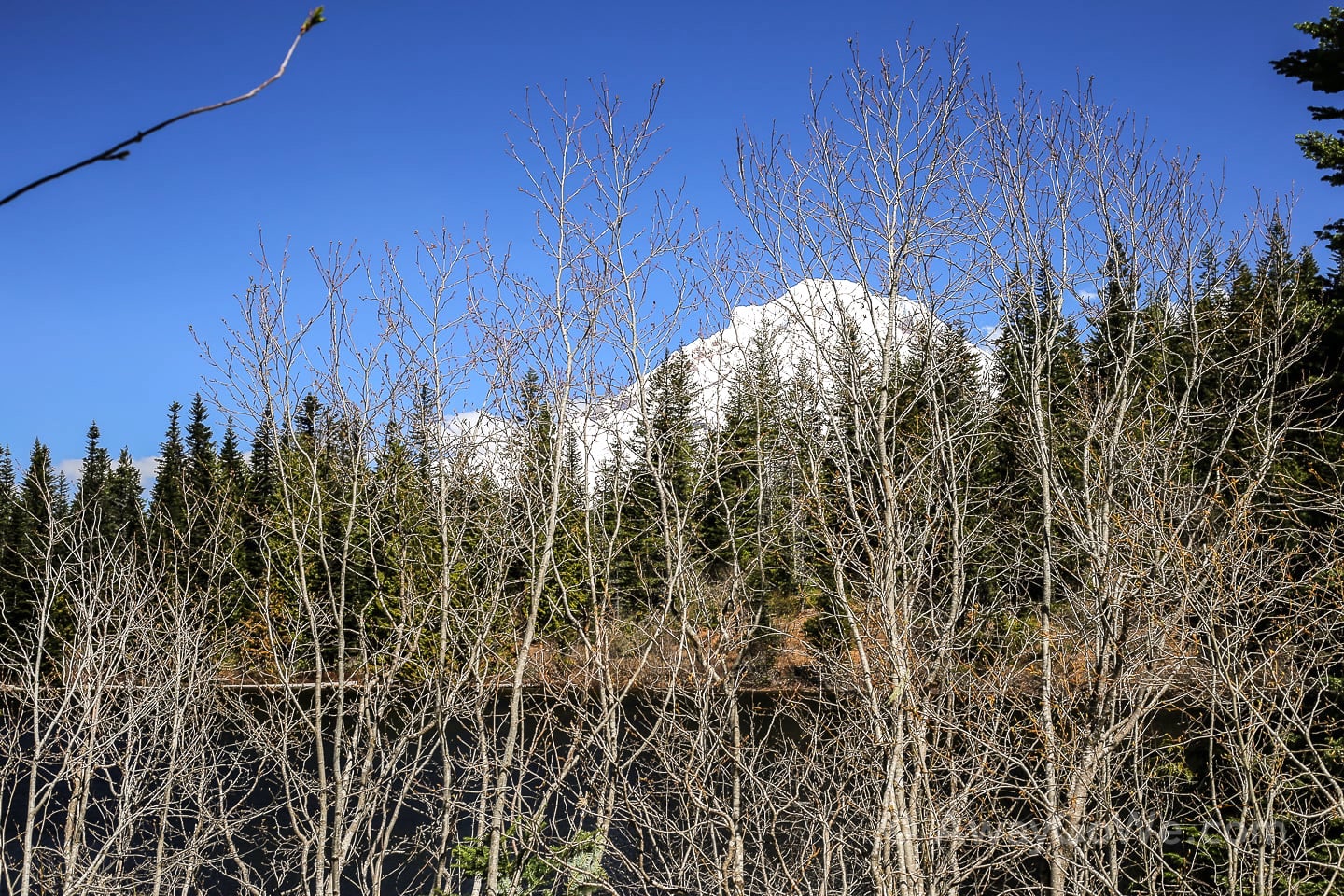 The Mirror Lake trail offers a welcome departure from Gorge hiking — the hikes in the Gorge are amazing, but it's refreshing to have a change of scenery and try something new in the area.
All in all, we really enjoyed hiking Oregon's Mirror Lake trail.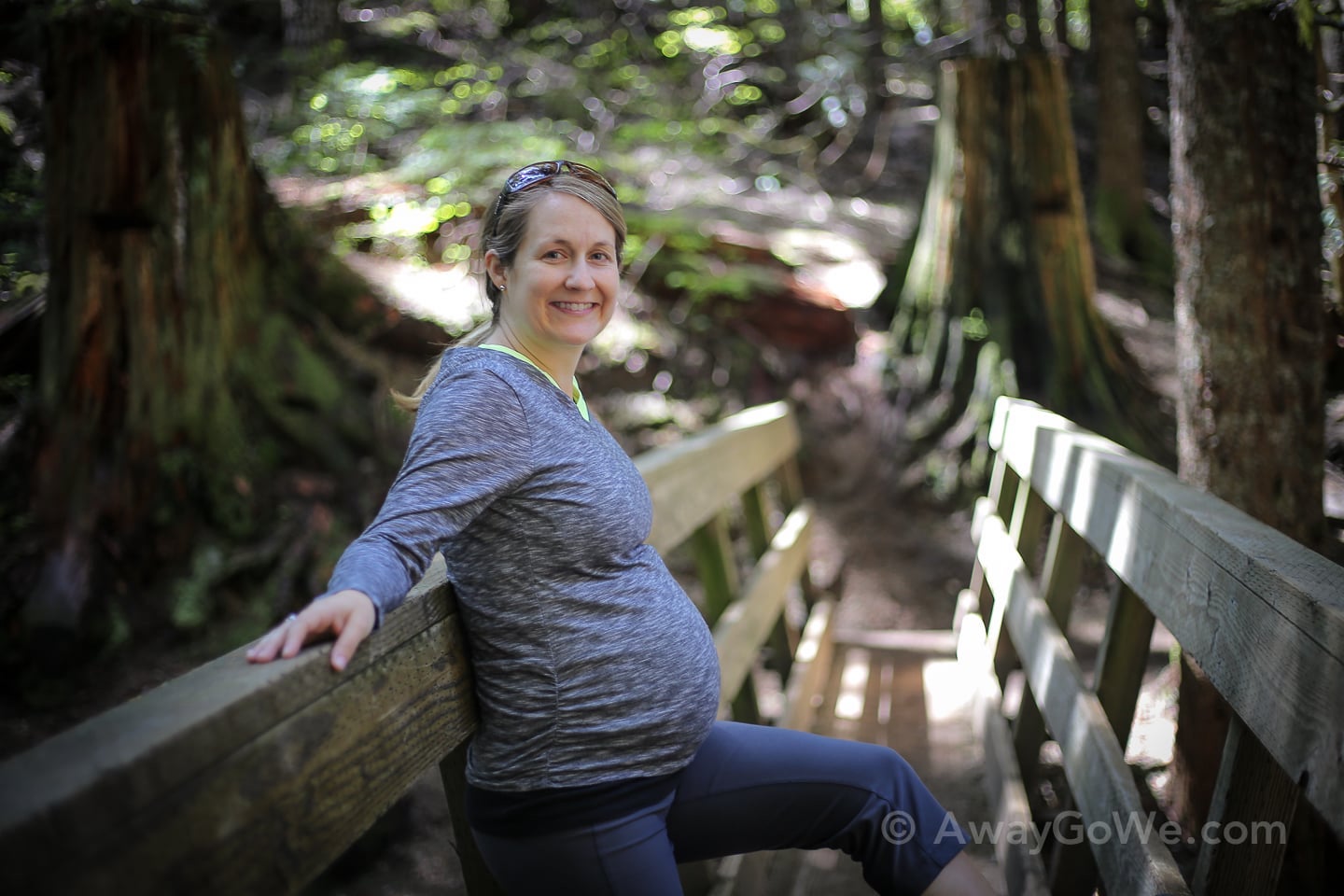 Jonsrud Viewpoint
On the way back through the town of Sandy, we saw a sign for the Jonsrud Viewpoint.
Little did we know, we were about to be treated to what is widely considered one of the best views in Oregon!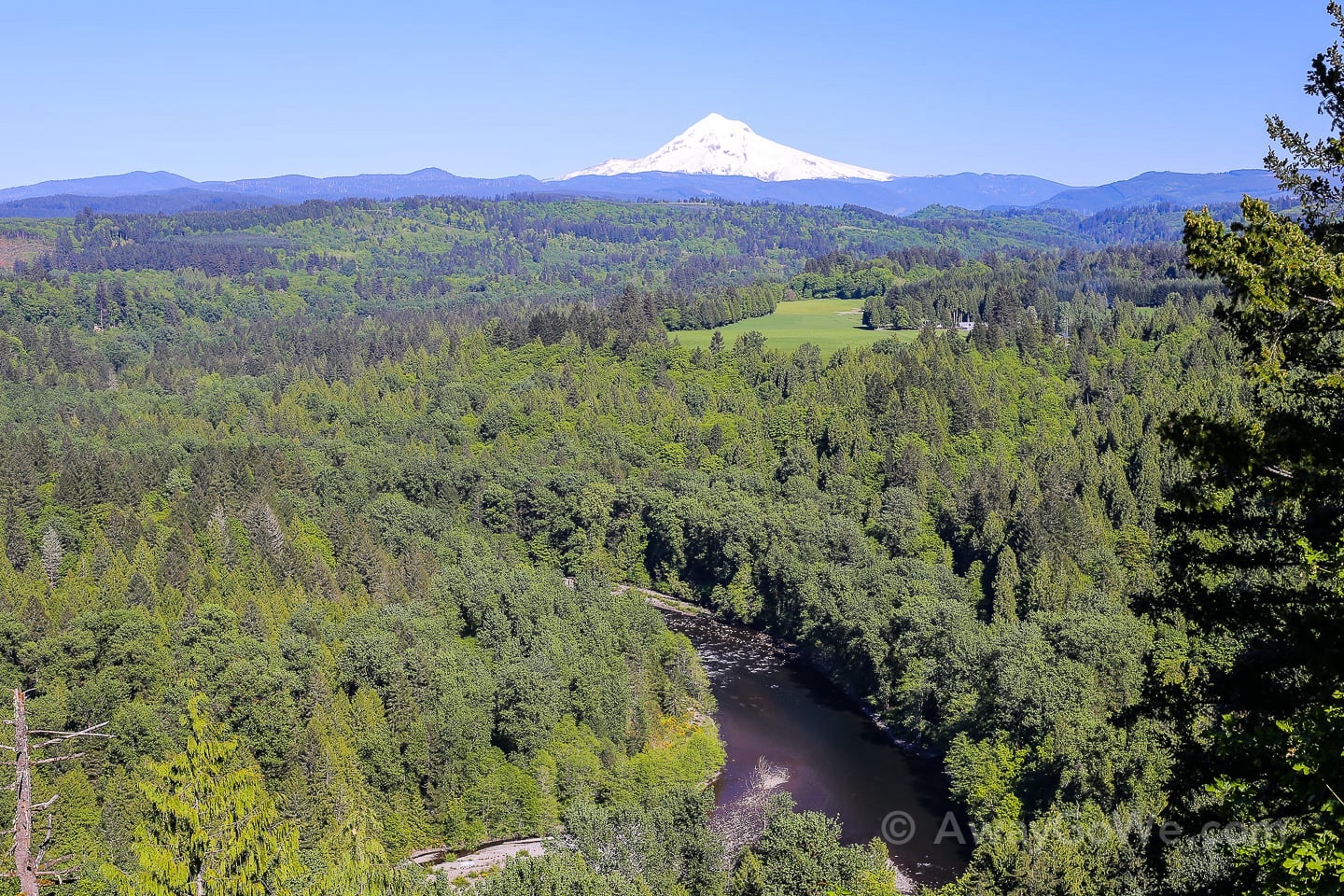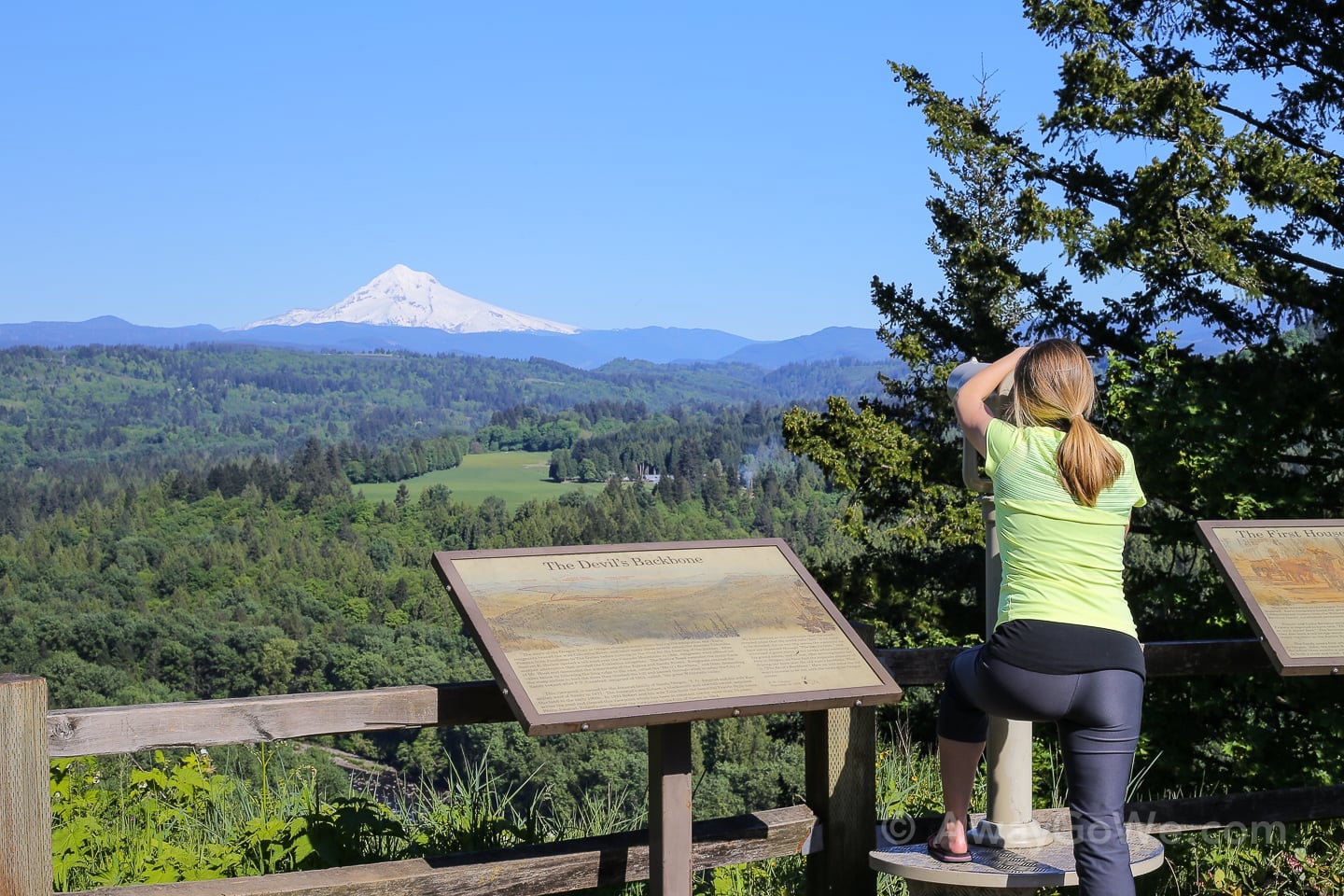 Best Time to Visit Mirror Lake (Oregon)
Mid-Spring to Mid-Fall (Summer Hiking)
The best time to hike the Mirror Lake trail is generally early in the day, midweek, and in late spring or early fall.
This timeframe gives you the best chance of having the trail to yourself while avoiding snow and ice (unless a wintery snow hike is what you're after, of course!).
If you plan to visit between Memorial Day and Labor Day, expect to encounter quite a few other hikers throughout the week.
Peak times for visitors tend to be Friday through Sunday, 10am to 4pm.
Hiking on rainy days gives you a better chance of avoiding crowds. But be forewarned – it can get quite muddy!
Mid-Fall to Mid-Spring (Winter Hiking)
If you're hoping for a Mirror Lake hike in the snow, the "optimal timing" will be different for that activity.
Mirror Lake is rarely busy midweek during snow season, but can get crowded on winter weekends and during holidays with cross-country skiers and snowshoers, depending on weather conditions.
Other Tips for Hiking Mirror Lake Trail
Plan on a short hike and possibly on combining your visit with other area hikes, or even lunch at Timberline Lodge.
From mid-Fall to mid-Spring, don't forget to buy your Sno-Park permit in advance

before

you arrive!!!
It's recommended to dress in layers. Even in June, rain can come out of nowhere. In the summer months, mornings can still get quite chilly, but the trail can heat up substantially by noon.
There aren't any services at Mirror Lake, so don't forget to bring your own snacks and water. Stock up in nearby Government Camp, or save a bit money and provision in Portland before leaving the city.
Have You Hiked Oregon's Mirror Lake Trail?
What were the conditions like? Are there any updates on closures we didn't mention? Be sure to let us know in the comments below and we'll update our guide.
14 July 2021
01 May 2016
We use affiliate links and may receive a small commission at no extra cost to you. Learn more in our privacy policy.