Shaking things up a bit this weekend, we decided to try some hikes around Mt. Hood rather than our Columbia River Gorge usuals. On the docket for today: The Mirror Lake hike and Trillium Lake hike.
We've been waiting for the snow to melt and temperatures to warm a bit before doing any of the hikes along Highway 26 near Government Camp, given that the trailheads in these parts averages around 3,000 feet higher elevation than those along the Columbia Gorge.
We got the green light earlier in the year than expected and set off to explore the lakes the first weekend in May.
We're continuing our hiking regimen late into Lori's pregnancy (she's nearly 8 months along now!) The size of her belly hasn't affected the frequency of our activity, but it has changed the types of hikes we're opting to do these days.
In the interest of caution, we've been trading in the strenuous and more treacherous hiking we've been accustomed to for lower impact hikes, opening an array of hiking options we hadn't previously tried out.
Mirror Lake and Trillium Lake hikes are excellent options for hikers wanting a great workout without torturing multiple muscle groups. These hikes might not offer the sweeping vistas of the Gorge hikes, but the up-close views of Mt. Hood more than make up for that.
Plus, if you're pregnant and want to keep hiking, these are two great hikes for that! (provided that most of the snow's melted…)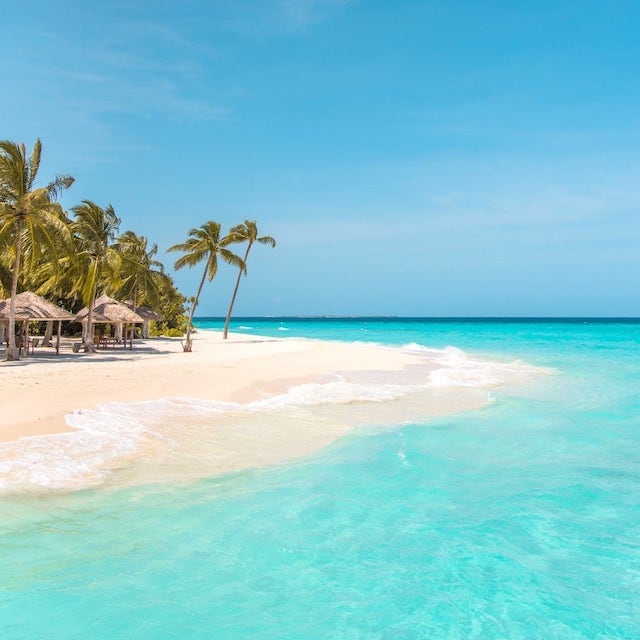 Subscribe to AwayGoWe!
Get our latest articles in your inbox, plus subscriber-only travel tips, special promotions, and more!
Mirror Lake Hike
---
Distance: 3.7 miles (5.9 km) round trip
Hiking Route: Out-and-Back + Loop around the lake
Difficulty: Easy
Elevation Gain: 26 ft (8 m)
Good for Kids?: Yes!
Located near Government Camp, Oregon, the Mirror Lake hike is a worthwhile outing about 1.5 hours east of downtown Portland. The majority of the route is shaded, winding through secondary forest en route to small, but picturesque Mirror Lake. There's a loop trail encircling Mirror Lake consisting of trail and plank sections. The Mirror Lake hike makes for a fun morning hike from Portland (tie in a loop hike around nearby Trillium Lake) or nice pitstop en route to Mt. Hood or points east.
---
RELATED: Detailed Guide to the Trillium Lake Hike Near Mt. Hood
---
How to Get to the Trillium Lake Hike Trailhead
Both Mirror Lake and Trillium Lake trails are very close together. The trailheads for each hike are just before and after Government Camp, respectively.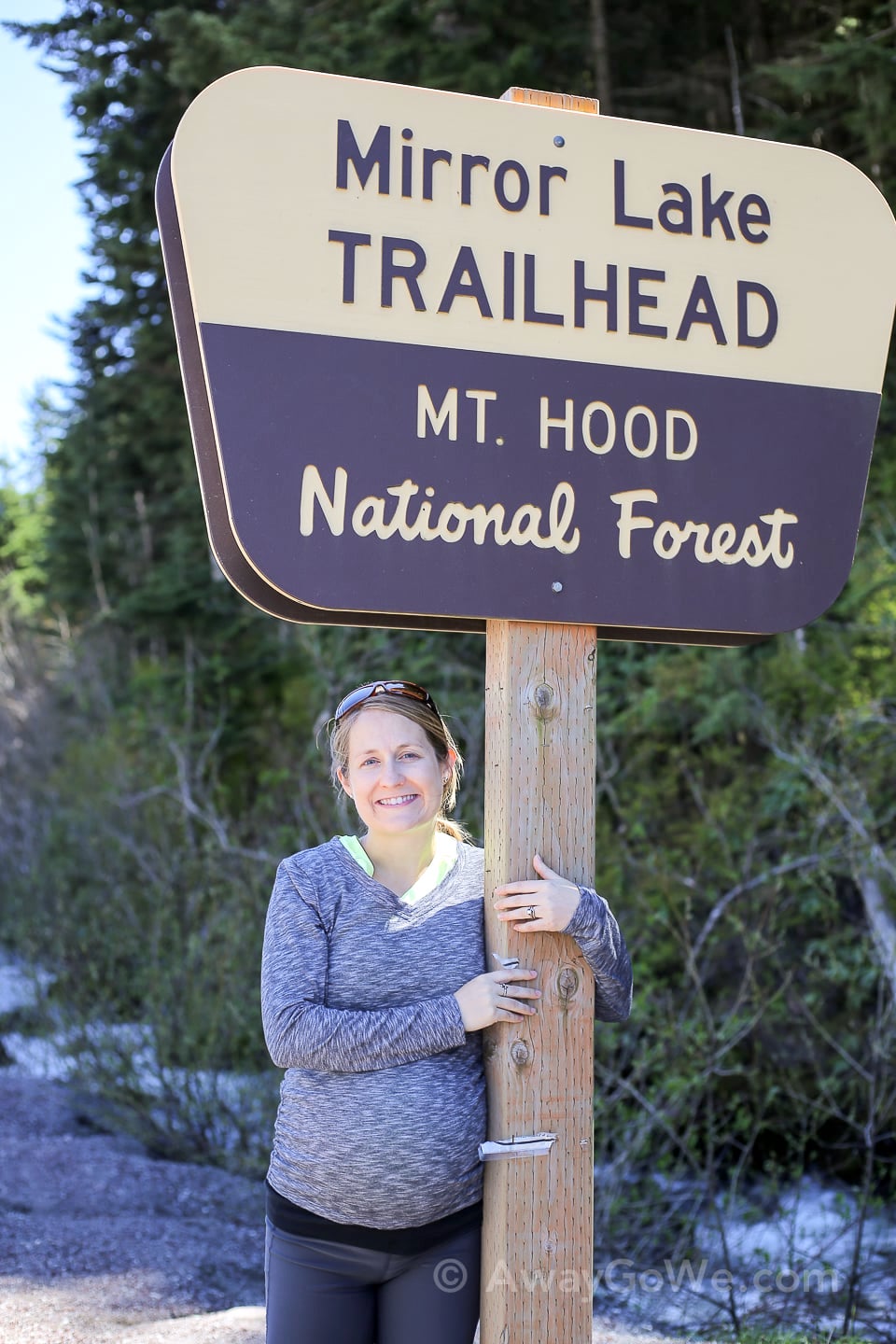 Mirror Lake Hike
Mirror Lake was our first hike of the day. From the trailhead / parking lot just off of the Mt. Hood Highway (US 26), it's a nice, easy 1.5 mile hike up to the lake with about 700 feet of elevation gain.
2021 Trail Update
Since first publishing our trail report in 2016, the Mirror Lake trailhead has moved and the route has been re-oriented away from the highway.
The current trailhead is at 45.30242, -121.77551, and now shares a parking lot with Mt. Hood Ski Bowl.
The new trail has the added benefit of more parking and not having to walk along the highway for the first leg; this new leg is paved, though the rest of the hike remains a mix of dirt trail and wooden plank/boardwalks.
Current distance around the lake and back is 3.7 miles.
As of summer 2021, the trail is heavily used, so plan on getting here early or hiking midweek for the best chance of avoiding crowds on the trail.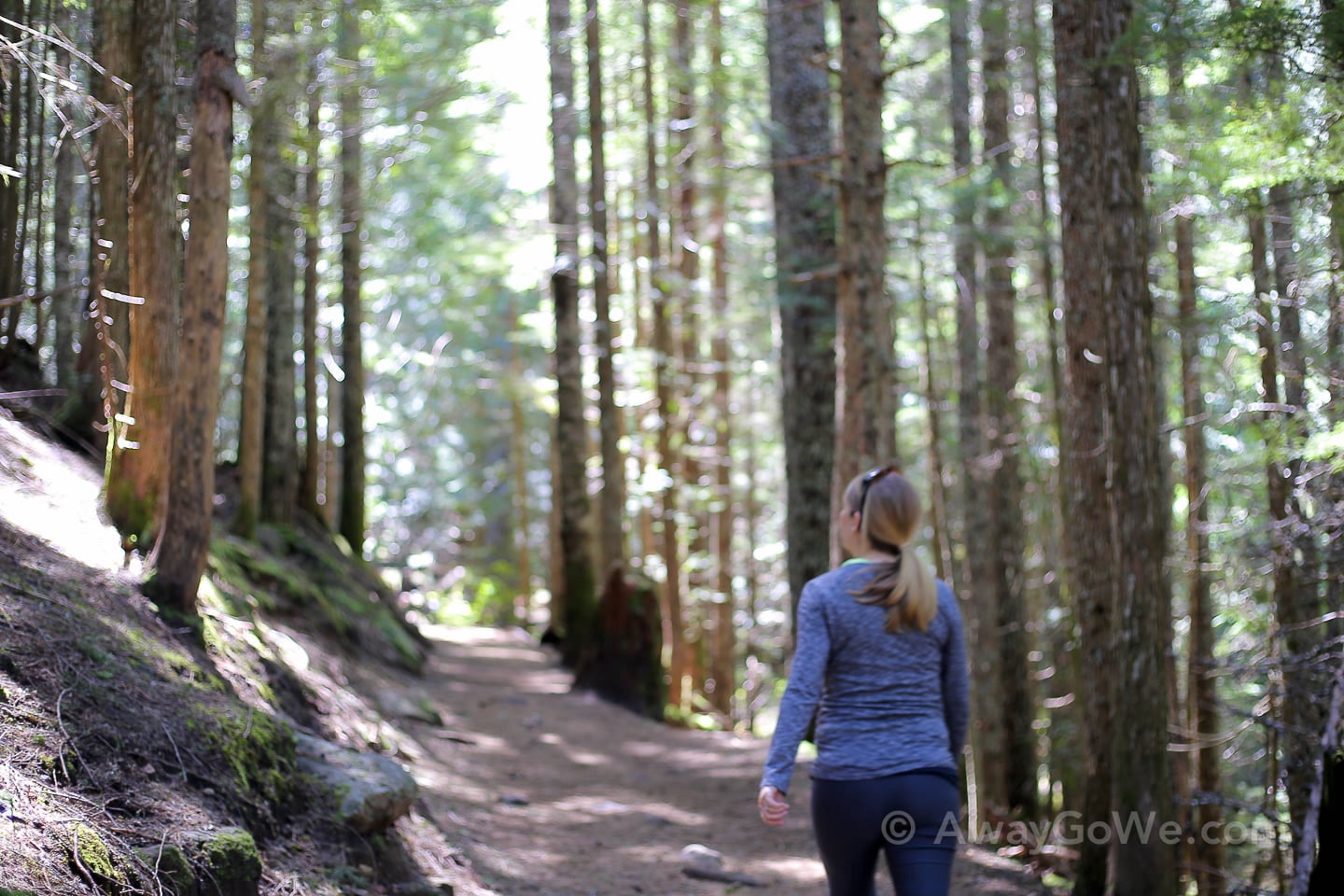 The route is well shaded for much of the hike. We arrived fairly early and didn't encouter many hikers on the way to the lake.
That all changed once we arrived at the lake, where a couple dozen hikers were slowly making their way around the lake via the narrow wooden plank boardwalk.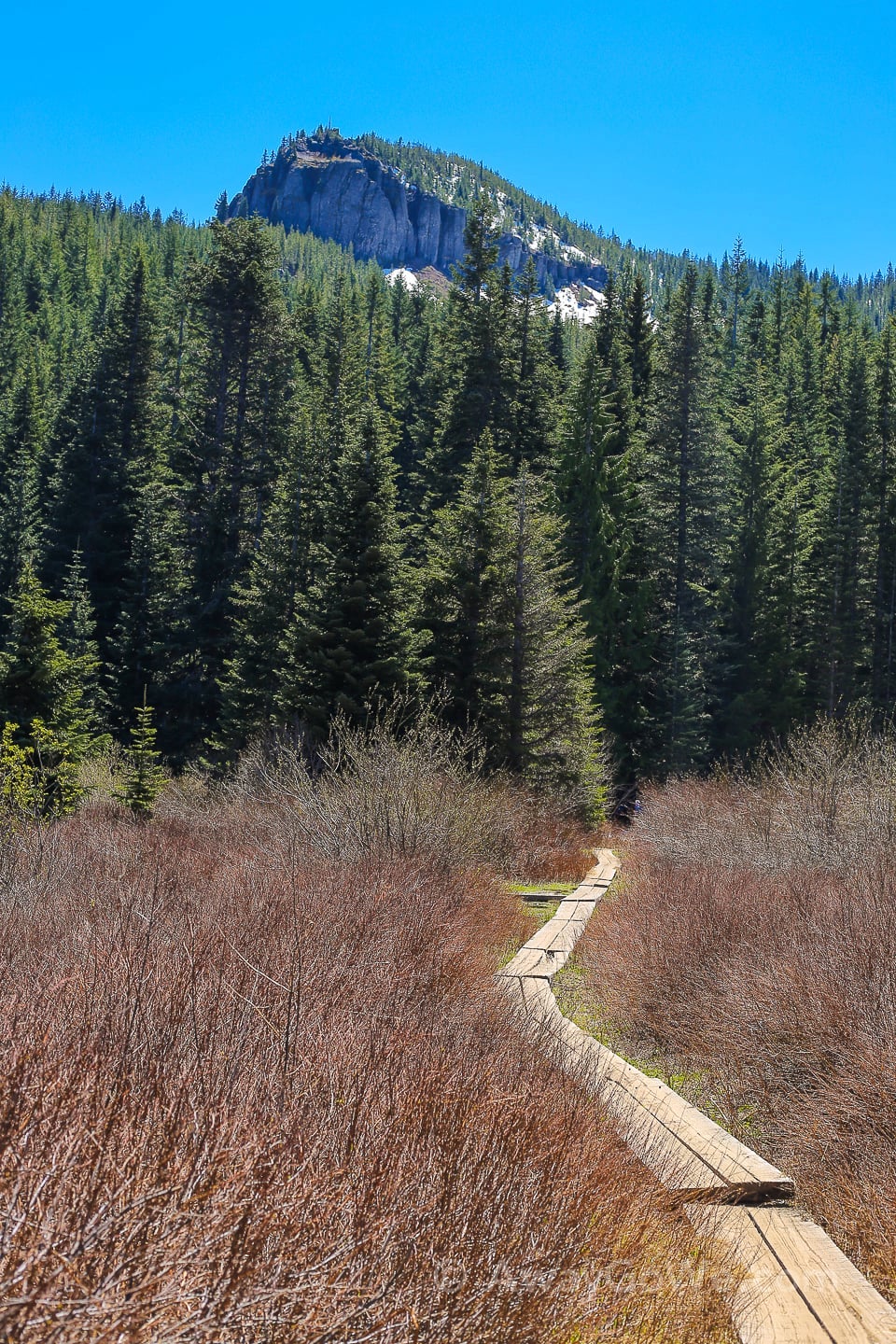 Once you arrive at the lake, there's an option to continue up to Tom, Dick, and Harry Mountain (pictured above).
In the past, we wouldn't have hesitated to continue on, but today we were content to keep the hike short. It's only another 1.5 miles up to the West Summit, but another 1,000 feet of elevation gain (and snow to contend with).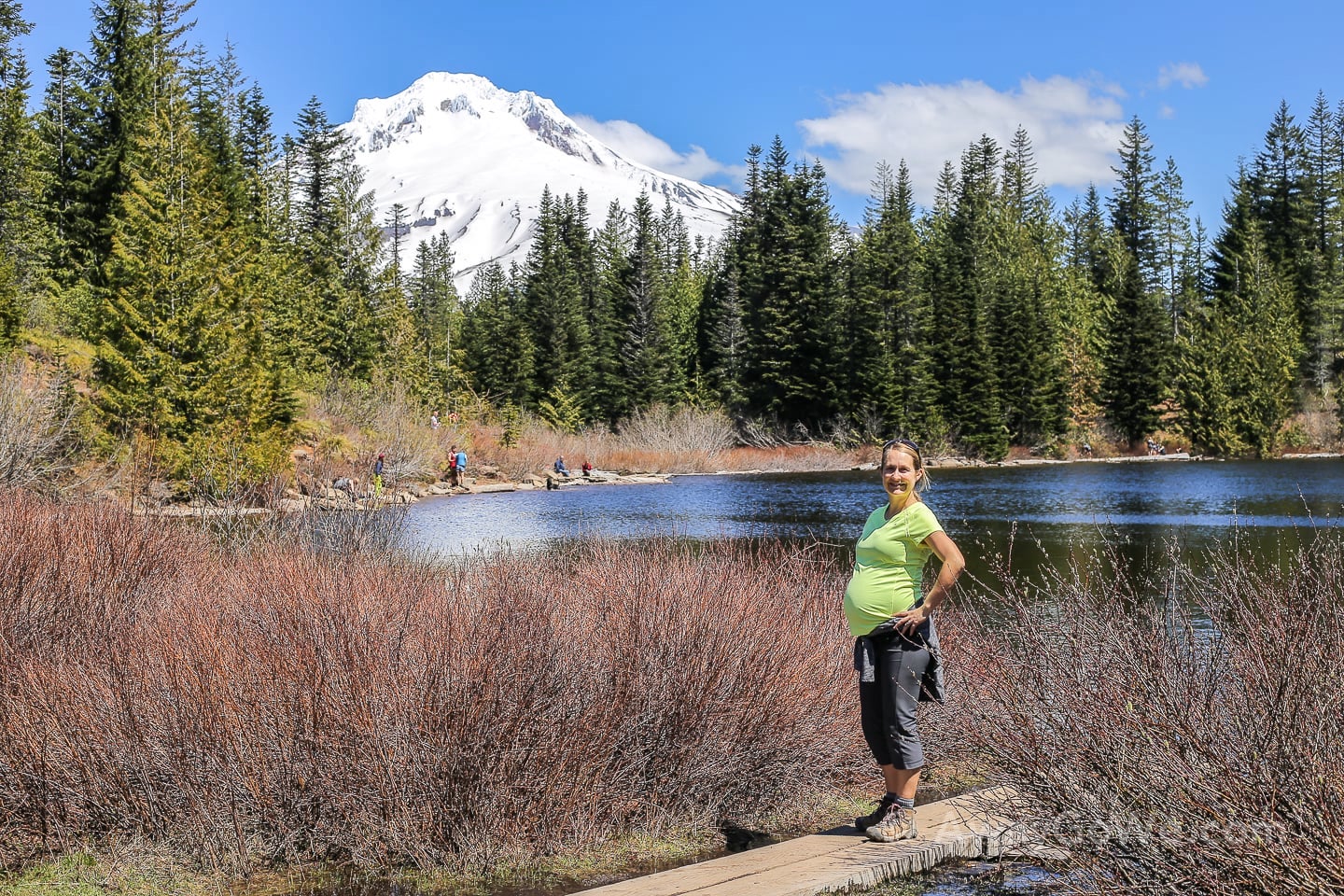 Mirror Lake has a nice loop trail around it connected by a series of boardwalks that offer awesome close-up views of Mt. Hood.
We've heard that the trail can get very crowded on the weekends, but fortunately traffic was relatively light on this Sunday — even with the unseasonably perfect weather!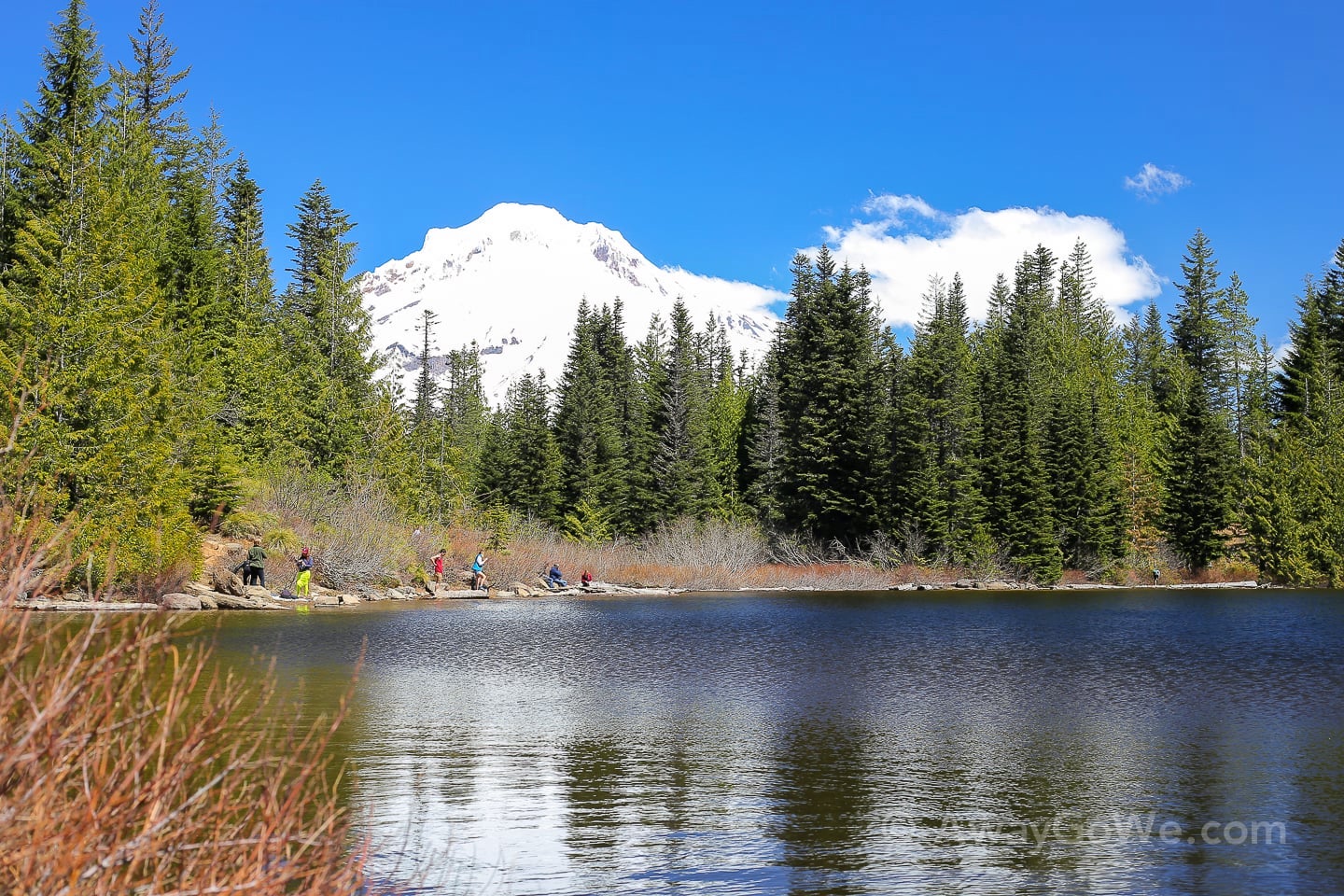 And Mt. Hood is never far from view…at least until these trees leaf out in a couple of weeks.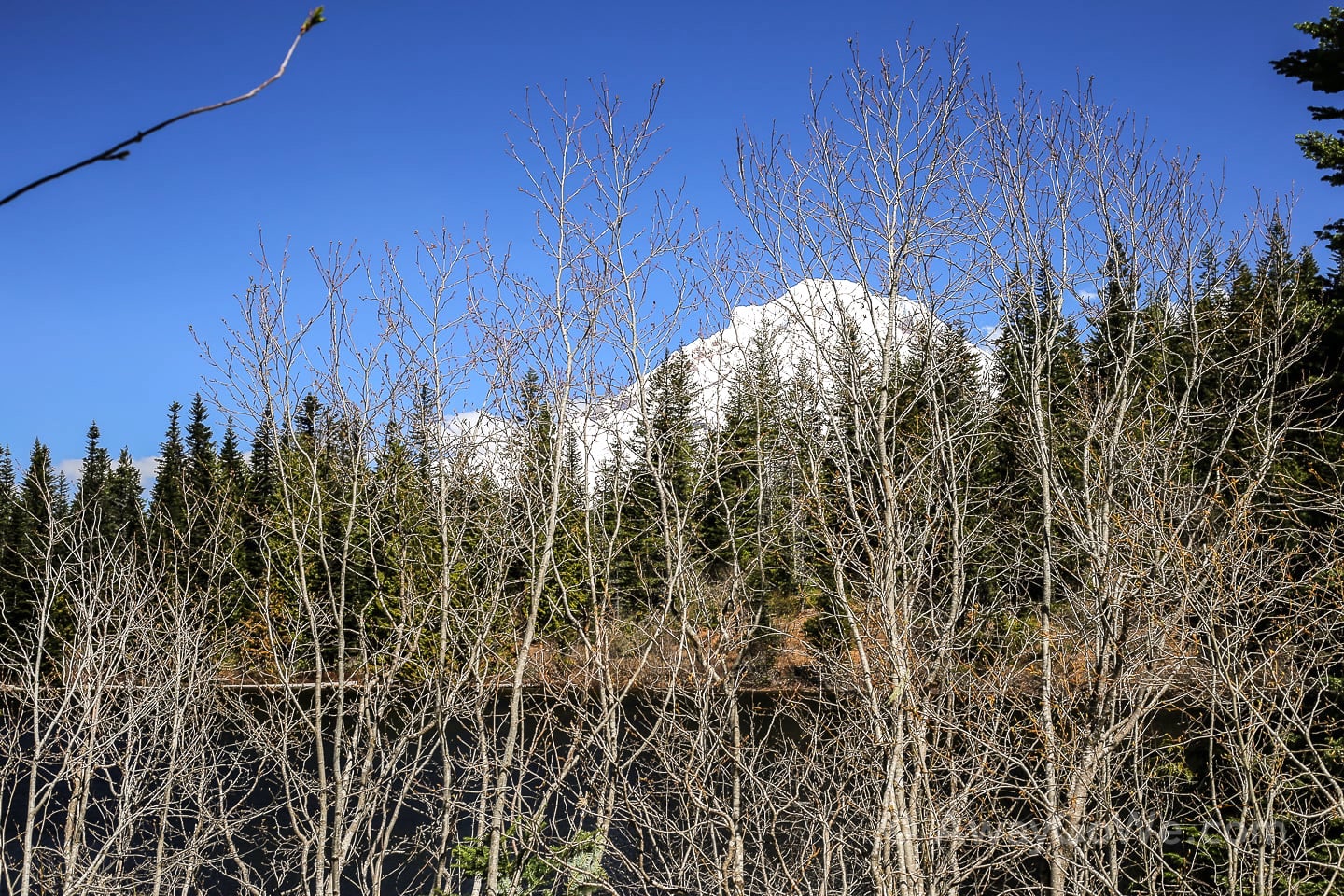 Mirror Lake offers a welcome departure from Gorge hiking — the hikes in the Gorge are amazing, but it's nice to try something different, too.
All in all, we really enjoyed the Mirror Lake hike.
On to Trillium Lake!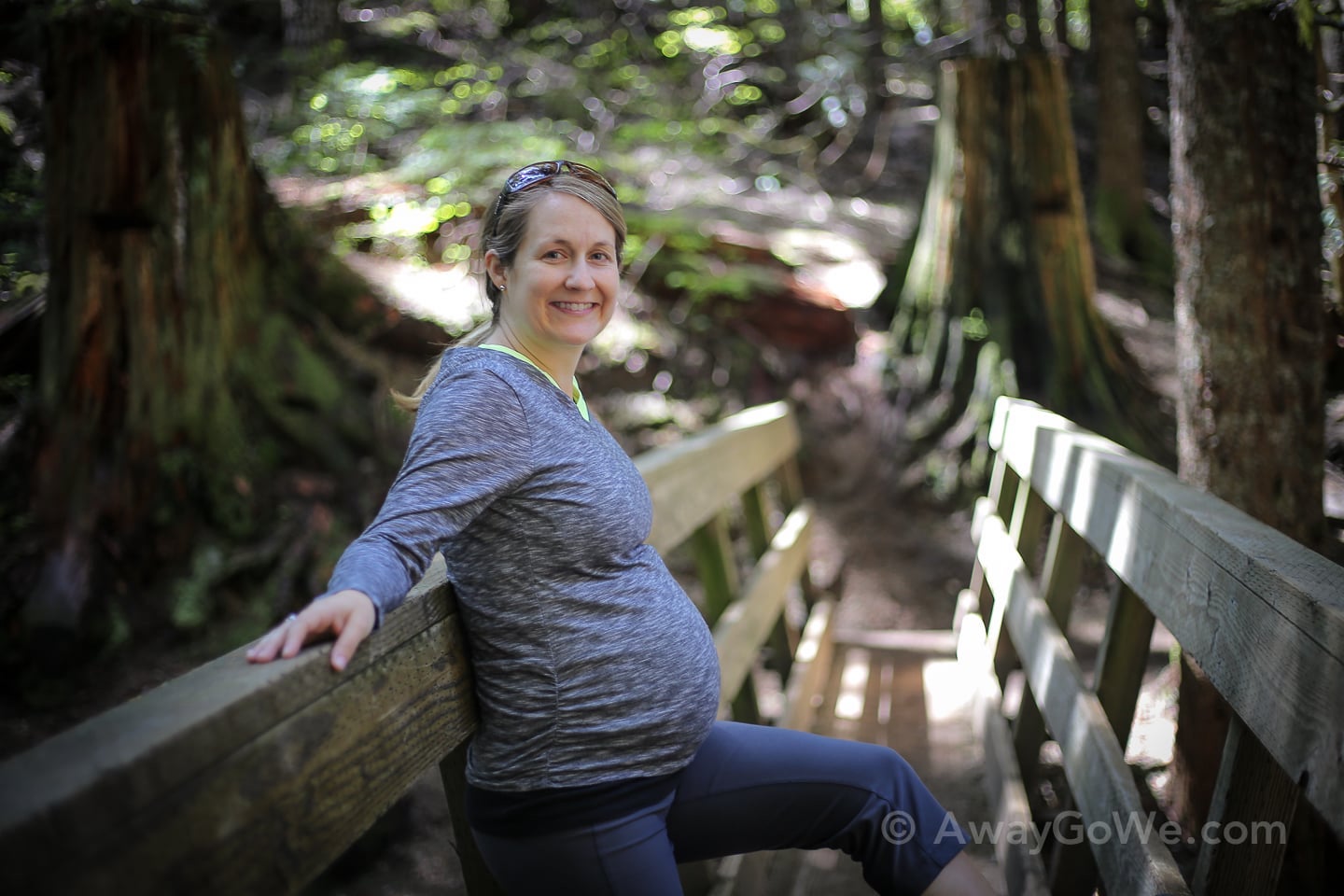 Jonsrud Viewpoint
On the way back through the town of Sandy, we saw a sign for the Jonsrud Viewpoint. Little did we know, we were about to be treated to what is widely considered one of the best views in Oregon!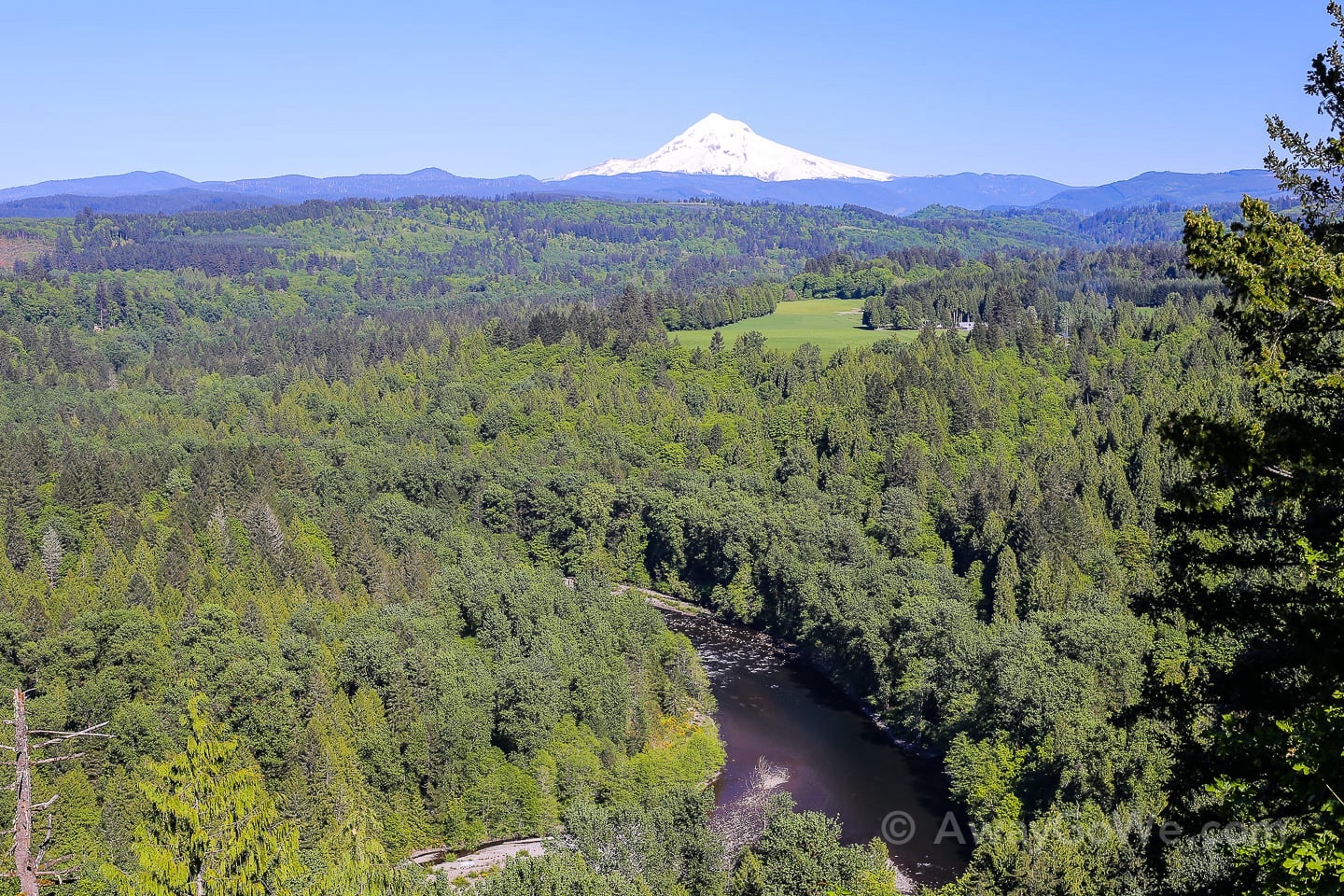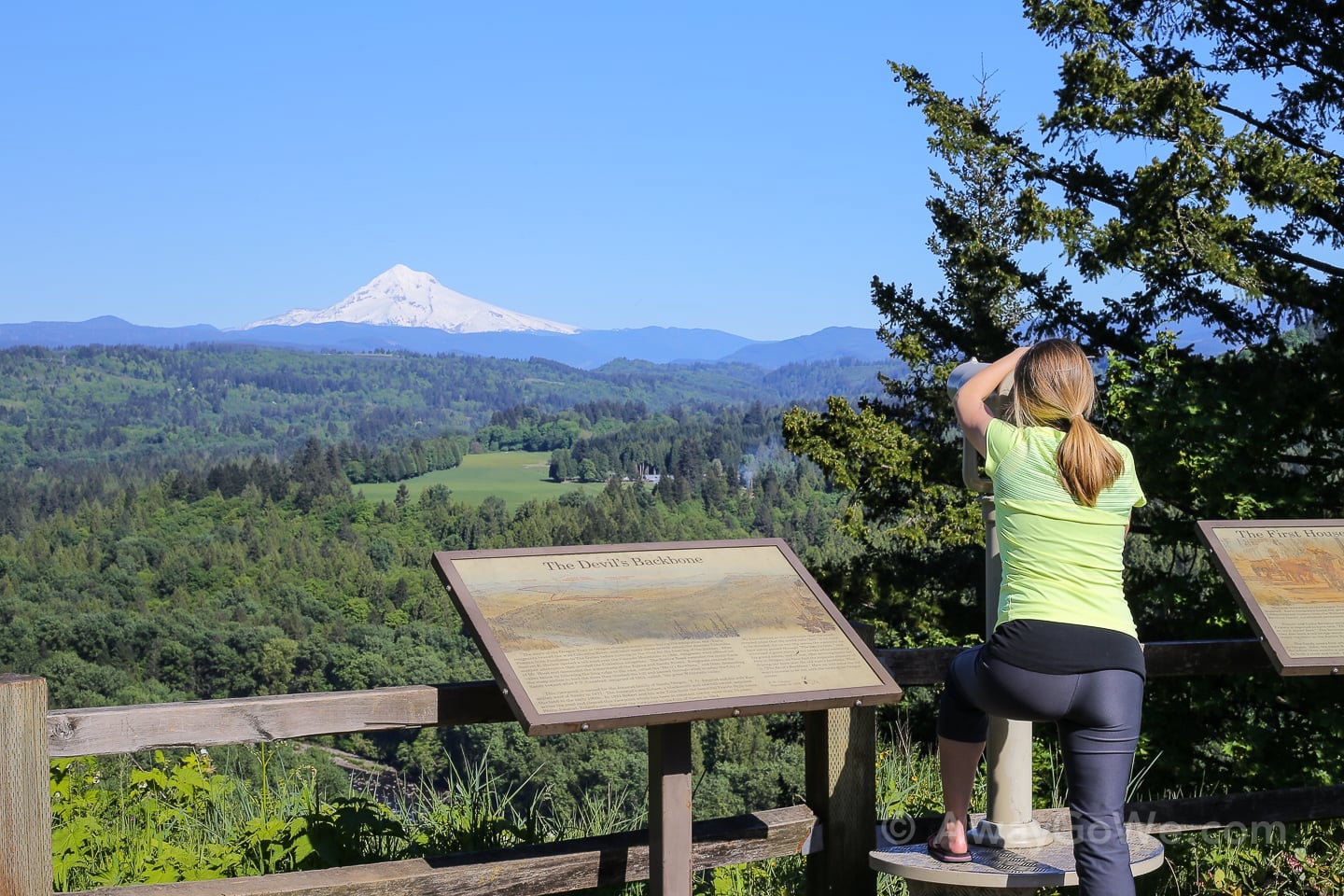 Back home in Goose Hollow (Portland), we kicked off our hiking shoes and enjoyed the beautiful spring evening on our apartment's balcony, content to admire Mt. Hood from afar.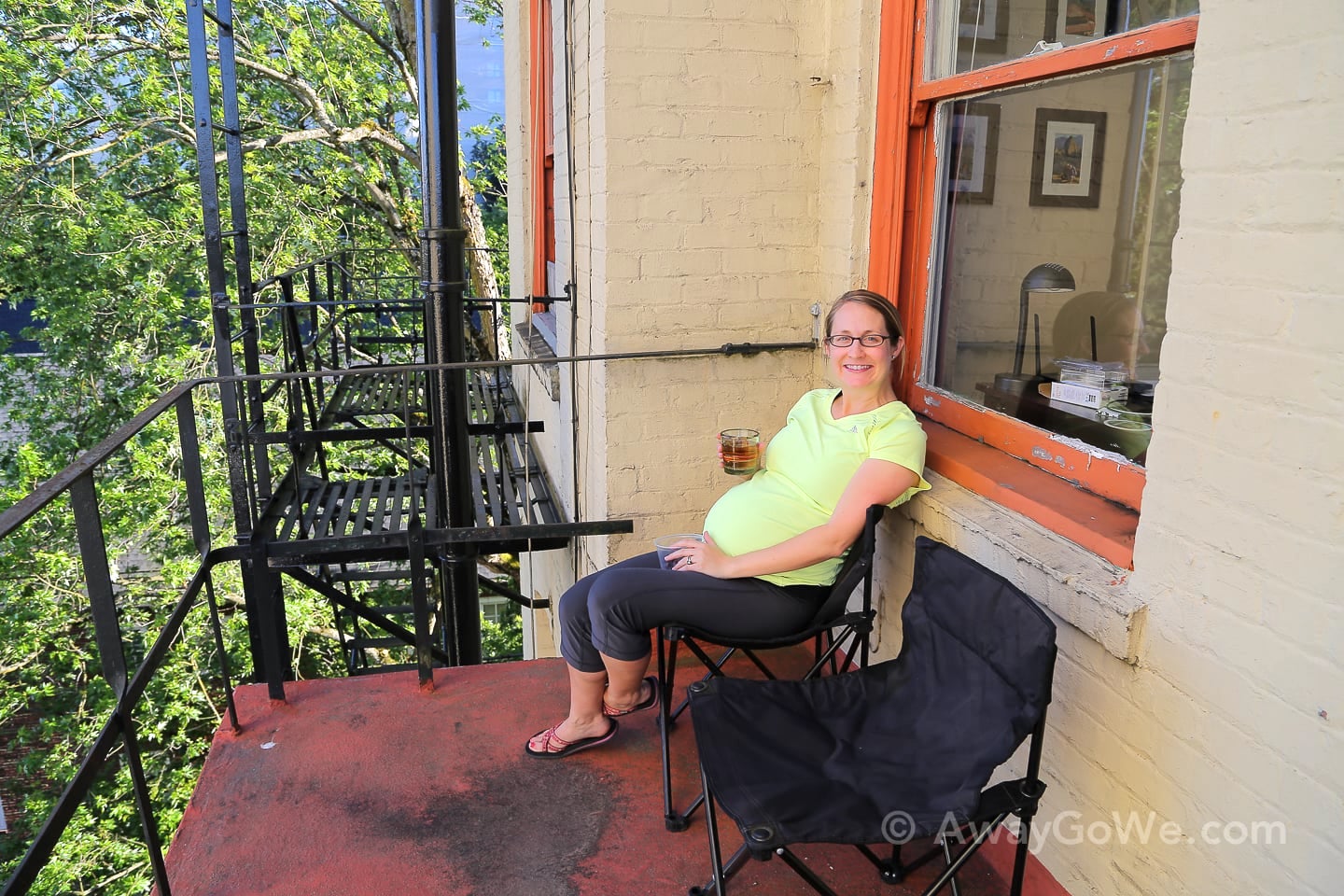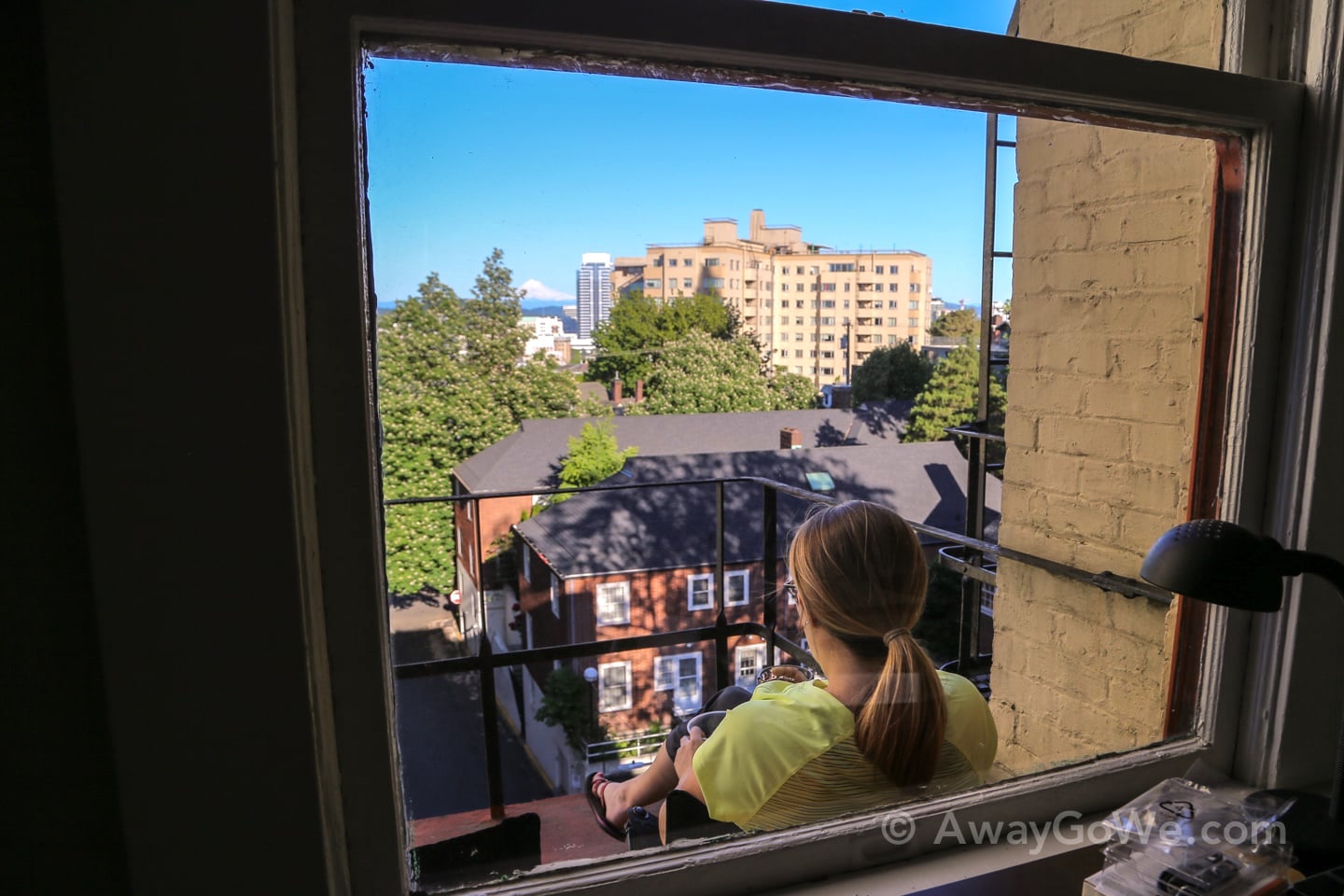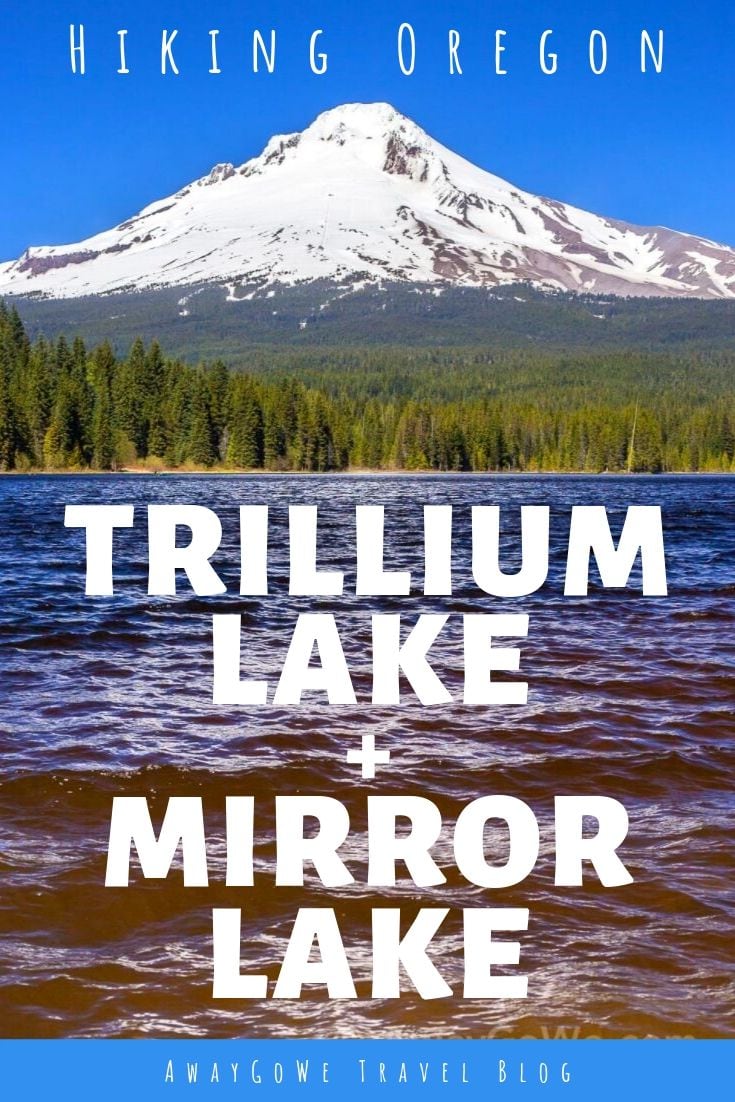 14 July 2021
01 May 2016
As an Amazon Associate we earn from qualifying purchases. We're also members of other affiliate programs. Learn more in our privacy policy.