Phou Phanang is our first attempt at a true Vientiane-area hike — or at least as close as it gets around here.
Over the past six months, Lori and I have been looking for opportunities to get out into "nature" within a short drive of Vientiane.
Sure, there are a ton of options around Vang Vieng, a few hours north of the capital. But we've been itching for some day hiking options with minimal fuss.
First off, the capital region is not known for hiking — actually, that's an understatement.
There are zero formal resources for hiking within a hundred miles — not in English, not in Lao language, nothing.
There are no marked or maintained trails for hikers…and really, there aren't even hikers.
It's just not a thing.
But of course, there are always hikers, even if there aren't established trails, routes or maps.
Obviously, with a GPS device, some provisions, the right attitude, and a boatload of time, you can make your own route along farm paths, rural roads or highways.
You could also forge your own path, but that's probably not the smartest idea in the most heavily bombed country on Earth (even if the area around the capital was largely spared, it's still in the back of your mind).
Unfortunately, we don't have a lot of time these days to go roaming around in the countryside making our own hiking routes, but luckily for us, there are others out there that do!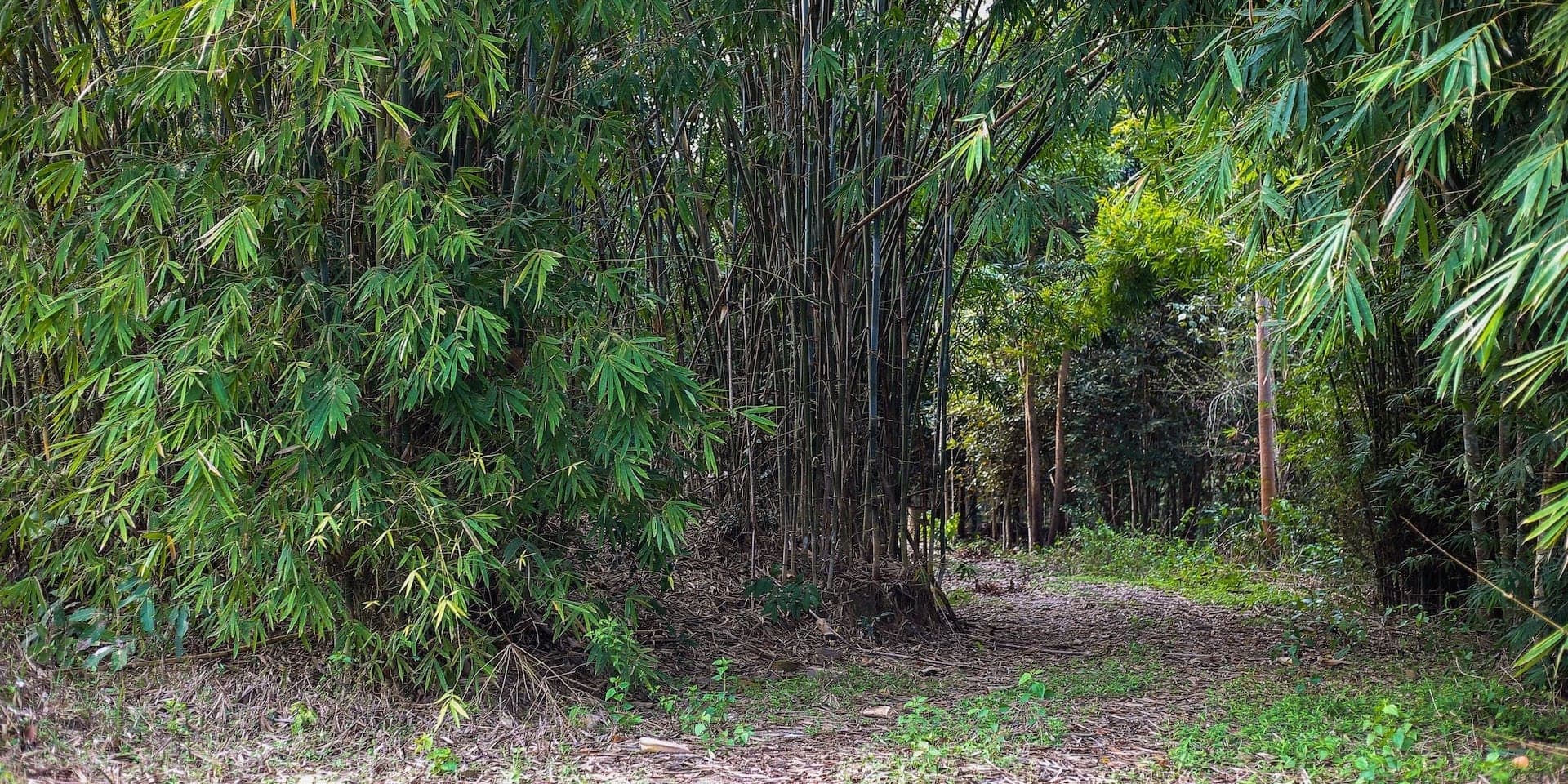 Recently, Lori discovered the Vientiane Hikers Facebook group, which lead weekly hikes in and around the greater Vientiane capital region.
Due to the unpredictable whims and wishes of our infant son, Noe, it wasn't going to be practical to join the group of hikers on Saturday, but Lori was able to contact the group coordinator and get some ideas for hiking on our own.
This 6 mile hike in the Phou Phanang National Biodiversity Conservation Area is courtesy of Vientiane Hikers.
About the Phou Phanang Hike
| | |
| --- | --- |
| TRAILHEAD: | Tat Moun waterfall parking lot. GPS: 18°01'08.1″N 102°27'35.0″E |
| HIKE TYPE: | Loop |
| DISTANCE: | About 10 km (~6 mi) |
| ELEVATION GAIN: | 49 m (160 feet) |
| DIFFICULTY: | Easy |
| EXPOSURE: | Largely exposed to the elements. Prepare accordingly. |
| KID FRIENDLY?: | Yes |
Lori and I worked off of a screenshot of the route transposed over satellite imagery, and the above map is the result of tracking our actual path (errors and all) with the MapMyHike mobile app, imported into Google maps.
You can actually do this hike yourself by clicking on the map above on your mobile device and following along.
We were told to start at the Tat Moun waterfall parking lot (the big "P" above), which worked really well for us. It appeared that the lot was a pay lot, but no one came to collect money from us.
We started in the south parking lot, crossing the highway and following the route counter-clockwise. I'd recommend doing the same, as it puts the more "picturesque" parts of the hike towards the end (and the mini-landfill up front).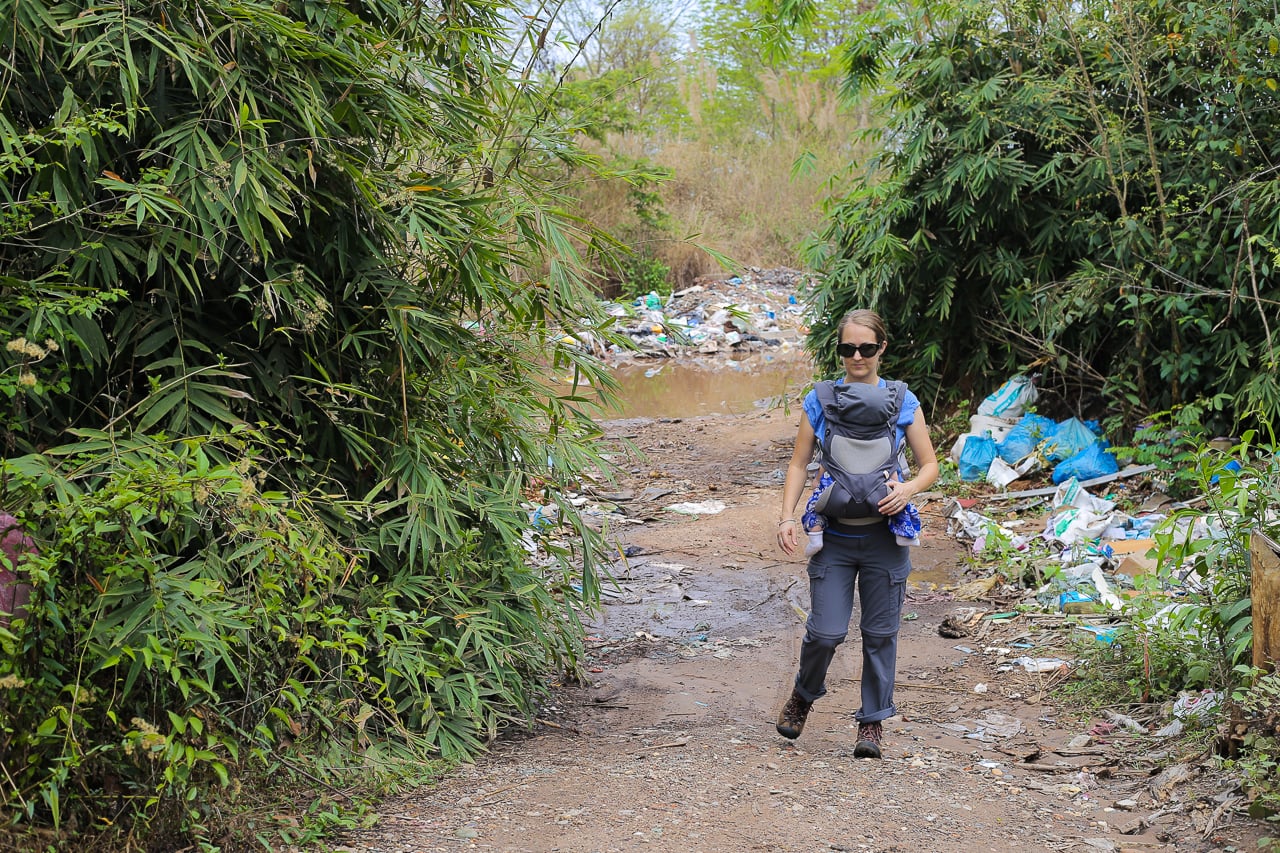 Yep, that's garbage. A lot of garbage. But fortunately, it's short-lived.
Accessing the first portion of this route requires following a road lined with garbage (the community's informal landfill).
If you've spent a considerable amount of time in countries with limited public service provision, the minute or two of unsightly inconvenience won't bother you too much.
If this is your first time in the developing world, it may surprise you — but it's a good reality check, I guess.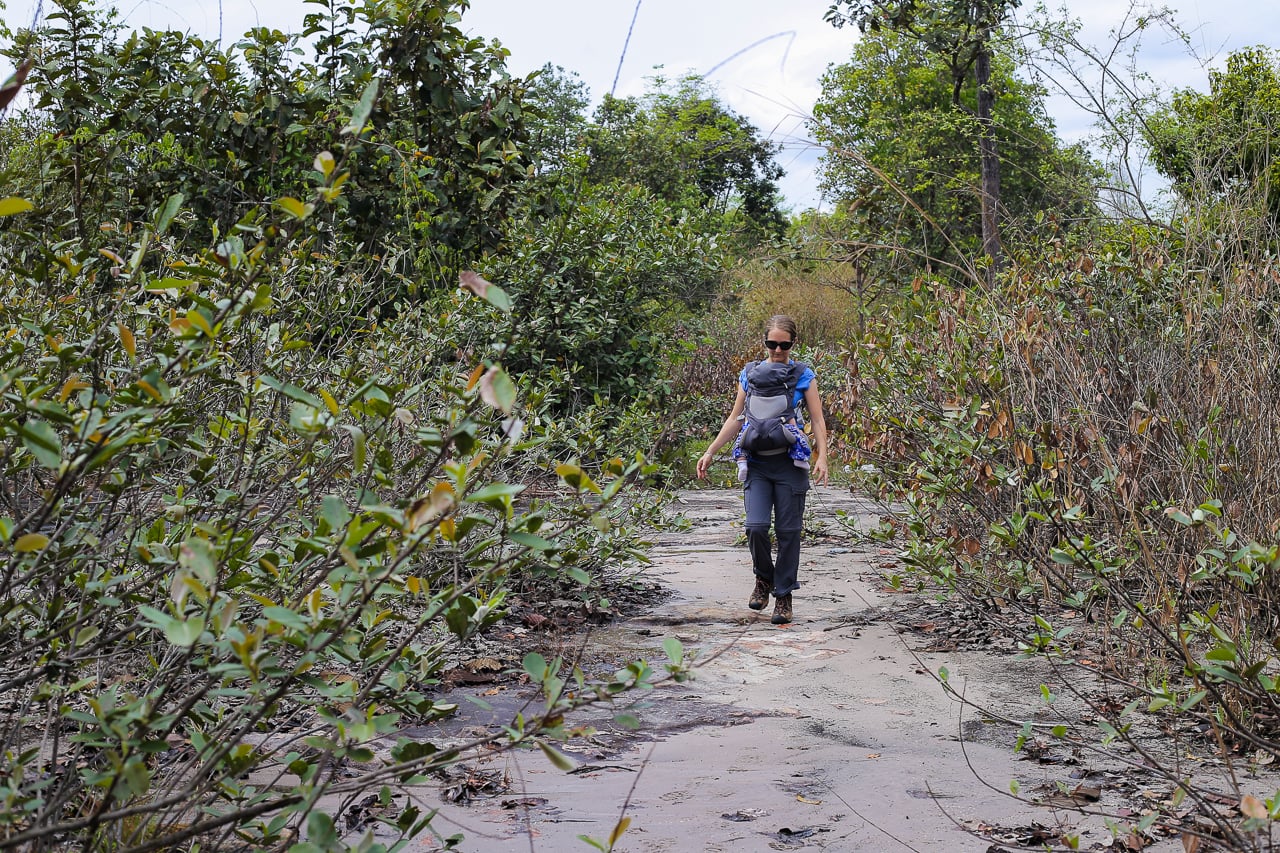 Once you're through the trash heap, it's surprisingly clean sailing the rest of the way — but we are in a national conservation area, after all.
Due to this designation (and the fact that we are in Laos, one of the least densely populated countries in East Asia), you won't see a lot of other people around — a stark difference from other rural hikes we've done in Southeast Asia where you're likely to come across a farmer or herder every couple of minutes.
Phou Phanang National Biodiversity Conservation Area
| | |
| --- | --- |
| LOCATION: | Vientiane, 1,525 sq km. |
| KEY SPECIES: | Gibbon, inornate squirrel, elephant. |
| HABITAT: | Mostly degraded forest with a small area of semi-evergreen forest. |
| ELEVATION: | 200 m – 698 m (656 ft – 2,290 ft). |
| ACCESS: | Easy access by car from Route 13 N just outside Vientiane Capital. |
We had also been told that the area is home to a variety of native flora and fauna, including gibbon.
Apart from birds and a harmless-looking snake crossing the road, we didn't catch a glimpse of anything exciting.
However, a freak rainstorm forced us to delay our hike to much later in the day, so perhaps coming here in the early morning might have increased our chances of seeing wildlife.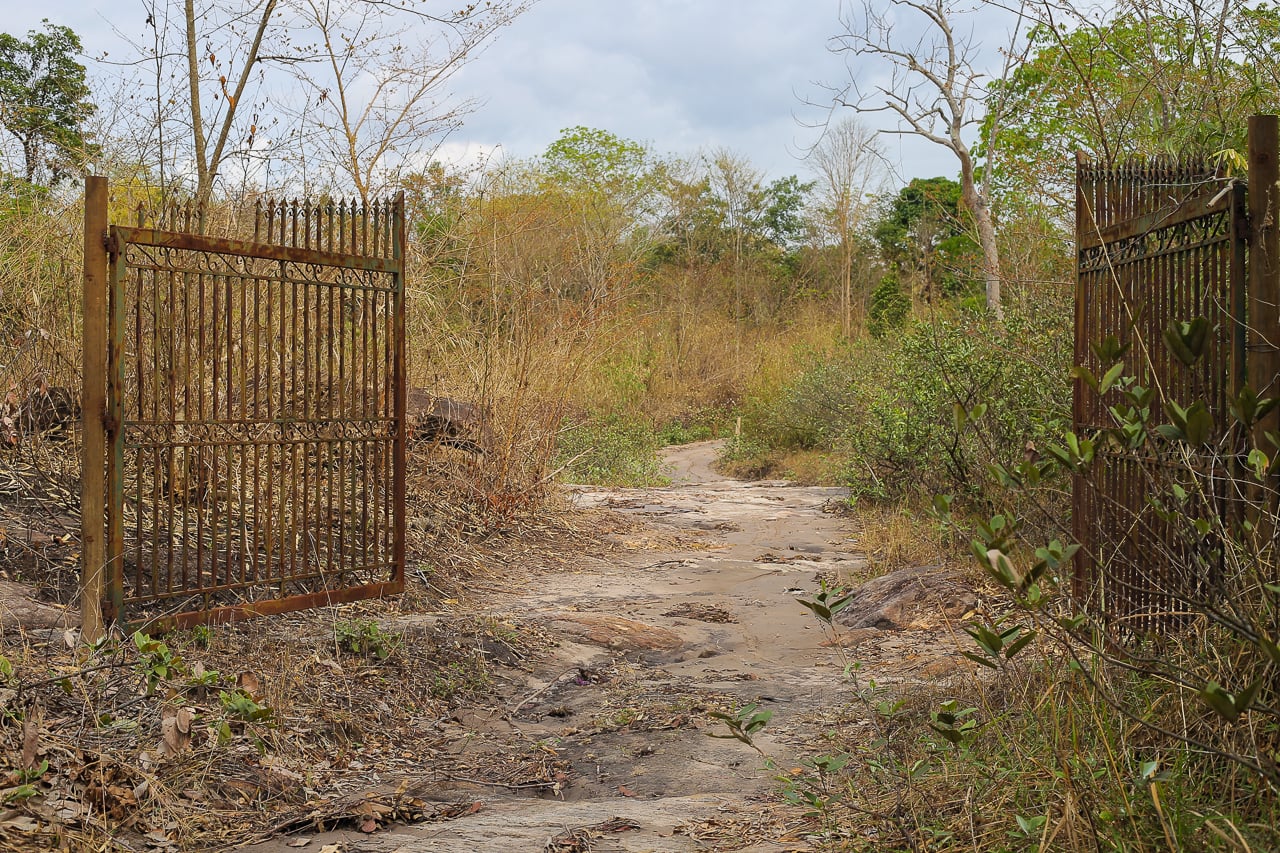 The ground over much of the route was one of the more striking features of this hike — smooth and worn stone filled in with silt, almost like walking alongside the banks of a mountain stream.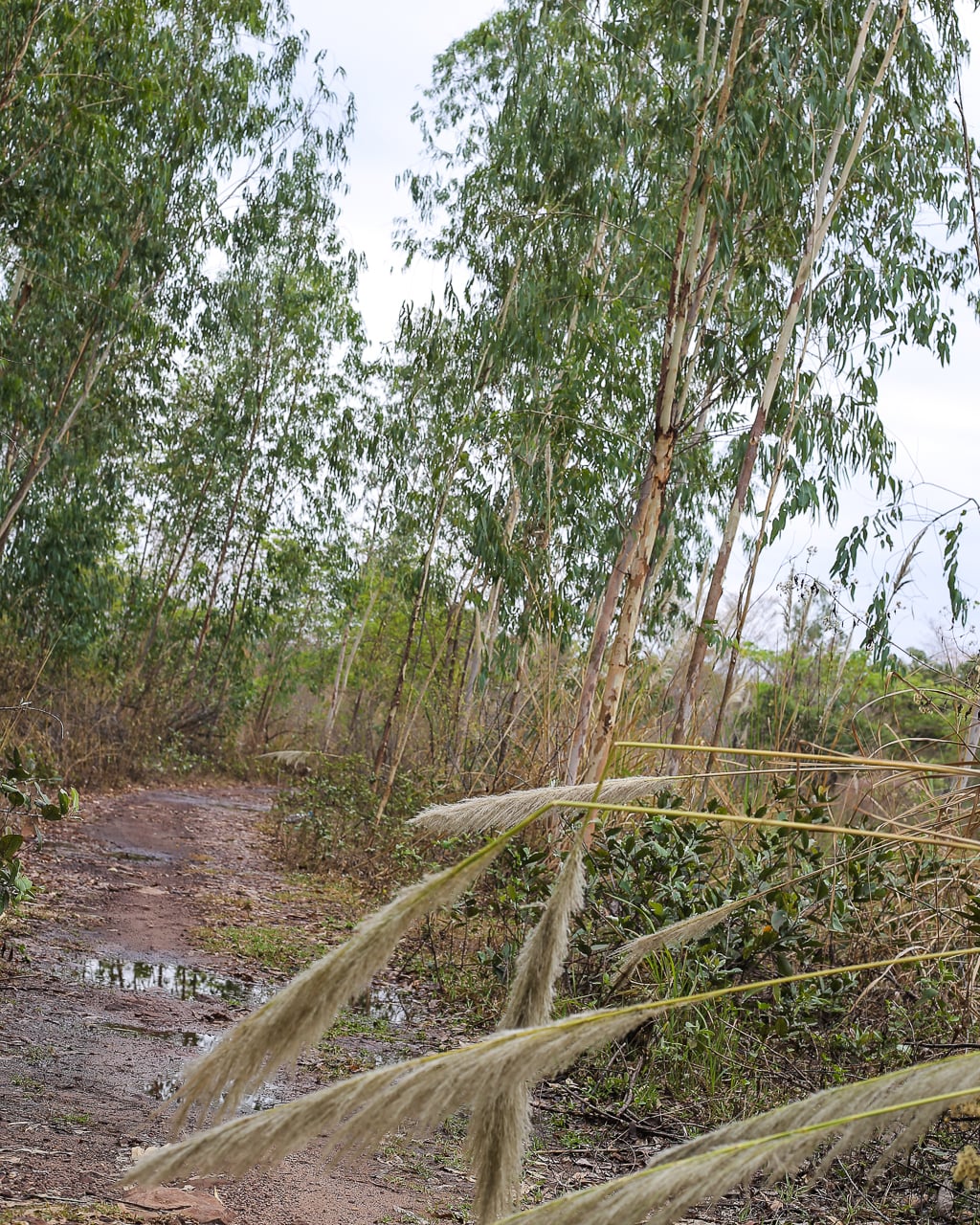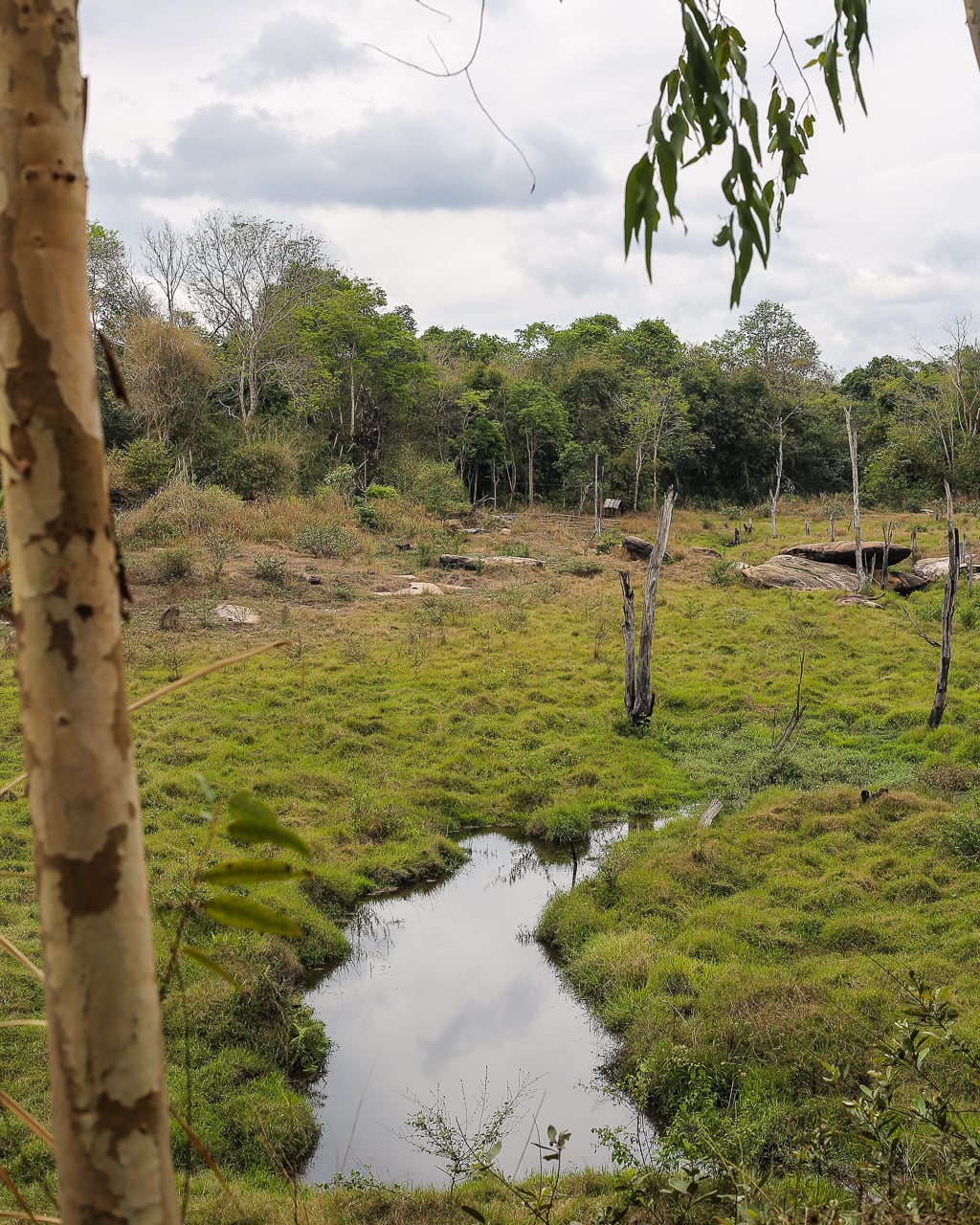 This clearing was perhaps the most picturesque portion of the hike, in an otherwise scrubby and monotonous landscape.
While this hike won't rank in our top ten in Southeast Asia, it's still a rarity in the Vientiane area and was nice to be active in nature, regardless.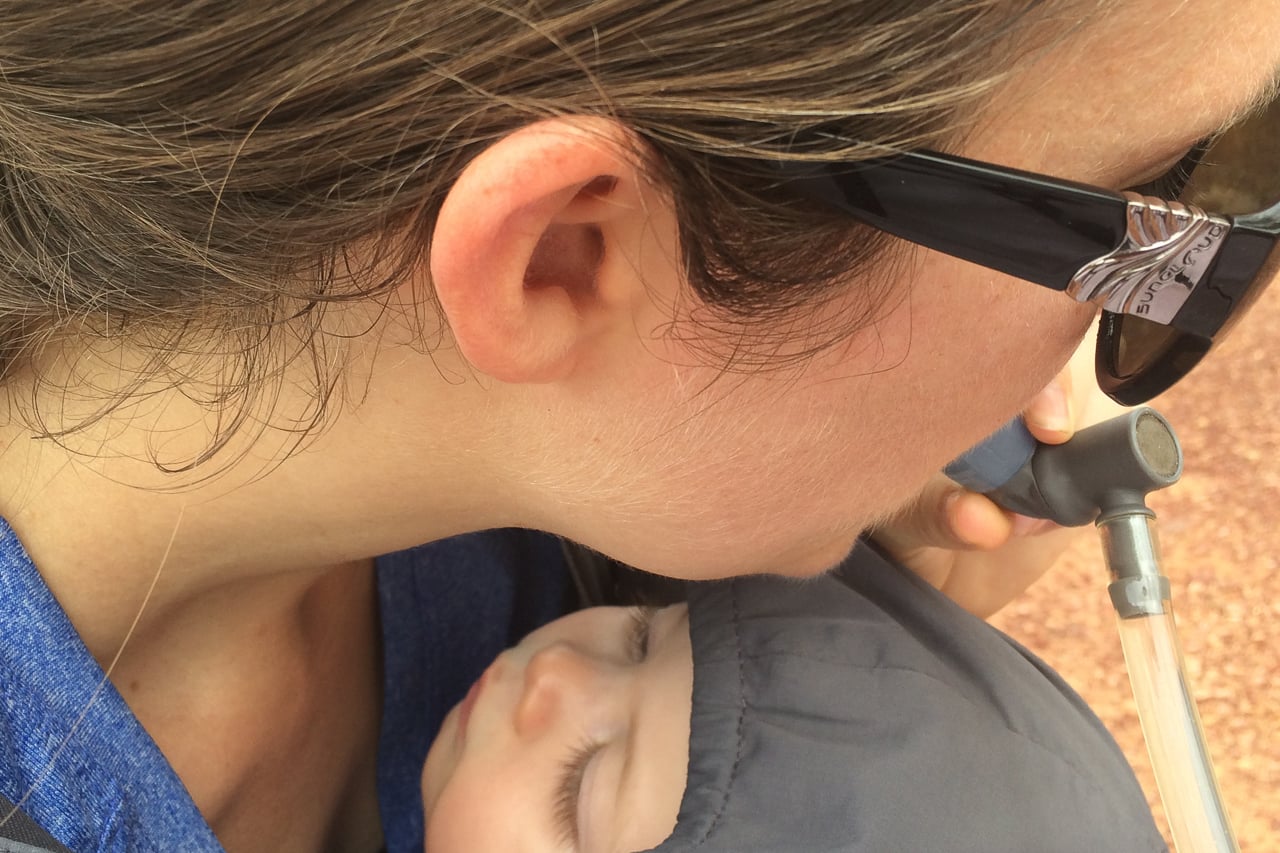 Six miles took us about three hours, including a few wrong turns and water breaks. Noe slept for about a third of the hike, which isn't bad these days.
The cloud cover kept the midday temperatures down. We've had some pretty hot days over the past couple of weeks and it's only supposed to get hotter.
There isn't a lot of shade on this route, so we'd recommend starting much earlier and bringing sun protection. We wouldn't have even considered going so late in the day if it weren't for the overcast skies and cooler temps.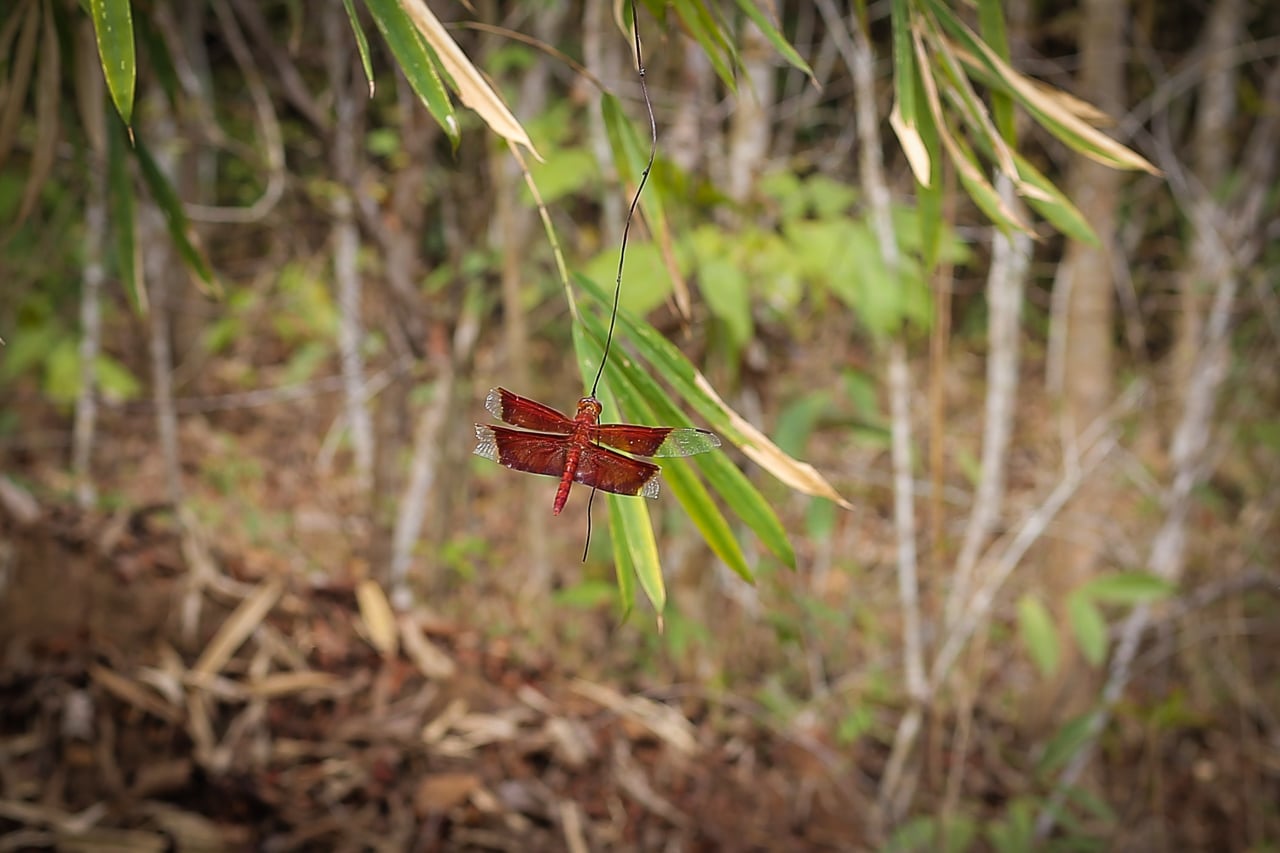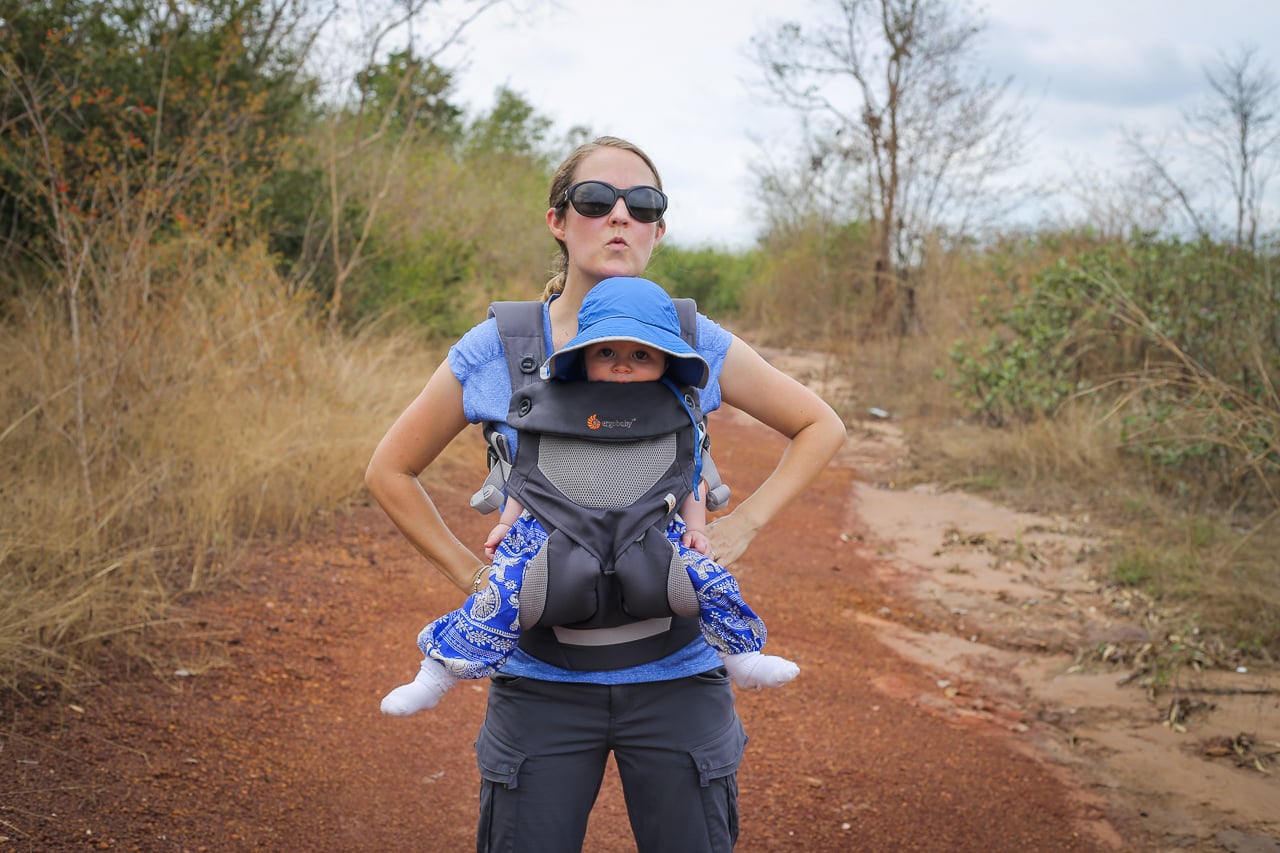 In addition to a glimpse of a fast moving snake and a handful of birds, we did see this brightly-colored dragonfly…and a few dogs near a couple of plantations while hiking in Phou Phanang NBCA.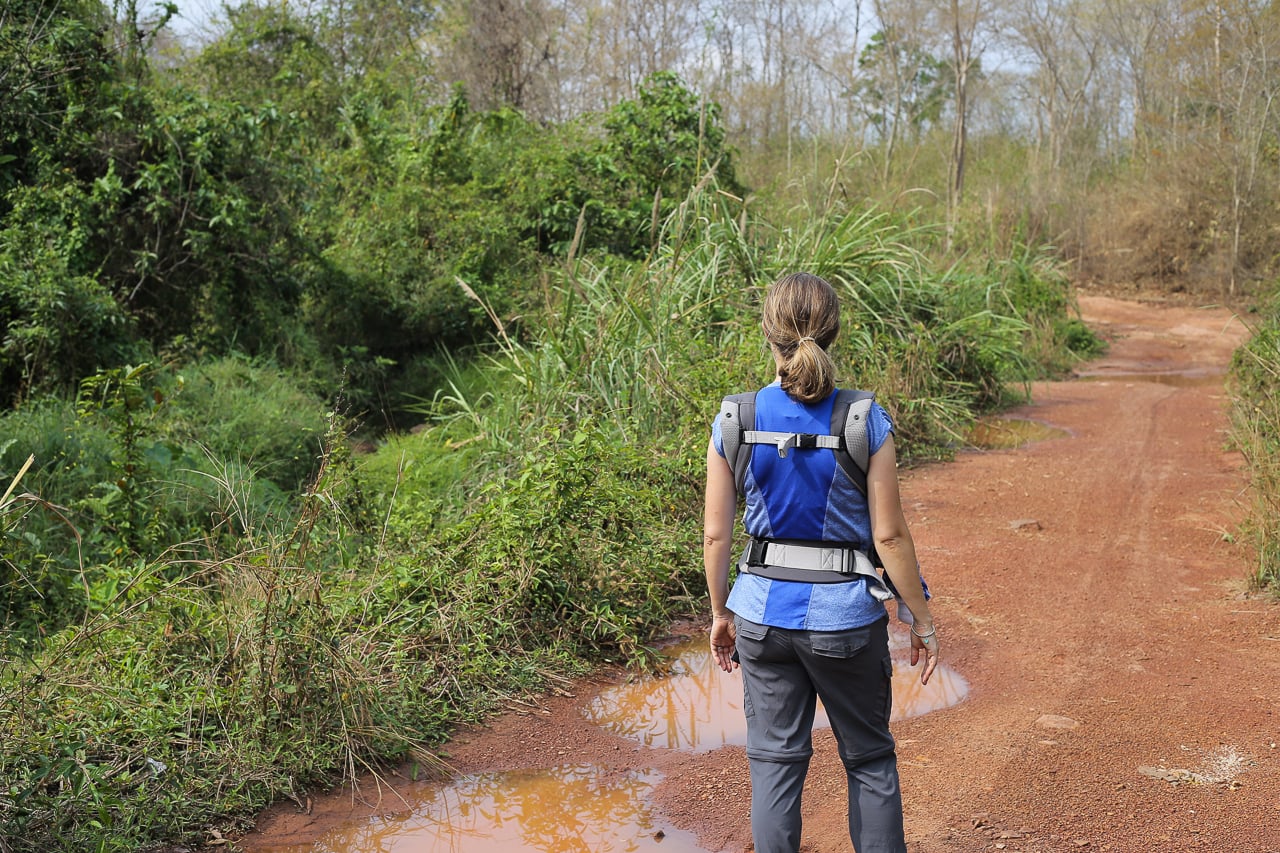 With about a mile or two remaining, the clouds broke and the sun began to shine — and things started getting steamy.
Thankfully, it was pushing 3pm and the sun was no longer directly overhead, giving us a bit more shade than previously.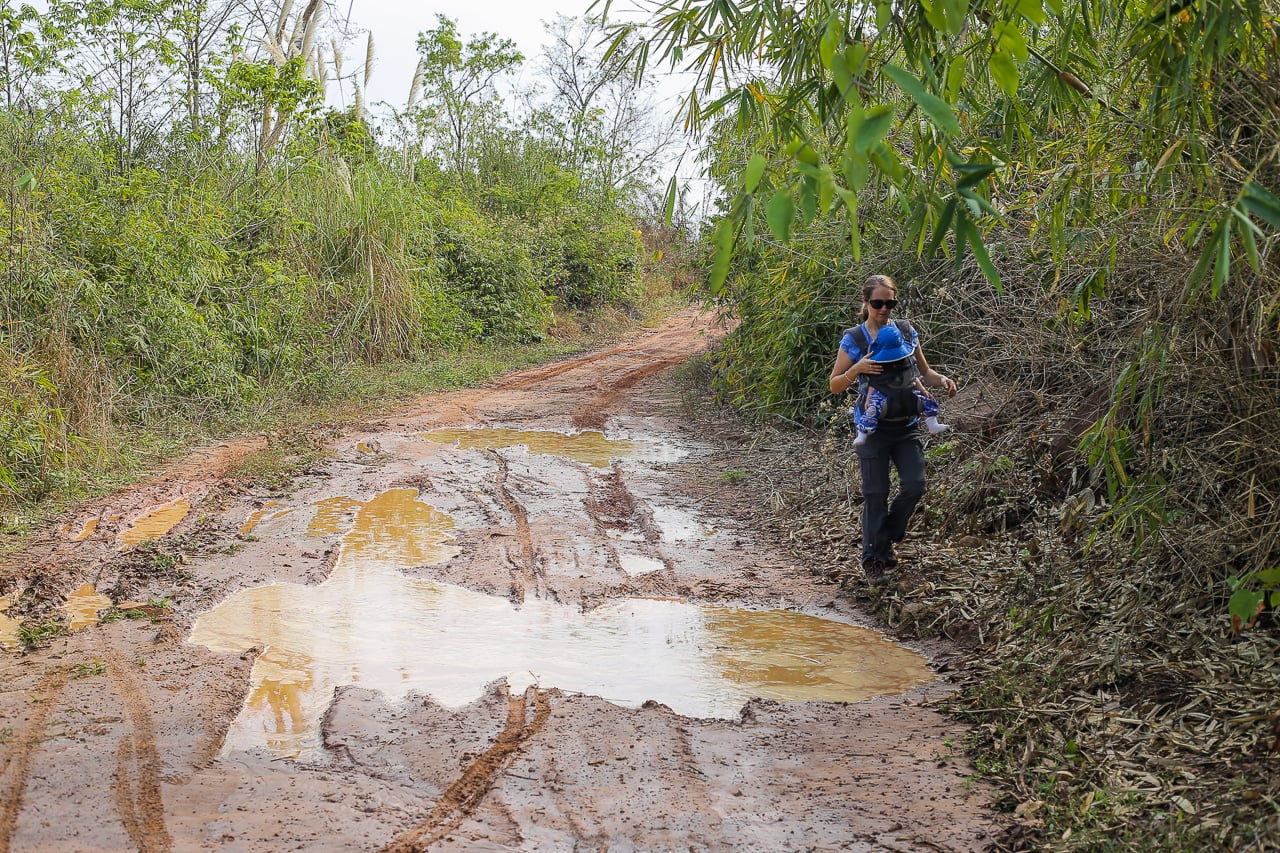 This bamboo-lined spur looked inviting, but no time to deviate from the route — Noe was starting to voice his displeasure with being cooped up in his carrier for over two hours, to put it lightly.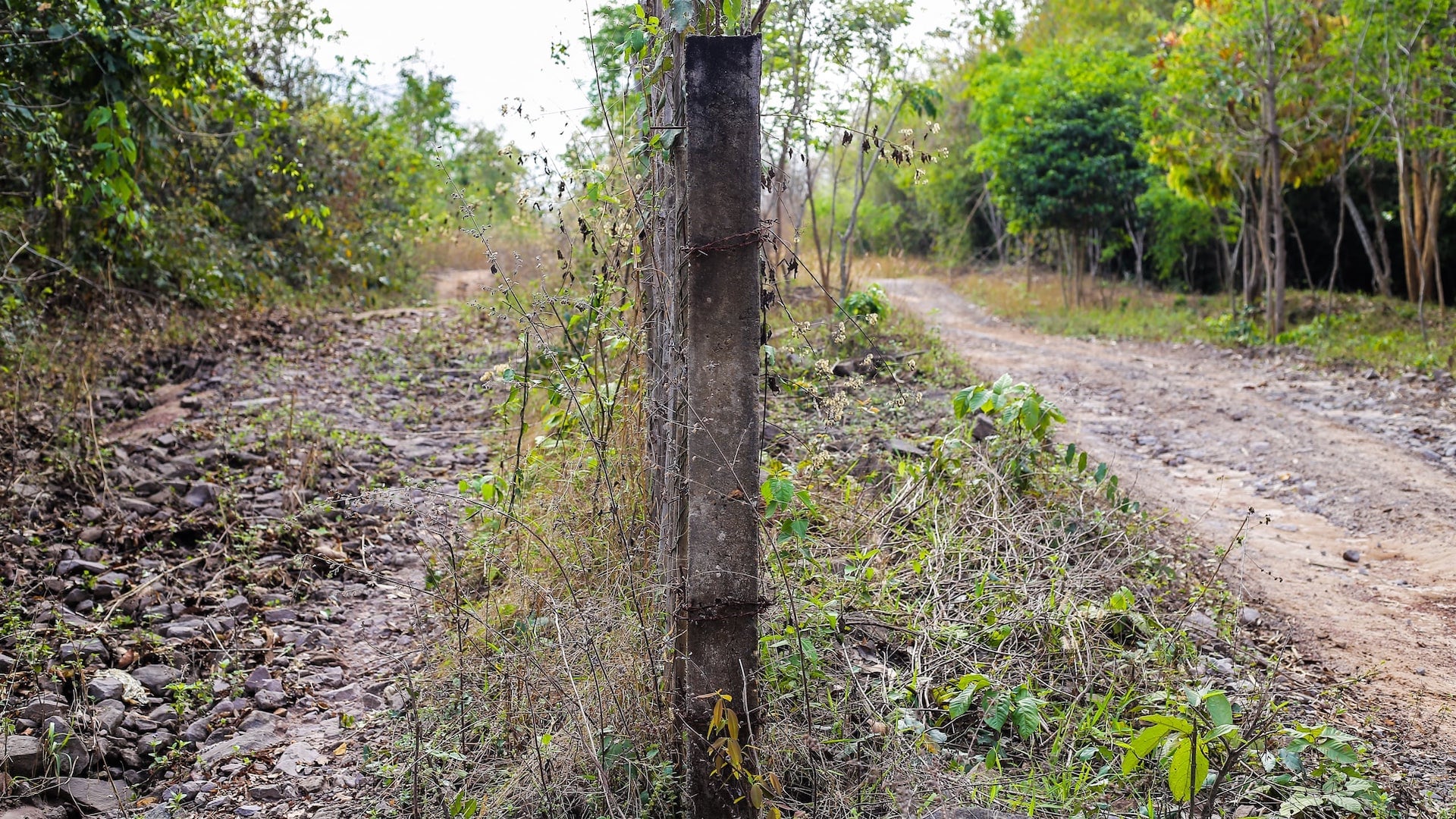 This fence pole marks the biggest mistake we made in trying to follow the route (which, in our defense, involved cross referencing a screenshot of a route on a satellite image with Google maps satellite view).
We needed to go left here, but instead went right (the route looked like the same line on the low-res image).
It wouldn't have been an issue except for the fact that a barbed wire fence starts here dividing the two paths indefinitely.
The path on the right soon veers off to the right (north) and doesn't veer back to the west for a long time. The parking lot was a short distance to the west.
Once we figured out our mistake, we doubled back, adding about ten minutes. Obviously, Noe was none to pleased, but such is life…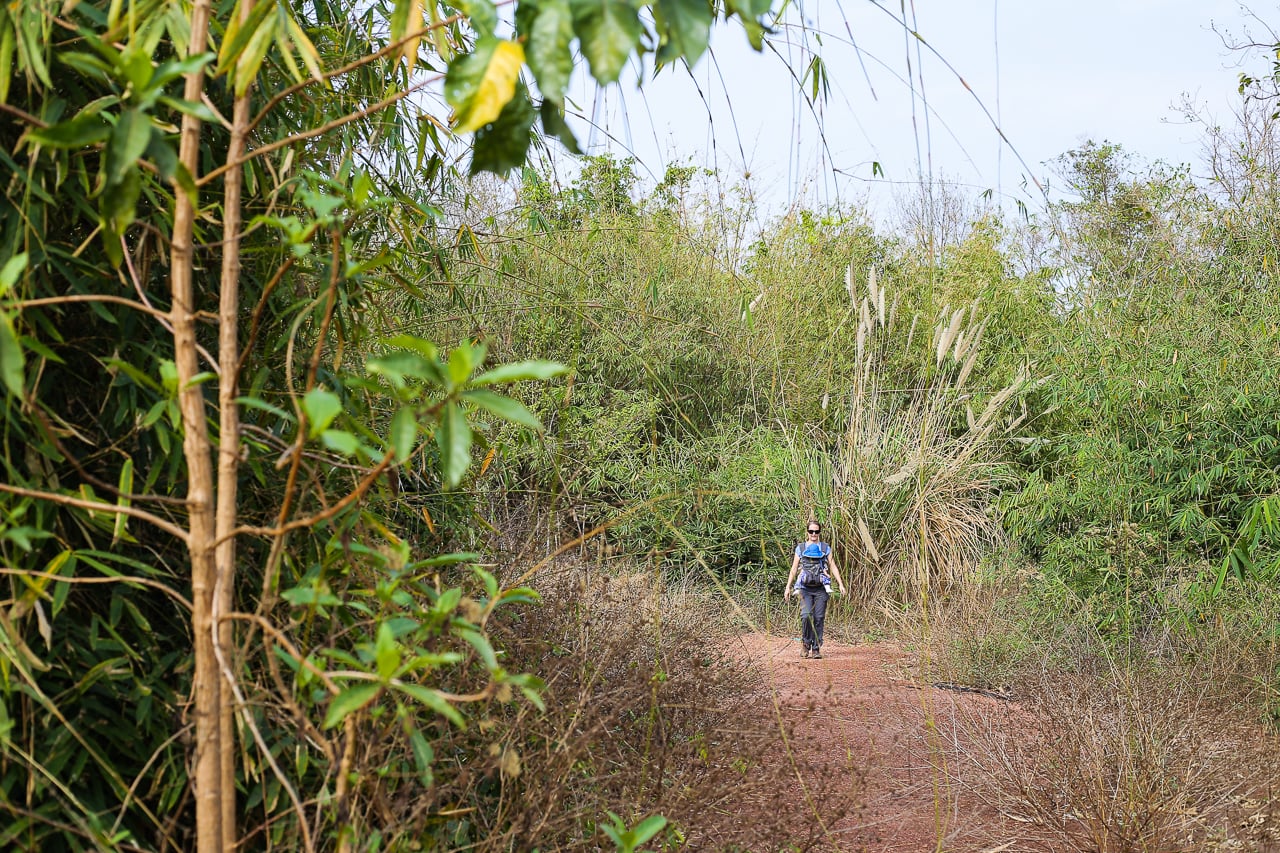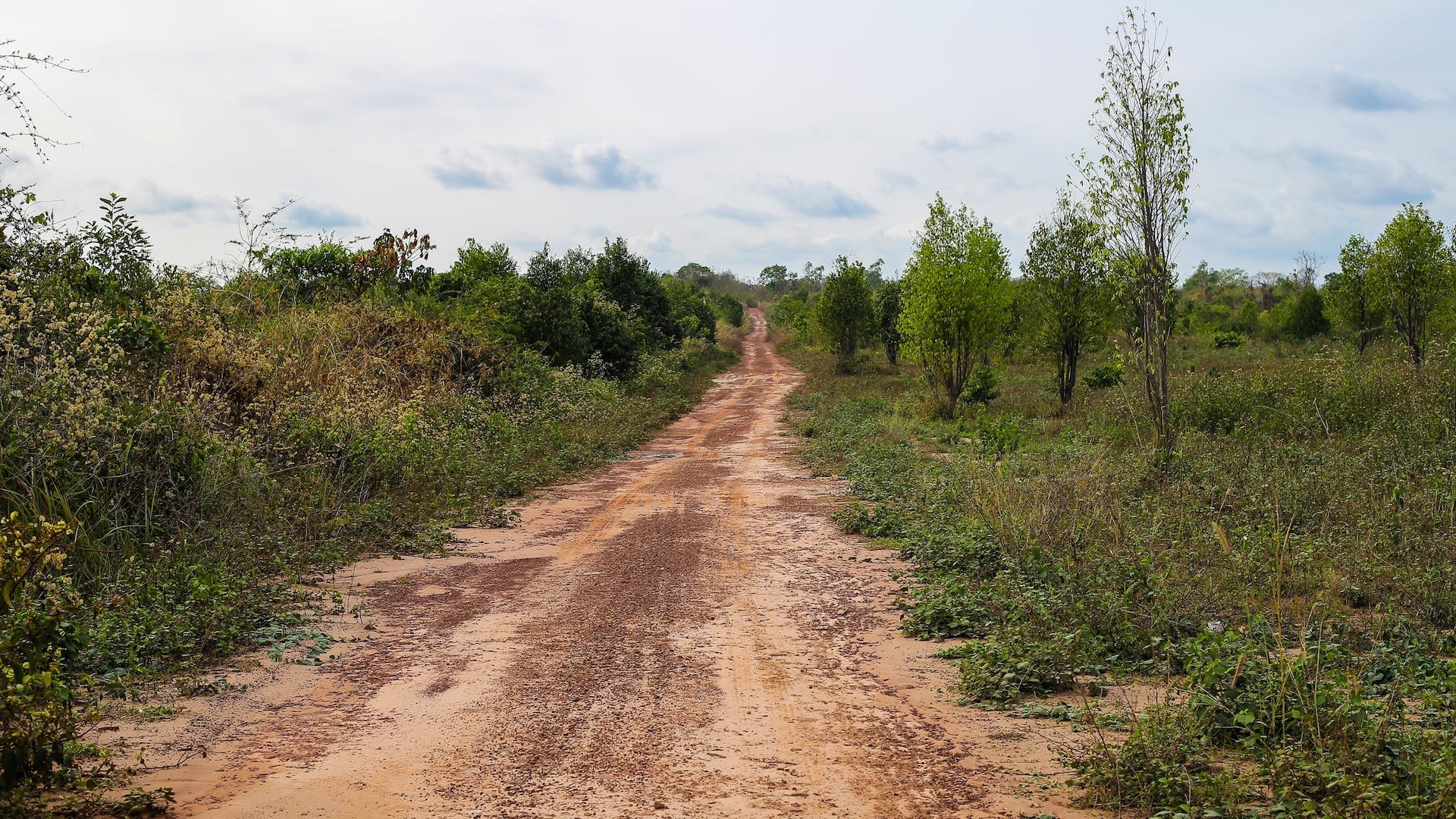 A few turns later, following a small stream down a hill, and we found ourselves back at the Tat Moun waterfall complex.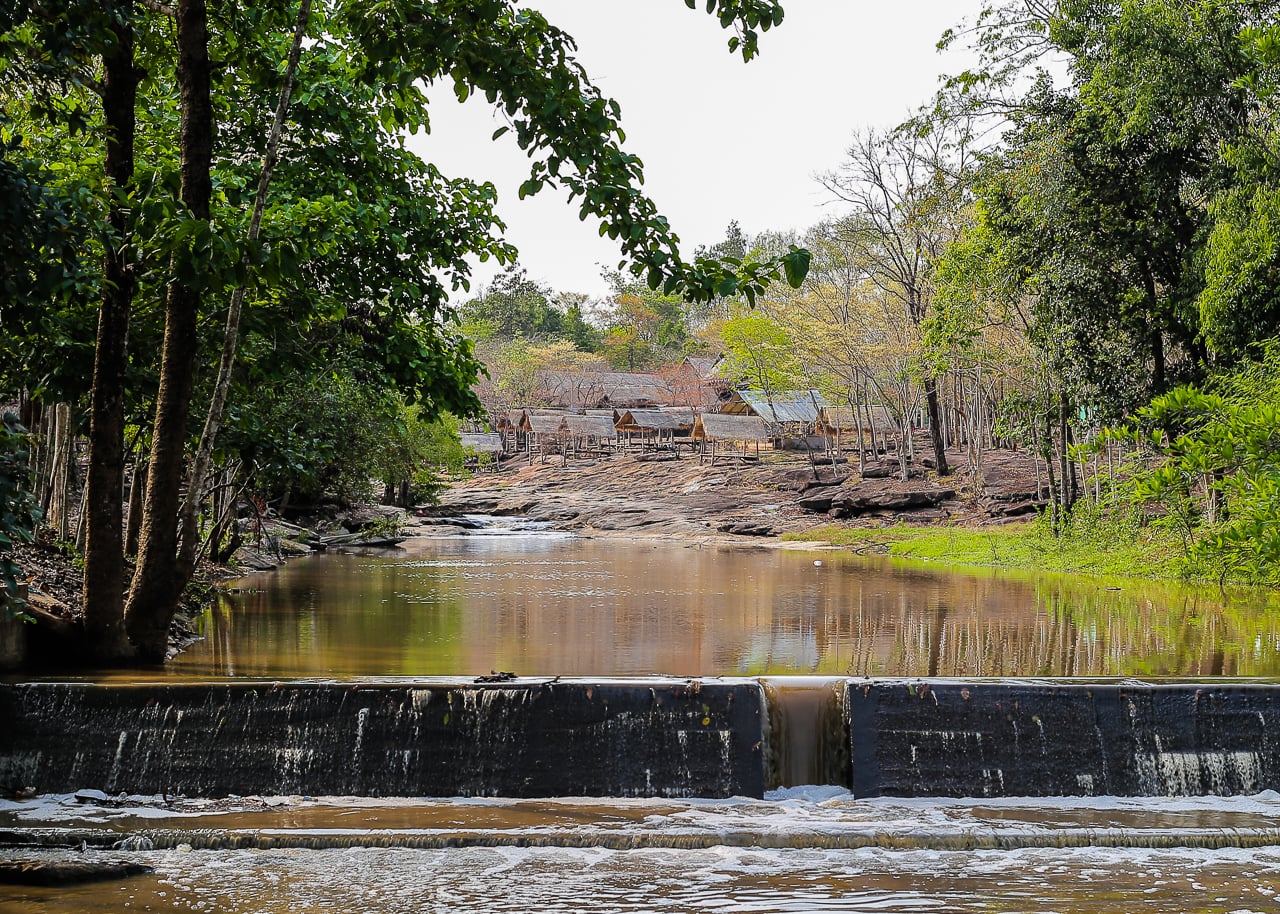 We've seen similar complexes all over central Laos, generally consisting of a number of shelters and a couple of local eateries grouped around some marginally interesting natural feature.
They always appear to have seen better days and we rarely see others utilizing the facilities, even on Saturday or Sunday.
Perhaps they are seasonal, but you'd think the dry season would be the best time to enjoy these places. Or maybe not. We shall see…
And that's our Phou Phanang hiking experience!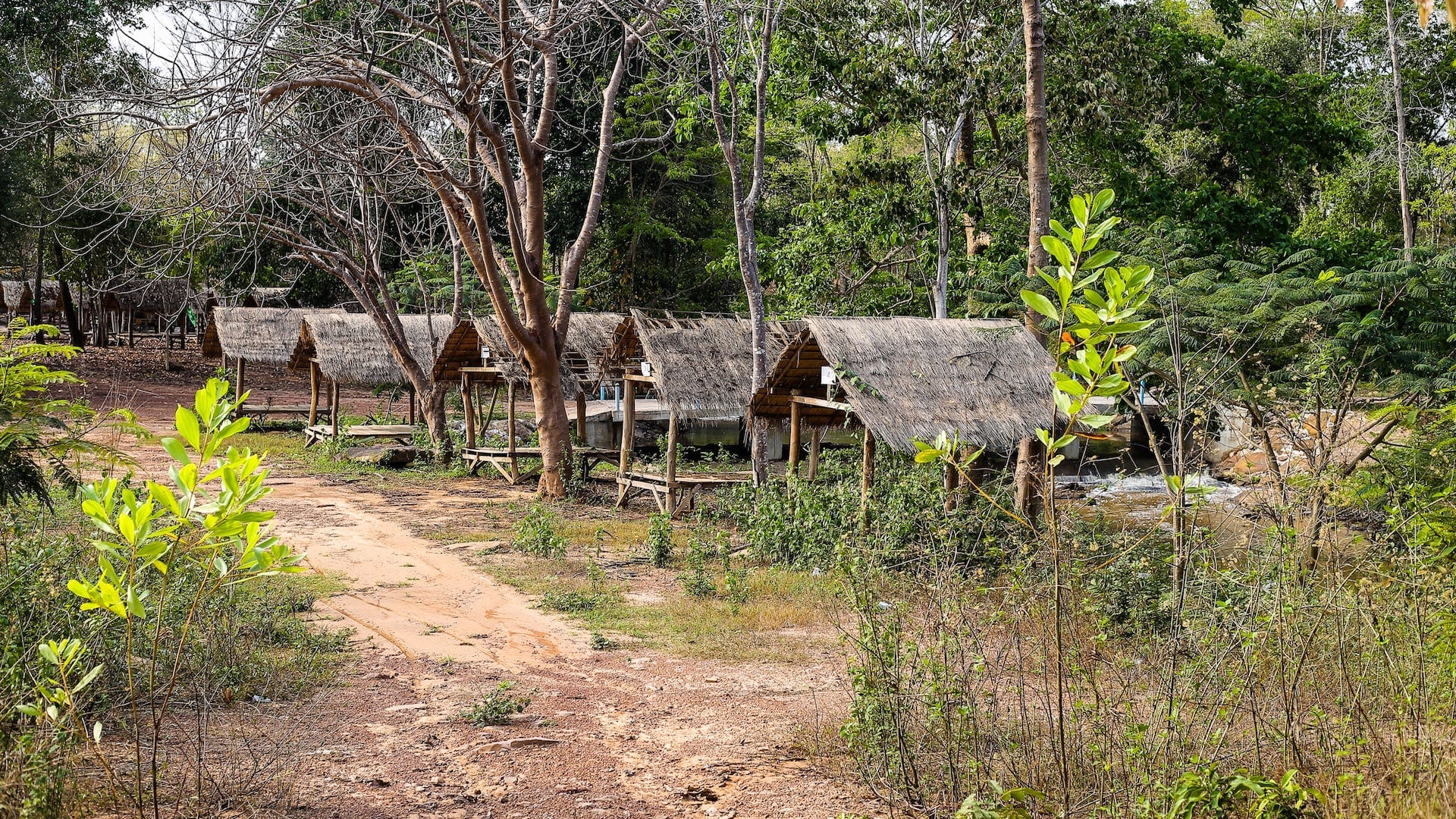 Wondering Where to Stay in Vientiane?
Vientiane's got a TON more lodging options than you might think. And if you don't know the lay of the land, it can seem like an impossible task chossing the right one.
Don't worry. We've got you covered!
Here are our top choices for places to stay in Vientiane — all highly-rated, centrally-located, and loaded with character and a sense of place, just like we like 'em.
Barn1920s Hostel
Our Top Budget Pick! This retro hostel in a historic building is one of the best places in town to meet other travelers AND grab a great cup of coffee.
Sailomyen Hostel
Our top budget to middrange option. Sailomyen Hostel offers mod touches for pennies on the dollar.
Lao Poet Hotel
Our top mid-range/ boutique option. Lao Poet Hotel's lux touches and rooftop pool never disappoints.
Have You Hiked Phou Phanang?
Tell us about your experience in the comments below!