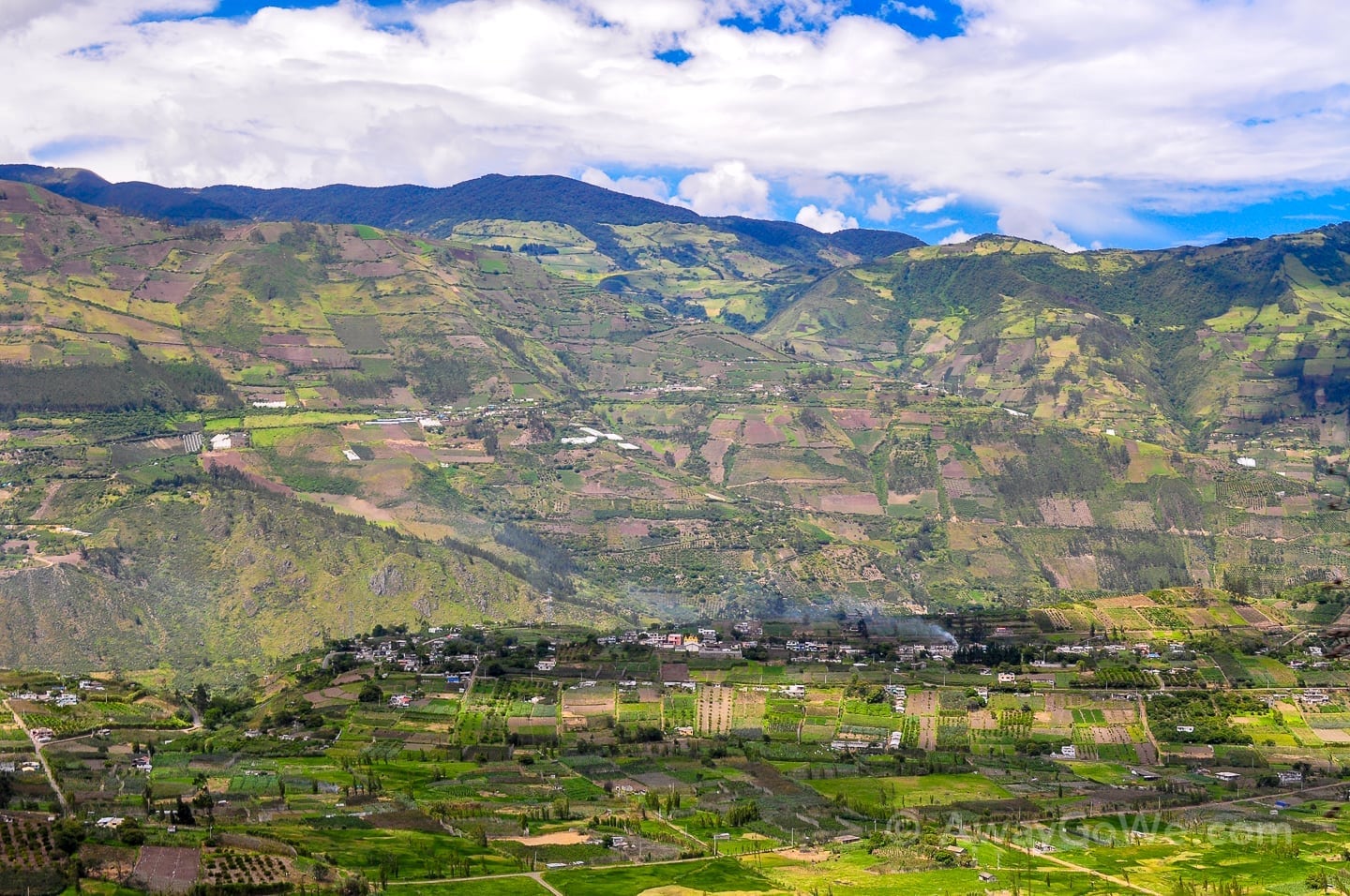 Taking in the view from the bus coming into Baños. Nearly every square inch of the surrounding foothills is under intensive cultivation.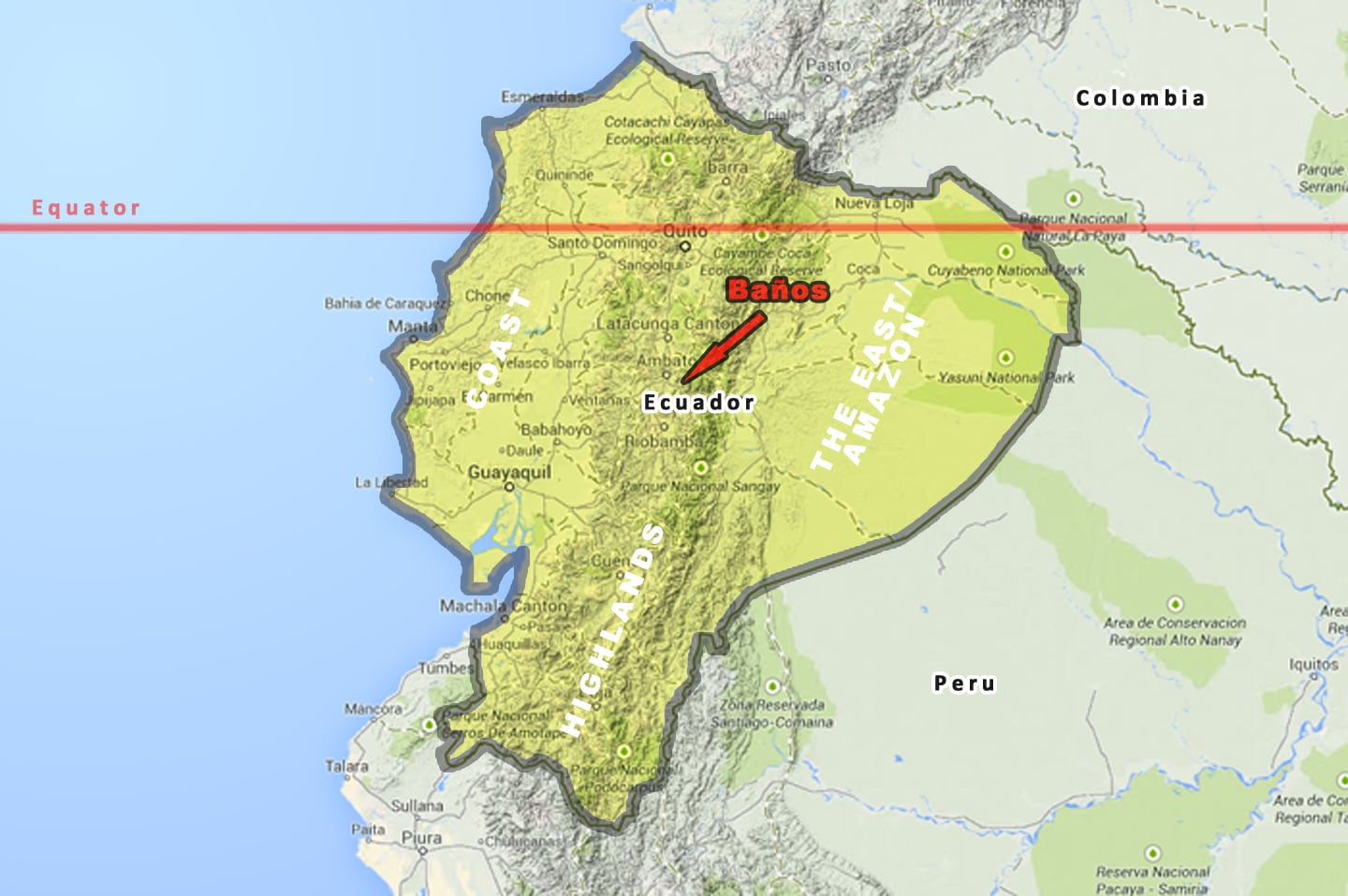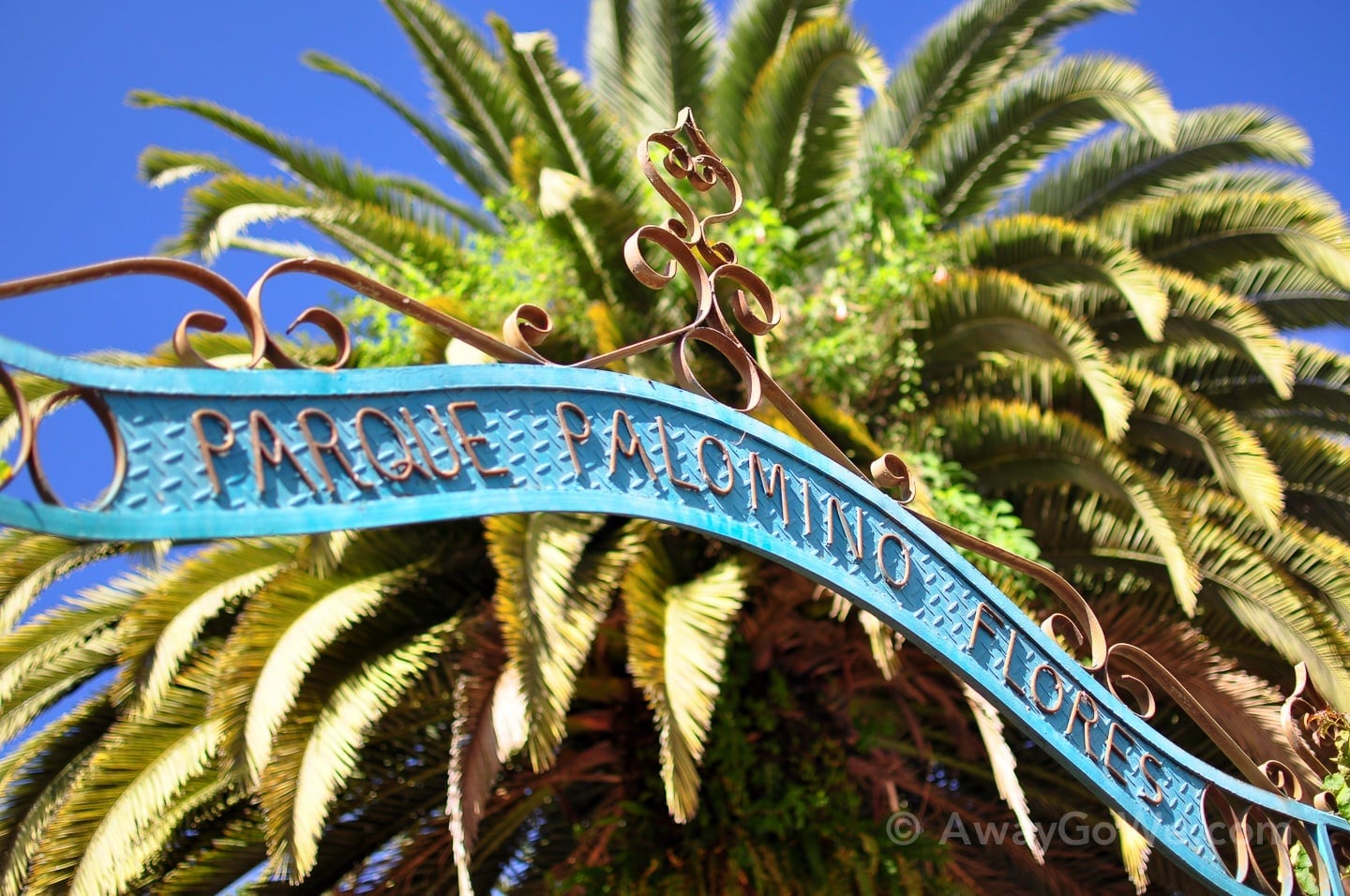 Around Town
Baños is a stunning place to spend a few days or more. It seamlessly blends the best of Ecuador and Euro alpine living into one. Not only is the town surrounded by breathtaking scenery — steep mountains and volcanoes — the town, itself, is clean and picturesque in its own right. But make no mistake, Baños is oriented toward tourism, yet pockets of solace and genuine Ecuadoran experiences abound — you just have to allow yourself to venture from the central area.
Nevertheless, for two foreign backpackers traveling for an extended period of time, Baños was a thoroughly relaxing reprieve from the road — excellent international cuisine, happy hours, blending into the crowd, etc.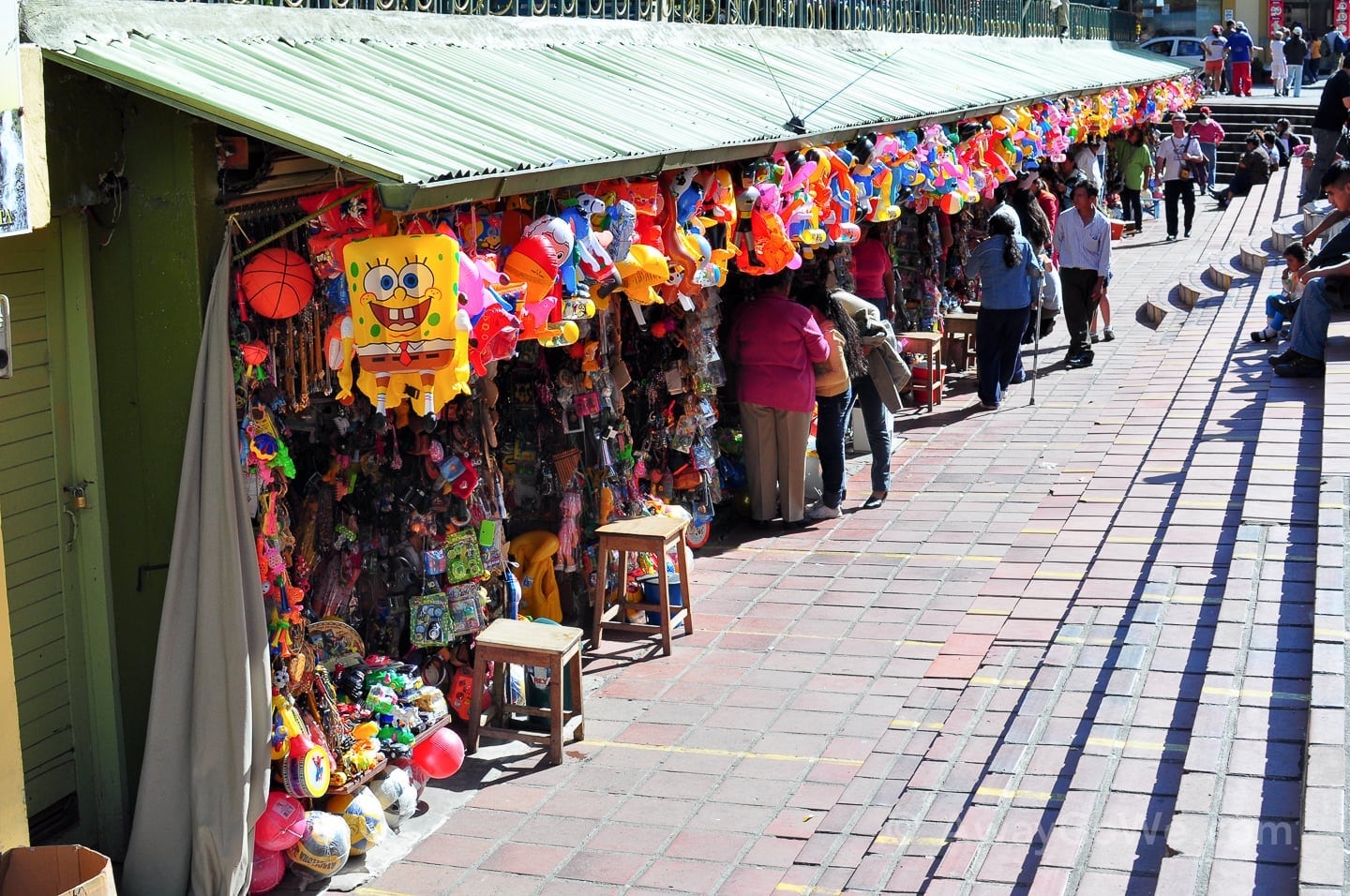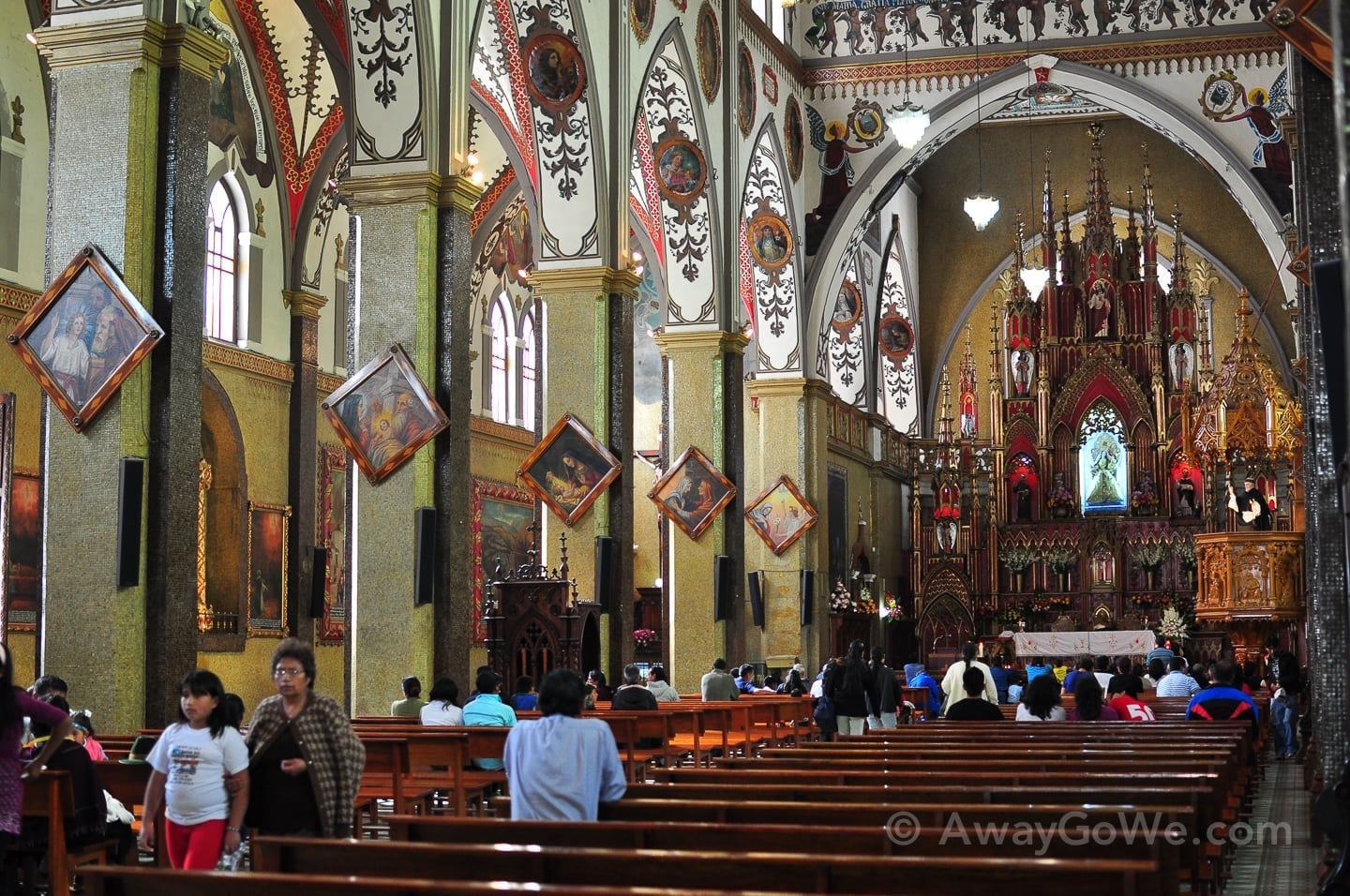 The Basilica Reina del Rosario de Agua Santa in central Baños (pictured above) was also a surprise, with its ornate woodwork, carving and colors.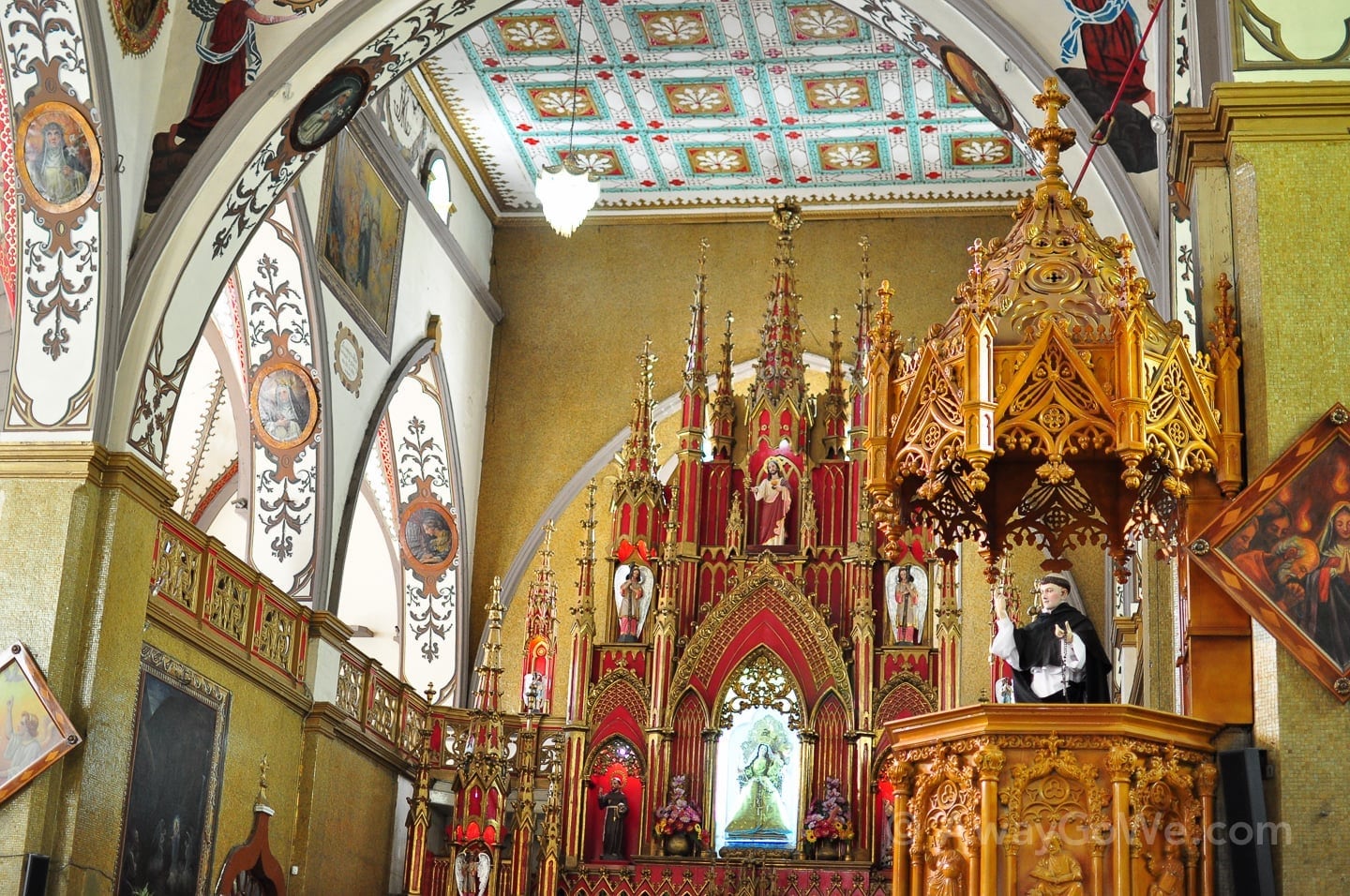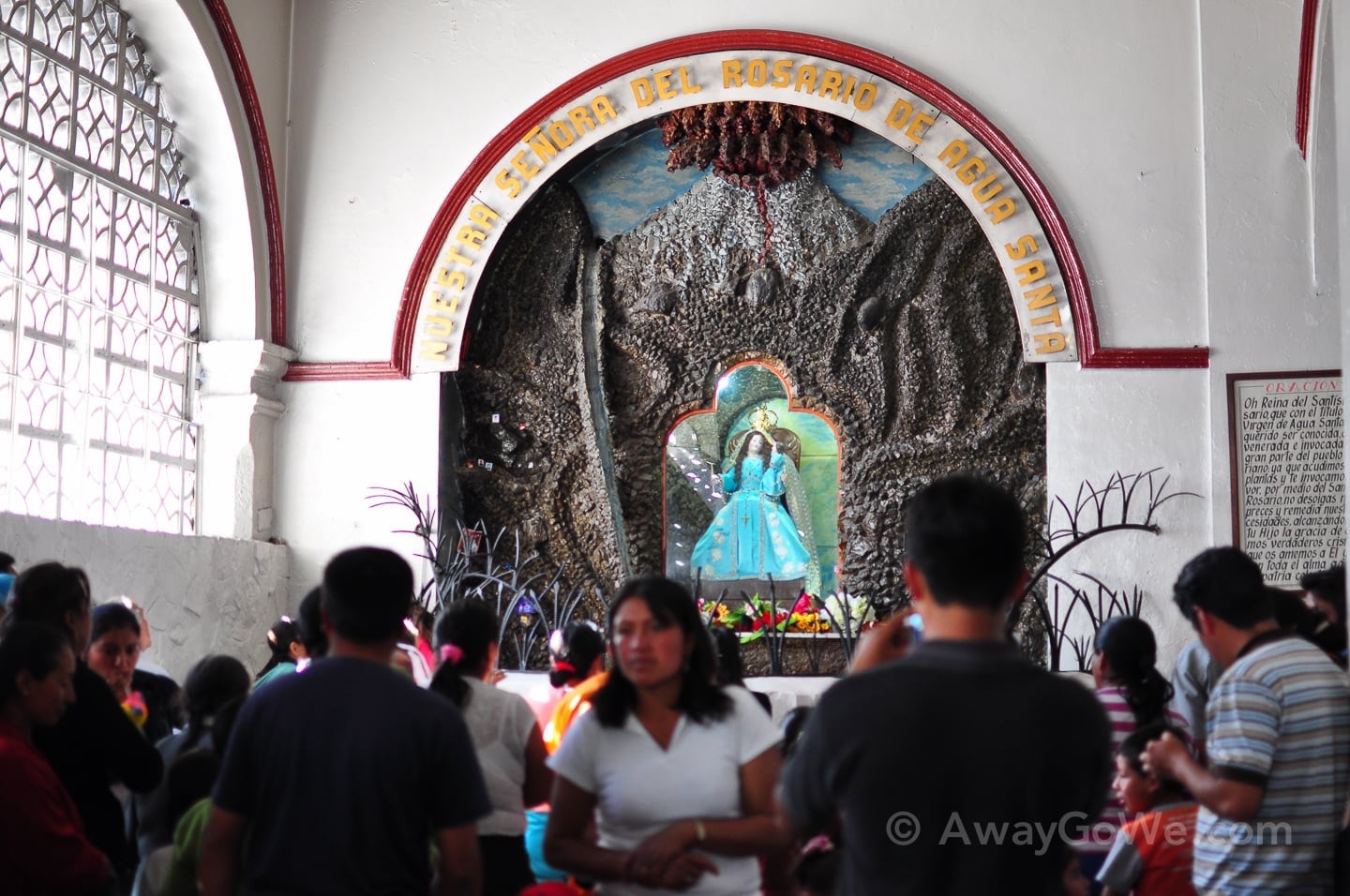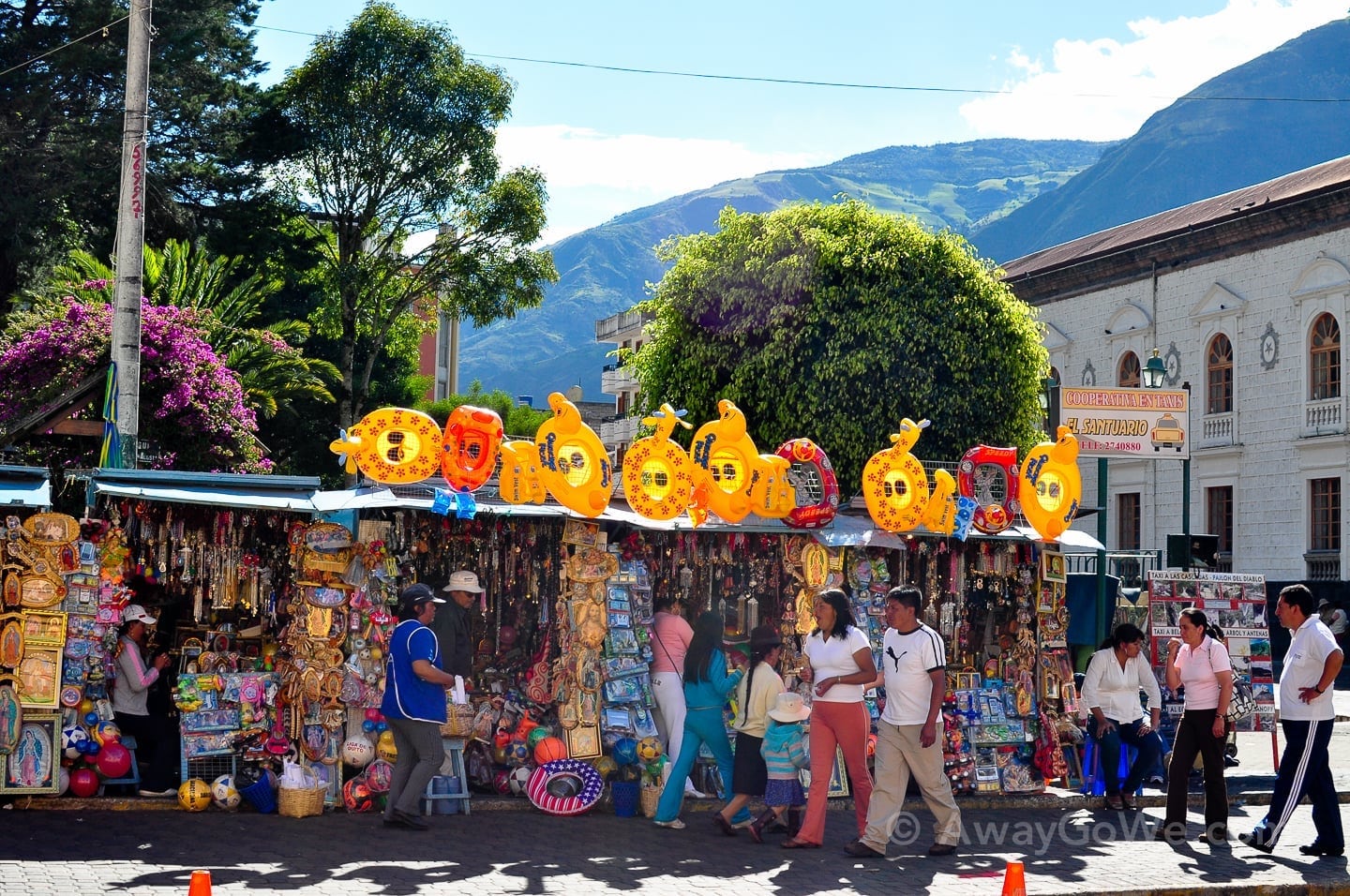 Floaty toys are a common feature of markets in Baños. "Why?" you ask? Because of Baños' famous baños (baths) of course! Hydrothermal swimming pools dot the landscape both inside and outside of town. The baths in town tend to be public pools for everyone's enjoyment, while those around the town's periphery tend to be incorporated into spas and resorts. Lori and I only sampled the piscinas las modernas down at the base of the mountain, but we got the gist. With so much to see and do in and around town, it's hard to justify spending the whole time in heated swimming pools, though some people definitely come to Baños just for that reason.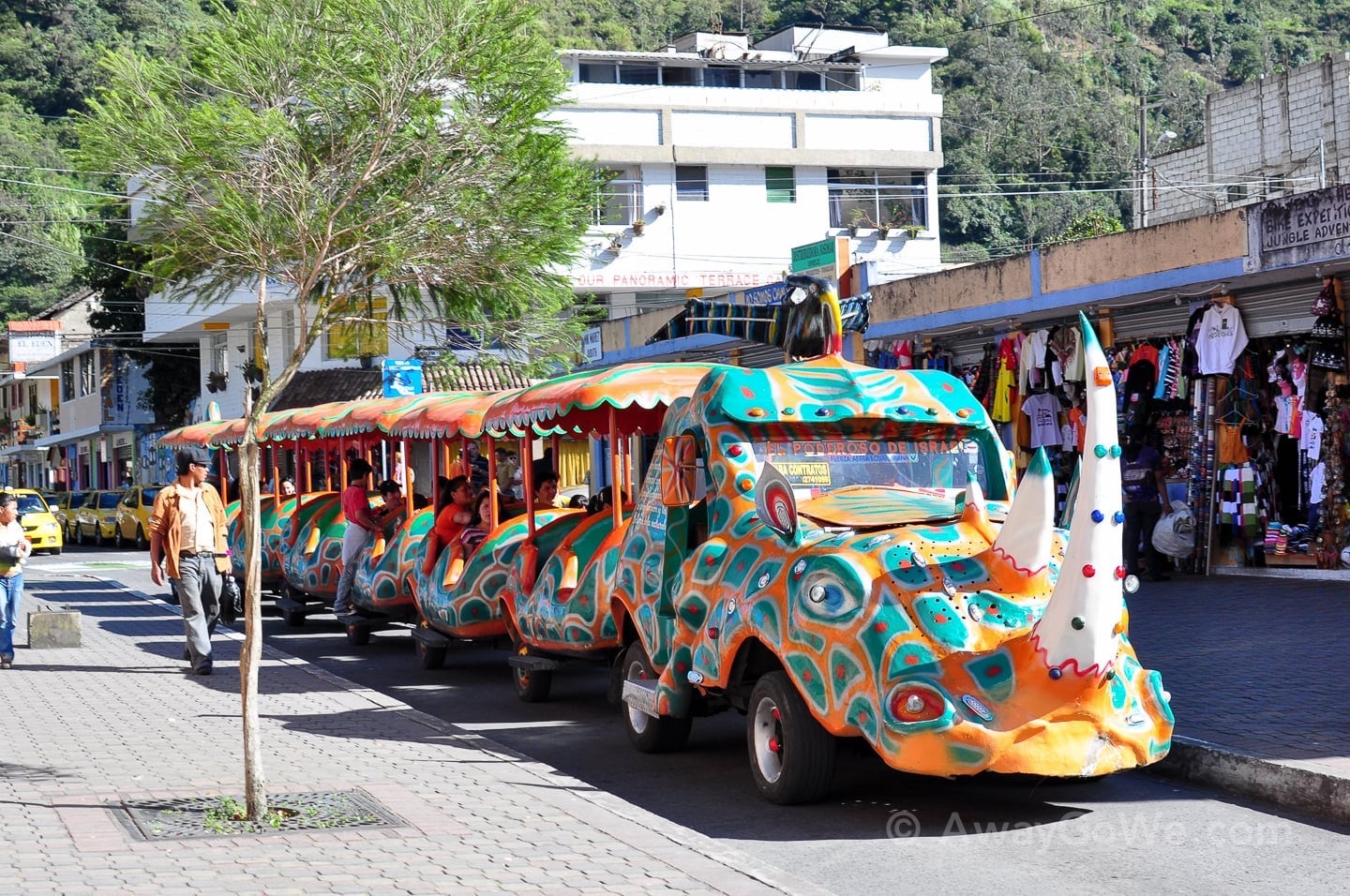 If you want to get around town in style, hop one of these bad boys and you're off!
"We are not Chinese" is the name of this "China" store. In most parts of Latin America we've visited, shops selling mostly plastic stuff are generally called "China" (cheena, as in the Spanish pronunciation) shops, often because the proprietors are indeed Chinese, but sometimes just because the stuff is probably from China. However, these particular proprietors want everyone to know, without a doubt, that it is indeed the latter here.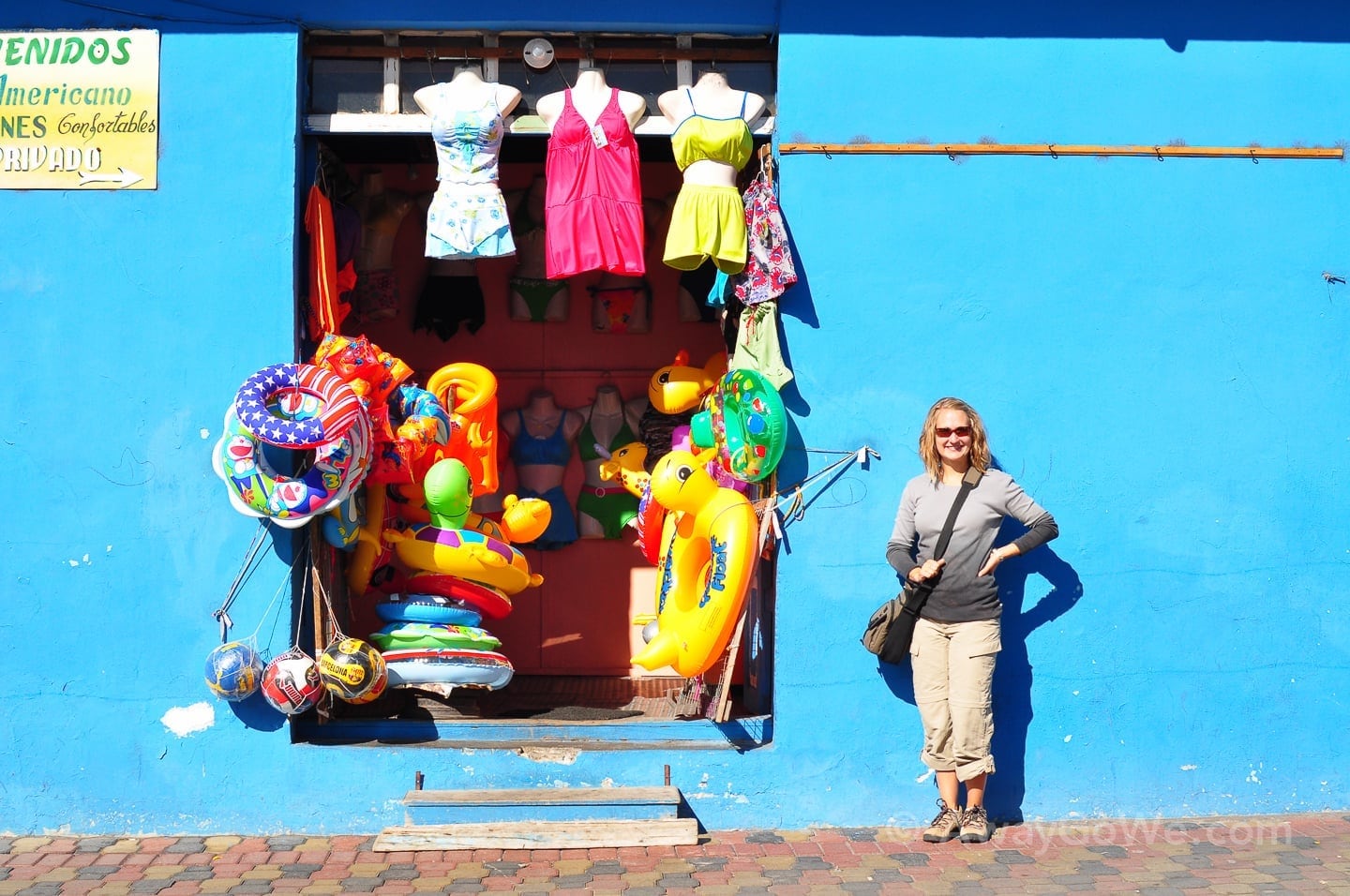 The ethnicity of the shop owners of the place across the street, on the other hand, was anybody's guess…I guess…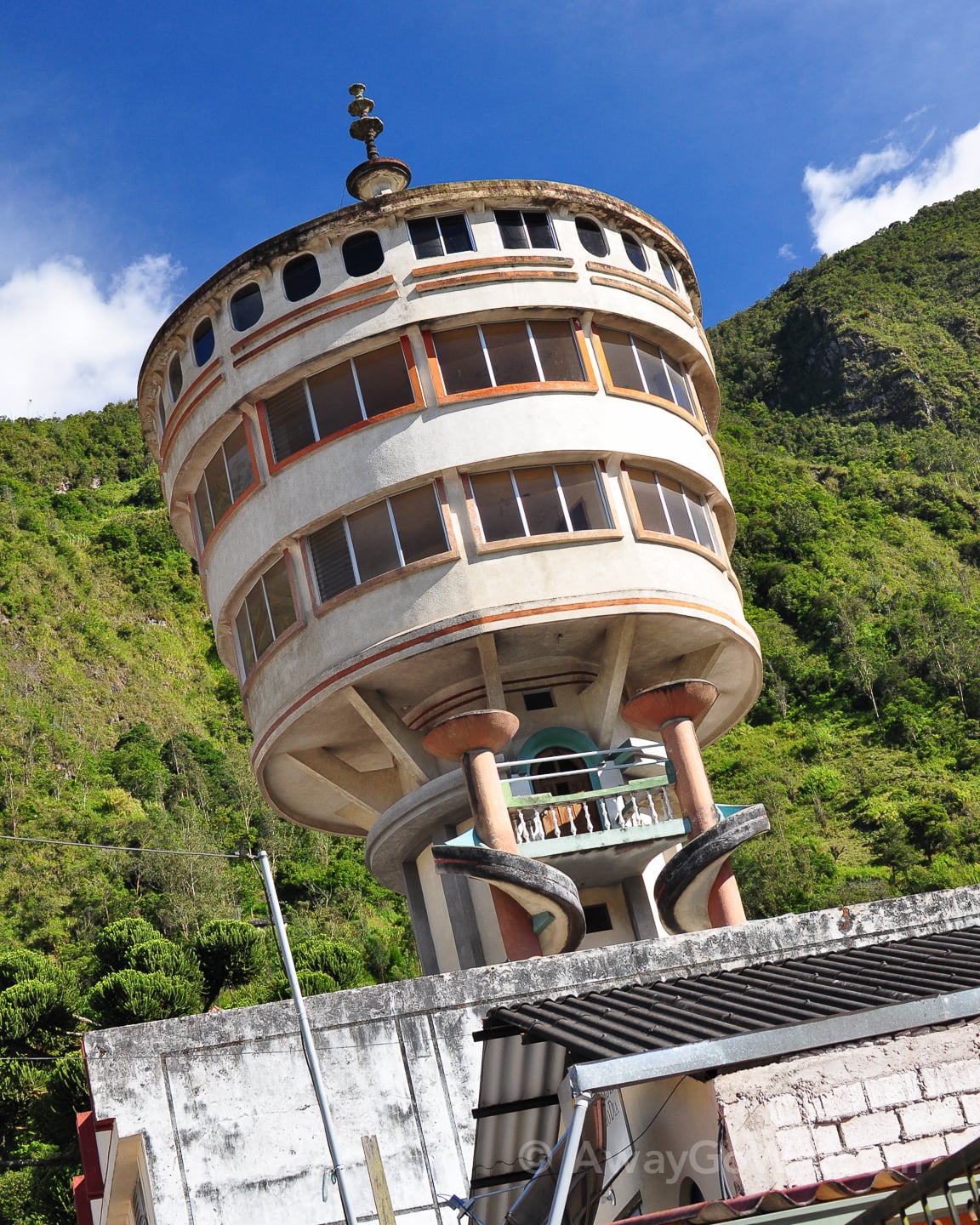 What appears to be either a defunct water slide park, or one of the craziest, awesomest personal residences I've ever seen — I'm sincerely hoping it's the latter.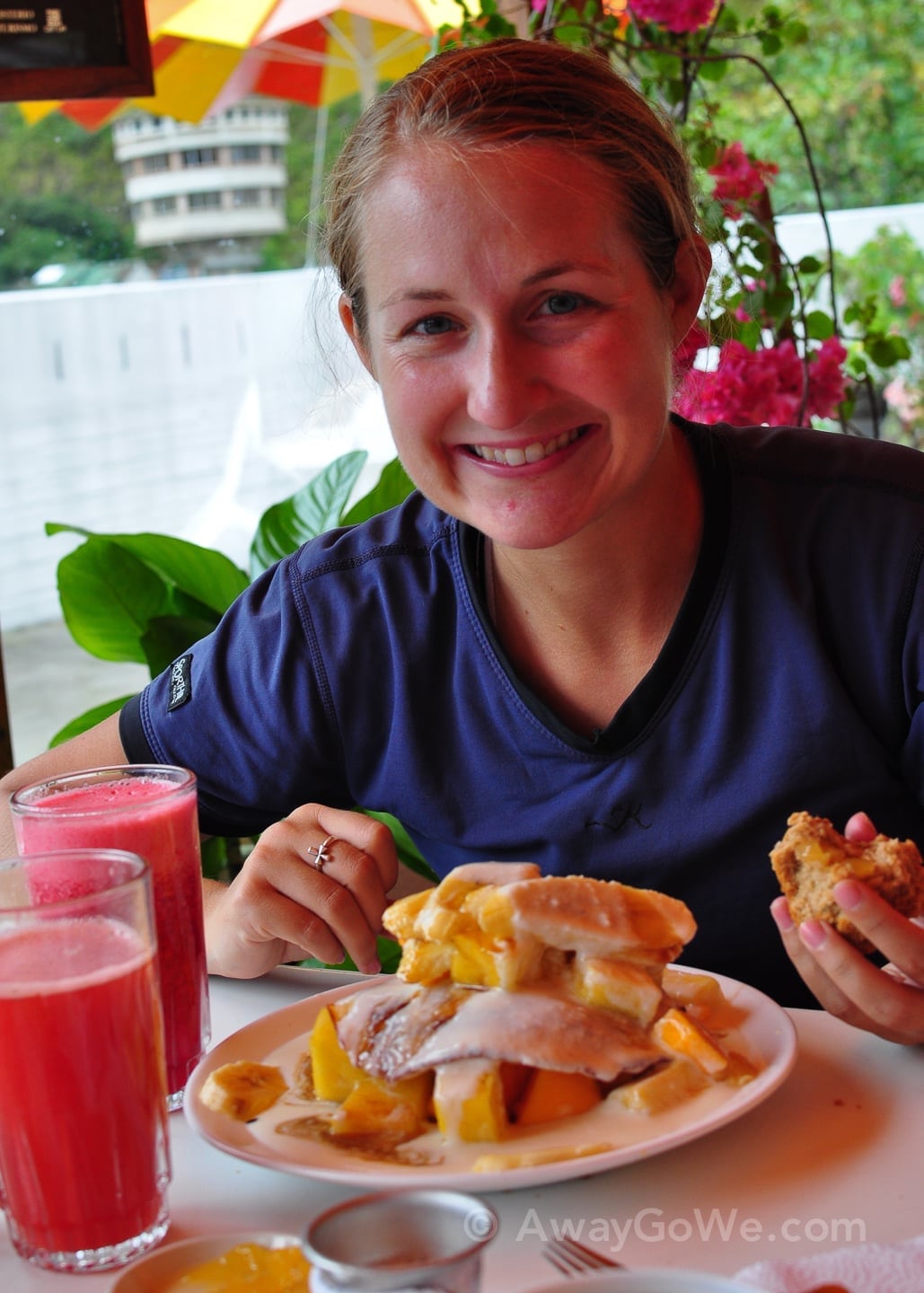 Devouring one of the best breakfasts we've had anywhere on the rooftop of Hostal Plantas y Blanco. I mean, LOOK AT THAT!!!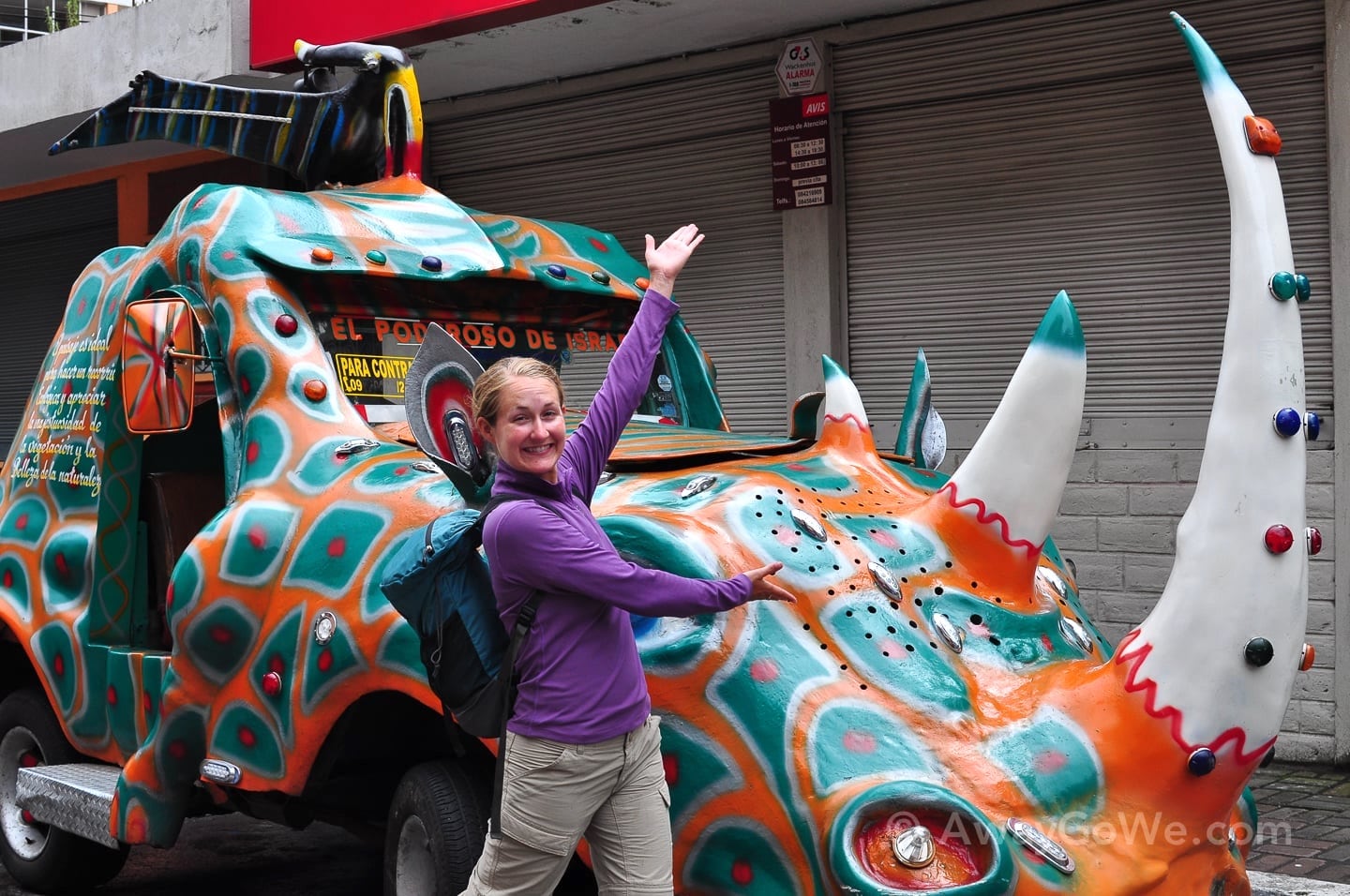 Lori's new wheels.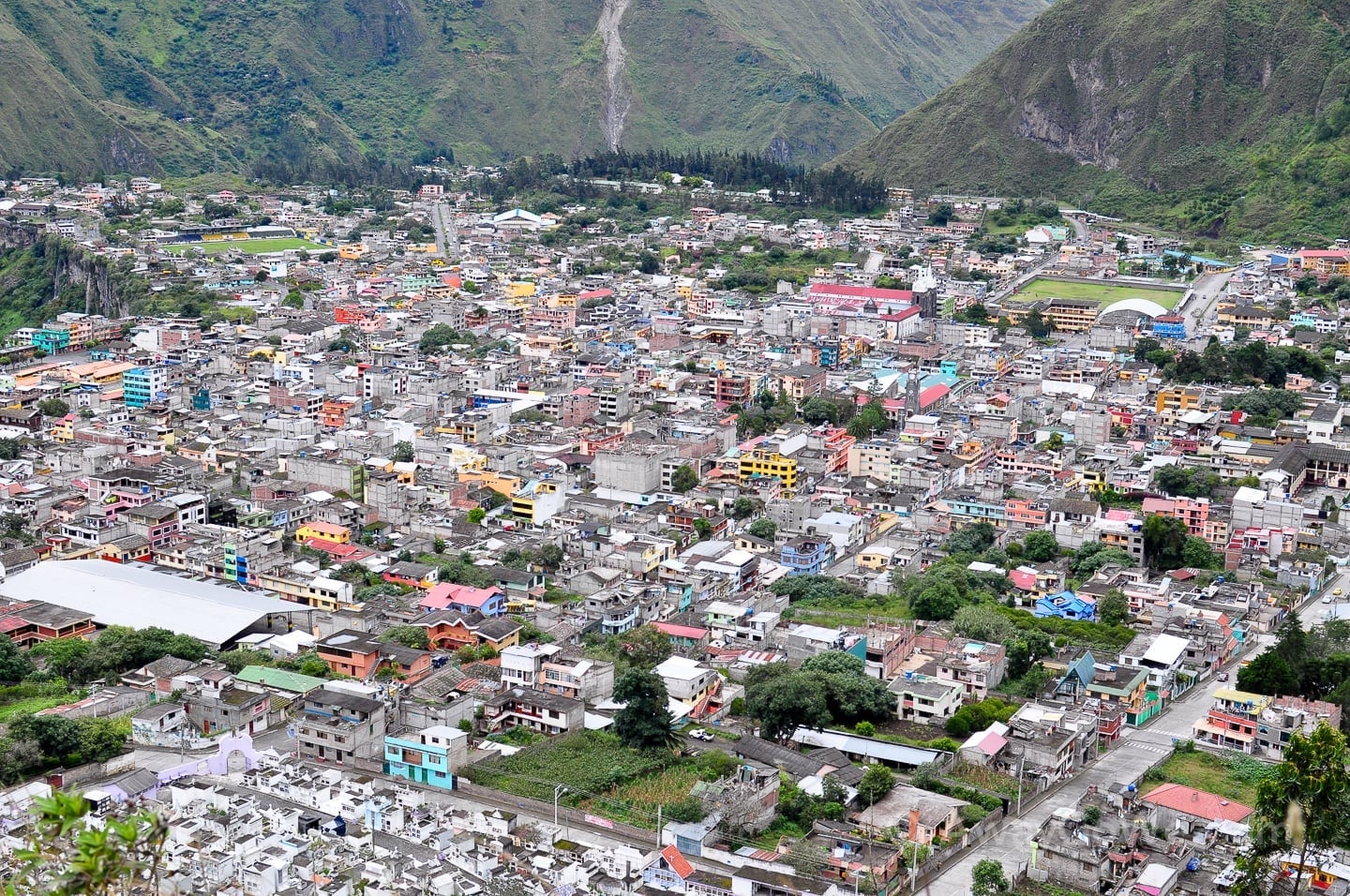 Loop Trail to Casa del Arbol
We spent one full day of our time in Baños hiking the loop trail that starts at the Baños Hospital on Mera St., climbs first to the Mirador Virgen (Virgin [Mary] Viewpoint), travels alongside and up to the base of Tongurahua volcano (to the Tree House (La Casa del Arbol), before swinging around to another viewpoint and down a questionably maintained path back into town.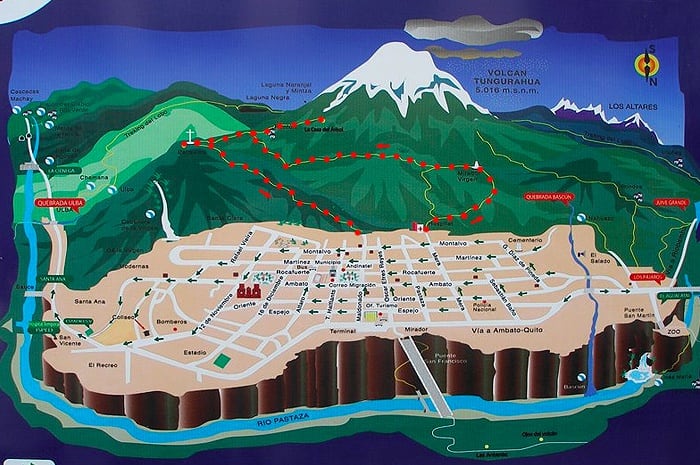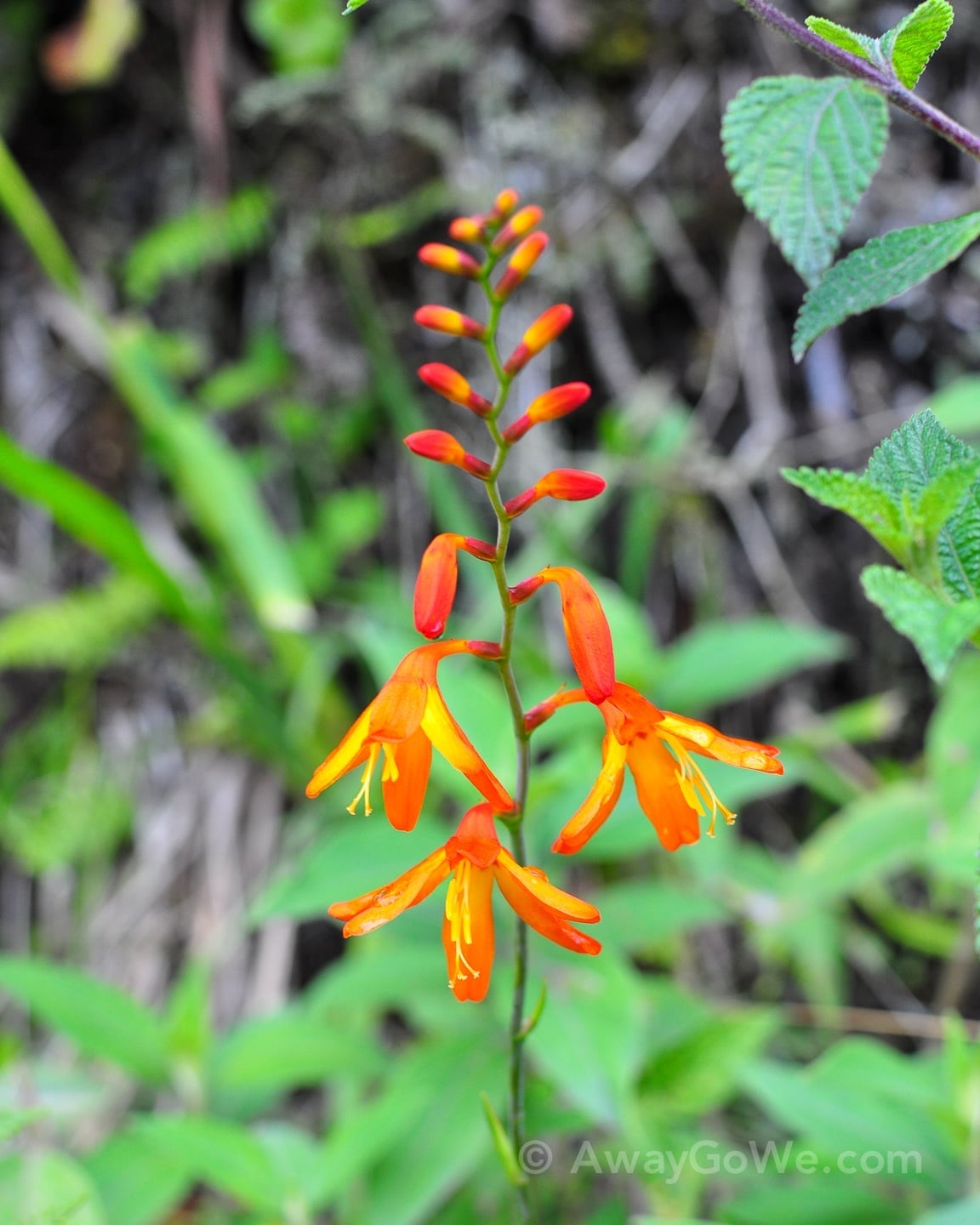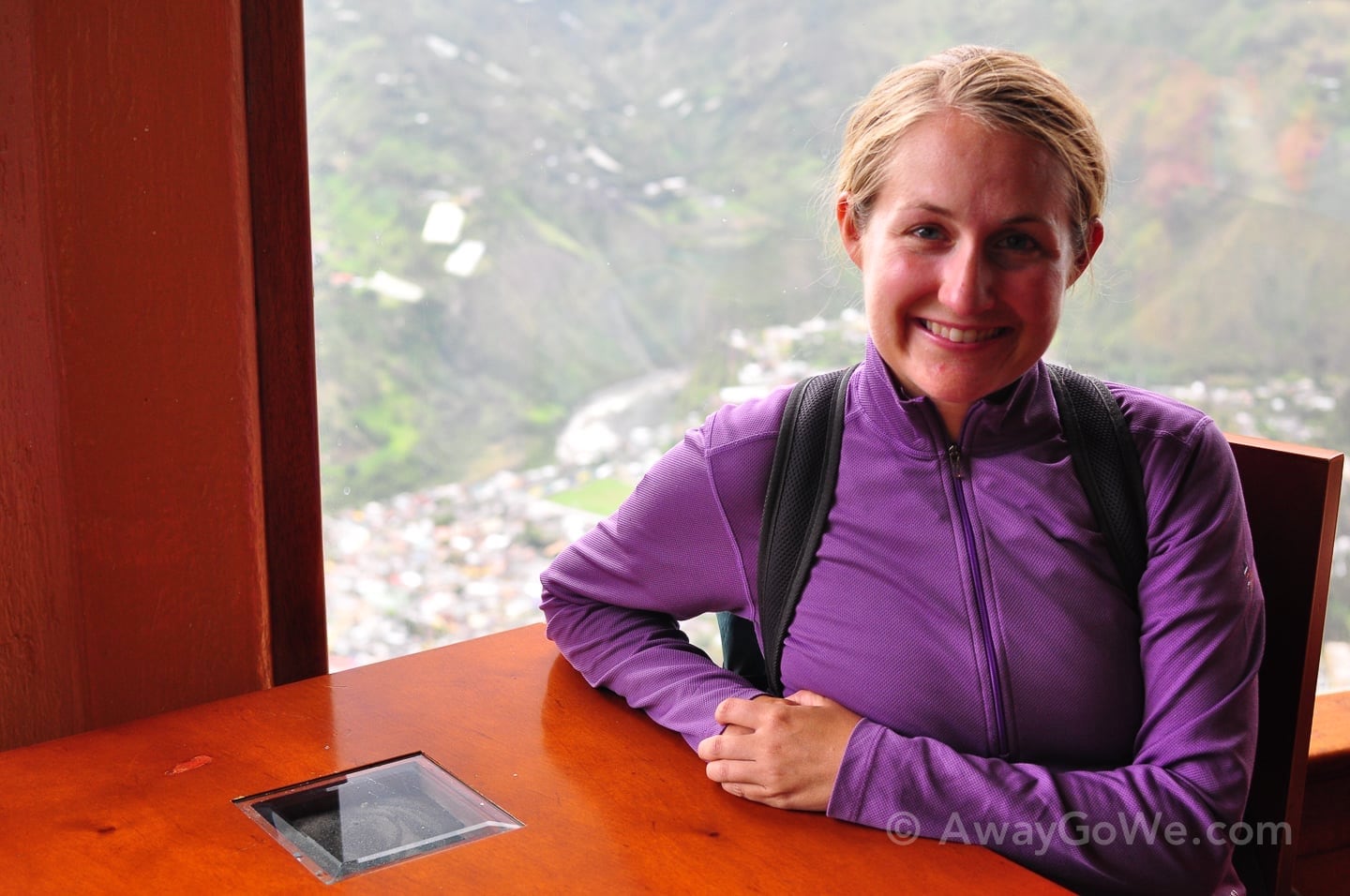 At one point early on the hike, we came upon a pleasant surprise — a coffee shop perched high above the valley with an incredible view. We stopped in, ordered a cup-o-Jose, and enjoyed la vista loca.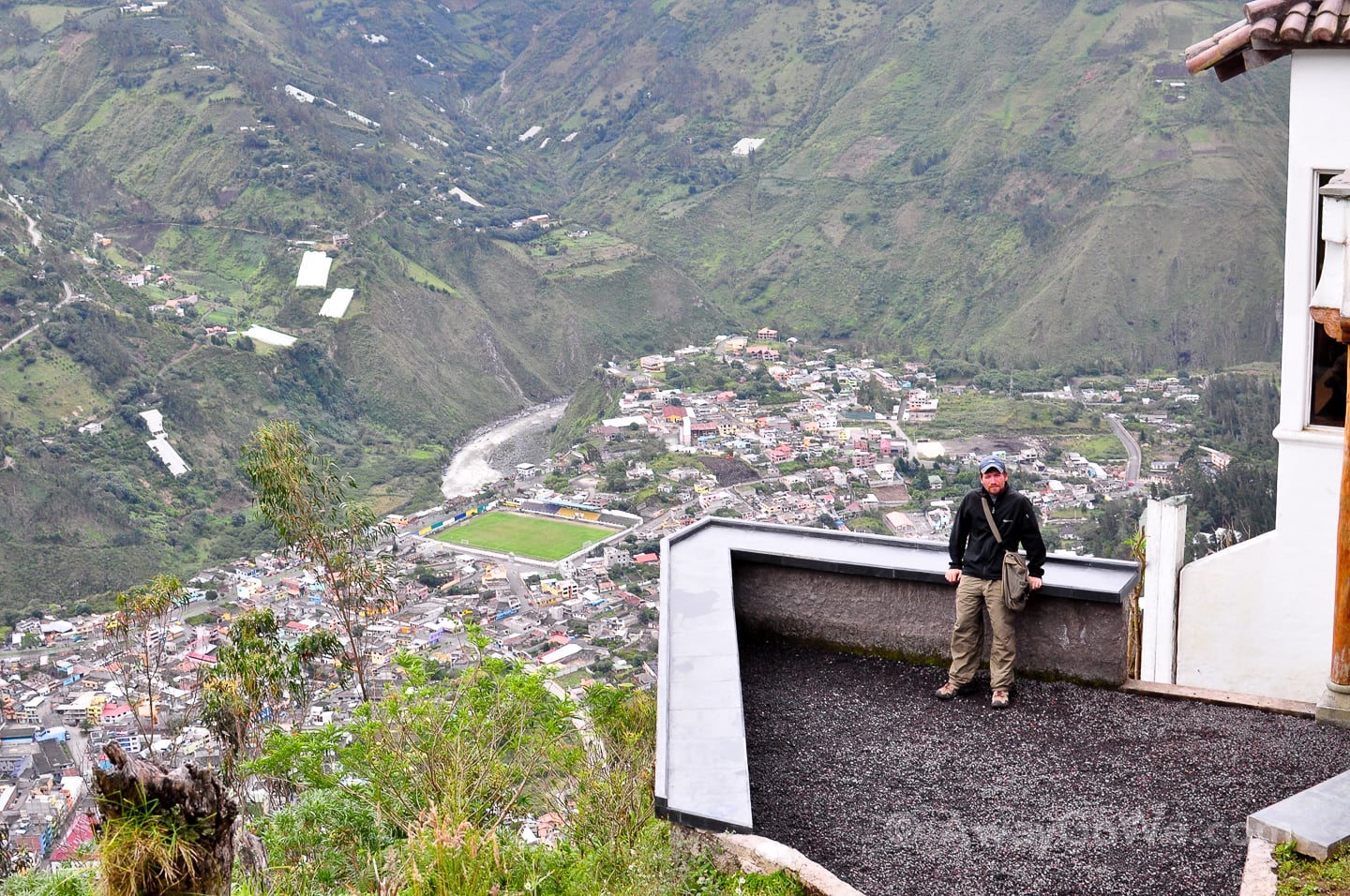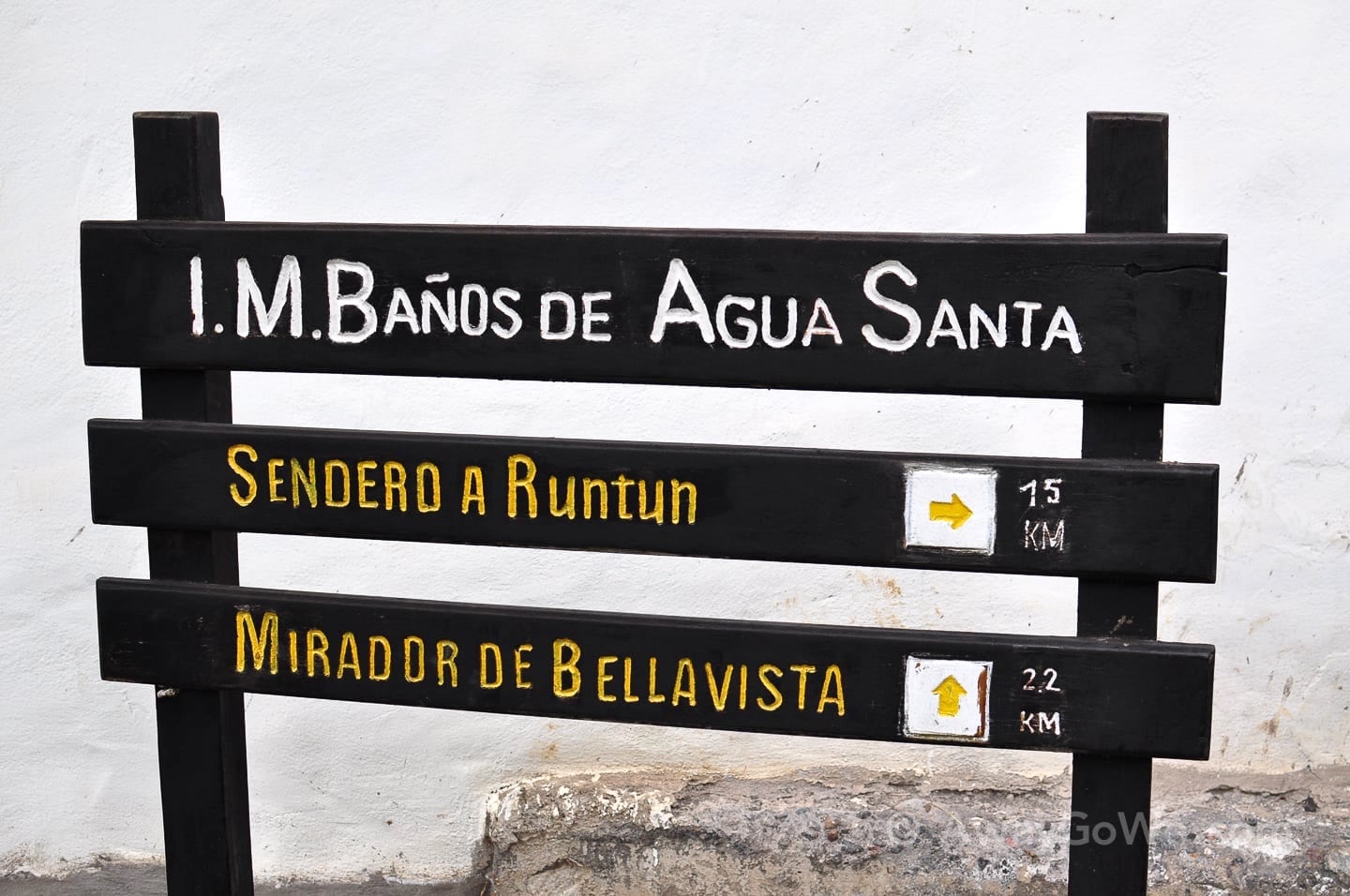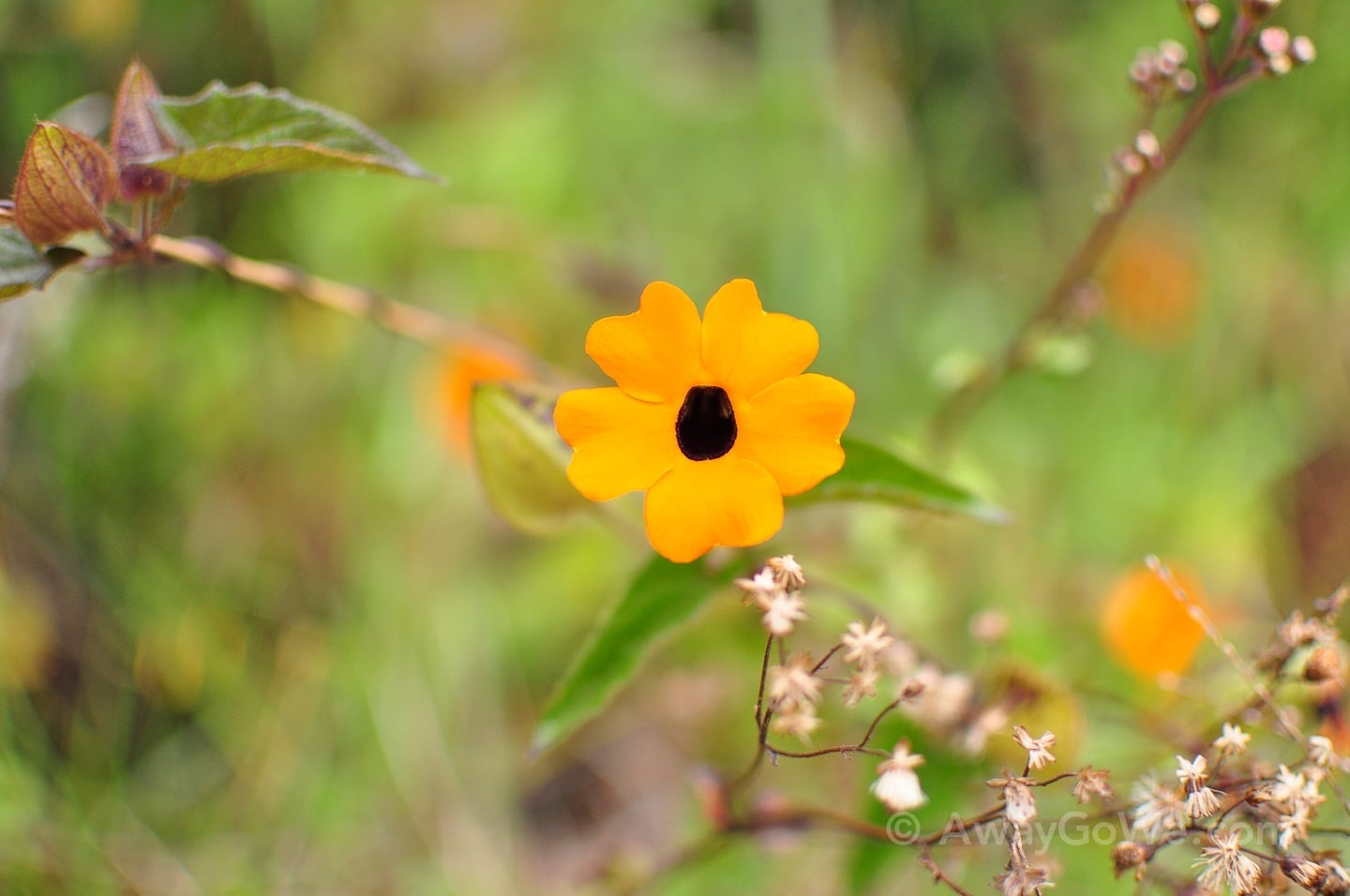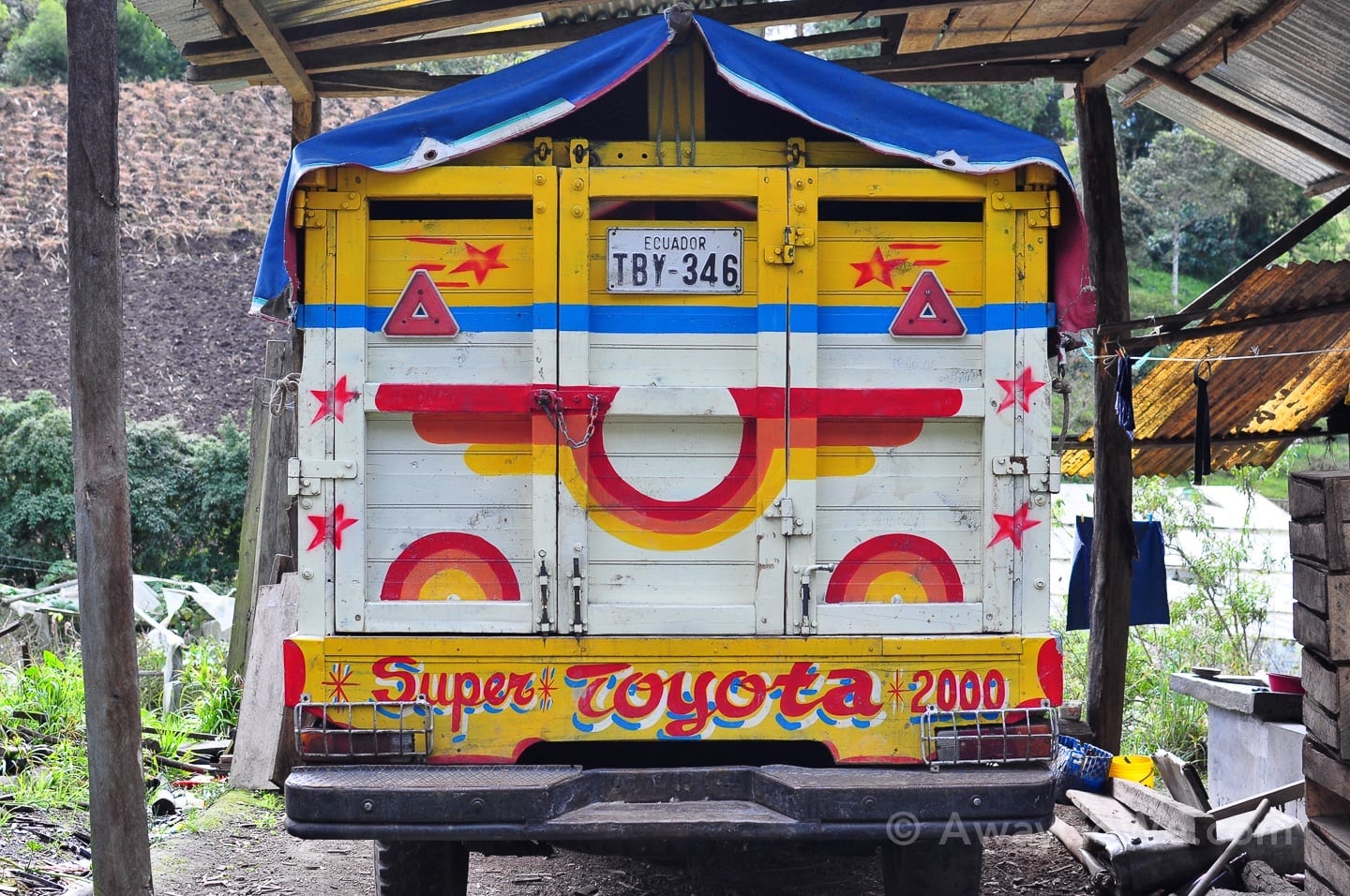 "Super Toyota 2000!" I want one!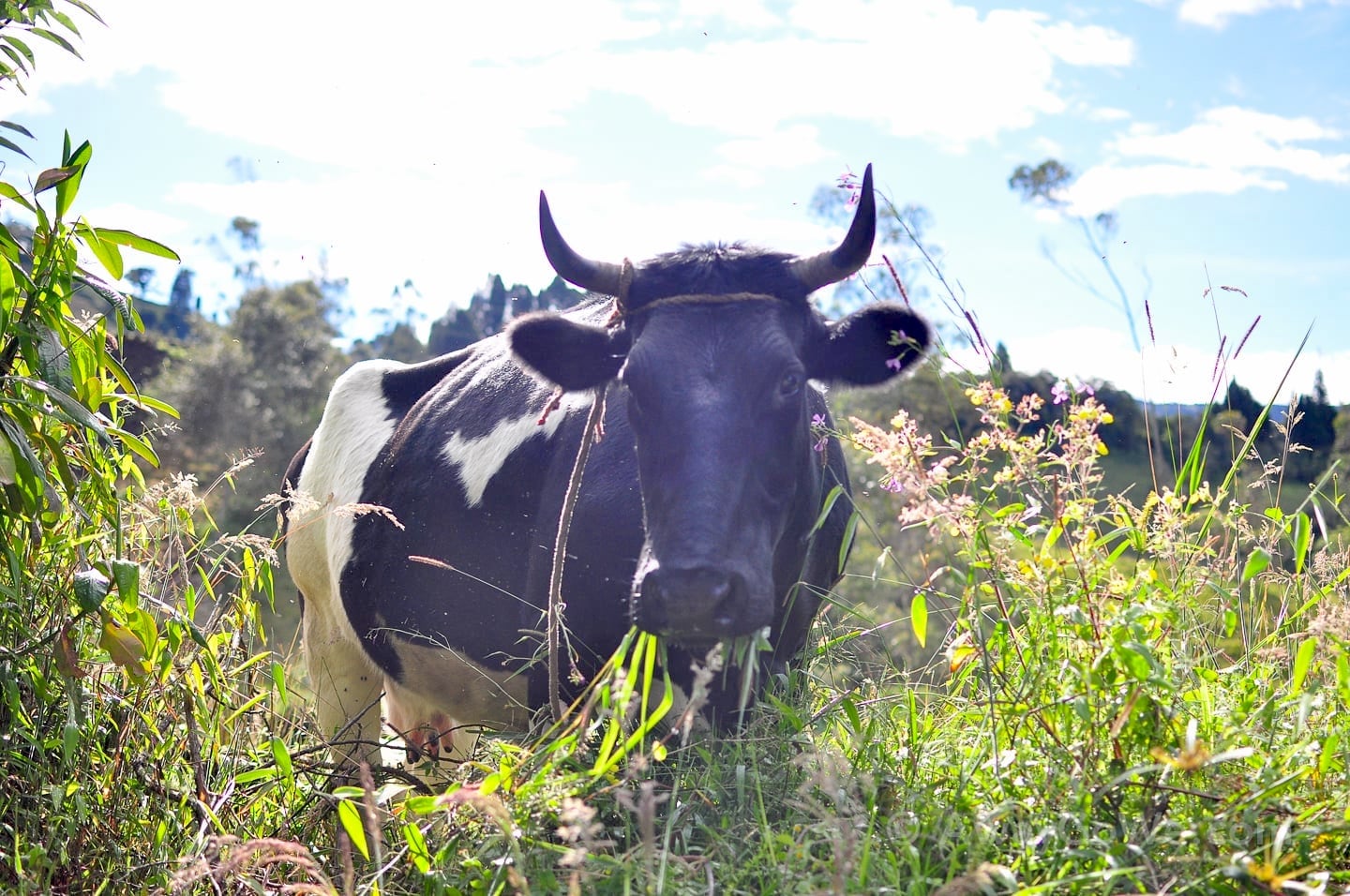 We continued on our way, realizing after an hour or two that the hike up to the "Tree House" might take a while. Luckily, a police officer going up to the "Tree House" gave us a lift up the very steep road, or else it may have been a very, very long day.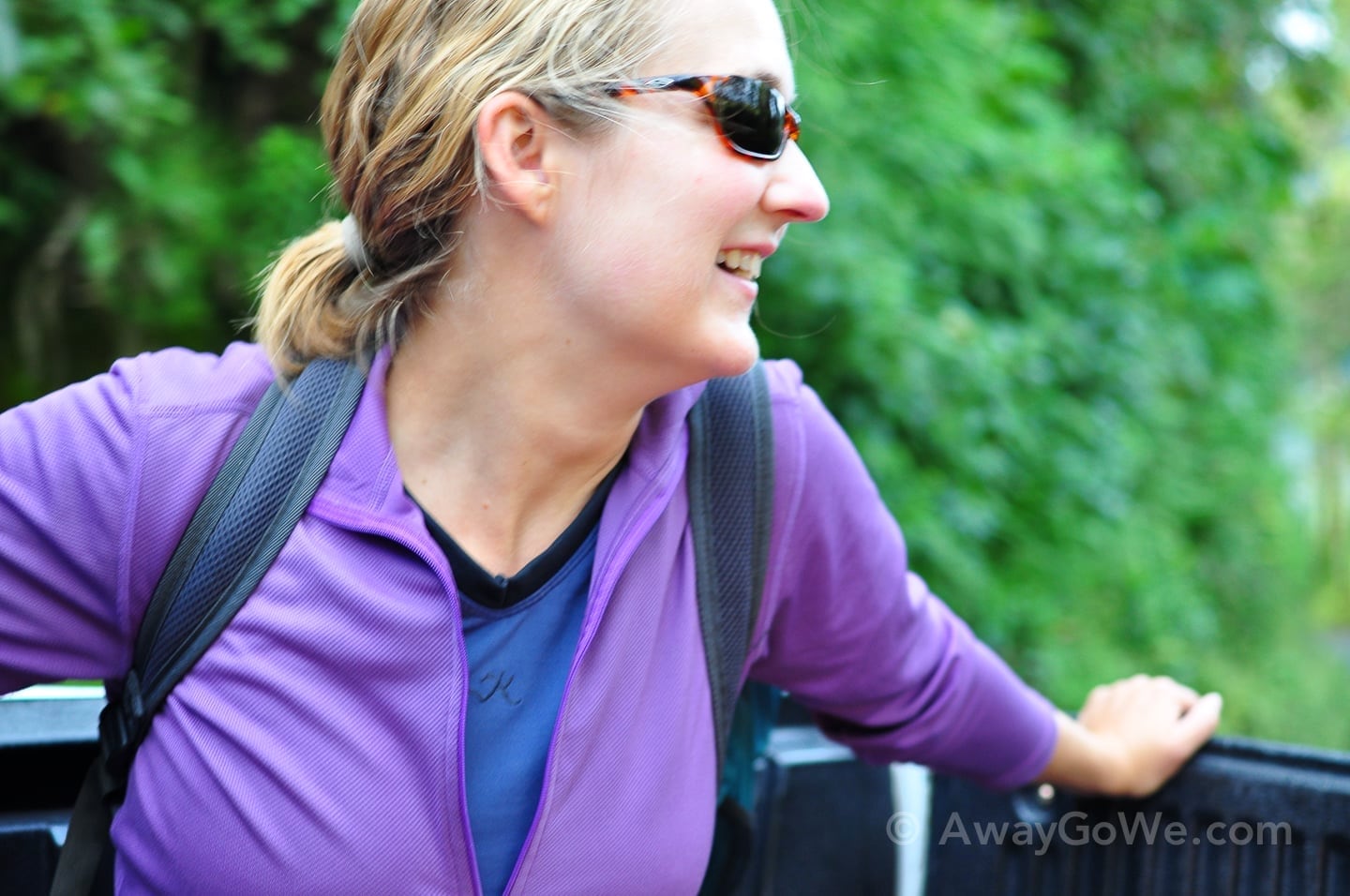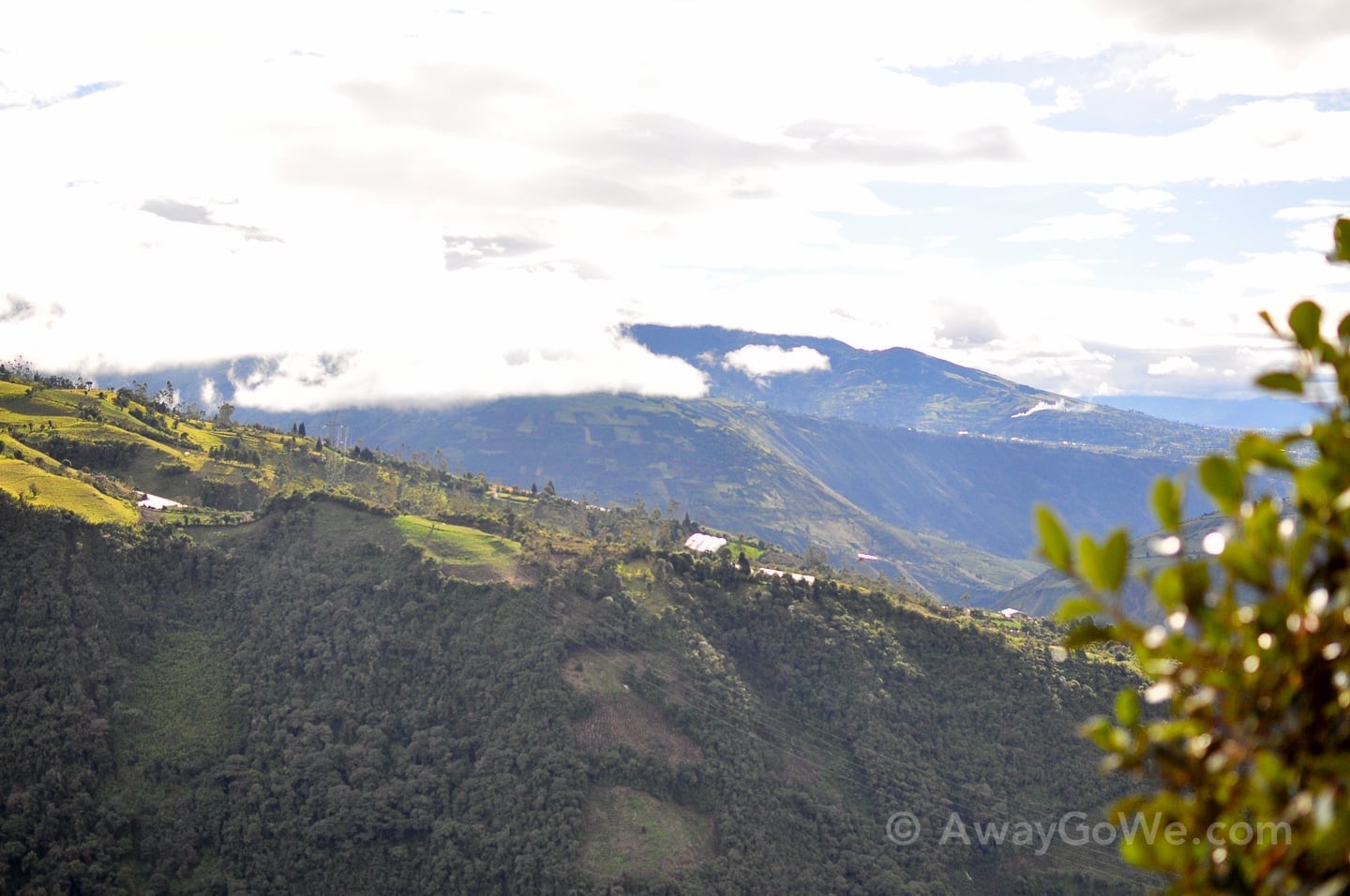 After hours of hiking (or what seemed like many hours, at least), we finally arrived at La Casa del Arbol! A tree house with a view! It's a lovely place to rest a while, picnic or take the swing for a swing over the valley below.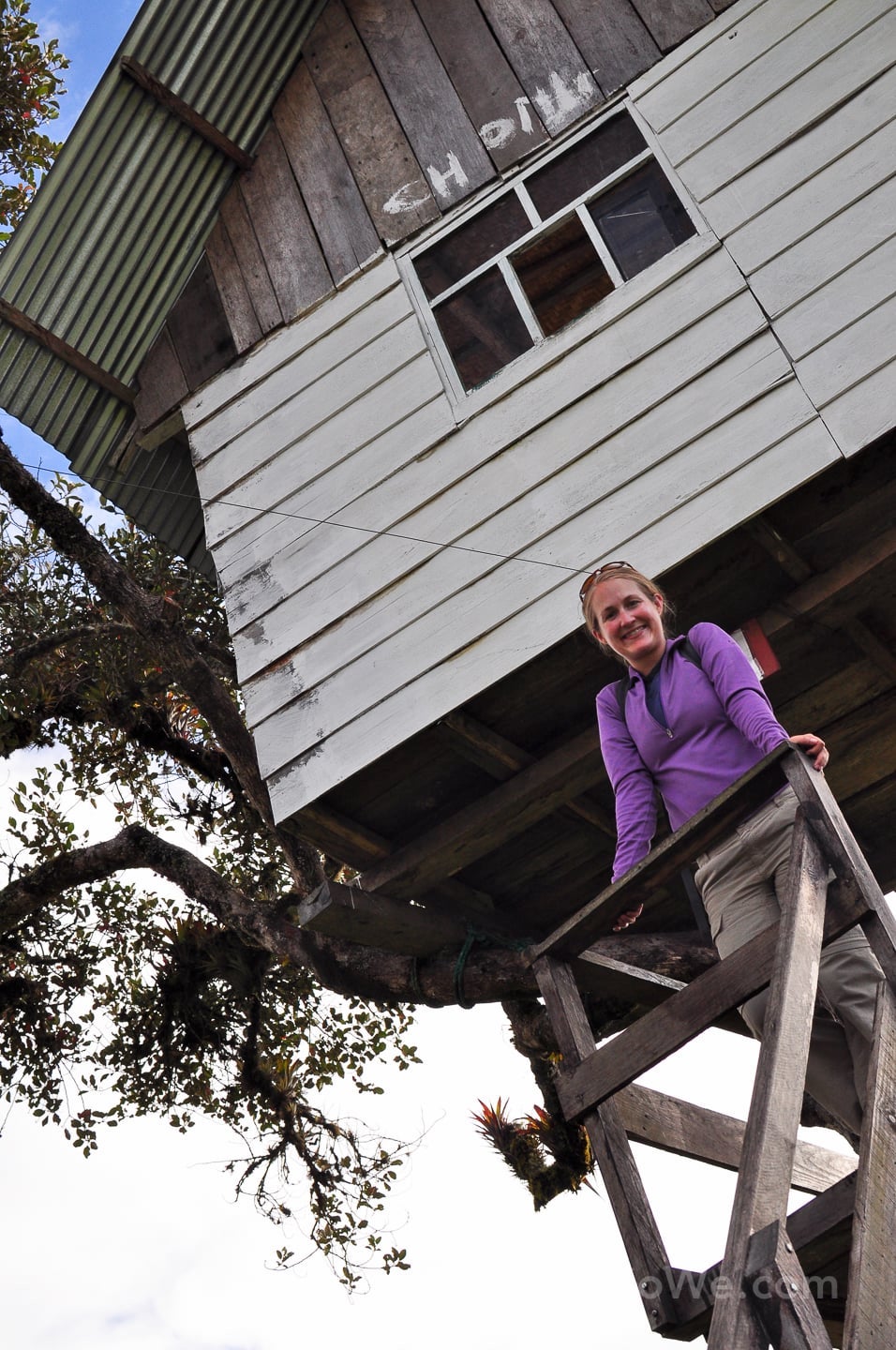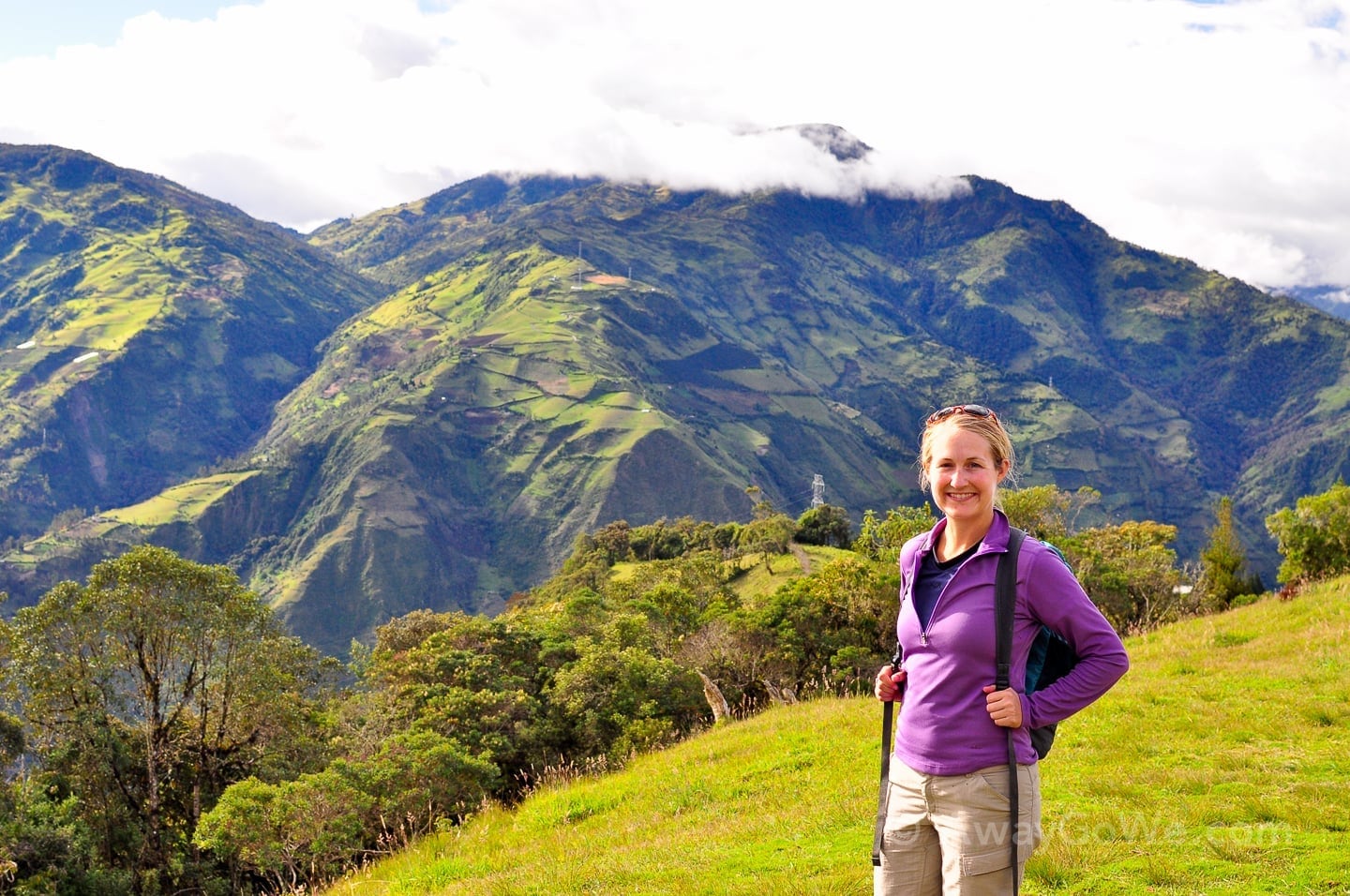 After the Tree House, we started the journey back to the valley floor (and town), via another impressive viewpoint and a slippery, slidey trail, made worse by the fact that, by this point, the sun had set on the valley and we found ourselves hiking the last leg in near darkness without a flashlight, making for some harrowing near misses.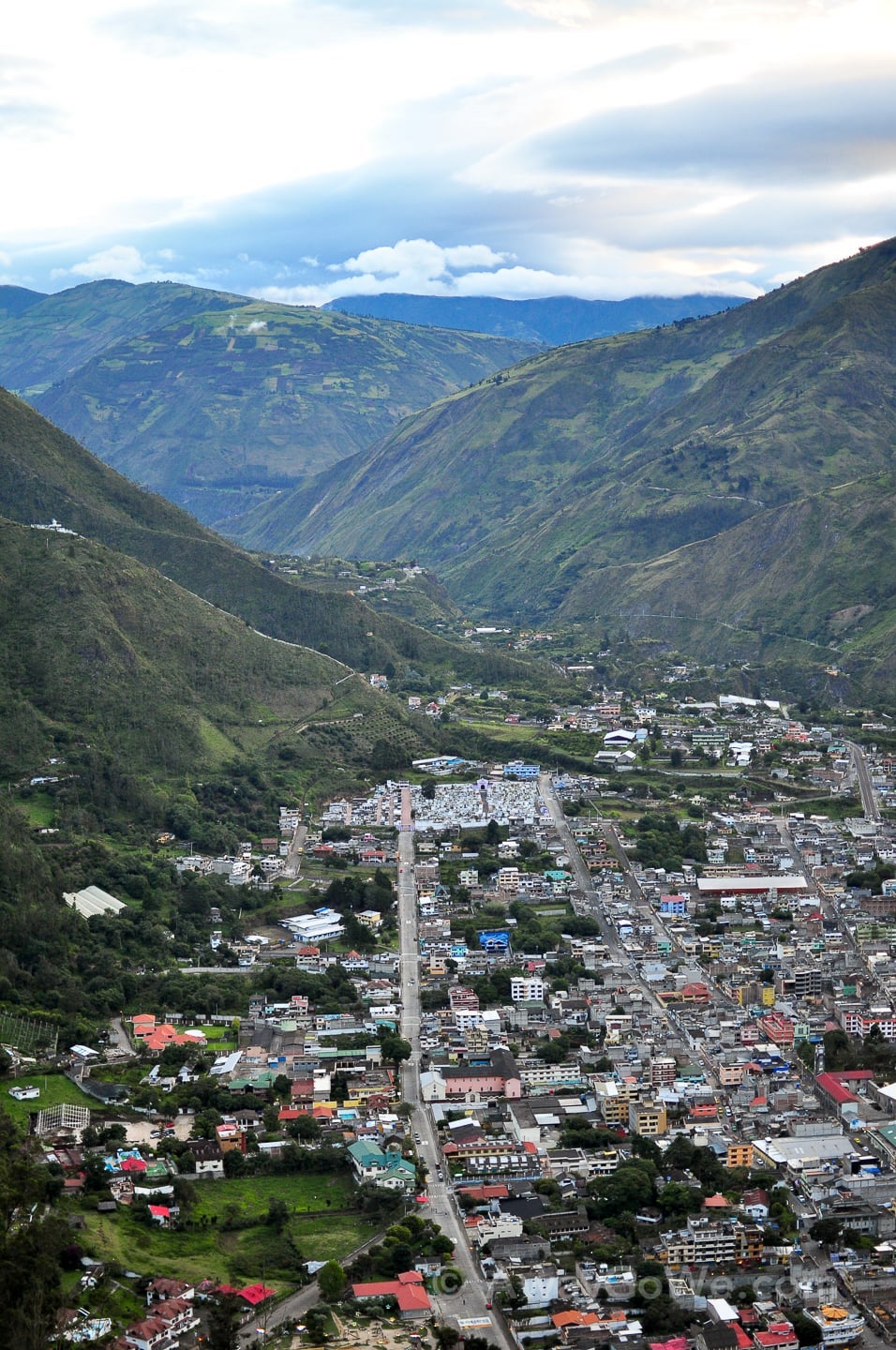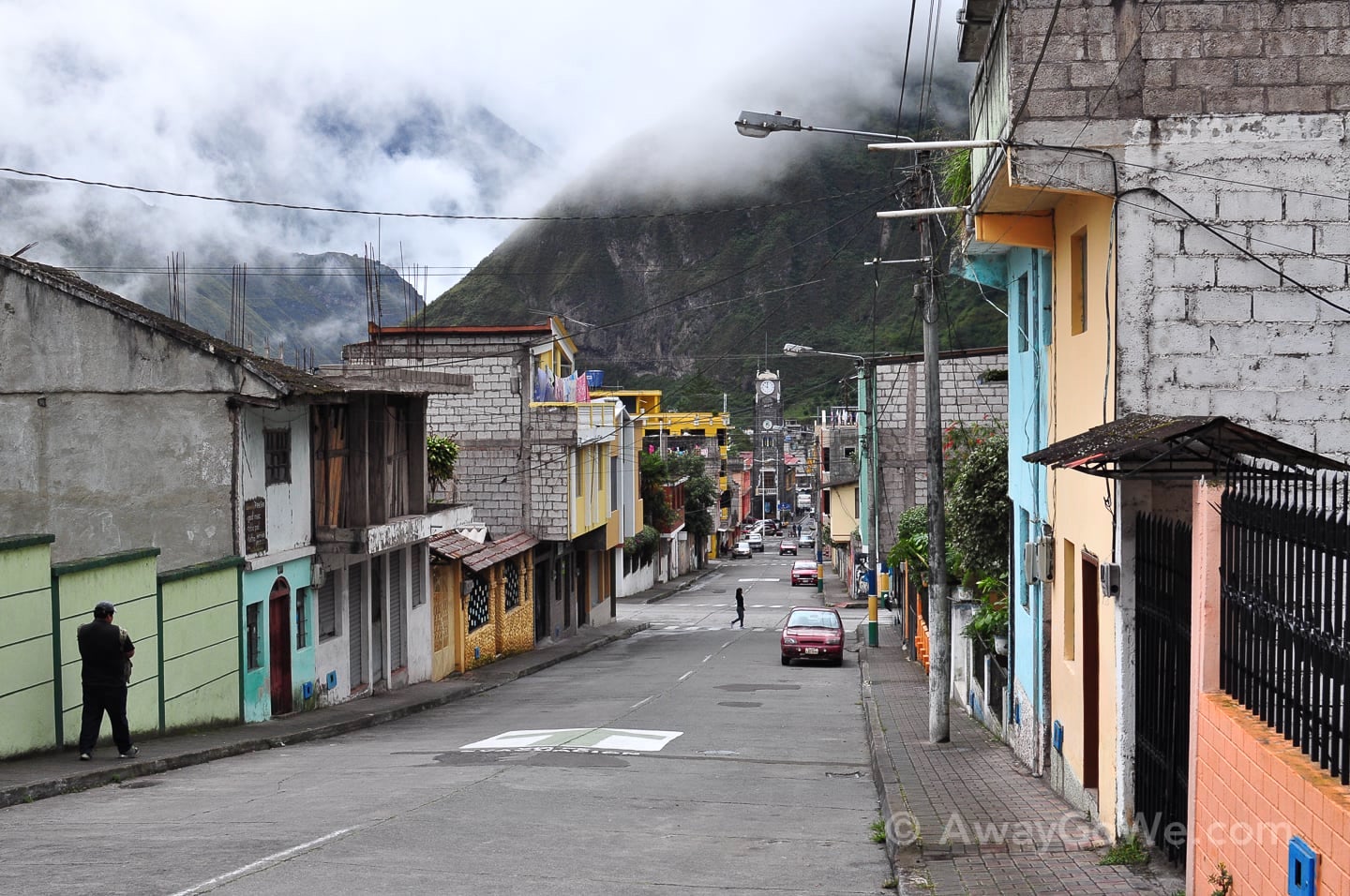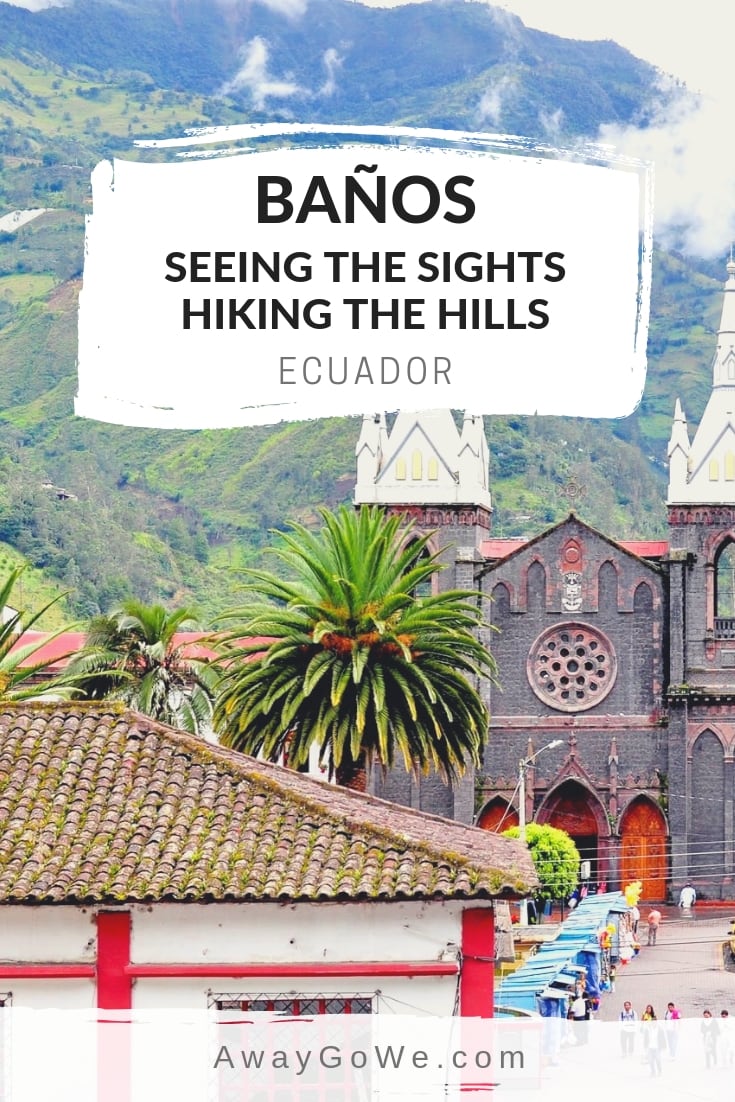 2 August 2010