After three days soaking up Zanzibar's bustling Stone Town, we hoisted our homes back on our backs and headed out into the driving Zanzibari rain, bound for Mbuyuni Beach Village.
Zanzibar Beaches Are a Great Value!
We heard good things about the villages of Jambiani and Paje and initially tried to find a nice and simple place between the two.
While we were still in Mozambique, I did a bit of research and came across a little known beach hotel between Jambiani and Paje that looked too good to be true: Private cabana with indoor bathroom, onsite restaurant with a well-priced and tasty looking menu, and a pool, right on the beach—all for about the same price as we were paying for 50-year-old concrete dumps in Mozambique!
I was shocked.
Nonetheless, Mbuyuni seemed legit, and given that we had time and flexibility in our schedule, we were willing to take a chance on this one, come what may.
Once we arrived in Tanzania, we learned the reality is that you just get a lot more value here than in Mozambique (which we had been traveling the length of for the past month), which shouldn't have come as a surprise.
But just how much MORE value we got in Tanzania, particularly for a hotel on the beach near Jambiani, is what really astonished Lori and me.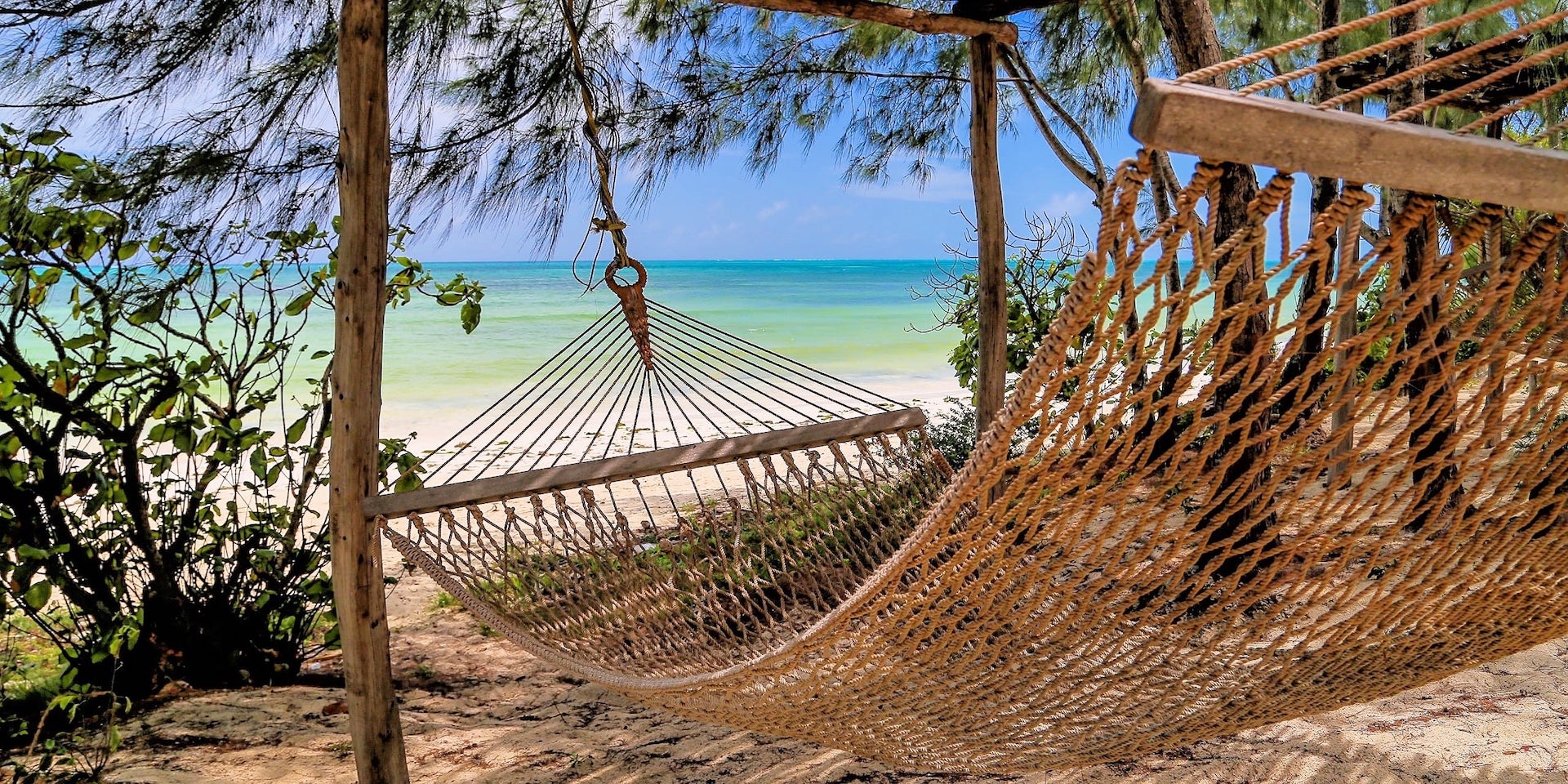 Getting to Mbuyuni Beach Village from Stone Town
The plan for the morning we left Stone Town was to catch a Dala Dala to the eastern beaches of the island (i.e. Paje and Jambiani villages), which sounds easy enough in theory, but in practice…well…
Dala Dalas on Zanzibar differ from their mainland cousins in that they are generally converted flatbed trucks rather than the typical minibus taxi you'll find elsewhere in Tanzania. The Zanzibar style has a lot more airflow and room to load a lot more random stuff (yay!), but at the expense of comfort.
We were looking forward to soaking up our open-air ride across this beautiful tropical island. The first ten minutes out of town were lovely, with a nice breeze and a great view of our surroundings.
And then it began to rain—sheets of it.
Tarps were released over the open windows to keep the deluge out, making for a sticky, stuffy, sweltering and cramped couple of hours.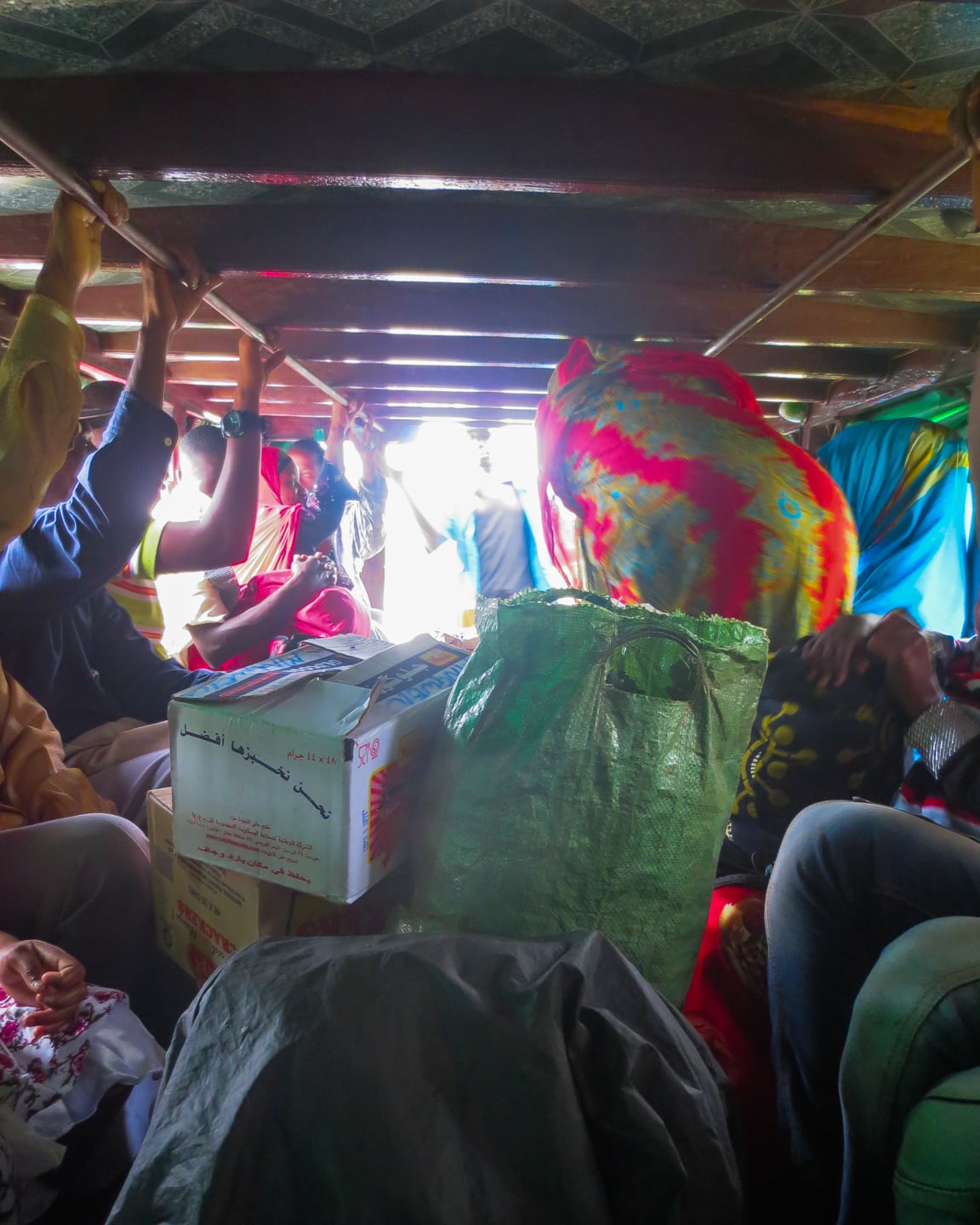 Granted there are easier ways to reach the beach in Zanzibar, but none so cheap as the Dala Dala.
Don't Miss These Zanzibar Island Experiences
Our ride may have taken two hours to cover a measly 40 km, and we may have lost 10 liters of sweat between the two of us, but at just a few bucks each, the price of the Dala Dala was hard to beat.
We showed up to Mbuyuni Beach Village in the middle of a torrential downpour and started to wonder what we had gotten ourselves into.
Before long, though, the skies cleared and it remained perfect beach weather for the rest of our 10-day stay!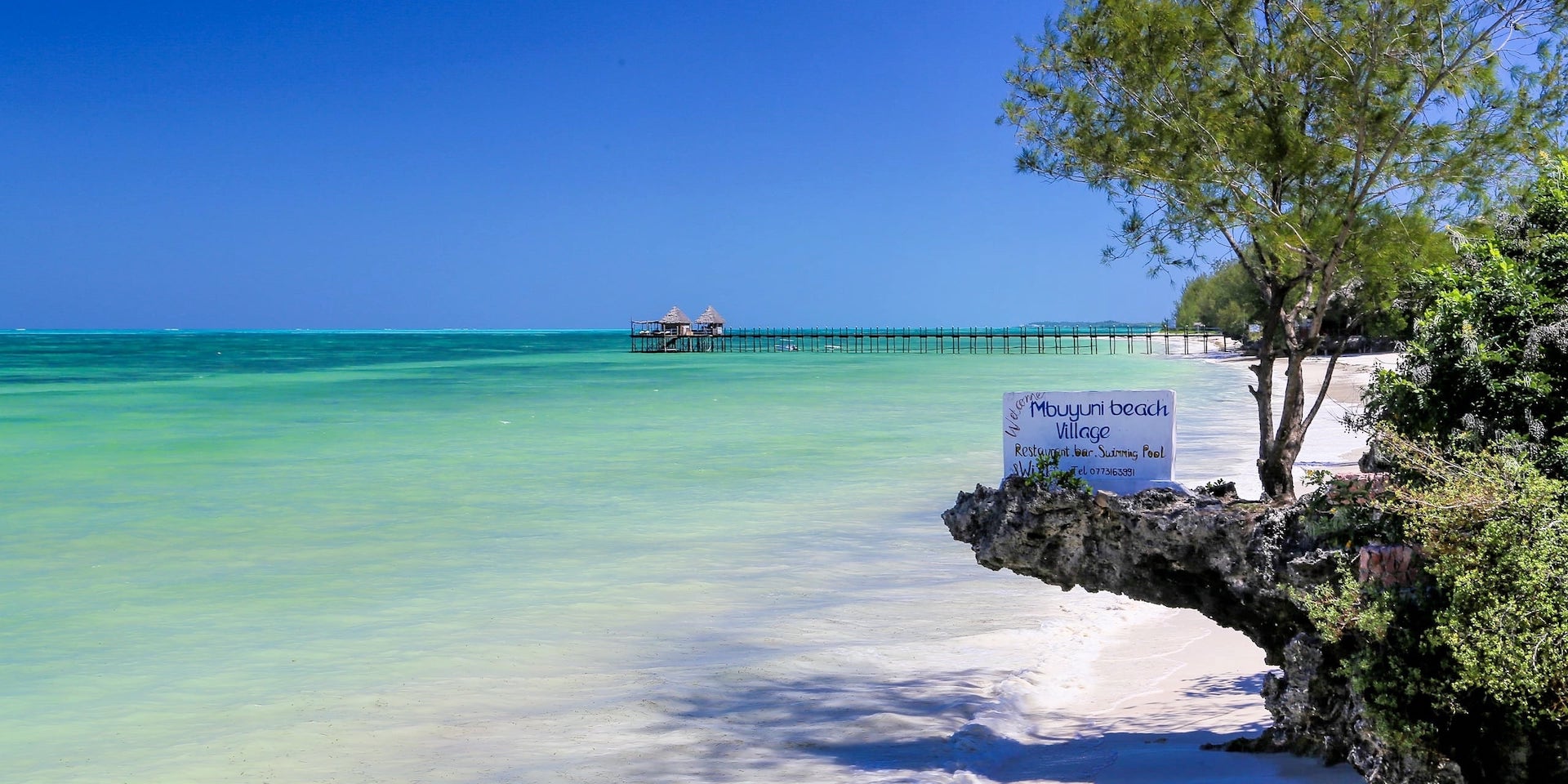 Mbuyuni Beach Village
Boy, did we luck out with this place!
We chose to stay in one of the beach-fronting Bandas (i.e. cabana) and it was perfect.
Mbuyuni bills itself as a beach hotel, but offers a variety of accommodation. In addition to a hotel block set away from the beach, there are multi-room options for large families, and other cabanas up the hillside. In our minds, there was really only one option for staying at a beach resort: The beach-facing Bandas!
If you book online, you may not find anything called "bandas" or even cabanas. Look for the "Double Room with Balcony" and compare the photos to ours. Just to be safe, you can add a note requesting one of the beach-front bandas as well.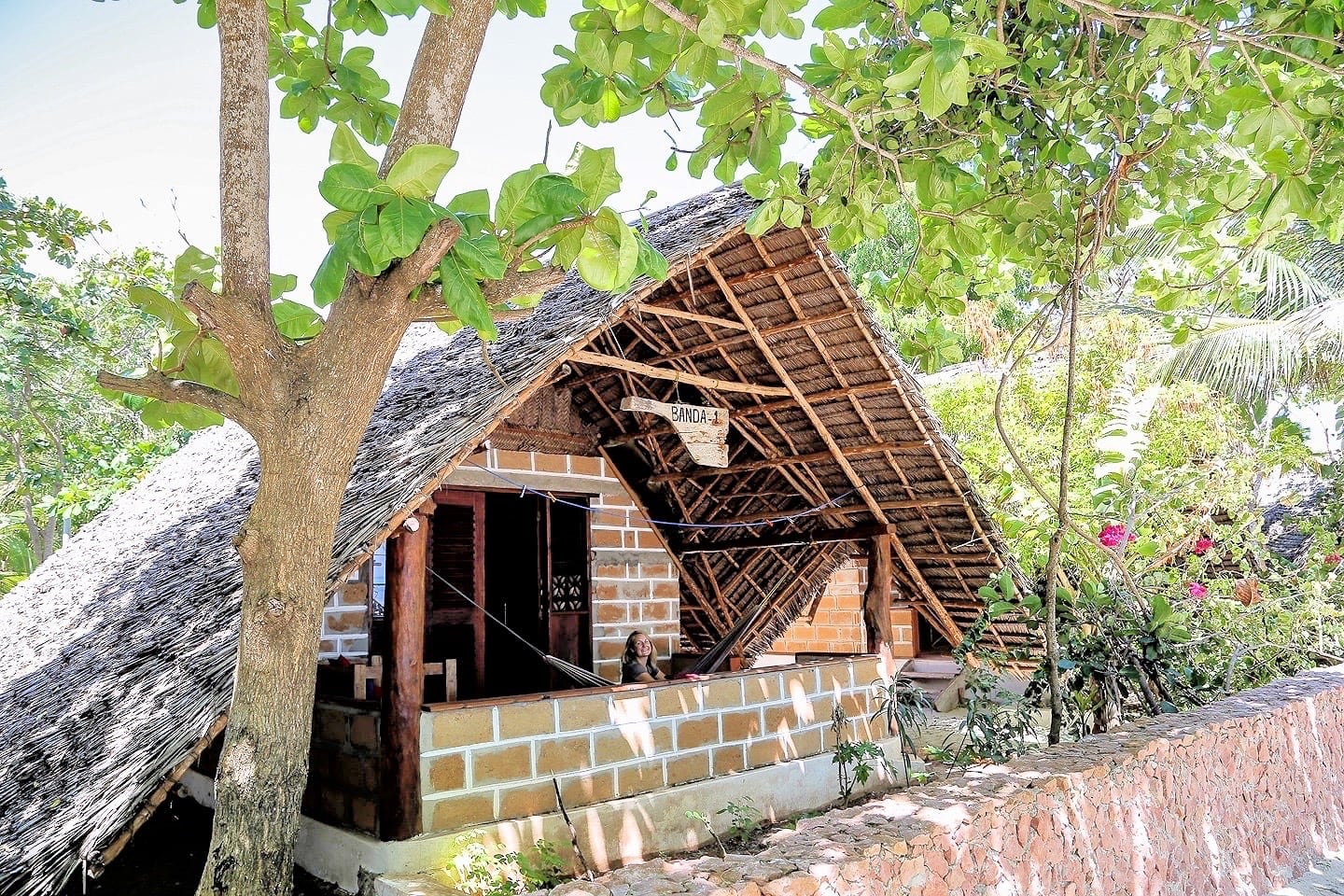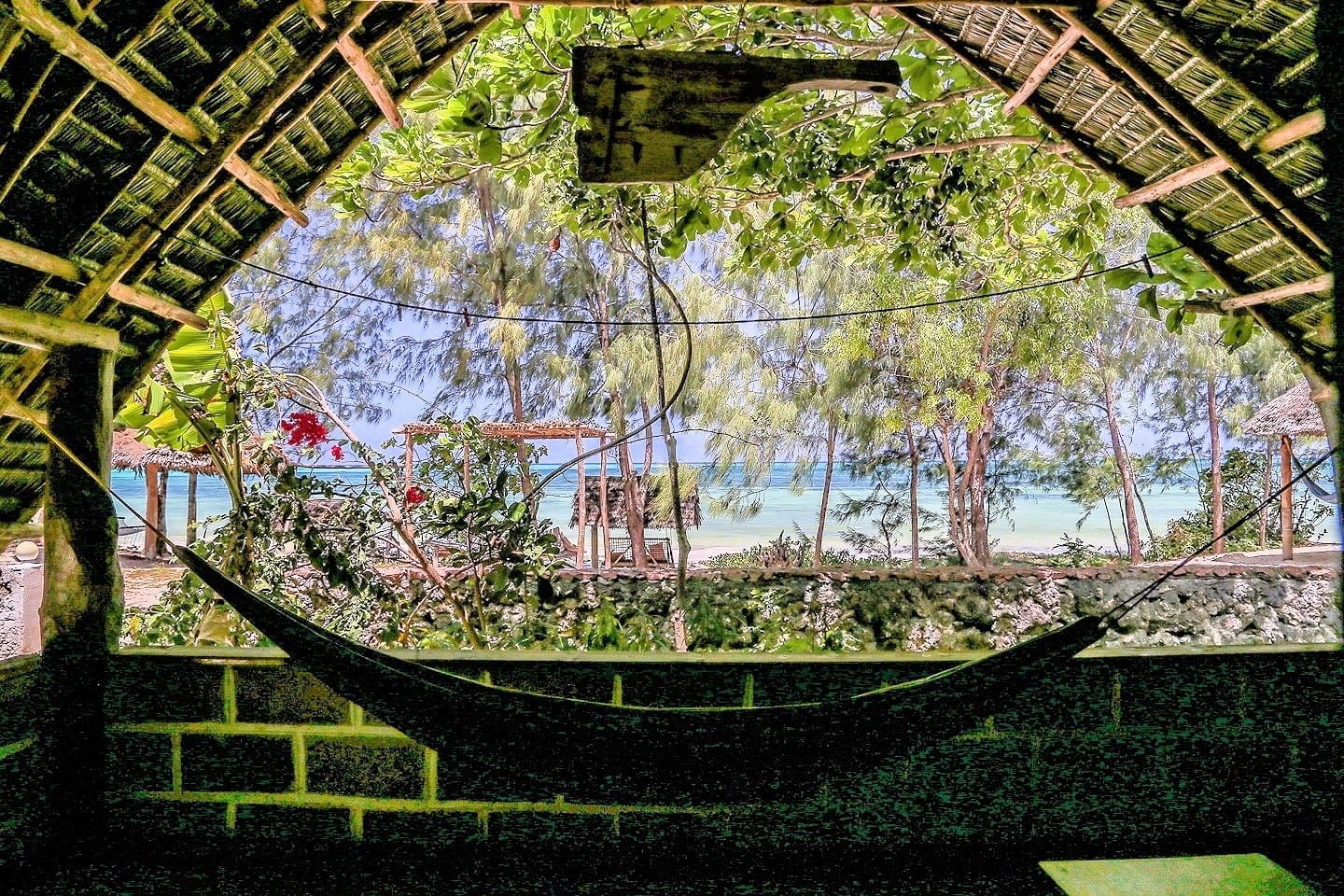 Much of the property is recent construction with the feeling of a higher-end sort of place.
Our Banda had a contemporary styled shower, beautiful hardwood accents and an oh-so comfortable bed.
And the toilet paper! MY GOD, THE COPIOUS RESERVES OF BEAUTIFUL TOILET PAPER!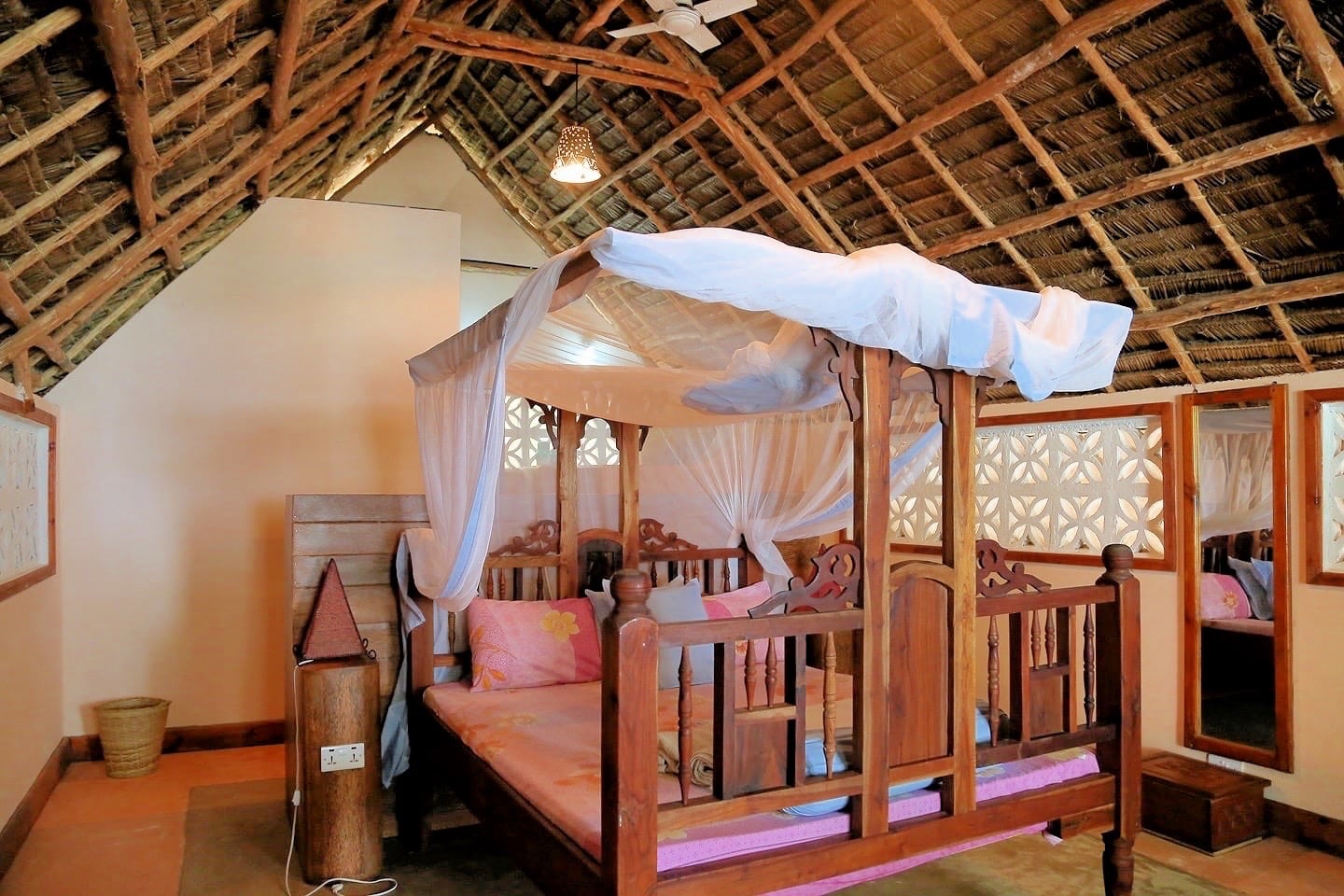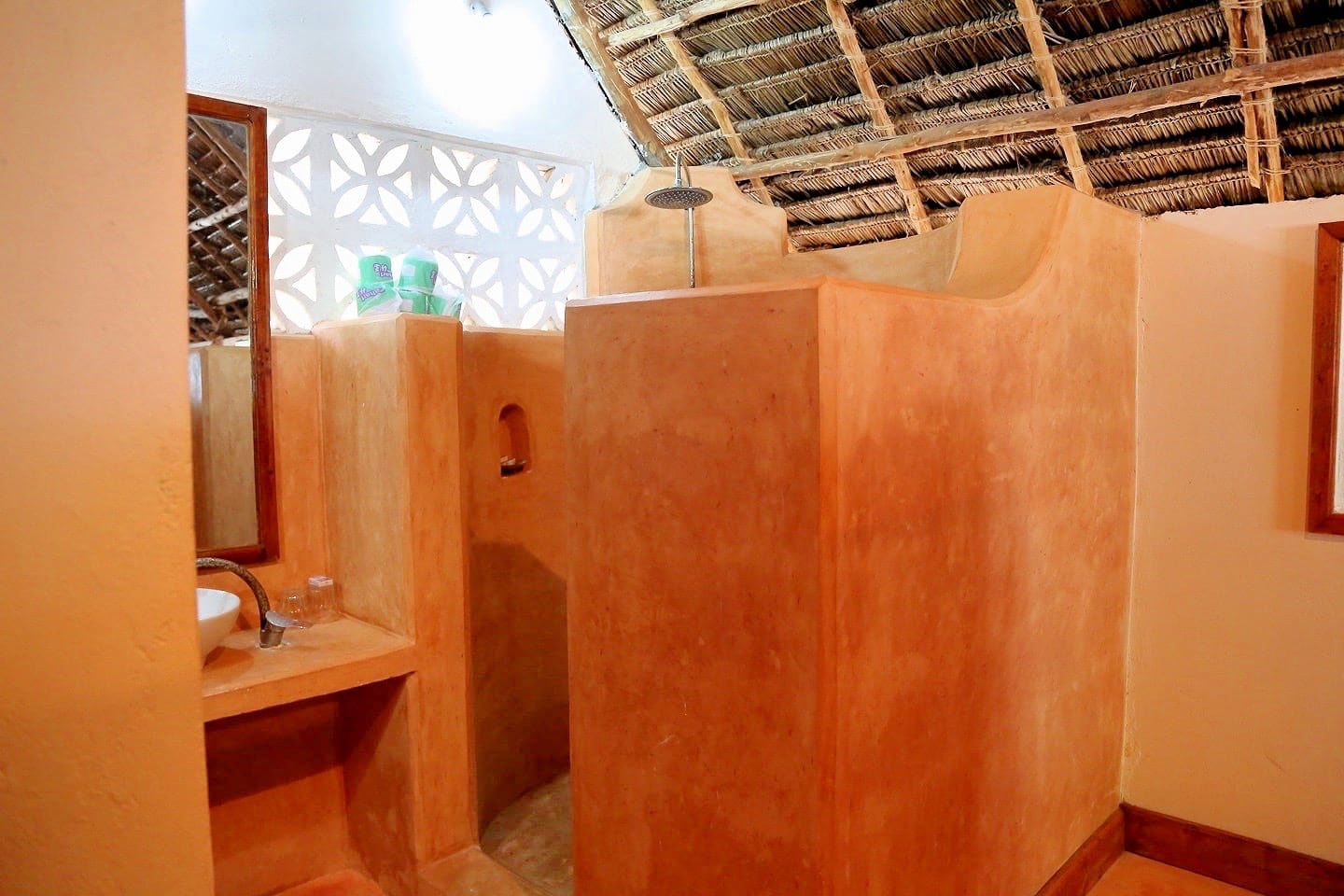 The entire grounds at Mbuyuni were just an incredible place to relax and just be. So many choices for lounging, and eating, and sipping, and reading, and napping, and swimming…
And of course, every morning, breakfast was INCLUDED.
But not just any breakfast, a huge, delicious, fresh and healthy breakfast including heaping portions of local fruit, cook-to-order omelet, crepes, toast, sausage links, coffee, juice and more!
We found the staff at Mbuyuni to be warm, incredibly helpful, and very professional. Everyone we came in contact with, from the manager to the driver to the cook were local Tanzanians.
More About Mbuyuni Beach Village
HOT TIP
The sea-facing bandas sell out fast!
Book now to avoid disappointment.
After visiting dozens of countries and hundreds of guesthouses, lodges and hotels, I'm so impressed with the high level of professionalism—I mean, these people had been trained, and had been trained well—and this was not an exclusive or high-end resort where you might expect that sort of thing. Plus, they were just fantastic, approachable people.
What more can you ask for?
Read our post on Jambiani Beach & Village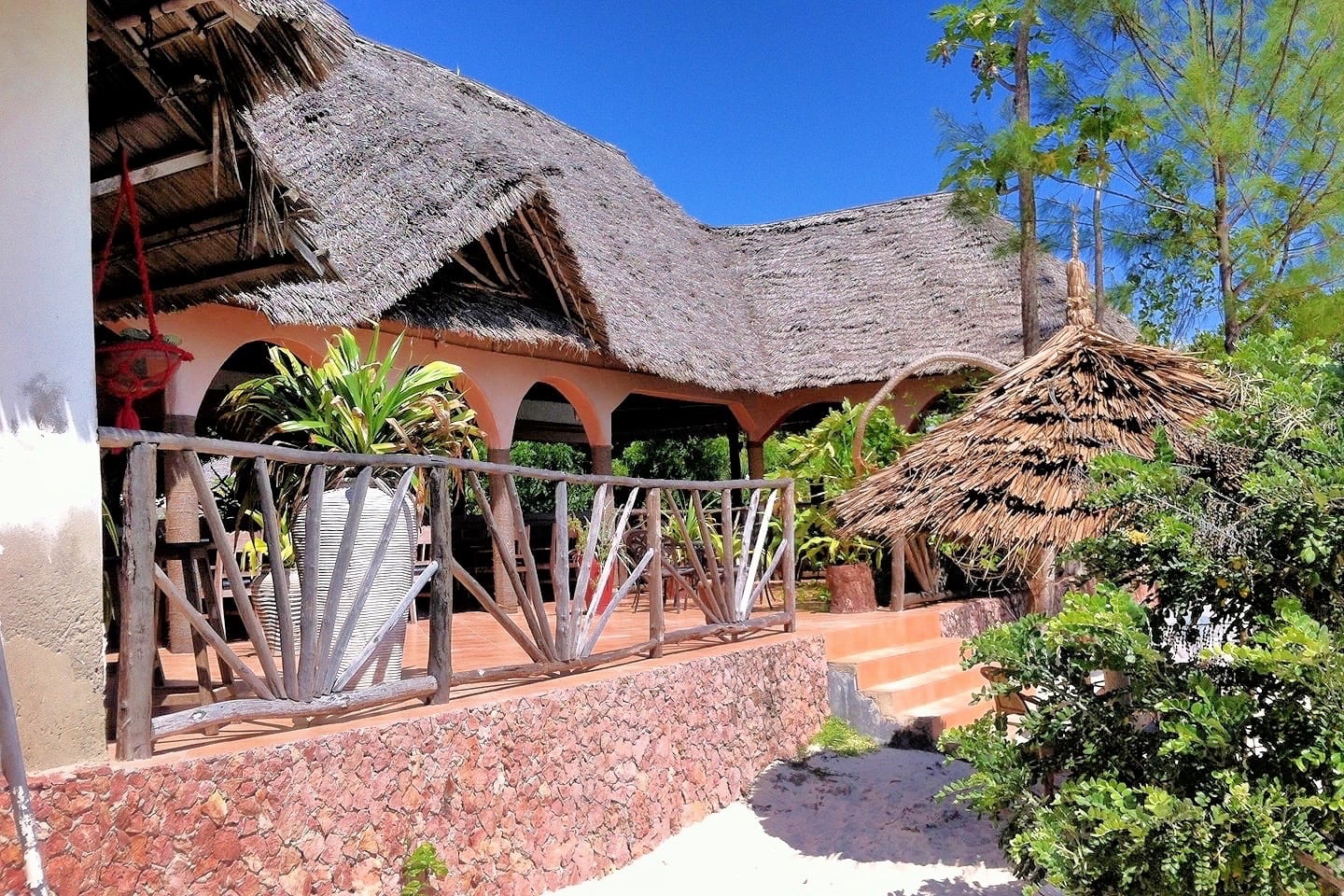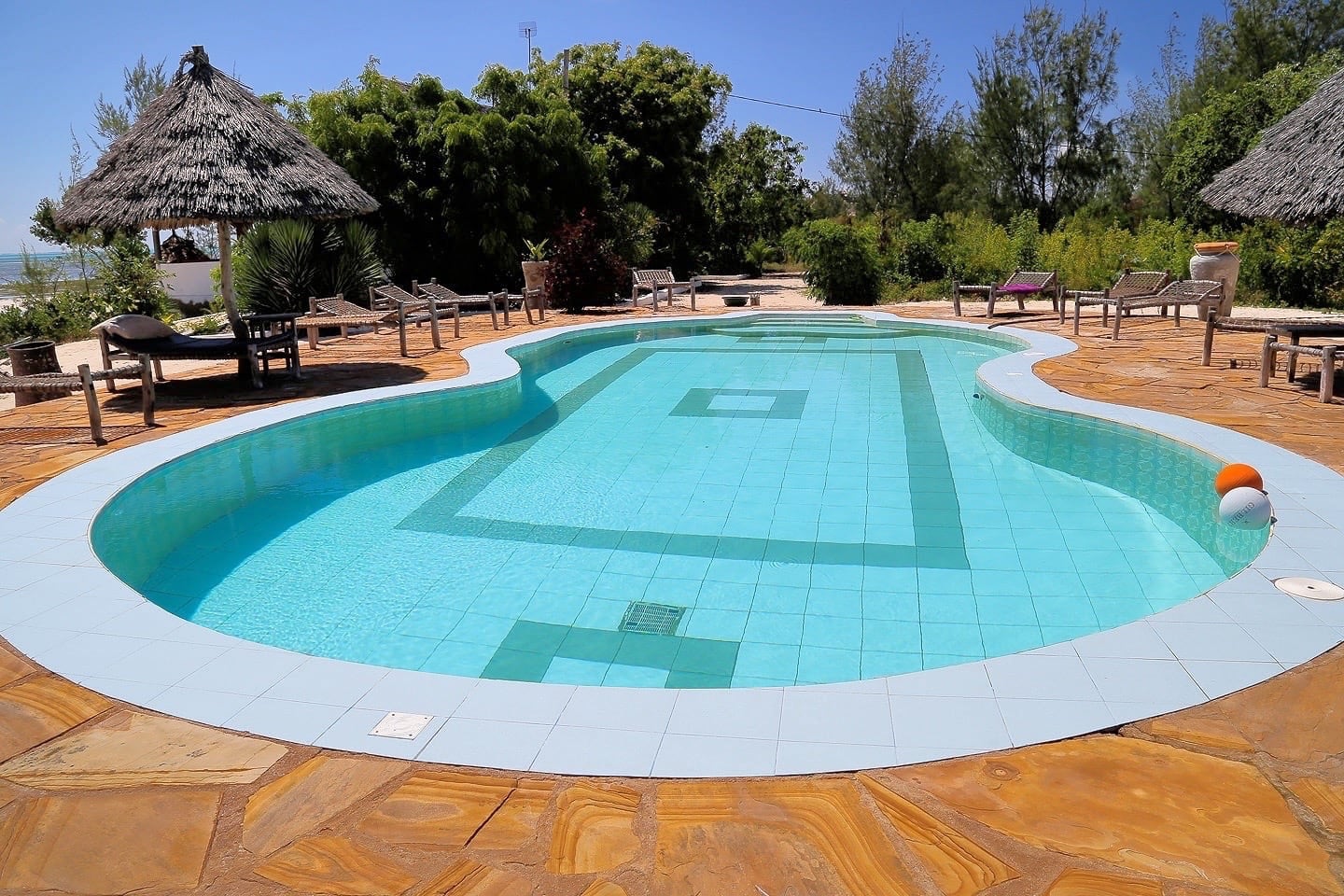 Pool … At the Beach
In our travels to tropical beaches, we've never stayed at a beach hotel with a pool.
To be honest, I never really got the point.
On the east coast of Zanzibar, however, it's a nice perk to have, as the sea can withdraw several hundred meters from the high water mark at low tide. And at high tide, it can be a little rough and cloudy.
But in between, the water is perfect. When it's not, there's the pool!
…And a variety of hammocks and chairs smattered about the property as well.
A Word About Beach Touts
Quite often on East African beaches we've encountered a lot of touts (i.e. local people selling various items or trying to sign you up for stuff).
Though overpriced, the lack of touts in Mozambique is actually a big draw of the travel to that country (though this seems to be changing).
Thankfully, the touts between Jambiani and Paje were fairly laid back and not much of a bother.
Many of them claim to be Masai (and use this, not only as a selling point for their wares, but to pick up young foreign women who are eager for a little cross-culture romance).
Several local villagers, however, warned us that many are not who they claim to be, but rather street youth from Dar es Salaam pretending to be Masai.
In my mind, a tout's a tout (and a trinket is a trinket), regardless of whether they come from the streets of Dar, or hail from a proud warrior tribe—yet we were amazed at how many Westerners seemed happy to give a guy wearing a red sheet business while completely ignoring a clean-cut Tanzanian dressed in a polo and jeans selling the same thing.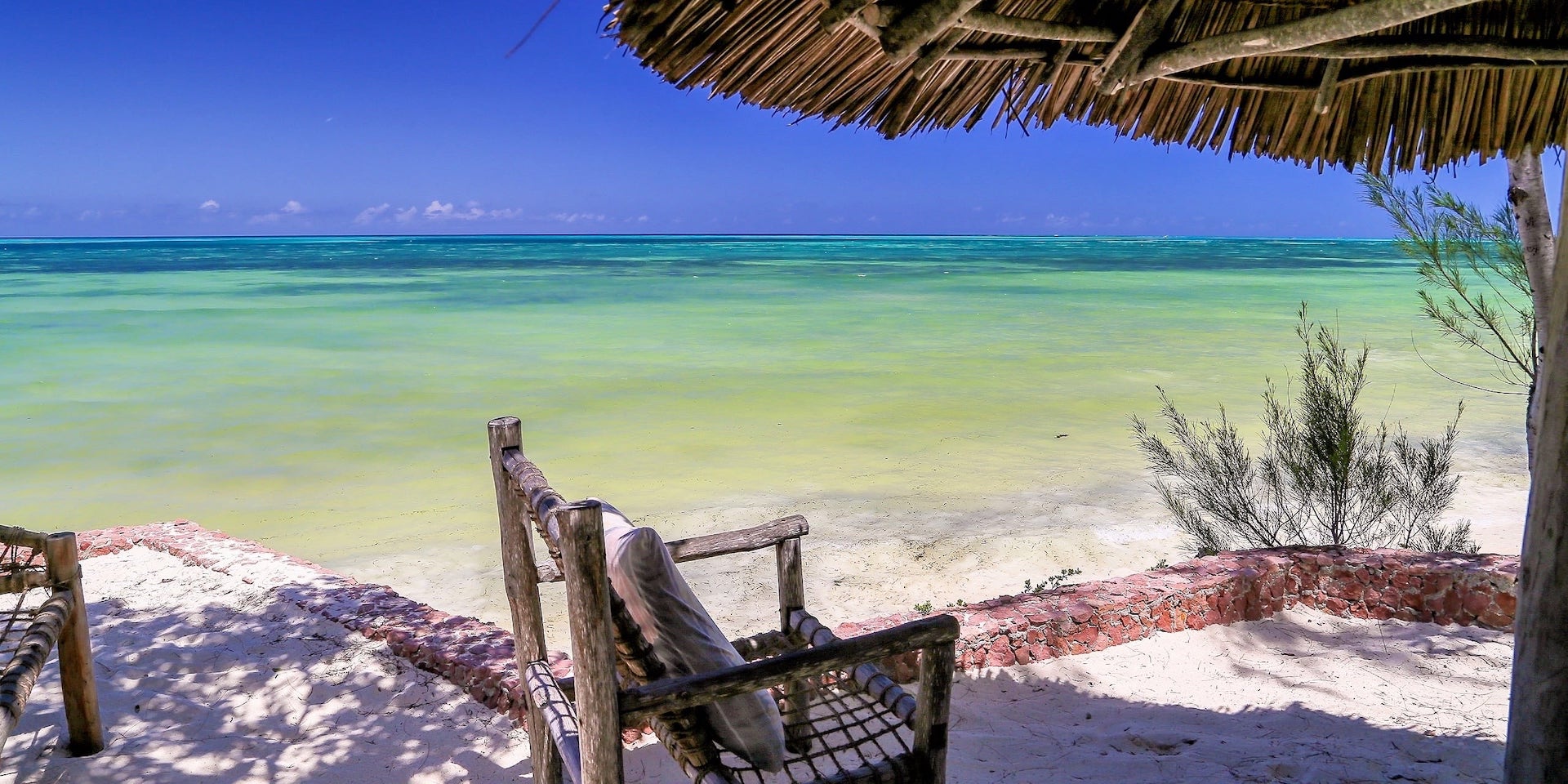 3 Nights Quickly Turn Into 10
We initially booked three nights at Mbuyuni, which would have amounted to seven days total on Zanzibar.
Well, that totally flew out the window on our second day.
Less than 24 hours here and I was on the phone with Precision Air adding four more days to our time on Zanzibar.
And…four days later, I was on the phone again adding three more days!
In the end, we ended up spending 10 nights at Mbuyuni Beach Village!
We've traveled enough to know to seize a good thing when you find it, and that's exactly what we did.
Read our original post with even more photos of this amazing place
Mbuyuni Beach Village, Zanzibar