We cover two of the Pacific Northwest's best rail adventures in this post: The Mount Hood Railroad and the Seattle-Eugene portion of Amtrak's Coast Starlight.
If you've been following us for awhile, you know that Lori and I love train travel, and try to do it as much as availability and finances allow. We've ridden the rails in the Peruvian Andes, across Europe, China, India, Thailand, and Vietnam, and several times up and down the Northeastern United States. Of these, some of our most memorable trips have been riding the Darjeeling Himalayan Railway "Toy Train," high-speed G- and D-trains between major Chinese cities, long overnight hauls in India, Thailand and Vietnam, and of course, the rail lines we tried so hard to ride but only seemed to exist on paper ("Devil's Nose" portion of Ecuador's Trans-Andean Railway, Lunatic Express in Kenya, Outeniqua Choo-Tjoe in South Africa, and many others).
Still, there's something very special about taking the train in the Pacific Northwest, amongst towering peaks and along its major waterways.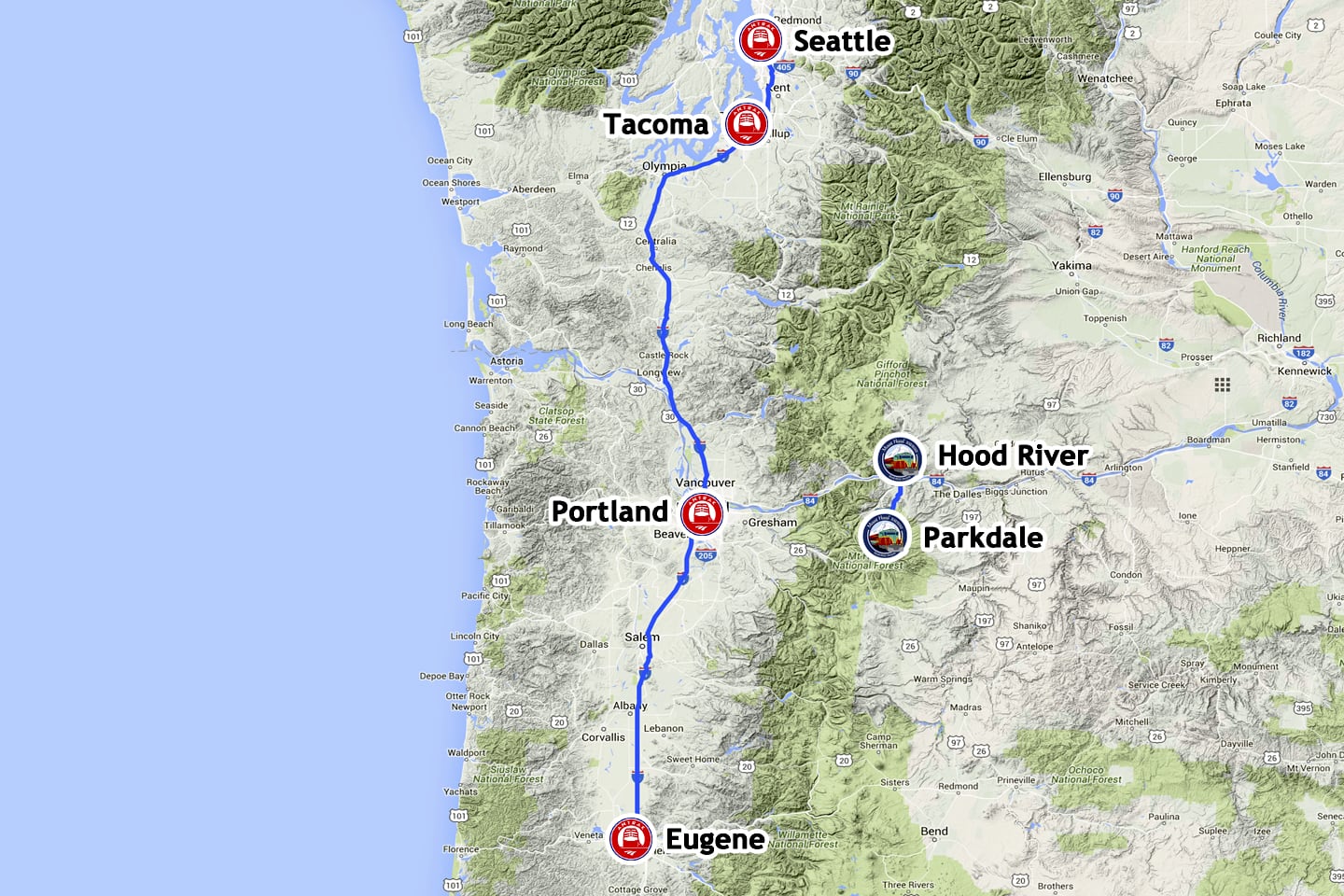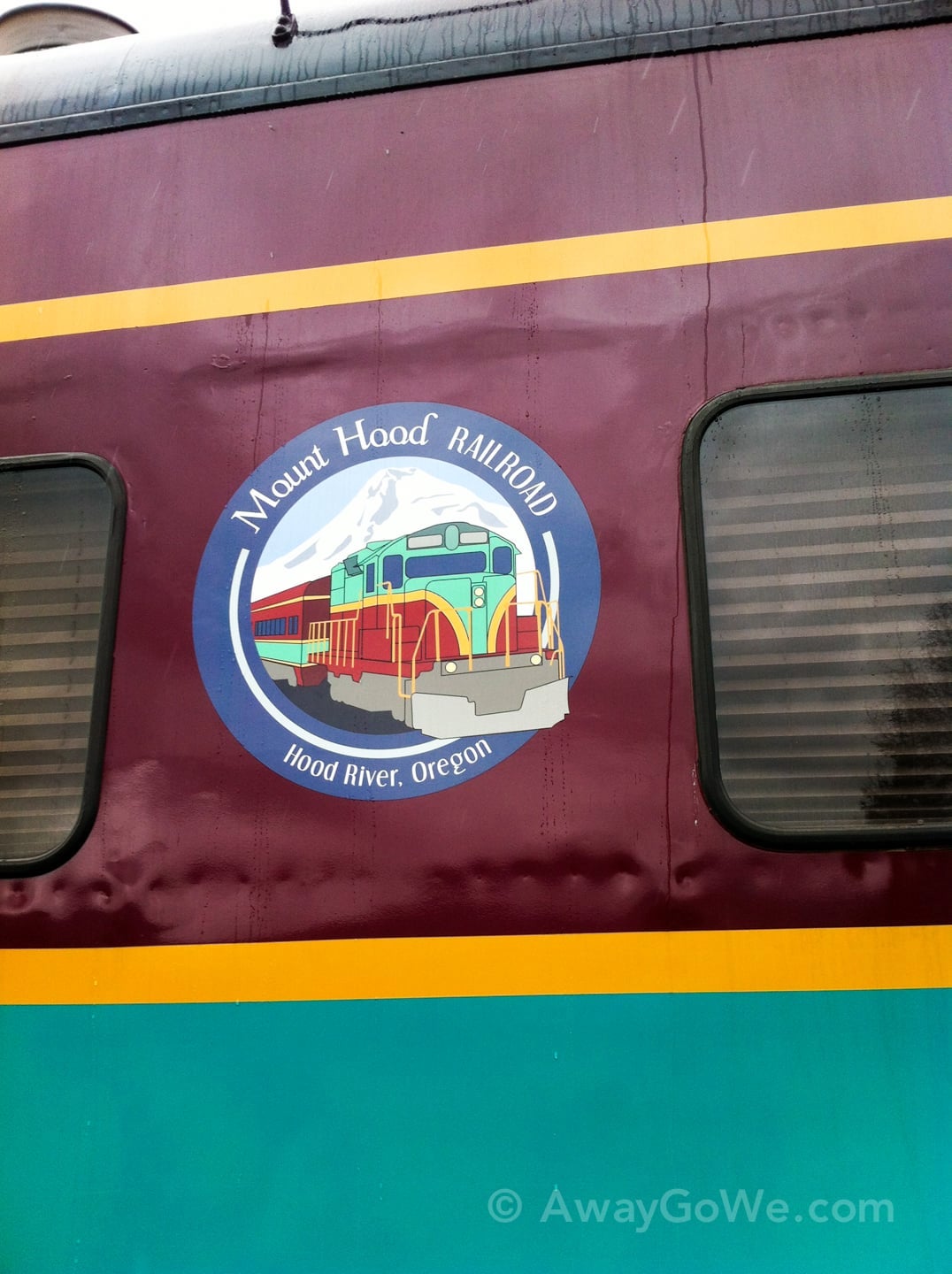 Mt. Hood Railroad
Hood River – Parkdale – Hood River
In March of last year, as a joint celebration of my parent's anniversary and my mom's birthday, we treated them to a day trip on the Portland area's most venerable heritage railway, the Mount Hood Railroad.
It seems that the MHRR routes, trips and pricing change from season to season, so I'm not going to include any info about their current offerings, but you can visit them at mthoodrr.com for the latest.
The 2015 season wasn't slated to start until late spring, but we lucked out with a pre-season deal on a limited number of excursions. It may have been drizzly and cool, and Mount Hood may have been playing hide-and-go-peak for most of the journey, but the ride was well worth it, nonetheless.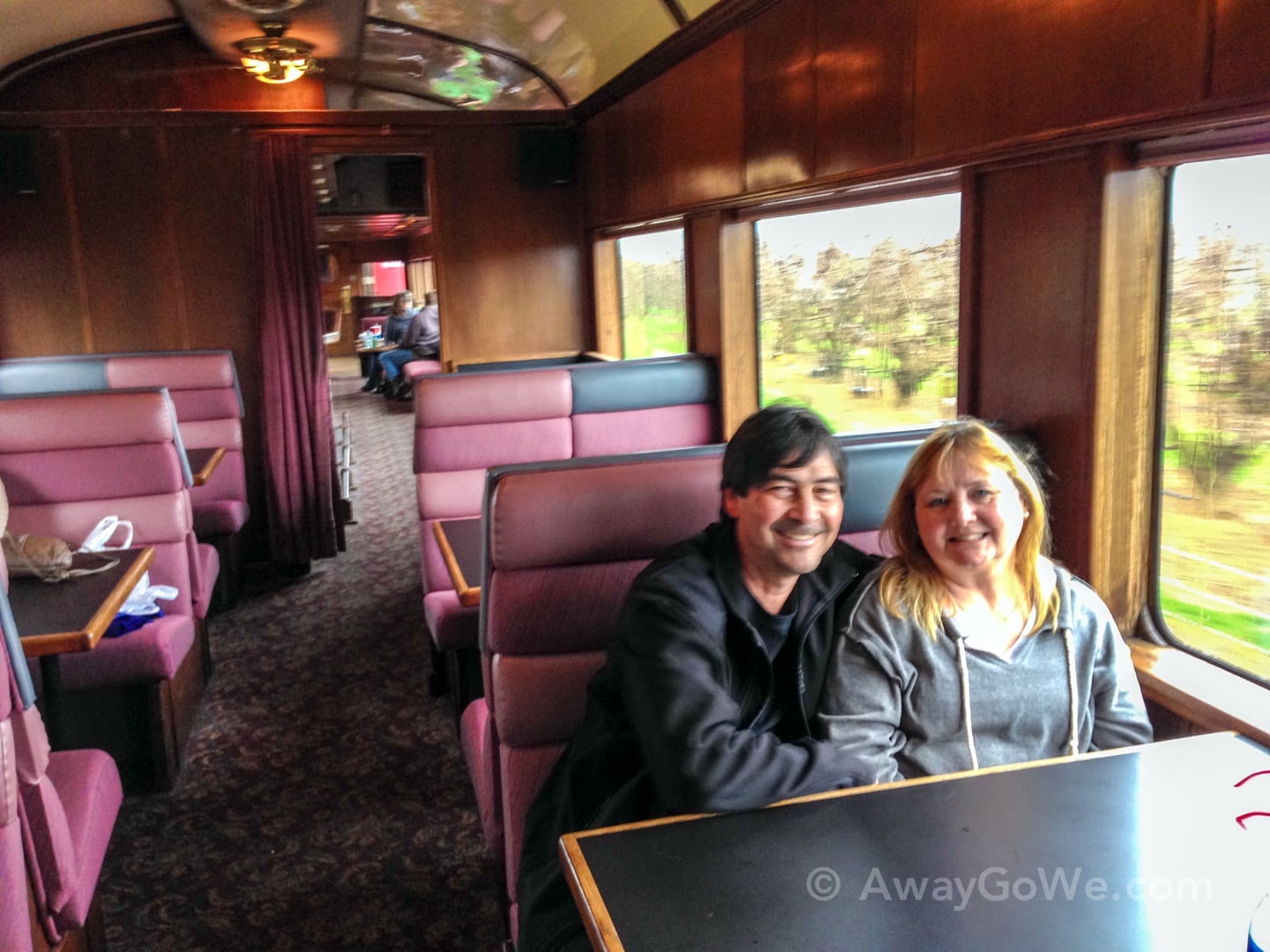 The locomotives are 1960s and '70s era GM Electro-Motives (we had two of them pulling us), but the rolling stock was a mix of lovingly restored vintage cars with a more recent observation car. We opted to upgrade to a First Class car as they had a more vintage feel to them, but we were still free to move about the train.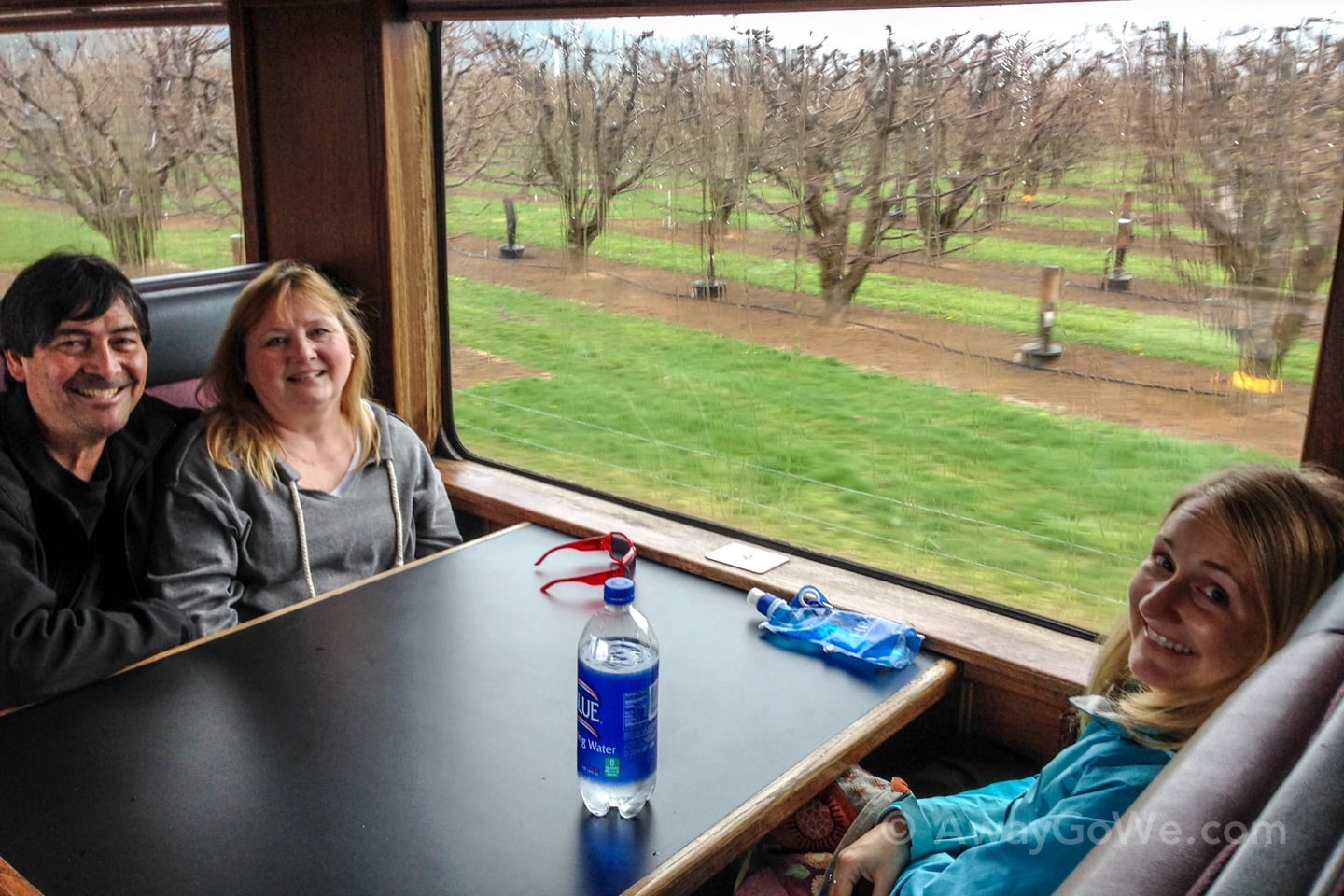 The train route, which dates back to 1906, left its northern terminus in downtown Hood River, following the actual Hood river south for a while. Just shy of Pine Grove, the train performed a maneuver in which it doubled back on a switchback to climb a steep incline out of the valley. For most of the way to Odell, the tracks wound through the region's well known "Fruit Loop" of orchards and farms. After Odell, the line met up with the Birdie Creek fork of Hood river before finally pulling into the southern terminus of Parkdale. The train took about an hour to cover the 21 mile route, which felt like just the right amount of time to enjoy the ride.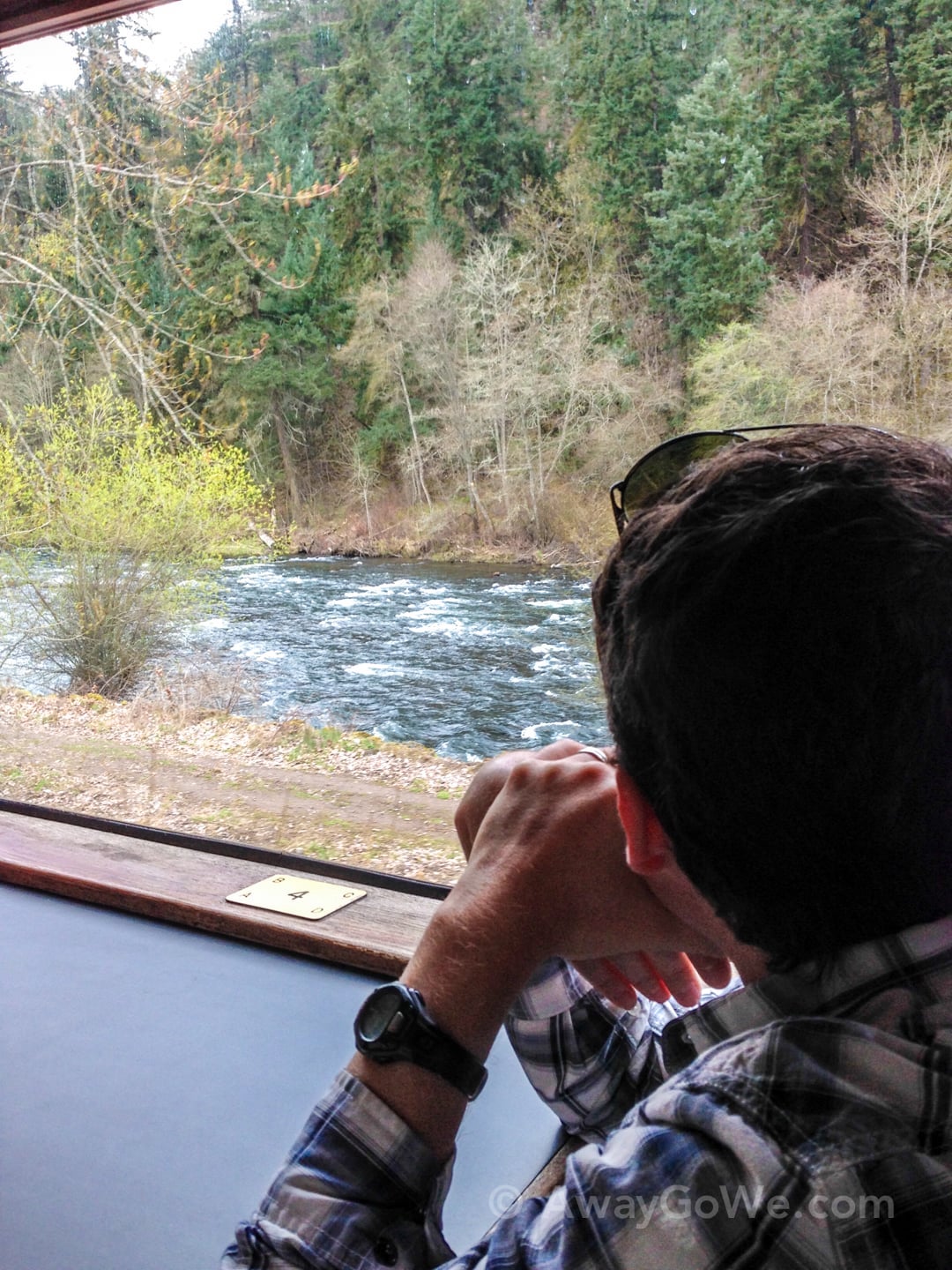 At the small town of Parkdale, just 10 miles from the summit of Mt. Hood as the crow flies, we hopped off for a 60 minute break to have lunch. While central Parkdale offered just a handful of options, it seemed that new ones have been popping up regularly. The new brewery looked good, but we went for pulled pork sandwiches at Apple Valley BBQ, which didn't disappoint. The sun even came out just long enough to enjoy our lunch outside, before another shower told us it's time to get back on the train.
Another hour later, we were back in Hood River.
•  •  •
Amtrak Coast Starlight
Seattle – Portland – Eugene
In July of 2013, we took some time off between our move from Washington, DC to Belize to do some road tripping through Oregon, Washington, British Columbia and California. My parents and sister's family were spending a week in Maui in early July and we thought, well, why not go to! Airline tickets were much cheaper out of Seattle than Portland or Eugene (we were ultimately Roseburg-bound), so we flew directly from DC to Seattle, stayed with Lori's brother who lived there at the time, then flew to Maui. For the return flight, we knew we could either fly on to Eugene or back to Seattle, which would save us about $120. But we still needed to get from Seattle to Roseburg eventually. Amtrak tickets were $120 for the two of us to Eugene, which would get us within an hour of Roseburg. Train vs. Flight. We had the time. Same price. Easy decision.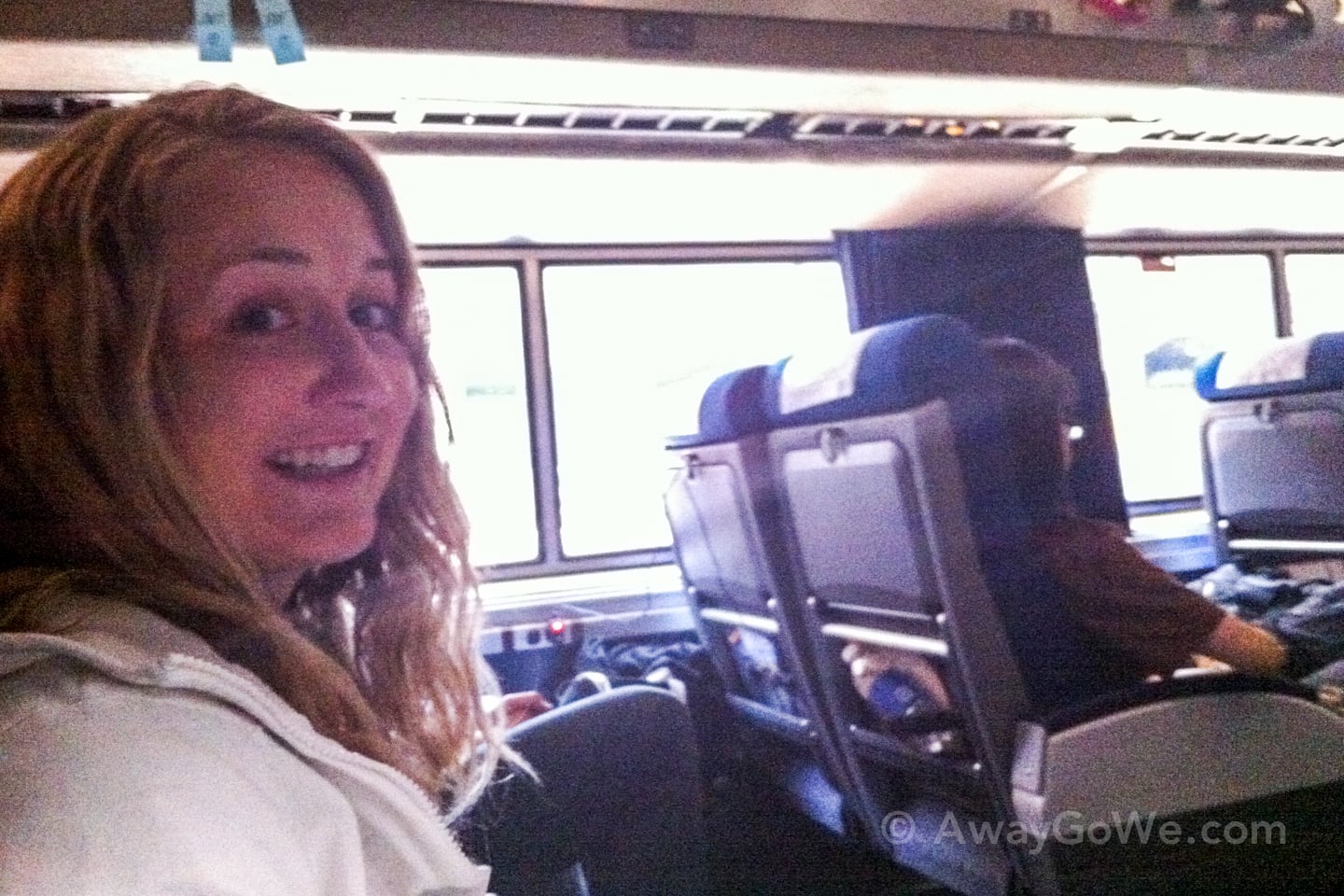 Originally, we had two tickets booked for Amtrak's Cascades service, which I'm not very fond of. Having done this route several times before, I've always enjoyed my experience on the Coast Starlight more. The Cascades service is more of a regional service on commuter-style rolling stock, while the Coast Starlight is the flagship route of the West Coast, stretching from Seattle to Los Angeles. You'll be among people not only traveling the length of the west coast, but also from the far reaches of Amtrak service in the U.S. and beyond. The Coast Starlight also has comfier seating configurations and the very cool Sightseer Lounge/ observation deck. Simply put, Cascades feels like you're simply trying to get from A to B as efficiently as possible, while the Coast Starlight service feels like traveling!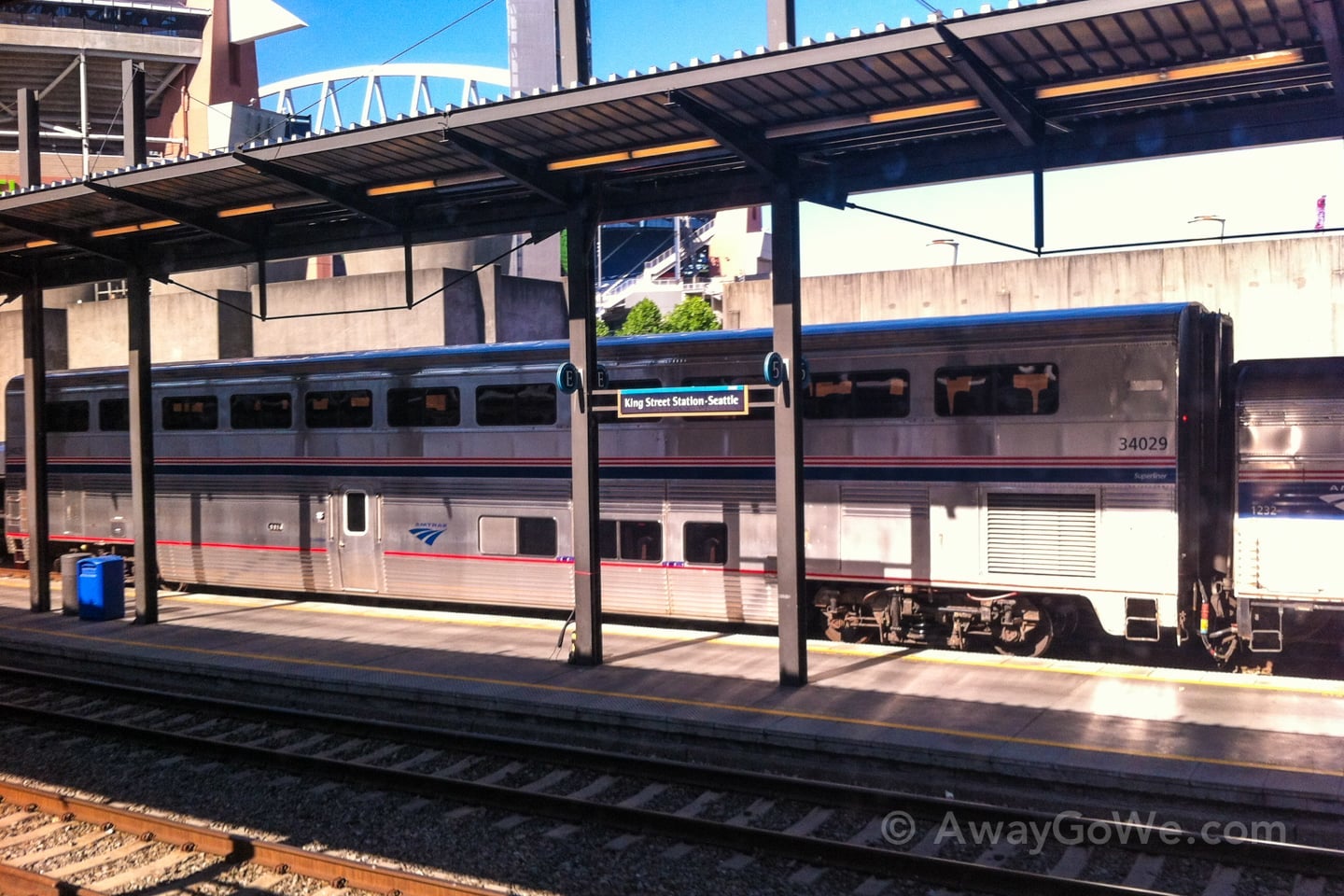 Lori got sick the day we were supposed to catch our Cascades train to Eugene. The upside ended up being that changing our tickets was really easy through Amtrak (crazy easy online), and the Coast Starlight was running on our new departure date. So, I paid the extra few dollars and upgraded to the Coast Starlight train.
Also as luck would have it, our departure date would now be a Saturday, meaning that a National Parks Ranger would be aboard in the observation car to narrate the historical and geographical features along the Seattle-Portland segment. It didn't take us long to leave our assigned seats and head for the observation car. The seats (and the view) in the observation car are far superior anyway, with or without your own personal Ranger.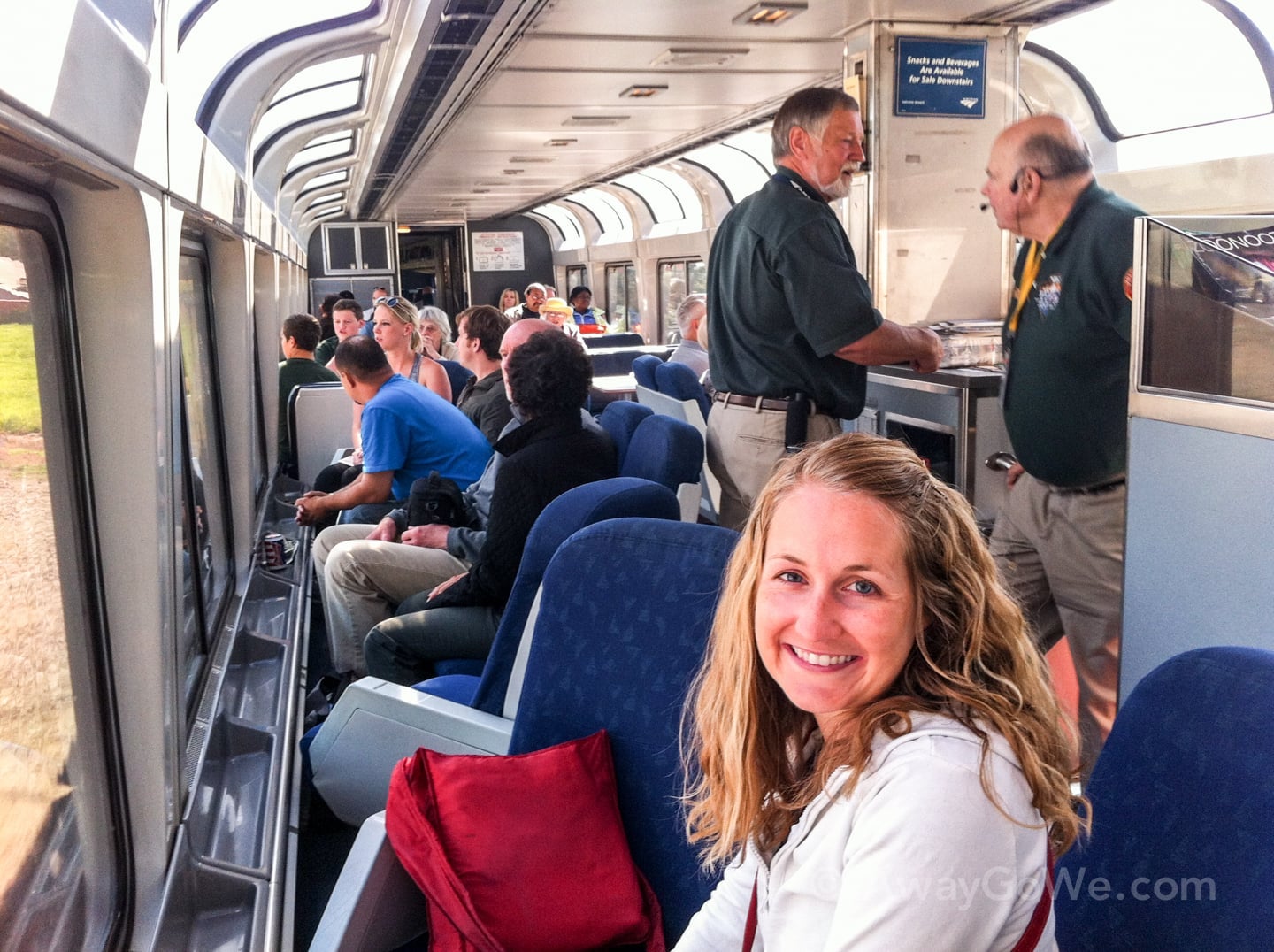 The highlight of the stretch was probably the section immediately following our stop in Tacoma, which went right along Puget Sound, around Point Defiance, and under the Narrows Bridge.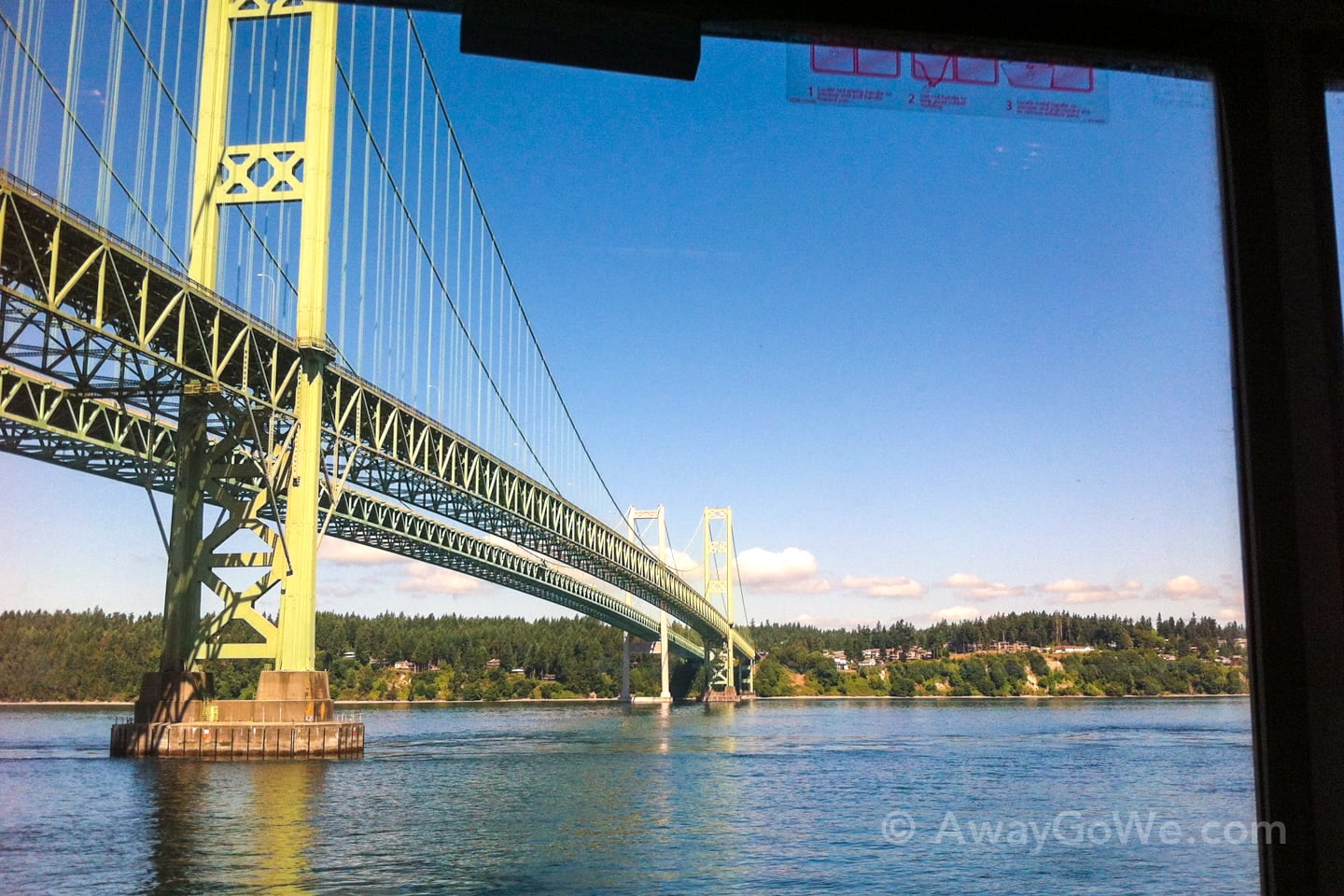 This is the site of Galloping Gertie, the bridge that famously collapsed under moderate winds four months after completion in July 1940.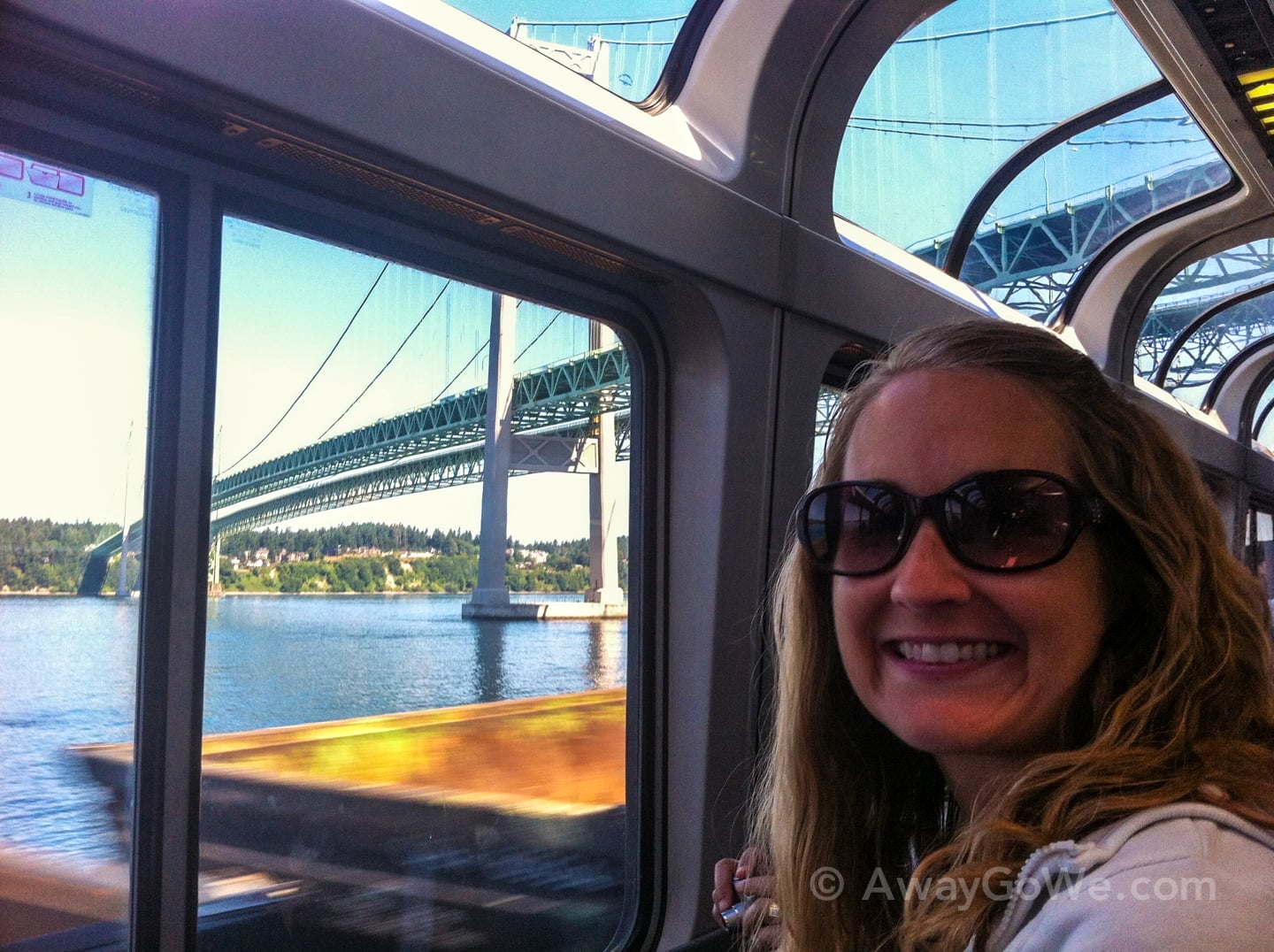 An awesome view of Mt. Rainier to the east, just 30 minutes south of Tacoma.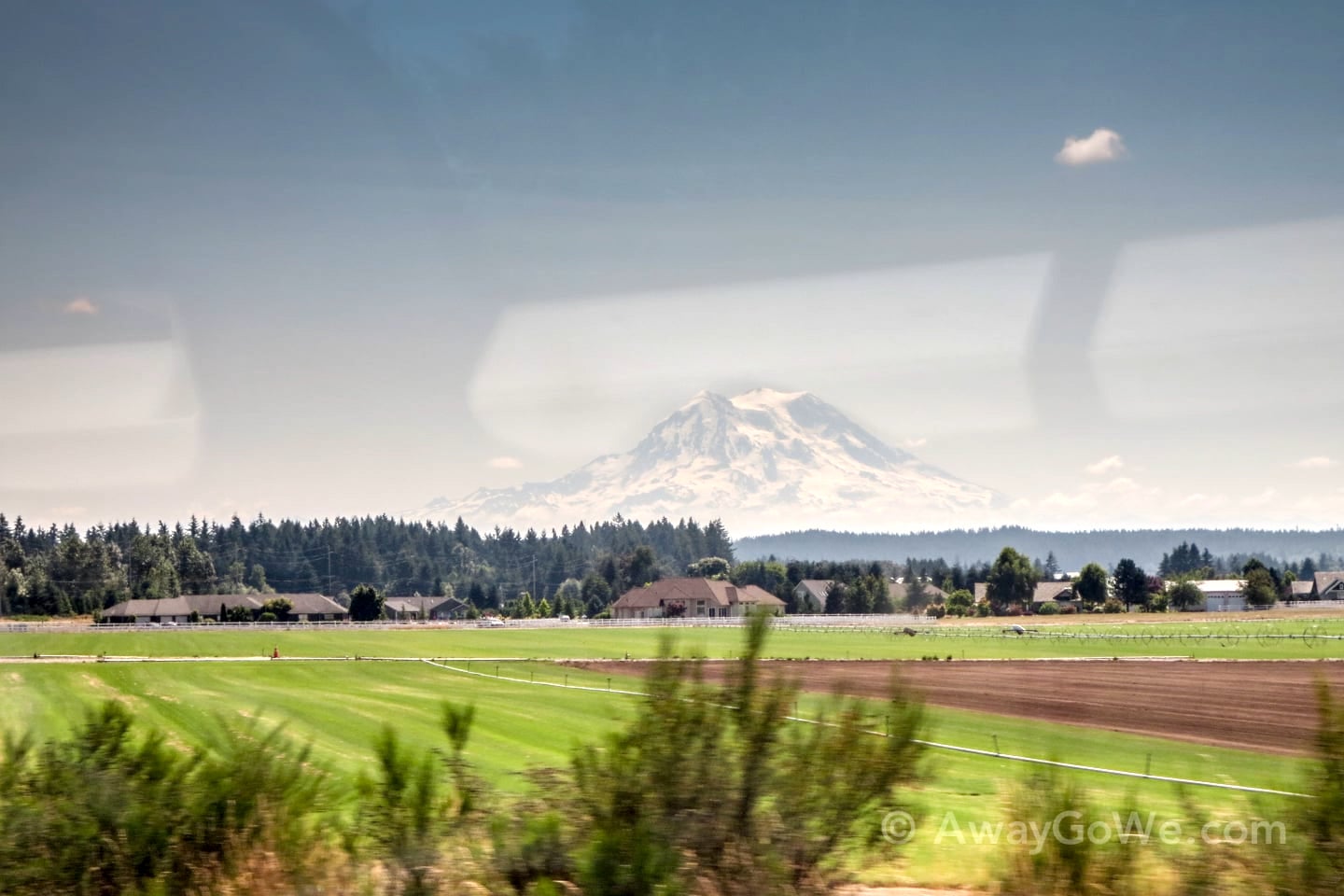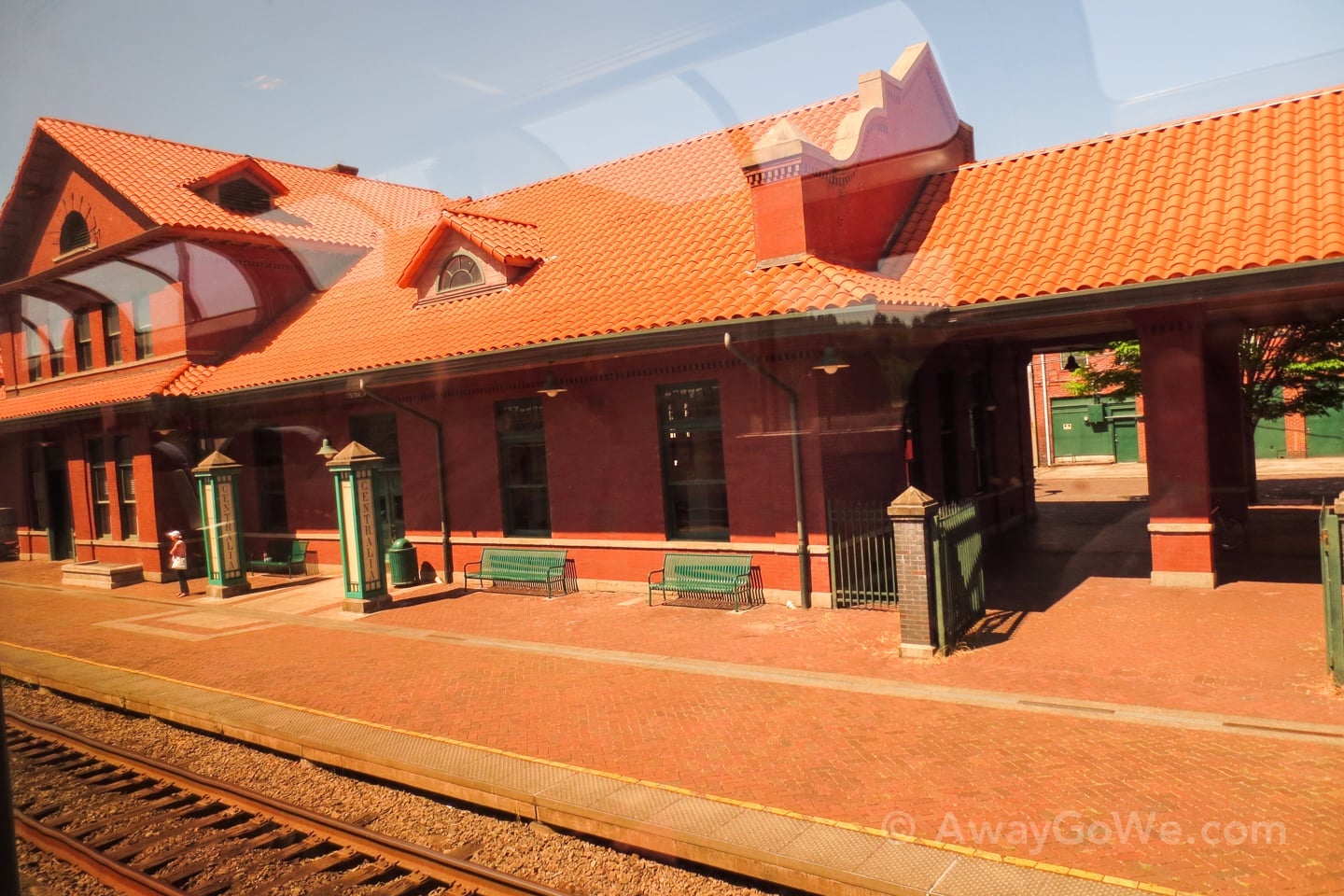 About 3.5 hours after leaving Seattle's King Street Station, we crossed the Columbia River into Portland. That's the I-5 drawbridge with Mt. Hood in the distance. After a nearly two-week detour, we finally make it to Oregon.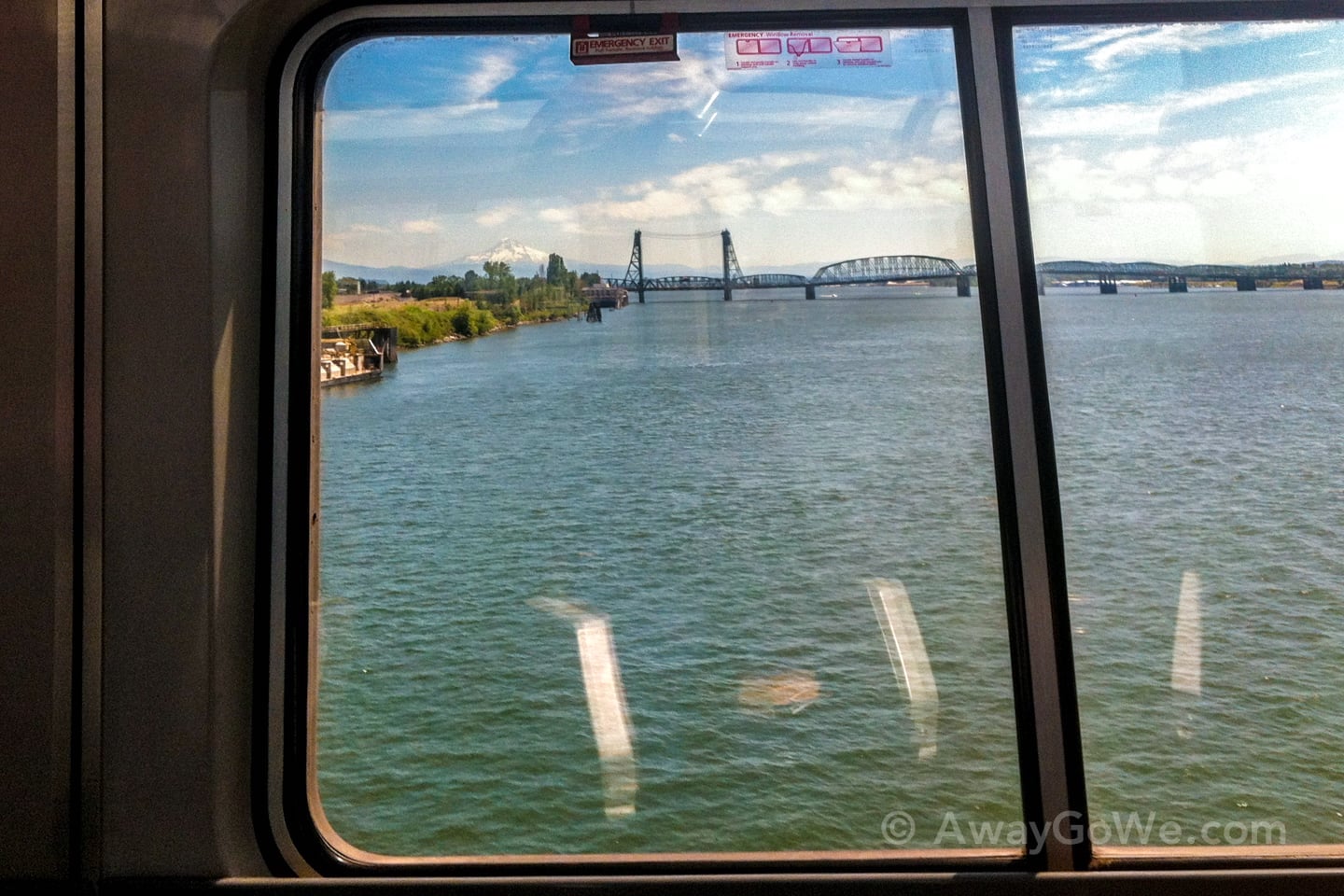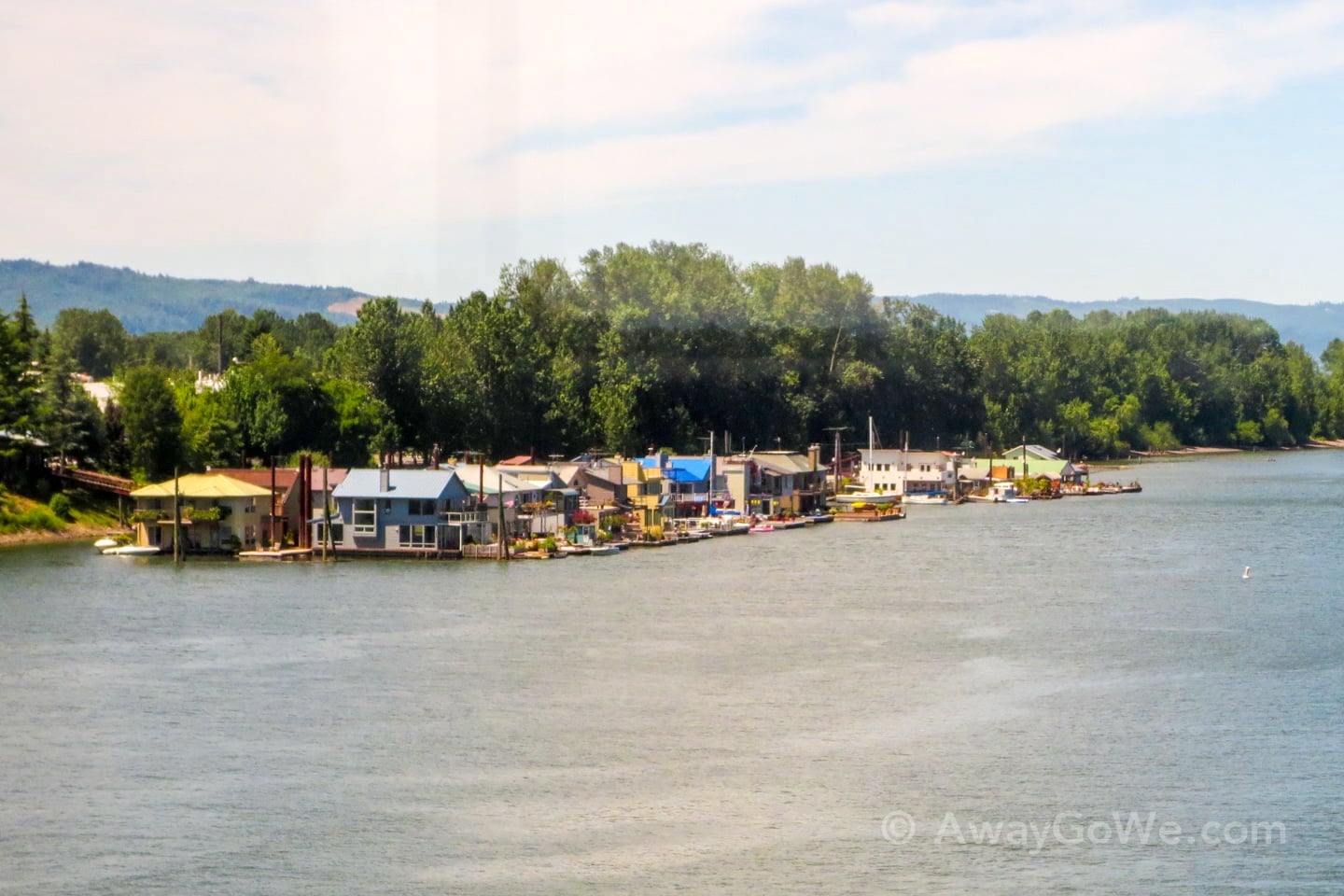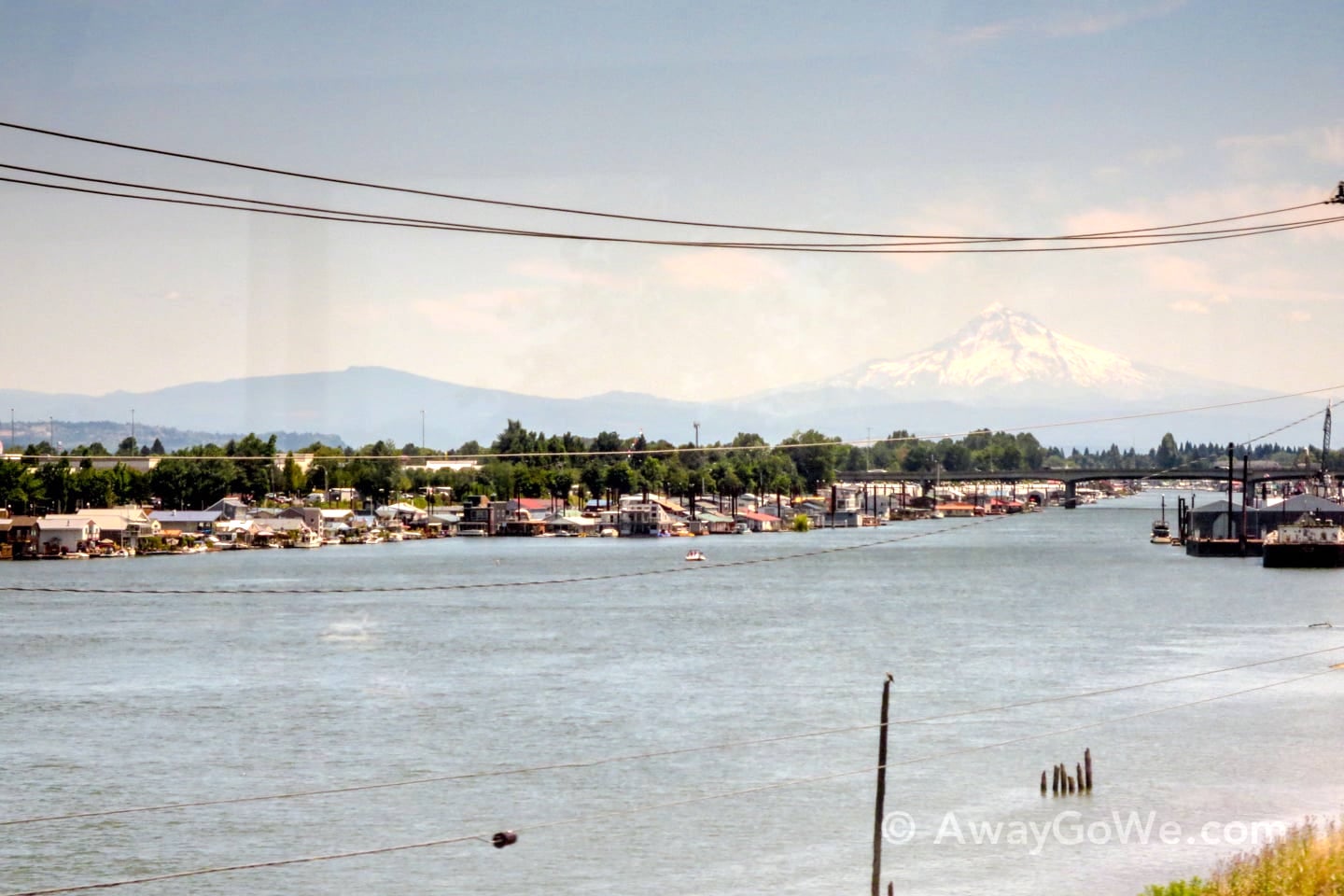 The Portland skyline appears just as we get ready to cross the Willamette river.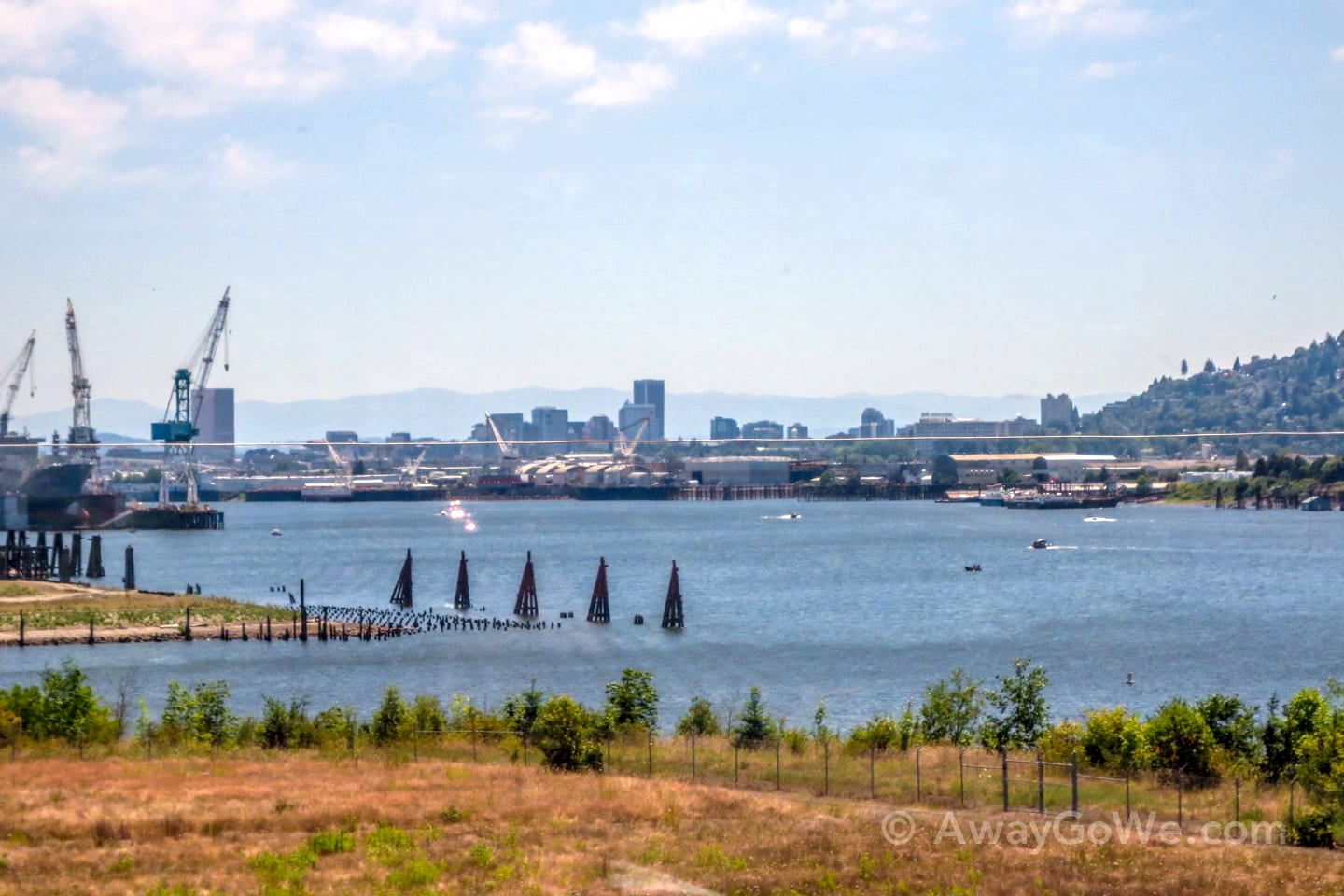 St. Johns Bridge, the northernmost of eleven bridges in the city of Portland that span the Willamette as of 2013. Completed in 1931, it was the longest suspension bridge west of the Mississippi at the time.
The train conductor announces a break at Portland's Union Station, so we get off to stretch our legs in the nearby Pearl neighborhood. Two hours and forty minutes more to Eugene! Then, an hour drive and we'll be back in Roseburg.