Our first Saturday in Uganda was spent walking around Old Kampala, viewing the mammoth "Gadhafi" Mosque perched on top of Kampala Hill, and taking a private hire taxi out to the Baha'i Mother Temple of Africa. In addition to the "Garden City," Kampala is also known as the "City of Seven Hills," and nearly all of the hills in Kampala have something interesting to see on top — mostly mosques and churches (and a Hindu temple). One hill sports a sizable Protestant cathedral, another, a lovely Catholic cathedral, another the old Kampala mosque, and still another, the imposing Gadhafi mosque.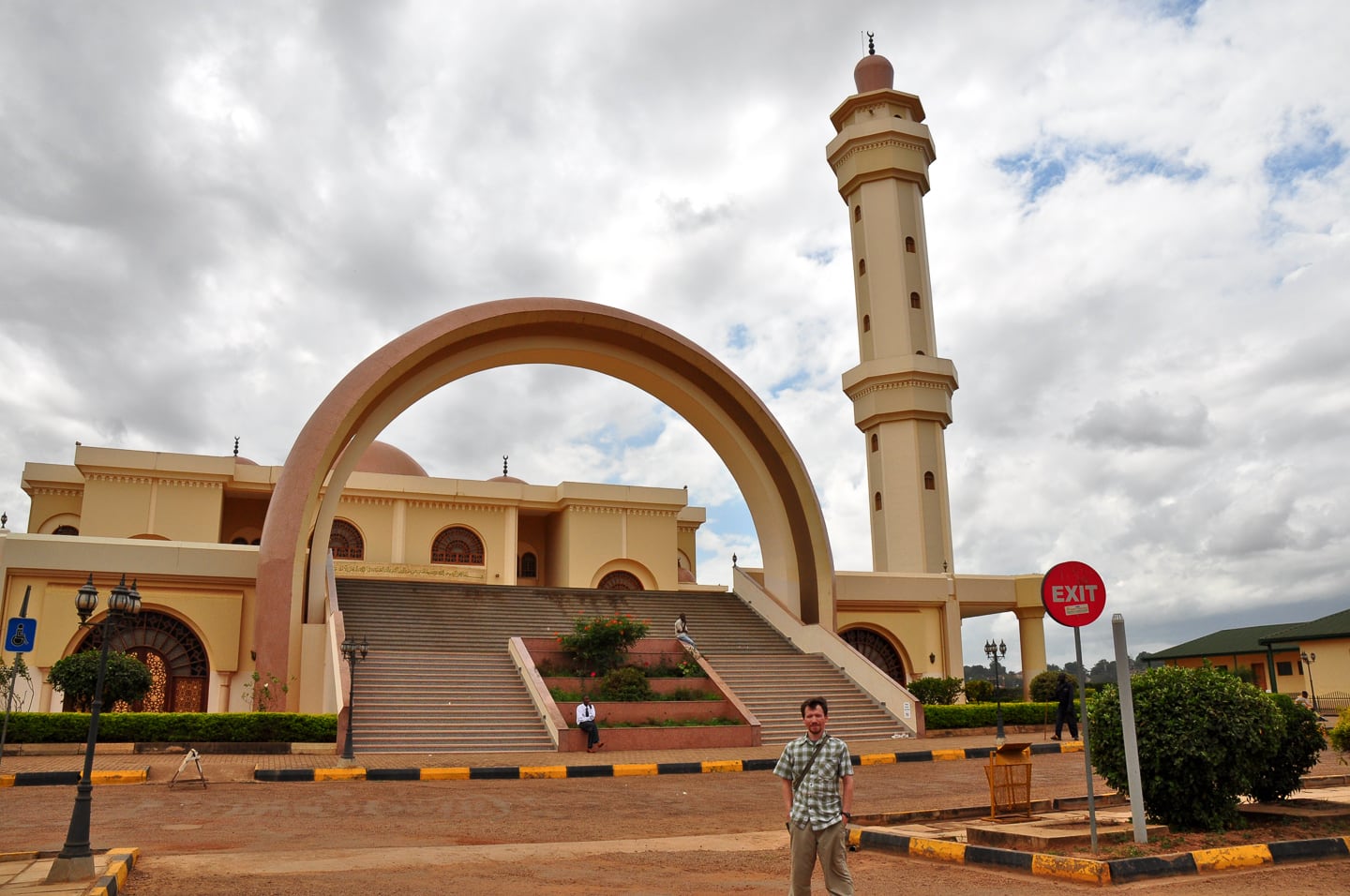 Kampala-Gadhafi Mosque
Construction on the Gadhafi mosque was started some thirty years ago and finished with a grant from Muammar [Gadhafi] himself. Ugandan leaders have a long history of being tight with the Libyan dictator, who has provided a variety of assistance to the Ugandan government over the decades.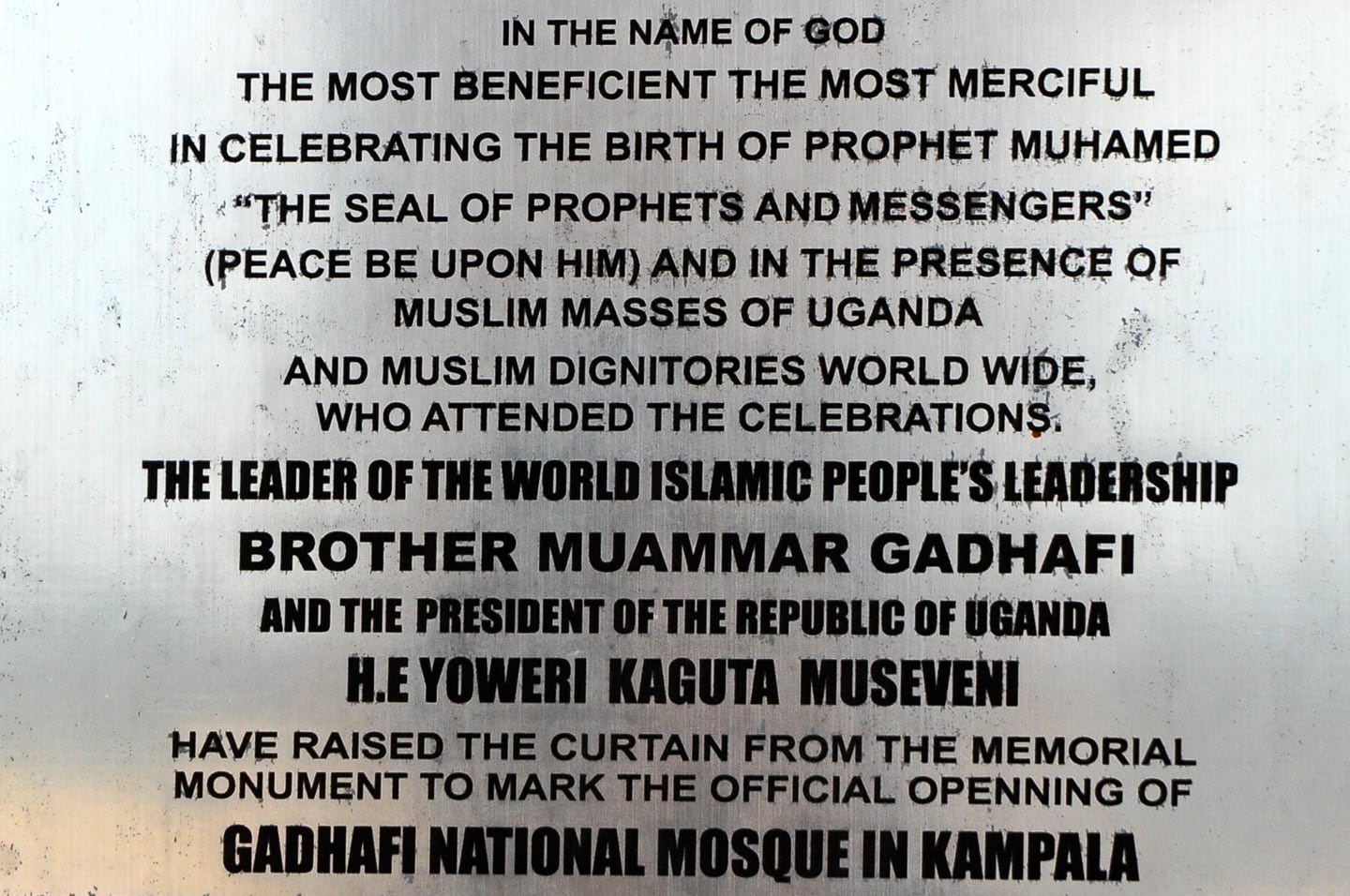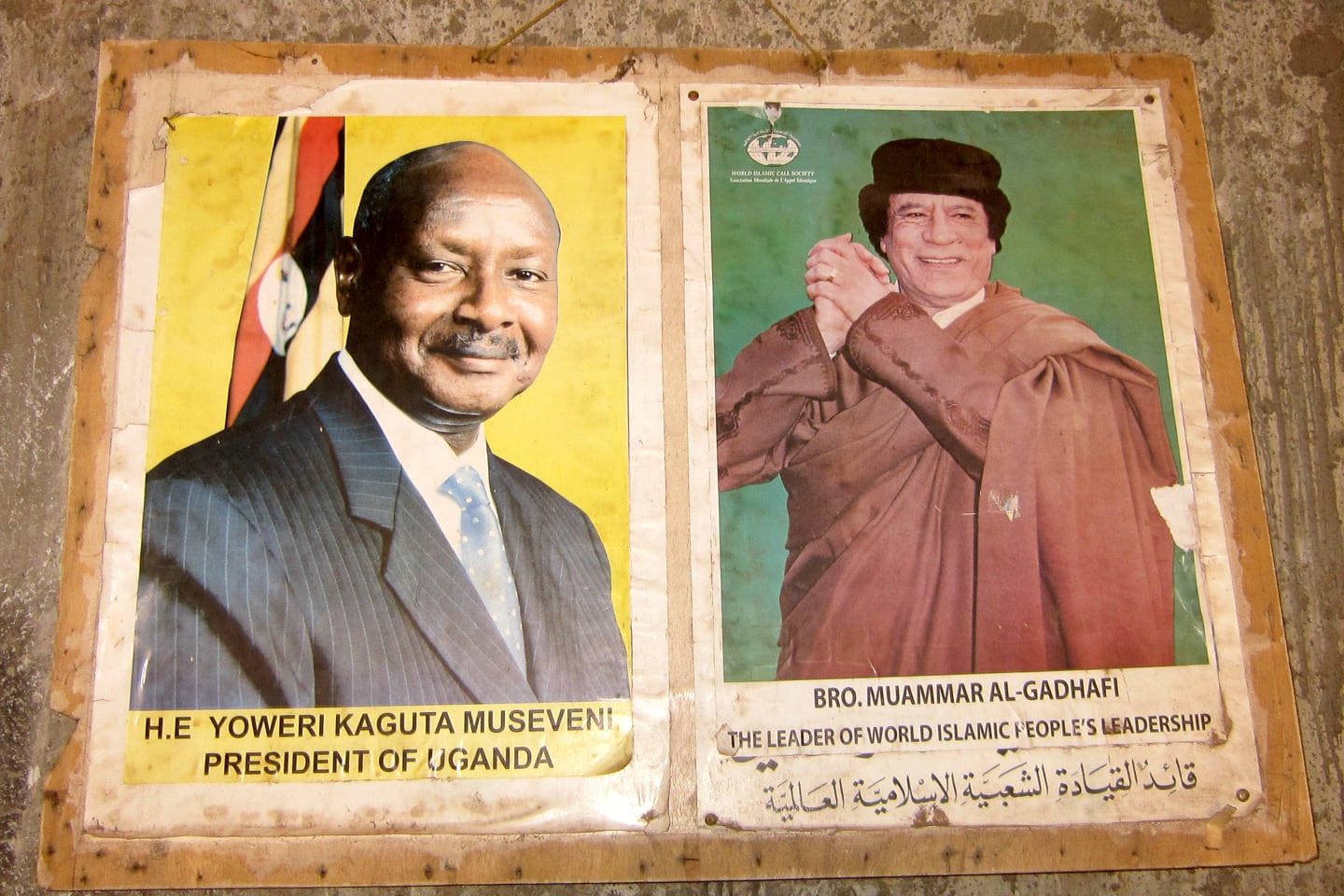 We weren't sure what to expect, having never toured a mosque before. I've been wanting to do this for quite some time but was under the impression that only Muslims could enter an Islamic place of worship. That may still hold true for all I know, but on this particular day (Saturday) one of the guards was happy to show us around the entire place.
But first, we heathens needed to make ourselves decent for Allah and friends. Fortunately, our guard was prepared for infidels and escorted us back to his guard hut where he showed off an array of colorful hijabs that he kept on hand for occasions such as these. Cross-[cultural]-dressing play time! How fun! He took a few moments to scowl at Alexandra's exposed forearms and head before proceeding to wrap her tightly and fastidiously in two large pieces of fabric. Being in Uganda and not Saudi Arabia (or Lamu, for that matter) the guard was kind enough to leave her face exposed to the acrid Kampala morning breezes.
After finishing dressing up Alexandra, I presented my heathen head and forearms, anxiously awaiting what the kind man with a sawed-off shotgun might have for me — ooh ooh ooh — a thobe with matching kufi? Or perhaps a dishdasha? Ooh, or maybe a formal ankle-length sherwani! But this was not to be as I was either barely decent or a hopeless case (the look on the guard's face led me to think it was more of the latter).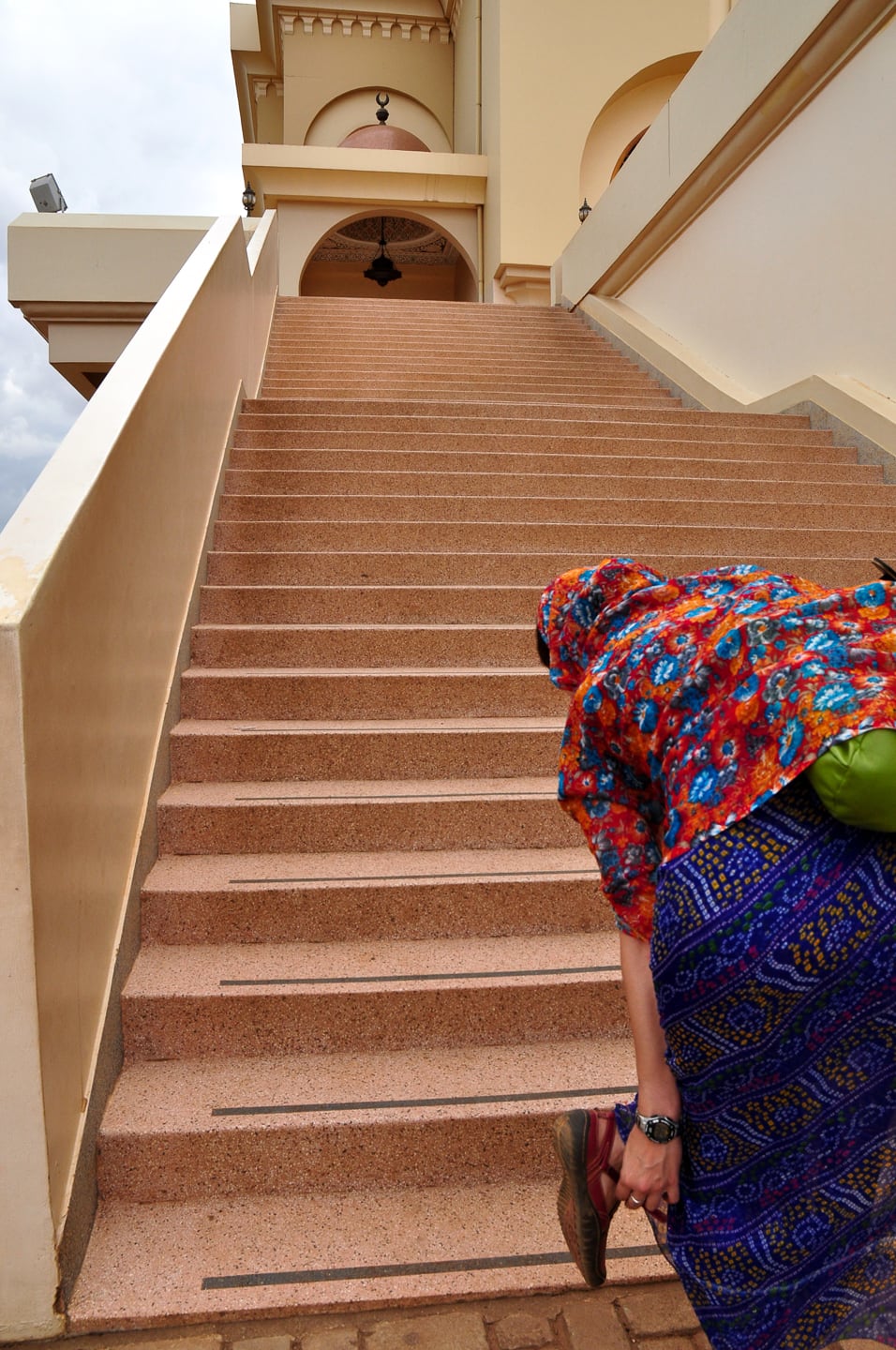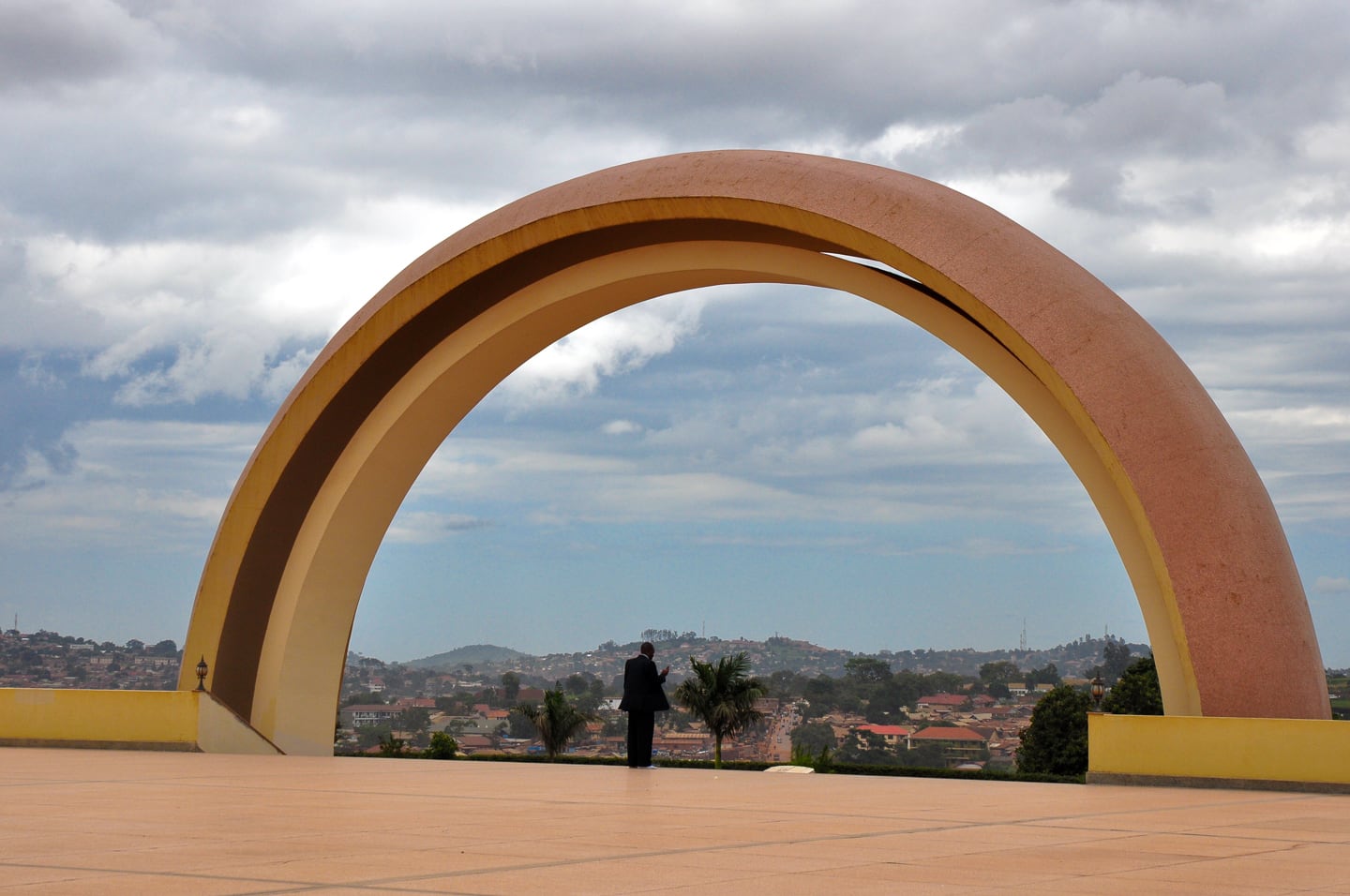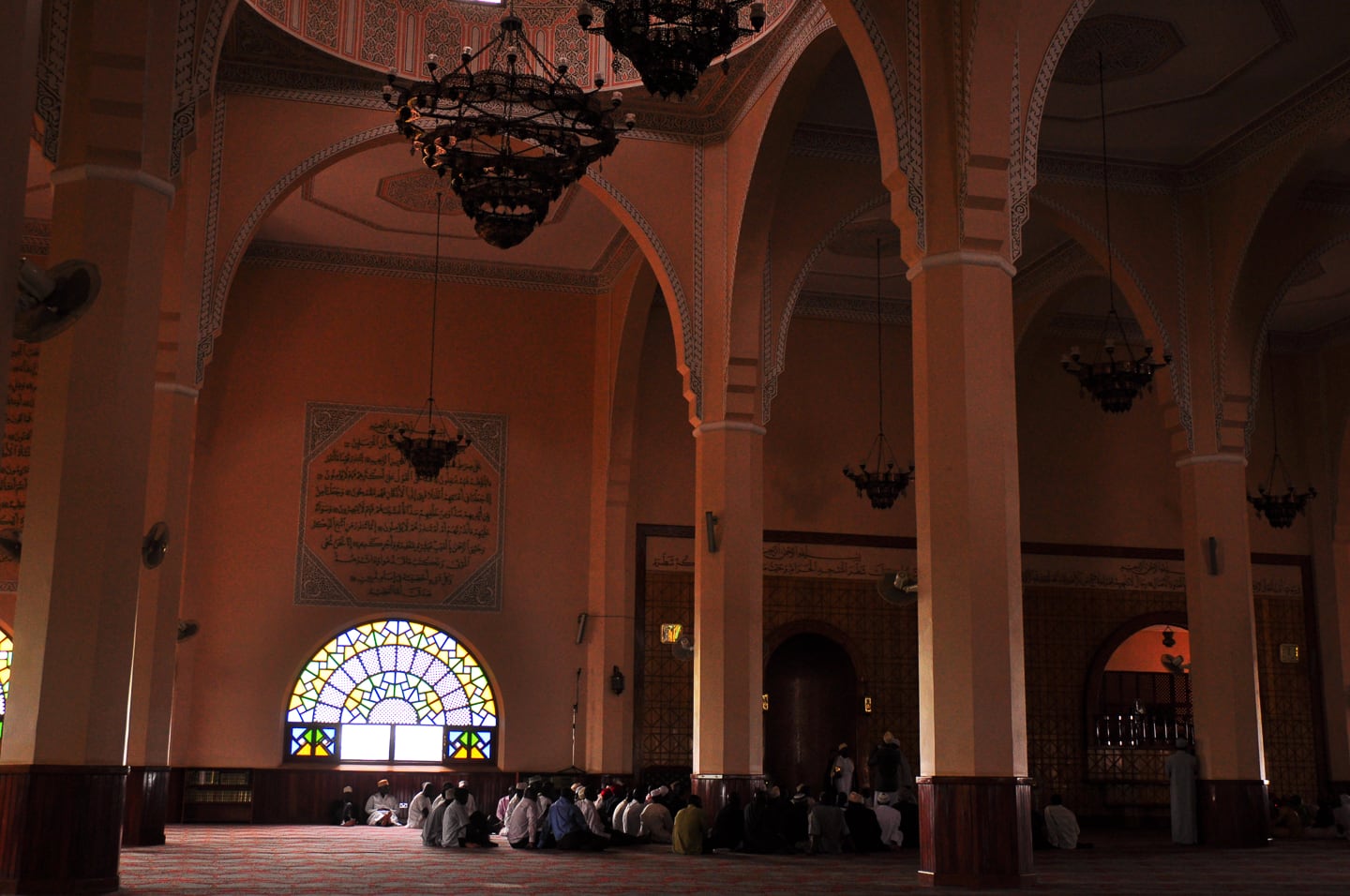 By all means, say what you will about Idi Amin and Gadhafi, but this mosque is one impressive crib, even if they did skimp on the chairs [that's a joke…by the way]. So after making Alexandra [sufficiently] modest, a second man sporting blue dungarees, a cane and a mad limp informed us he would be our tour guide — in fact, he informed us of a lot of things, such as that he had overseen the construction of the mosque and now he oversees the mosque as well. Not sure if that's entirely true, but the dude had a mammoth wad of keys — presumably to all of Gadhafi's secret bunker rooms — and that was good enough for us.
Our first stop on the mega mosque tour took us up the main stairs (no shoes allowed) and into the main hall for prayer and what-have-you. Our man informed us that, on a good day, the mosque can hold up to 7,000 male muslims in addition to 2,500 women in the special "women only" section. The ginormous mosque is also only used on Fridays and for special events.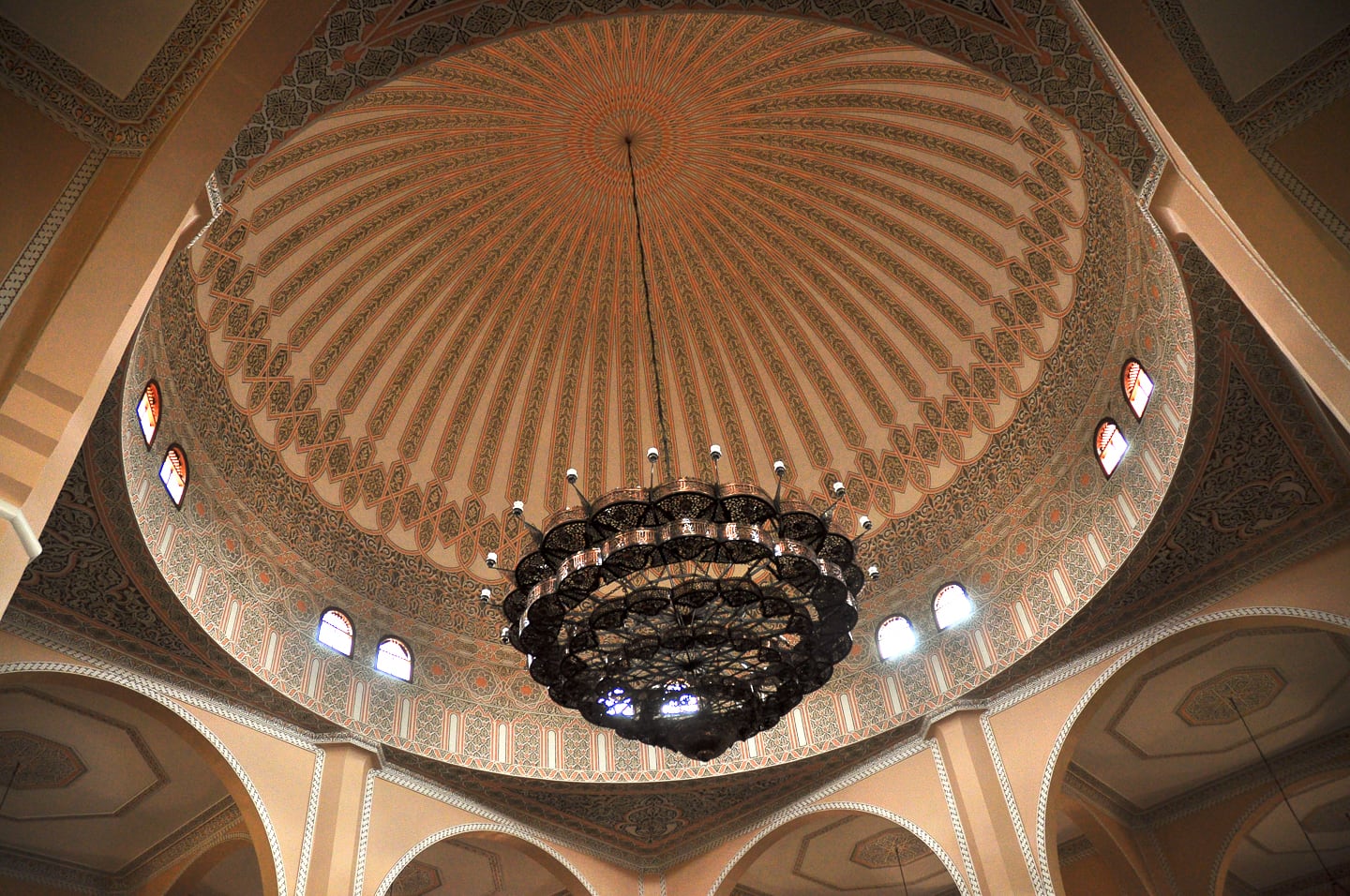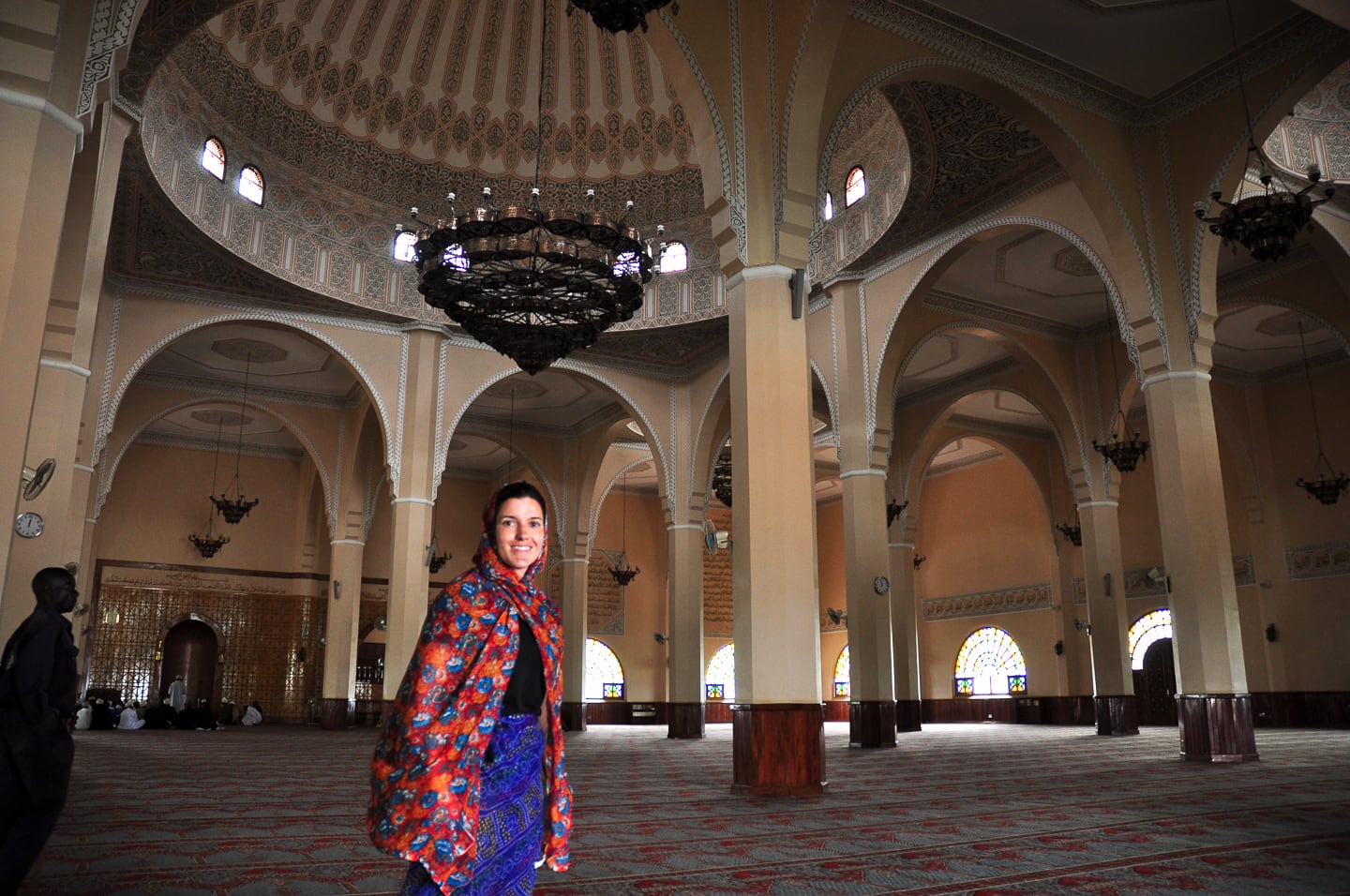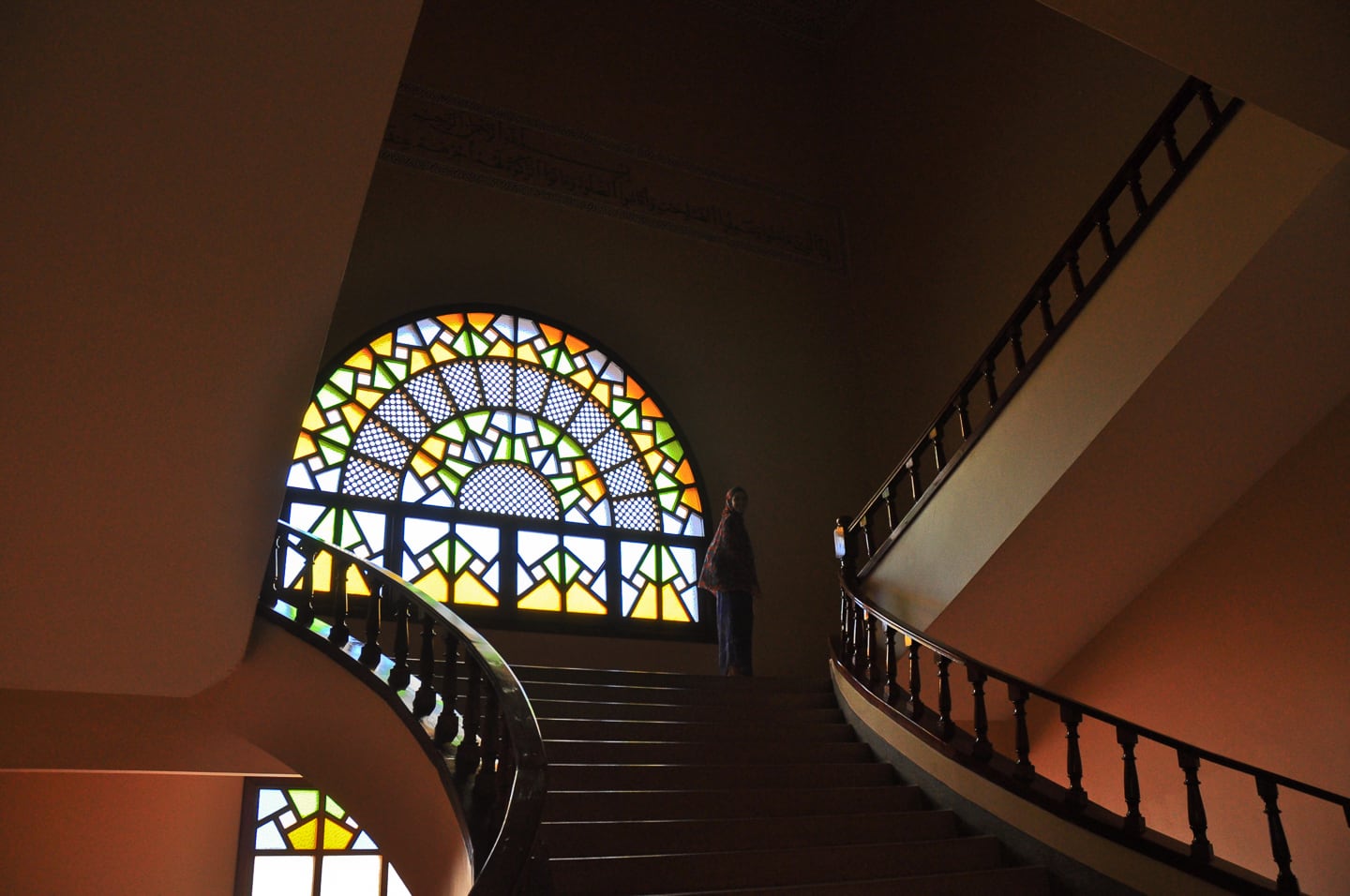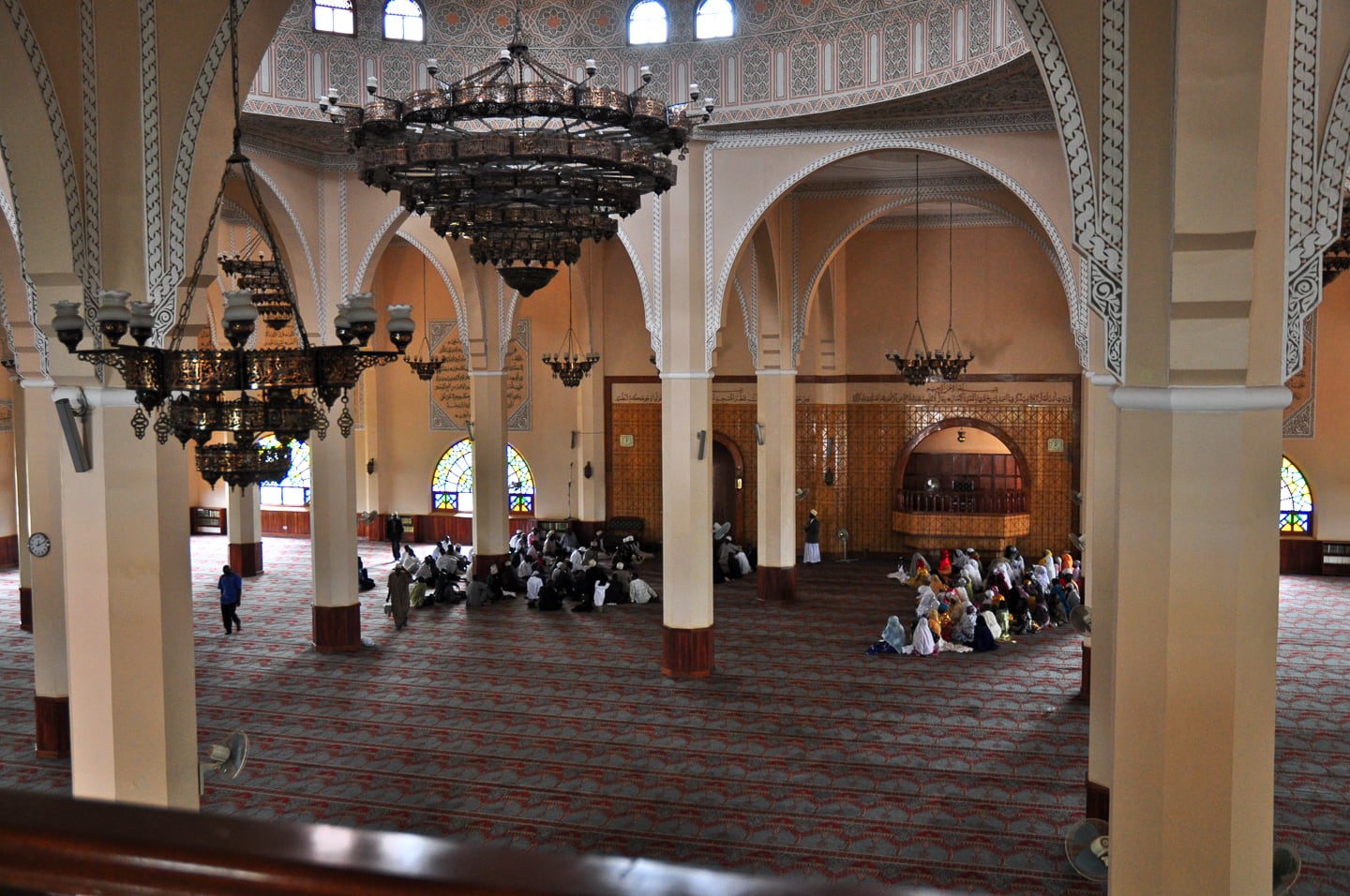 After wandering around the main hall for a while, our guide led us to the minaret. But first, a bit of background on the mosque itself (which won't take very long). Basically, the great mosque's construction was begun in the 1970s by that crazy dictator we all love to hate [for good reason] Idi Amin. Amin, however, never came close to completing the mosque, as he was forced into exile by Tanzanian forces soon thereafter. And so the large edifice stood vacant and unfinished — that is, until Gadhafi decided on a whim that he'd like to have a gigantic structure overlooking the capital city of Uganda named after him. The self-titled "Leader of the World Islamic People's Leadership" financed the rest of the project, which was finally completed in 2006.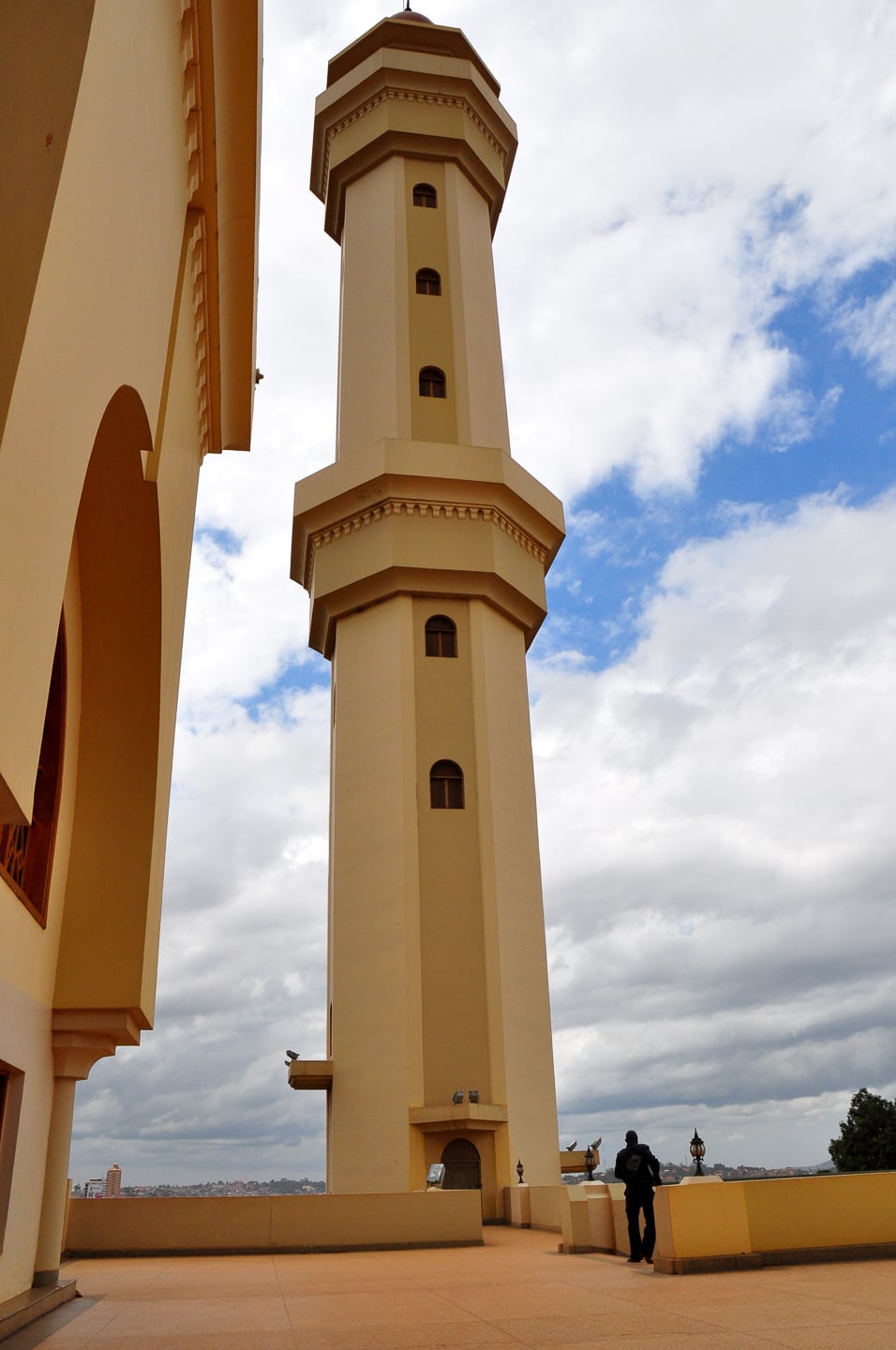 Our tour guide (the one with the cane and limp) led us up the very high tower to the top of the minaret. He proudly stated that he makes the trip up and down seven times per day on average (round trips), but jacked up his foot a couple days earlier during one of his descents. Still, he remained in tip-top shape and gave us a run [or climb] for our money [no pun intended].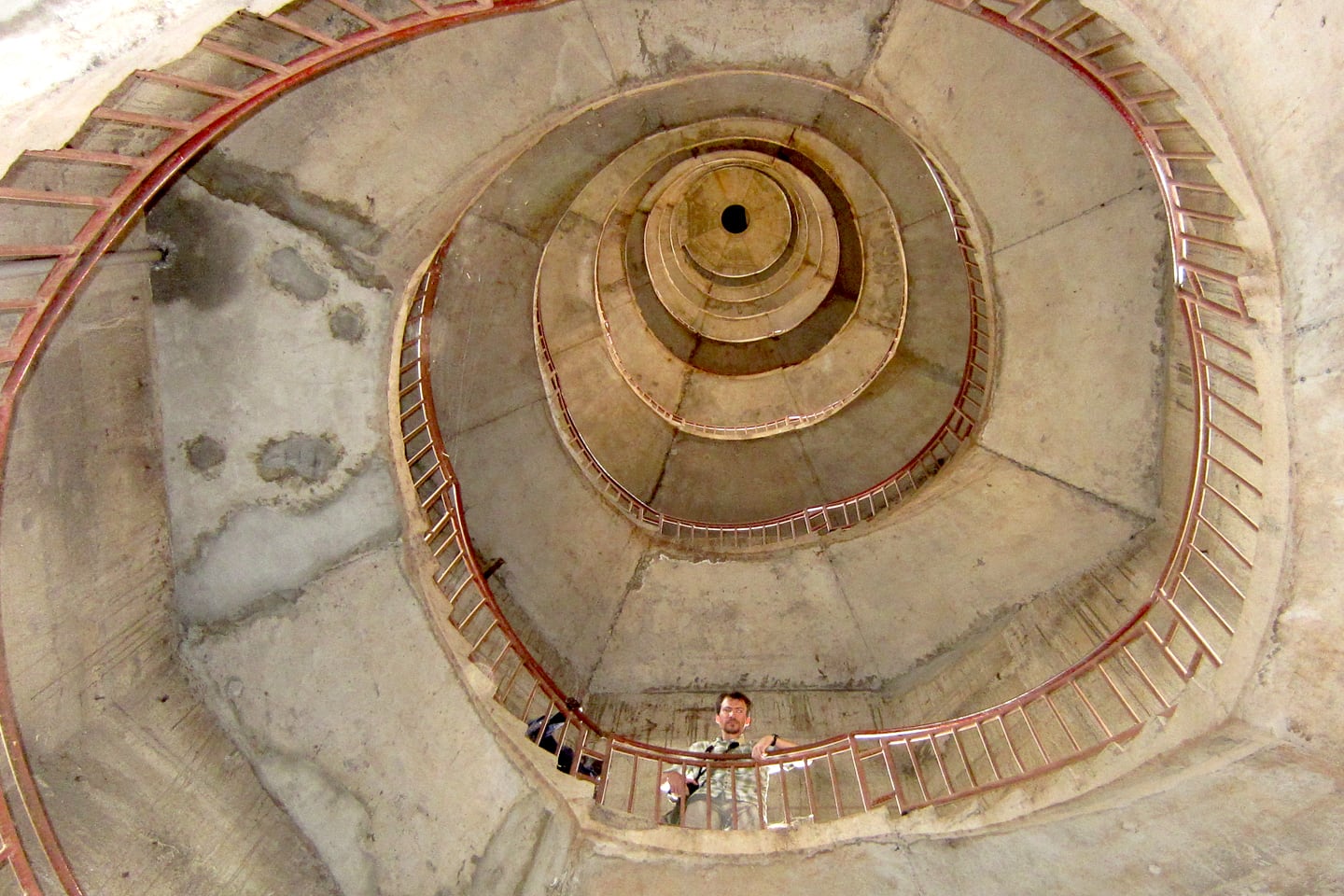 When we reached the top, we could see all of Kampala in all directions. Despite the thick haze, it was quite a sight to behold. Kampala is definitely a transit town, and our man took a couple of minutes just pointing out all of the different bus parks [stations] and transit centers — "That is the bus park to Tanzania, and that one has buses going to Kenya, and that one over there has Rwanda buses and buses to Burundi and Congo, oh and there's the Sudan bus park, and the domestic buses to the north, and those are to the east, and west" [and so on].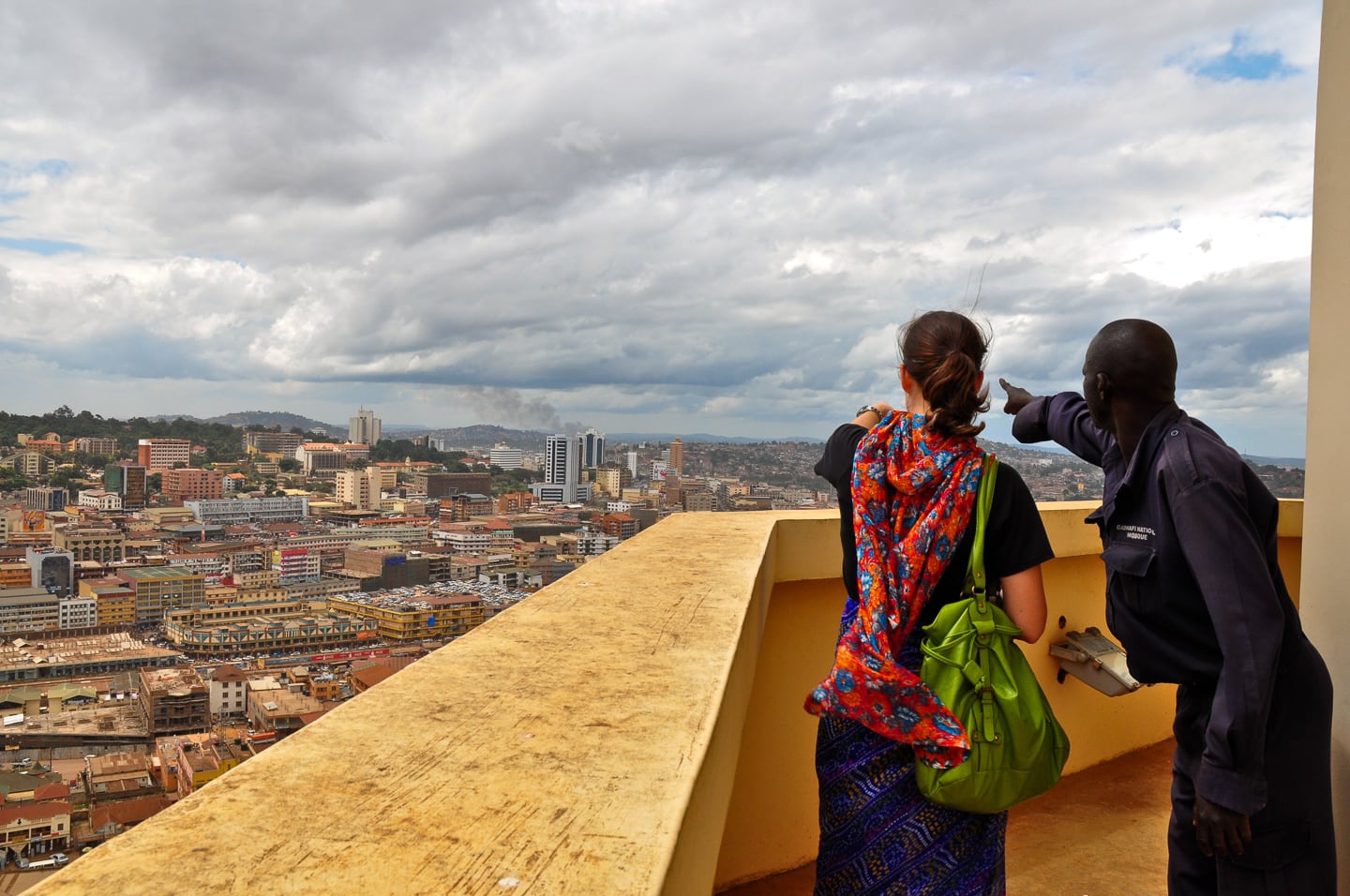 He needn't point out the two very obvious transit centers which dominate a substantial chunk of lower Kampala – the Old Taxi [Matatu] Park, and the New Taxi Park, the two largest taxi/transit parks in all of Africa (by some accounts)…and they are indeed a couple of crazy parks, as we would soon find out. For years, Kampalans complained that their transit system of matatus was grossly insufficient, congested, antiquated, and underfunded. So, the city government responded by "expanding" the current transit system, constructing a second "new" matatu park next to the current one — not so sure that that is what the people had in mind…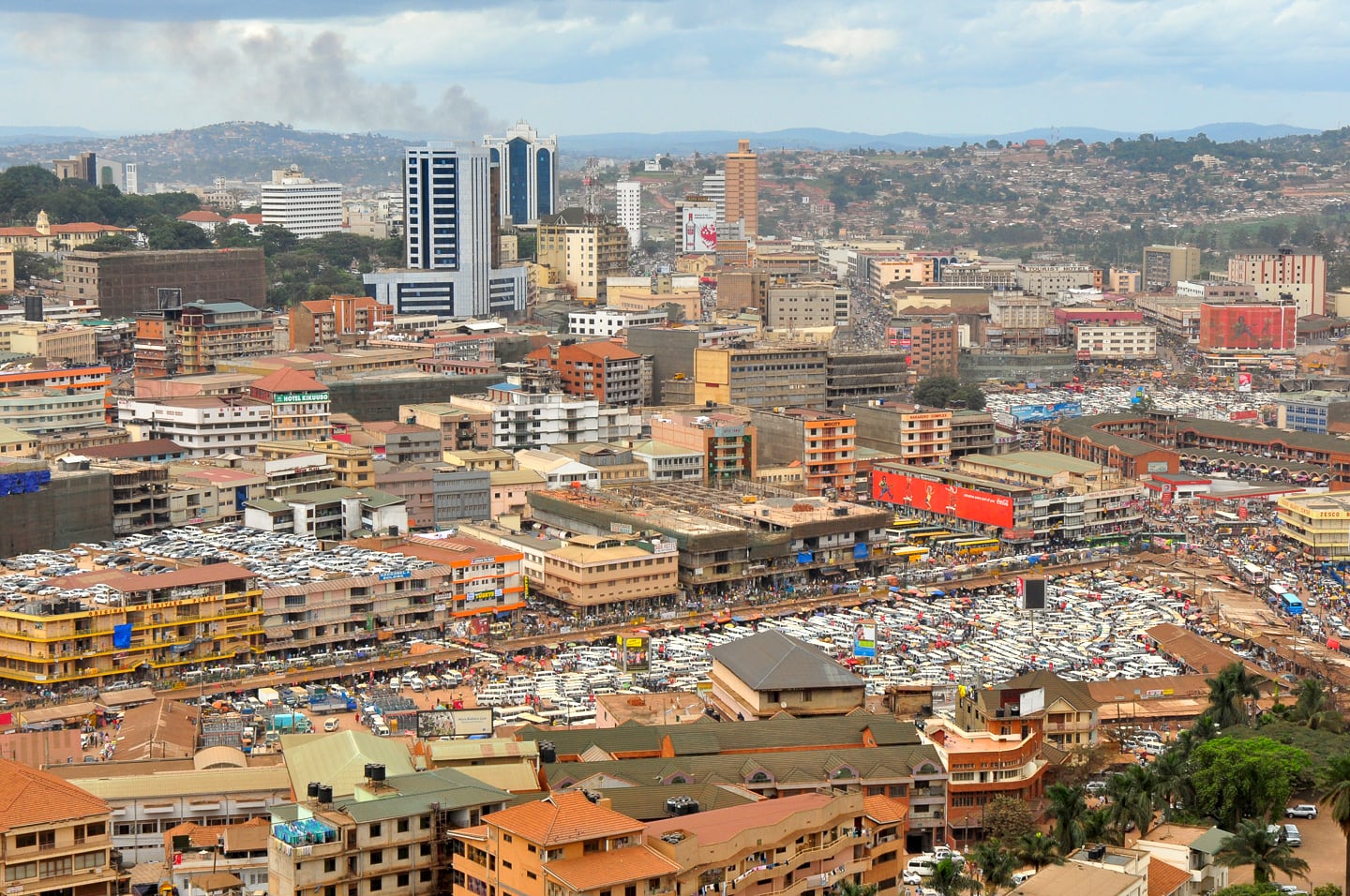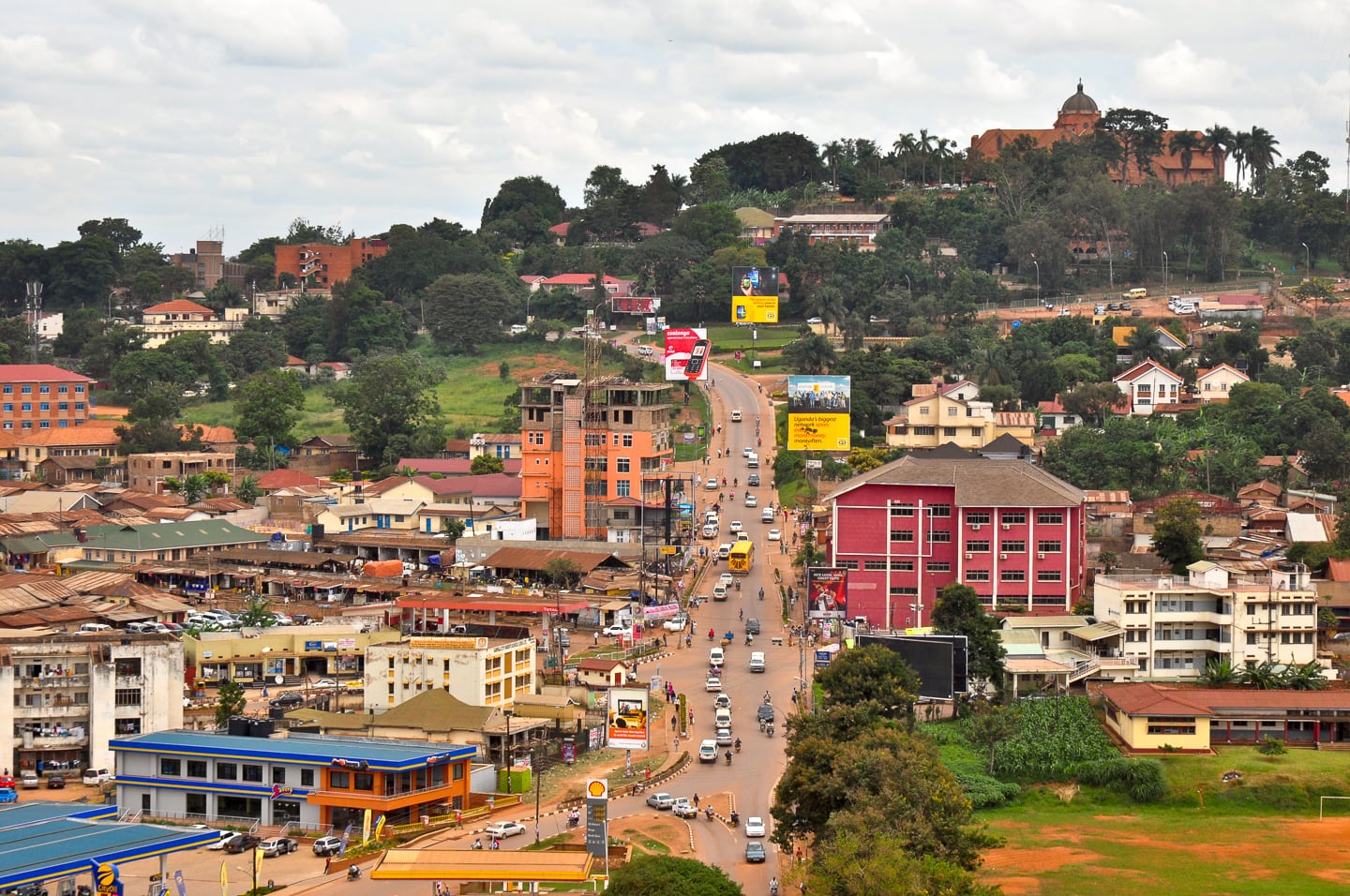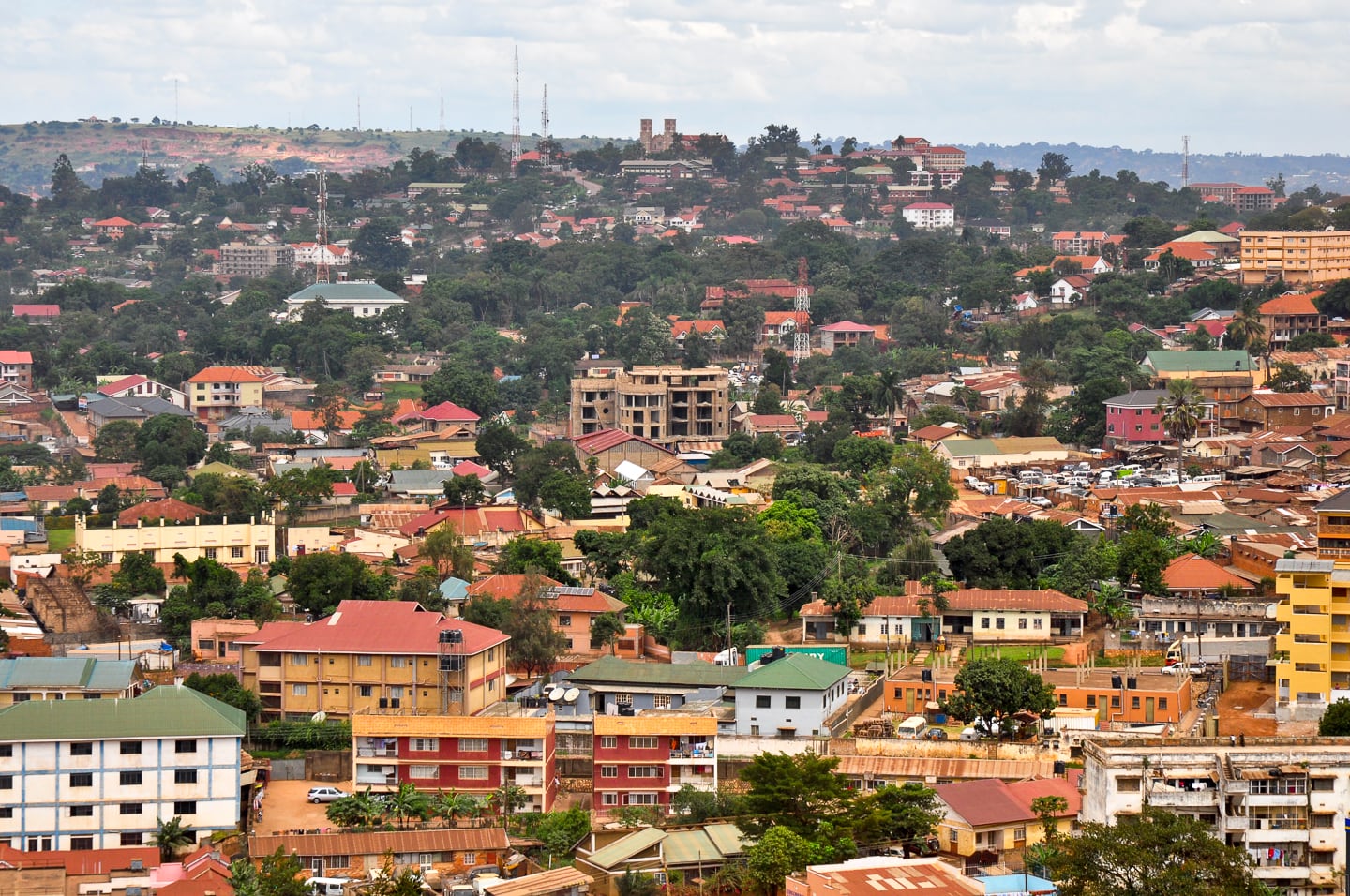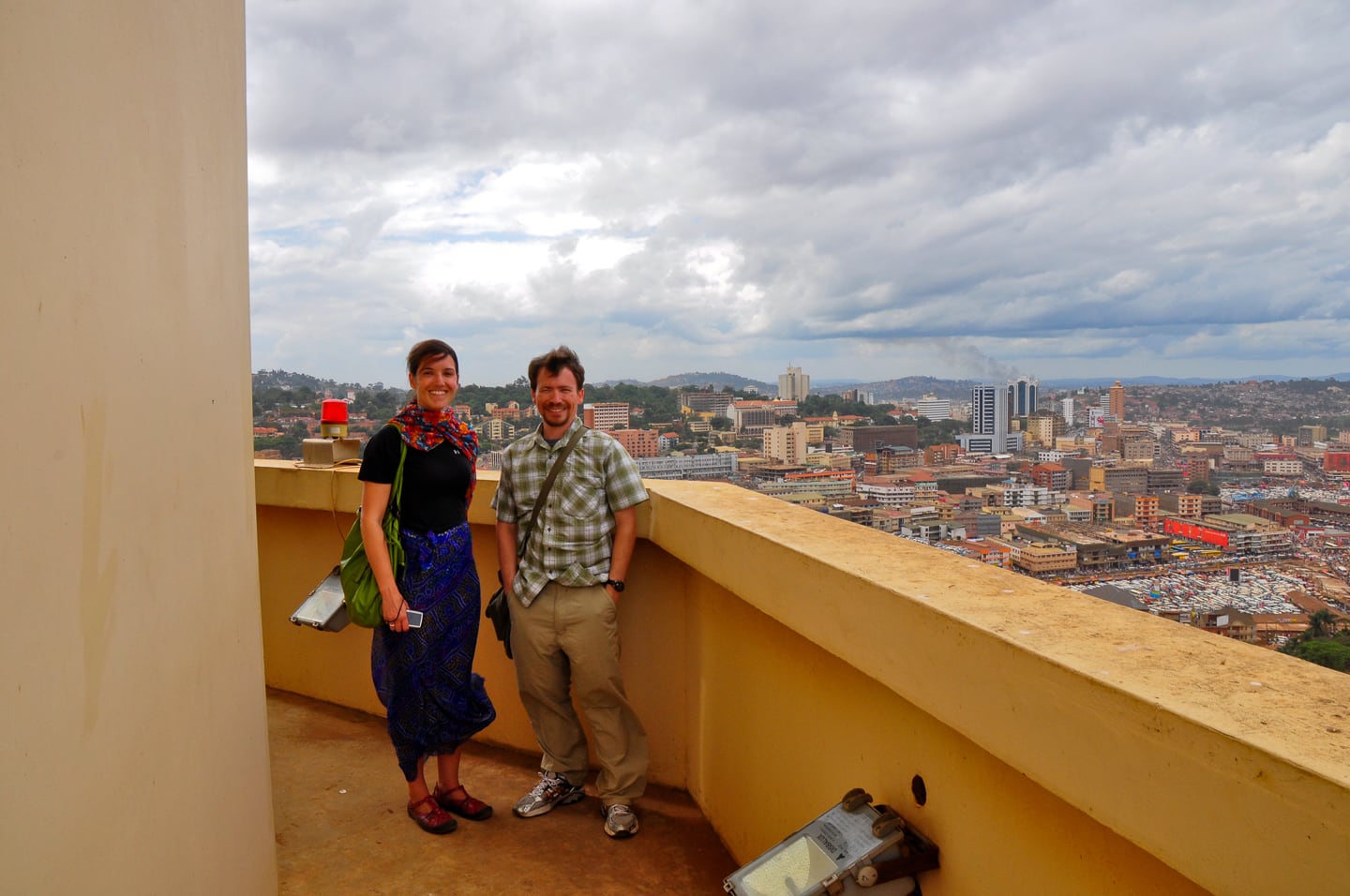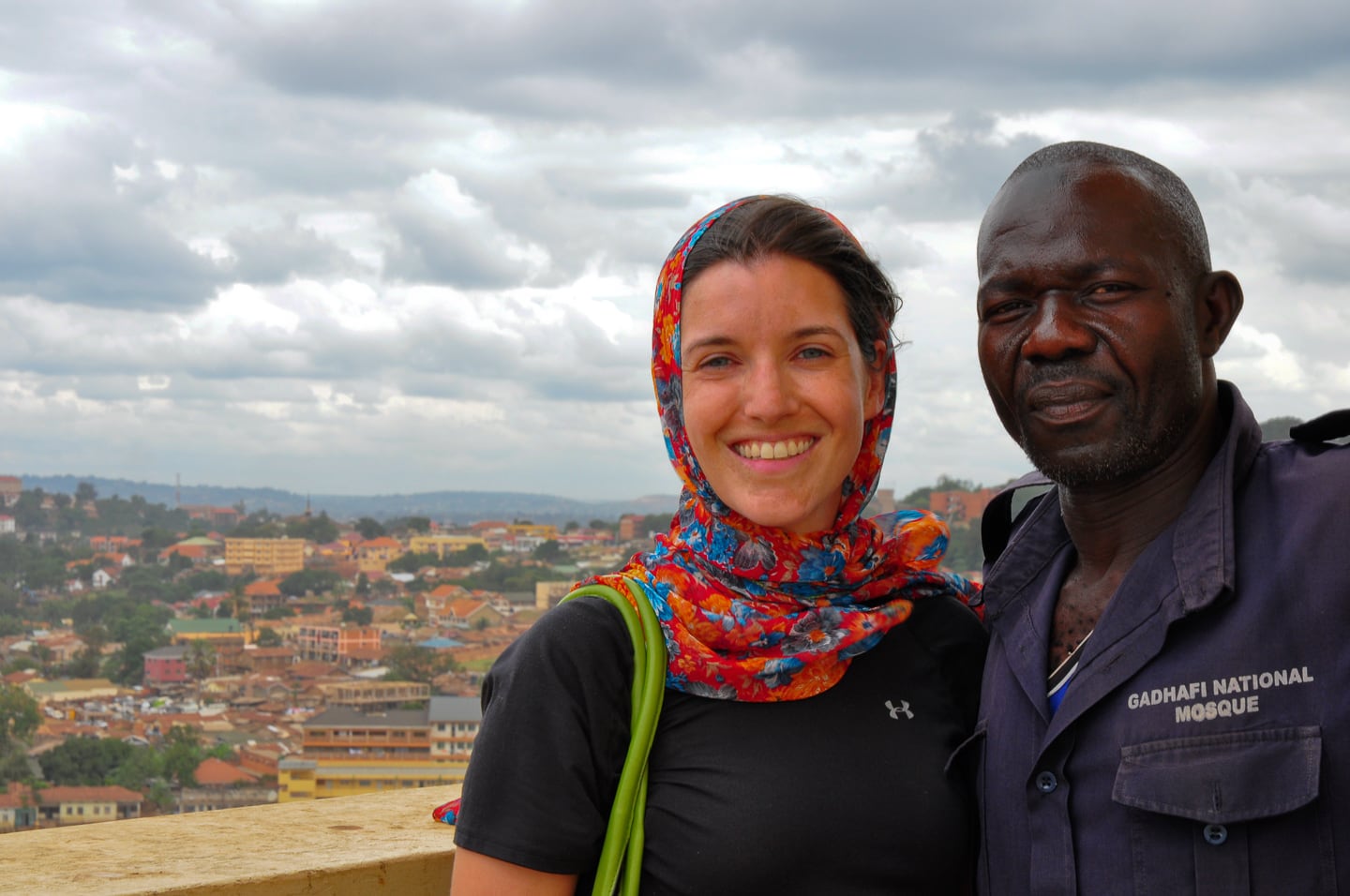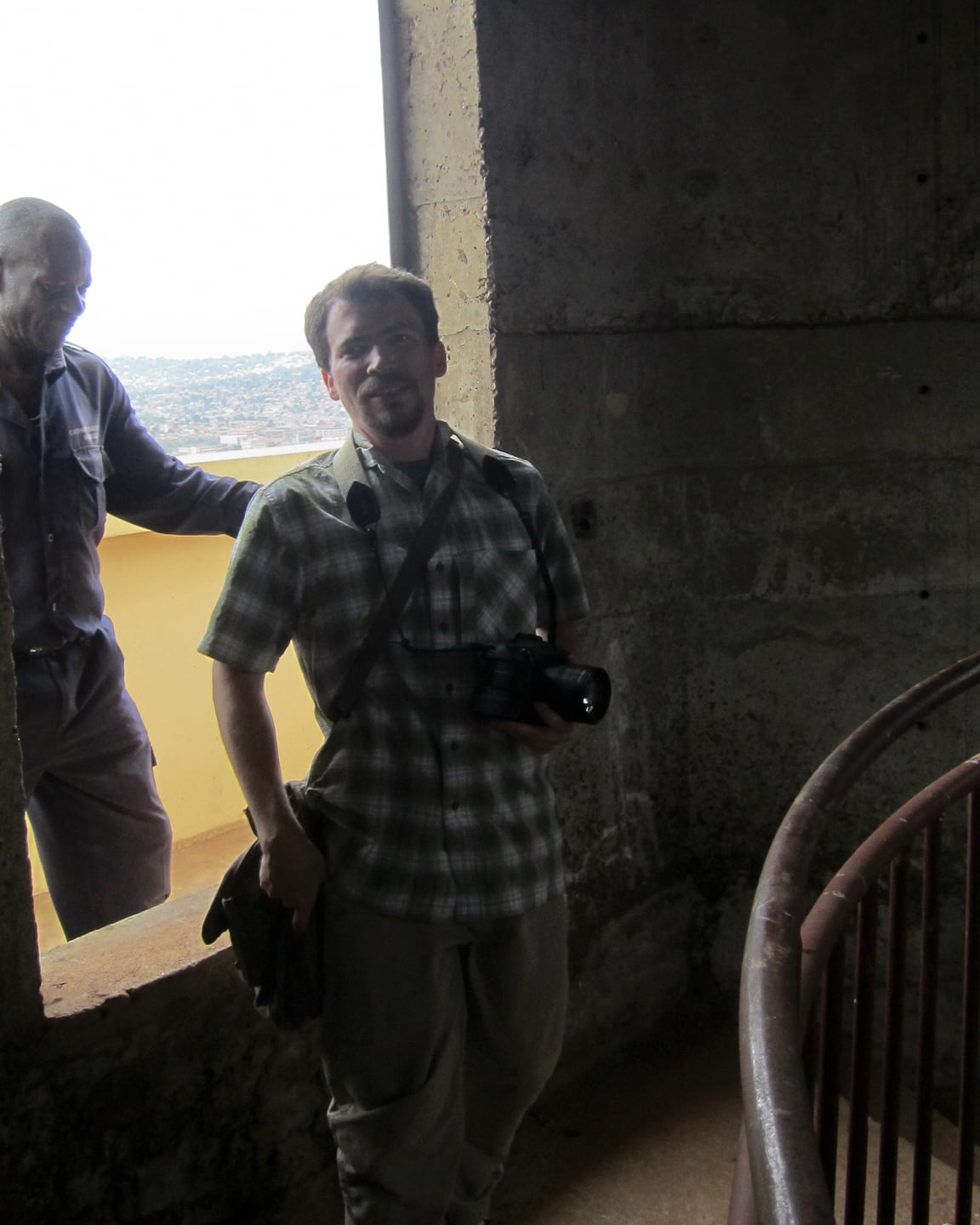 And now for something completely strange — so we had agreed beforehand on the low-low price of just $8 to climb the minaret (the rest of our tour was 'on the mosque'), but our guide felt compelled to ask for payment at the top of the minaret as we were getting ready to go back down. It's not like we left him or he left us, and there was still more tour to do. Before returning down the stairs he tapped me on the shoulder and said "You pay now." I often wonder what would have happened at that point if I would have refused — as there are a number of places one could be tossed off from such a high perch. I paid him the money of course and he granted me the privilege of using the stairs to return to the ground rather than any unfortunate alternative method he may have selected.And back down we go…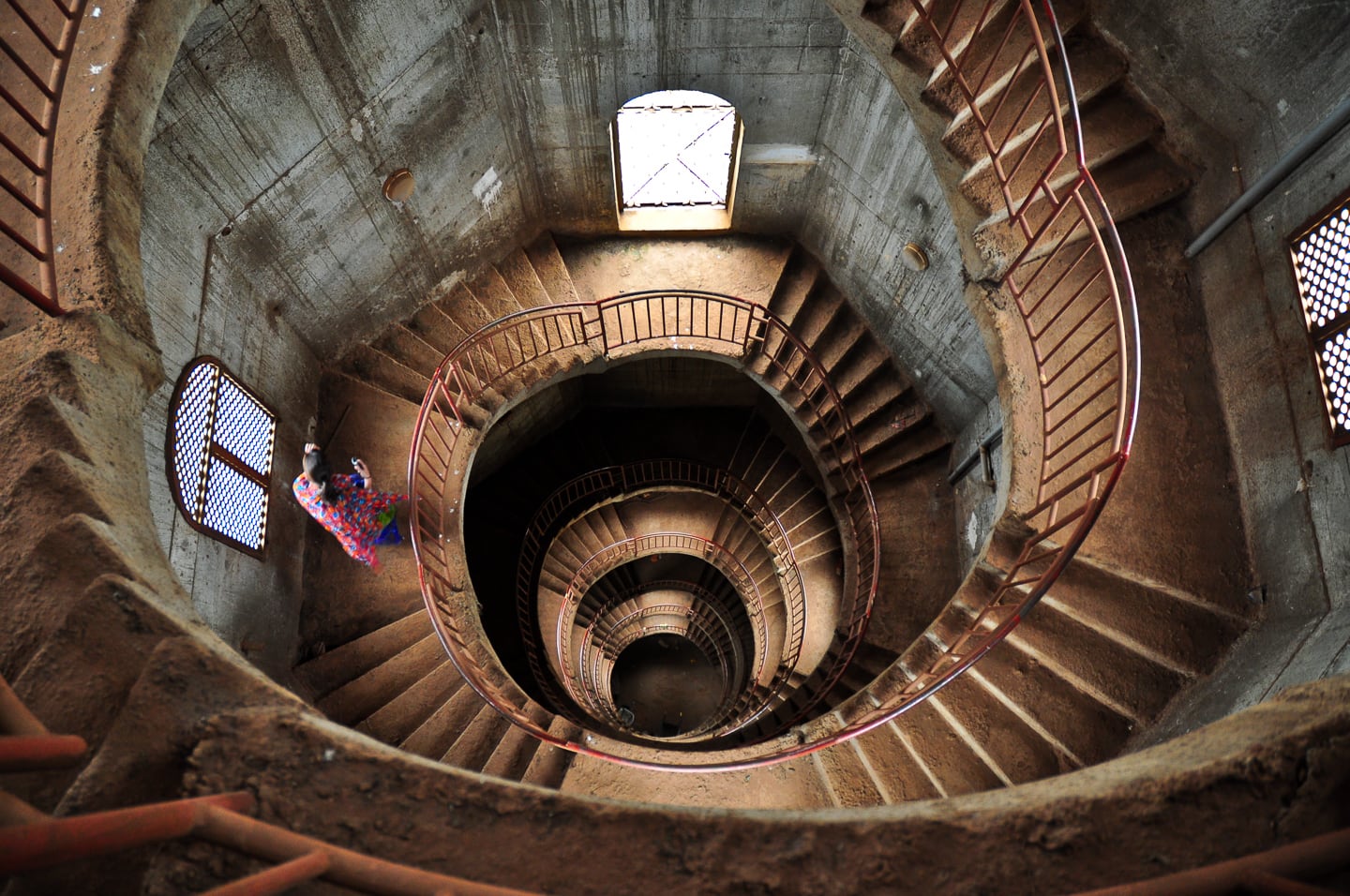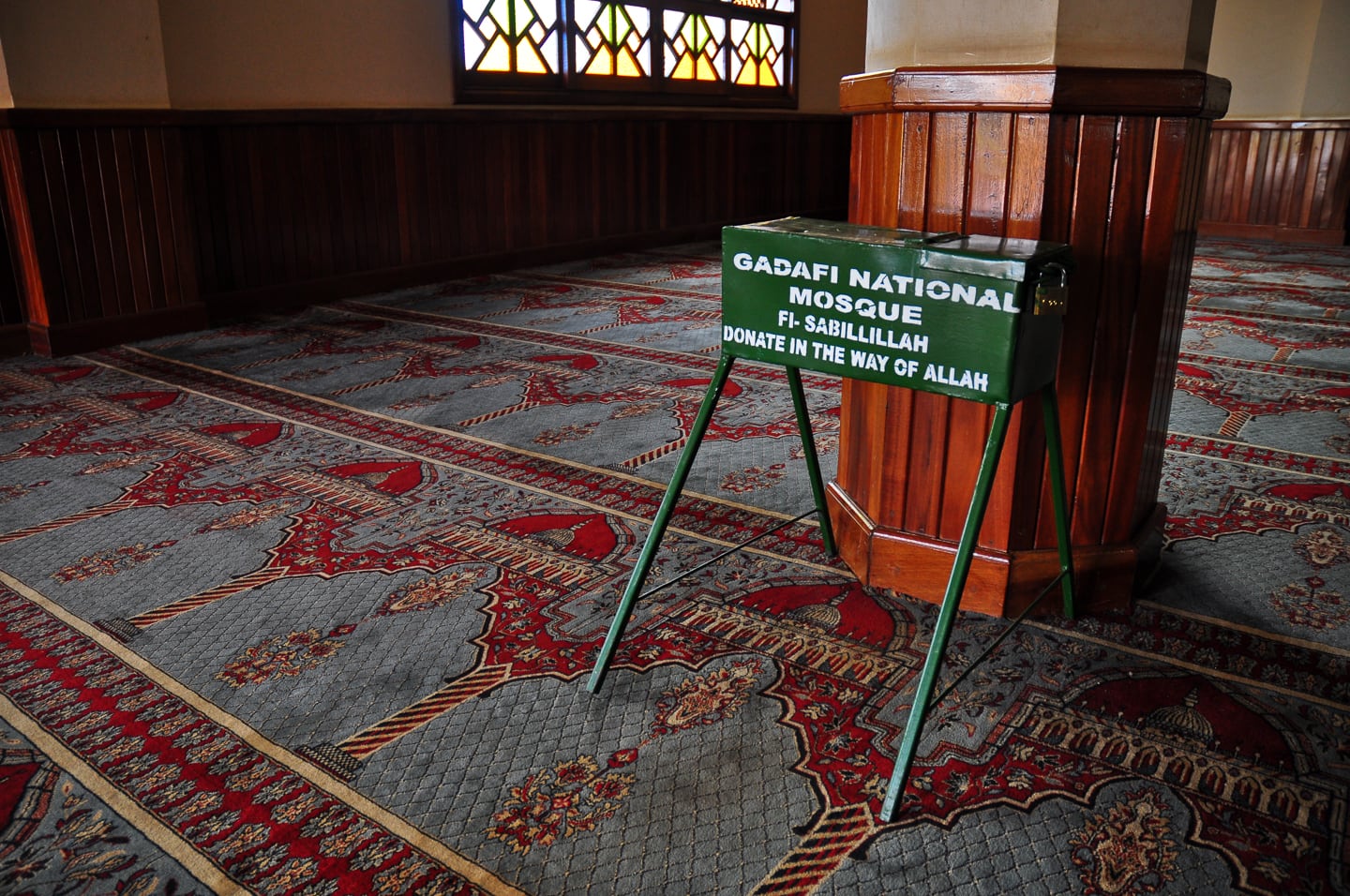 And on your way out, don't forget to drop a few shillings into the Gadhafi collection box. All proceeds go towards funding community projects in the greater Kampala community –and/or– funding the ongoing war on democracy in Libya. Ok, I'm really not that cynical…though the building is named after one of the world's craziest murderous tyrannical despots…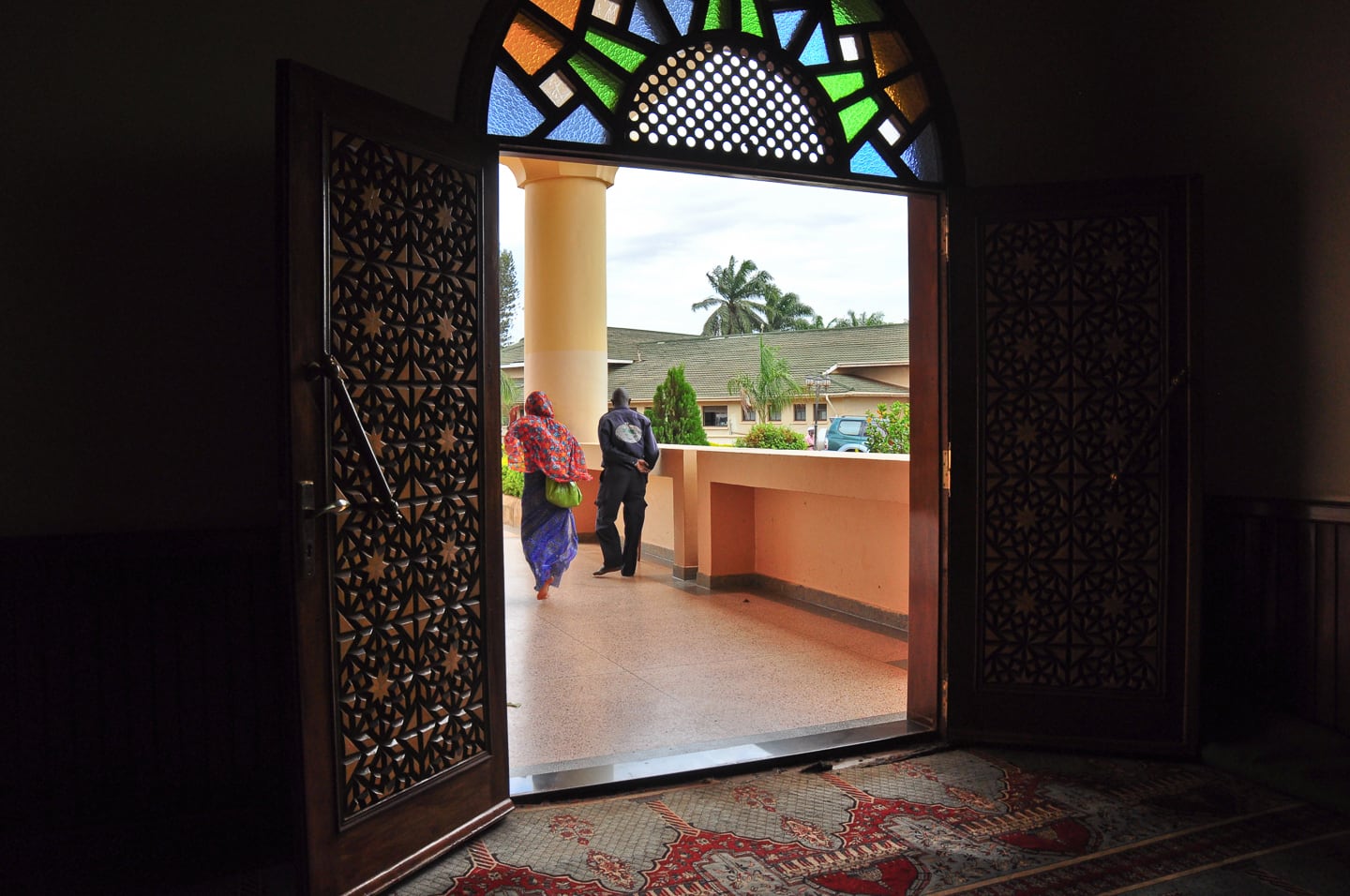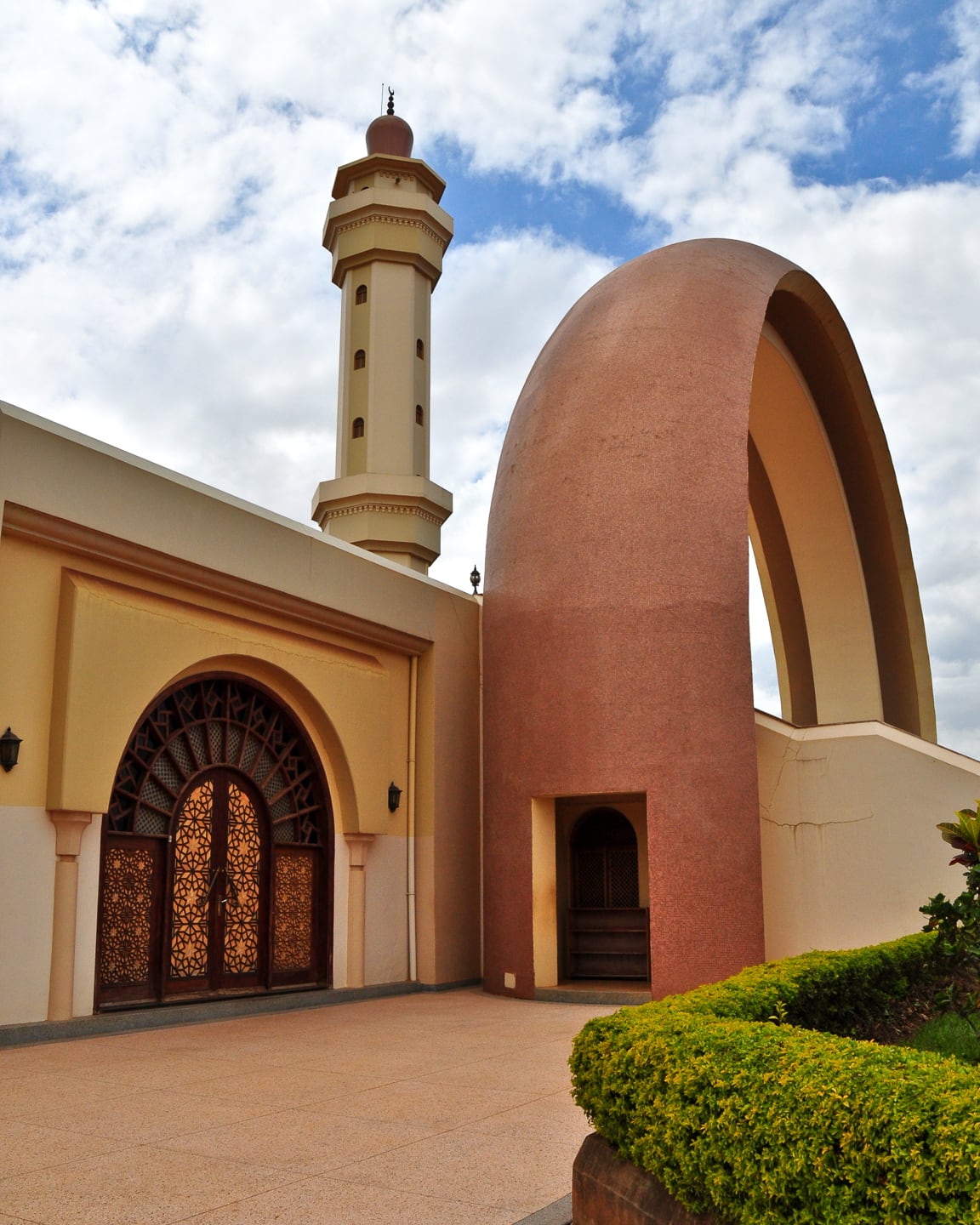 •  •  •
Bahá'í Mother Temple of Africa
Next, we headed way out to the suburbs of Kampala to visit the Bahá'í temple. Each continent has but one of these, and the temple for the African continent is located in Kampala.
On this particular day, the temple was not in use, but when it is, all 8 doors are opened on each side of the octagonal structure to let light and air in from all directions.The grounds were tremendously peaceful, offering excellent views of the countryside and downtown Kampala.
"So, what is this Bahá'í you speak of?" you ask? Read the description posted at the temple below.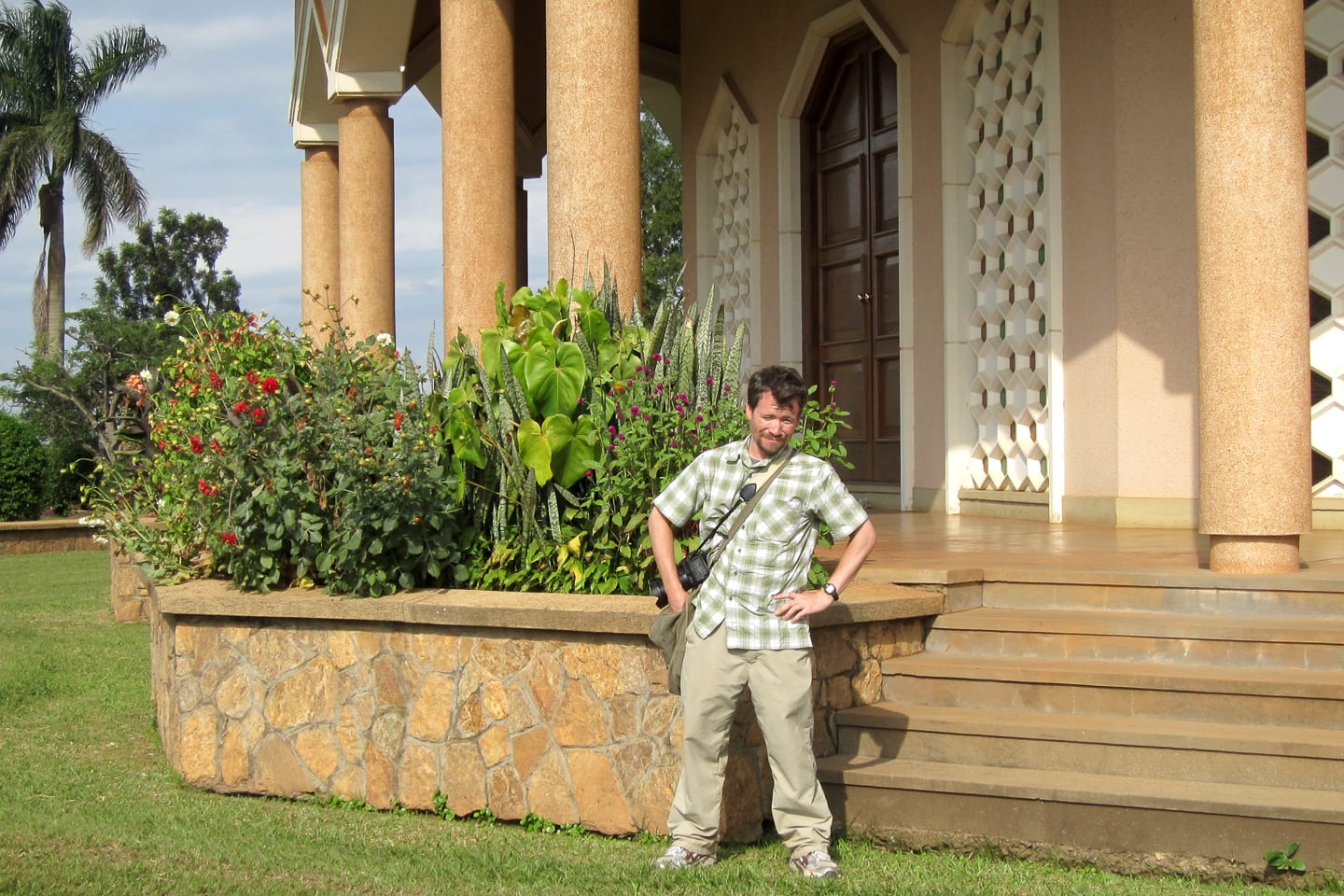 There was an elder there who showed us around the grounds and allowed us to walk around inside. He told us a bit about what they do, some background on the Baha'i faith, and the history and significance of the building. Before leaving, we felt compelled to give him something for his time and information. When we did, he refused, saying that they are only permitted to accept donations from other baha'is. I appreciated this simple rule and the gentleman's honesty and sincerity. If I were religion-hunting, that gesture, along with the man's enthusiasm for his own faith and sincere respect for others' beliefs might have gone a long way in sparking further interest.And with that, I think it's time for some butterflies.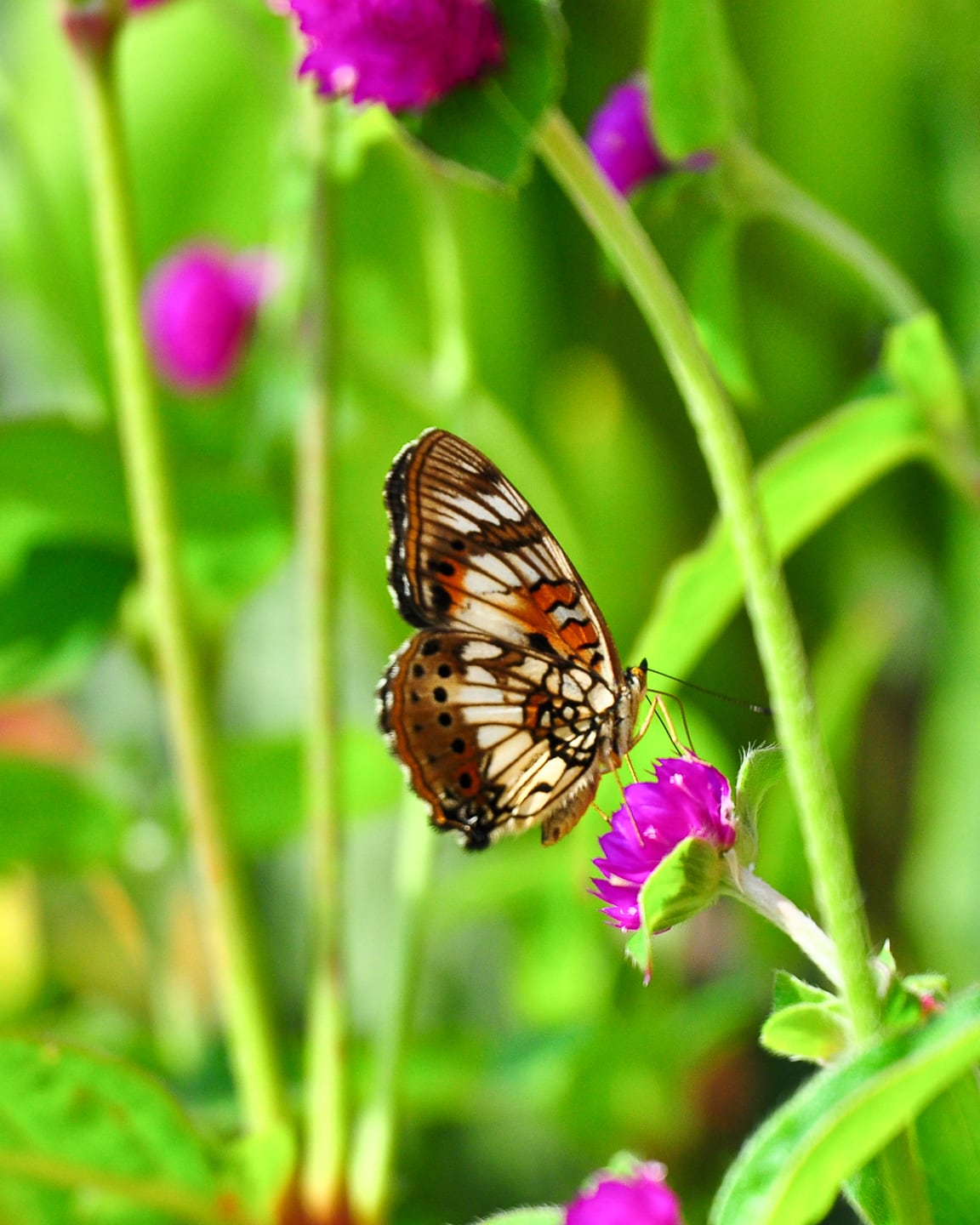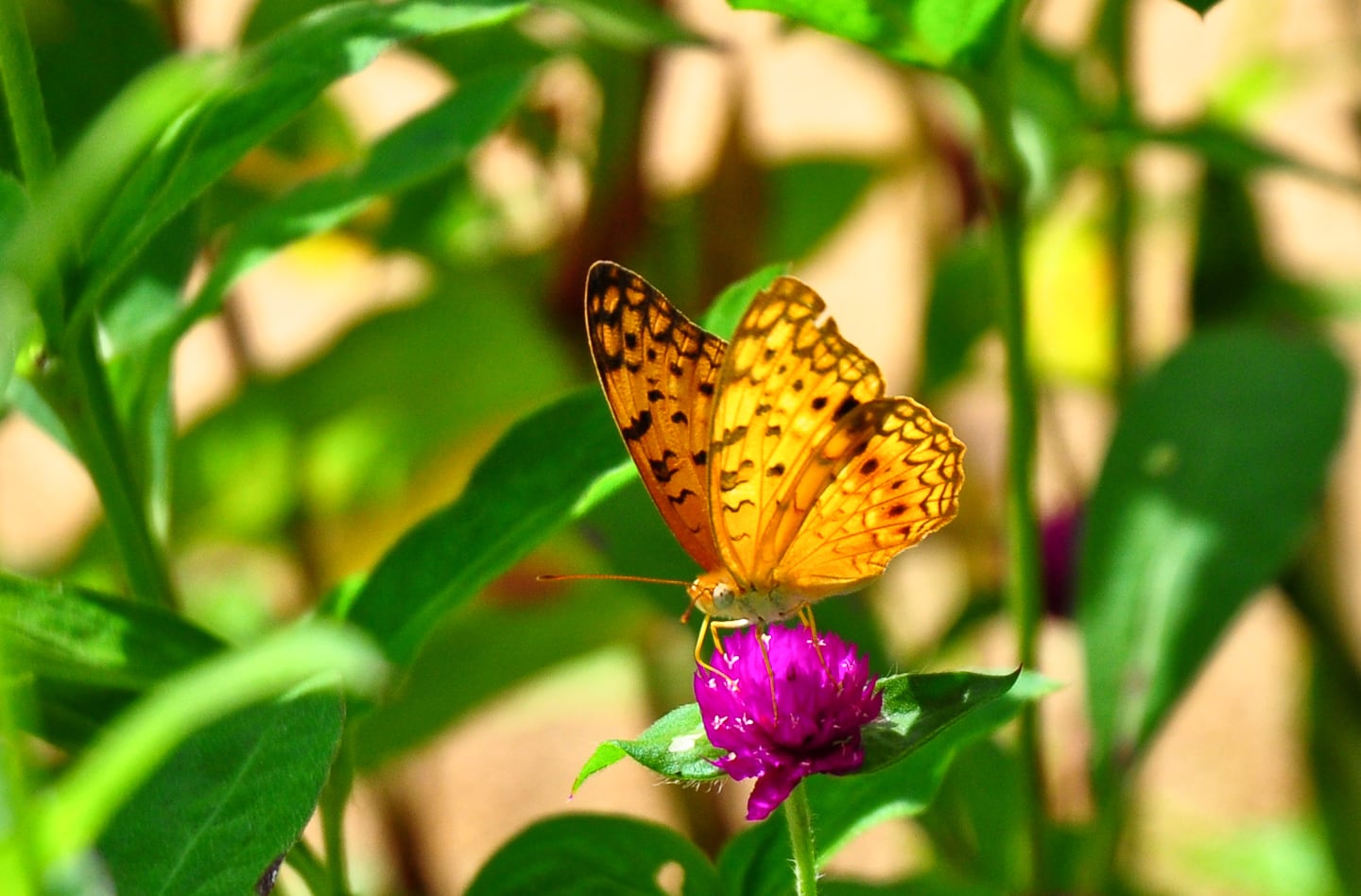 Quite the magical, mystical place indeed — walking amongst fields and fields of brightly colored wildflowers, butterflies fluttering about, birds chirping and singing, the sun shining in a clear blue sky, and an awe-inspiring temple rising above it all — the whole experience evoked a sort of freaked-out hippie acid trip without the residual flashbacks.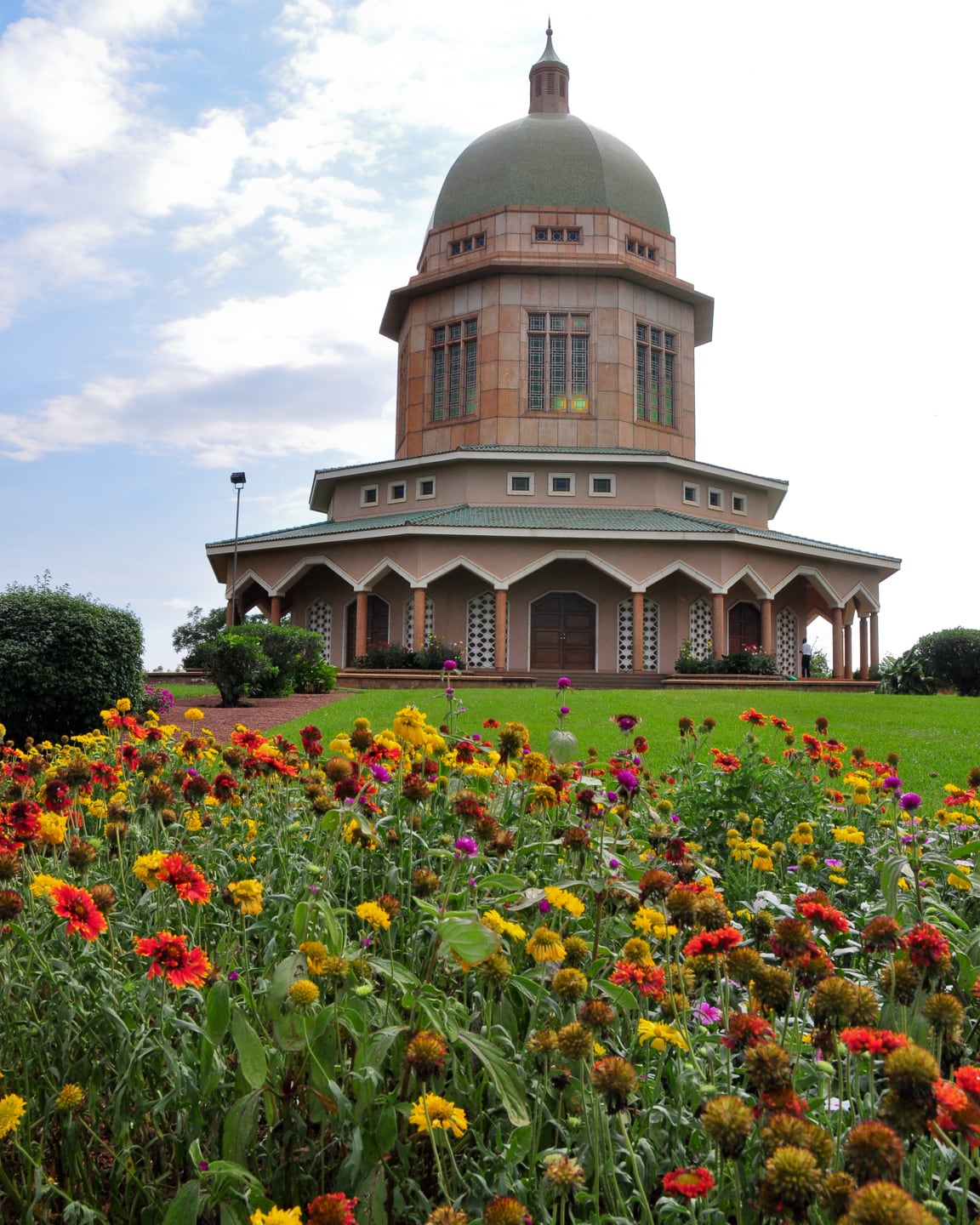 Our tour of Kampala's sacred places ends with this crazy little ditty: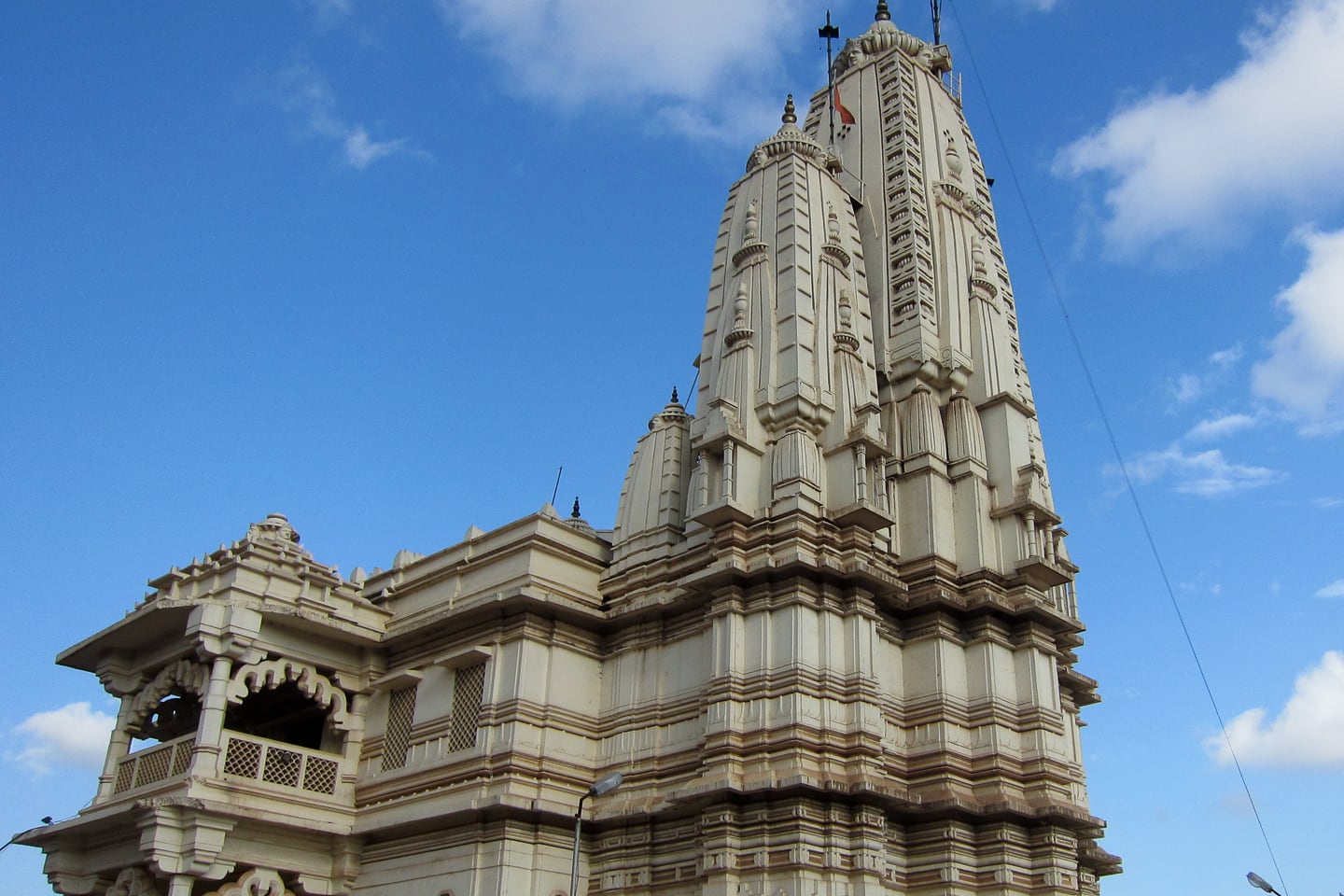 Feast your eyes on Uganda's Hindu Temple, conveniently located right behind the Shoprite supermarket. Beautiful and yet utterly terrifying at the same time. Brilliant.