It seems surreal now that we're actually doing this.
The Thai-Lao Friendship Bridge (#1) is only 7.5 miles (12km) from our house as the crow flies. On one side—the outskirts of Vientiane. On the other—Thailand. Standing on the banks of the Mekong in downtown Vientiane in the dry season, Thailand sits a mere 300 meters away on the other side—the length of three football fields. Sitting at an outdoor bar along the Laos side, you can even occasionally hear the drumming (and sometimes monk-chanting) coming from the wats across the river.
Yet, crossing the Mekong to Thailand is practically off limits to us for most of the year.
This hasn't always been the case. Prior to December 31, 2016, non-ASEAN (Association of Southeast Asian Nations) expats  like ourselves could cross the bridge—without a visa—as many times as we wanted to. Then, at the beginning of 2017, new Thai regulations went into effect capping the number of visa-exempt entries at land borders at two. After two, you need a visa. A 6-month Thai visa costs around $165 per person (including Noe)—nearly $500 for the three of us.
Given that we arrived in Laos just months before the new regulations took effect, we've pretty much written off land crossings to Thailand but for medical emergencies. In 2017, our plan was to save the crossings until the end of the year, then maybe pop over to explore the region a bit. However, Noe had plans of his own, and three months into the year, he ended up in a hospital Udon Thani (the largest city in this part of Thailand) for several days for pneumonia. In May, another respiratory infection landed us in the hospital in Udon again—and there went our two crossings for the year.
We vowed that 2018 would be different. But in reality, we know we have very little control over these things.
In January, we found out Lori was pregnant, which by itself didn't necessarily dictate a trip over the bridge. These days, the majority of prenatal checkups can be done just as well here in Vientiane. For the ~20-week anatomy ultrasound which cannot be done here, we thought we might incorporate it into a trip to Bangkok (flying to Thailand doesn't count against our two land-crossings). And, if Lori was going to deliver in Thailand, we knew we'd probably either fly to Bangkok or maybe somewhere a bit beachier with a good hospital, right before the airline cutoff for pregnant passengers.
With all that said, we still wanted to set the two crossings aside in case of medical emergencies, at least until the end of the year. And again, it's a good thing we did.
As our luck would have it, the only doctor in all of Laos capable of doing the 12-week ultrasound and fetal screening was called back to Thailand to fill in for a colleague. So…at the last minute, Lori had to head across the border to Nong Khai (the border town where the doc was working) to have the ultrasound and tests done. We made the decision that I'd stay in Laos to conserve visa exempt crossings. Fortunately, one of the drivers from Lori's work was able to take her across and assist her with immigration, so at the very least she wouldn't have to worry about that aspect of the trip.
Following our big two-week Lao-new-year-break / second-babymoon trip in April to Malaysia, we weren't so keen on turning around and flying to Bangkok for the 20-week ultrasound. Instead, we opted just to bite the bullet and drive across the border down to Udon Thani. Sure, it would be a medical-related trip, but we wouldn't be largely confined to a hospital like the last two times with Noe. We could combine the trip with some sightseeing, exploration, and a bit of shopping.
So, off to Thailand!
The last two times I saw this sign was from the front seat of an ambulance. This was a nice change of pace.
And yes, they drive on the left side of the road in Thailand (in Laos, they drive on the right). Lori had a bit of trepidation at first, as it was her first time ever driving on the "other" side of the road (it bears repeating here that I'm not authorized to drive Lori's work cars, which are the only vehicles we currently have access to—and there are just a couple vehicles in the fleet that have the necessary paperwork to cross into Thailand). Unlike my past experiences driving on the left side of the road, Lori had two things going for her: 1) she was driving a left-hand driver, which she was already comfortable driving, and 2) the hour-long drive between the border and Udon Thani is along a straight-as-an-arrow divided highway, and much of Udon city, itself, has hard centerline dividers (and really clear traffic lines, signs, and traffic lights), taking much of the guesswork out.
Don't Miss These Experiences in Thailand
And now, some quick geography/history context (or you can skip down to the next photo).
There are currently only four bridges that connect Laos with Thailand along the entire length of the border the two countries share. The first bridge was constructed about 20km (12 miles) southeast of the Vientiane city center in Thanaleng (the next nearest bridge is 300km (180 mi) downstream). Just across the river from Thanaleng is Nong Khai, the capital of Nong Khai province.
Today, the mighty Mekong River forms much of the border between Laos (in the east) and Thailand (in the west). With such a conspicuous and sizable natural boundary, you might think this has always been the case. Yet, this is a fairly recent political development (and by recent, I'm talking from the 17th century onward).
Prior to the 17th century, Isan (Thailand's sizable bulbous northeastern plateau where we now find ourselves) was part of the Lao-dominated Lane Xang kingdom for many centuries. When the Siamese (Thai) took control in the 17th century, they forcibly relocated large populations of Lao speakers to the eastern side of the Mekong (modern-day Laos). The remaining population in Isan underwent a process of "Thaification," which promoted national Thai unity.
Four centuries on, however, the people of Isan still have much in common with their Lao counterparts across the river (some would argue more than with their mainstream Thai countrymen), speaking essentially the same language (Lao) and retaining many of the same cultural practices as the people of central Laos.
However, one very Thai cultural practice that is generally not shared with the Lao these days are Red Light Districts, and unbeknownst to us, we found ourselves staying in the heart of Udon Thani's—albeit, in a very nice, brand new loft-style hotel, ironically named, "The Old Inn."
We were very happy with our stay. Clean, quiet, and secure, with all the usual modern amenities. I did pay extra for one of the slightly larger top-floor "city view" rooms (~US$30/night), and requested a quiet room.
I had a good chuckle when I realized that "city view" meant a view from our balcony of the large mall parking structure behind the building.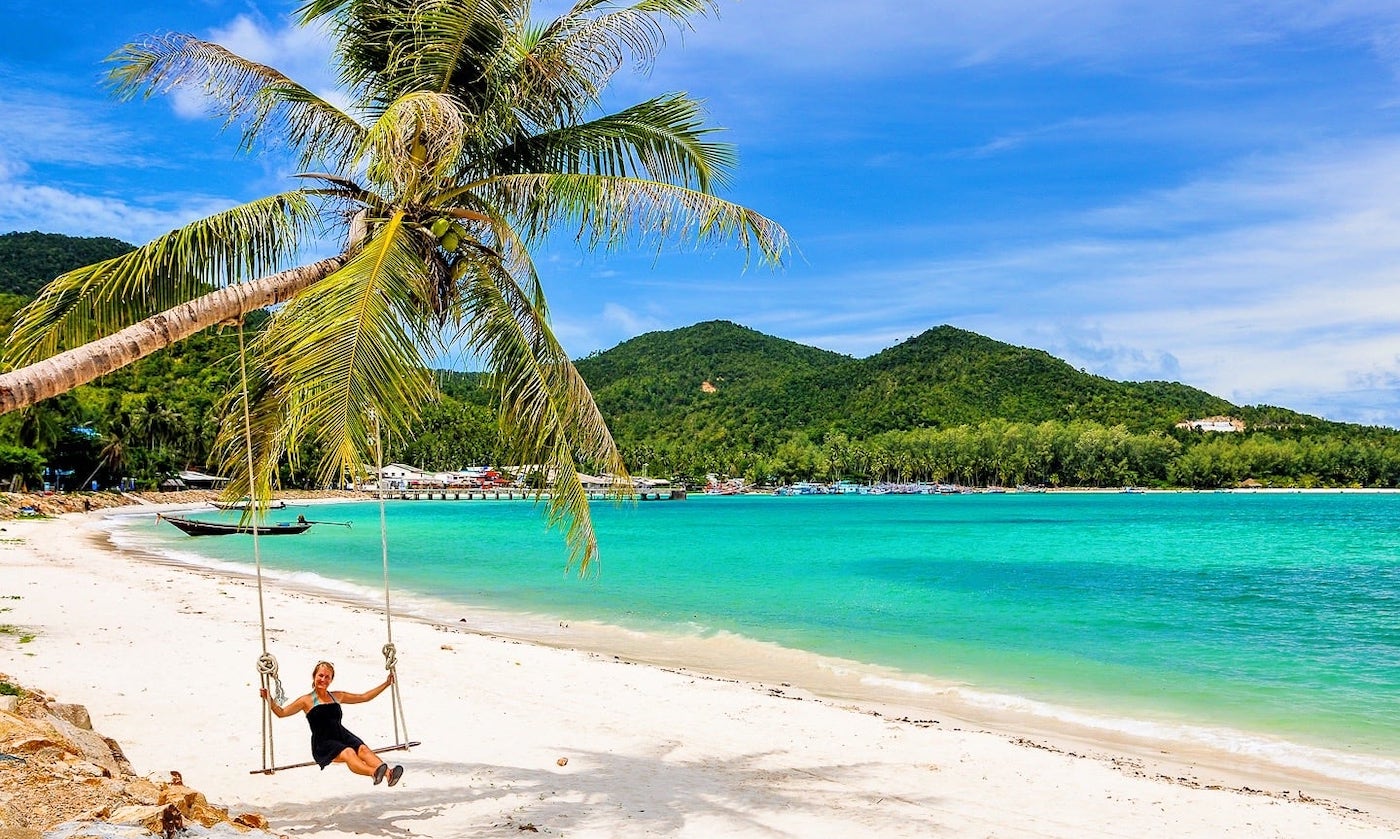 Stuck at home?
Get your free email series now!
5 SECRET BUDGET TRAVEL DESTINATIONS
You'll be amazed how affordable these bucket list destinations are. Plus our best cost-saving tips to help you plan.
For more information on how we use your data, see our privacy policy. Unsubscribe at any time with one click.
While Udon is a decent sized city, I will say in the hotel's defense that this is probably the closest to a city skyline that Udon offers.
So, back to the Red Light District. The thing is, it's hard NOT to stay in the Red Light District in Udon. Udon sort of has a reputation. Not a deeply seedy or dangerous reputation, just, a reputation…for men…of a certain ilk…to find…companionship. And it's not like the city is trying to hide it or anything. In fact, it seems like kind of a source or pride, at least judging from the Udon visitor's guide (Box 28 & 42):
Be that as it may, The Old Inn is about as central as it gets in Udon. Lori wasn't crazy about driving much, so we wanted to be within walking distance of the hospital (the whole reason for our visit, after all) and some of the city's best restaurants and major attractions. We found Udon (as I did before during my brief escapes from the hospital in 2017) to be a thoroughly agreeable city with an easy air and non-threatening vibe about it.
For most residents of Vientiane, however, the major draws to Udon are its high-quality medical facilities (of which there are several) and shopping centers—the largest and most conspicuous being Central Plaza. And, they just so happened to be having their "Tourist Summer Sale" while we were there—lucky us!
Yes, it's always unsettling—yet strangely exhilarating—being back in the land of Starbucks, McDonalds, and…Sizzler. We know of many expats in Vientiane who used to come down here on a regular basis to get shopping done (some who insisted on doing ALL their weekly shopping over the border—you know, before the new regulations).
Personally, we don't feel like we suffer from lack of access to things in Vientiane—certainly not these days. Once we figured out where to get things, we quickly discovered you can get most everything you'd need in town. Obviously, there are random things that you just can't get, but that's to be expected anywhere. Heck, there are things in Portland I could never find in Boston or DC to save my life. The difference in the U.S., of course, is there's now online shopping (which doesn't really exist in Vientiane). But, magically we somehow managed in the '80s and early '90s, and magically we are managing just fine in Vientiane.
We also quickly discovered that Udon can't hold a candle to Vientiane's restaurant offerings—maybe at one time, but certainly not anymore. That was evident on our first morning in Udon when we visited a nearby cafe for breakfast. We opted for the Western breakfast, which was a big mistake (and before you tell us we should've gotten Thai food, we DID as well—and IT WAS THE WORST WE'VE EVER HAD IN THAILAND. It actually made us pine for the Thai HOSPITAL FOOD we had during our last two stays in Udon.
But the seating was cool.
After breakfast, it was time to get down to business.
Bangkok Hospital…in Udon Thani.
And for the record, a totally different hospital from where we ended in the ICU with Noe—that one's a couple miles down the road…with four or five of its closest friends in between.
Alright BB2, it's time to see what you're up to…
As we've found with other hospitals we've been in in Thailand, Bangkok Hospital was modern, spotless, and very WHITE, with all the departments you'd expect in a hospital—such as…
Hmm Noe…let's walk a little faster, shall we?
That's more like it.
Um…say what?
Waiting in the Women's Health Clinic with Noe. The crazy thing about going to these sorts of appointments in Thailand is that the person conducting the ultrasound is an O.B. with a specialization, not a technician like in the States. Granted, the techs in the States are highly skilled, but it takes a bit of a mental adjustment. Also, the physicians never seem to be in much of a hurry to get to the next patient, which makes for a more relaxed visit.
In the ultrasound room, Lori hopped up on the bed, and Noe and I got comfy on the couch facing the big flatscreen monitor mounted on the wall where Noe would get his first view of his sibling. We thought he'd be really into it, but was far more into "coloring" and chomping on his Num Num to pay much attention to the 3-D baby mug on the large TV.
In case you're a bit more curious than Noe, ta da!
We were pretty amazed that they were able to do a 3-D ultrasound this early on here in Udon (it was actually "4-D" as it was a motion capture as well—they even sent us home with a CD with the still images and videos of the motion capture). In 2016 in Portland, we didn't get a 3-D image of Noe until much later in the pregnancy, and even then, the quality wasn't nearly as good and only still images.
We're happy to report that all checks out with BB2. Halfway there!
Later that afternoon, we took a stroll around Udon's sizable Prachak Lake. When we were here before, I had the opportunity to walk portions of this beautiful lake in the heart of the city on my way to and from running various errands. Lori, on the other hand, did not get the same opportunity. So, it was fun being able to introduce her to this very cool place that I'd told her so much about, generally following it up with, "Can you imagine if Vientiane had something like this?"
Measuring roughly 4km in circumference, Prachak Lake is also a huge park and recreation hub, with both paved biking and jogging trails encircling the entire lake. Among other fun (and free) stops around the shore, it's got…
Dinoland!
There's just something about seeing what seems like the whole city (not just expats) out—jogging, biking, strolling with their friends and family—around the lake in the evening. It's just a totally different world than Vientiane. Sure, Vientiane's got Mekong-side Zumba, and groups of teens walking up and down the frontage road, but nothing quite like this. Heck, most city's in the States don't have anything so manicured, well-planned, and free in such a compact and accessible space.
After our walk [partially] around the lake, we ended up at Good Everything, a place I had tried to grab some breakfast to bring back to the hospital last May, but was closed at the time.
I'd read rave reviews about this place, and nowhere did they fall short of expectations. The food, the ambience, everything was perfect, if a bit pricey. But when I say pricey, I mean midrange Western-food prices in Laos (and standard pricing at a pub in downtown Portland).
I said earlier that Vientiane beats Udon for food, and overall in 2018 the capital of Laos does—certainly in quantity, diversity, and overall quality. But nowhere in Vientiane can you find a place quite like this—artisan, locally grown and raised cuisine that was just absolutely delicious. They were slammed with a big group just before we arrived and even threw in an appetizer on the house for having to wait an extra 15 minutes—which would never, ever happen in Vientiane.
After dinner, we strolled on over to Prajaktra Design Hotel's rooftop bar, where we were treated to a commanding view of the lake, and, among other things, Wattana Hospital, where we stayed our last couple times here.
The bar's tagline on the wall read, "A Touch of Relaxation." As we settled into our seats, preparing to take the first sips of our much-anticipated beverages, Noe decided he'd had enough, and demanded out of his high chair so he could run around the top deck.
Yep, a touch of relaxation sounds just about right.
12 May 2018