Looking for the best Tulum snorkeling trip for your next big beach getaway? This hand-crafted guide is for you!
Vibrant and abundant reef life to discover, mysterious inland underwater worlds to explore, and an array of fun and exciting activities to combine with your snorkeling adventure make Tulum one of the best destinations in Mexico for snorkeling!
Lori and I love the Riviera Maya, its endless white sands beaches, diversity of outdoor activities, and everything else on offer in this stunning corner of the world.
And we're so excited to be able to share it with other snorkeling enthusiasts!
Whether you're looking for the best Tulum snorkeling trips to the Mesoamerican Barrier Reef, Tulum's spectacular cenotes, or hoping to pair your snorkel adventure with paddleboarding, freediving, zip-lining, and even sailing, this guide will help you find the perfect day trip adventure!
So grab your favorite snorkeling swimwear and waterproof camera and get ready to plan your next unforgettable underwater adventure in Tulum!
In a hurry? Here's a quick look at our top picks to get you started
Keep reading for all the details, plus helpful tips and information for planning your next Tulum getaway.
▸ Looking for travel medical insurance? SafetyWing offers low-cost overseas medical coverage tailored to international travelers.
We're reader supported and may earn a commission from affiliate links on our site at no cost to you.
---
Where to Stay in Tulum
Planning a Mexico beach getaway in Tulum? Check out our top picks for top-rated places to stay!
Sure, you could do a Tulum snorkeling tour day trip from Cancun and Playa del Carmen. But staying in Tulum ensures you get a jump on the crowds, use your vacation time most efficiently, and arrive at the best snorkeling sites as early as possible!
Here are our top recommendations for places to stay in and around Tulum. These are the places Lori and I would consider ourselves if we were planning our own trip right now.
If it's an all-inclusive stay you're after, be sure to check out our guide to the top all-inclusive resorts in Tulum.
Tulum Stays | Our Top Picks
OUR #1 PICK ▸ El Pez Colibri Boutique Hotel has seafront and beachfront rooms, and cheaper (but still superb) options as well. Guests love Colibri's outstanding service, amenities, and breathtaking location.
OUR #1 MID-RANGE PICK ▸ If you want to be closer to the action of hopping central Tulum, be sure to check out Aloft Tulum by Marriott. Mod, trendy, and high-tech, Aloft offers amenities you won't find at a lot of other places in Tulum around this price.
UPMARKET ADULTS-ONLY LUXURY BOUTIQUE ▸ Looking for a romantic stay in paradise? This is it! Mi Amor Colibri Boutique Hotel impresses with luxurious touches, delicious cuisine, and an amazing beach location with a subdued vibe.
---
---
8 Best Tulum Snorkeling Tours
---
Without further ado, here it is! Our guide to the top Tulum snorkeling trips for 2023!
Caribbean & Cenote Snorkeling Tour
This top-rated small-group snorkeling with Caribbean fish and underground river adventure operated by Mexico Kan Tours is our overall top pick for best Tulum snorkeling tour!
This is the tour we would recommend ourselves to family and friends who are planning an upcoming trip to Tulum.
This 6-hour day trip is great for those wanting a little variety in their snorkel tour, particularly if you're keen on experiencing the wonders of Tulum's offshore Caribbean Barrier Reef AND the secrets of the area's magnificent cenotes.
Hotel pickup and drop-off in Tulum, lunch, professional guide, entrance fees, and necessary equipment included.
Highlights
Trip Length: 6 hours
Group Size: Small Group (10 max)
Activities: Caribbean reef snorkel, Cenote snorkel
Tour Company: Mexico Kan Tours
---
Tulum Ruins & Snorkeling with Turtles
Visiting Tulum for a short time and want to combine two of the area's best highlights into one day-long tour?
We recommend this Tulum ruins and sea turtle snorkel adventure by NS Tours Mexico.
In this action-packed 10-hour day trip, you'll discover the hidden mysteries of the world-famous Tulum archeological site with a professional guide.
But that's just the beginning of your adventure!
Next, you'll head to the stunning Cenotes Casa Tortuga for a swim and snorkel in the sacred waters of the ancient Maya.
You'll finish your day in Akumal Bay, arguably the best place in the area to snorkel with sea turtles!
Truly one of the best Tulum snorkeling tours for visitors who want to see as much as possible in a short timeframe or who are seeking the best value for their money.
Box lunch, Tulum Ruins ticket, snorkeling equipment, and liability insurance included.
Highlights
Trip Length: 9-10 hours
Group Size: Group Tour (18 max)
Activities: Tulum ruins guided tour, Cenote snorkel, Akumal Bay snorkel with sea turtles
Tour Company: NS Tours Mexico
---
Related
---
Snorkeling Tour in Three Ecosystems
This small-group snorkeling adventure tour in three ecosystems by Agua Clara Diving is all about SNORKELING!
If you're looking for snorkeling diversity and want to learn more about the distinct ecosystems of the area, this might just be the best Tulum snorkeling trip for you!
Explore three unique ecosystems in and around the Tulum area during seven hours of snorkeling bliss.
Discover colorful fish in the brackish waters of Casa Cenote. Swim with sea turtles and other amazing marine creatures along the Barrier Reef in Tulum Bay. And finish your day exploring the spectacular Mayan underworld of Saac Actum cenotes.
Includes professional guide, reef tax, lunch & snacks, and snorkel equipment.
Highlights
Trip Length: 7 hours
Group Size: Small Group (6 max)
Activities: Casa cenote snorkel, reef snorkel in Tulum Bay, Saac Actum snorkel
Tour Company: Agua Clara Diving
---
Cenote Paddleboarding & Snorkeling
Paddleboarding and snorkeling are a natural combination, and this half-day, small-group cenote paddleboarding and snorkeling tour operated by Mexican Caribbean Kitesurf is one of the top combo tours in Tulum.
Perfect for beginners and experts alike, you'll explore unique and captivating Casa Cenote by snorkel, stand-up paddleboard, swimming, or any which-way you'd like.
Highlights
Trip Length: 4 hours
Group Size: Small Group (5 max)
Activities: Snorkeling & Stand-Up Paddleboarding at Casa Cenote
Tour Company: Mexican Caribbean Kitesurf
---
Related
---
Tankah 5 Cenotes Snorkeling & Zip Line
Like cenotes with a dash of adventure? Tankah Park five cenotes adventure tour by Agua Clara Diving offers not one but FIVE of these incredible attractions to explore by snorkeling, zip-lining, and even canoeing.
This 5-hour small group tour to Tankah Park Maya village and nature reserve is perfect for adventurers of all ages and skill levels.
Includes transport to/from Tulum, lunch, professional guide, and more.
Highlights
Trip Length: 5 hours
Group Size: Small Group (6 max)
Activities: Snorkeling, zip-lining, canoeing at Tankah Park
Tour Company: Agua Clara Diving
---
Private Sailing & Snorkeling Tour
What else pairs perfectly with Caribbean snorkeling? Sailing, of course!
Let the sea breeze whisk you away to discover spectacular views of the Tulum ruins and some of the area's best reef snorkeling on this private sailing and snorkeling experience by Full Vision Tulum.
Highlights
Trip Length: 1 hour 15 minutes
Group Size: Private Tour
Activities: Sailing on small catamaran, snorkeling Tulum barrier reef
Tour Company: Full Vision Tulum
---
Related
---
Private Freediving Discovery Day
Looking for a new adventure? La Casa Surya's freediving discovery day in Tulum is perfect for those interested in trying freediving for the first time under the direction and supervision of a certified apnea instructor!
Your 8-hour day starts with yoga and apnea theory before moving on to try out what you've learned in the onsite pool.
After lunch, it's time to head to a crystal clear cenote to put your newly acquired skills into real-world practice!
Highlights
Trip Length: 8 hours
Group Size: Private Experience
Activities: Apnea freediving discovery (yoga, theory, pool, cenote)
Tour Company: La Casa Surya
---
Cenote & Barrier Reef Snorkeling Tour
Last, but certainly not least, in our guide to the best Tulum snorkeling trips is this guided snorkeling tour to Casa Cenote and ocean reef by TAE Tulum Area Experience.
Looking for an all-around great snorkel trip in both a cenote and open ocean? This is it!
Explore the crystalline waters of Casa Cenote and even catch a sighting of its famous resident manatees! After lunch, take a boat out to the barrier reef for an offshore snorkel you won't soon forget.
Includes cenote admission, snorkeling equipment, boat to barrier reef, lunch, snacks, and water.
Highlights
Trip Length: 6 hours
Group Size: Group Tour (12 max)
Activities: Snorkeling in Casa Cenote, Caribbean barrier reef snorkeling
Tour Company: TAE Tulum Area Experience
---
Related
---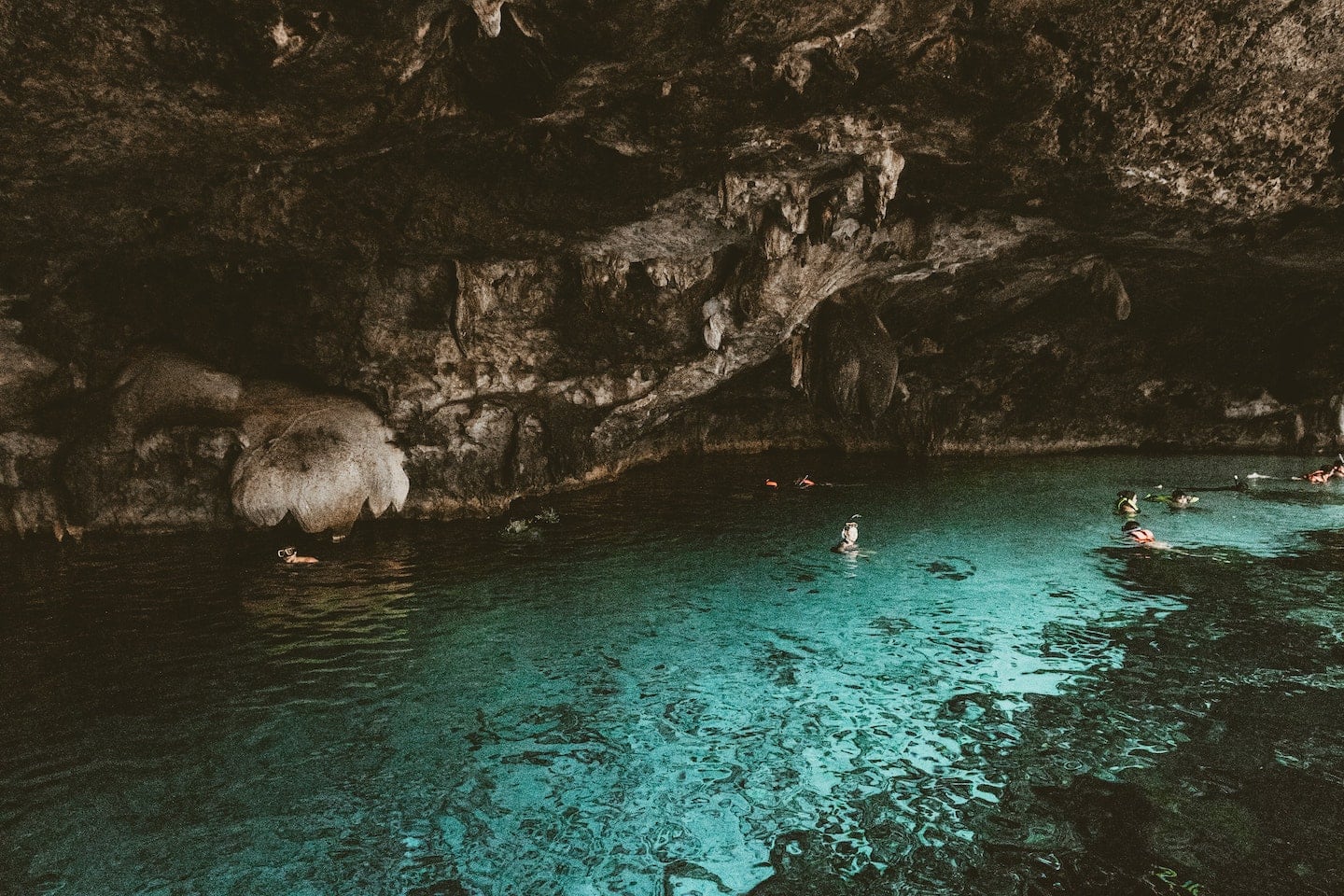 What to Pack for Tulum Snorkeling Trips
Tulum snorkeling trips offer an amazing experience. However, they can be a bit more challenging to pack for than your average sea snorkeling day tour.
Many of the day trips on our list take visitors snorkeling in two very different environments – offshore reefs in the Caribbean Sea and visits to freshwater Tulum cenotes.
The snorkeling gear won't look any different for the two, but what you wear might.
Sun Protection
If you plan to visit offshore reefs and some of the more sun-exposed cenotes, you'll want to protect yourself from the sun.
For reef snorkeling, be sure to use a high-SPF reef-friendly, biodegradable sun screen. The sun is not to be messed with in these parts!
BUT…if you plan to visit cenotes…
NEVER WEAR SUNSCREEN IN CENOTES!
The use of lotions of any kind (including biodegradable sunscreen) are strongly discouraged or strictly forbidden at most area cenotes.
Lotions can seriously damage the fragile underwater ecosystems of these amazing places over time.
Instead, opt for a rash guard with UPF protection at the area's more sun-exposed cenotes.
Snorkeling Gear
The companies listed in this guide all provide basic snorkel gear for their guests. But if you're serious about snorkeling (or want to ensure that your gear fits properly and comfortably), you'll want to consider bringing your own.
We use and love these frameless snorkel masks from Atomic Aquatics (they've got masks for narrower faces as well). I absolutely love my compact travel fins as well.
For young snorkelers, our kid loves this junior snorkel, mask & fins set that offers way better fit and quality than the kid-sized rental gear provided by most companies.
Underwater Cameras
Your smart phone might cut it if you plan on only snapping photos from dry land in between snorkels.
But if you want to capture the stunning underworld and colorful sea life, we recommend bringing a sturdy waterproof action camera like the GoPro Hero 9.
Odds & Ends
We always bring a dry bag with us for keeping our street clothes, keys, etc. dry and together.
A pack towel also comes in handy, particularly if you have a long ride back to your hotel.
Tours will often provide water, but we like to bring our reusable water bottle just in case. Snorkeling and being active out in the sun makes us thirsty!
And of course, don't forget your swimsuit!
---
When is the Best Time to Snorkel in Tulum?
Best Weather
The weather in Tulum is warm year-round. But conditions for snorkeling might not be optimal in all months.
From November through May underwater visibility is typically very good and the water is warm. This is a great time to snorkel Tulum! Do keep in mind that the water is coolest in January and February.
BUT…
Smallest Crowds & Lowest Prices
November through May is also the busiest and most expensive time of year to visit Tulum.
If you want to avoid the crowds and snag the best deals on flights and accommodation, the tail end of hurricane season (Sep-Nov) might be your best bet.
If you do choose to visit during this time, you may need a bit of patience and flexibility to catch the right conditions for offshore/reef snorkeling, or choose to focus exclusively on snorkeling in the area's many amazing cenotes.
---
Tulum Snorkeling FAQ
Your most frequently-asked Tulum snorkeling questions answered!
Is there good snorkeling in Tulum Mexico?
Tulum has some of the best and most diverse opportunities for snorkeling you'll find along Mexico's Riviera Maya. Many top-rated tour companies offer snorkeling day trips to the offshore Barrier Reef in the Caribbean as well as visits to the best cenotes in Tulum. Read more in our helpful guide on Tulum snorkeling!
Is there a reef in Tulum?
Yes, there is a reef in Tulum! The 1000 km Mesoamerican Reef System passes only a few hundred meters from the beautiful beaches of Tulum.
Where can you swim with turtles in Tulum?
Loggerhead and Green Sea Turtles can be found in a variety of locations around Tulum. Many of the Tulum snorkeling trips in our guide offer the chance to swim with these amazing creatures.
Thanks for reading our guide to the best Tulum snorkeling trips!
Have you gone on your own Tulum snorkeling adventure? Which Tulum snorkeling sites were your favorite? Let us know in the comments section.
Cover photo by Jeremy Bishop / Unsplash