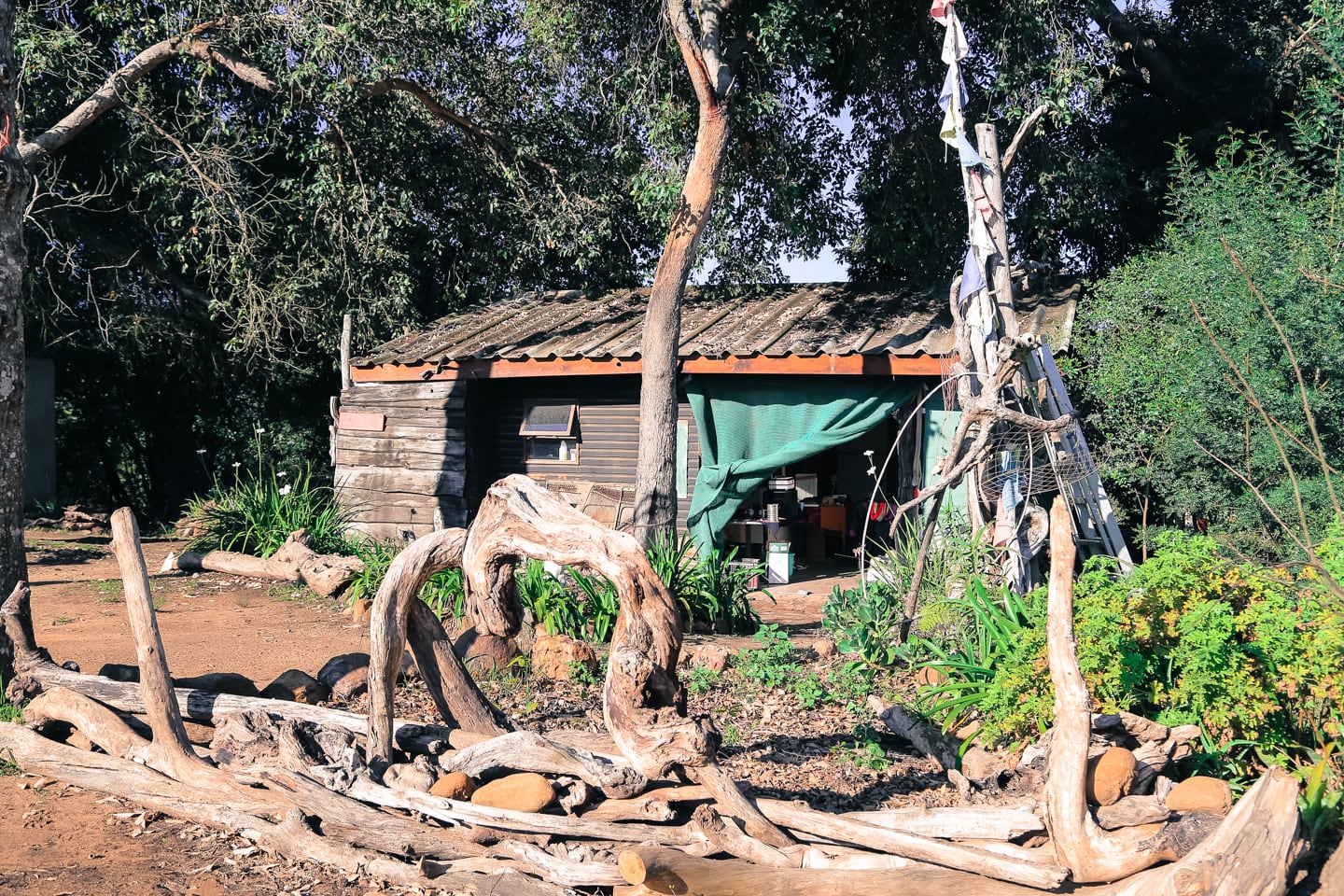 For more on our month-long road tripping adventure through South Africa, start here.
There seems to be a pattern developing on our trip. If you've been following along, you may have caught on by now. Dreadlocks, surfboards, granola and au natural seem to be the norm along our route. There's definitely a continuity in the vibe from stop to stop. This wasn't necessarily a conscious decision on our part. It's apparently what happens when you elect to stay at the cheapest (yet better rated) accommodation along the Southern coast of South Africa.
On the other hand, Lori's been booking all of the lodging this time around, so maybe she really is a Closet Hippie…something I've suspected for some time now. Luckily for me, the razor keeps coming out and she's managed to keep the piercings down to two (one in each ear), so no need to worry too much…yet.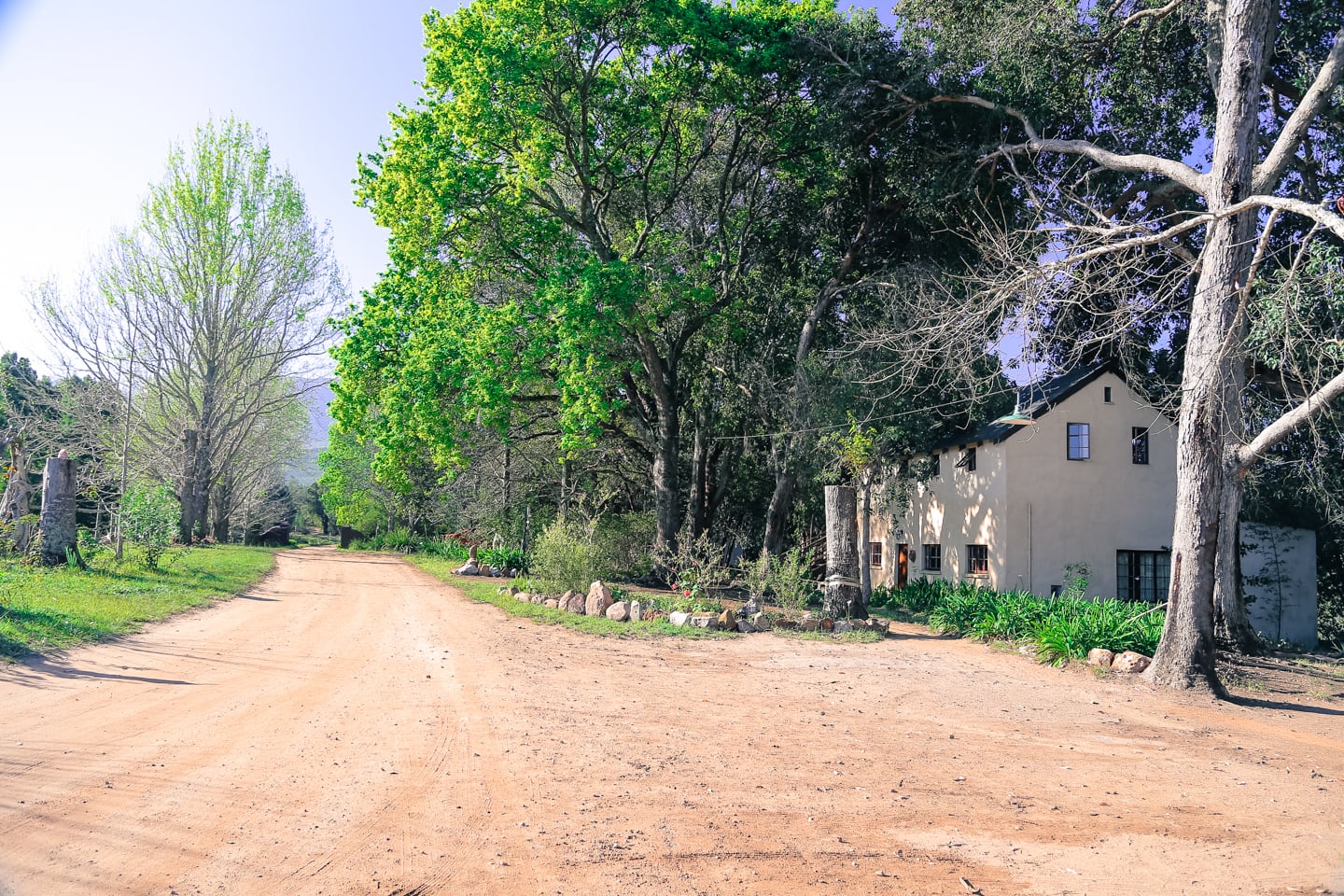 So far in South Africa, we've stayed at Signal Hill Lodge in Cape Town (my pick, and quite a nice place I might add), then it got interesting: Ikhaya Backpackers in Stellenbosch, Otter's Bend Lodge in Franschoek, Cape Agulhas Backpackers, Wilderness Beach Backpackers, and here, Wild Spirit Backpackers. As of this writing (16 September), we've also stayed at King's Beach Backpackers in Port Elizabeth and currently, Buccaneers Backpackers in Chintsa.
That's our night's accommodation at Wild Spirit (above). We actually had our own private bathroom this time, so we felt pretty swank. Lately, we've been doing a lot of sharing, you know…doing the communal thang…sharing bathrooms, eating together, drinking in close proximity with young backpackers, using eco-toilets, sitting around fire pits and drumming…
…and it's driving me CRAZY! Somebody help! I'll send along my coordinates and mark my position with red smoke for an airlift.
How did I get here? How did this happen? How did we fly clear around the globe only to end up in Eugene, Oregon! Or perhaps Oregon really is taking over the world…it's hard to tell at this point.
But it's not all bad. I'm slowly adapting. I'm coming to terms with the fact that my morning fried eggs might instead be a bowl of sawdust drizzled in runny natural yogurt. Going barefoot from time to time might help me fit in. At the beach I really excel at this…but I still can't bring myself to prance barefoot through the forest—barefoot in public restrooms also scares the heck out of me.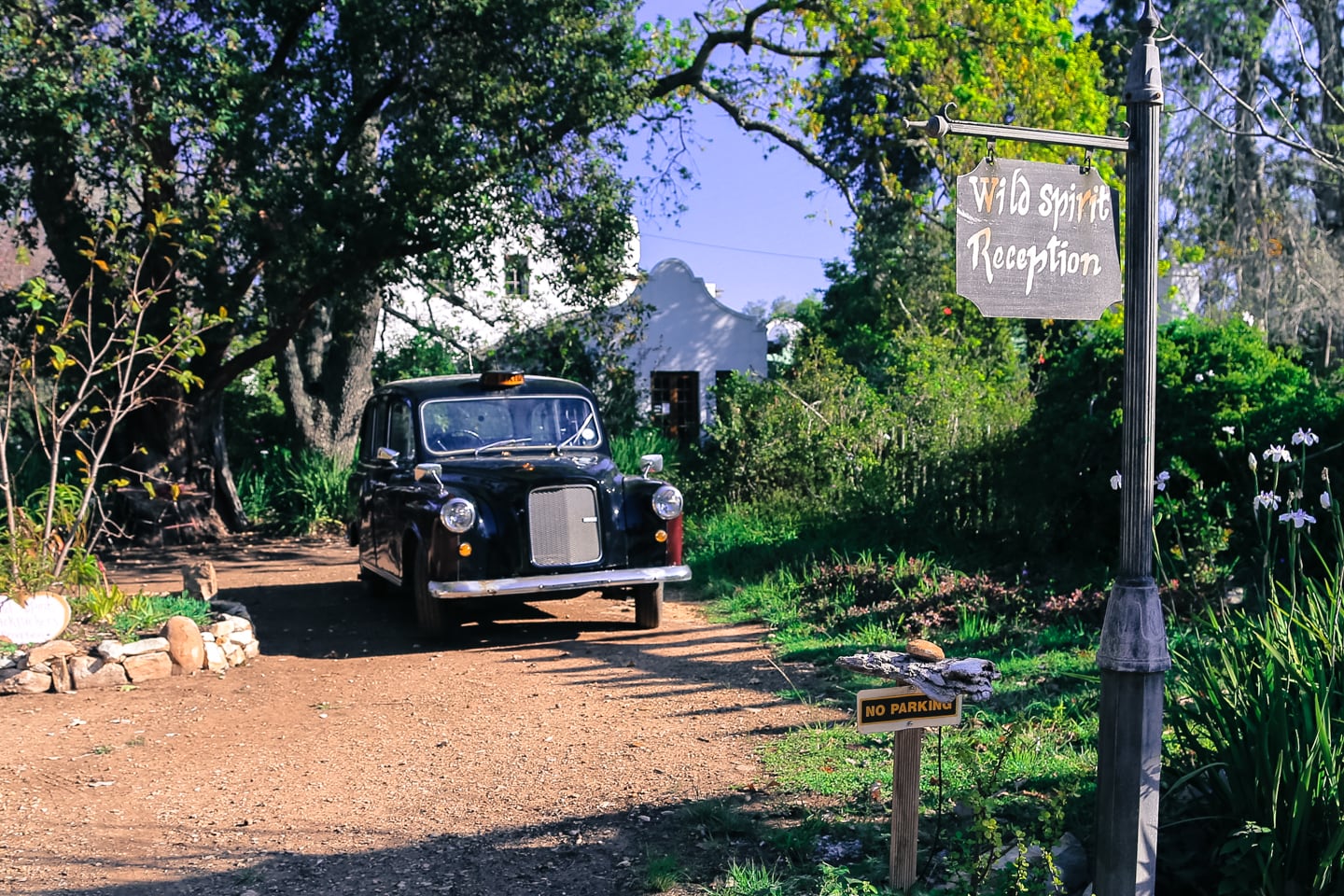 Upon arrival at Wild Spirit, we were greeted by a gentleman pushing a wheel barrow wearing full Medieval regalia on this organic farm-meets-summer camp with an old London black cab thrown in for good measure. Welcome to Wild Spirit. As the name implies, it's a bit of a different place. But very cool. If you like different.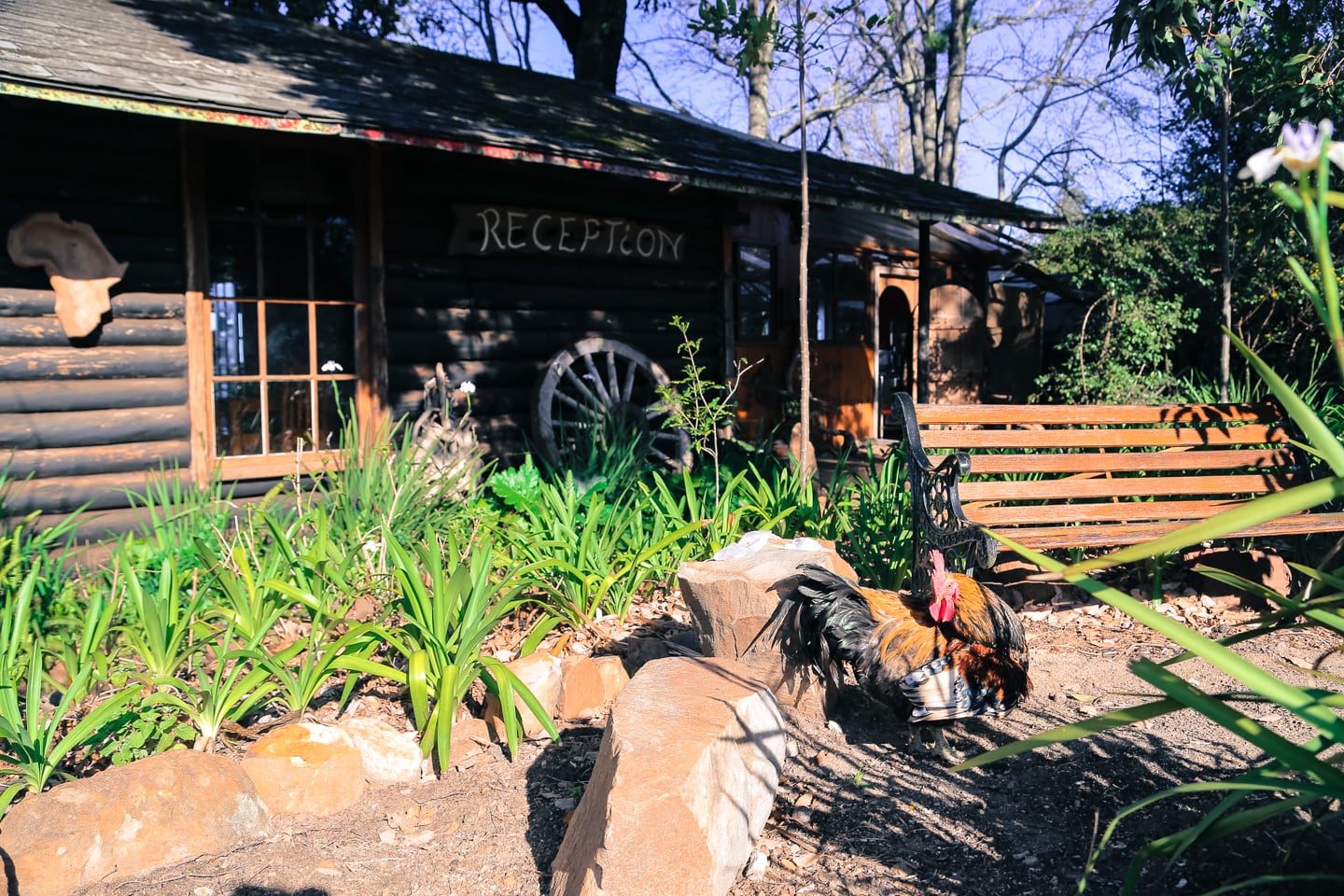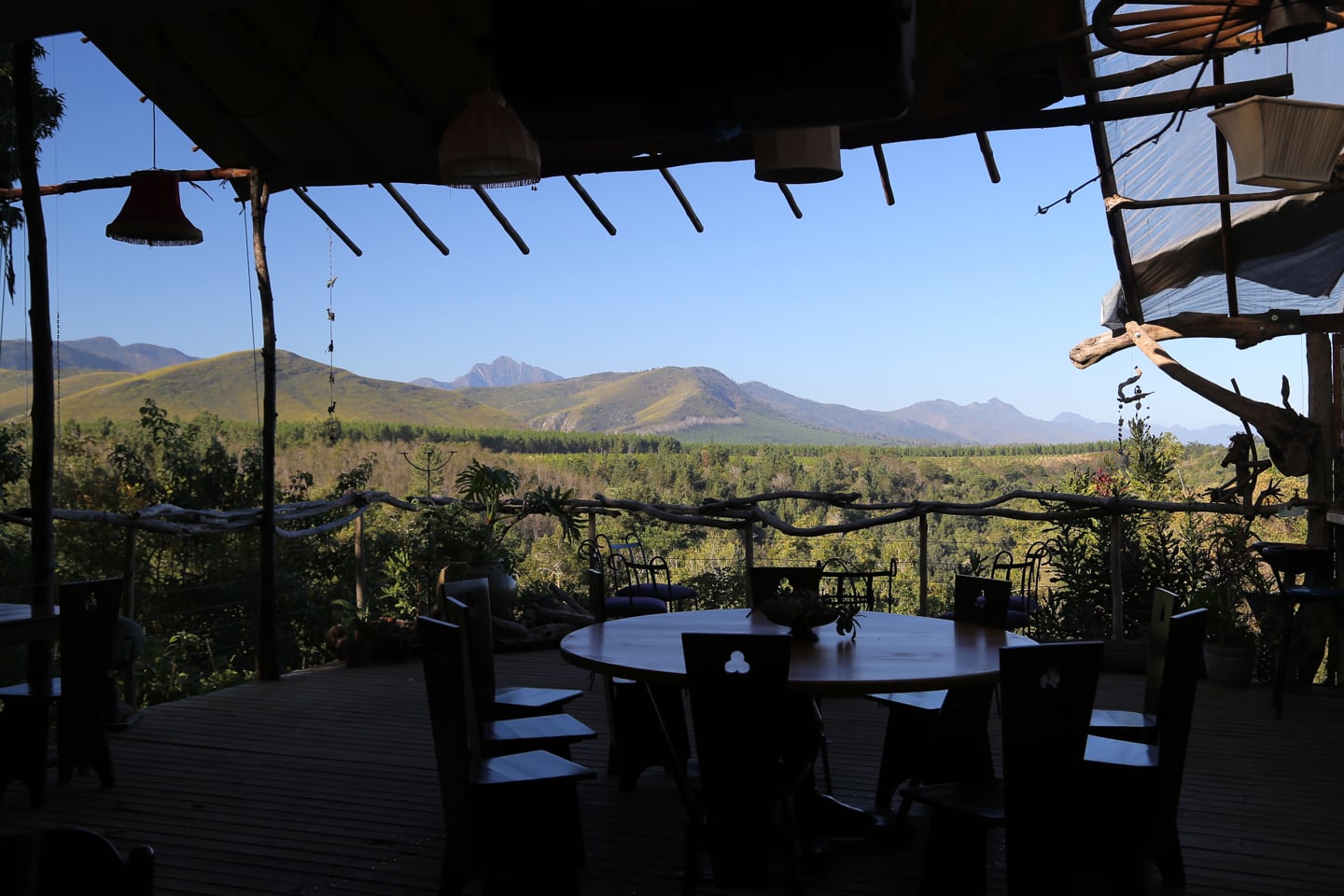 The grounds and decor may be a bit kitschy, but the indisputable main draw of this place is the surrounding landscape, as viewed in all its glory from the comfort of the communal dining area.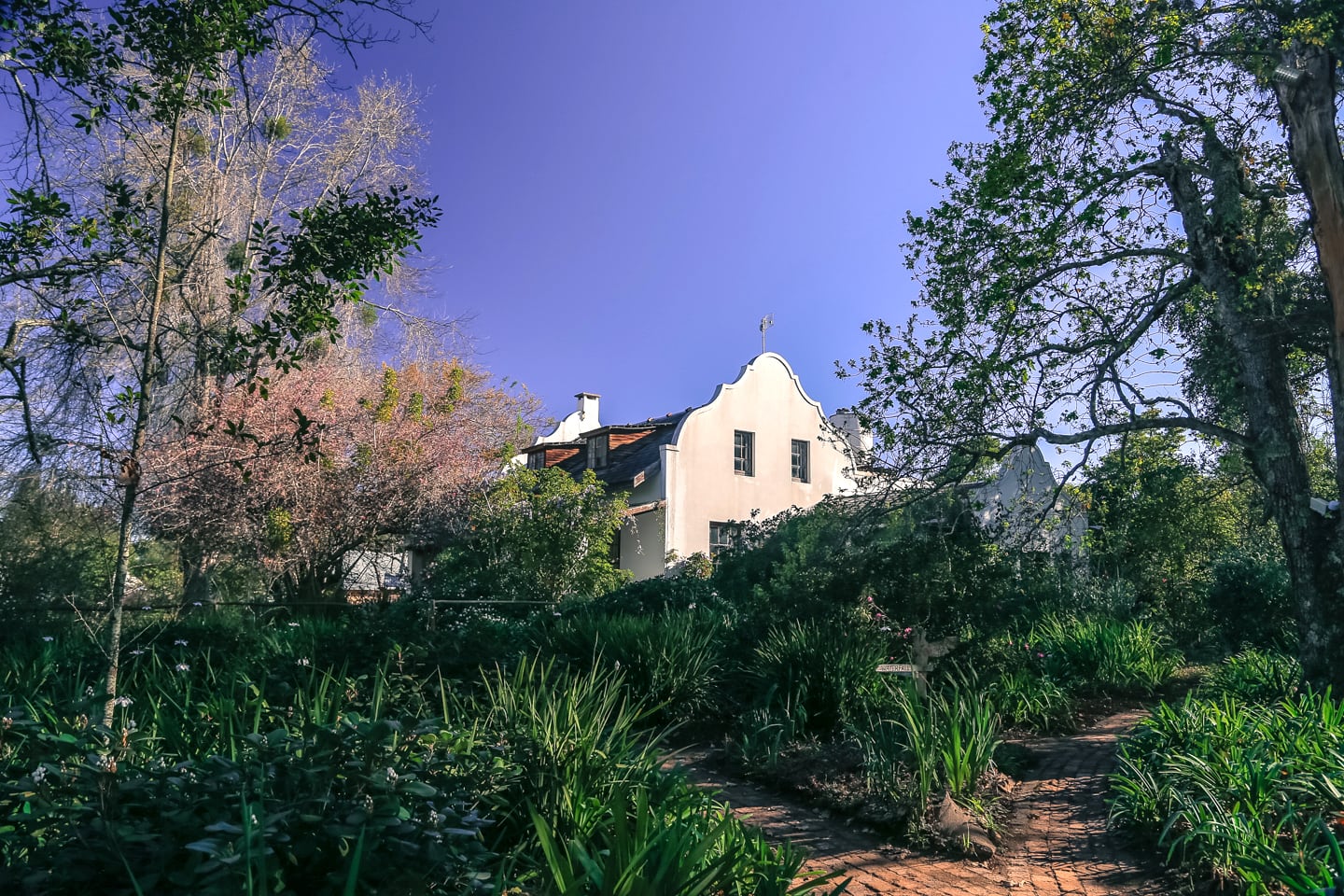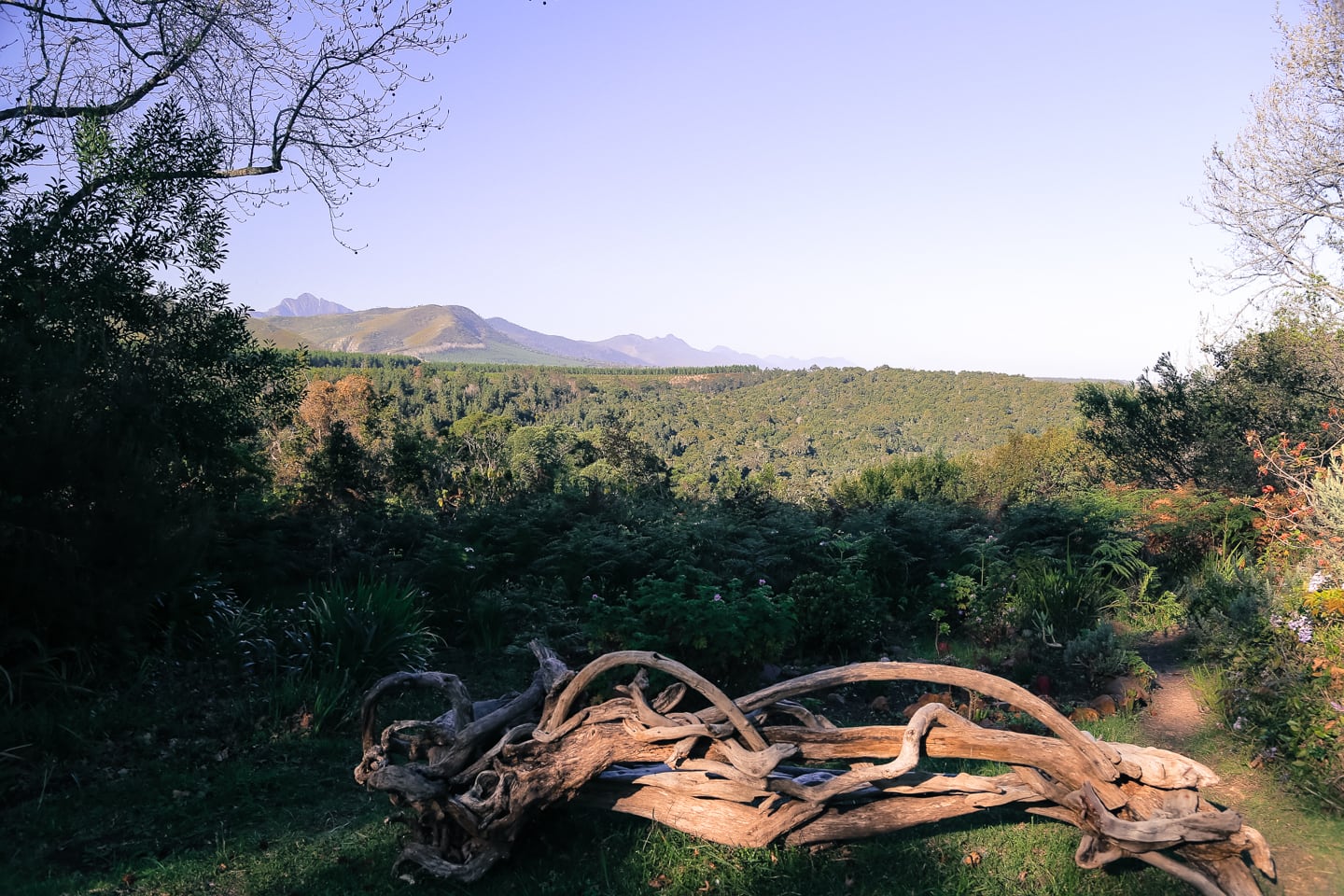 There are also an assortment of trails and nooks and crannies to sit and take in the breathtaking view, such as this 'upcycled' driftwood bench.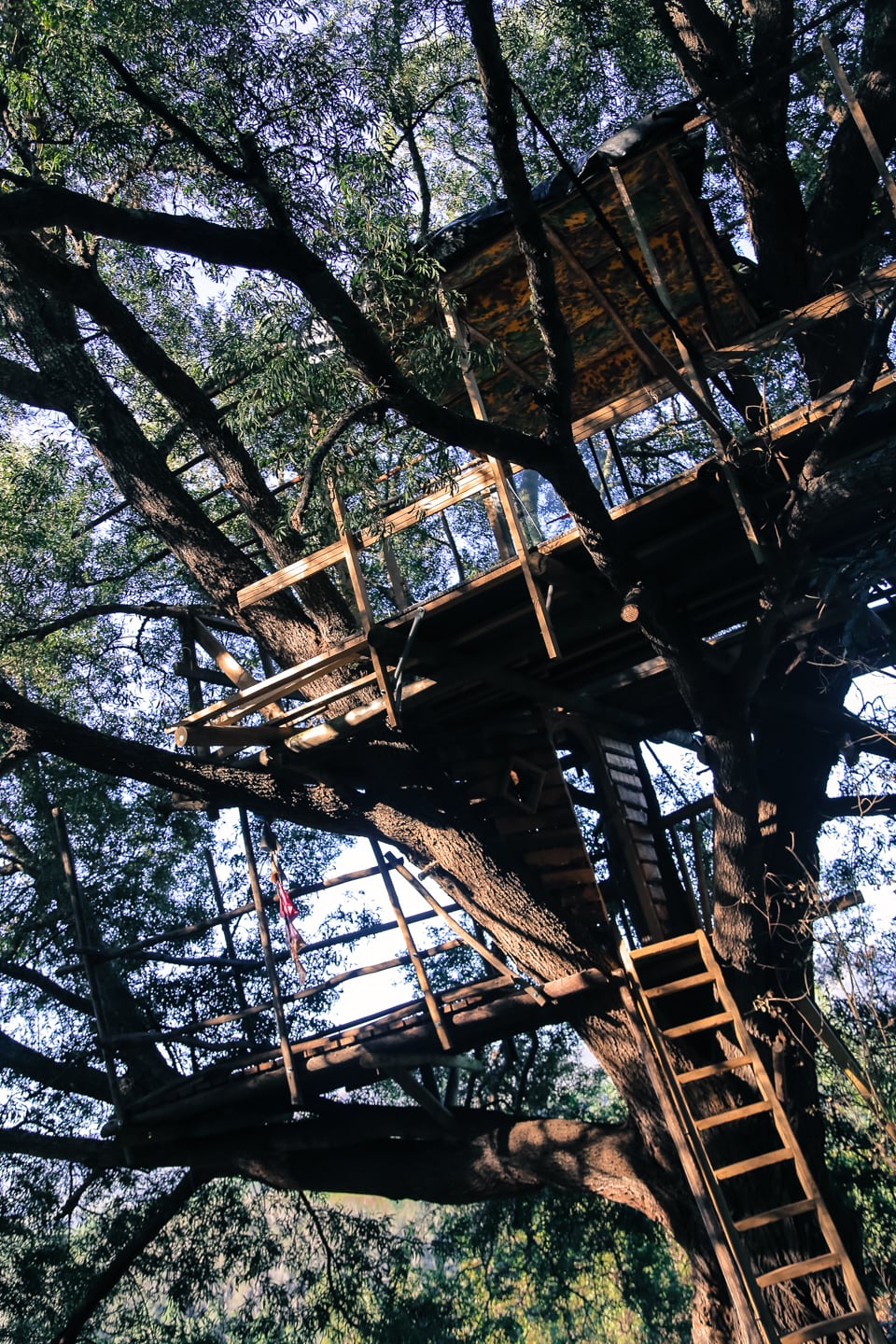 But the Sunset Tree of Love may be one of the best. We'll return to that later.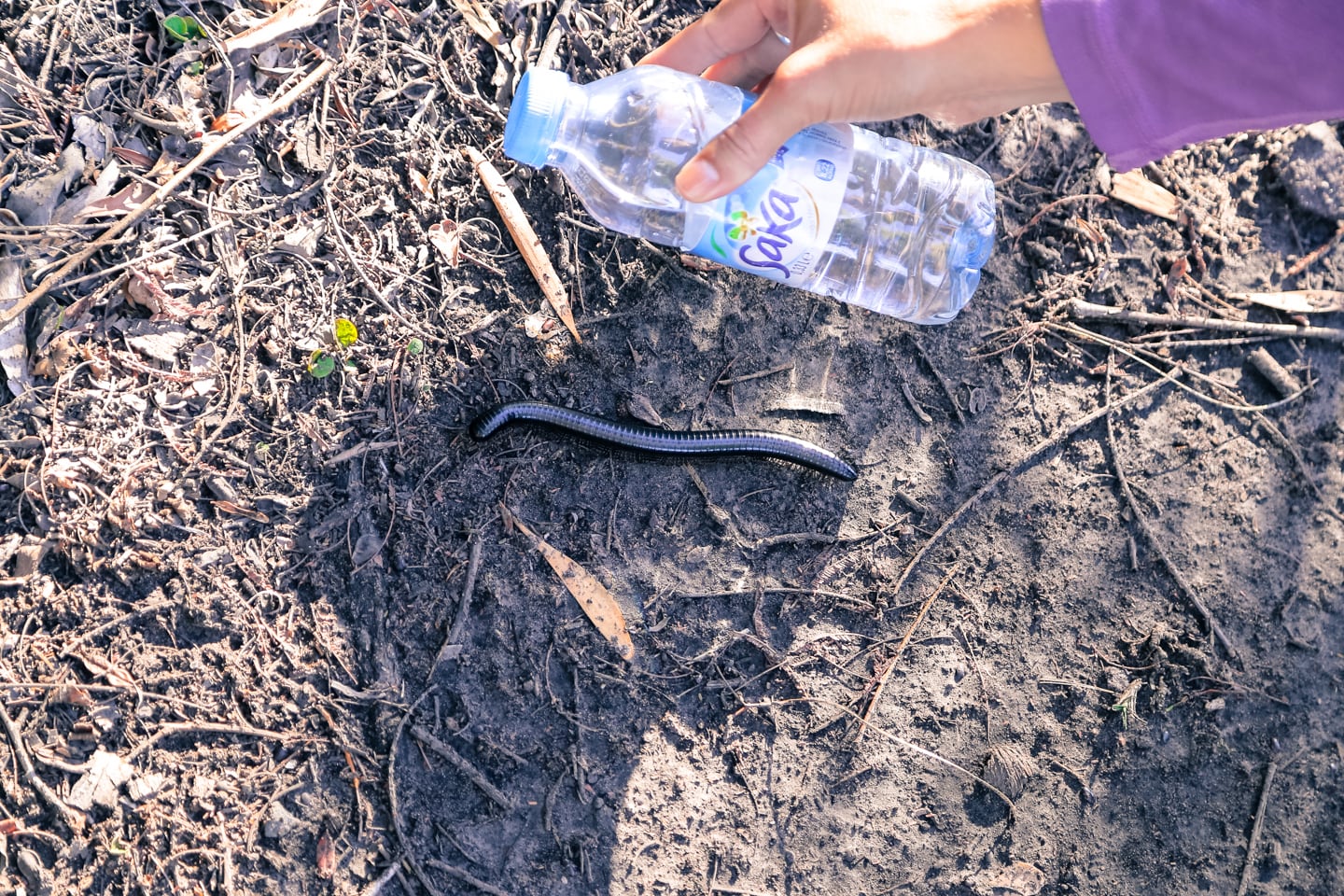 It was a gorgeous afternoon when we arrived, so we opted to go for a walk on some of the surrounding trails, each taking about 30-45 minutes round trip. However, most hikers come to this part of South Africa (Nature's Valley, as it's called) to hike some of the longer trails down to, and along, the sea, which is what we did the next day, but for today, we stuck to the ones in and around the lodge.
Visiting the Garden Route?
Check Out Today's Top Tours
Lori's been obsessed with the huge millipedes they have around these here parts (see above). In Mozambique, they called these Maria Cape (or Capo?). We had tiny versions that occasionally visited us in our house in Belize.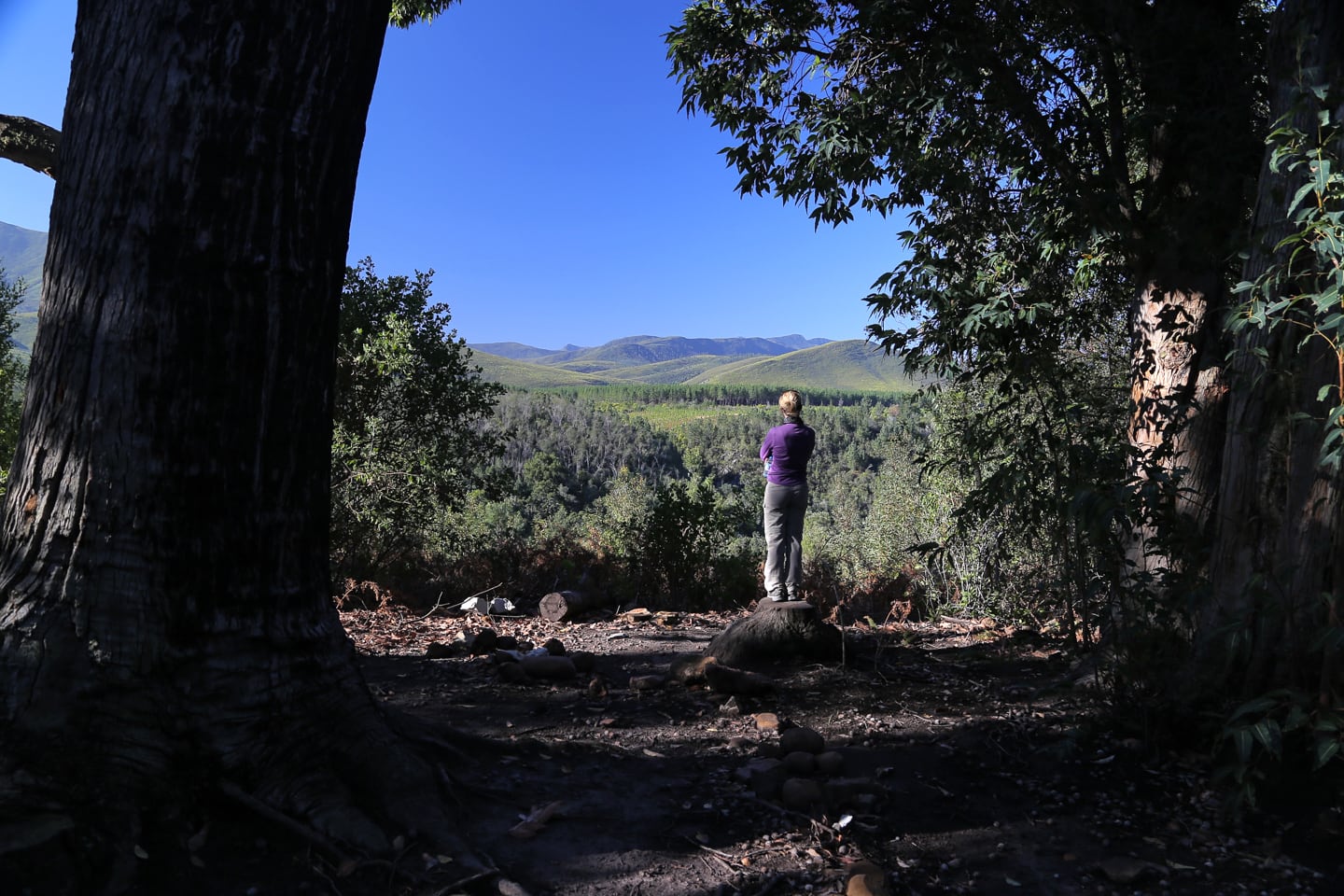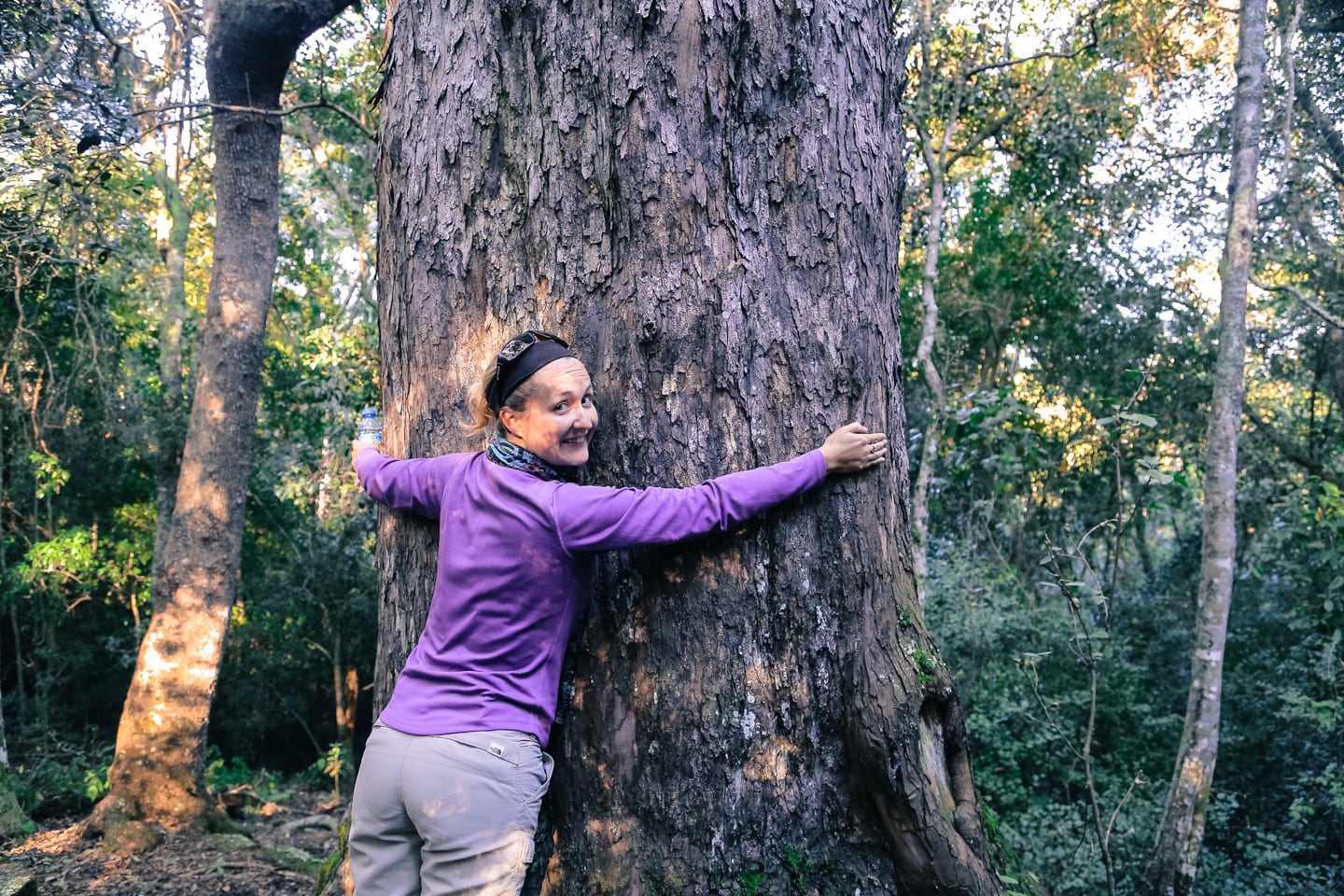 Our first hike took about 20 minutes and led us to this mammoth Yellowwood Tree called Mama Yellowwood. According to the painted rock at her feet, Mama Yellowwood is almost a thousand years old! So she's a bit more accustomed to people walking around in Medieval garb, I suppose.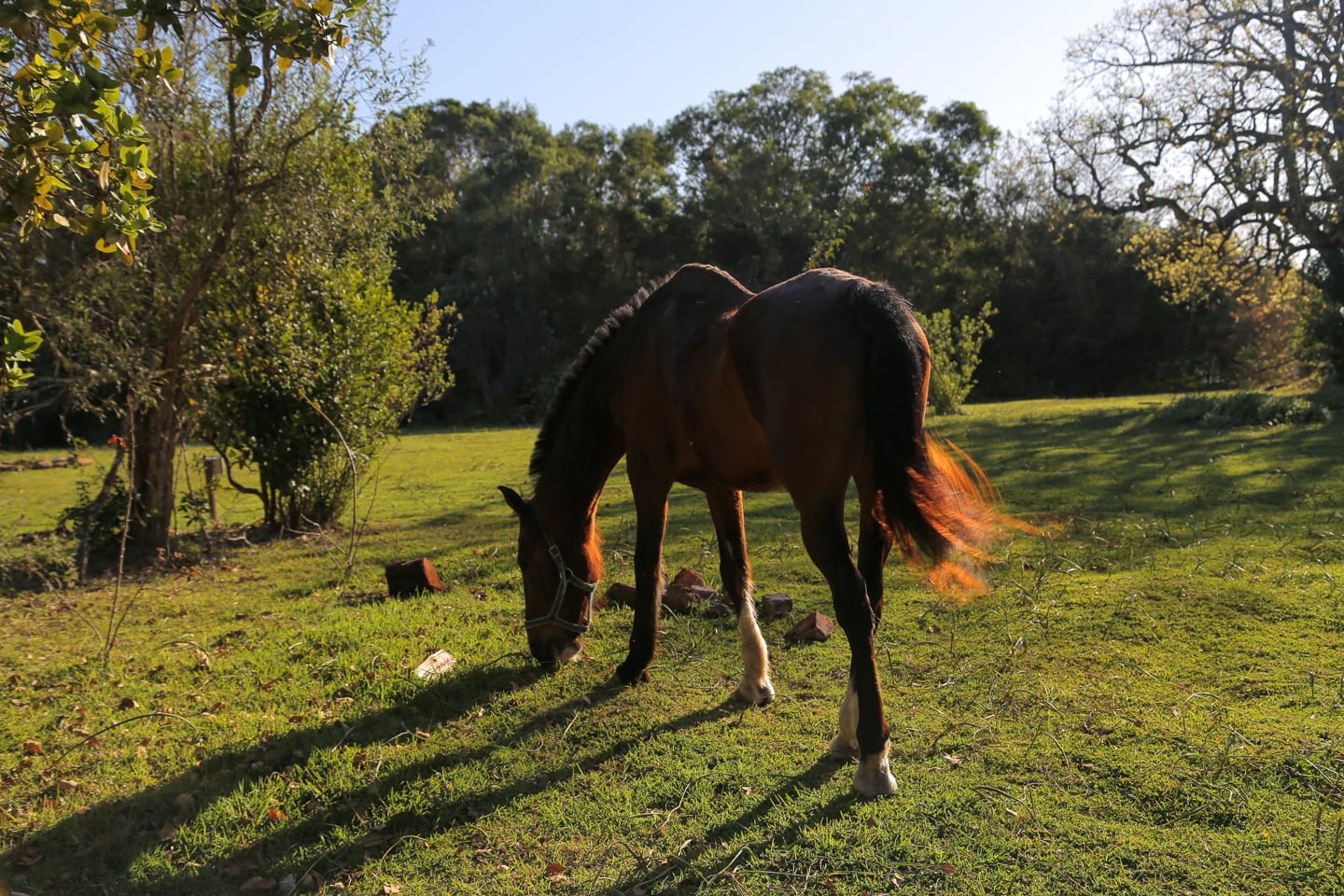 Next, we decided to venture on the hike recommended by the Earth Angel (who told us she is also one of the Breakfast Angels at Wild Spirit (volunteers who serve breakfast)).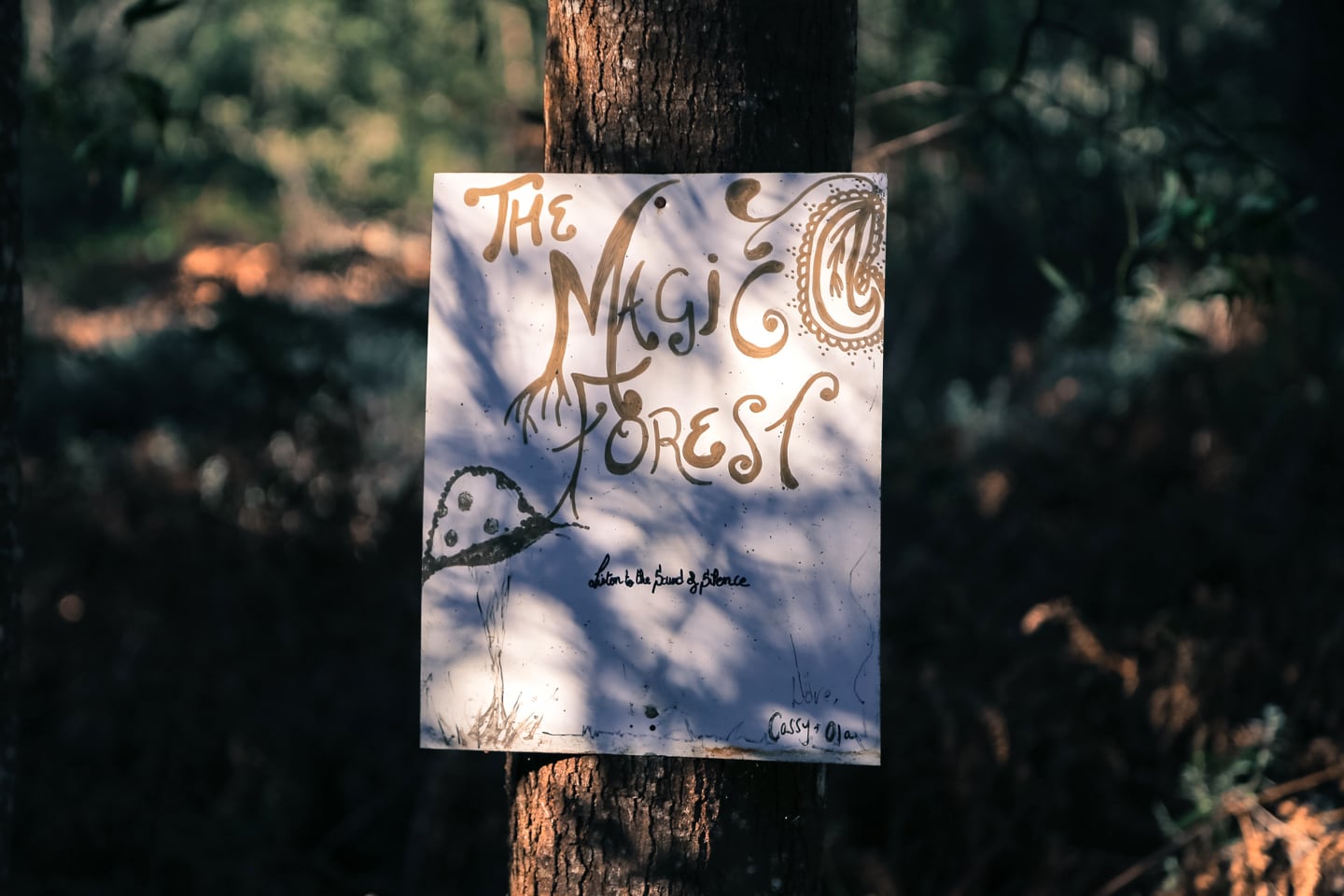 We didn't know quite what to expect in the Magic (or Magical) Forest… And after having spent 45 minutes bushwhacking our way through the tiny gorge, still aren't sure of what to make of it. I believe that the walk likely was lacking medicinal substances of a certain variety, which probably would have made the walk much more interesting, but Lori and I were left only to our own imaginations.
One major concern I did have about our little jaunt (which I repeatedly voiced to Lori) centered on the presence of gnomes. Lori couldn't help but laugh off my [very real] concern, that is, until we came upon this placard. Who's laughing now???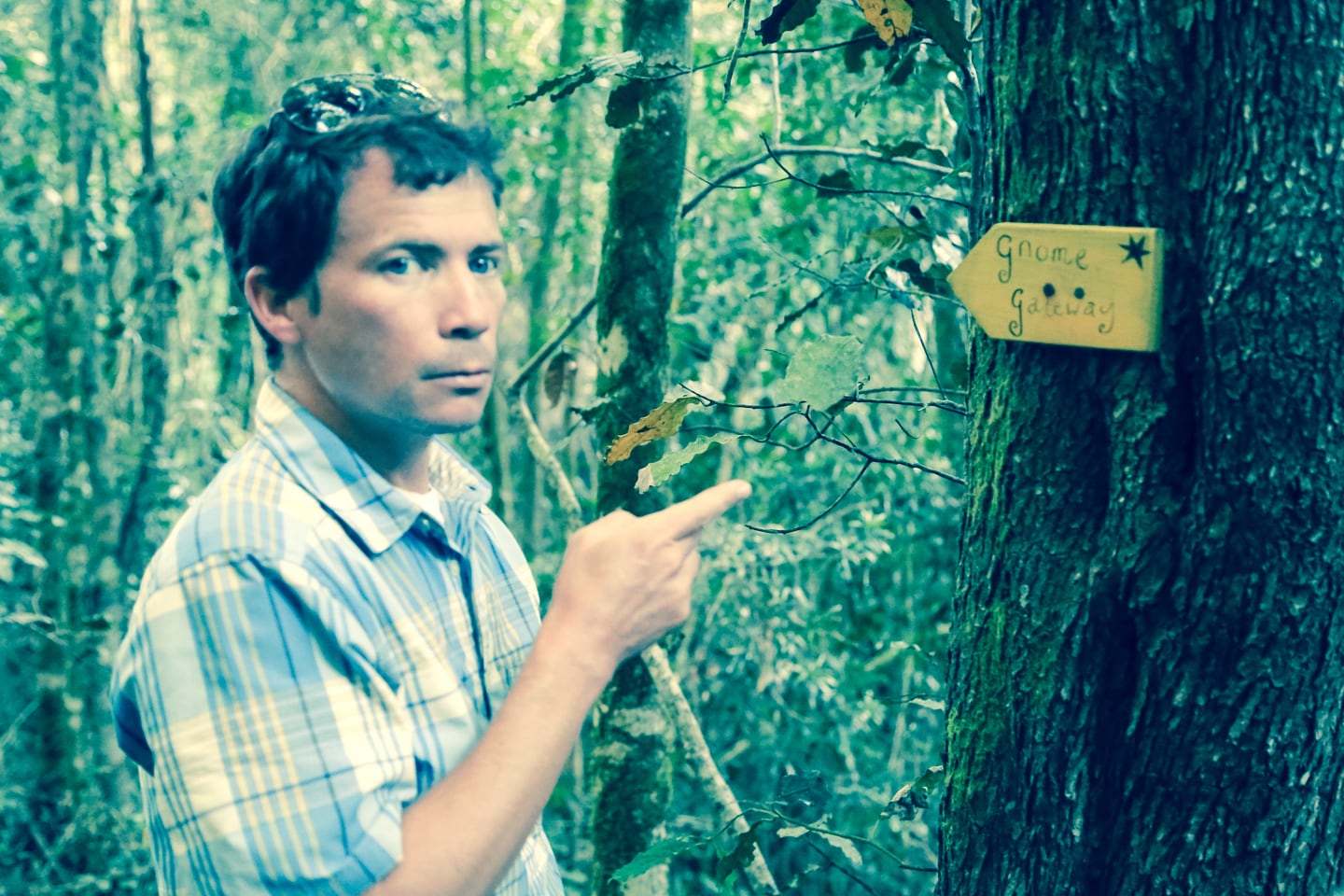 We also came across other little placards and various sizes of fungi (of varying authenticity). We clambered down into ravines and back up, hearing frogs and the whistling of the breeze along the way, always following the yellow arrows, deeper and deeper into the Rabbit's Hole.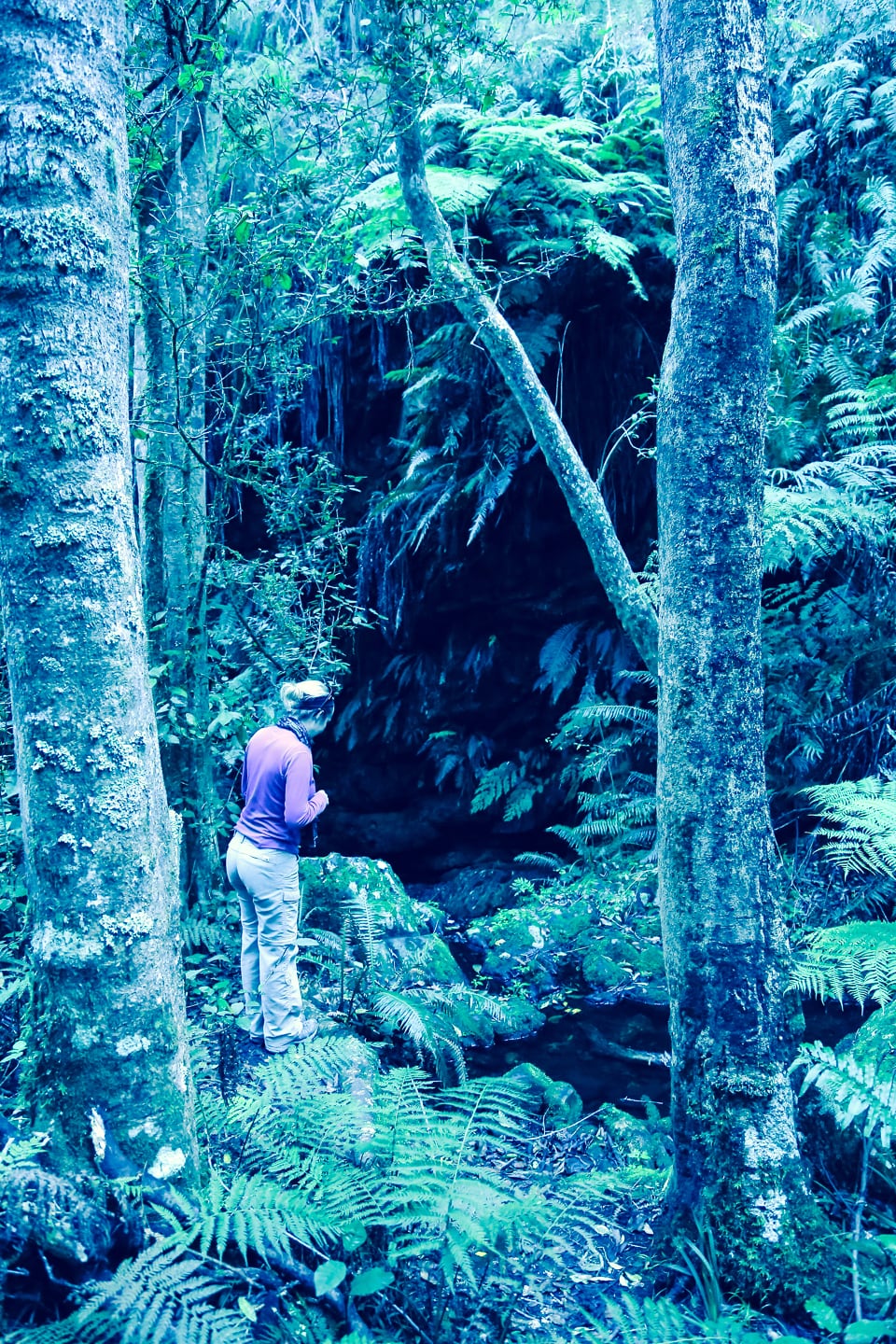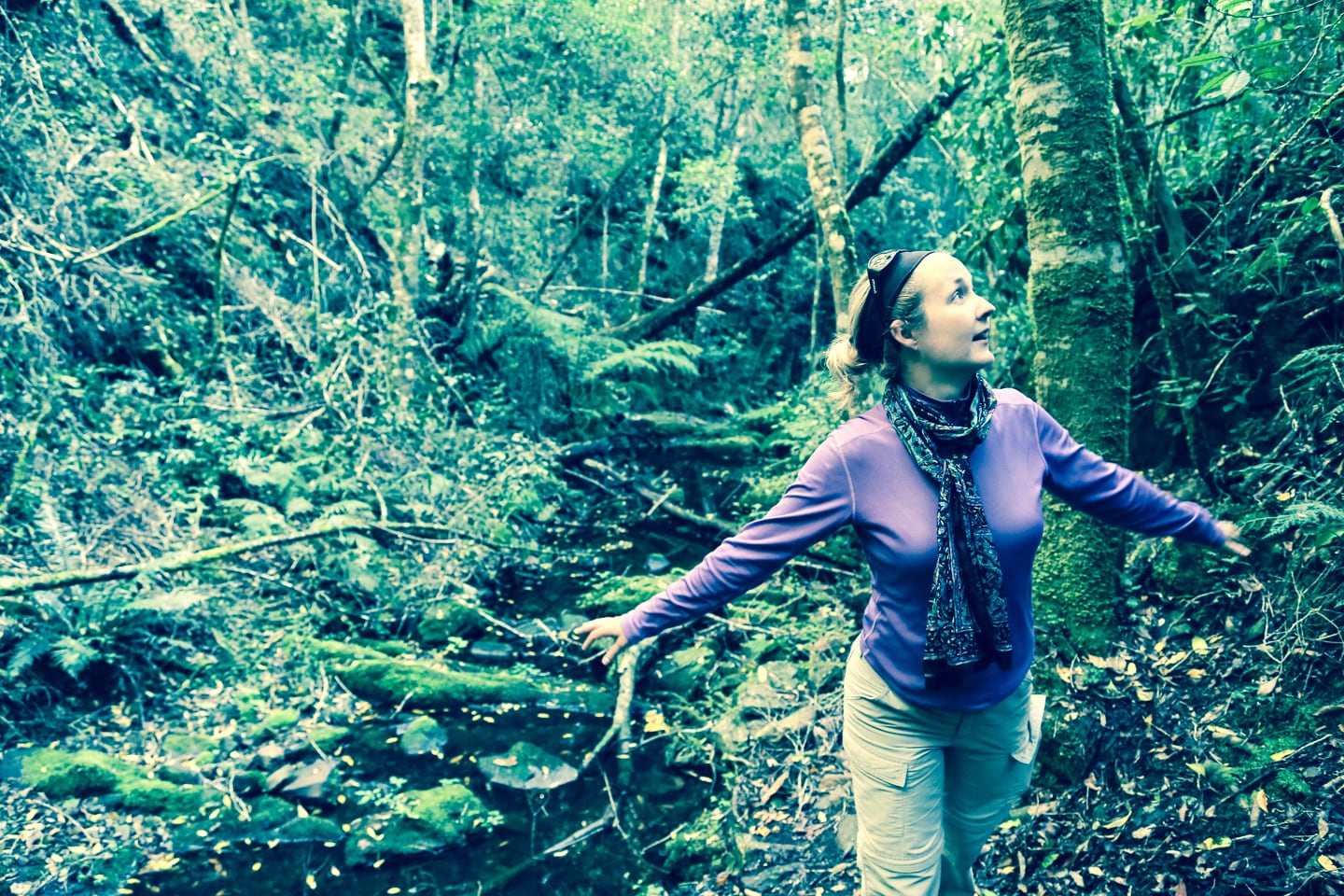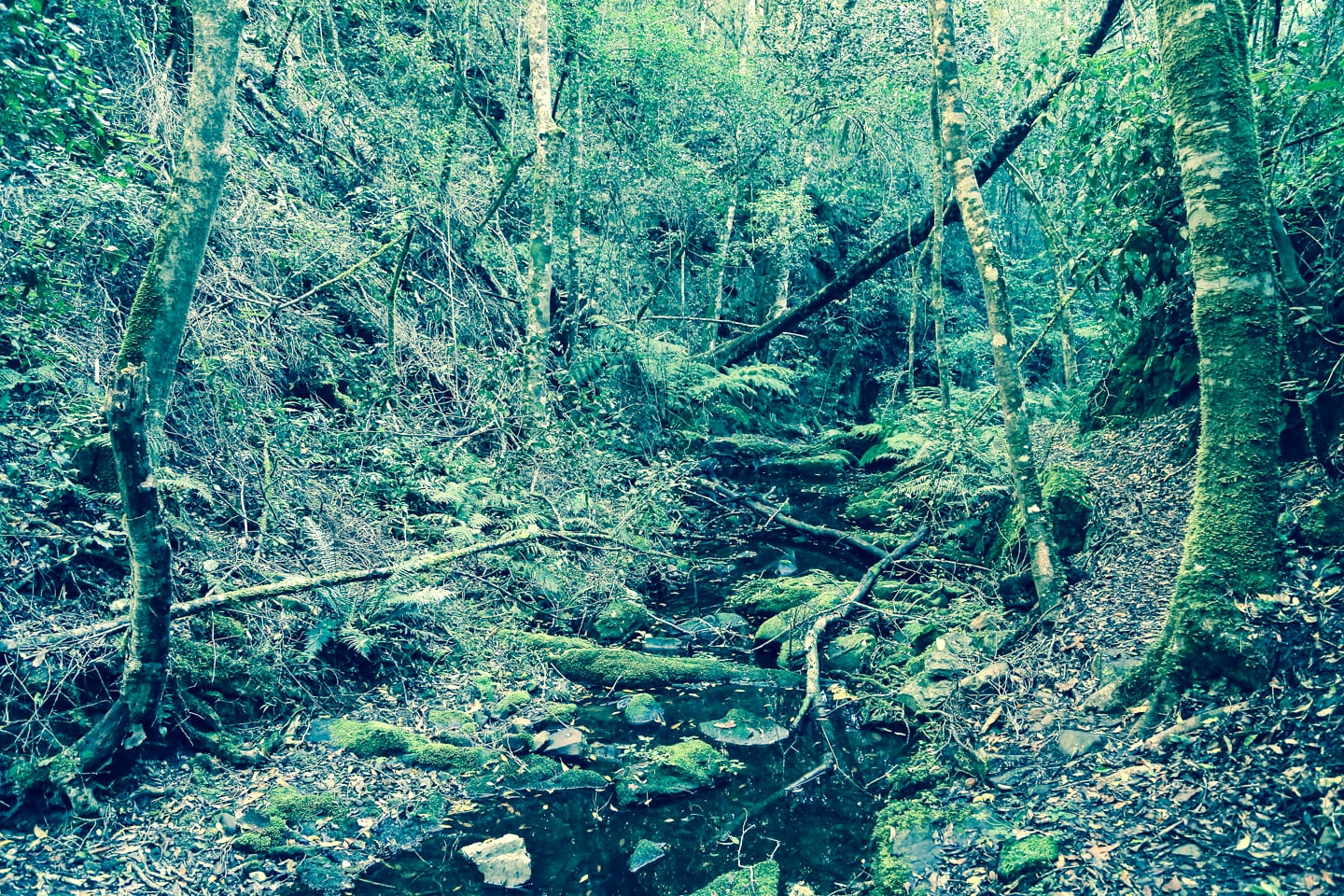 Until, we came out…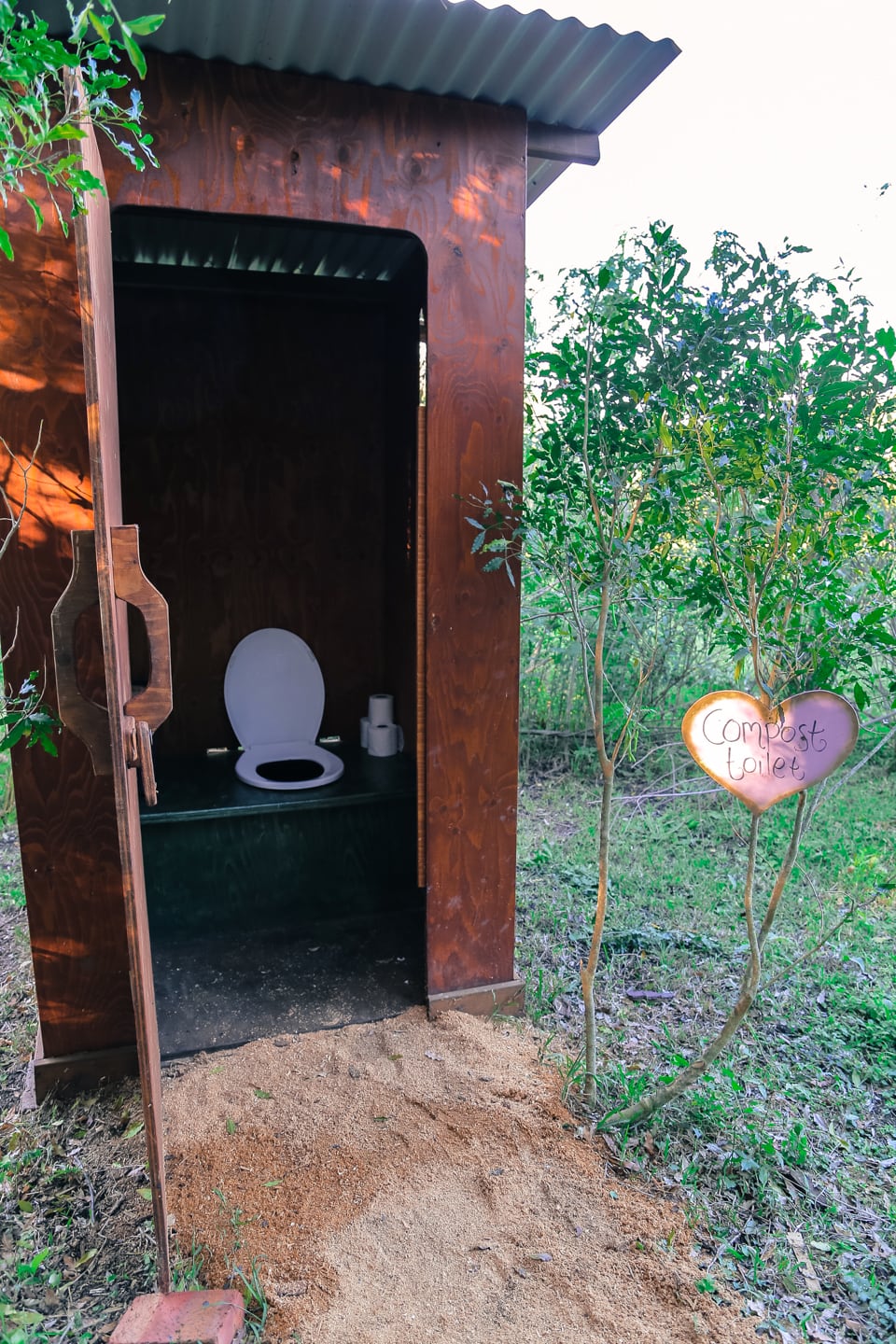 And found this lovely Compost Toilet, which, oddly enough…smelled very much like a compost toilet.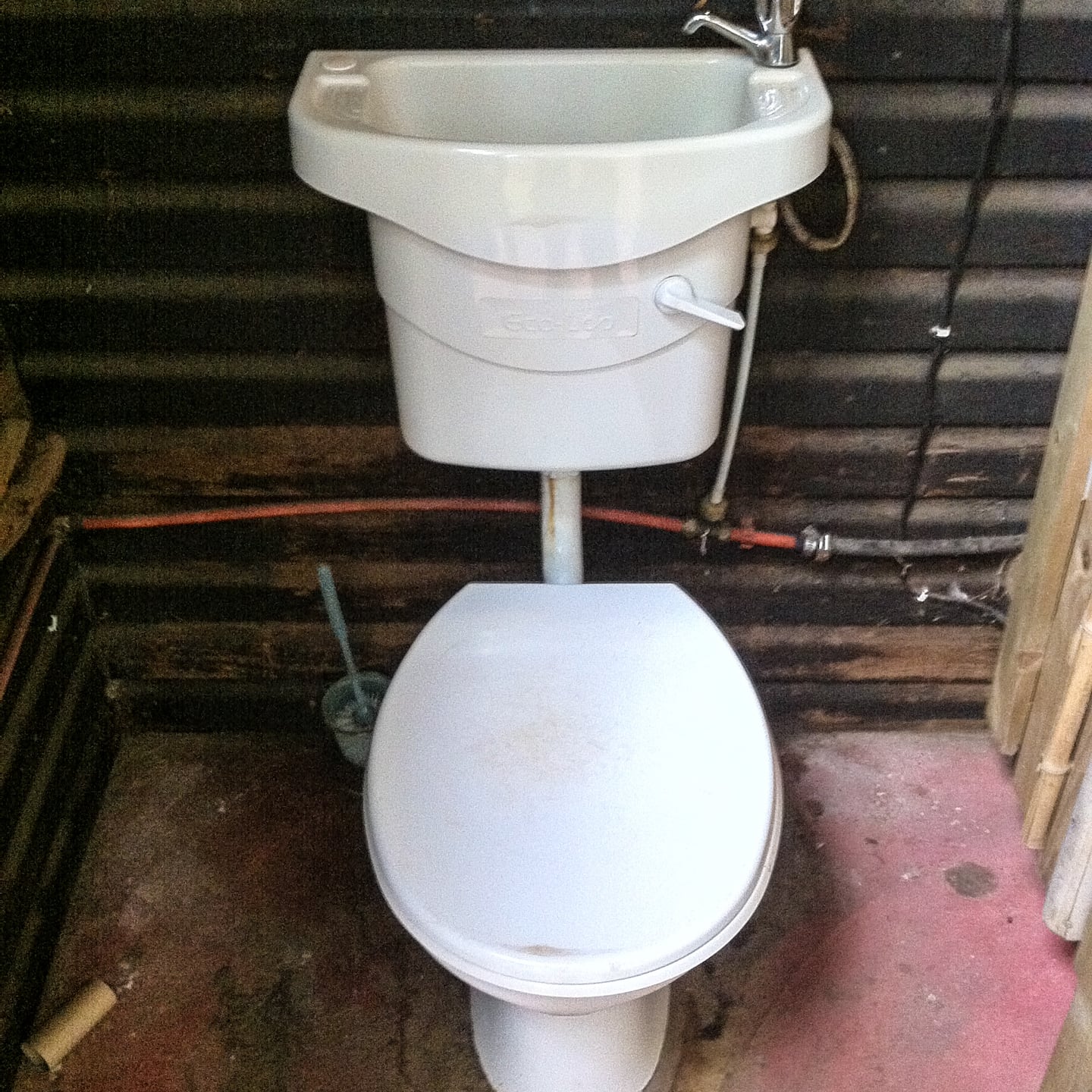 But nothing compares to this beauty. Absolutely brilliant. Not sure why they don't have these back in the States!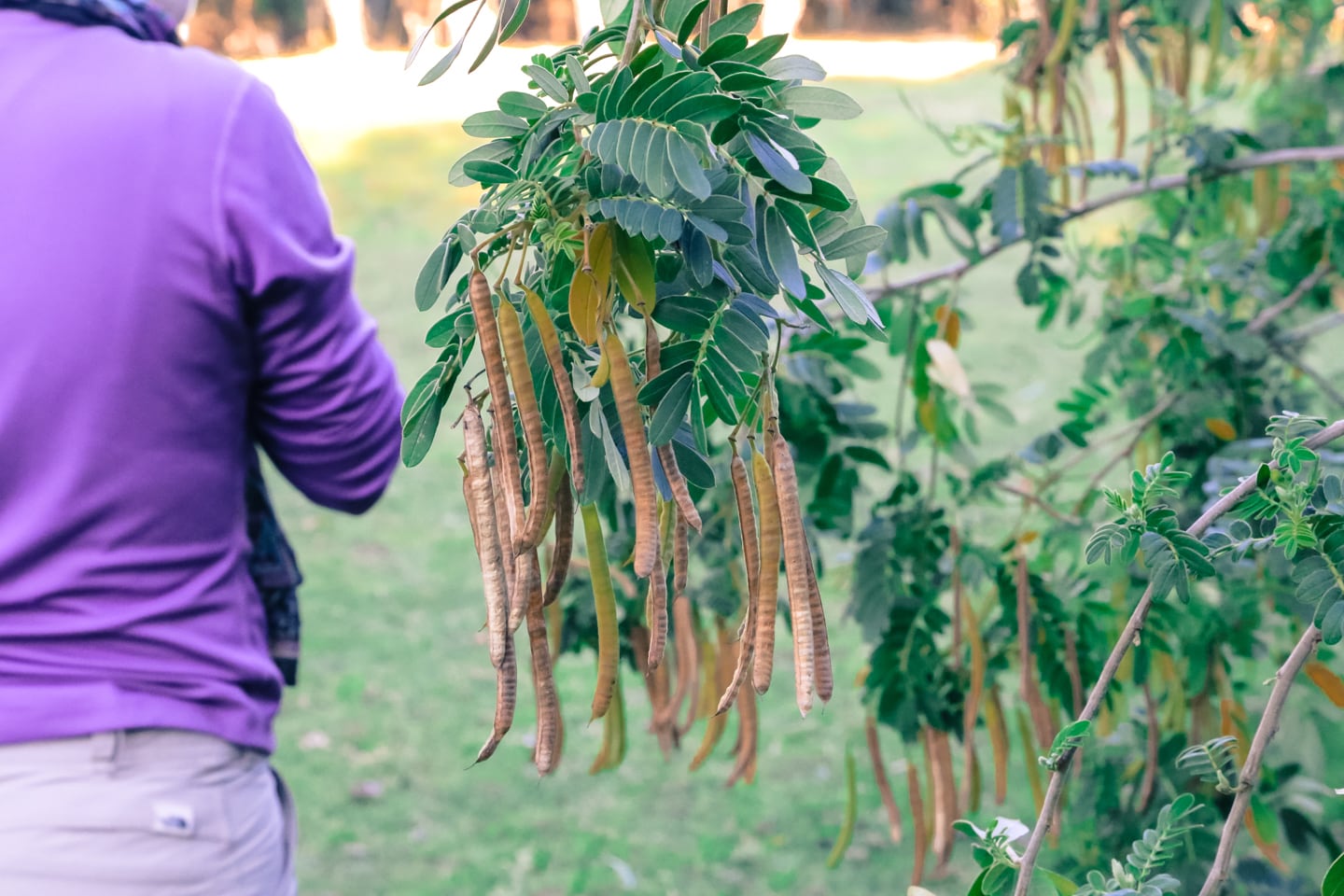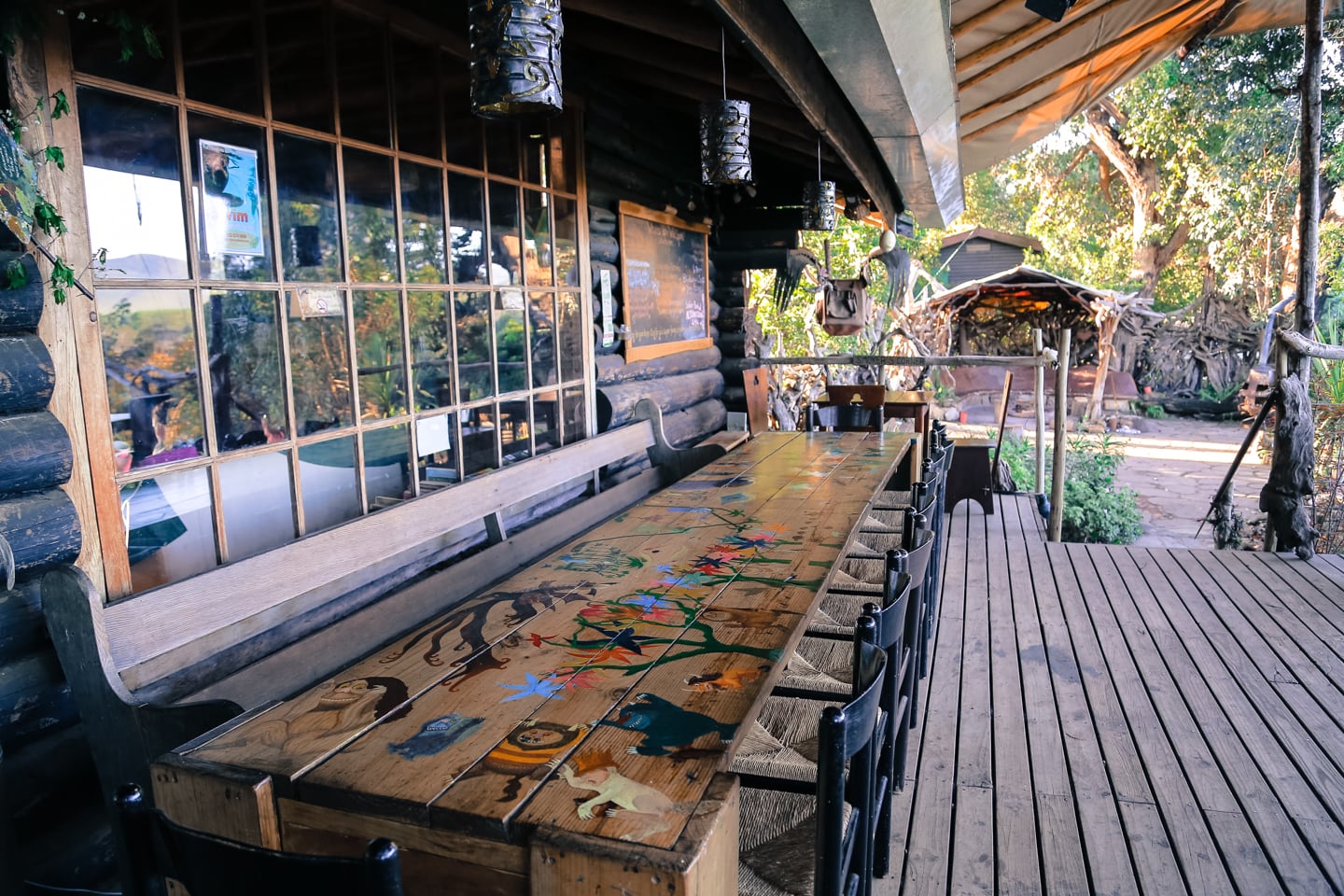 We stopped by the bar at the lodge just long enough to grab a very large beer and two glasses before heading on to our next destination. I think you know where this is heading…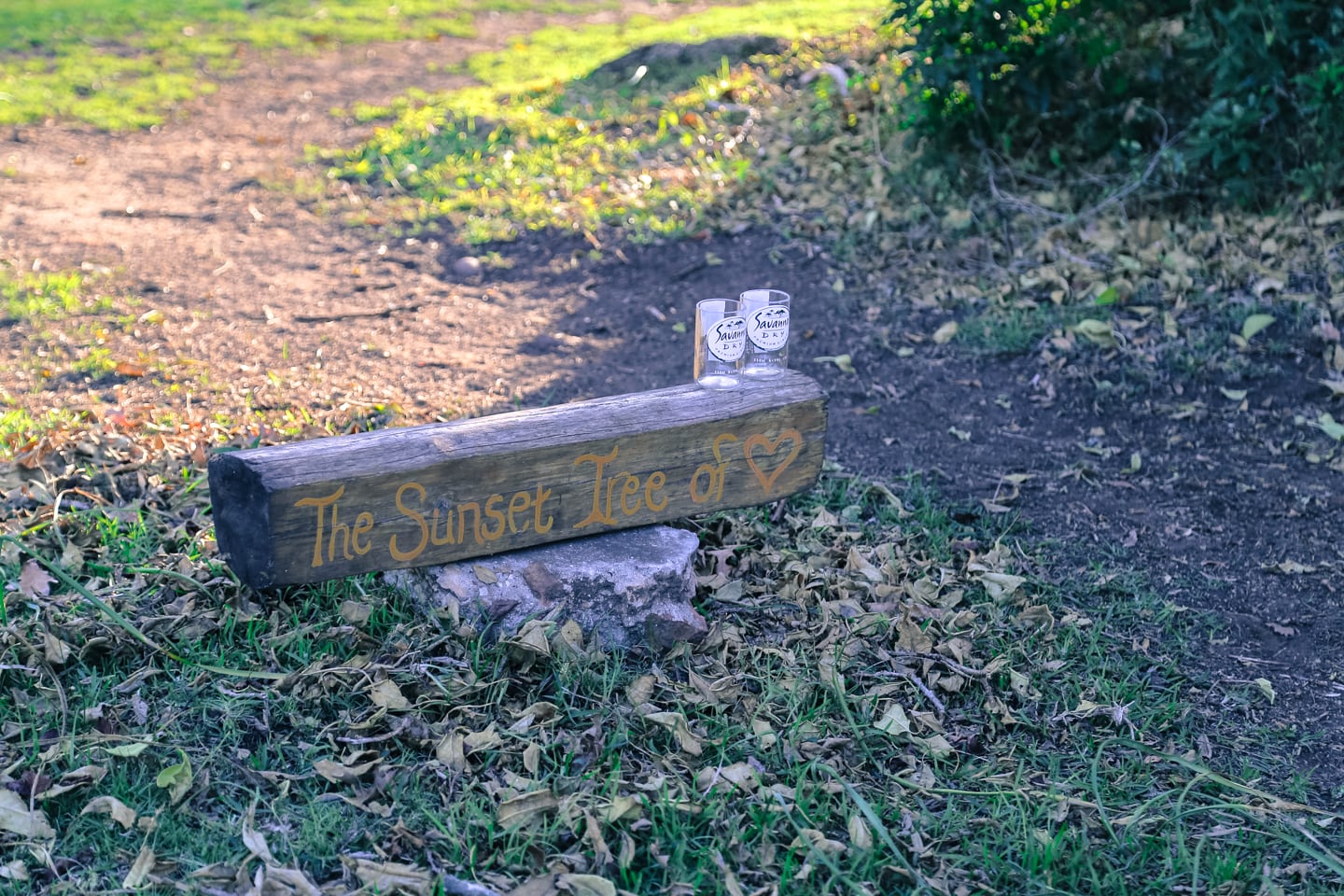 Ah yeah. The sun's getting heavy in the sky and the Castle Milk Stout is calling our names. Time to head up to the Sunset Tree of Luv.
A side note here: Our glasses were sawed off beer bottles. 'Upcycled' as the hippiefolk say these days. How cool is that!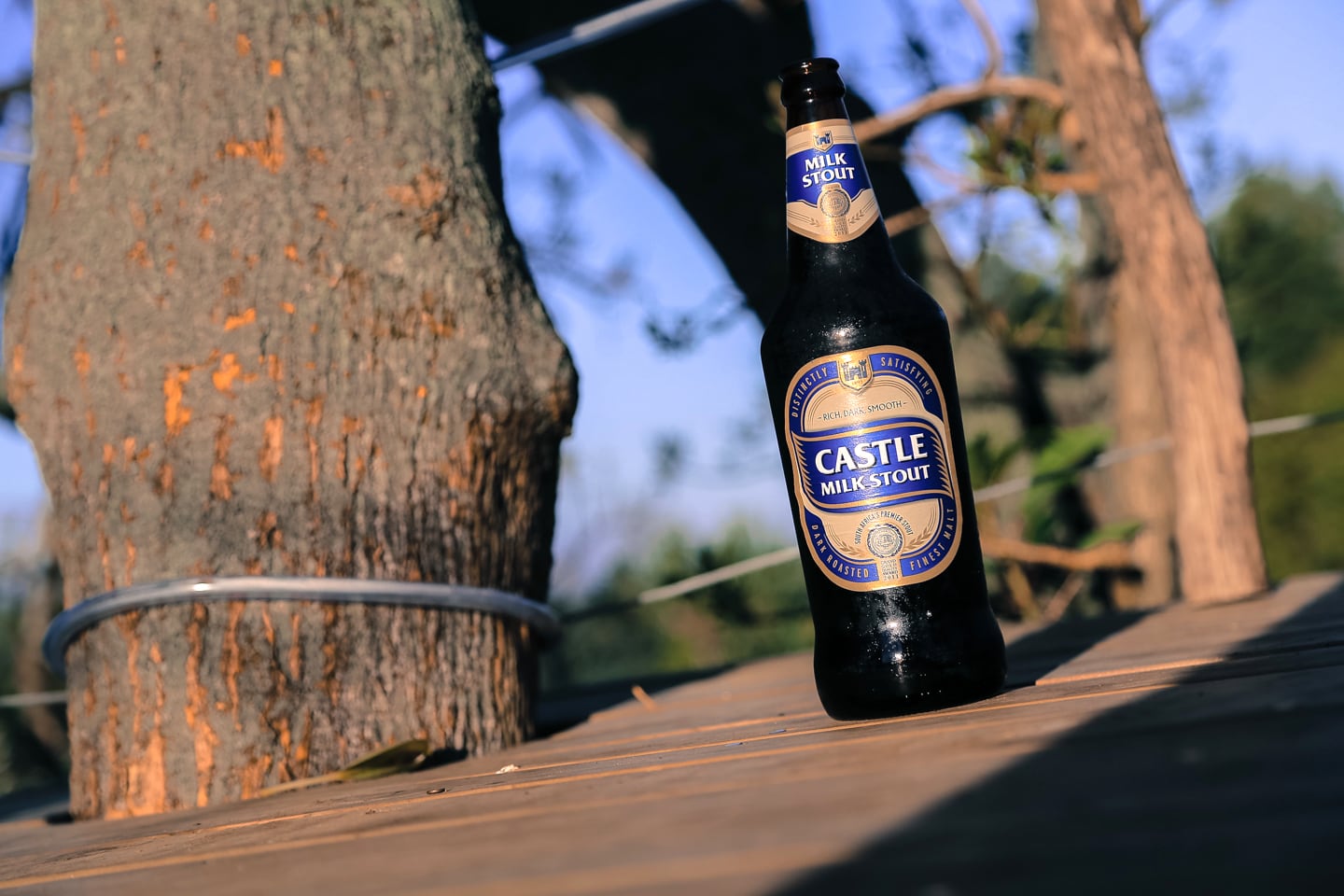 And there she is, folks. A 750ml bottle of smooth, refreshing Castle Milk Stout! My Sunday afternoon treat back in the day in Mozambique. I hadn't tasted its playful, yet delicate, flavor on my lips for eight long years. And now the moment of truth.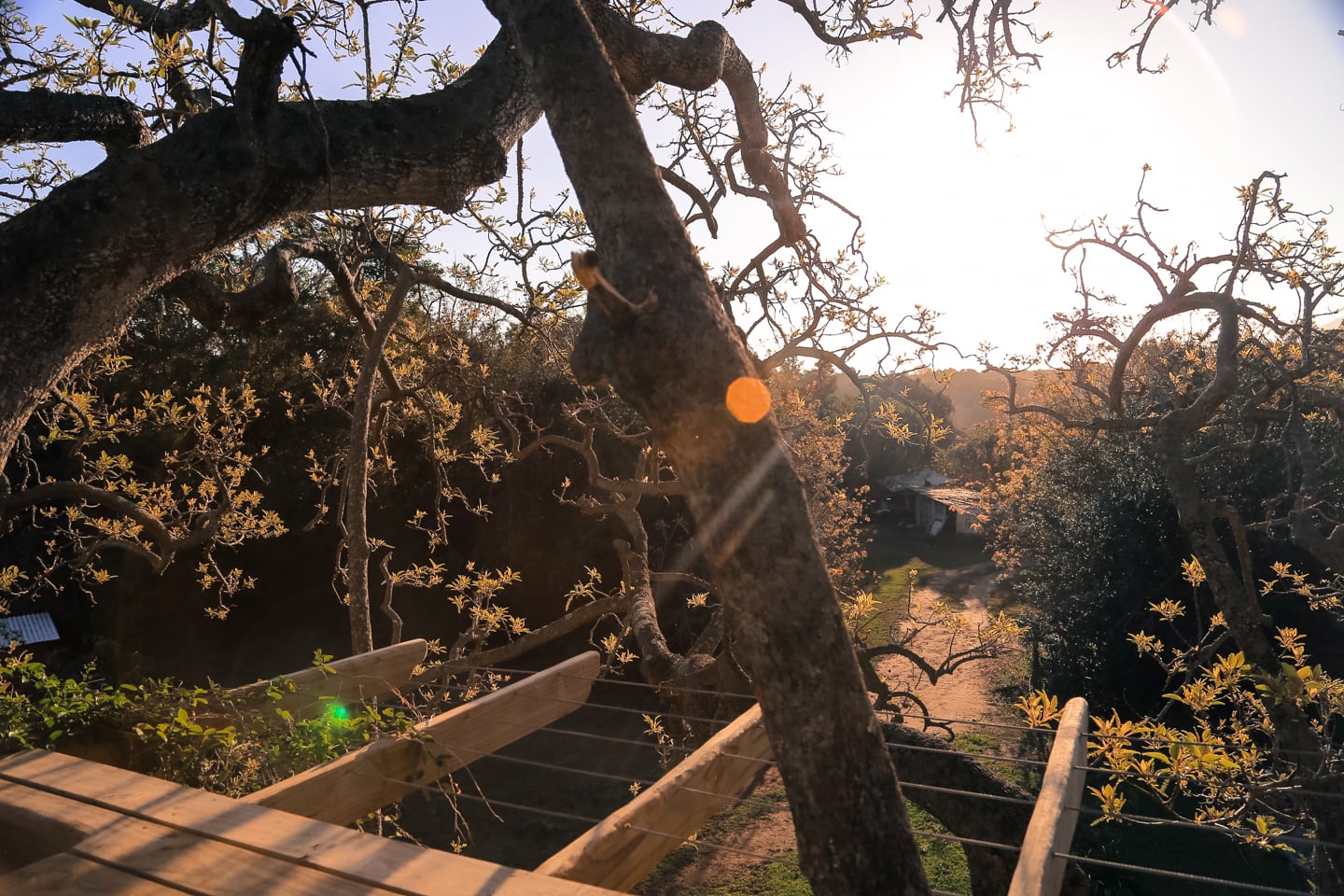 And a choir full of angels emerged and sang out from the heavens. And it was very good.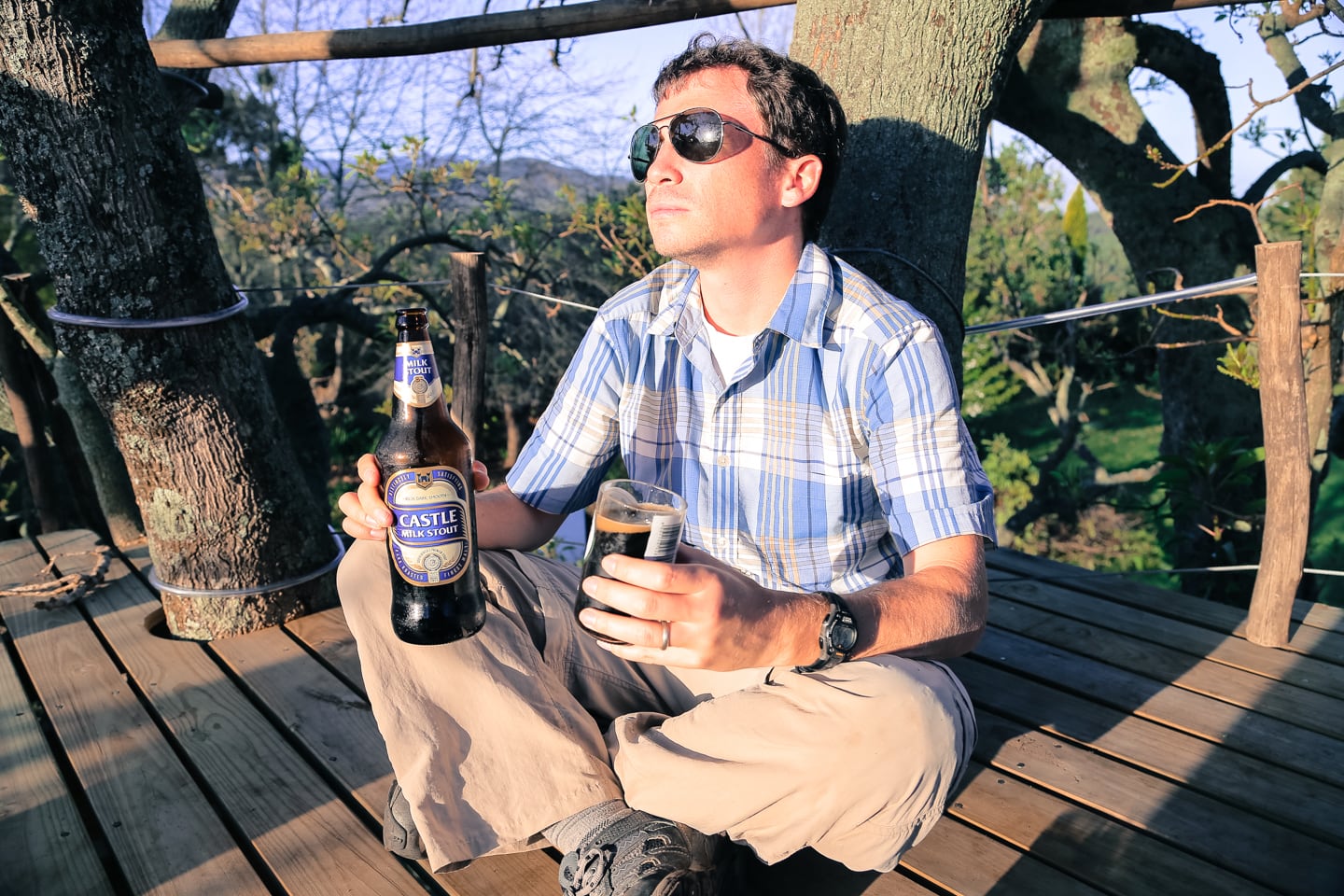 Oh, and Lori was there too.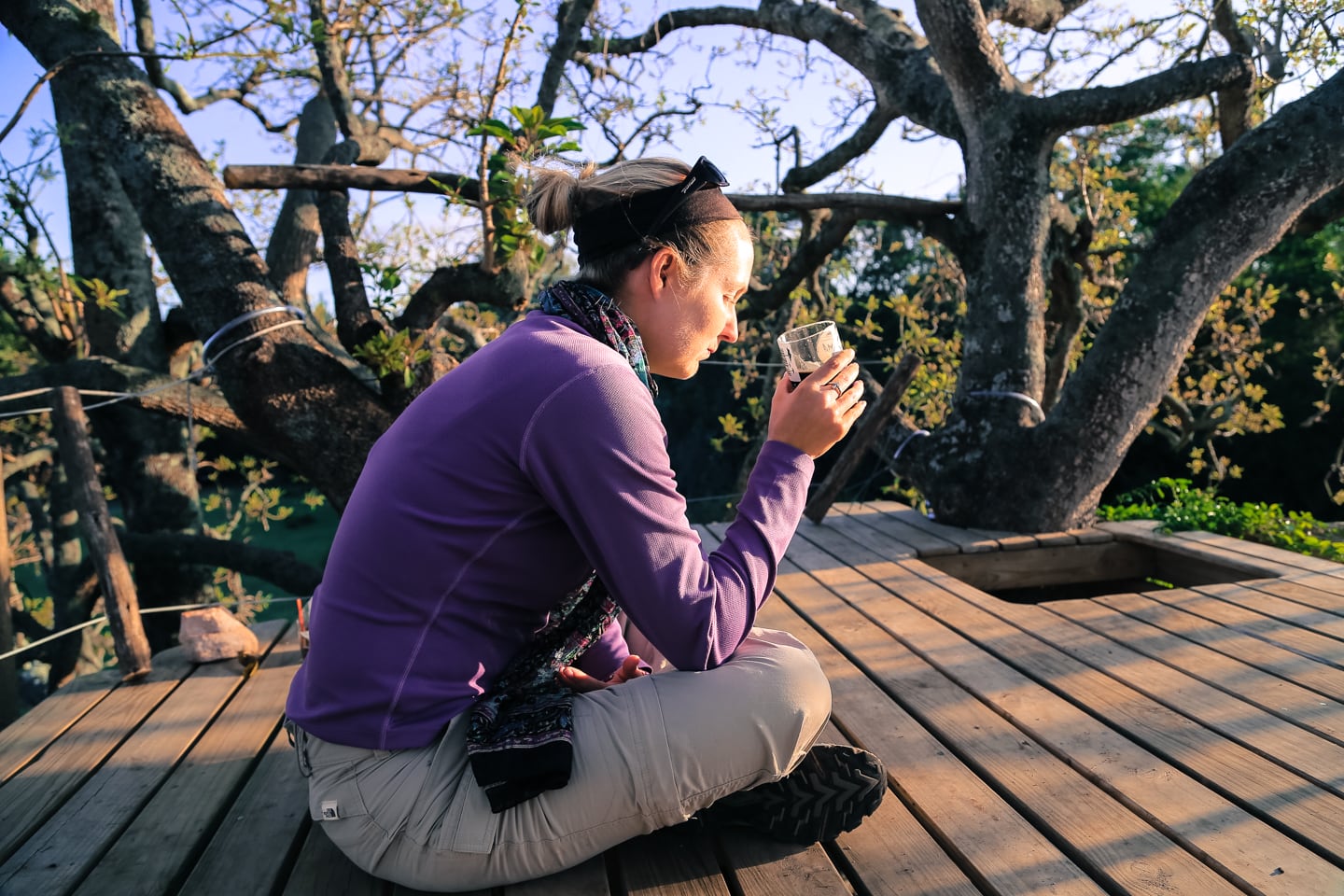 We whiled away the remaining hour of daylight on our treetop perch, watching that big ball of fire dip down into a sea of hippie-ness.
Then the birds got all crazy and started chirping up a storm and it became very clear whose tree this was and that we had overstayed our welcome. We quickly grabbed our things and got the heck out of there.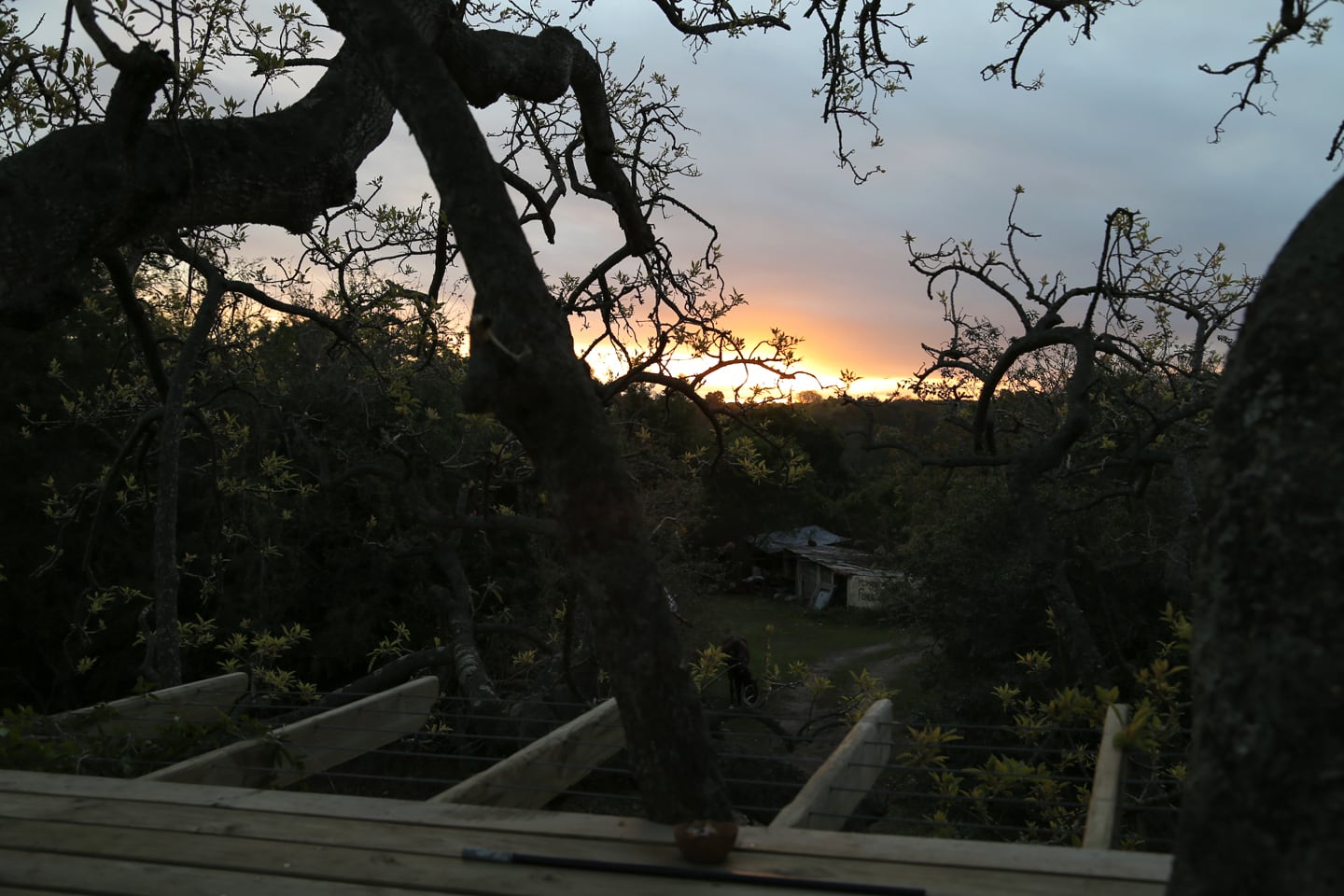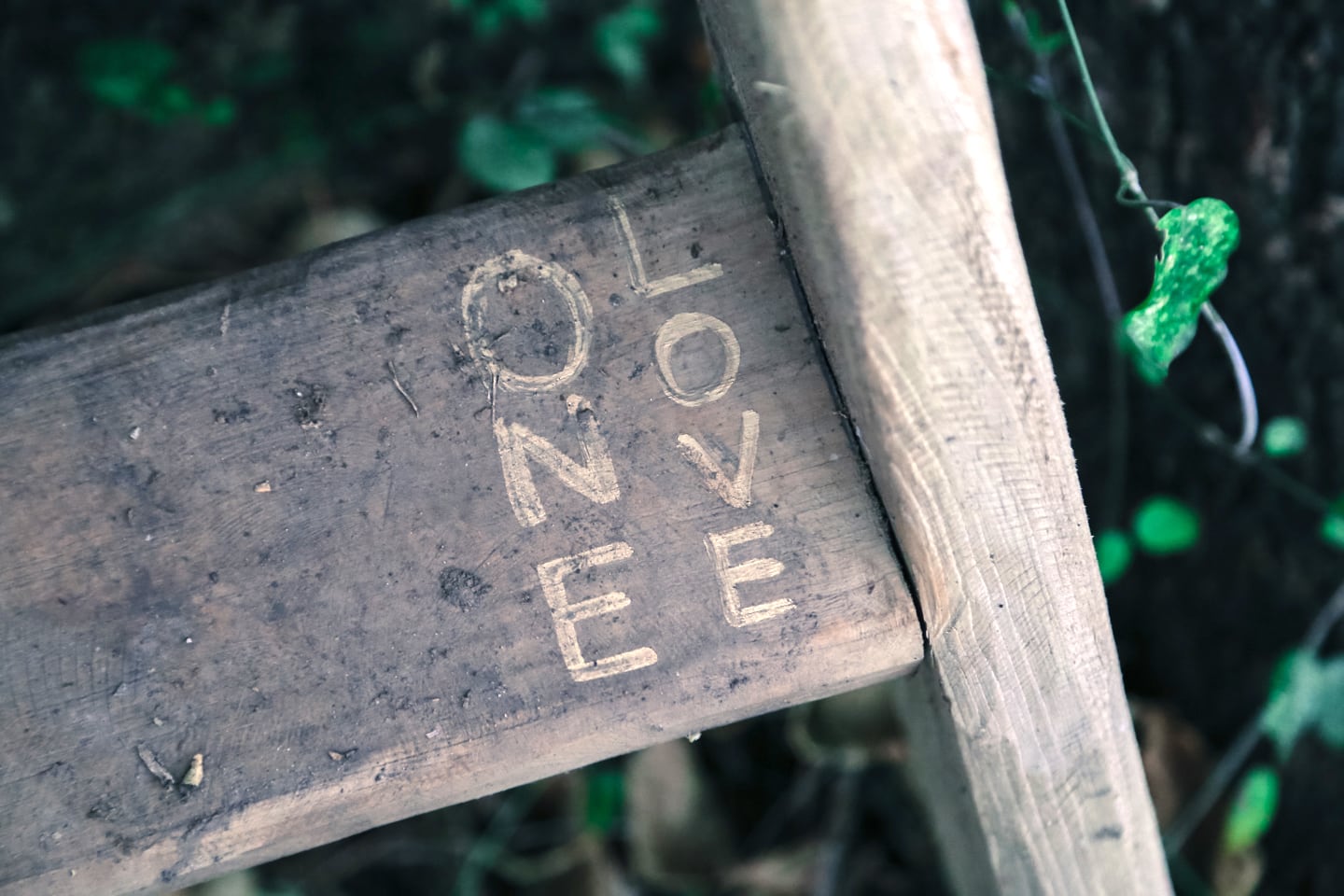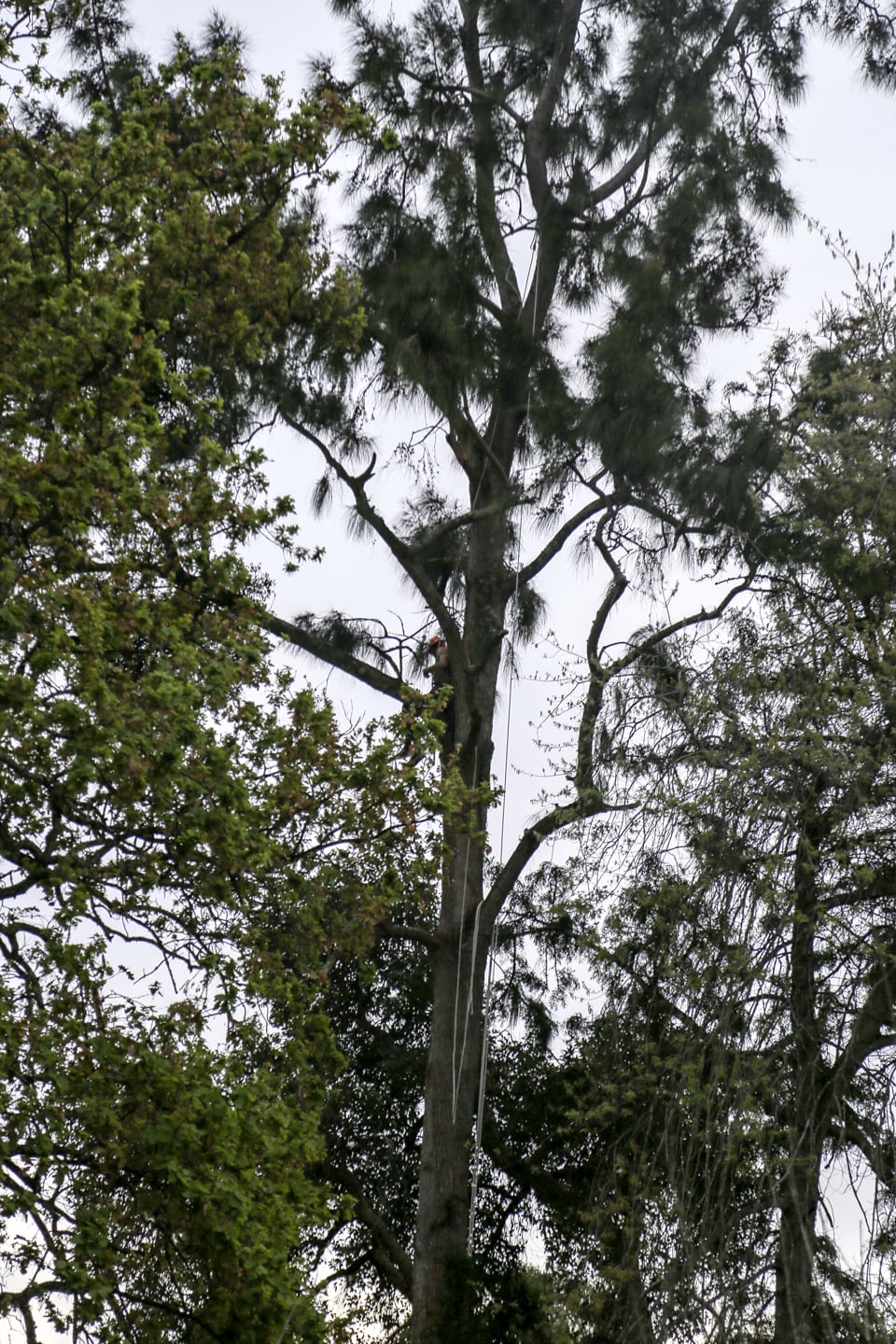 As we headed back to the common area, we heard voices in the nearby trees. This would have startled us a bit more at any other place, but seemed to make sense here…for some odd reason. We looked up, and sure enough, there were a couple of guys with ropes attached to harnesses just up for an evening tree climb. Of course…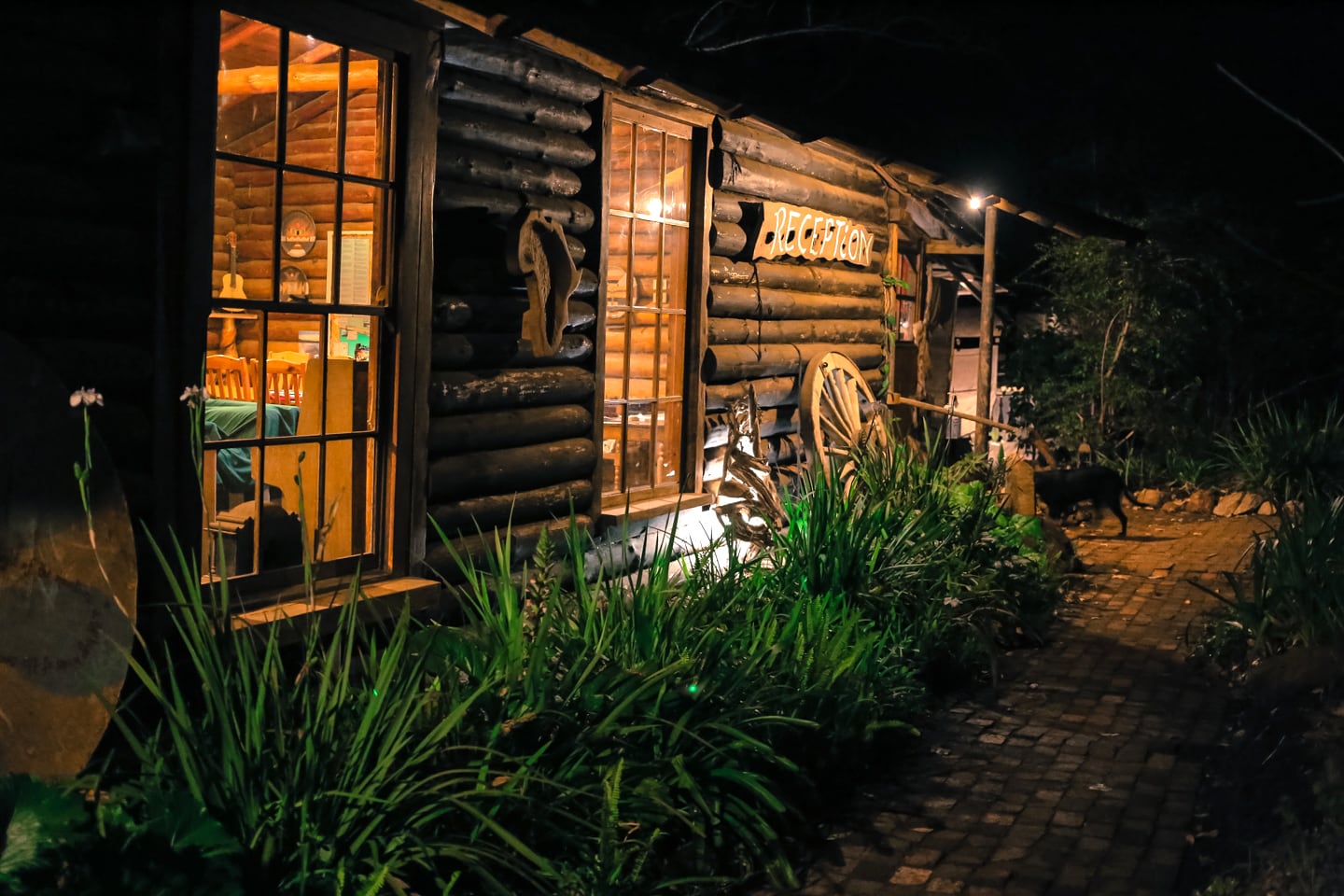 That evening, we had a delicious curry. I got the chicken and Lori opted for the vegetarian. Lori, do we need to talk?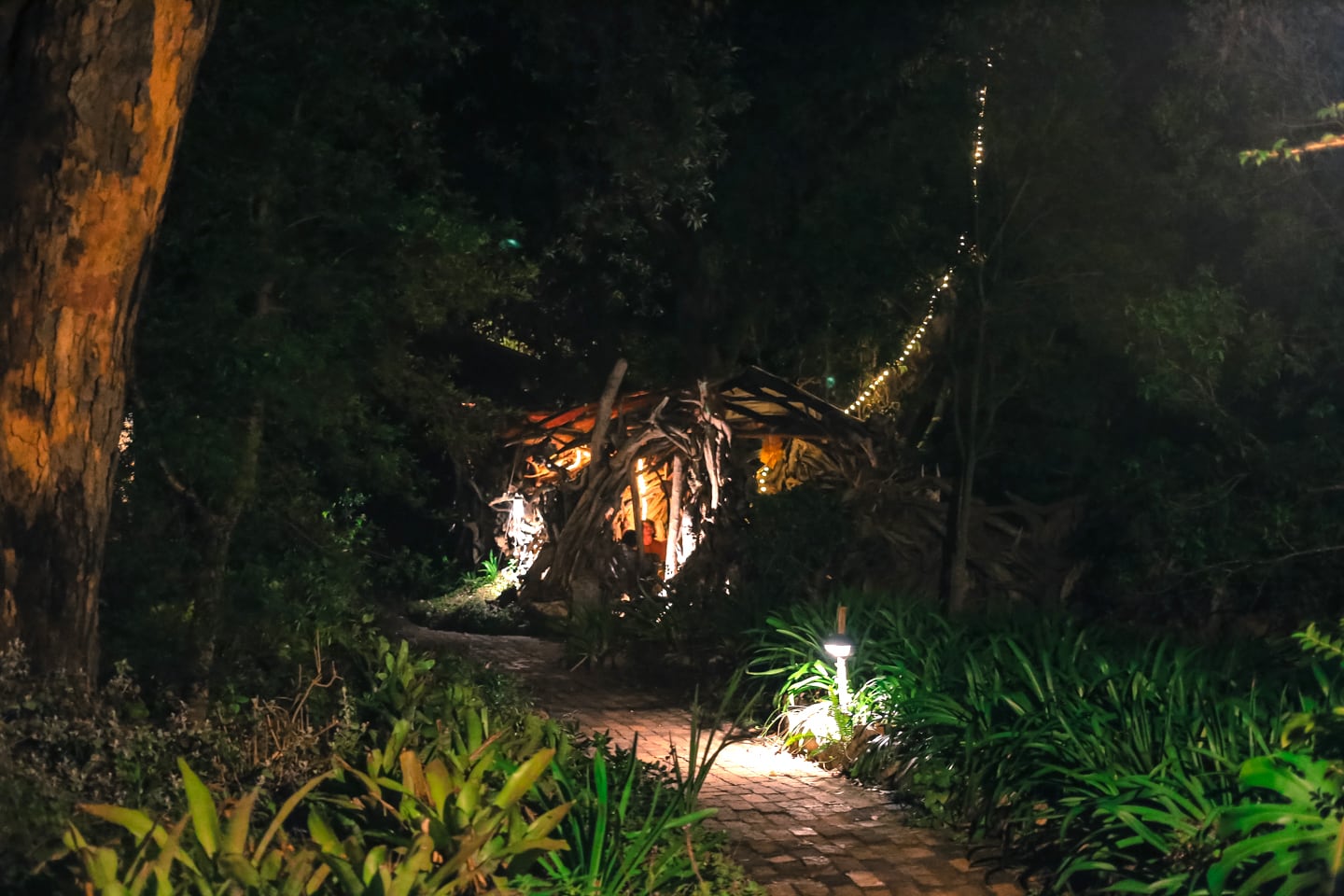 Following dinner, a fire was lit in a nearby hut and the sound of guitar and dijaridoo rang out, followed much later by incessant drumming. Lucky for me, the drumming was in the exact decibel range that my earplugs actually block, which very rarely happens. Oh joy. Don't get me wrong, I really like African/ hippie drumming. During daylight hours, bring it on. After dinner, sure, why not—helps with digestion and beer consumption. No problem. After 10:30pm. Now you're playing with fire.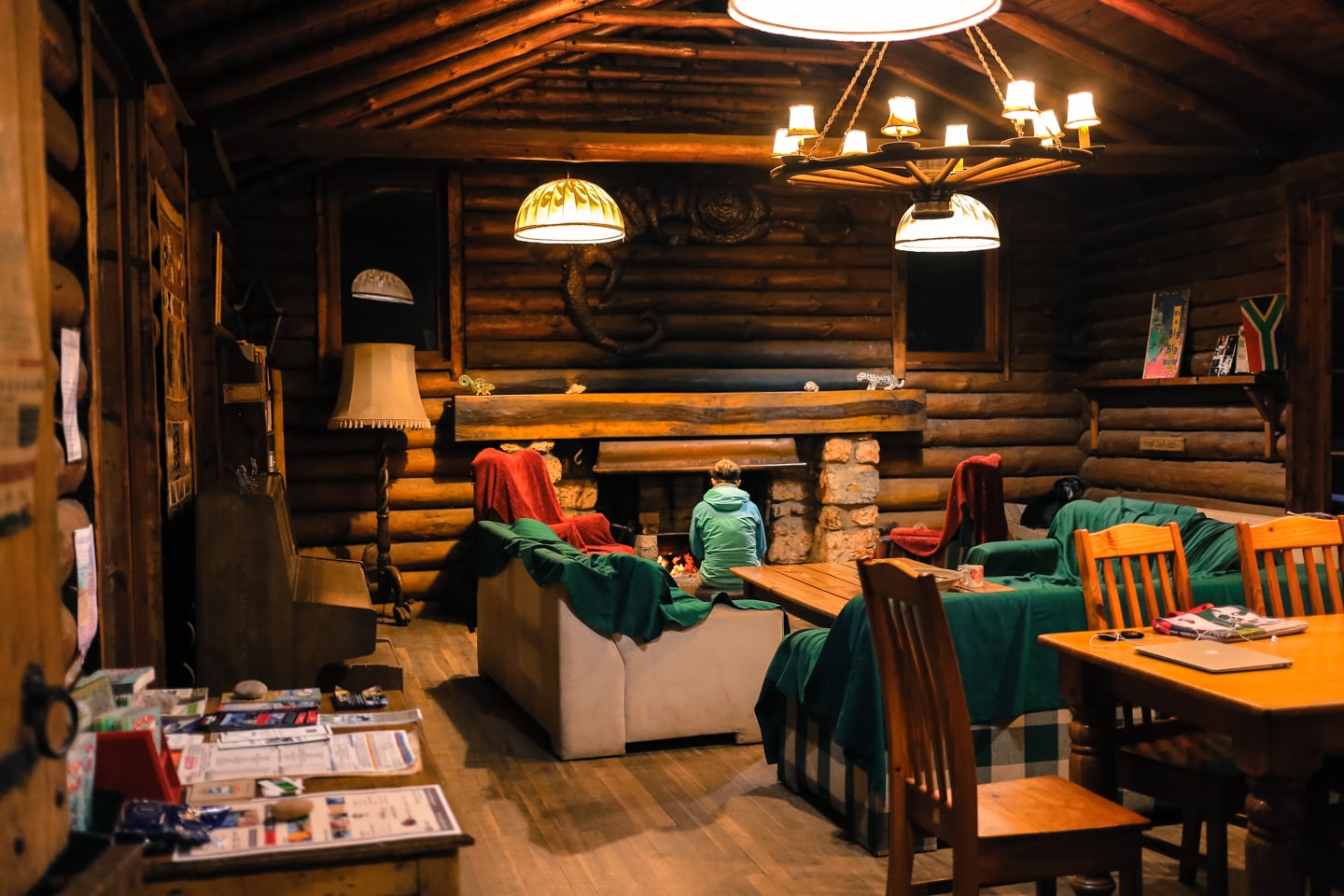 Speaking of fire. The lovely log cabin communal area also had one going. It was a chilly night (what is this word 'chilly?' again…after Belize, it is a word we've begrudgingly been made to add back to our vocabulary). Fooey. David no like.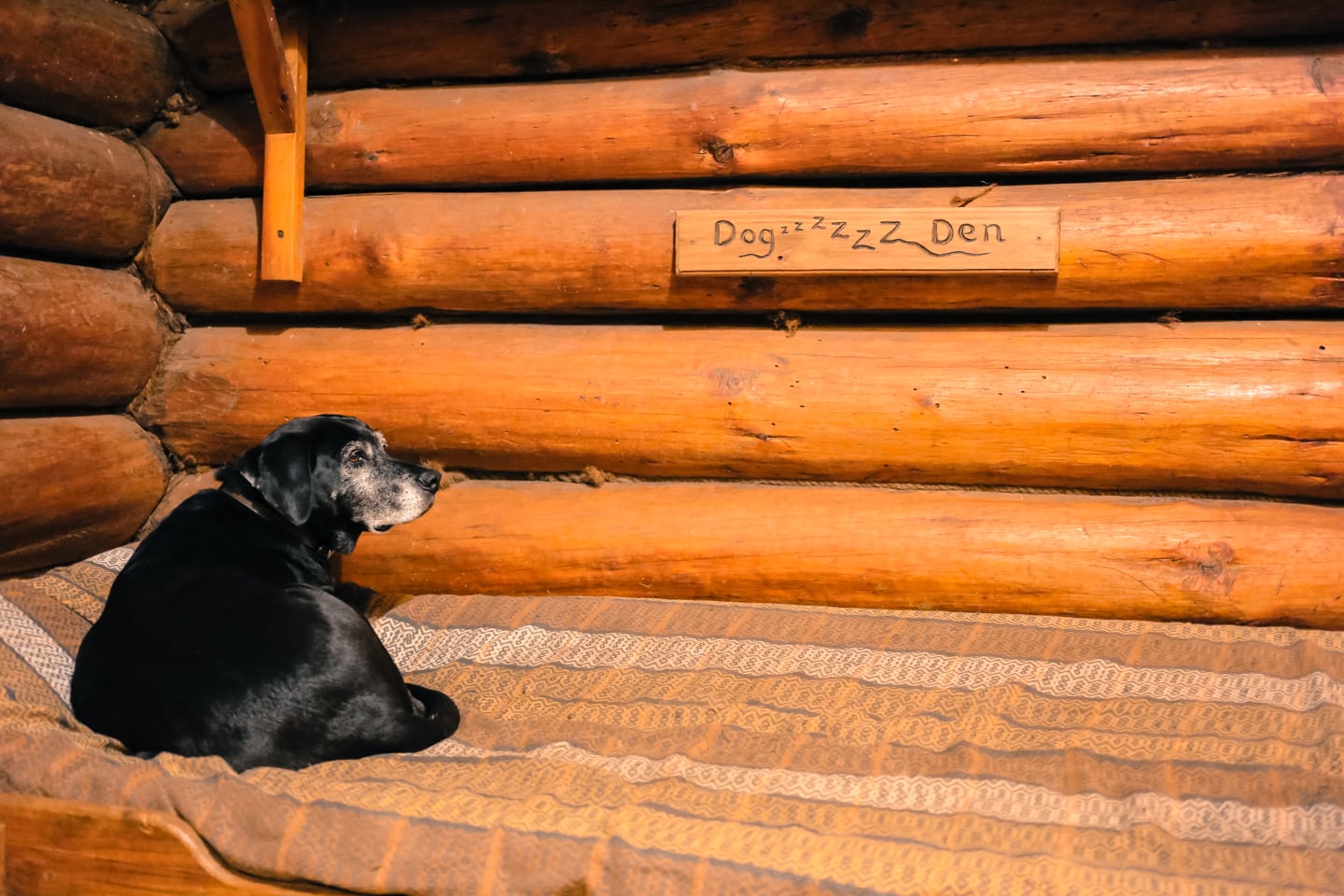 At least the dogs at Wild Spirit (all six of them) have a cozy place to cuddle up.