Some of our fondest memories of Zanzibar's Stone Town are having sundowners in the evening watching the sun go down and locals and visitors, alike, taking to the streets to enjoy the best time of the day. We tried the very popular Africa House Hotel sun deck, but the beers were expensive, the deck very open and hot, and the patrons not really our bag (watch your step on the spiral staircase heading down, which I imagine can get quite interesting after a few beverages).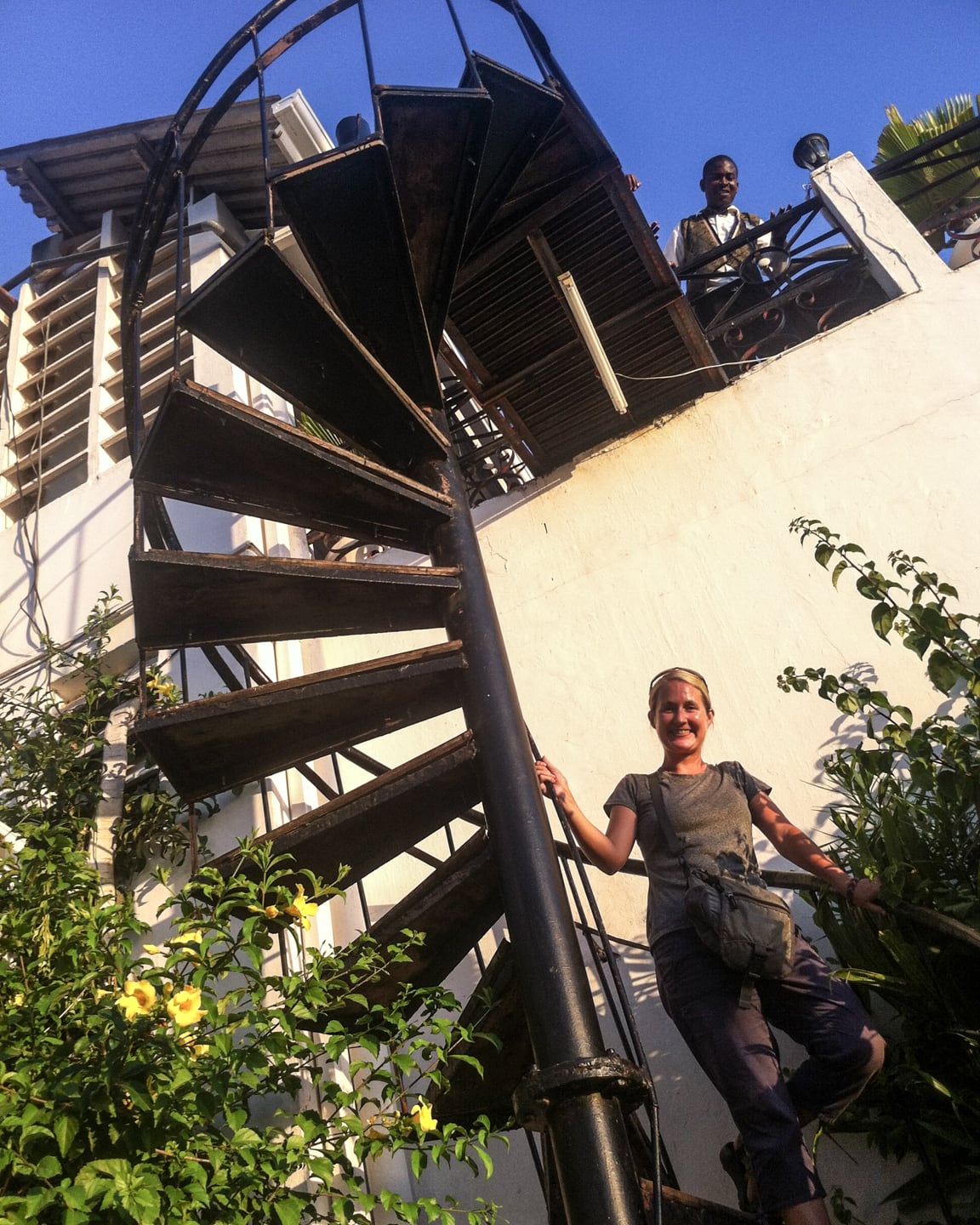 Lori and I spent two weeks on Zanzibar island as part of a four-month backpacking trip through Southern and Eastern Africa. We spent three days in Zanzibar's Stone Town before heading to the eastern beaches. Zanzibar Stone Town I and II cover our first few days on the island.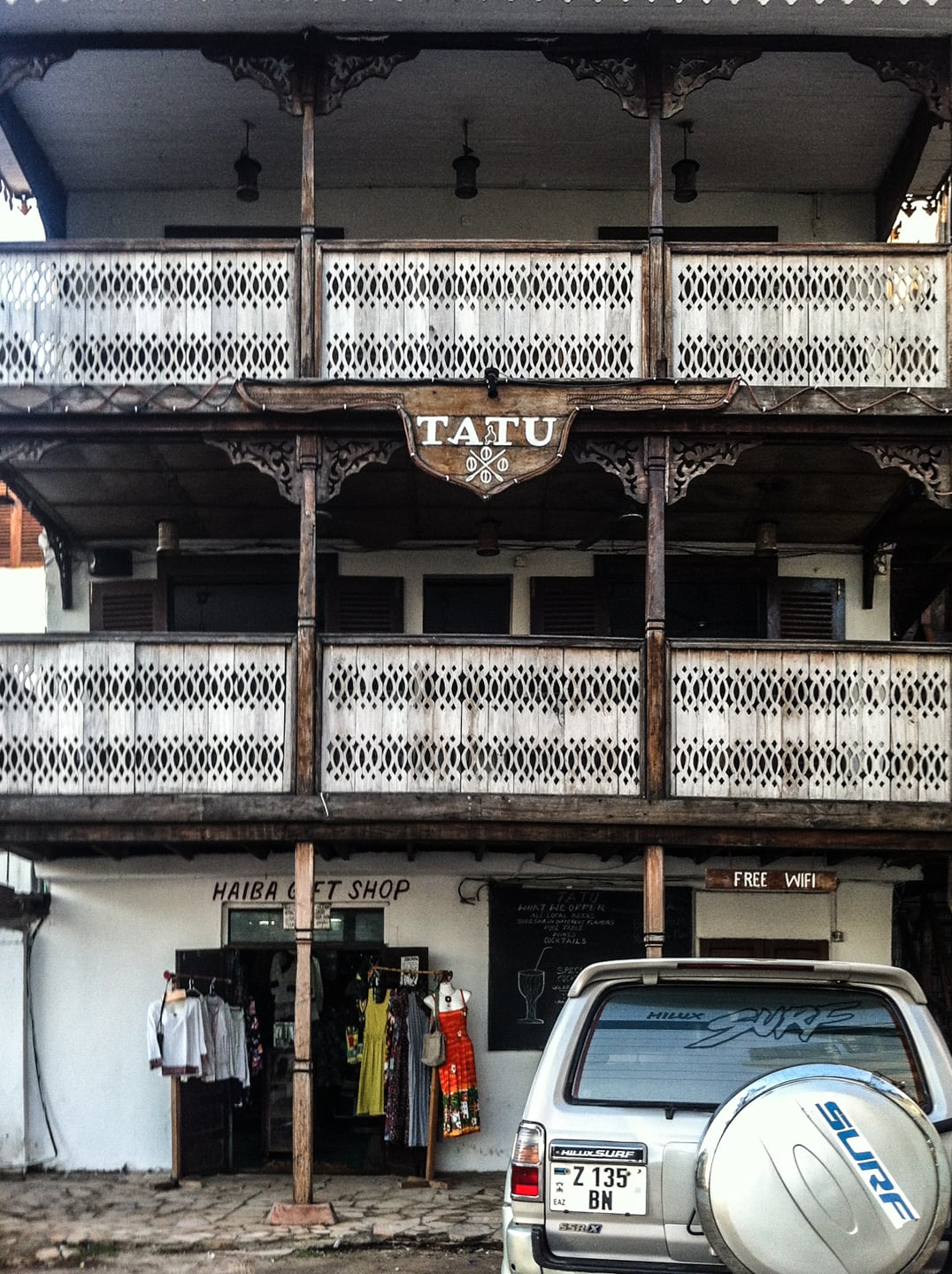 Sundowners
After finishing our shared "happy hour" Tusker lager, we made the 20-second walk next door to the far superior Tatu Bar (pictured above and below). Tatu is three levels of pure Swahili bliss, rustic with a good mix of raucous and chill (depending on which level you're on, apparently). The top level, at least this evening, seemed the chillest, and afforded the best views. We felt a bit obligated to order up a couple of gin and tonics to watch the last of the sun dip below the equatorial horizon.
On Zanzibar, it is often cheaper to get your cocktails in pieces, rather than asking for the cocktail by name. For example, our gin and tonics were generally half the price if we ordered a glass of gin and a glass of tonic water with ice, rather than a "Gin and Tonic." It worked for us all over the island at hotels, bars, restaurants, pretty much everywhere. I can only guess as to why this was the case, but nevertheless, definitely give it a try.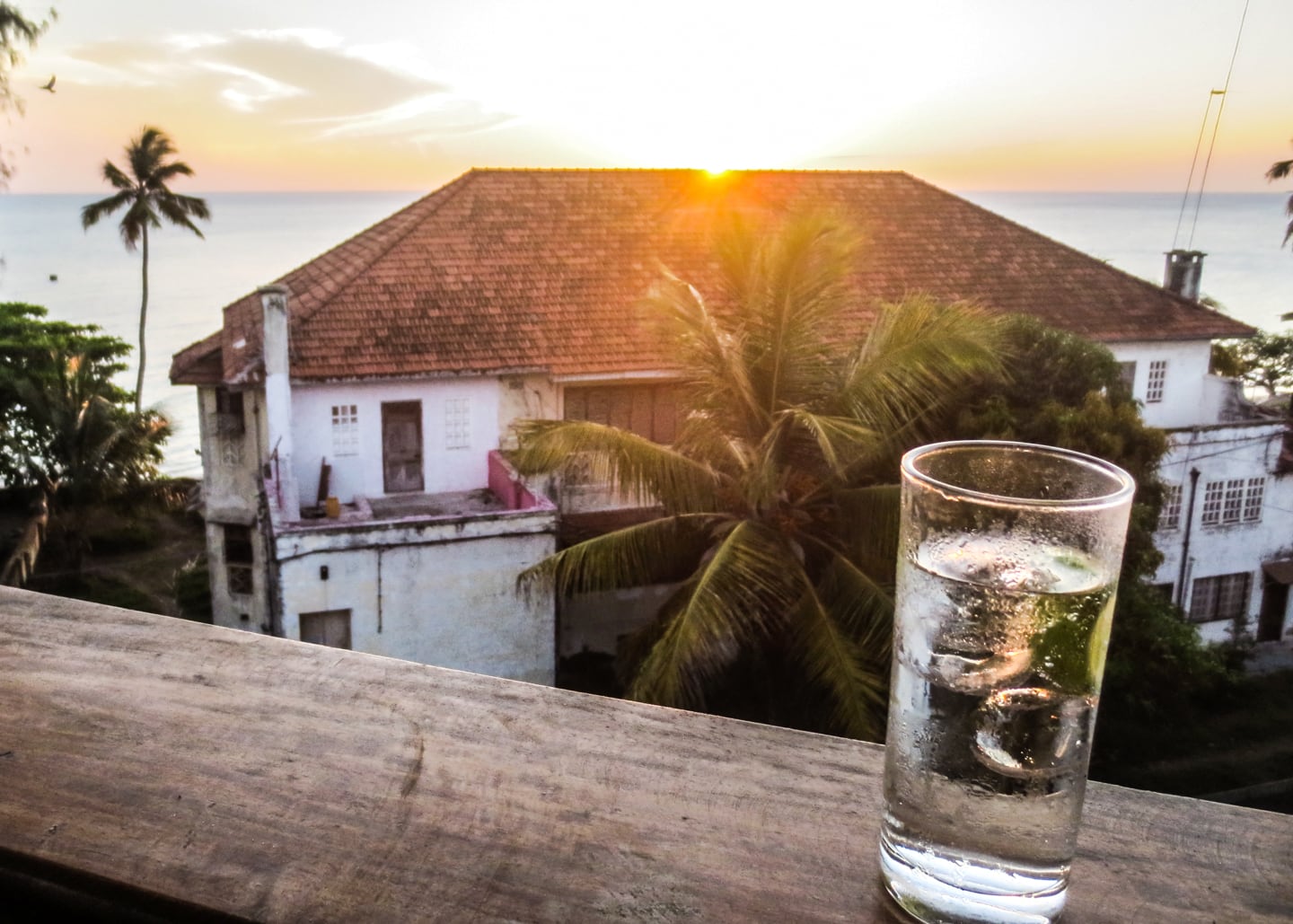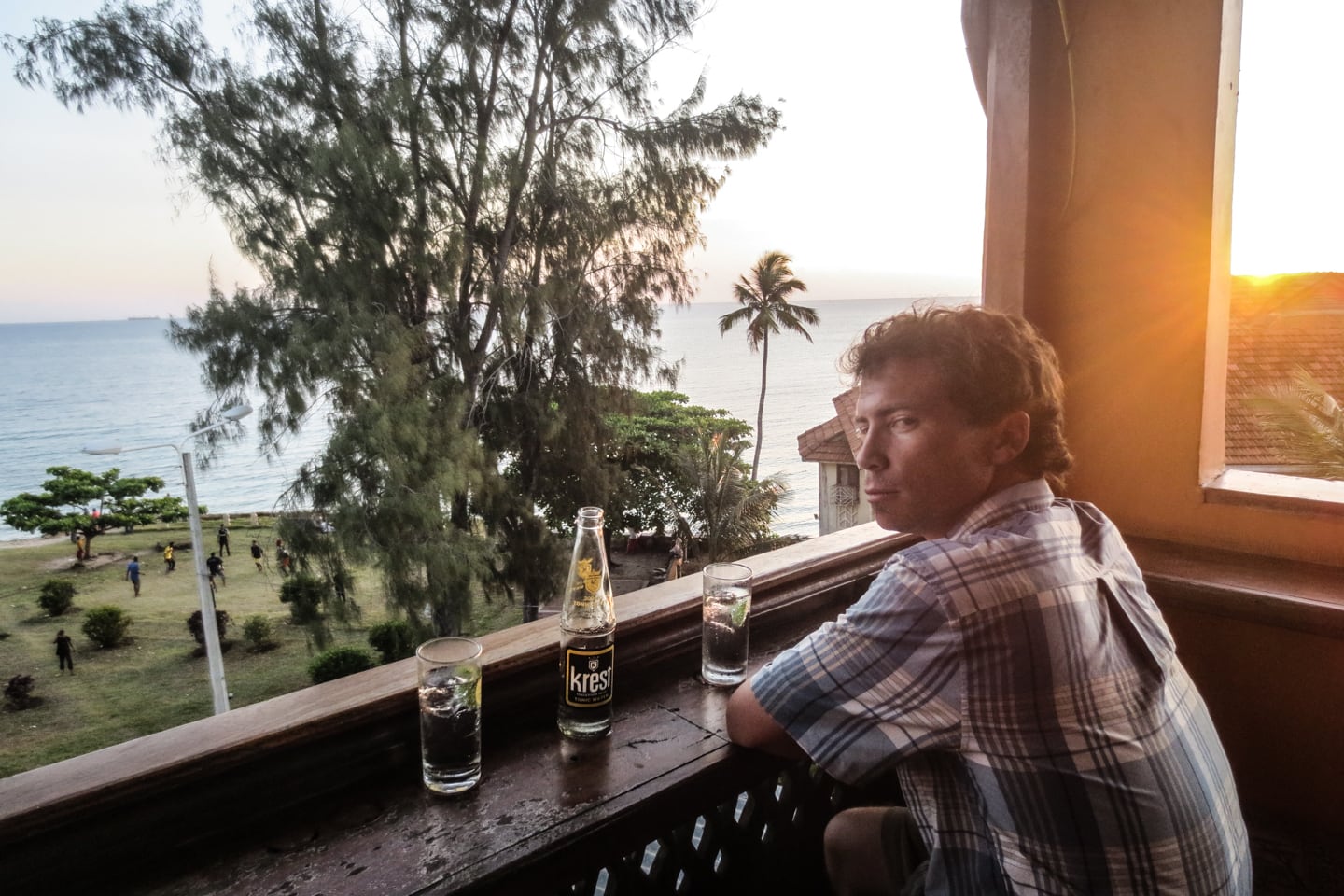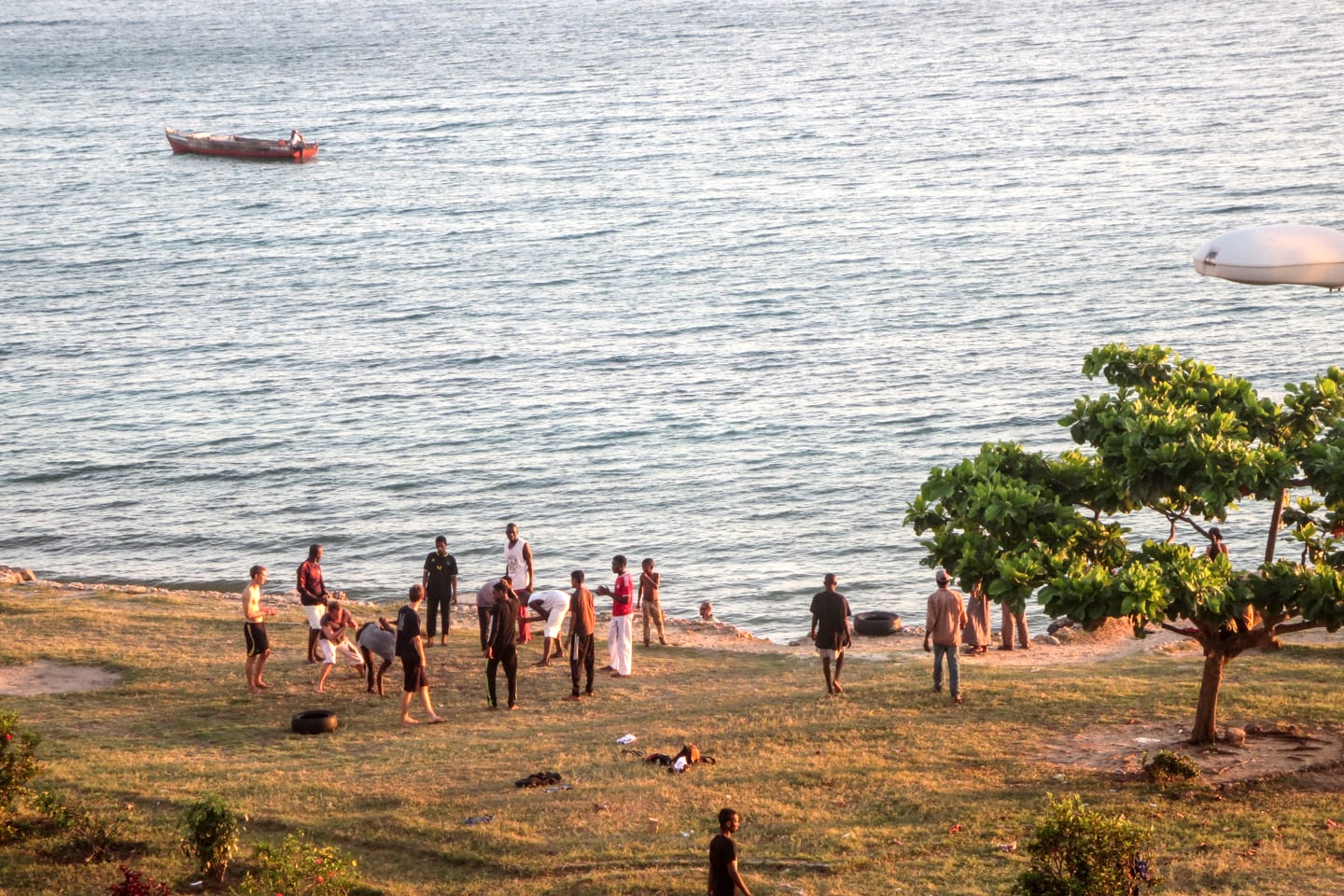 From our high perch, we spotted a group of locals and mzungos performing a pick-up match of expertly executed Capoeira on the waterfront at sunset. It doesn't get much more random than that, folks…
…and that's what we absolutely love about visiting these places–the constant barrage of reminders that life is full of beautiful surprises that we (in the U.S. and other places) have so skillfully managed to stifle, subdue and suppress through highly regimented lives in which routine and conformity rule. That's not to say that routine and conformity don't exist in great measure in other parts of the world–people just seem to be more open to indulging in the unplanned and unintentional moments that form the basis for life's fondest memories and most authentic experiences.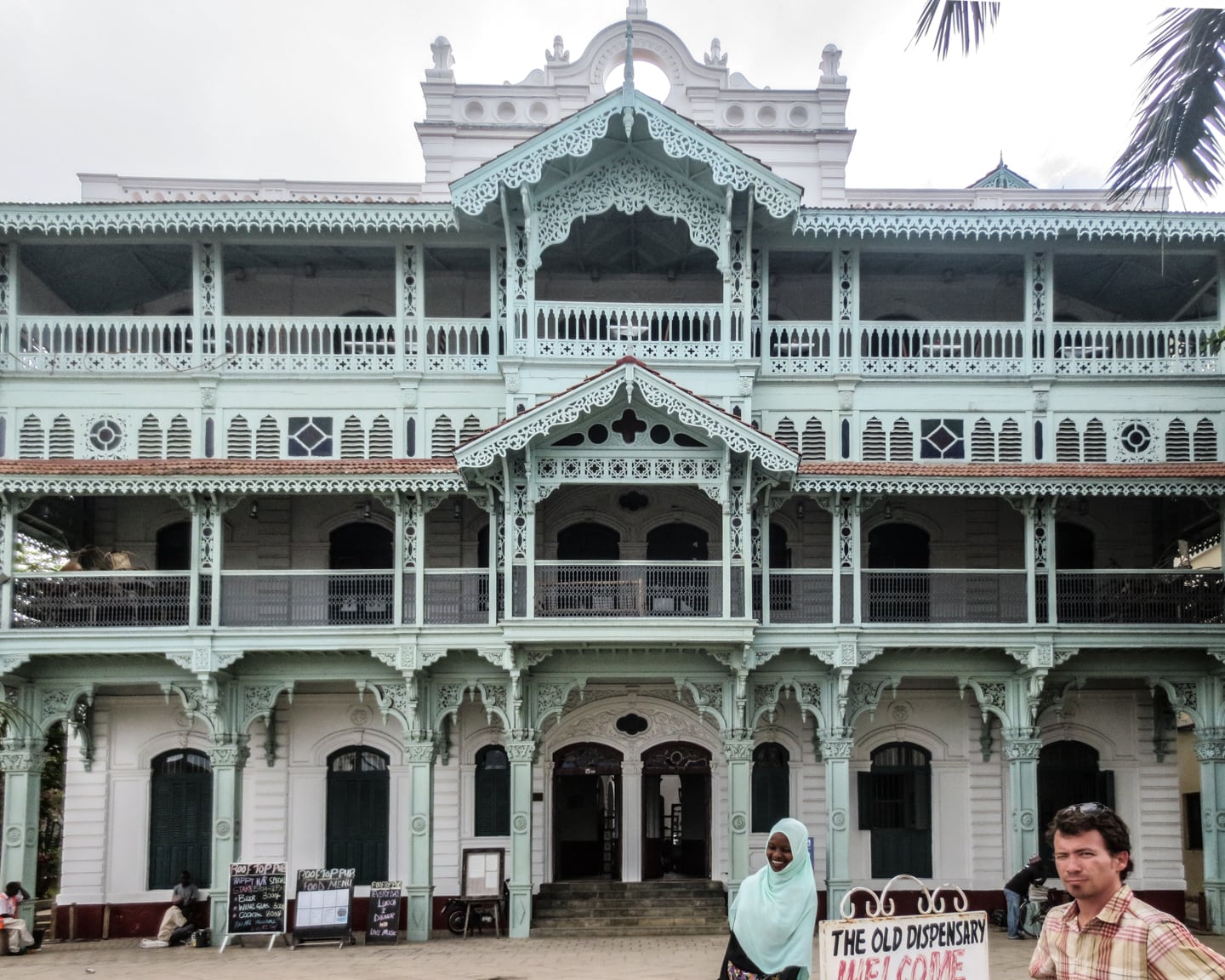 Unfinished Business
We spent the final 24 hours of our time in Stone Town meandering without a particular agenda, though we did have a few loose ends to tie up.
We visited Zanzibar's well-known House of Wonders (above), which was closed indefinitely at the time, despite a handful of staff milling about aimlessly.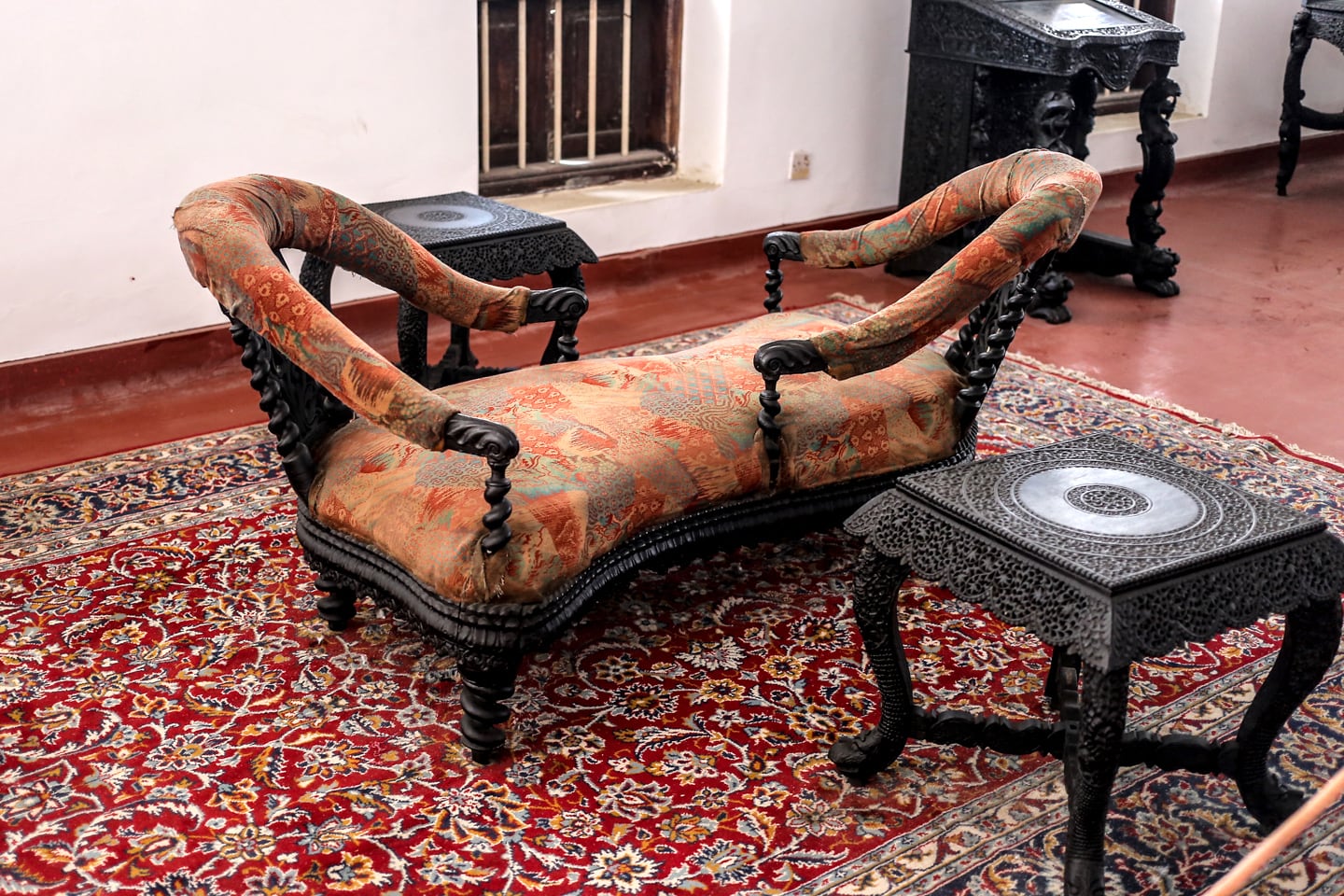 In our wandering, we came across this chair, which I thought was particularly brilliant.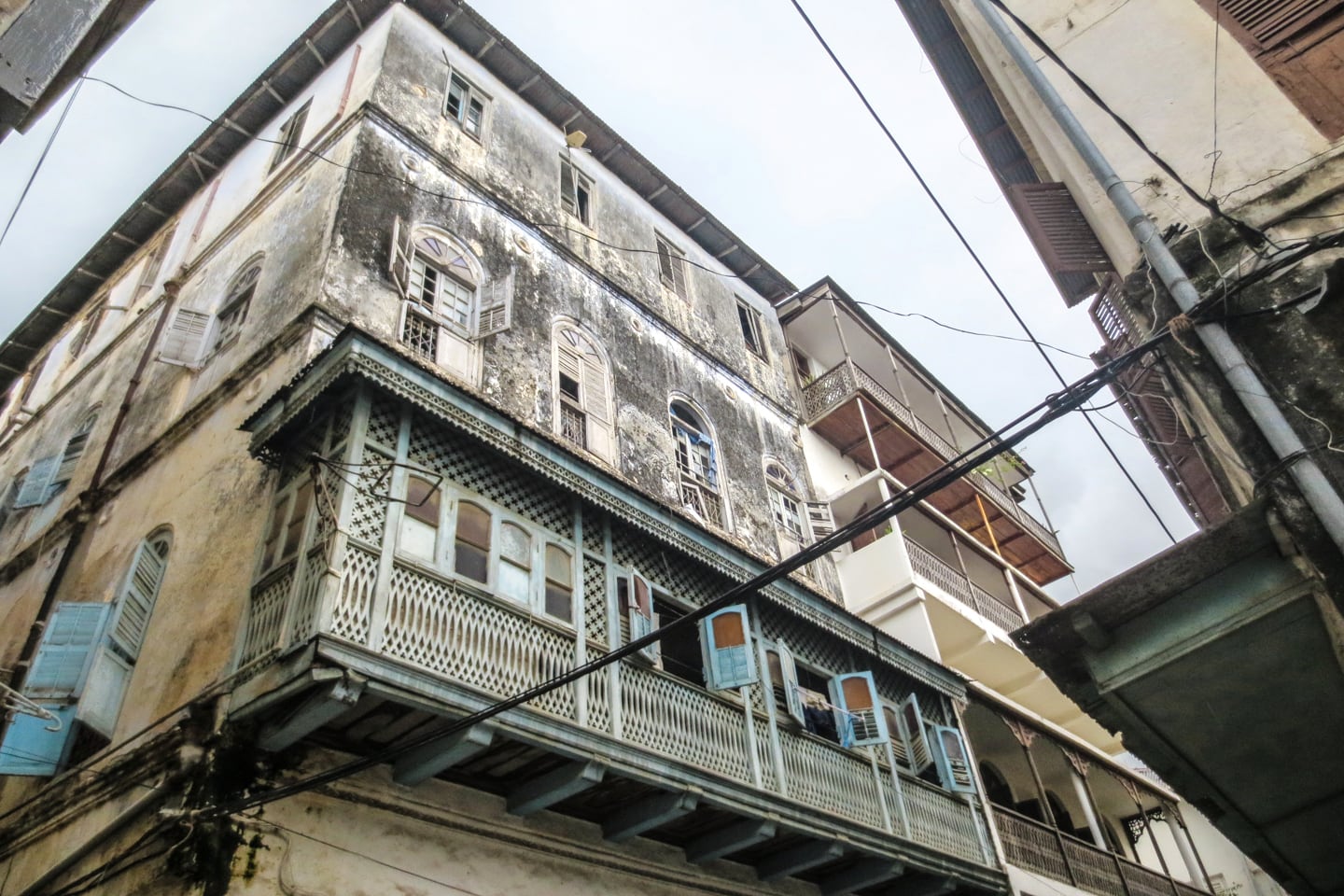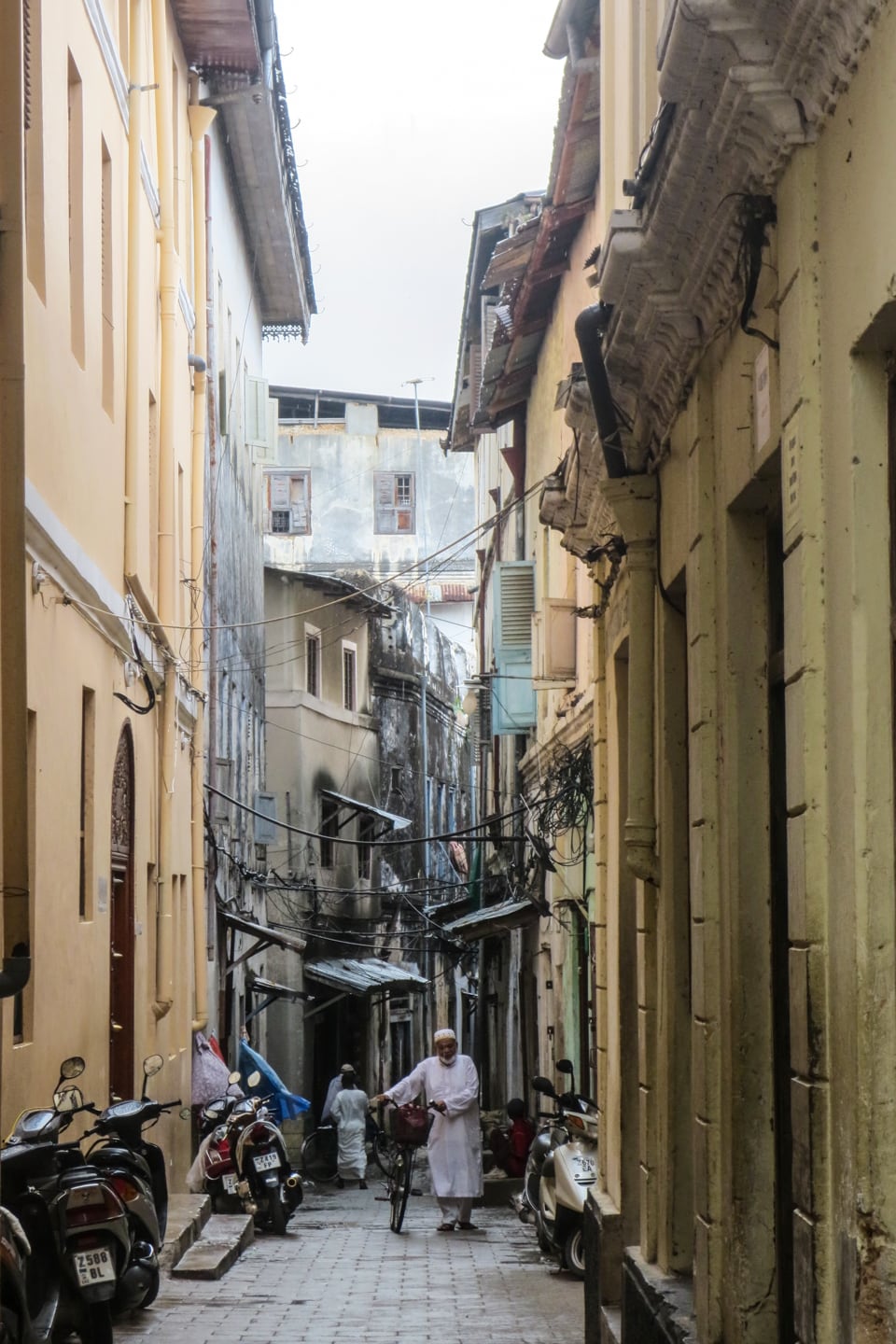 At one point, the clouds began to gather and the sky turned dark, so we decided to visit a local coffee shop we had heard so much about–aptly named, Zanzibar Coffee House. The coffee was tasty, but overpriced for our budget, and the waitstaff were cold and apathetic. We planned on staying no more than five minutes…but fate had other plans for us. Shortly after finishing up our coffees, we heard a strange noise…a gurgling noise…akin to a rushing mountain stream. I got up from my seat and rushed over to the open window peering out to the street. But there was no street! Only a rushing river several inches to a foot deep as far as the eye could see.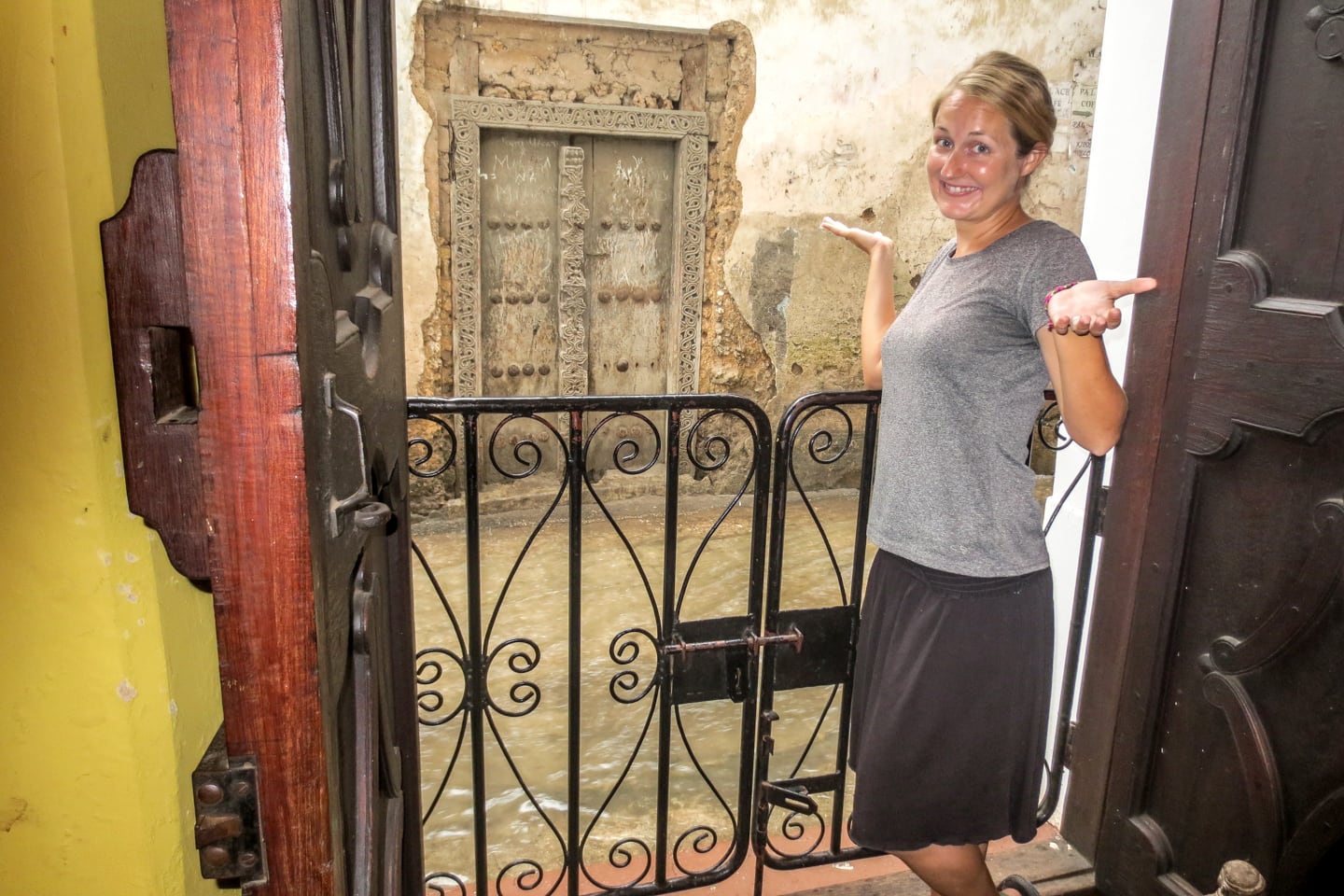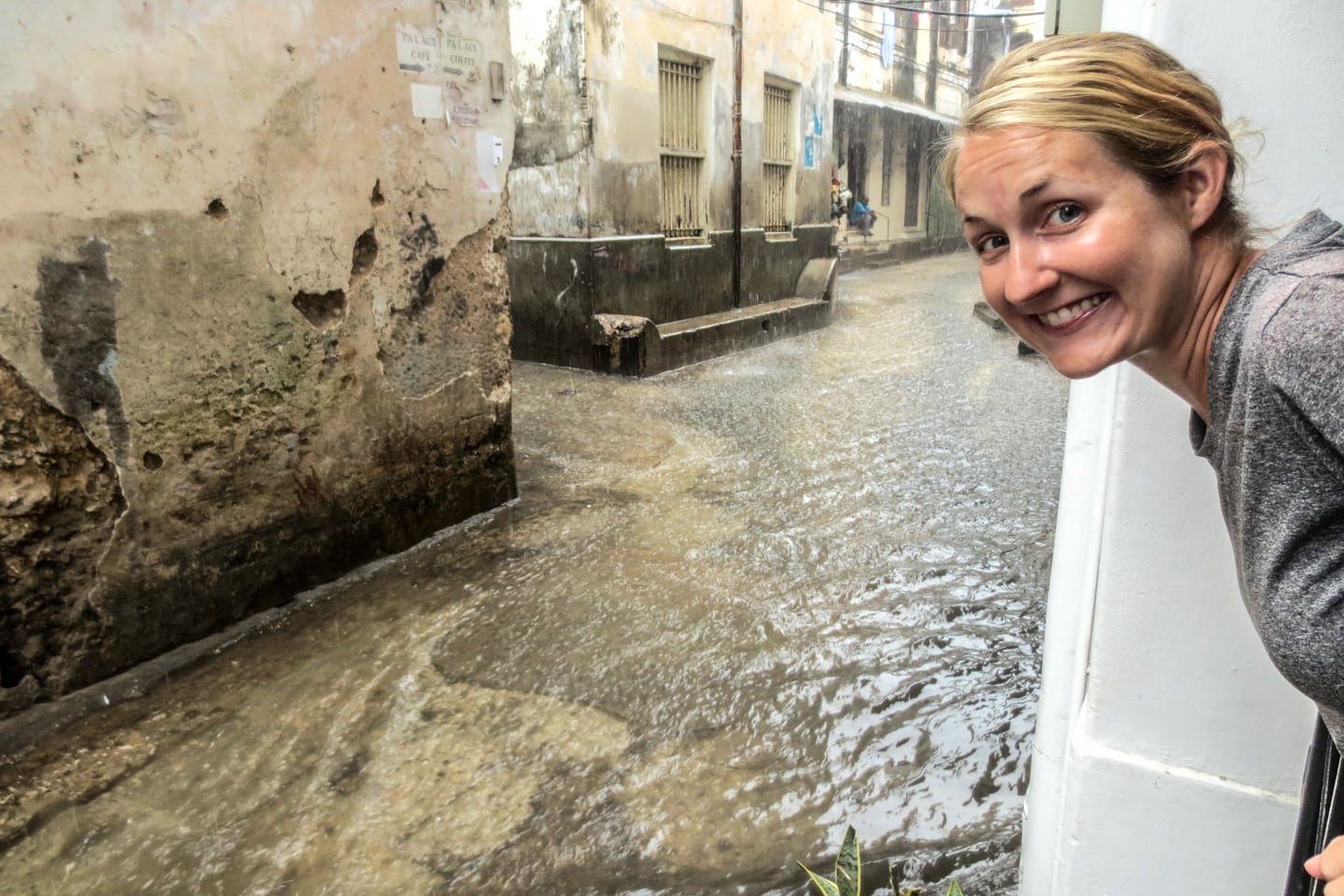 We had never experienced a flash flood but this certainly had to account for one as the street was dry and dusty when we arrived just minutes before. We've found ourselves caught in rising waters during heavy rains in Bangkok, Belize, Mumbai and other places, but never quite like this. We realized we were trapped and ordered another round, which we made to last forty minutes this time instead of five. After about an hour at Zanzibar Coffee House, we stepped out on to wet cobble stone, appearing as if only a light rain had kissed the thoroughfare before promptly moving on.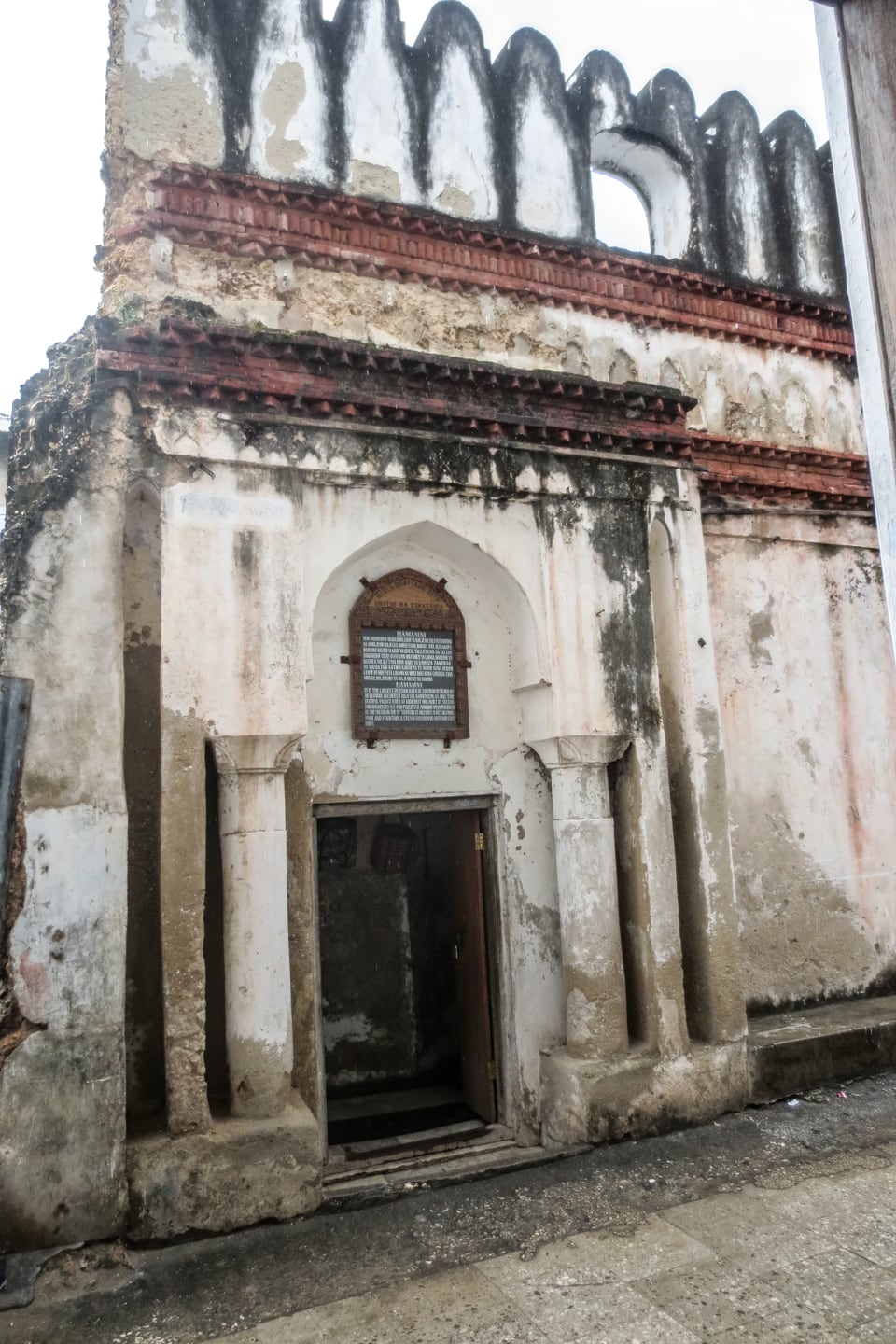 A little ways on, we came upon these old Persian baths. Stepping into the baths, the teleportation was complete. We were no longer in what I had come to know as Africa over the past ten years. We had been transported to a parallel universe in which Swahili-speaking women ardently watch over a disused relic of long-vanished prosperous settlers. I wondered what the ticket collector must think of this place. Does she identify with its history in some way? Does she believe it is a place to be preserved simply on the merits of its uniqueness and beauty? I know there is a strong likelihood she took the job because it was what was available…but perhaps not? Working here day-after-day, she must have some opinion of the place. If only my Swahili were a bit better…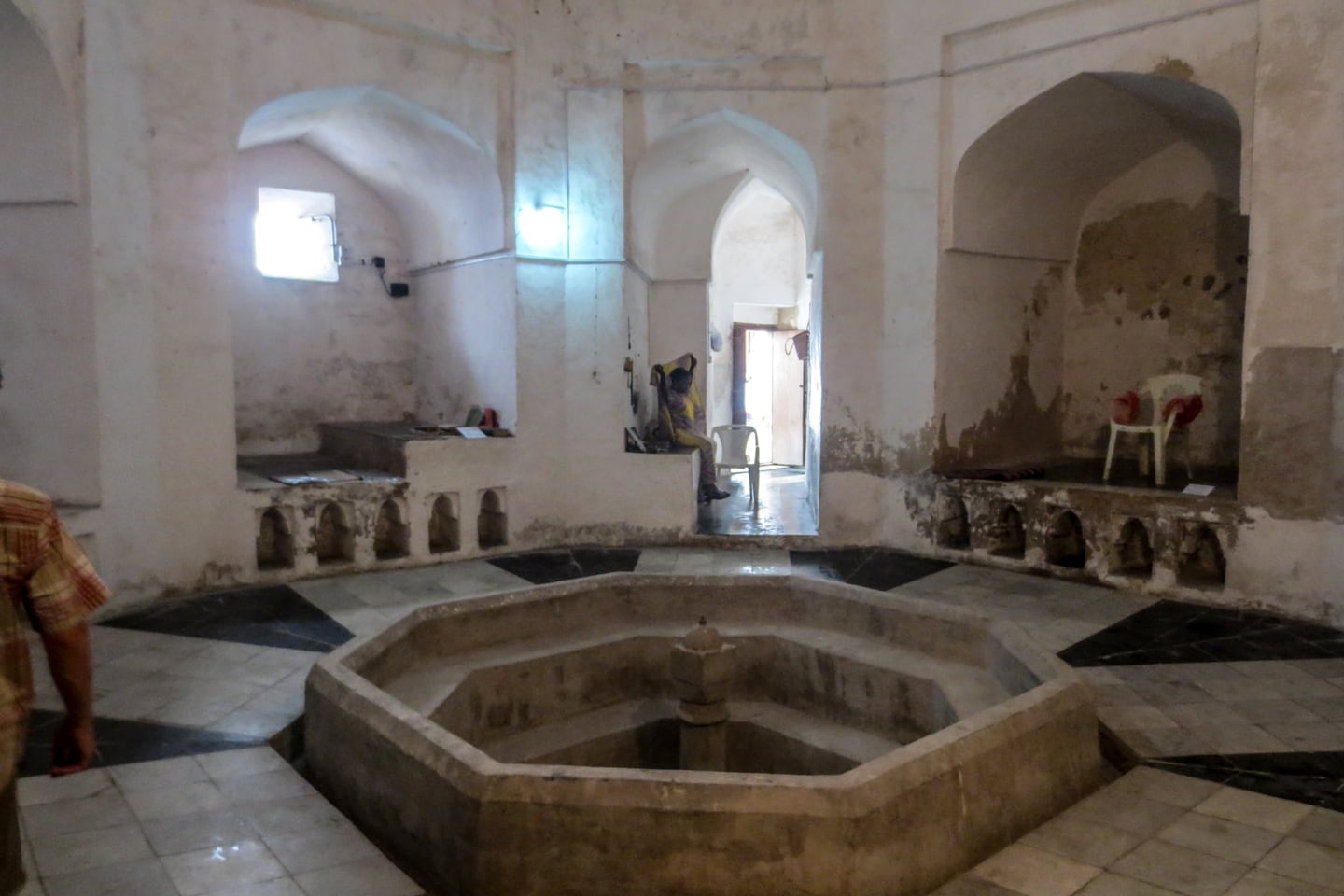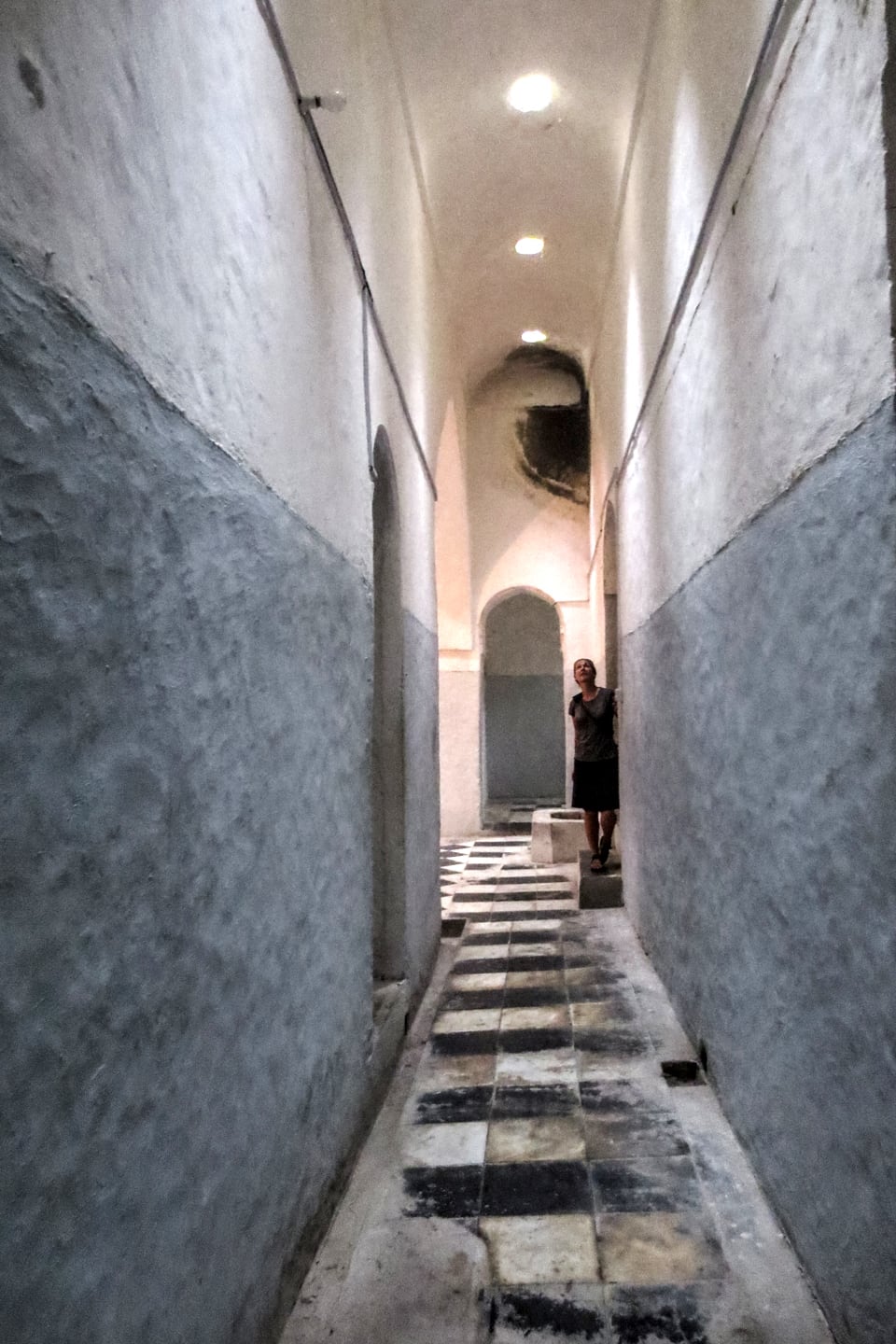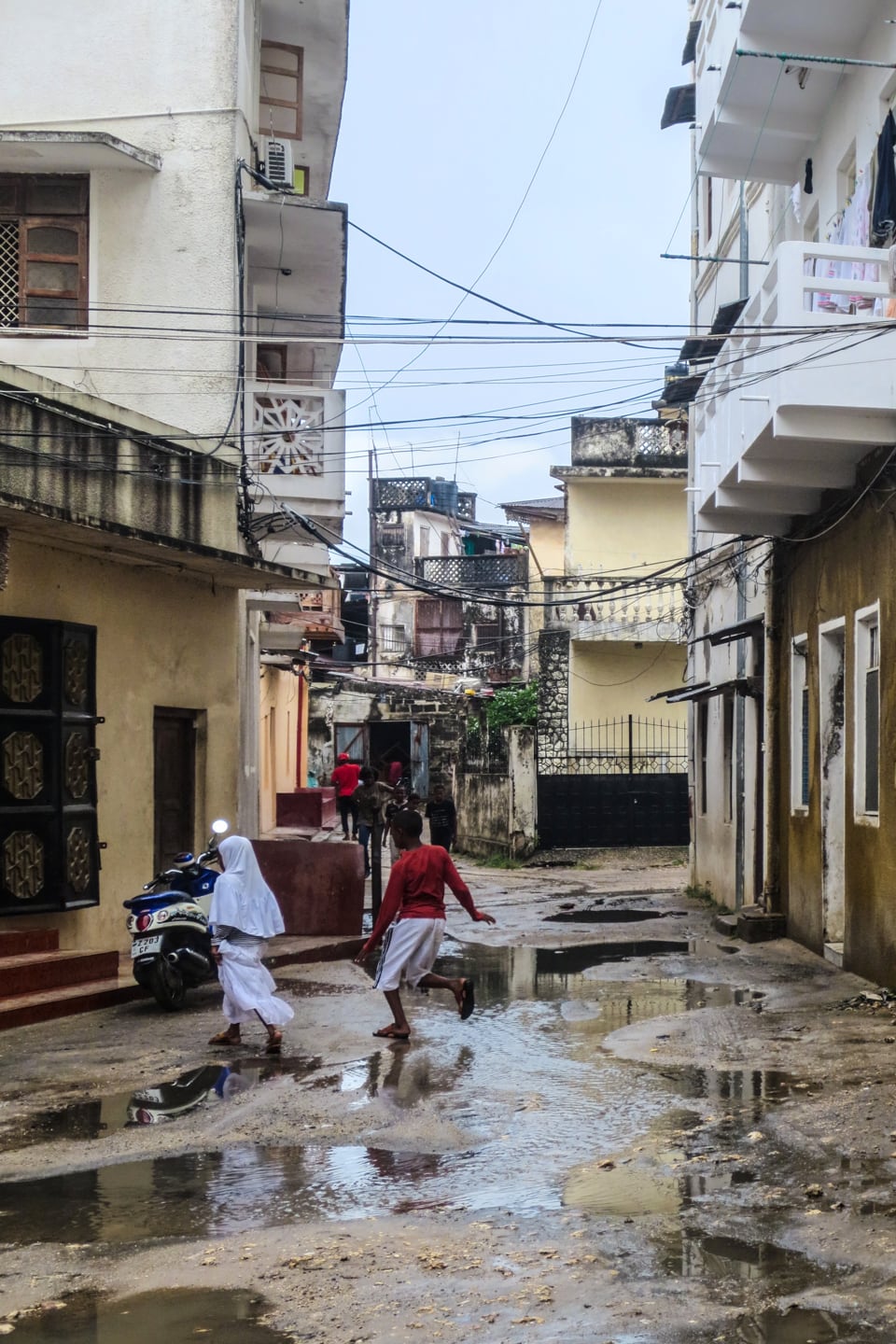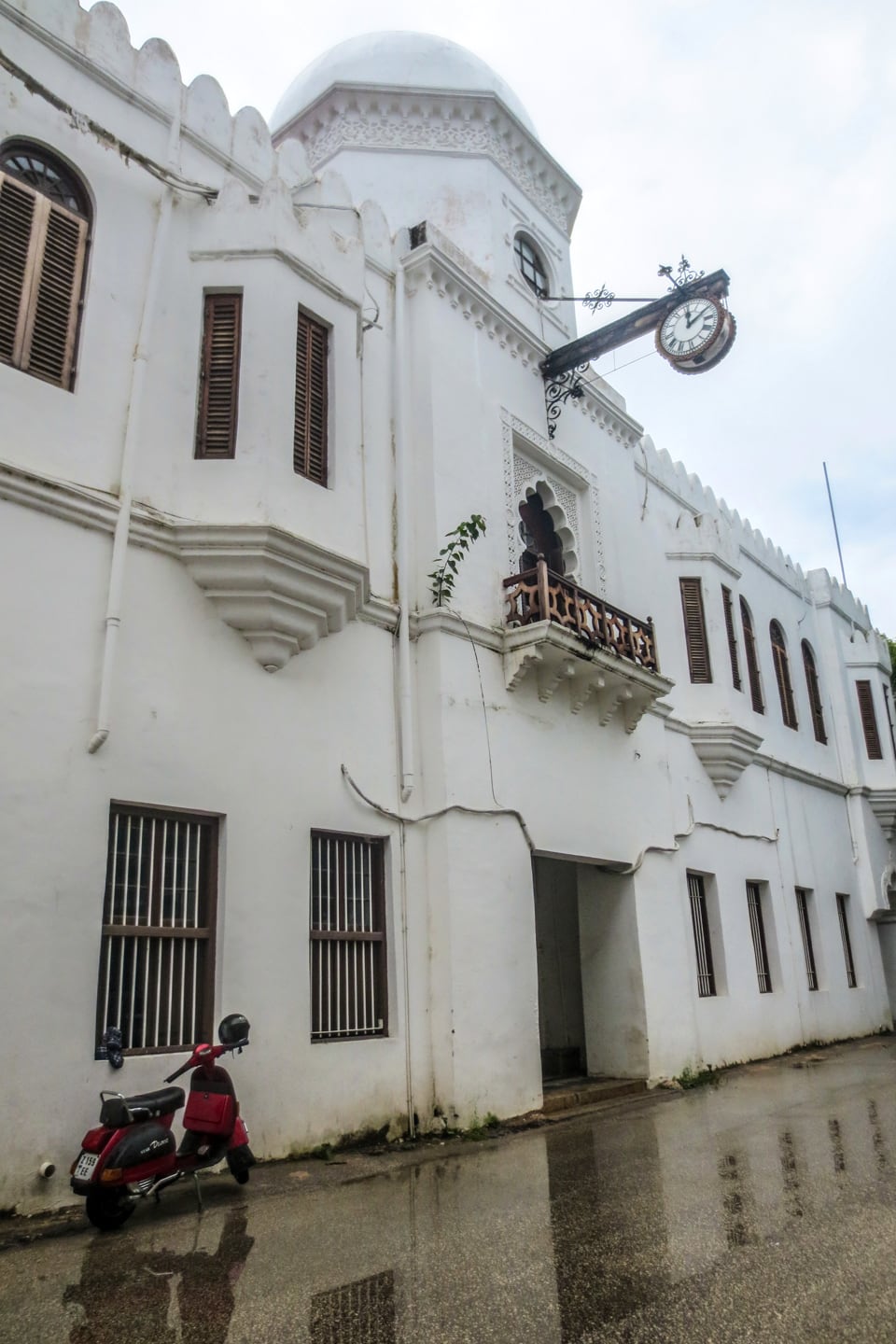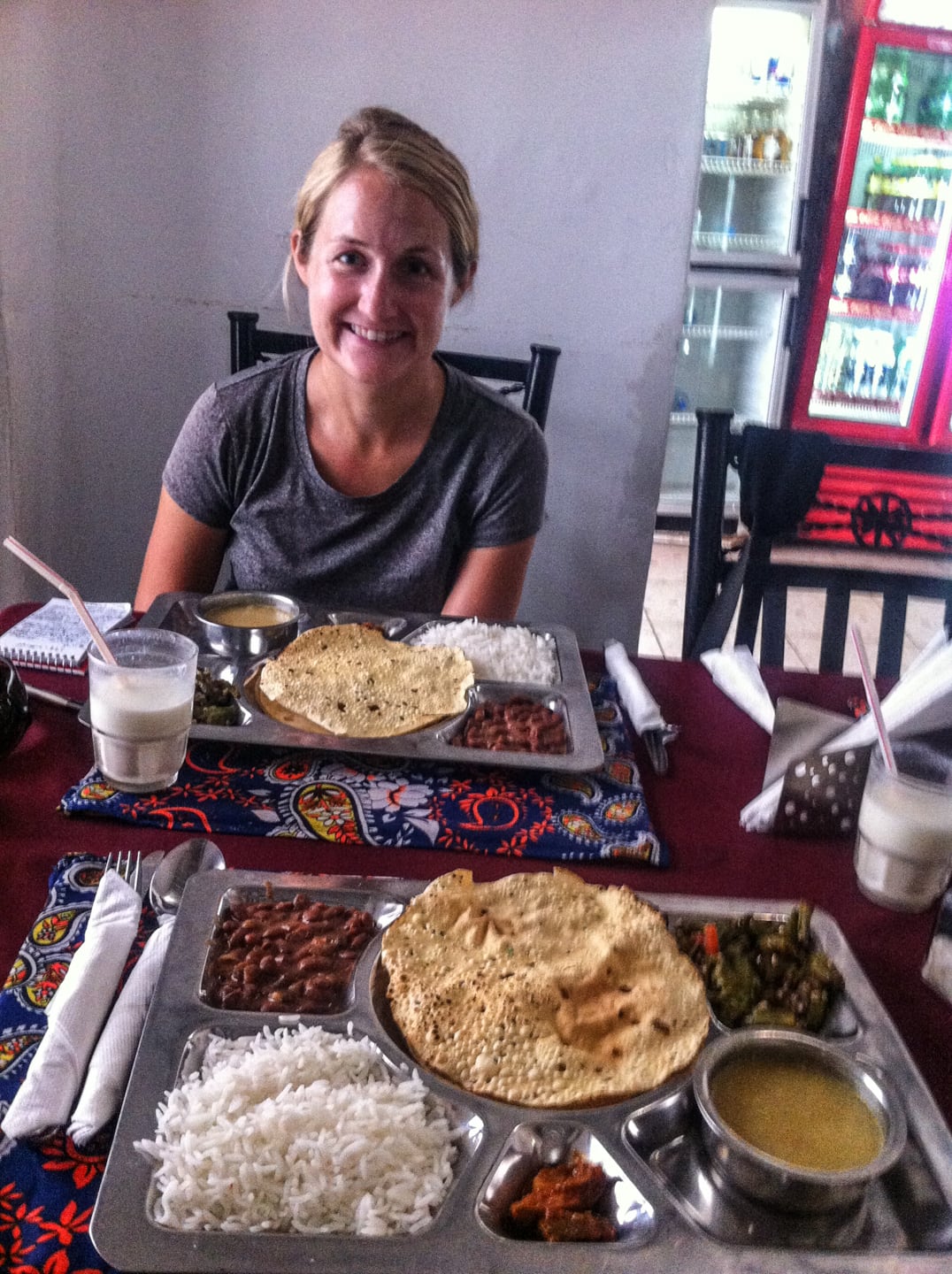 We were so very excited to learn that there was an Indian cafe serving thalis next to our guesthouse — New Radha Food House. The price was right, so we ordered two — and they were delicious. Now, if you've been paying attention, you may be asking why we hadn't sought out much Zanzibari food to this point — it seems like we've eaten nothing but Indian and Lebanese since we arrived on the island. Well, the short answer is that after 30 days in Mozambique, we were hankering for some international cuisine. Mozambican food is delicious, but like anywhere, it can get a bit monotonous. Not to mention that Indian and Lebanese cuisine is some of my favorite. But we also planned on spending much more time away from Stone Town on the beaches of Zanzibar and knew that we'd get plenty of opportunities for local fare (especially seafood!) out there, with limited access to other foods. But don't worry, we did have Zanzibar pizza in Stone Town (more on that to come).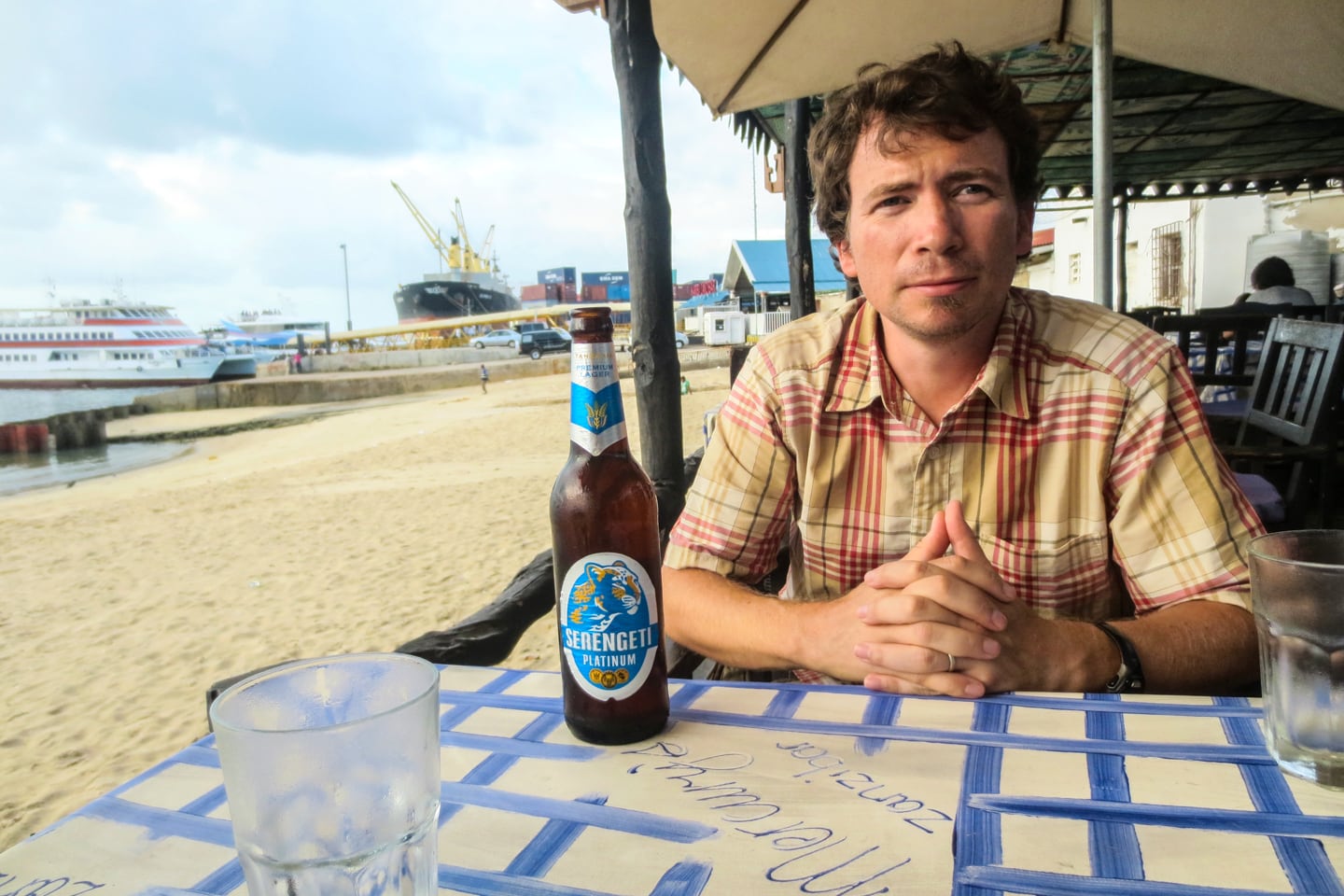 Upon hearing about our trip to Zanzibar, one of my former bosses (who happened to be born in Zanzibar) gave us a list of recommendations, including having a sundowner at Mercury's, a well-known waterfront bar built as an homage to Zanzibar's own Freddie Mercury, best known as lead singer of the band Queen.
Don't Miss These Zanzibar Island Experiences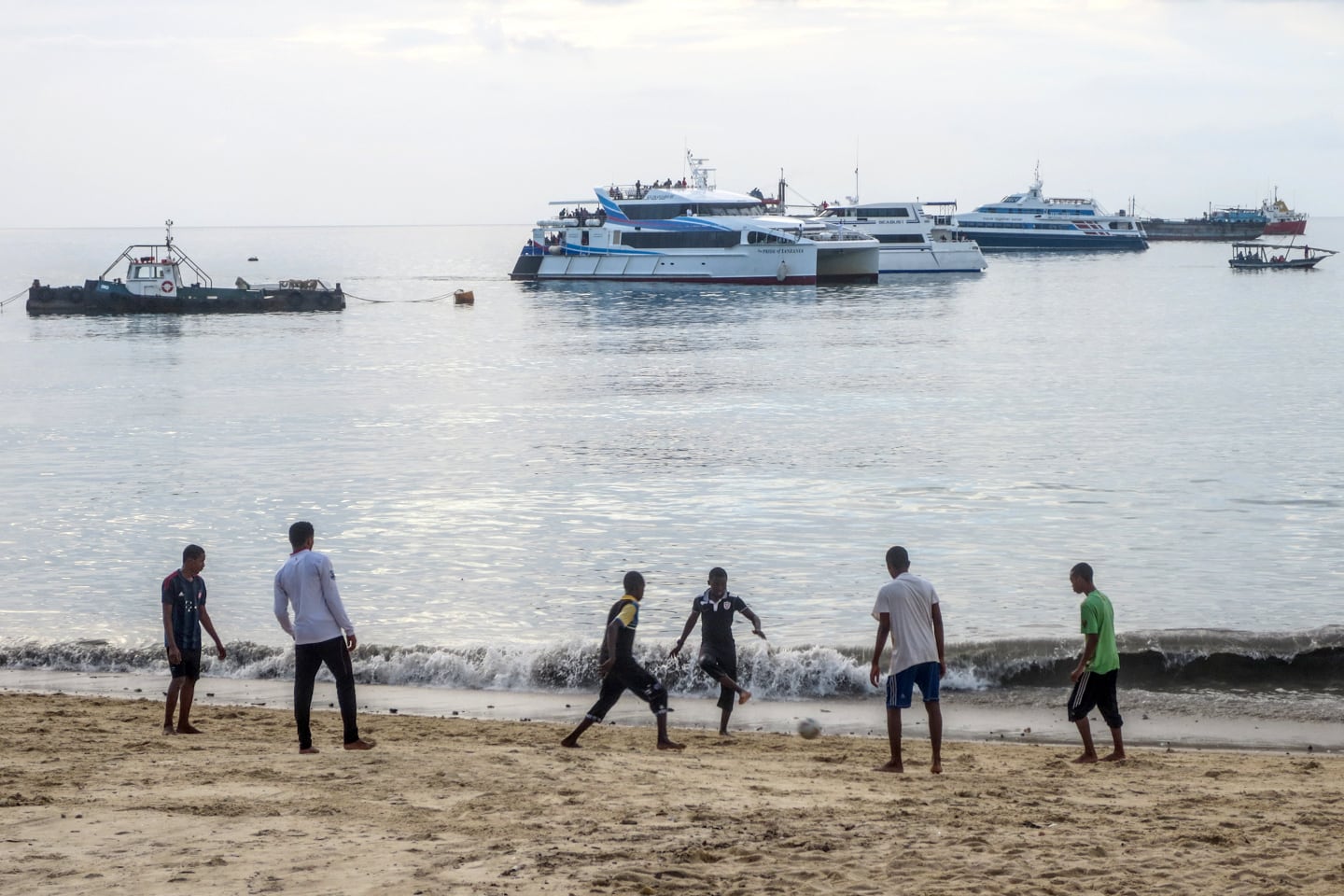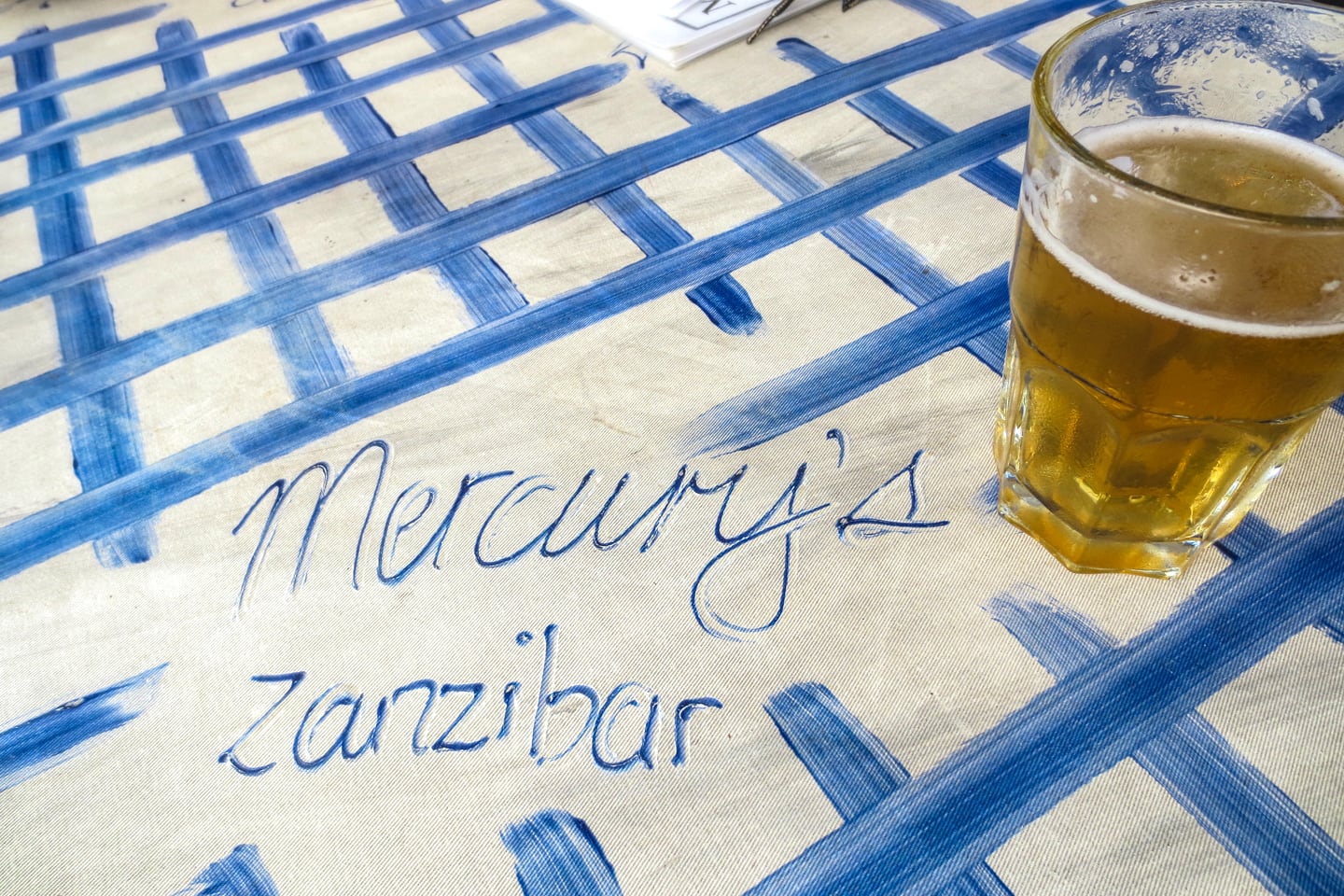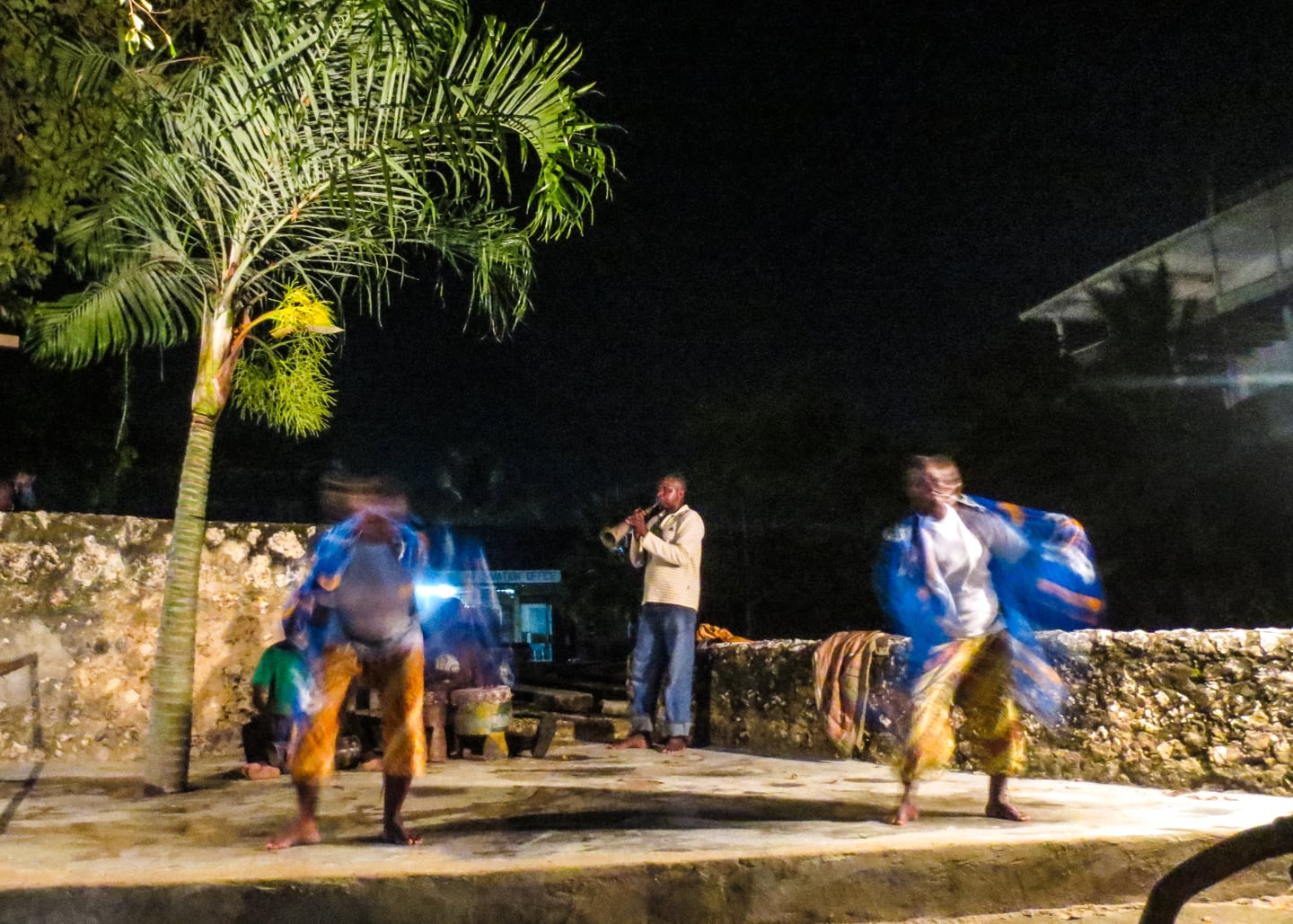 Forodhani Night Market
On our last night in Stone Town, we attended a Taarab music performance at the old fort. Taarab is a well-known Zanzibari musical style melding African, Indian and Middle Eastern influences–you'd know it if you heard it. We had heard great things about the performance, and it didn't disappoint. It was a bit awkward on this particular night, however, given that we were two of four audience members. The price of admission includes a beverage, and you can come and go at any time in the performance.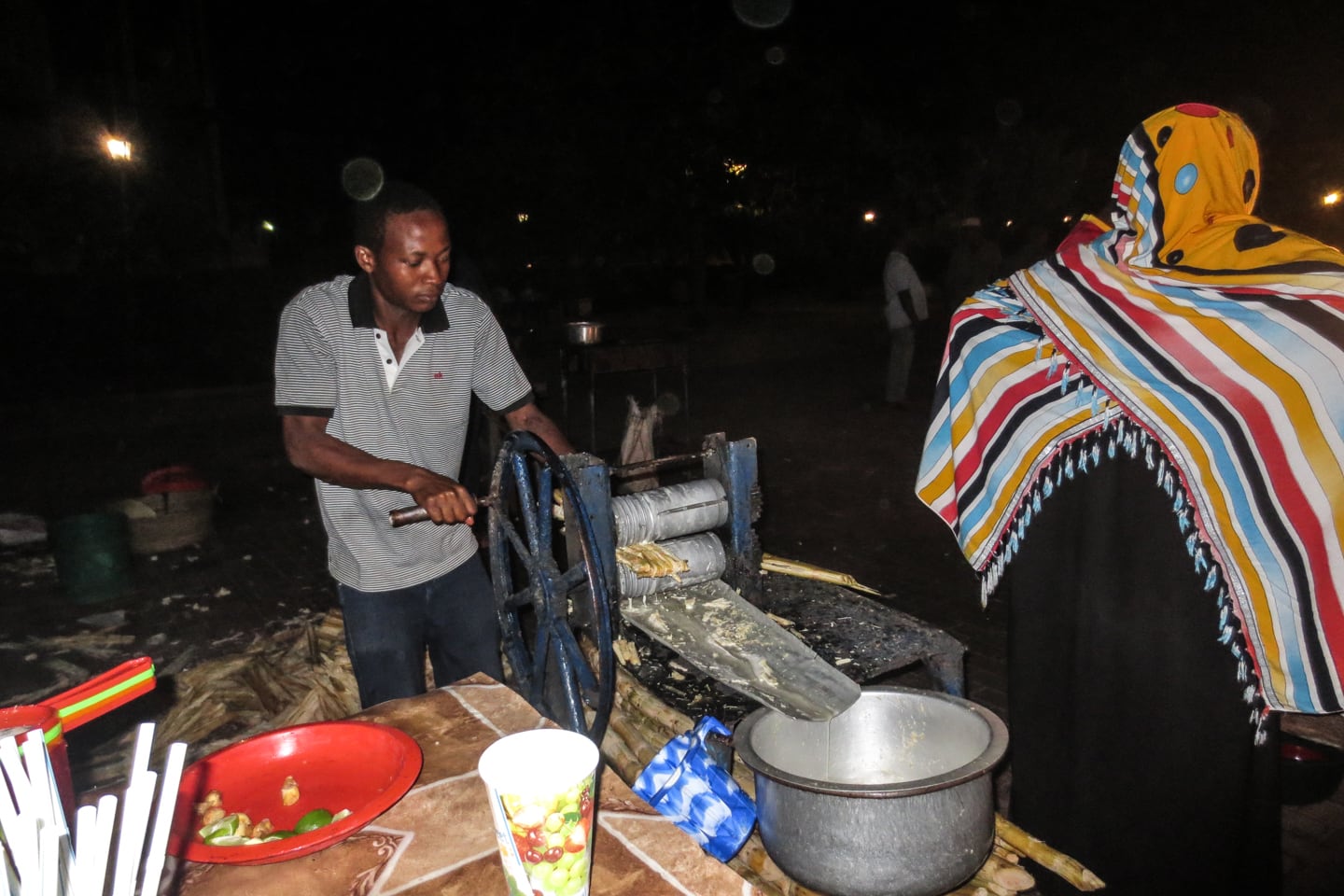 We wondered why so few were in the audience, and were very perplexed, until we stepped out of the fort and realized that the Forodhani night market was in full swing right outside, attracting hundreds of locals and visitors alike with food, live music and other performances. It was definitely one of the best night markets we've visited and we were both saddened that we only stumbled upon it on our final night in Stone Town. We had attempted to find it on previous nights, but just didn't go far enough around the corner (Forodhani is a long waterfront park that wraps around a very large building).
The best part about finally finding the night market was that we got to sample one of Zanzibar's famous foods: Zanzibar Pizza! Selecting just one from many food stalls and watching the pizza man expertly prepare their heavenly culinary masterpiece is half the fun. The other half is finding a quiet corner of the market overlooking the sea and the market and devouring, square by delicious square, the awesomeness that is Zanzibar Pizza.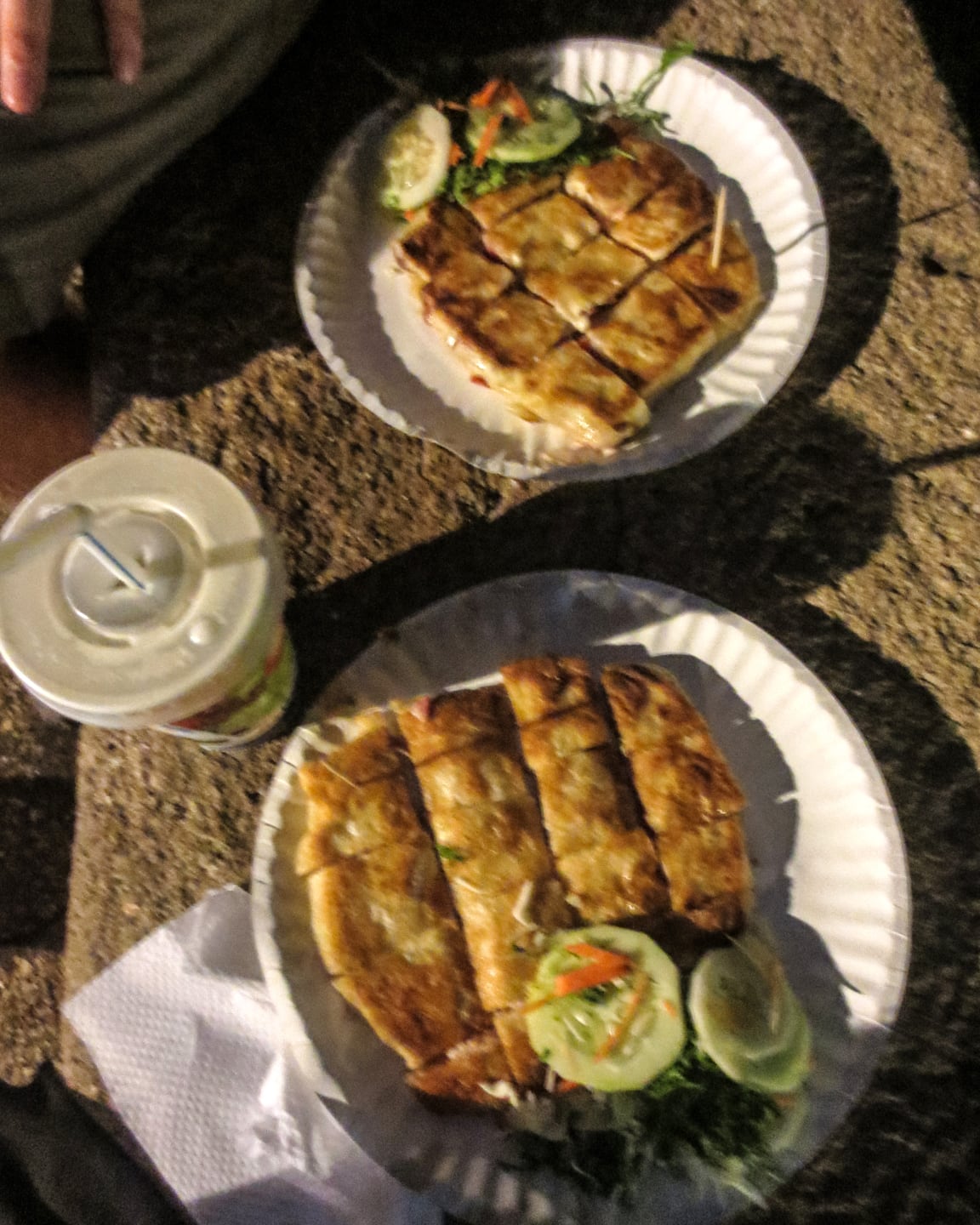 Zanzibar Pizza isn't pizza in the traditional sense, but more of a heavy crepe that can contain just about anything. You can get them sweet and you can get them savory. We got one of both. We also got a cup of sugar cane water, because really Zanzibar Pizza would not be complete without it! You simply cannot leave Zanzibar without trying both. Thanks to our dear friends, Doug and Akemi, as we very well may have gone for the delicious looking Zanzibar BBQ Chicken at the next booth over if they hadn't been so adamant about seeking out these culinary treasures.