We completed a four-day trek in the Western Usambara Mountains in Northern Tanzania in mid-November and it was phenomenal. Here is a collection of photos from our time making our way on foot through this very special place. I'll post the entire four-day series with complete back-story and description soon, but wanted to get these out there sooner.
The Usambara is home to over half a million Shambaa people and truly a world apart, largely removed from the conveniences (and trappings) of the outside world. The trek covered 40+ miles over four days (and four nights), and varied in elevation between 5,000 and 7,000 feet. We started in Lushoto and ended in Mambo, stopping for the night in the villages of Lukozi, Rangwi and Mambo (two nights).
By the way, if you find yourself in Northern Tanzania for an extended period of time, we'd highly recommend our guide, Said Salim, who came highly recommended to us. Besides being an excellent guide and good guy, his treks are unique and a very good value for the money.
Above: Sunset over the Masai Plains and Pare Mountains as viewed from Mambo Cliff Inn at 6,000 ft. in the Usambara Mountains.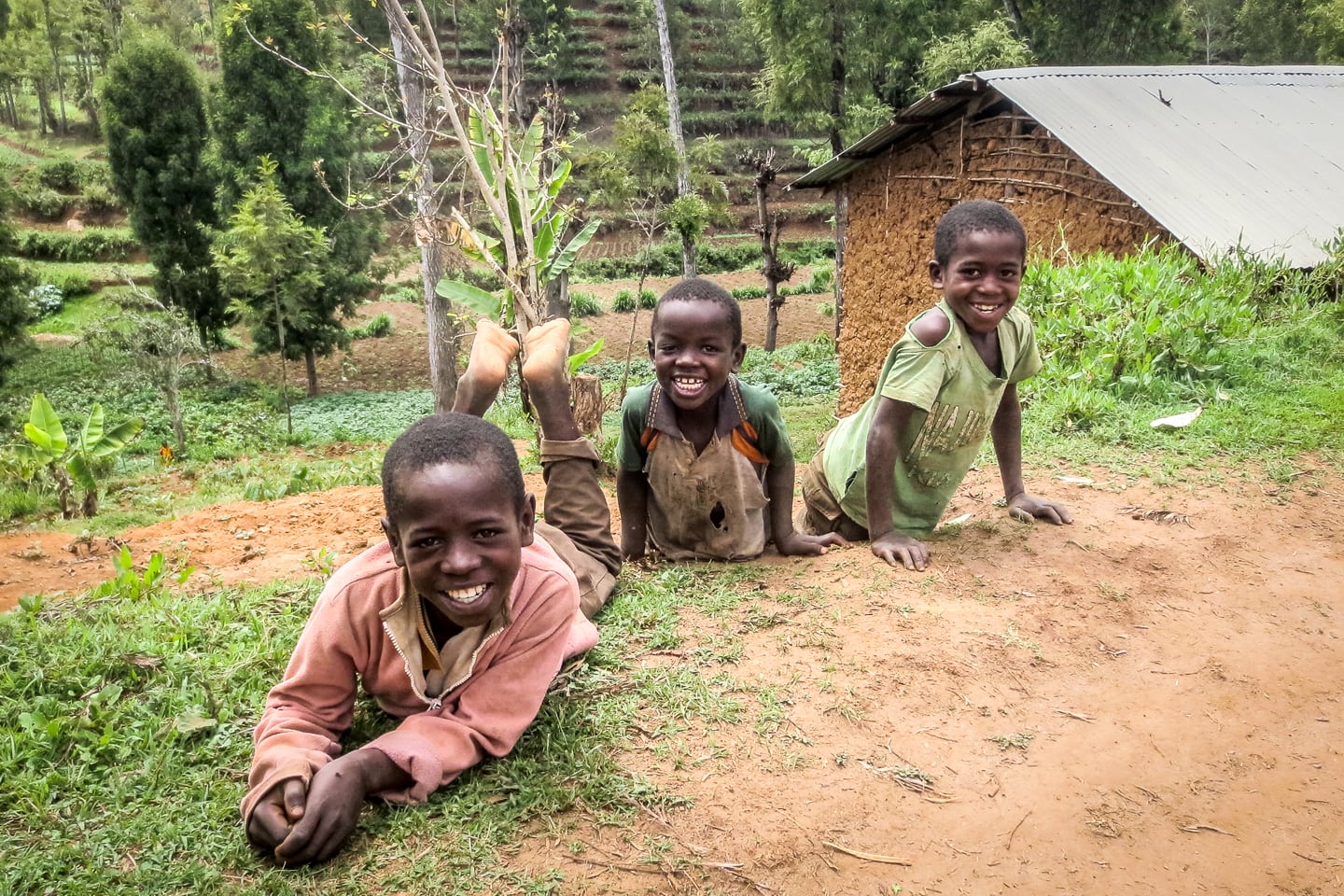 Shambaa boys pose for Lori's camera in one of several villages we passed through. Perhaps the most striking feature of the villages was the children — there were so many of them, everywhere, calling out: Muzuuuuuuungoooo! (traveler/ white person)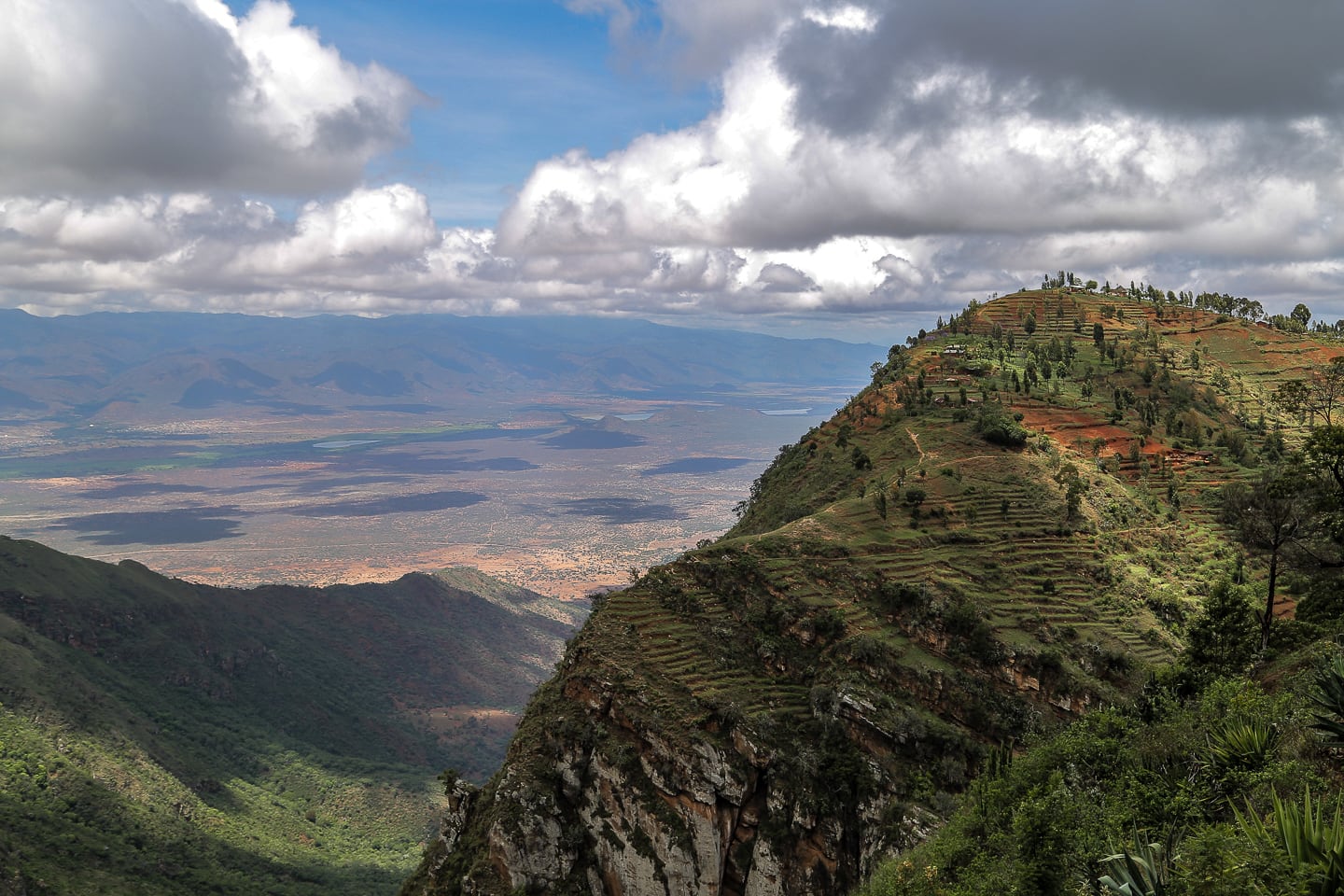 On the third day, we get our first view of the Masai Plains 3,000 feet below.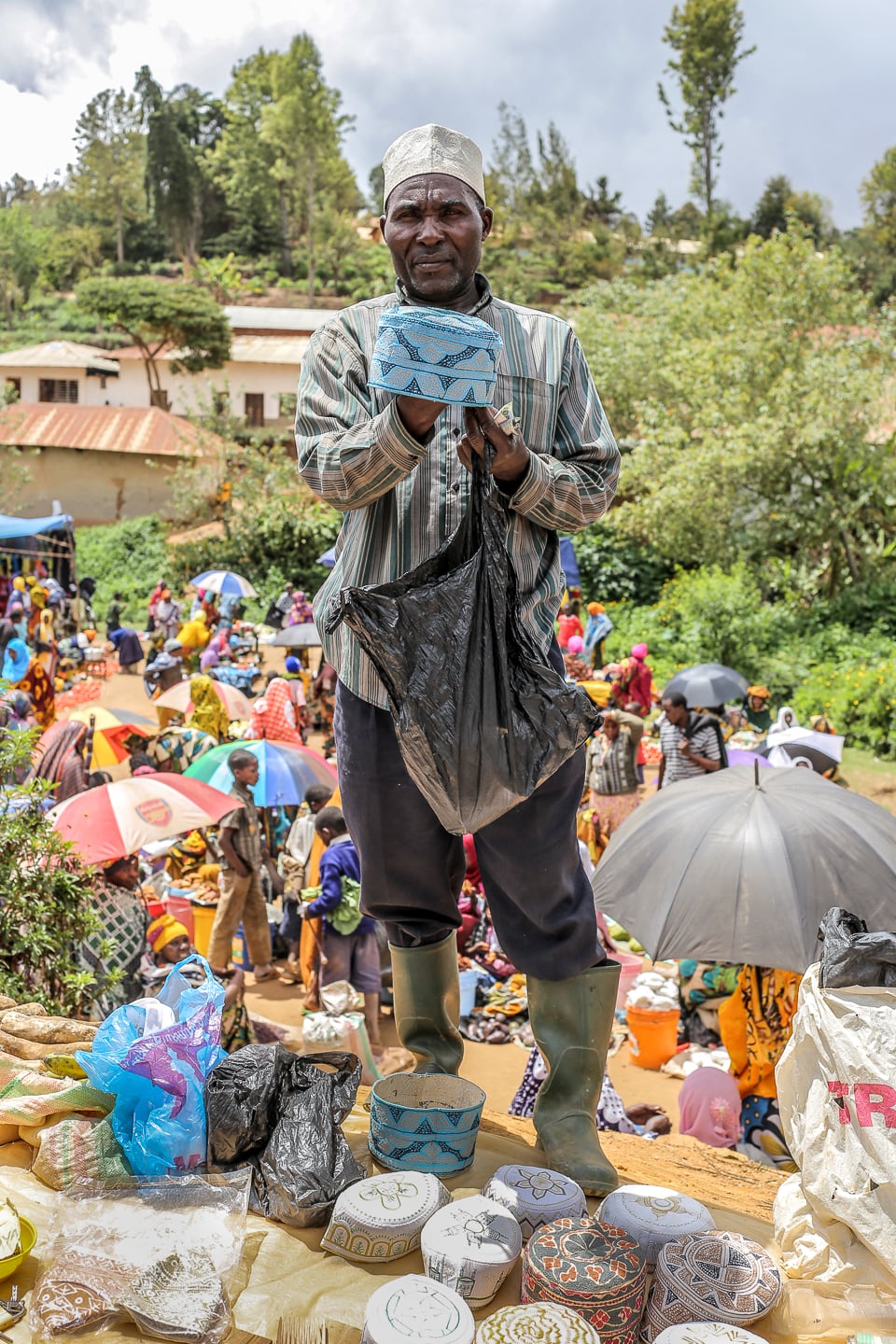 A vendor of traditional Tanzanian hats at the weekly Mambo market holding up the hat I had just purchased.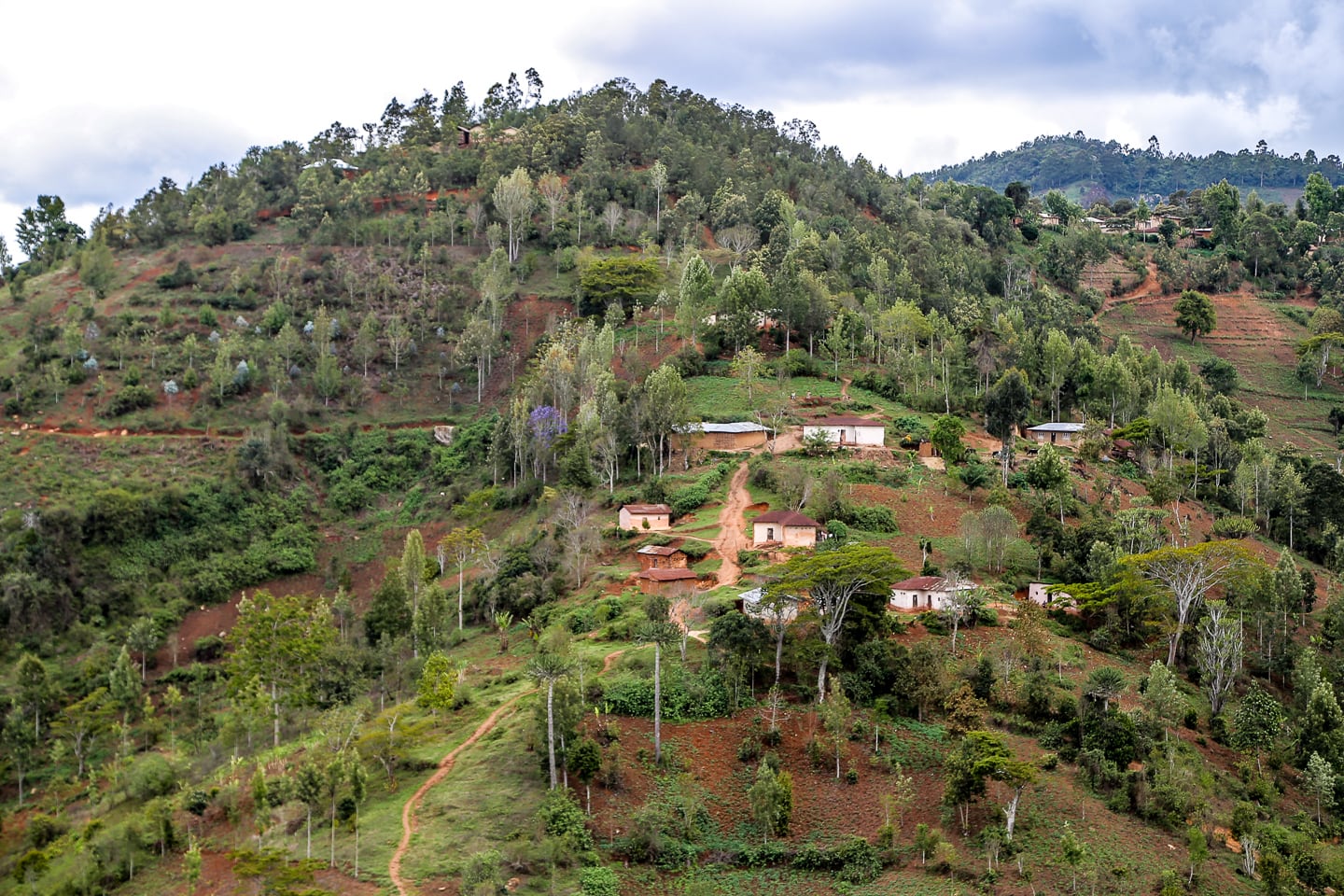 A sleepy little village overlooking a lush valley deep in the Usambara.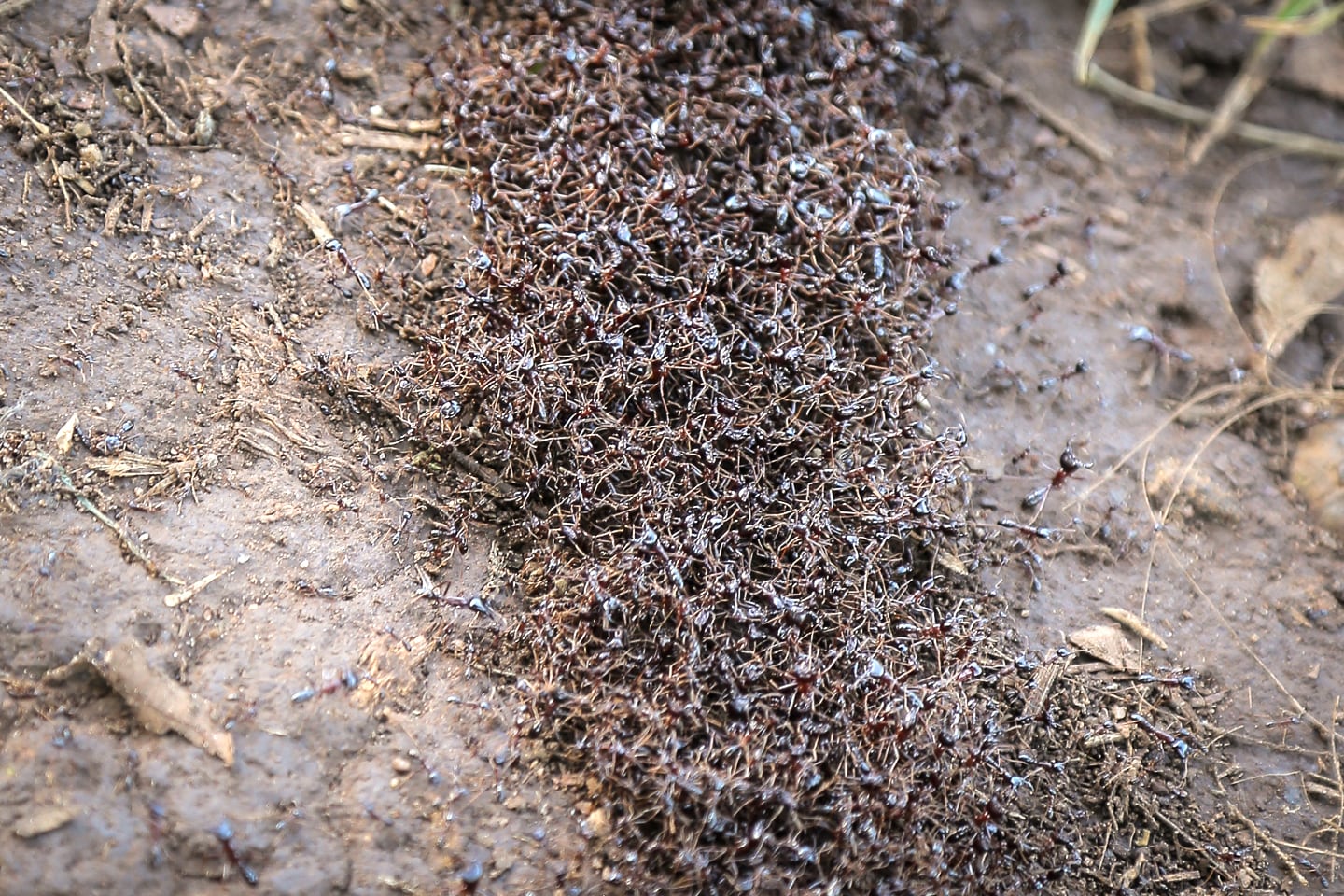 Thousands of ants crossing the trail carrying nest materials.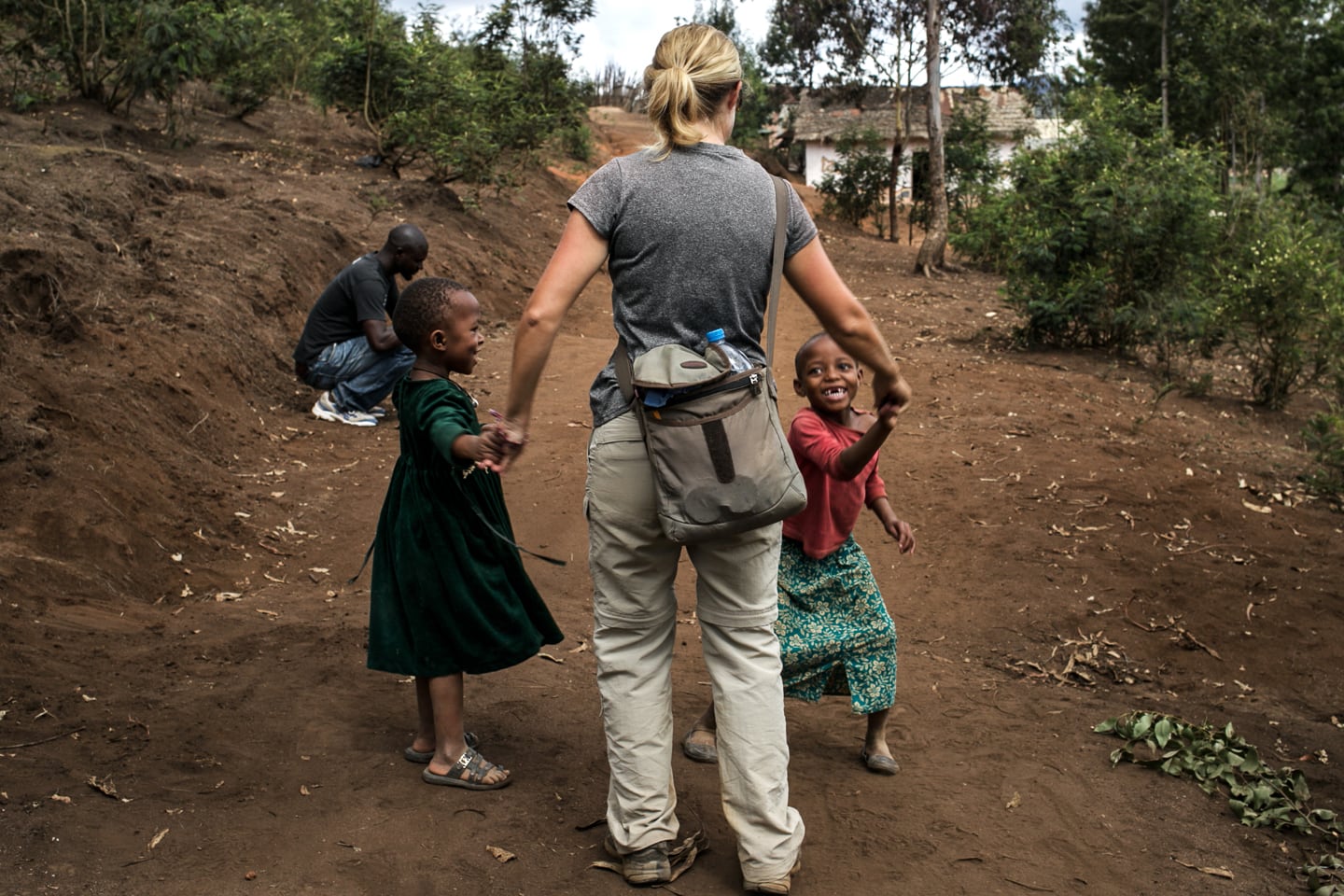 Two young girls enamored with Lori grab her hands as she walks by and refuse to let go.
Our cliff-top room 3,000 ft. above the valley floor at Mambo Cliff Inn on the third and fourth night. We had a mind-blowing view right from the bed.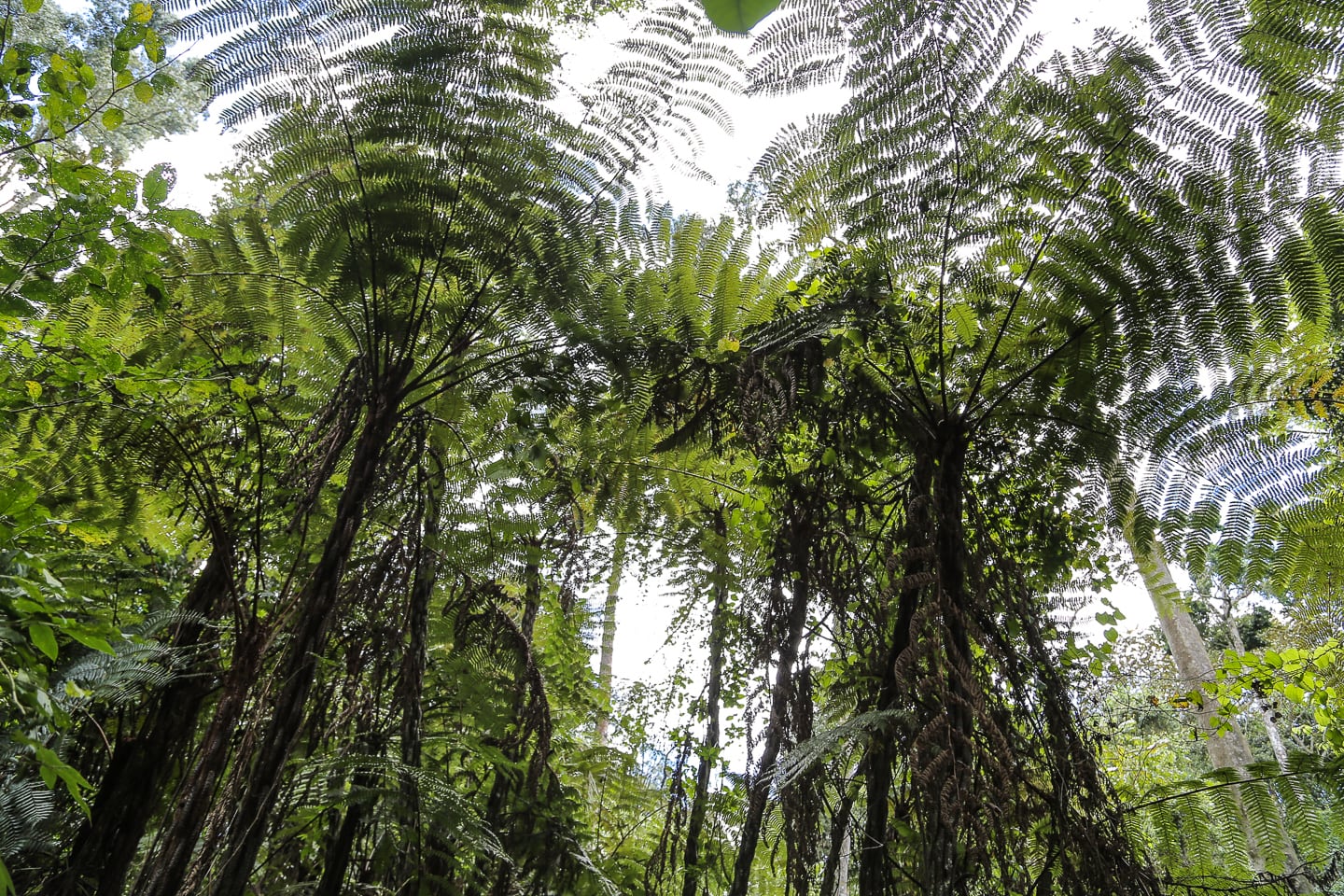 The tropical canopy of the "Big Fern Plants" shades the trail from the sun in the Magamba rain forest.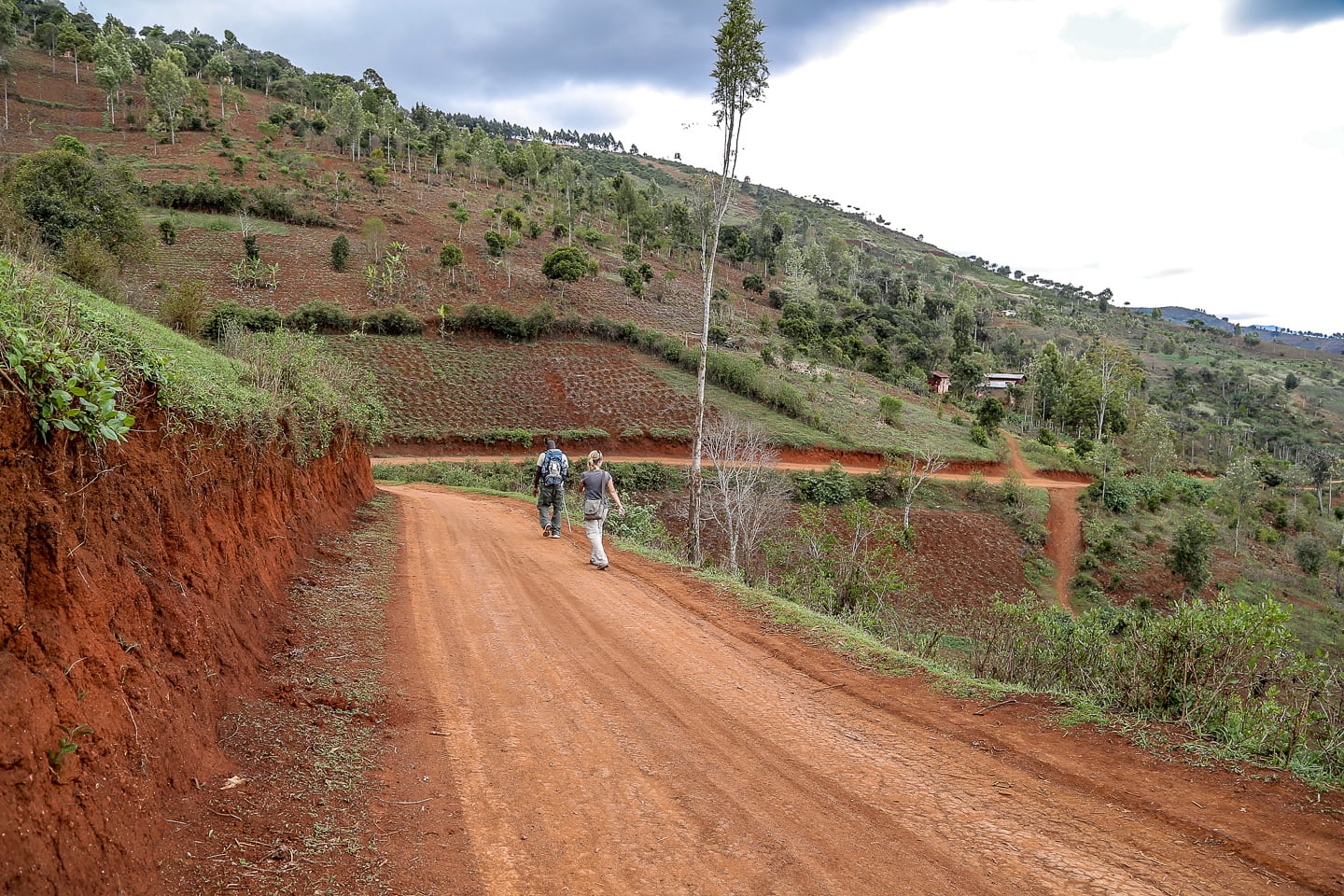 Nearing the village of Lukozi and the end of Day 1 on the packed red-clay main road.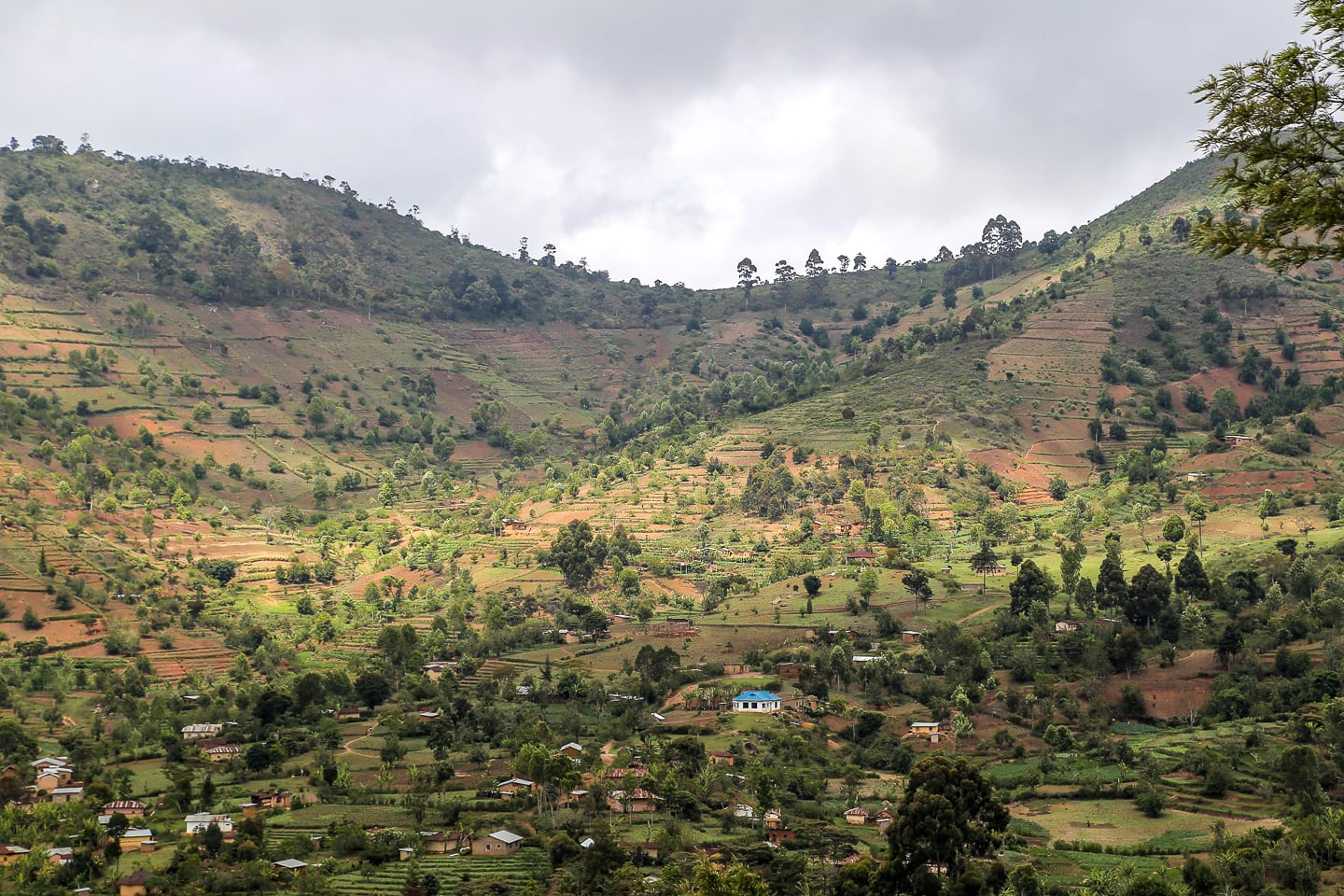 Another sleepy little village overlooking a lush valley deep in the Usambara.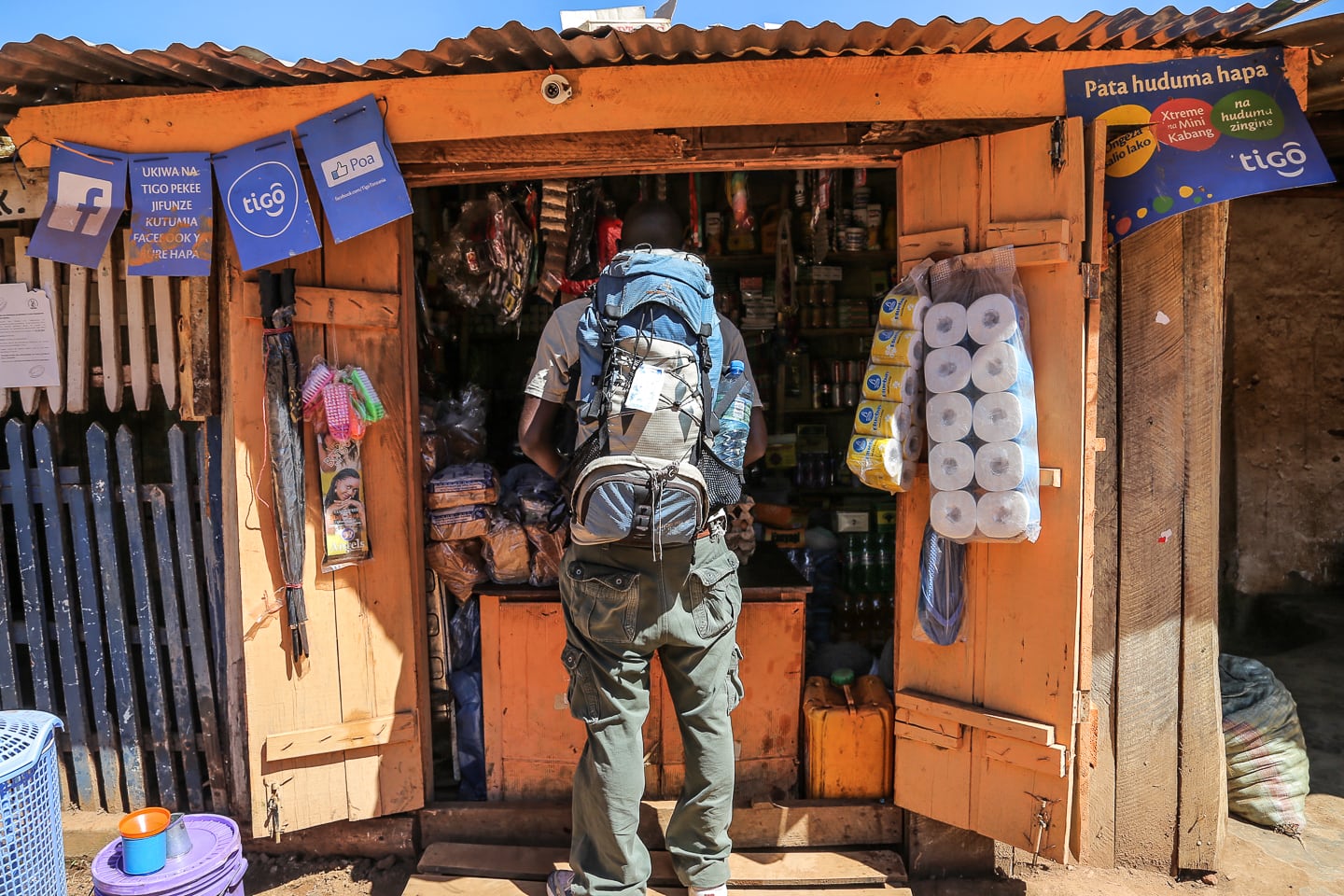 Said, our guide, buying bottled water at a small shop in Shume village. Children along the path would ask for our empty bottles, which they brought back to their families to reuse in a variety of ways.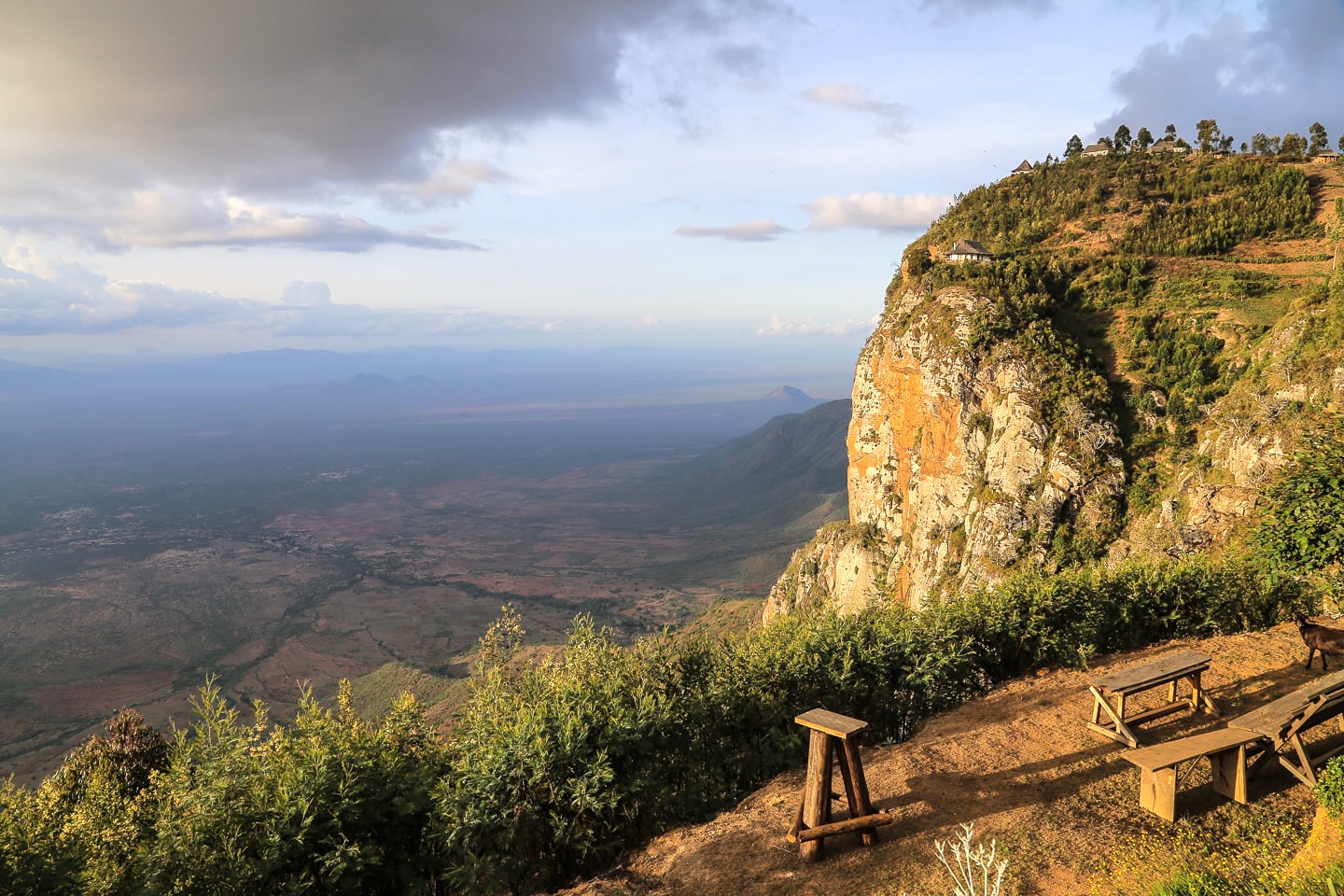 The view at sunset from Mambo Cliff Inn.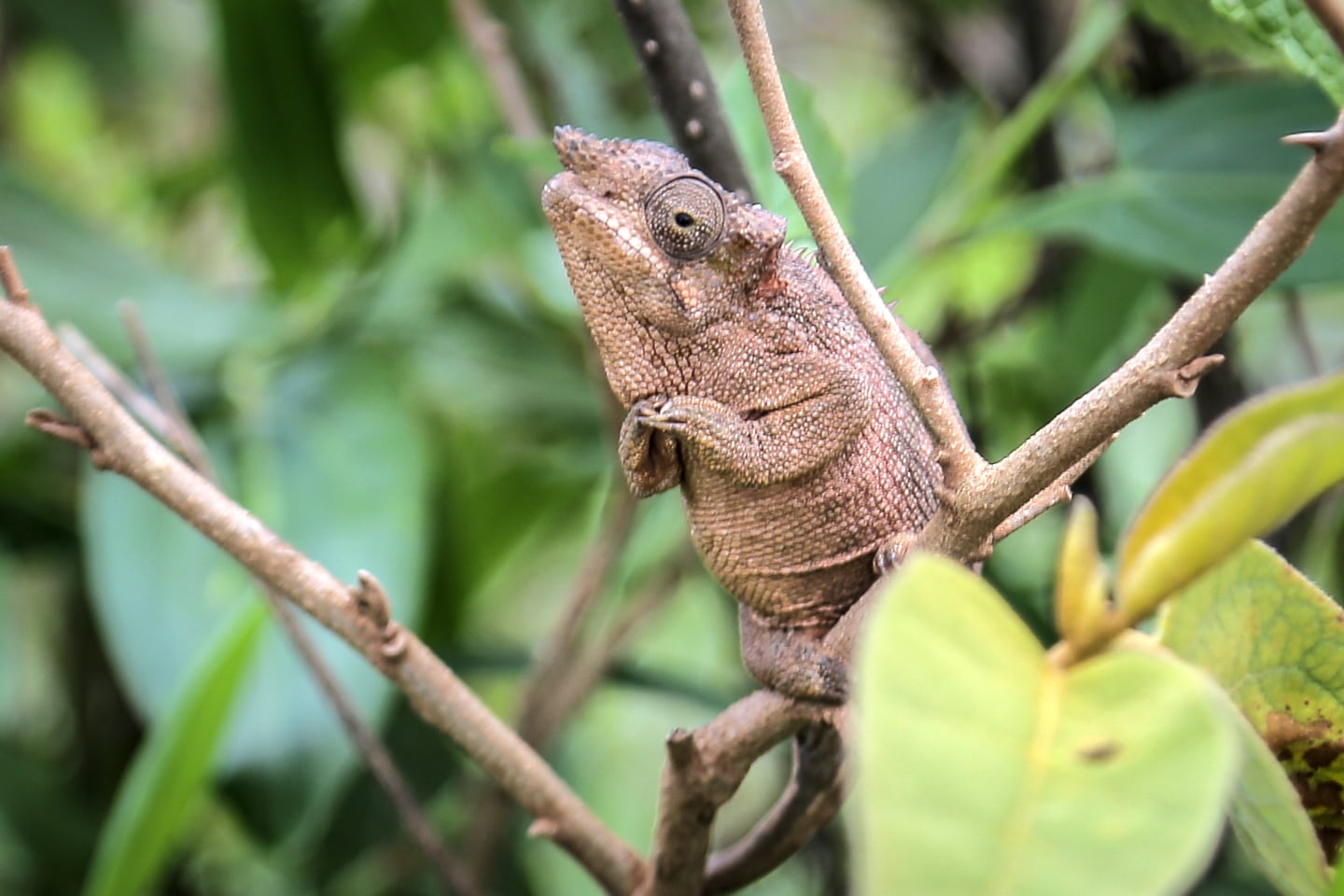 A female chameleon hatching a diabolical scheme on a twig. EX-cellent…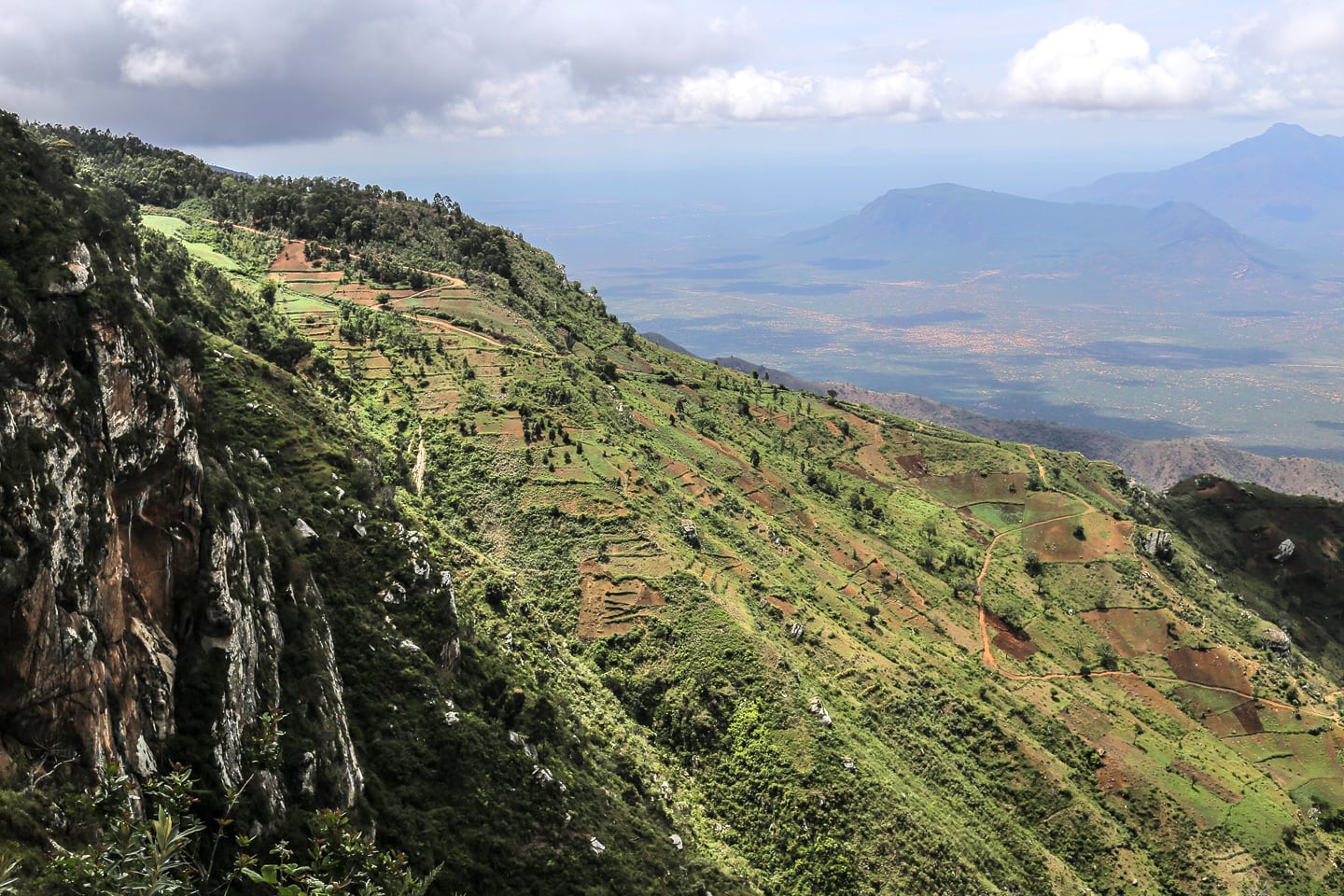 The view from 6,000 feet up at Mambo, our final destination of the trek.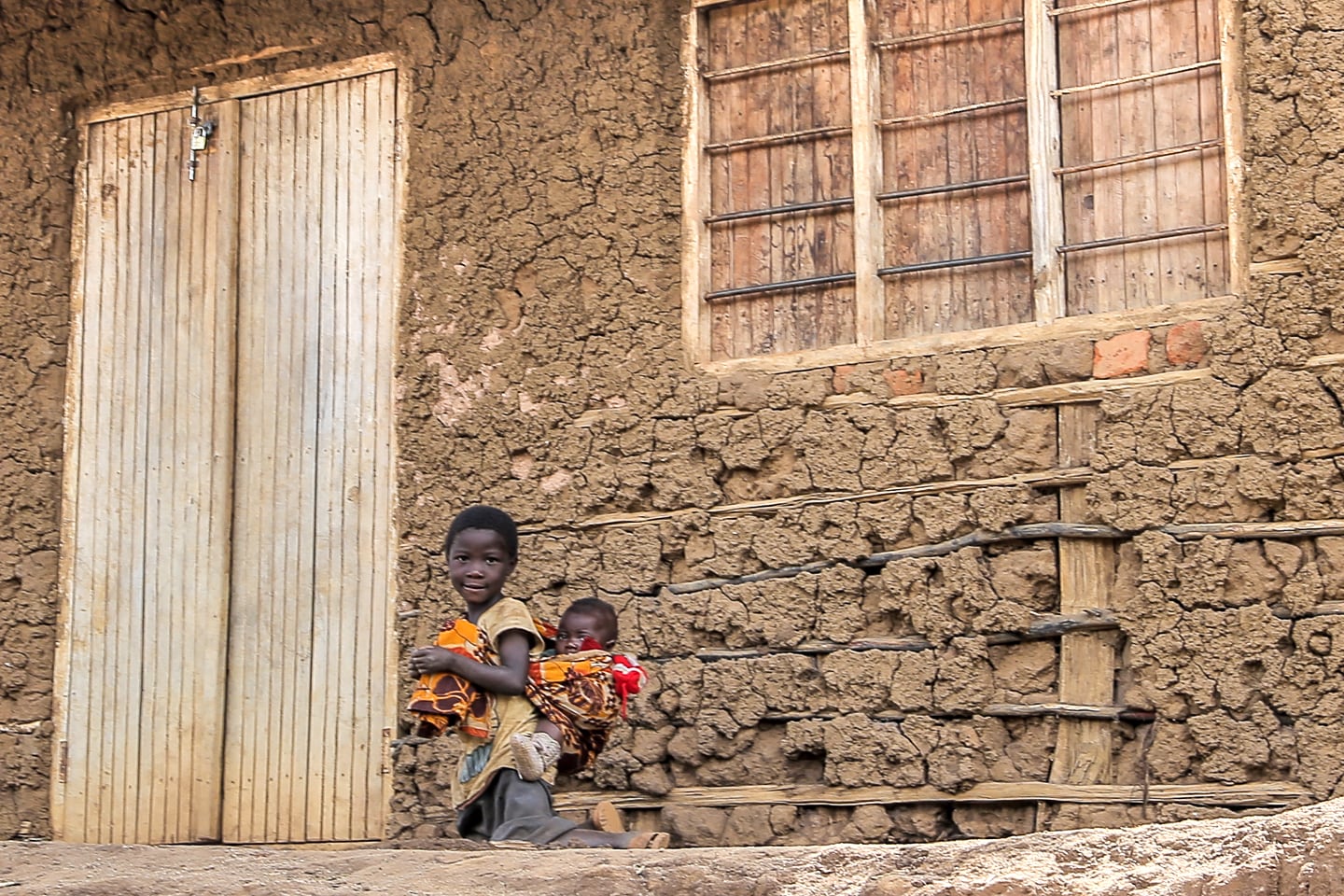 Young girl caring for her younger sibling in one of the villages.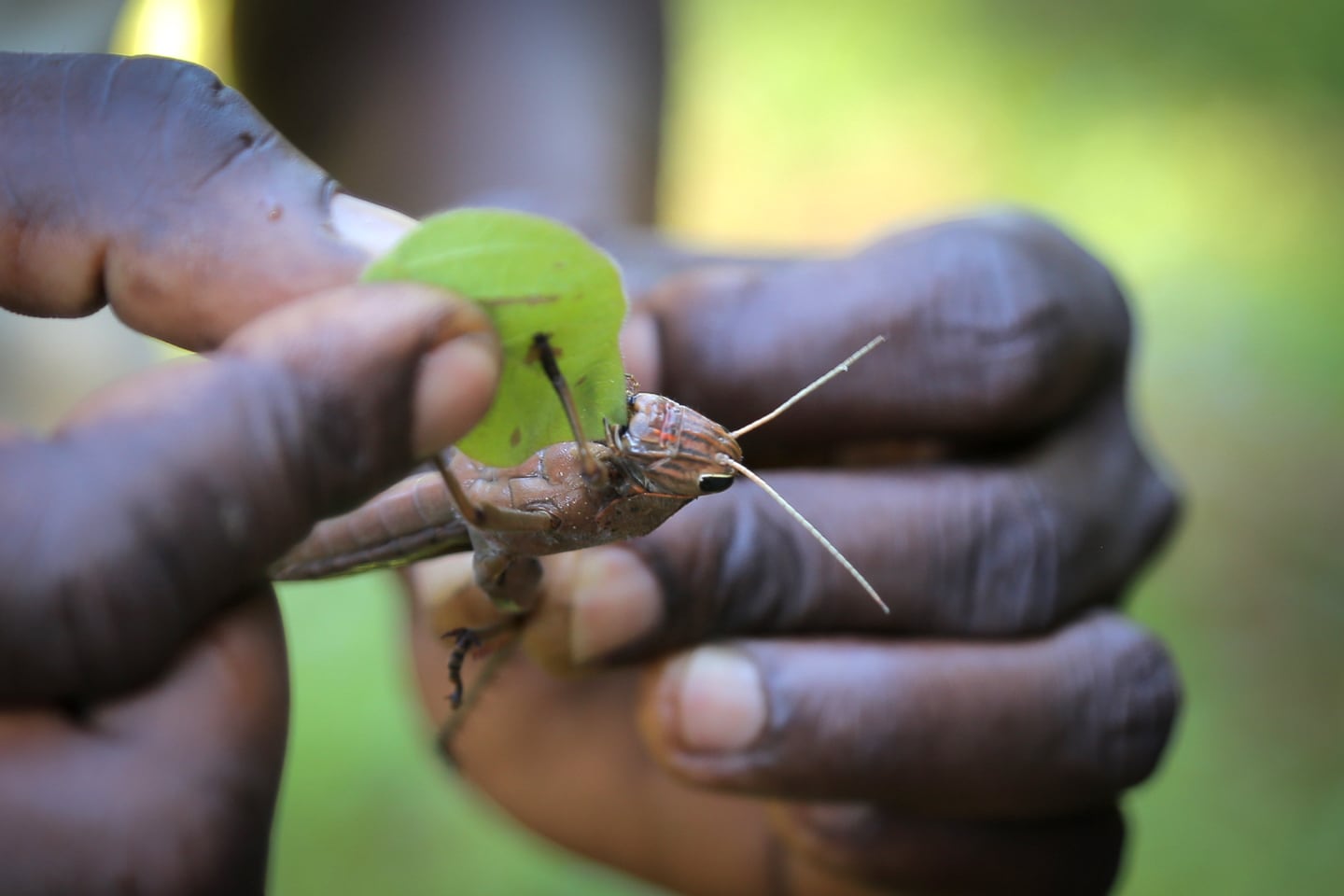 A large grasshopper being hand-fed a leaf by our guide. Yummy.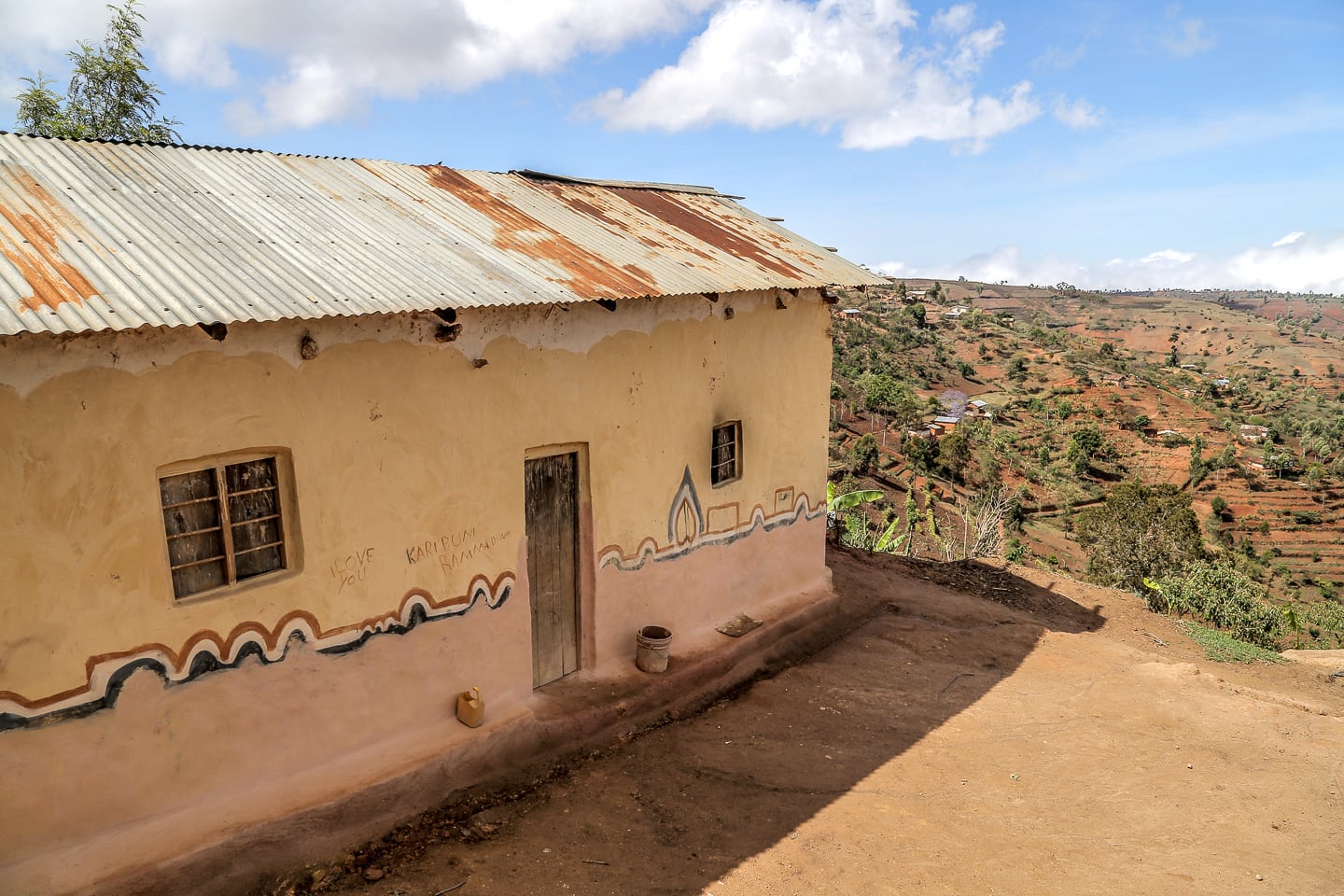 A traditional mud and stick house, decorated with a variety of colors of mud (not paint).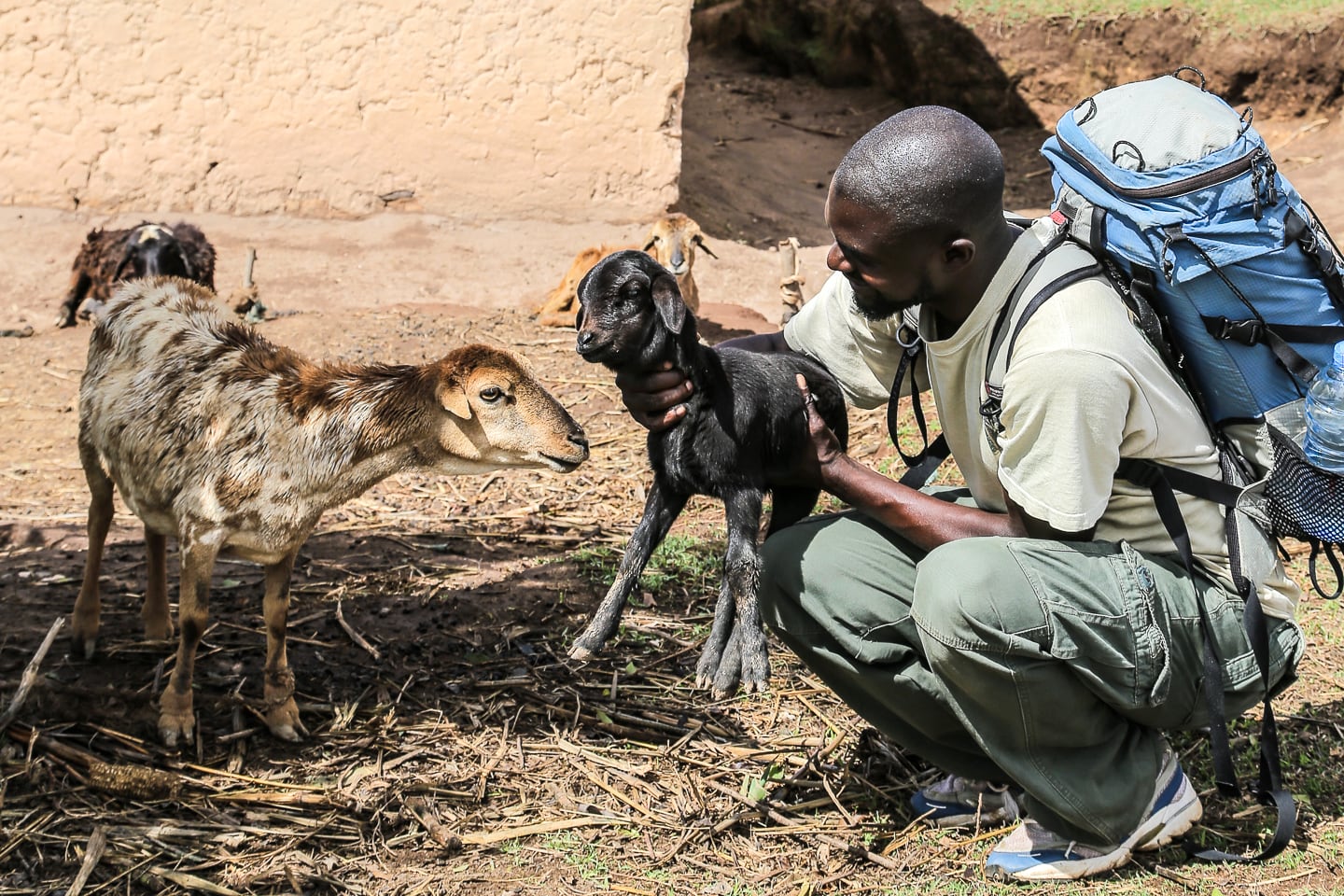 Our guide handing back a very docile young kid to his mother.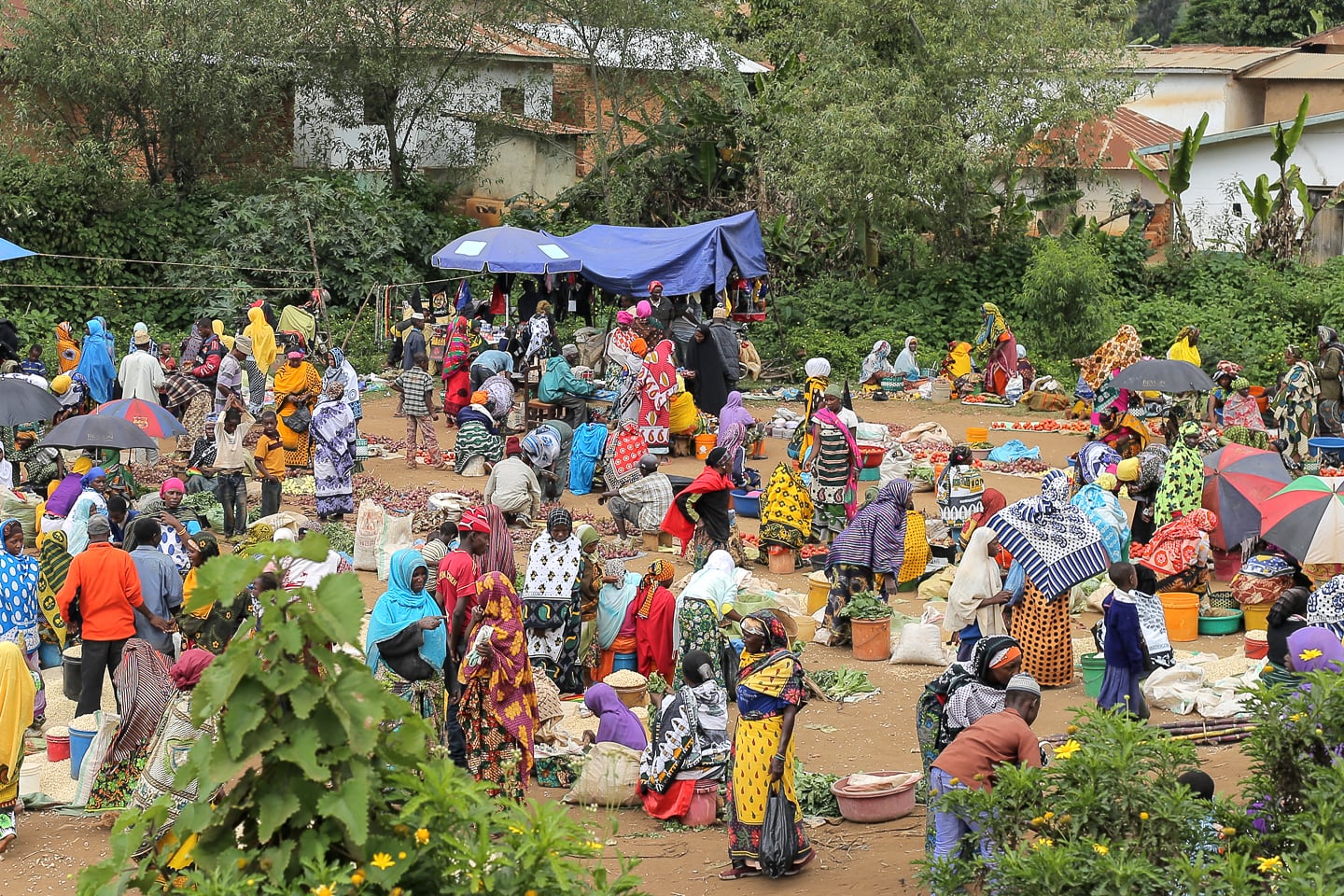 Market Day in Mambo at 5,500 feet.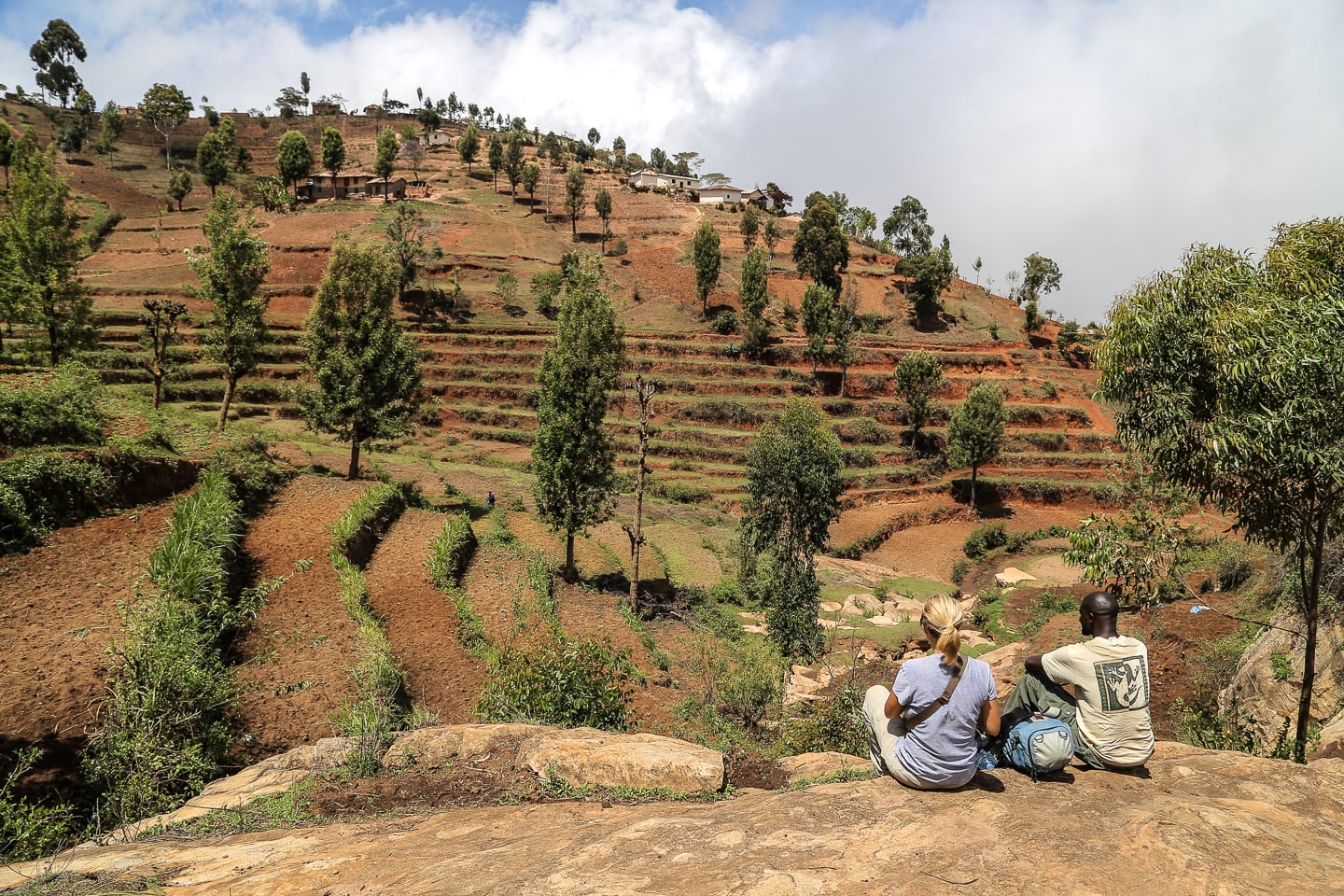 Taking in the view of the Usambara's trademark farm terraces during a short morning break.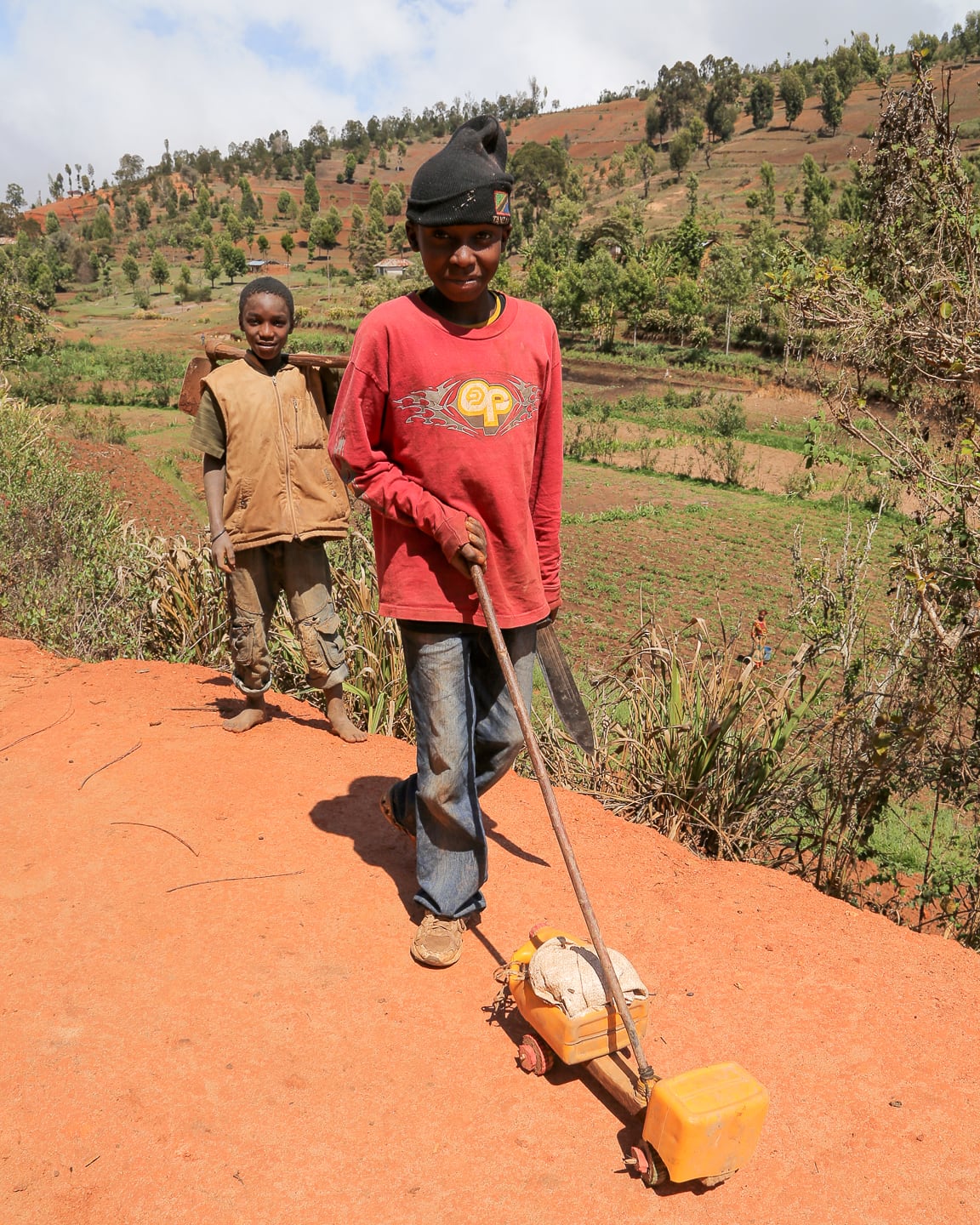 A couple of boys showing off their homemade toy truck (and machete) on the road to Lukozi.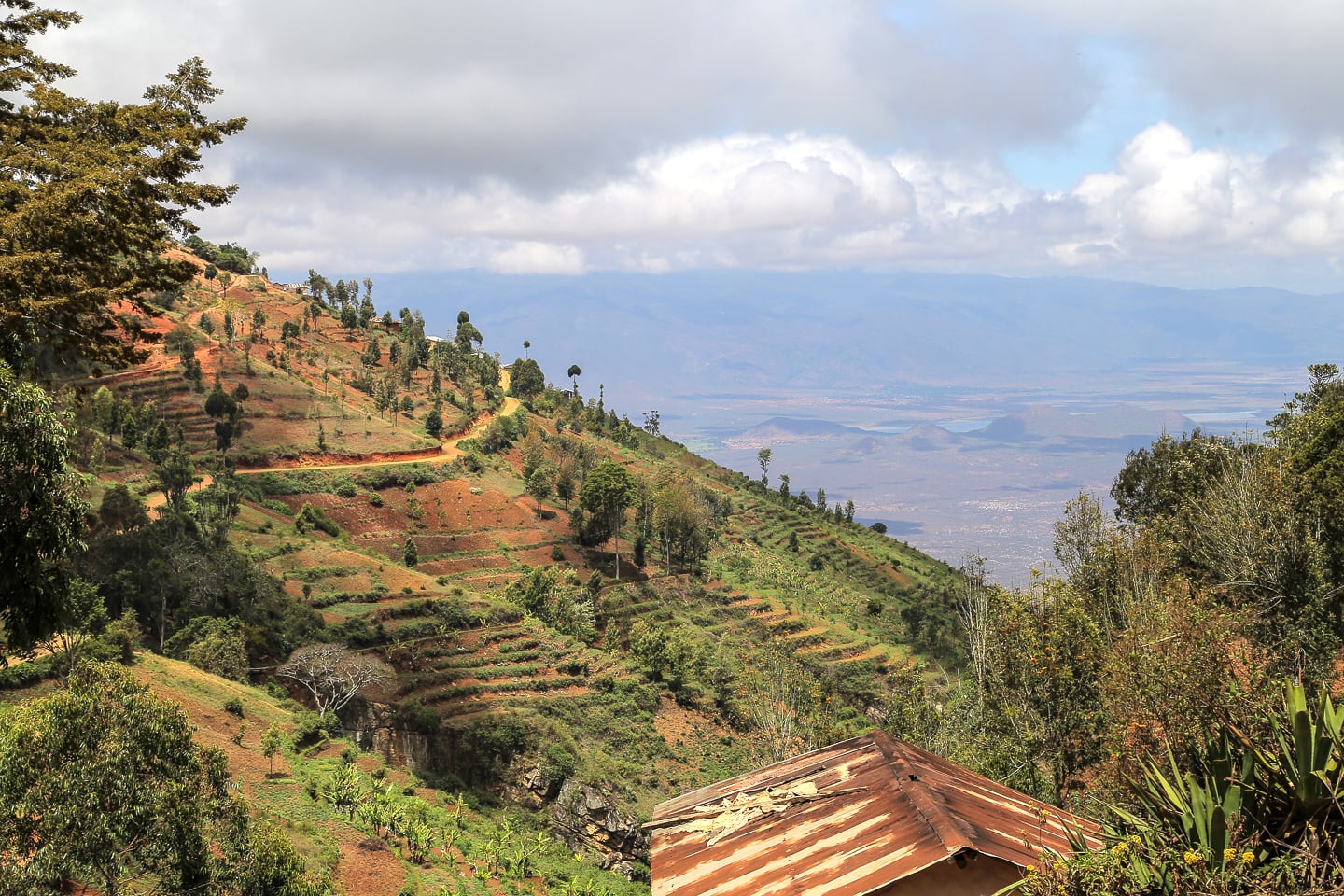 Farming terraces as far as the eye can see on a mountainside near Mambo.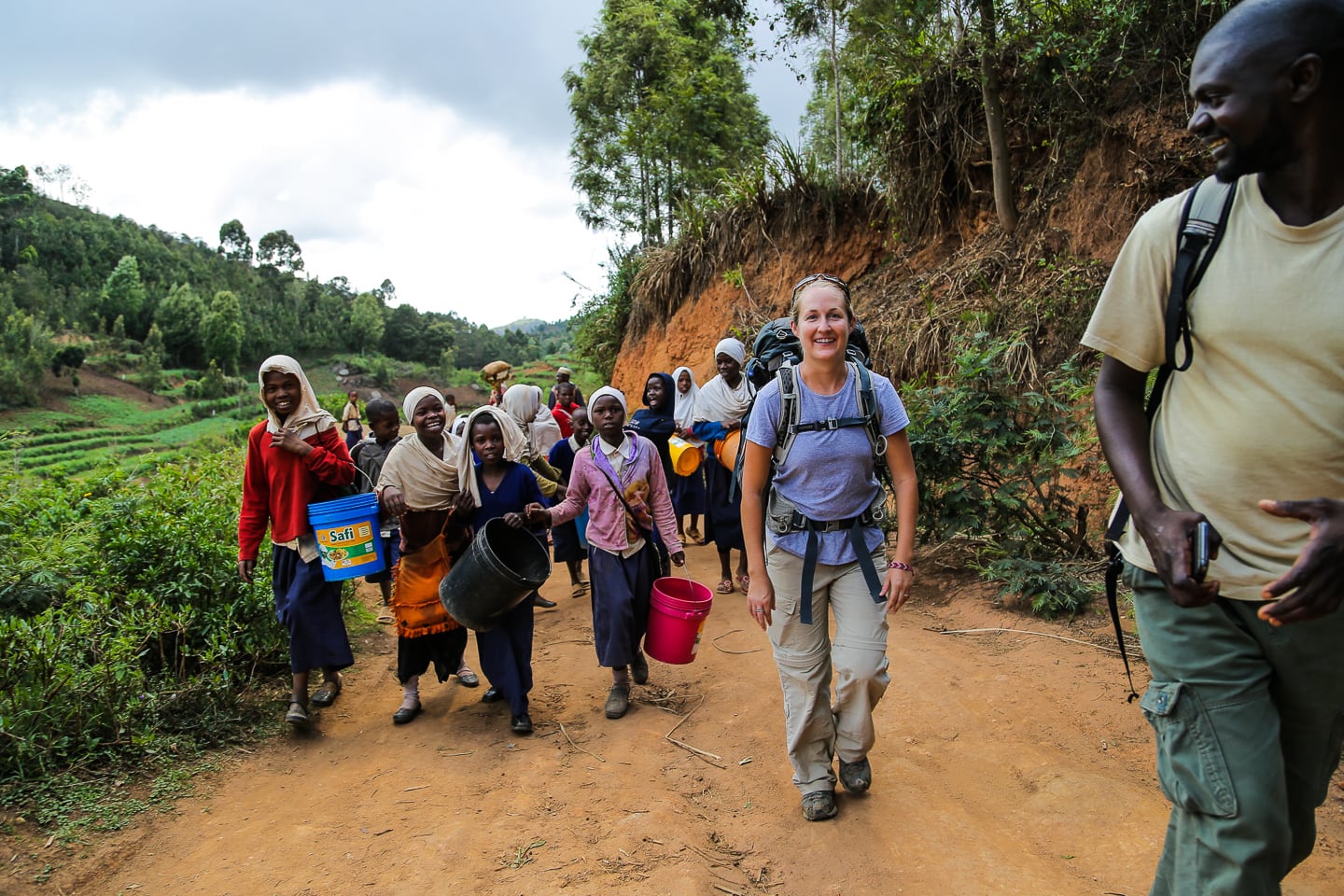 A large group of girls on their way to fetch water (and sidetracked by the two strange foreigners walking through their village).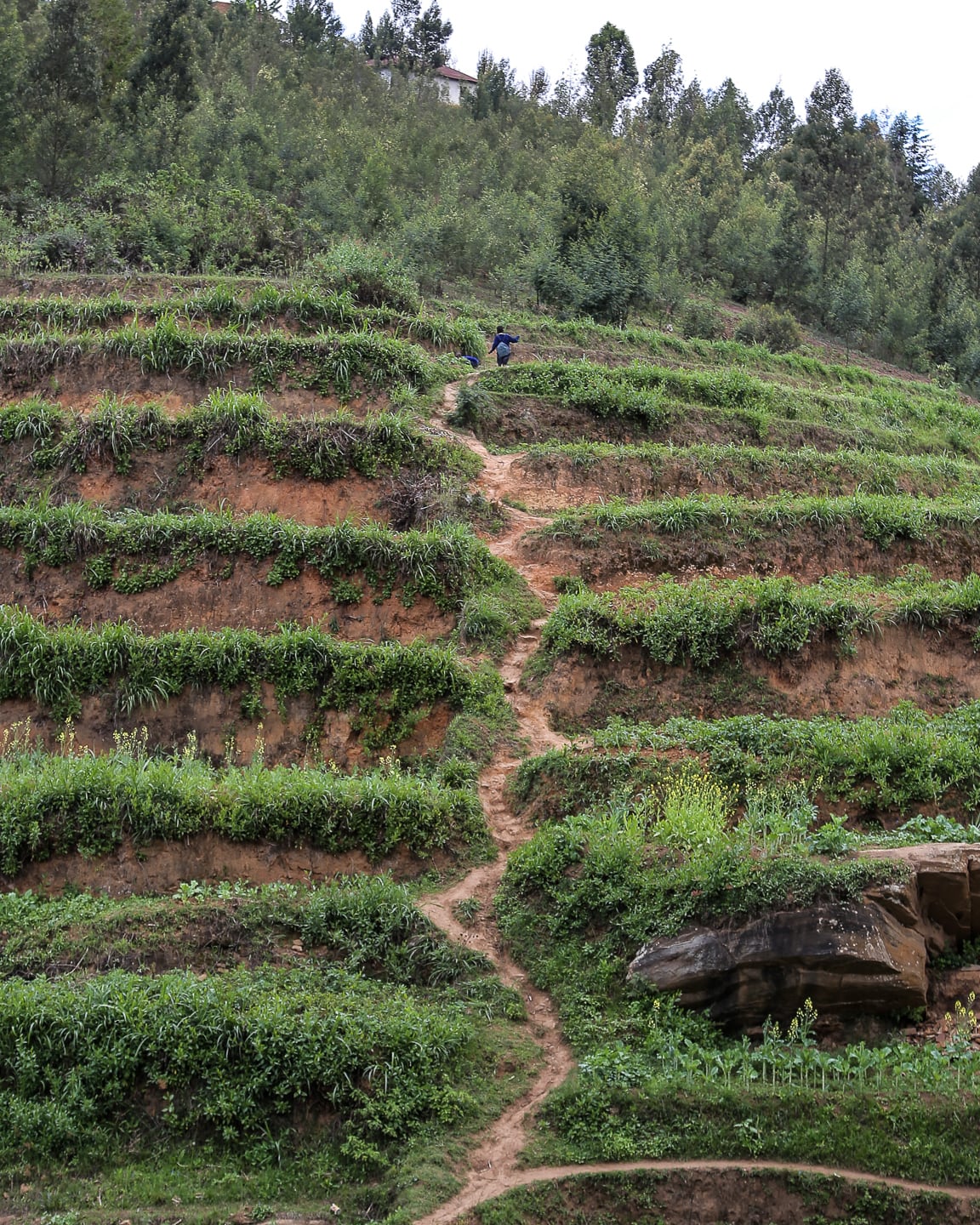 A young girl climbs a twisting path cutting through farm terraces.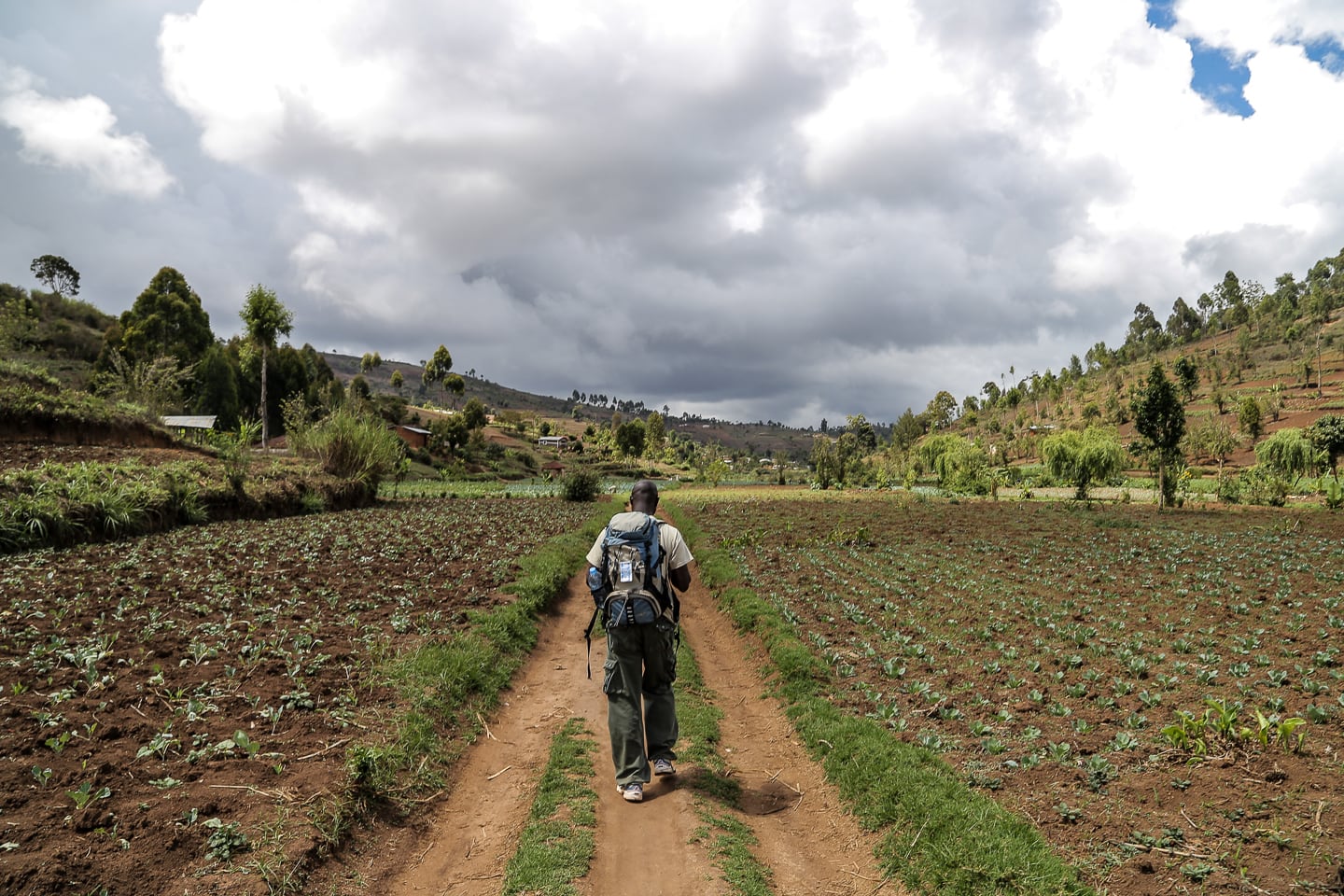 Walking along the lush and fertile river valley high up in the Usambara.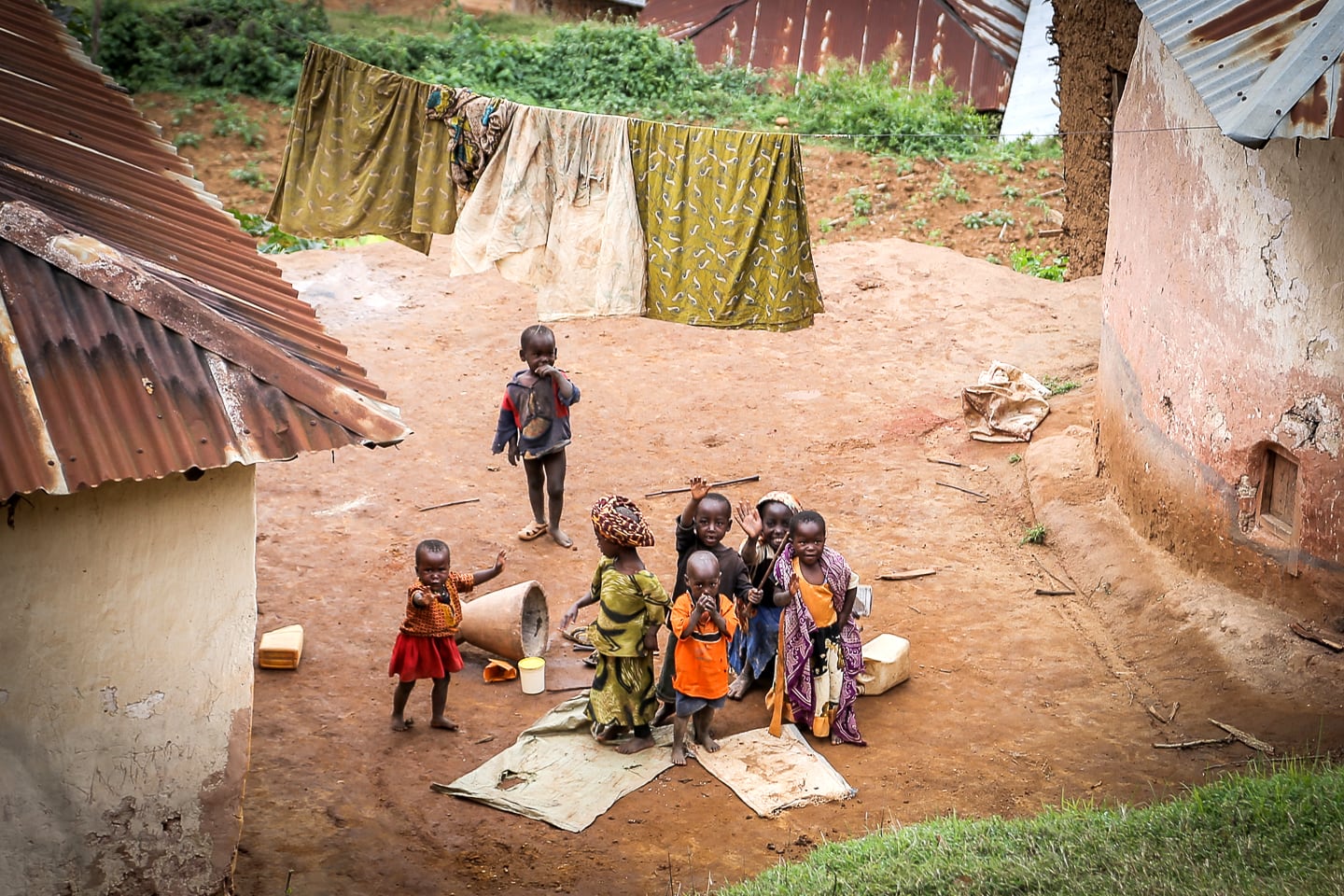 A group of children dumbstruck by the foreigners making their way by a family compound.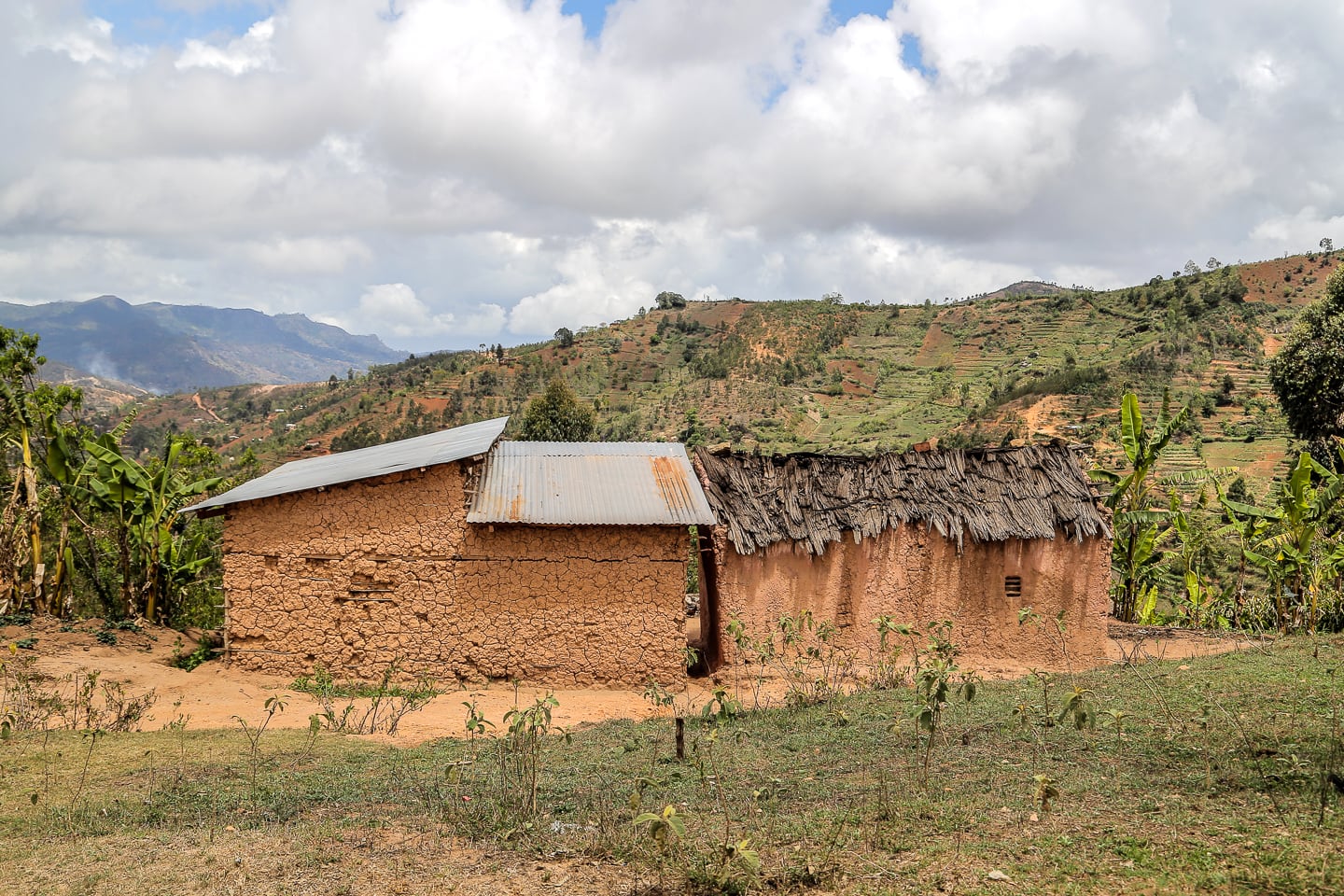 Traditional mud houses.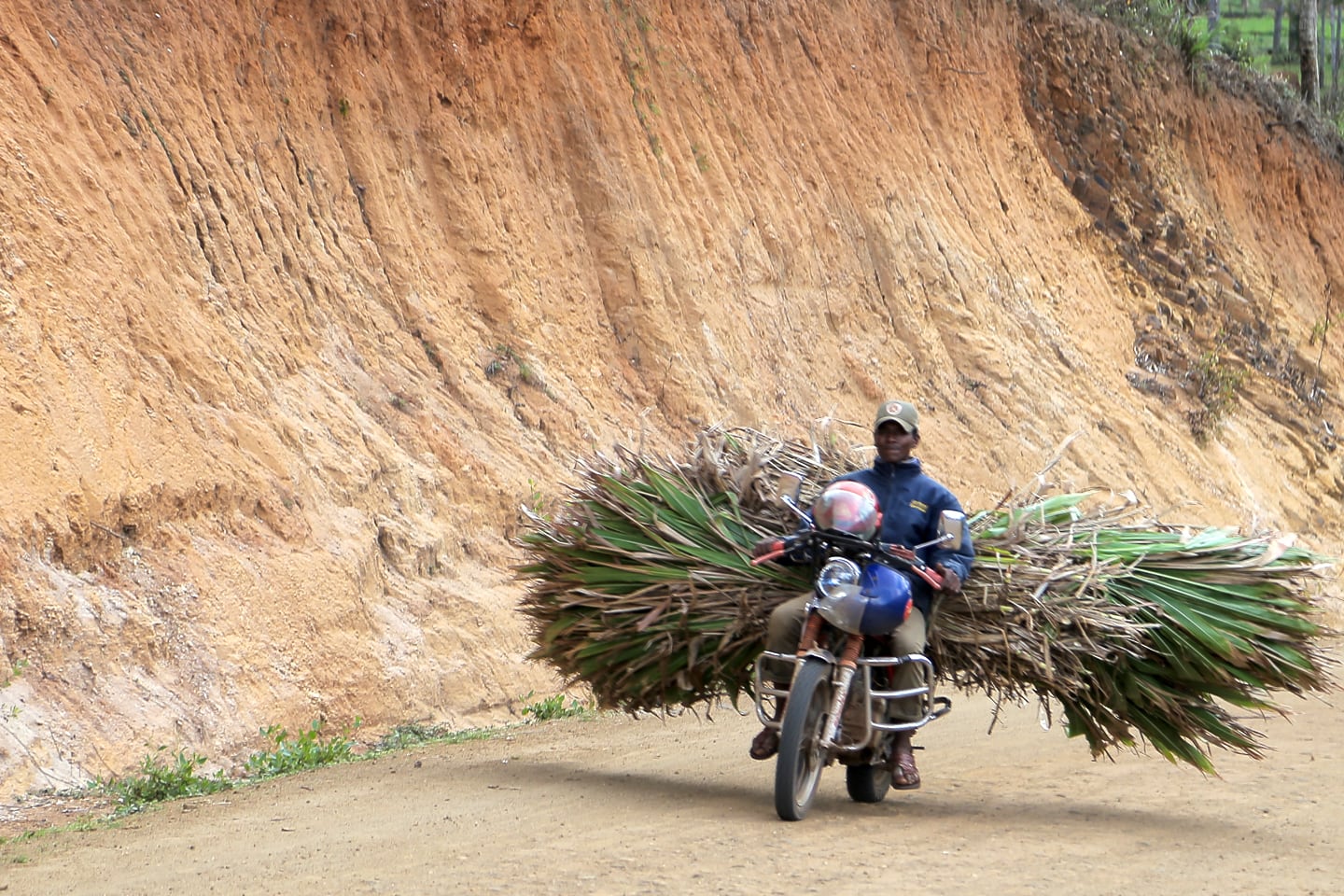 A man hauling thatch on his motorcycle along the main road.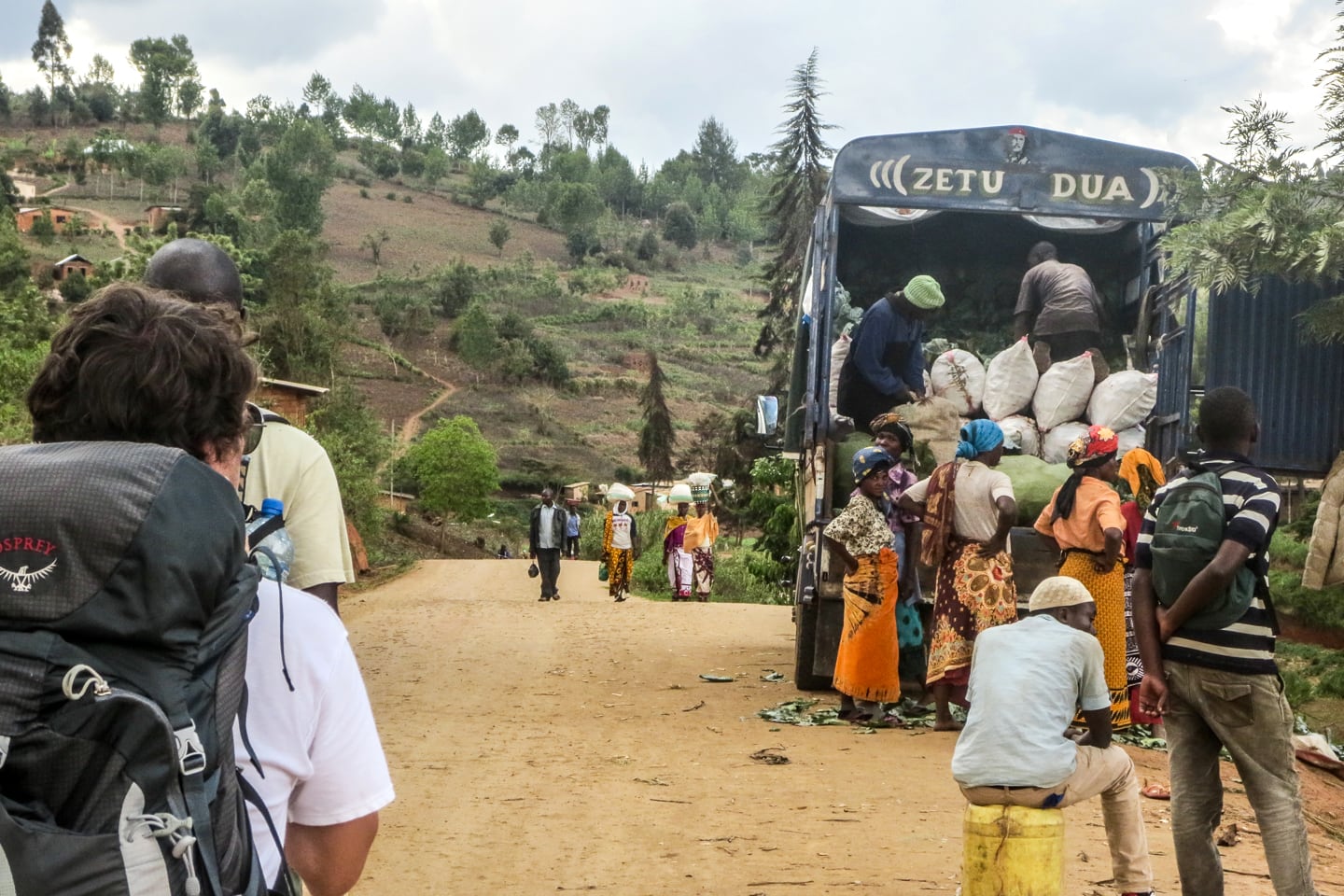 Loading cabbage and produce near Lukozi bound for Dar es Salaam.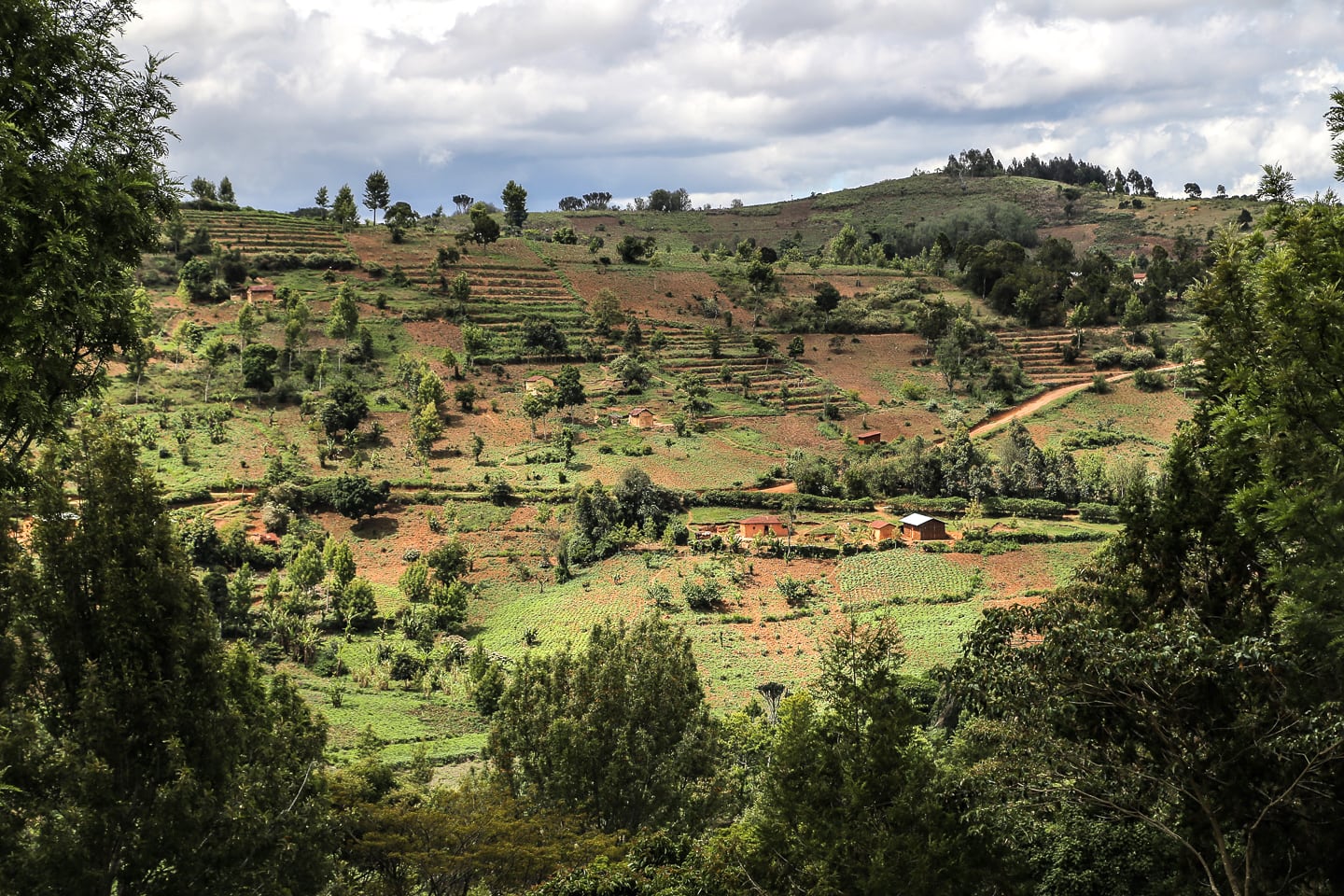 The varied light of a partly sunny day sweeping across one of the Usambara valleys.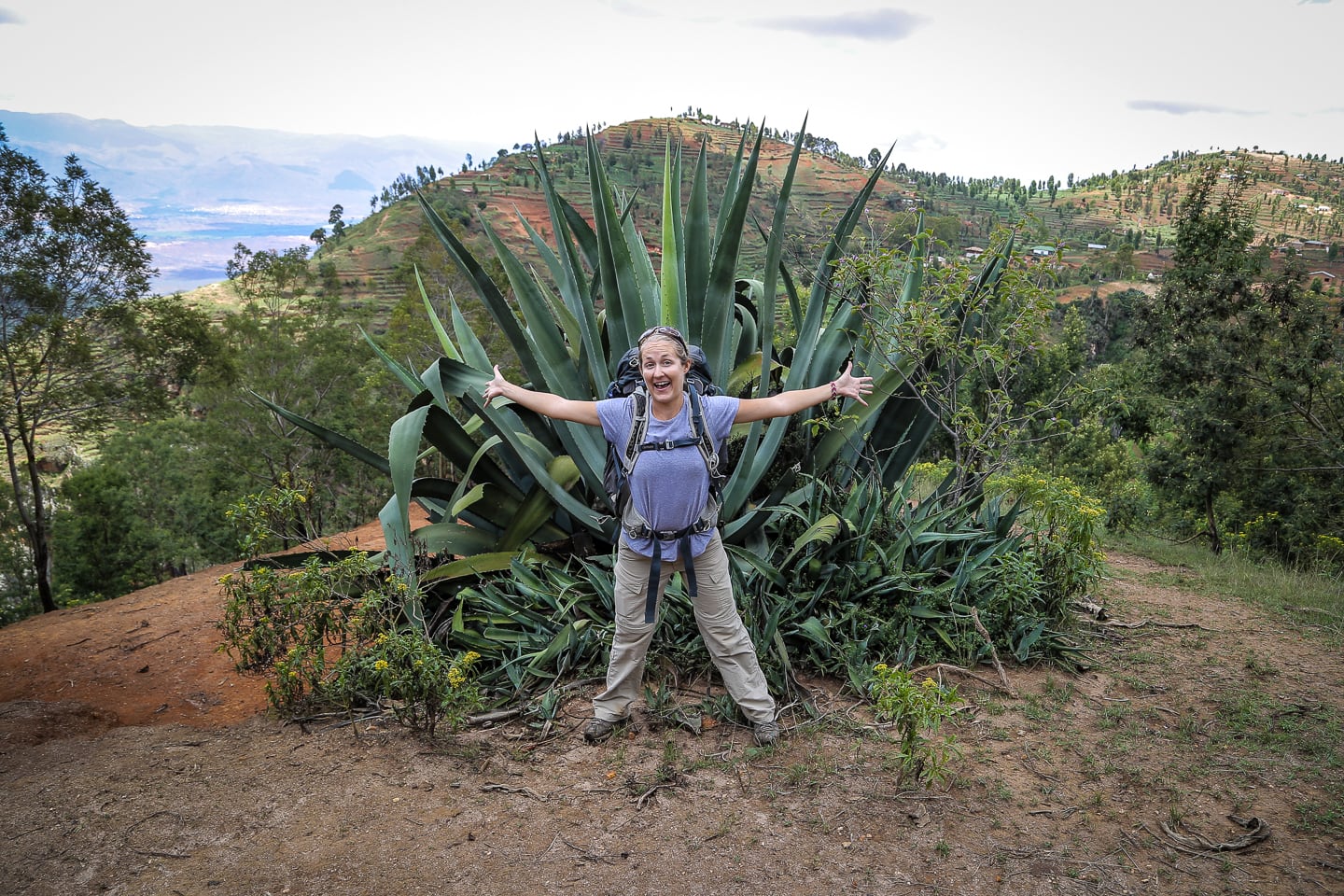 Agave! Grown in the region mostly for making ethanol, rope and blond hair extensions (no joke).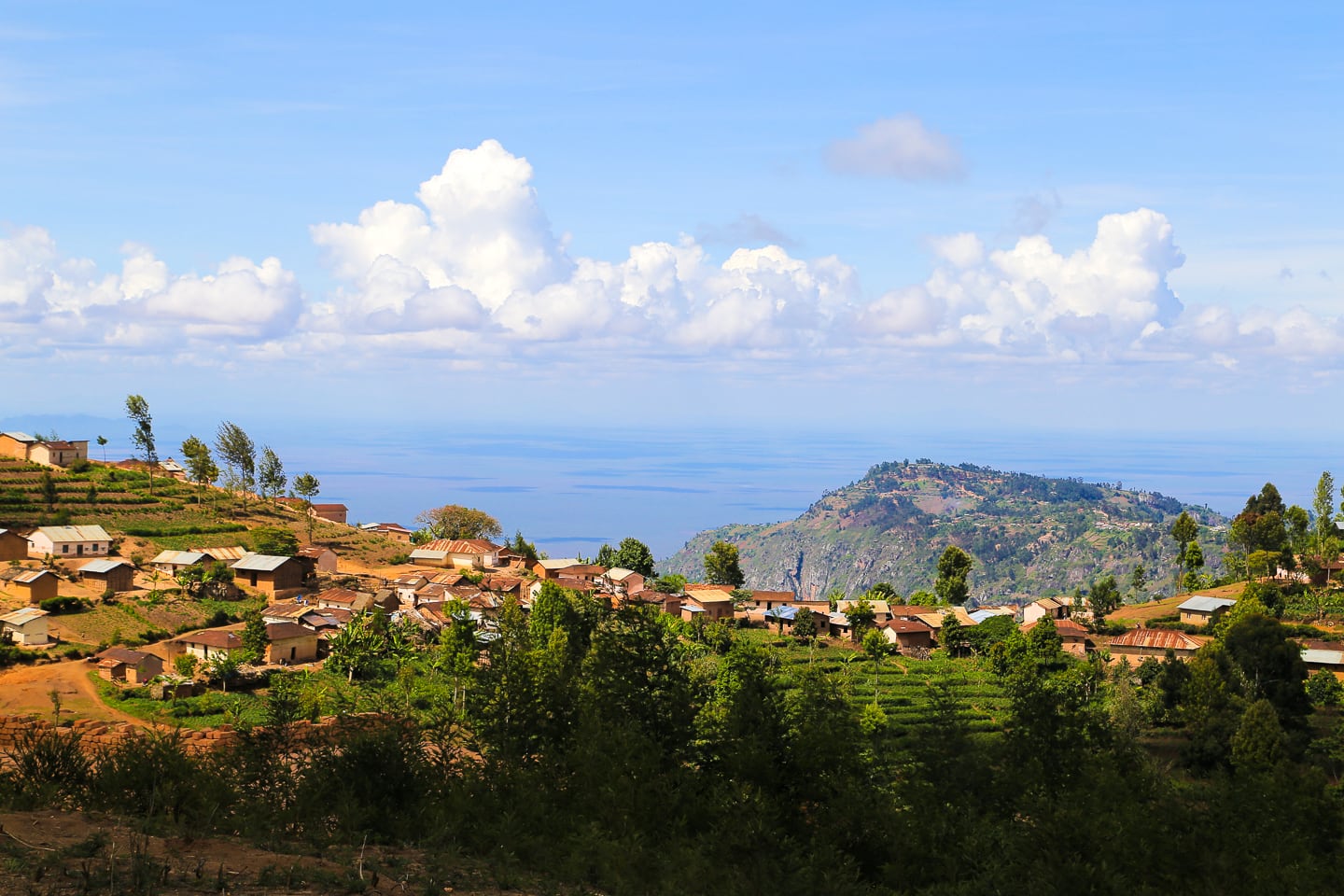 A neighborhood of Mambo village lining a narrow ridge.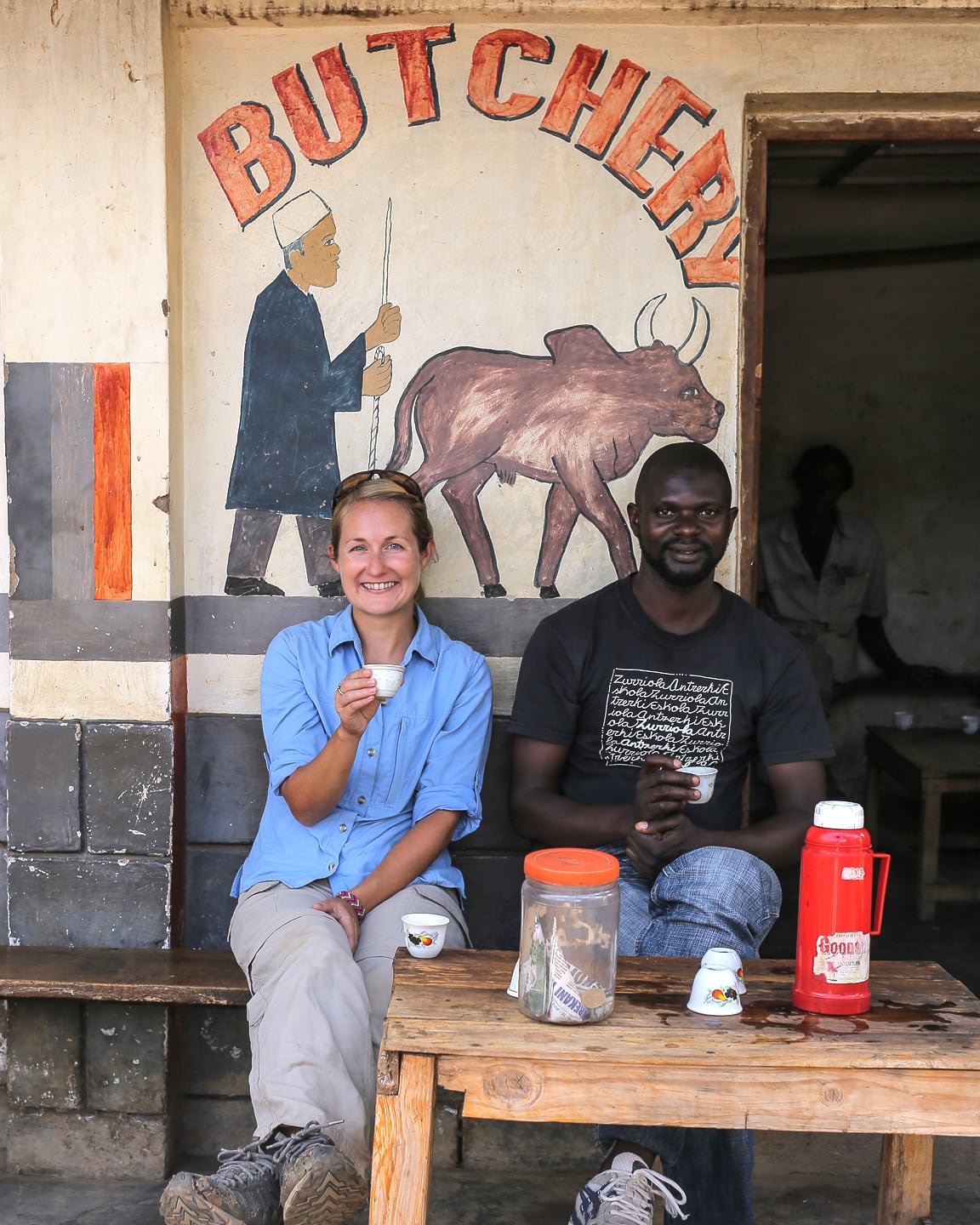 Breaking at a butchery for Tanzanian coffee with Said, our guide, in Mambo village.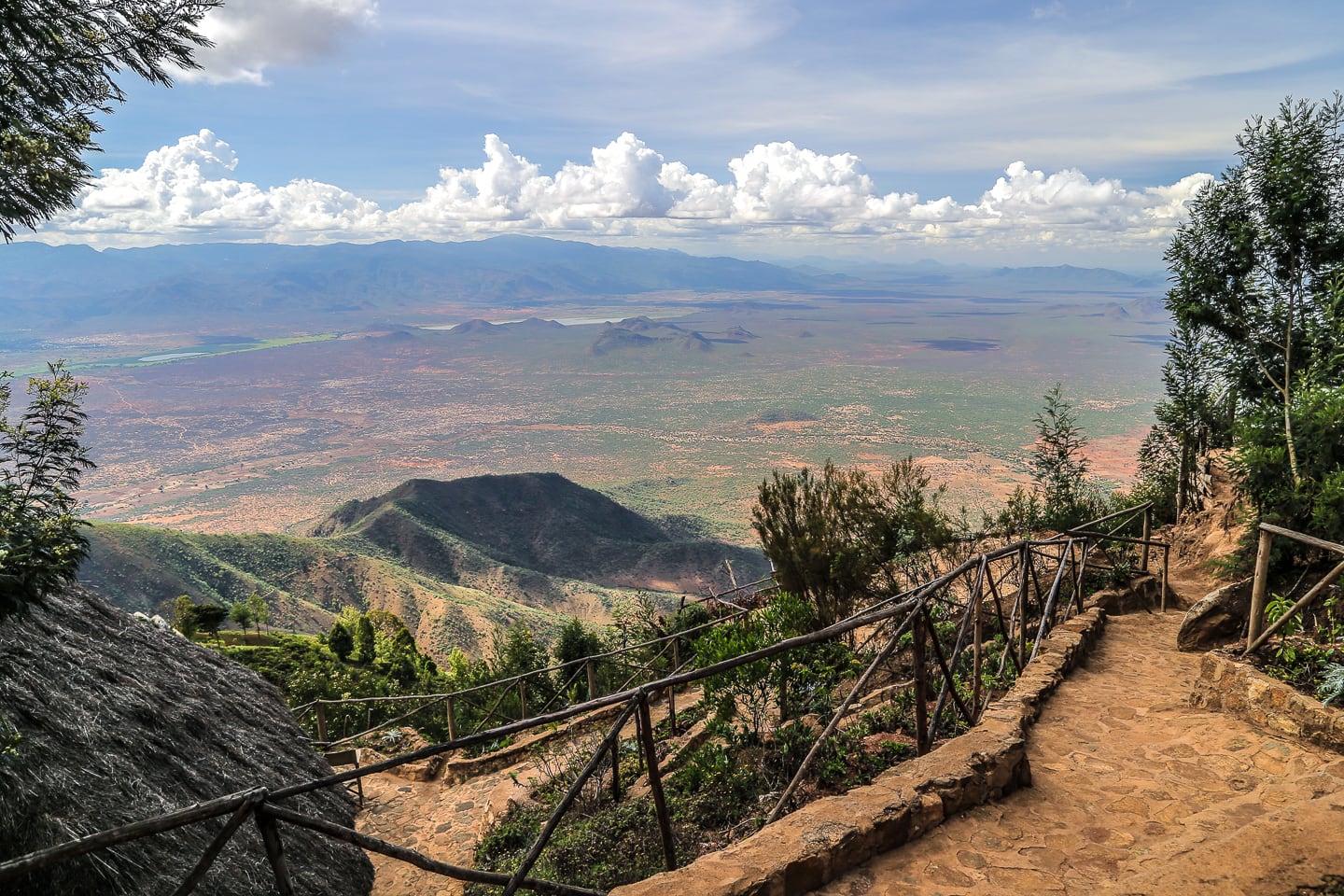 The view of the Masai Plains and Pare Mountains from Mambo Cliff Inn.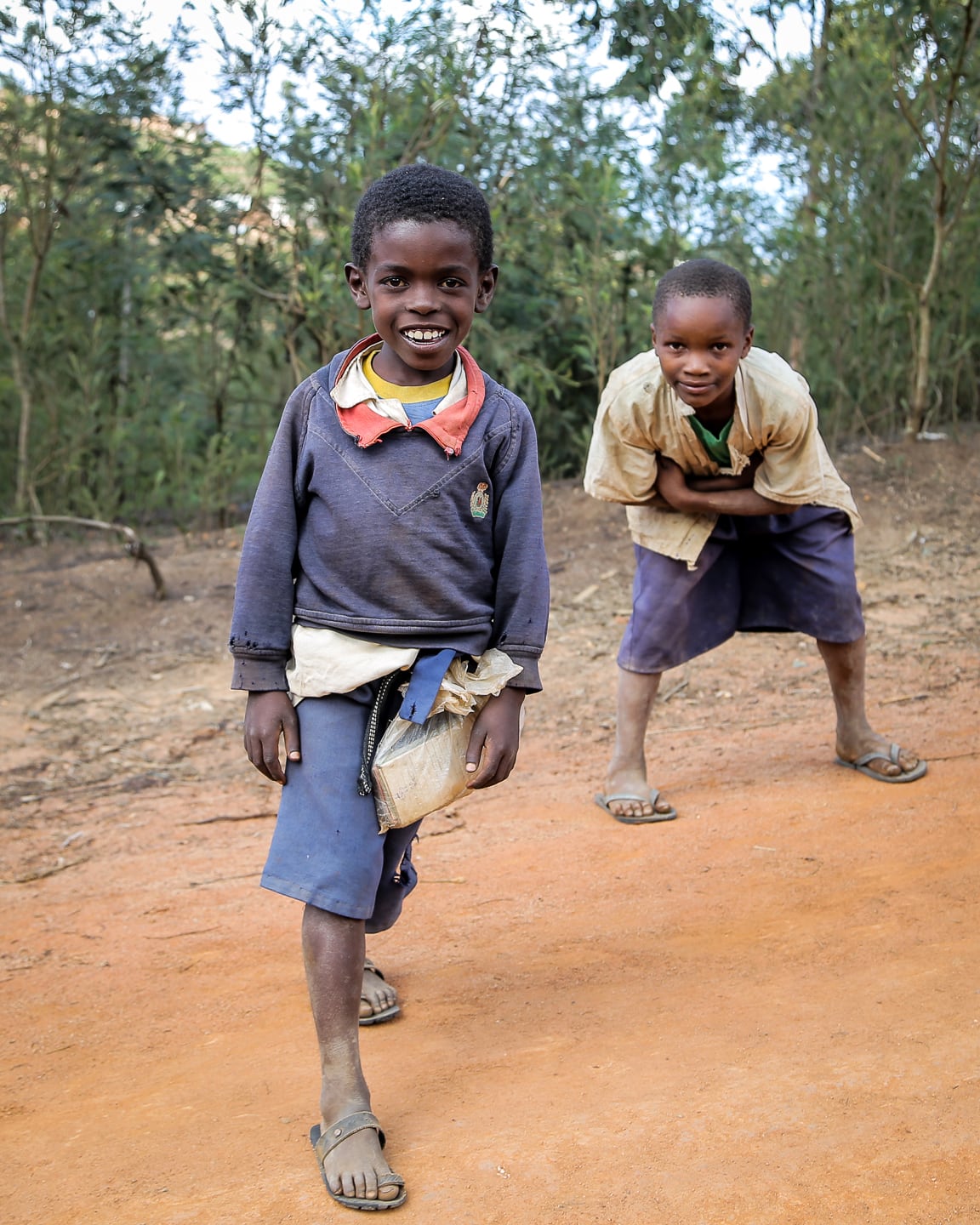 Two young boys goofing off and asking for their picture to be taken on their way home from school in Mambo.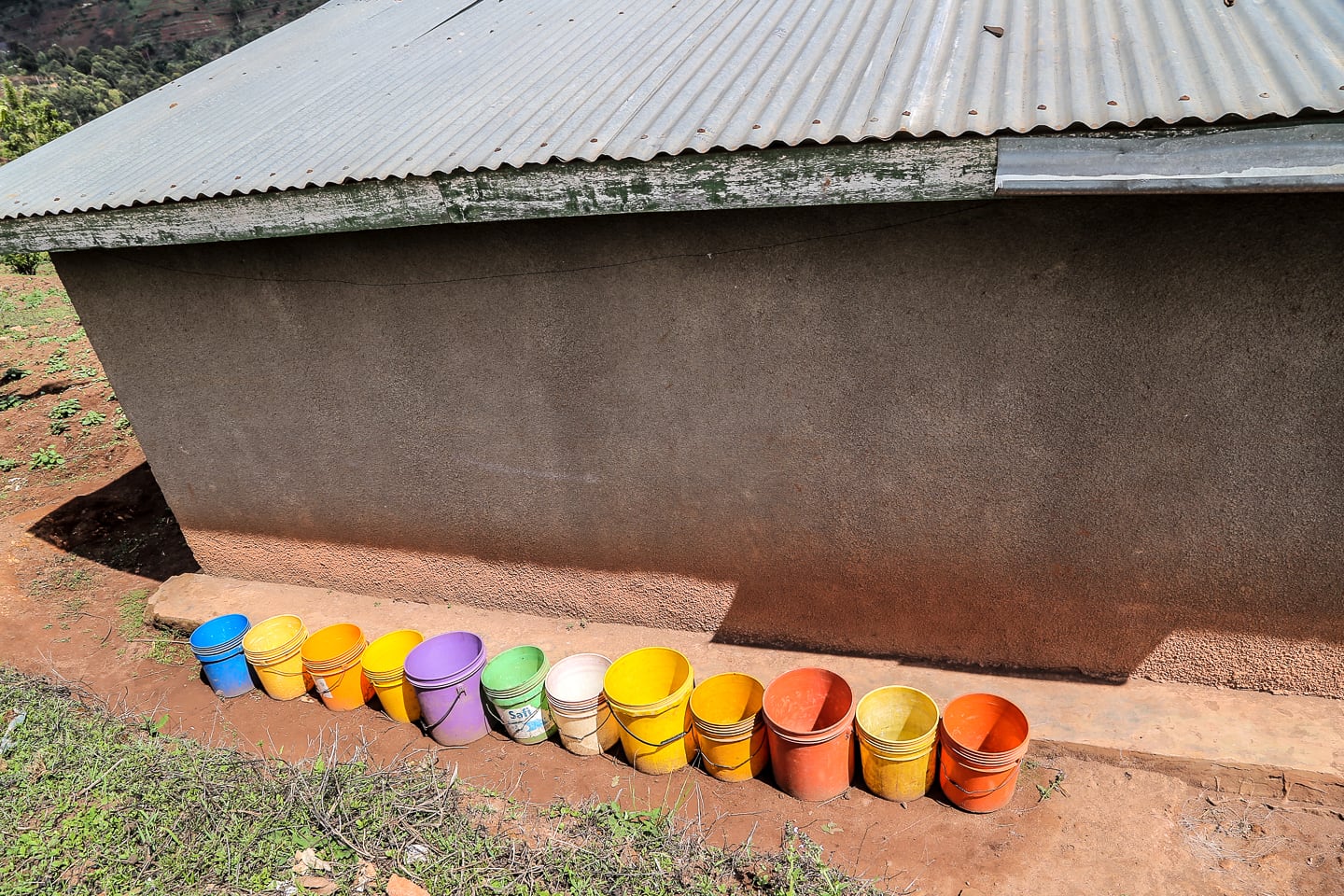 Multi-colored buckets waiting for the start of the rains later this month.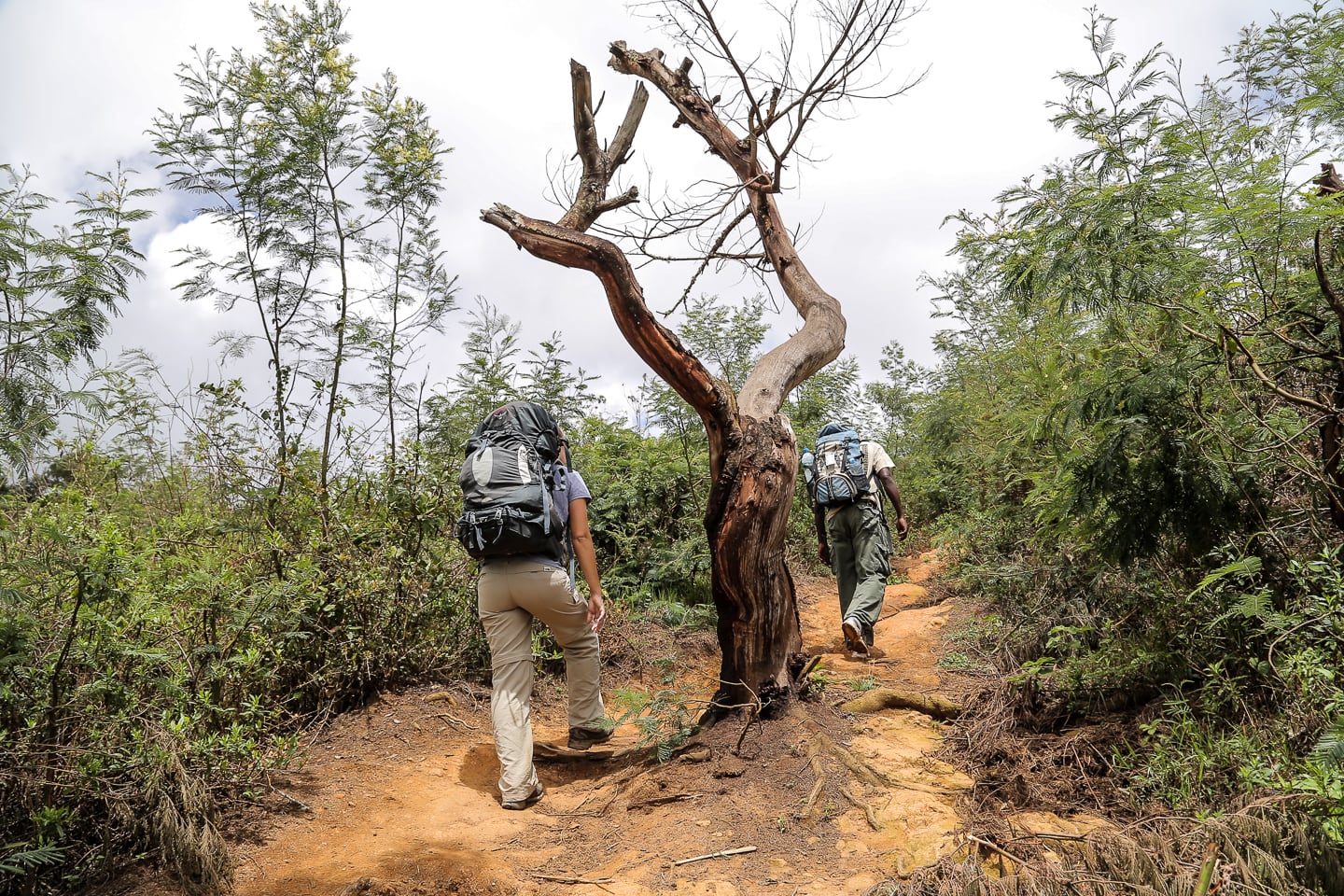 Climbing out of the Magamba rain forest to the summit of the highest pass of the trek at around 7,000 feet.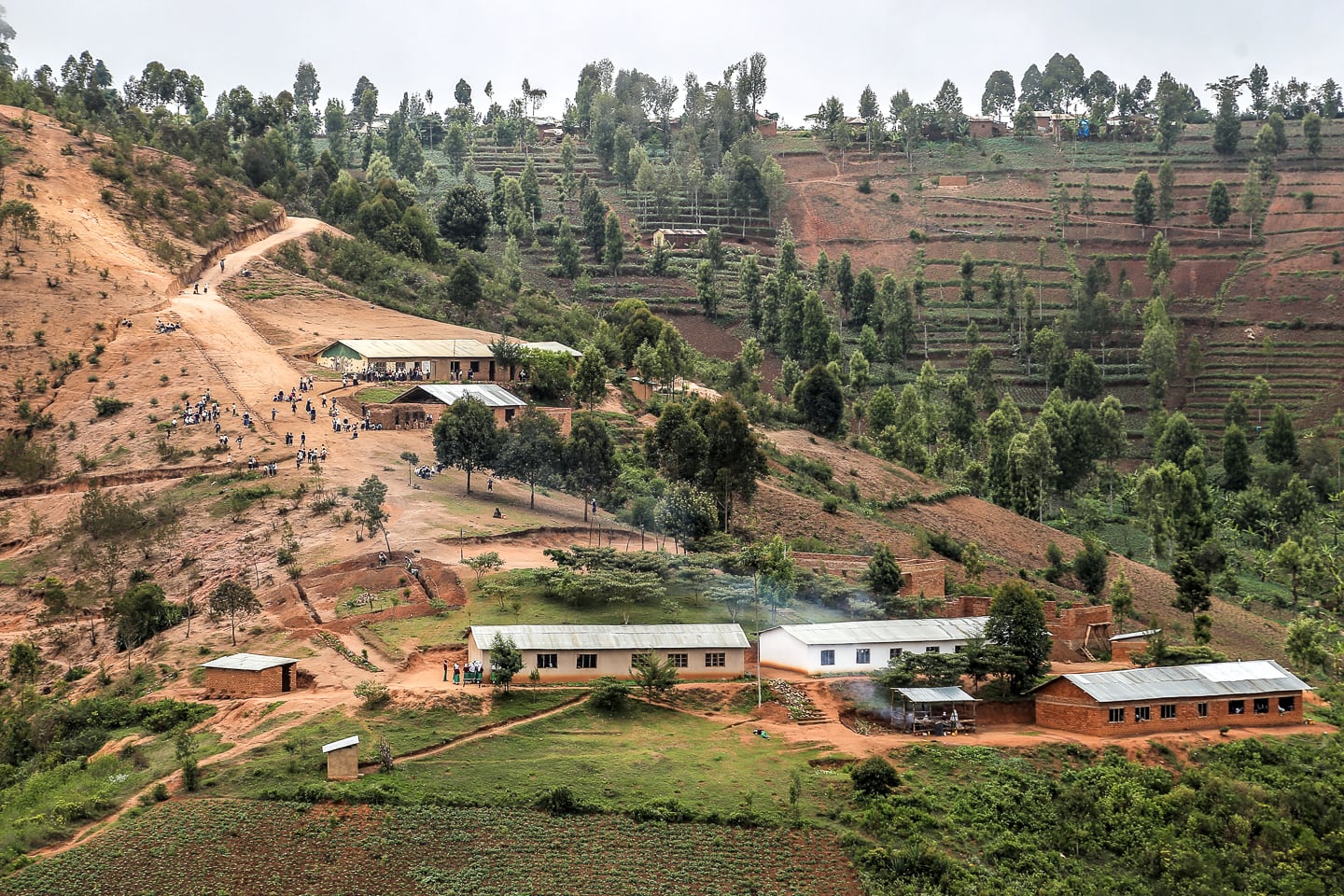 School children in uniform mill about during final exams week at the primary and secondary schools.
Women in Mambo village carrying produce and beverages to market on their heads.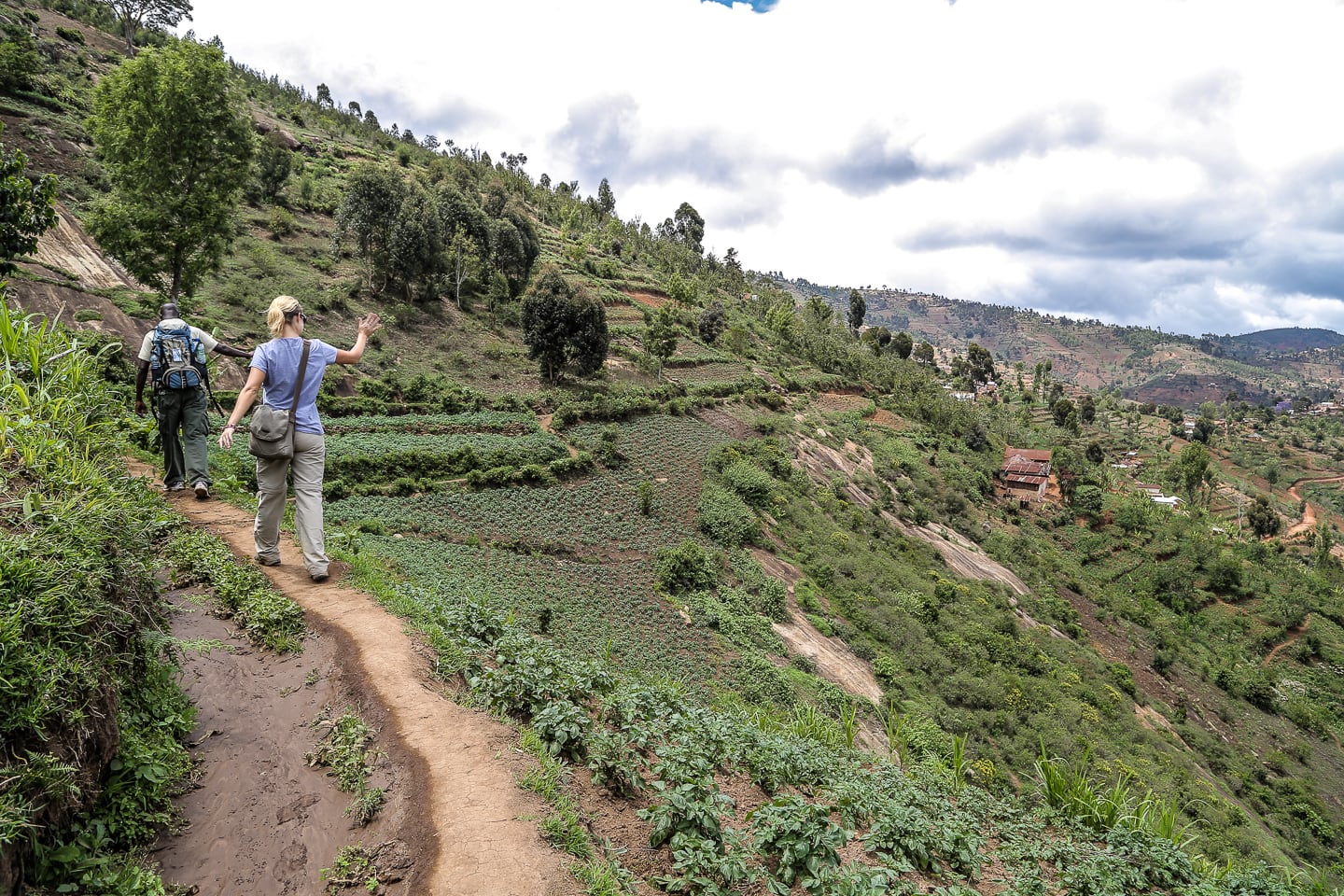 Lori waves to excited children below as we follow a narrow trail on a steep hillside covered in farming terraces.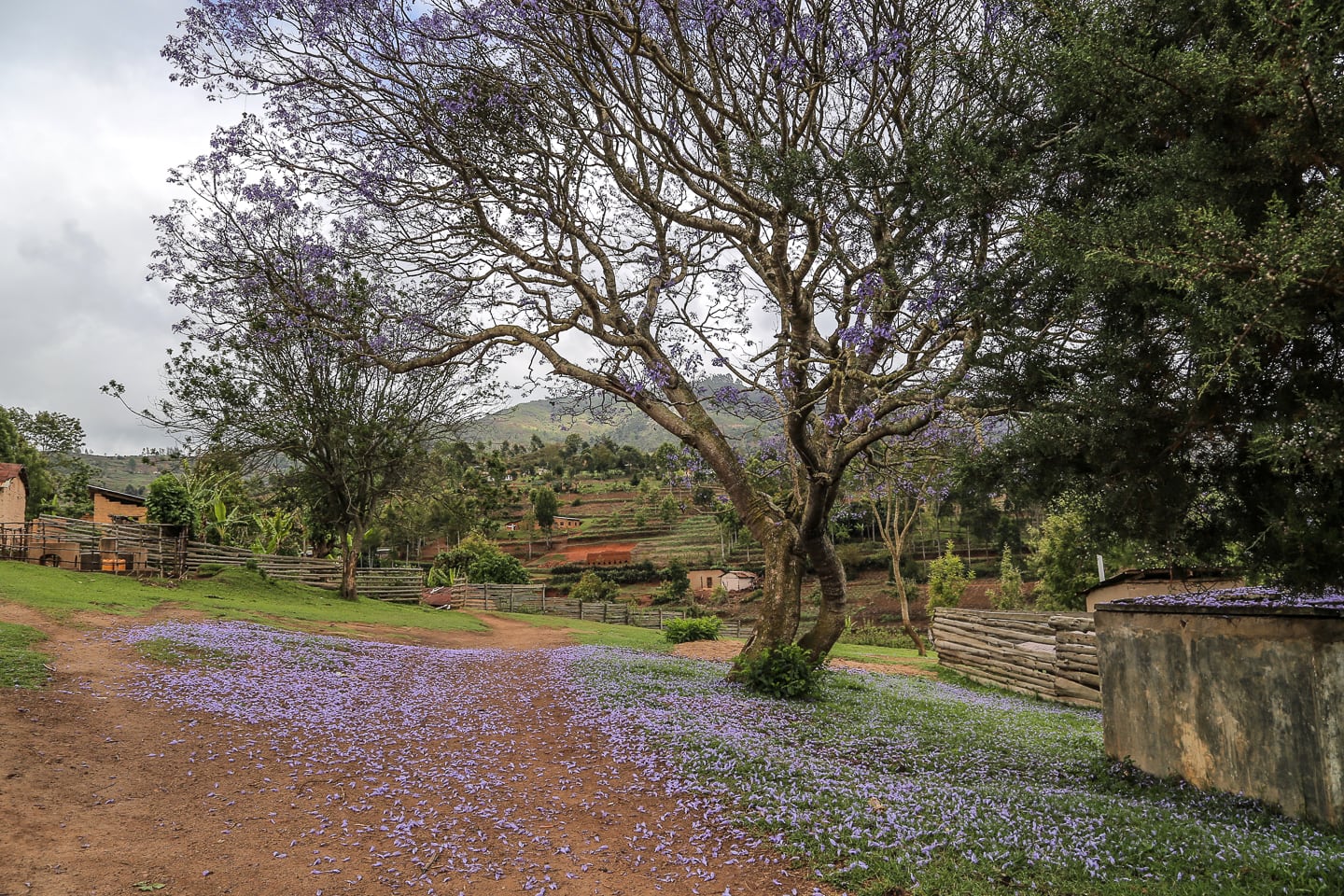 Purple flowers fall from Jacarandas in a small village en route to Lukozi.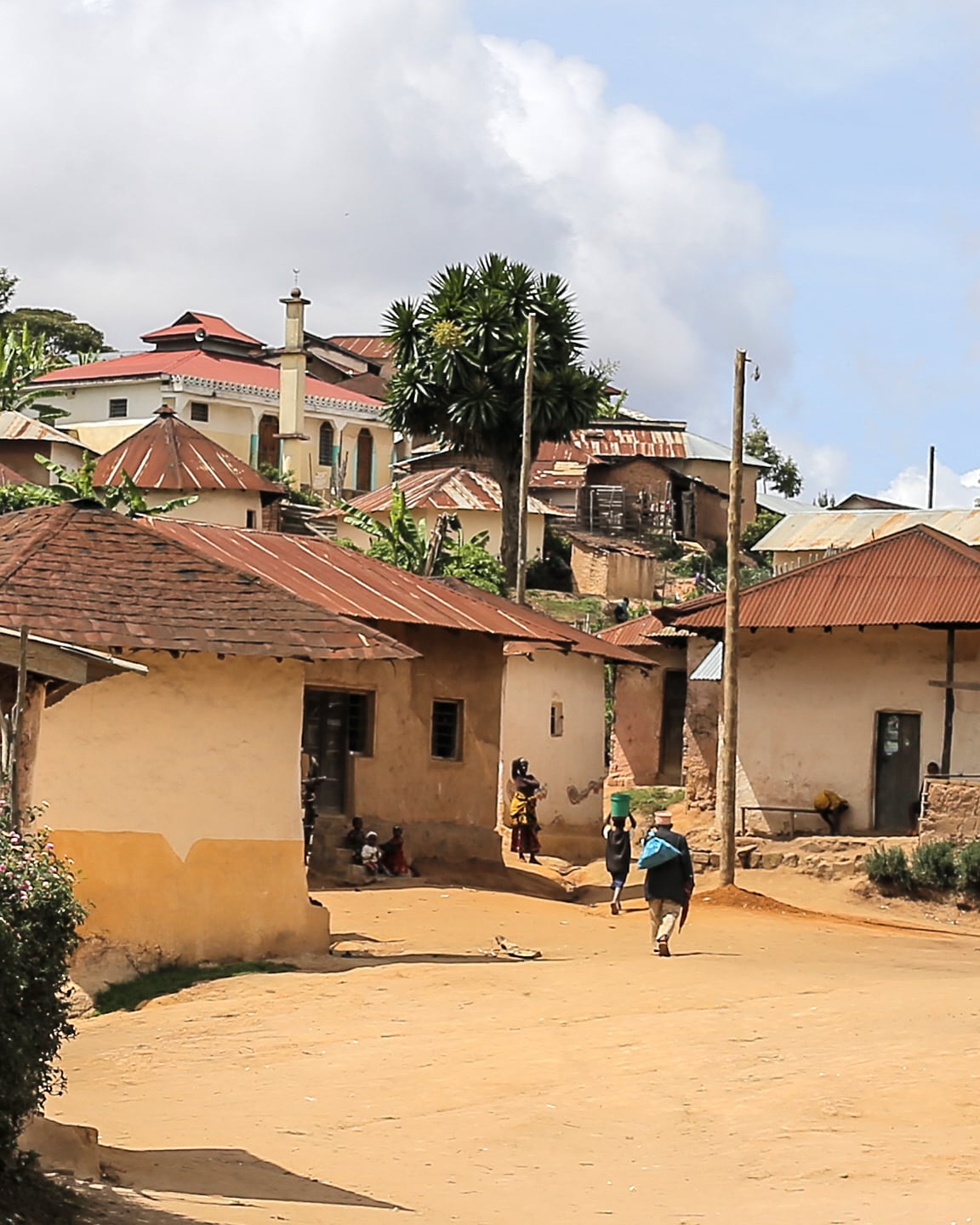 A neighborhood in Mambo filled with traditional mud and brick houses.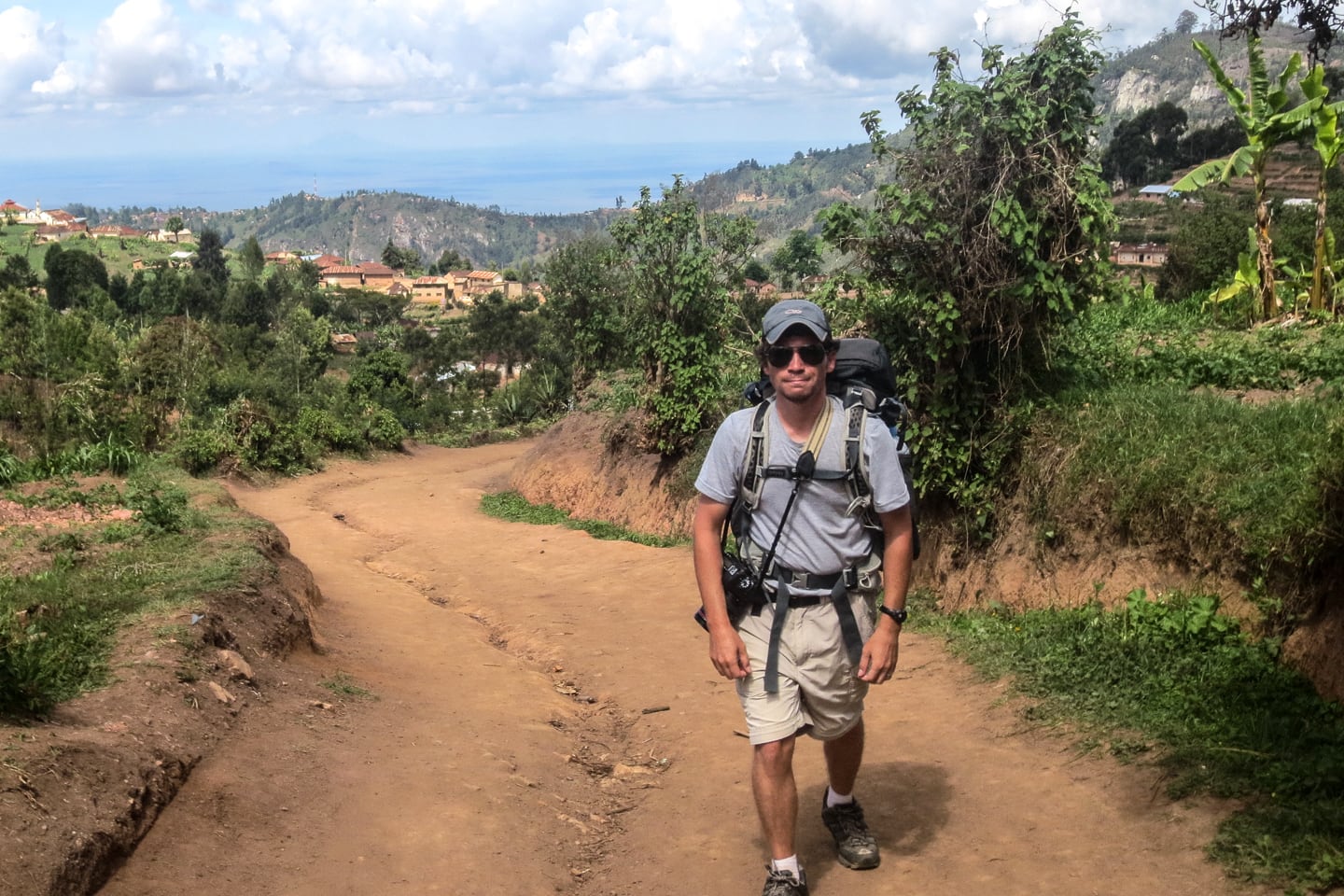 Following the road from Mambo village center to our final destination: Mambo Cliff Inn.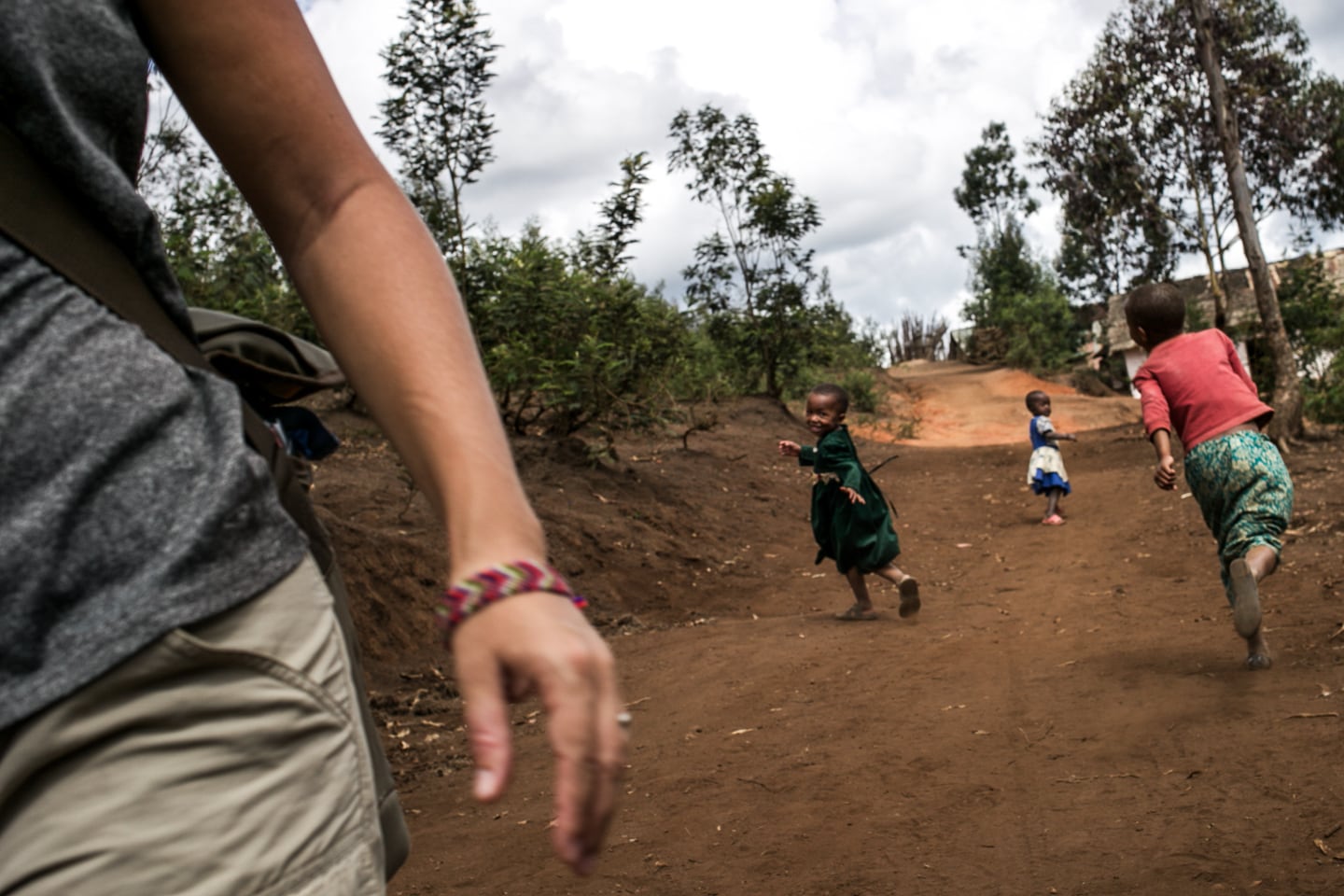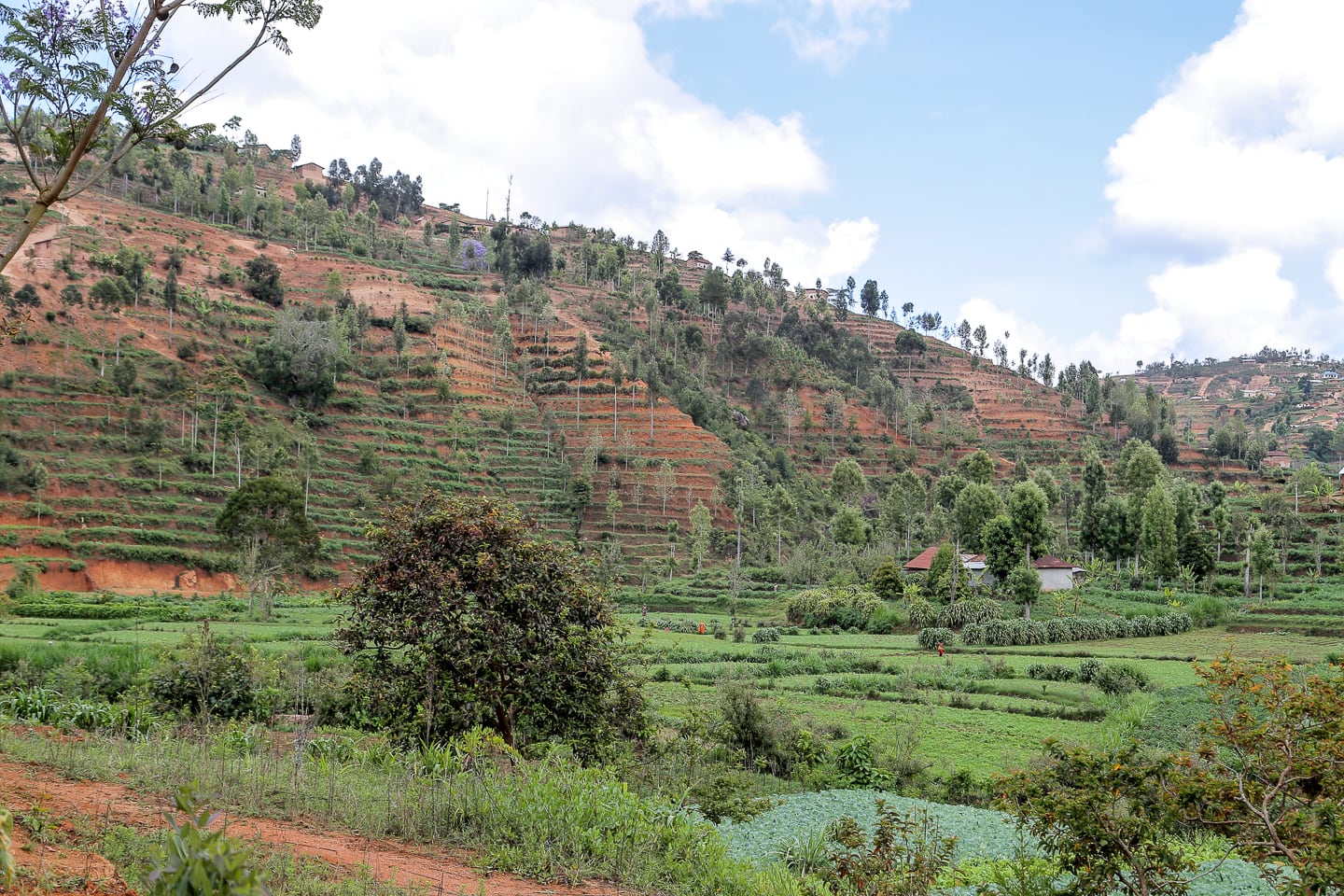 One of dozens of lush and fertile valleys we hiked through over four days.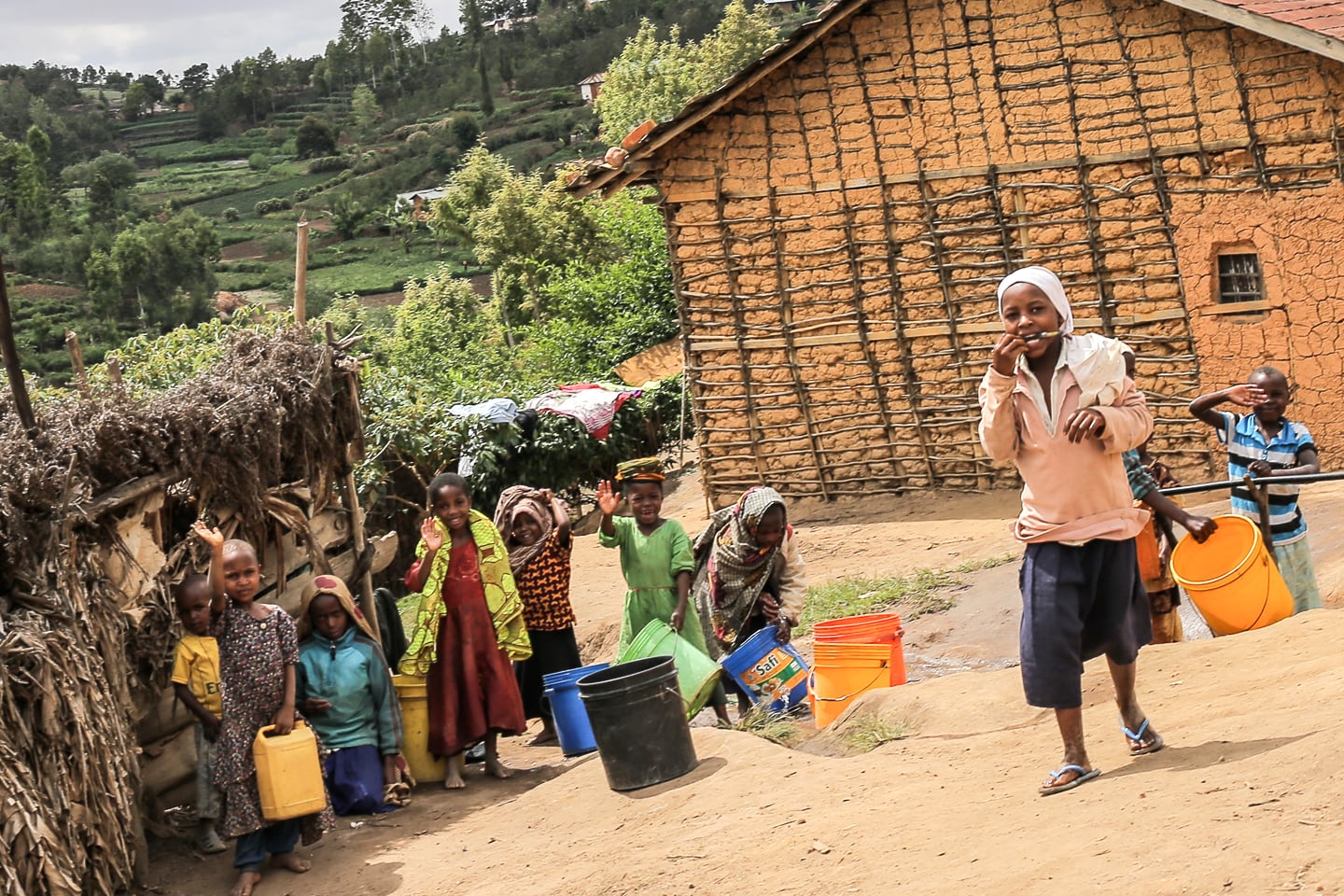 Children waiting to collect water pause to watch the "muzungos" go by.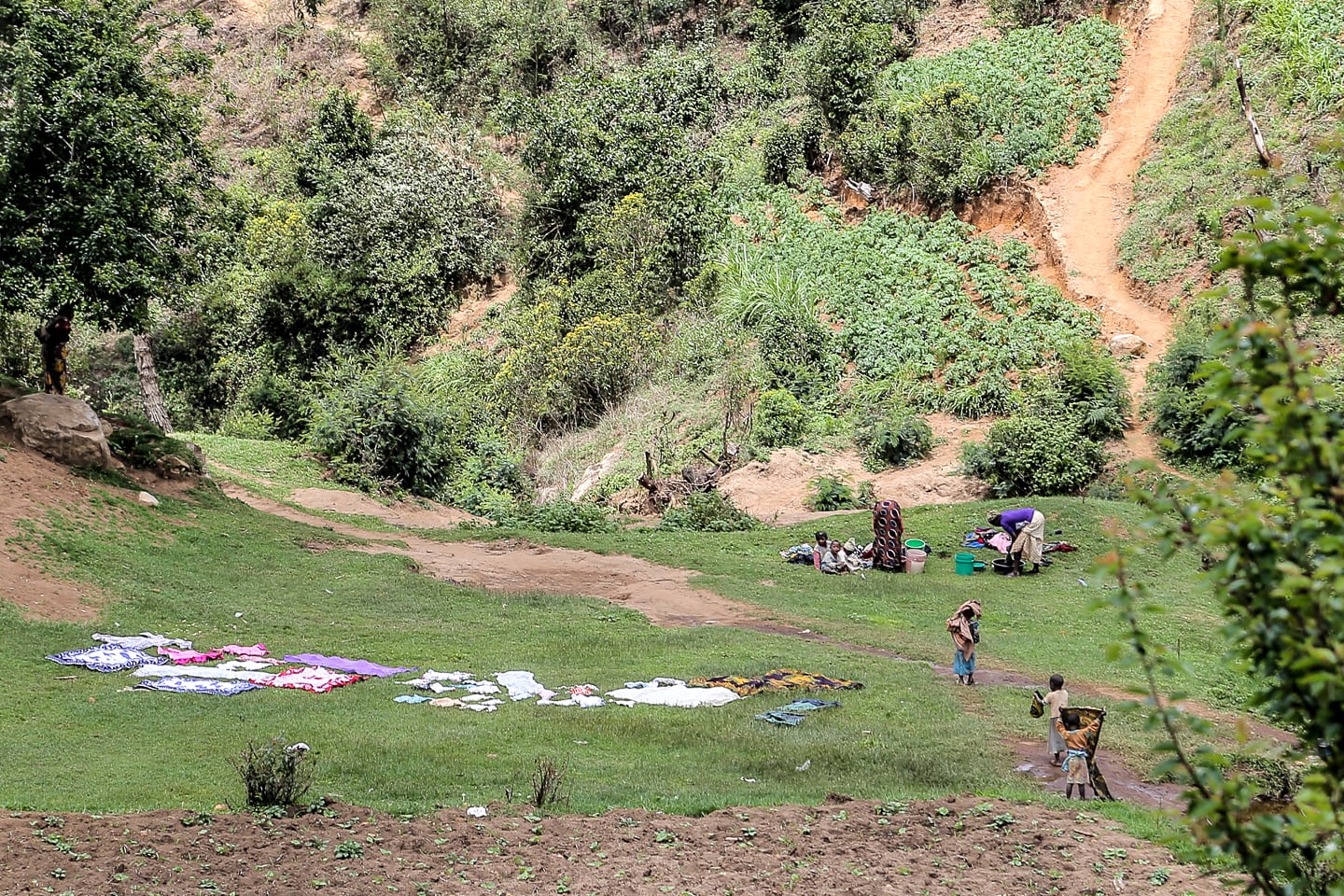 A family washing and drying laundry in a grassy field.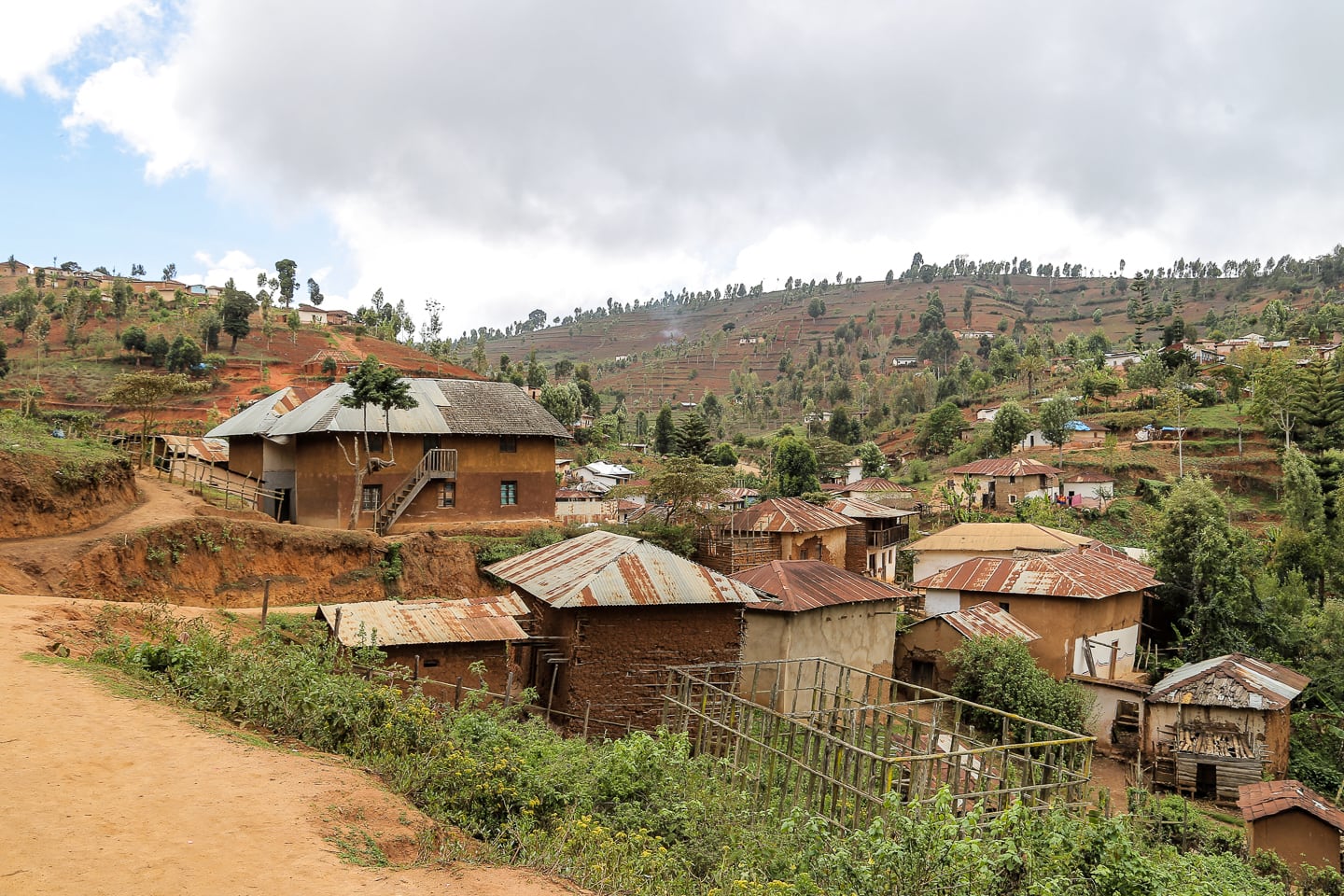 Passing through one of several villages en route to Mambo.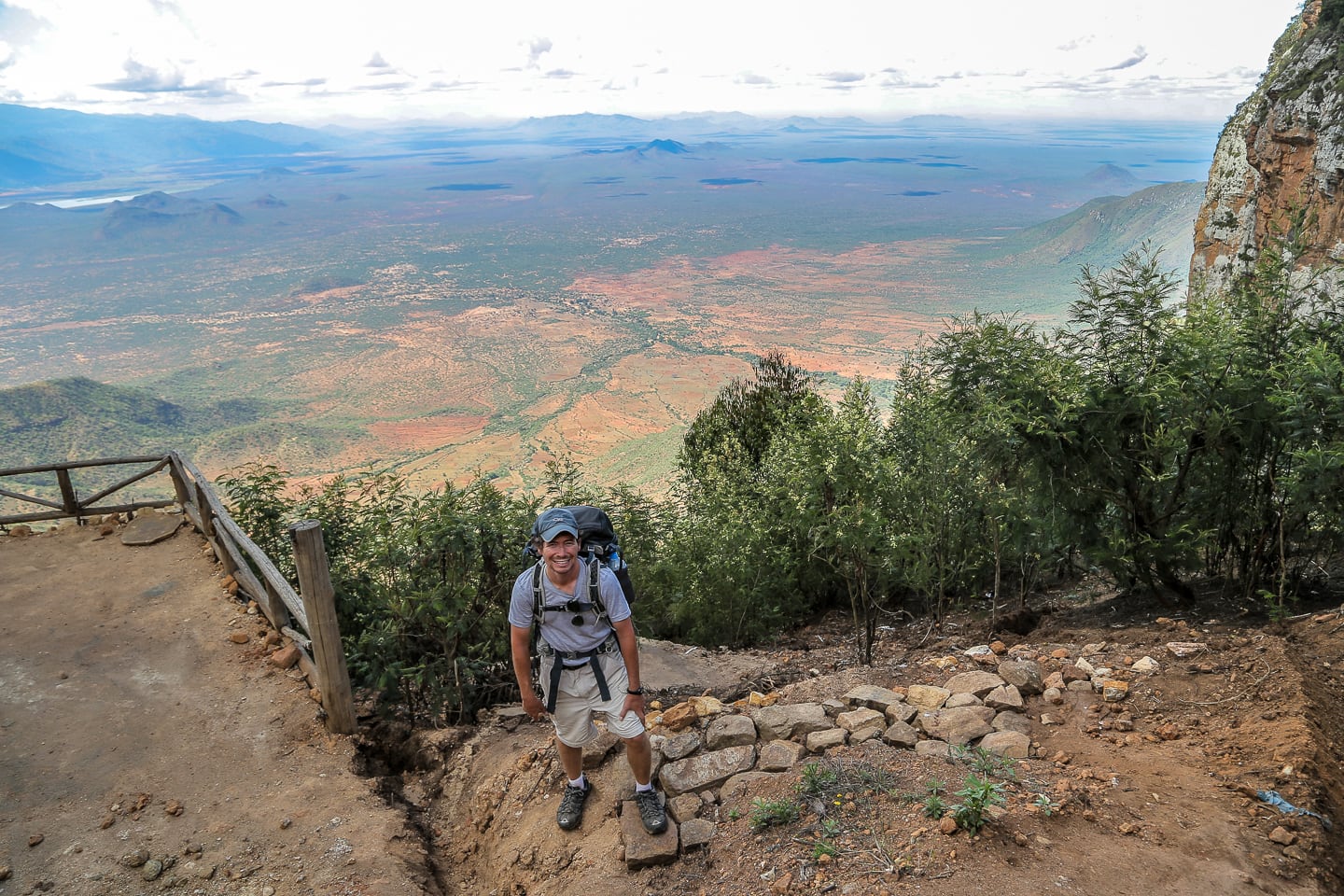 Newly arrived at Mambo Cliff Inn after three full days of hiking through the mountains. What a view!
Get AwayGoWe Updates in Your Inbox
Get notified by email when we publish a new story or article!
No spam, ever. Unsubscribe at any time.