We continue with Day Two of our Inca Trail trekking adventure to Machu Picchu. For an overview of the trek and other details, get caught up here at Day One. Learn more about, Llama Path, the trekking company we used and highly recommend!
Inca Trail Trek Day 2
| | |
| --- | --- |
| Day 2 Start: | Ayapata |
| Day 2 End: | Chaquicocha |
| Elevation Start/End: | 10,829ft/3,300m to 11,800ft/3,600m |
| Max Elevation: | 13,779 ft. / 4,200 m. (Dead Woman's Pass) |
| Gross Elevation Gain: | 4,373 ft. / 1,330 m |
| Gross Elevation Loss: | 3,402 ft. 1,030 m |
| Day 2 Distance: | 16 km / 10 mi. (11 hours) |
Below is an elevation profile from our Llama Path booklet illustrated the different elevations of the 4-day trek to Machupicchu (Machu Picchu):
It was certainly a challenging hiking day, but in a good way. We also made the (very wise, in hindsight) decision to hire a porter for the day to carry our camping packs which made for a heck of a better time.When we signed up for our trek months prior we had to decide if we wanted to pay an extra $55 to have a porter take our gear. Being reasonably experienced and cheap backpackers, we decided on carrying our packs. However, after viewing the elevation map and wandering around Cusco (nearly 12,000 feet), we decided that we wanted a porter after all…at least for the strenuous 2nd day. But, it was too late
We were a bit nervous until the trek leader said we could arrange a porter for just the 2nd day…the best $20 we ever spent!!!
Wake-up was at 6am, just before sunrise. Porters came around with mate de coca, warm water and wash cloths. It was a bitterly cold night and we were each given a water bottle filled with hot water for our sleeping bags which in theory works really well if it doesn't make you feel like you frequently need to use the restroom (as was my case)… But we made it through, had an incredibly tasty and power-packed breakfast, and headed out on the trail.
Cool and unusual flora of the trail.
Here's what the Llama Path website says regarding Day 2:
"After waking up at 6am and having breakfast, we will start a steep ascent towards the highest pass (Abra de Warrmihuañusca/'Dead Woman's Pass' – 4200m/13779ft). On this day a real sense of achievement is felt on reaching the top! After a rest here, we begin the descent to the lunch stop which is located at Pacaymayu (3550m/11646ft).

On the way up to the pass we will be able to see lots of hummingbirds and other birds. Also we will have the time to appreciate an incredible variety of native plants and trees such as the ´Polylepis´ or Q'ueuña trees which grow in the astonishing cloud forest located at 3650m/11972ft!!

After lunch begins the second 2 hours steep climbing to Runkuraqay pass (almost 4000 meters), we arrive in our campsite by 5pm-ish.

Temperature at this campsite around 4ºC during the nights."
The trail follows a spring.
Day 2 in particular we came across a number of other people hiking the trail, but it was never overwhelming and certainly much better than we had expected. There were areas of solitude (above) and areas of congestion (below).
Salkantay was of great importance to the Inca and shares a special relationship with the Machupicchu site. Directly to the north of Salkantay lies Machupicchu, which is at the end of a ridge that extends down from this mountain.
So check this out: Near the beginning of each year, if you were to stand at Machupicchu's main sundial, you would see the Southern Cross constellation mark its highest point in the sky for the year from that vantage point. At that same point in the sky, you would also notice that the Southern Cross is directly above the summit of Salkantay. Not only was this a cool feature of the natural world for the Inca, but it also held real-world meaning, as this alignment also signals each year that the rainy season has arrived.For this reason, the Incas associated this particular alignment with concepts of rain and fertility, and considered Salkantay to be one of the principal deities controlling weather and fertility in the region west of Cusco.
To understand Machupicchu, you really have to understand the location. The site of Machupicchu is a point where dozens of celestial, astrological, geographical, geological and meteorological lines of significance intersect, and such a visually dramatic point of intersection at that. Salkantay is but one example of this.Wouldn't it be something if we cared as much to engage the mysteries of our own environments today? Wouldn't it be cool if we too built great cities and structures to complement and engage our natural world rather than with the aim to tame or destroy it? Just a thought…
Our mid-morning pit stop happened on a small plateau teaming with llama and alpaca. It was a cool little mountain farm, very manicured with a spring running through the land and leading to what appeared to be a little mill or farmhouse.
During our break, a llama-dog befriended Lori, or more likely her snack…
The view from the pit stop (Salkantay), already high above last night's camp.
A popular place – Trekkers from other groups take a break at the popular mid-morning pit stop.
Onward! Continuing the long slog on up the mountain to Warmiwanusca (Dead Woman's Pass), the highest elevation of the day and the entire 4-day trek.
Looking back down the mountain, one last view of the pit stop/llama farm.
Slog…slog…slog. The red dots in the distance are our Llama Path porters single file making their way up to the pass (above).
Almost there! (looking up towards the pass – above). Intermittent cloud cover made for interesting hiking conditions as we alternated every 15 minutes taking off layers and putting them back on again.
Lori, still smiling and almost to the top!
ooking back down the valley — camp is somewhere down there — way down there.
So close, we could smell it!
The pass!
Looking back down the valley over the morning's 3,000-foot elevation gain (above).Our Llamapath trekking group Jai and Kylie, the Aussies, Lori and I, and the crazy Romanians at the top of Warmiwanusca (Dead Woman's Pass) at 13,779 feet (below).
Our Llama Path group at the top of Dead Woman's Pass, the highest point on the Inca Trail.
Other trekkers resting at the top of the Pass.
Salkantay (20,574 ft.) as viewed from Dead Woman's Pass (13,779 ft.)
Lori standing at the spot marking the summit of Dead Woman's Pass. "Mirador" = "Viewpoint" in Spanish.
And now…
…into the clouds and down the other side!
It was actually quite strange as we couldn't initially see the path and the stairs down the other side due to the thick cloud cover right below the summit on the other side. We basically had to trust that the trail continued and descend down into the thick fog, which dissipated in a matter of minutes as the photos illustrate.
Our party of trekkers following the Inca Trail to Machupicchu (above).If you look closely (below) you can see the trail wind down into the valley (Pacamayo – 10,991 ft.) before climbing back up toward the second pass, Runkuracay (13,035 ft.). Lucky for us, there's lunch waiting first in that-thar valley.
40% of the Machupicchu trail segment has been restored from Inca times (example above). Perhaps even more interesting, that means that some 60% of the trail is vintage Inca, dating from the 15th Century.
An Inca Trail porter porting chairs.
The steep trail ascending to our second high pass of the day can be seen on the left edge of the photo (above); but first, lunch! (below).
After a hard morning workout, we paused in this valley for a hearty and delicious meal. Many of the dishes we were served over the four days were pretty incredible (eggplant cut to look like a condor, local meats and cheeses) and the head chef was only 24 years old (we met him on the last day and were surprised how young he was). We had avocado drizzled in vinaigrette, fresh grilled trout, and many other excellent dishes. Lunch and dinner always came with a variety of fresh fruit and vegetables, pastas, breads, and tea and dessert. We really did not expect the treatment we received, and still not sure how they managed to haul and store fresh meats for more than a day or so, but they managed it somehow — always fresh, tender, juicy and delicious!
After our delicious and fortifying lunch we left camp on a steep trail quickly ascending out of the valley toward the second highest point of the four-day hike. You may have noticed sleeping tents in some of the photos of our lunch camps as in the photo below. After the first day, trekking outfitters alternate camp usage so that half of the trail's 500 trekkers end their day at our lunch camps and break for lunch at our overnight camps, which keeps hikers more evenly distributed over the 45km length of the trail.
The climb towards the second pass was comparably strenuous to the Dead Woman's Pass climb, but in a different way. The trail at this point required climbing steep stairs, hundreds of them, for a couple of hours. It was tough work, but the views did not disappoint.
If you like orchids, or unique flowers in general, you'd love the Inca Trail. Even in July (prime time for orchid viewing is March-May) we came across many different types of orchids ranging from these Lady Dancers (named for their striking appearance) to yellow, blue and white orchids.
Llama Path (our trekking company) was a first-class outfit, owned and operated by Peruvians with a focus on sustainability and fair treatment of their porters.
In the midst of high season, they were able to offer us small group numbers (our group was only six hikers whereas most others had at least a dozen). Their porters wore high-quality color-coordinated trekking attire with good shoes and technical clothing and were only allowed to carry up to 20 kilos each. Lori especially appreciated that from a physical therapist's standpoint. Other companies sent porters up the trail with huge backbreaking packs, a pair of flip-flops and the clothes on their back. Our porters were young and fit and healthy and well-equipped, and to top it off, Llama Path was surprisingly cheaper than most other outfits.
The porters spoke Quechua primarily, with limited Spanish, but Lori was still able to chat them up which she really enjoyed. They clapped for us every time we came into a snack/lunch break or campsite which was motivating. Also, we liked that "our" porters all hiked in a single-file line (16 or so of them), other companies were much more spread out…meaning having to step off the trail many times for them to pass.
Part-way up the mountain, we stopped at the ruins of Runkurakay. The fast-moving clouds and stark distant ridgeline created an incredible other-worldly backdrop for us to admire as Julian, our guide, related more stories of the Inca and Inca Empire history and folklore.
The ruins of Runkurakay.
One of the other trekking group tour guides explaining the significance of the site as a thick fog rolls through the valley.
My notes tell me that this circular structure named Runkurakay was an Inca tambo, or place where messengers would stop for food and rest along the trail before moving on. The ruins of course are only visited by those who choose to hike to Machupicchu. Runkurakay is near the second highest pass of the same name at an altitude of just under 4,000 meters. According to Julian, just up the hill is an Inca observatory which we did not end up visiting.
Upwards and onwards, we say farewell to the site of Runkurakay and look forward to reaching the Runkurakay Pass shortly.
The second pass lay just beyond the clouds at 13,123 ft.
At last! A well-deserved rest at Runkurakay Pass with our group and others. It is all (mostly) downhill from here to Machu.
The defining feature of this pass is the ceremonial rock piles (below) scattered throughout the area.
Peaking over the backside of the summit for a preview of the final leg of our Day 2 journey.
Lori and our guide Julian walking the last few hours of the Day 2 segment — By this time we had been hiking for about 9 hours.
A lizard's view of the Inca Trail.
Our first view of Sayaqmarka, an Inca fortress town perched high on a cliff overlooking two converging valleys and our Night #2 camp.
Camp ahoy! We are now less than 30 minutes from our pit stop for this leg of the trek.
But first, a little Sayaqmarka.
View of camp across the valley, and the ruins of Qonchamarca below.
The Inca fortress city of Sayaqmarka at sunset.
This was a cool site that demonstrated well the Inca's understanding of environment and their engineering prowess. Sayaqmarka, in particular has gutters built into the walls that collect rain water and direct it into a giant cistern. The system is in disrepair, but large portions remain intact to see how the system worked.
Sayaqmarka was a fortress at the confluence of two valleys. The south end of the city drops off into a valley far below, but remanants of another Inca trail leading up to the fortress can still be seen near an overgrown set of steps. The site was very interesting, however sitting for too long left us targets for huge man-eating mosquitoes that showed no mercy to the tired Gringo.
Usually our guide Julian's informational sessions atop ruins were fun and interesting, but his 30-minute spiel at Sayaqmarka bordered on torture, as the six of us spent most of the time batting away huge flies and tiny no-see-ums which nonetheless managed to devastate any exposed skin any of us might not have been able to cover. I had a hole in my convertible pants and got it pretty good up and down my entire right leg, not to mention my hands and face…however this attack would pale in comparison to what I would soon endure in the Peruvian Amazon only weeks away.
Sunset over Sayaqmarka, illuminating our bright red dinner tent (right side) signaling that it's time to get a move on and head to camp, marking the end of a very long, and very satisfying day on the Inca Trail.
At last, camp, sweet camp. Our mess tent glowing up on a hill, calling us to happy hour and eventually dinner. Shortly after dessert, we change into our night clothes and head off for a wonderful, long and well-appreciated Andean slumber.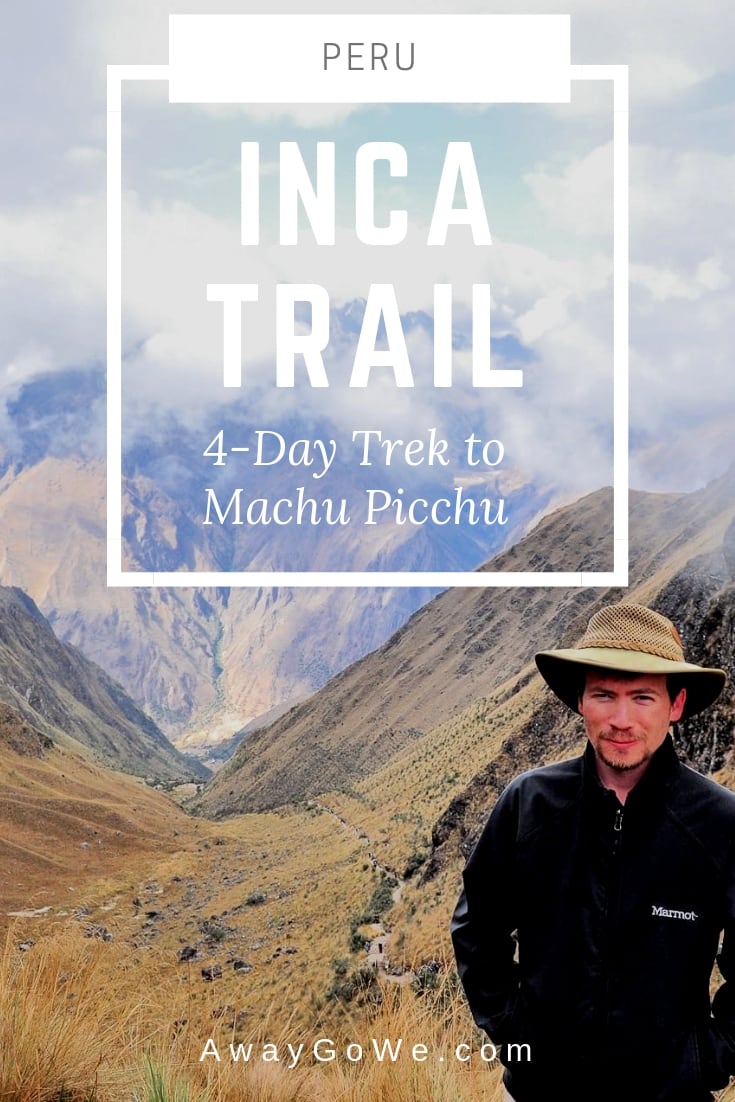 10 July 2010