Looking for your own slice of Zanzibari paradise at an affordable price? Mbuyuni Beach Village may very well be what you're pining after!
Located on a stunning stretch of white sands beach and azure sea, halfway between the popular Zanzibar beach destinations of Paje and Jambiani, Mbuyuni Beach Village is the stuff of your East African island dreams, minus the huge price tag.
We booked Mbuyuni on a last minute whim while making our way up the length of East Africa, and were blown away by our find. So much in fact, that our initial three-night booking quickly became 10!!!
Here's why, plus helpful tips and considerations for an unforgettable stay.
Important Note
This is totally 100% our own independent review and trip report of Mbuyuni Village. We were in no way compensated for our stay or for writing this article. In fact, we don't do that at all on AwayGoWe (I know, I know, hard to believe these days). We're just two travelers who really (REALLY) enjoyed our stay and want to share our find with others! Of course, some links are affiliate links, which is how we fund this ad-free resource for travelers.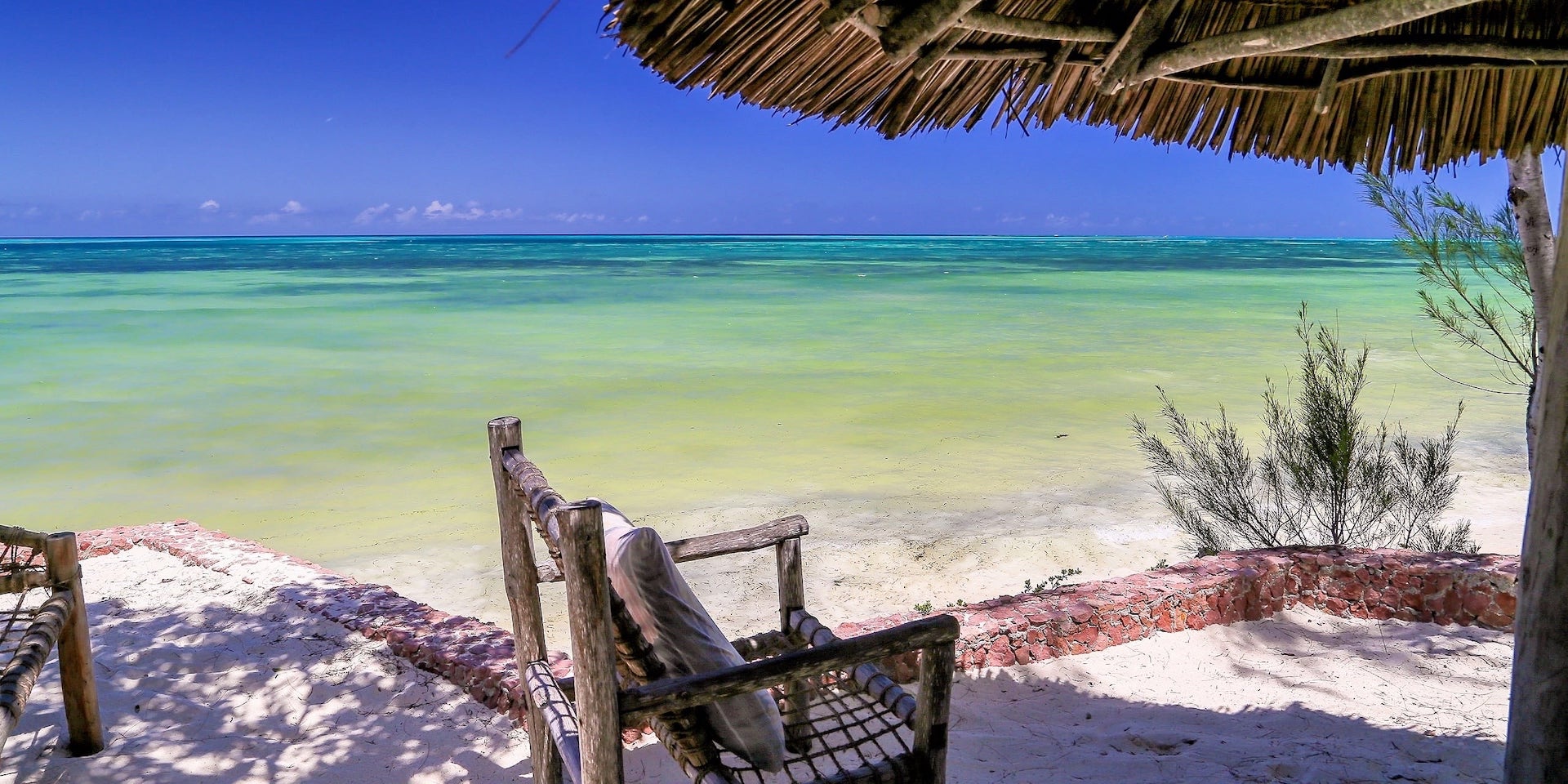 Zanzibar Beaches Are a Great Value!
And Mbuyuni Beach Village may be one of the best around.
While we were still in Mozambique, I did a bit of research and came across a little known beach hotel between Jambiani and Paje offering private cabanas with indoor bathroom, onsite restaurant with a well-priced and tasty looking menu, and a pool, right on the beach — all for about the same price as we were paying for 50-year-old concrete dumps in Mozambique!
I was shocked.
Once we arrived in Tanzania, we learned that the reality is you just get a lot more value here than in Mozambique. But just how much MORE value we got in Tanzania, particularly for a hotel on the beach near Jambiani, is what really astonished Lori and me.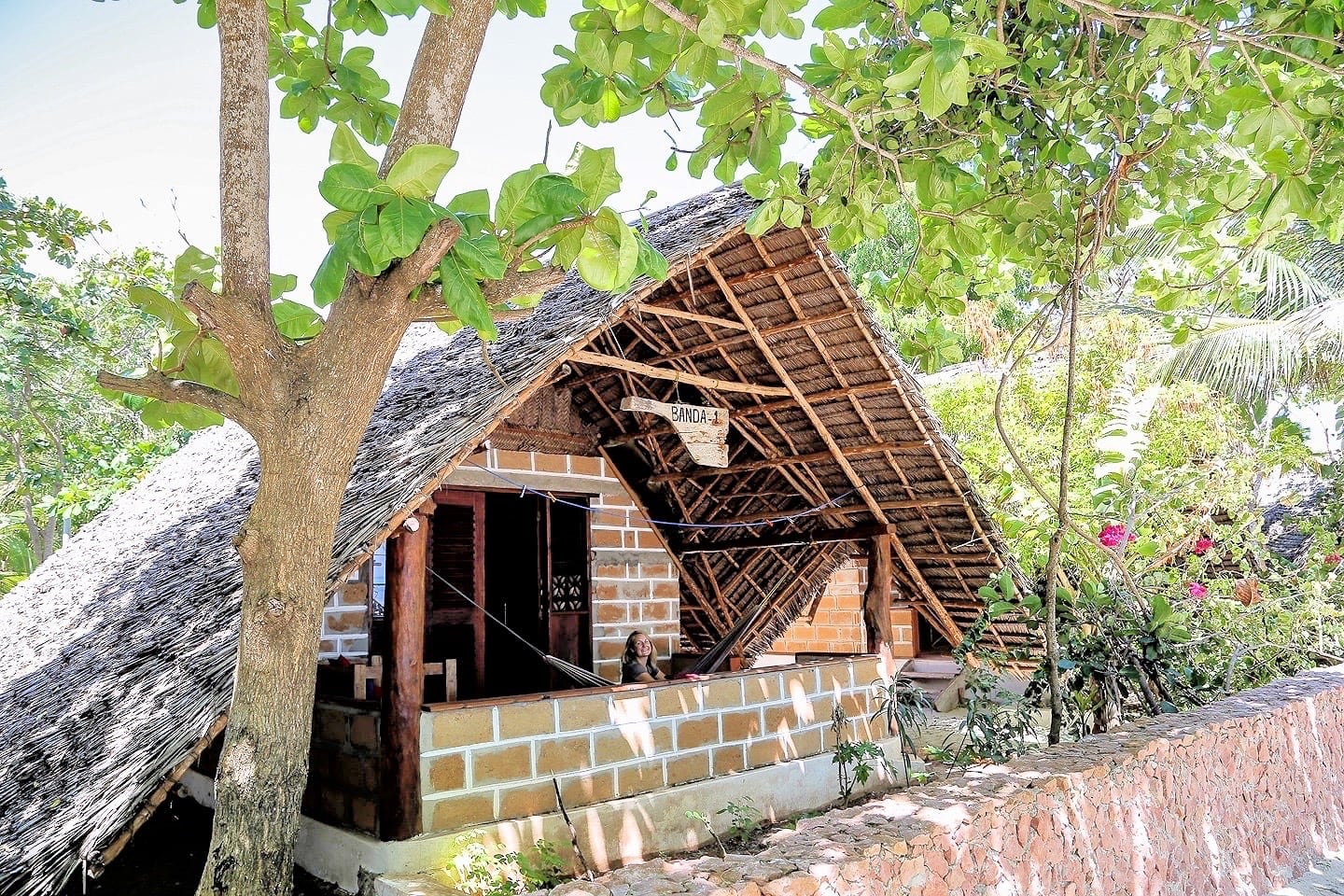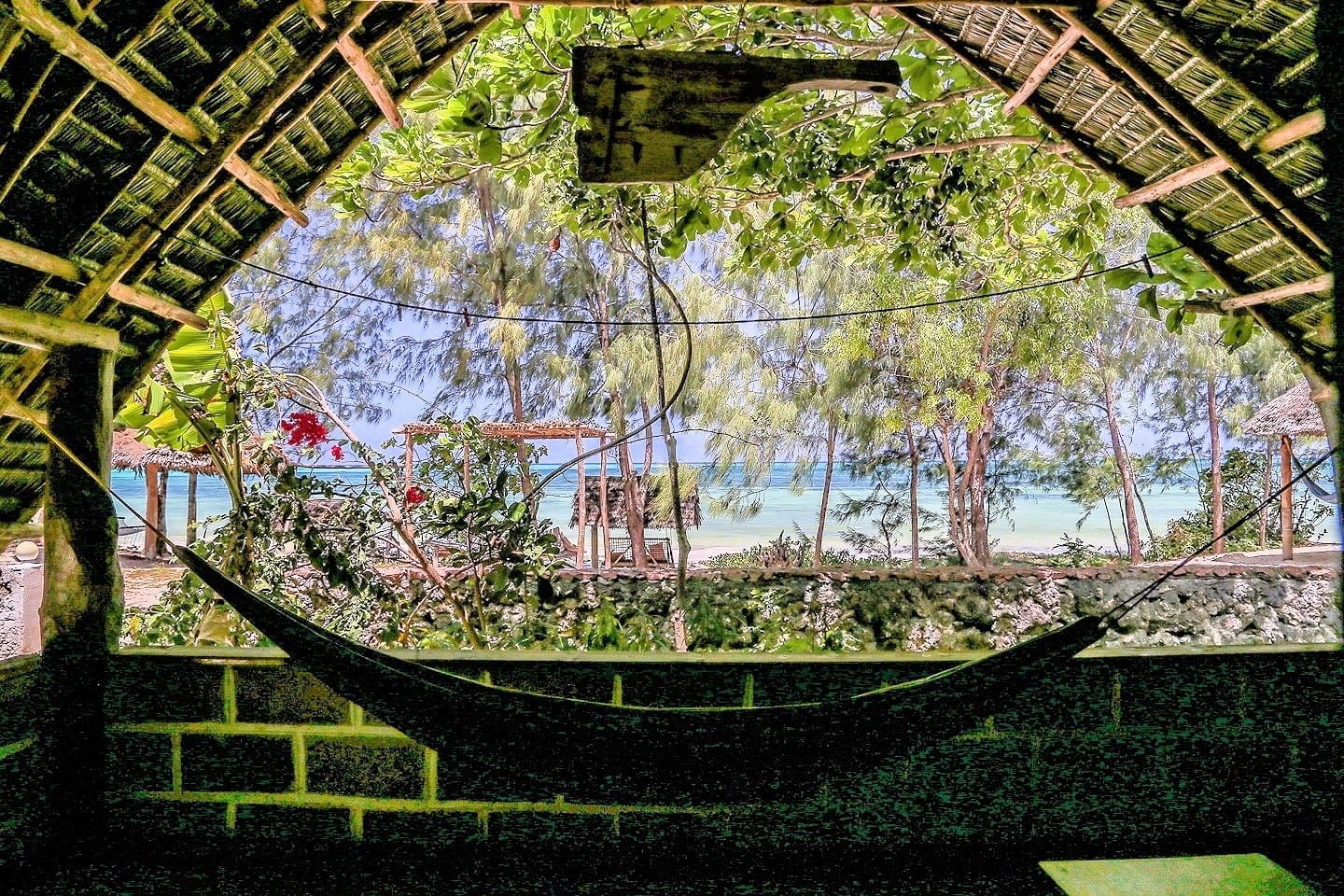 Mbuyuni Beach Village | Lodging Options
Mbuyuni Beach Village bills itself as a beach hotel, but offers a variety of accommodation, both on and off the beach.
In addition to a hotel block set away from the beach, there are multi-room options for large families, and hillside cabanas.
However, there was one particular option that stuck out in our minds: The beach-facing Bandas!
We opted for the latter and it was exactly what we hoped for.
🔥 Hot Tip 🔥
See our section on Booking Your Stay below for important tips and considerations, particularly if you plan to book online.
Much of the property is recent construction with the feeling of a higher-end sort of place.
Our Banda had a contemporary-style shower, beautiful hardwood accents and quite the comfy bed (with bed net).
And the toilet paper! MY OH MY, THE COPIOUS RESERVES OF BEAUTIFUL TOILET PAPER! (something they definitely skimped on at our stay in Stone Town).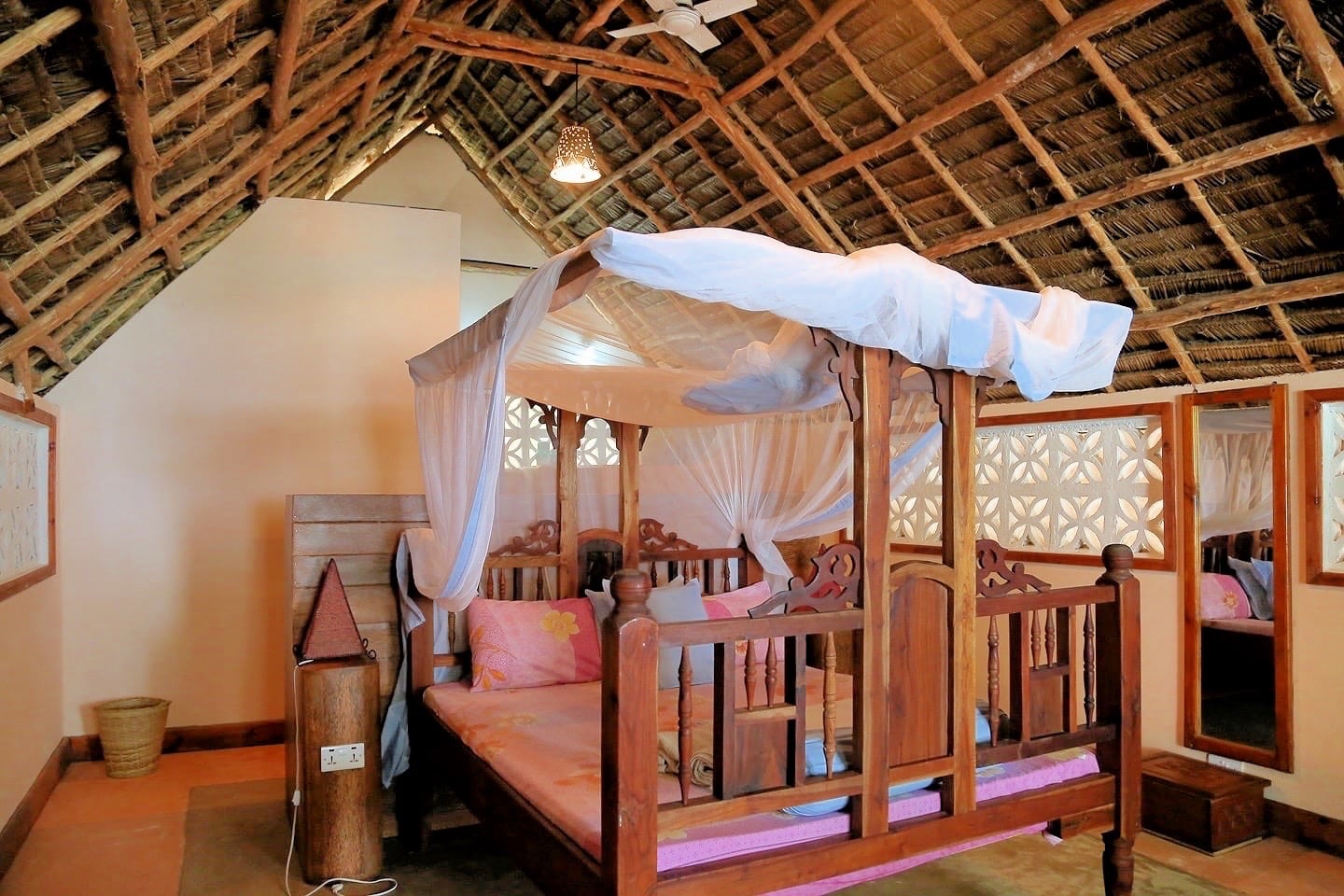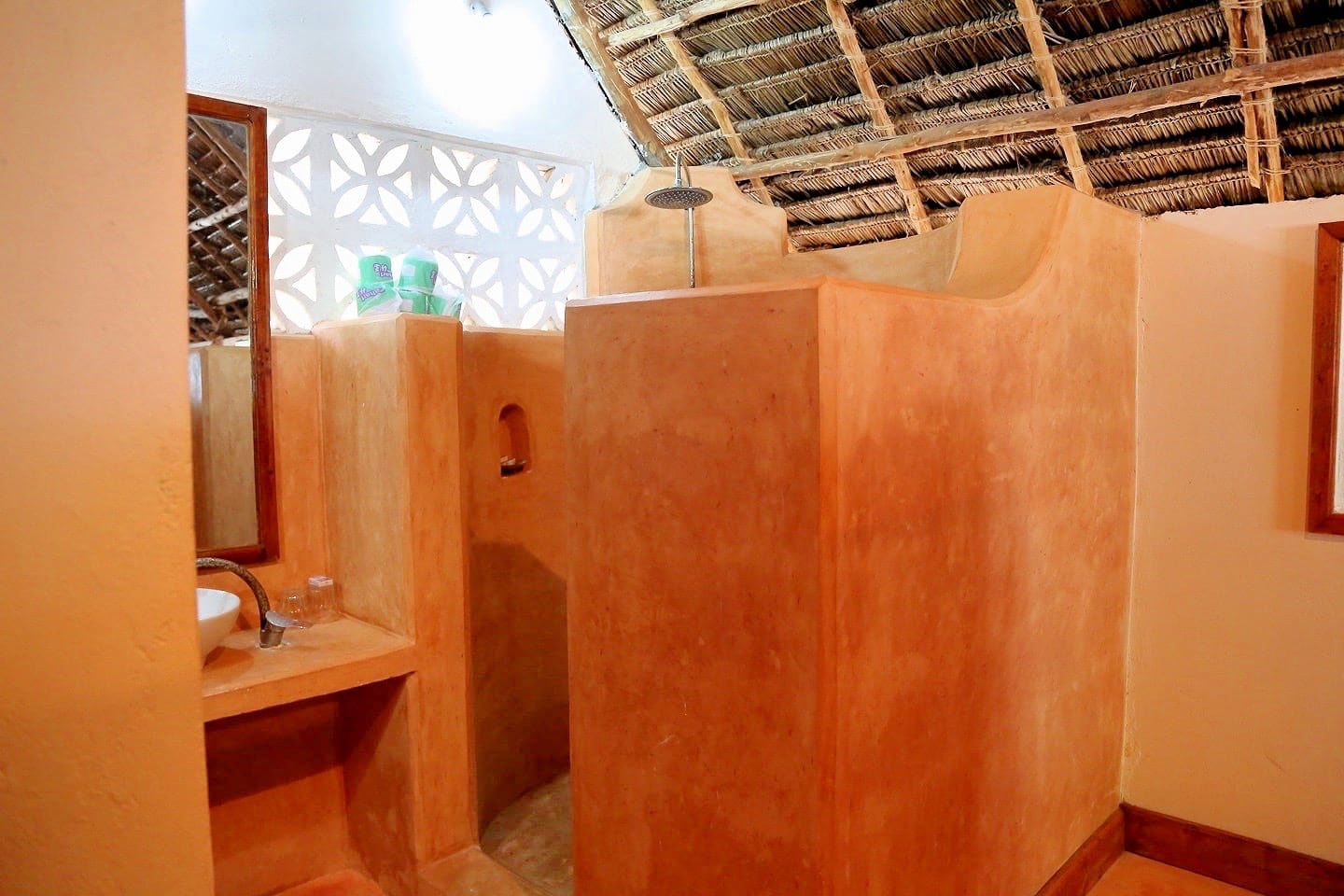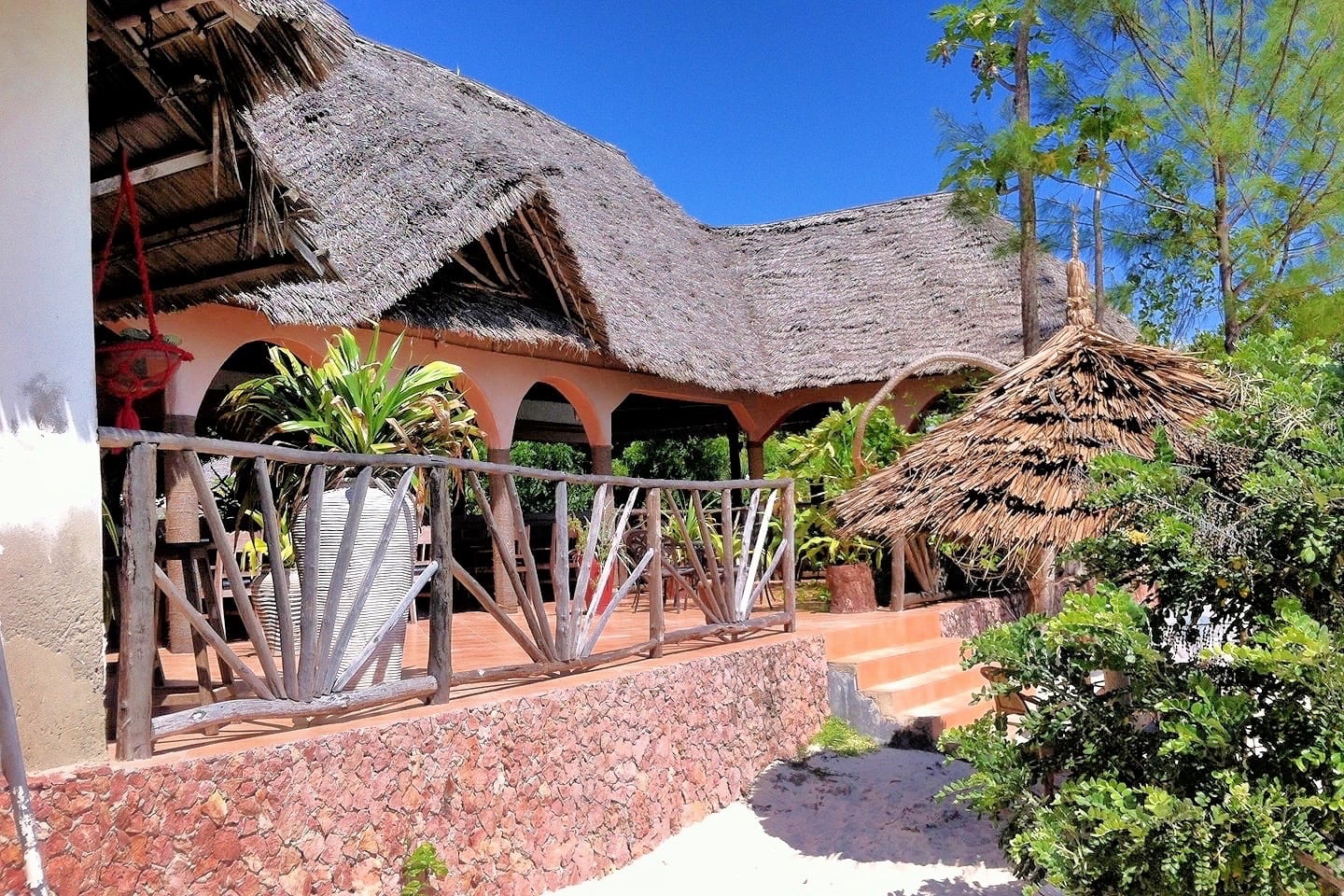 Hotel Amenities & Service
The entire grounds at Mbuyuni Beach Village are made for relaxing. So many choices for lounging, and eating, and sipping, and reading, and napping, and swimming…
And of course, every morning, breakfast is INCLUDED.
But not just any breakfast, a huge, delicious, fresh and healthy breakfast including heaping portions of local fruit, cook-to-order omelet, crepes, toast, sausage links, coffee, juice and more!
And let's not forget the pool!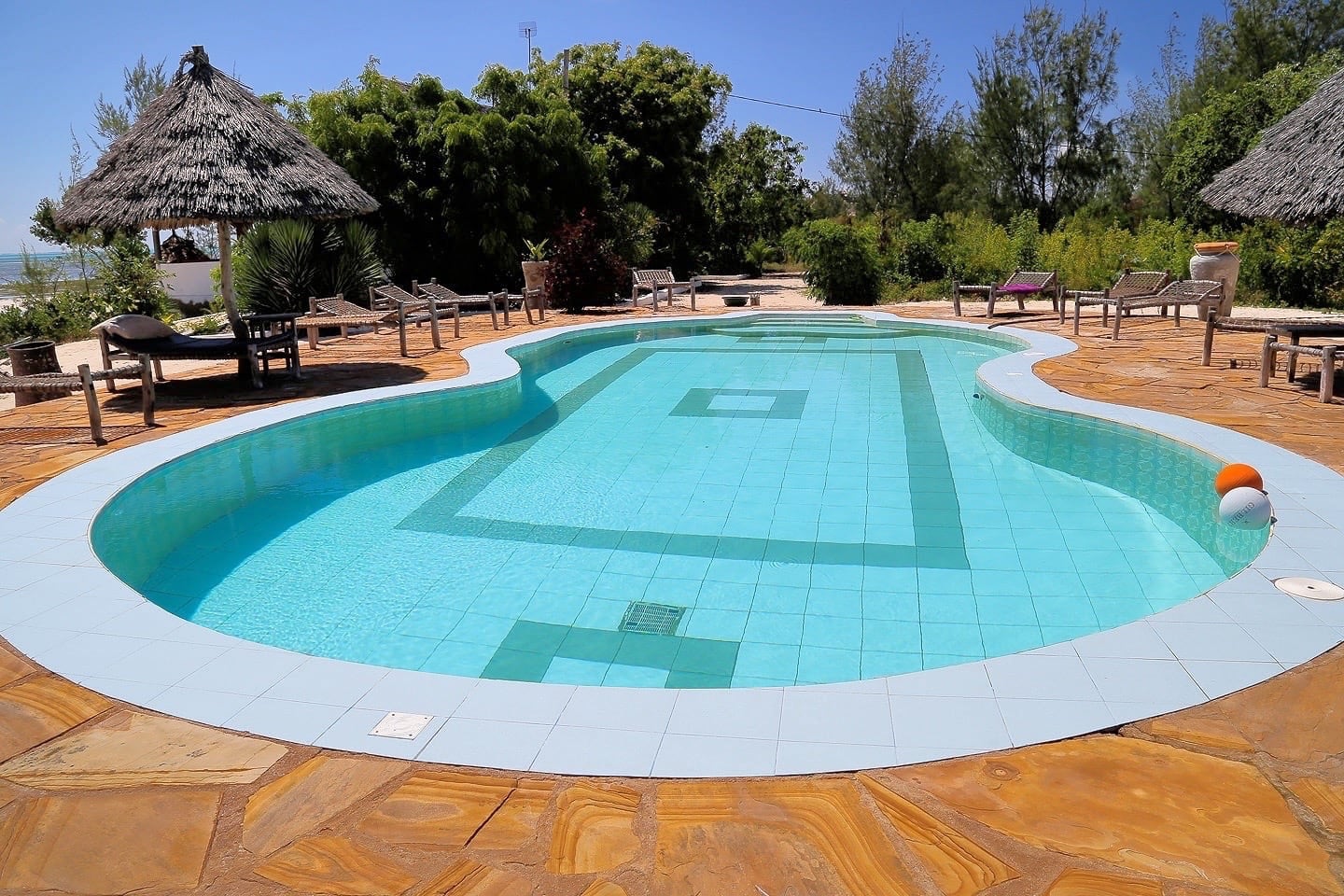 In all our travels to tropical beaches, we've never stayed at a beach hotel with a pool. Crazy, huh?
To be honest, I never really got the point.
On the east coast of Zanzibar, however, it's a nice perk to have, as the sea can withdraw several hundred meters from the high water mark at low tide. And at high tide, it can be a little rough and cloudy.
But in between, the water out there is perfect. When it's not, there's the pool!
…And a variety of hammocks and chairs smattered about the property as well.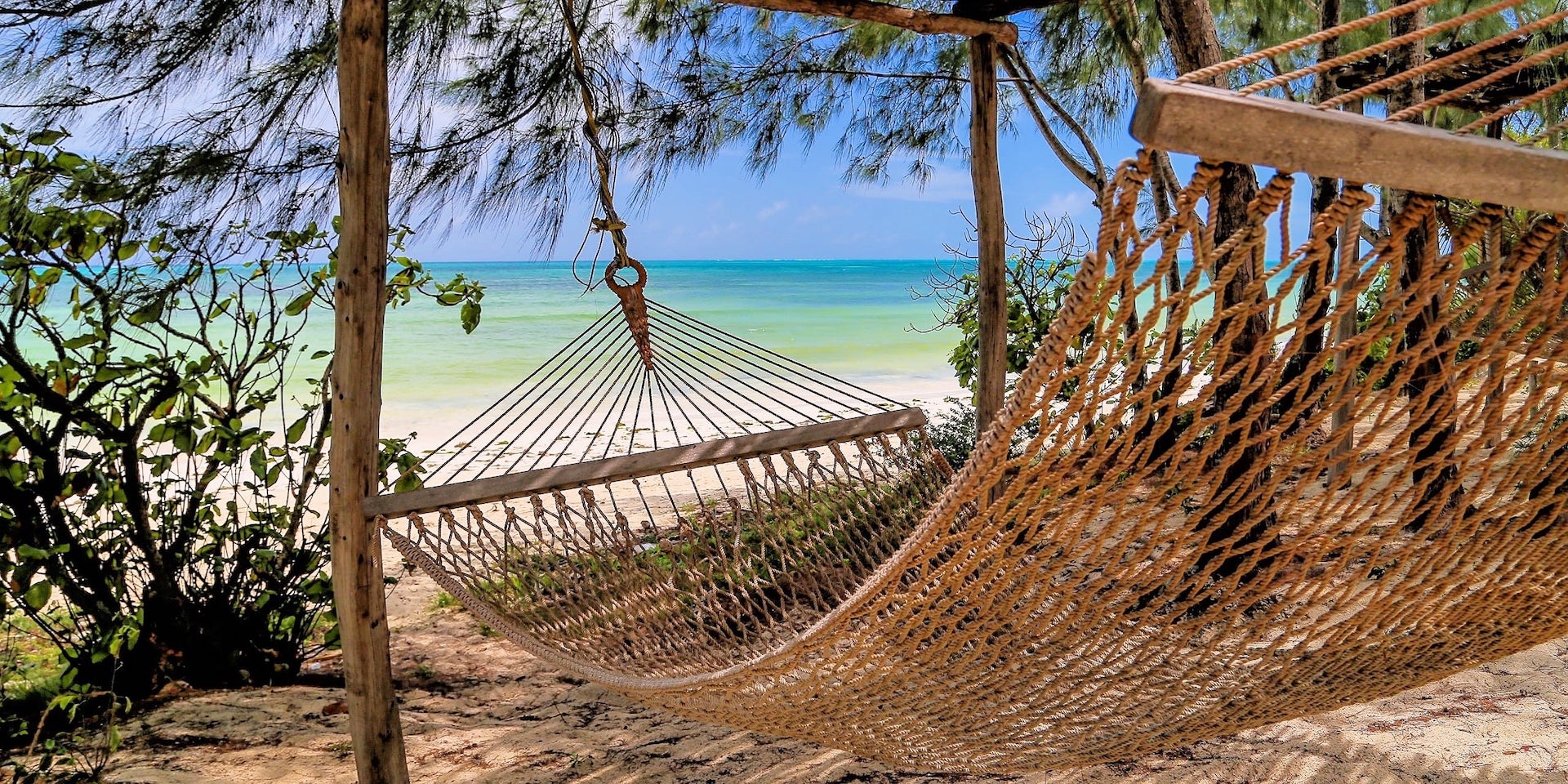 Lastly, we were very impressed by the level of professionalism by the staff at Mbuyuni.
After visiting dozens of countries and hundreds of guesthouses, lodges, and hotels, Mbuyuni certainly stands out in the staff department.
It's evident that Mbuyuni's people have been trained, and trained well—everyone from the manager to the driver to the cook. And best of all, they're all locals, friendly and eager to share the best of their community.

Tips for Booking Your Stay at Mbuyuni Beach Village
Thinking of booking your own stay at Mbuyuni Beach Village? There are a few tips and considerations that are important to know beforehand.
For one, the sea-facing Bandas sell out FAST! We booked our stay a few days ahead in shoulder season and managed to snatch up the last one. In hindsight, it's easy to see why!

Obviously, you'll want to try to book well in advance

if you want to snag Mbuyuni's most popular accommodation.
You can see prices & availability at Booking.com and Tripadvisor, plus current reviews and more photos.
When you do book online, you may not find anything called "bandas" or even cabanas. Look for the "

Double Room with Balcony

" and compare the photos to ours. Just to be safe, you can add a note requesting one of the "beach-front bandas" as well.
If you are coming from Stone Town and not too keen on riding a Dala Dala (Zanzibari shared public taxi contraption), it's best to arrange a private hire taxi through your hotel in Stone Town, or depending on who you book through, requesting it at time of booking.
If you opt to go the Dala Dala route, keep in mind that they can get very crowded and take two hours to cover the 40 km between Stone Town and Mbuyuni Beach Village. You'll want a Jambiani-bound Dala Dala (and you'll need to tell the driver Mbuyuni Beach Village). The Dala Dala is a true Zanzibar experience that we highly recommend, but if you're short on time (and patience), a private taxi is the way to go.
You'll be fed well at Mbuyuni and nearby Jambiani and Paje, but it's worth it to stock up on snacks in Stone Town before your stay, as corner stores in these parts don't offer nearly as much as they do in Zanzibar Town.
Finally, keep a flexible itinerary! Don't be surprised if you end up staying at Mbuyuni far longer than you originally planned.
Planning a trip to East Africa?
Check out these other helpful articles:
Have You Stayed at Mbuyuni Beach Village?
Tell us about your experience in the comments below!