A memorable weekend on stunning and off-the-beaten-path Lime Caye — lodging, lounging, snorkeling and fishing at the southern tip of the Belize Barrier Reef.
After nearly five months of hearing about trips out to Lime Caye from Hillside students we finally made the trip ourselves, along with our good friends Jason and Caroline from DC. Caroline is also a PT and had come to volunteer at the clinic while Lori directed most of her attention to a PT Service Learning group from the University of Wisconsin. UW has been sending students to Belize for about five years and every year they plan a weekend trip out to Lime Caye. With the Wisconsin students and our DC friends here, what better opportunity to head out to the Southern Cayes!
Overview
Lime Caye lies approximately 35 nautical miles east of Punta Gorda in the Gulf of Honduras. The caye is one of the southernmost islands in the Sapodilla Caye island chain near the southern terminus of the Belize Barrier Reef. The island is just under the size of Tobacco Caye (about 200m long and 100m wide).
Lime Caye is privately owned by the Garbutts, a Belizean family based in Punta Gorda who runs a handful of cabanas and bunkhouse and a small restaurant on the island. They also run a lodge at their main Hopeville office (near PG) and offer a number of other water activities such as fishing and kayaking trips around Toledo District. Everyone we encountered at Garbutt's was incredibly friendly, very professional and safety oriented. The weekend was arranged as a package deal and all-inclusive (transport, lodging, meals and activities including reef fishing and snorkeling). They also have a secure compound at their Hopeville lodge to keep your car while out on the island. To learn more, read our post Visiting Lime Caye.
As is common in Southern Belize, transport to the island was by 35′ skiff. The trip took 90 minutes there and just over an hour coming back. When we did the crossing on Friday, seas were a bit rough with white caps, but we cut up along the coast through the mangrove ranges, heading out to sea at East Snake Caye which cut down the amount of time spent crossing in the open. Seas were much fairer on the return trip and we ended up doing the crossing more directly (see above). We crossed a pod of dolphins on the way back, which swam around and played with the boat for about ten minutes before continuing on.
Arrival (Day One)
We left Garbutt's in Hopeville (near PG) just after 3pm and arrived on the island just before sunset. While the crossing was a bit rough, the weather was perfect. As we were with a large group, we all stayed in their newly constructed bunkhouse right on the beach, which has four beds (two bunks) to a room. Toilets and showers are about 100m away near the center of the island.
The rooms do not offer much in the way of privacy or security, but if you're with a big group then either really don't matter much. All of us kept the doors and windows opened 24/7 for ease of access and to keep the temperature down at night. The first night did get quite stuffy and we had significant issues with mosquitos/gnats as there are no screens or bug nets, but a nice wind kicked up the second night and we had none of these problems then. I would suggest sleeping with a healthy dose of DEET applied right before bed time to ensure a good night's rest. I must say though that falling asleep to the sound of crashing waves right outside the door was incredibly soothing both nights.
A bank of showers.
Directly following our arrival and selection of rooms, we met Ms. Sandy at Sandy's Cool Spot, the only snack shack on the island, to get a quick orientation of meals and other restaurant-related things. As we were getting ready for our talk with Ms. Sandy, we were able to catch one last quick glimpse of the sun before it darted over the horizon.
You may not think that a sunset is a very big deal in Belize, but to Lori and I this one was particularly special, given that it was the first time we had seen the sun set over the water in Belize — mind you, 100% of Belize's shoreline is located on the east coast of Central America. It was also particularly poignant because we really hadn't seen many sunsets in Southern Belize in the past few months due to the rains.
Alright, enough with the sunset photos — looks like it's Belikin Time.
Day Two
Lori and I were up shortly after sunrise, but some of the last to awake since most of the group had gone off reef fishing on the boat. We probably would have normally but Lori couldn't remember the last time she had had the luxury of sleeping in a bit, so we passed on the 5:45 wake-up. We headed to Sandy's to grab a cup of coffee and enjoy having the beach all to ourselves.
Don't Miss These Unforgettable Experiences In Belize!
Lori getting ready to dig into to an amazing looking island breakfast featuring Ms. Sandy's very special Fry Jacks (yum!) along with Steph, another PT volunteer filling in for Lori at the clinic during this incredibly busy time, along with boyfriend Phil who had come to travel and do some volunteering in various capacities as well.
Jason and Caroline return just in time for breakfast with their catch — a vicious-looking Barracuda which was chopped and fried up for lunch that day, and surprisingly meaty and delicious.
The rest of the day was spent hanging out at the beach and going on two separate snorkel trips to the nearby reef. The morning trip was to a century-old shipwreck laying in about 10-15ft. of water, and the afternoon trip was in an area between Hunting and Nicolas Cayes, which offered tall coral pinnacles and a nurse shark or two. Visibility was excellent, especially in the morning. We saw Sergeant Majors, Queen and Grey Angelfish, Squirrelfish, Groupers, and a colorful Stoplight Parrotfish. Some of the others in our group spotted a Green Moray eel and small Southern Stingray, but we did not.
Yet, some of the exotic life of the area could be seen without putting on a snorkel and fins. This large iguana decided to catch some rays on the beach around midday, playing in the surf for over twenty minutes. Looking at these photos now, it makes this guy look like he's ready to pounce, but that's mostly because I snapped most of my pictures when the surf would catch him and turn him towards me. Shortly after, the surf would lift him up and deposit him in another direction. He didn't seem to mind one bit that we were snapping photos and gathered around him and seemed too focused on his body surfing to bother with any of us.
Around sunset — and after the day's catch had been cleaned and prepared for dinner — the Garbutt's crew whipped us up some coco locos (young coconut with rum).
Another brilliant sunset on Lime Caye.
Coco loco!
Day Three
(Above) warming up with a little early-morning relaxing before heading down to the beach and getting my hardcore relaxing on.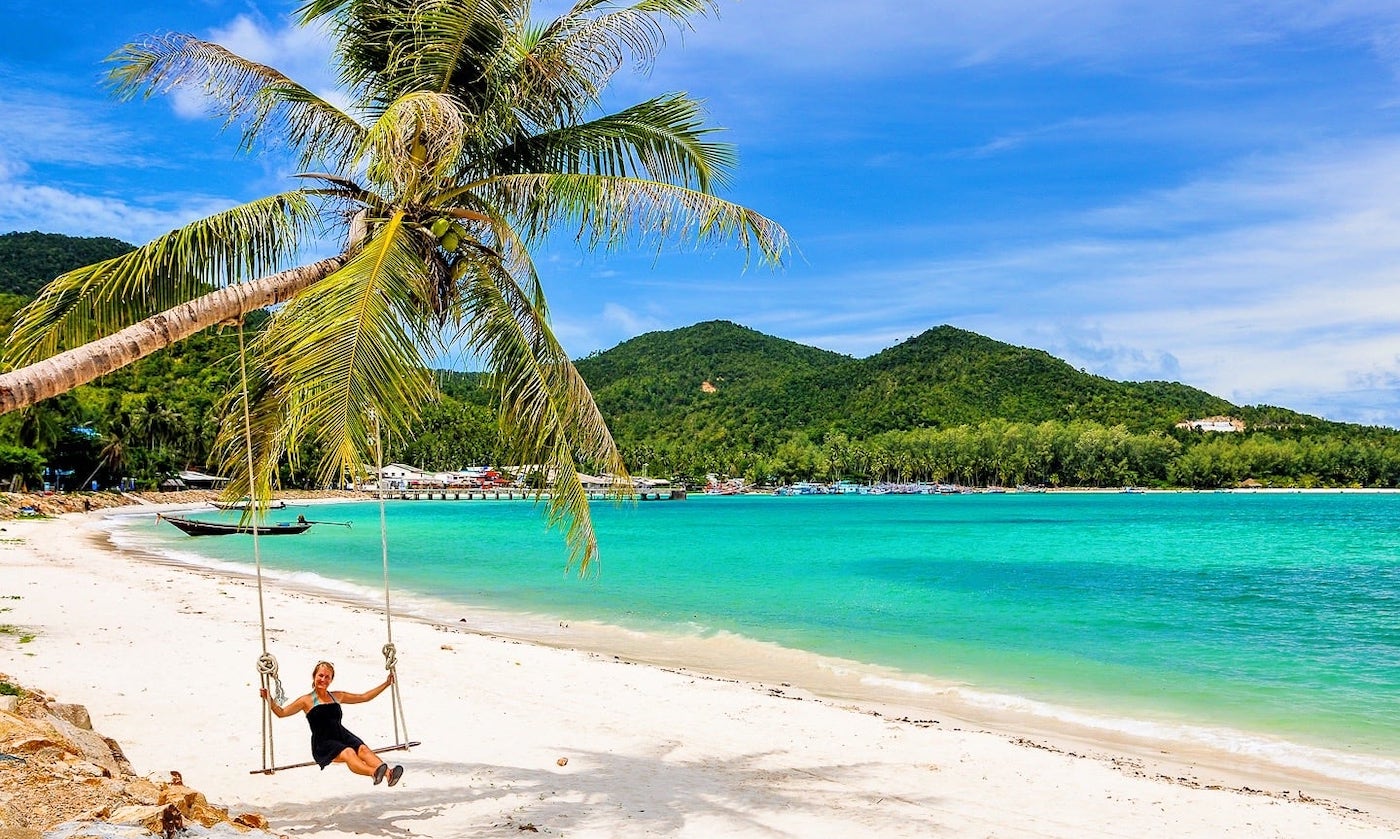 Stuck at home?
Get your free email series now!
5 SECRET BUDGET TRAVEL DESTINATIONS
You'll be amazed how affordable these bucket list destinations are. Plus our best cost-saving tips to help you plan.
For more information on how we use your data, see our privacy policy. Unsubscribe at any time with one click.
A particularly clear sea today with thunderheads threatening in the distance.
Shortly before our departure around 2:30pm, a rainstorm heads directly for the island forcing everyone to seek shelter. Apparently, the island was not yet through with us.
Thirty minutes later, the storm had passed through and we were on the boat headed back to the mainland.
Lime Caye through the wake and spray of the skiff.
A pod of dolphins intercept our boat about midway to PG, frolicking around the boat for a short while before swimming off into the distance. Seas were much more favorable on the way back under a hot sun. After returning, we headed to the Chinese restaurant for some ice cream before grabbing a bucket of beers at Walucos and heading home.