We recently spent a weekend at Thavonsouk Resort in Vang Vieng (now known as Diamond Gold Hotel) and were surprised by our stay. Here's our detailed trip report.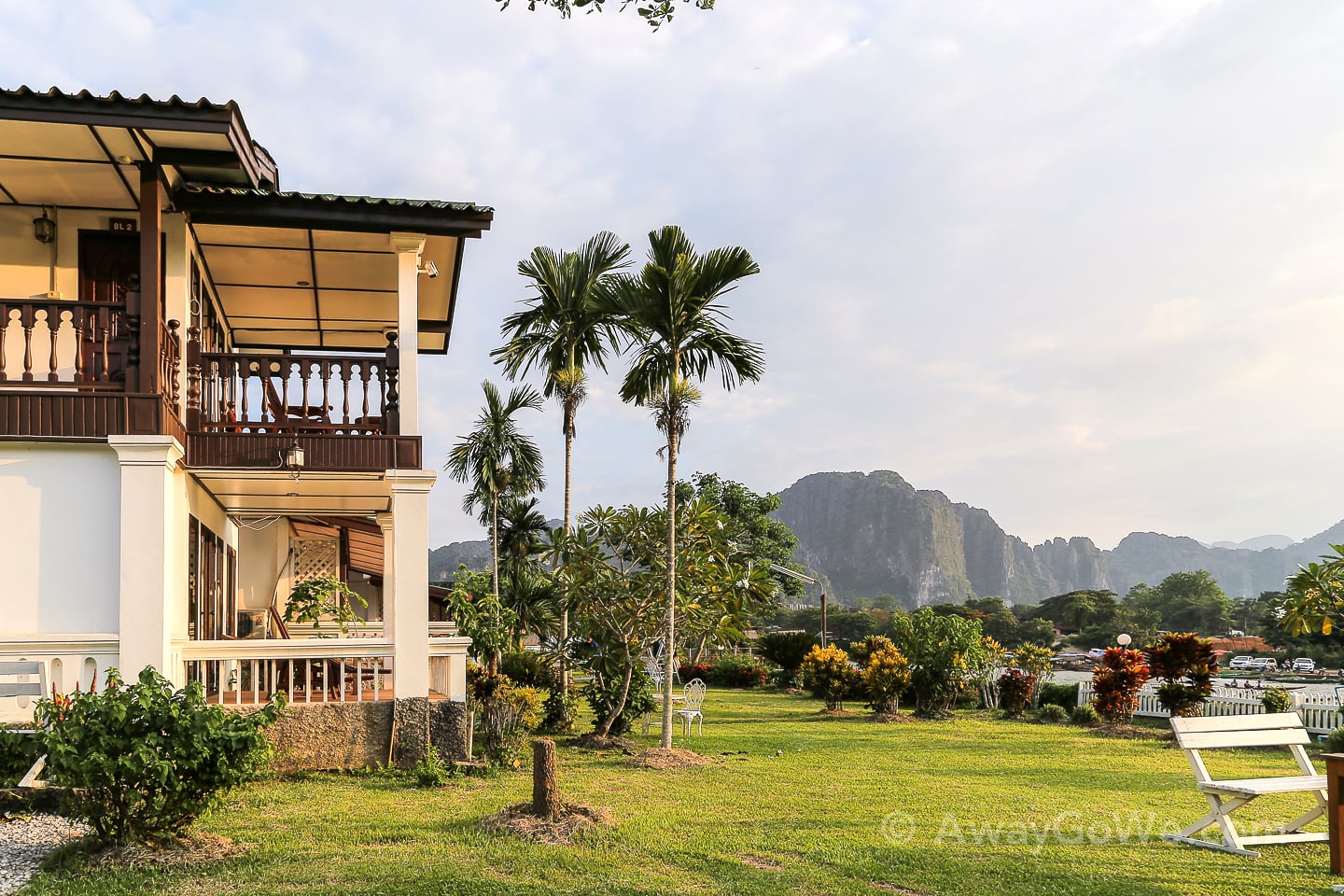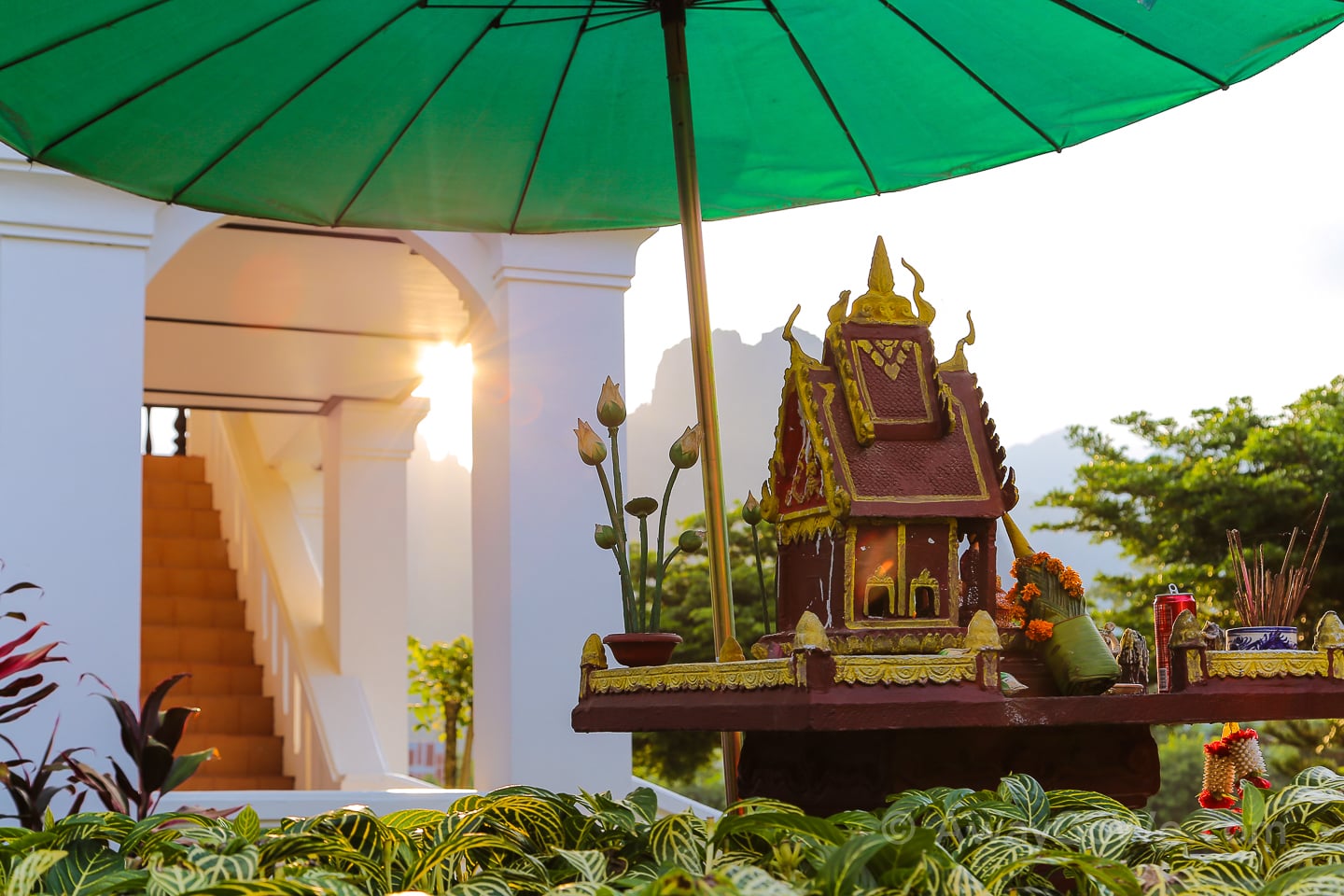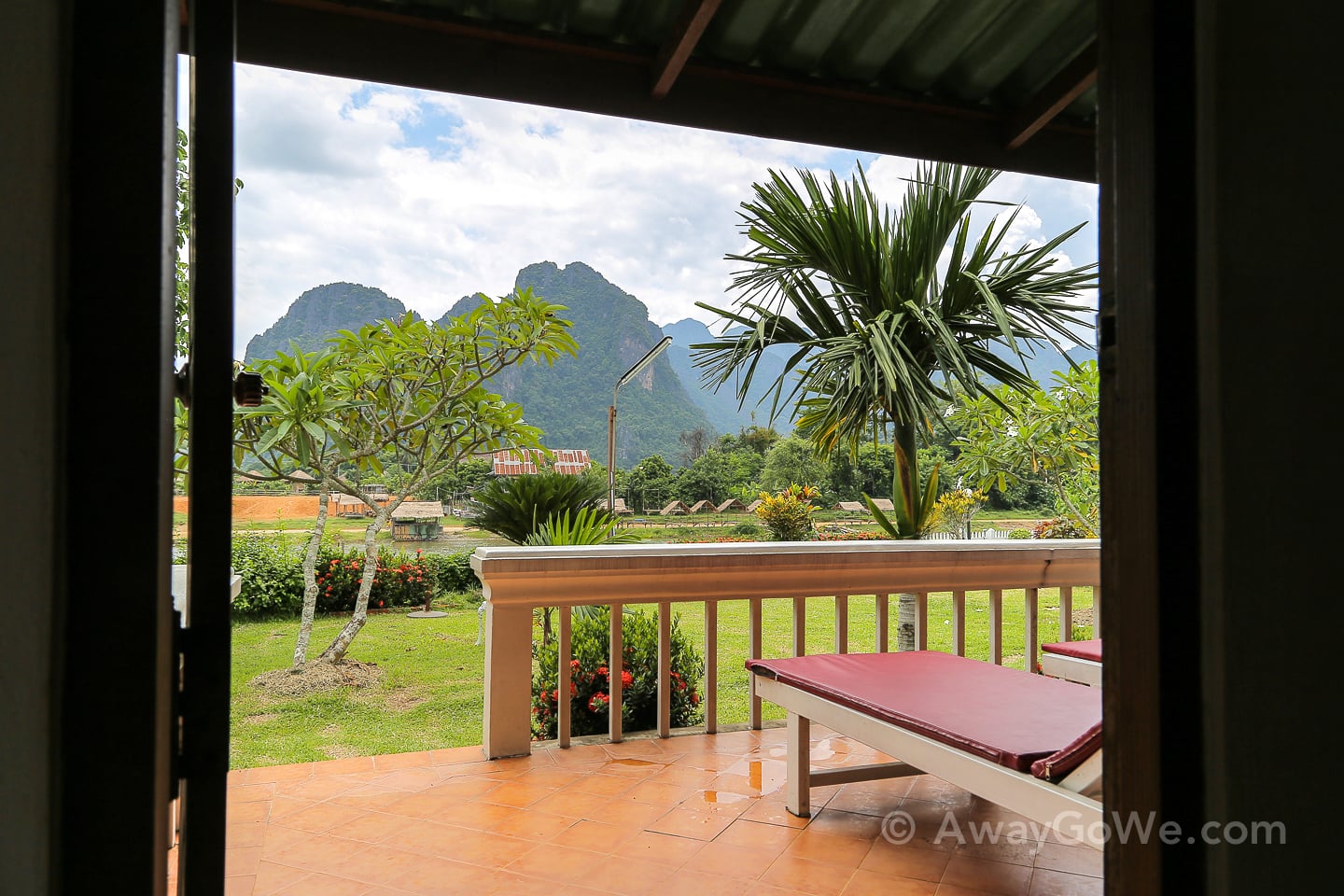 We "splurged" for a river view room (as opposed to a "garden" room), which we would highly recommend.
All the rooms appear quite nice, and the garden view is nothing to sneeze at, but having this area to look out over the Nam Song and the karst peeks is worth the extra few dollars.
Noe enjoyed having the back patio to "cruise" around on as well.
And who can argue with this sunset?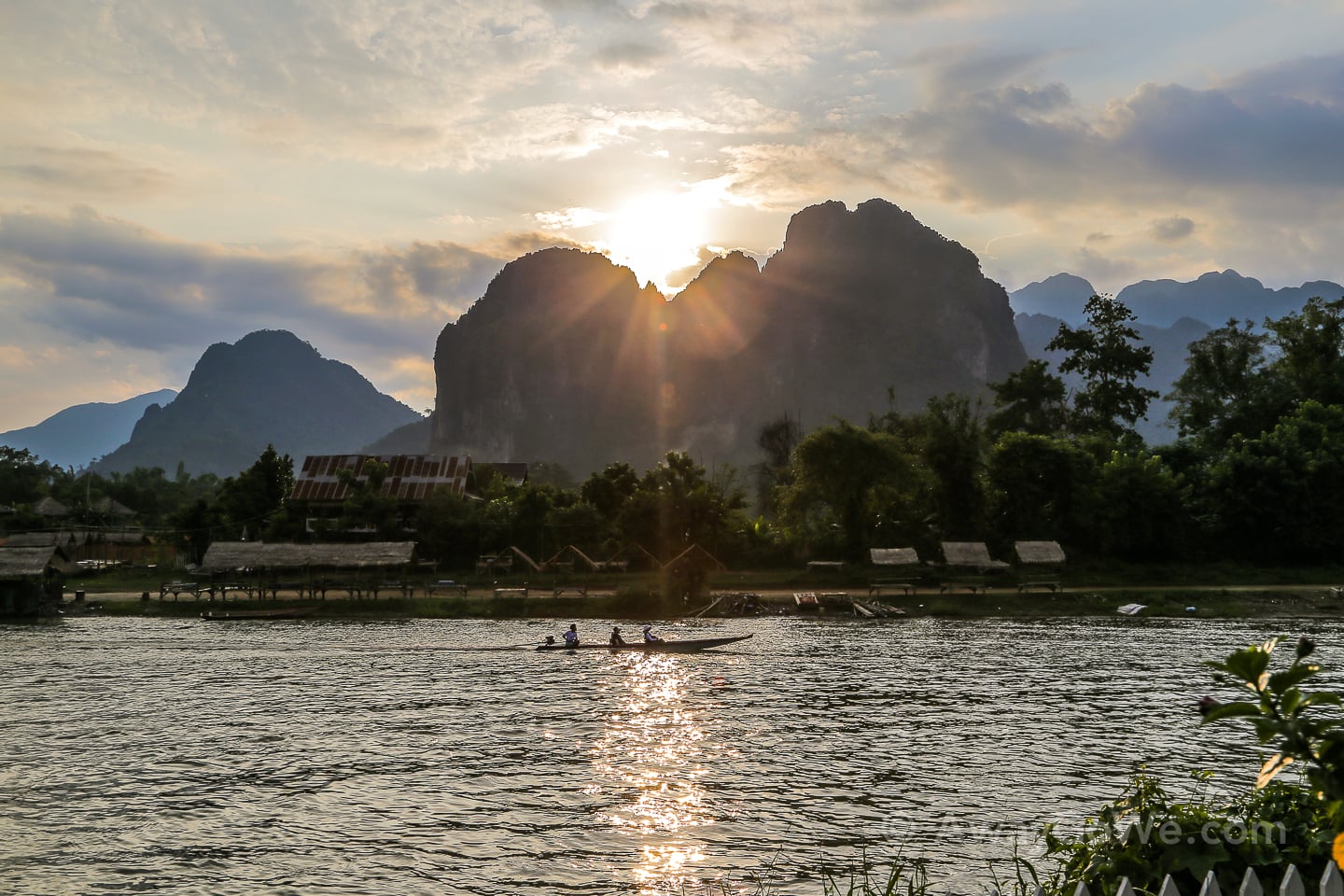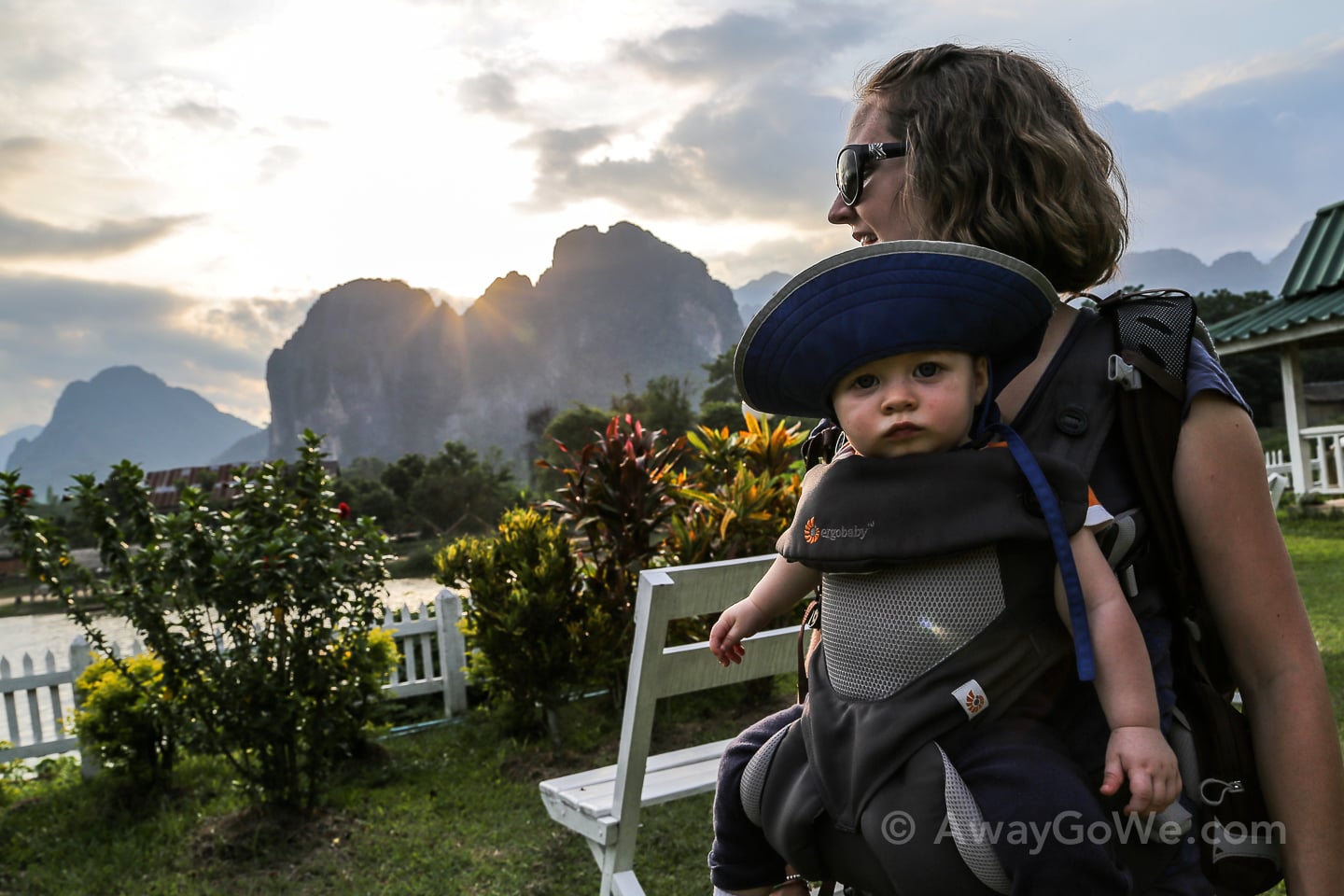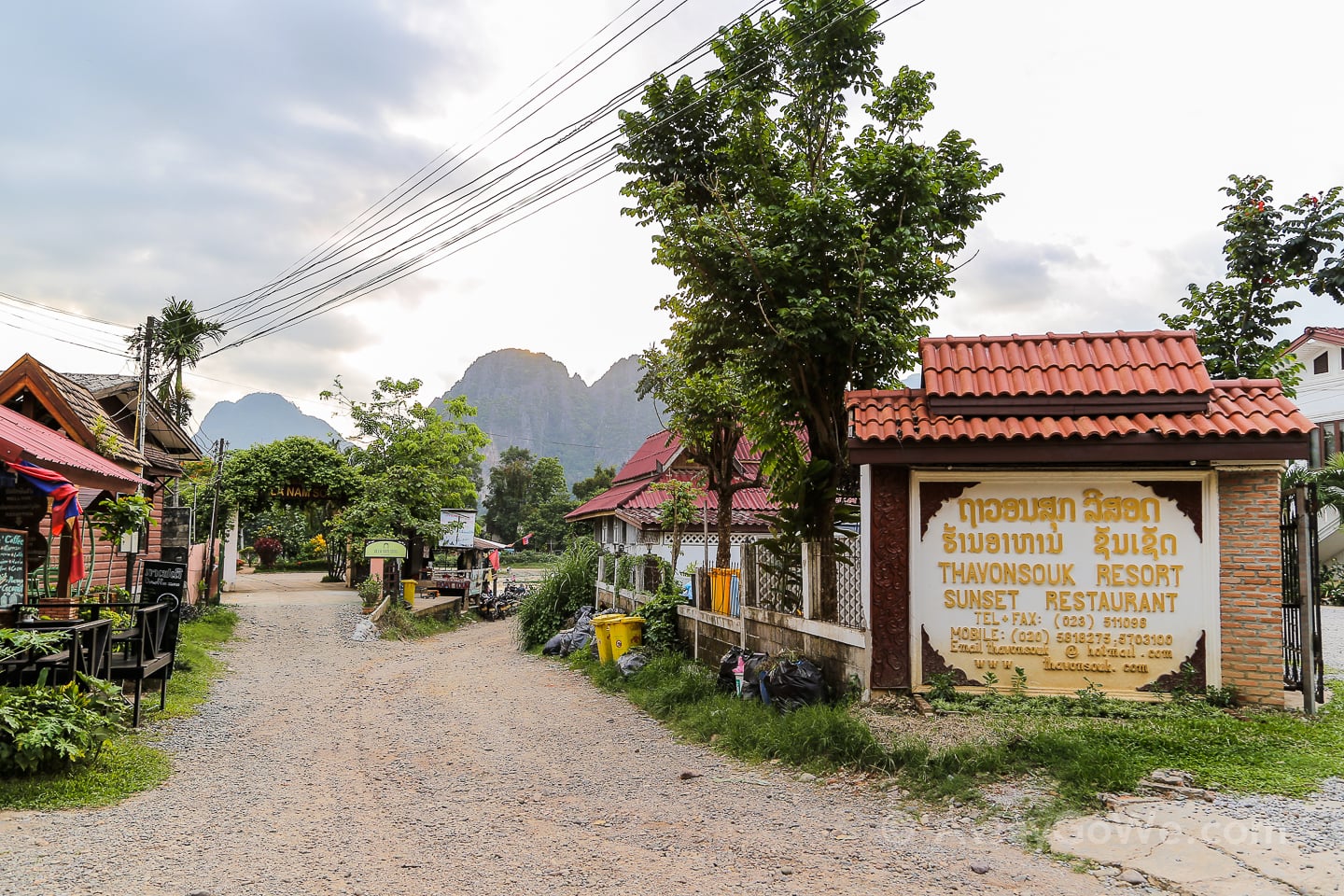 Thavonsouk Resort (Diamond Gold Hotel) is located down a narrow (and steep) hidden driveway that fans out near the river, serving a half dozen or so hotels and businesses.
It's on the south side of town removed from the action — which translated into peace and quiet for us! — yet a short walk away from Vang Vieng's restaurant and bar cluster in the center of town.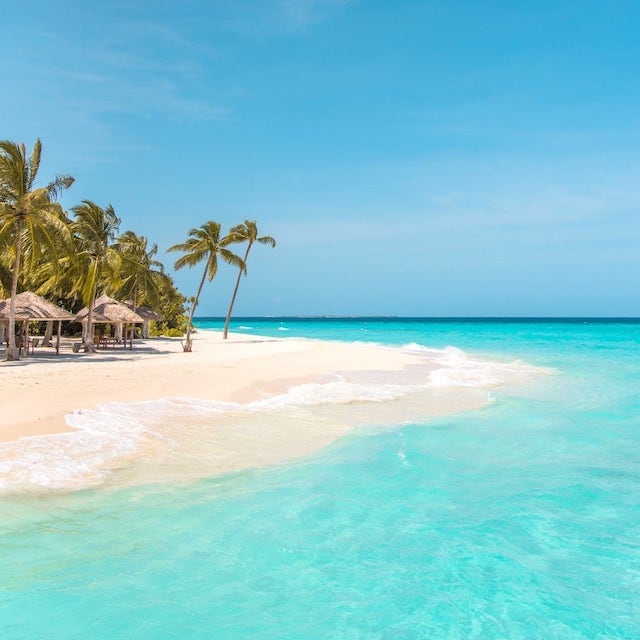 Subscribe to AwayGoWe!
Get our latest articles in your inbox, plus subscriber-only travel tips, special promotions, and more!
It took us about 10-15 minutes (at a Vang Vieng pace) to reach the bamboo foot bridge from the resort (a New Yorker could probably make it in under five).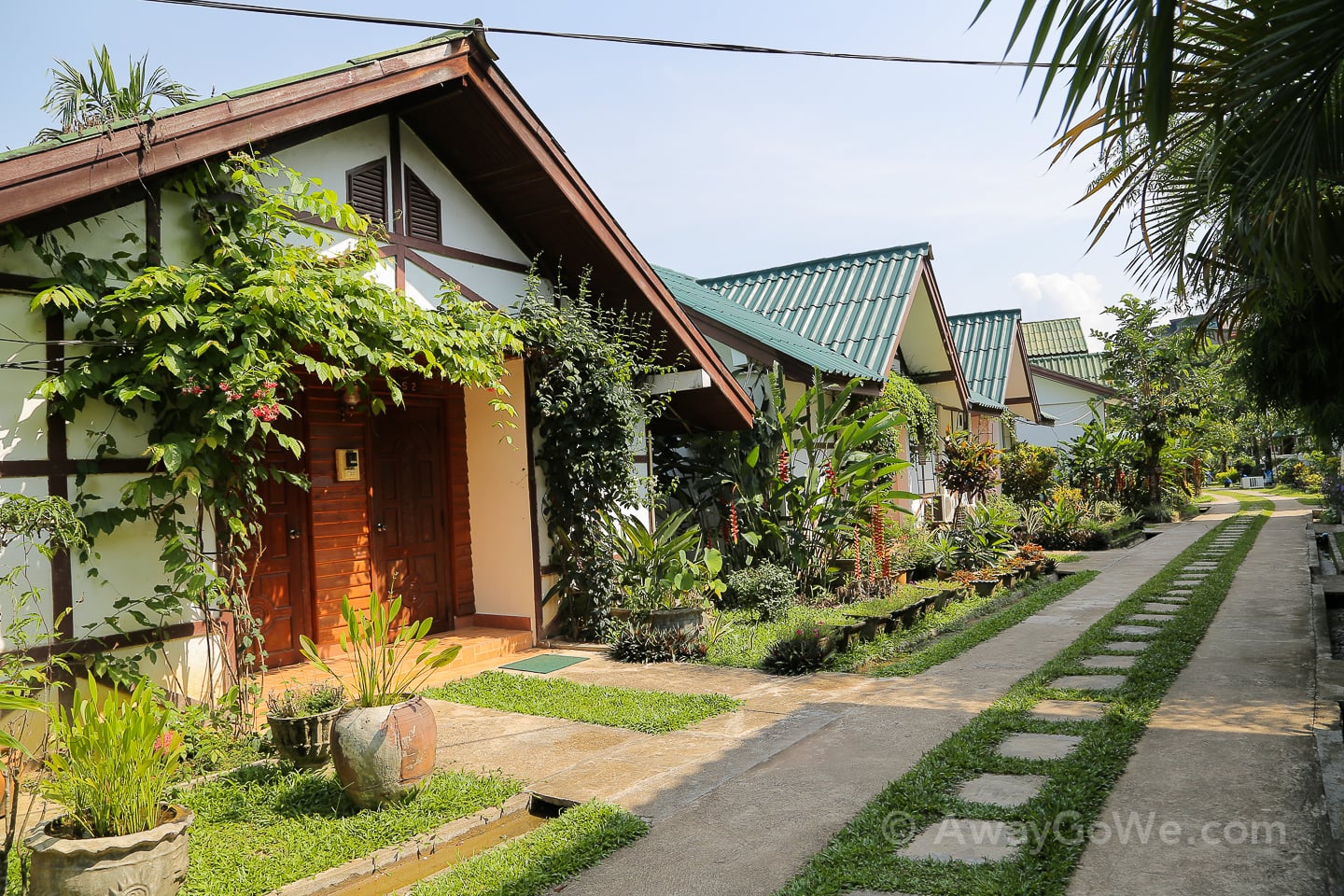 The rooms are made up of blocks of bungalow-style buildings. Remarkably private for being largely connected.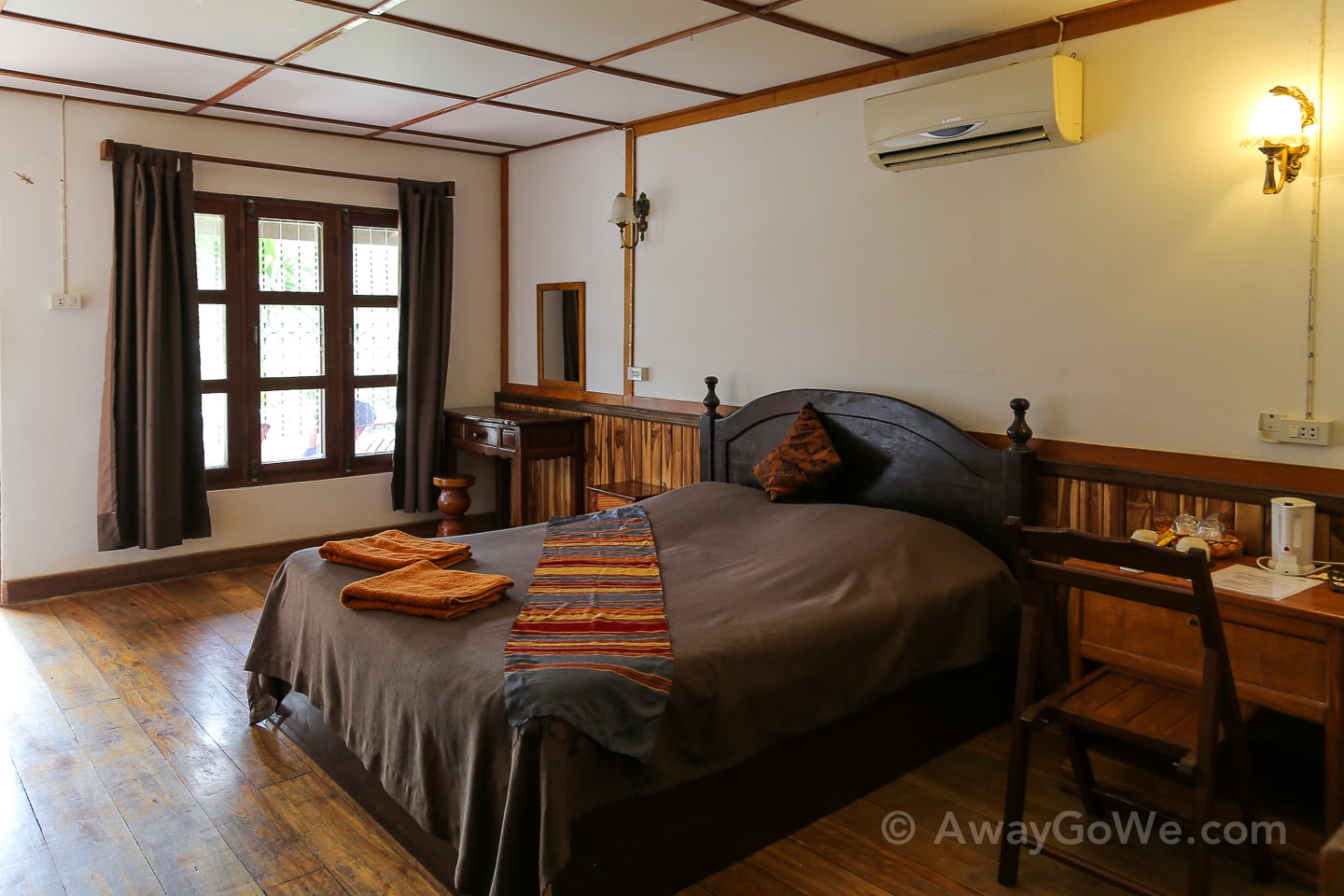 The wood floors were the main focal point in our room, but everything far exceeded our expectations.
This is not your standard Laos budget hotel room (though some would certainly still consider the price to be budget-level).
Clean, comfortable, friendly, with A/C, fridge, TV, hot water shower, desk, coffee fixings and kettle — everything you'd expect from a nice, mid-level, guesthouse.
Oh, and a hearty buffet breakfast included!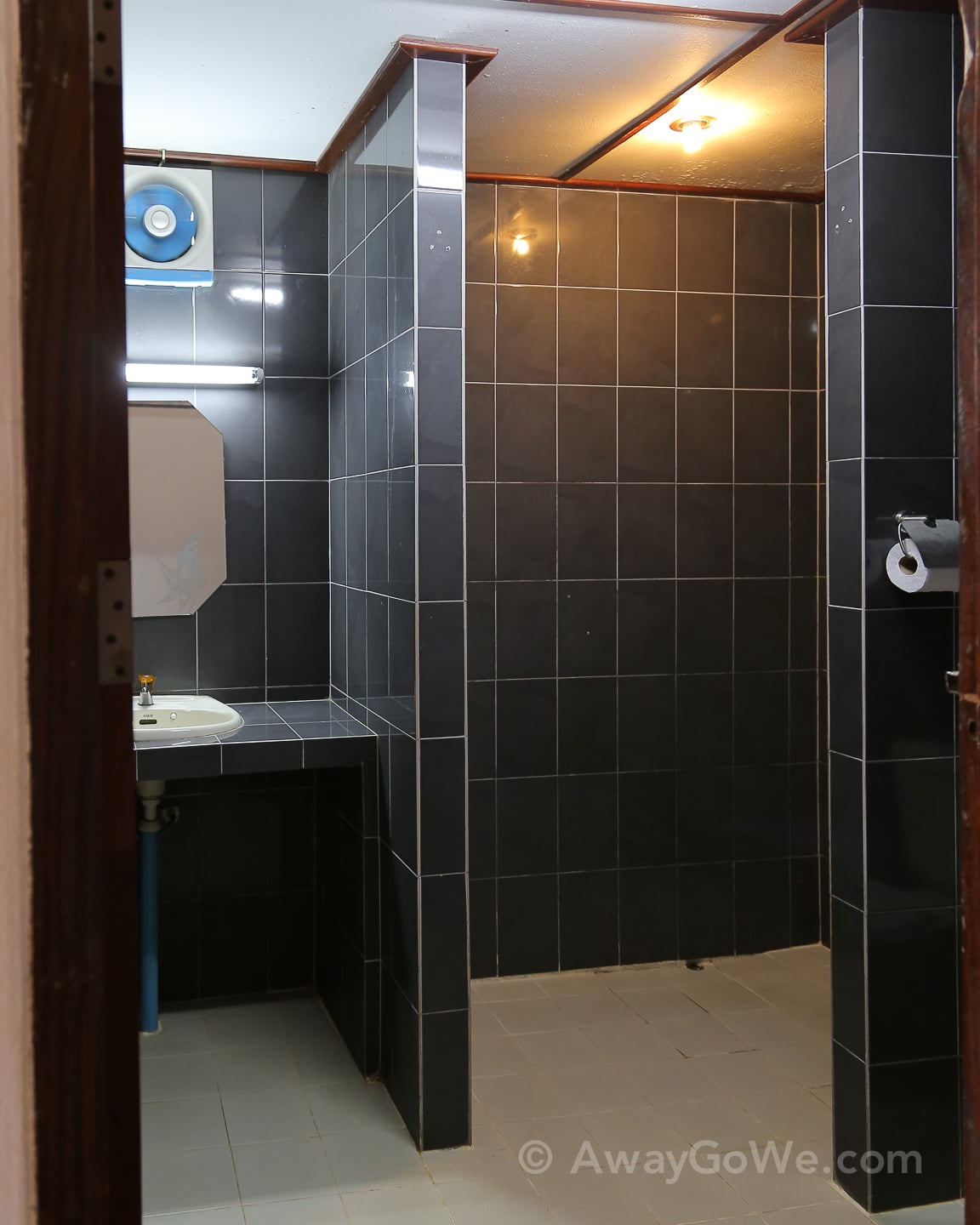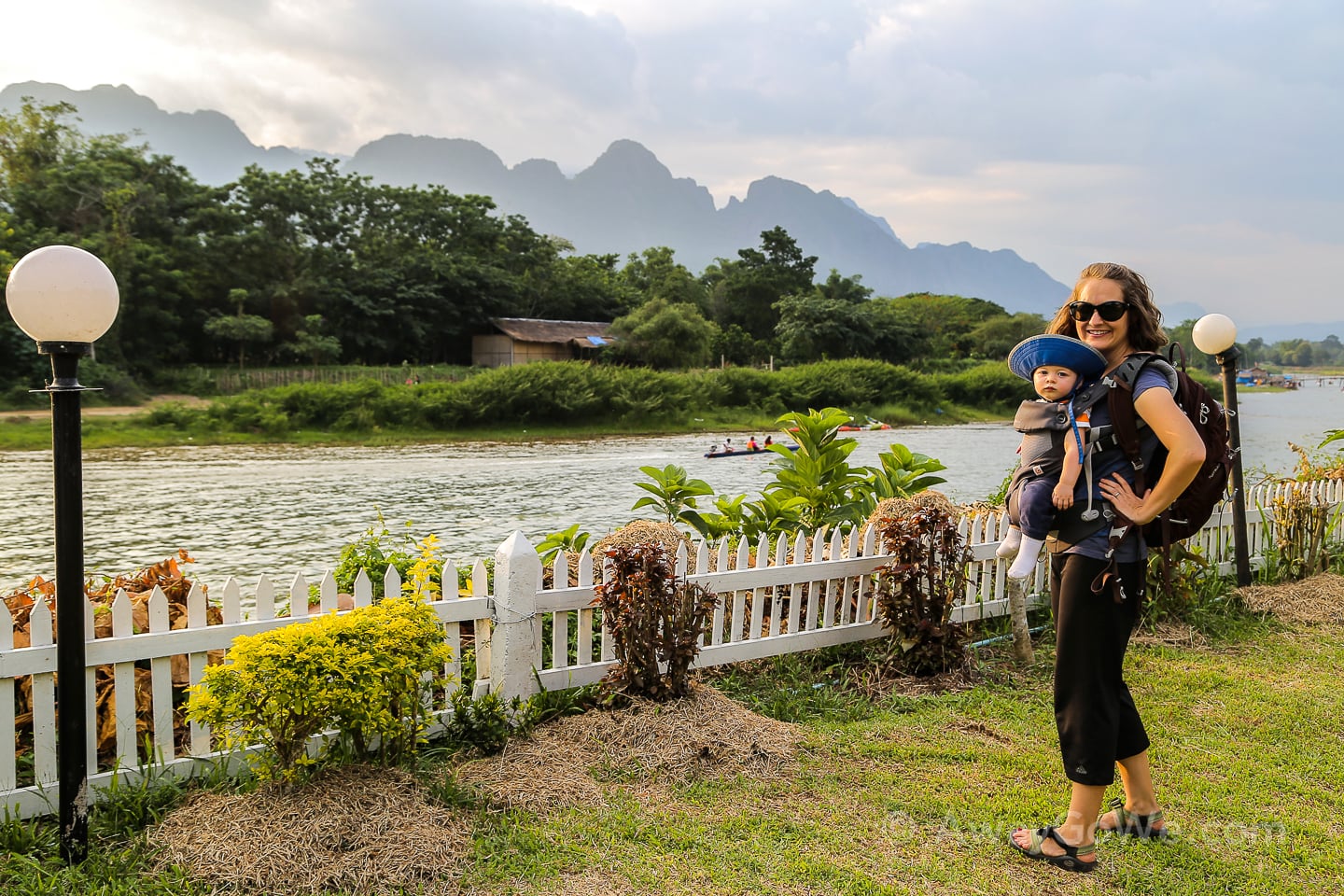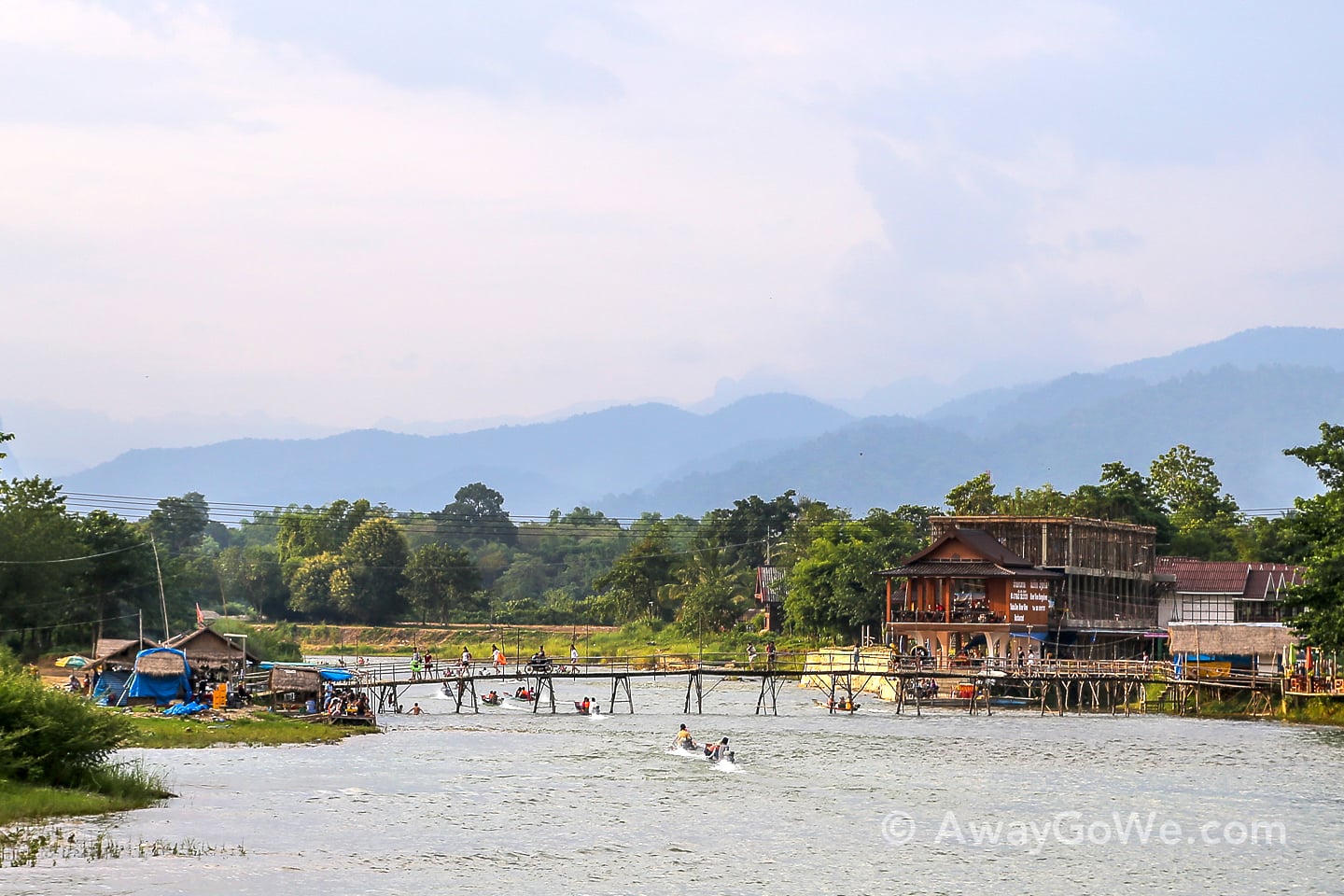 The town's central landmark — the seasonal bamboo bridge — as viewed from Thavonsouk Resort.
A very different perspective from where we've taken in the hubbub at Phubarn Cafe.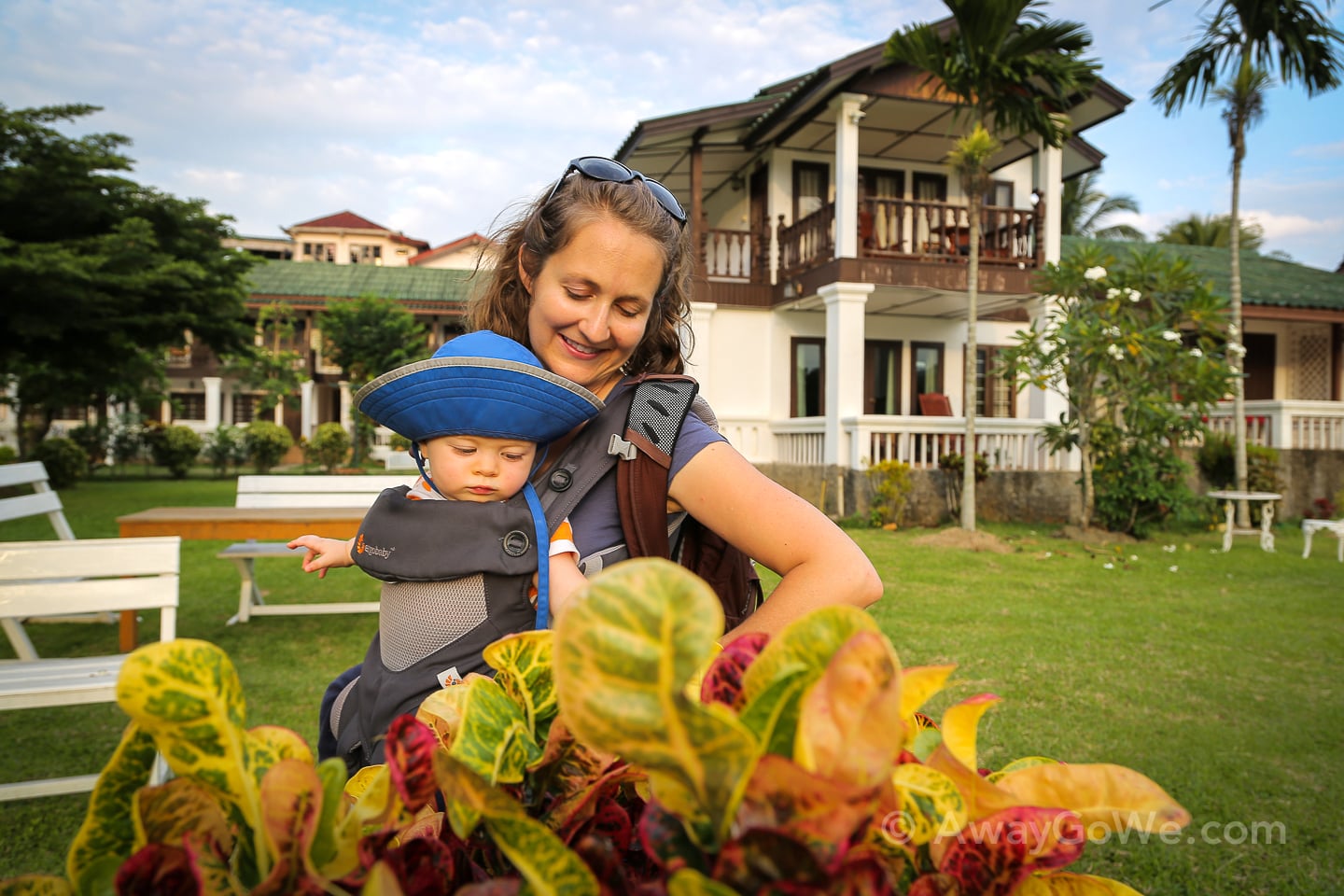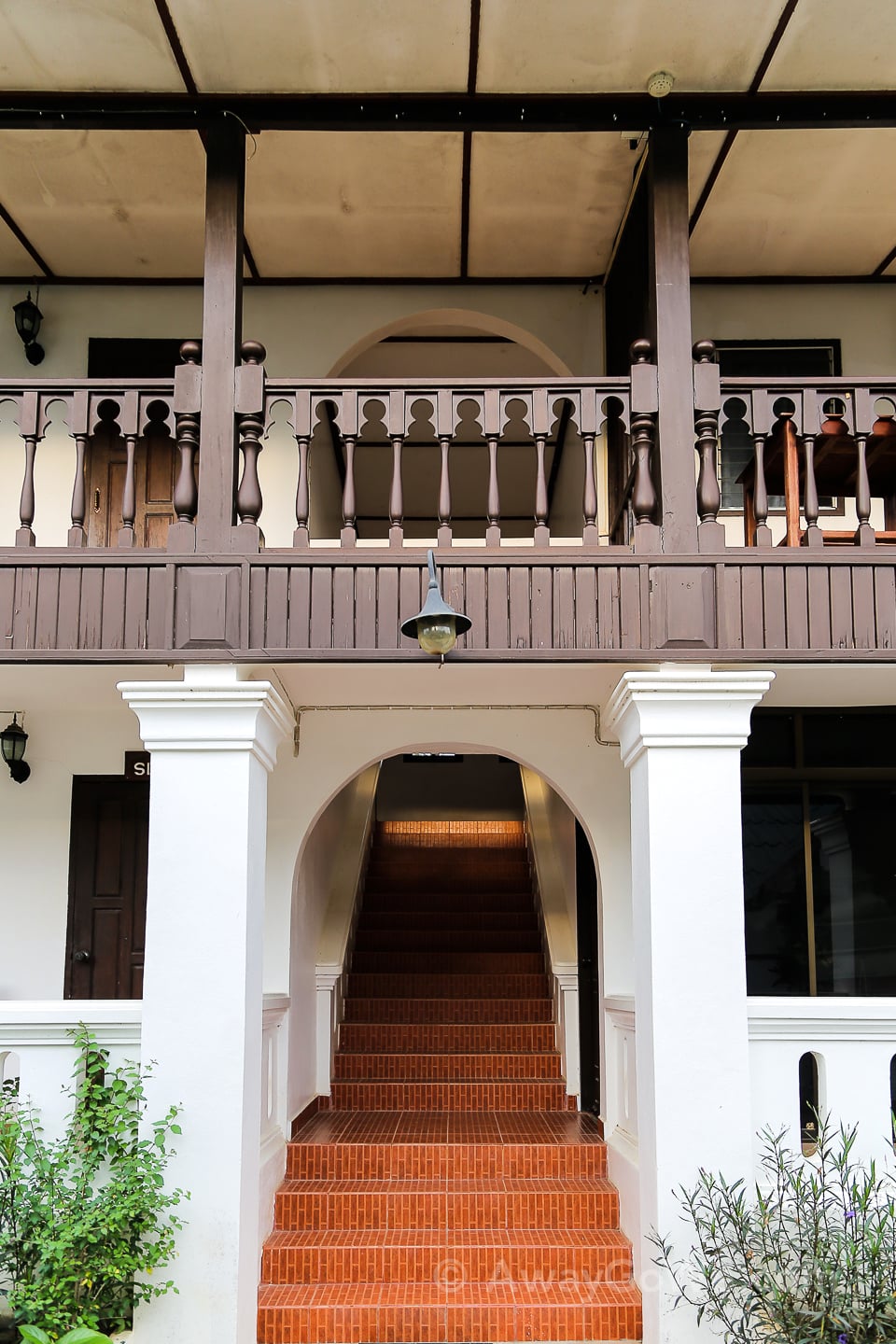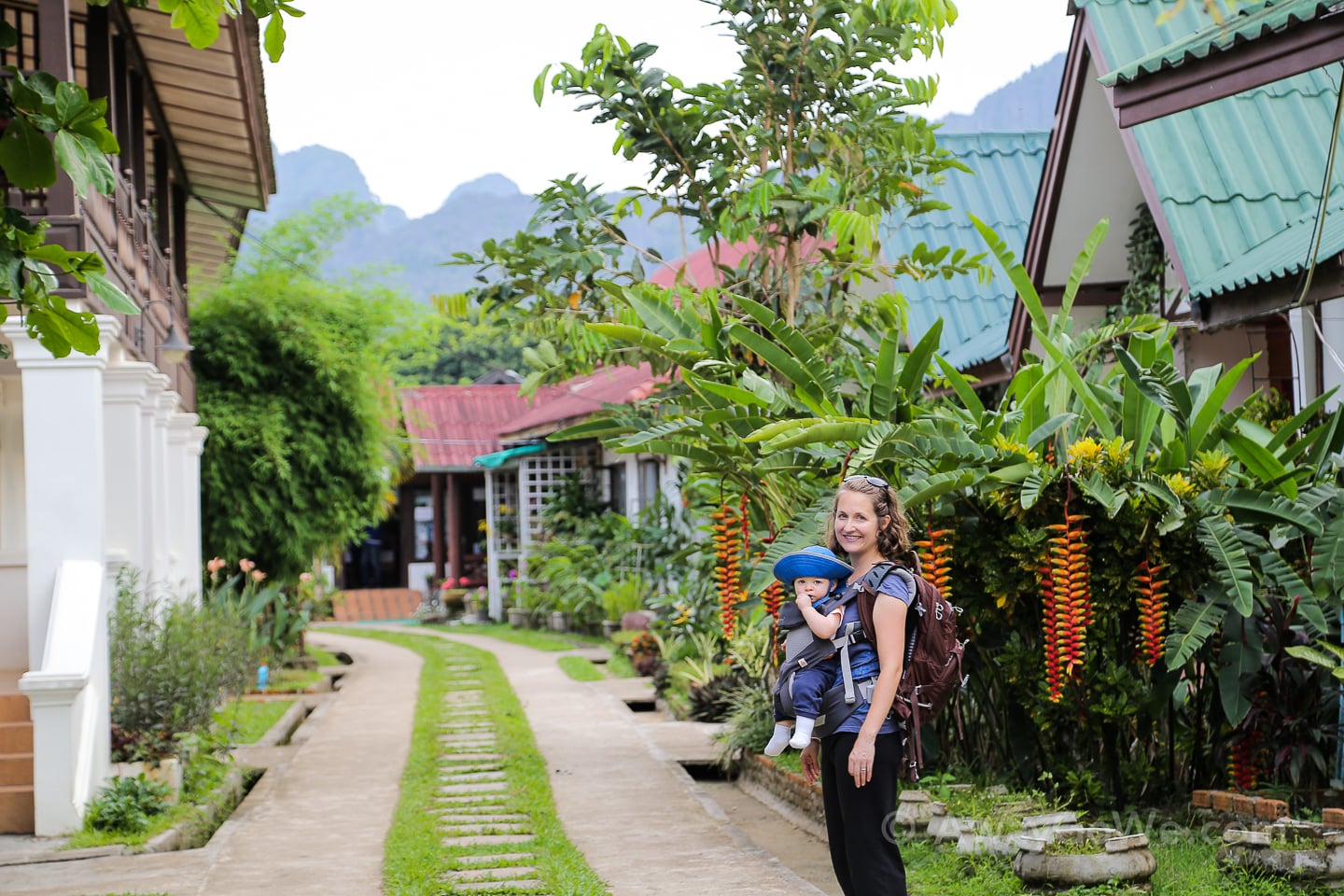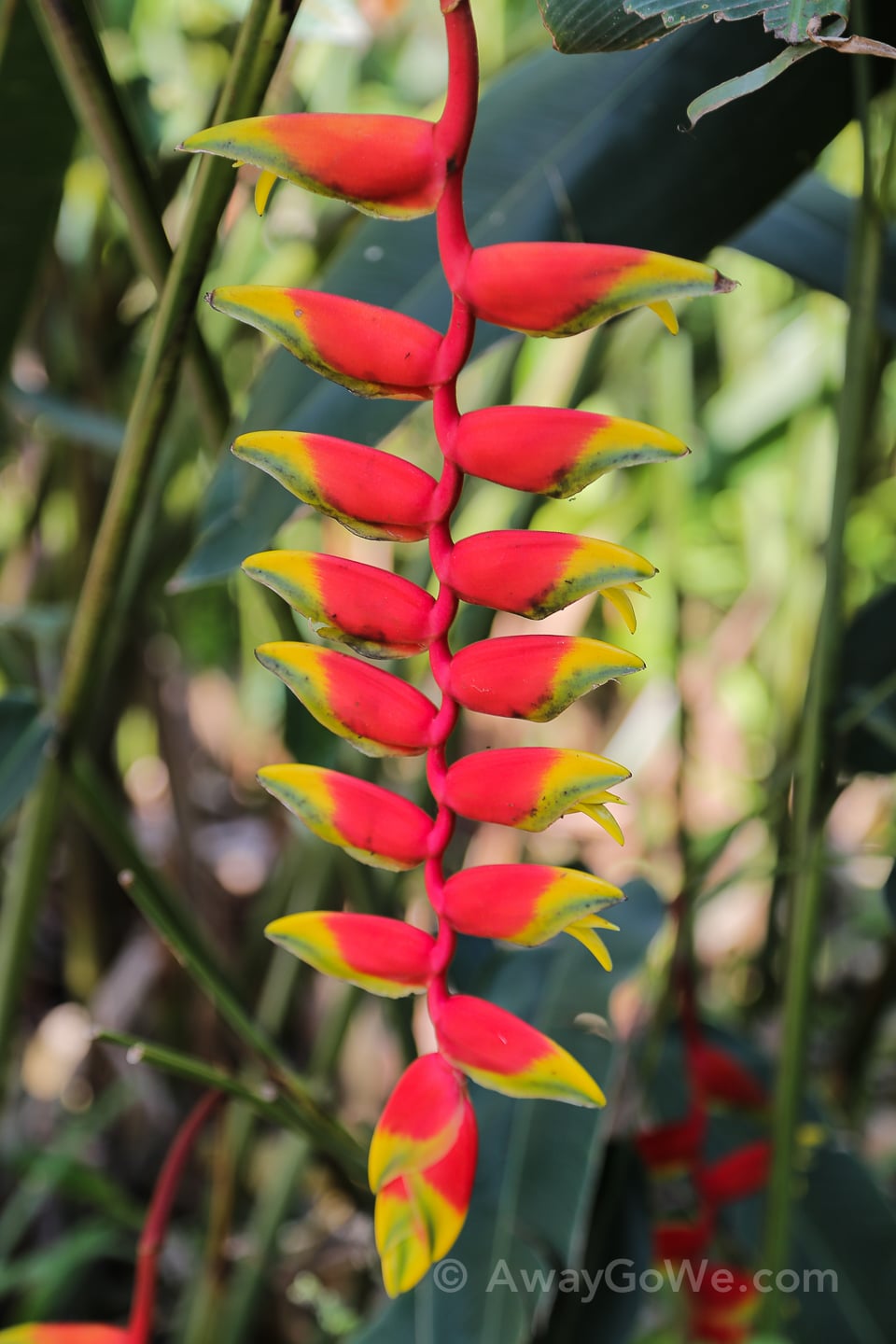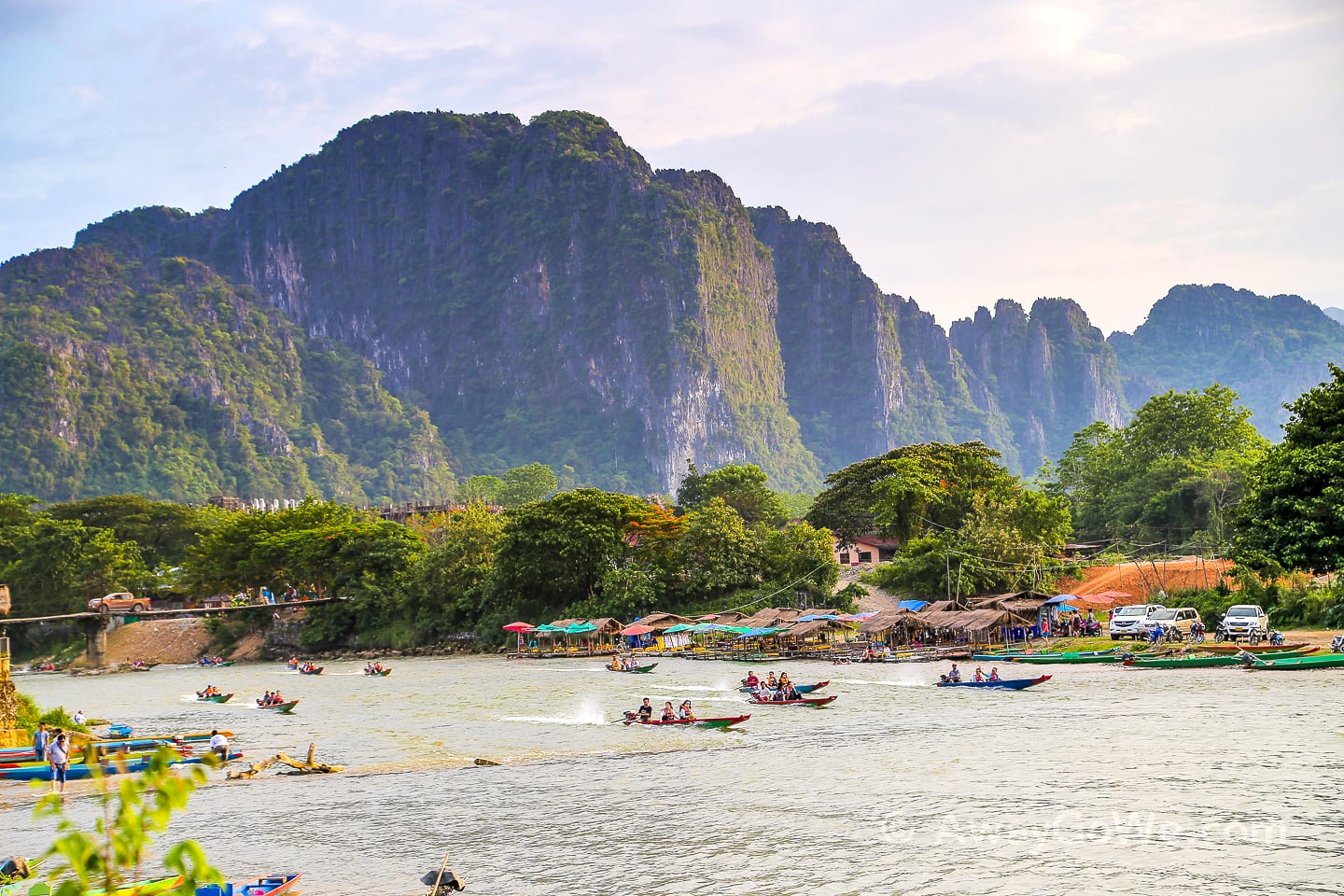 In the mornings and evenings the river is bustling with activity.
There's also a shallow swimming hole just down from the resort where we saw a number of tourists and locals taking advantage of the cool river on a hot and muggy late-May day.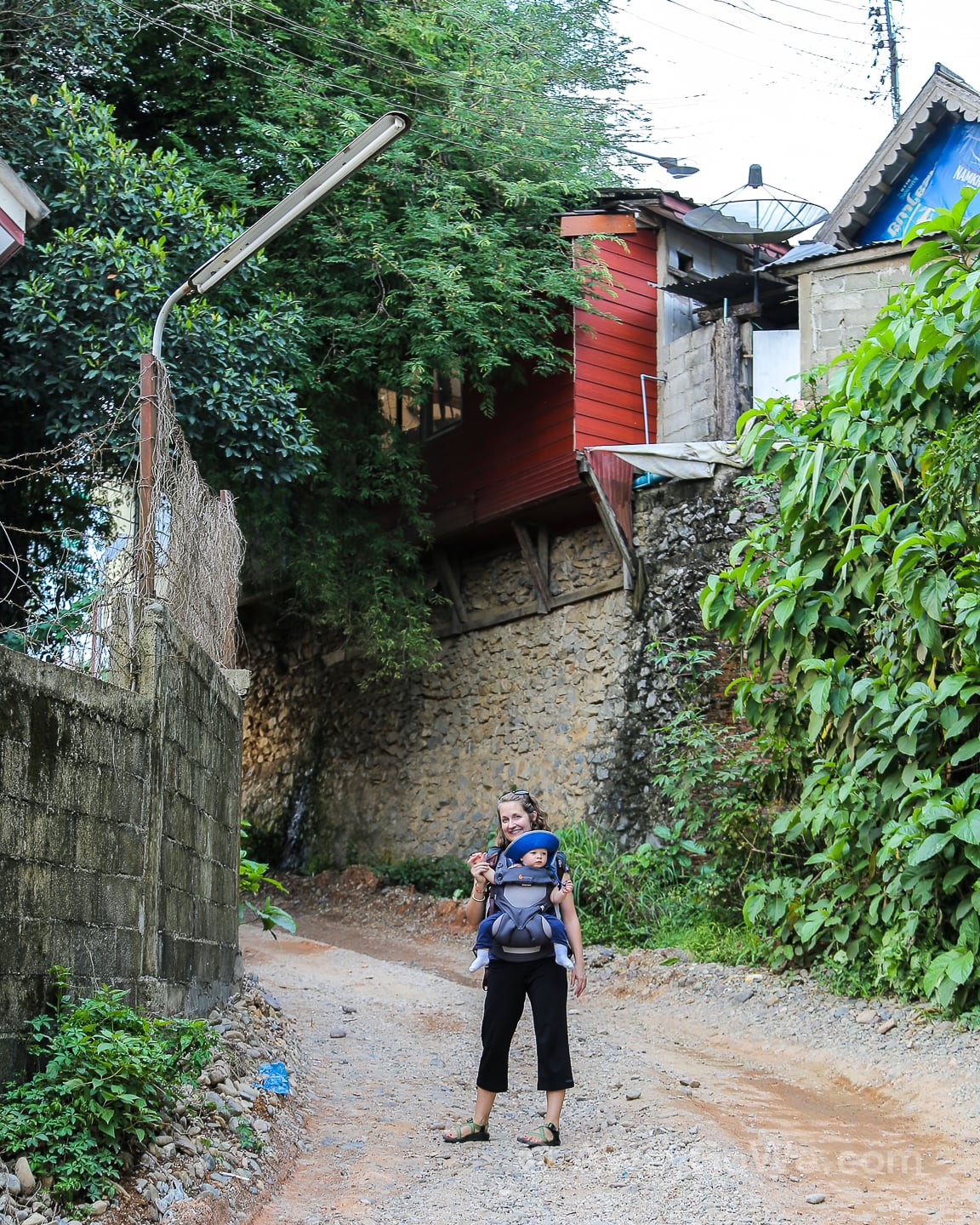 The gravel road leading down to Thavonsouk's got something of a medieval vibe going on.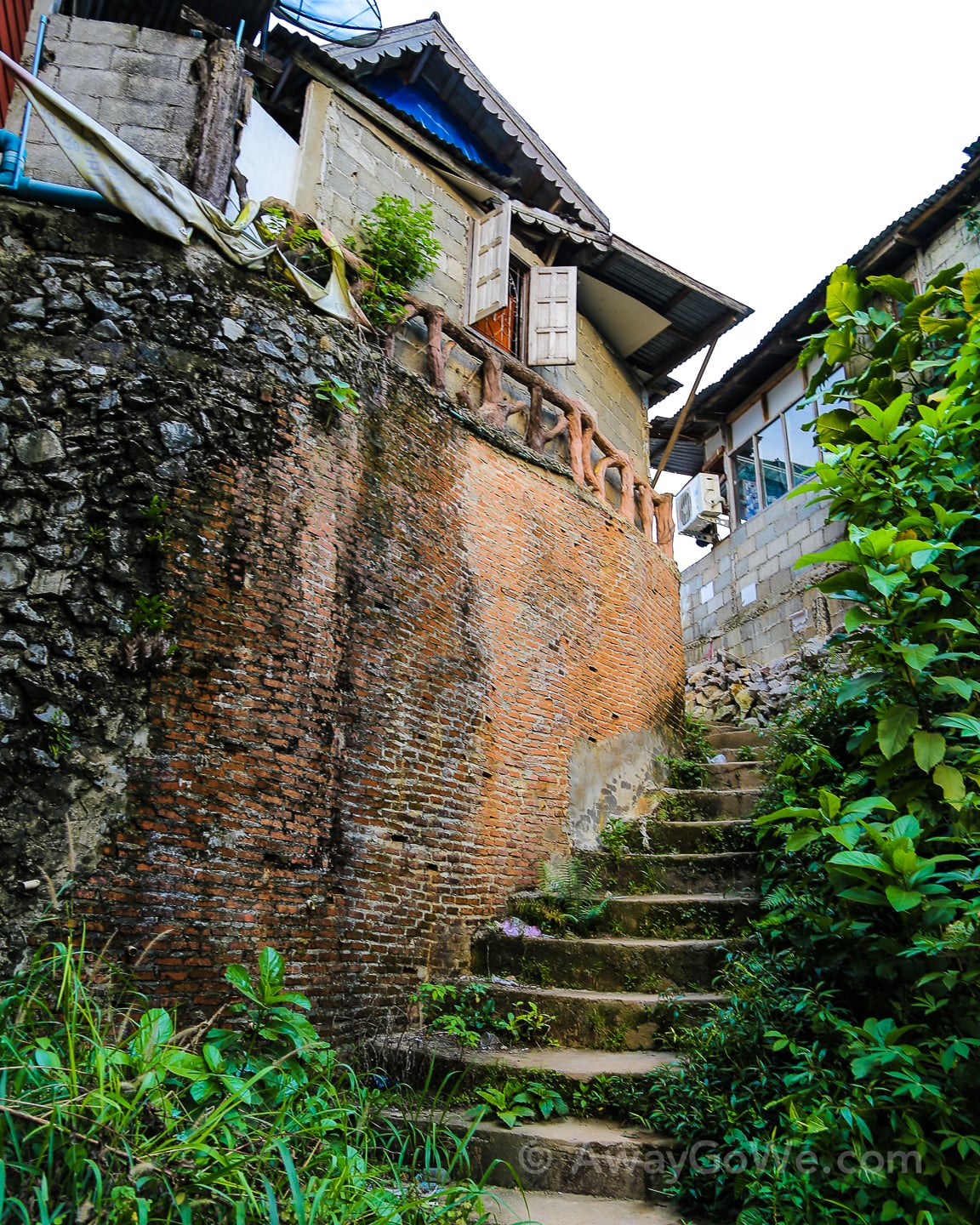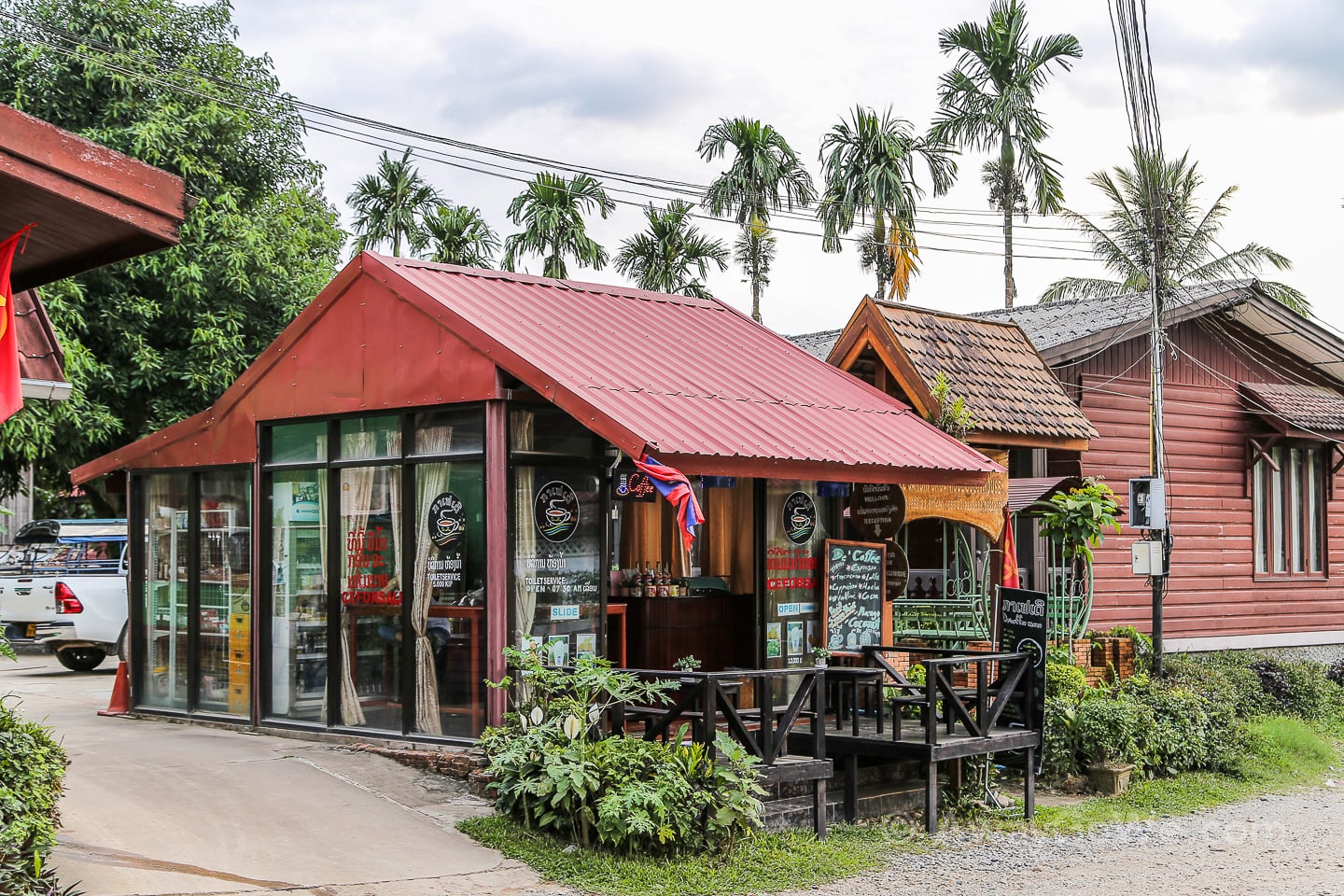 There's also a quaint little coffee shop across the road from Thavonsouk, but unfortunately it was closed when I went to go get my fix.
I ended up at Cafe eheh, just up the road — my Naked Espresso iced coffee was more than just eheh, I'd say.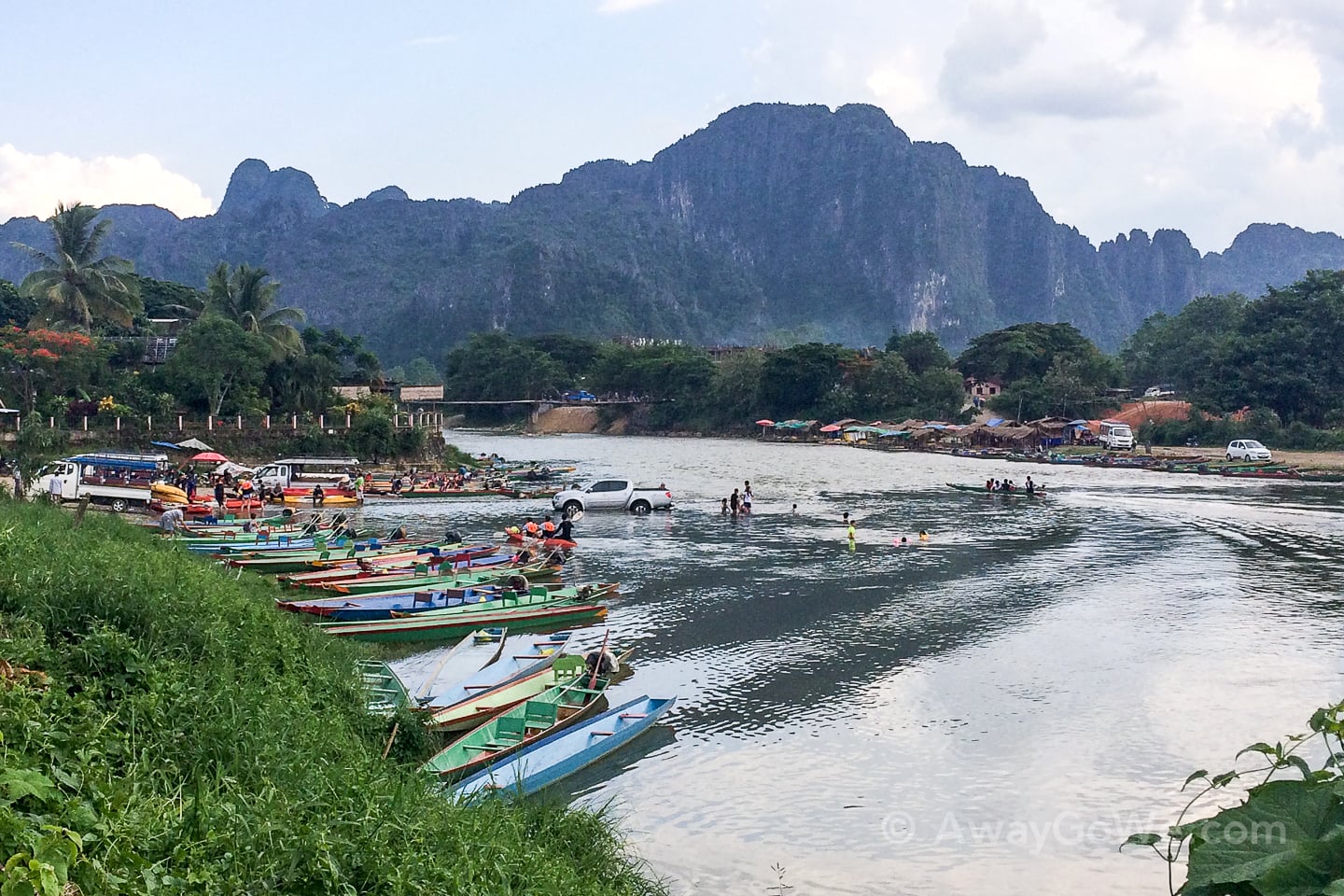 This evening's entertainment revolved around the falang family who had somehow managed to get their 4×4 pickup stuck in the middle of the river.
I wondered where they had gotten the idea to try and ford the river, until we spotted these guys: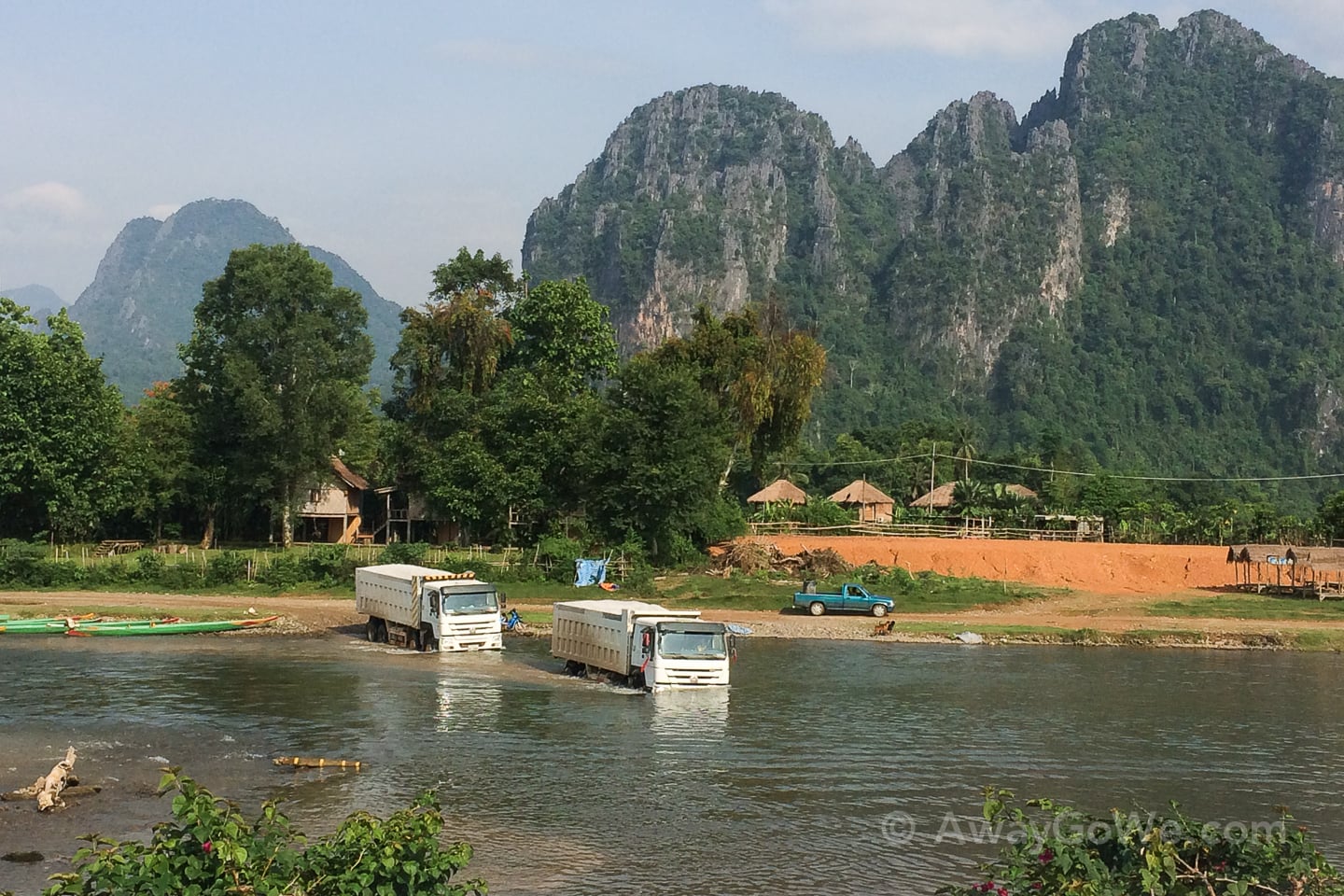 We actually heard them before we saw them. This was going on in mid-morning just out the backside of our room — a continuous stream of Chinese dump trucks crossing the river.
I can safely say I've never seen anything quite like this. The water rose up to the foot of the cab on some passes.
We saw about a dozen trucks cross the river during our three-day stay and didn't see a single one get close to getting stuck, though one driver did pause for ten minutes to give his rig a thorough washing in the river.
We were sure nothing out of our back window could top that, until Lori spotted this from our back patio just after sunrise on our final morning: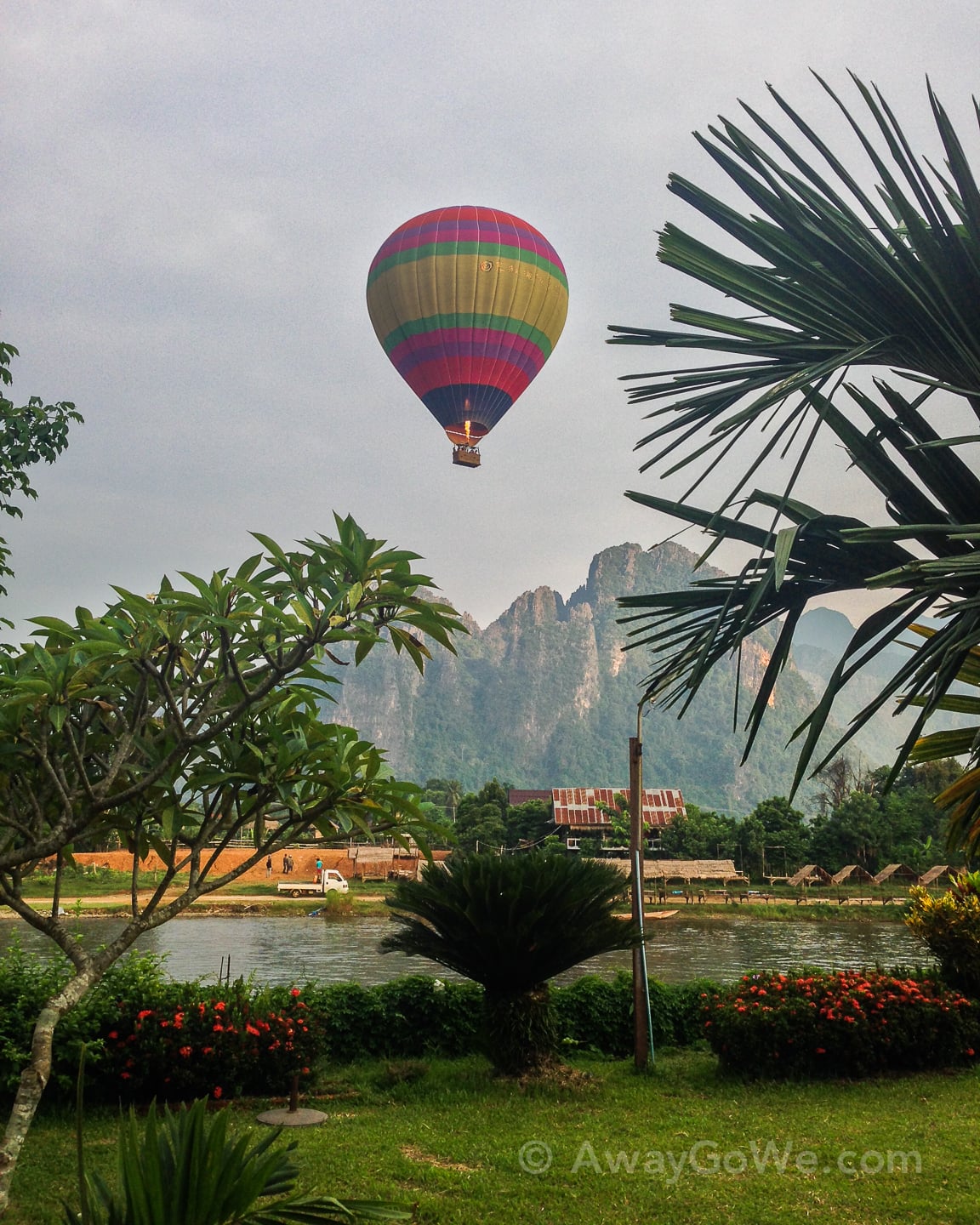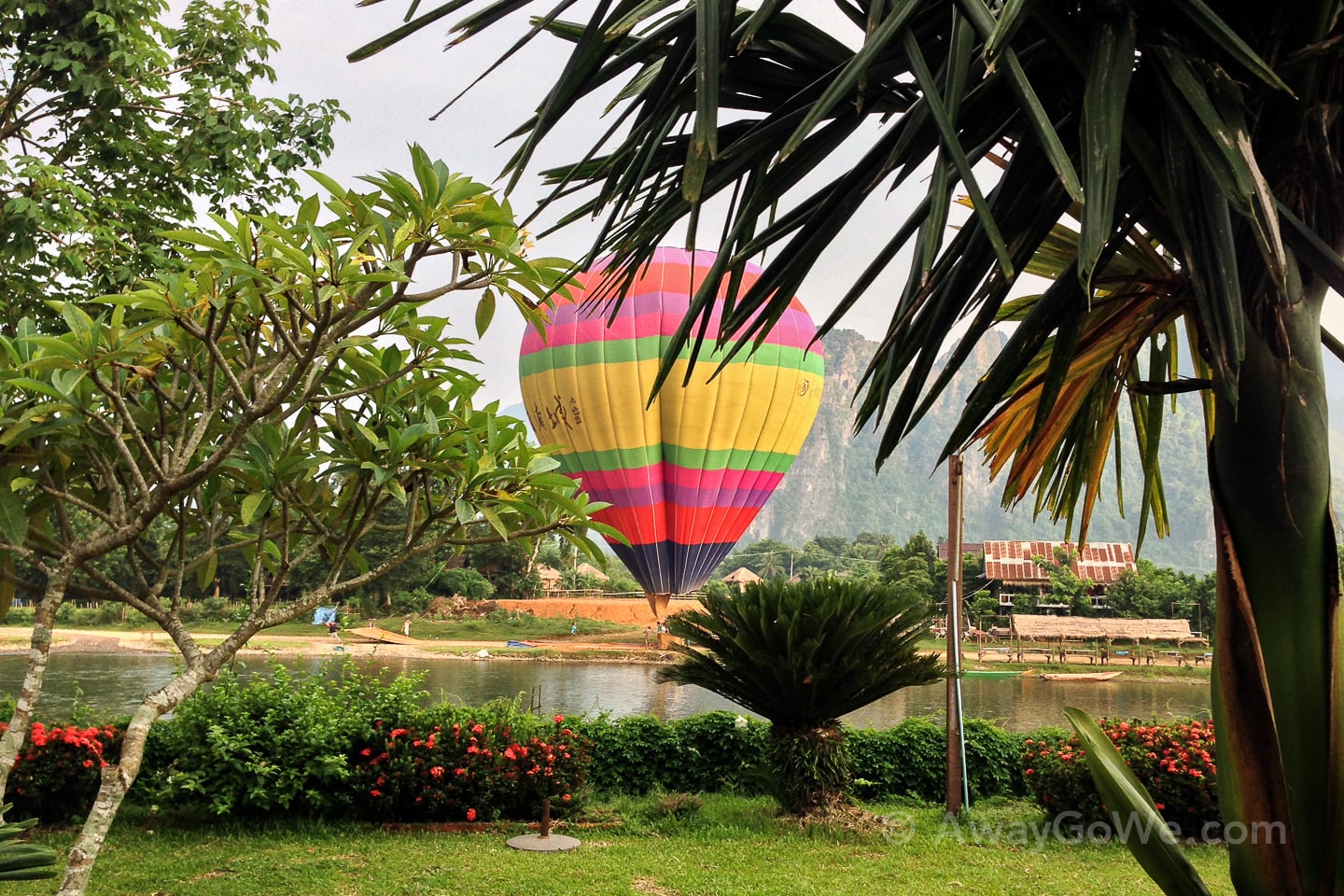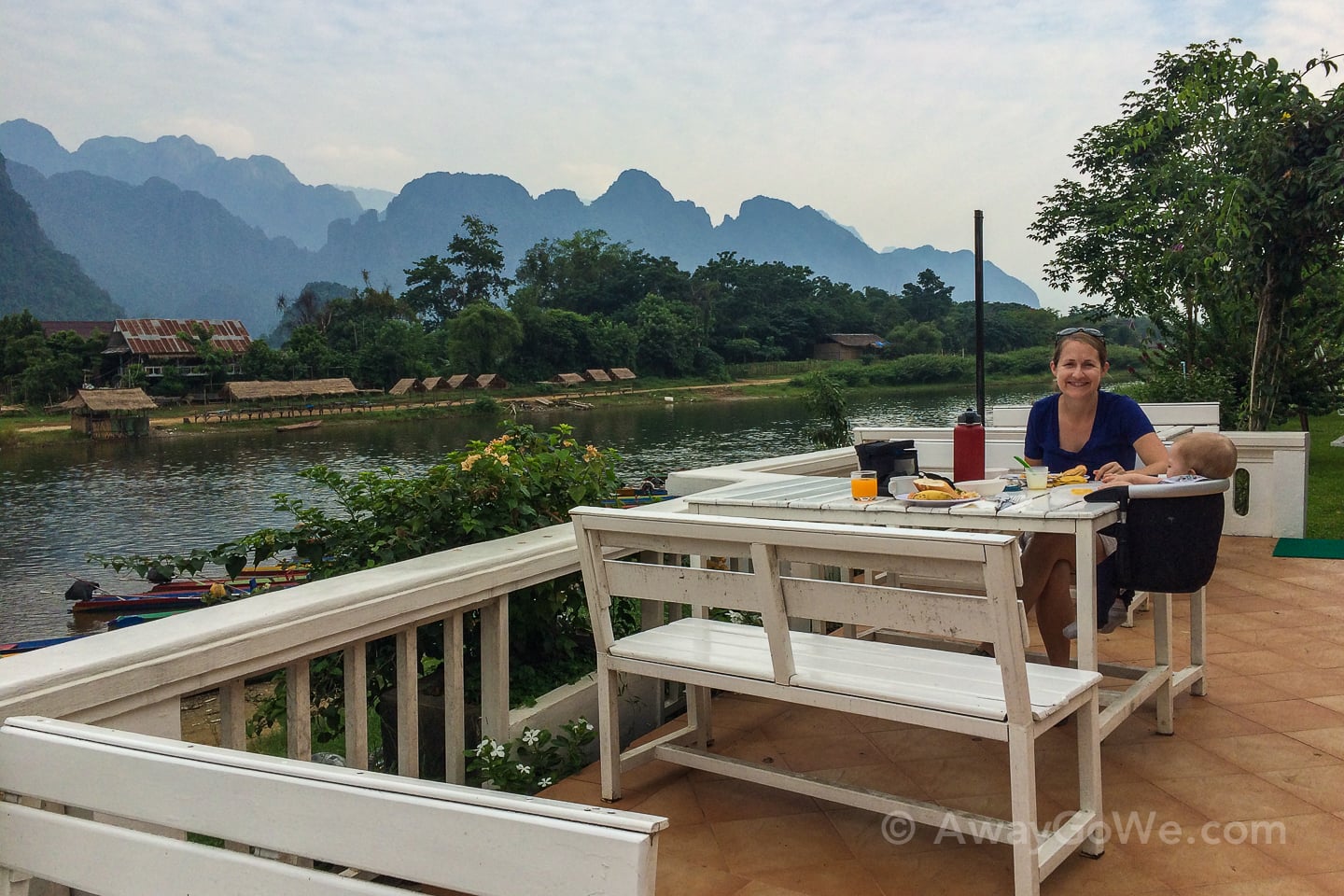 The view from our room was pretty great, but the restaurant is even closer to the river.
We enjoyed our relaxing breakfasts and fortunately Noe's portable high chair even fit on the outside tables!
One Final Word of Advice
Laos is among the safest countries for travelers in Asia. With that said, stuff definitely happens (...tropical storms, road accidents, broken bones, food-borne and tropical illnesses...).
When Lori and I have travel setbacks, it's always a huge relief to have insurance coverage. We've had several positive experiences with World Nomads (see what's covered here) and would certainly recommend them to others .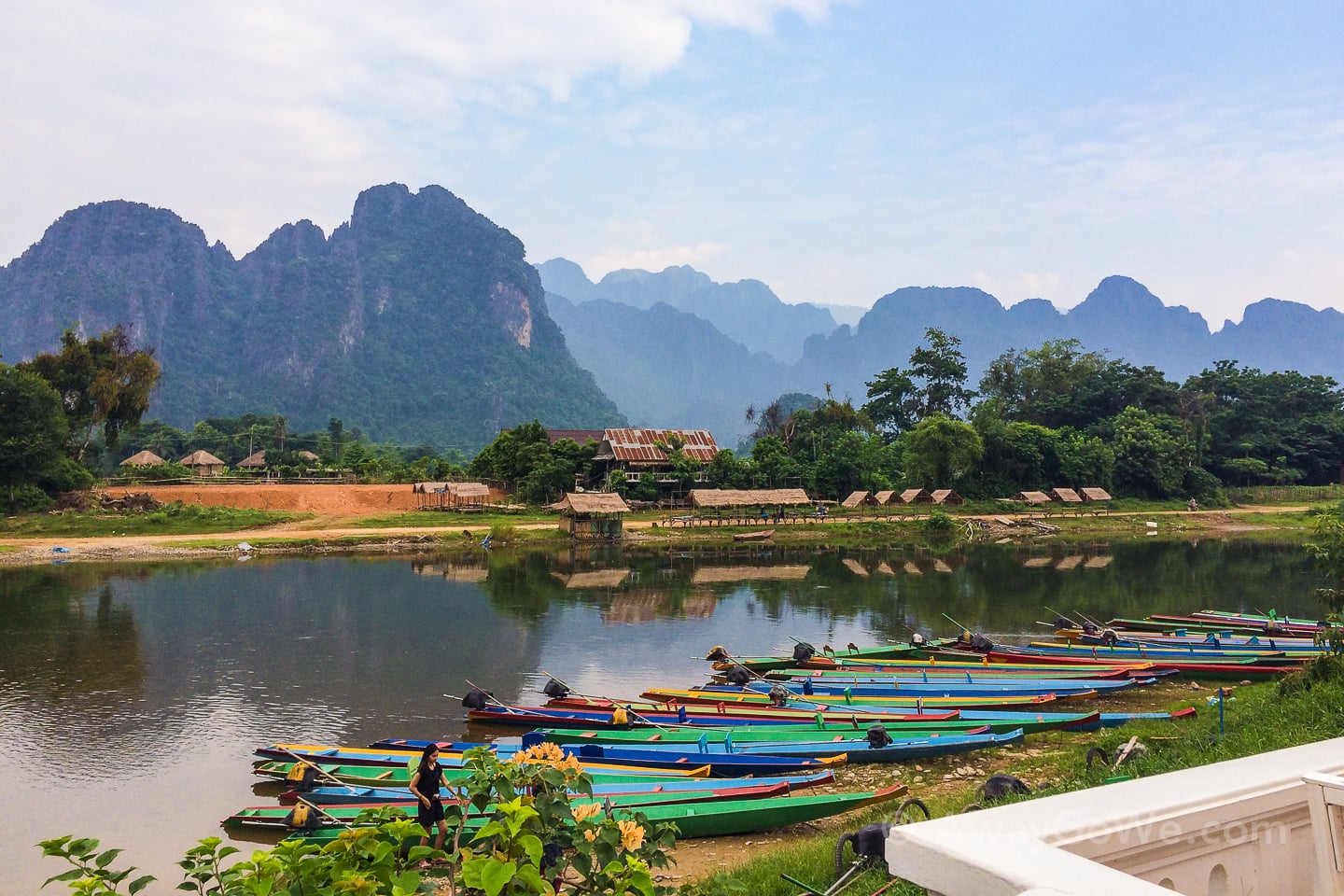 And That's Our Thavonsouk Resort Trip Report
Where's your favorite place to stay in Vang Vieng? Let us know in the comments below.
13 May 2020
27 May 2017
As an Amazon Associate we earn from qualifying purchases. We're also members of other affiliate programs. Learn more in our privacy policy.