21 March 2017
Nine Months!!!
Another eventful month with the Mister in Laos. He's [scarily] becoming more and more human every day, which is both exciting and challenging.
He also seems to have a penchant for catching every common baby ailment before twelve months. We're partly to blame, I guess, letting him play with other babies and be held by a variety of people, exposing him to all sorts of nasty germs, I'm sure. But everything we read and have been told point to a healthier, more robust immune system in the long run. And to be honest, as long as he rolls with mommy and daddy, he's going to need all the help he can get in that department.
Despite being sick with both a low-grade bug and pneumonia, he's the happiest baby we know — which is more important to us.
But that's not to say that he doesn't get fussy at times.
He's going through big developmental changes right now, particularly in the last two weeks. He went through a couple of weeks of mild sleep regression, deciding he no longer wanted to sleep through the night as before. But we stuck to our guns and persistently kept him in his crib (no crawling in with mommy and daddy), and he eventually got back into the swing of things.
It's not that we're against co-sleeping, it's just not for us. And to be honest, we haven't needed it yet. Noe has long been a pretty good sleeper and is about as content in his crib as he is anywhere else. But that doesn't mean that that won't all change on us in the future. One day at a time…
One of the biggest mental changes is that he is much more interested in trying to elicit a reaction out of one of us. He not only engages us, but is now figuring out how he can (or can't) manipulate us. Cause and effect are very interesting to him right now. One of his favorite things to do is sneak over to somewhere he knows he's not supposed to be (like this electrical socket below) and stare at me until he gets a reaction. Now, this one isn't such a big deal, since we've put safety plugs on all our sockets — but he seems to remember before he compelled us to use them (just as he was starting to move around) that that particular object was off limits.
Since this photo was taken a few weeks back, he's learned his lesson and moved on to other things. He rarely goes too far — he mostly wants to get a reaction from one of us. If I don't give him a reaction, he'll move on to something else (like his toy cupboard (below), for which he harbors an intense fascination — for obvious reasons).
He's a sly little booger.
You may remember a few months back that we were having a tough time getting this little guy to eat any solid foods, particularly purees. He would gag, yell, spit it out, throw it — anything to punctuate his displeasure. Everyone we talked to said not to worry and just let him lead the weaning.
Now, the kid eats EVERYTHING. There is nothing that we've introduced in the past few weeks that he doesn't like. Not only does he reliably eat what we give him, but he DEVOURS it — carrot, yam, sweet potato, dragon fruit, banana, mango, papaya, spinach, tiny bread chunks, corn soup, rice porridge. We'll occasionally give him tiny pieces of what we're eating and he loves all of it. It's like night and day from just a month ago.
The change happened pretty suddenly. His teachers at his school were telling us he was getting hungrier and we needed to send more milk. Lori was maxed out in the milk department, so we started sending him with rice cereal that we had occasionally had success with in small quantities. Then, we started adding yam or sweet potato to it. The containers kept coming back empty and his teachers kept saying he eats all of it. Lori and I were both beside ourselves. Could he really be eating all of the food? It doesn't sound like the Noe we know. So, I decided to try feeding him what we had been sending, with more sweet potato than rice cereal — and sure enough, he ate the entire batch and even cried a bit for more when we finished. I immediately texted Lori, "You will never believe this, but…" And the rest is history.
He even takes all of his meds now without protest (he had a cocktail of 2-3 different meds he had to take multiple times a day for his pneumonia bout). When he had his double ear infection about six weeks ago, he hated, hated, HATED medicine time. He doesn't love it now, but when he sees me coming with the syringes, he gets very stoic, opens his mouth and waits patiently as I slowly squeeze each one into his mouth. Then, I wipe his face and tell him that he's a good boy and he goes back to what he was doing.
He's finally starting to outgrow a lot of our favorite outfits that we brought here for him. We've still got a good stockpile for many months to come, but he's gotten a lot more mileage out of many of his outfits than most kids, largely owing to the fact that he's not one of the larger nine-month-olds on the block…well, actually he probably is one of the larger nine-month-olds on our block here in Vientiane.
When he's not feeling well, he lets everyone know.
It's not much fun having a sick baby, but does give us extra snuggle time with him. We're trying to soak it up while we can, knowing that he's not going to be "Baby Noe" for very much longer.
When Lori and I got Noe his first pair of harem pants in a Chiang Mai street market last October, it was hard to believe at the time that he'd grow into them any time soon. Yet, a mere four months later, here we are.
Noe's also discovering new ways to sit around the house. This is one of our favorites. He sat like this for close to a minute, watching me make something with one of his toys.
Sometimes, his toys strike back when he's sleeping…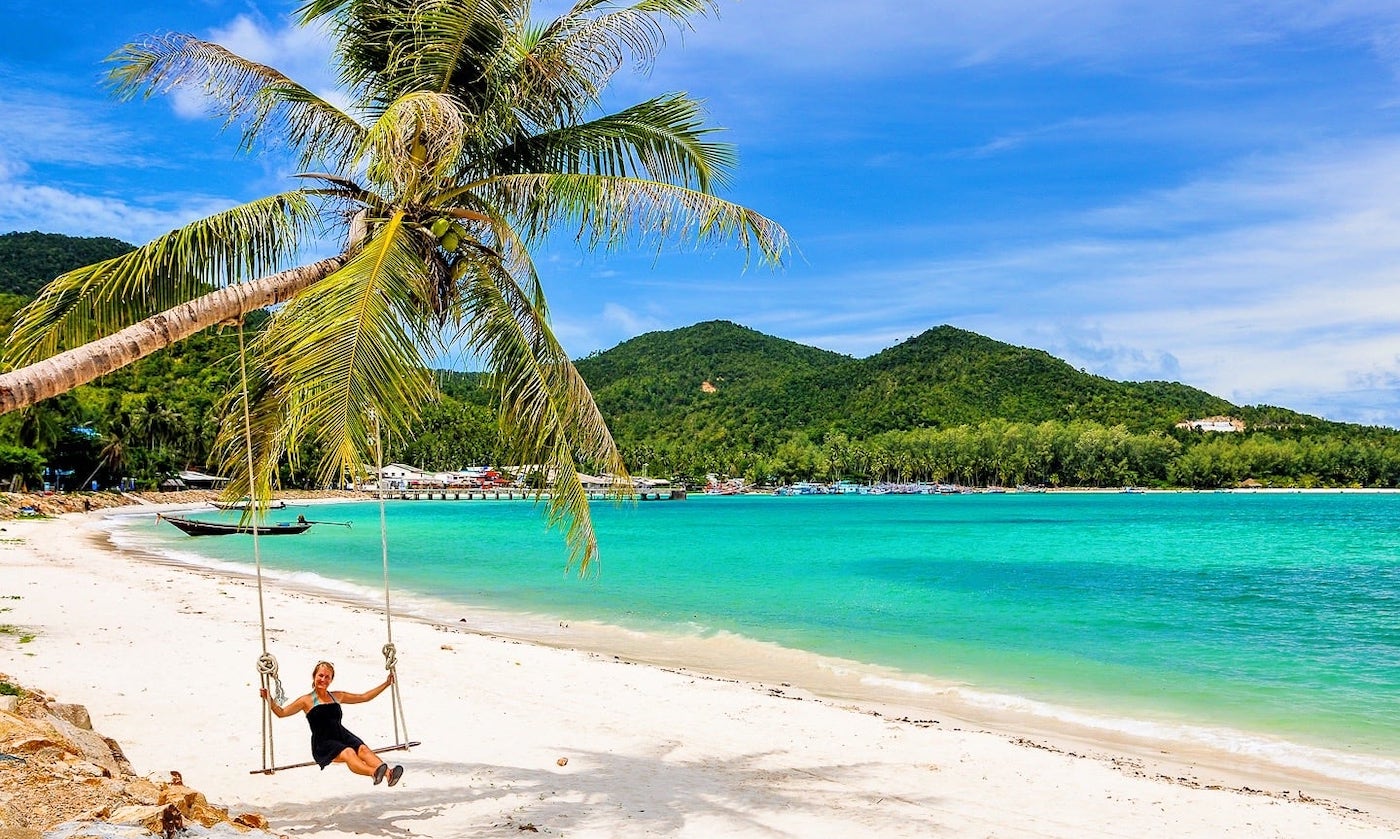 Stuck at home?
Get your free email series now!
5 SECRET BUDGET TRAVEL DESTINATIONS
You'll be amazed how affordable these bucket list destinations are. Plus our best cost-saving tips to help you plan.
For more information on how we use your data, see our privacy policy. Unsubscribe at any time with one click.
This is also something new. He's long had a fascination with his foam tiles, and I've often caught him chewing on the edges. This particular day, however, I look over and discover that he's learned he can pull the entire tile out and chew on it. I told him, "not for babies" and put the tile back in its place. Over the next few days, he would pick an opportune time when I wasn't watching, pull the tile up and start chewing until I noticed, to see what kind of a reaction he would get.
A few days later, he started to pull the tiles up, one by one, and stack them. He got three tiles stacked neatly on top of the other when I caught him in the act. As soon as I said, "Noe!" he stopped in his tracks, and without looking over at me, hurriedly started making some sort of attempt to put the tiles back together like nothing happened.
Noe also had some special visitors this month, our good friends Lee and Jamie, visiting all the way from the Bay Area for a week before heading on to Thailand.
The Mister loves having new people around to play with (and torment), but especially likes it when visitors are here because it means he gets to go all around town — and ride tuk tuks!
Coffee time with Aunt Jamie.
Uncle Lee helped fuel Noe's swamp-cooler/AC addiction.
And of course, Noe loved his beach time…though he seems less enthused about this requisite beach selfie:
As we were slowly making our way north to Vang Vieng for the weekend with Uncle Lee and Aunt Jamie, Noe decided to keep his streak of getting sick every 2-3 weeks alive.
This one was a doozy.
This time, the Mister managed to land himself in a hospital in a neighboring country. In the end, the diagnosis was bacterial pneumonia. Fortunately, it wasn't serious, but a lot of things that typically aren't serious back in the States can quickly become serious here. Noe and I have great health coverage under Lori through her work, and while Laos' medical services trail behind much of the world, there's world-class health care right over the border in Thailand. So off to Thailand it was.
Noe (and mommy and daddy) spent three nights in exciting and captivating Eastern Wattana Hospital, watching Thai nurses in miniskirts faun after the Mister, eating delicious Thai food, and watching the sunset from our romantic hospital balcony. Not the holiday we had imagined for our next trip to Thailand, but a small price to pay for this little dude.