We had something of a "heat wave" this past week. Temperatures soared to the mid to upper 90s (F). Sounds more dramatic than it actually was. When it's regularly hitting the upper 80s over several weeks, a jump to the mid-90s honestly doesn't feel a heck of a lot different, particularly at the height of the dry season. Do you know what does feel a heck of a lot different? When the relative humidity would shoot from 40% up to 90% in a matter of hours, regardless of temp, as we experienced this last September.
Nonetheless, we haven't had to subject our bodies to sub-55-degree temps since April, so our "summer" continues. You certainly won't hear Lori and I complaining. We like it hot. And Noe…well, Noe's life has essentially been one endless summer. Lucky kid.
We've had an interesting past couple of weeks due to this crazy thing hanging off a utility pole across the street from our house. Loudspeakers like these are a common sight throughout Laos. We've often wondered if they still work, and if so, what they're used for. Speakers like these in a country like Laos conjure up vintage newsreel of tinny propaganda flowing uninterrupted to anyone in earshot. We hadn't heard anything coming out of this one since moving into our house in late October. And then, one morning, that old loudspeaker across the street suddenly came to life. At 5:00am. On a Saturday morning, nonetheless. And it didn't shut off for several hours.
It began with a friendly-sounding announcement before sunrise, followed by a [too cheery and patriotic for 5am] ditty that parlayed into the constant droning of a khen (bamboo mouth organ that Lori and I generally enjoy listening to…in small quantities) that went on for several hours.
The following Saturday, the loudspeaker again screamed to life — thankfully this time not at 5am, but at 8am. However, this time, the broadcast went not for hours, but for DAYS (through the rest of Saturday, and over the entire course of Sunday). What could the powers that be possibly have broadcast for that length of time? Monk chanting from the temple down the street — and very animated monk chanting at that, punctuated with what we can only describe as some other monk in the room occasionally (and sometimes terrifyingly) catching the Spirit. Lori called the whole ongoing affair a Buddhist filibuster, which I thought was not only clever, but described it to a T. I think Buddhist filibuster at a Pentecostal church hits the nail right on the head. 48 hours of this. Needless to say, we did not spend much time at home this past weekend.
So what was the occasion? Well, the first Saturday (i.e. the 5am wake-up) was Magha Puja, of course! Apparently, Magha Puja is celebrated by Theravada Buddhists across Laos, Cambodia and Thailand, and is observed on the first full moon after Lunar New Year. On this day, the spiritual goal is not to commit sins, but rather to only to do good and purify the spirit of the self. People wake early (hence the early morning wakeup call) to offer alms (tak bat) to the monks. We saw many people doing community service projects around town in the morning. In the evening, it's customary to visit the local temple. Of course, I didn't know any of this when I was awakened at 5am. I got up to use the bathroom and was amazed to see an eclipsed moon staring at me, with the announcement and the music playing. Before I could question what I may have had eaten or drank the previous night, I had fallen back asleep. It wasn't until later that morning that Lori and I figured out the Buddhist significance.
The second Saturday ended up being some other significant day for Lao Buddhists of which details are still fairly sketchy. We're just happy that the chanting did eventually stop and the speaker has been silent for nearly a week. For how much longer, we can only guess…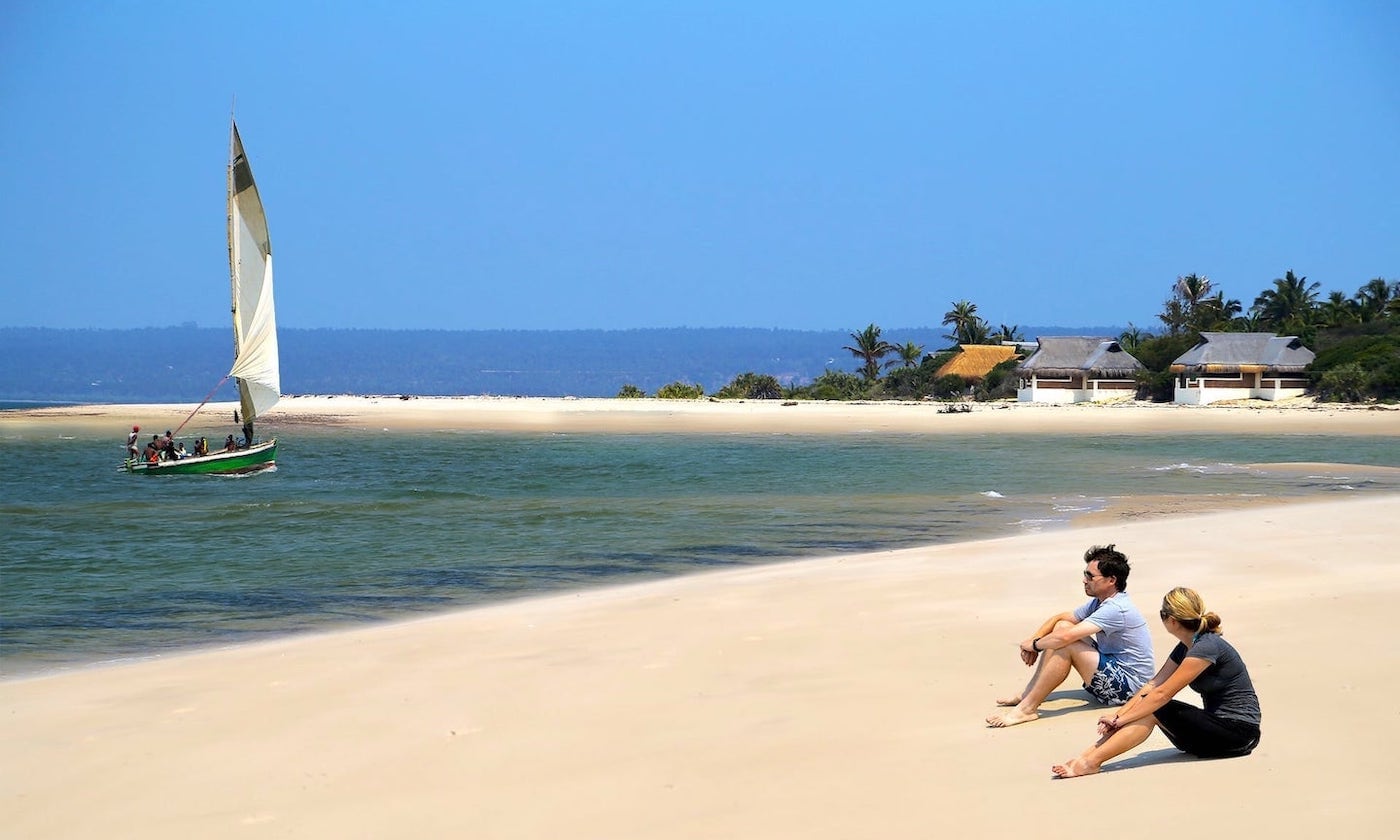 Get Informed. Get Inspired. Get Going.
Get our best travel tips and latest updates in your inbox. And get going!
For more information on how we use your data, see our privacy policy. Unsubscribe at any time with one click.
After dropping off our friend Amber at the airport, we decided we wanted to take advantage of the gorgeous day it was shaping up to be. We wanted to try something new, preferably near the river. We haven't explored Sisattanak District as much as we'd like — well, farther south into the district (technically we live in Sisattanak, but barely). We found ourselves pretty far south already, picking up a couple of second-hand items for Noe from an expat who's leaving town. I scanned the river bank on Google Maps' satellite view for anything the looked like a walkable path and spotted an area with potential. We parked the pickup, found a path, and kept walking.
We lucked out, as it ended up being a really nice and relaxing path (dirt road, very few cars) right along the river. On one side, nice, older houses with well established yards. On the other, the Mekong. The path was surprisingly shaded most of the way. There are few services along the path, but there are a couple local restaurants and bars.
We ended up at a cafe that Lori had heard of and been wanting to try. It had a nice kids play area and Noe got to try out some baby gear he doesn't have at home, so everyone was happy. We even ran into a woman and her young daughter who we've run into in Luang Prabang and Nam Ngum. We stayed at the same guesthouse on the Nam Ngum and Noe and the couples' daughter became fast friends. Turns out she lives nearby and comes here regularly. We're excited to bring Noe on a more regular basis when he starts running around — not too far off at this point, it seems.
Between our two loudspeaker Saturdays, Noe came down with a double ear infection — the runny nose and congestion he had been having finally got the better of him. The loudspeaker monk-chanting Saturday morning, combined with a severe bout of cabin fever from a week caring for a sick infant, didn't make sticking around home very appealing. By mid-afternoon, we were downtown and drinking.
After a couple of other stops, we ended up at a mini-mart buying a couple of beverages, and then…the beach!
And, just in time for sunset!
I, with my tallboy of BeerLao, and ma, with her juice. At least one of us was still trying to kick a cold.
I mentioned in the last post that it would not be possible to stand at this very spot at the height of the rainy season. Google Maps drives this point home quite well, if you ask me.
Chillin' at an Indian restaurant. Can't you tell?
"K" stands for "Korean," if you were wondering.
We've been curious about the mysterious ASEAN Mall not too far down the street from us. We've visited the popular and well-known ITECC Mall (about a five minute walk from our house) many times over the last few months, but ASEAN Mall, a bit farther up the T-4 remained a mystery…until Sunday.
Visiting the mall left us with more questions than answers. It's quite a large complex and obviously fairly new, but mostly empty — not like new-and-waiting-for-merchants empty, but boom-and-bust empty. There was one small supermarket with some interesting offerings and a high-end purse shop, but not much else. It does appear, however, that the large and eerily cavernous space is still used as a wedding venue. There are already so many "malls" in Ventiane that few people actually shop at (the more affluent Laotians for which these are geared all seem to just drive across the border to Thailand) it's a wonder why they're even built in the first place. Who's doing these developers' market research?
Sunday afternoon, we stumbled upon some place very special – the Little House Cafe. Well, it's hard to just "stumble upon this place. It's down a back alley and not signed terribly well. Again, Lori had heard of this place and thought we should check it out. What would I do without her! First off, their chocolate truffles are amazing. Second, they serve DOUBLE strength iced coffee, which is crazy good if like cold, strong-yet-flavorful, iced coffee.
Finally, one evening this week (after the heat of the day of our "heat wave") we thought we'd give a place we had shunned for the past two months a second try. We first visited this local restaurant/bar around Christmastime. We were excited for the location (it's a short walk away from the house) and the expansive deck looking out over a peaceful landscape. But we almost didn't make it 30 seconds. The music was so loud initially that Noe unbuckled himself from the carseat, hopped out and left the building. Okay, maybe not that loud, but you get the point. We did manage to find a corner behind one of the speakers where we felt it was safe for all six of our eardrums, but the thought of returning hadn't really appealed to us…until last week.
The music was still loud, but manageable. Lori and I could have a conversation, and Noe could sit safely, admiring the view and chewing on whatever is put in front of him — just like it should be.