Champa Garden Restaurant has been on our list for a long time, but with a little one (and now two) it's often hard to justify a 10 km trip to try a new restaurant. Champa, however, isn't just a restaurant. It's an experience! And we are so glad we made the effort to visit.
Champa Garden Restaurant, Vientiane
Yeah, it's a six mile (eghem…20-30 minute) drive from the city center, straight up Lane Xang / Kaysone Phomvihane (also marked as Road 13 South, which incidentally runs northeast, but we'll save that for a whole other discussion). A visit to Champa Garden Restaurant can easily be combined with a Rimping run, if you're in need of some high-priced international goods from everyone's favorite Thai supermarket chain in Laos.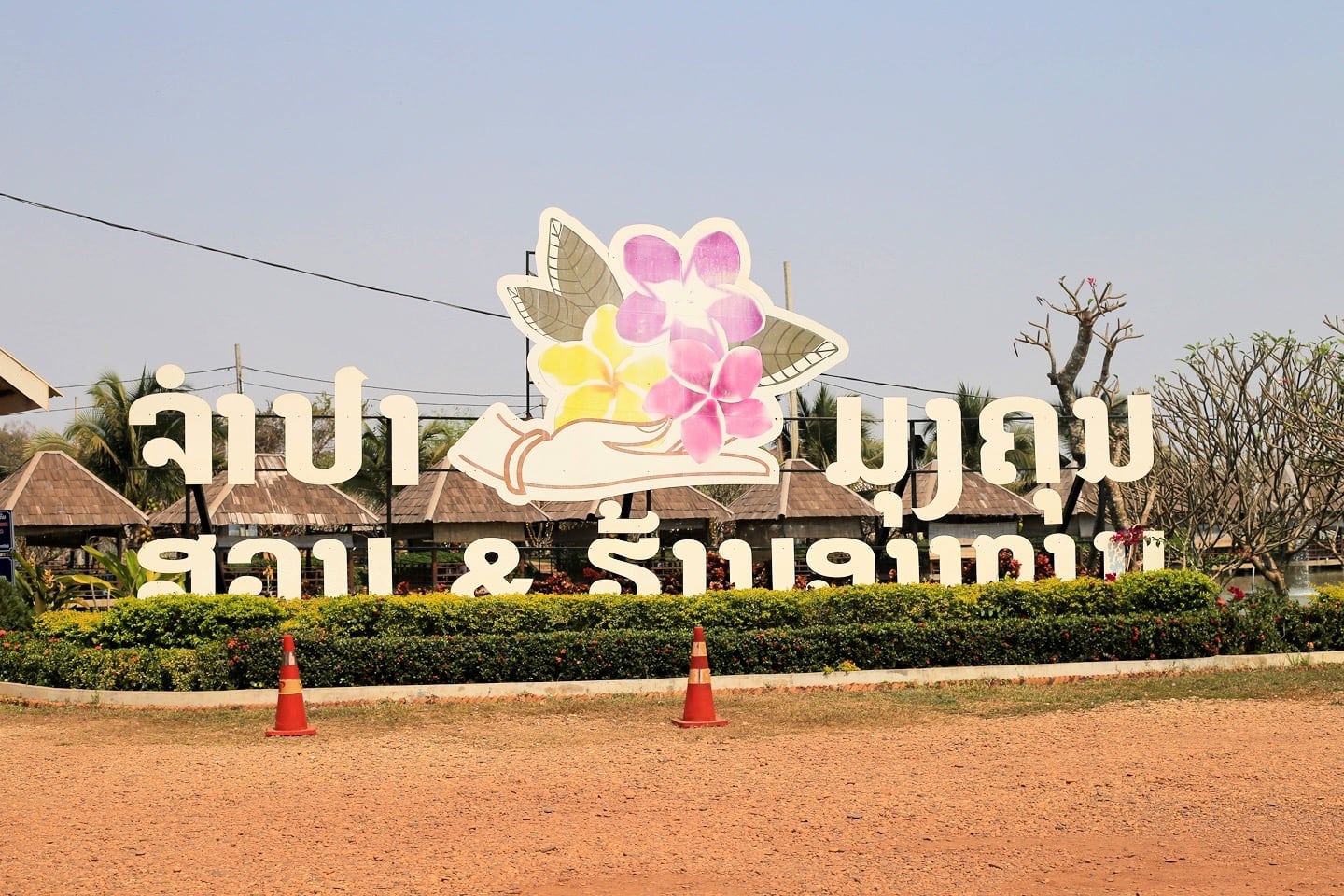 Per the usual, we weren't sure to expect with Champa, even in this age of social media and online snapshots. The Champa Garden property is not easily captured or conveyed in photographs, but we're going to give it our best shot.
Even from the parking lot, it's not clear what we're in for — another local food hut place on a manmade lake? Or something more?
Planning a Trip to Vientiane?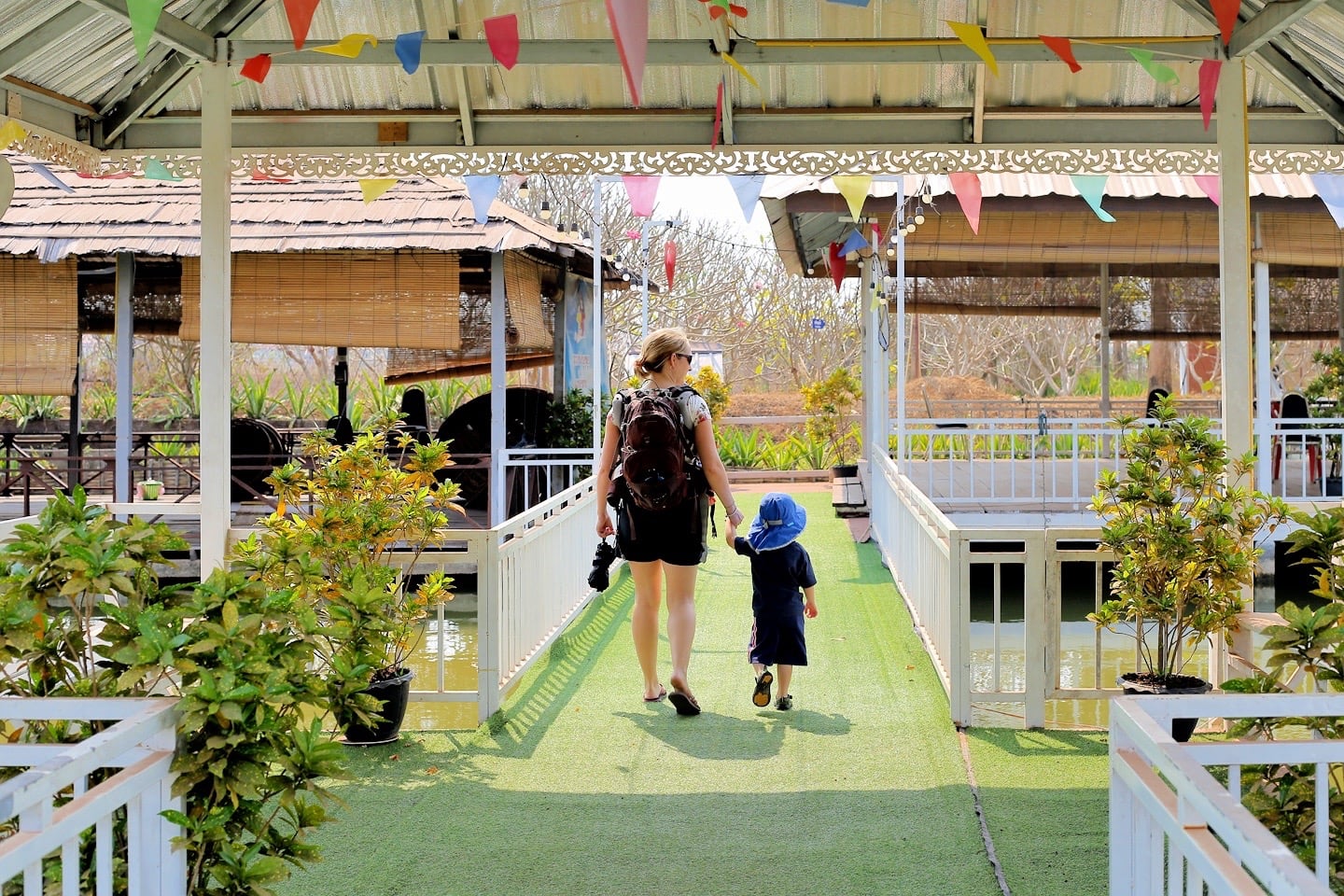 The main objective of our visit is an early lunch (early because it gets hot at lunch time, and we need to get Little Mister Sunshine back for his afternoon nap, lest he turn into a pumpkin). It's evident that even on this ideal February Sunday, we've got our pick of huts to choose from, with just a handful of families occupying a few dozen stilted huts. Which one shall it be? I'm really feelin' the one with the rattan shade and the brown railing, how about you?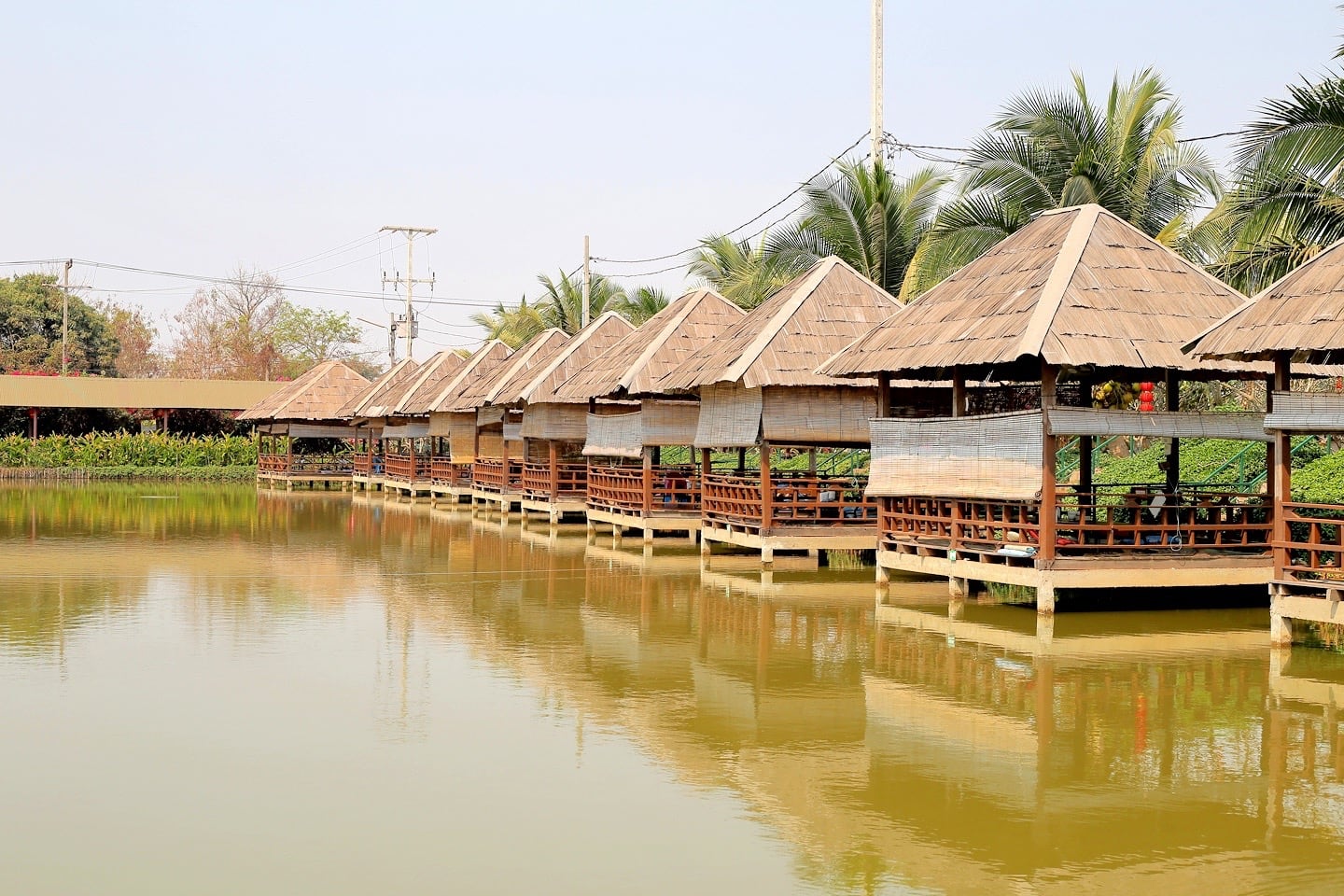 While there are quite a few properties in and around Vientiane offering stilted dining on a pond, Champa is certainly one of the nicest ones we've seen so far. And really, the dining huts (and food) are reason to visit by themselves. But Champa Garden Restaurant isn't called Champa Garden Restaurant for nothing. It's also home to Vientiane's (and possibly Laos') largest Champa garden! For a small fee the caretaker will open the gate for you to enjoy this vast and fantastical world of champa flowers!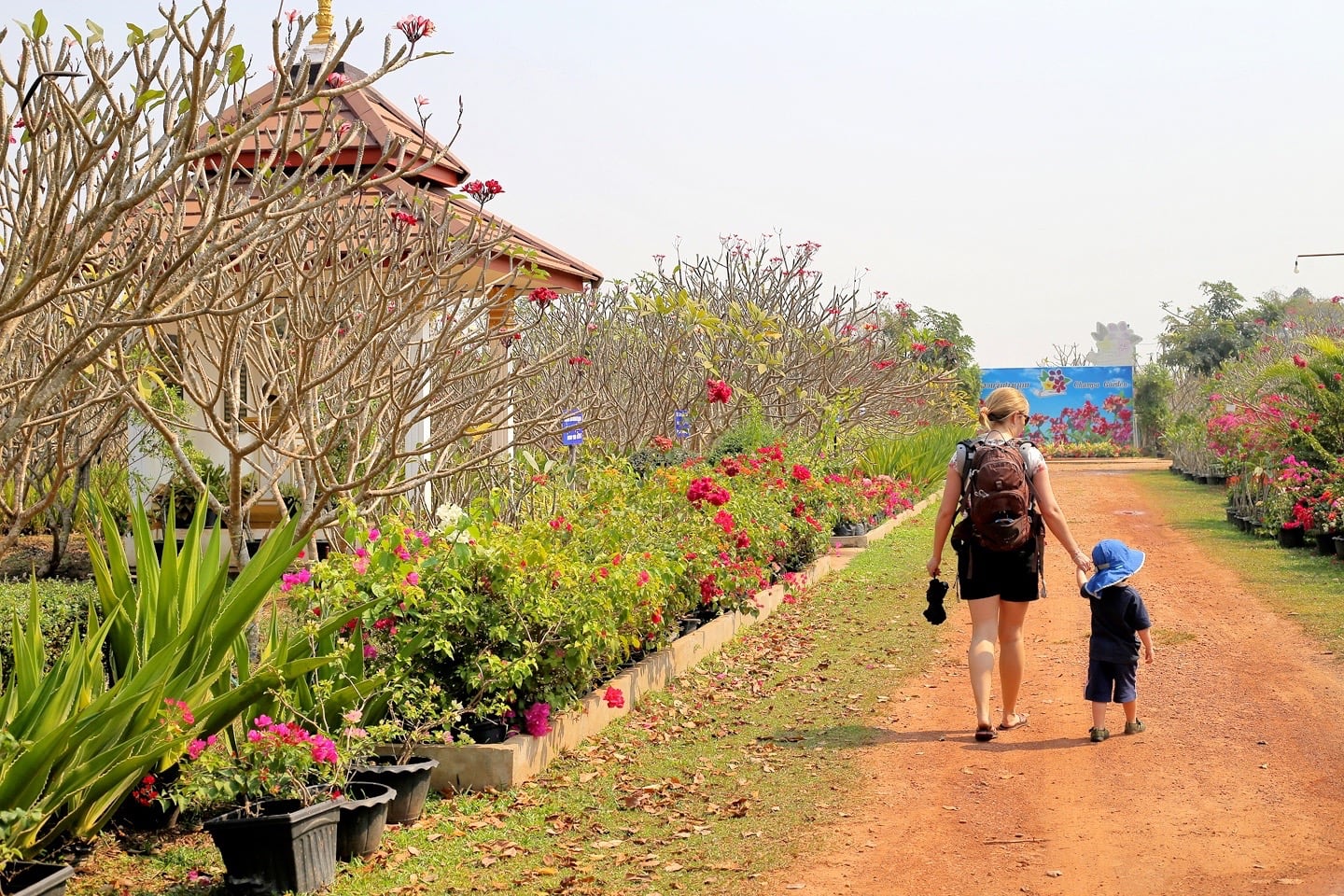 So, what is a Champa, you ask? Here you go…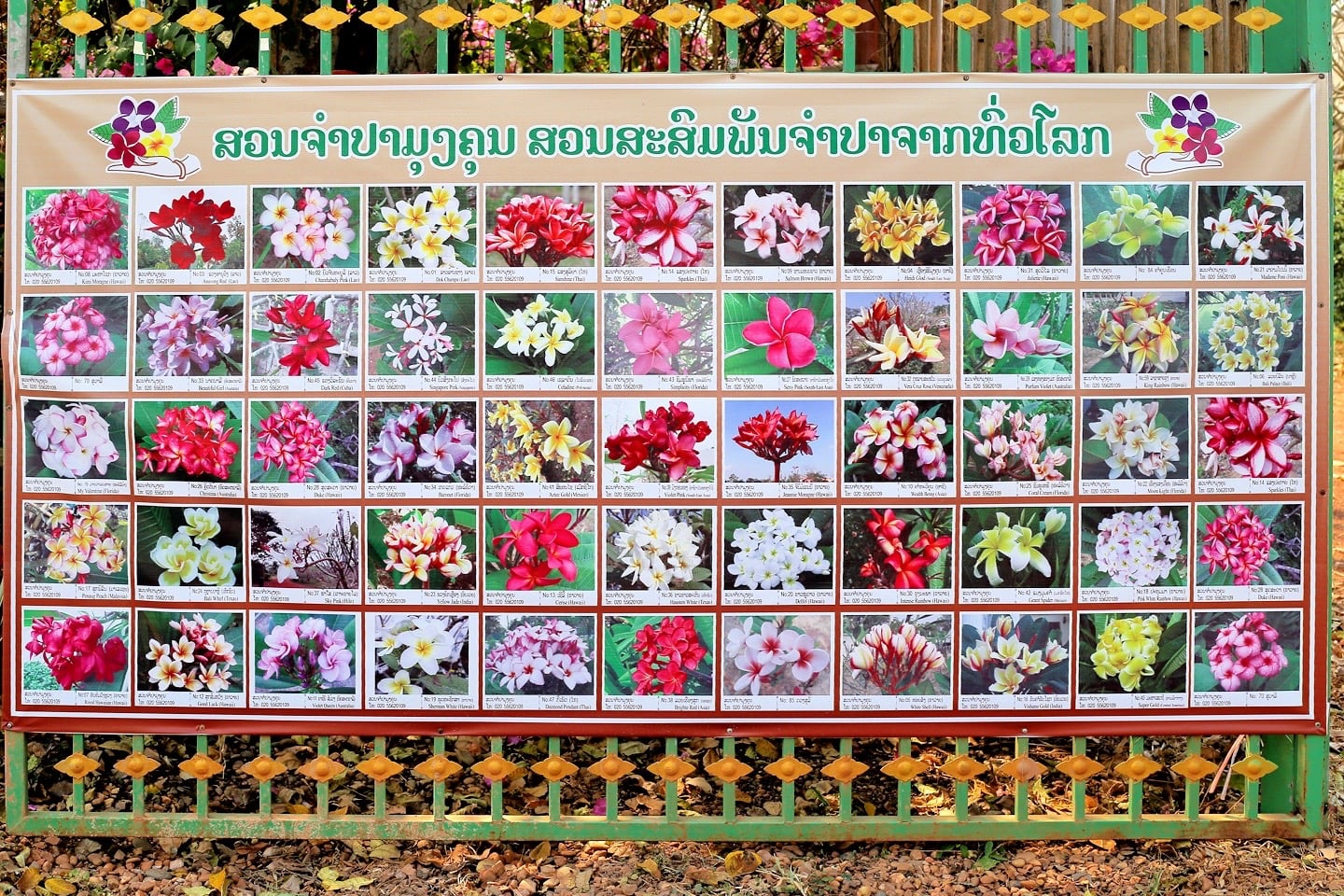 Still confused? It's essentially a Lao Plumeria. Champa is the national flower of Laos and featured on nearly everything Lao and Laotian, including the tails of Lao Airlines aircraft.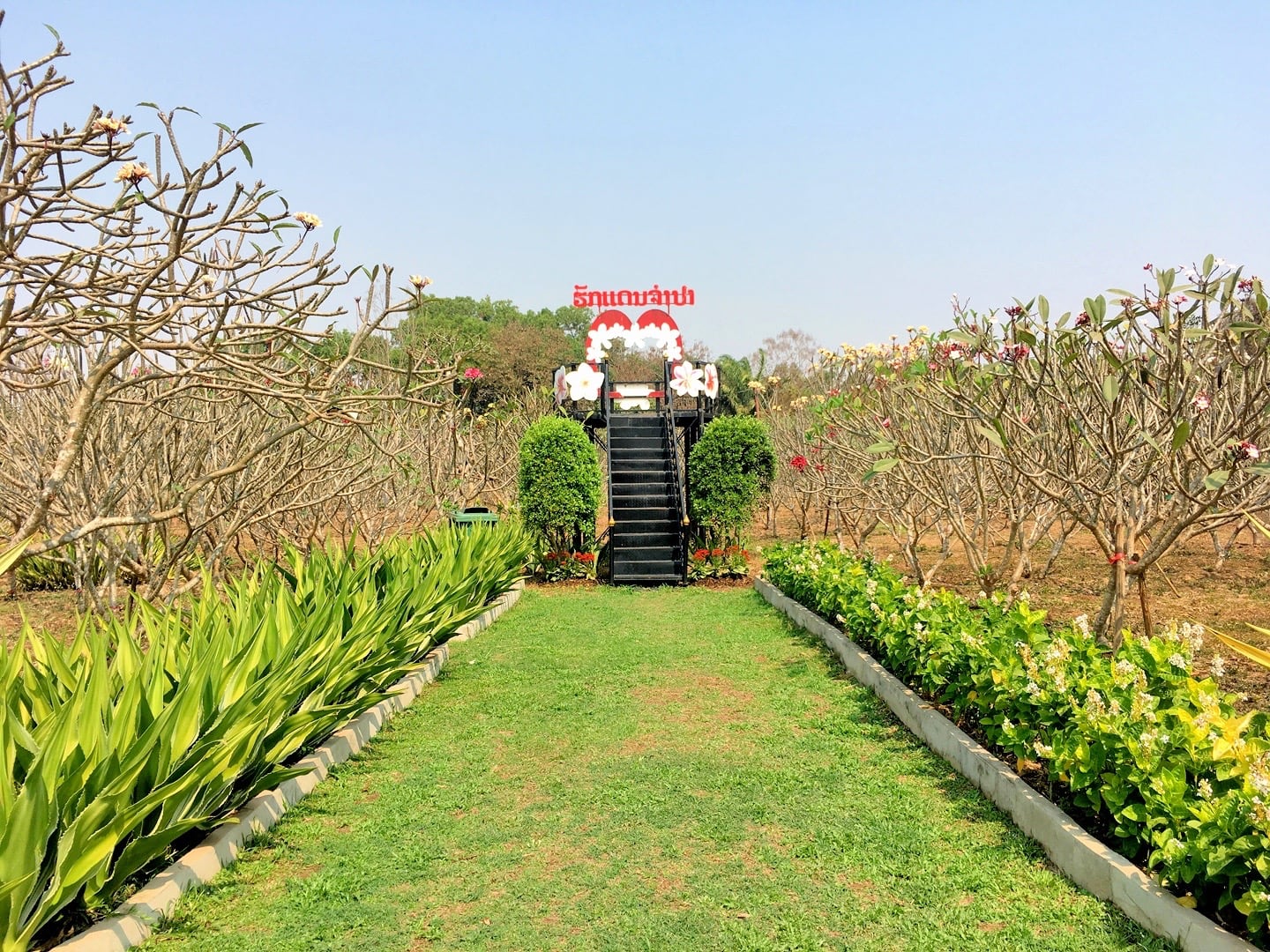 As you may have noticed, it's not exactly peak season for the Champa. But the garden was still worth a visit, and a great place for Noe to shake some sillies out.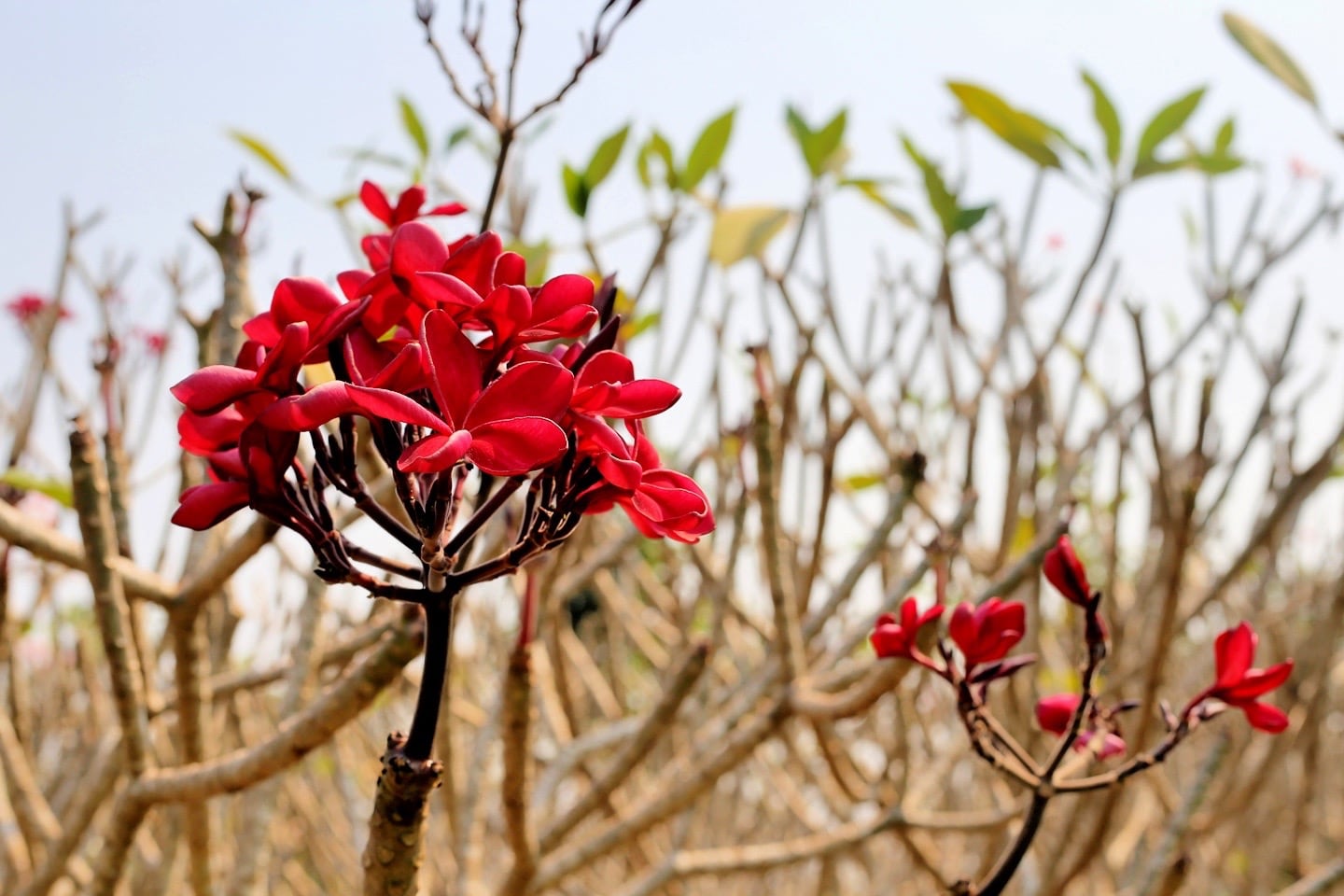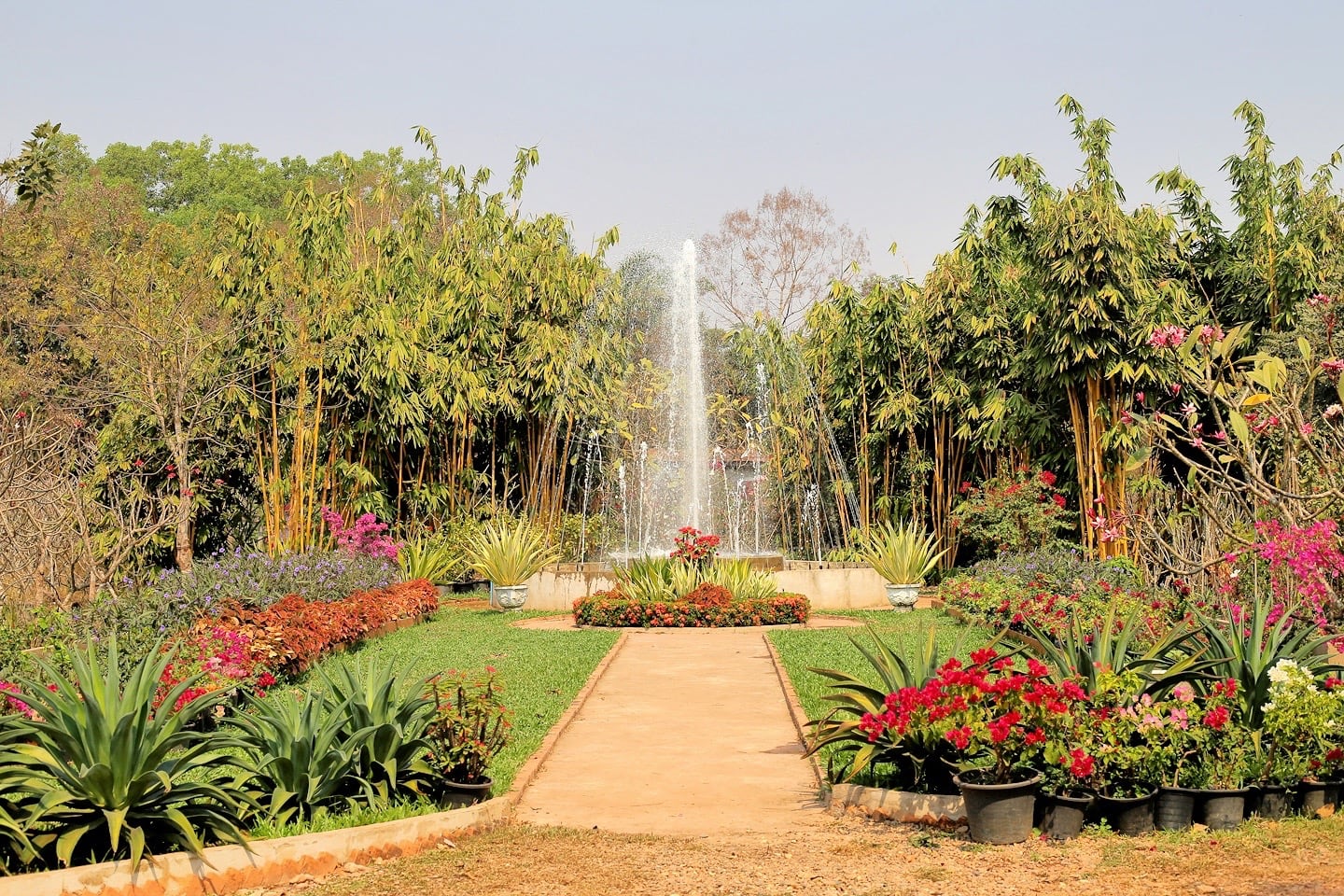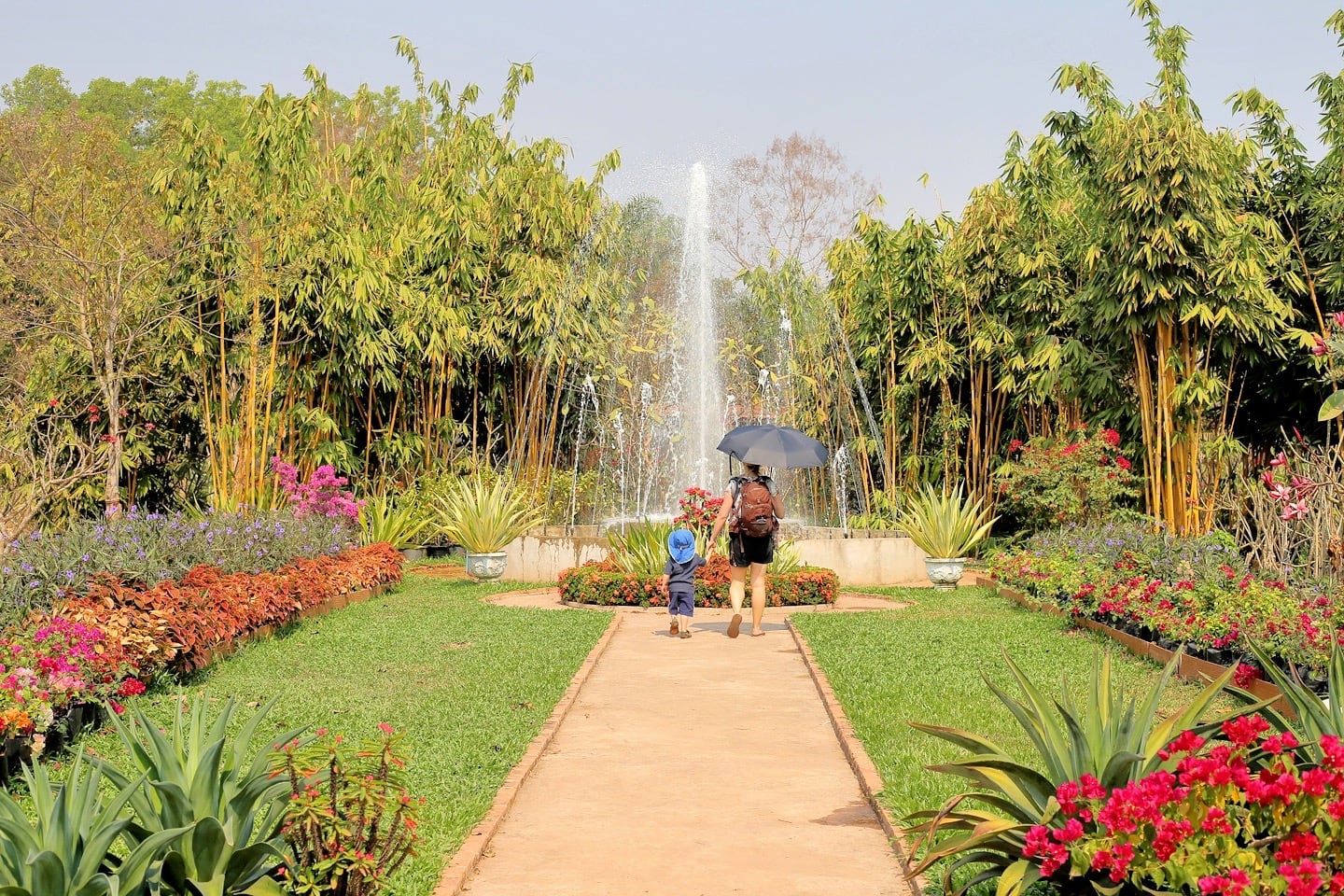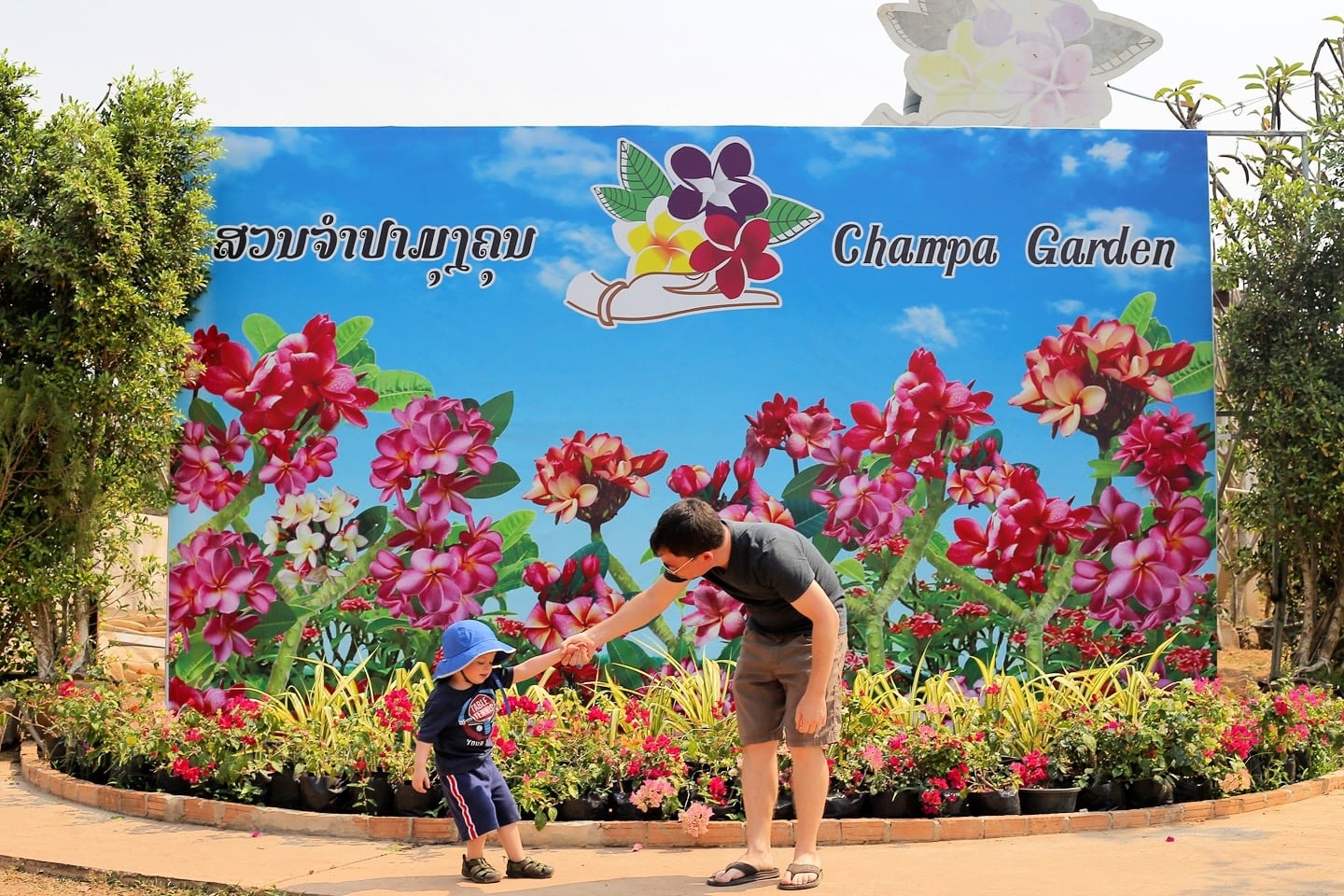 I thought it would be nice to have a picture with my son. Noe thought it would be nice to be a toddler instead.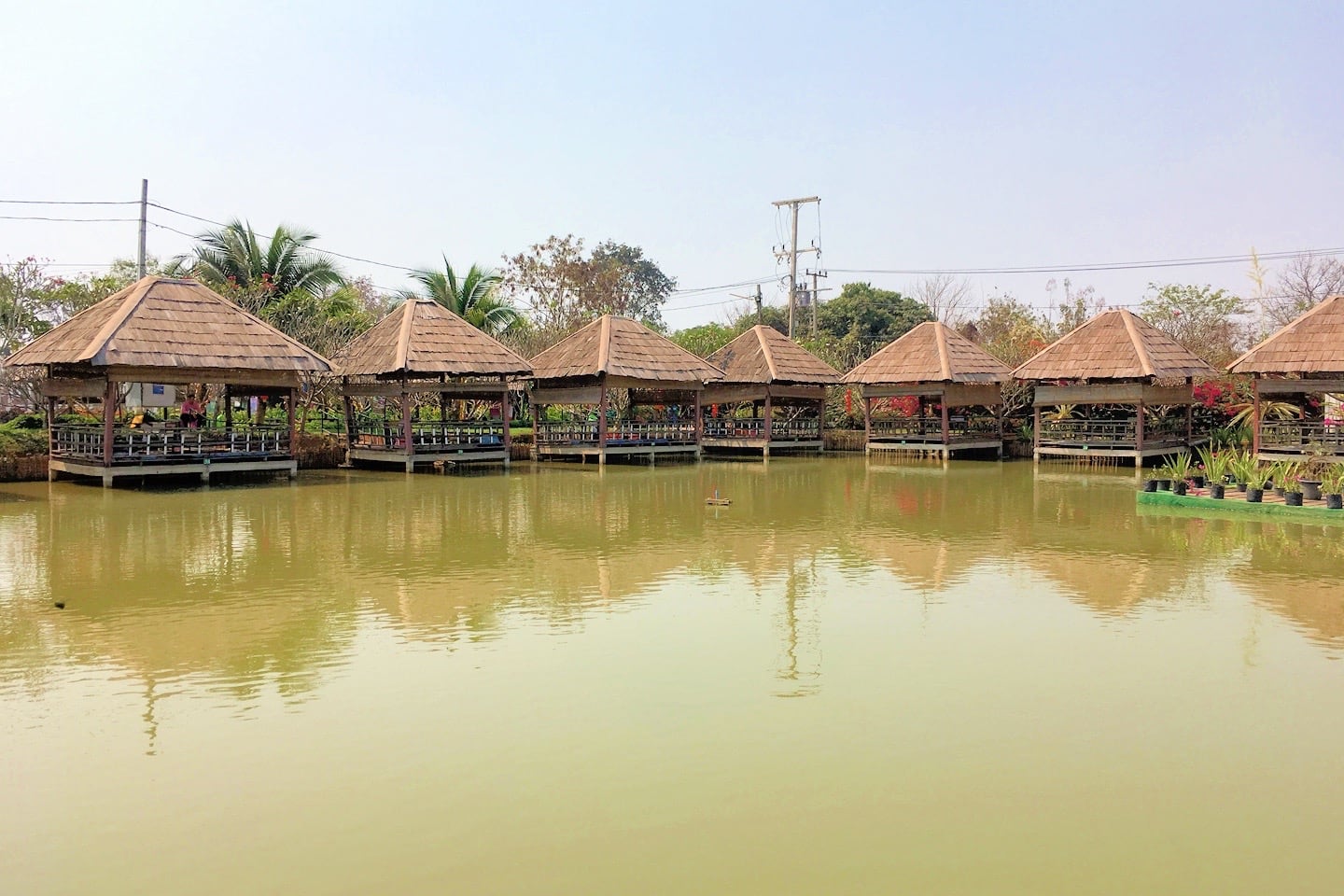 Alright, it's time to get down to business. And the winner is…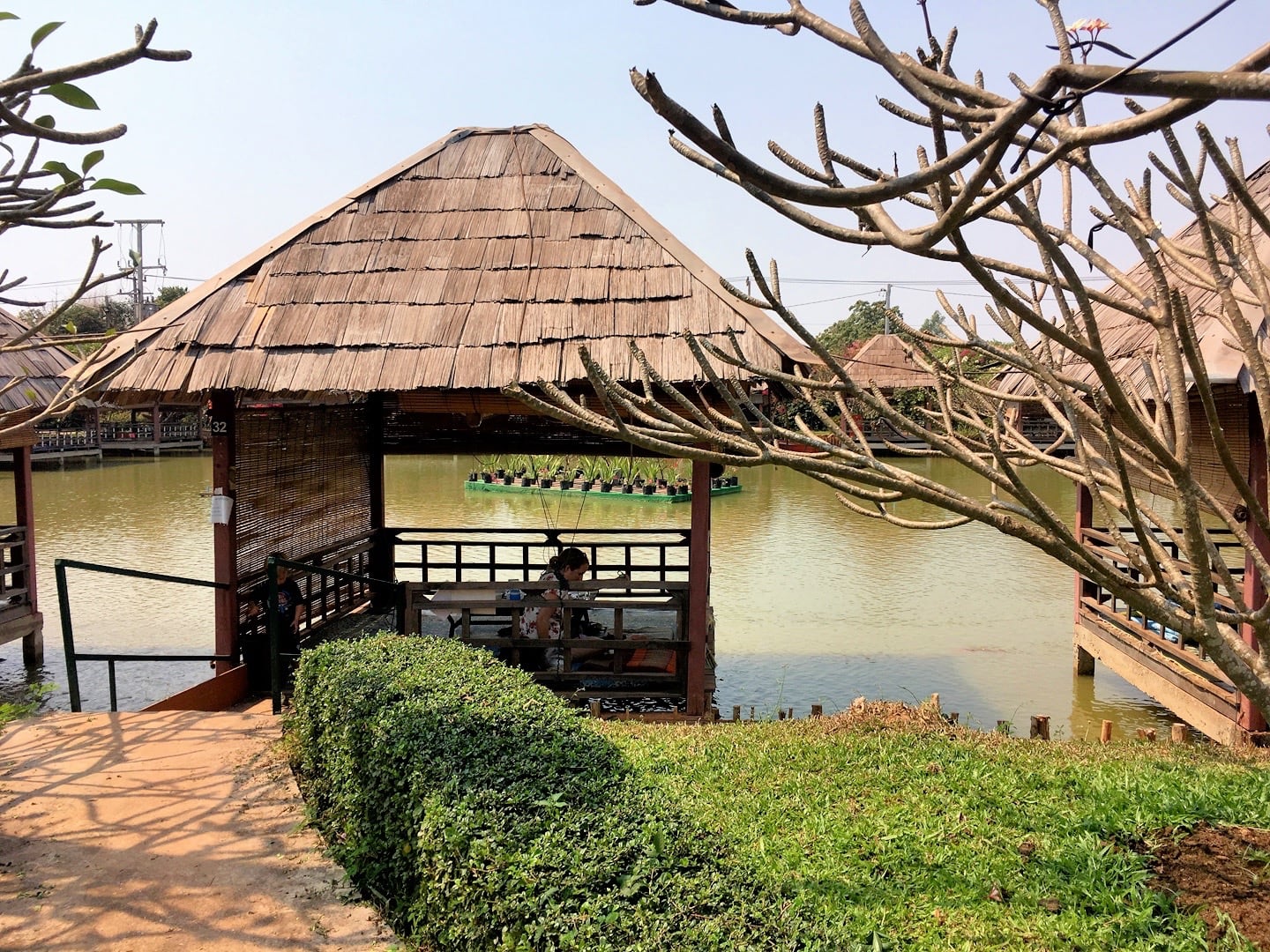 This hut! I don't know, there was just something special about this one — and by "special" I mean that it's the closest hut to the restrooms, of course.
For another small fee, you can get a bag of pellets to feed the fish. And by bag, I mean like a pound of these things. At first, we thought it was going to be impossible to get rid of them all in the short time we were here. Oh no, these fish were voracious.
Find Tours & Things To Do in Vientiane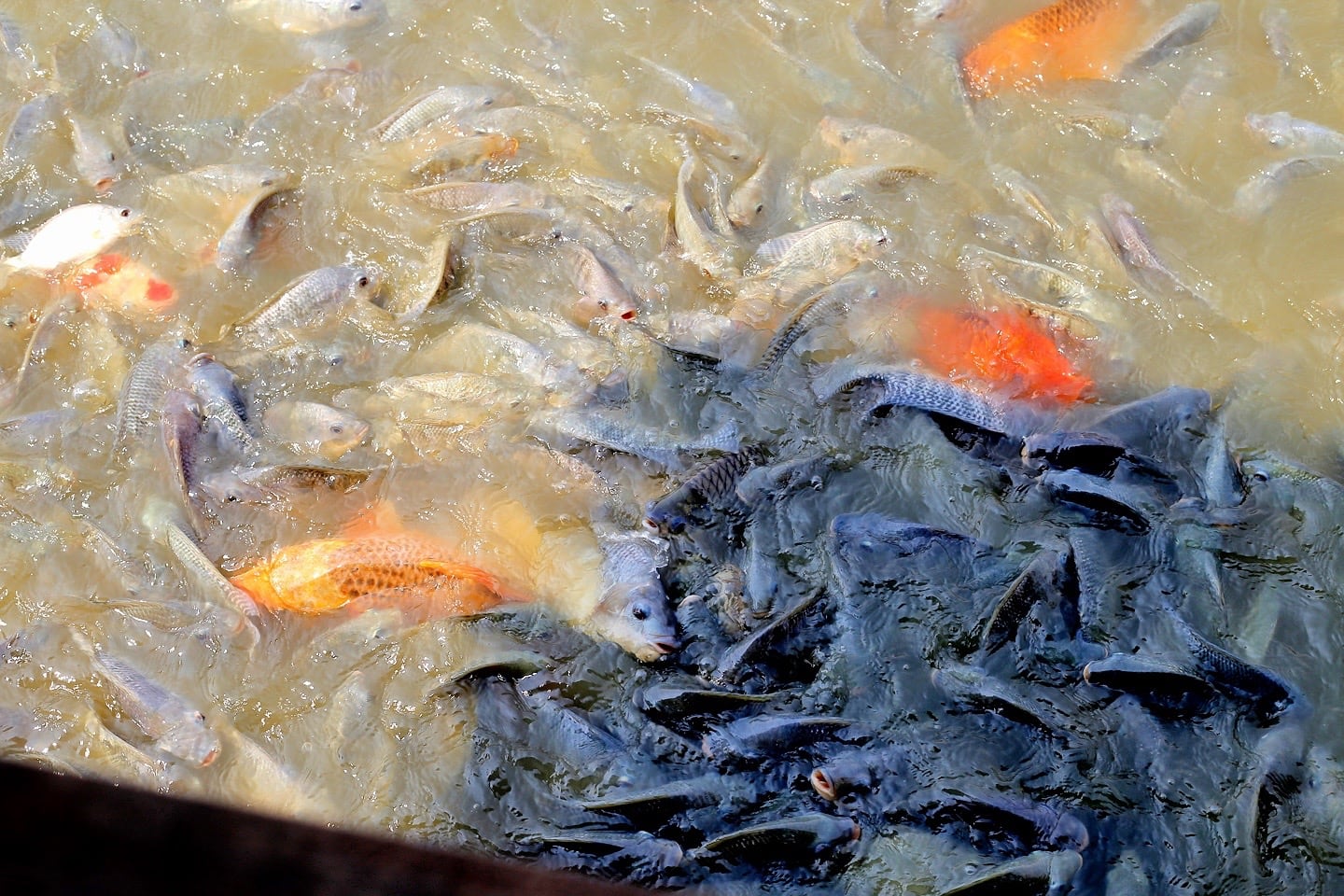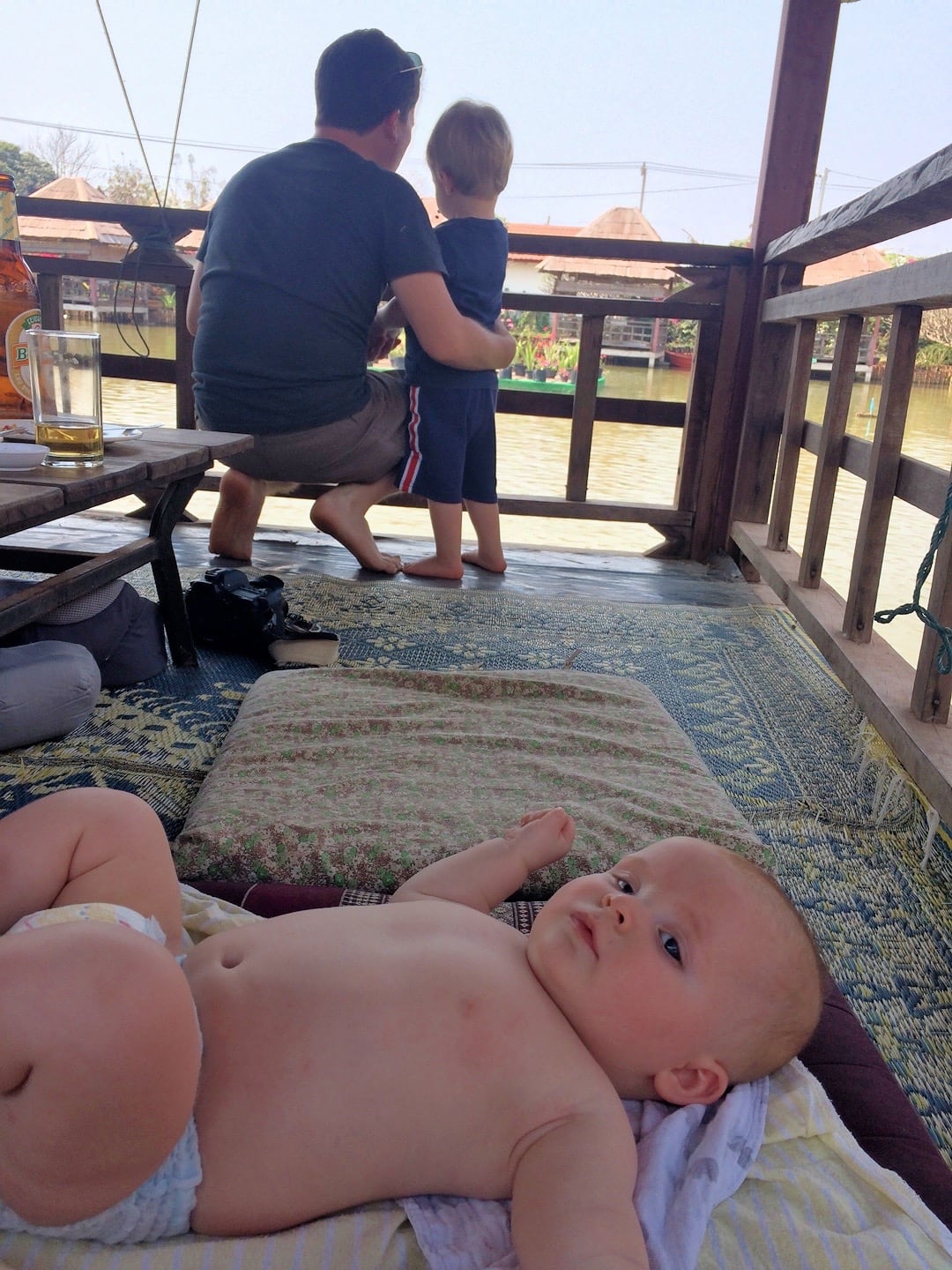 But, what about Riley? Riley's doing what Riley likes to do best: Chill. Seriously, this guy is happiest when I put him in his rocker near and open door and play some tunes. He'll zone for like 30 minutes without so much as a peep, slowly rocking his chair with the beat. He does, however, like variety in his chill spaces, and today, he's definitely getting that.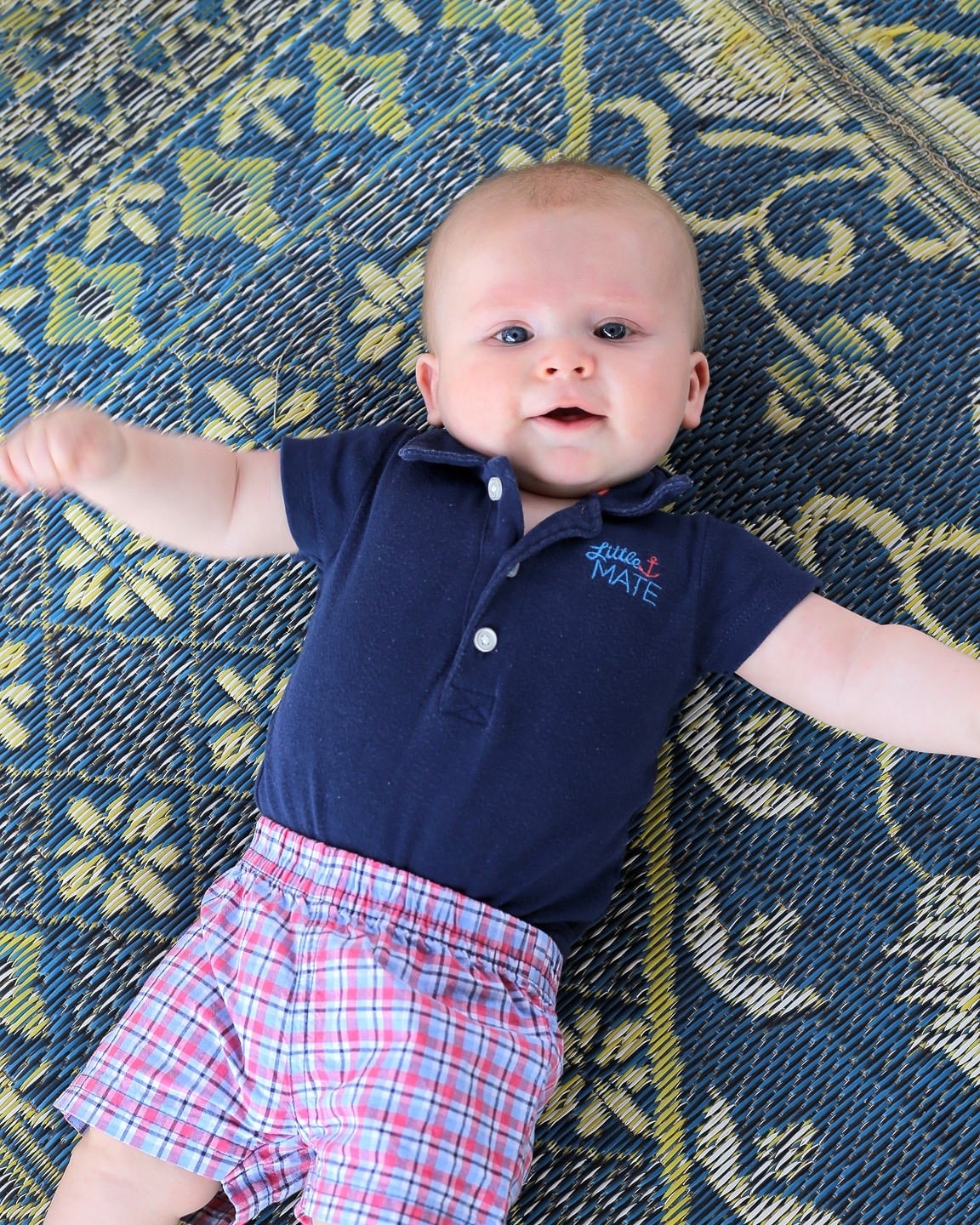 Lori put Riley in this outfit today because he's going to be outgrowing it soon and we wanted to snap a few pictures before he does.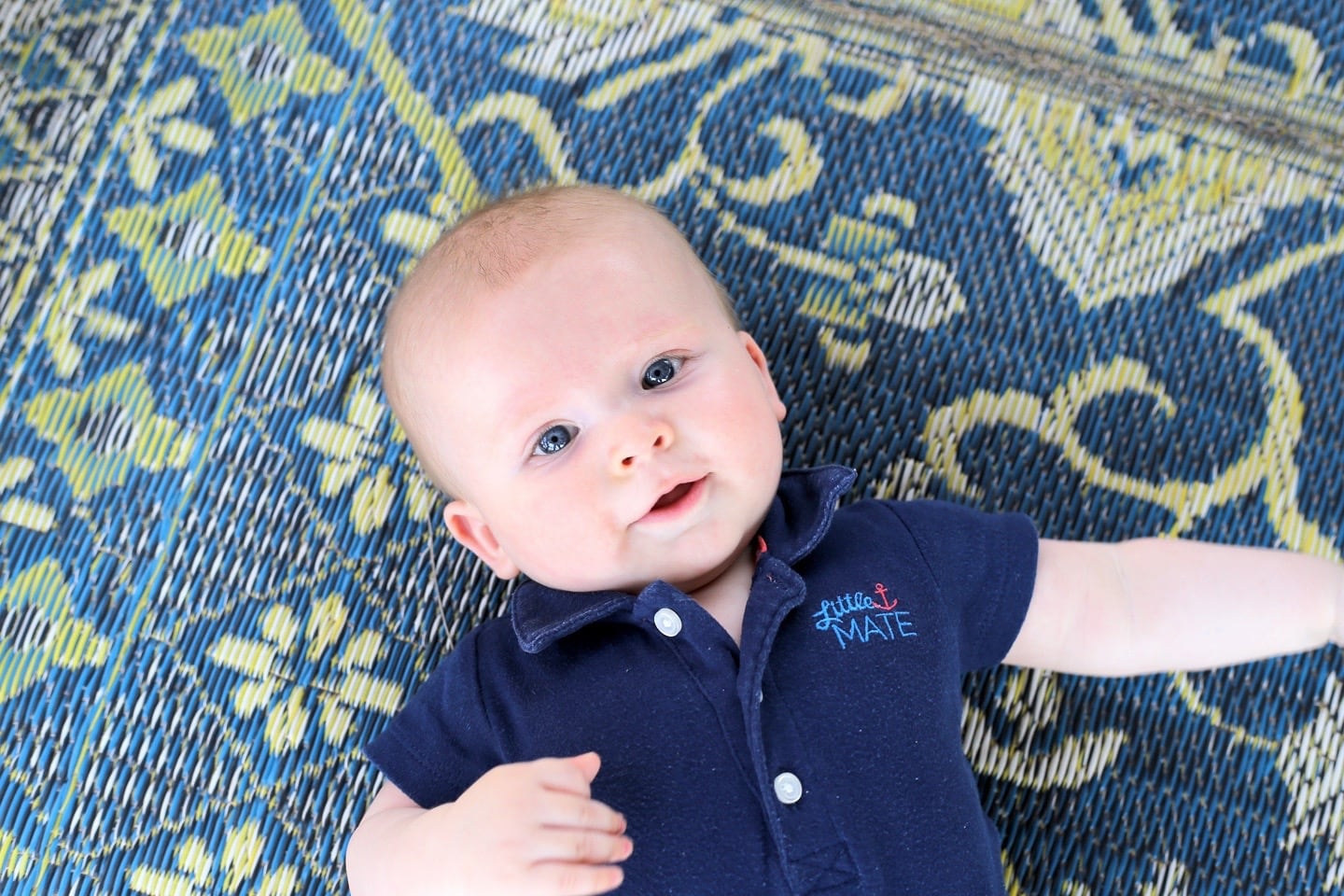 The outfit is significant because we took Noe's four-month pictures wearing it at Buddha Park. Noe was practically swimming in the outfit, while Riley's busting out of it at the same age.
Here's Noe, at the same age: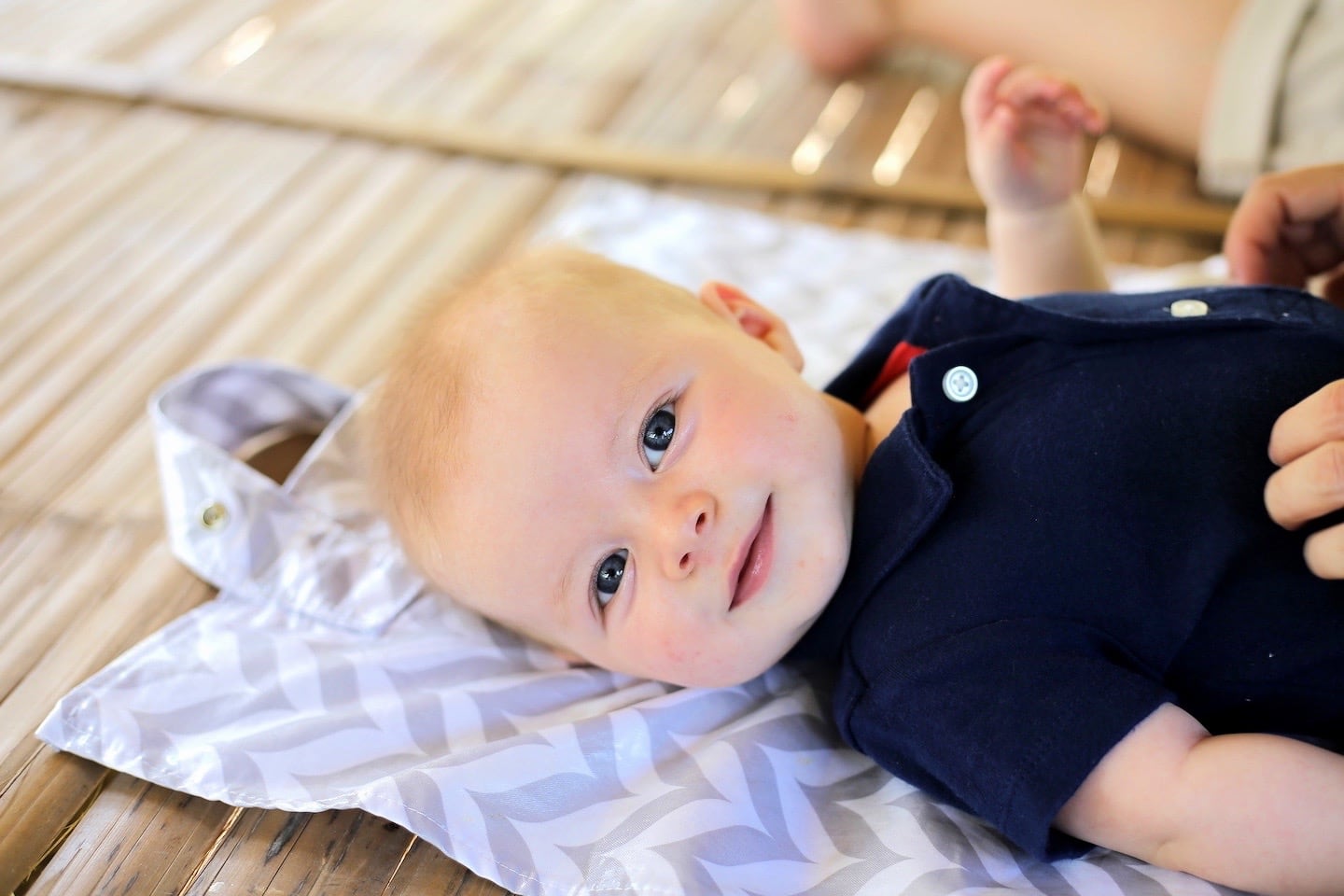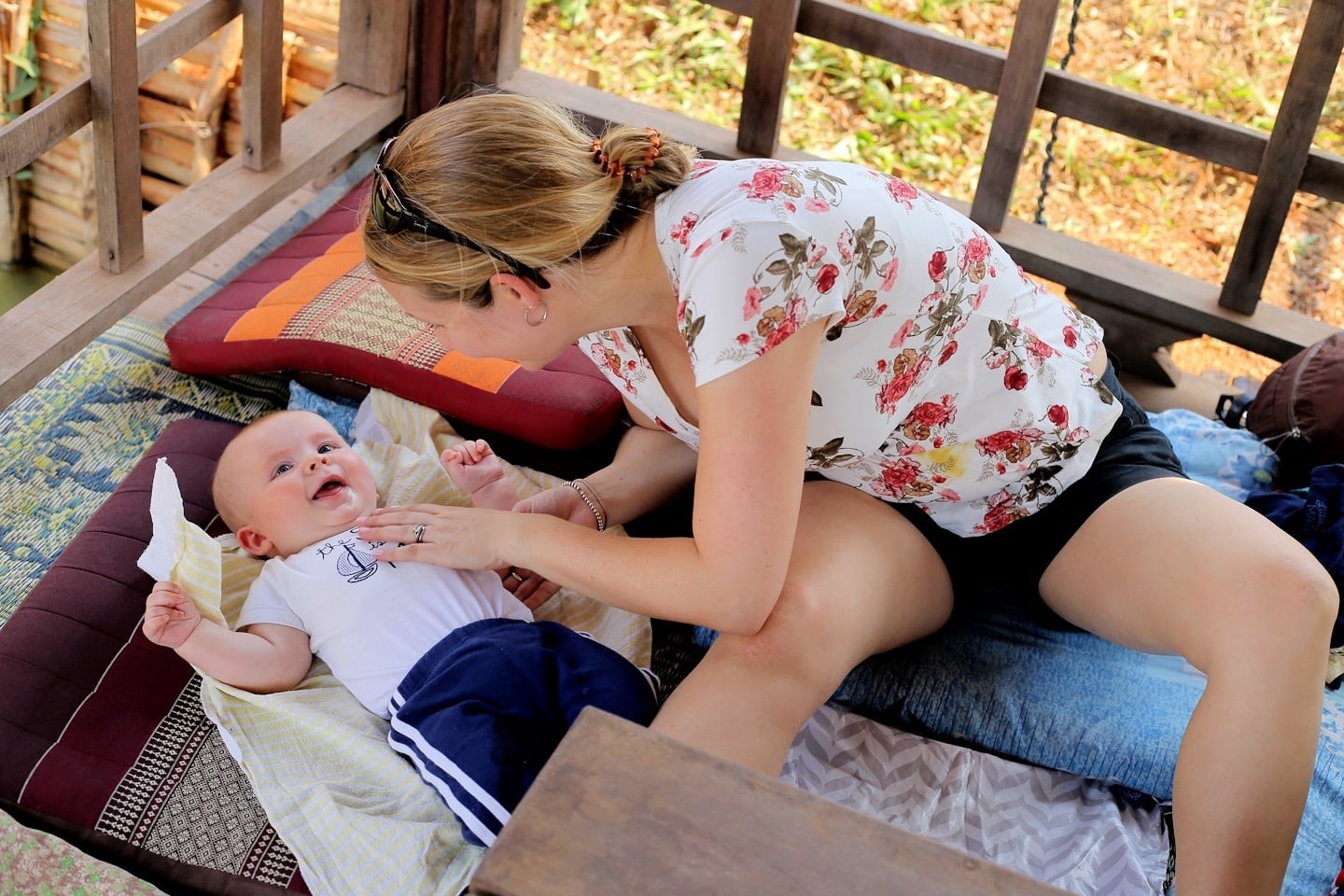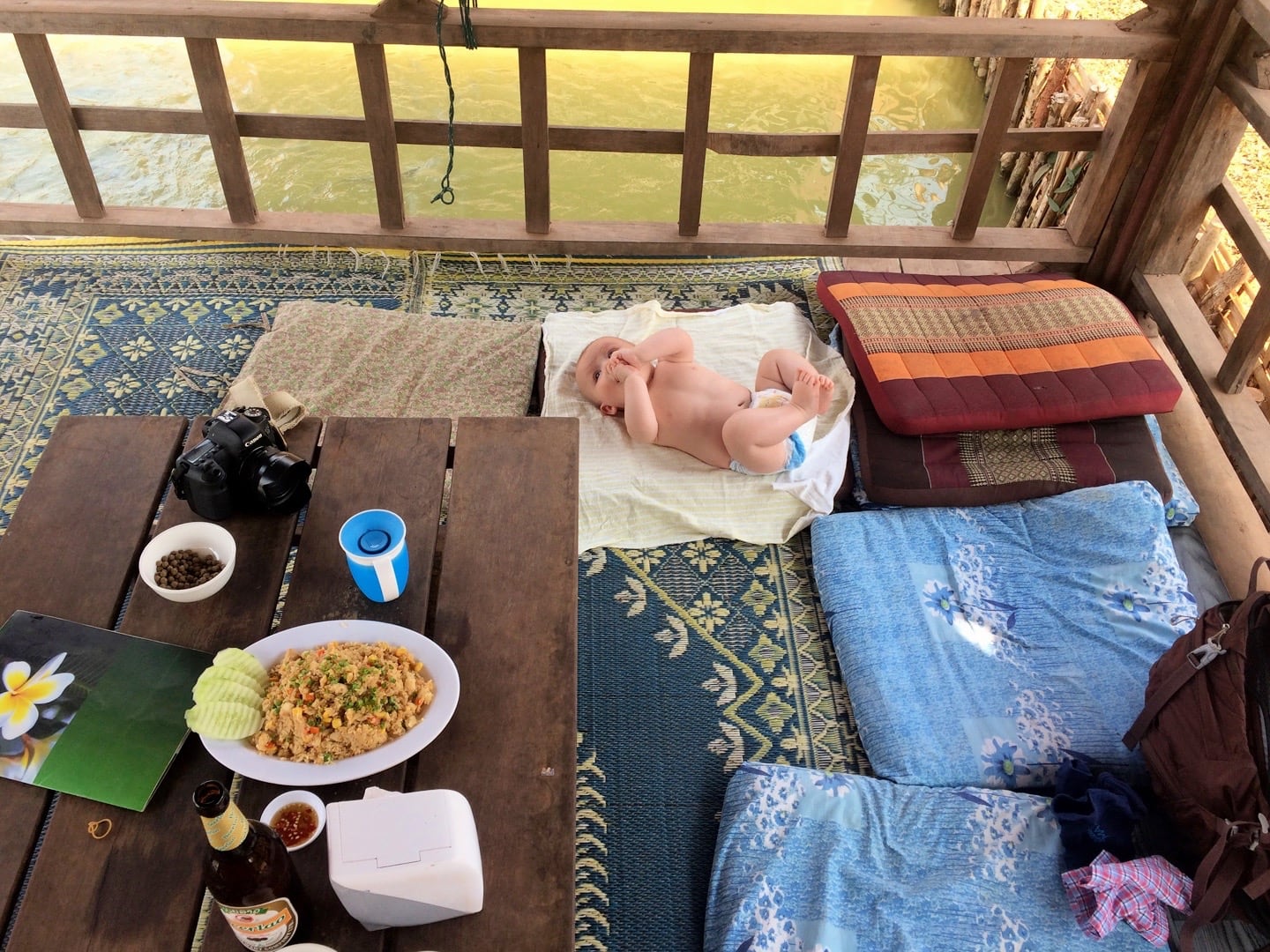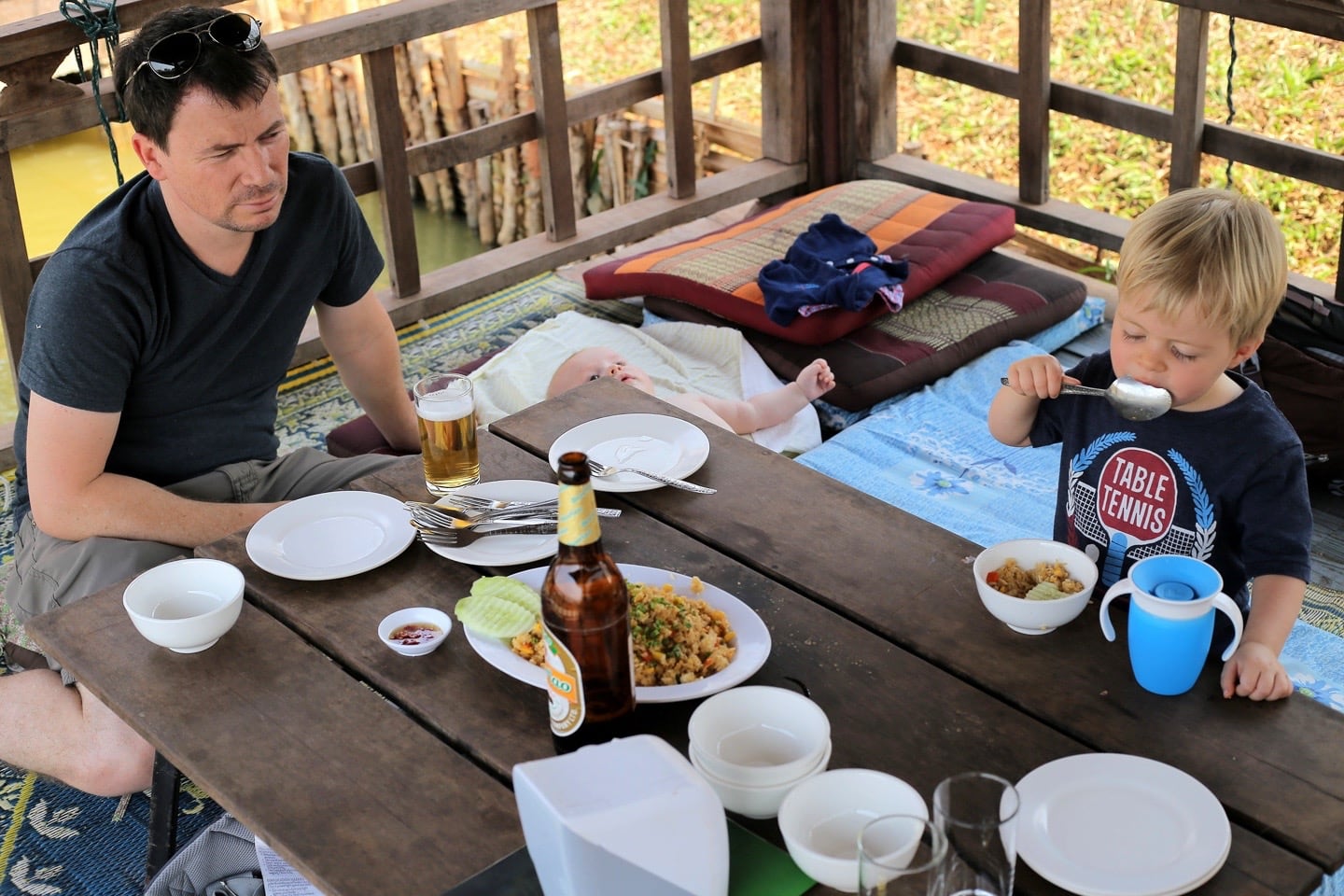 In addition to fish food, we went for a basic pork fried rice dish with a bottle of BeerLao. They had a lot of good looking local fare that we look forward to trying in the future, but just kind of felt like something simple and filling today. The beer was cold and the food was tasty and reasonably priced.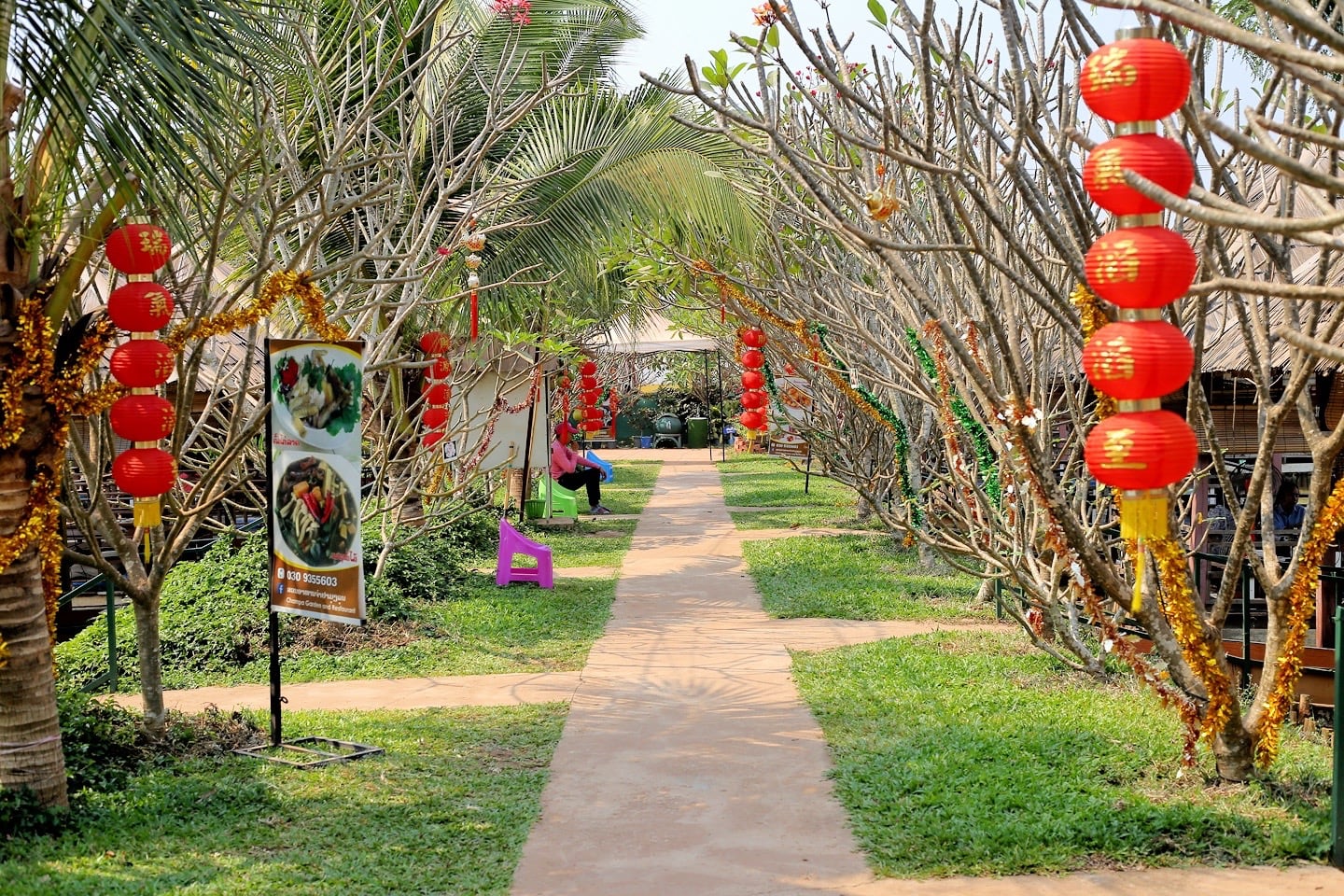 Chinese (Lunar) New Year is in the air! (and the Champa trees!)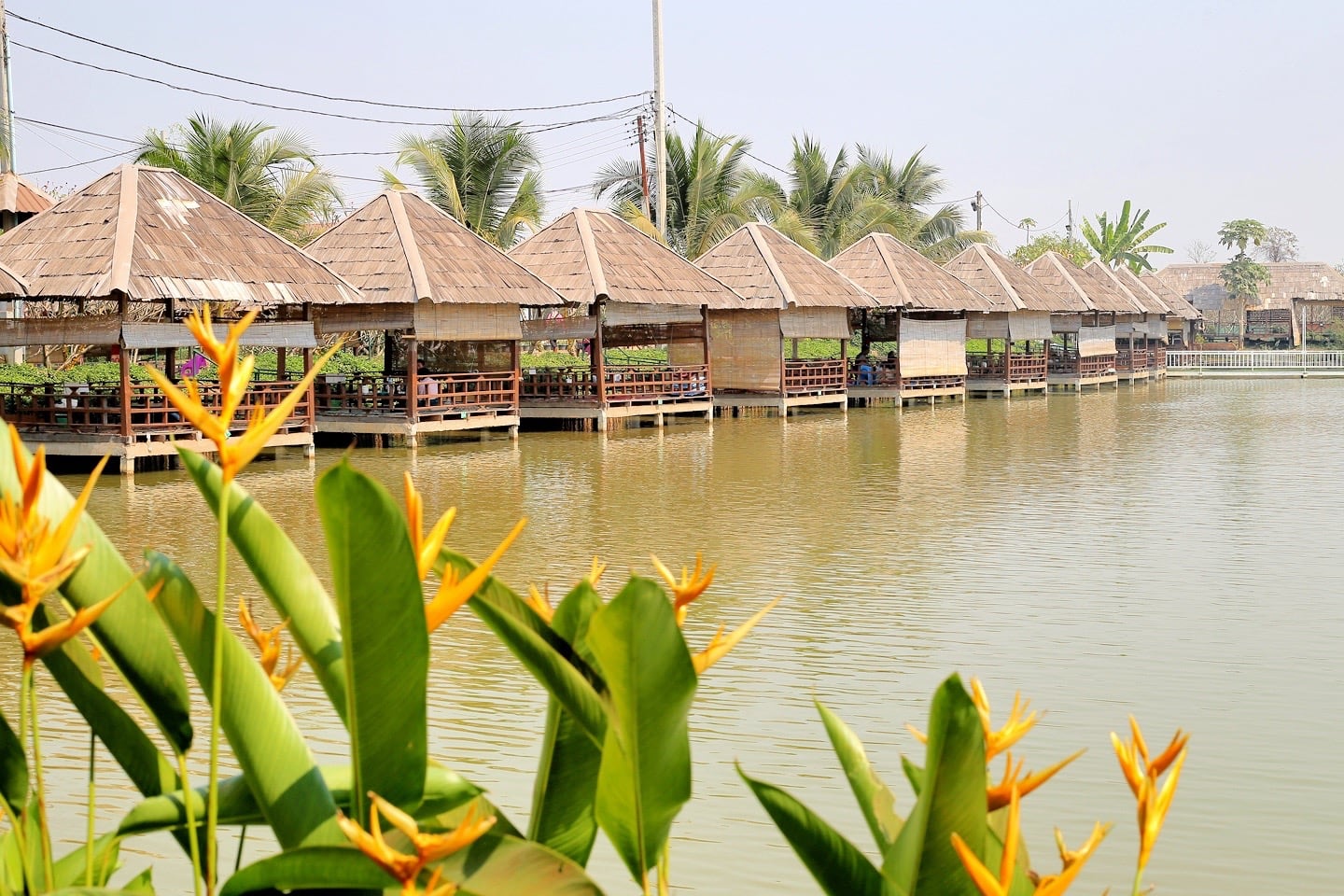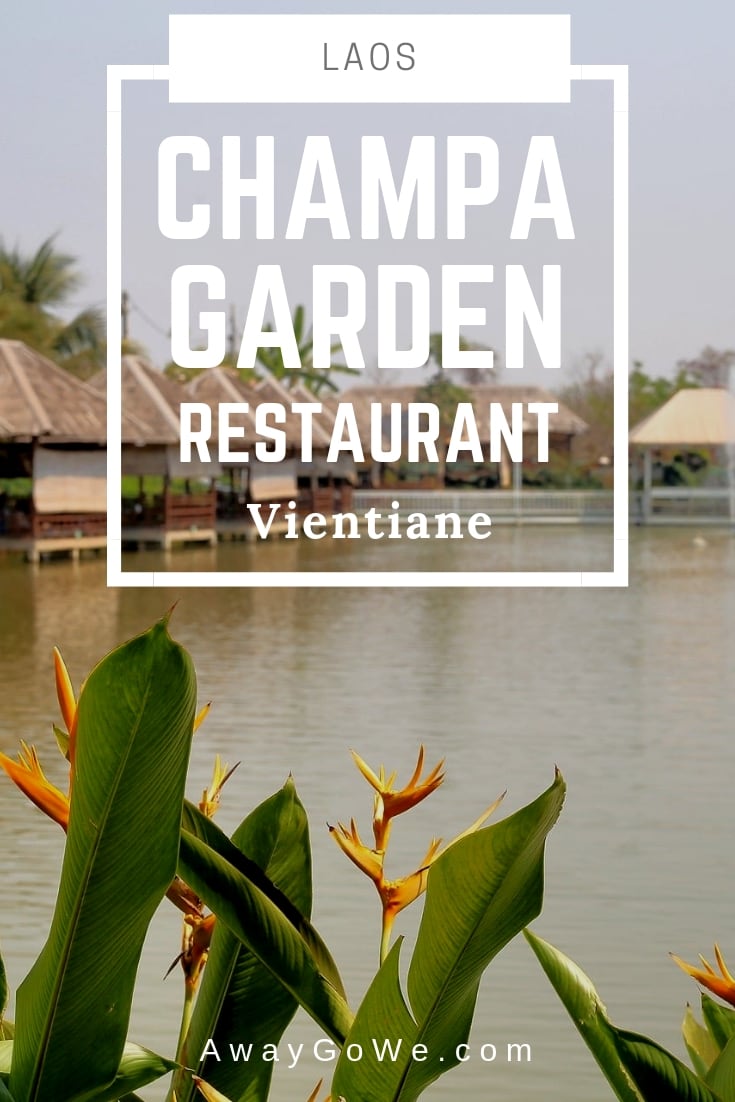 30 April 2019
Get AwayGoWe Updates in Your Inbox
Get notified by email when we publish a new story or article!
No spam, ever. Unsubscribe at any time.