A short hour's drive north of Vientiane, Lao Lake House is an oasis of Western comforts perched on a scenic reservoir.
Lao Lake House doesn't have many competitors in central Laos, yet it remains a top notch destination for Vientiane residents looking to escape the capital for the weekend without driving over the mountains, or for travelers looking for a different scene from Vang Vieng.
Here's what you need to know for your own restful and memorable stay in this unique and welcoming resort homestay.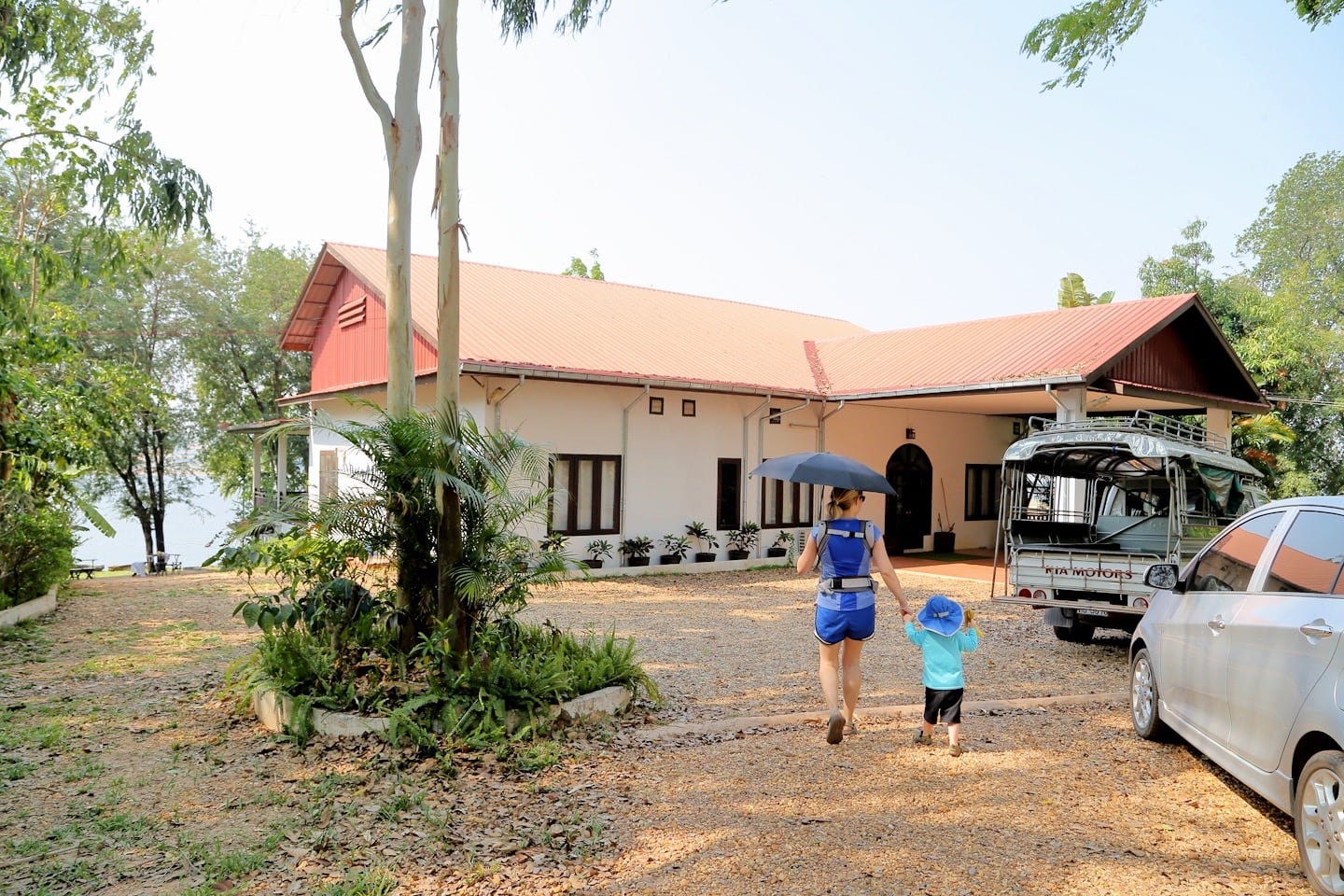 Lao Lake House Quick Facts
| | |
| --- | --- |
| Location: | Angnamhoum Village, Nam Houm reservoir, Vientiane Capital |
| GPS: | N 18° 11′ 1.568" E 102° 27′ 33.865" |
| Types of Accommodation: | Rooms (en suite & shared bathroom) and bungalows. |
| Restaurant on site: | No |
| Self-catering facilities: | Yes |
| Good for families & groups: | Yes! |
| Where to book your stay: | Visit the Lao Lake House website. |
About Lao Lake House
Six years ago, a retired Aussie couple bought an aging residence on the banks of the newly constructed Nam Houm reservoir and began hosting friends from Vientiane.
A concrete bungalow was soon built to house guests, and eventually the couple decided to build a new, much larger residence from the ground up.
Once completed, they moved into the new villa and rented out the old property, adjacent bungalow, and rooms on the ground floor of the villa to occasional guests, but also made the main villa available for renting to groups as well.
An hour's drive from Vientiane, the property quickly became a haven for expats looking to escape Vientiane for the serenity and relative comfort of the Lake House.
Today, the bungalows and rooms in the old house have become a favorite for expat families from Vientiane, while the main villa has become a favorite for large groups.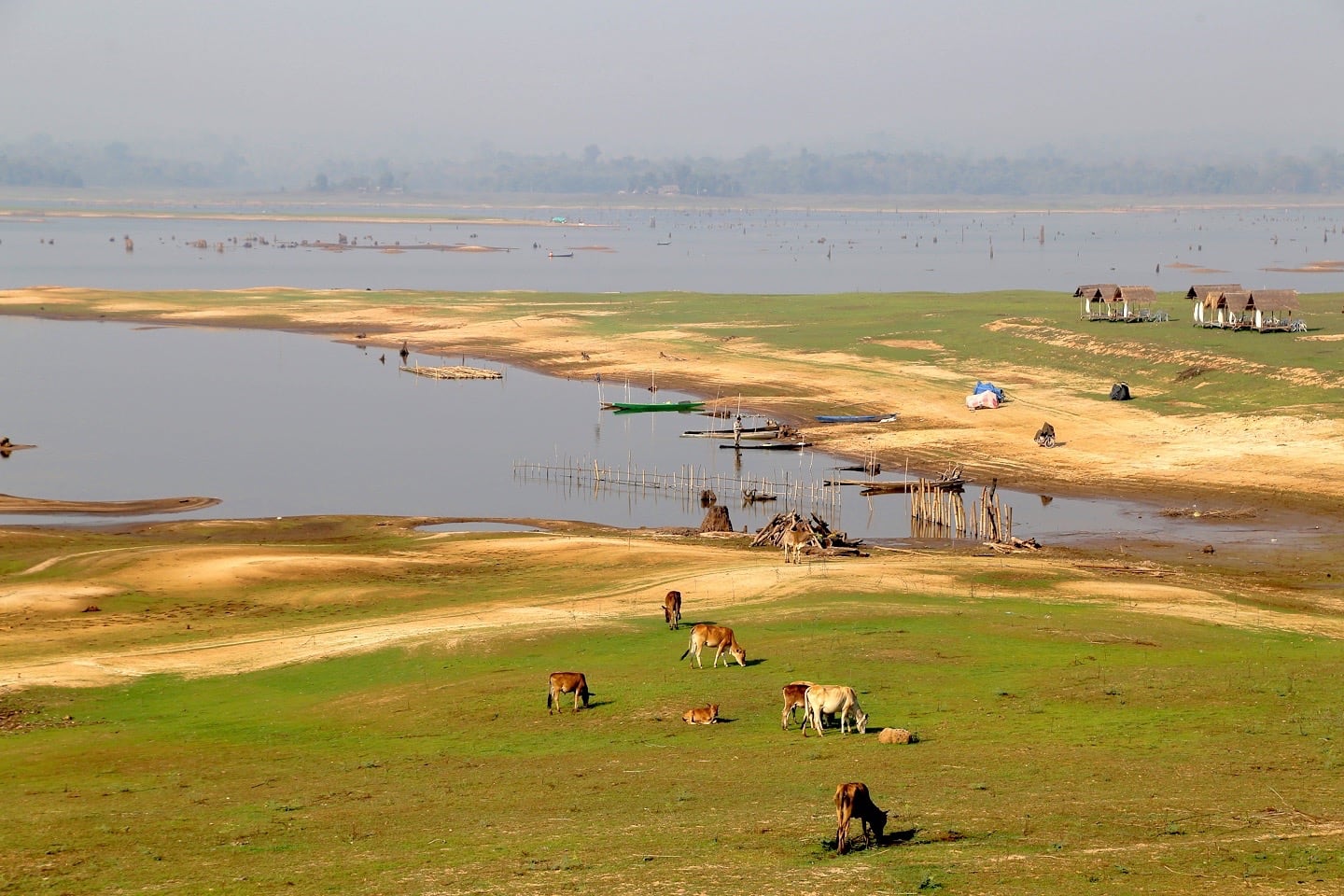 Orientation & Amenities
Lao Lake House sits on the banks of the Nam Houm reservoir. The lake appears far from the house in dry season, but all that green you see above disappears at the height of the rains, as the lake surrounds the rear porch.
We were originally booked in one of the rooms in the older, smaller residence, but due to major renovations underway, we were moved into the main house, which ended up being a windfall, particularly with regards to our toddler son, Noe.
The main house had buckets of toys galore, and a completely enclosed wrap-around deck in the rear of the house that overlooks the lake.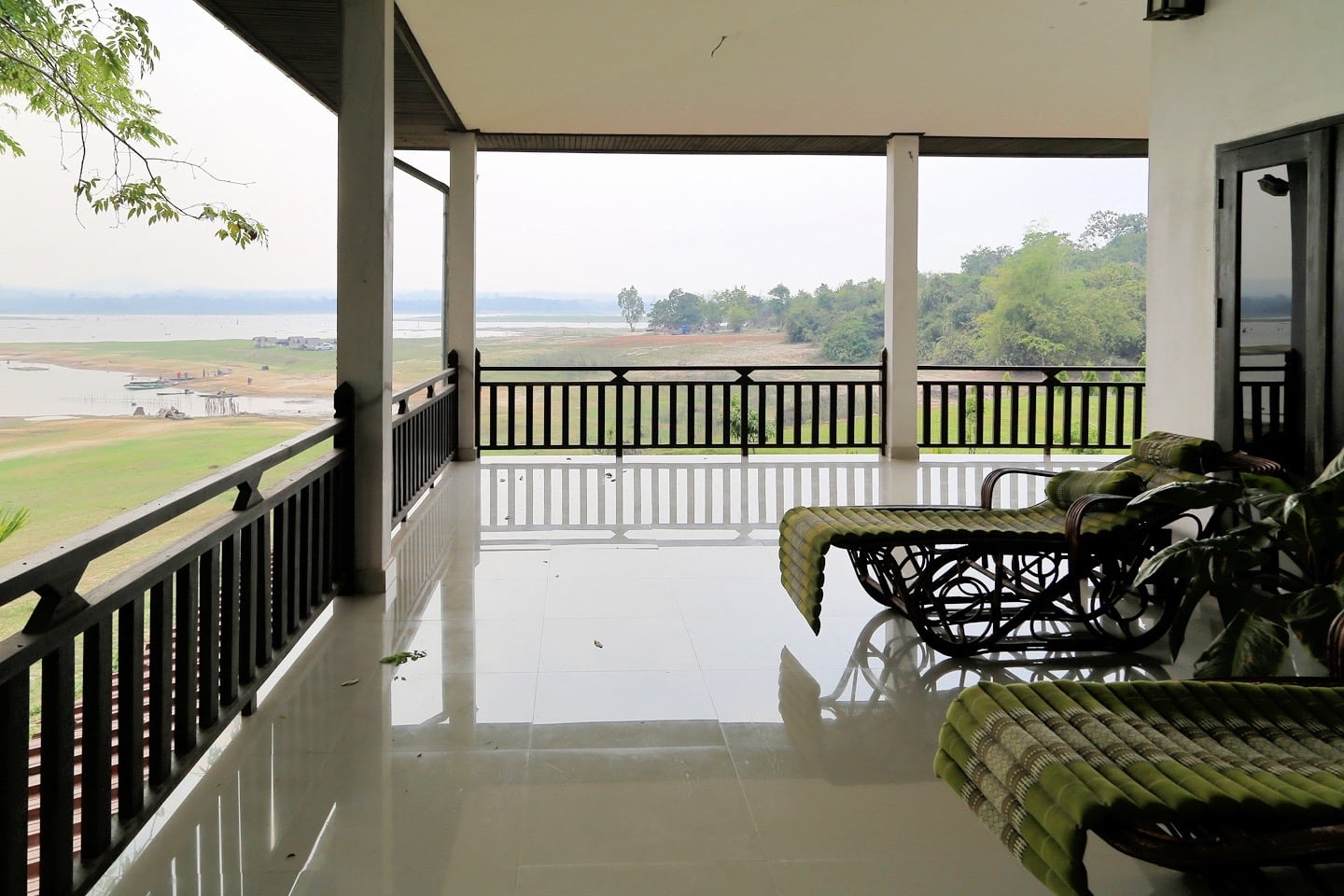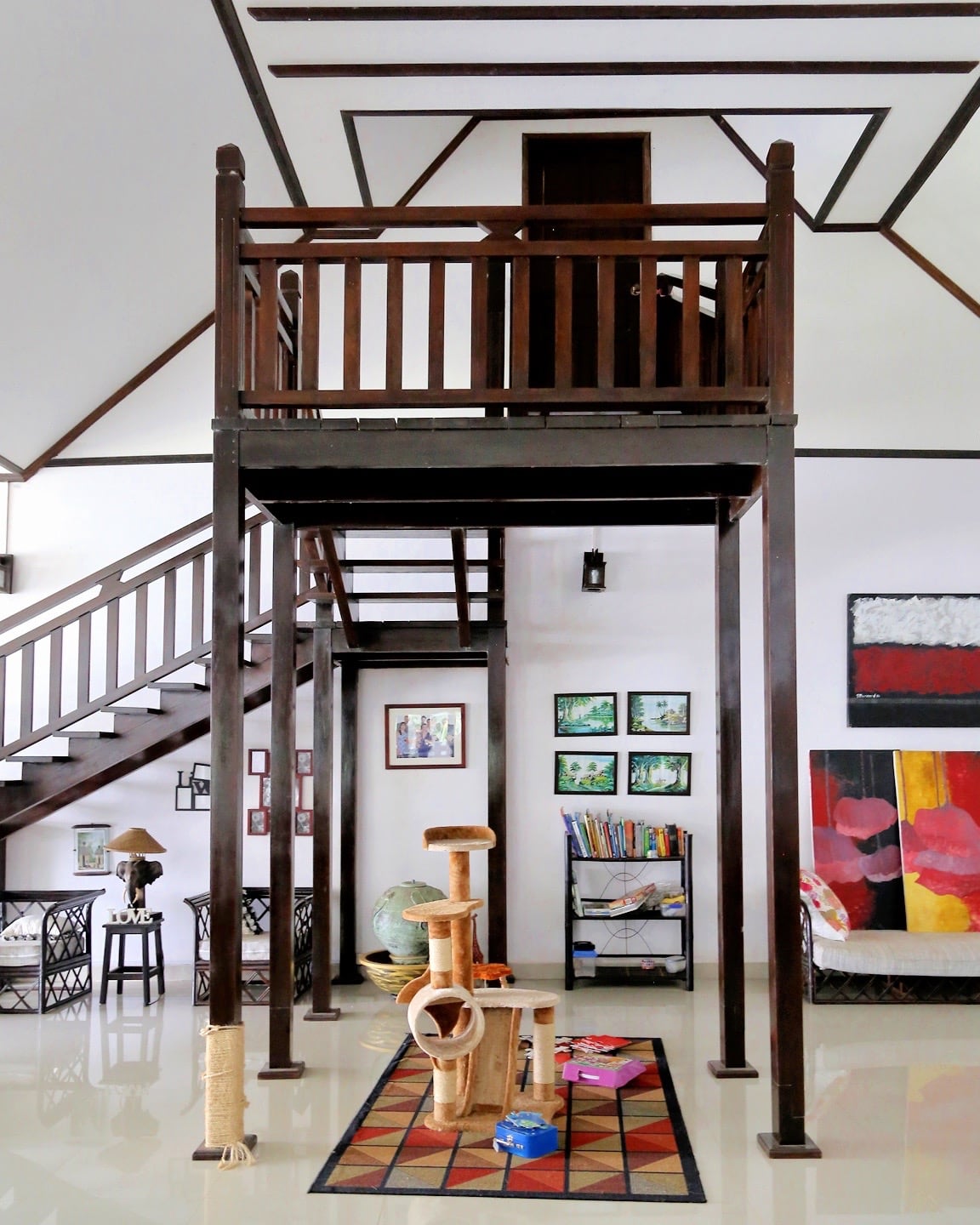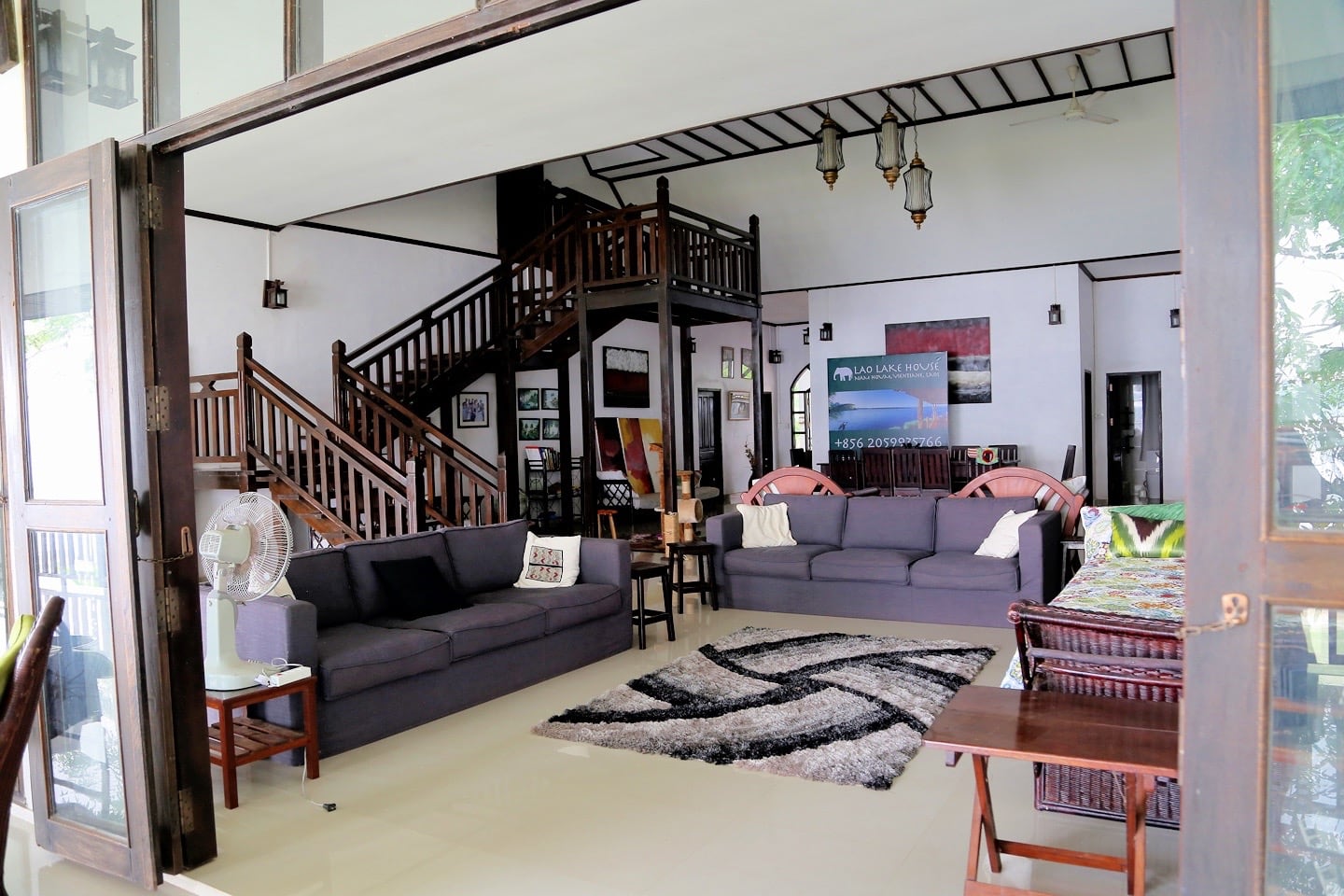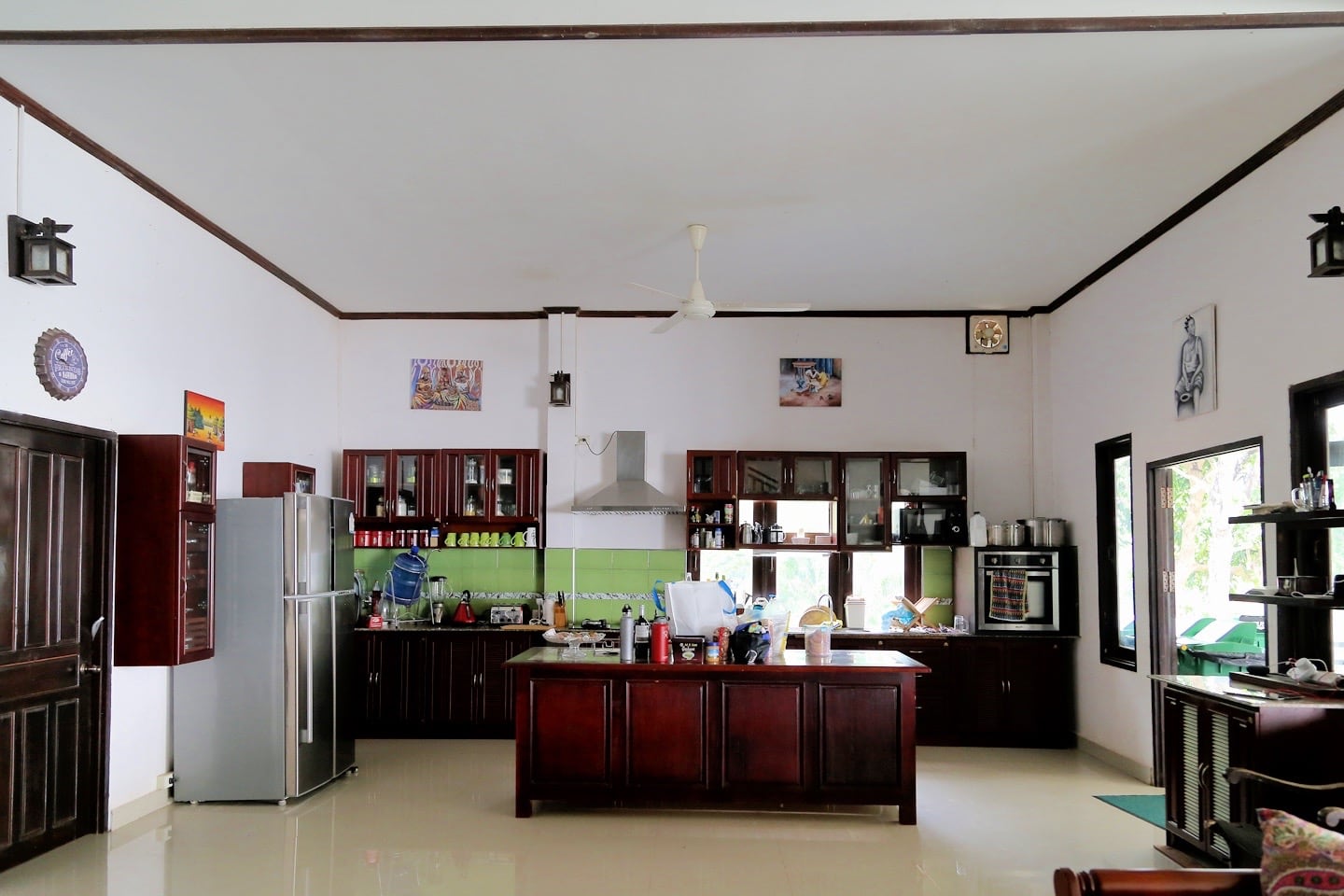 The bungalow and rooms in and around the old house share an outdoor kitchen, but because we were staying in the main house, we had access to the indoor kitchen, and all the other amenities of the house as well.
The kitchens here are a critical amenity as it's all self-catering at Lao Lake House.
There is a local restaurant across the lake, but it is not reasonably accessible on foot. Additionally, there are no stores nearby, so guests are encouraged to bring all their food with them from Vientiane.
Oh, and did I mention Lao Lake House has a swimming pool? After breakfast, we suited up and went for a dip — this being Southeast Asia, it's plenty warm for a post-breakfast dip in the pool.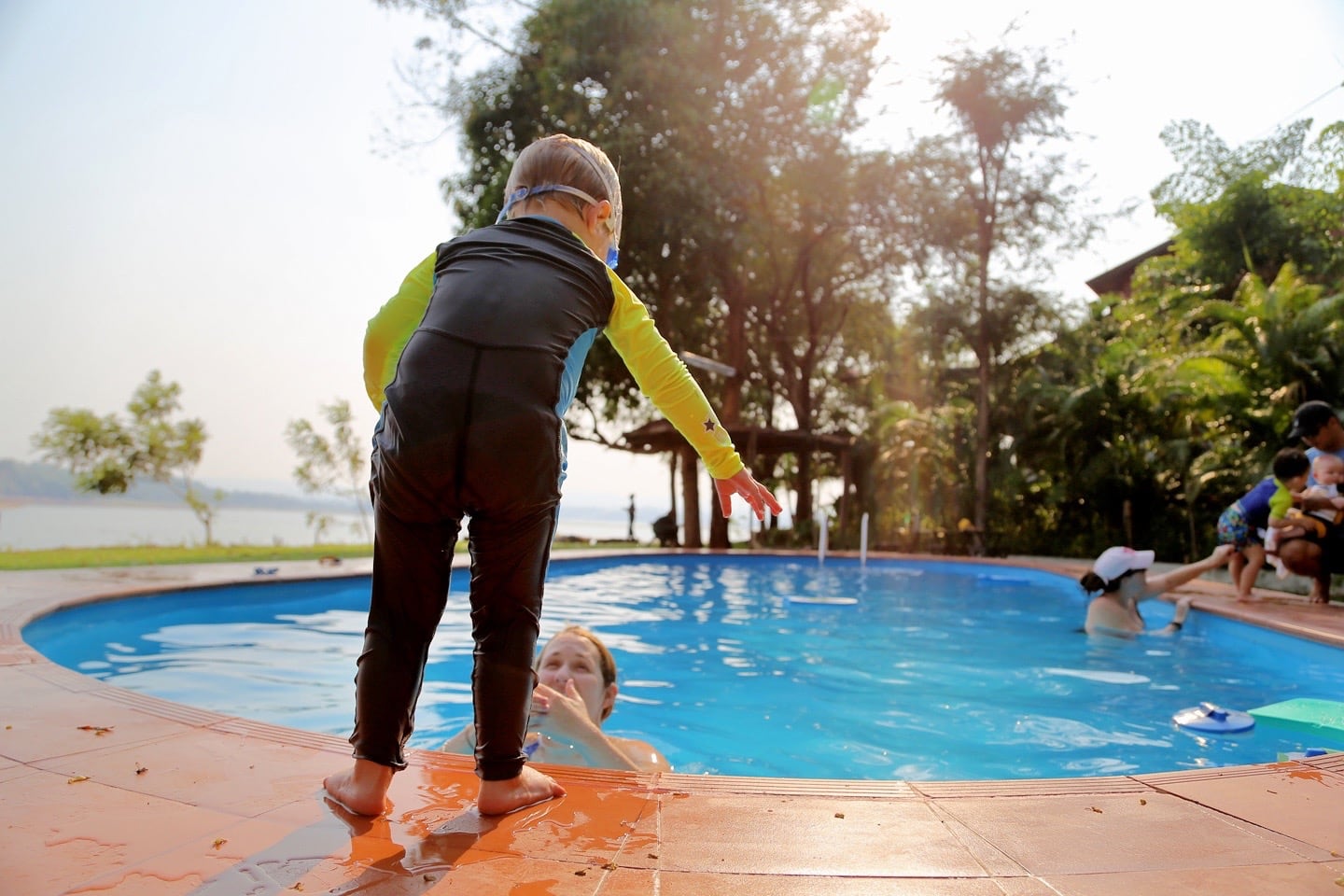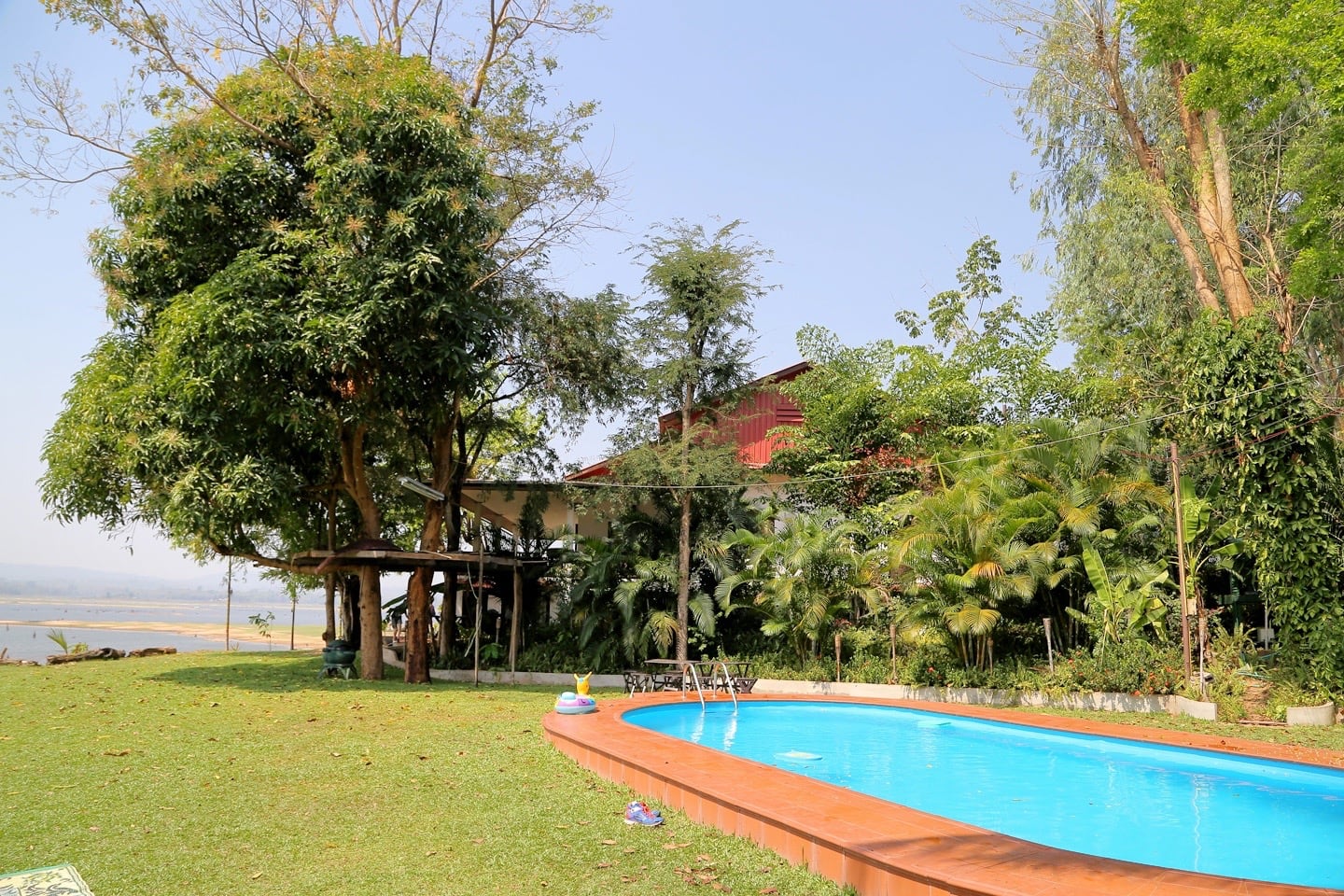 There's also a relaxing hammock hut next to the pool, adjacent to the bungalows and old residence.
Visiting Families
We recommend visiting with friends and sharing cooking duties to lighten the load, especially if you are visiting as a family. As it was a national holiday, we were able to rope some friends into coming with us this time around.
The couple has a son around Noe's age and the Lake House gave them endless opportunities to play trucks and explore. They are both pretty well behaved for being toddlers, but are still toddlers.
Thankfully, the owner of the house is very easy going when it comes to kids and was very adamant that we not worry about making a mess and to make ourselves at home, which undoubtedly made the weekend that much more enjoyable.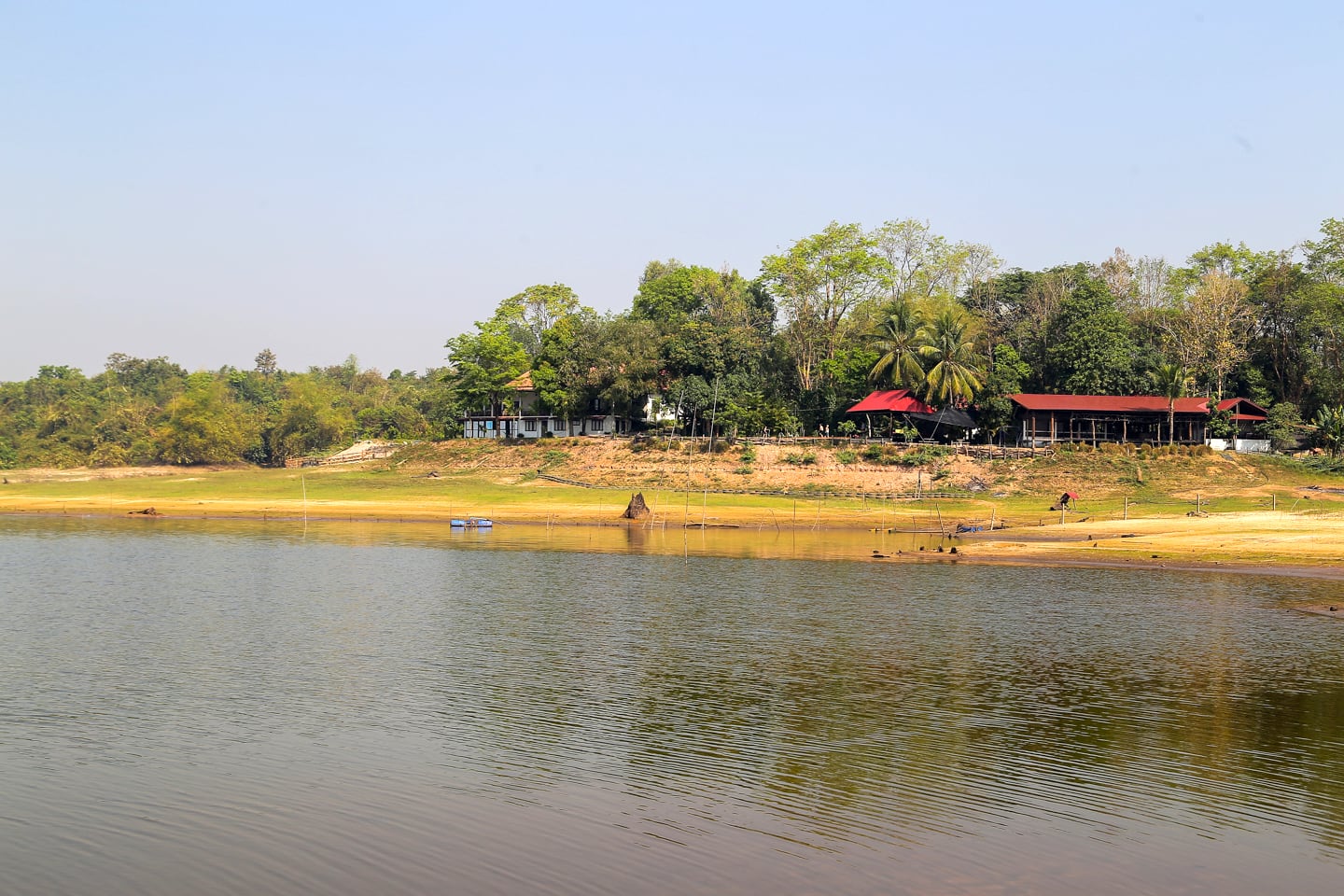 Around Lao Lake House
After breakfast, I took a walk along the banks of the Nam Houm to see what I could see. In dry season, you could walk clear around the lake if you wanted.
On this particular March morning, it was already quite hot, so twenty 30 minutes was my limit — long enough to catch some locals fishing from dugouts using traditional methods.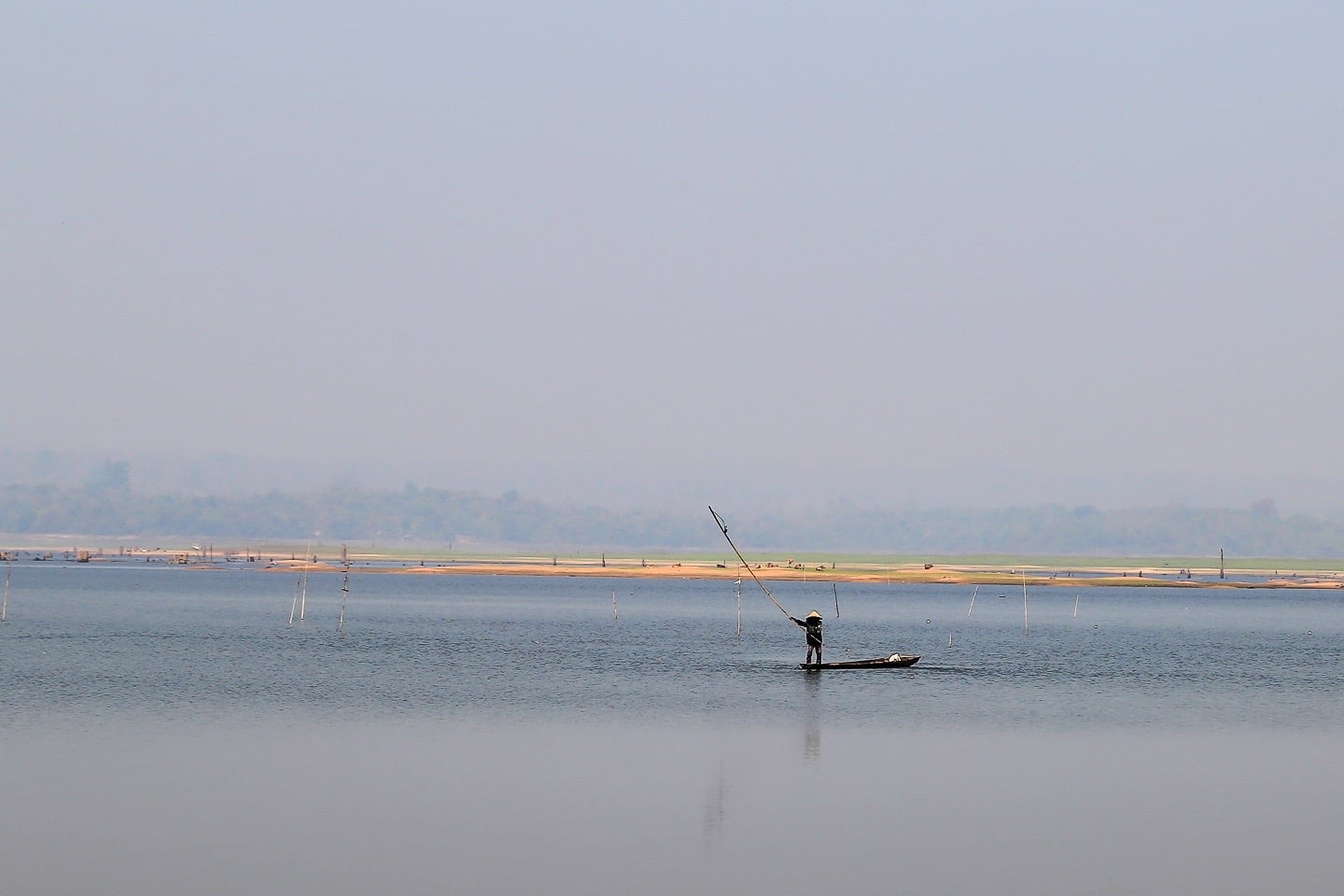 At the farthest point of my walk, I rounded a point and peered at the tiny village across the lake where the one, lonely local restaurant is (and where the epic Women's Day rave was the night before).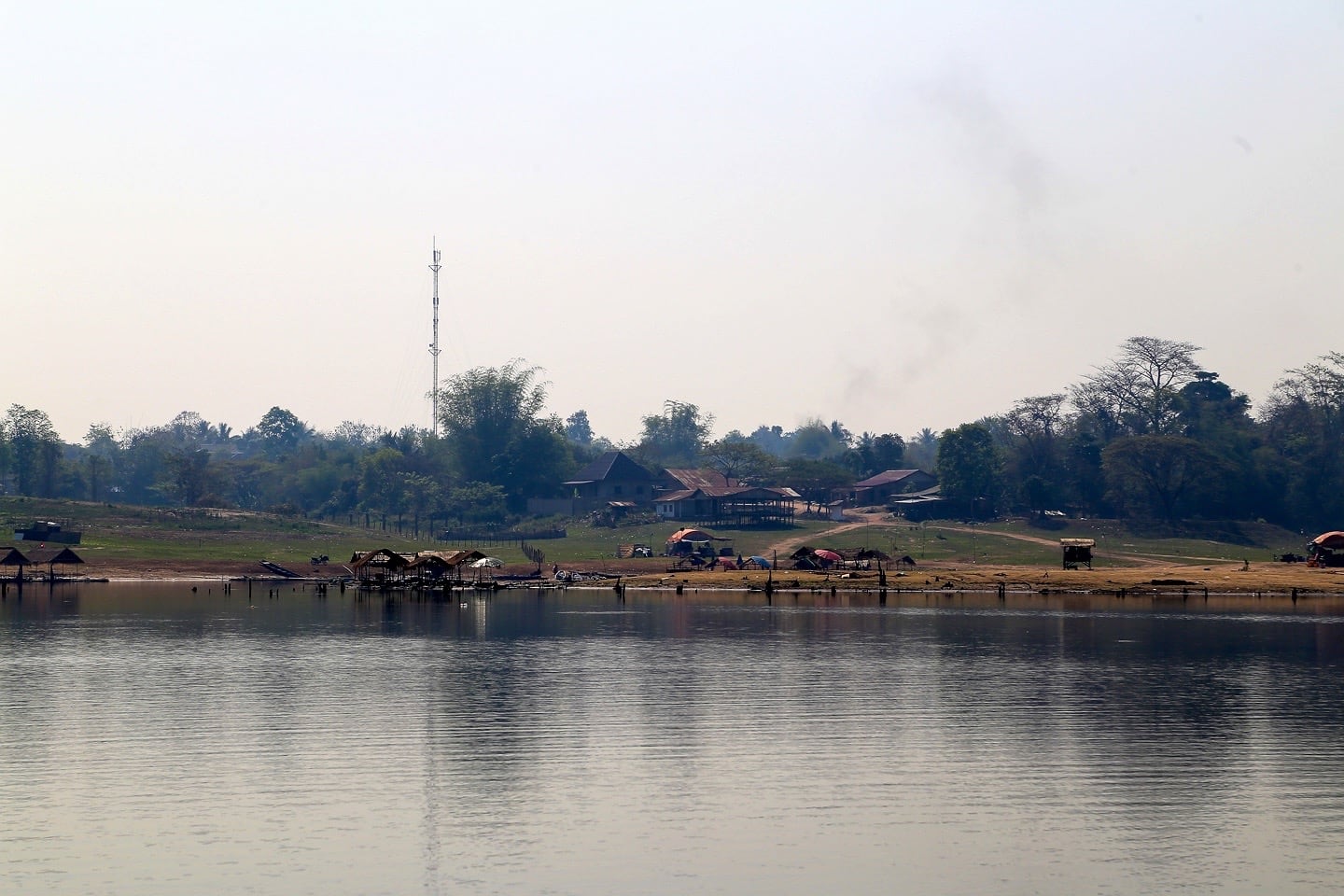 In Laos, even in the countryside (especially in the countryside) there are loud parties and music. It is virtually inescapable. Weekends and holidays are a given. Weeknight parties are not uncommon.
A lot of newcomers to Laos leave Vientiane for the country fully expecting peace and quiet. Haha. In every rural community we've ever stayed in in Laos (dozens!), there's always been some party with loud thumping music going on nearby and into the wee hours.
The quietest, most peaceful place we've ever stayed in Laos is the UNESCO quarter of Luang Prabang (I can only assume because of the huge economic incentive to continue to keep the country's tourism cash cow appealing to visitors).
Angnamhoum Village Floating Huts
We spent Friday and Saturday night at the Lao Lake House. We ate at the Lake House on the first night and drove to the nearby village across the lake on the second.
We weren't sure what to expect, but were quite surprised to show up around 5pm to find all 20+ eating huts on the lake already occupied.
This wouldn't be surprising in a lot of parts of the world on a Saturday, but we were not expecting to find this in rural Laos, even on a holiday weekend.
Laos is not a place where you worry about reservations or restaurants filling up. On the Nam Houm, it's a different story, apparently.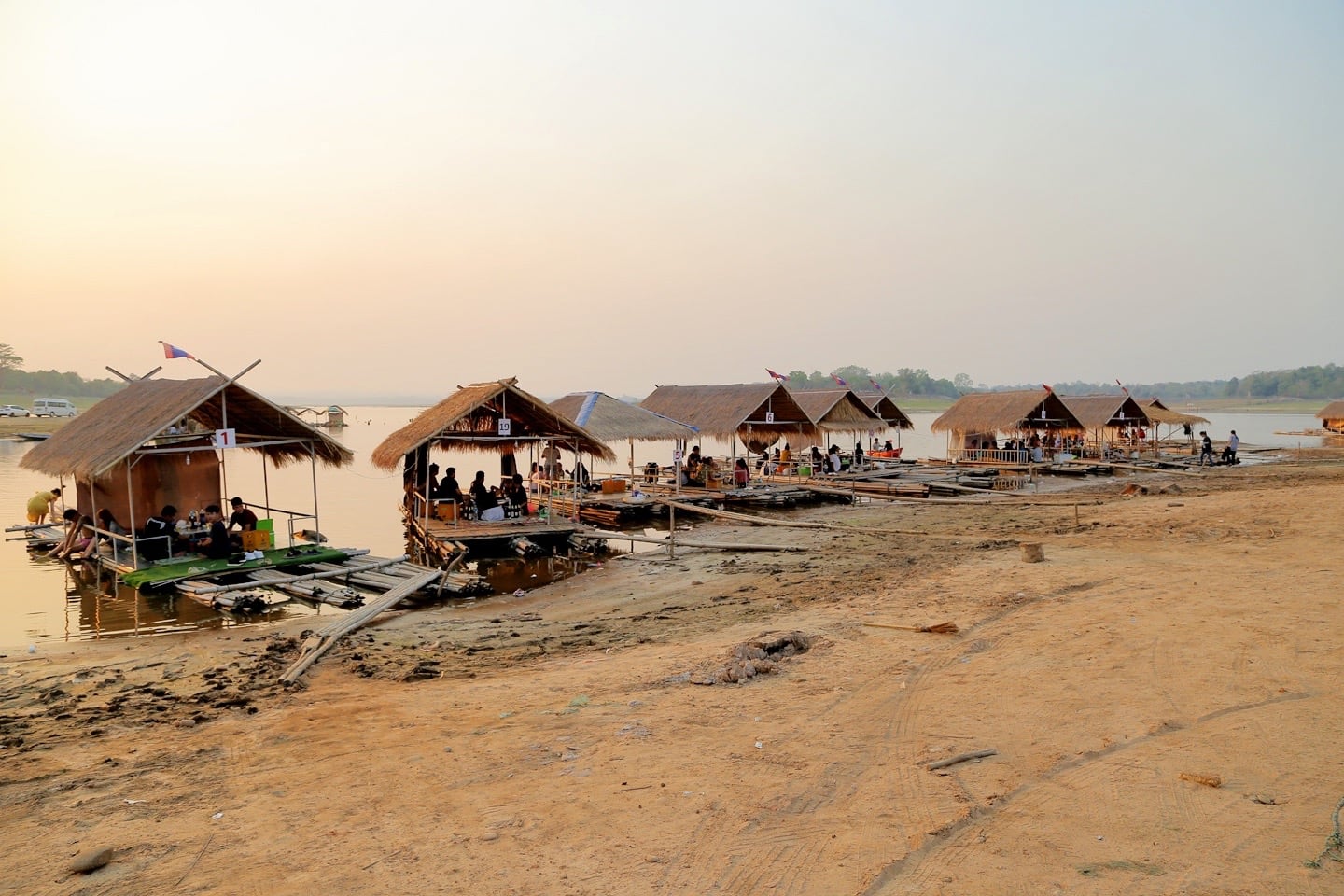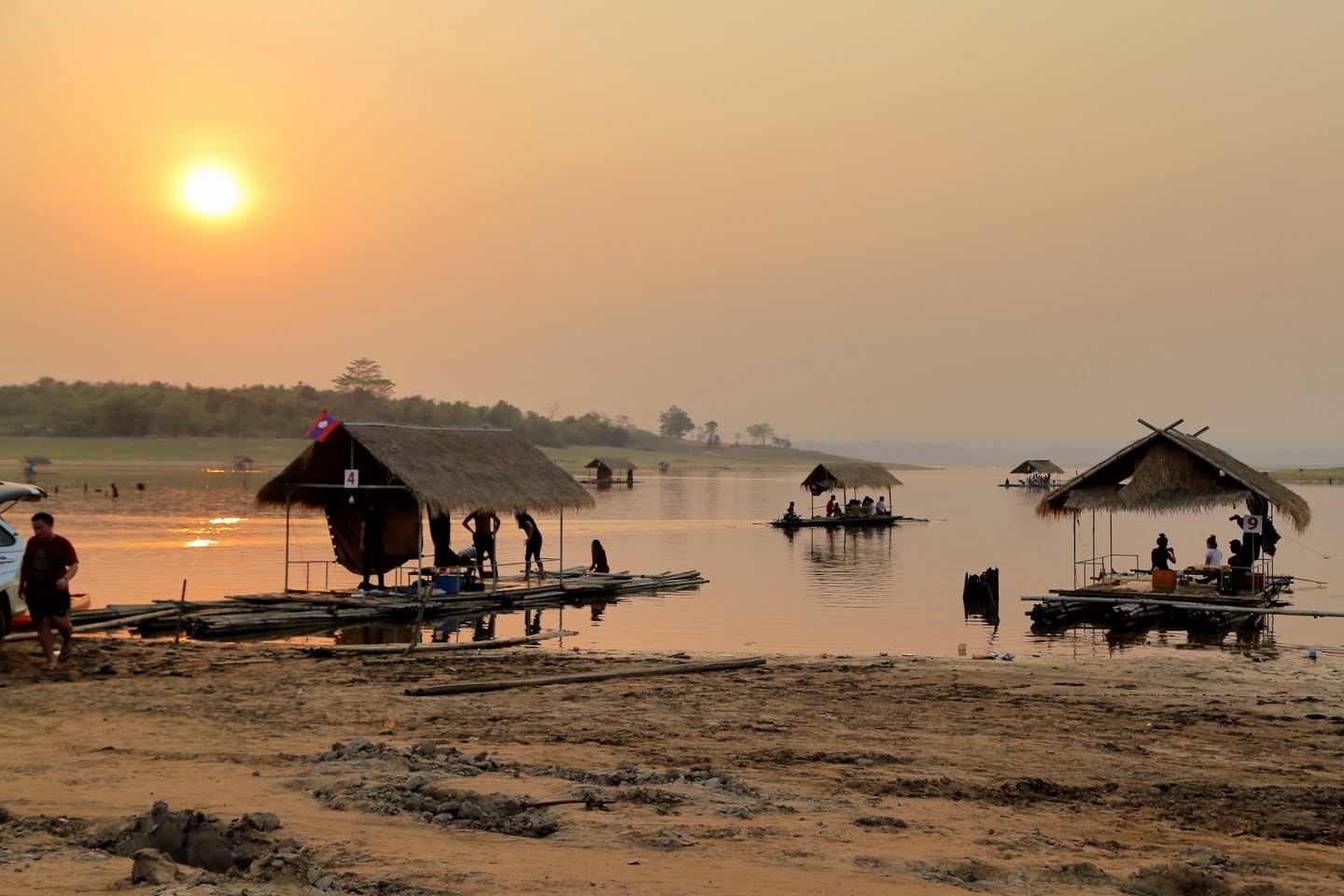 The floating huts on the banks can remain stationary, or you can hire a local boatman with a handheld long-tail motor (akin to a weed-whacker) to take you out on the lake while you eat.
A similar experience can be had under the bridge at Tha Ngon and on the Nam Ngum reservoir near Thalat, but those are much larger steel pontoon boats that ply the Nam Ngum.
These here on Nam Houm reservoir are more akin to bamboo rafts and stay within the confines of the small inlet.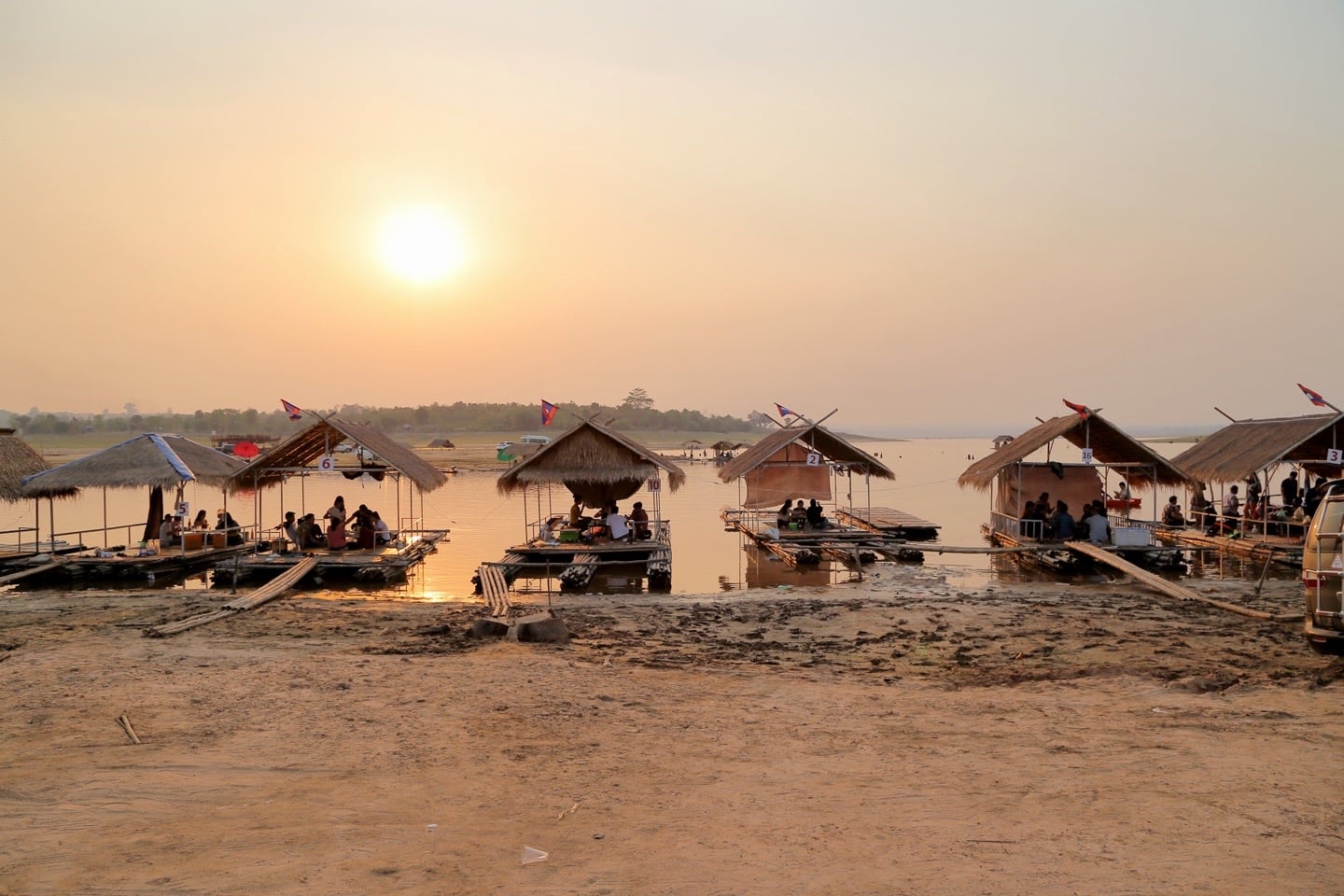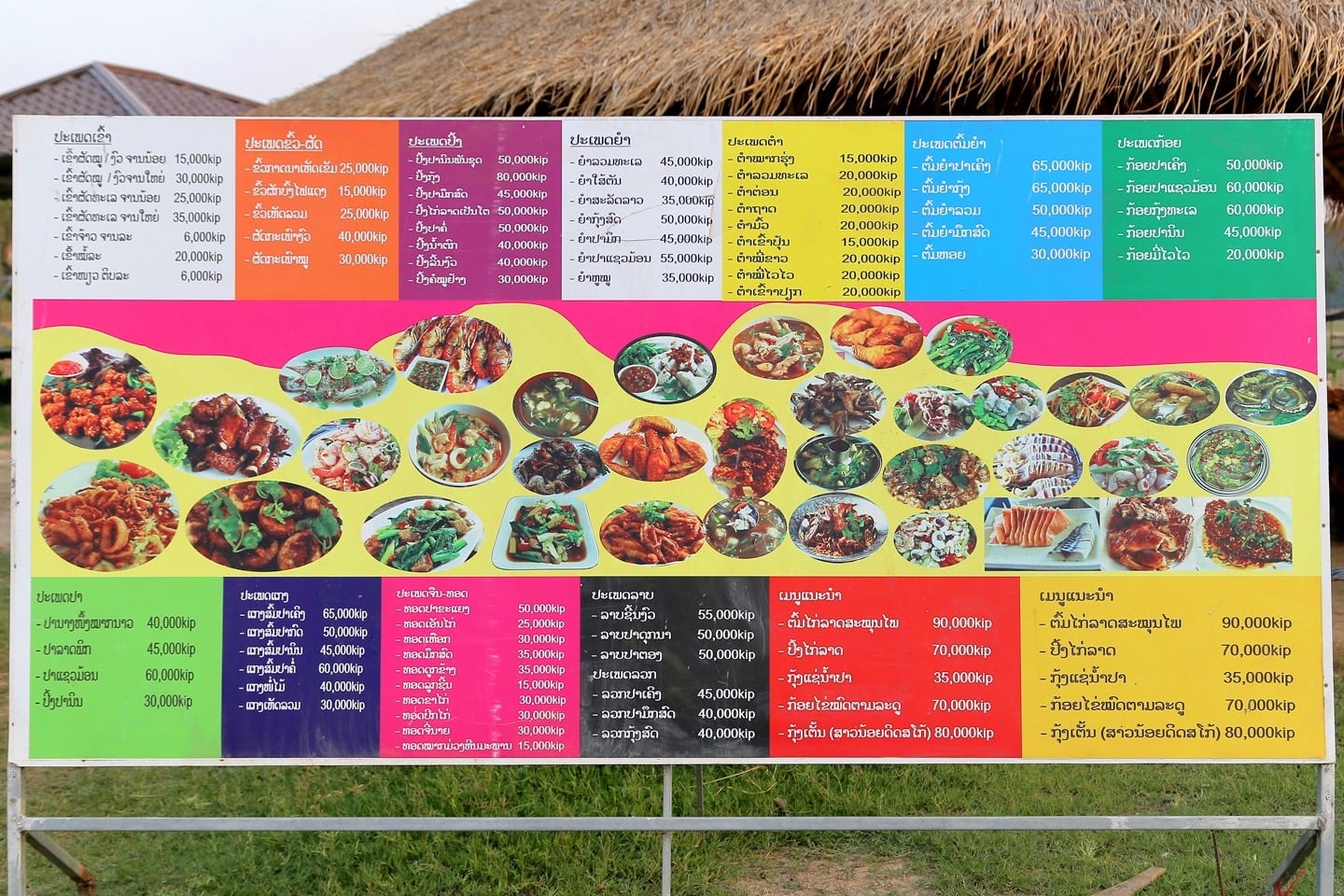 At the top of the hill behind the parking lot is a thatch hut where you place your order for food, then take it down to your floating hut.
The menu is in Lao, but fortunately for us falang, they've got pictures!
Since there aren't any available huts, we've decided to order and take it back to the Lake House.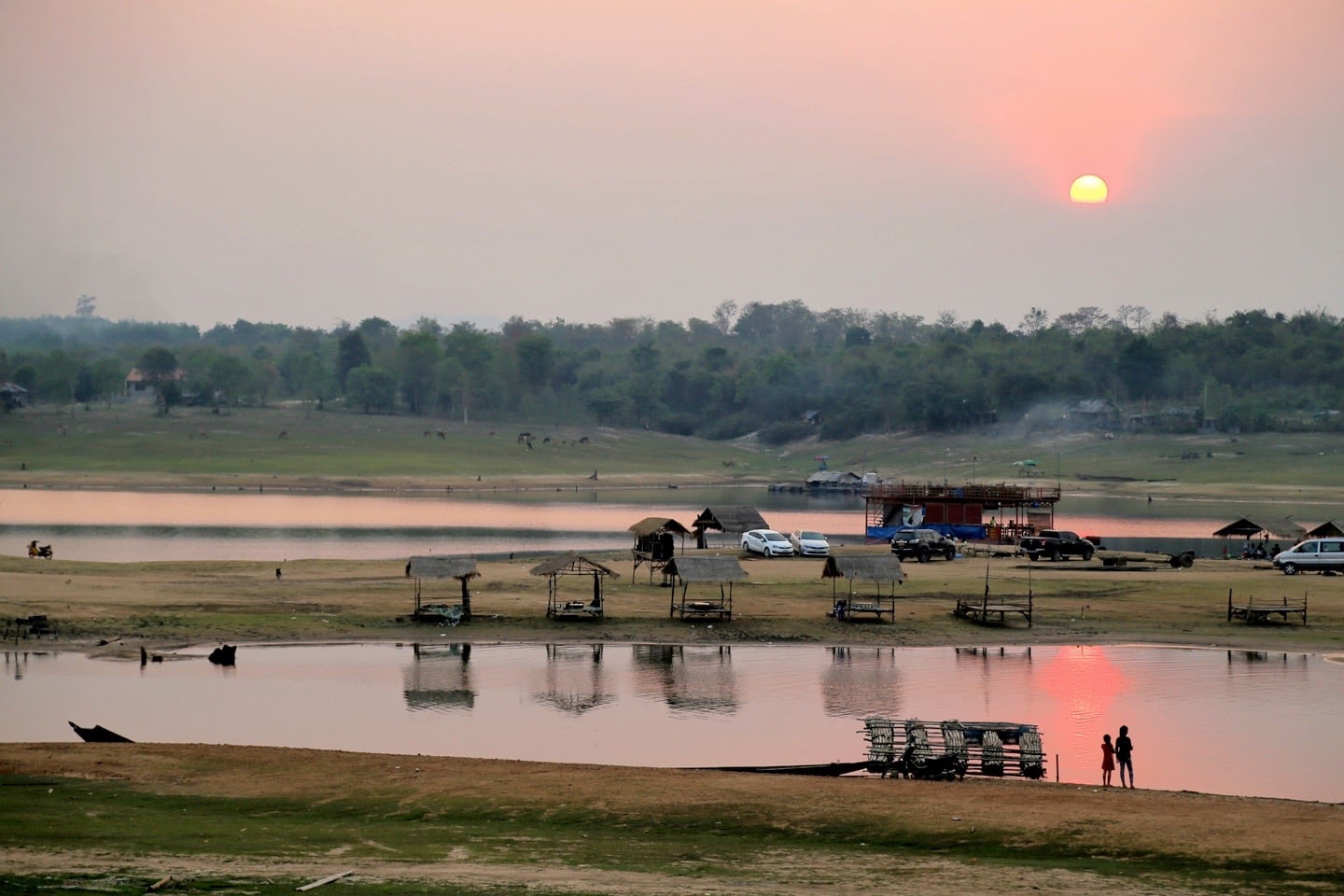 Have You Visited Lao Lake House?
What was your stay like?
Let us know in the comments below.
10 Mar 2019
As an Amazon Associate we earn from qualifying purchases. We're also members of other affiliate programs. Learn more in our privacy policy.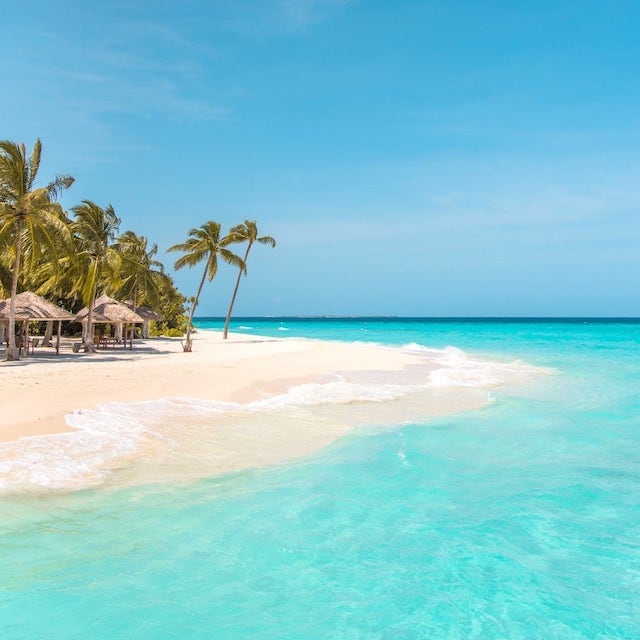 Subscribe to AwayGoWe!
Get our latest articles in your inbox, plus subscriber-only travel tips, special promotions, and more!