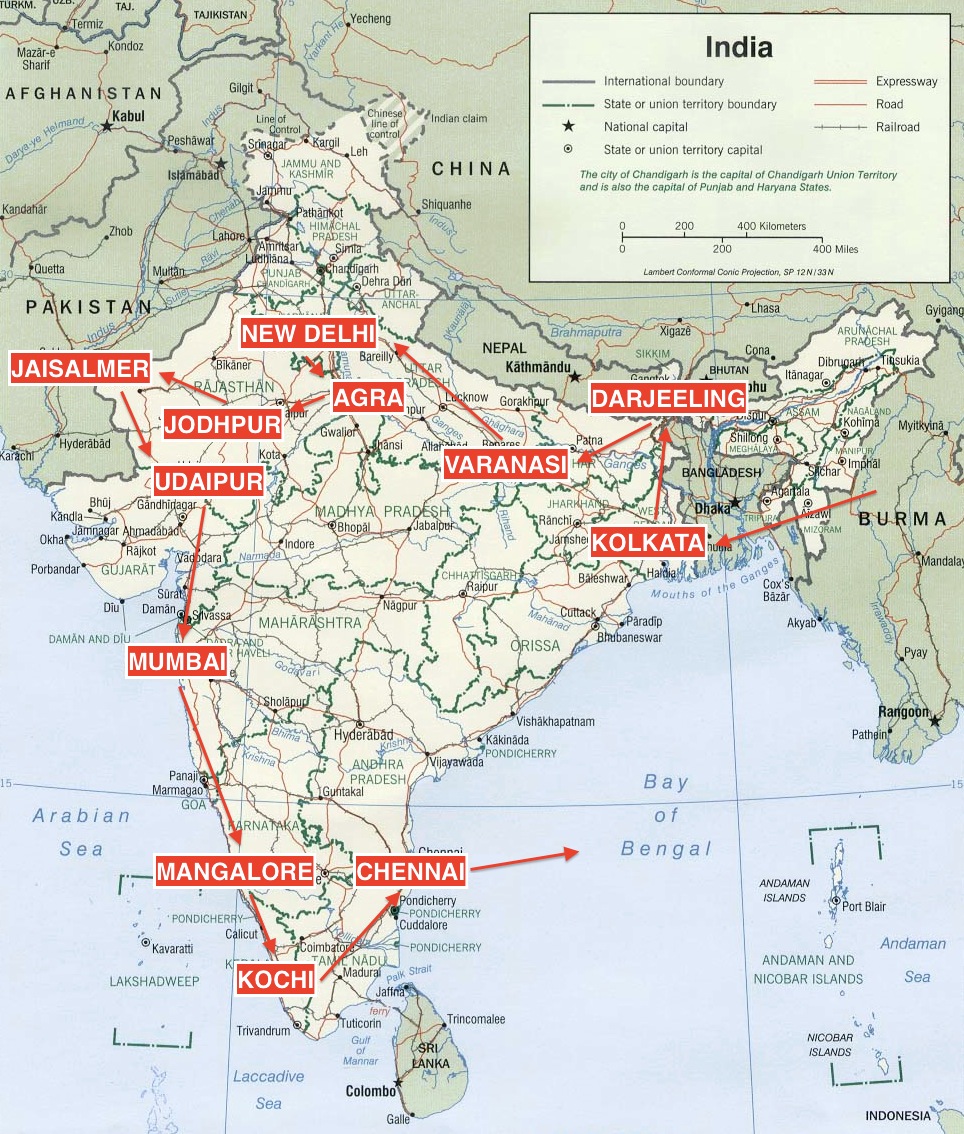 India Trip Overview
India is the second stop on our six month trip around Asia (between China and Thailand). We're spending seven weeks in India with roughly the following itinerary:
We fly from Kunming, China to Kolkata, India because there are few overland routes that a traveler can take from China (really only one –through Tibet– which is closed "indefinitely" to foreign tourists) and they were the two cheapest cities to fly between in those two countries. From Kolkata, we head north to Darjeeling, high up in the foothills of the Himalayas. Next, we follow the Ganges back south to the holy city of Varanasi, before heading to India's capital, New Delhi. From there, we'll head south to nearby Agra to see the Taj Mahal and other nearby sights, and then travel to the state of Rajasthan. In Rajasthan, we'll visit the "blue city" of Jodhpur, then the desert city of Jaisalmer about 60 miles from the Pakistan border. We'll spend a couple of days riding camels on the desert dunes in Khuri before making our way to the lake palace city of Udaipur, which many claim is the most romantic city in India. Then on to India's pop culture capital and home of Bollywood, Mumbai (Bombay). Following a brief stopover in Mangalore, we'll spend about a week in and around Kochi (Cochin), exploring the backwaters of the region before finally arriving in Chennai (Madras) to round out the trip.
It's probably worth mentioning that I'm posting this about four weeks into our trip through India. When we arrived in Kolkata, we had no specific dates, but a rough idea of what we wanted to see and that we wanted to proceed in counter-clockwise direction (moving west and eventually south) with the hope of meeting up with friends in Chennai and flying from there to Bangkok some time in September. The final dates came together out of a combination of what was available train ticket-wise and from a sense of roughly how long we wanted to stay in each place. We originally had planned on visiting more stops along our route but after China decided we wanted to prioritize a dozen or so stops and focus on spending 4-5 days in those places.
We're visiting India in the monsoon season, which we are told moves south to north. I guess we had originally thought that the south bore the brunt of the rains while the north escaped largely unscathed. This was a false assumption, but due to the monsoon being late this year, we've managed to avoid much of the worst of the rains and we hope that because we are now traveling south (in late August) that the worst is behind us.
Travel Planning Resources We Use & Recommend: