Doing the Inca Trail trek to Machu Picchu has been high on our travel bucket list for several years. So, when Lori and I decided to travel through Peru for four weeks, there was no question that the trek would factor into our journey.
Surviving the four-day trek along the ancient footpaths of the Inca is hard enough, but securing a trekking slot might just be the most difficult part of the experience. That's because the number of daily trekkers on the trail is capped by the Peru government, and permit reservations fill up fast!
While the cap on visitors is necessary for the protection and sustainability of the ancient network of paths, archeological sites along the route, and natural environment and ecosystem of the Sacred Valley, it can make securing a trekking slot challenging.
Fortunately, we booked enough in advance and with enough luck on our side to secure a reservation within our travel window. Flexibility also played an important part, as our first choice of dates were already full.
In addition to the daily cap on trekkers, Peruvian law requires that trekkers go through a formal trekking company, which means no independent hiking on this adventure.
In hindsight, it was evident that you really do want to hire a company for trekking the Inca Trail, particularly if you aren't accustomed to carrying cold-weather camping gear and all your provisions for four days over 1400 m / 14,000 ft. passes, so this requirement is certainly not unreasonable.
After a ton of research, we went with Llama Path, leaders at the forefront of the ethical treatment of porters and sustainable trekking practices,  and were so pleased with our experience with them (more on Lama Path in our Day Two report below).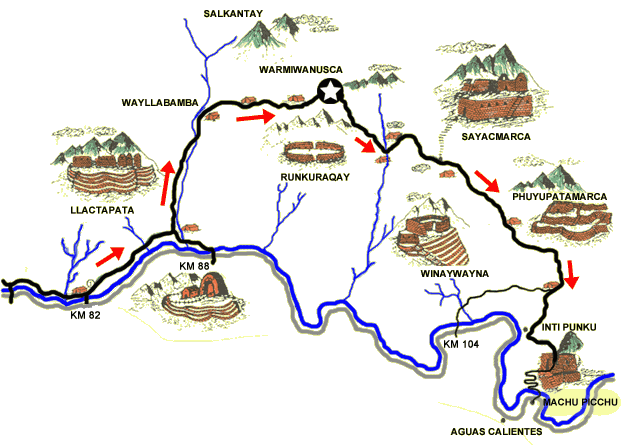 Four days and 45 km later, we arrived on foot at the sacred citadel of Machu Picchu. Nothing quite matches the feeling of arriving along the same ancient paths the Inca have followed for hundreds of years, just in time to watch the sun rise over one of the Seven New Wonders of the World.
Read our detailed trekking reports below covering each day of our amazing Inca Trail trek.
Detailed Reports for Each Day of the Trek
Instead of taking the tourist route to Machu Picchu, we trekked four days over 42 kilometers following the 500-hundred-year-old Inca Trail. Here's our travel report.
Day Two of our Inca Trail Trek to Machu Picchu was the most difficult: 10 miles over two 13,000 ft. passes, resulting in 11 of the most grueling and rewarding hours of our lives.
In Peru, continuing our trek along the Inca Trail to Machu Picchu. This post covers our adventures and misadventures of the third day along the route.
The fourth and final day of our 40+ km Inca Trail trek, starting at 3:30am and ending on a train back to Cuzco, with Machu Picchu exploration in between.