I am not sure how long I spent trying to figure out how to get Malarone (atovaquone/ proguanil) for a reasonable price…several hours over several months at least. In the past, I either had it supplied by my employer (World Bank, Peace Corps, etc.) or Lori and I weighed the risks in the countries we were going to and opted against using anti-malarials (e.g. East Asia in the dry season, Belize any time of year). But from Maputo, Mozambique overland to Entebbe, Uganda for three months (we didn't need them during our first month in South Africa) I knew we'd want them.
If we had been living or working in these areas for an extended period of time, I would have opted against the use of malaria prophylaxis and treated as needed. But for a shorter trip, it just didn't make sense for us to take the risk, given that if you're a mazungo and you do catch malaria, you can bet that you'll be out for at least the better part of a week, which is not cool on a four-month trip. Plus, the female Anopheles mosquito is present in this region and a carrier of the P. falciparum parasite which is responsible for cerebral malaria, a particularly nasty type of malaria that affects the brain and is particularly deadly. Additionally, malaria is generally chloroquine-resistant in Moz on up the coast and only responds to certain types of treatment (e.g. atovaquone/proguanil, mefloquine (a.k.a Larium) and doxycycline). All this to say that it sucks to get malaria under normal circumstances, but can especially suck for a foreigner to get malaria in Sub-Saharan Africa.
The most effective anti-malarial pill at the moment appears to be atovaquone/proguanil (a.k.a Malarone), but it doesn't come cheap (it can be wicked expensive—and must be taken every day). The retail price can range from $6 to $11 USD a pill, depending on whether you get the generic or brand name pills. So, if you're talking about a couple taking atovaquone/proguanil every day for 100 or so days that can easily add up to $1200 to $2200 for just the meds! This of course doesn't include prescription or consult fee, which can tack on another $40-$80 per person.
Now, many readers might ask whey we didn't just pursue the much cheaper, almost-as-effective mefloquine? After all, a 250mg pill of mefloquine will run you about $4-$6. But mefloquine you take once a week rather than every day. That would have been a huge cost savings for us as a couple, coming in at around $112-$168 for the two us for 100 days. But after being on the stuff for 27 months as a Peace Corps volunteer, I was not too keen to go back. The drug can cause all sorts of neuropsychiatric and other side effects including [very] vivid dreams, hallucinations, paranoia, sleeplessness, irritability and many others (of which I experienced to varying degrees). Lori and I have taken Malarone since that time and neither of us have ever experienced any noticeable side effects from the medication. Obviously, your mileage may vary and you most certainly need to discuss your situation and personal health with a licensed medical professional before choosing a course of anti-malarials, but Malarone is most certainly what has worked for us.
But that pesky price tag…
Cheap Malarone — One Potential Solution
Now, obviously, there's no real legal way to get around the prescription and consult fee. I will say that, if you live in the Washington, DC metro area, I've been very pleased with Traveler's Medical Service of Washington (2141 K Street, NW / www.travelersmedical.com). I've used their services twice and will say that they are professional, reasonably priced and won't try and up-sell you on anything you don't need. They also consult the regional malaria maps within various malaria-affected countries and base their decisions on which areas you're actually planning on traveling to (rather than simply consulting a list of countries that may have malaria present in only one or two areas, such as South Africa, and basing their decision solely off of that). In addition to malaria prophylaxis being very expensive, the potential side effects can often outweigh the risk of contracting malaria in certain areas, especially if you're on certain types of other medications. So it definitely pays to discuss all of this with someone who knows their stuff. As of August 2014, Traveler's Medical Service was charging $45 for the consultation fee for new patients ($25 for returning patients, good for five years), and $20 for the malaria prescription (if needed).
But that still leaves $600 to $1100 per person for 100 days in a malaria-endemic region in Sub-Saharan Africa (not counting starting the regimen 1-2 days before entering the area and 7 days after leaving the area). Well, after scouring the interwebs and talking with a number of individuals I was stumped…until I came across a GoodRx.com (Please note: AwayGoWe.com is in NO way affiliated with this GoodRx.com, and we do NOT get any sort of commission, kickbacks, etc. from the company). As far as I can tell, based on a variety of online reviews and my own experience, this is a legitimate website that generates coupons for a variety of prescription meds good at a number of different pharmacies — if you're experience leads you to believe anything to the contrary, please let me know.
How it Works
I simply entered atovaquone/proguanil (the generic drug name for Malarone) into the "Drug Name" field and my location "Washington, DC" at the time. I adjusted the number of pills to 109 (100+2+7, as discussed above) and GoodRx.com listed the total price for the course of pills at CVS, Walgreens, Rite-Aid, Wal-Mart, etc. CVS happened to be the cheapest in my area, so I selected that, printed out two coupons (one for me and one for Lori), took our prescriptions from Traveler's Medical Service along with the GoodRx.com coupon down to the nearest CVS and picked up our filled prescription the next day. Easy, peasy.
The total cost for our course of pills for 109 days? $276.56 each! That's $2.77 per pill. WOOHOO!
Not ultra cheap, I know, but a significant cost savings, nonetheless. Plus, it appears that these coupons would work for a number of other meds as well. And that's how you get Malarone for cheap!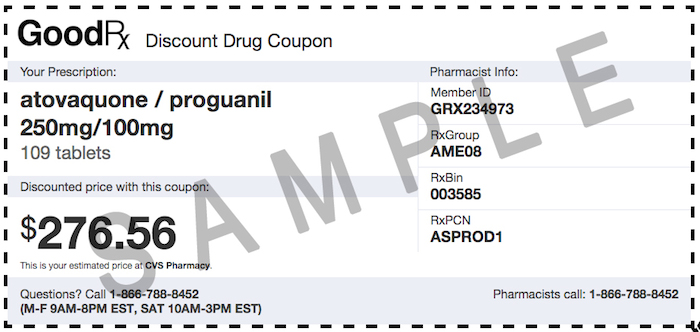 Important
Please Note: Now, again, I do want to stress that I'm not a health care professional and it's critical to consult one before starting any sort of course of anti-malarials, particularly if you've never done so in the past (plus, it's the only legal and ethical way to obtain a prescription in the U.S., right?). I'm only speaking from my own experience and what's worked for us in consultation with a licensed health care professional and nothing more. If you do find yourself in a similar situation, hopefully you find this information helpful in some way.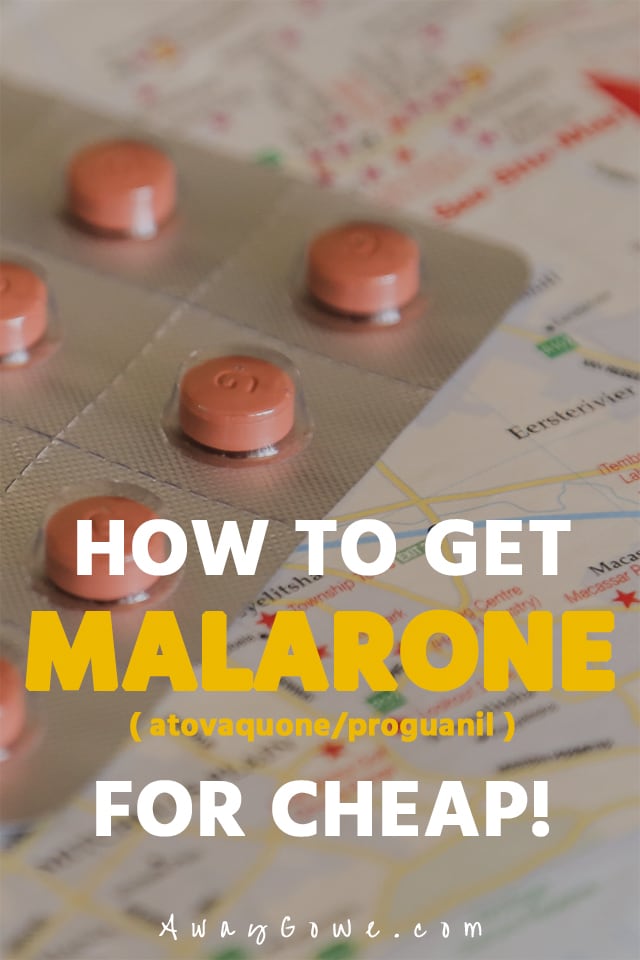 4 May 2018