Getting a passport for baby can seem like an unnecessarily complex and confusing endeavor, given the lack of straightforward answers and potential for misinformation out there for applicants.
If you're a new parent with upcoming overseas travel, filing application paperwork and figuring out passport photos is probably the last thing you want to think about.
And that's exactly why we put together this handy dandy guide!
This step-by-step guide is based on our own experience going through this very process, not one but TWO times with two newborns (two years apart), and my own insider's experience on the other side of the counter working in Consular Affairs.
Along the way I learned a thing or two about the process, which includes what it takes to have a successful passport application and how to avoid the most common pitfalls.
In this guide, I'm going to share all those helpful little morsels plus additional lessons we've learned from going through the process twice.
Before we dive in…
DECEMBER 2021 UPDATE
As with most things right now due to the Covid-19 pandemic, EXPECT DELAYS! Delays in processing times, delays with the USPS mail service, delays, delays, delays.
In October 2020, Passport Services resumed Expedited service of U.S. passports and some Regional Passport Agency public counters have reopened for appointments for urgent travel situations.
If your travel plans are within the next few months, we strongly recommend opting for Expedited service and overnight return mail service, AND MOST IMPORTANTLY, reading up on the latest turnaround time information from travel.state.gov before starting the application process.
Please Note
This article applies to U.S. citizens applying in the U.S.
While we strive to keep this guide as up-to-date as possible, application requirements do change from time to time. So, be sure to check out travel.state.gov for all the latest information regarding applying for a U.S. passport.
Don't Take Chances With Baby's First Big Outing. Always Insure Your Trip!!!
Illness, severe weather, canceled flights, lost luggage, broken bones… can make a trip of a lifetime unforgettable for all the wrong reasons.
In these times more than ever, NEVER leave without travel insurance.
6 Easy Steps to Getting a Passport for Baby
The Backstory
In a hurry? Skip to the next section to get started.
Ten days after our first son was born, my wife landed her dream job in Laos. Fortunately, the timeline had some flexibility and she was able to negotiate a September start date, meaning we'd be on the ground in Vientiane the day our son turned three months old.
One thing that we couldn't push off, however, was getting our baby boy—who had been on Planet Earth for less time than some of the leftovers in our fridge — a U.S. passport.
True, we would not be setting foot outside of the U.S. for another few months, but Lori's future employer had contracts and paperwork to process, and airline tickets to purchase, and our baby's passport was a key component of all that.
In essence, he couldn't exist on paper until we got it done.
Needless to say, we had quite a few logistics to work through in a very short period of time, giving us endless fun things to stress over, in addition to a lovely little newborn.
Fortunately, getting a passport for our baby was easy and straightforward for us, especially the second time around when we had already gone through the process once and knew what to expect.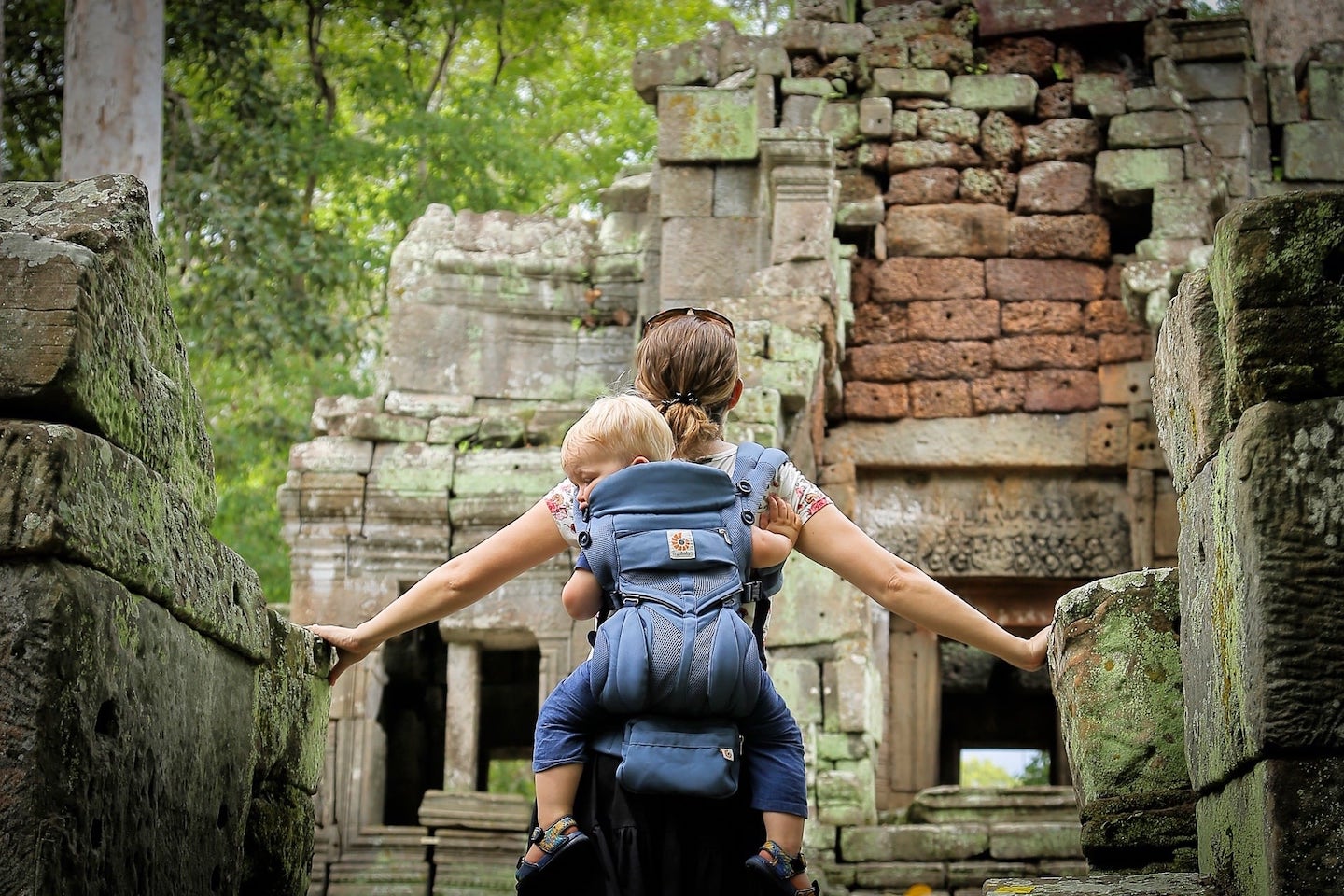 On top of that, I spent three years working in the Bureau of Consular Affairs, becoming intimately familiar with every step of this process on the processing and adjudication side as a Senior Specialist and even visited accepted facilities (i.e. postal offices) from time to time to help them improve their operations.
In that time, I personally signed off on thousands of passport applications — and newborn babies were no exception!
Which brings us to our first question:
Can Babies Travel Without a Passport?
NO!!!
Well, at least not internationally.
In some cases, you may be able to get away with a passport card (e.g. driving to Canada or Mexico), but for the vast majority of overseas trips, baby, just like the rest of us, will need to have a passport.
So, yeah, if a baby wants to travel abroad, they need a passport — from the second they draw their first breath.
Fortunately, the process is fairly easy — the most painful part of it all for most people being the cost.
And if you need the passport quicker than 4-6 weeks as we did, it's even costlier. Yay…
Without further ado…
How to Get a Passport for Your Baby (Infant or Child)
Step One — Gather Materials & Info
The Birth Certificate
Getting a passport for the first time for anyone of any age generally starts with a birth certificate.
That means that you cannot begin the passport application process BEFORE the baby is born.
Now, it's important to note that I'm going to stick to the most common application scenario here.
There are some situations where the parent(s) or guardian(s) are going to need to show additional documents proving citizenship or proof of relationship.
But in the interest of keeping things simple, I'm going to assume baby was born in one of the fifty states and was issued a birth certificate from one of those states.
Getting your hands on baby's birth certificate is different for every state, but regardless of the procedure, the certificate you submit with baby's passport application will need to:
Be a

certified

copy of the birth certificate (

NOT

the hospital keepsake certificate and not a notarized copy or plain photocopy);
List

both

parents (again, we're just dealing with the most common scenario here).
From experience, I'd recommend ordering multiple certified copies of the birth certificate from the registrar's office at the time of birth. Most hospitals these days incorporate this paperwork into their standard baby delivery paperwork.
If you plan on traveling or moving overseas fairly soon, I recommend requesting at least three certified copies of the birth certificate.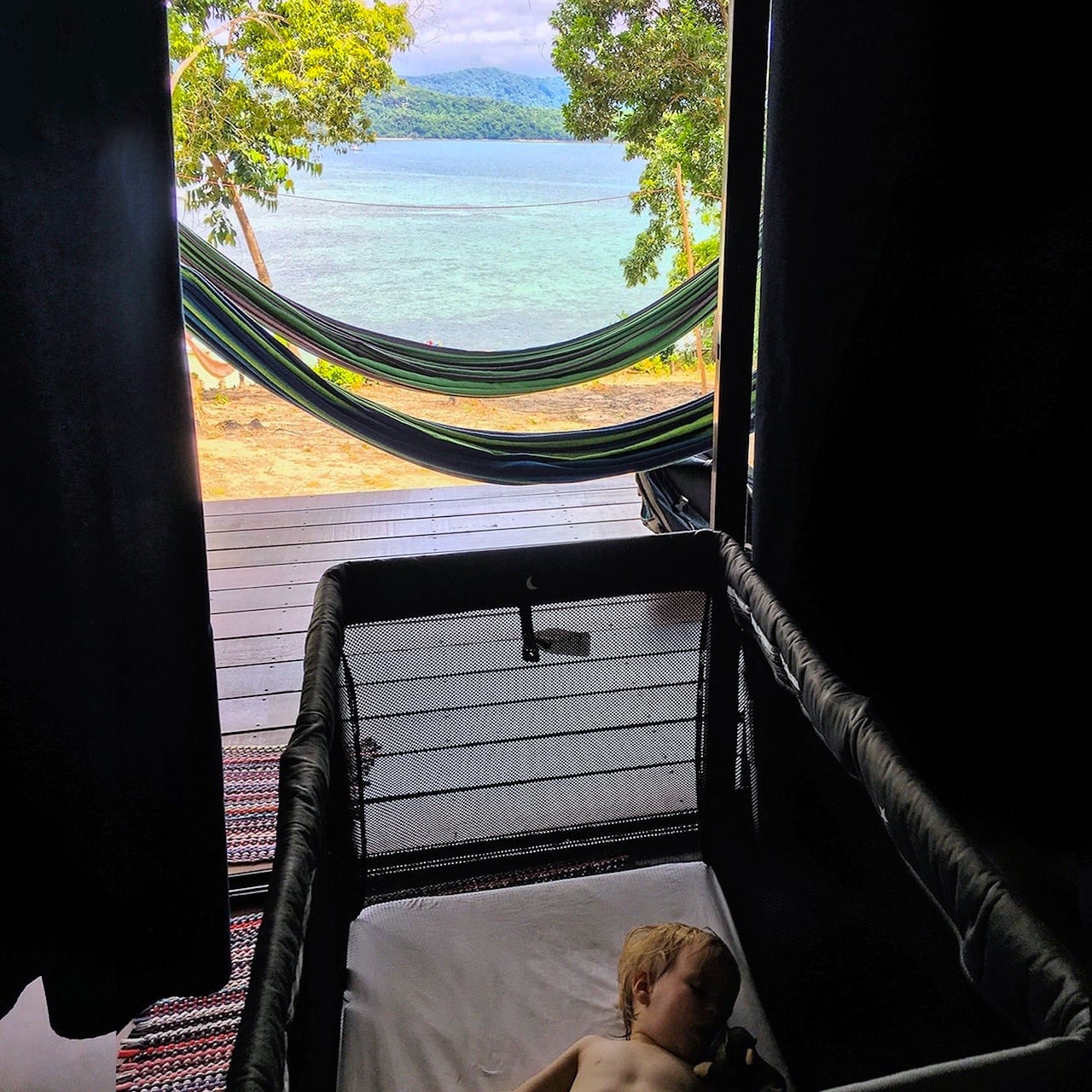 Looking for a light & durable TRAVEL CRIB? Don't Miss...
Guava Lotus Travel Crib: An Honest Review
We put this crib through the wringer — 4 years of use & abuse with TWO boys. BUT...was it worth it? Would we buy it again? Find out!
Social Security Card
You will not be required to submit baby's social security card, but the application does require baby's social security number to be written on the form.
In most cases, this shouldn't be a problem, as most maternity wards in the U.S. include the social security number application in the same packet as the birth certificate application, and in our experience, take about the same time to process.
With that said, if you find yourself in the unique situation in which you've already received baby's birth certificate but haven't received baby's social security card, and your travel date is very soon, you can enter 000-00-0000 in the SSN box to proceed with processing the application.
Please keep in mind that this is an exception for newborns only. If you try this with an older child, you're sure to encounter more than a few headaches in the processing of your application.
Step Two — Sign Up for a Passport Appointment
Generally speaking, for first-timers (as newborns tend to be for most things), this happens at an acceptance facility in your town (typically a U.S. Post Office).
Though there are ways around it (involving notarized paperwork, etc.), it's easiest for BOTH parents (or whoever's listed on the birth certificate) to go in with baby.
You'll need to make your appointment online via travel.state.gov.
Passport processing typically takes 4-6 weeks (much longer here in 2021, so be sure to check current turnaround times!), so if you are traveling before then, you'll likely need to pay the expedite fee and will probably want to pay for overnight return service as well.
If this applies to you, the agent at the acceptance facility will be able to steer you in the right direction, provided you have your flight itinerary with you.
In rare cases, you can qualify for an appointment at a regional Passport Agency, but you'll need to provide proof of imminent travel to get an appointment.
Step Three (a) — Get Baby's Passport Photo Taken
Here it is, getting that elusive passport photo for baby. Do this step ASAP, and don't take any chances with the quality, particularly if your travel plans are imminent.
We took our own photo (as I do with all our passport photos), but I do not recommend the average parent trying this unless a) you are very confident with a camera, desktop imaging and high-quality printing; AND, b) you know EXACTLY what you are doing and what the requirements are.
The most common reason for an application to get rejected is because of the passport photo. I saw this happen more times than I can count.
Keep in mind that just because the acceptance agent at the post office gives the thumbs up doesn't 100% mean the photo won't be rejected, and getting a photo rejected later in the process can hold up the application for weeks.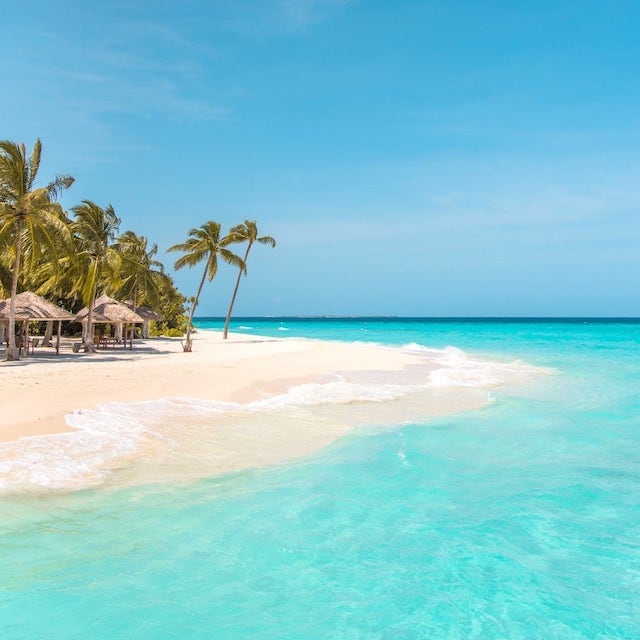 Subscribe to AwayGoWe!
Get our latest articles in your inbox, plus subscriber-only travel tips, special promotions, and more!
That's why it's so important to get your photos done at a trusty outfit. FedEx Office generally does a pretty good job (I am in no way affiliated with FedEx Office, just my experience). Drug stores, not so much.
With that said, if you are absolutely confident in what you are doing (and are following the requirements on the State Department's website to the letter), you can stand to save a good chunk of change by doing the photo yourself, particularly if multiple people in your family are getting passports or you need several photo duplicates for visas, etc.
I won't go into great detail here about camera technique, but you should plan to use a high-resolution camera (10 MP or greater) with a bounce flash or defuser and minimal lens distortion (i.e. not a wide-angle point and shoot). You'll want to minimize/ eliminate shadows while aiming for the clearest, sharpest image your camera is capable of.
For more details, check out the USDOS official guide and requirements for passport photos.
Step Three (b) — But How the %[email protected]# Do You Take a Passport Photo of a Newborn???
Ha. Well, as you may have figured, there's no surefire way for getting a perfect passport photo of a baby, particularly a newborn. But here are a few helpful tips.
Perhaps the most helpful tip I can offer is, that unless baby's old enough to hold his head (and upper body) up all by himself, you'll want to be taking the shot with baby laying on his back on a clean, pattern-free white surface (we used an ironed white sheet, which worked very well).
But even that will only get you so far.
One of you will still have to do everything in your power to get baby to look in the general direction of the camera. If you've ever spent time with a newborn, you know that this is next to impossible.
Out of a half dozen shots, we got lucky. Instead of using baby's favorite toy to get his attention, try some new, shiny object he's never seen before.
A quacker or kazoo also works great, though you want to be careful that baby doesn't loose his sh*t, or it might be very hard to get a clear shot.
And as tempting as it may be, remember no sunglasses, hats, or fake mustaches (real ones are okay, but you may have trouble explaining that one).
Keep in mind, passports for children under 16 (including newborns) are good for five years.
While you'll probably want a passport photo of your newborn baby that you can stomach seeing every time you go through immigration, don't worry too much about the likeness. In a couple of years, baby will look totally different!
Up until age 16, immigration officials rely on an array of factors to positively identify a minor child, not solely relying on the passport photo (though if your five-year-old happens to have a babyface, it certainly won't hurt matters).
Lastly, do your best to get a good, clear likeness of your little one, but also keep in mind that the State Department does not expect newborn passport photos to be absolutely perfect.
An experienced passport photographer should be able to help you make a good determination as to whether the photo will pass muster or not.
Step Four — Complete the DS-11 Application for a U.S. Passport online and print it out.
Complete the application as thoroughly (and truthfully) as possible.
For "Occupation" it's fine to write "Baby" or "Infant."
A good rule of thumb is not to leave any blanks. If a box truly doesn't apply (like "Maiden name/ other names used") simply write "N/A."
If you've got imminent travel plans, makes sure that's reflected in the travel plans section.
Step Five — The Passport Appointment for Baby
Bring your application form, passport photo, certified copy of birth certificate, passport fee(s), flight itinerary (if you are traveling soon), and any other supporting documents (for special cases, you know who you are) to your appointment.
AND DON'T FORGET THE BABY!
Step Six — Receive Your Baby's Passport and Enjoy Your Trip!
Most routine applicants can expect to receive their passport in the mail in about 4-6 weeks after application.
Remember to sign the passport when you receive it (for a minor, you can sign the full name of the child and write "by mom" or "by dad" or guardian next to the signature.
Make a high-resolution scan (and color photocopies) of the passport and store it in a safe place.
And that's pretty much it!
In closing, I'd like to emphasize that this is only intended as an overview or cheatsheet, to demonstrate how easy the process is for most applicants to apply for a newborn passport.
In addition to this overview, you will most certainly want to thoroughly read the official instructions at travel.state.gov, as application requirements to change from time to time.
If you have questions regarding the process, it's best to ask the acceptance agent or consult the official web resources.
And remember, this overview won't apply to everyone, particularly if you are renewing a passport, applying without one of the parents or guardians present, or have other special circumstances.
Want more helpful baby travel tips? Check out:
Do you connect to public WiFi when traveling? Don't Miss...
7 Reasons Why You Need a VPN for Travel
Not sure what a VPN is? Read our straight-forward article on why we always use a VPN, and why you'll want to as well.
---
Have You Recently Applied for a Passport for Your Baby?
Tell us about your experience in the comments below!
---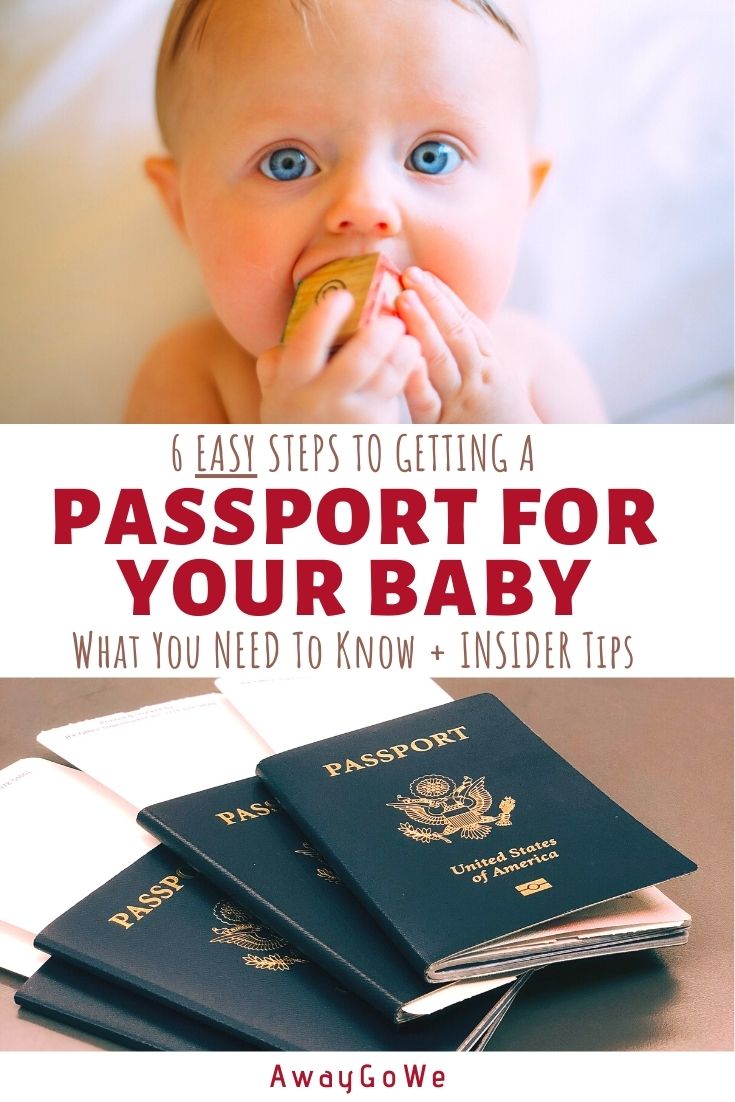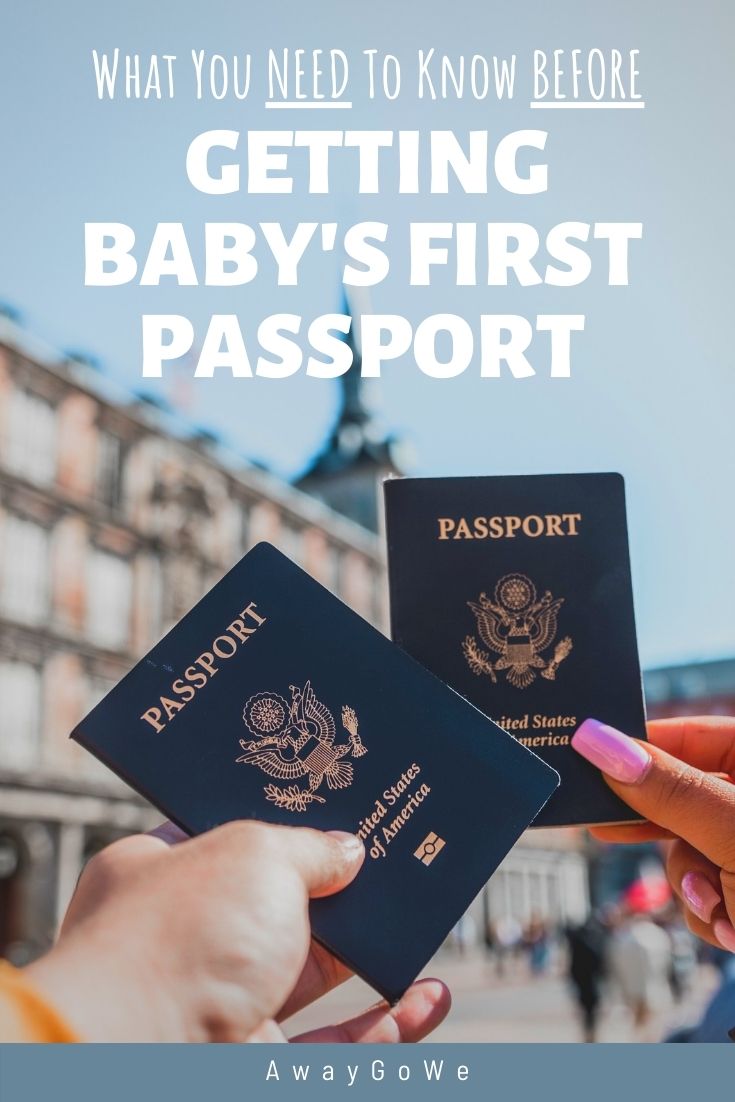 Cover photo by Colin Maynard on Unsplash.
As an Amazon Associate we earn from qualifying purchases. We're also members of other affiliate programs. Learn more in our privacy policy.