Happy New Year 2020 from Cambodia!
Some folks awake on New Years Day to a hangover. Others have messes to clean up after a big party. We awoke to find this guy in Lori's wine glass from the night before.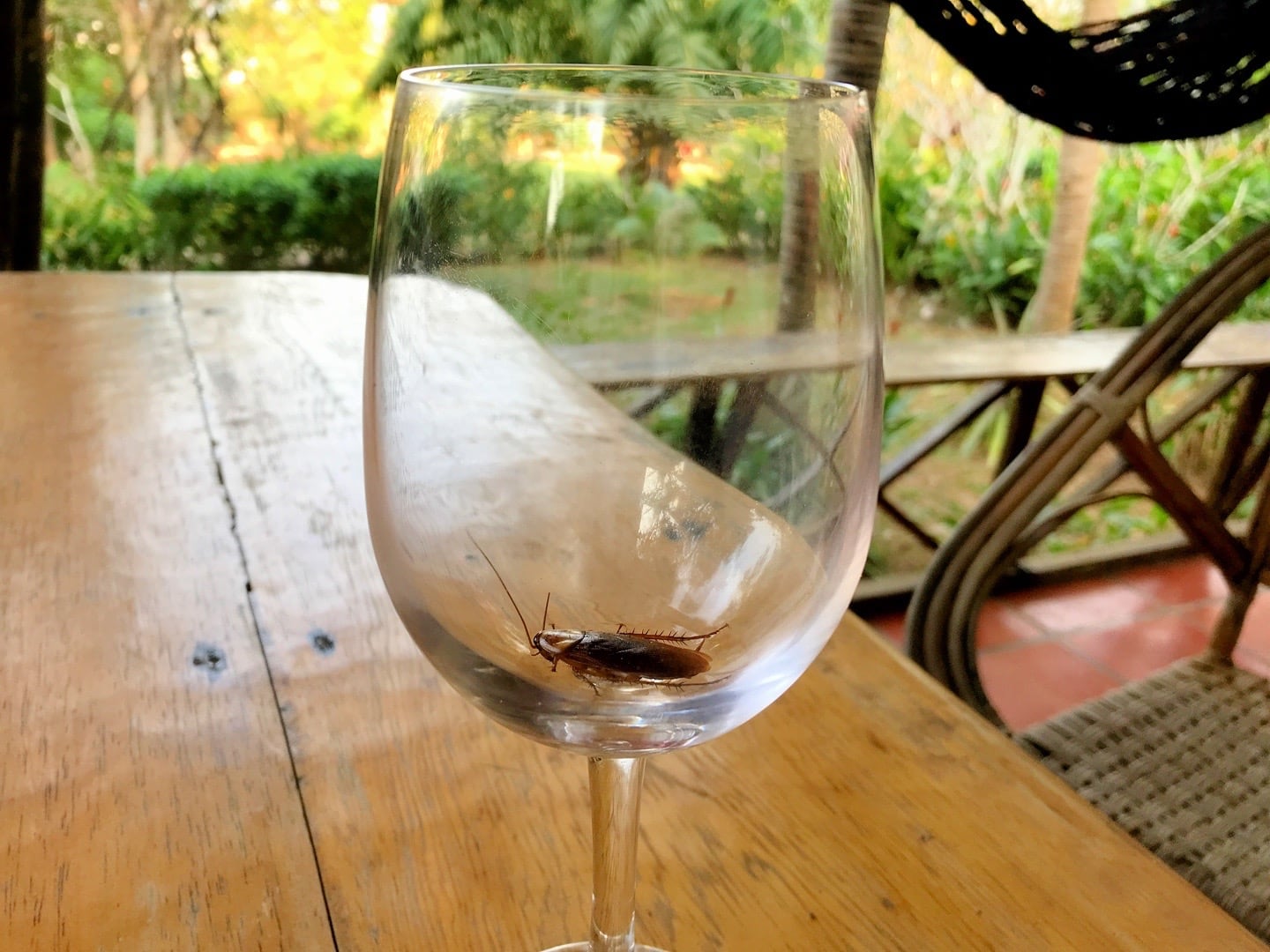 Nothing says New Years in Cambodia quite like a cockroach in your glass.
…and a baby on a hammock.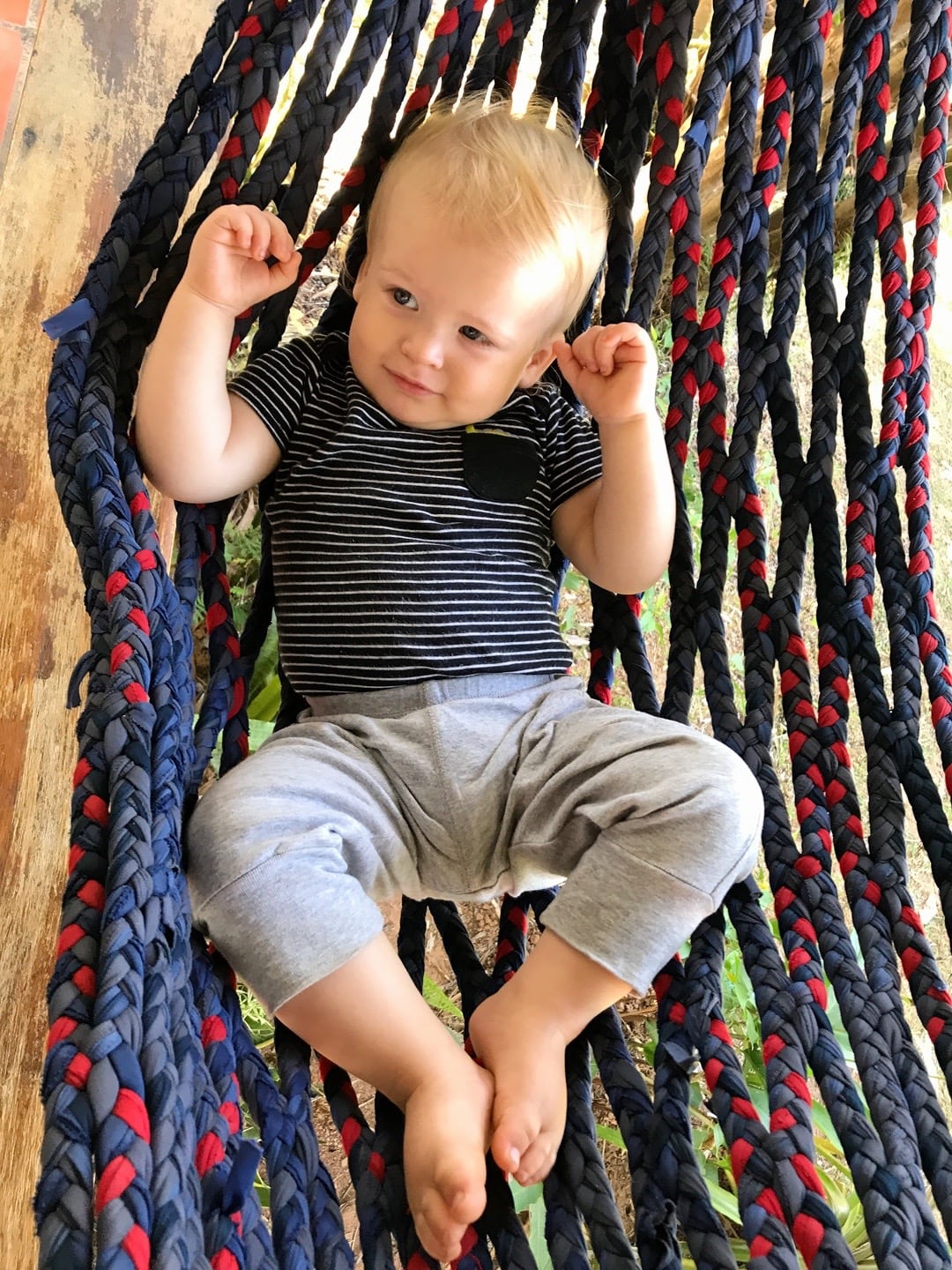 Noe couldn't resist…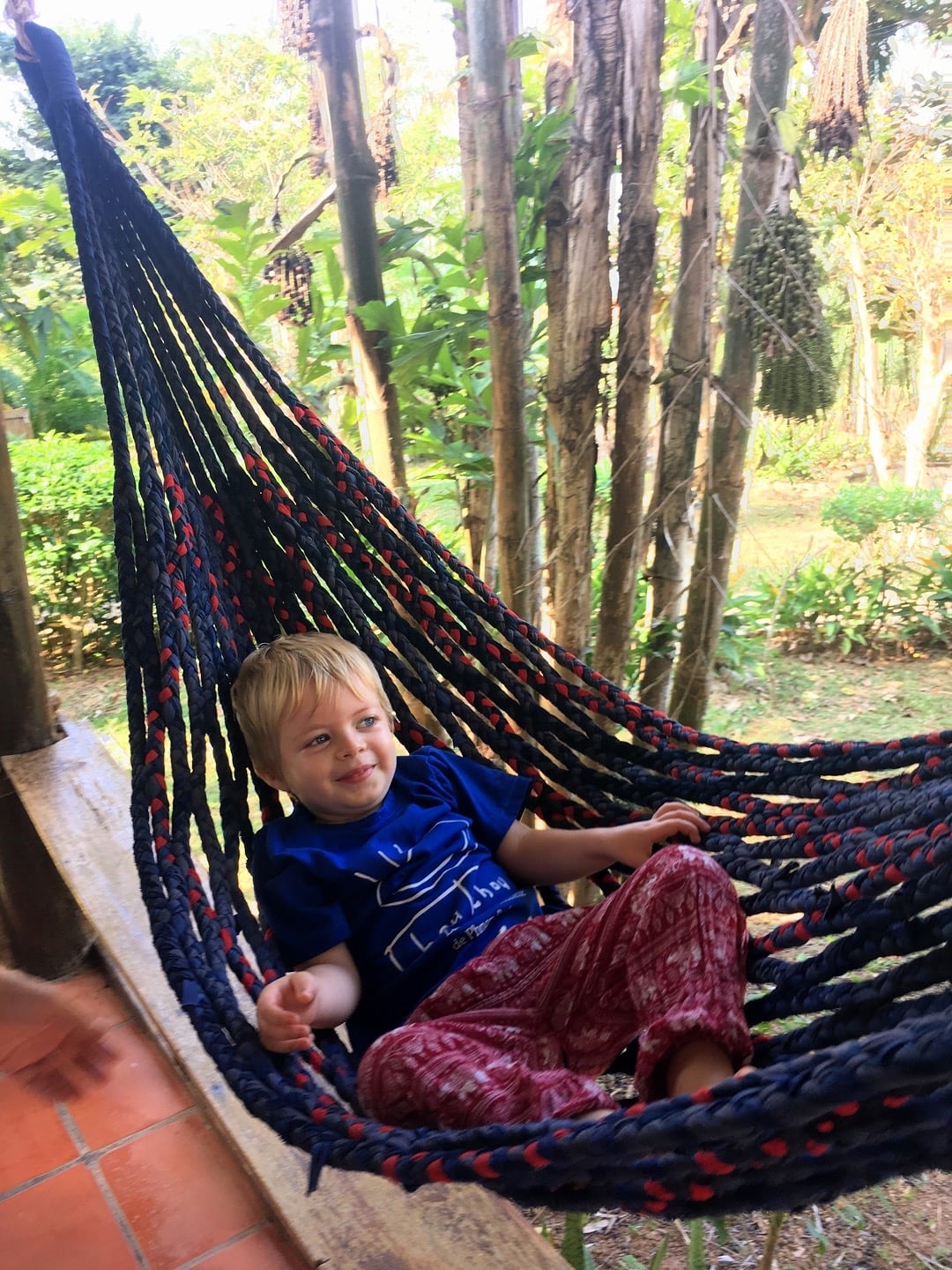 After breakfast we head off to do some hiking around Kep National Park.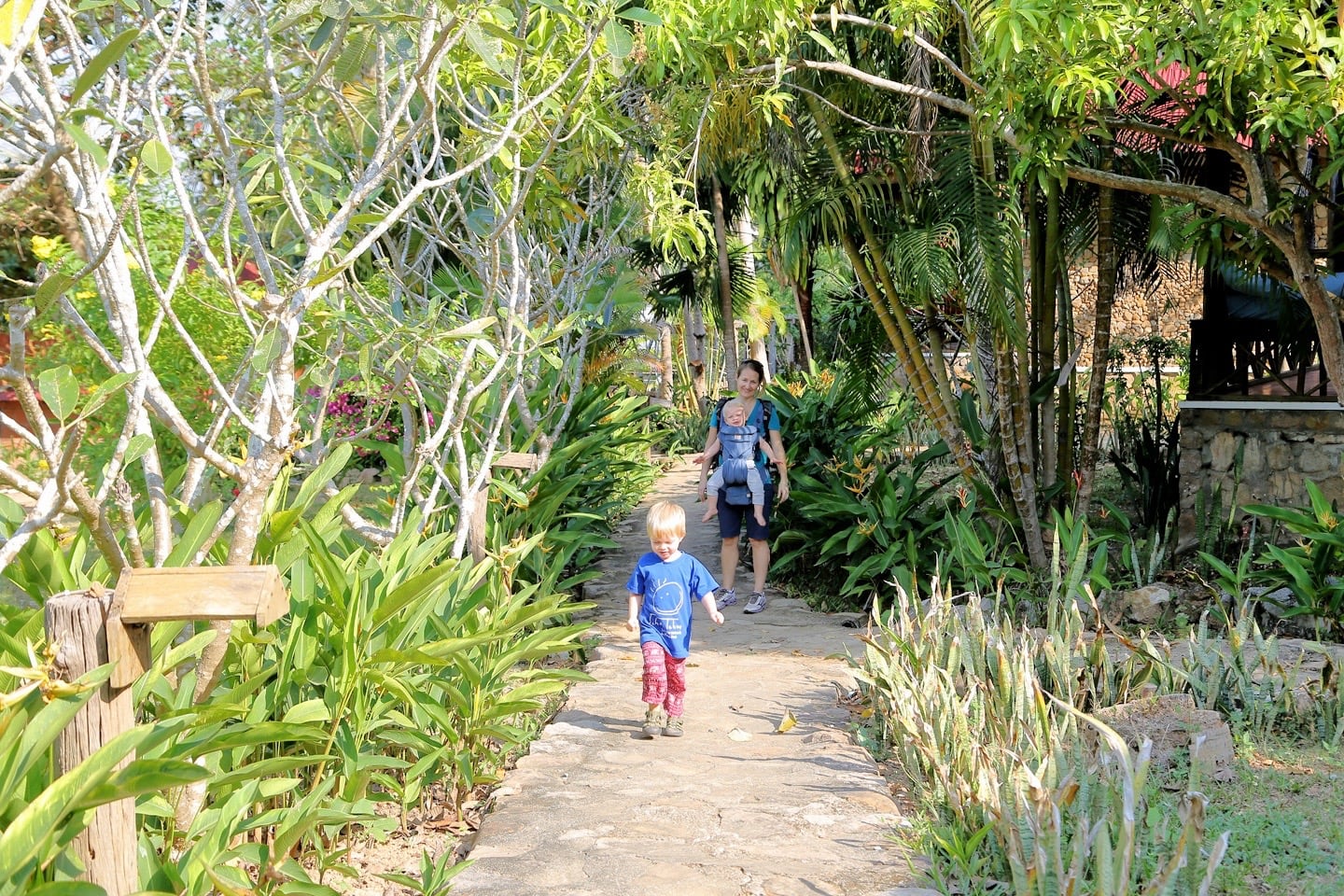 We don't know a lot about the park, only that it's very close to where we are staying and that there is trail connecting the lodge to the main circuit. Only thing is, we can't seem to find the trail.
We ask the reception desk but they only give a half-hearted gesture in the general direction of the park. I study the map in our visitor guide a bit more closely and cross-reference it with openstreetmaps.org. The former definitely shows a trail, the latter does not. And openstreetmaps.org is rarely wrong. But Cambodia's weird like that.
We head in the direction the staff membered motioned, cut through a meadow behind the lodge's pool and find a gate at the far end of the property. On the other side of the gate is a path. Looks promising.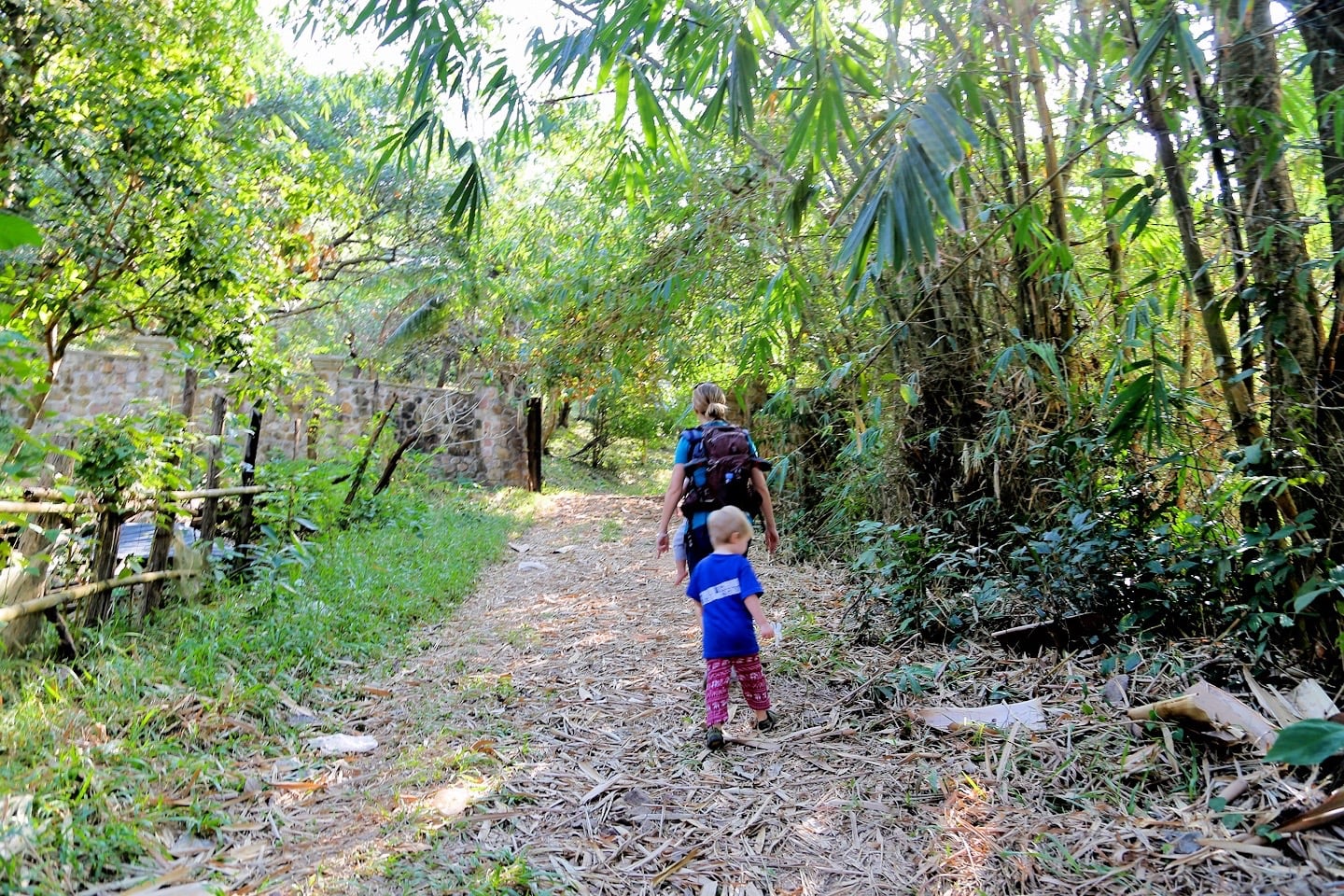 We follow the path and arrive at a gate with a sign reading "Kep National Park". A good sign.
A short while later, we come to a meadow where a couple of maintenance workers are clearing brush. We continue on until the trail ends at worker housing a short distance later. Doing a circle around the housing, it's clear this is not the right way. So, we double back and try to ask the workers, but they don't seem to have any clue what we're looking for.
I study the map a bit more until Lori calls me over. She's found something, some sort of trail marker she thinks. We follow the narrow path into the jungle and spot another. Seems we're onto something, but the trail is very overgrown. At this point, Noe's no longer walking beside me. I'm carrying him.
Then, the path gets steep.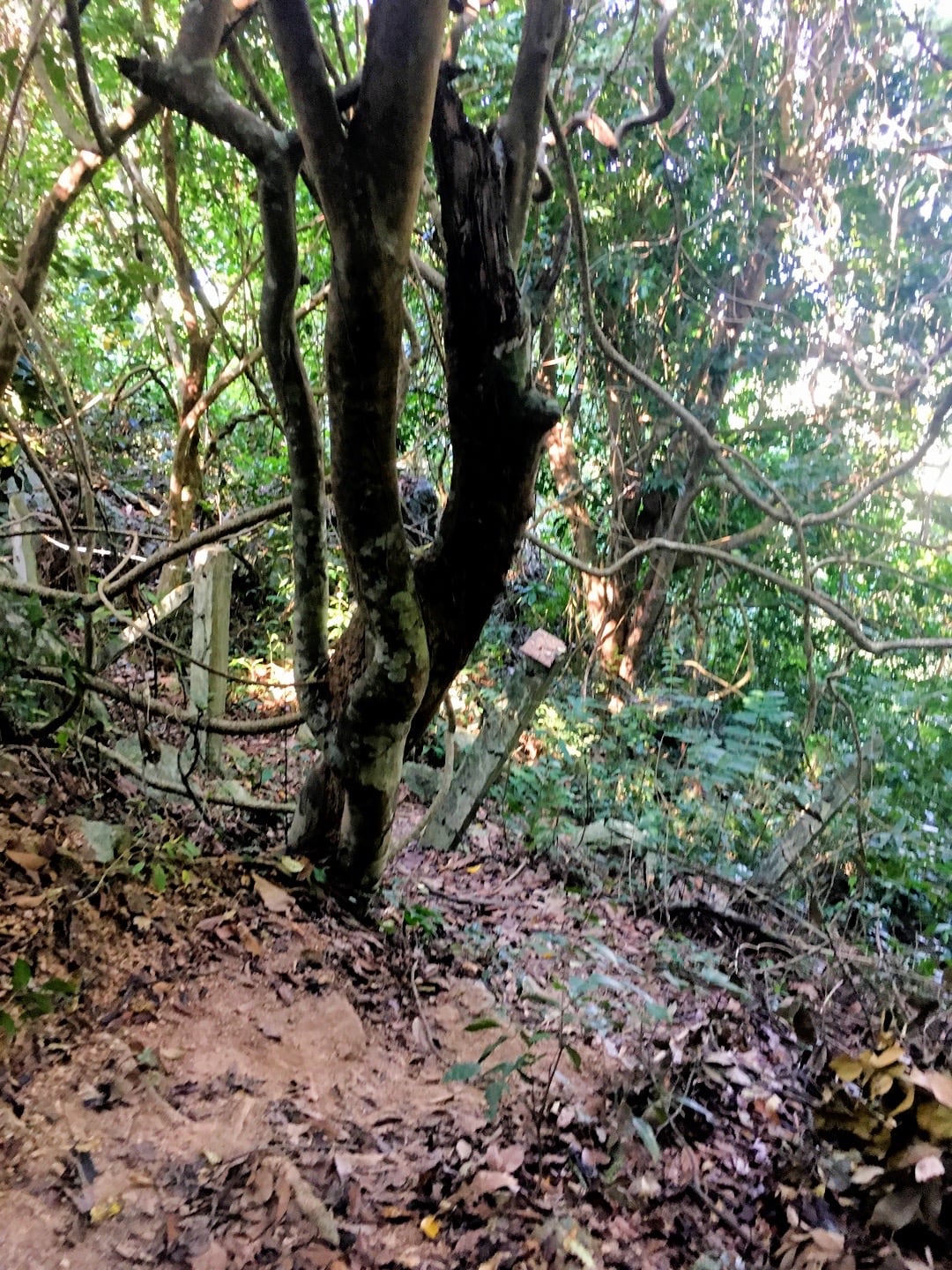 Then, it gets really steep. I hoist Noe over my shoulder and carry on up the trail. Judging by the GPS, we're close. The alternative is to head back down the hill and walk a couple of kilometers around to the main gate. There's no turning back now.
It's hot, it's buggy, Noe feels three times as heavy as normal (it is right after breakfast, after all). And now, the path has narrowed to a row of precarious stones, with thick jungle on both sides and a precipitous drop on our right.
Up, up, and up.
Then, I hear voices. 'Merican sounding voices. The loop trail!
A dozen more laborious steps straight up and I'm suddenly and unceremoniously deposited on a level and well-maintained track. A short while later, Lori emerges from the jungle with baby. We made it!
Suffice it to say, we will not be returning that way.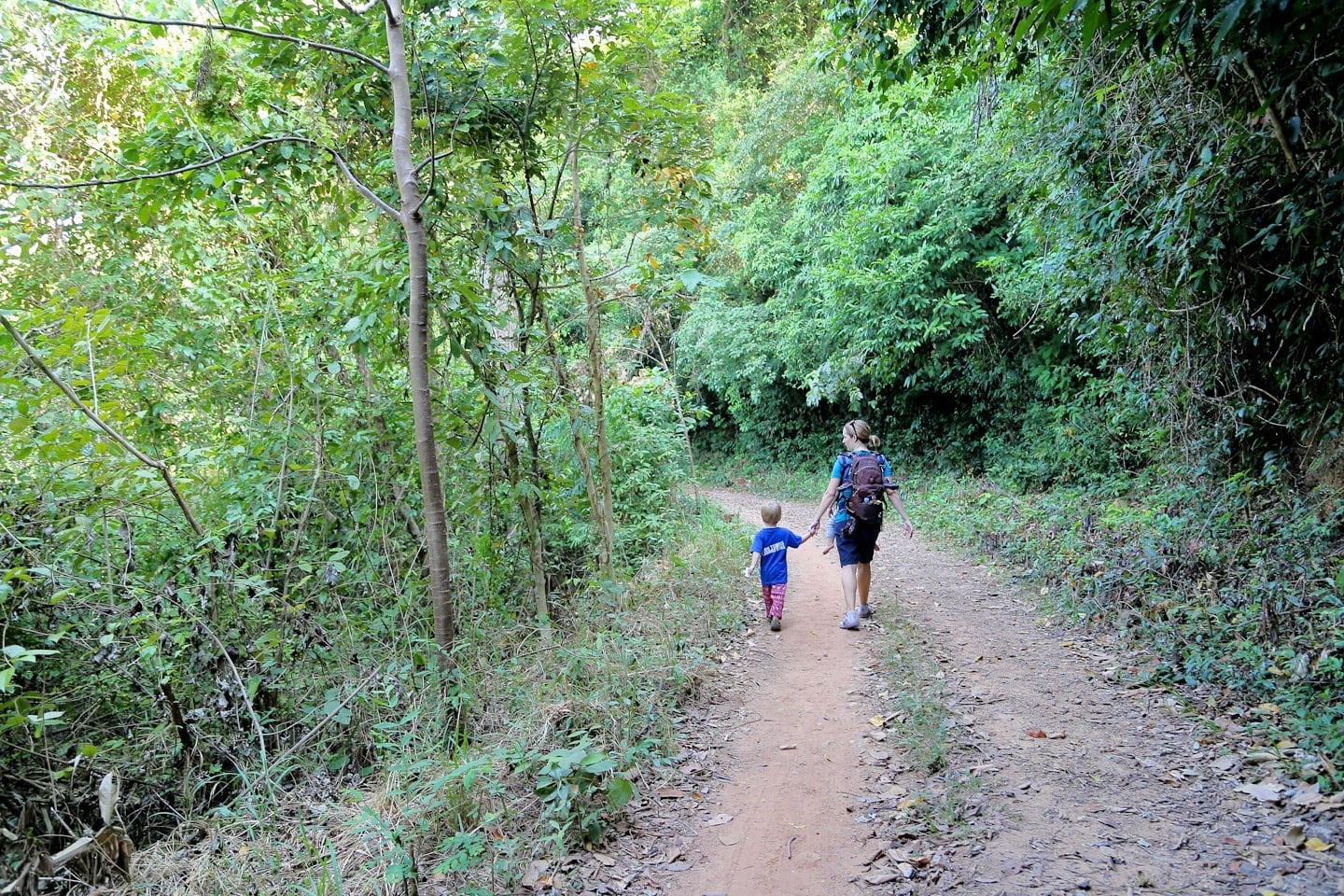 So, yes, there is a trail that connects Kep Lodge to the Kep National Park loop trail. But don't expect it to be maintained or to be able to find it. And, I wouldn't recommend attempting the trail with a 3.5-year-old, but that's just my opinion.
Kep National Park
Kep National Park isn't a national park in the way that Yosemite, Serengeti, or Koh Phi Phi are national parks, but more like a protected wildlife reserve. If you approach Kep National Park in that vein, it'll be a lot more enjoyable.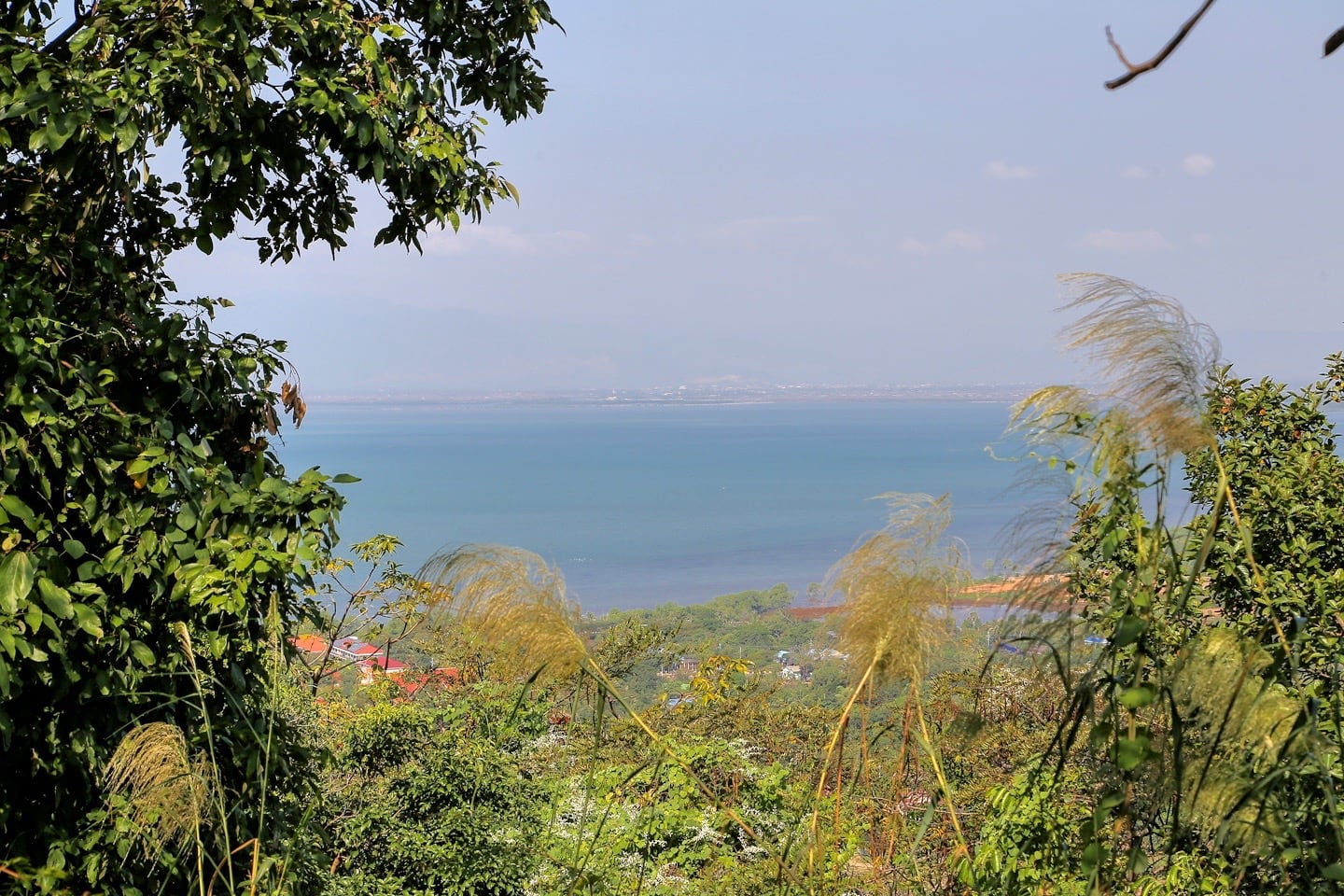 While the wildlife isn't terribly abundant and views aren't mind-blowing from the main loop trail, the trail does offer both wildlife and sweeping views at various points. On a clear day in January, it is very much worth the hike.
From what we've heard from others, the interior trails offer much more in terms of wildlife and views, but are far more strenuous and time-consuming. I resolved to wake up early and tackle some of the more popular trails like Stairway to Heaven and the Nun's Path, but alas, vacation mode kicked in and I contented myself with relaxing instead. At least, this time around.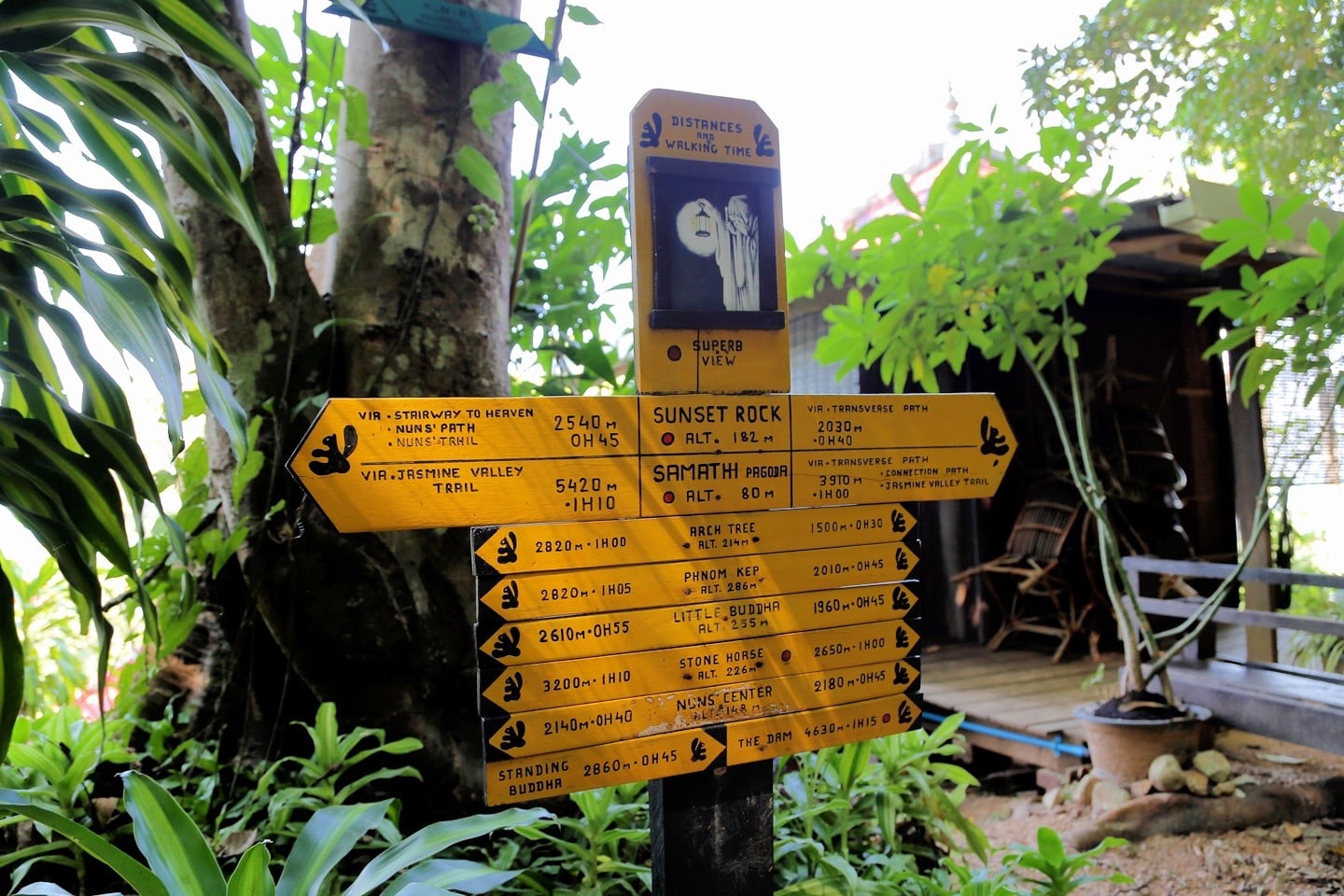 Led Zep & Le Bout du Monde
Visiting Led Zep Cafe (map) in the heart of the national park was high up on our to-do list during our visit to Kep. And we did indeed visit, twice. And both times, the place has been closed, unfortunately. Mind you, it doesn't open until at least 9:30am on a normal day. But with the holiday, I think the schedule this week is a bit more fluid than usual.
We continued on looking for a place to grab lunch and happened upon a funky little French auberge with a restaurant on a covered deck looking out towards the sea.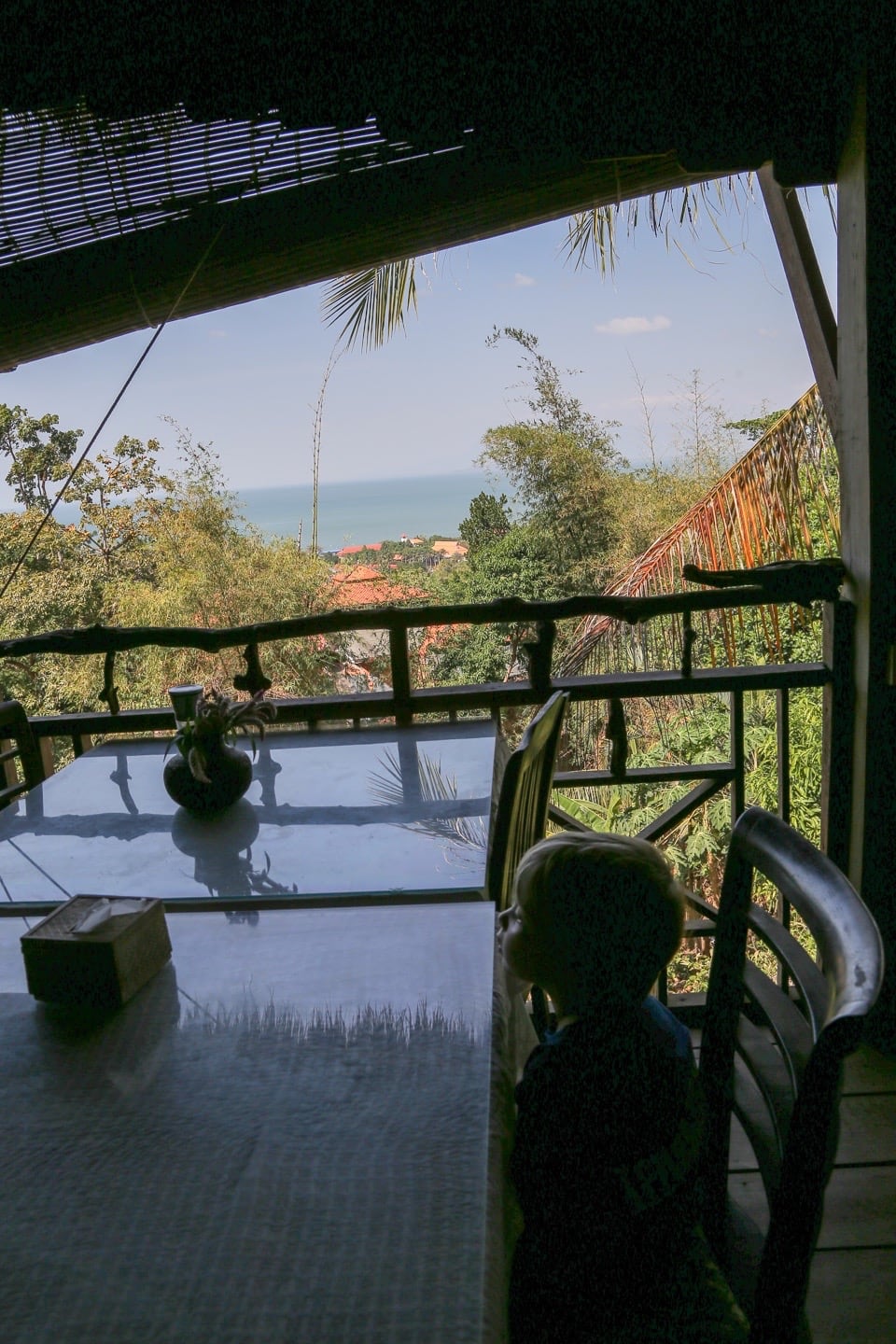 Le Bout du Monde (map) just happened to be the first place we encountered along the trail and just happened to be packed on this New Years Day. We grabbed the last table at the far end of the terrace and scanned the menu. We were pleasantly surprised by the offerings — French and reminiscent of places we often encountered in Laos but hadn't yet encountered in Cambodia.
We jumped at the chance to have crepes, both savory and sweet. Vientiane offered a number of places to indulge in legit French crepes, but we haven't yet found a comparable place in Phnom Penh (Bagatelle has sadly closed). I'm pleased to report that the crepes delivered.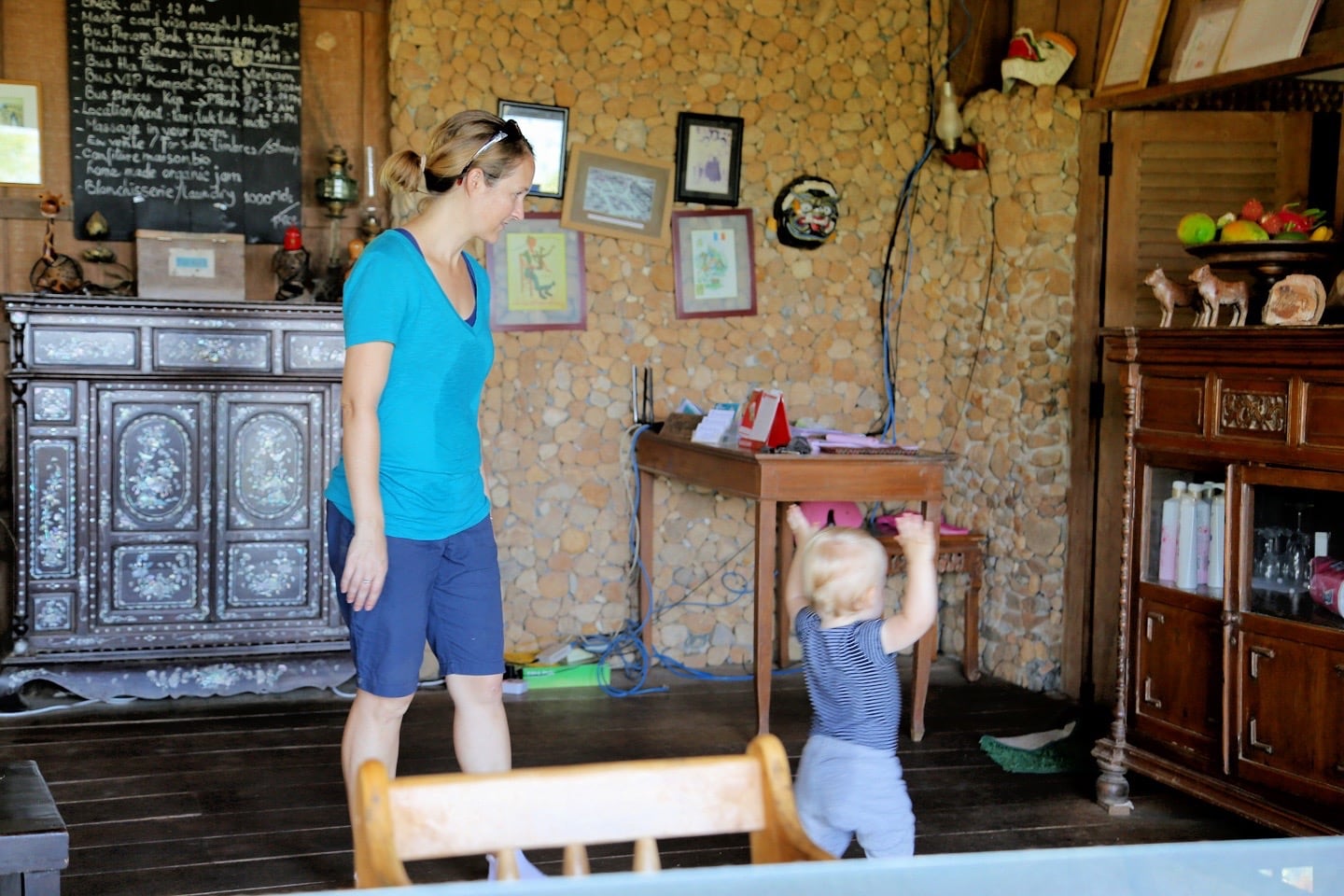 And Riley enjoyed keeping mommy and daddy on our toes amongst a sea of French knickknacks before the food arrived.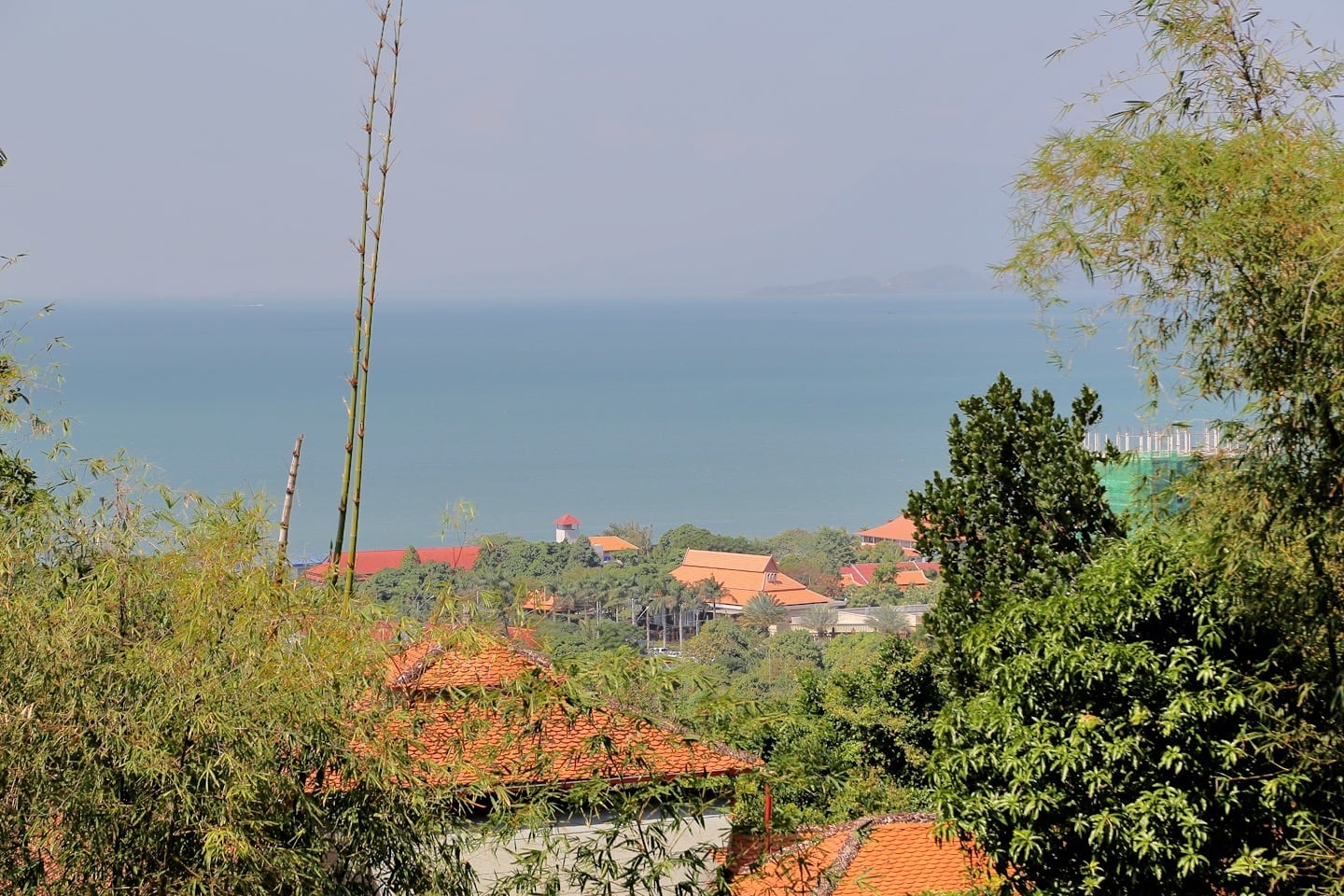 A nice view of the Gulf of Thailand from our table.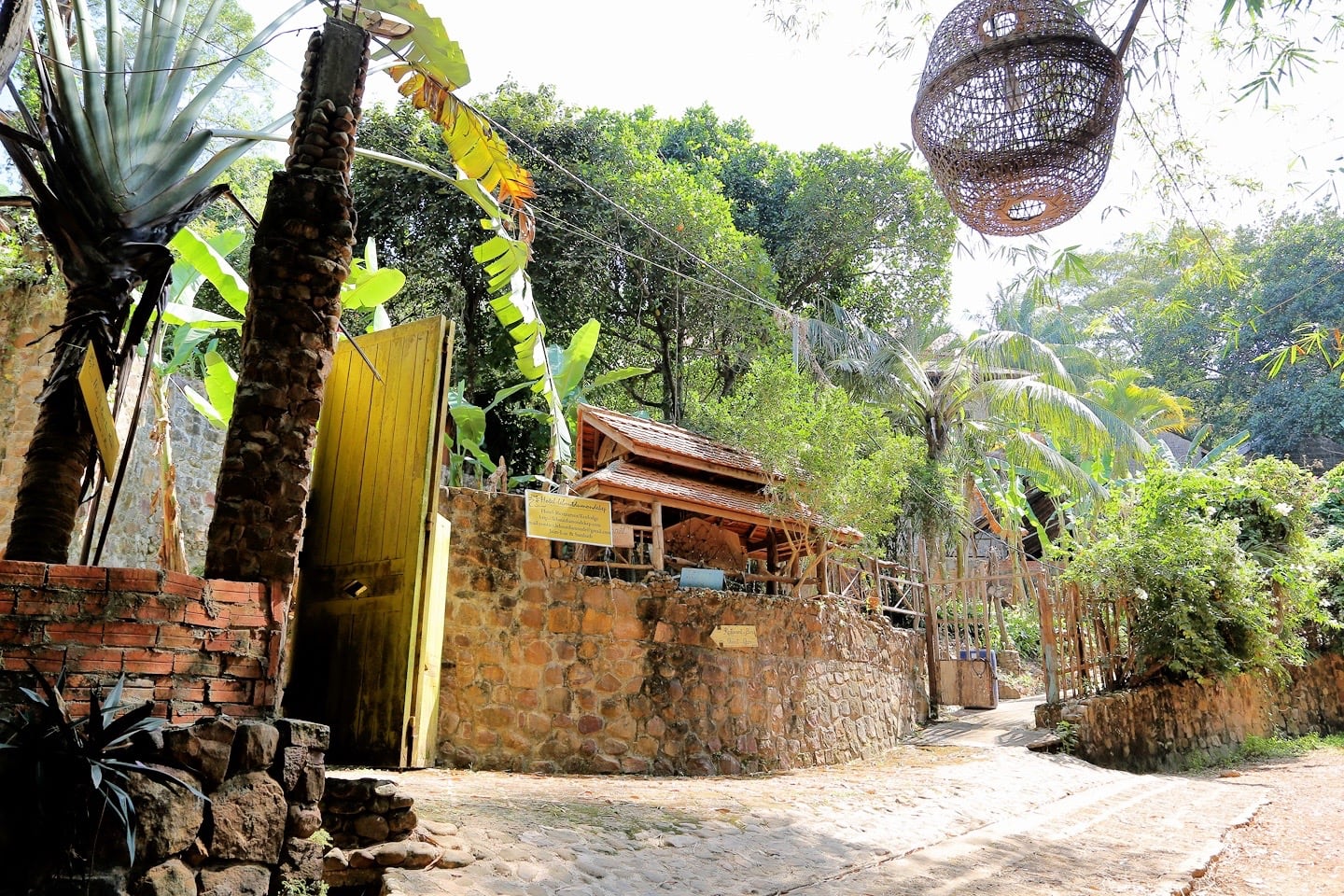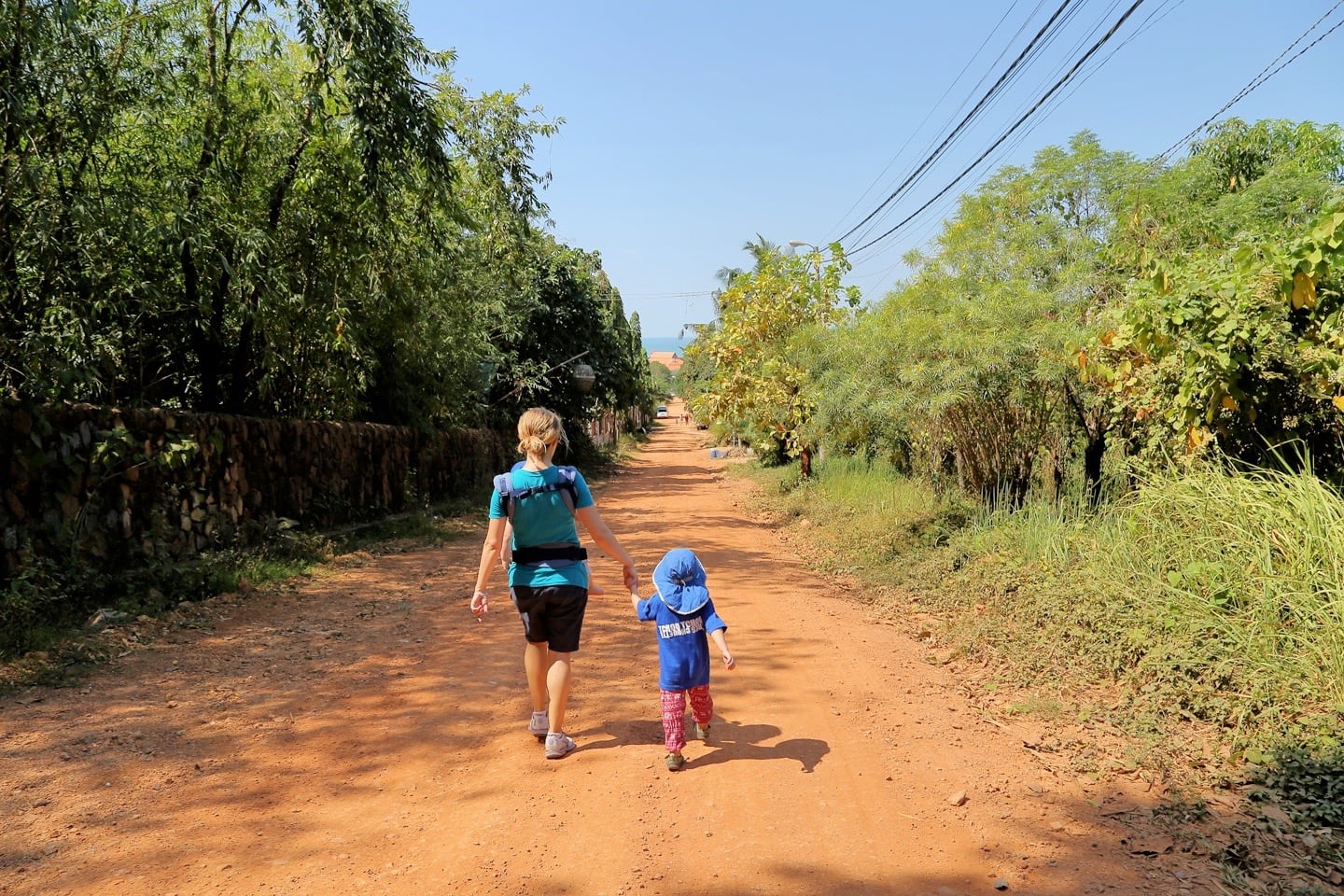 Time to head back to the lodge…the long way.

Nap time, for all of us. And I on the hammock, and ma at the pool…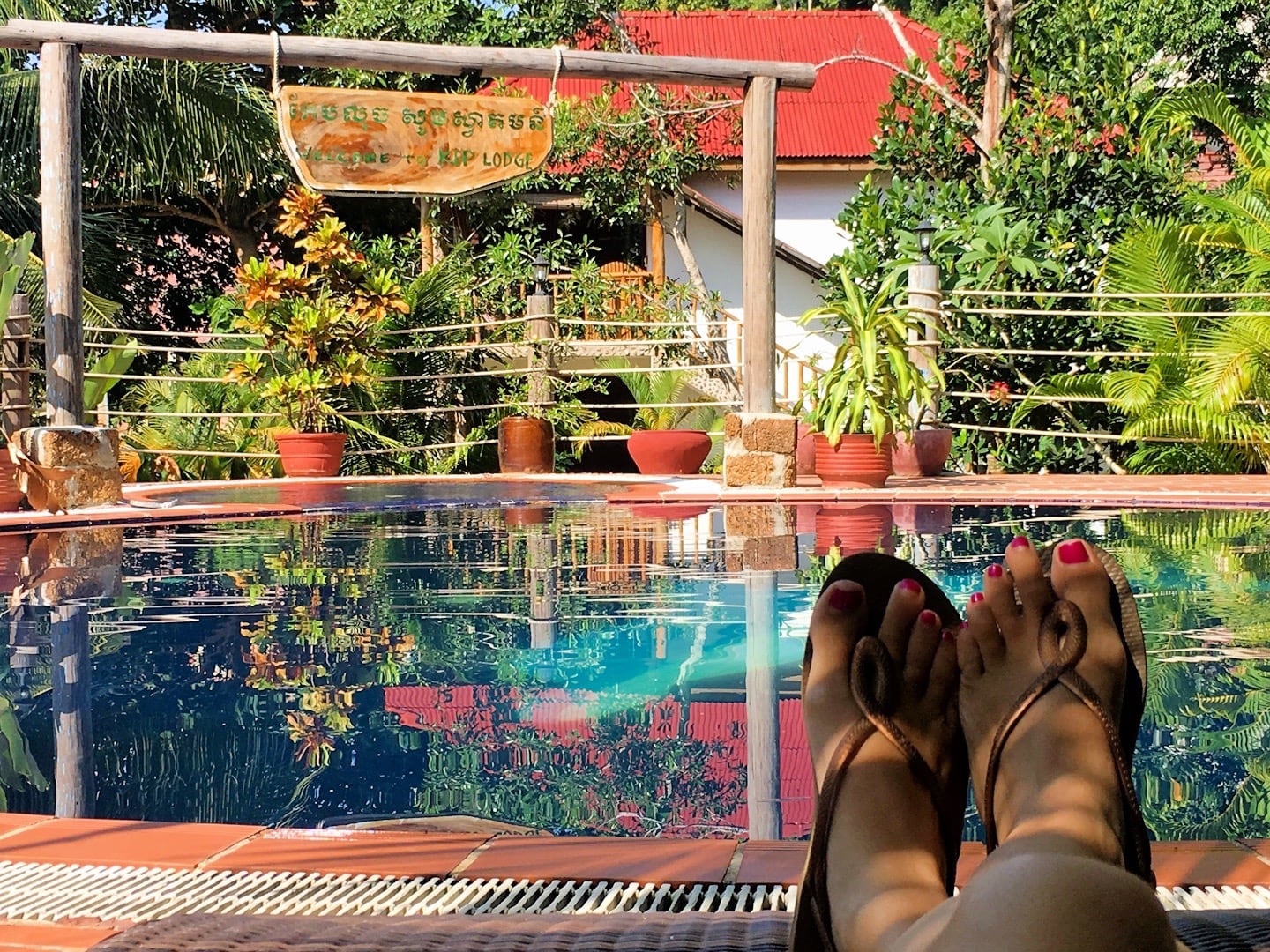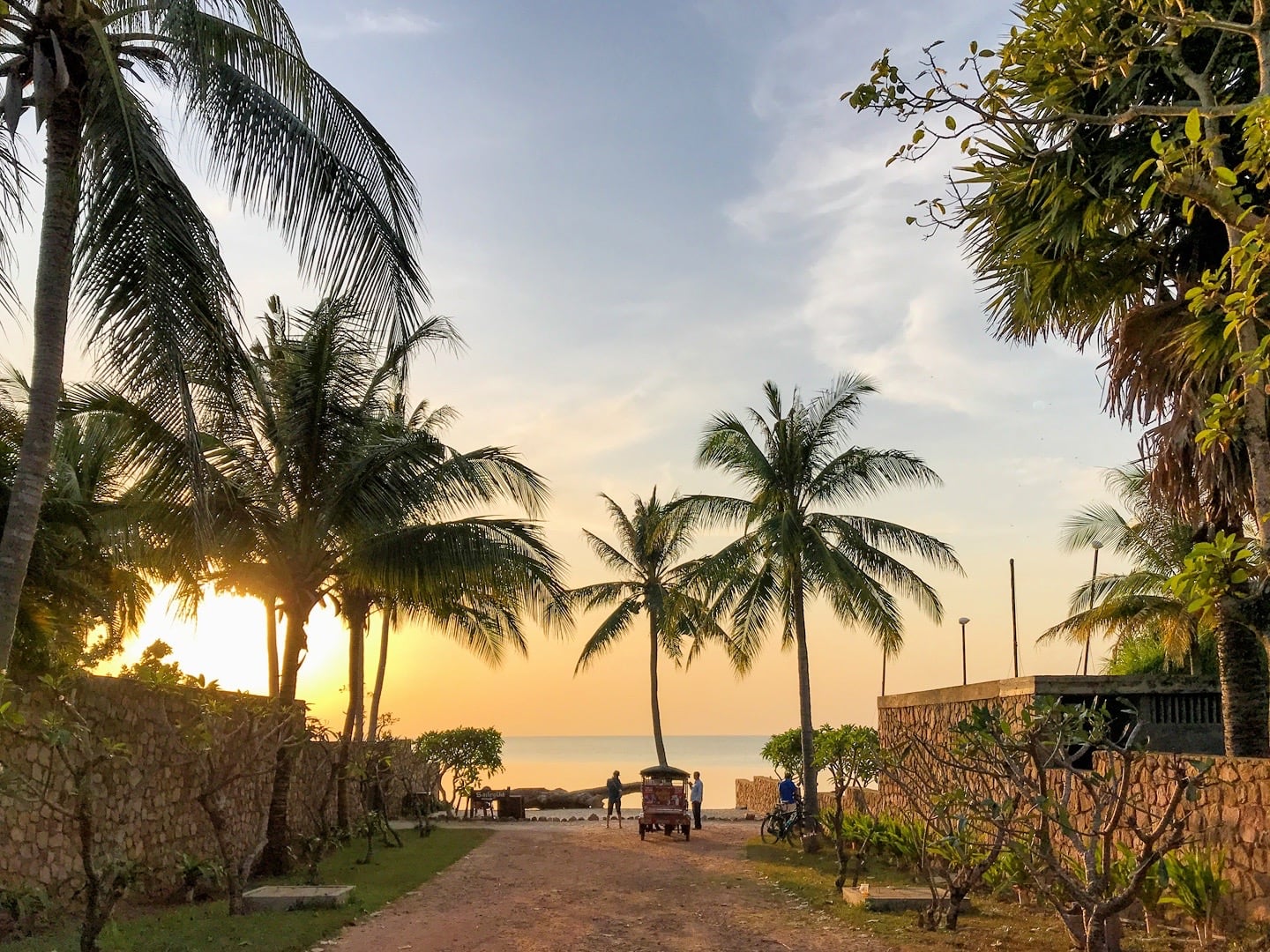 The Sailing Club
I was skeptical when Lori first mentioned the Sailing Club. The name alone evokes white seaside villas, hoity toity clientele strolling around in cream colored cardigans, and ridiculously expensive champagne brunches.
While we won't being staying at the adjacent US$350/night Knai Bang Chatt resort or dining at the exclusive restaurant within the resort compound any time soon, we found the Sailing Club surprisingly low key, unpretentious, and accessible.
The food prices are a bit higher than other Western restaurants in Kep, but an excellent value when compared with similar restaurants in Phnom Penh.
The Sailing Club is one of three restaurants on the property, which is laid out like one big white-sands sand box. It is unique in that they didn't just clear out the mangrove that was here, but built a porous seawall and filled in the area with white sand trucked in from the islands, creating a stable, usable property while maintaining the natural vegetation.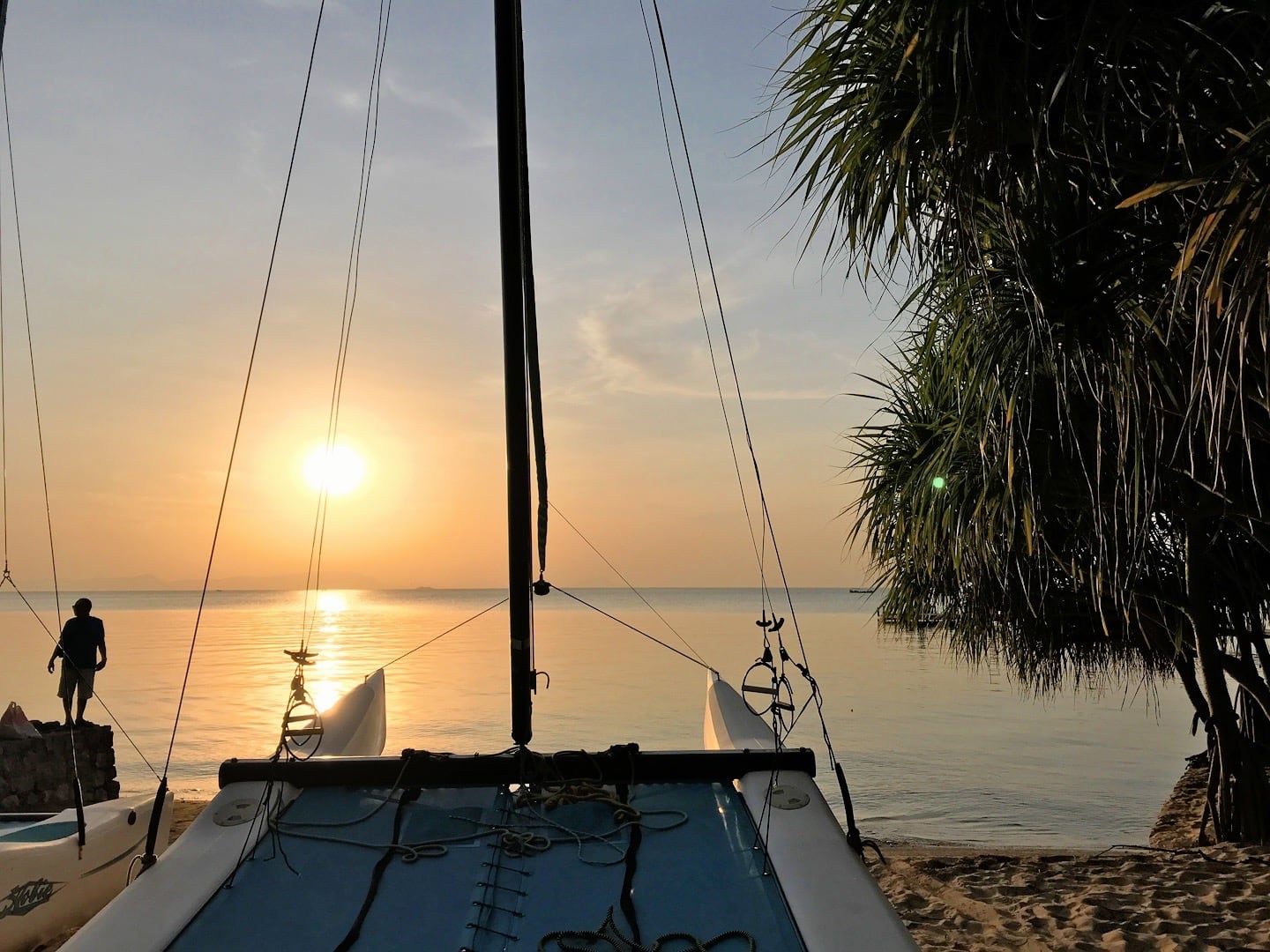 And, true to its name, the Sailing Club offers sailing, albeit on these small catamaran dinghies. They didn't seem to be getting a lot of use today, but there's plenty else to do at the Sailing Club besides sailing.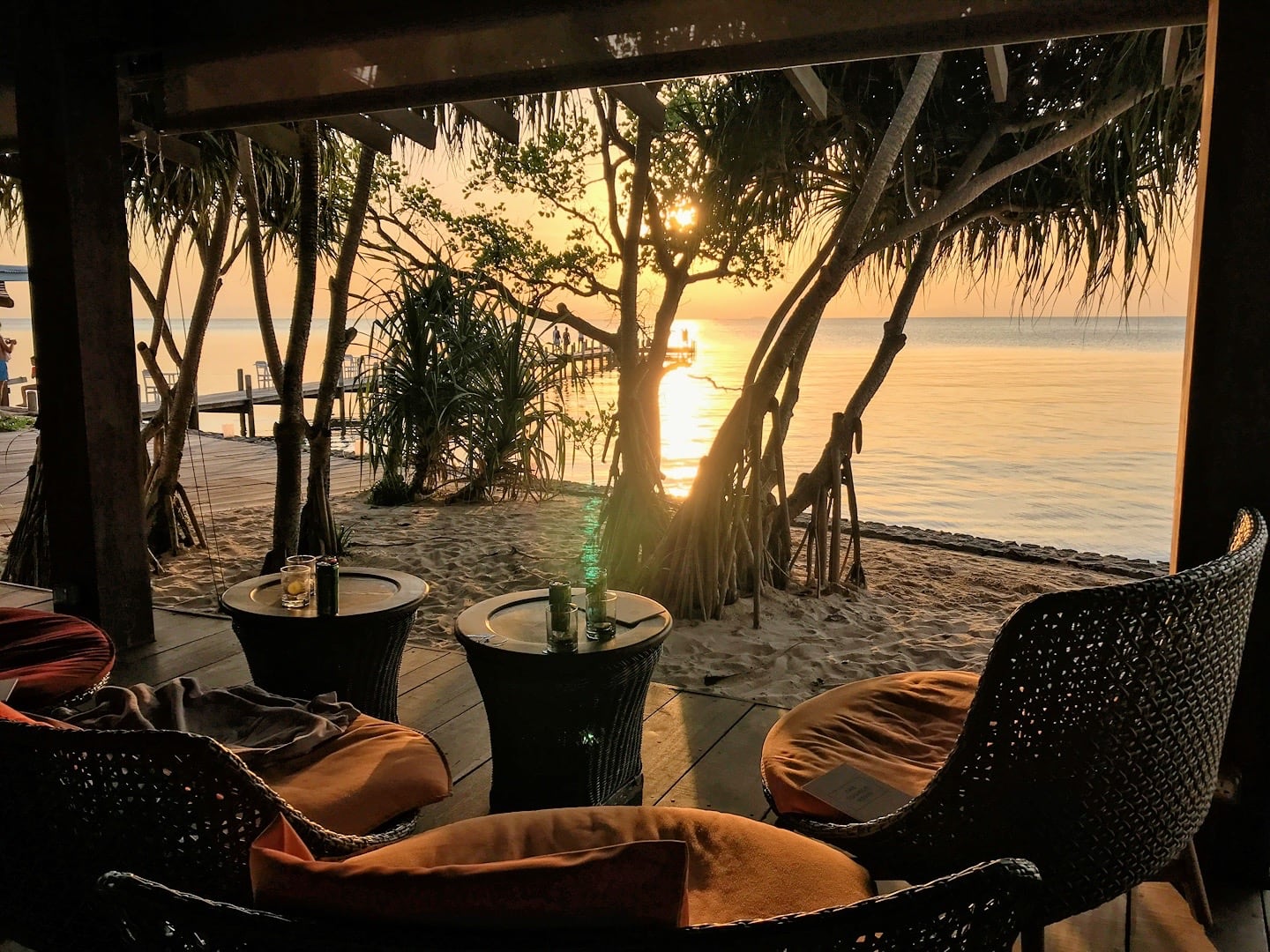 Like drinking and eating! There's a good-value happy hour on cocktails where you can enjoy just before sunset at the nearby lounge or at the restaurant, itself.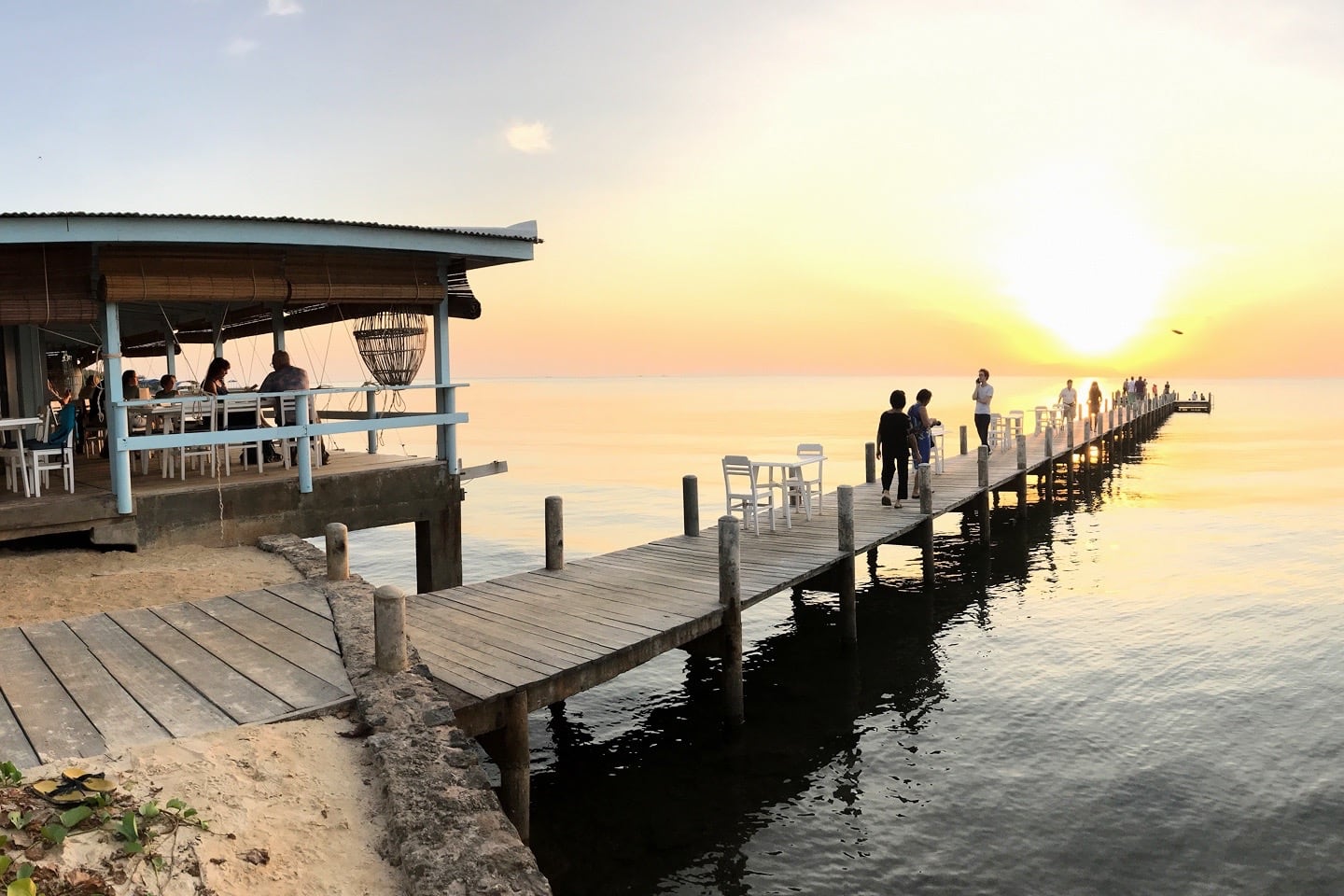 You can even have your drink (and meal) on the pier, which is the focal point of the property and maybe the best place in Kep to watch the sun drop.
The end of the pier also offers excellent swimming, though I'll warn you from personal experience that it is shallow (1-2 meters max depending on the tide). Though enticing, I was fortunate I didn't job off the pier. There are no signs so I guess you just have to know. I chose the ladder option instead, and in doing so, still managed to put a good sized gash in my toe pushing off (not knowing the water was about a meter deep at the time). The seabed here is smooth but packed hard.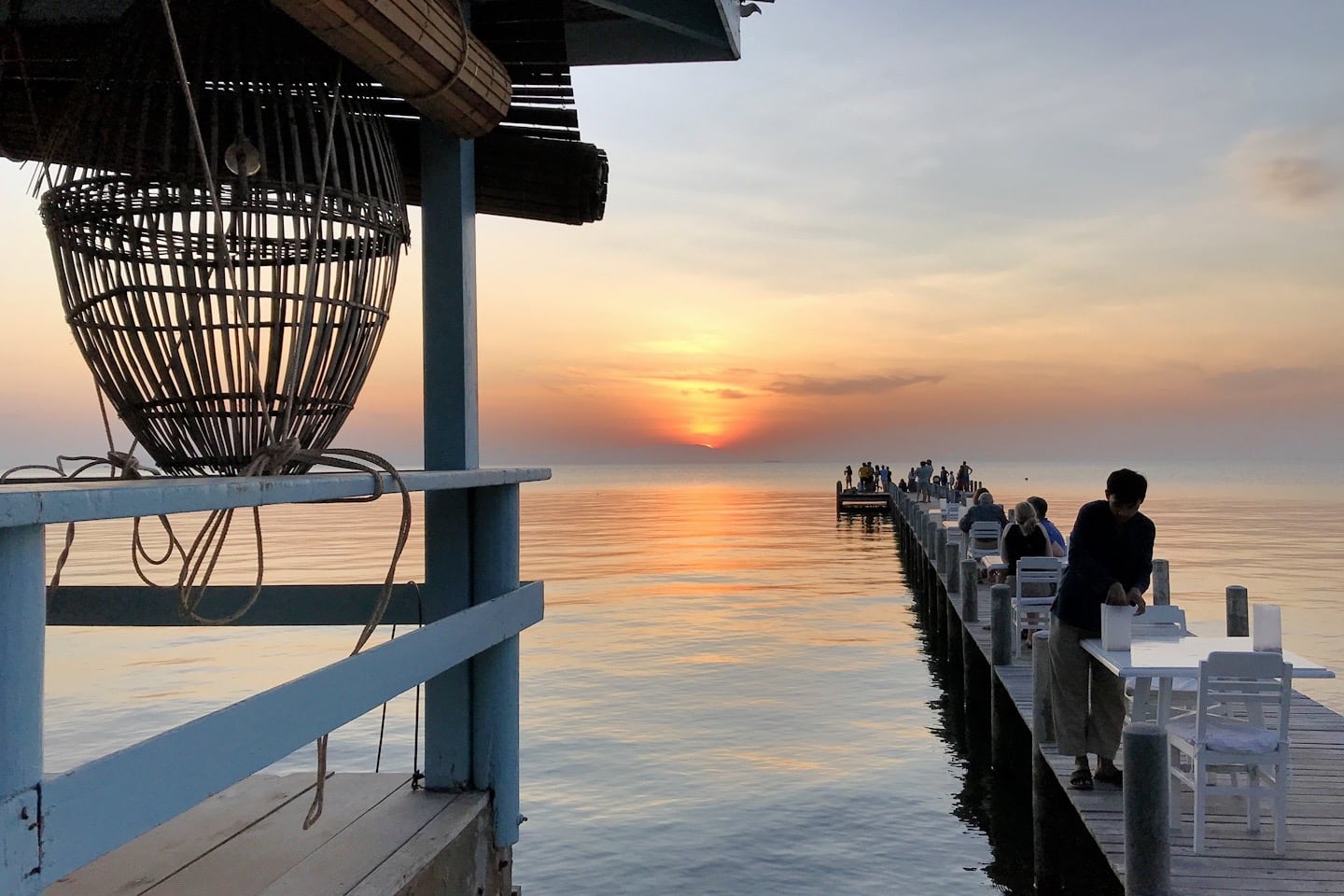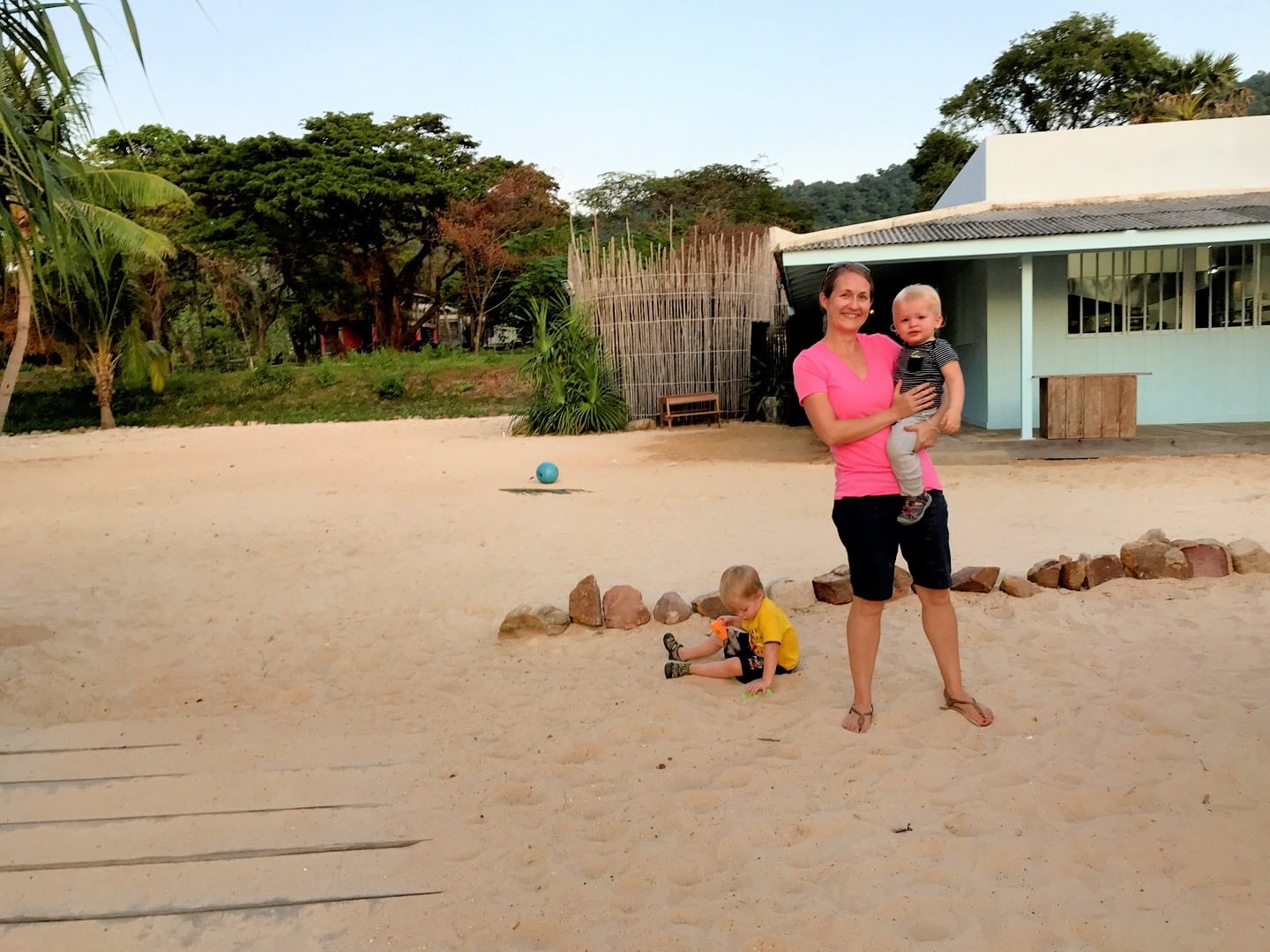 The kids loved the Sailing Club because, after all, it is one big sand box. We brought our beach toys along with us and they happily busied themselves around the restaurant until our food arrived.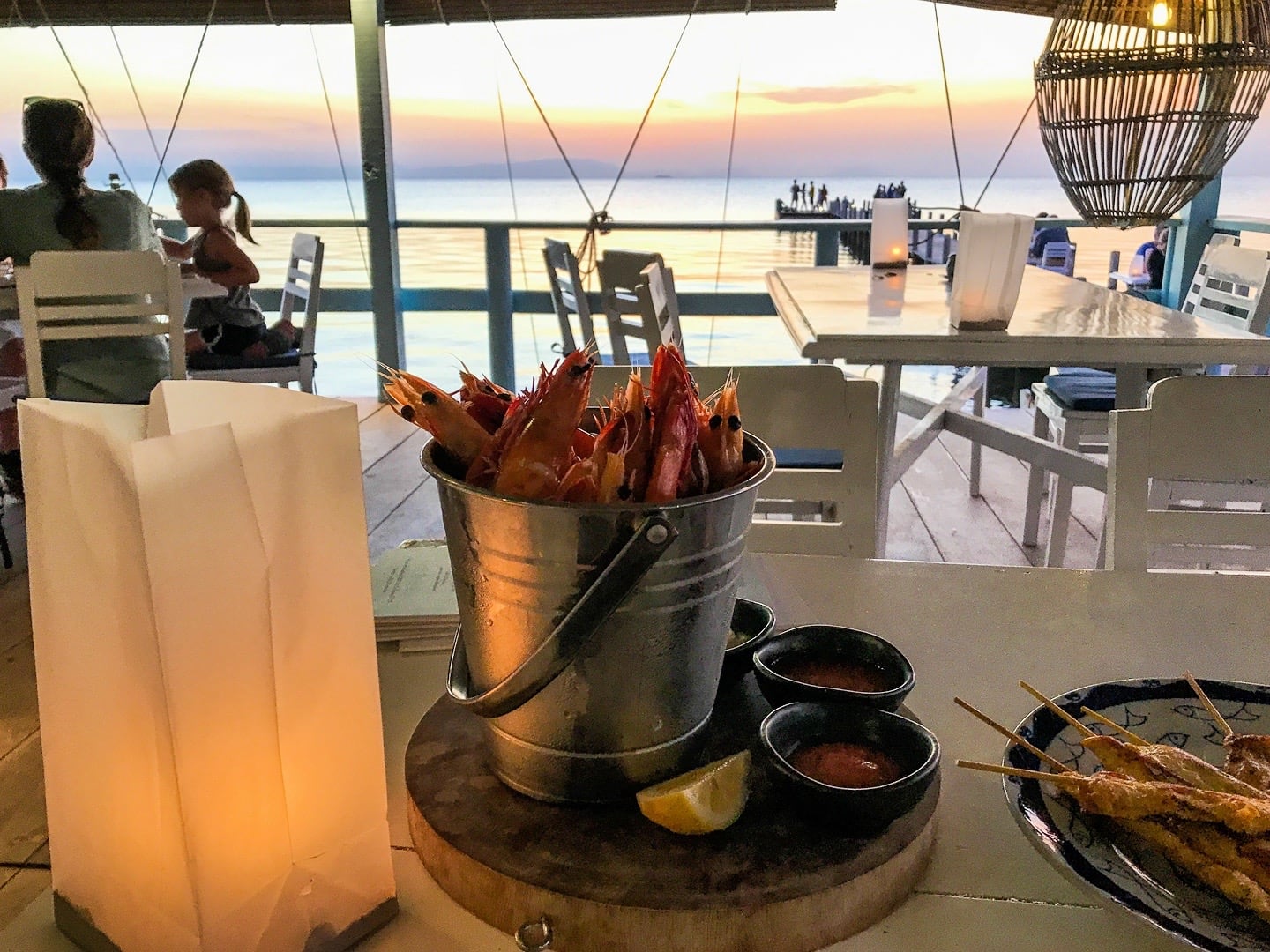 And speaking of the food, it was excellent. We ordered satay, seafood fettuccini, and prawn bucket, but the prawns stole the show.
They may have been the biggest prawns I've ever had the pleasure of eating, and some of the best! Comparable to lobster tail. At US$9, they might be one of the best deals on the menu.
Our boys love seafood, and the prawns were easily Noe's favorite thing he had in Kep (until we got our hands on Kep's famous crab the next day, that is).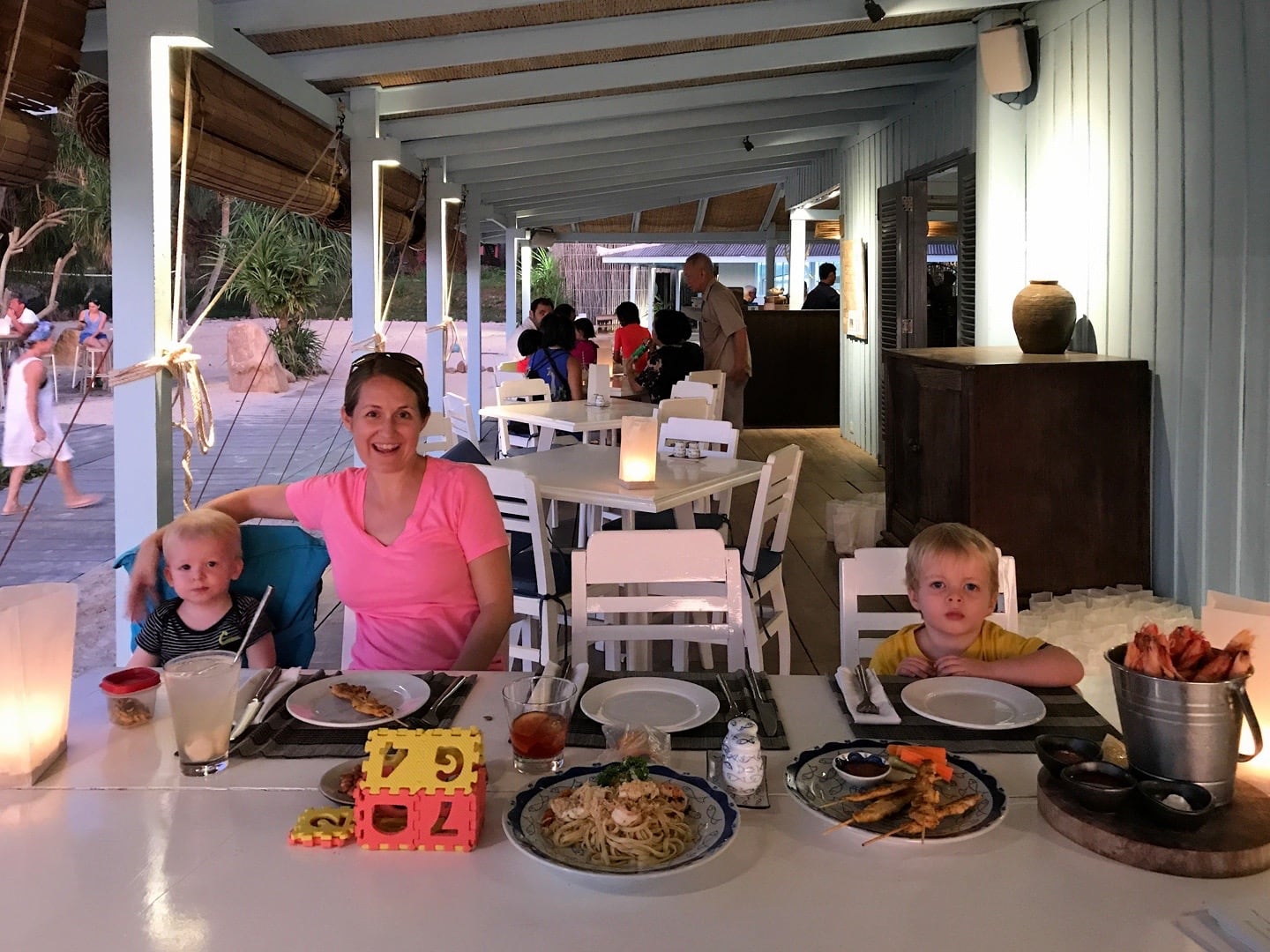 Giant prawns, cocktails on the beach, and sea sunsets — something tells me we're no longer in Laos…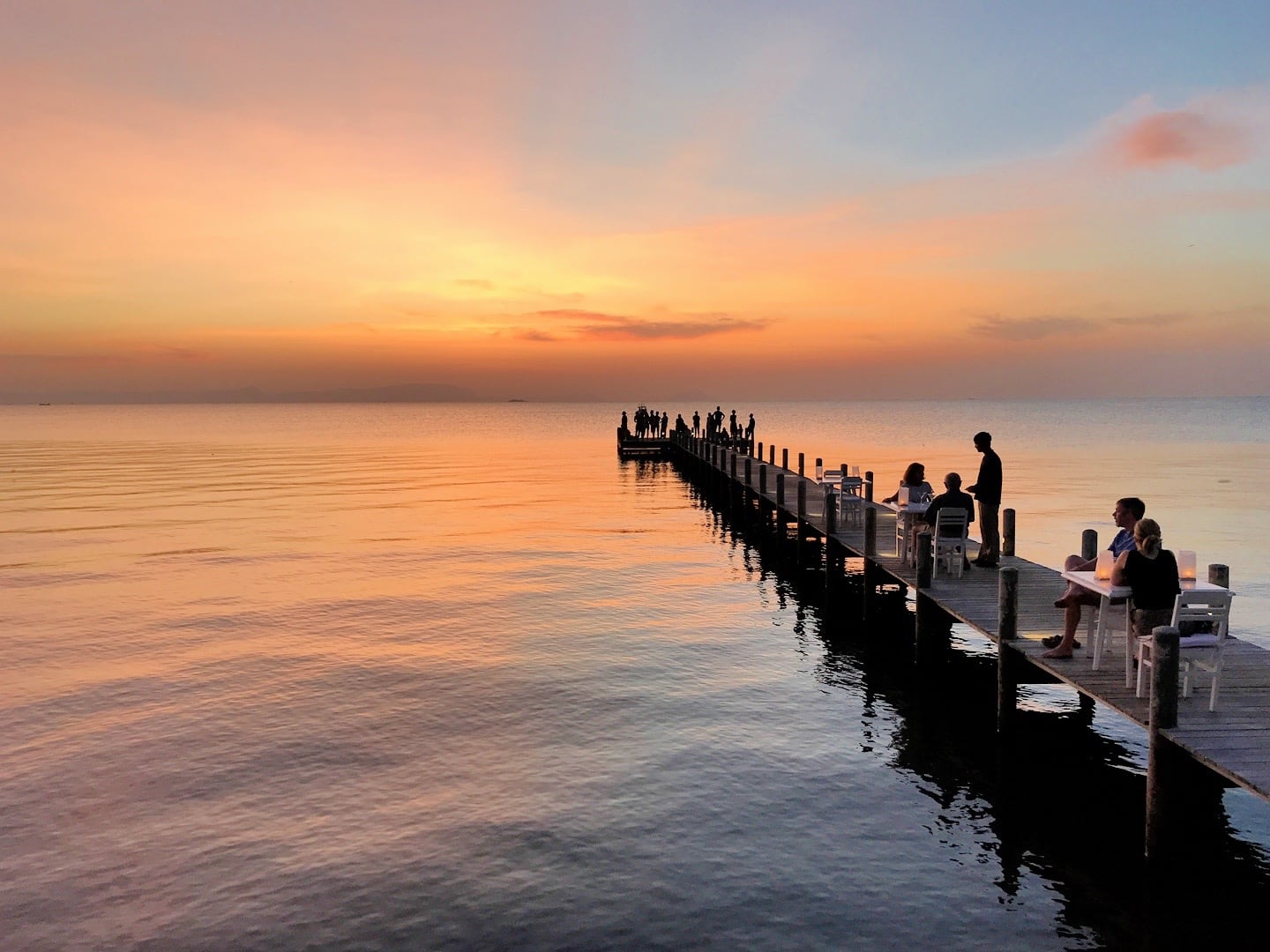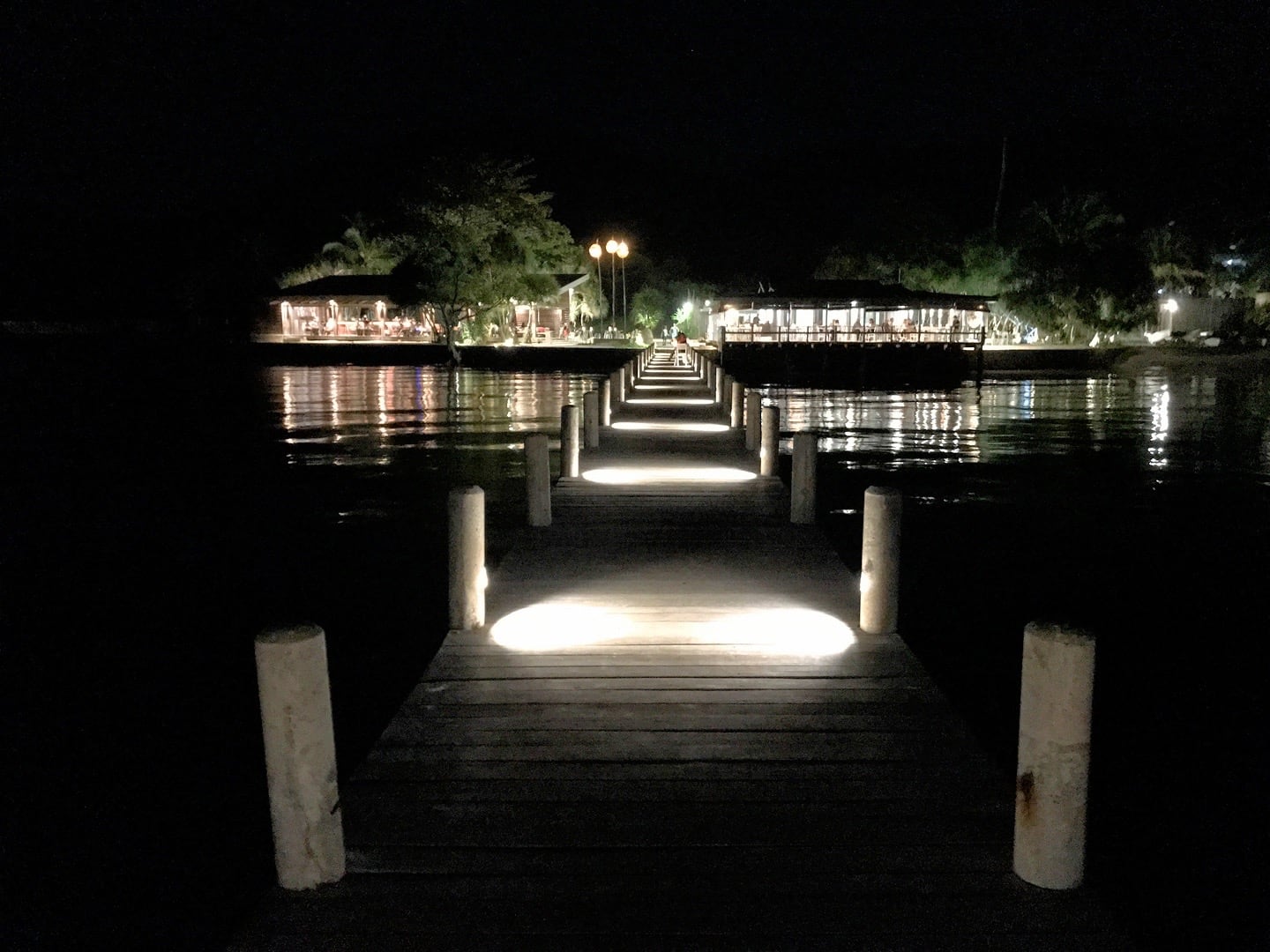 01 Jan 2020