Hanoi food — the flavors, smells, colors, textures, and variety, and the culture around it, make Hanoi a hard destination to beat for world food lovers and enthusiasts.
Lori and I can think of a dozen food regions we've fallen in love with over the years — Rajasthan, Tuscany, Oaxaca — but few cities that, alone, can send our taste buds into overdrive.
Hanoi is one of those few places.
We spent seven days in Hanoi this time around, relaxing (as much as an infant, toddler, and city of 8 million will let you), seeing the sights, and reminiscing about our 2012 visit, all the while basing ourselves out of a flat in French Quarter.
With two little ones in tow, our vacation was a bit more challenging than a leisurely walk in the park, but well worth the effort.
Previously, I talked a bit about some of the sights we explored and activities we enjoyed during the week.
Now, we shift our focus to the food of Hanoi.
I don't intend for this, in any way, to be a comprehensive guide on Hanoi food, but a report on what we tried, and which places we'd definitely recommend to others.
Admittedly, we weren't aiming for a whirlwind Best of Hanoi Food tour. We did a bit more of that in 2012, sinking our teeth into a lot more street food — more pho, banh mi, and bun cha.
This time around, our priorities are just a bit different.
(if you're looking for an awesome Hanoi food tour led by a knowledgable local foodie, check these out!).
With an infant and a toddler, enjoying a meal on tiny plastic stools isn't really going to happen for us. With the boys, a table and chairs are a prerequisite these days.
Obviously, that will change as the boys get older, but that's the reality for now, and you know, that's okay. There will be plenty of years for us to sit around on staggeringly uncomfortable six-inch-high seats.
Also, we've been living in Southeast Asia for the past few years. The quality and diversity of food in Vientiane is pretty amazing considering its relatively small population and Laos' low level of economic development.
With that said, there's a lot we can't get in Vientiane that we're eager to get our paws on in Hanoi.
Excellent spring rolls, pho, banh mi, ba boun, banh cuon, and French cuisine? Laos' got that!
Bun cha Hanoi, biscuits and gravy, BBQ pulled pork, and a cheeseburger from a global fast-food chain. Not so much.
This isn't a food blog. It's a budget travel, family adventure, and expat lifestyle blog. We love world foods, and love to taste most foods we can get our hands on.
But we don't Instagram our food exploits, and we really have no idea what we're talking about. We just like to eat.
That may run counter to many of the other travel blogs featuring food out there, but it's just how we roll around here.
With that out of the way, let's dig into the food!
Guide to Our Favorite Local & International Hanoi Food Joints & Experiences
Hanoi Regional Cuisine
In terms of Hanoi food, there were three things I was really looking forward to this trip: Bia Hoi, Vietnamese Coffee, and…BUN CHA HA NOI.
The latter frequently occupies my culinary dreams, but alas, we've yet to find a place in Vientiane that does it right. Many try in Laos, but none have managed to hit it out of the park.
So, you can imagine my excitement when we finally made it to…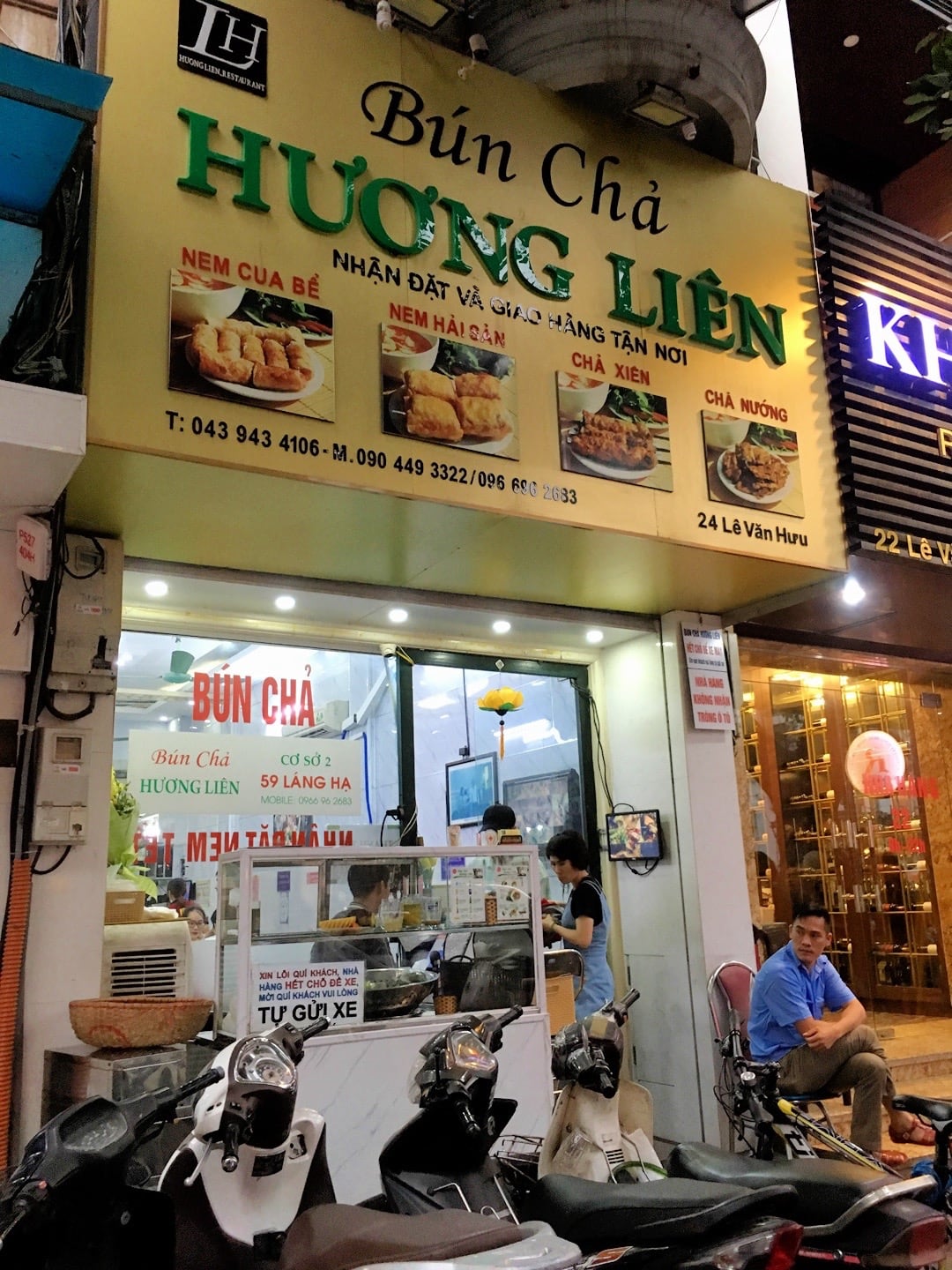 Bun Cha Huong Lien
There are probably a million places in Hanoi to get your grubbies on some bun cha, and on our last trip we made a pretty good dent in those offerings.
This time around, our top pick was Bun Cha Huong Lien.
Not only is it one of the city's best bun cha joints that has been around for years, it also hosted this guy a few years back…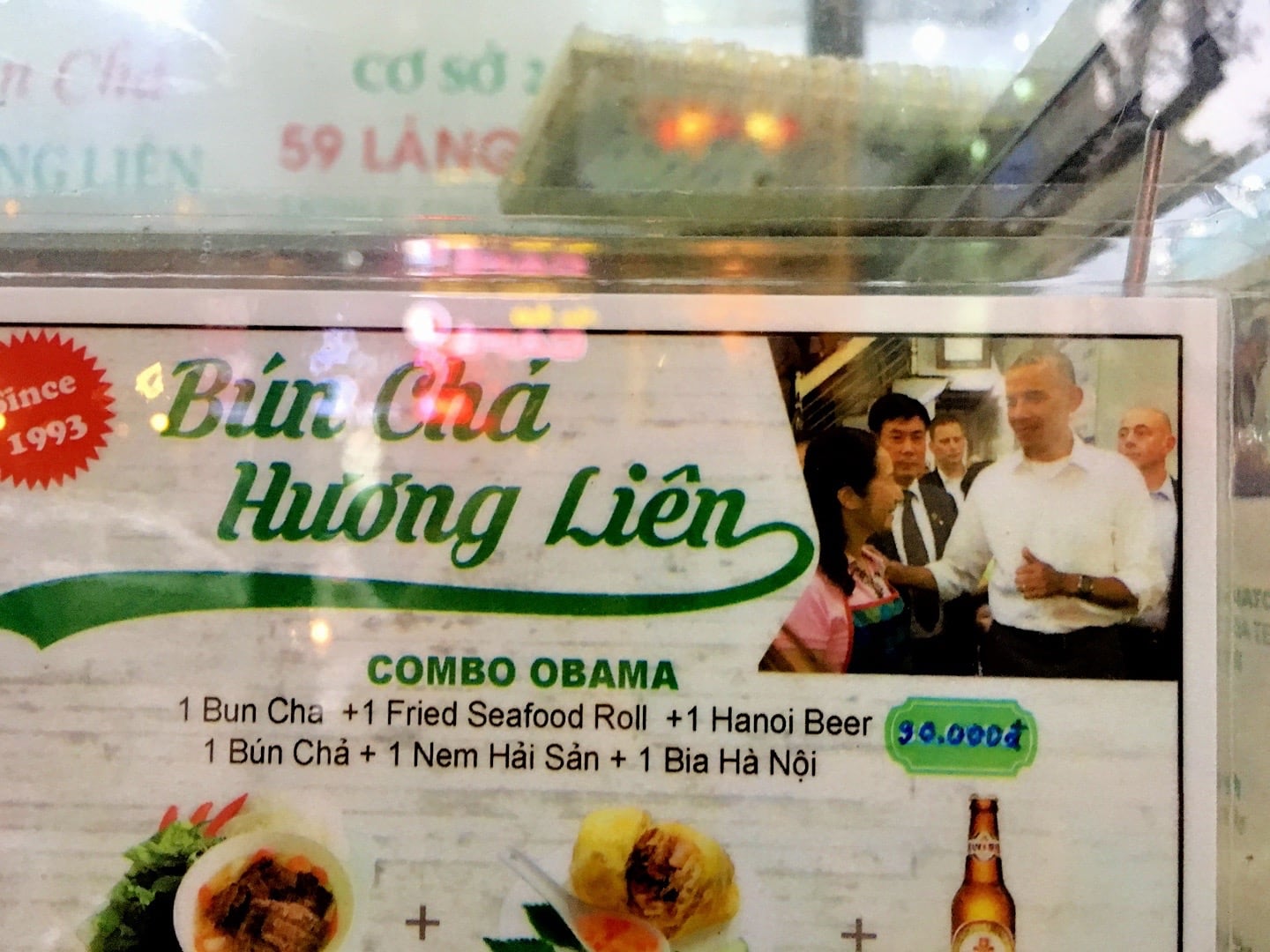 …along with his buddy, Anthony Bourdain.
And, of course, we had what he had.
Though, admittedly, we were too cheap to drop US$6 each on the Combo Obama.
Instead, we ordered two bun cha and two Bia Hanoi and called it good.
We didn't want to get carried away, after all.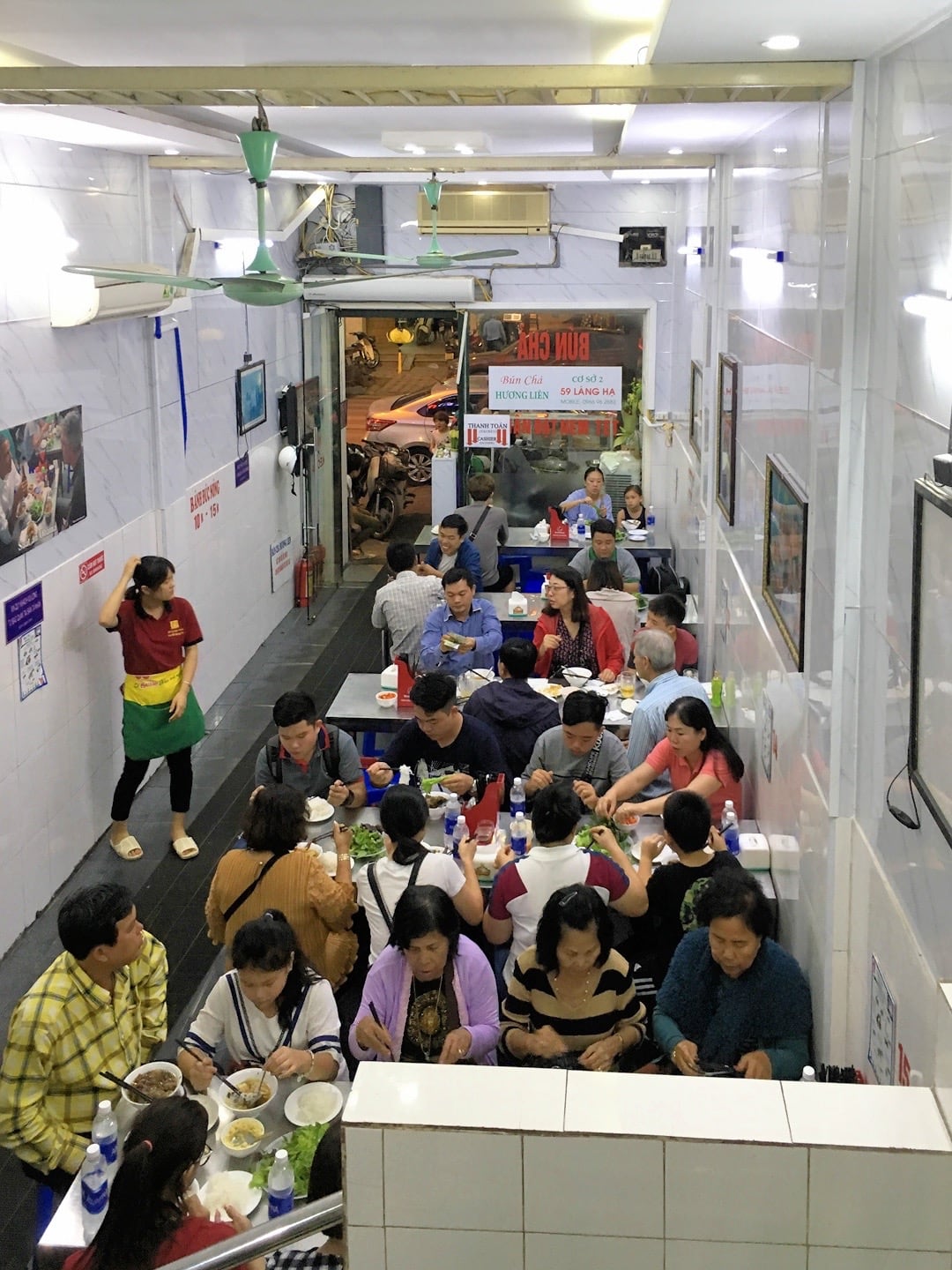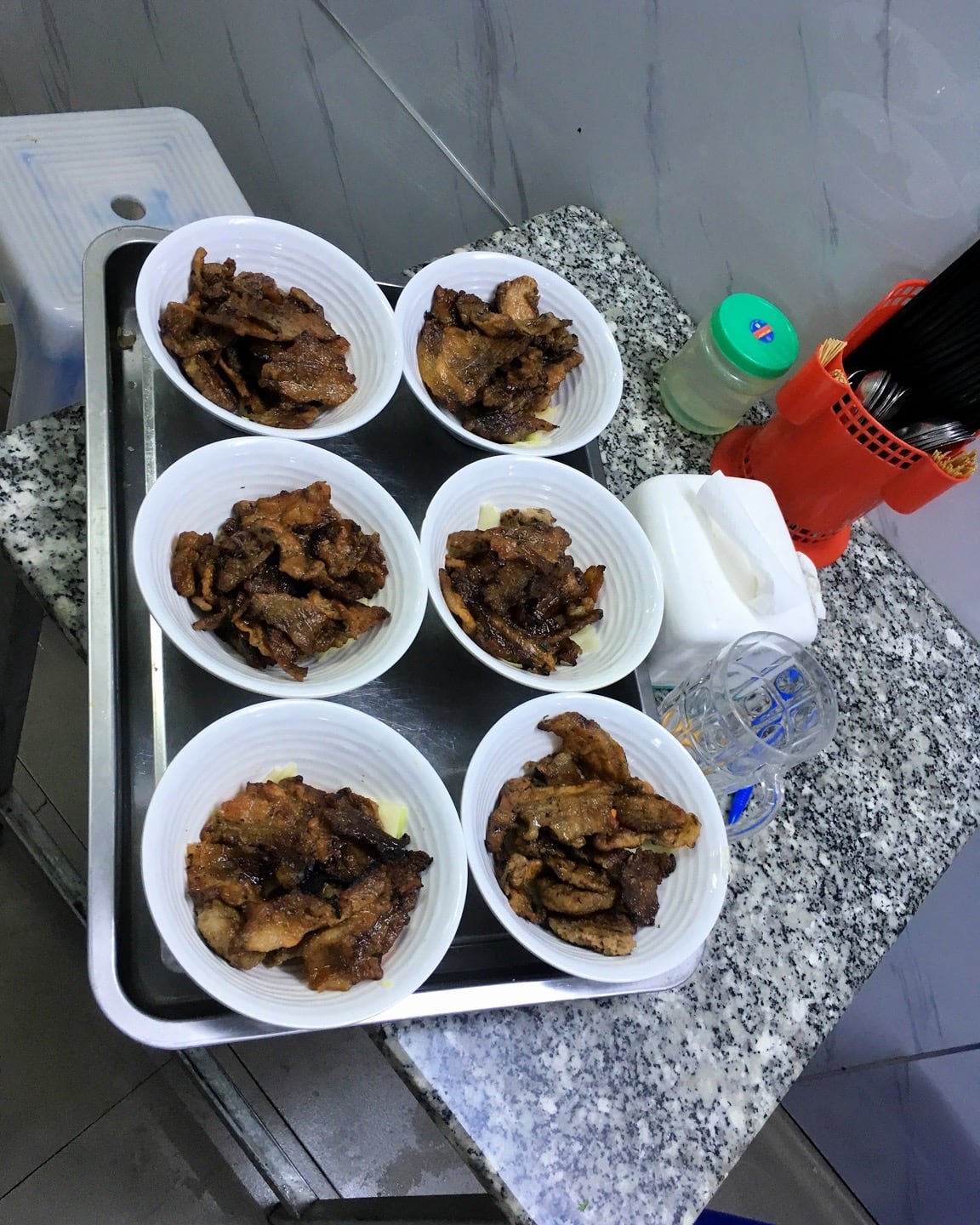 That's freshly grilled BUN CHA, people.
I don't care if you're dropping hundreds of dollars at a five-star Michelin-rated restaurant in Paris, few culinary escapades come close to this right here.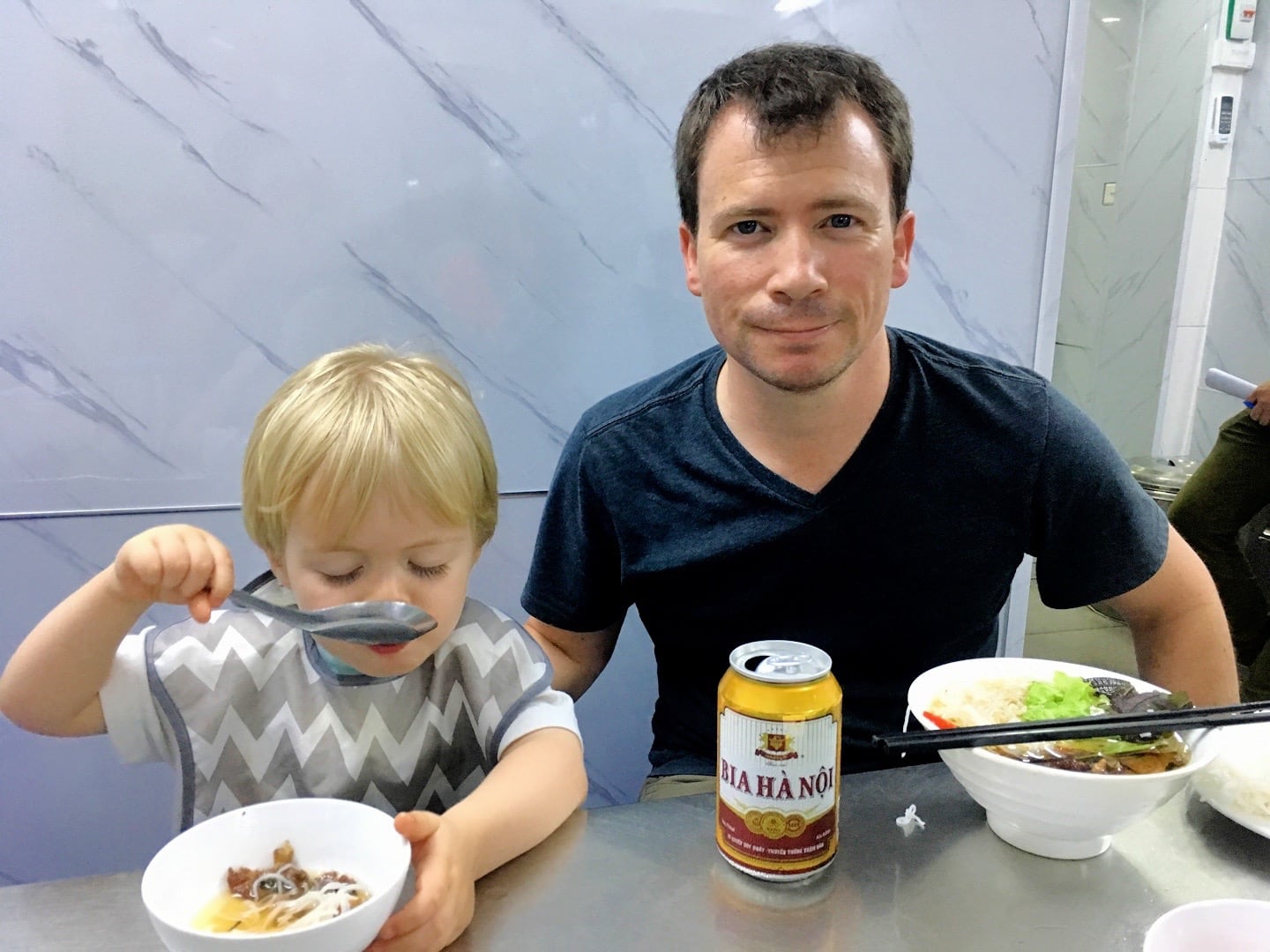 As you can see, Noe felt the same.
Riley was eager to get his bun cha second-hand later.
And yes! Riley was absolutely covered in bun cha sauce afterwards. …and guess who carried him back? (and I LOVED every second of it).
All told, this legendary dinner set us back about US$5 for the three of us (with two beers!).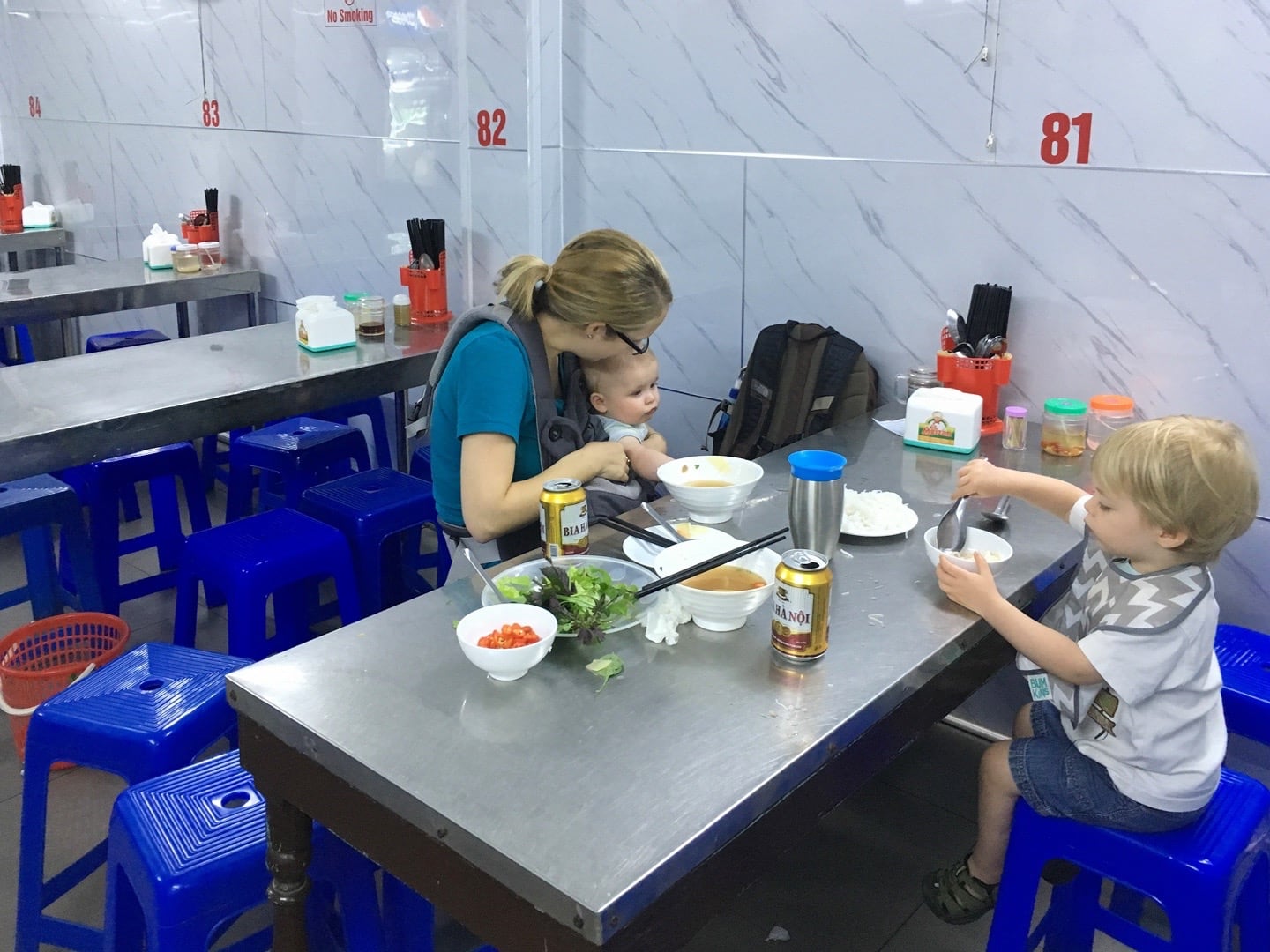 Important Note:
Do not confuse this Bun Cha Huong Lien at 24 Lê Văn Hưu with Bun Cha Huong Lien Obama 2.
The "Obama 2" location is not the original, nor is it where Obama and Bourdain had their bro-mantic feast, but rather a second location the owners opened up closer to Old Quarter to satiate unknowing tourists' appetite for Obama-sanctioned bun cha.
Don't be fooled!!!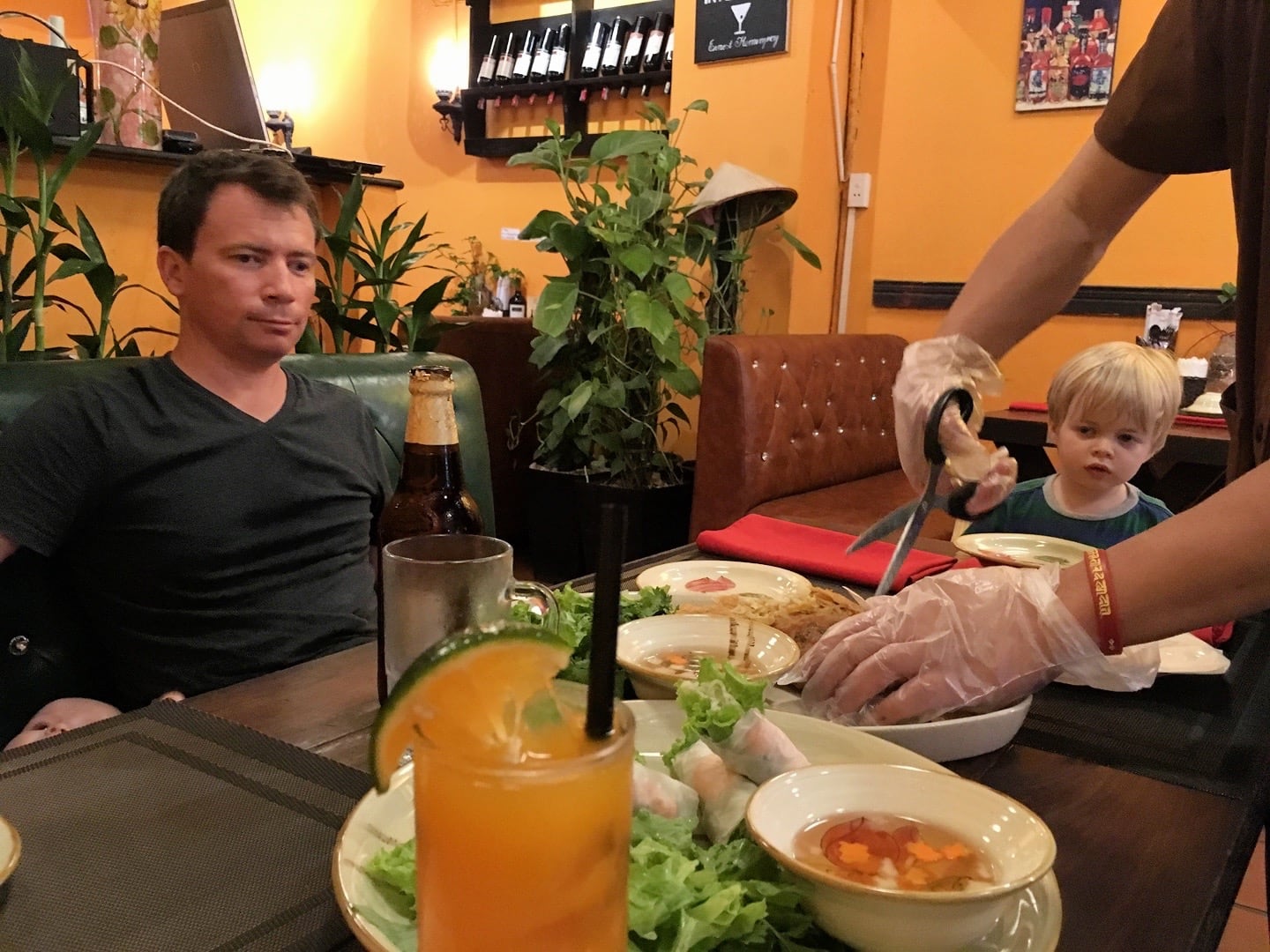 Viet Garden Cuisine & Cooking Center
Our second favorite Hanoi food adventure was at Viet Garden in the heart of Old Quarter. This place is awesome as well, with a completely different vibe.
If you go, be sure to get the banh xeo (rice pancake — that's what he's cutting, above). It will blow your freaking mind. The bun cha and fresh spring rolls were excellent as well.
Certainly a bit pricier than our previous offering, but totally worth it.
The service was outstanding, which is not something you encounter a lot in Hanoi. And…they held Riley for literally the entire meal, which is major bonus points.
Tipping is not customary in Vietnam, but we made an exception in this case.
Psst…they've also got high chairs for the wee ones, which is a nice touch.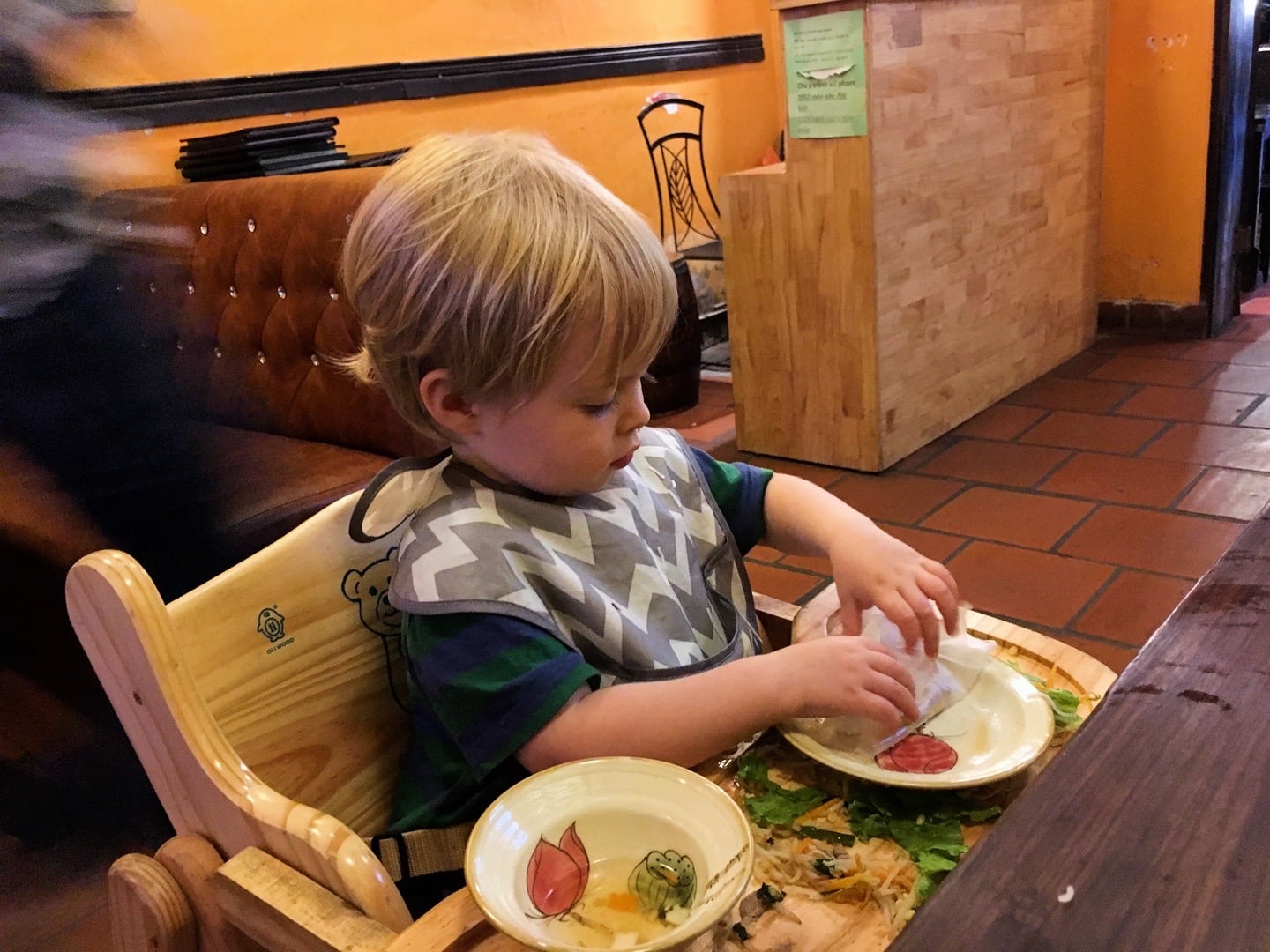 A quick word about high chairs. The company that makes these unique wooden high chairs seems to have a monopoly on the market here in Hanoi, as we didn't see any other type the entire week, with one glaring exception.
AwayGoWe Fun Challenge: See how many "Highchair Hanoi" you can spot in this post! (and find the odd chair out).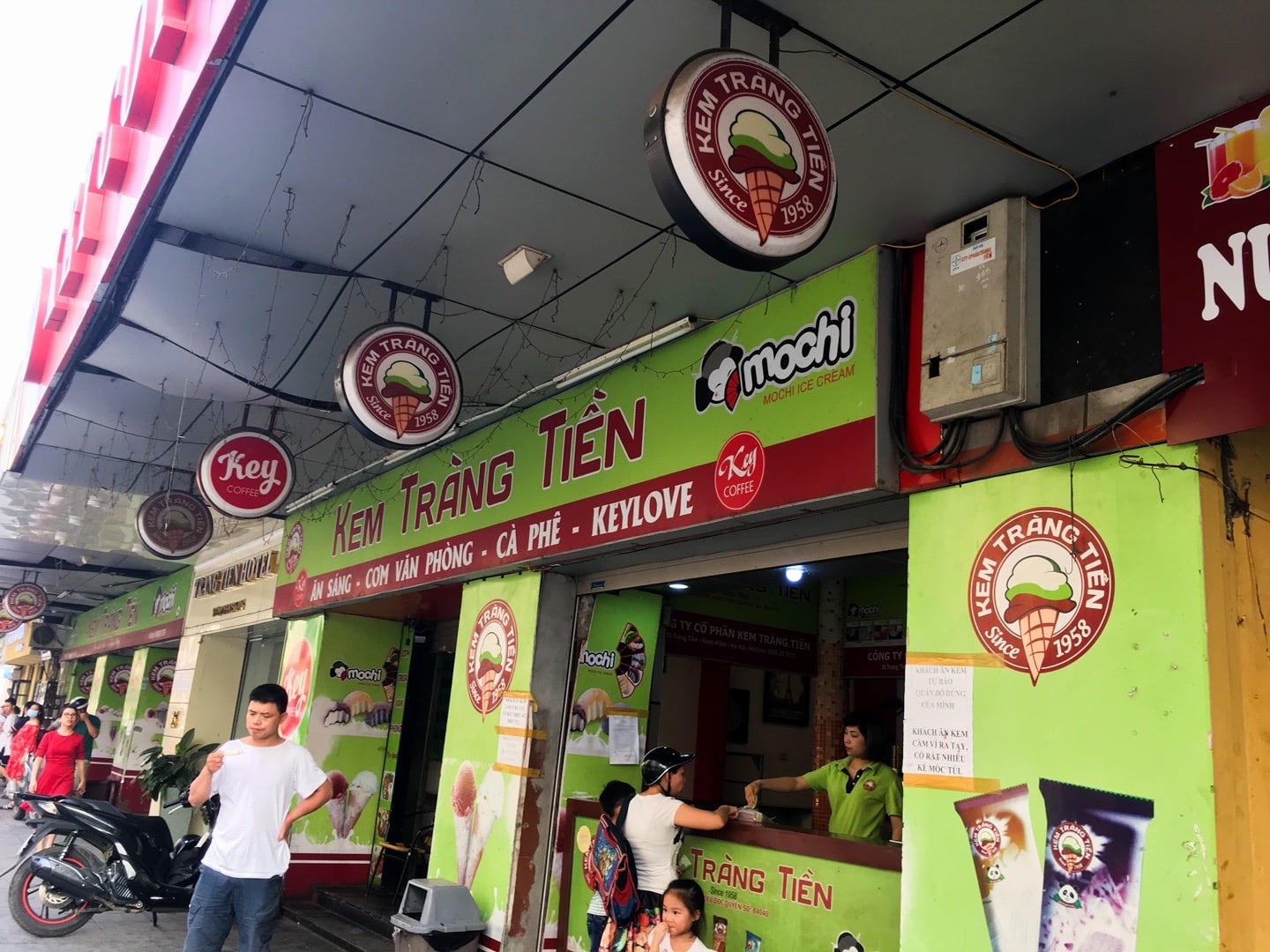 Kem Trang Tien
You can't visit Hanoi on a hot day (which are most days) and not try kem — Vietnamese coconut ice cream.
Cheap, ubiquitous, light and tasty.
Kem Trang Tien in French Quarter is a well-known and very popular place to start.
Bahn Mi
I like me some good, hot pho, but lunchtime in Vietnam is bahn mi time. At least as far as I'm concerned.
Dinner time, breakfast time, and everything in between also works. I'm not picky.
We tried a few different places, but had our best at Bami Bread, a citywide chain of sorts. The one we went to was near the central railway station.
Always go for the pork or "special" banh mi first. I've found it's by far the most flavorful.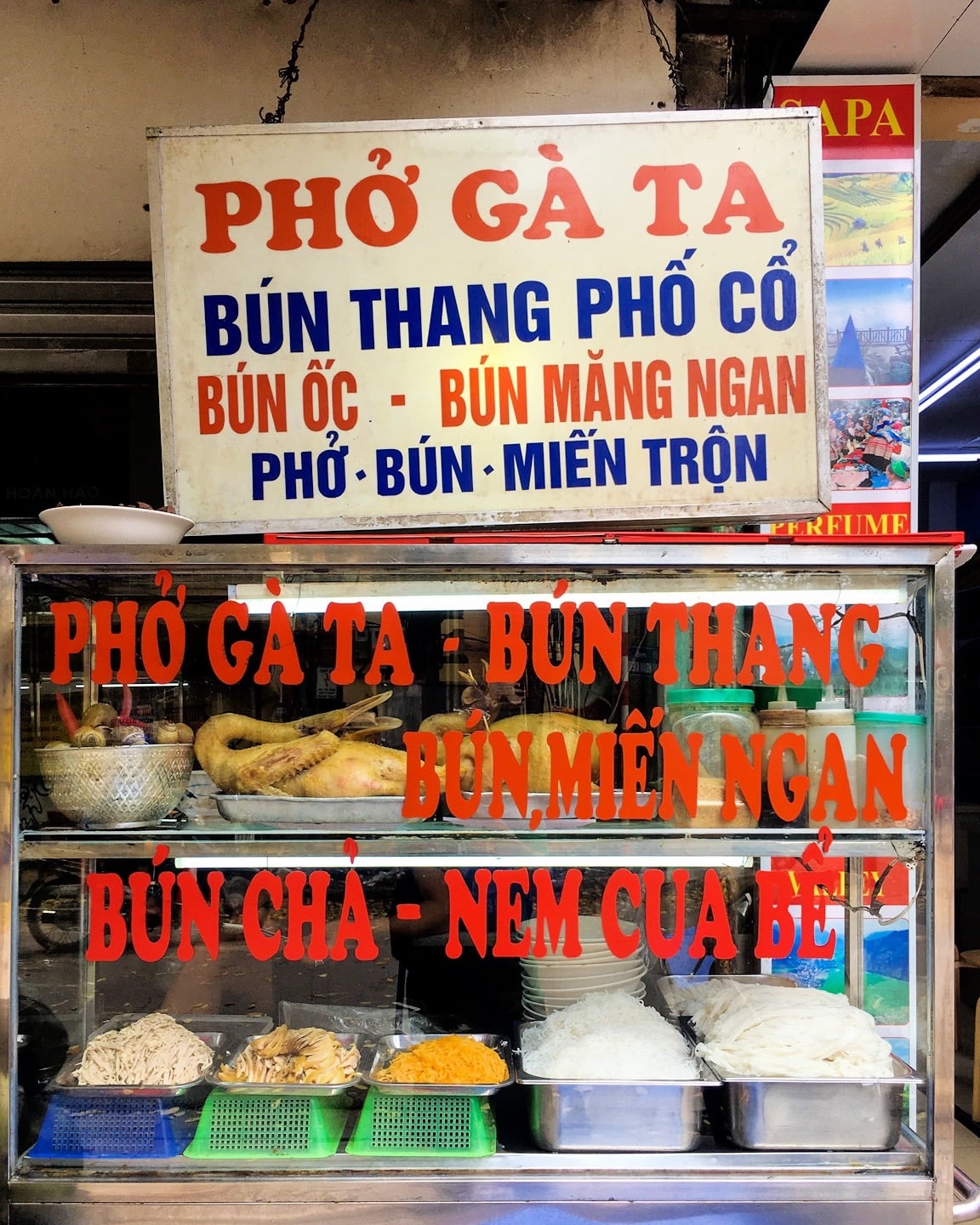 Hanoi Street Food
No Hanoi food journey is complete without street food, and Hanoi is busting at the seams with it.
You could easily live in this city your entire life and never visit all the street food stalls.
Don't fear the street food!
With that said, always look for what's being prepared hot and fresh (right off the flame, sizzling is a good bet), and look for the places that are uncomfortably packed.
Generally speaking, you want to avoid deserted venues at peak eating times serving meat dishes directly from a glass case.
In the words of the Dos Equis man, "I don't always get sick off my butt from street food. But when I do, it's from those places."
Attention Foodies & Hanoi First-timers!
Hungry for more? Want to dive deeper into the Hanoi food scene? We highly recommend a Hanoi food tour led by a highly-rated local guide.
If one of these doesn't strike your fancy, check out the more than 700 food tours on tap in Hanoi for every budget.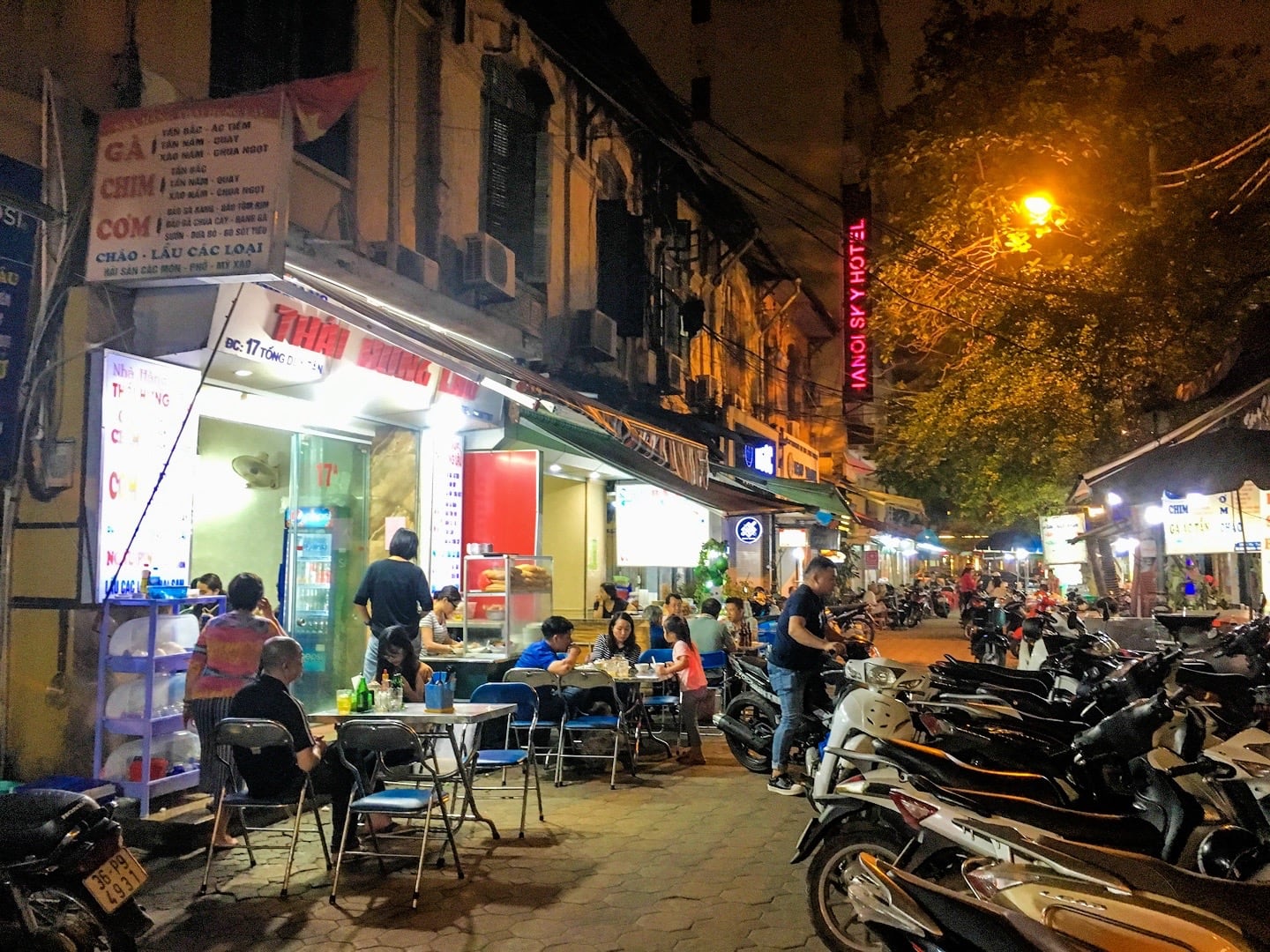 Yes, Old Quarter is touristy. But it's also a great place to start when it comes to street food.
If you're on a vacation eating schedule (i.e. you aren't really on any eating schedule), Old Quarter is a good place to go for hot and fresh eats any time of day, particularly outside of traditional breakfast-lunch-dinner times.
Pub Street is a good place to go after hours for cheap beer and noodles, provided you don't mind sharing your personal space with a couple hundred others with the same idea.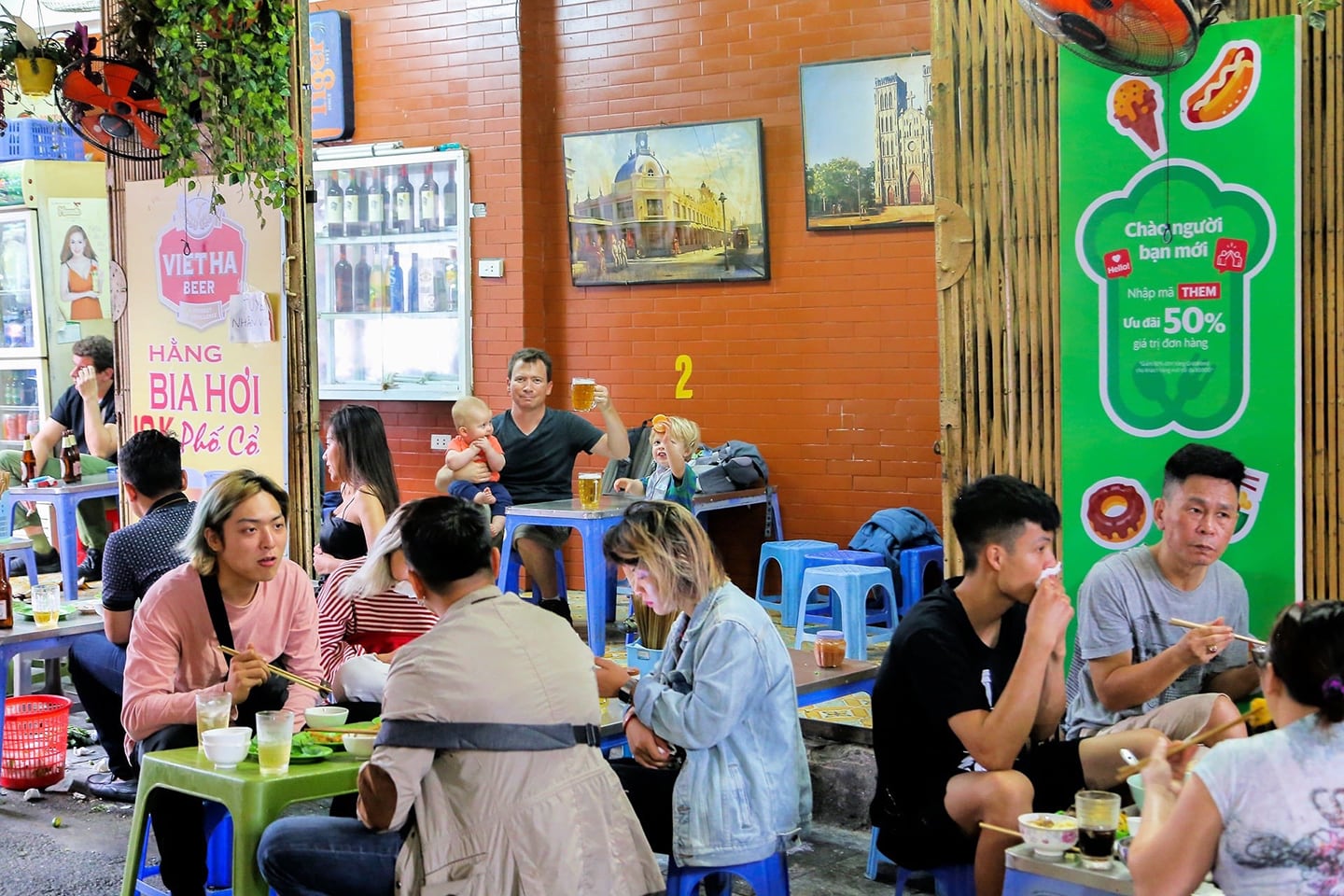 One particular place we'd recommend in Old Quarter is Hang Bia Hoi Pho Co. Get your noodles and bia hoi from the noodle lady across the street, grab a little table and a plastic stool and dig in.
This place is off the main drag and down an alley, which also keeps the larger crowds at bay, and makes it a bit better with kids. Plus, it's covered!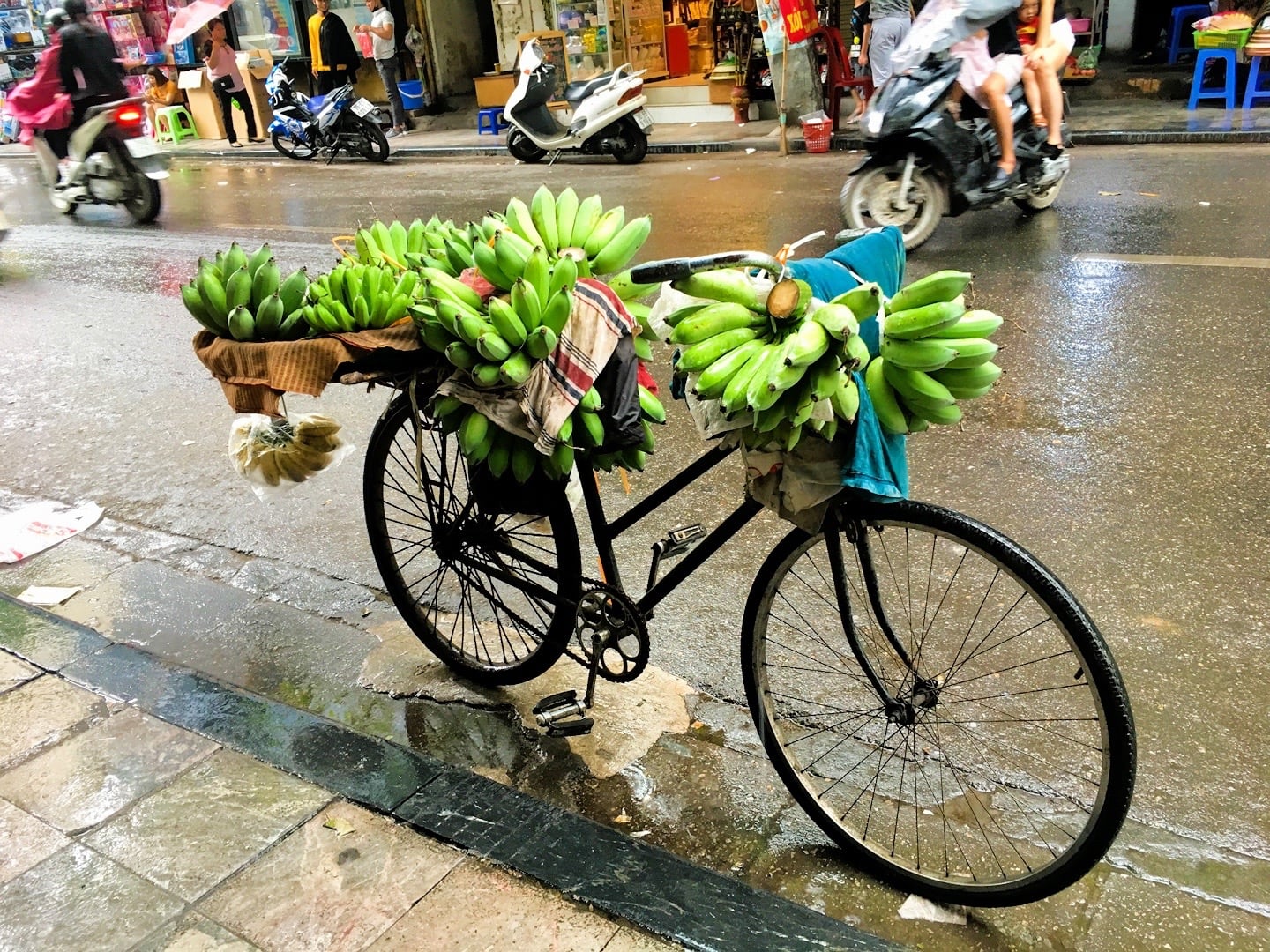 Also expect to find fresh local fruits for sale just about anywhere you go.
But be warned, vendors in Hanoi are not particularly pushy — except for the roving fruit and bread ball ladies! Particularly if you have a toddler.
These women will wait until you aren't looking, then slide a delicious looking banana or sugar-covered bread ball into the little grubbies of your wee one, which inevitably goes straight into your wee one's mouth all before mom or dad's even realized they are now indebted to this stranger who appeared from nowhere.
And then there are the locals who just give your toddler free food.
Upon arriving at our flat, one of the neighbors saw Noe and determined he needed a small bag of potato chips.
No matter how much we kindly declined, the lady's mind was made up. She opened the bag and Noe was going to have a junk food snack if it was the last thing this lady ever did.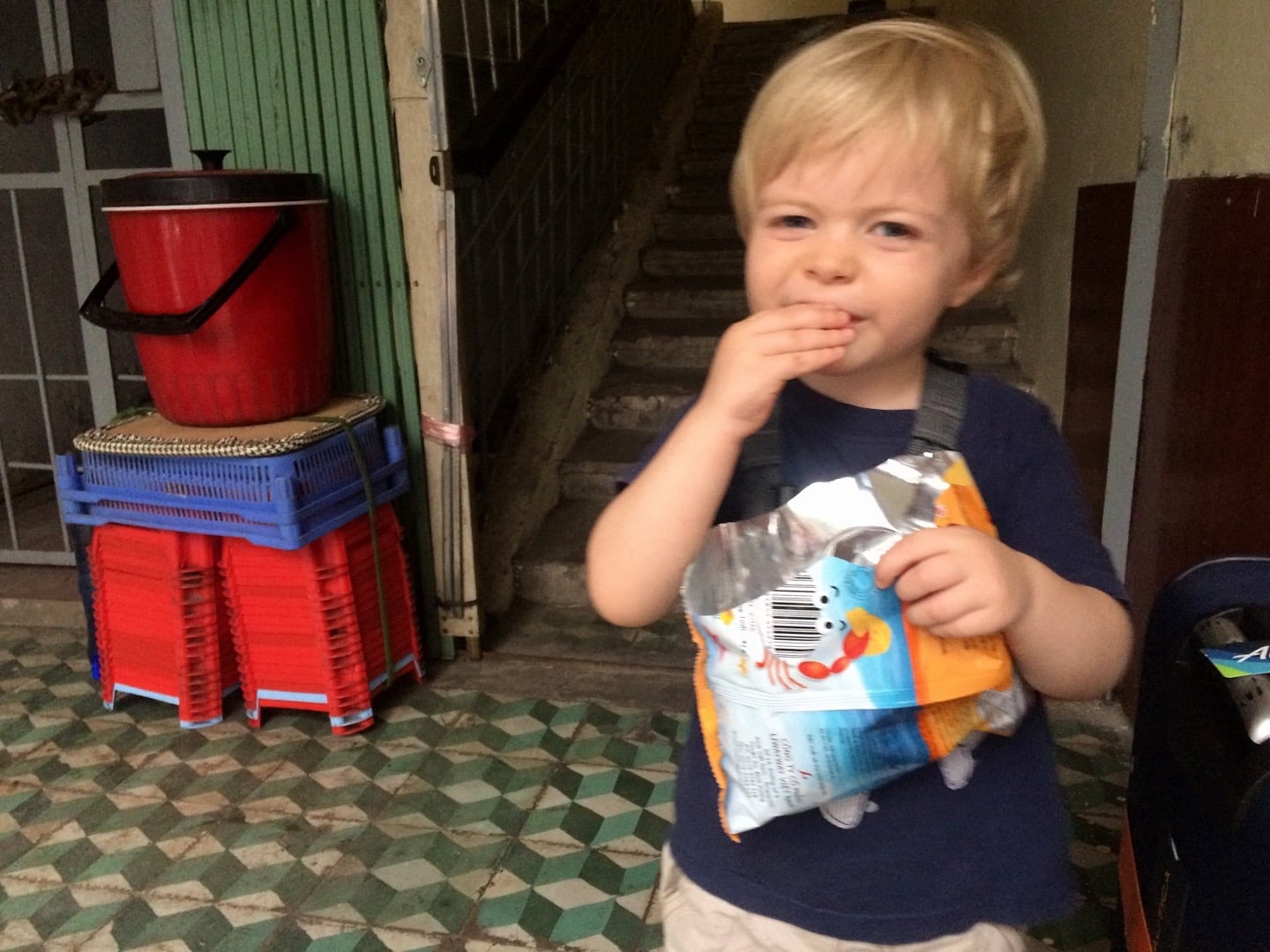 Another time, we were walking through Old Quarter and a street food vendor apparently decided that Noe should have a big ol' bread roll.
Um…Lori, where'd Noe get the roll?
Lori: Some lady. Long story…
Um…okay.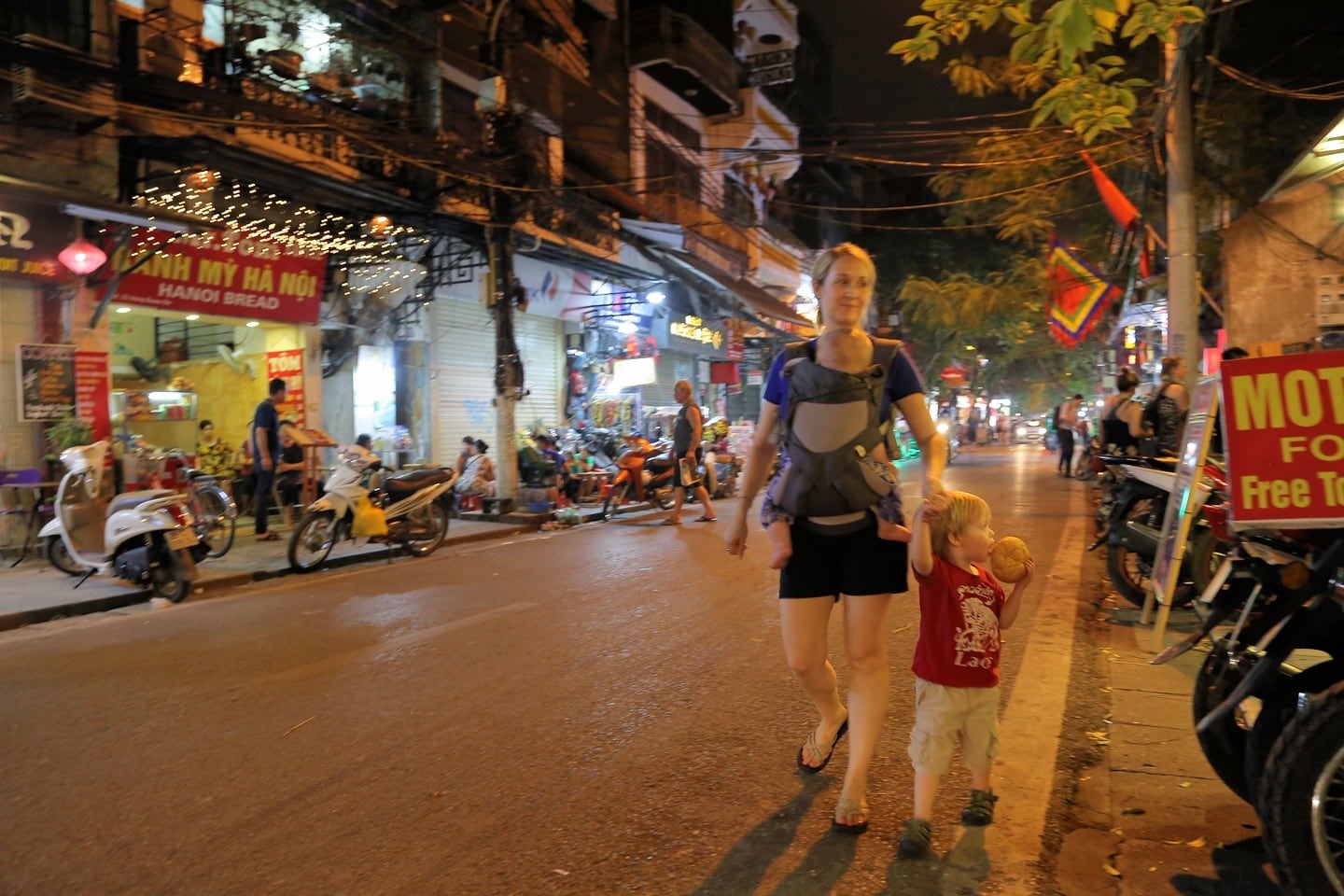 Coffee Shops & Cafes
Ask anyone and they'll tell you that Hanoi culture is synonymous with coffee culture. Heck, you don't even need to ask anyone, it's pretty freakin' obvious.
Hanoi's easily got more coffee shops per capita than anywhere I've ever been (that includes Seattle!). There might be half a dozen on one block.
And when I say "coffee shop" that refers to anything from a swanky, Starbucks-style joint to a dude with a cart, some Nescafe, and a few hundred cans of sweetened-condensed milk.
Because of this, I fully expected to see eight million people running around shaking, screaming, and jumping their motorbikes over tiny plastic stools, but that wasn't the case at all (in reality, it was maybe only two million or so…).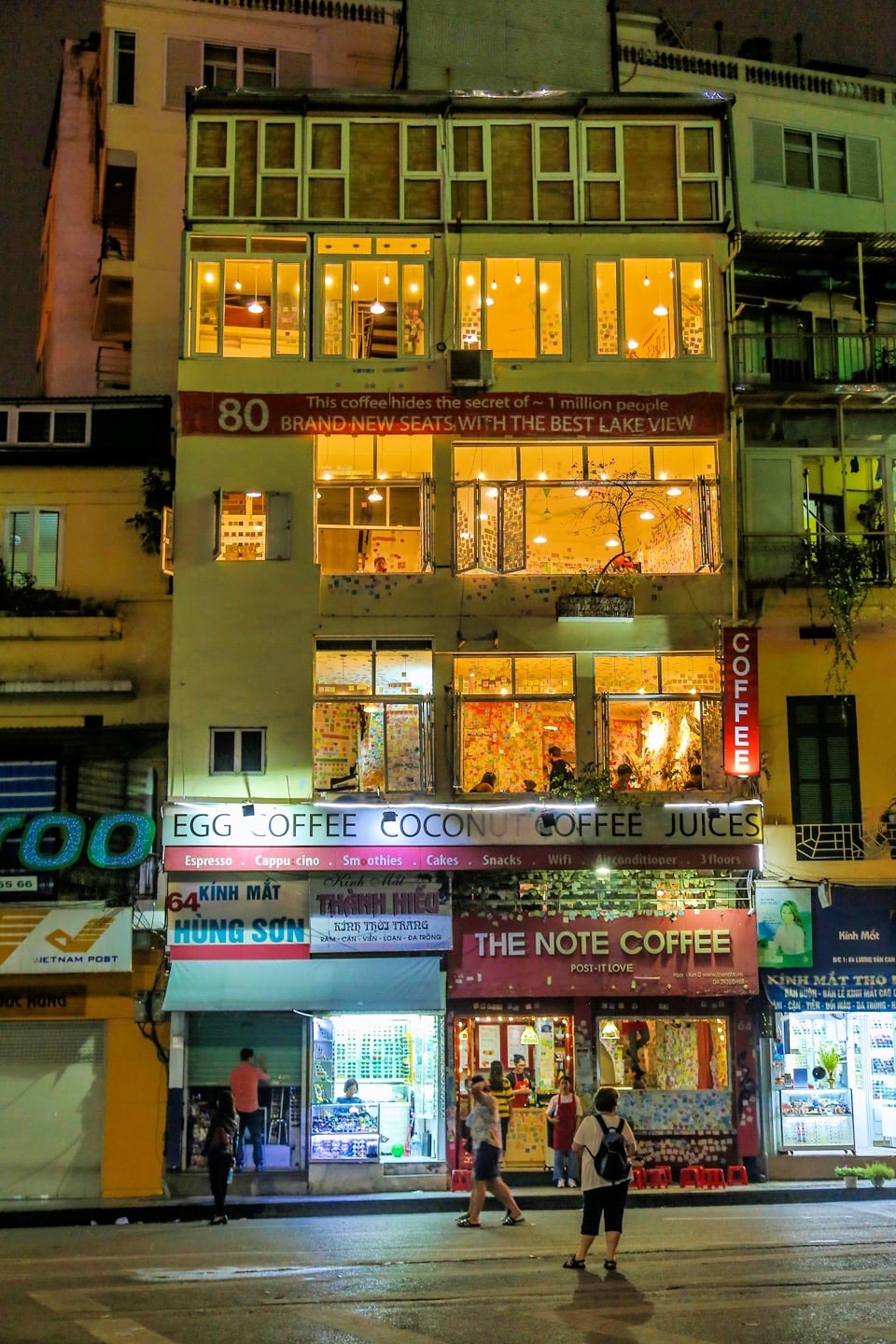 The Note Coffee
Note Coffee is a unique coffee shop on the fringe of Old Quarter. Four stories of…you guessed it! Notes! They say a million. I can't vouch for that…but they sure get the business.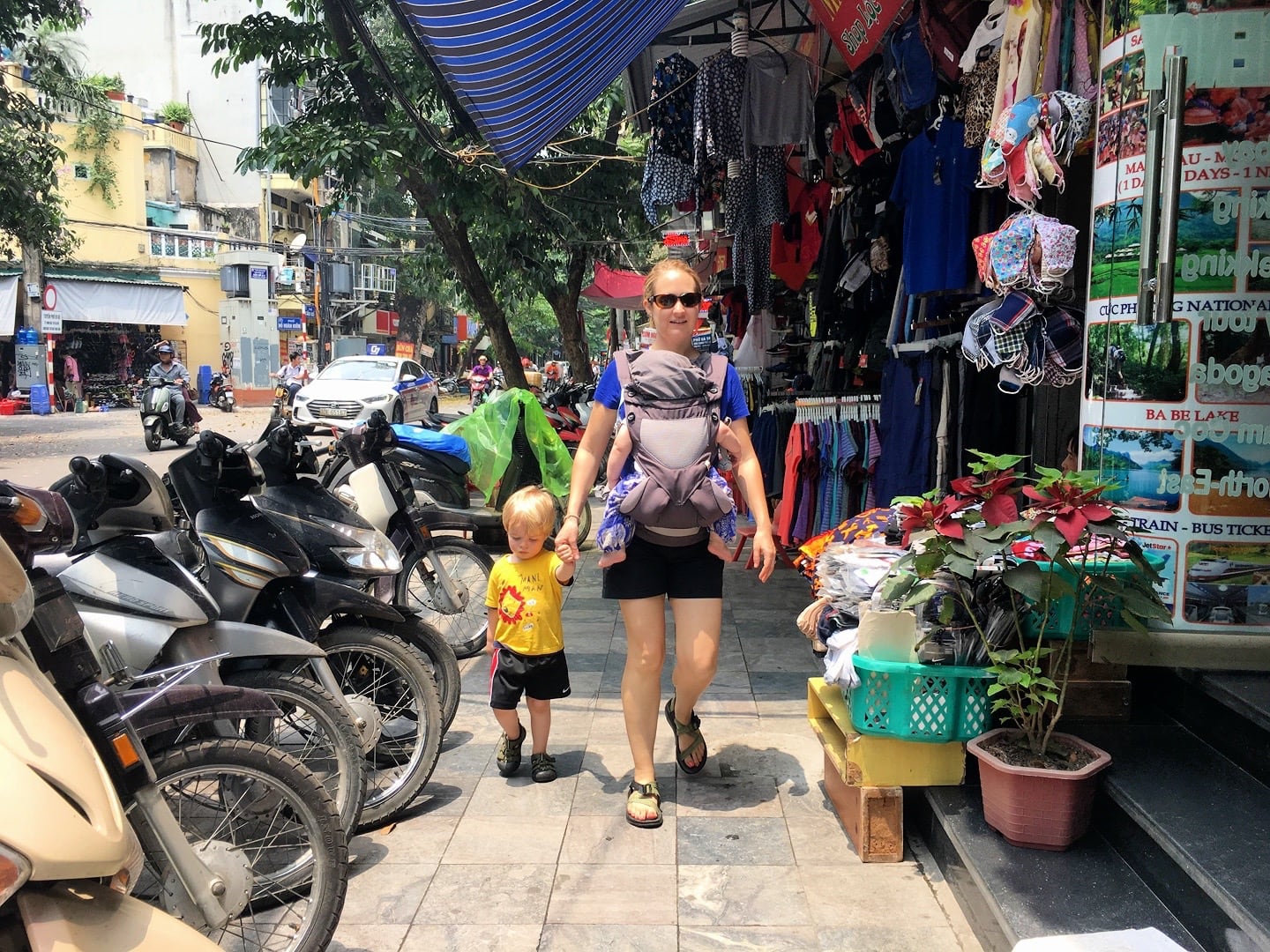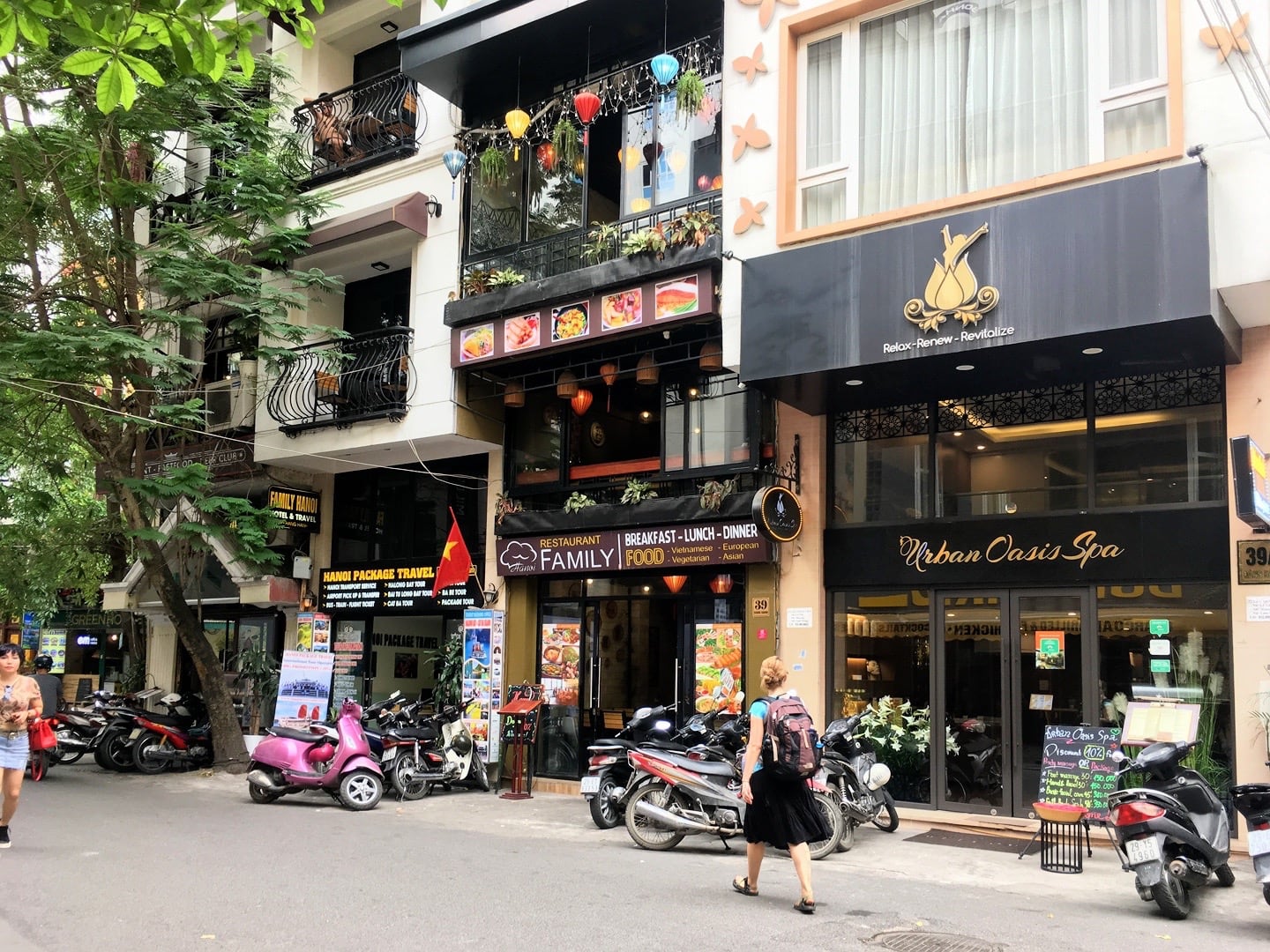 Cafe Nhan
On our first morning, we started the day off at legendary Cafe Nhan, with a modest "Western-style" breakfast and, more importantly, two delicious (and strong!!!) Vietnamese iced coffees.
I wouldn't say Nhan is legendary for its food, or even its coffee (we didn't have a bad cup the entire week), but rather because it's one of the few places that's been around since the 1940s.
It's an old skool, pre-revolution, chain-smoking, time warp.
If you're not into retro, you can probably skip Nhan. We might have if the two French bakeries across the street (purported to be the best in town) hadn't just shuttered due to an exciting new condo complex going up.
We found this to be the case all over the city, in fact. Welcome to Hanoi!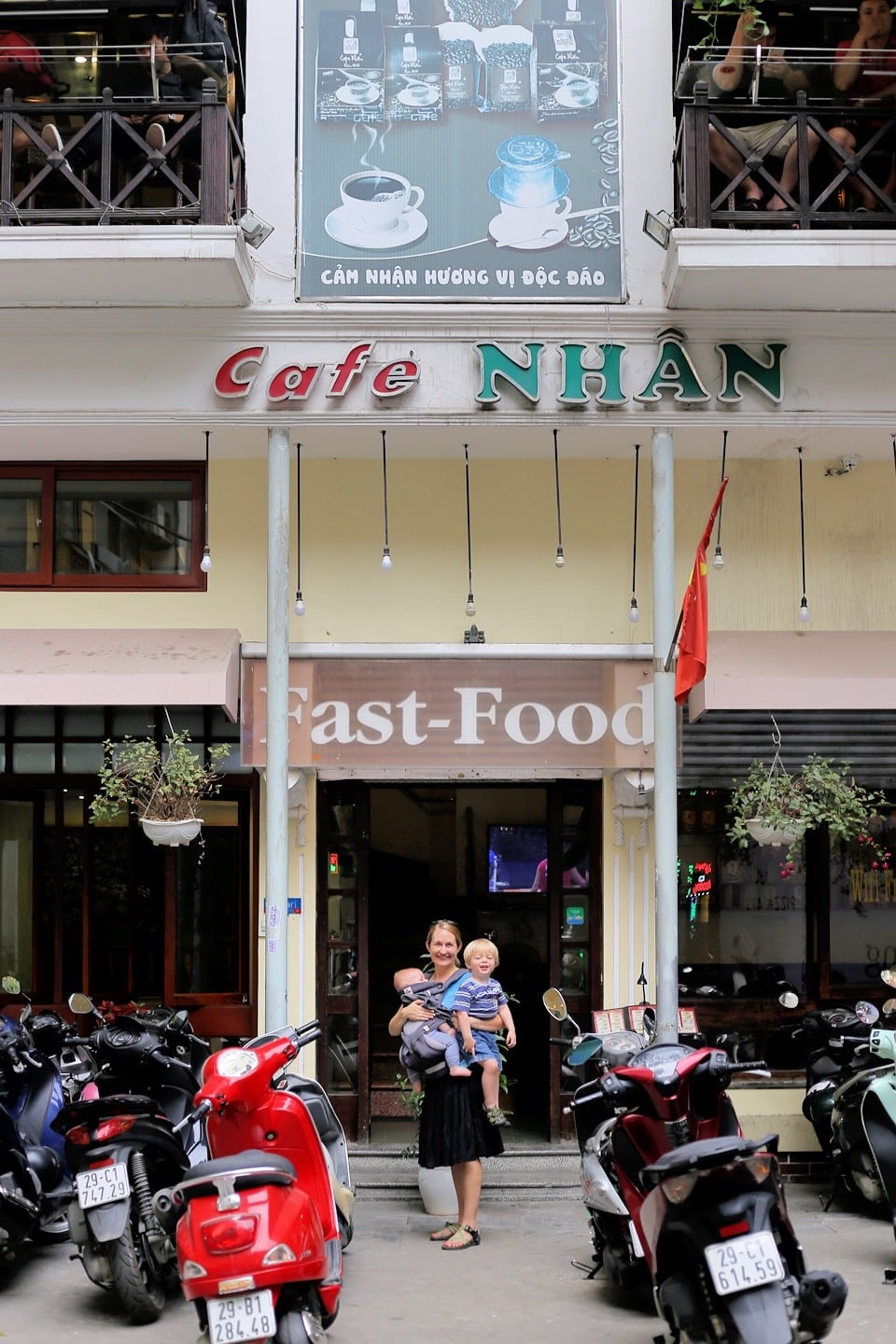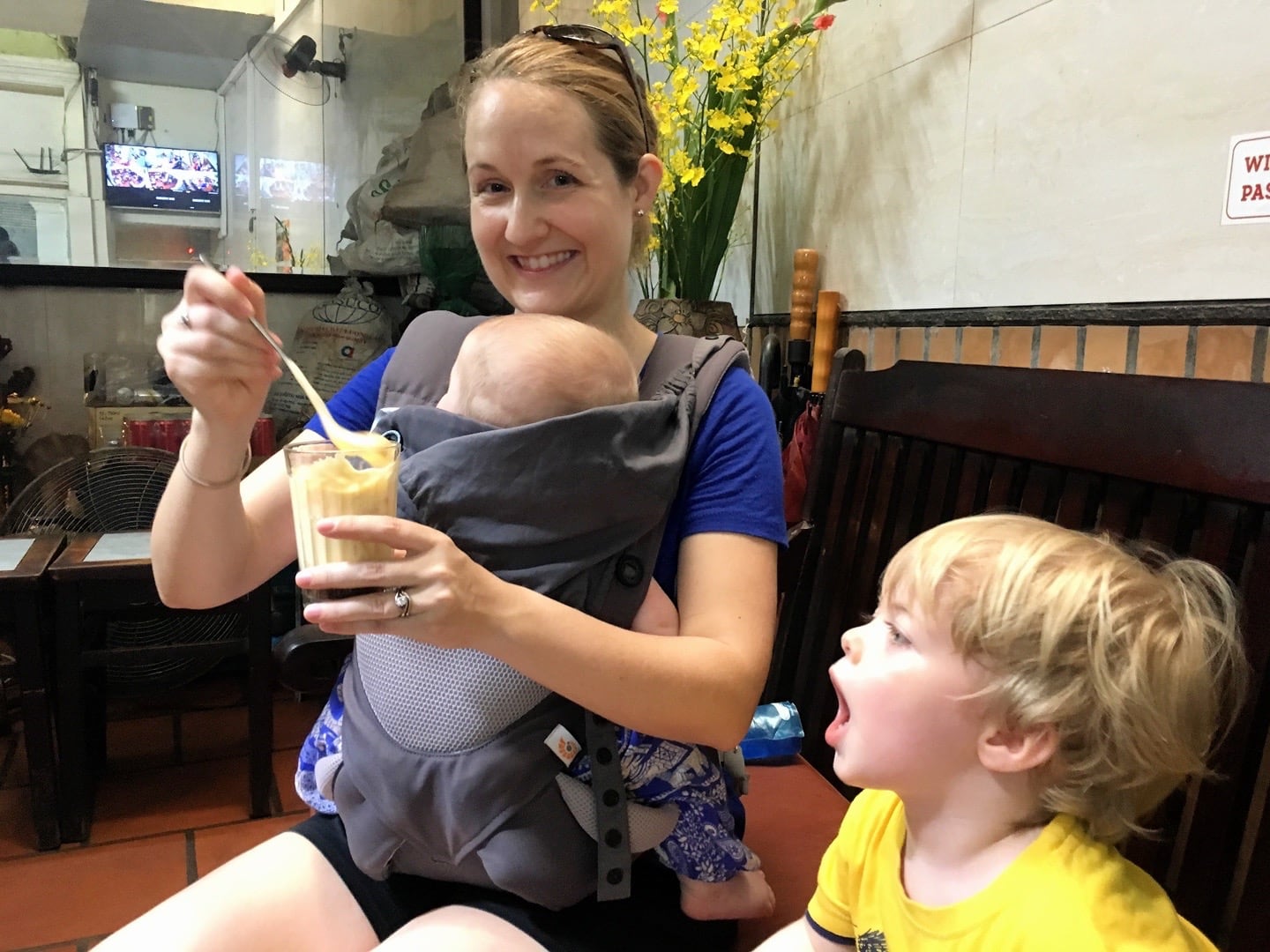 Giang Cafe
There was really only one thing Lori wanted to try since the second our plane touched down in Hanoi — ca phe trung or EGG COFFEE.
That's right, folks. Coffee with an egg in it. The yolk, to be precise.
Egg coffee can be found throughout the city, but if you're going to do egg coffee, you might as well do it right.
Giang Cafe is considered by many to be the birthplace of egg coffee. As the story goes, back in the mid-1940s, fresh milk was scarce. But apparently, eggs were not. Mr. Giang got the idea to start substituting milk for egg yolk, and the rest is history.
So, what does an egg coffee taste like? I guess what you'd probably expect it to taste like. Egg nog!
Well, sort of.
It's got that Vietnamese Robusta espresso in it, with an egg yolk. These days, there's some sugar and/or sweetened condensed milk.
It's heavy, it's rich, it's not what you want to downright before running a marathon, or carrying a toddler in extreme heat for eight hours. But it's tasty and definitely worth a go.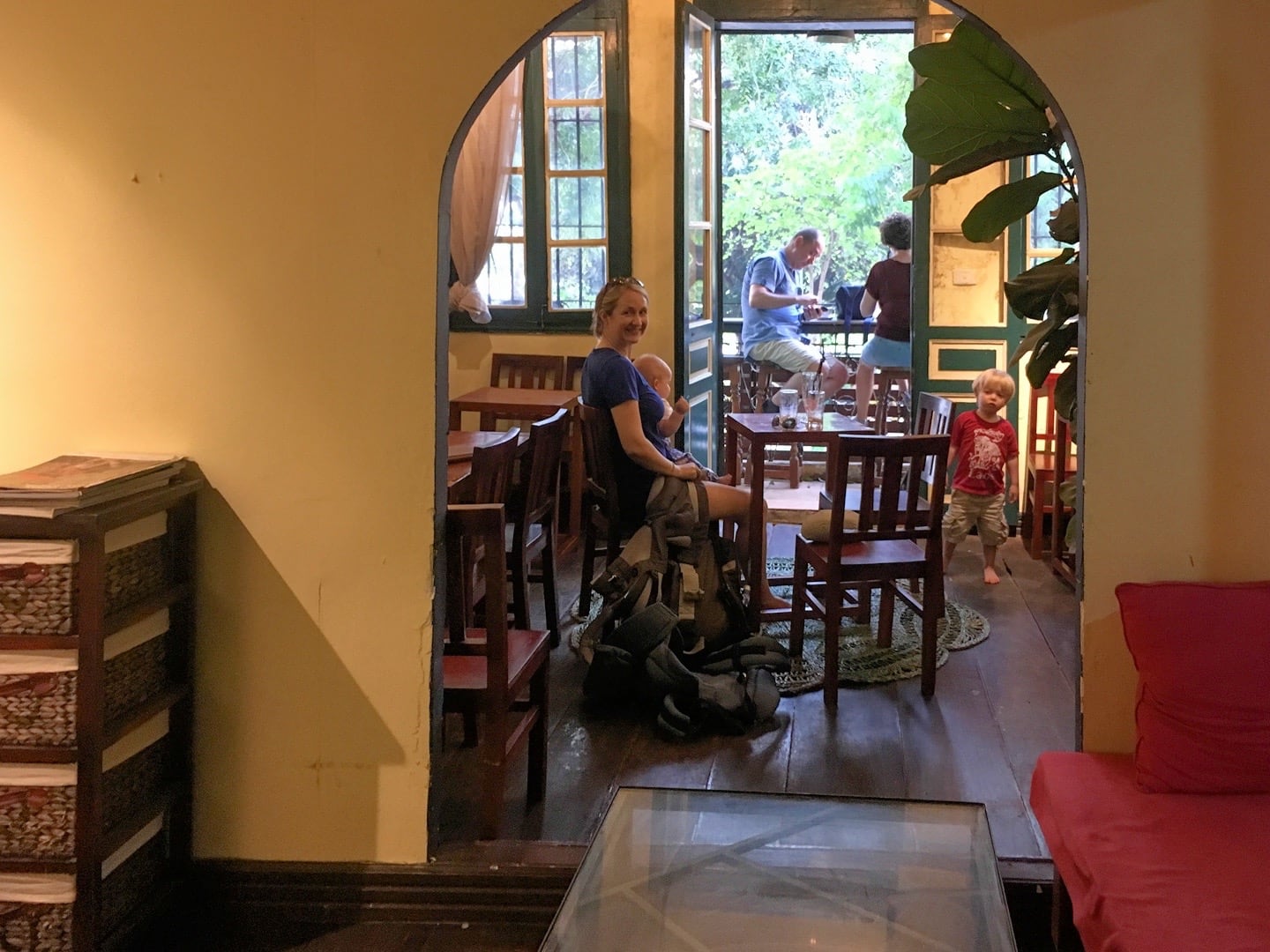 L'etage Cafe
We were excited to revisit one of our more memorable 2012 Vietnamese coffee experiences here at L'etage Cafe.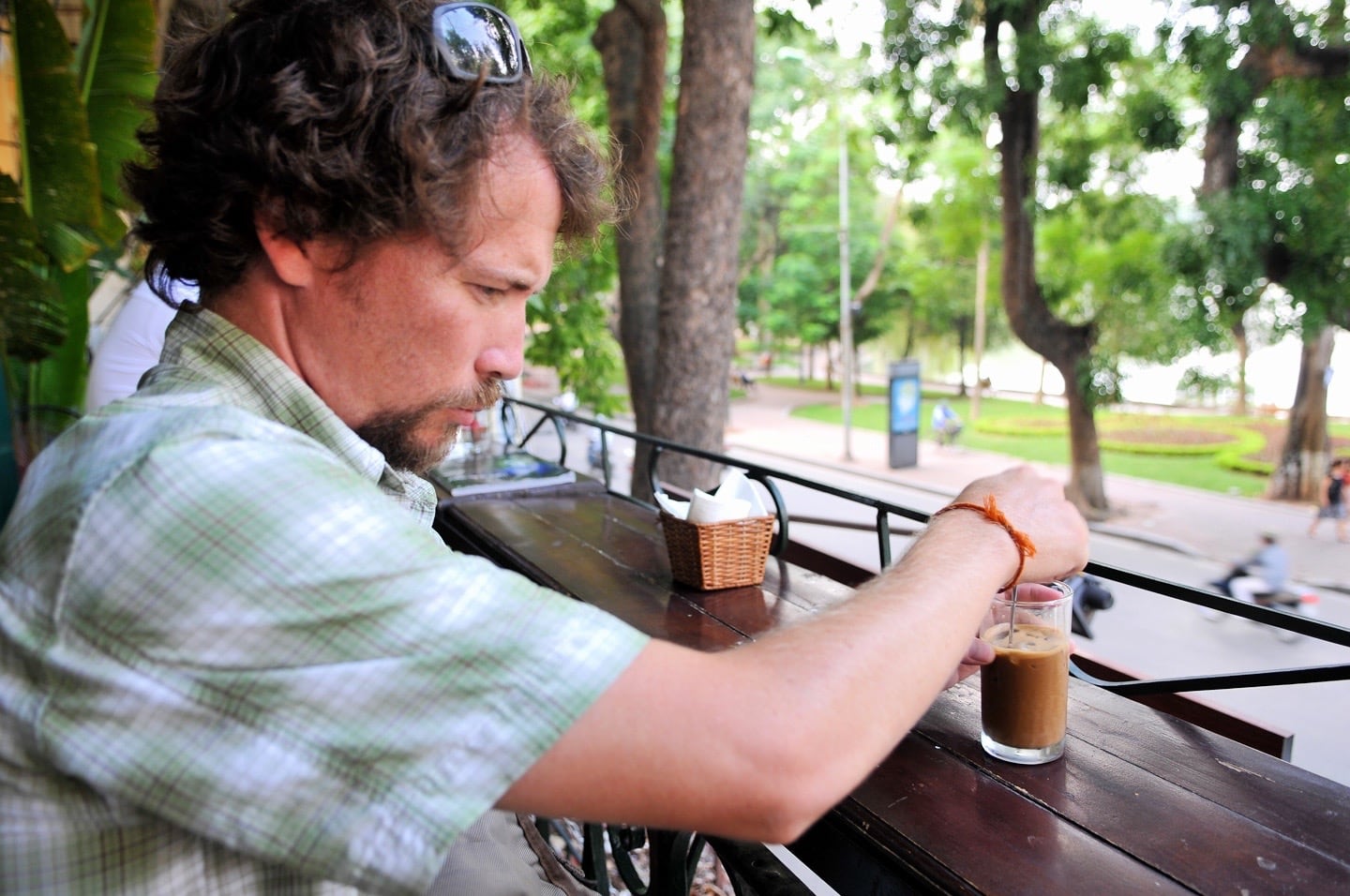 Add baby 6.5 years later, and…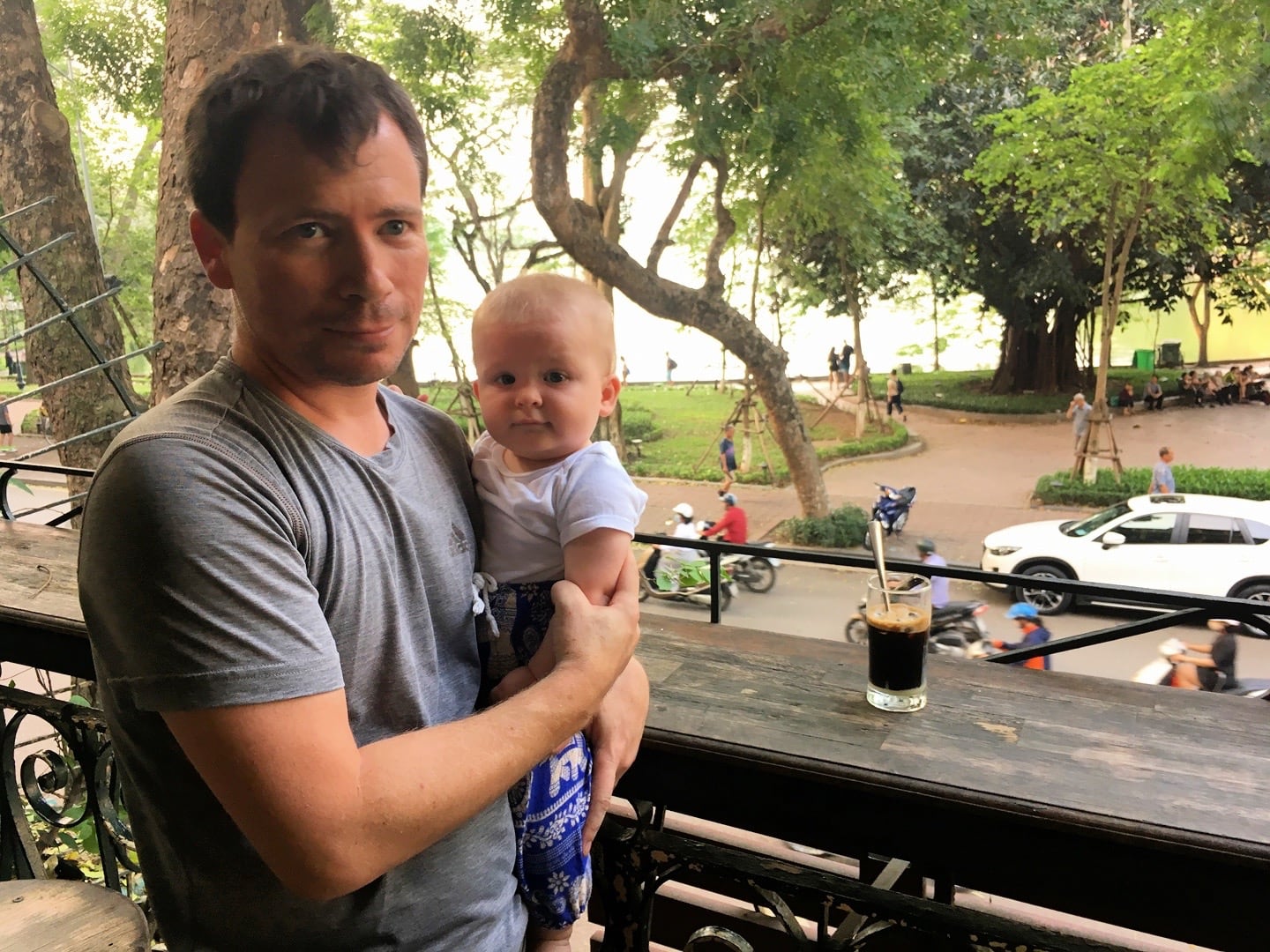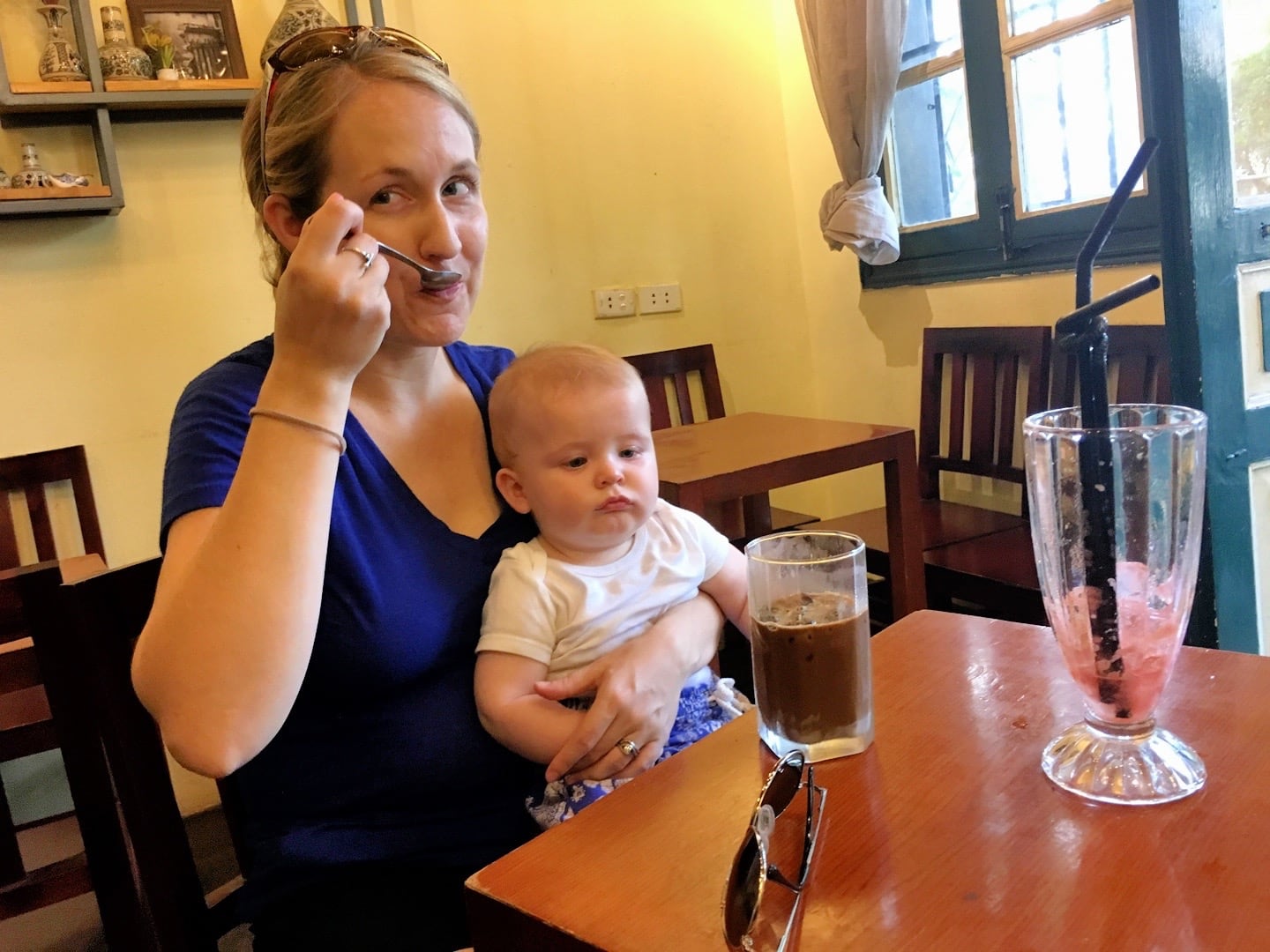 Honorable Mentions
We also visited S'Patisserie, JOMA bakery cafe, Saint Honore Bakery, though purely for their breakfast offerings, as coffee was nothing specific to Hanoi.
S'Pattisserie had good set breakfast options, but was on the pricier end of things and took a while to prepare.
Saint Honore was another tasty French bakery, but didn't really offer anything to write home about.
JOMA serves top-notch North American breakfast and lunch favorites that hit the spot when we are craving that sort of thing. But Coming from Laos where we have three JOMA cafes in Vientiane alone, one stop in Hanoi was enough for us.
I wouldn't necessarily recommend JOMA to short-term visitors coming straight from the U.S. or Canada.
However, if you've been backpacking around Asia for months and haven't sunk your teeth into a fresh bagel or chicken caesar wrap in a while, JOMA might just be what the doctor ordered!
French-Vietnamese Cuisine
The French undoubtedly left their mark on Vietnam in more ways that one, but their influence on Vietnam's food might just be the most enduring.
In addition to French bakeries and banh mi (baguette sandwiches stuffed with regional goodies), there are a number of eateries specializing in French-Vietnamese fusion, or French-inspired dishes.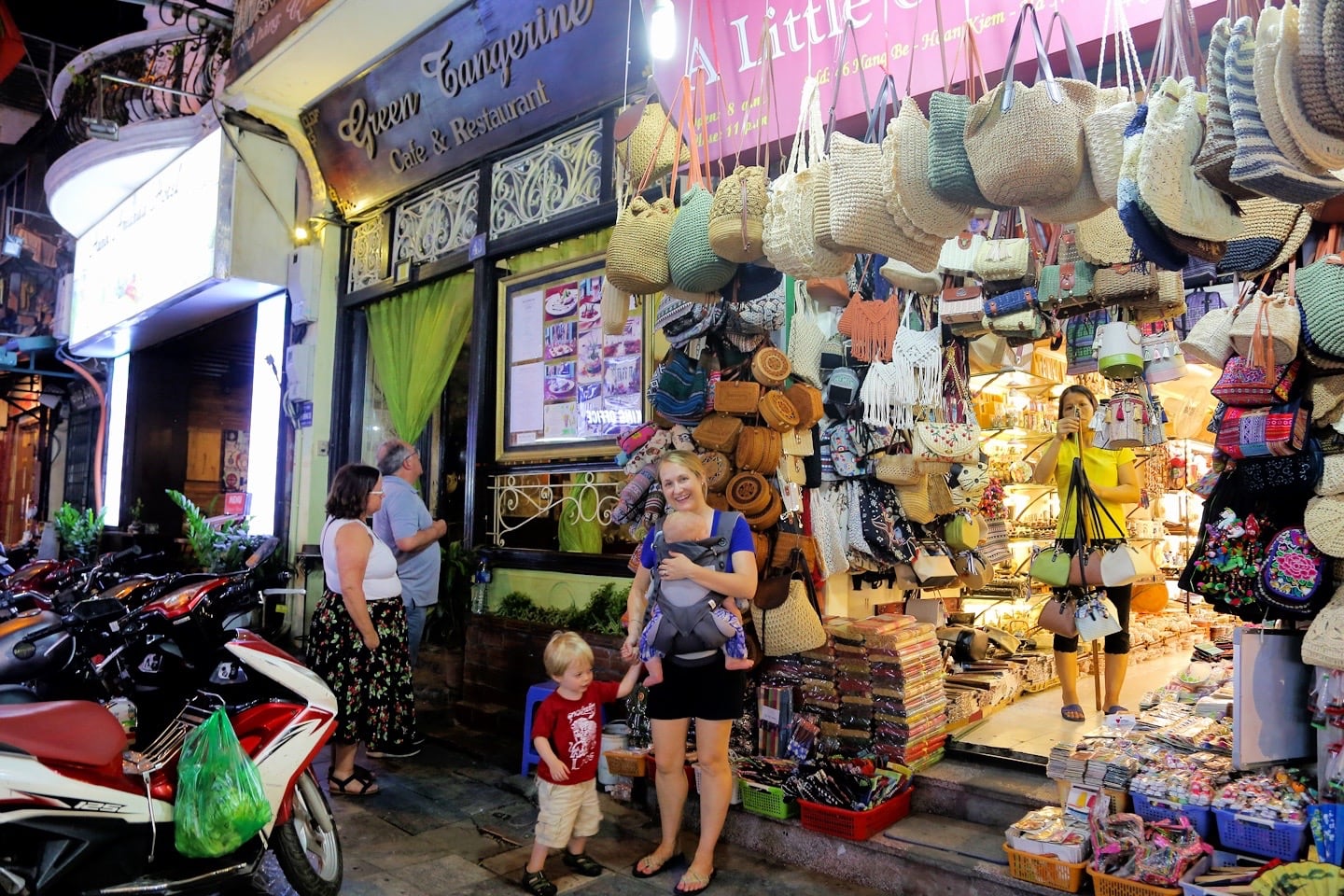 Green Tangerine
Green Tangerine was recommended by an American-Vietnamese couple we know in Laos. It also ranks highly on TripAdvisor. The property is stunning, and the food, exceptional.
There's just one issue we have with the place. Okay, a big issue.
This cost almost US$10!!!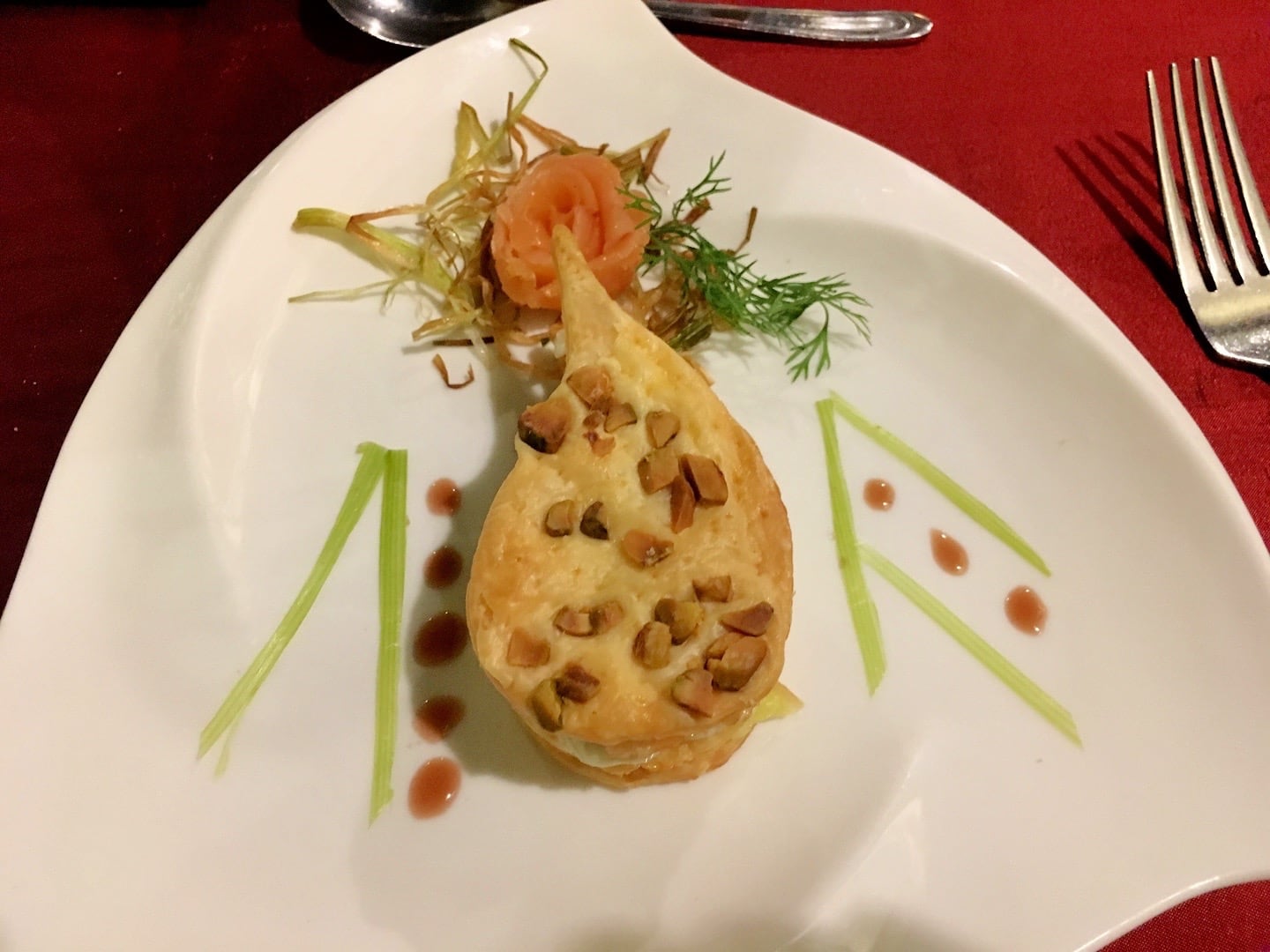 We had been told to try the cha ca (Hanoi style fish) once we got to Hanoi. I saw it on the menu at Green Tangerine, along with another tasty looking dish as well. Both were around ten bucks. Okay, a bit steep, certainly for Southeast Asia, but this seems like a nice enough place, it's probably worth it, right? Plus, how many times do we come to Hanoi?
Nowhere did we see the word "Starter" or "Appetizer."
Needless to say, we were more than a bit surprised when the waiter brought out two little tarts that we had originally intended to share among the three of us (thankfully, Riley's still doing the milk thing at this point).
Looks like we might be hitting up Mickey D's on the way back tonight…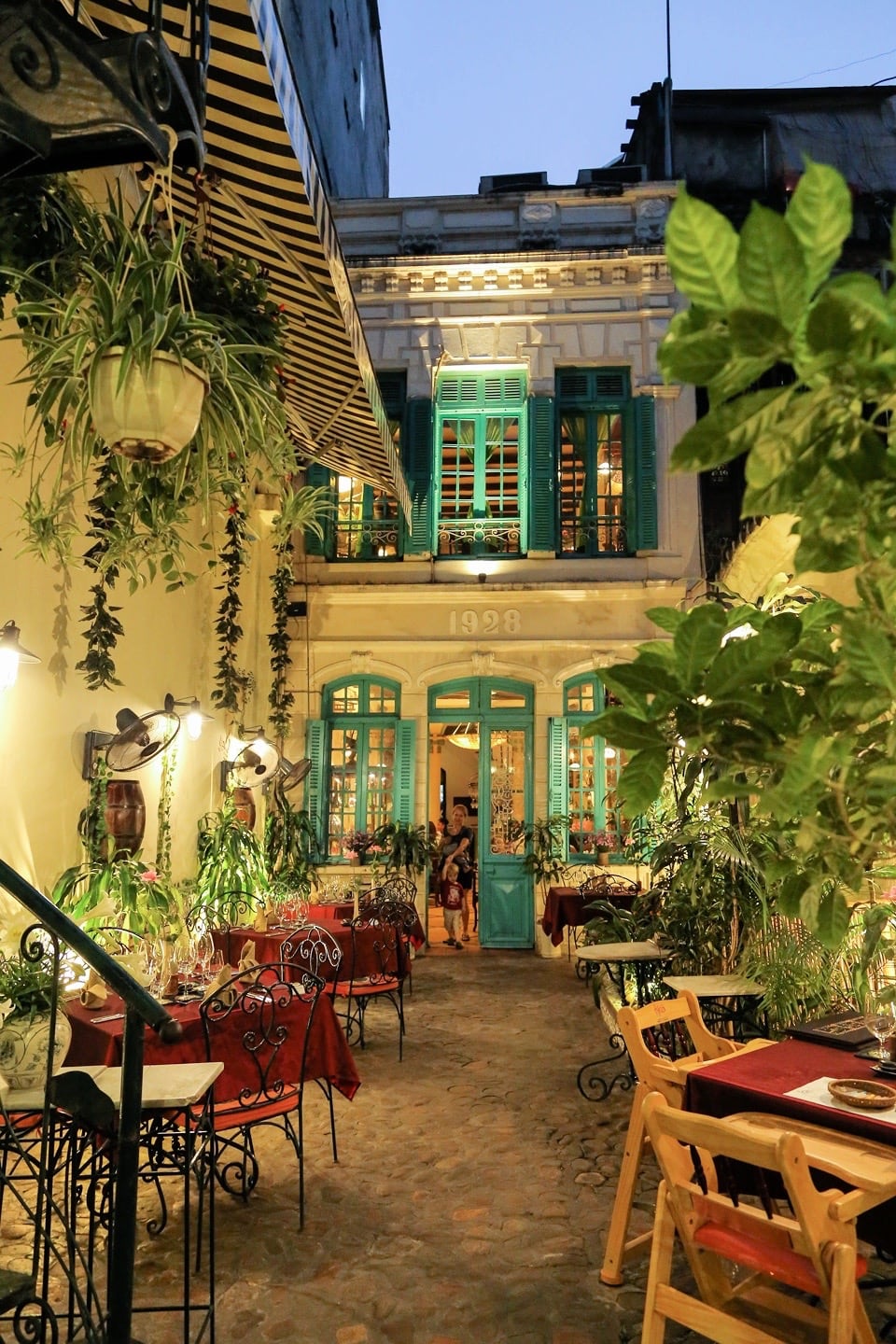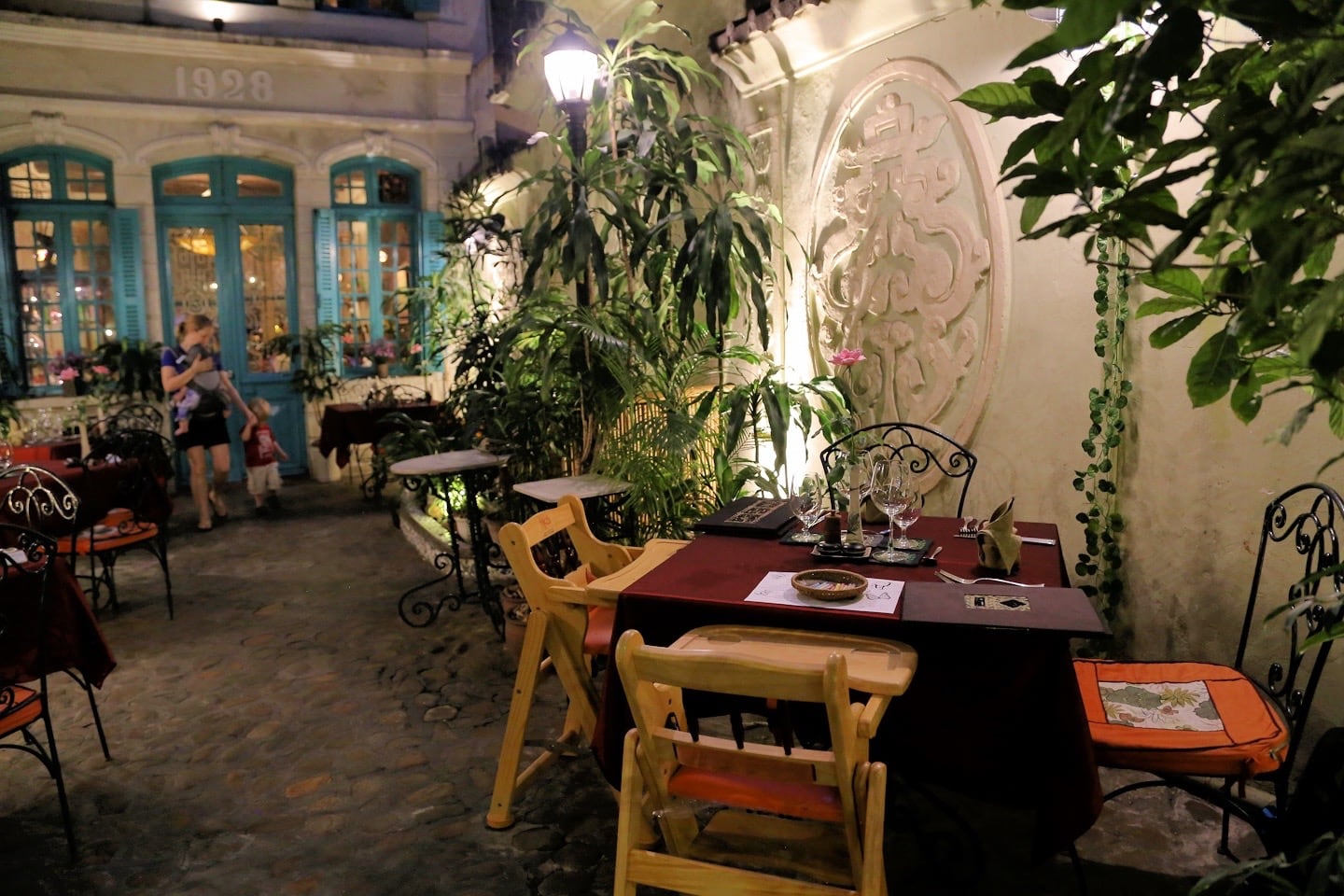 I do have to say the setting is nice, and they did have crayons and coloring paper for Noe.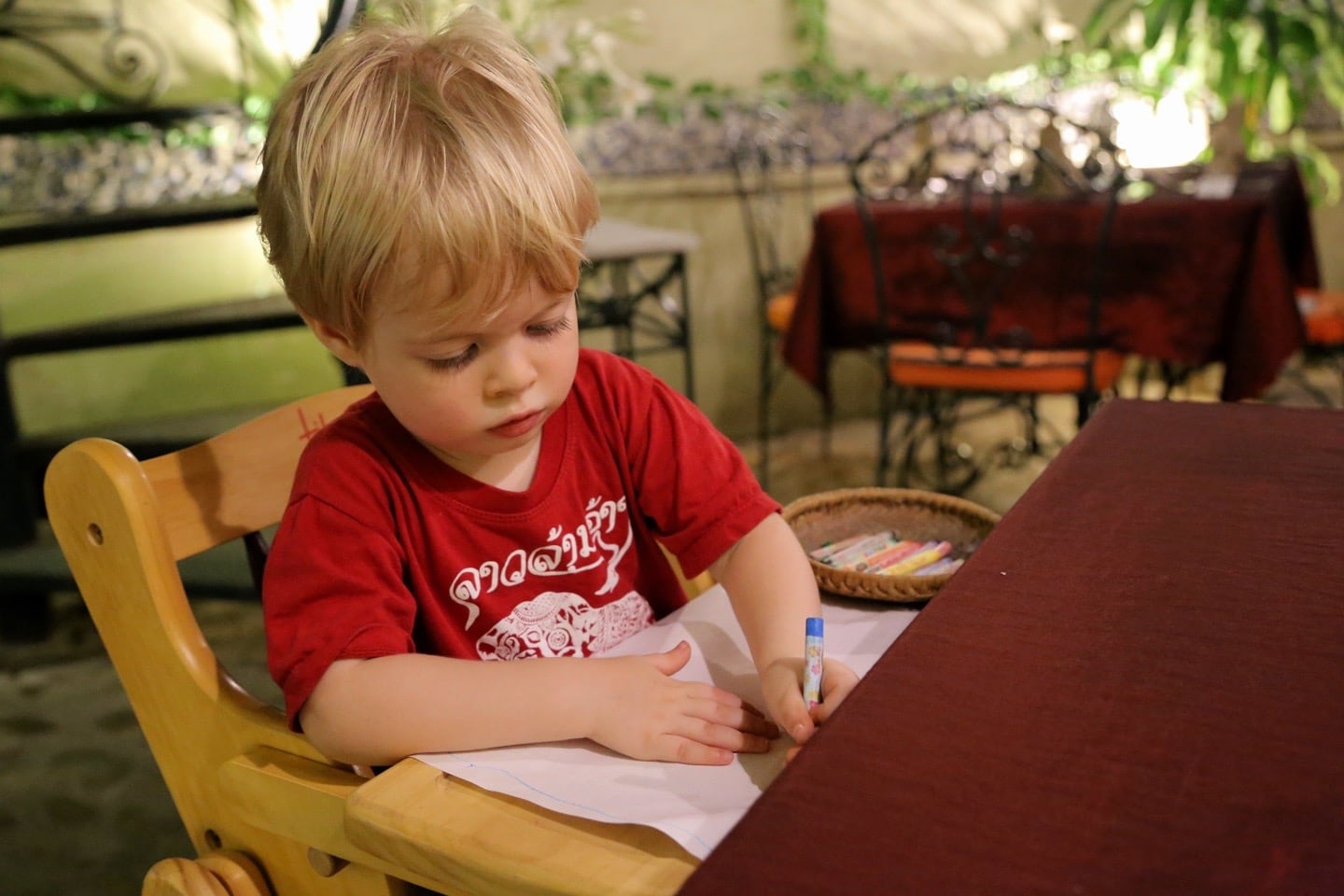 I'm sorry, but there's just no excuse for this sort of thing. Maybe they can get away with this crap in Hong Kong, Tokyo, or Singapore, but I just kind of feel violated having paid that much for a tart in Hanoi.
Back in Vientiane, we have excellent French food for about the same price, but the waiters have to roll you out of the joint!
This, in a country that slaps crazy taxes and tariffs on all imports. The cost of living in Laos is far higher, and wages far lower, than Vietnam.
There is simply no reason for paying US$10 for a freakin' dinner tart in Vietnam. NO REASON.
Now that I've gotten that out of my system, onto something a bit more exotic…
'Merican Food
At this point, we've covered all the Vietnamese favorites I'm going to write about here in this post. If you're even a mildly self-righteous hipster-foodie and this gives you a panic attack, you can stop reading right now.
I have nothing more to offer you.
If, however, you'd like to continue on this adventure of ours, reading about the realities of living as a long-term expat with kids in Southeast Asia (at least from one family's perspective), well…then, compadre, I might indeed have something that interests you.
Read on!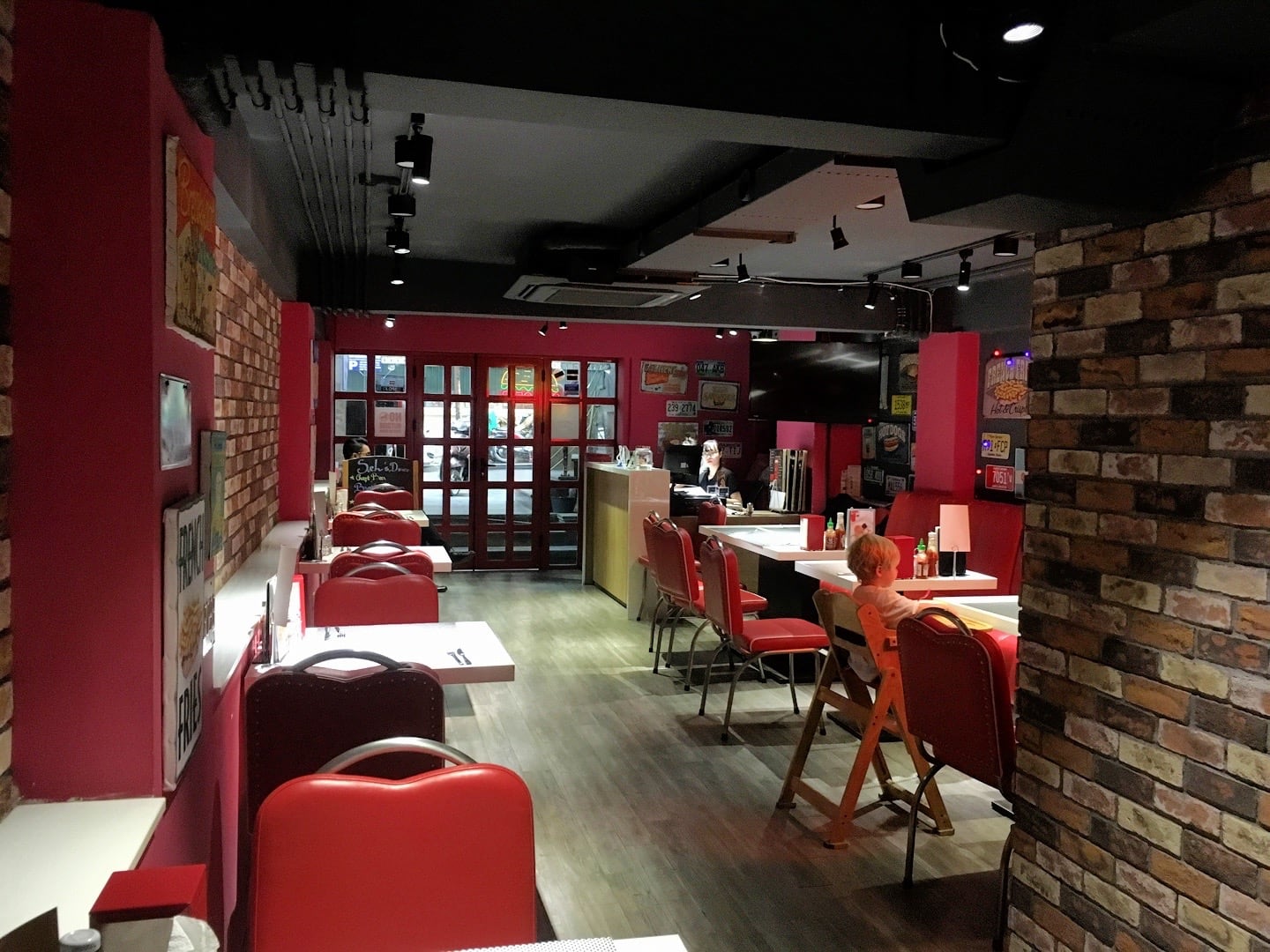 S&L's Diner
Getting my bun cha here in Hanoi was indeed a religious experience. But I nearly wept tears of joy when I eyed the next two places.
Yes, I know we have arrived in the land of some of the most amazing food the world has ever known. But again, a lot of that food makes its way to Laos.
What hasn't made it to Laos yet is DINER FOOD. I mean, holy crap, look at this menu!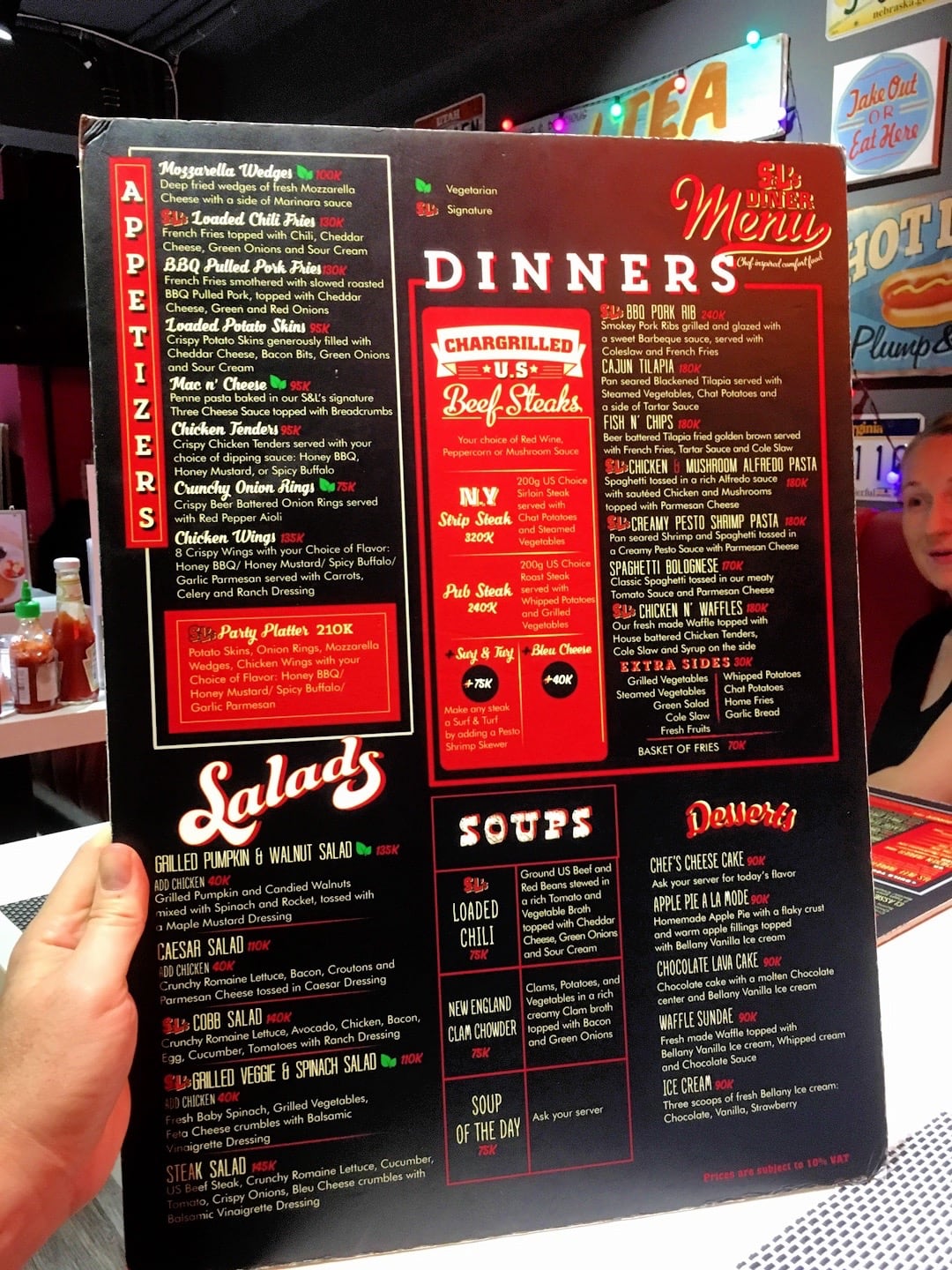 That's the dinner menu. Now, why am I showing you the dinner menu at breakfast time? Well, because I only took a photo of the menu for a possible return visit for dinner, that's why (spoiler alert: we never made it back, too many great places for a repeat in one week).
I will tell you that we did get…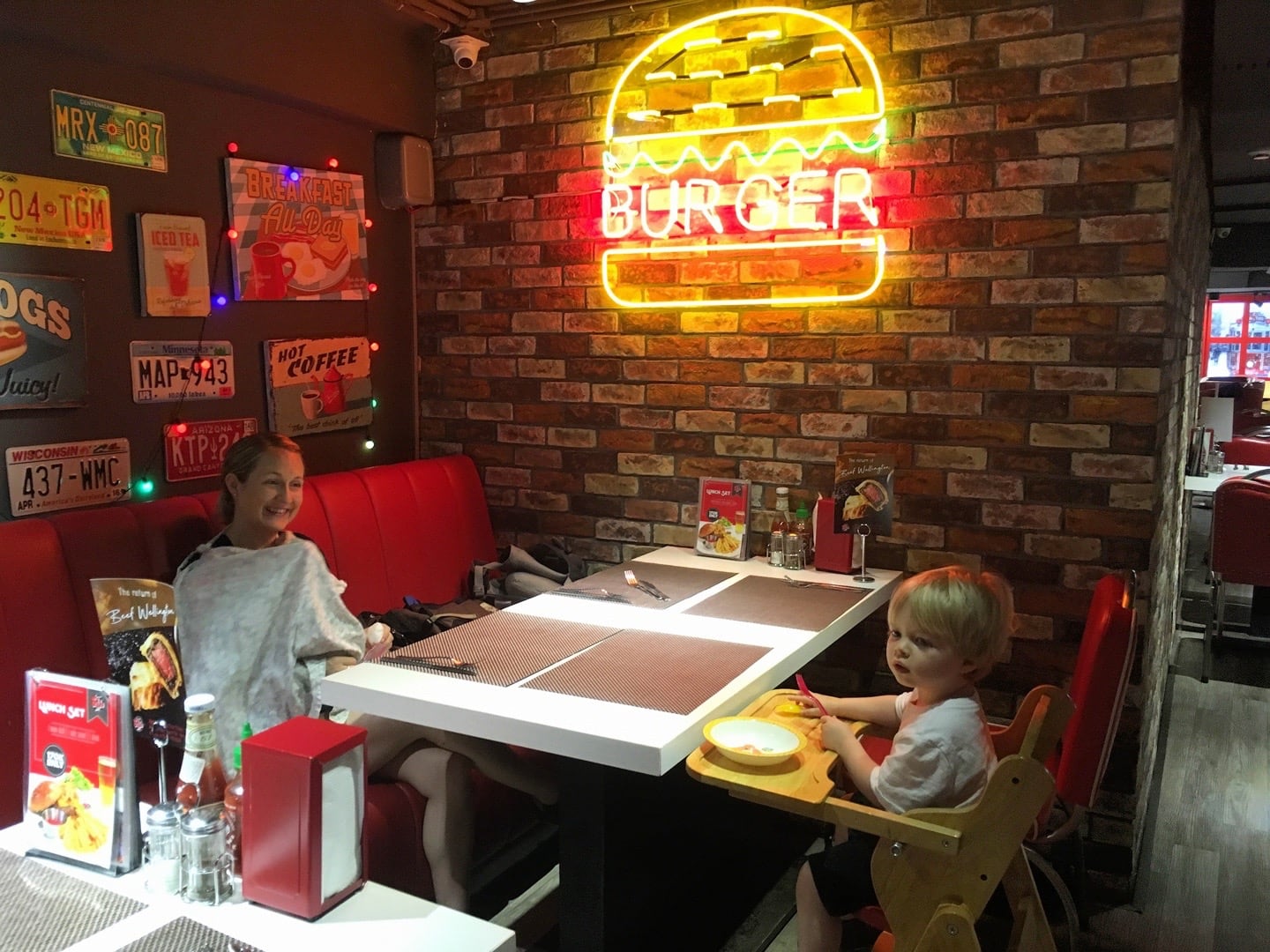 THE BISCUIT AND SAUSAGE GRAVY.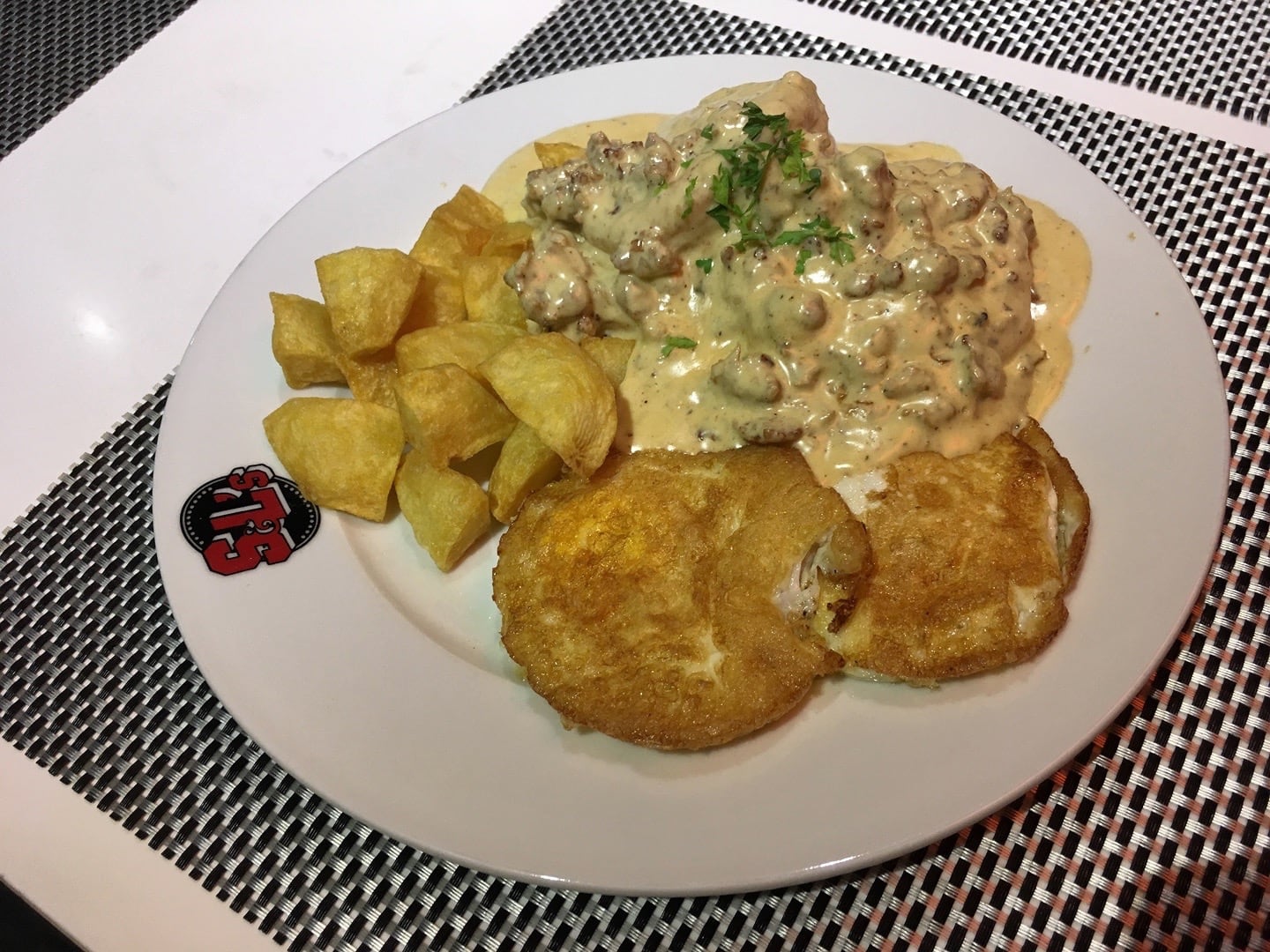 Which was awesome. Look at that! That's like all sausage with just enough gravy to make it fun, completely smothering the most delicious southern-style biscuits I've ever had outside North America. Two fried eggs, and potato wedges.
Pho for breakfast is phun and all, but sometimes, I just want me some good ol' fashion 'Merican stick-to-your-rib-edness.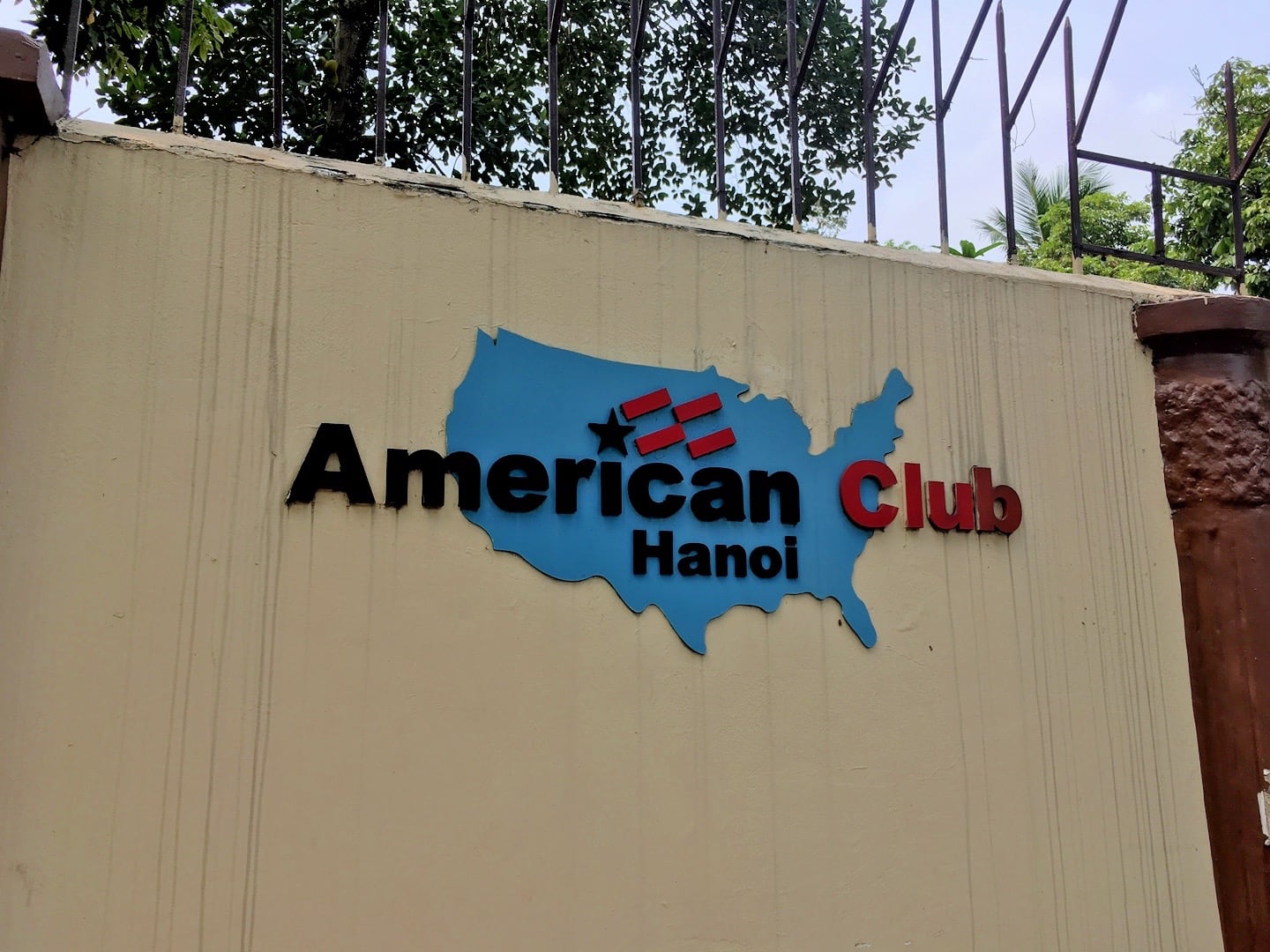 The Moose & Roo at the American Club
Speaking of all things 'Merican…
This one we sort of happened on by accident. Well, the Moose & Roo was no accident. I saw BBQ pulled pork and baby back ribs and said, honey, can we pleeeeeeaaaaase try this place.
Honestly, Lori didn't take much convincing. Again, something we can't really get back in Vientiane.
What we didn't count on is that the Moose & Roo (at least this location) is located inside the American Club.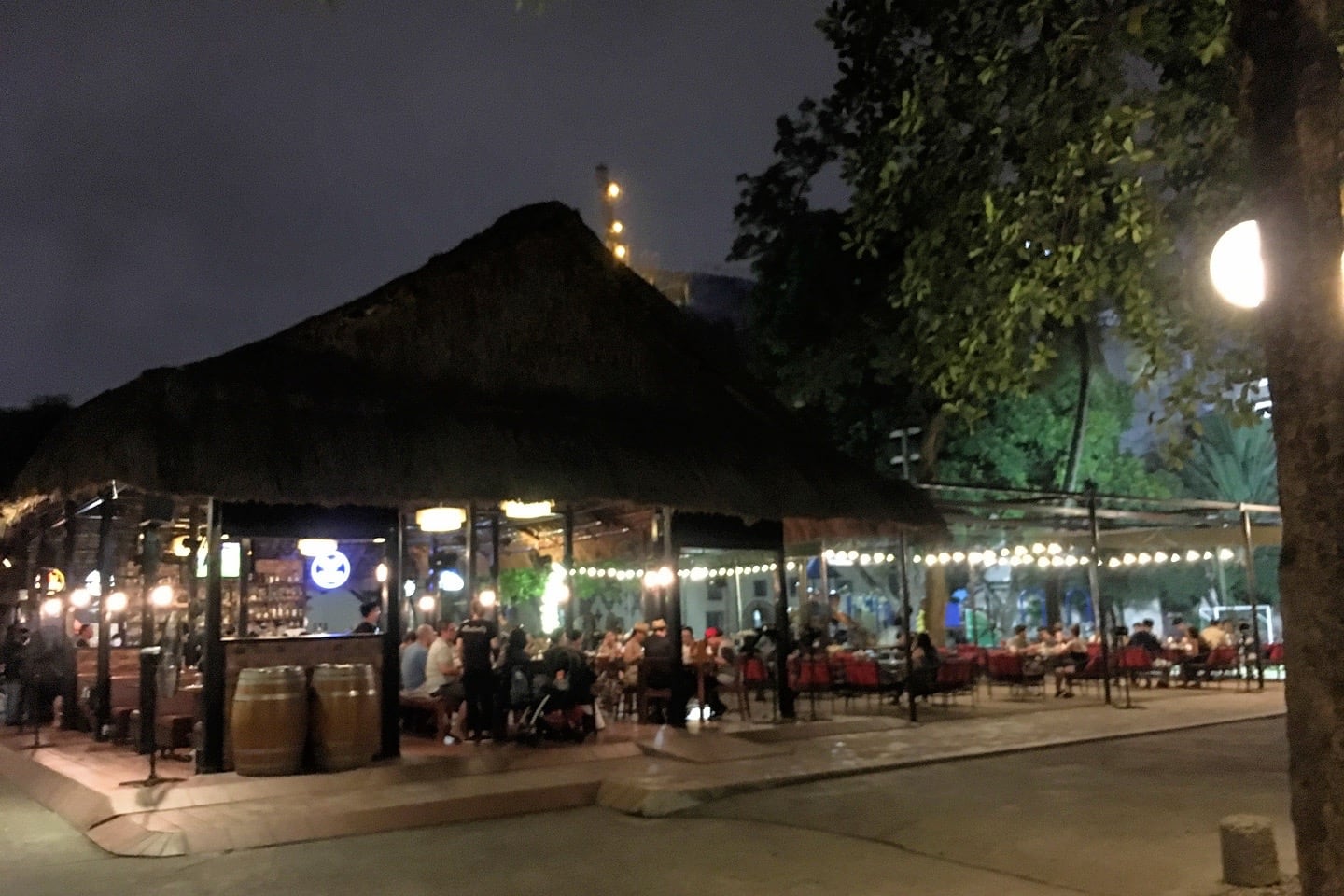 I'm still not quite sure how an American Club ended up here in the heart of Hanoi of all places, but it's certainly a victory for post-war diplomacy.
Which again begs the question, what the hell were we fighting for again? We lost the freakin' war and, forty years on, capitalism has taken over, there are American food chains on every other corner in Hanoi, and there's an "American Club" on a ginormous tract of prime real estate in the heart of the city serving craft beer on tap and baby back ribs.
Tens of thousands of American lives lost to prevent this from happening? And what do you suppose happens when the U.S. doesn't "lose" the war? Baghdad and Kabul, both glowing examples of freedom and democracy, of course.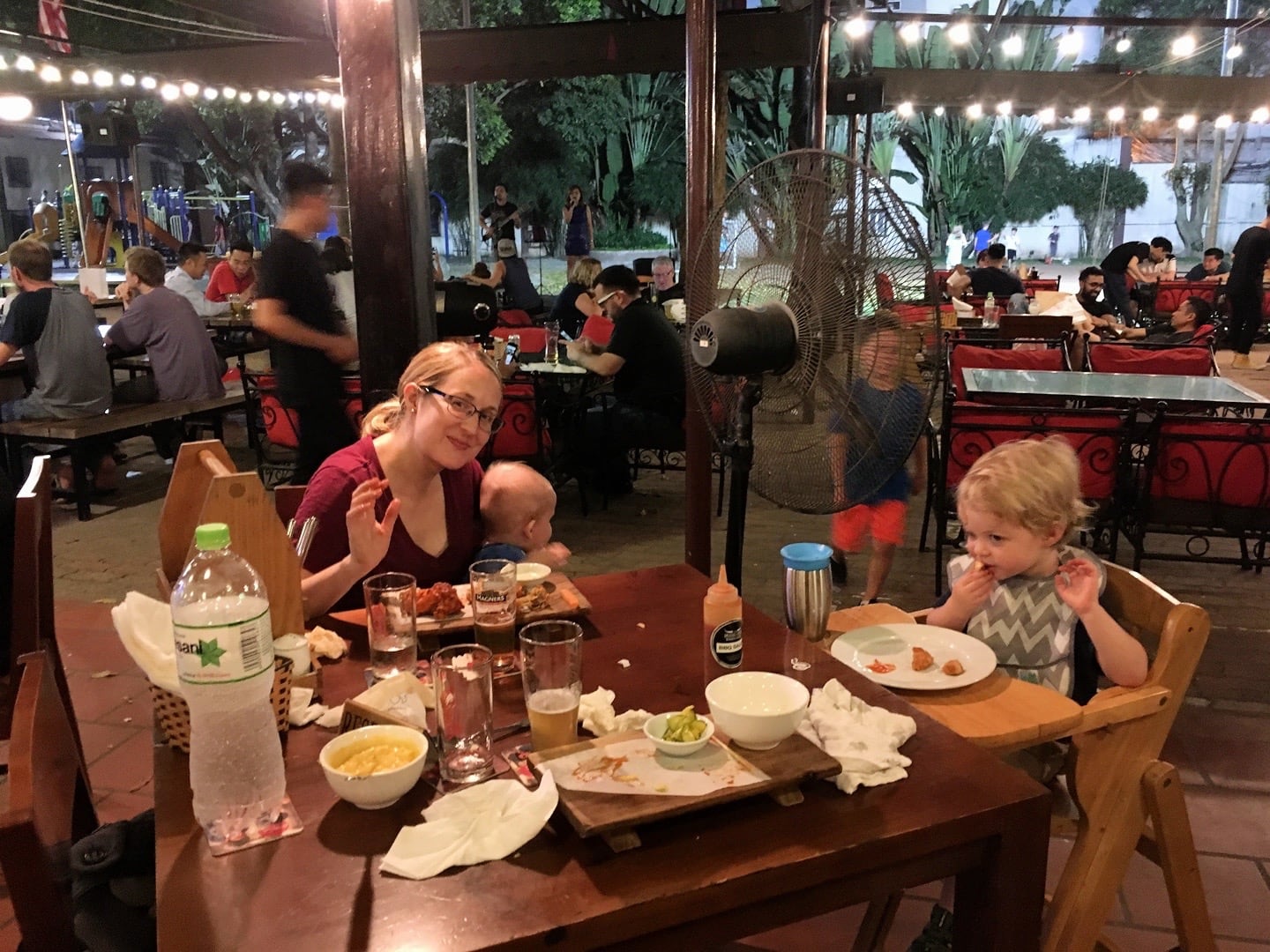 Stickers, this time!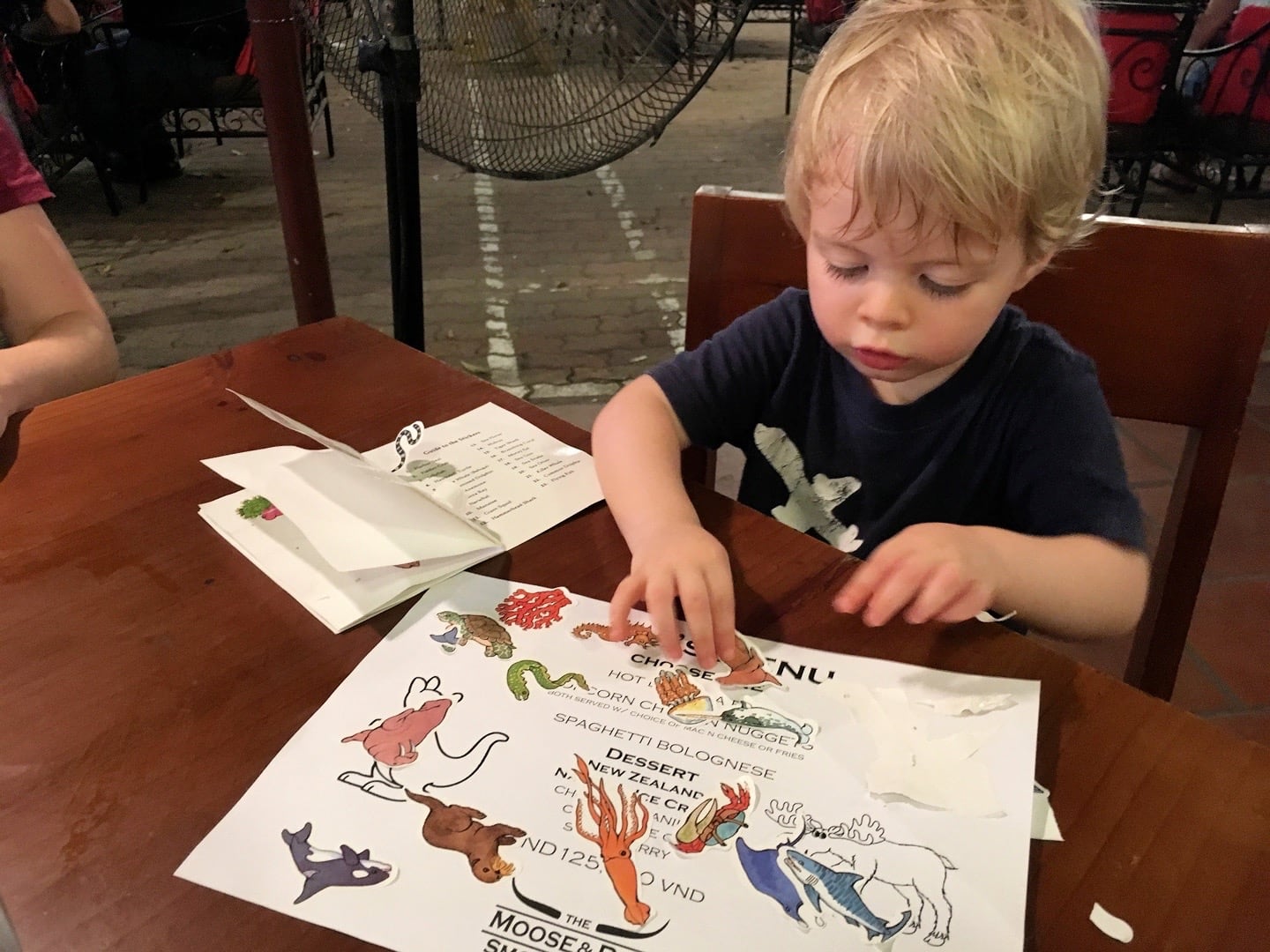 A little more on the American Club: It's run by the U.S. Embassy employee association and open to everyone.
In addition to the Moose & Roo restaurant in the center of the complex, there's a sports field, playground, and basketball and volleyball courts around the periphery.
There's a small fee to use the facilities, which is waived if you eat/drink at the Moose & Roo.
We were there on a Saturday night and it seemed like a popular hangout spot for expat families from all over the world.
Global Chains
Moving on down the forbidden rabbit hole just a little farther, we arrive at the really taboo traveler eateries — GLOBAL CHAINS.
No traveler wants to admit they go to such places, but spend enough time on the road or in a foreign country and I guarantee you will go over to the dark side every now and then… We all do.
Starbucks…Reserve.
As it happens, I've only lived overseas in places that didn't have a Starbucks. I'd like to say it's a prerequisite for us for living overseas, but it's more of a coincidence than anything.
Starbucks wasn't yet a thing in the UK in 2000, and Western chains, by and large, have not been permitted into Mozambique, Belize, and Laos yet (which is actually a very cool aspect of living in those countries).
When we do find ourselves in a country with a Starbucks, we look forward to indulging. Given that Hanoi has a Starbucks Reserve made it all the more compelling to visit.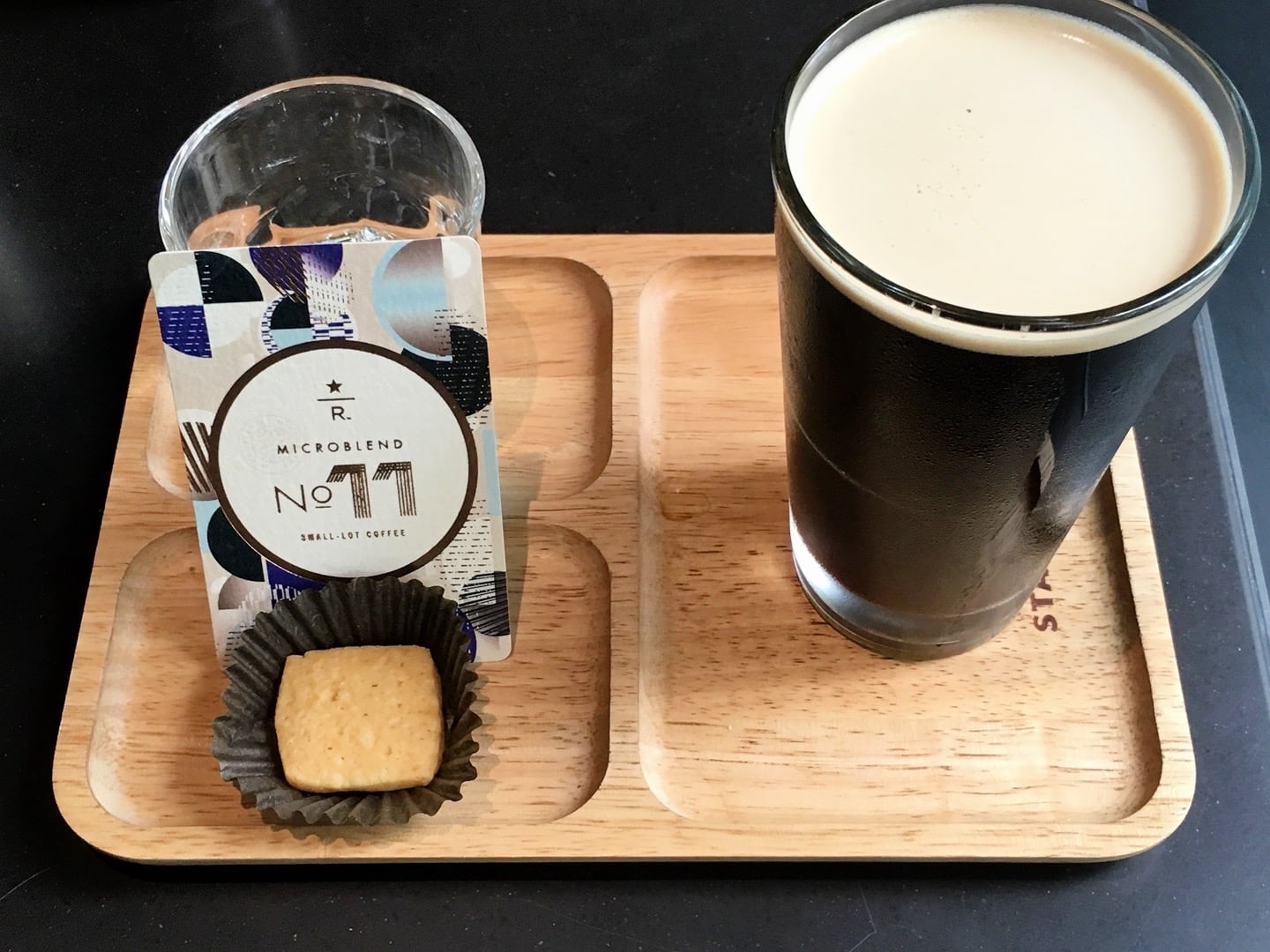 I didn't go for any of their specialty "reserve" coffee because, well, Starbucks coffee sucks in general, and I don't think I can count on the multi-billion dollar company to do justice to specialty coffee.
There are two exceptions I make: Iced Mocha (good memories and something Starbucks actually does really well), and their Nitro Cold Brew (surprisingly, something else Starbucks seems to do really well — though their regular Cold Brew is weak and generally undrinkable).
Lori got the mocha and I got the Nitro, and the kids enjoyed looking out the window…until they didn't.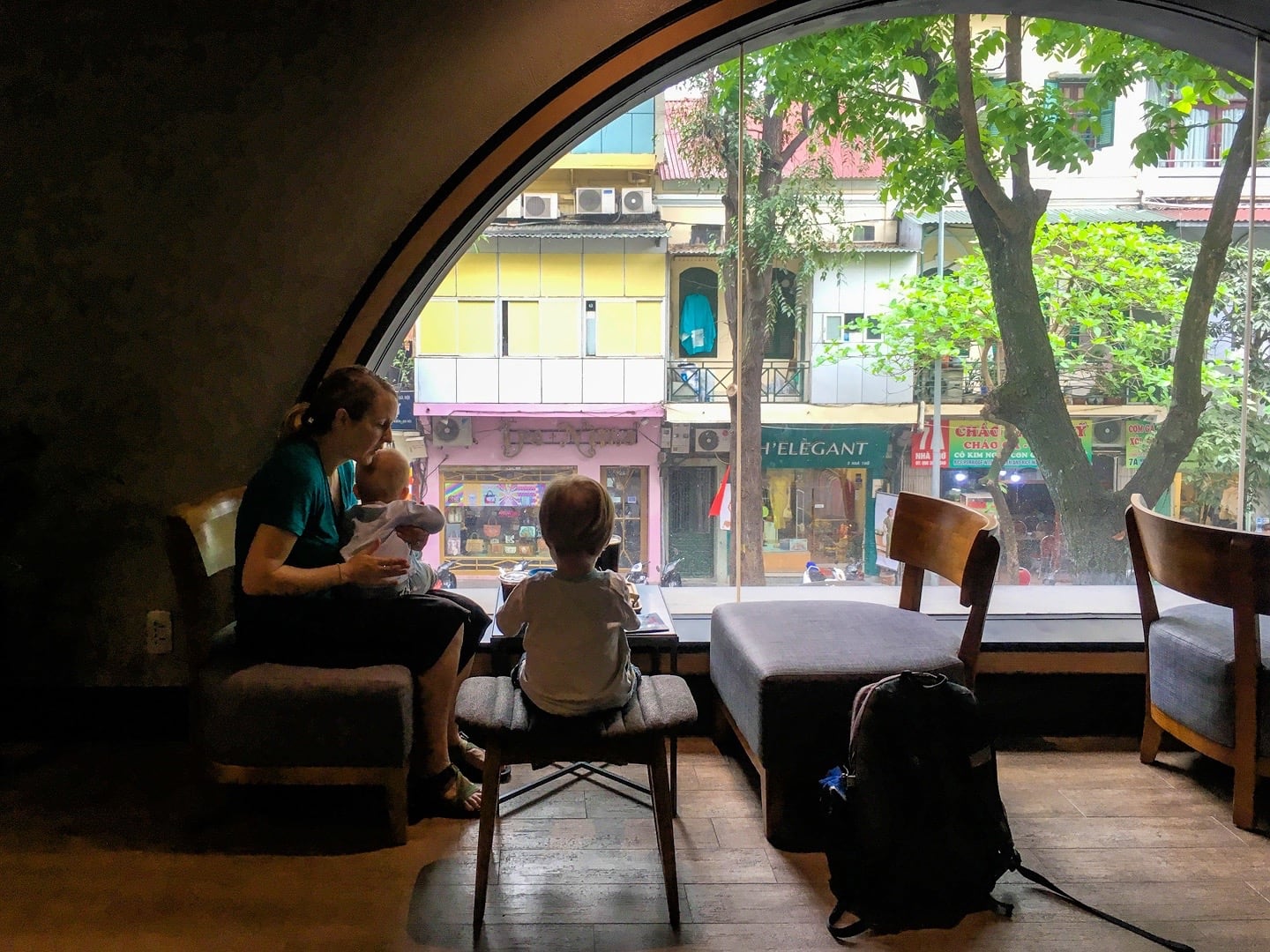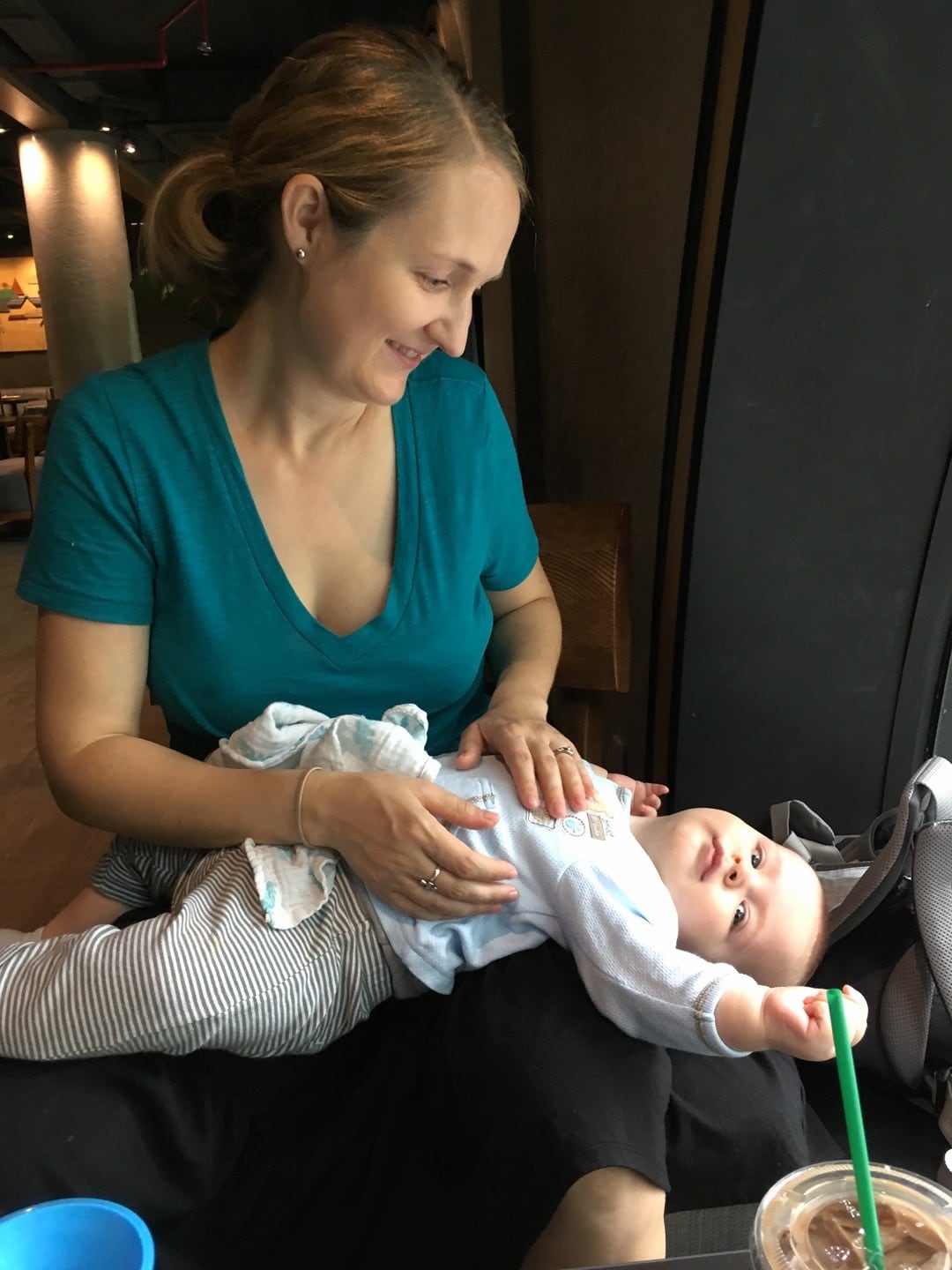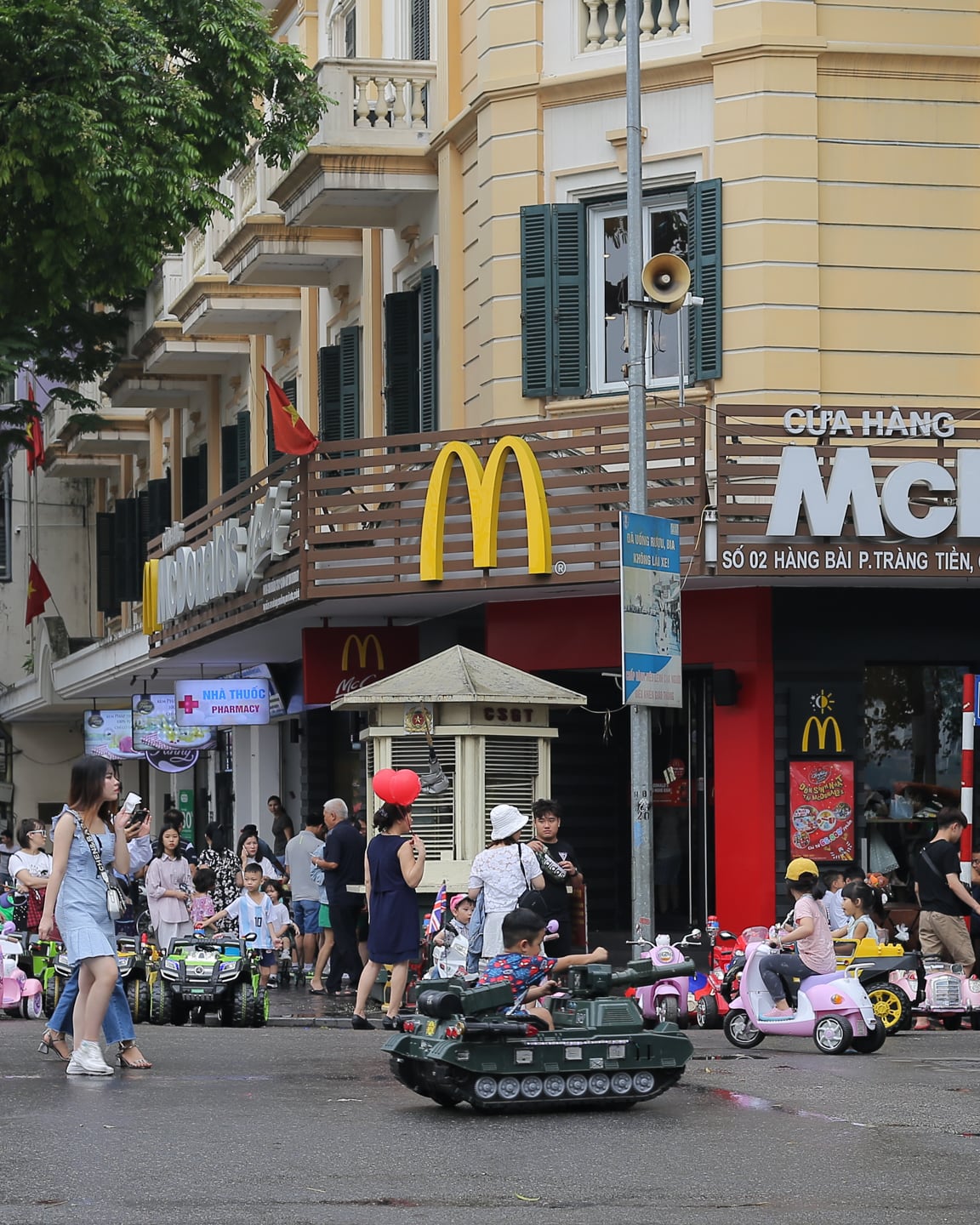 Mickey D's
Which brings us to the Golden Arches. Yep, we went twice, in fact. Once for breakfast, and an impromptu stop after Green Tangerine took us for a ride.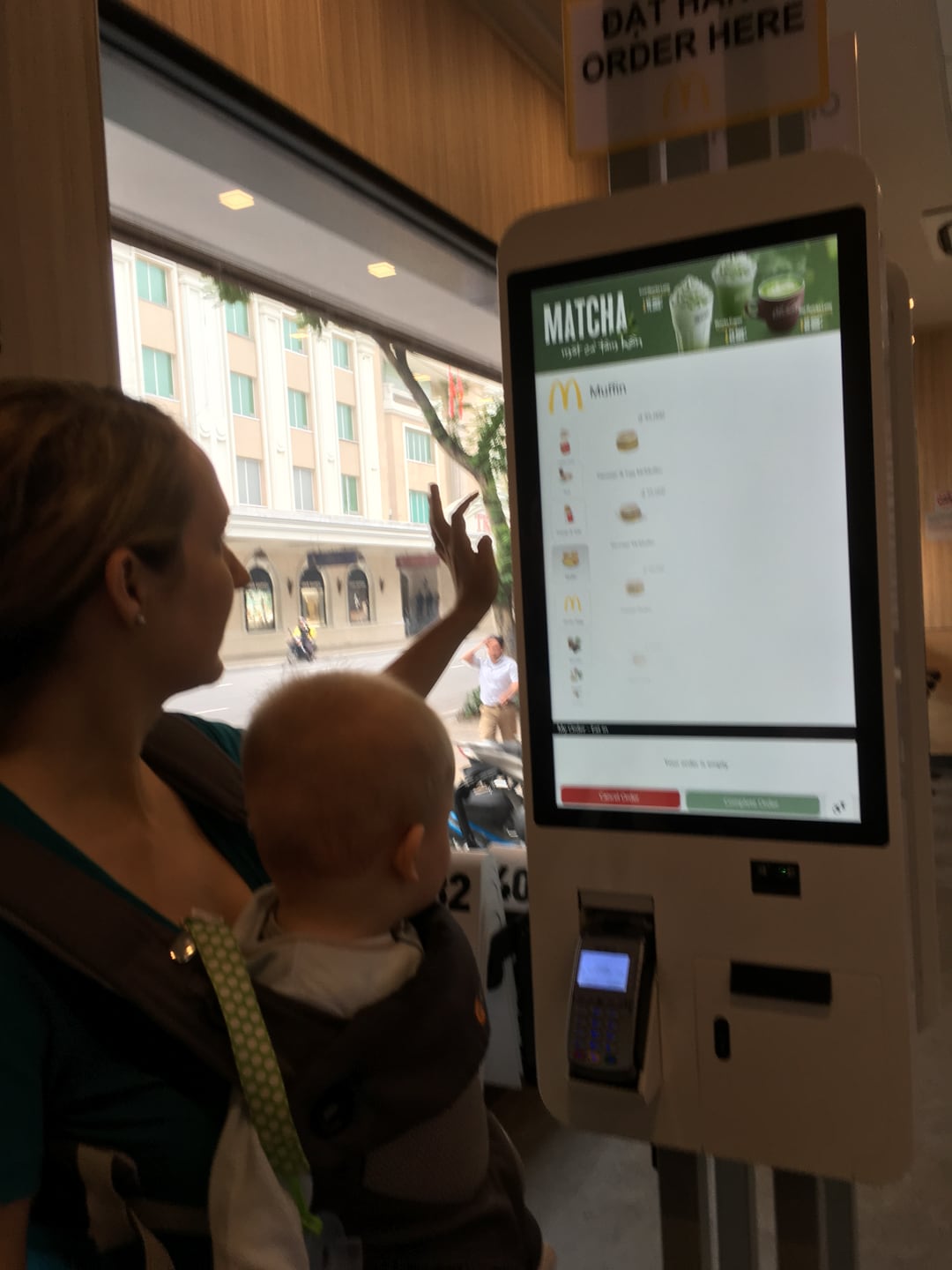 Our first time ordering on a touch screen at McDonald's, which is particularly awesome in a country where we don't speak the language.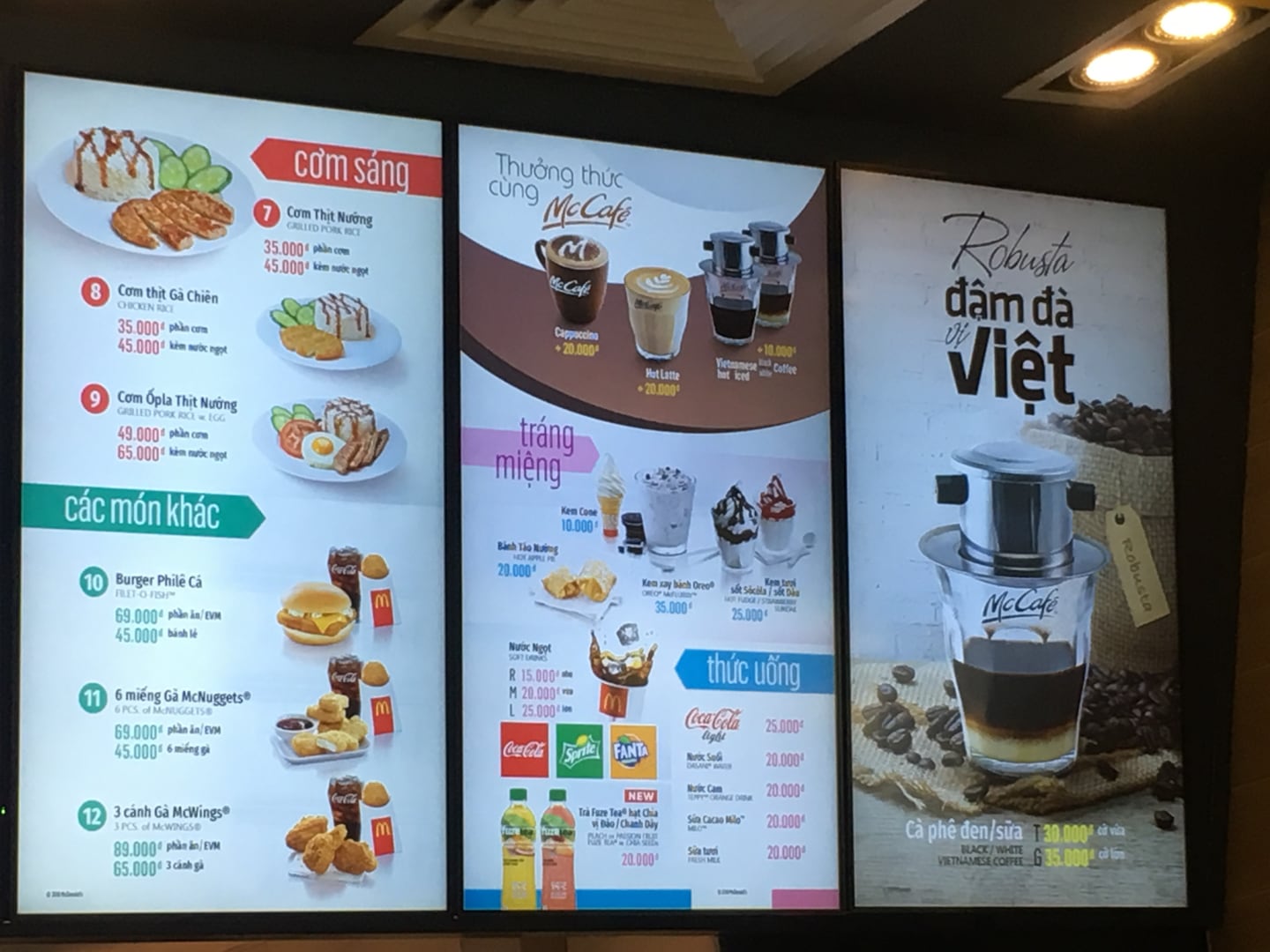 Yep, McCafe serves Vietnamese Iced Coffee in Hanoi! Would you expect anything less?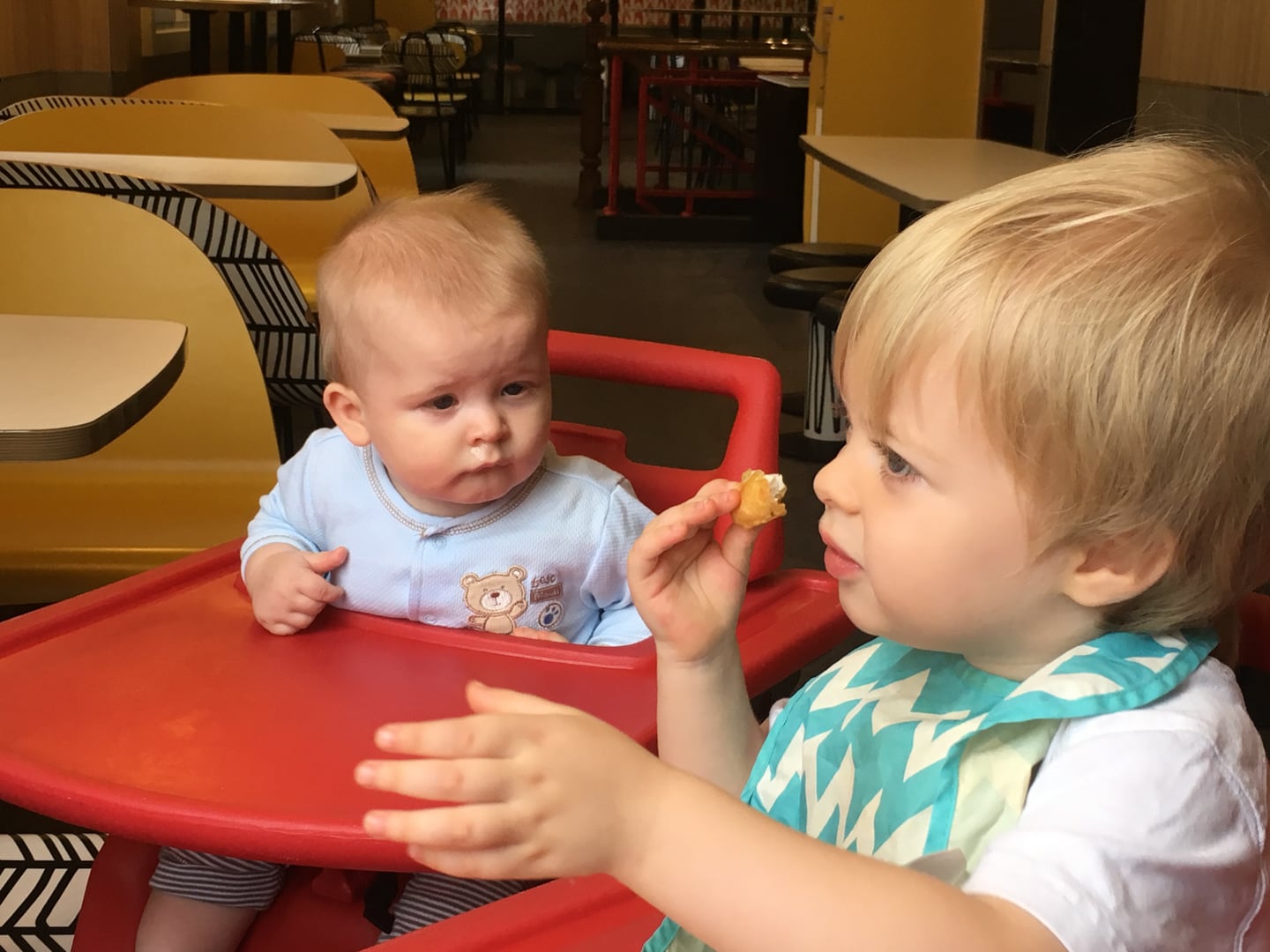 Riley wasn't feeling well this trip. This particular morning, he really wasn't feeling well.
For some inexplicable reason, this compelled him to stink eye his big bro for essentially our entire meal.
Honestly, it was just downright creepy.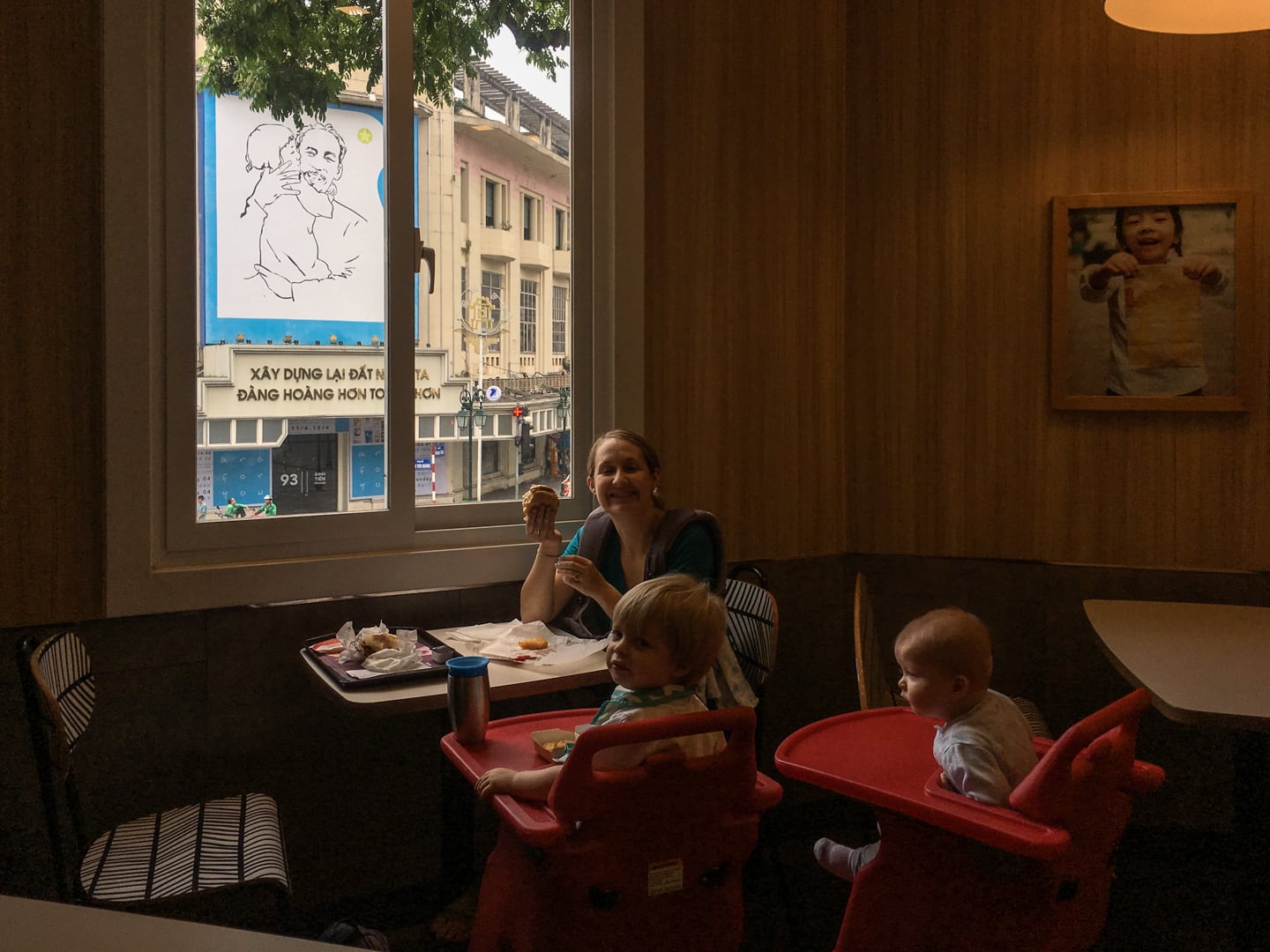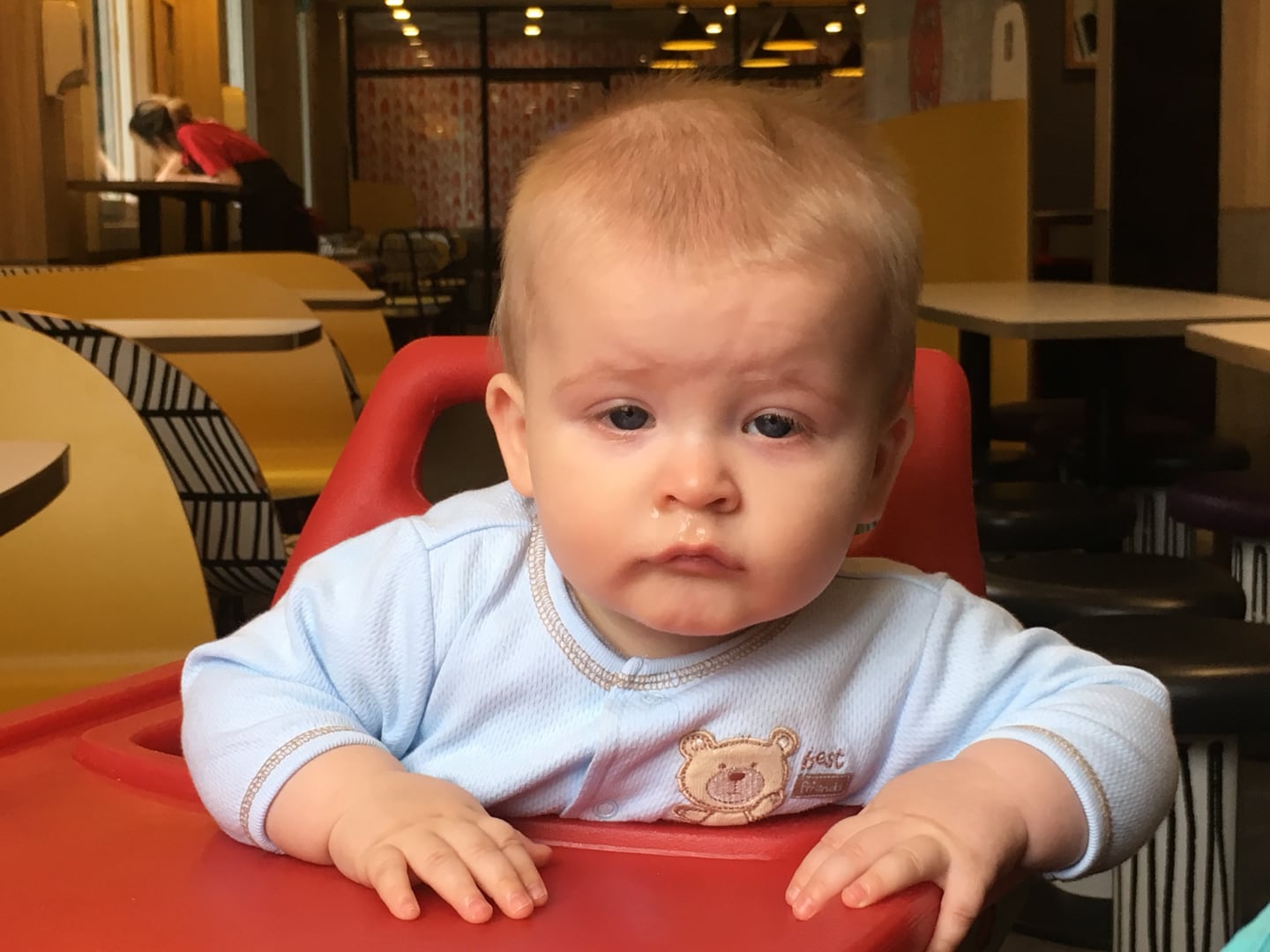 And yes, we did wipe his nose in between photos, and yes, we did wipe down his high chair tray before and after, and yes, he did get plenty of rest, and no it was nothing major, and yes he is fully recovered and back to his smiley self, post-trip.
Did I cover it all?
International Cuisine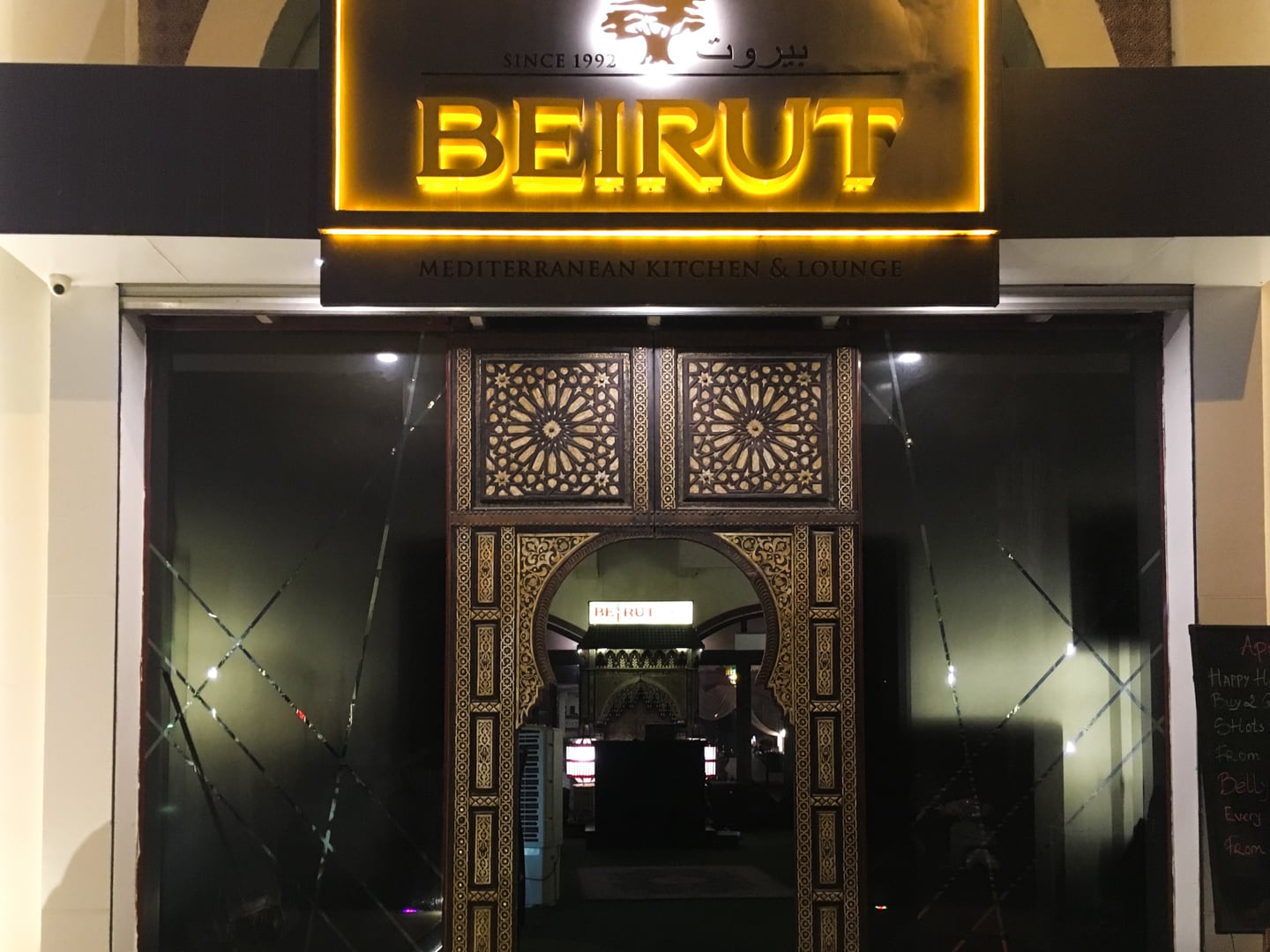 Beirut Mediterranean Kitchen & Lounge
Our unorthodox Hanoi food tour ends here, in Beirut. Didn't see that coming? You should have known better!
On our last night in Hanoi, we felt like we had tasted everything we wanted to taste for one trip, save for one thing: Lebanese food.
I kid you not.
Lori and I love Lebanese food. Everywhere we go we try to hunt it down if it's available. But in Laos…you guessed it…not so much. Not like this.
We are happy to report, Beirut is the real deal.
You won't find Beirut in the city center though. You really have to want it. And we did. And it was amazing.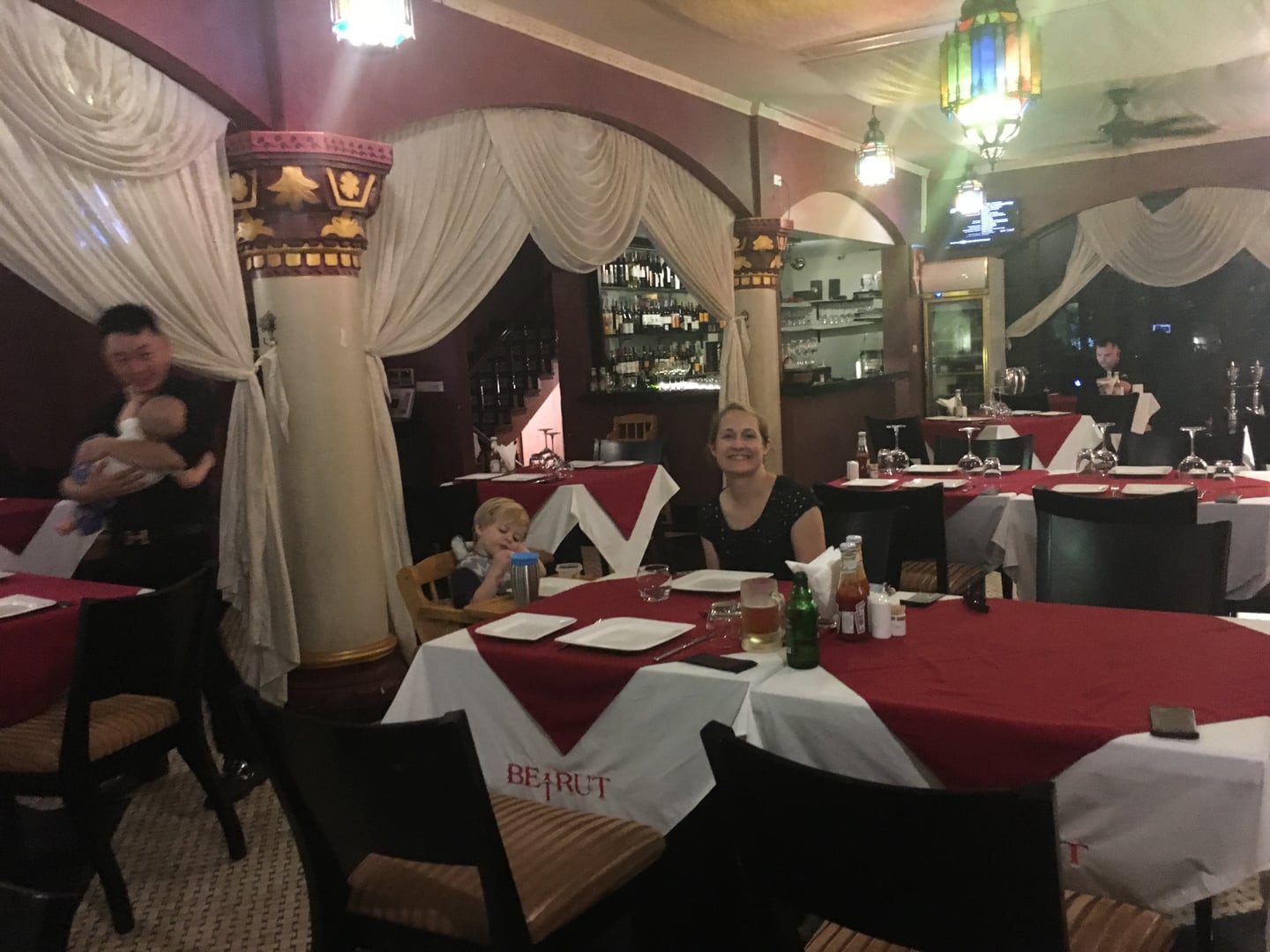 If sushi is your thing, we can highly recommend Sushidokoro Yutaka Hanoi, just down the street from Beirut. Best and freshest nigiri we've had in a long time.
Well, that's it for our taste-of-Hanoi food and coffee tour! I didn't touch on beer at all because I'm saving that for another post, so look forward to that down the line.
Where to Stay in Hanoi
With over 2,000 lodging options, choosing the right place to stay in Hanoi is no easy task, especially if you aren't familiar with the lay of the land.
Lucky for you, we've done the hard part for you!
Here are our top picks for places to stay in Hanoi.
Budget Stays in Old Quarter
Halley Hostel
Our Top Budget Pick in Old Quarter! Excellent budget private rooms and dorms in the heart of Hanoi. Includes breakfast. Rated 9.1/10 on Booking.com. Click here for details.
Hanoi Old Quarter Hostel
Our top budget to middrange option in Old Quarter. Includes breakfast. Rated 9.3/10 on Booking.com. Click here for details.
Little Charm Hanoi Hostel
An amazing little flashpacker place in the heart of it all for cheap! Dorm beds only. Indoor pool. Includes breakfast. Rated 9.5/10 on Booking.com. Click here for details.
Best for Families & Extended Stays
Wind Chimes Studio 2
Our top choice for small families. This is where we stayed for a week on our last visit to Hanoi with two little ones. Two rooms and kitchen in French Quarter. Click here for current price and availability.
Tuti Downtown Tahien
Our top pick for families & extended stays near Old Quarter. Click here for current price and availability.
Langmandi Homestay
An amazing little apartment on the south side of Hoan Kiem Lake. Two bedroom, kitche, and balcony. Rated 9.8/10 on Booking.com. Click here for details.
Don't Forget Travel Insurance
Hanoi is among the safest cities for travelers in Southeast Asia. With that said, stuff happens — tropical storms, road accidents, broken bones, and other nasties.
Don't risk it. Get good international travel insurance so you can sleep easy and enjoy your trip to Vietnam! We've had good experiences with World Nomads for our short-term overseas travel.
And That's Our Hanoi Food Guide!
Have you sampled Hanoi's incredible cuisine? Tell us your favorites in the comments below!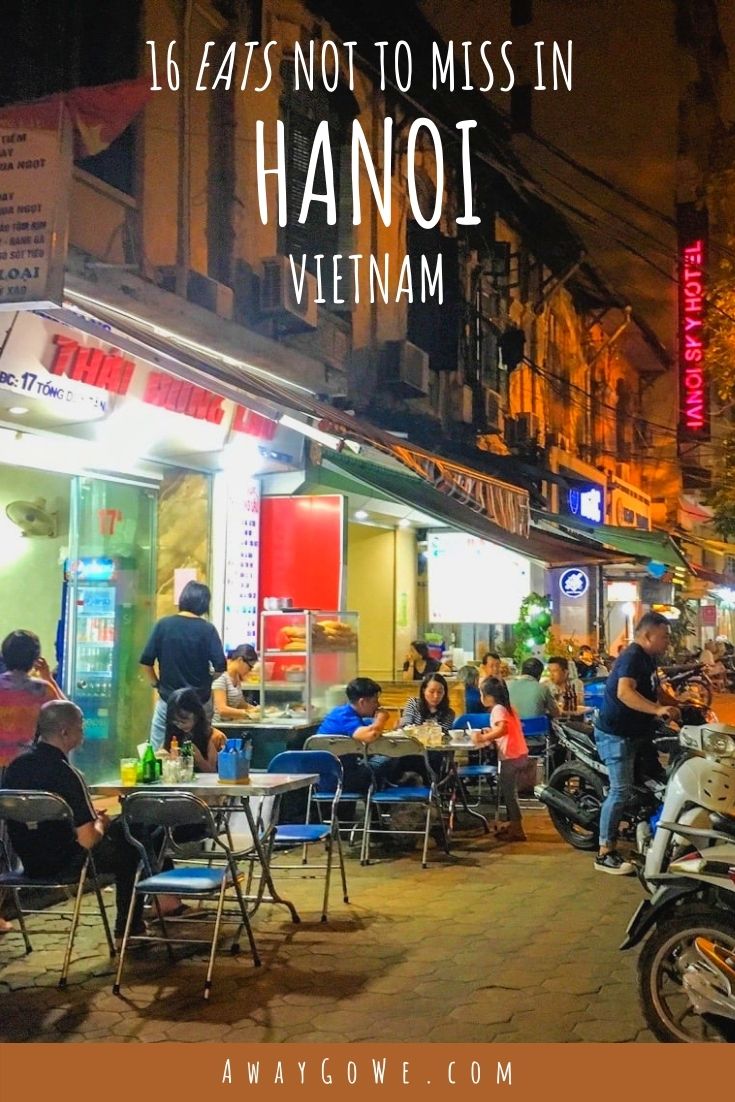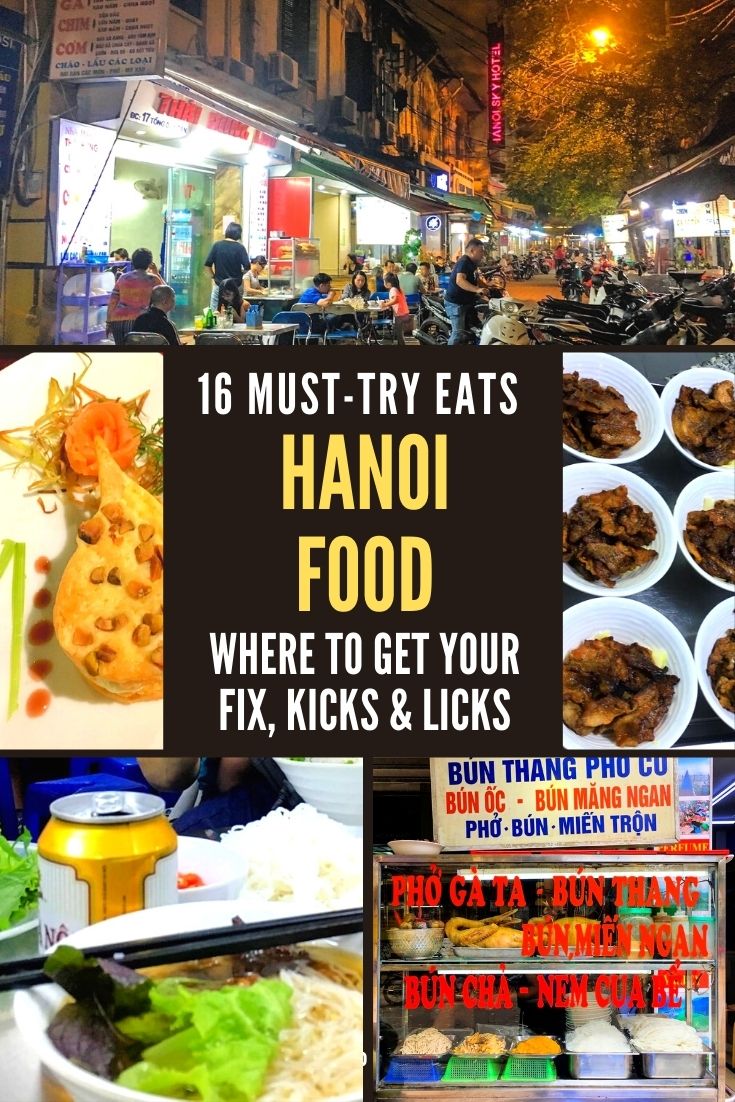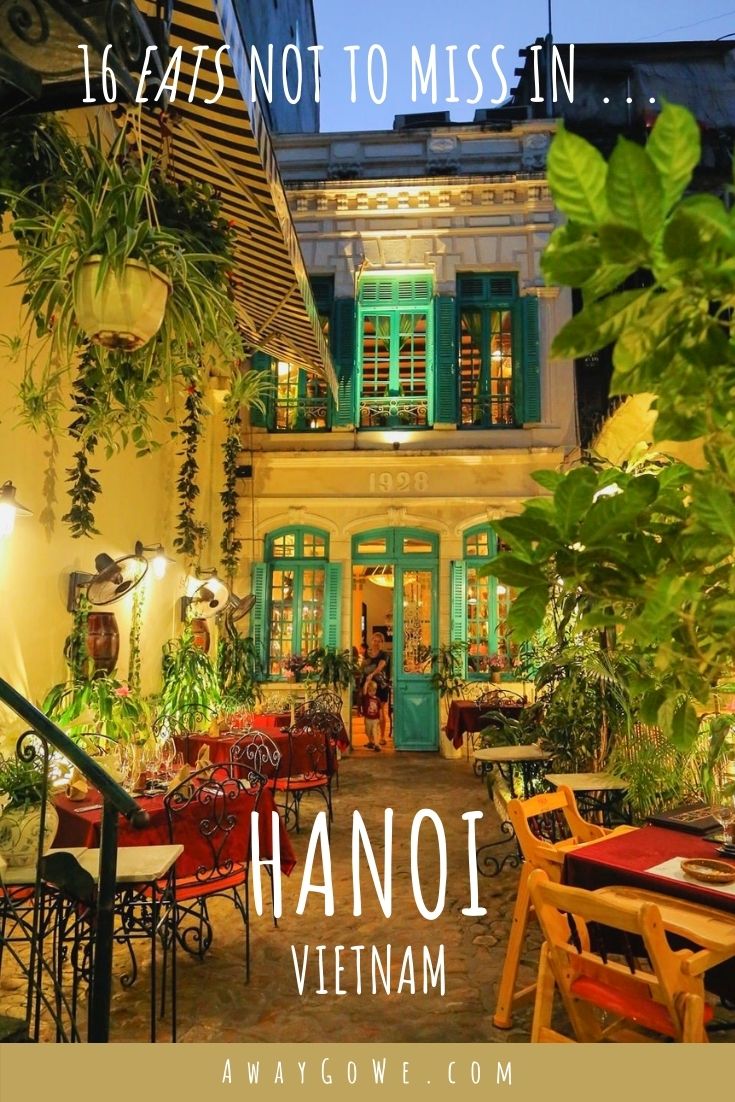 14 Jan 2021
20 April 2019
As an Amazon Associate we earn from qualifying purchases. We're also members of other affiliate programs. Learn more in our privacy policy.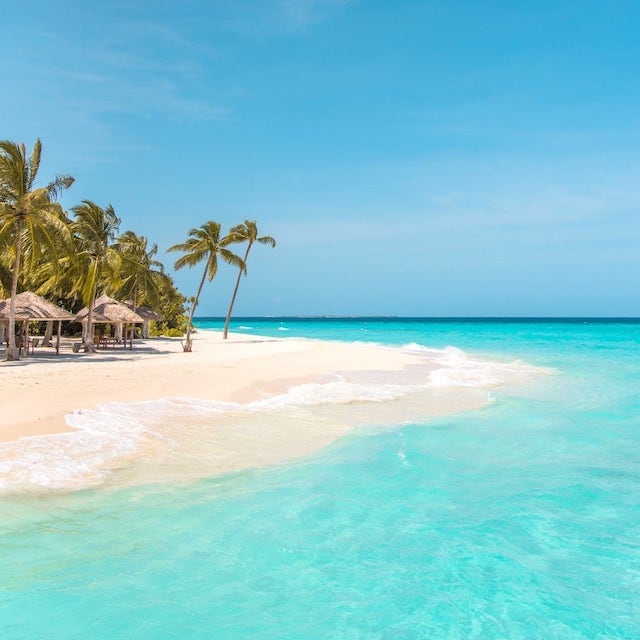 Subscribe to AwayGoWe!
Get our latest articles in your inbox, plus subscriber-only travel tips, special promotions, and more!