In our last post, I talked at length about what it was like to arrive in Thailand on the heels of traveling around India for two months. I also gushed about how phenomenal a place Bangkok is and how it was the first major city in Asia that we could see ourselves living in. While all of that remains true, a few days in and the enormity of Bangkok is really starting to hit us. We're realizing that for all our efforts, we will only put a small dent in all there is to see and do here before heading south. But I think we'd be happy with focusing on one or two really interesting and dynamic areas of Bangkok over the course of four days rather than trying to see everything. Besides, Bangkok is really a place where you get a feeling that you'll be back.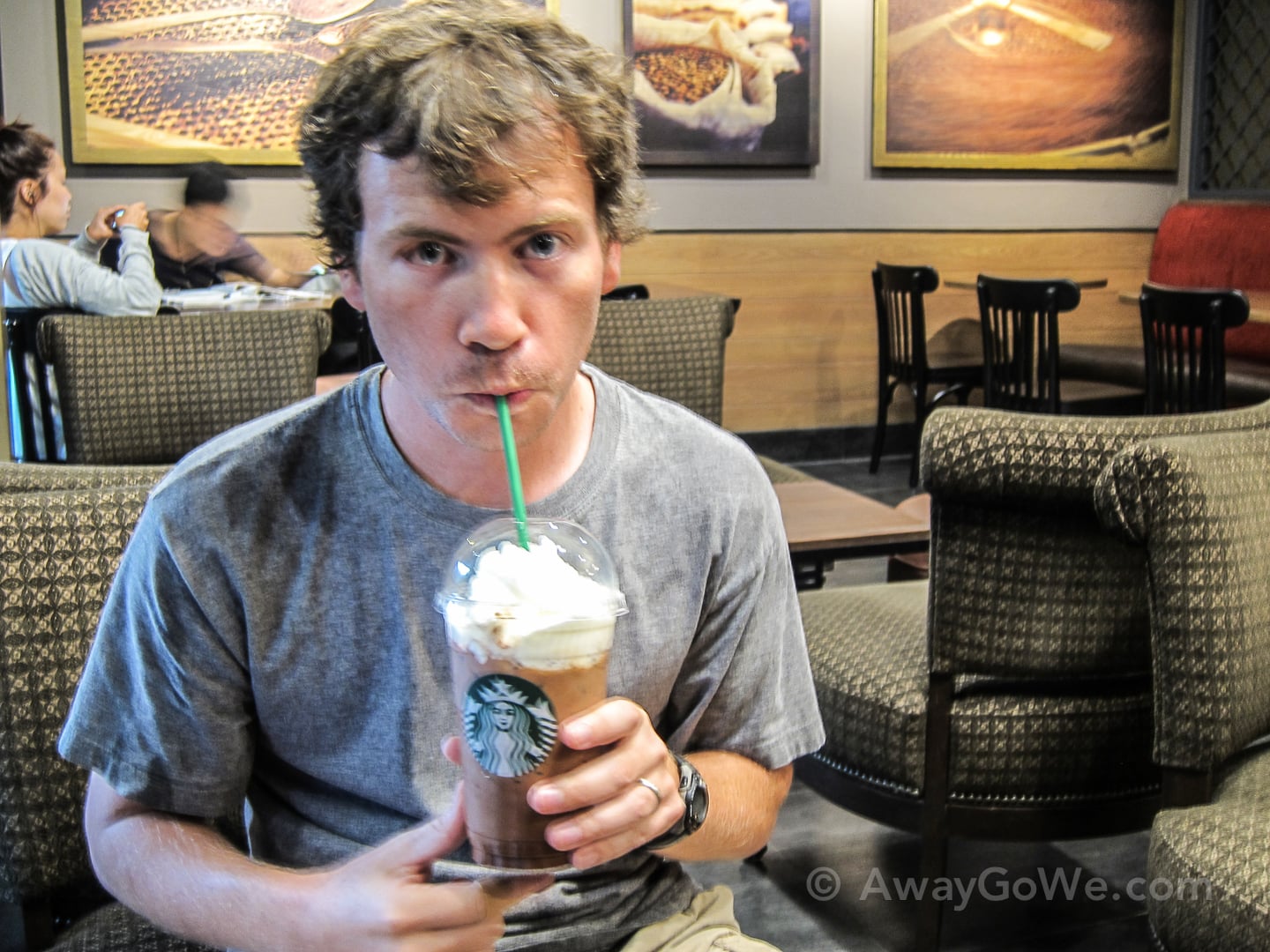 And yes, that is a Starbucks Iced Grande Mocha. And yes, I know we are in the land of amazing Thai Iced Tea, and phenomenal Thai coffee shops. But it has been literally impossible to get something quite like this for the past three months, there's a freakin' monsoon outside, and the streets are flooded with a foot of water [so far]. In a few days, we will re-immerse ourselves in the local textures, customs, and flavors of Thailand. Today, I'm just really loving the A/C, toilet paper in the bathrooms, and this heavenly beverage. So leave me alone!!!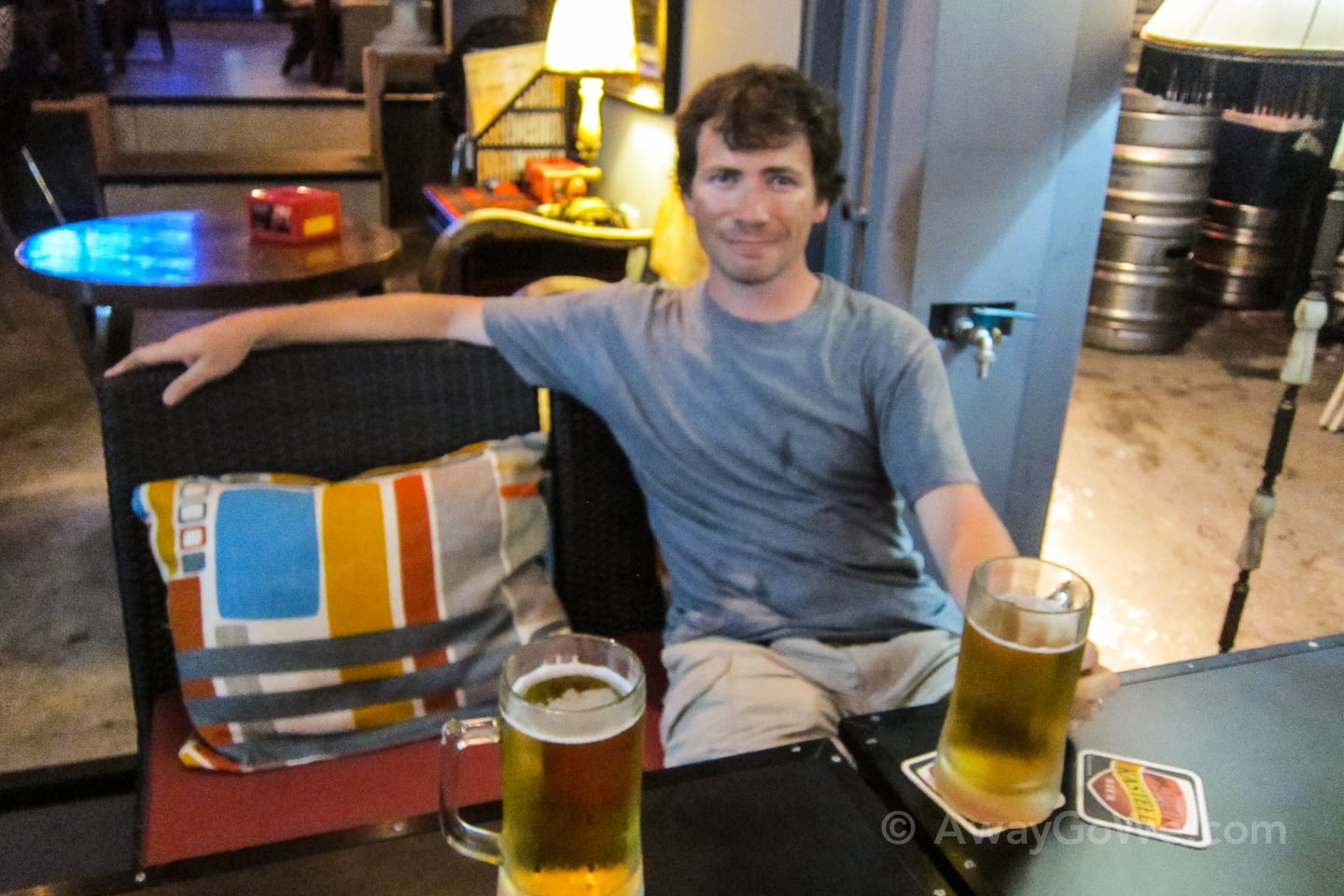 Speaking of heavenly beverages — back to the land of beer! Yes, India has its Kingfisher, but it doesn't really count when alcohol's banned in half the country. Which is fine, I get it. Religion, purity and such. Doesn't mean I have to like it, though.
But this…this I like.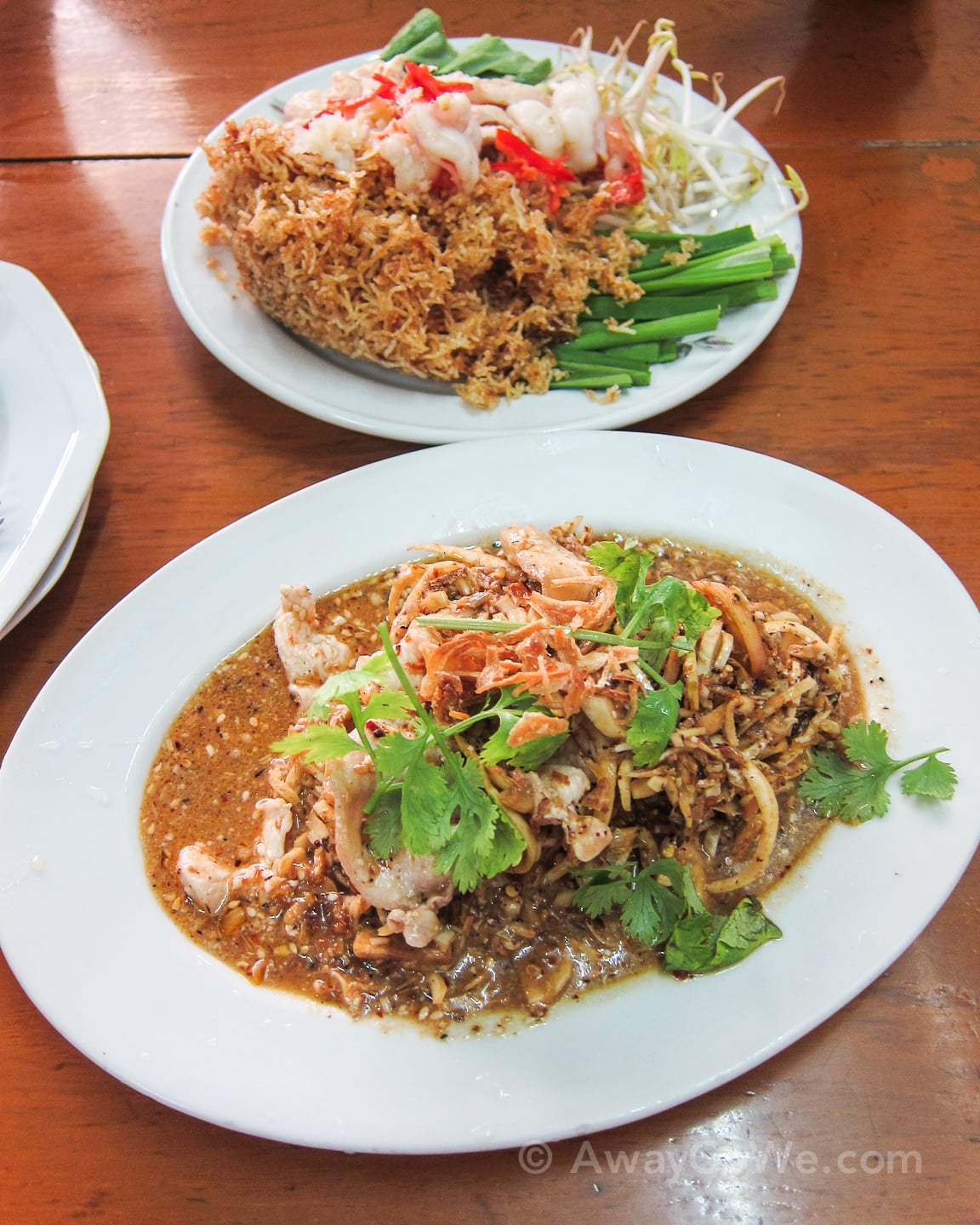 Now that's Thai food! I'm salivating just looking at these pictures. Sweet and salty, hot and cold, wet and dry, chewy and crunchy, and colorful. Thai food is all about harmony between contrasts, yin and yang. All these years, I thought I had been eating Thai food. Nope, not even close. It's official, Thai food really is better in Thailand!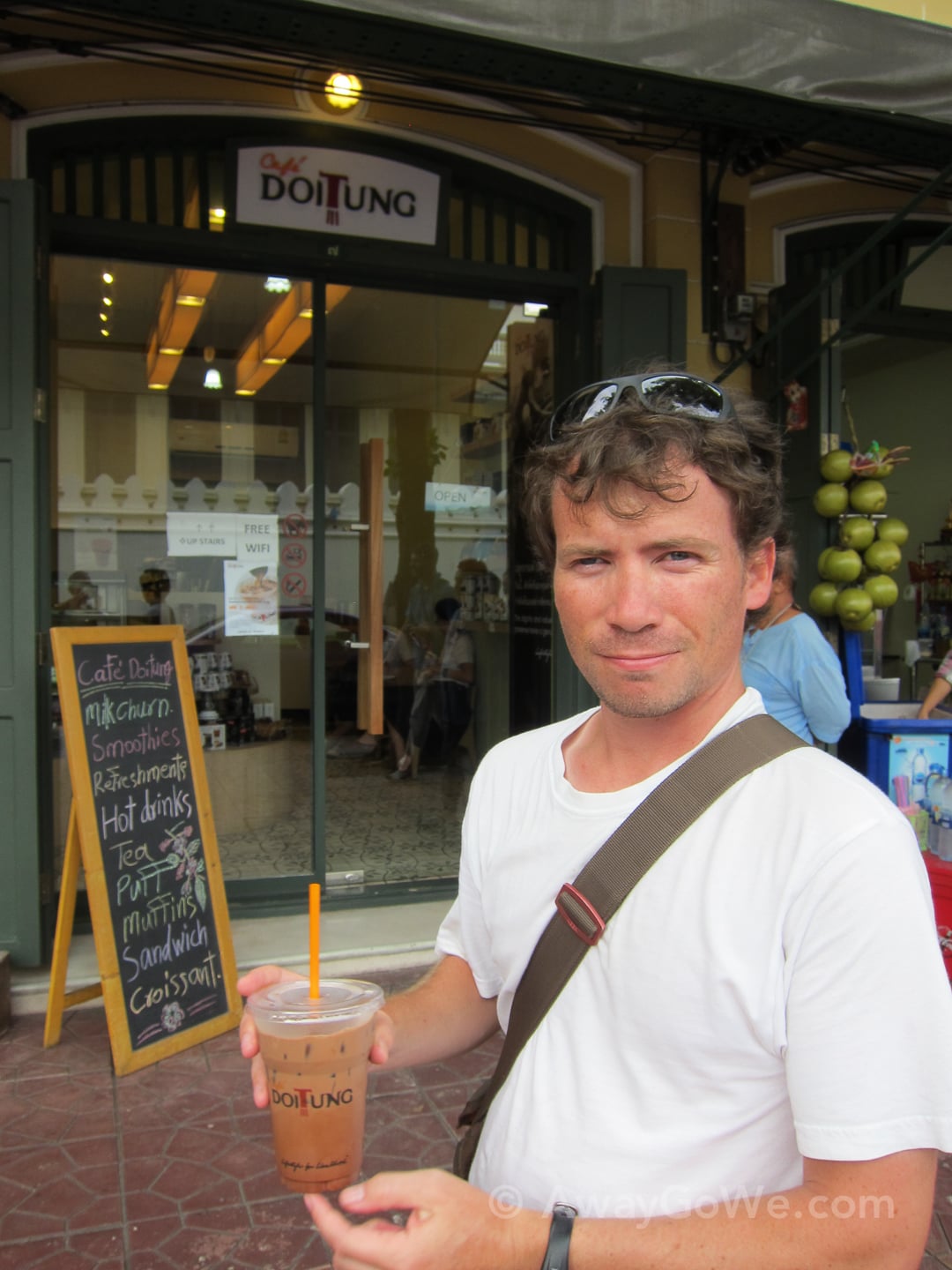 We were walking to catch a water taxi when I caught a glance of this place out of the corner of my eye. Coffee shops here in Bangkok are a dime a dozen, but this place didn't grab my attention for the coffee — the DoiTung company had featured prominently in one of my final project write-ups for my Masters degree about a month prior to leaving on this trip. Funny thing is, I knew the company made a lot of products (a slough of handicrafts and such). I had no clue it made coffee.
A large part of my studies focused on indigenous groups and development. I'm very much interested in large-scale indigenous-led efforts in Southeast Asia, particularly in the former "Golden Triangle." In terms of "large-scale" there aren't a lot, currently. But the government-led (specifically, Royal Family-led) DoiTung initiative caught my eye. It isn't quite like anything I've come across in development.
In a nutshell, in the mid-1980s, the Thai government had been working to transition the ethnic minorities in the infamous opium producing Golden Triangle region from opium production to alternative livelihoods. They were also hoping to prevent further deforestation of the area, which had been significantly impacted by informal agricultural activities. The Thai Princess Mother in her advanced age was looking for a place to retire to and found it in the cool and mountainous Doi Tung region. She made it the mission of her Mae Fah Luang Foundation in her golden years to reforest the region while training the local people to make boutique handicrafts to be sold on the global market. Hence, the creation of the Doi Tung Development Project.
Coffee is a common replacement crop for opium, so it's not surprising that Café DoiTung was added to the project. It's one thing to study and write about these things in Washington, DC. It's another to encounter them in context, making this an exciting and serendipitous find.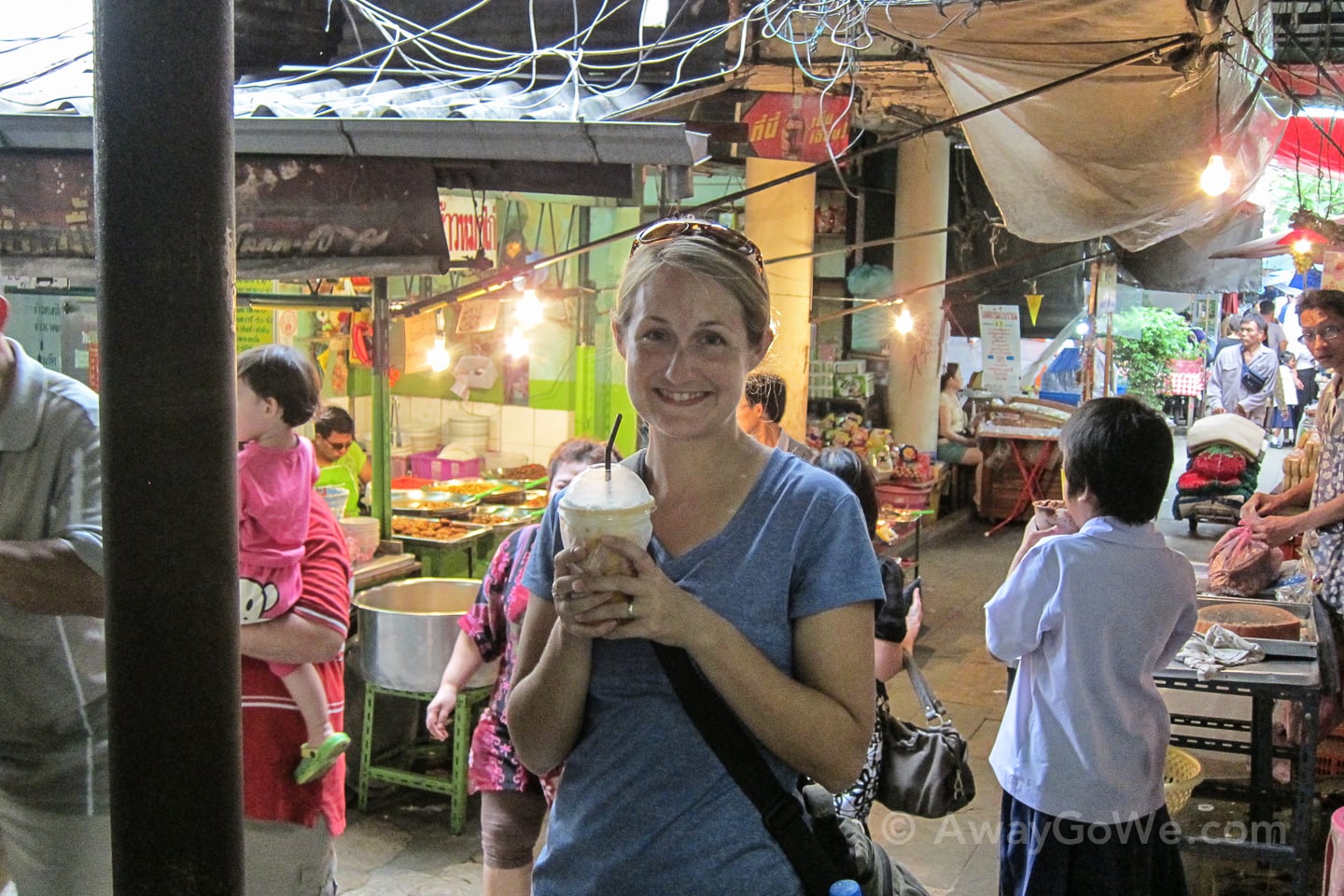 Not ever being content to live vicariously through others, Lori promptly went about the business of finding a milk tea (Thai Iced Tea). This being Bangkok, it did not take long to close the deal.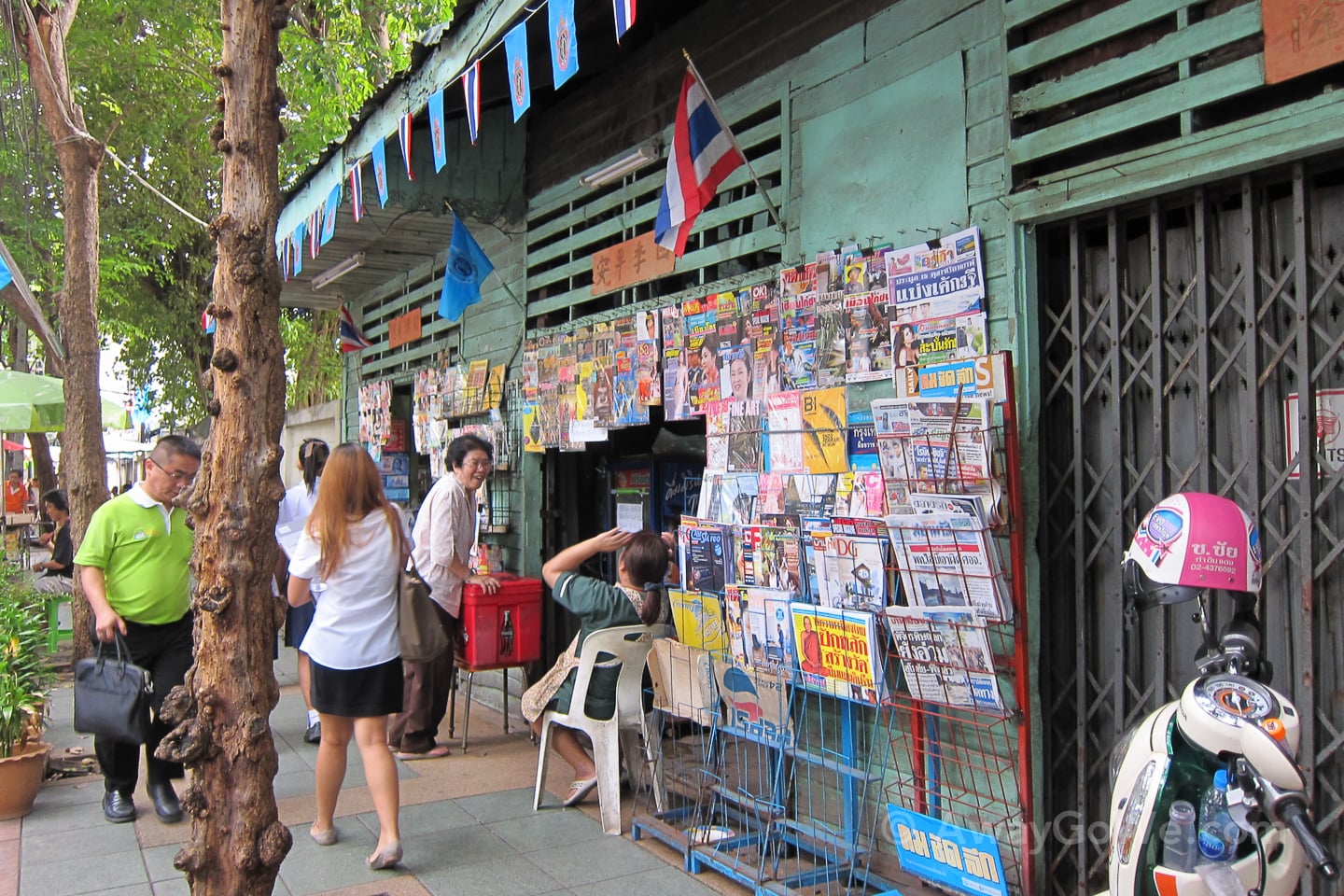 This newsstand became a memorable landmark for us during our time in Bangkok — not for the newspapers, but for the improbably strong stench of urine emanating from the vicinity. We'd know we were getting close to making the turn toward our guesthouse when we caught the whiff, long before turning the corner. I'm not sure how the proprietors put up with it — we'd last but a couple of seconds before picking up the pace in the hope of finding some semblance of breathable air as quickly as possible. Oh memories…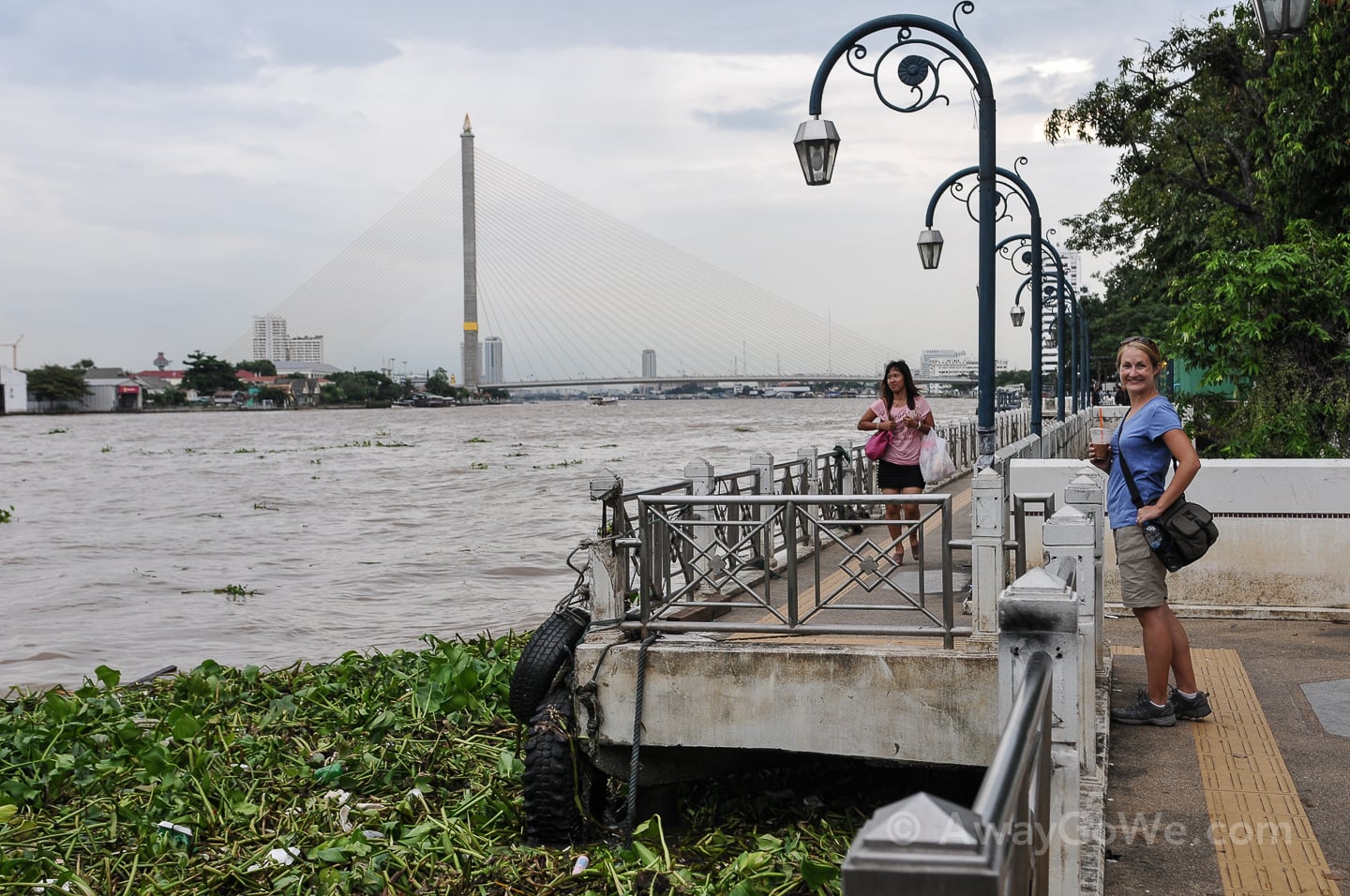 Bangkok's waterfront. And I'm going to stop you right there because I know what you're thinking — NO, that is not the Mekong. That's the Chao Phraya. Despite what many in the West think, the Mekong doesn't come within a few hundred miles of Bangkok, keeping to the eastern border of the country. Still, the Chao Phraya is a respectable river in its own right, responsible for the topography and fertile valleys of Central Thailand.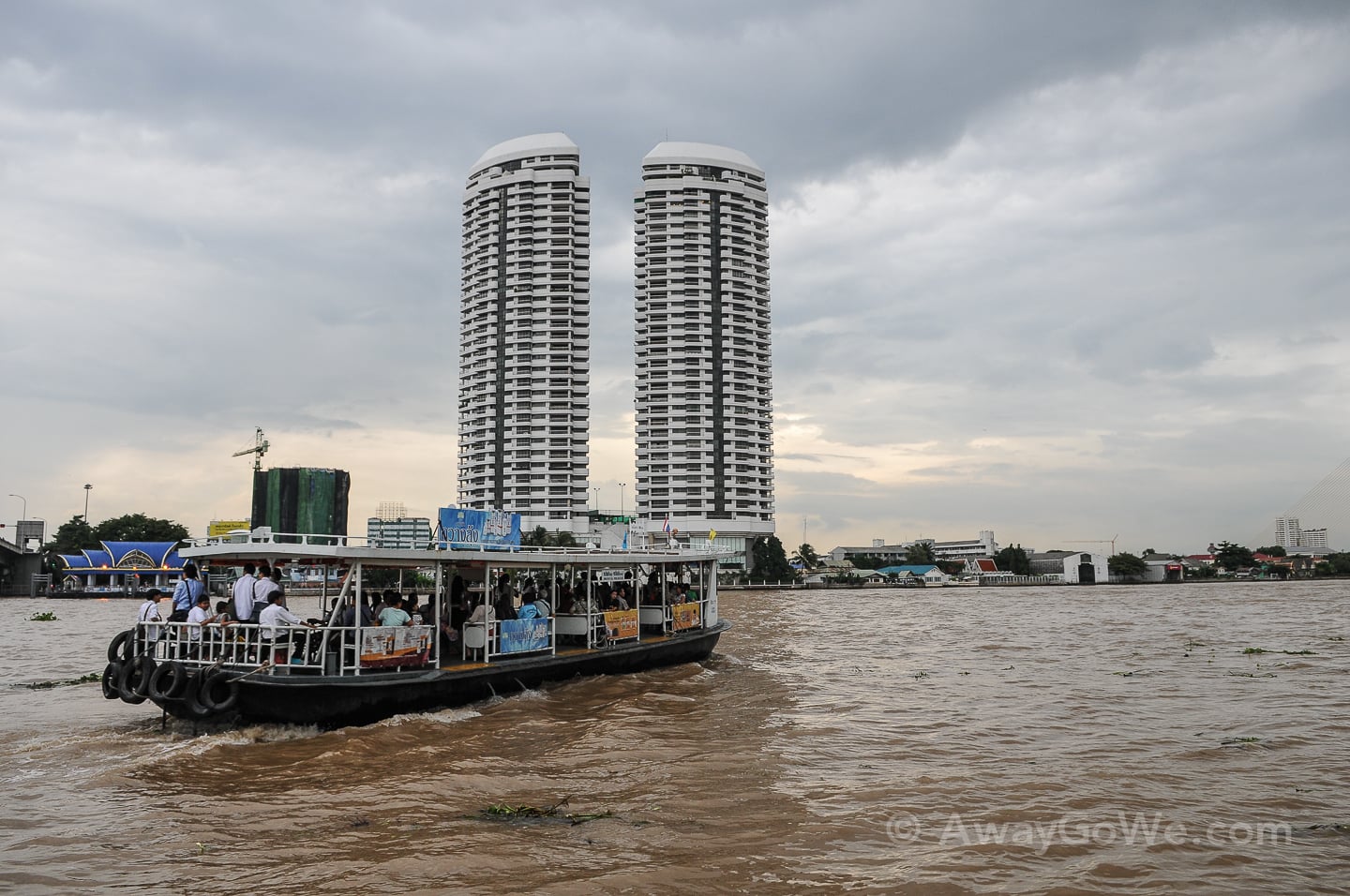 It's also a mass transit lifeline for the people of Bangkok. Today, the river's fast, high, brown and debris-filled due to the heavy rains we've been getting.
Visiting Bangkok?
Check Out Today's Top Tours & Experiences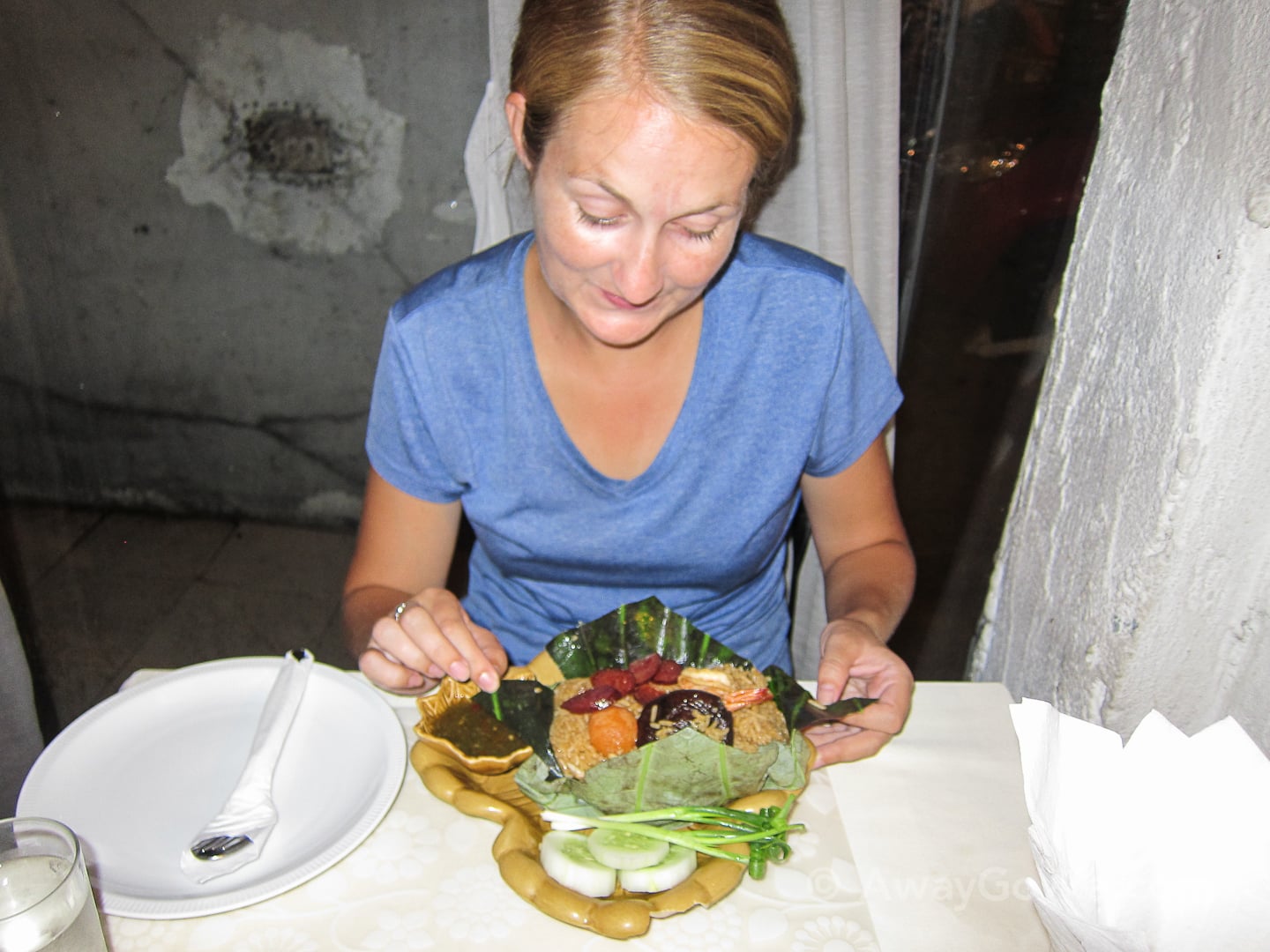 Dinner at Hemlock, just around the corner from where we were staying. Hemlock quickly became our favorite restaurant in Bangkok. We liked it so much, we returned on my birthday a few days later.
Yes, we had street food as well. We tried to strike a balance between recommended restaurants and street food. While Bangkok is known for its awesome street food, it's also becoming increasingly lauded as a foodie capital. We couldn't argue with the price either, so it was only logical that we'd try and do both. Yes, we're still on a budget, but everything in moderation…even moderation.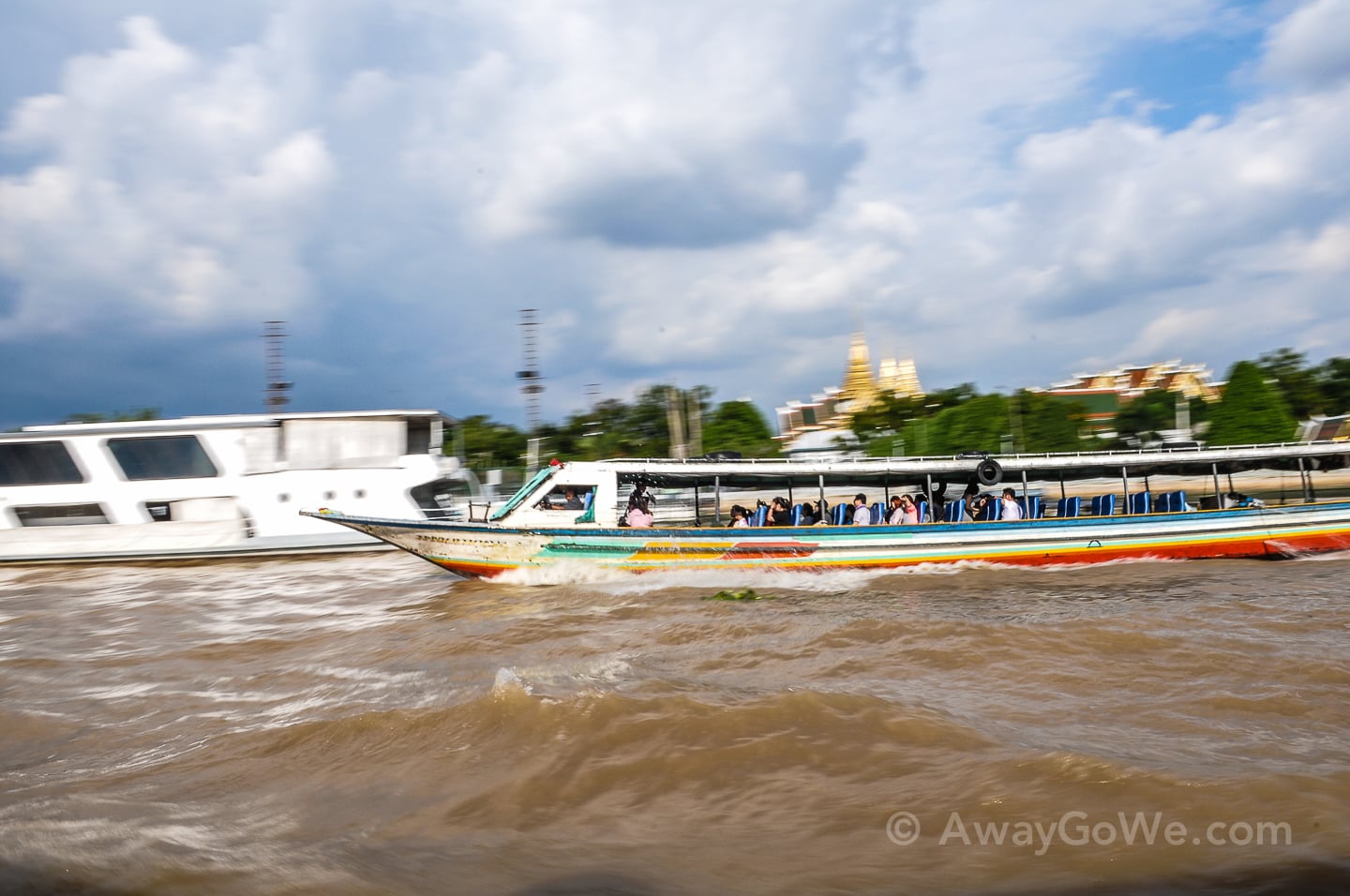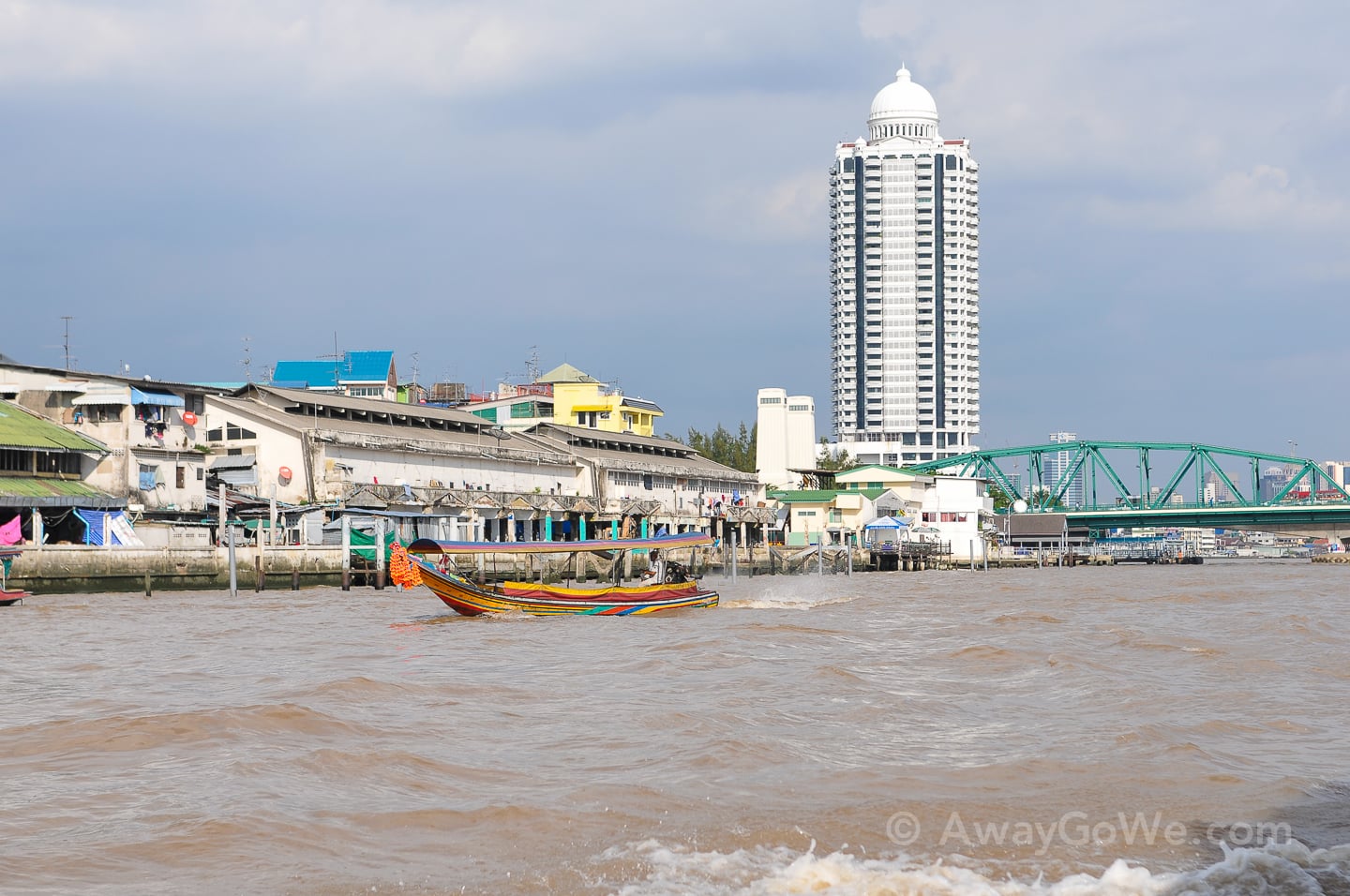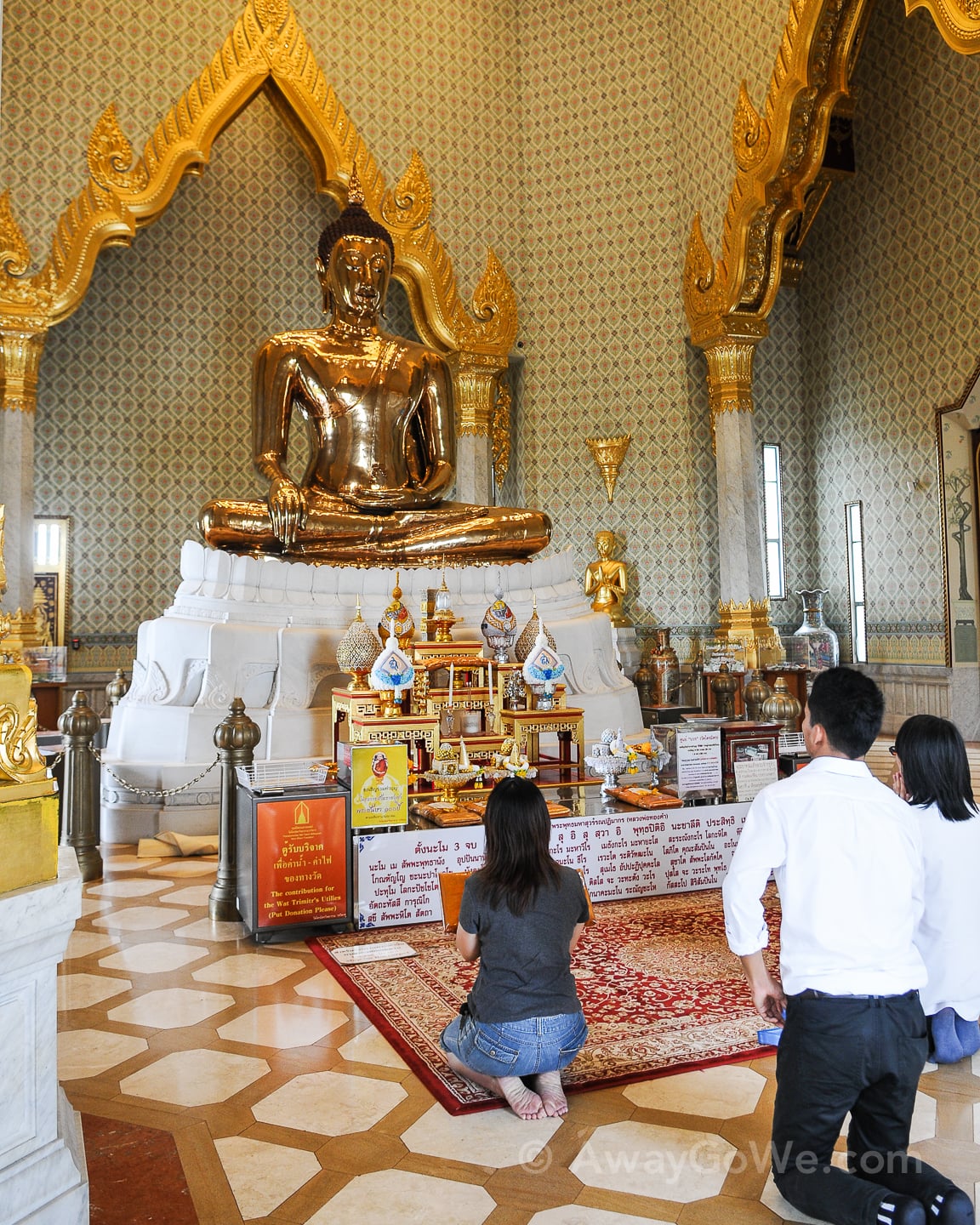 Bangkok is just a phenomenally rich and layered city. Just when you think you have a grasp of the city, you realize you aren't even close. Just when you start feel at home in one area, you fall in love with a neighborhood a mile away.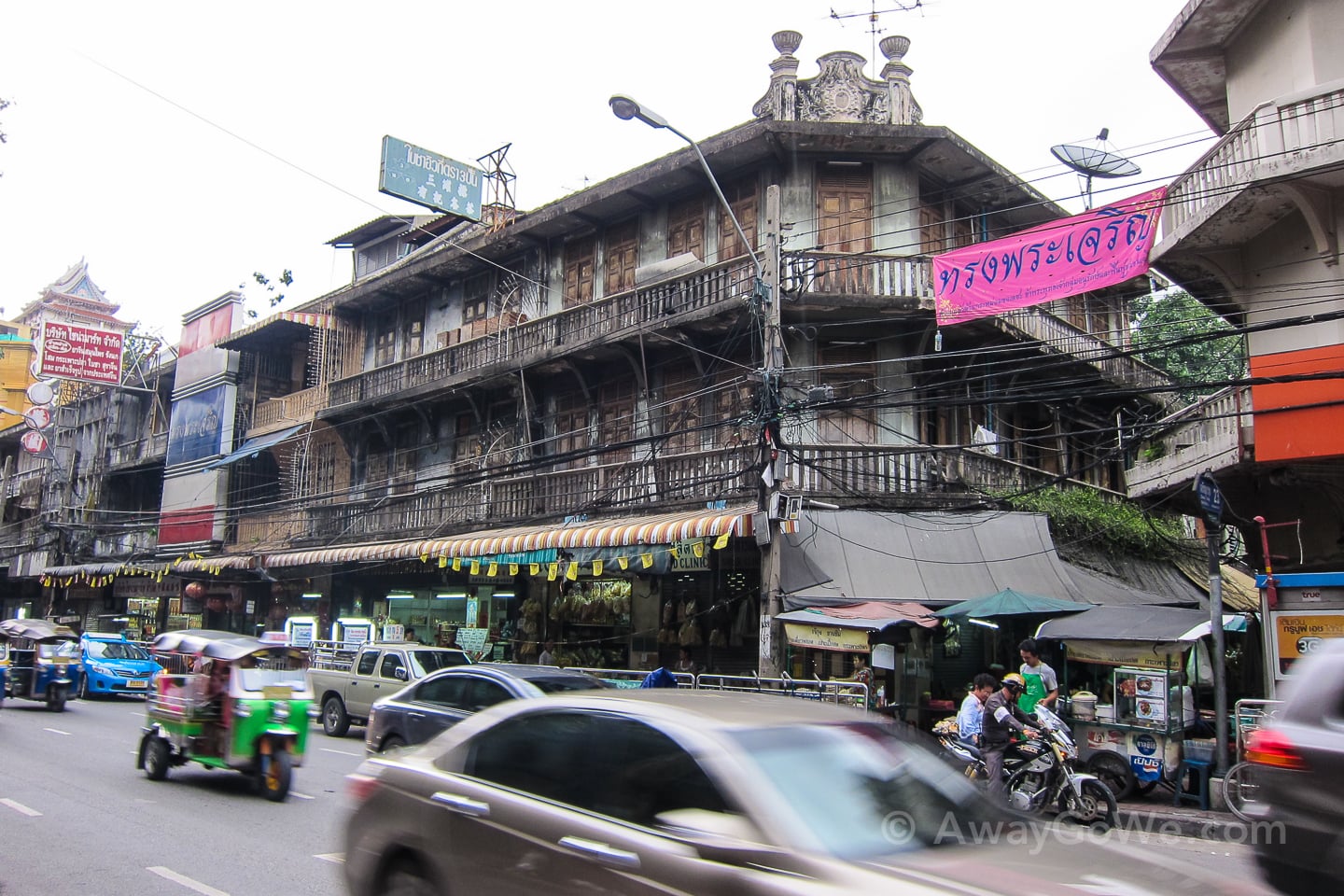 That's how it was for us and Samphanthawong, the area around Bangkok's Chinatown. Home to the largest population density in the city, this tiny district is a mess of aging, vegetation-devoured structures, huge leafy trees lining the narrow streets and sidewalks, jumbles of utility poles and lines of every vintage, and crazy fantastic street life — the stuff of Bangkok travel dreams. It's much closer to what I imagine Khao San Road was like decades ago, before Western commercialism took hold. Sure, the area is crazy-commercial, but not in an offensively tacky backpacker-ghetto sense.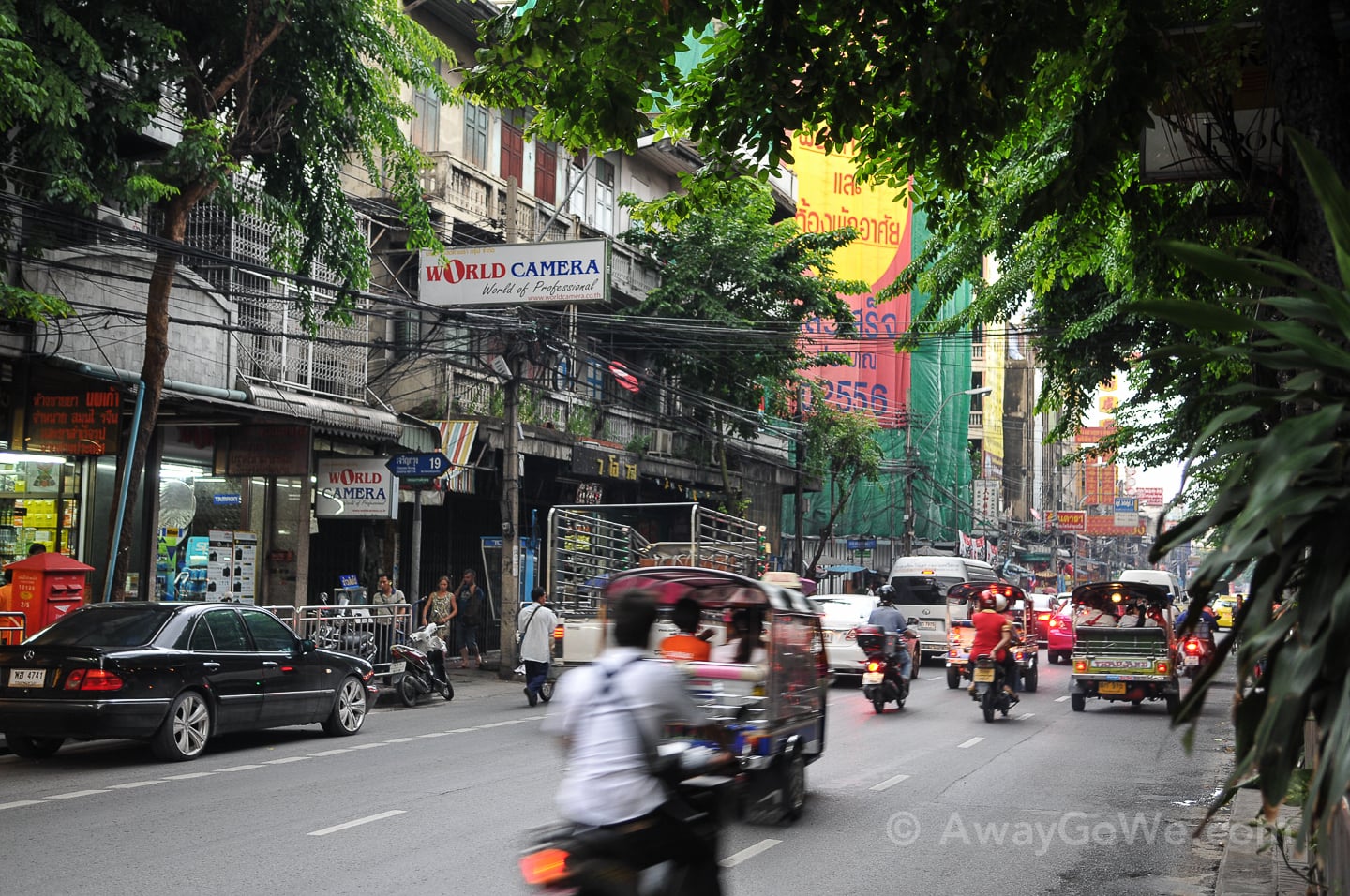 We spent half a day wandering through this area (mostly along the main thoroughfares of Charon Krung and Yaowarat, but also venturing off into hidden alleyways, shops and temples large and small.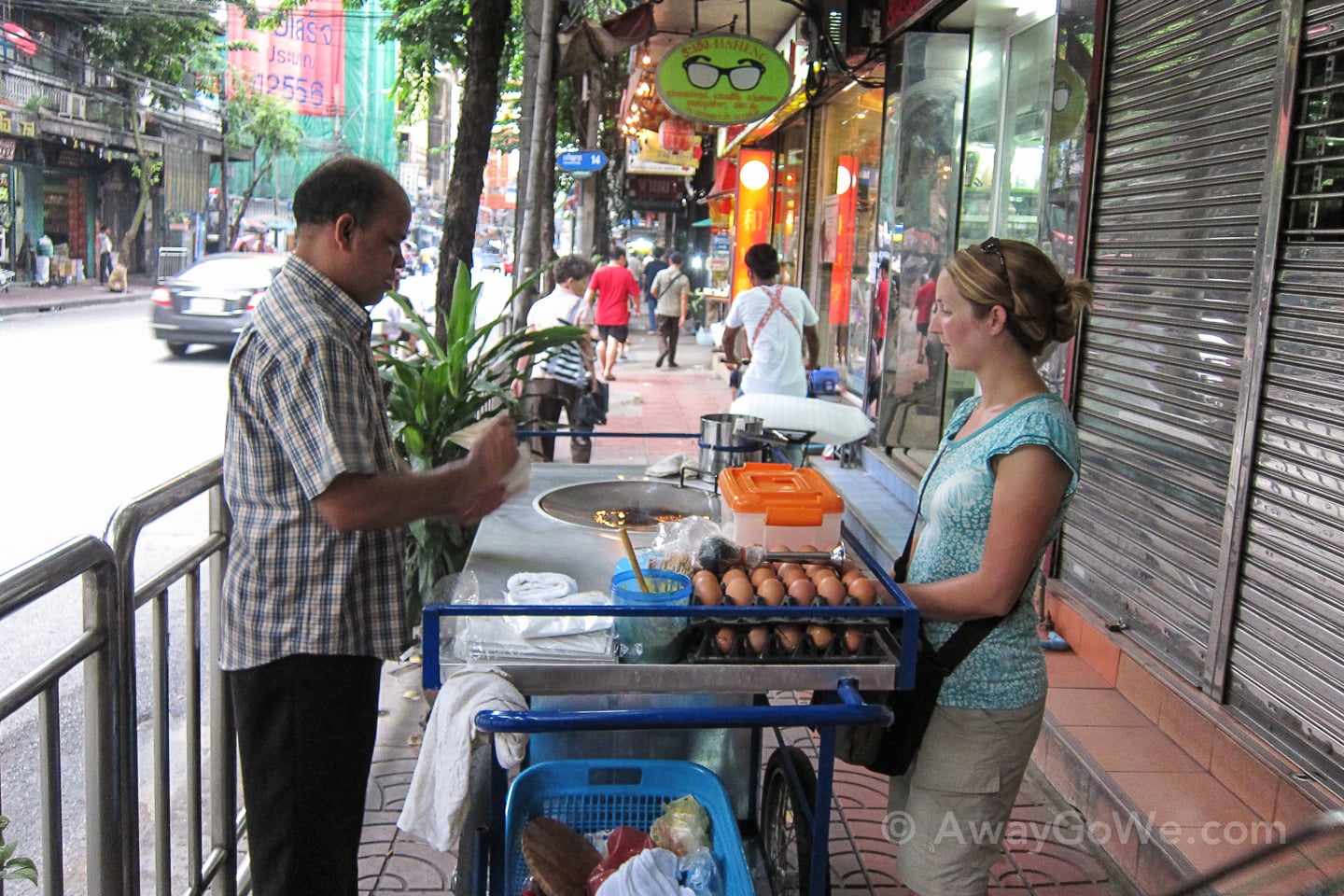 And of course, a stop for a quick afternoon treat: Roti Gluay (fried banana pancake).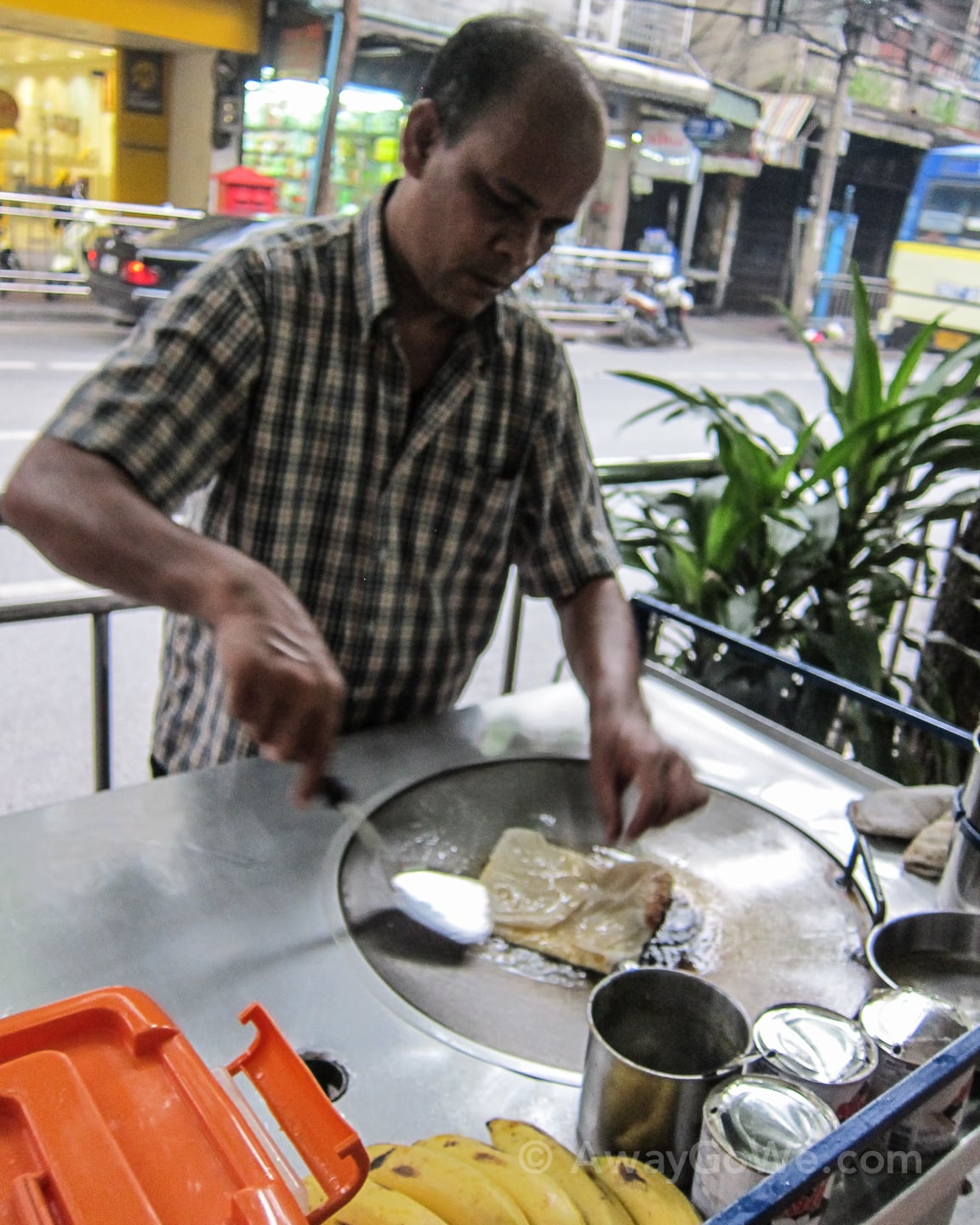 Nom. Nom. Nom.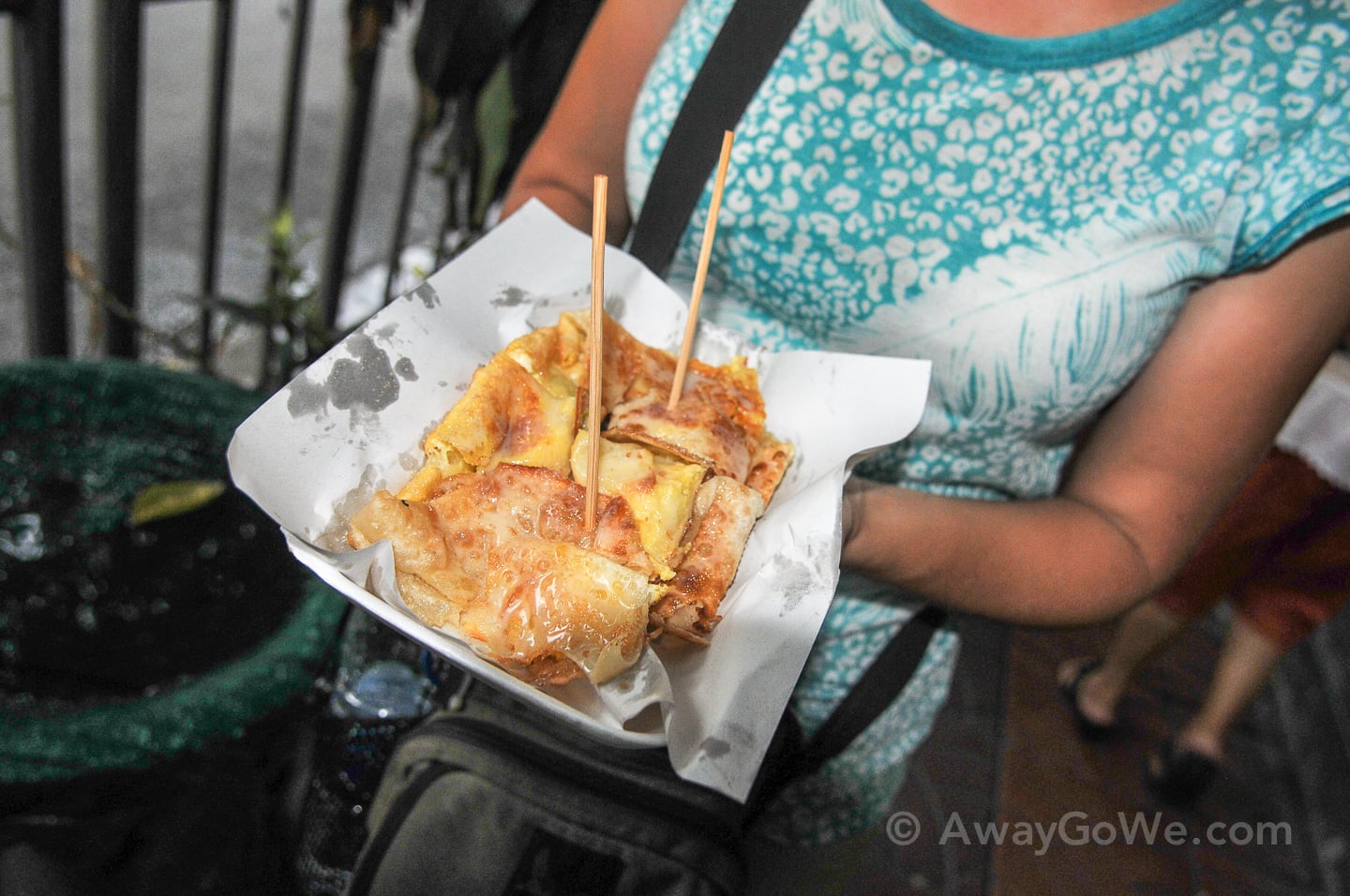 We were loosely following a walking tour in our guidebook, mainly for ideas on what to aim for in our wanderings. Our ultimate destination for the afternoon was the Chinatown Old Market — we had heard a lot about the place and hoped to grab some dinner at one of the food stalls there.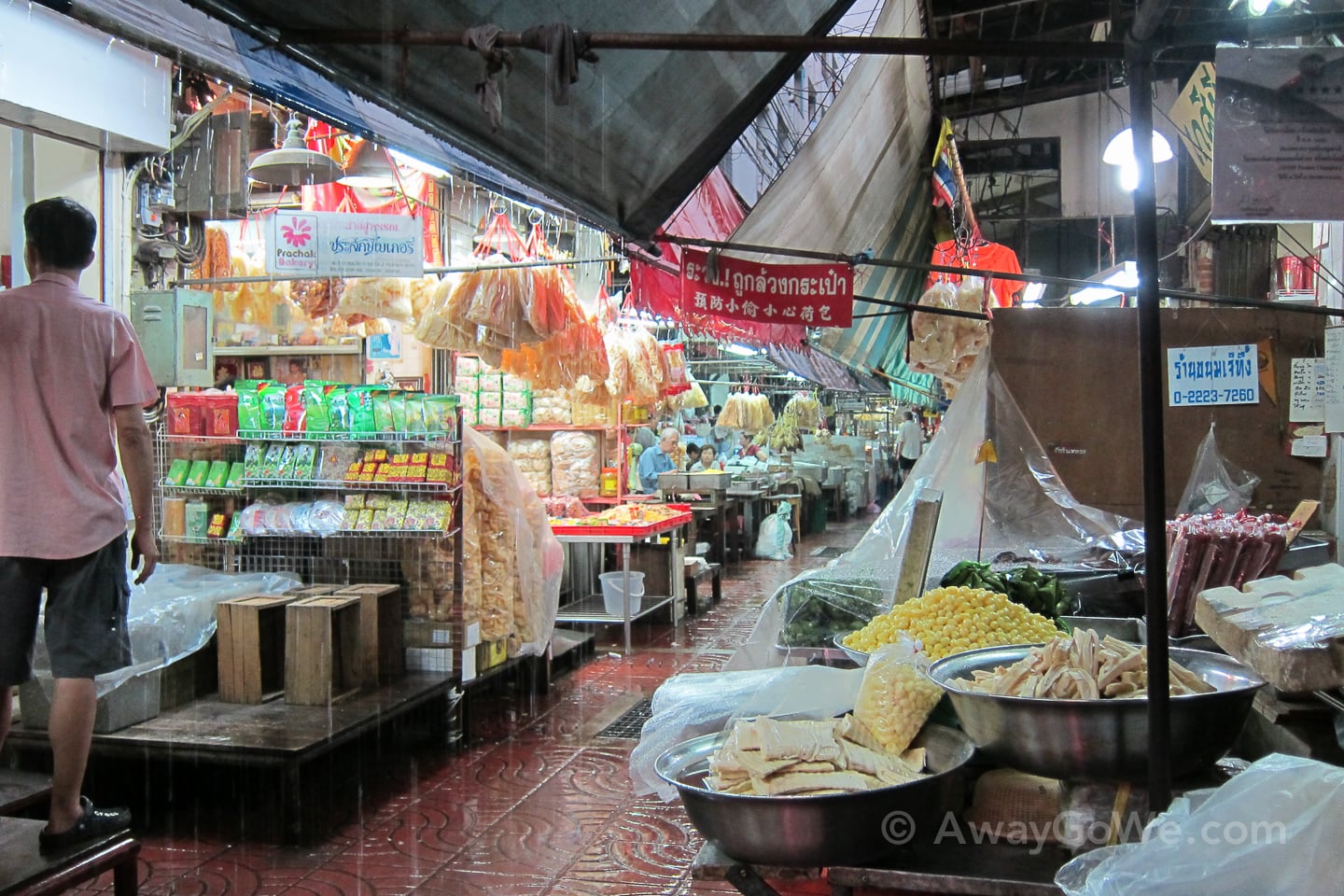 The weather gods, however, had other plans for our evening.
These photos just don't do this rainstorm justice. I don't think I've ever experienced anything quite like this, and that's saying a lot, mind you — on the heels of having just traveled for seven weeks in India at the height of the monsoon.
As in storms past, we thought we'd simply wait it out until a break in the weather, in which we'd resume our scavenger hunt for a tasty meal. After an hour of hugging a wall beneath a shallow awning watching the water rise around us, we came to the realization that a break simply wasn't happening — we were in this for the long haul.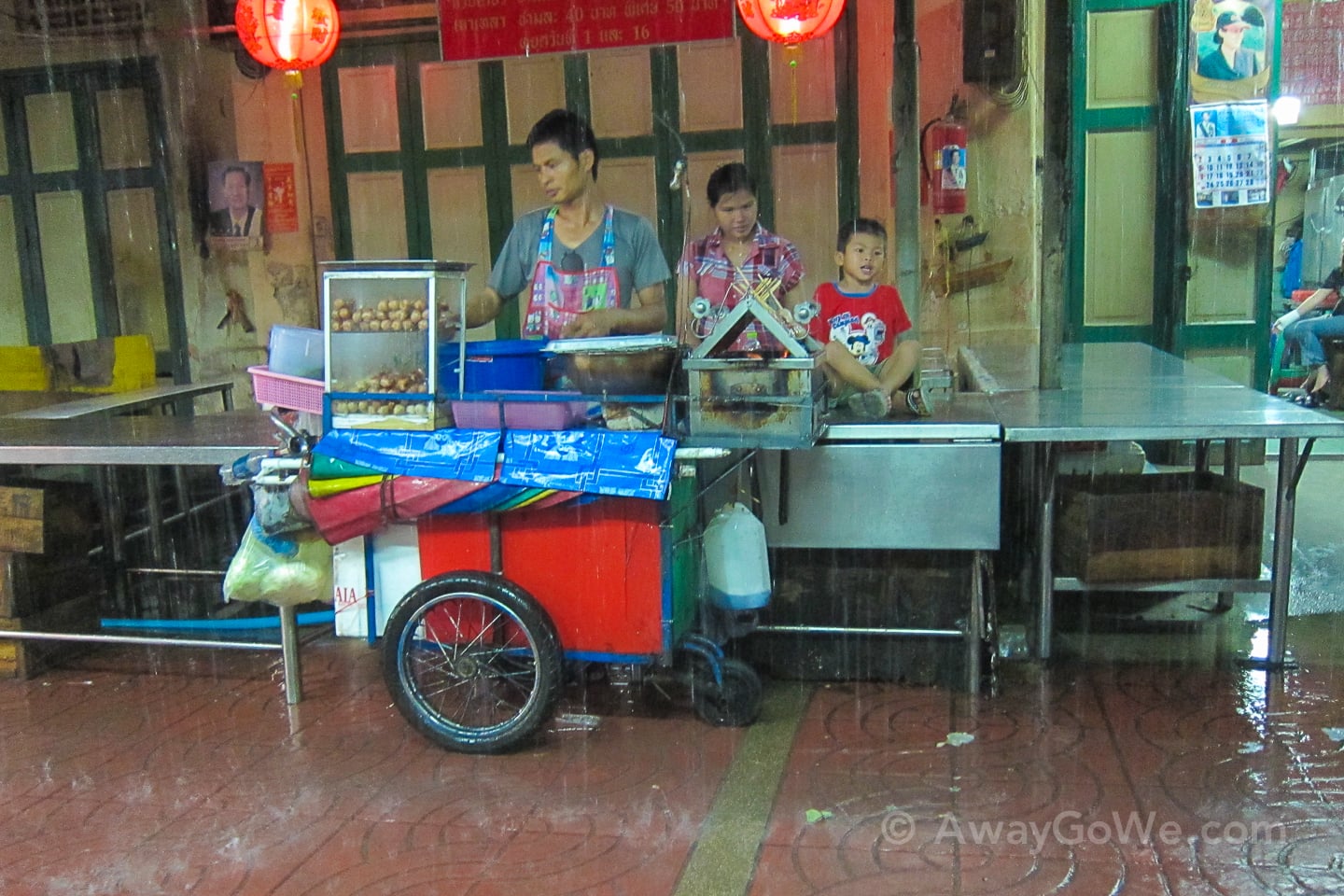 Yet, hunger eventually won out over maintaining any semblance of dryness (or common sense), and we decided to make a run for it, come what may. What ensued was the wettest, nastiest, filthiest trudge I've ever made against my will, through the streets (i.e. rivers) of Bangkok searching for food.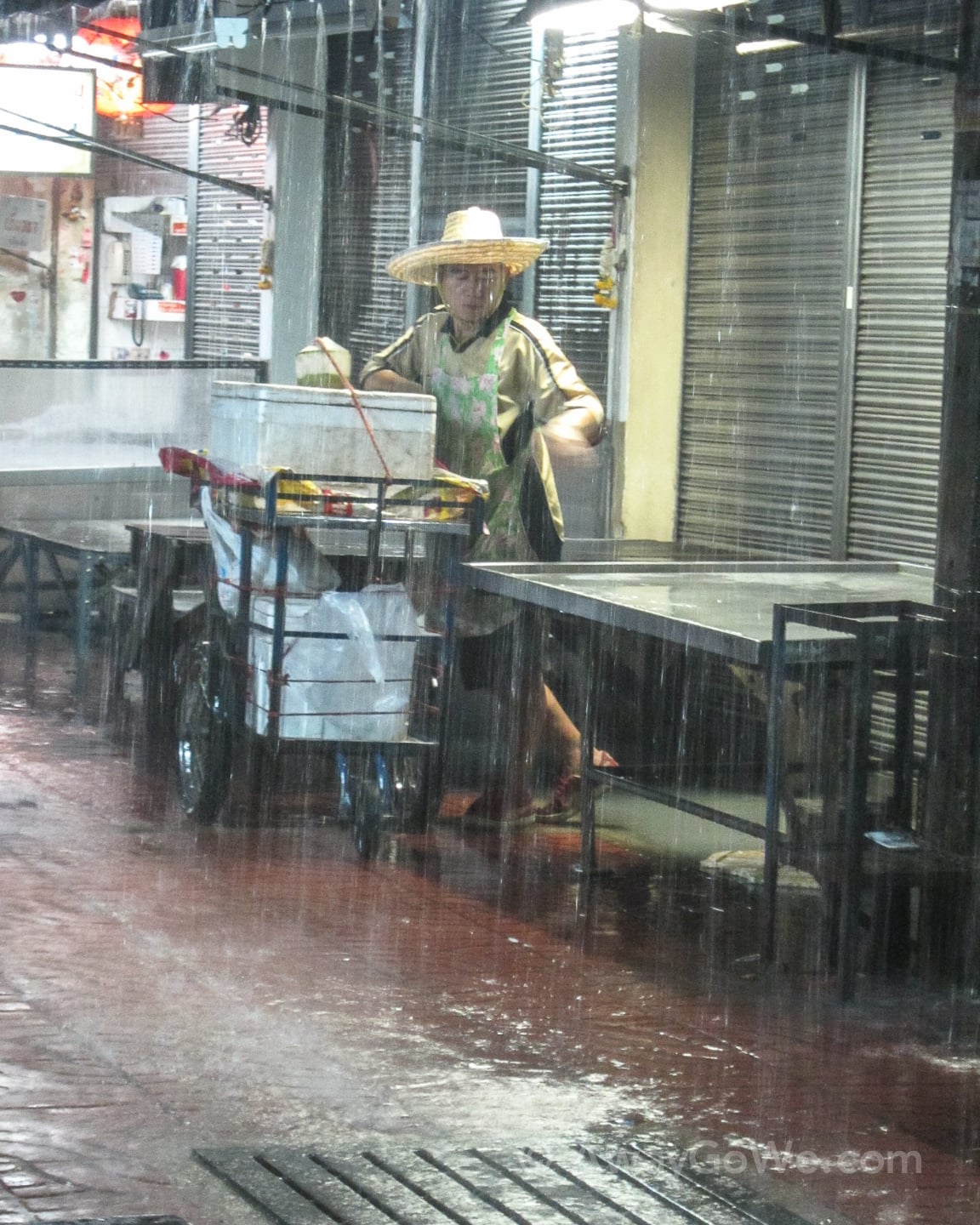 It may bear mentioning that we each had an umbrella. We hadn't left our guesthouse without one for the past two months. Seems laughable now, but somehow we thought little travel umbrellas might in some small way mitigate the effects of a torrential downpour in Bangkok. Ha! What my umbrella DID do was 1) direct all of the falling rain above into my underpants, and 2) serve as a bridge for cockroaches (YES, COCKROACHES) to get from the canvas awnings above our heads onto my head and down the back of my shirt.
By this point it's dark, I'm hungry, my vision is blurry, I'm not only thoroughly soaked but covered in the sewage coming up from the clogged storm drains and being thrown upon us by passing buses that seem to glide with ease through the shin-deep water all around us.
Then, all of a sudden, I feel an intense scratching and clawing sensation on my back and on my chest. My "quick-dry" shirt isn't tucked in, but is clinging tightly from being generally soaked. I'm screaming in the pouring rain, not knowing what the heck is going on, tearing off clothes left and right until I'm standing in the streets of Bangkok in my shorts, dancing around trying to shake a half dozen cockroaches off my body.
It's official. Bangkok has officially welcomed me.
Fortunately, this Bangkok story does have a happy ending…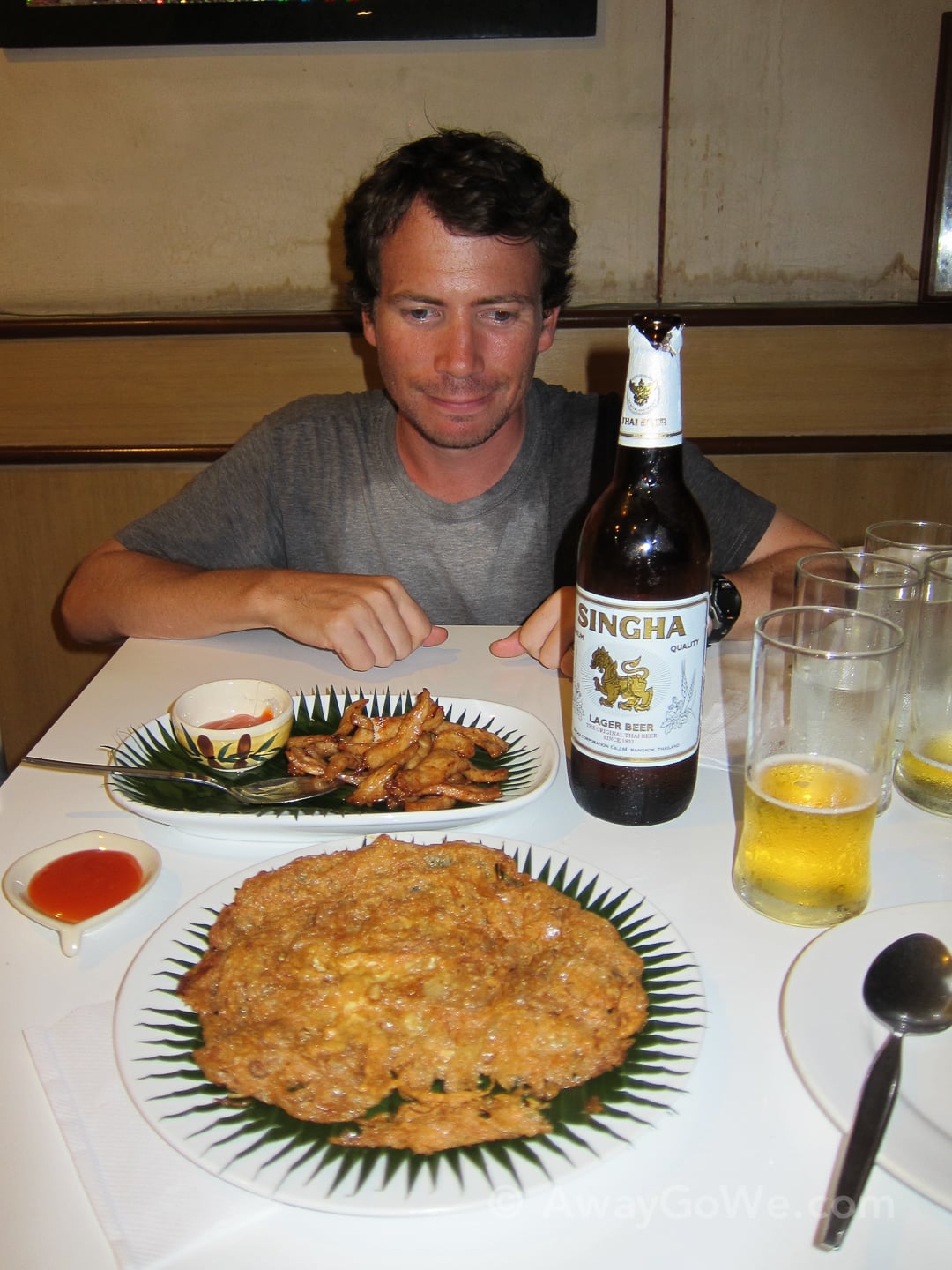 What? Did you have something else in mind?