Futurama
July 14, 2012:
Exactly two weeks into our China trip and Shanghai seems like a distant memory. We flew into Shanghai from the U.S. and spent four nights in this strange and wonderful place. Shanghai, perhaps more than any other place in the country, epitomizes the mind-bogglingly rapid rise of modern China. 20 years ago, the skyline you see above didn't exist. It was seemingly worthless swampland. Now the Pudong district of Shanghai rules the world, boasting some of the highest occupied structures in the world (Shanghai World Financial Center and Jin Mao Tower) and the fastest train in the world (Shanghai Maglev), with a top cruising speed of 311mph. What a truly fascinating and bizarre introduction to China.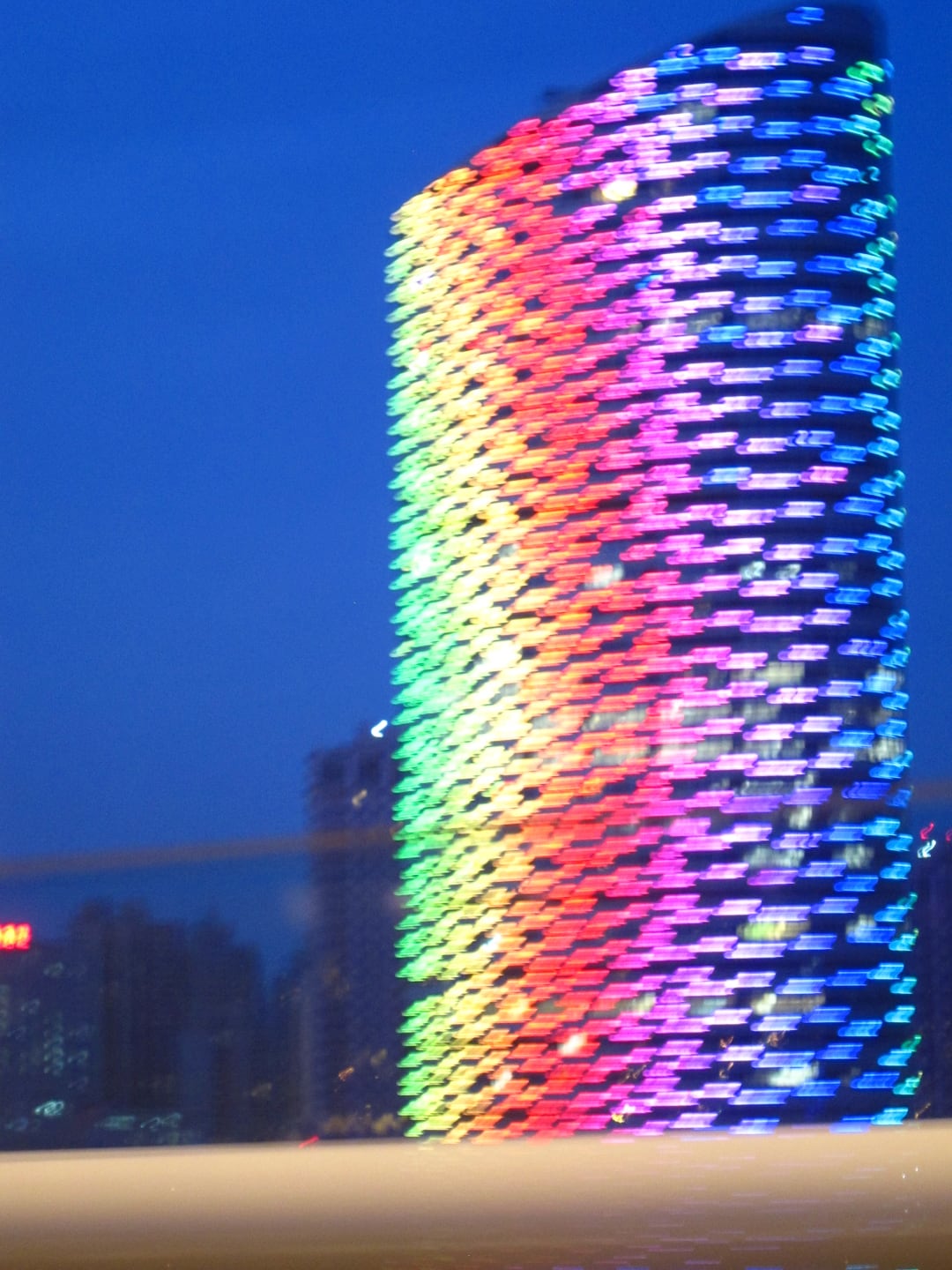 Say or think what you will about China, but Shanghai is a trip. I reckon there are few places quite like it in the world (Dubai, perhaps?). As the U.S. and Europe continue to struggle with chronic unemployment and prospects of government default, Shanghai (and much of the rest of China) is surging boldly into the future, doing and making the types of things that Americans used to create a half century ago, but with today's technology. With the largest cash reserve of any country in history, China's putting it all out there for everyone to see. Shanghai is an expression of what China is, and perhaps where China is going. But the Sleeping Giant has many social issues to contend with first before most Chinese reap the benefits of the Shanghaieese.
However, it's important not to forget that China's rapid development comes with heavy costs as well: Record-shattering pollution, forced relocation, extreme inequality, and destruction of community and local culture, to name a few. Mind you that what's happening in China right now likely could only happen in a State-run society, where all urban and social planning is engineered centrally. Things are able to happen fast and furiously because there is no real public debate, and limited recourse in the event that the powers-that-be decide your community would better serve China 50 meters underwater, or your living room would look really great with a 12-lane mega super highway through it.
Lori and I try to approach China with an open mind, and indeed, traveling here is much more enjoyable if you can muster that. Shanghai, for what it is, is an unbelievably fun head trip. And admittedly, a refreshing break from the doom and gloom which undoubtedly awaits us back West.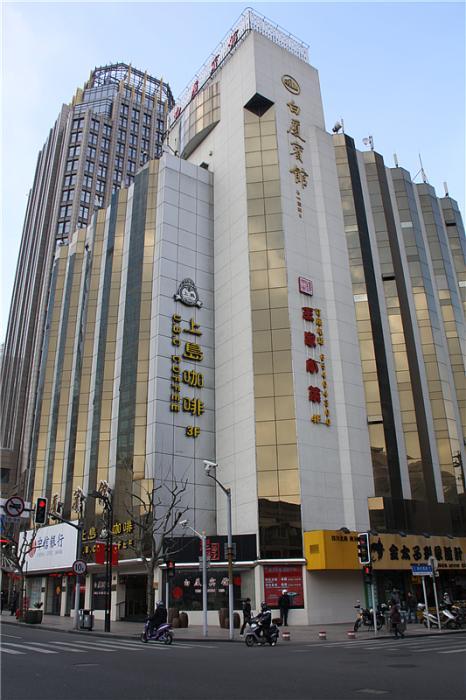 White Mansion Hotel
So I got this great deal on a hotel about a mile north of Shanghai's famed Bund. The place is called The White Mansion Hotel (though everything in pinyin or English print in and around the place says "Baxia Hotel) and while a glorious find for two shoestring backpackers on a budget, the name evokes much more romance and grandeur than it perhaps deserves. The posted room prices are border-line obscene, but after extensive State-side research and an online coupon, I was able to secure us four fabulous nights for the low price of just $33 per night. That's right, just $33 per night. Now, it's important to understand that Shanghai is not a cheap place. Prices rival (if not exceed) that of Washington, DC, and we were hard-pressed to find hostels in the same price range.
I know what you're thinking, and before I continue, this is in no way a setup to the wickedest Chinese hotel scam story to end all Chinese scam stories. Besides a faint hint of being a smoking room in a past life, and an initially musty disposition, the place was clean, quiet, air-conditioned (though not as cold as we would have liked given Shanghai's obscene temps and humidity), and in a great location. Granted, the White Mansion had as much charm as a 30 year old Days Inn, but to us, it was a penthouse suite in the heart of one of the world's great cities. And, just by sheer luck, they gave us room 808, which is typically highly sought after in Chinese culture (the more lucky "8"s the better).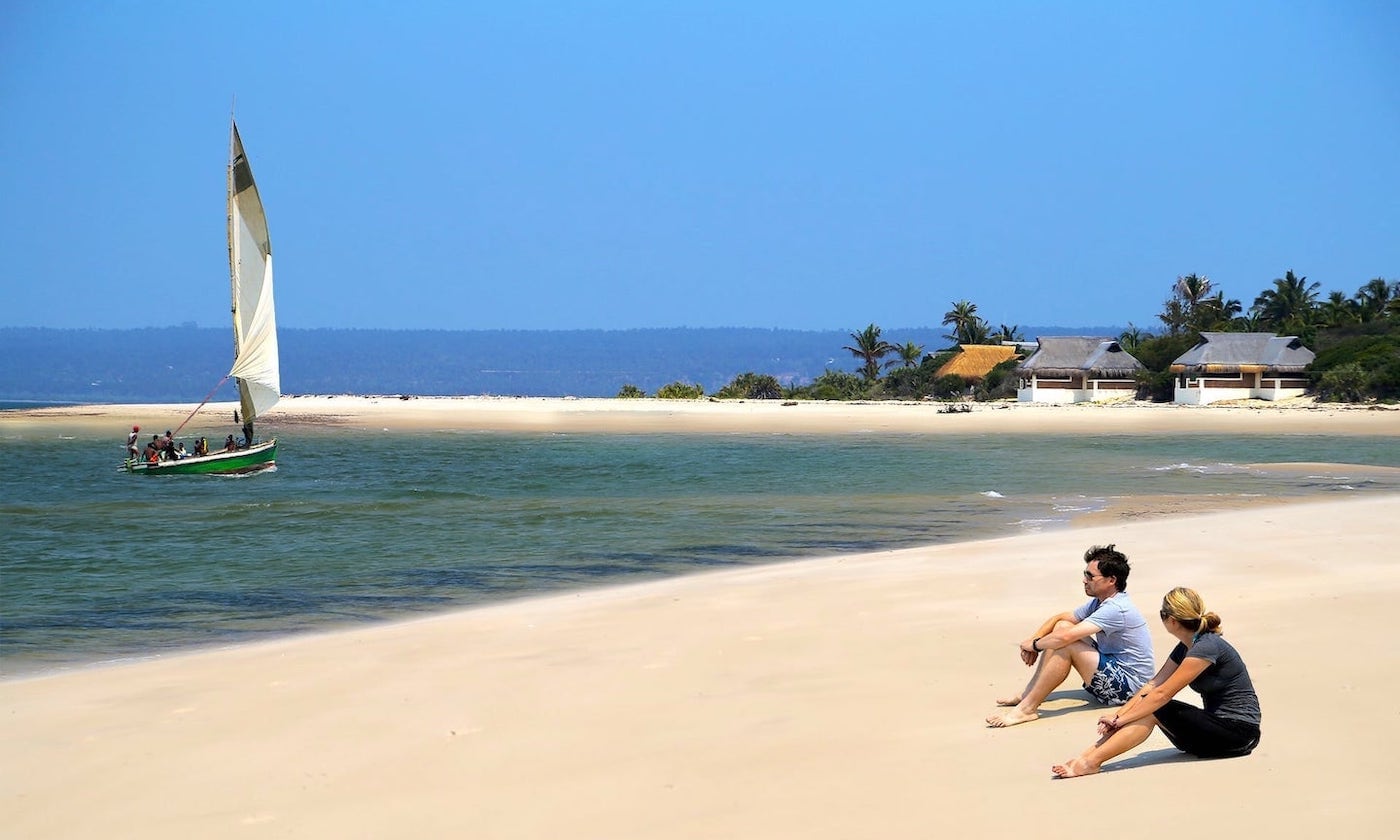 Get Informed. Get Inspired. Get Going.
Get our best travel tips and latest updates in your inbox. And get going!
For more information on how we use your data, see our privacy policy. Unsubscribe at any time with one click.
And, every morning around 7am, we got a Tai Chi demonstration by a group of lovely middle-aged women along the canal. It was so incredibly stereotypical and yet there was a level of authenticity to it, given that we could only presume these women were from around the neighborhood and this was part of their daily morning ritual, of which we felt honored to be a part of (unbeknownst to them of course).
We started our first day in Shanghai at a little local corner cafe that was actually pretty good, if not a little over-priced.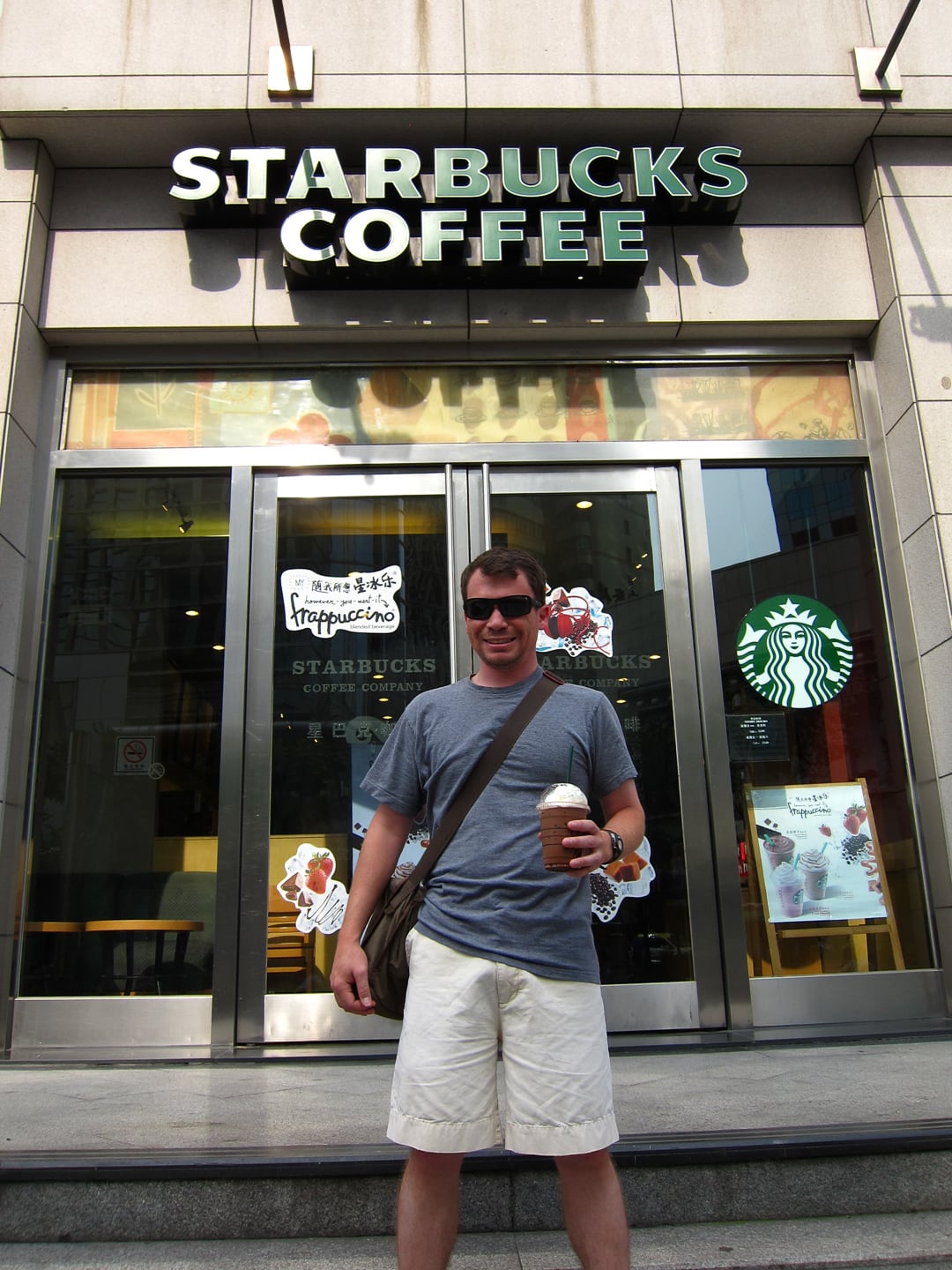 Now, in my defense, a) it was still our self-sanctioned "honeymoon" phase of our trip, b) I was jet-lagged from a 16+ hour trip 15 hours into the future, c) Starbucks is about as local and authentic as anything else in Shanghai these days.
The Bund
That first morning, we decided to walk the mile down to the bund, for which our feet would pay dearly by day's end. Our foot journey did however allow us to observe daily life apart from the ultra-modern center of the city.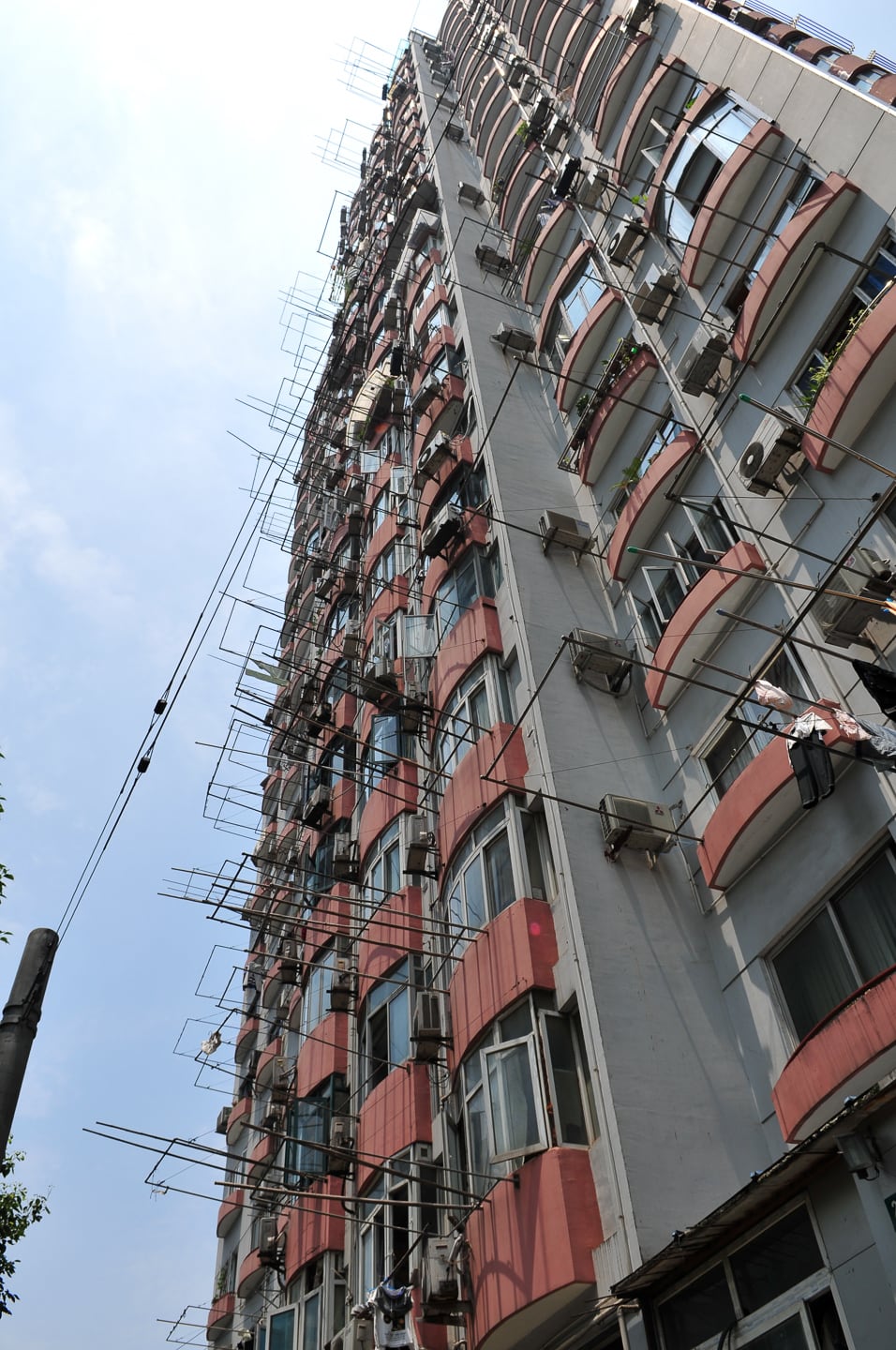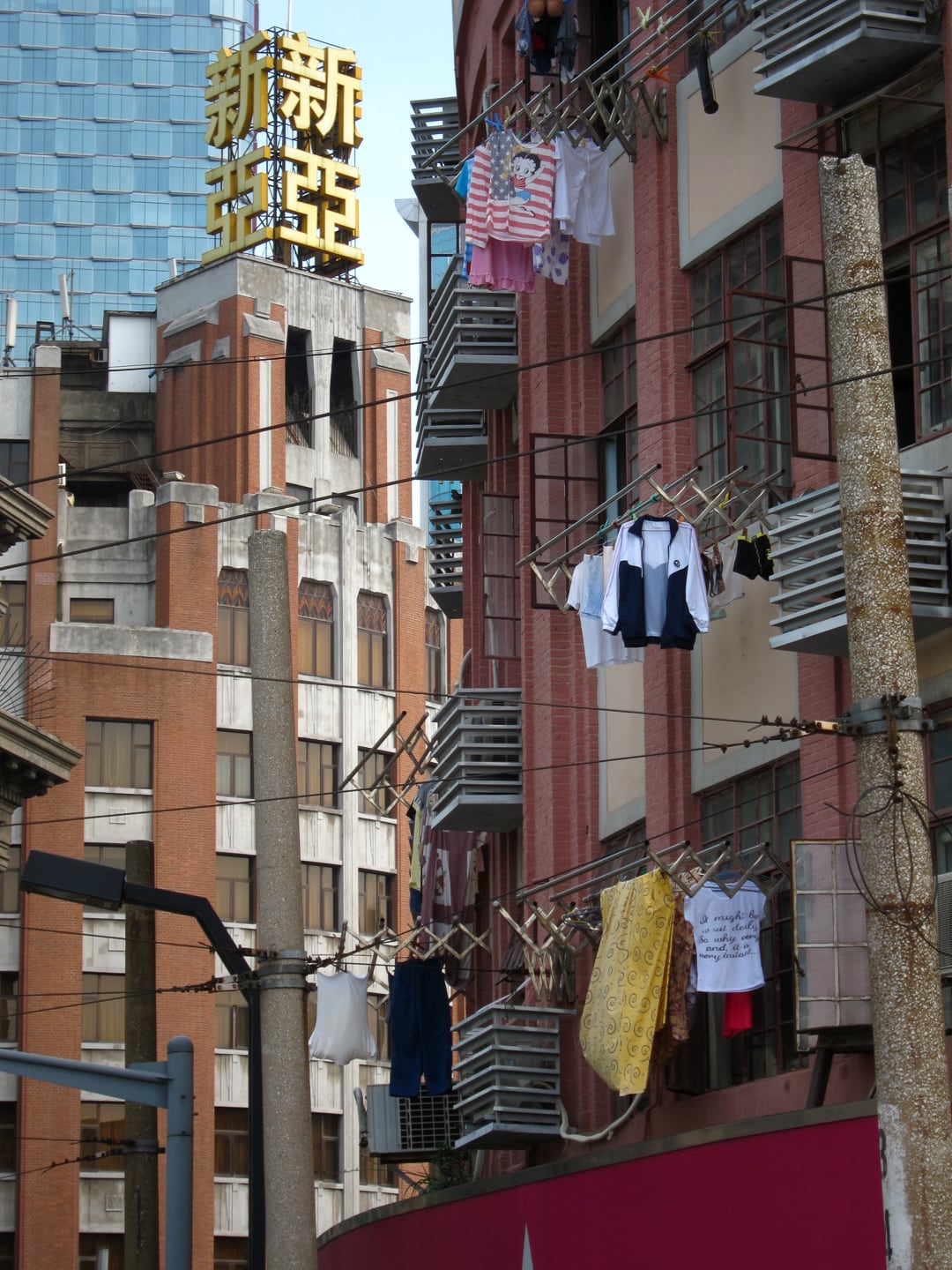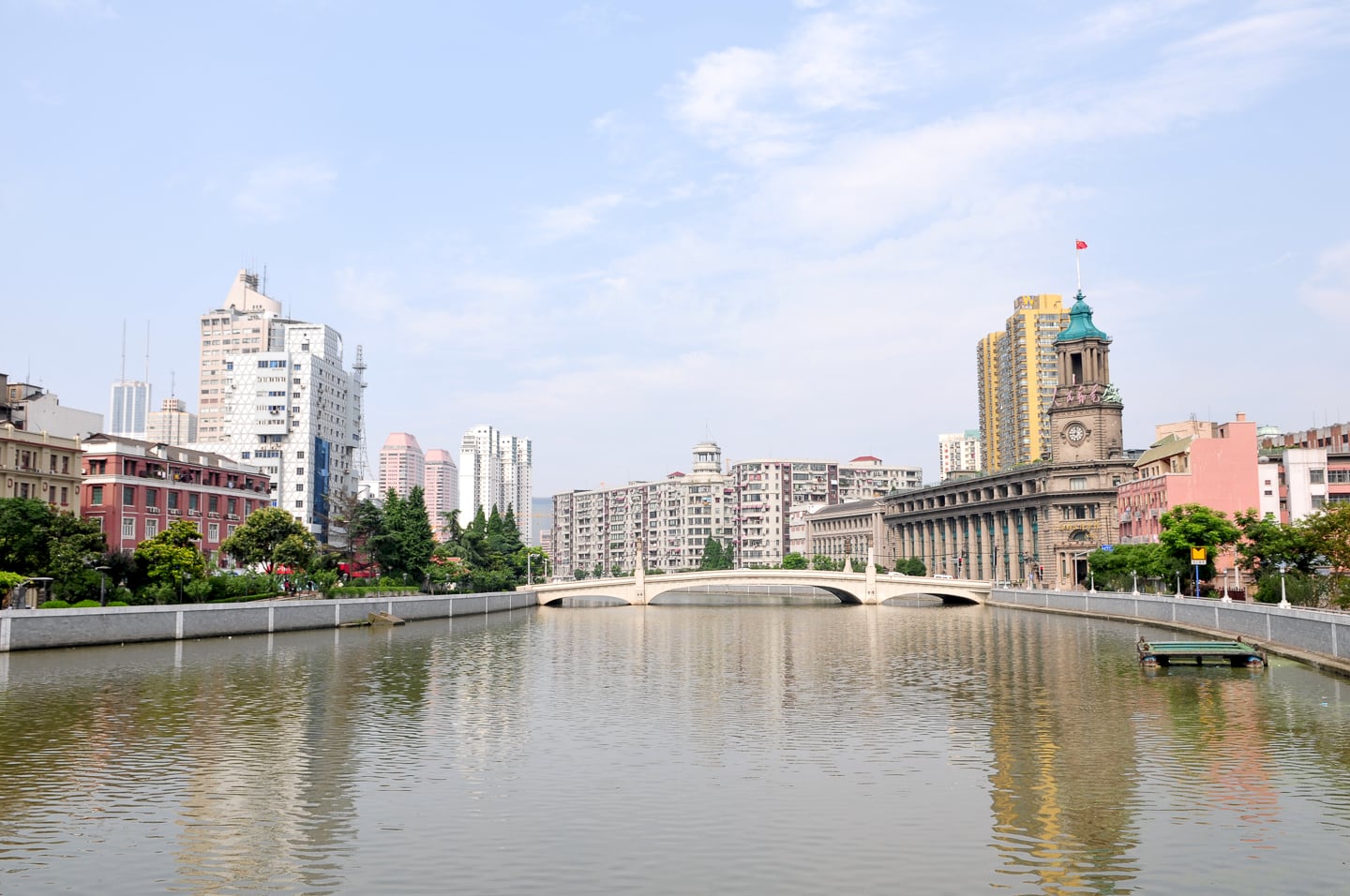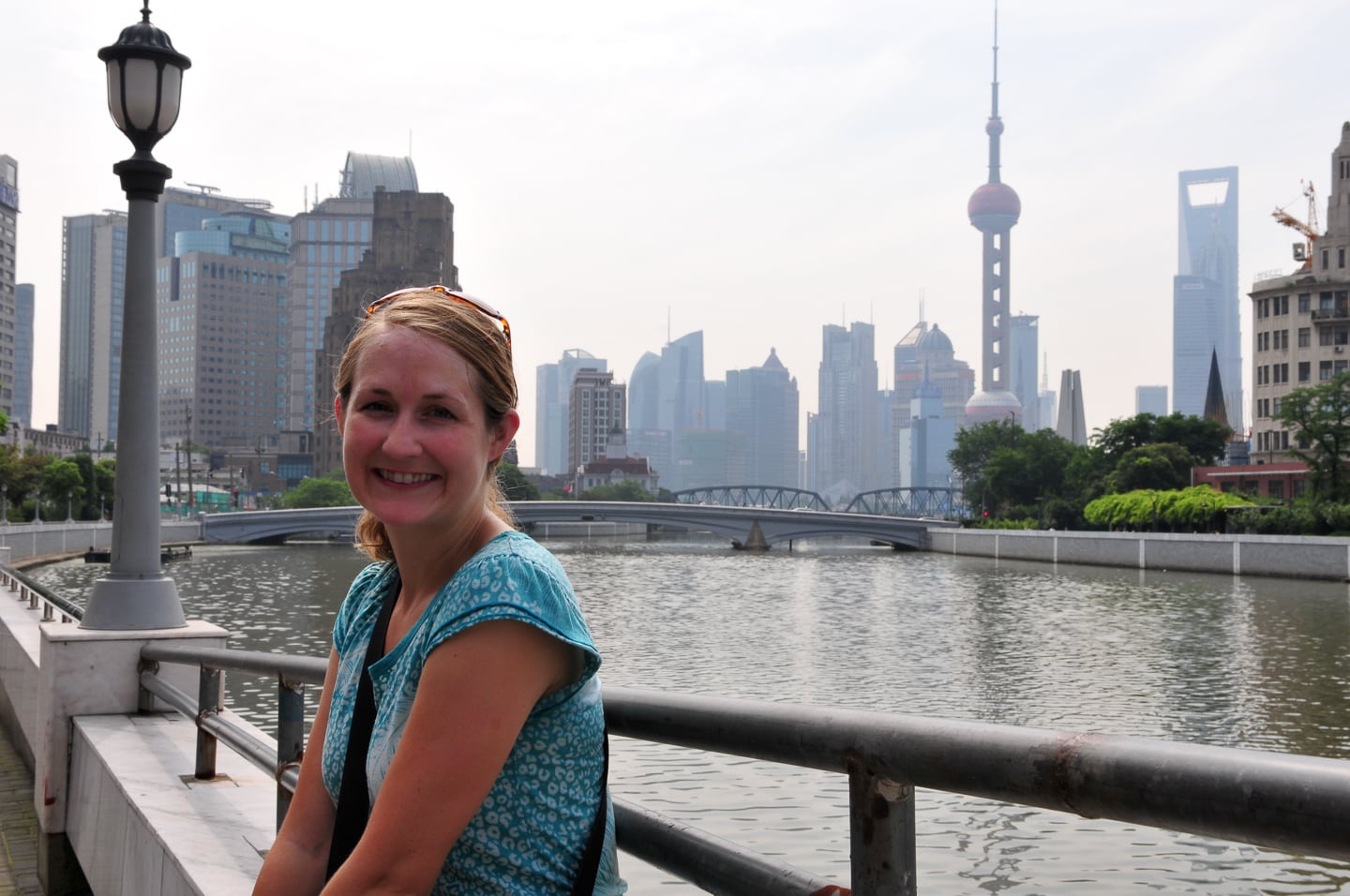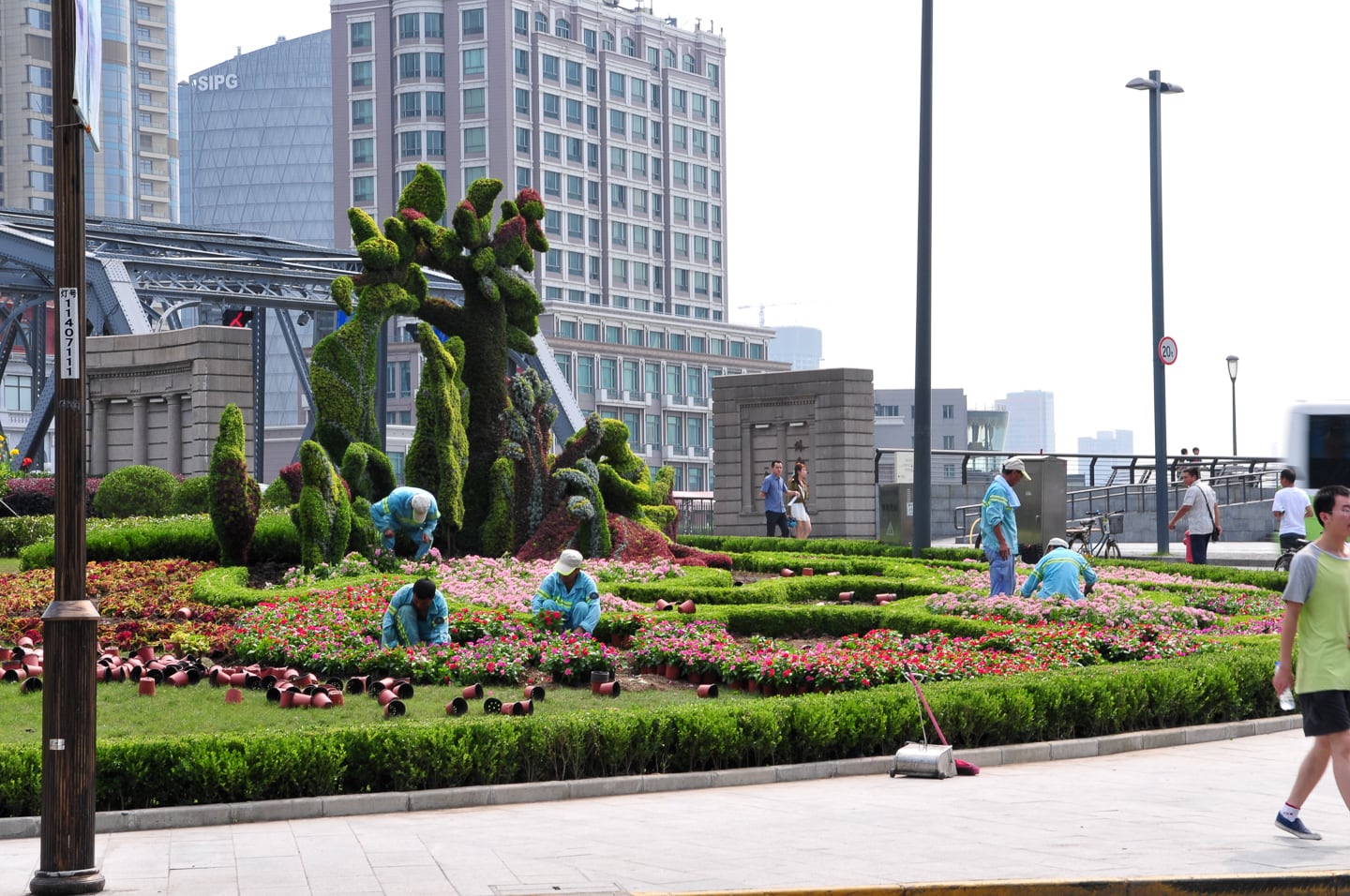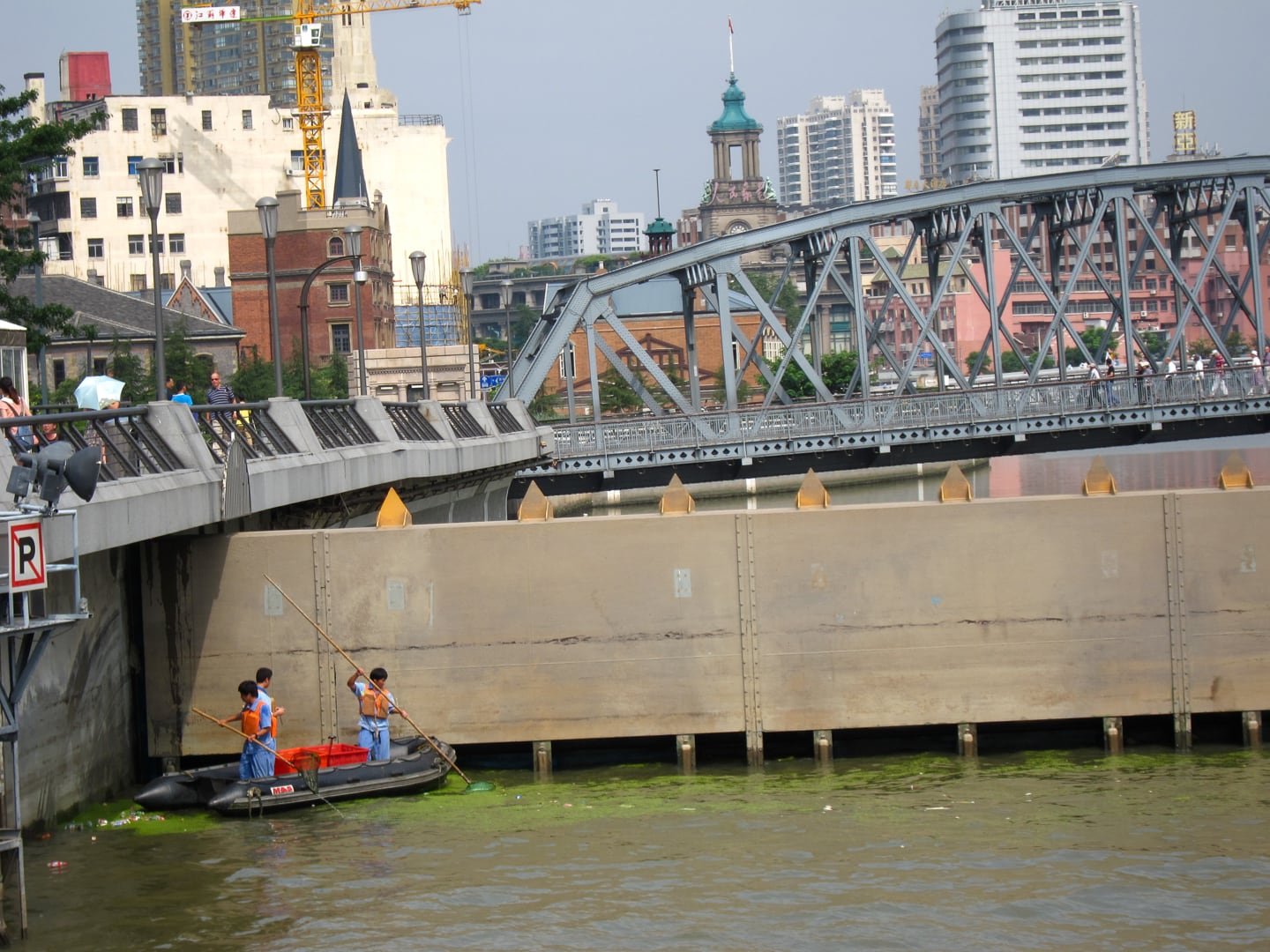 The Bund is the old waterfront strip of grand colonial hotels and banks and was the High Street of the British Concession and crown jewel of Britain's imperial power in Asia in the 19th and early 20th century. In colonial times, this is where it was all happening, and even today, the Bund still retains much of its storied elegance and charm.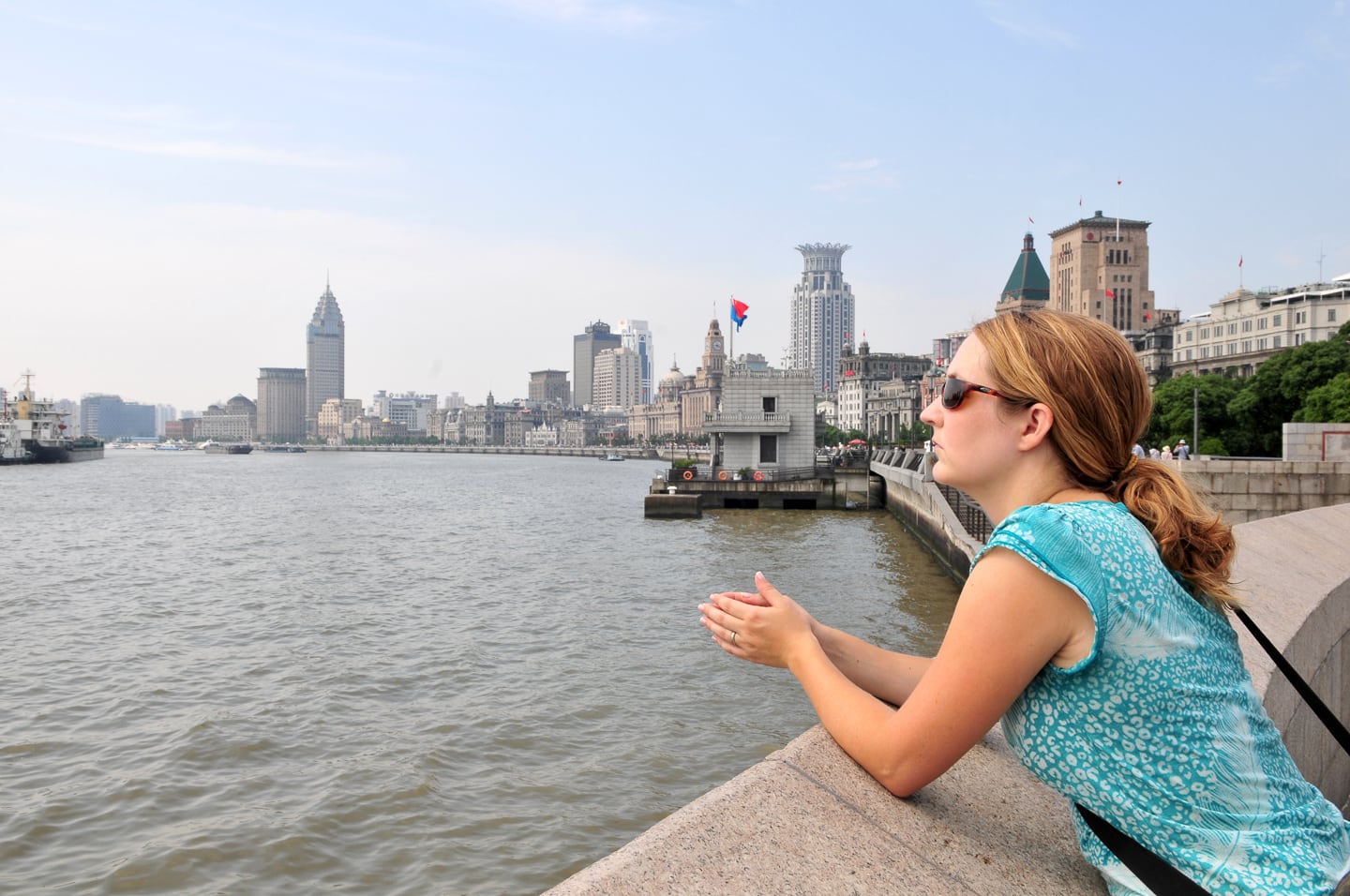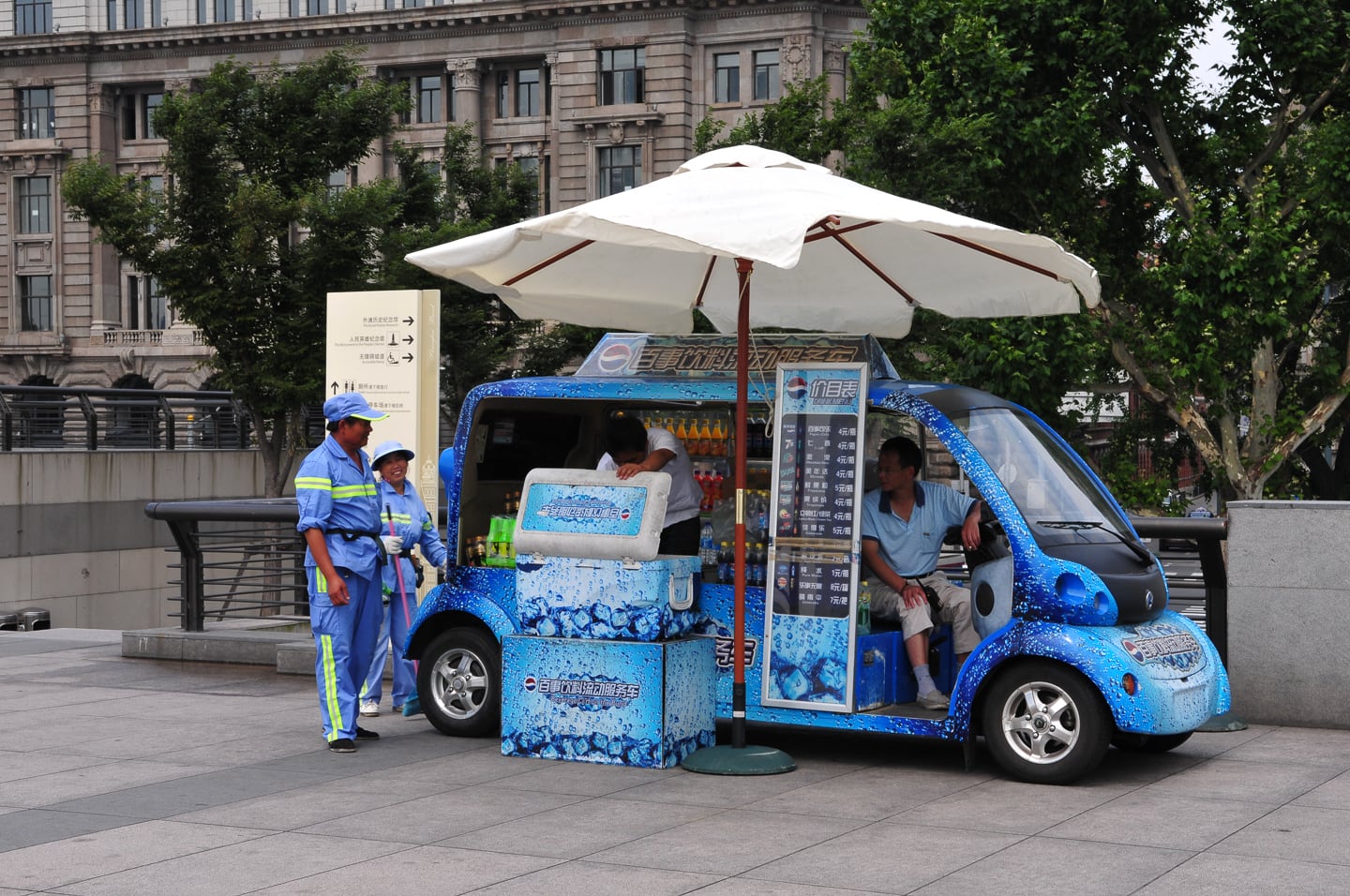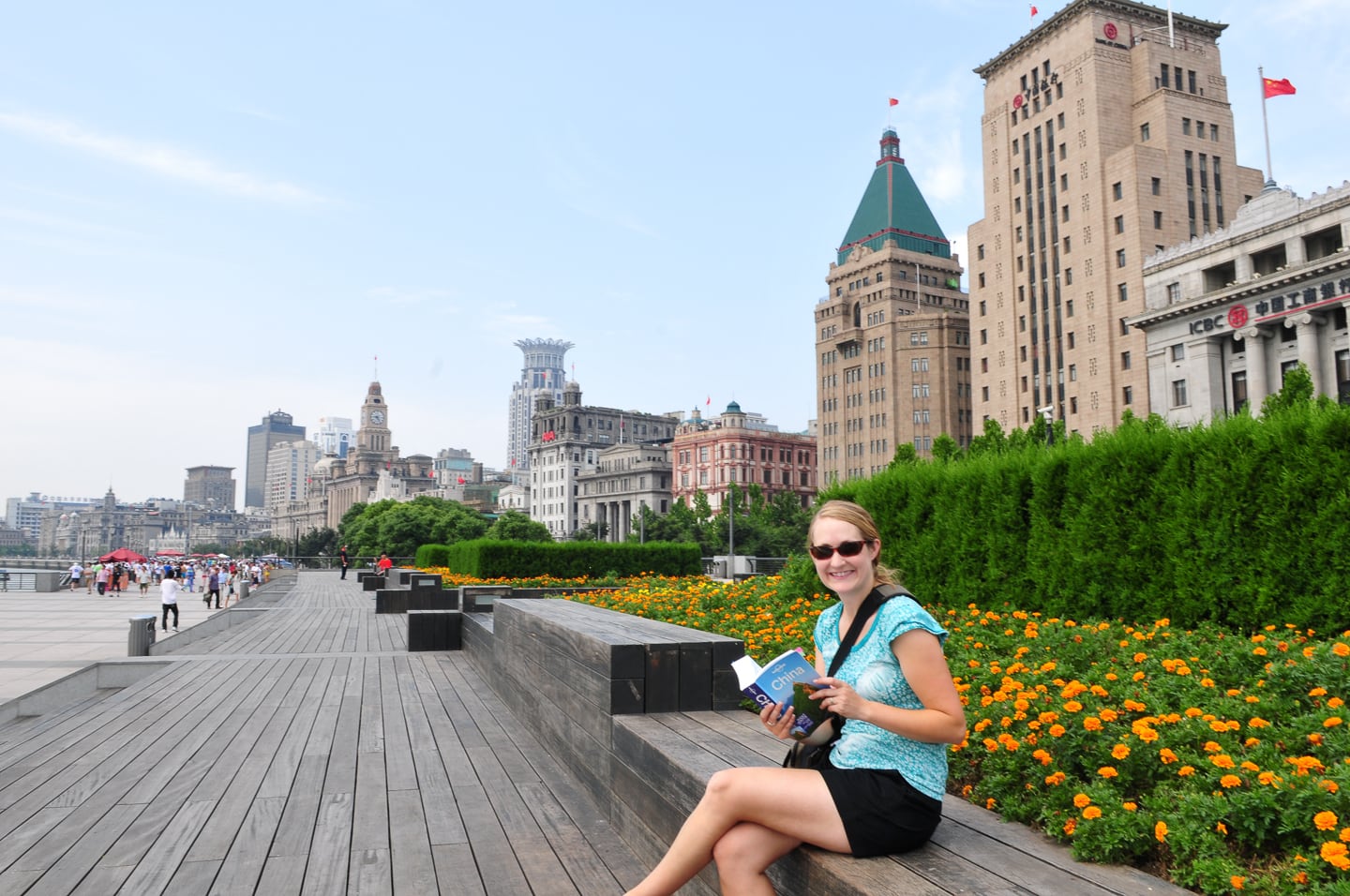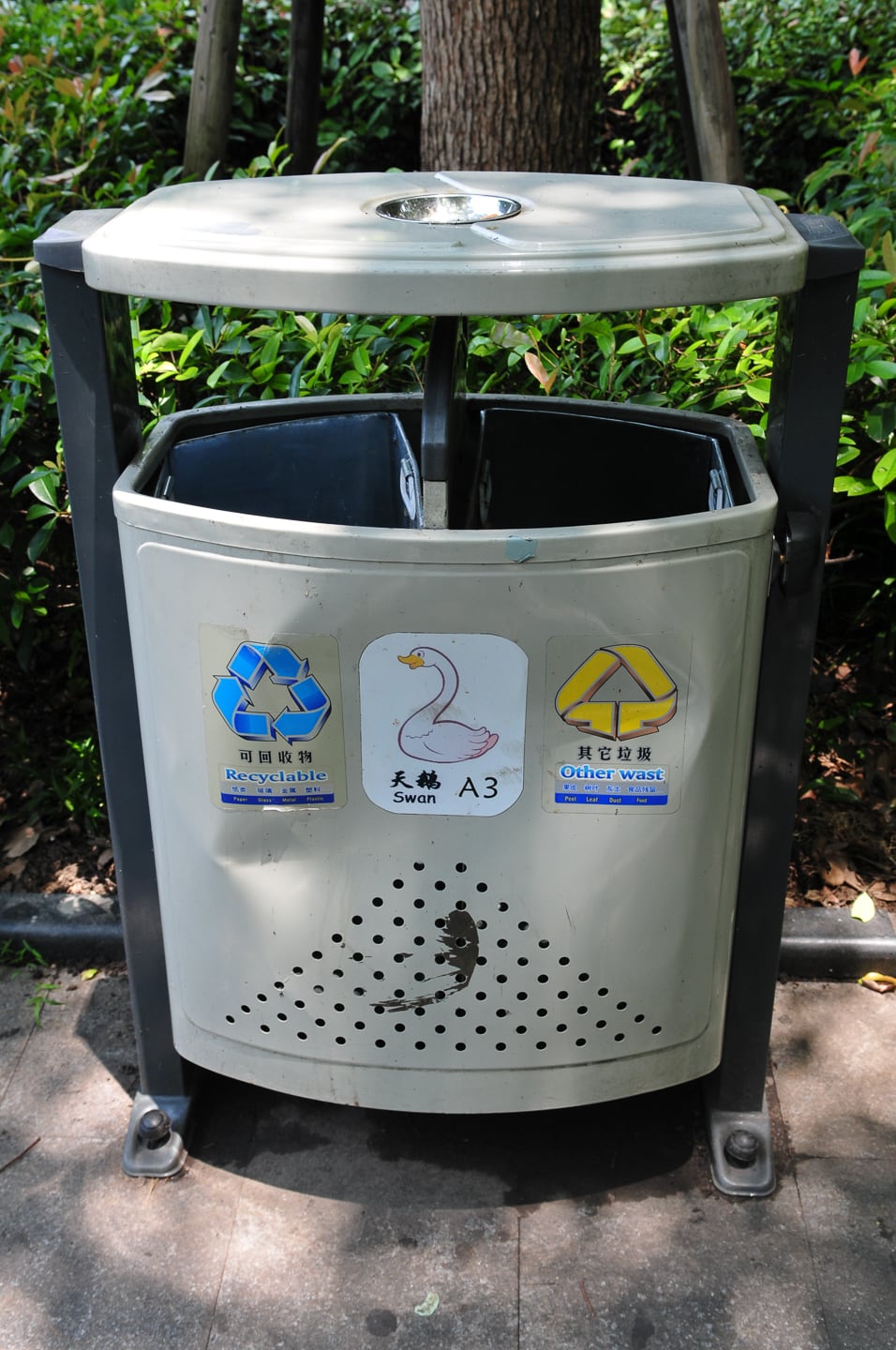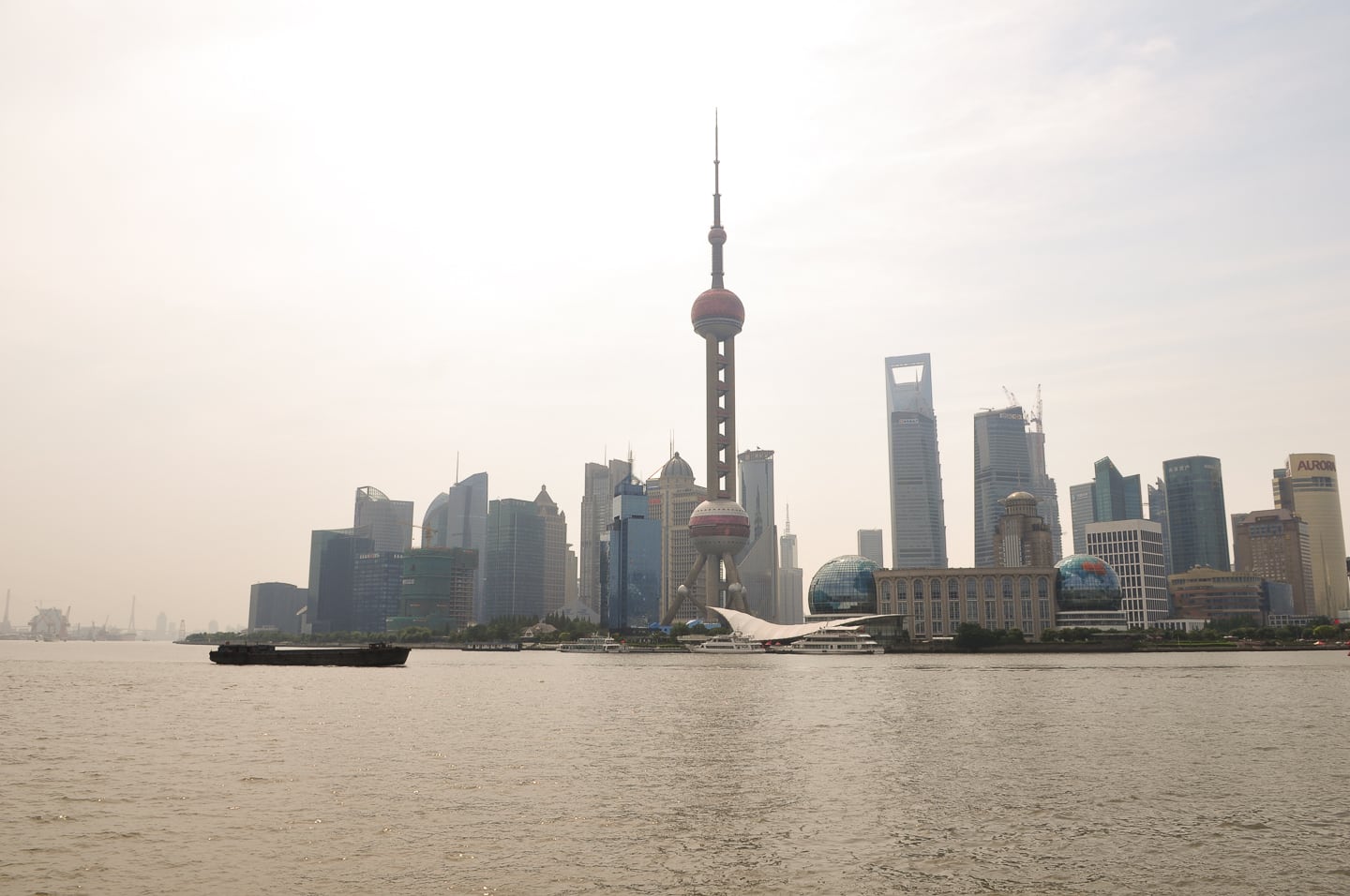 People's Square
While filled with history and views, the Bund is NOT filled with places to eat. In fact, it is a virtual wasteland of anything but people and carbonated beverages. In my opinion, this is a huge missed opportunity, given the embankment's location and scenery. An outdoor cafe or small bistro would probably do really well, but then again, it would probably be grossly overpriced or impossible to build given the embankment's designation of a place of national importance.
After walking the length of the Bund on both sides looking for a place to sit and have a cup of coffee or tea and take in the view, we finally threw in the towel and headed in the direction of People's Square, where we found a couple of pastry shops and coffee houses.
People's Square (and nearby People's Park) is an immense expanse of green space and concrete, bisected in each direction by elevated super highways and avenues which are mitigated somewhat by elevated pedestrian walkways and tunnels. The centerpiece of People's Square is Shanghai Museum, which is an excellent introduction to Chinese history (and free admission, by the way). The ancient sculpture exhibit is amazing.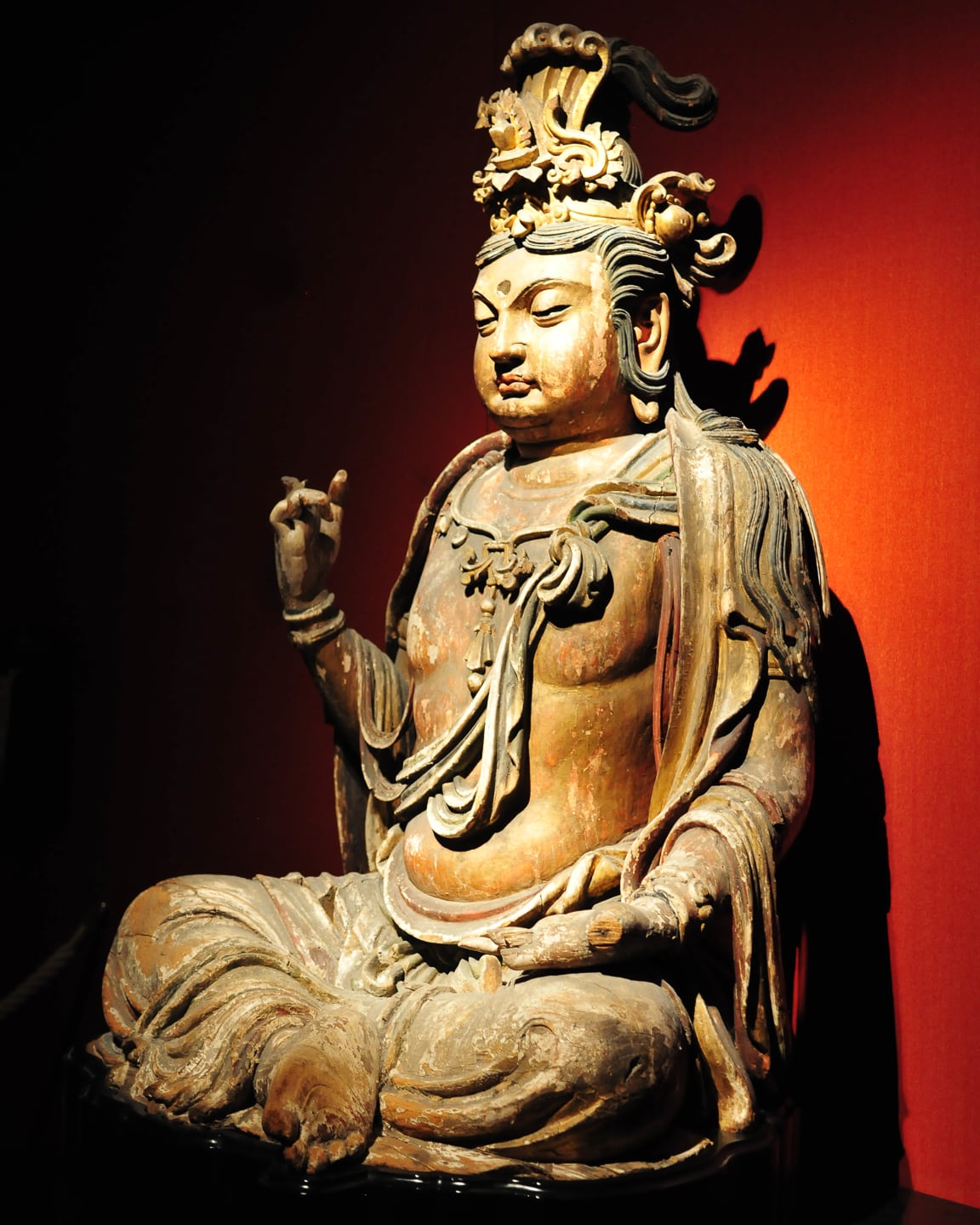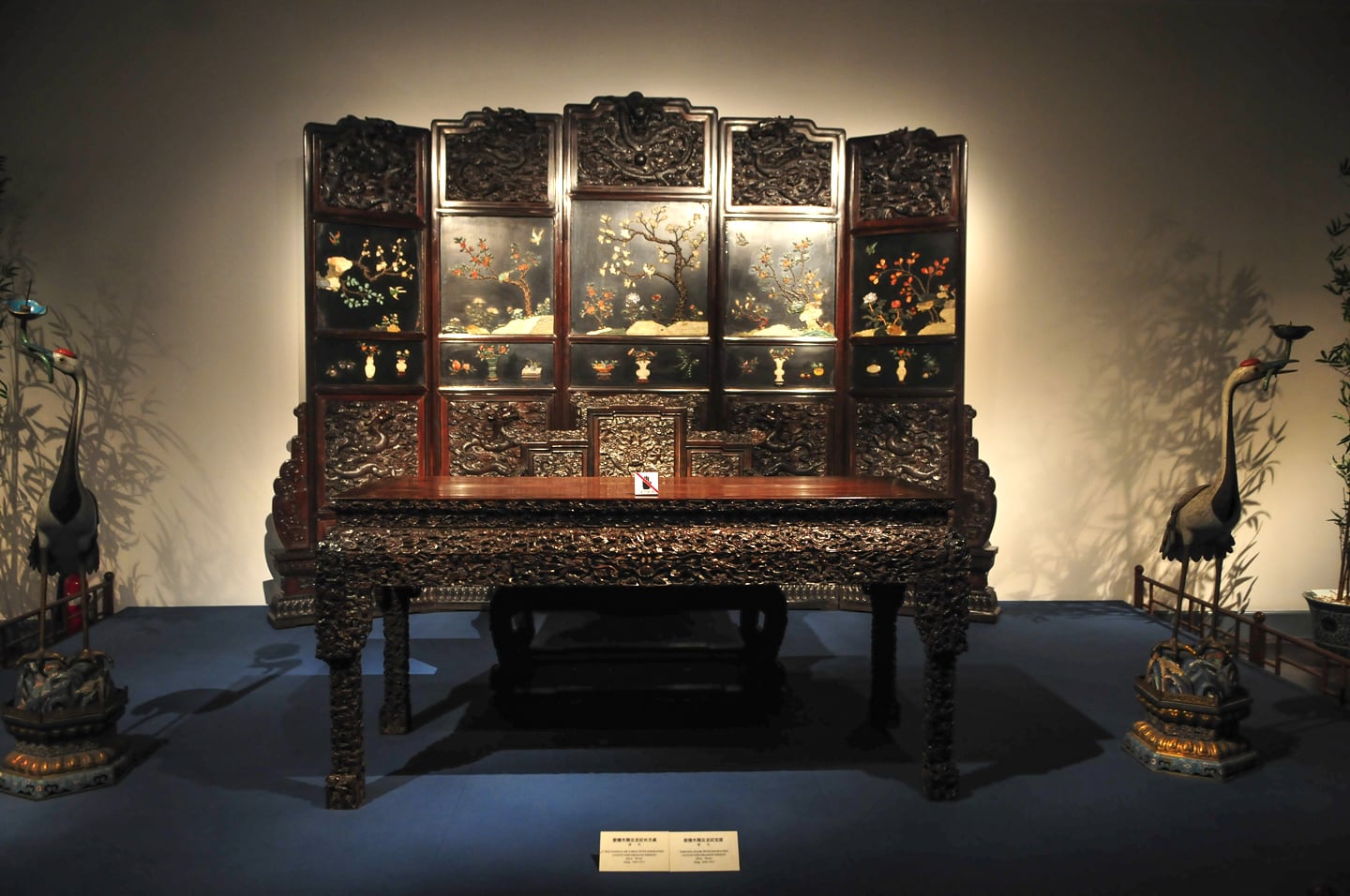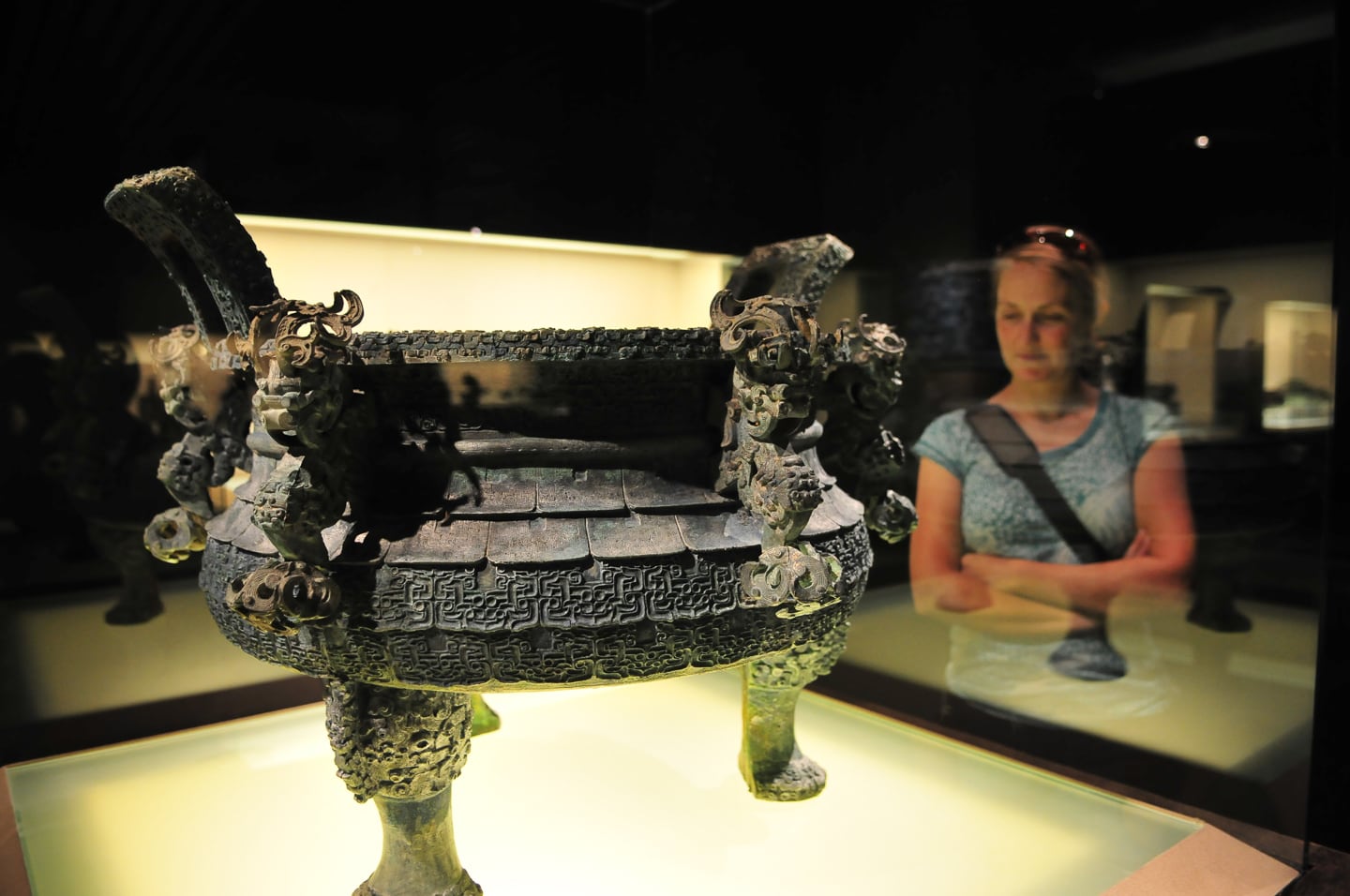 Upon leaving the air-conditioned confines of the Shanghai Museum we were greeted by an onslaught of some of the most oppressively hot, molasses-thick air we've ever had the misfortune of trying to inhale. It was HOT. And unbelievably muggy. We slowly made our way to the pedestrian tunnel to the next-closest climate-controlled oasis, which happened to be the mind-blowing Shanghai Urban Planning Exhibition.
But first, a random picture of Lori standing in front of a dilapidated former brothel: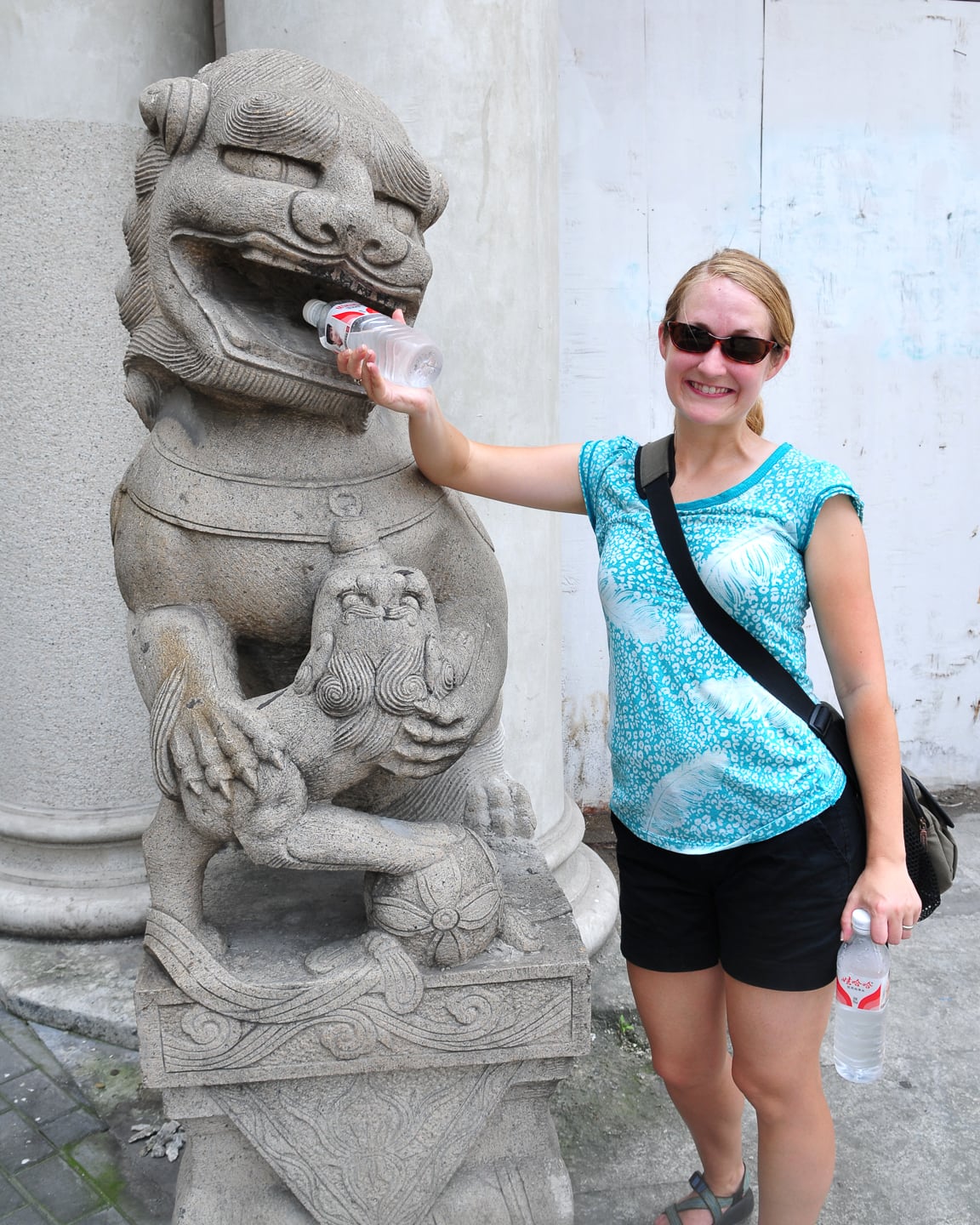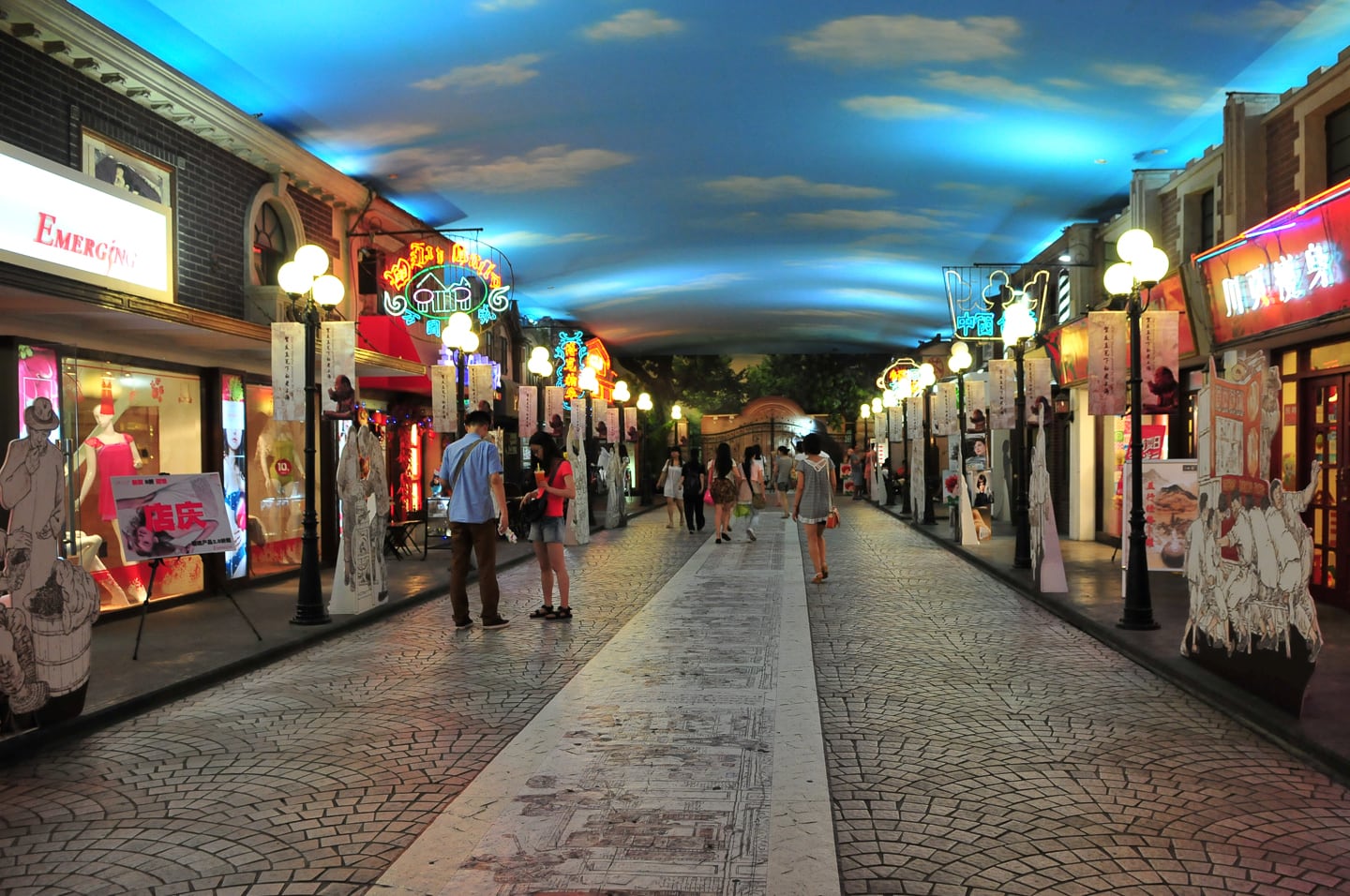 Given the very agreeable subterranean climate in "1930 Underpass" (as the signs called it), we sought out a cozy little place to fill our bellies and found one. Lao Cheng was a very laid back little coffee shop and bistro off the main drag. They served light lunch/ snacks, tea and coffee for reasonable prices (by Shanghai standards). The ambience was a mix of French cafe, hookah lounge and Shanghainees hipster, and the waitstaff was extremely friendly.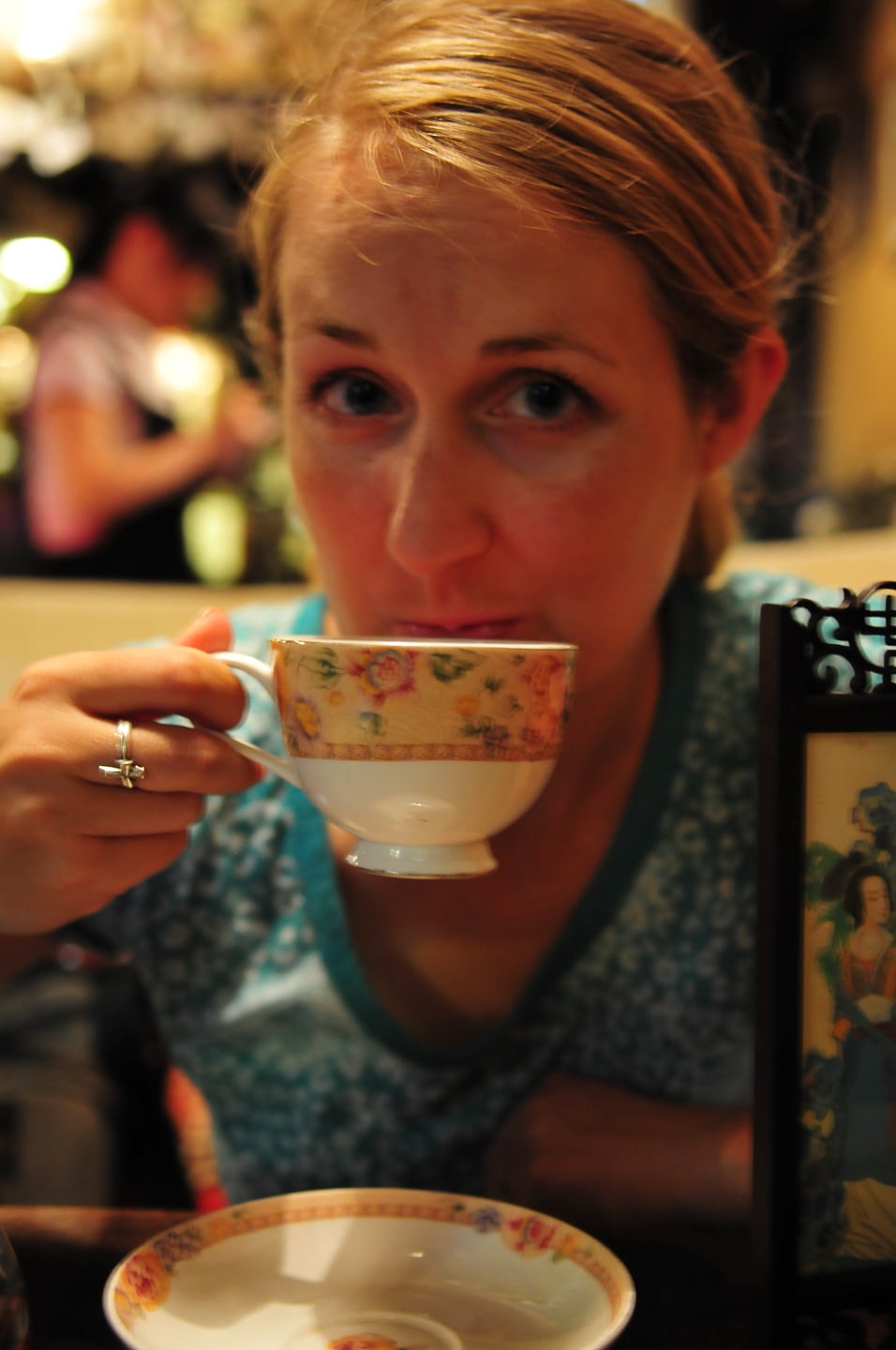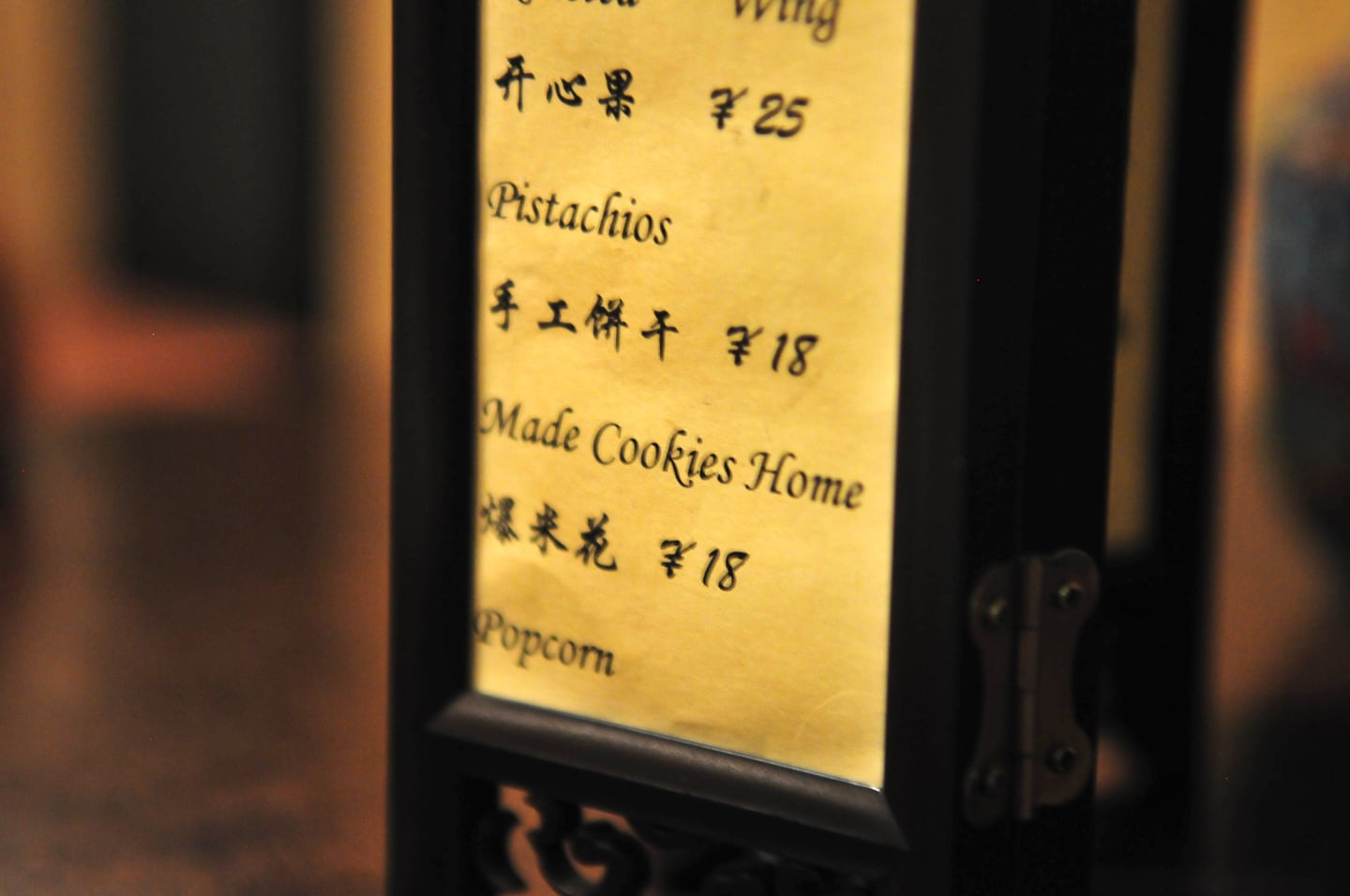 After a much-needed recharge at Lao Cheng, we arrived at the Shanghai Urban Planning Exhibition Center. Admission seemed a little steep at first, but definitely well worth it. It will blow your mind. It's sort of a museum, but for the future – the future vision for Shanghai. Much of what is contained in the exhibition might have well been considered science fiction if the Chinese weren't already implementing much of what is already on exhibit. If you want to know what the future will look like, not only in China, but really anywhere in the world at this point, chances are this place gives what I imagine is a fairly good prediction. Some of the highlights include the sprawling diorama of present and future Shanghai laid out before your eyes [below], as well as a 3-D IMAX room of sorts that takes you on a trip through the Shanghai of the future. There are also well-thought out and executed historical exhibits showing the Shanghai of yesteryear (pre-history to the mind-blowing 1980s in which Shanghai was a tired and worn backwater of its former self).
Shanghai Urban Planning Exhibition also taught us about the all pervasive STUDENT DISCOUNT available at most sights in China (except for the most well-known sites in Beijing, such as the Forbidden City). If you've got a student ID, all that is required at nearly any tourist sight in the country (temples, museums, you name it) is a presentation of your student ID accompanied by a polite request in English [if you are Mandarin-impaired like we are] for a STUDENT ticket. Student rates are rarely posted on admission price signs but will get you a 50% discount on admission (which is HUGE).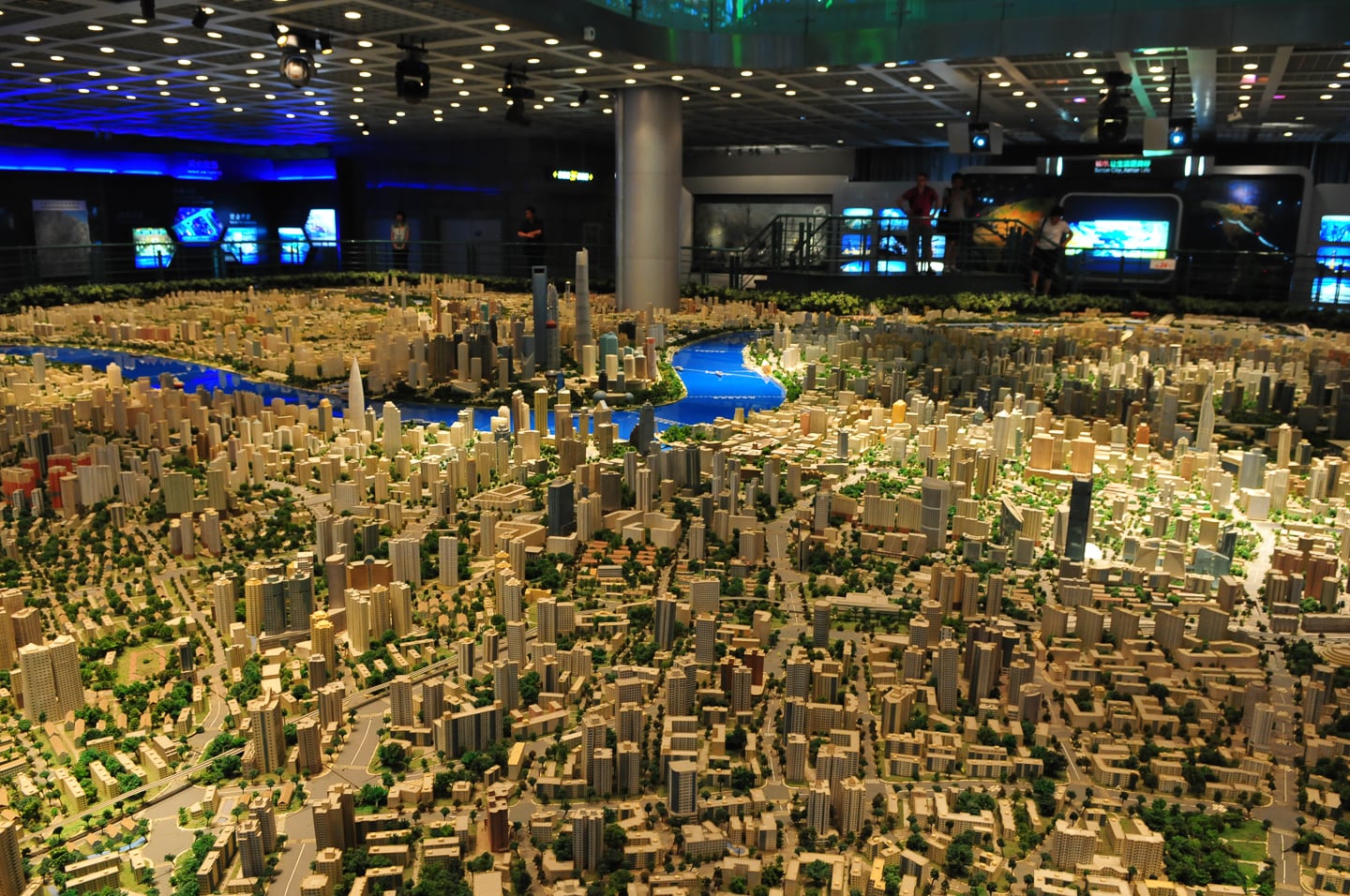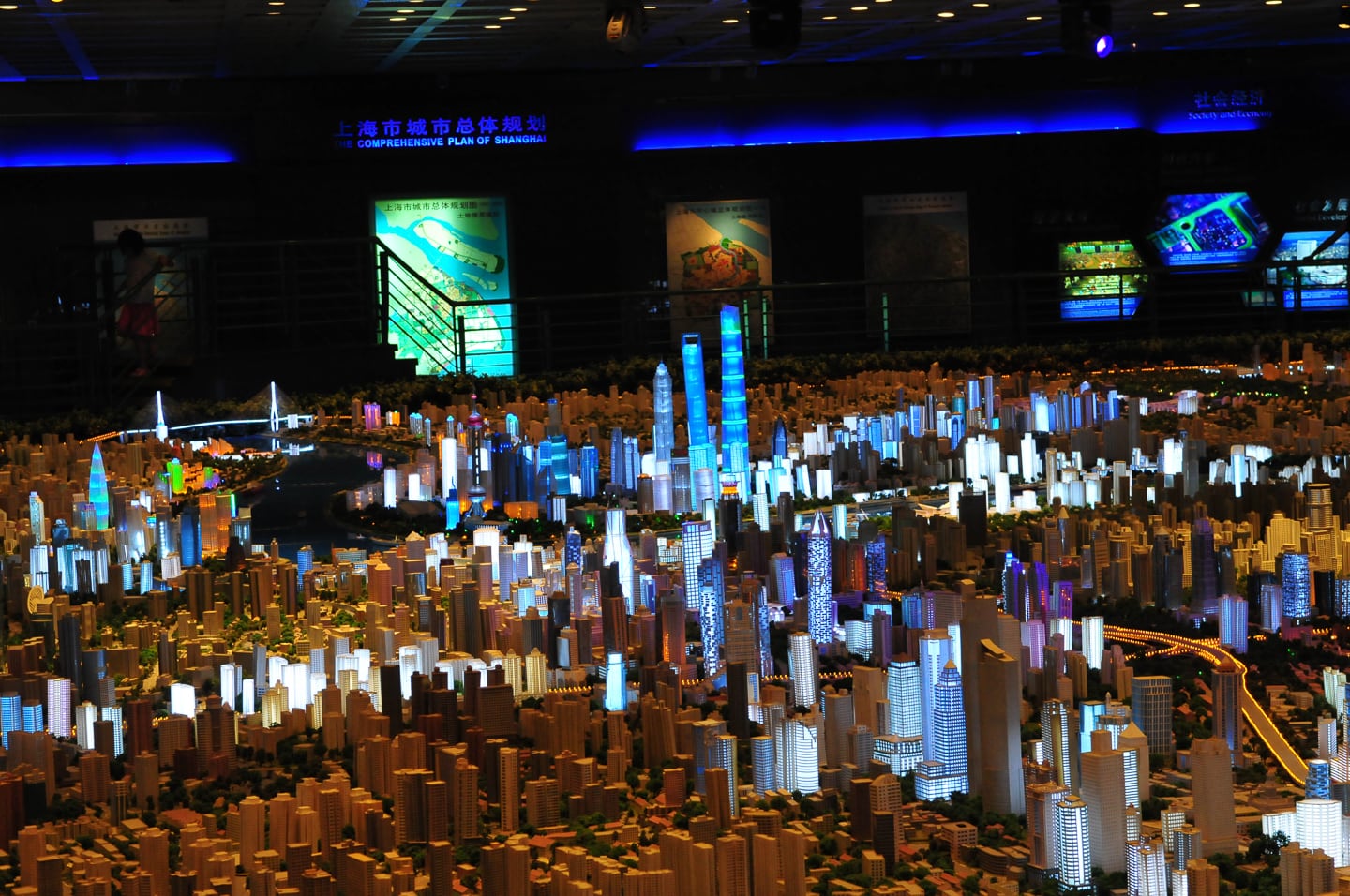 Afterwards, we took the metro across the river to Pudong, hoping to find a reasonably-priced local hole-in-the-wall overlooking the water, but apparently no such thing exists. Pudong has many restaurants lining the water, but none that are "reasonable" by any stretch of the imagination. We did take a moment, however, to take in the Bund shrouded in a thick layer of late-afternoon smog.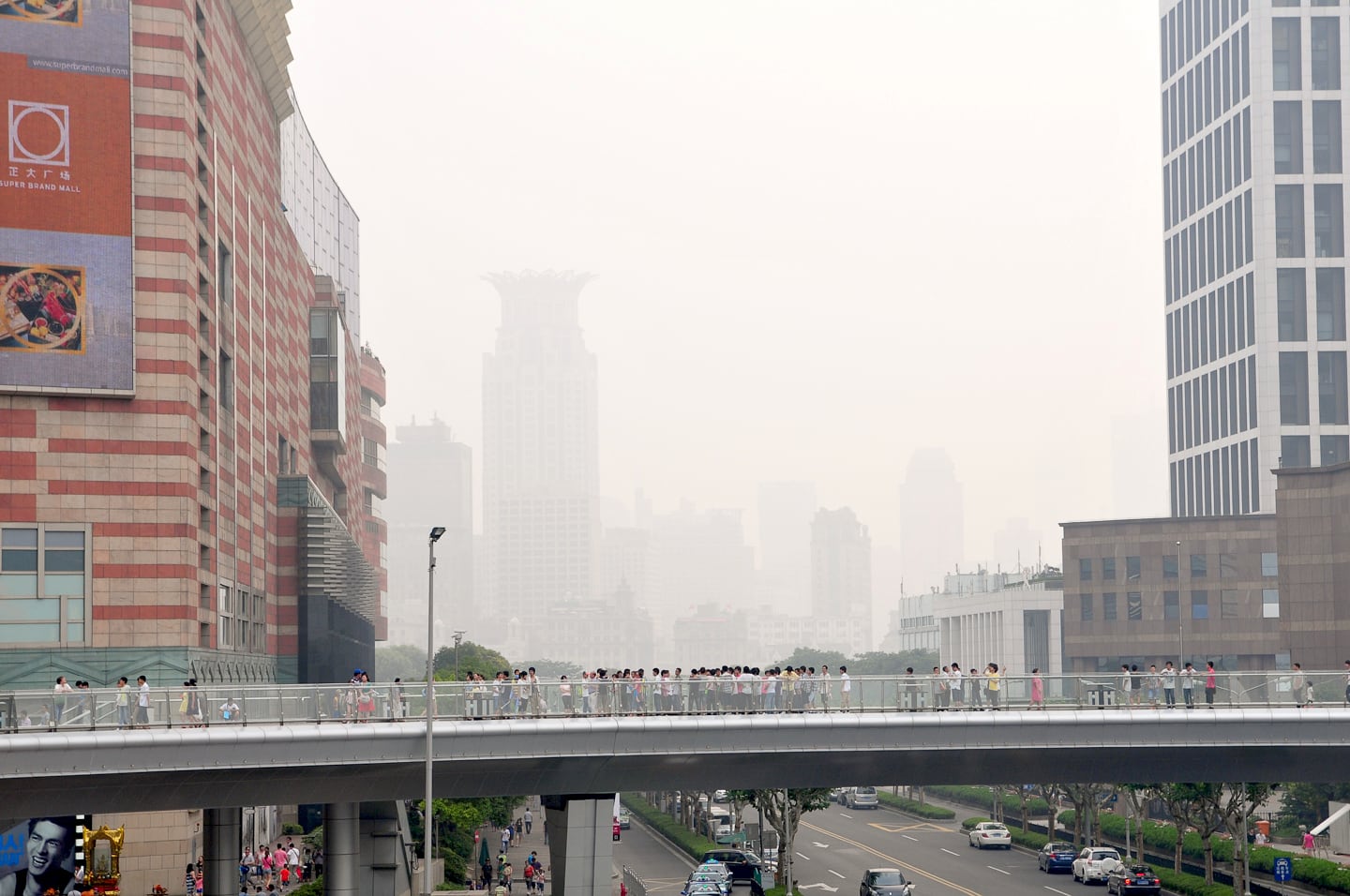 We ended up eating at a Chinese food court in a fancy mall complex in Luijazui (downtown Pudong) and, later, ascended 87 floors to the "Cloud 9" bar atop Shanghai's famed Jin Mao Tower.