Whether you're visiting Kigali for work, passing through on your way to see the gorillas, or one of the few intrepid backpackers making your way low and slow through this amazing country, make sure you set aside some time to visit Caplaki Craft Village in Kigali.
I realize I've spent a lot of time writing and reflecting on the Genocide in the past month. But I can't stress the importance of looking beyond the events of two decades ago and engaging with Rwandans themselves.
The few guidebooks out there on Rwanda are about a quarter of an inch thick and focus on three things: The Genocide, Silverback Gorillas, and Lake Kivu.
But there is so much more to this amazing country than those three things.
True, there aren't a lot of "tourist sites" in Rwanda, but like so many places across Africa, the people are why you go (or perhaps why you should visit, in my opinion).
Having lived and worked in Africa for many years, I may be a bit biased. But spend some quality time on the continent (particularly Rwanda) and you'll very likely come away feeling the same.
Update 2021: Caplaki Craft Village has MOVED!
Caplaki Craft Village has moved into a new space in Masterpiece Mall, a modern building off of KN 5 Rd in the far southeastern corner of Remera [find on map]. While the images in this article are from the old craft market, a great many of our tips remain relevant to the new shopping experience and craft shopping in Rwanda in general.
Guide to Visiting Caplaki Craft Village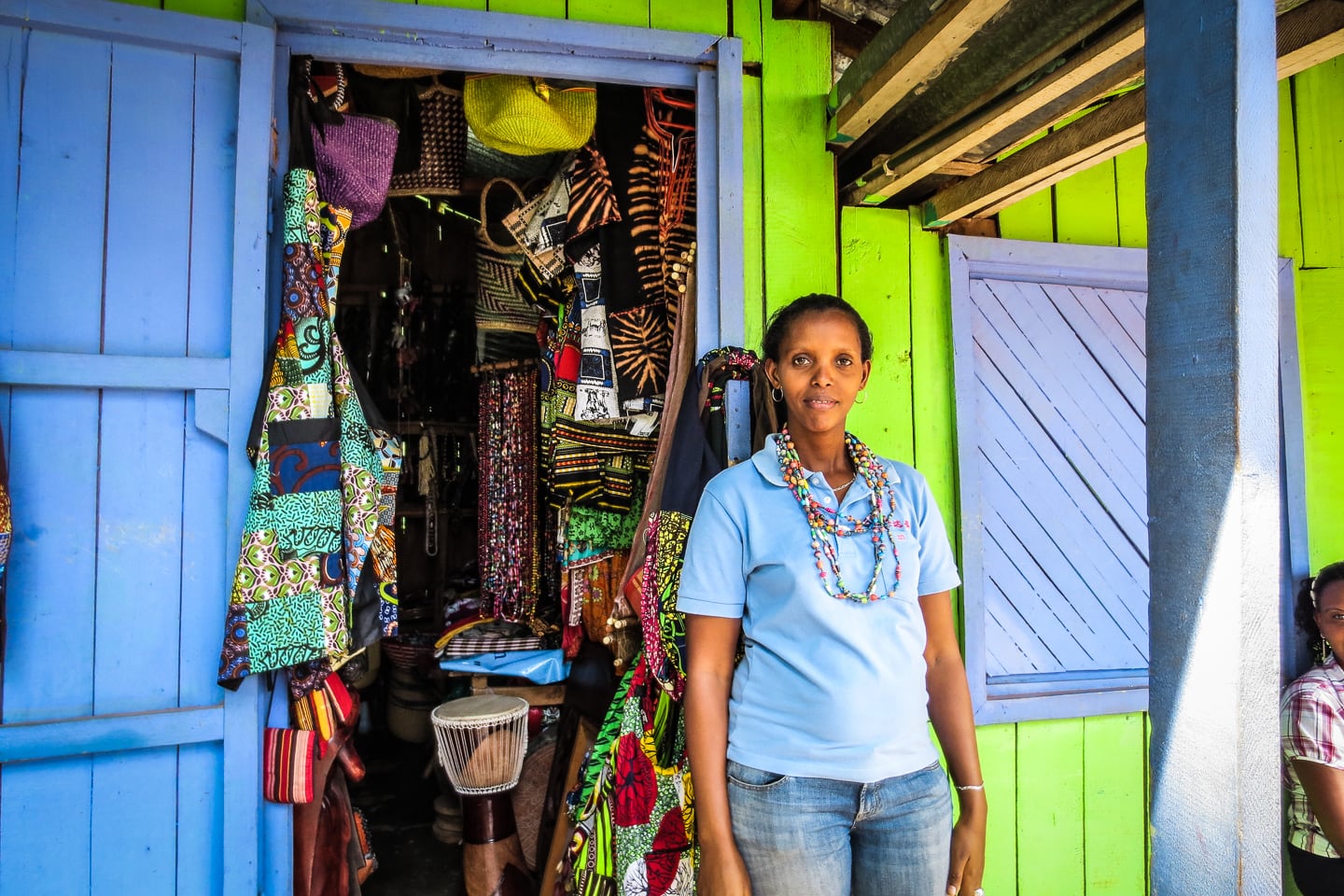 What to Buy at Caplaki Craft Village
Caplaki Craft Village is a fun place to go in Kigali if you want to pick up some uniquely Rwandan handicrafts made by local artisans.
For first-timers to Africa, there's no shame in buying what catches your eye or going after those quintessential souvenirs.
But, if you've already got your requisite masks, bitiks, drums, oil paintings, and beaded necklaces, you may be searching for something unique to Rwanda.
I have it on good authority from locals and travelers, alike, that these are the things to get in Rwanda:
Wood-carved mask — traditional tribal Rwandan masks (see above) are the narrow, long ones with large eyelids (as opposed to the rounder Congolese masks which are all over);
Imigongo — painted wall decorations made of dung, often black and white (see below);
Paper bead necklaces (see photo above);
Rwandan coffee — some of the best in the world. Starbucks imports a lot of it, but the good stuff rarely makes it to the U.S. (not something you're likely to find at Caplaki, but worth adding to your list).
The special thing about most of these items is that, not only will chances be good that they were made in Rwanda, but they also hold a level of cultural significance.
Afterall, buying a Nigerian type of mask or woven bowl in Rwanda is sort of akin to buying fresh maple syrup or a hockey puck in Texas, or a surf board to commemorate your recent trip to Montreal.
North America isn't all the same — why should anyone expect differently while from countries and cultures across Africa?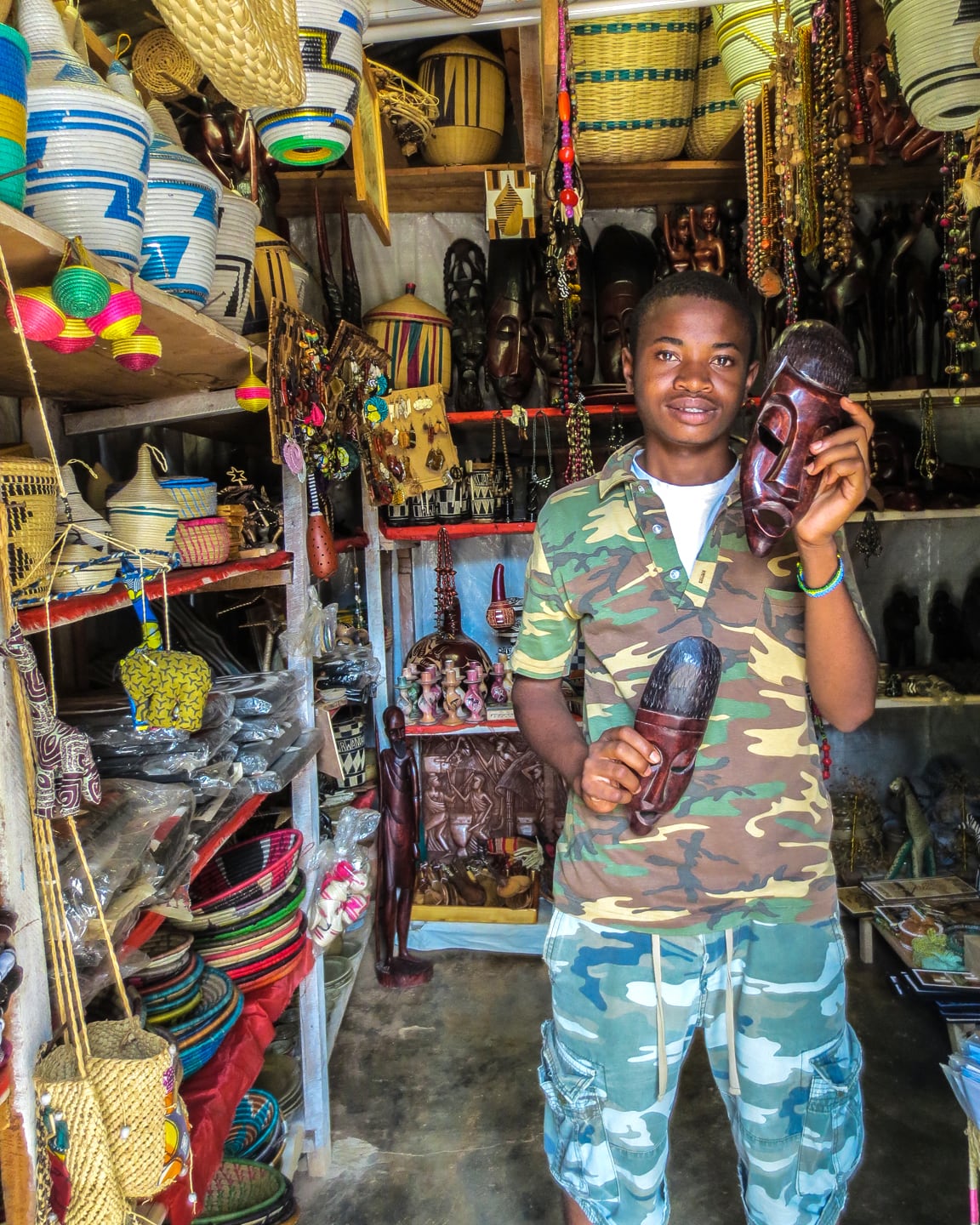 The Importance of Talking to People
I constantly see tourists whisk into places like Rwanda (or Uganda, or Kenya, etc.), grab a direct transfer from the airport to a swanky hotel, hire a Landcruiser to go see some animals — maybe staying in an eco-resort in the bush, watch some people dance, buy some souvenirs at the airport and call it a trip.
I'm not necessarily saying there's anything wrong with that, but I also think it's a squandered opportunity.
Take some time to talk to the locals you're around — the street vendors, your cabbie, people in the market, guesthouse staff — don't be shy.
Even if they don't speak English and you don't speak Kinyarwanda (or Kiswahili or French), most locals know a little and will be happy to teach you some words of theirs too.
Get up the courage to go into the commercial center of Kigali and wander through the local bodegas and markets.
Eat some local food. It doesn't have to be street food (although some of the best food in Africa can only be found at street stalls!).
There's absolutely nothing wrong with safaris and animals, natural wonders and UNESCO sites — I love them all as well. But there is so much more depth to African travel destinations deserving of your attention.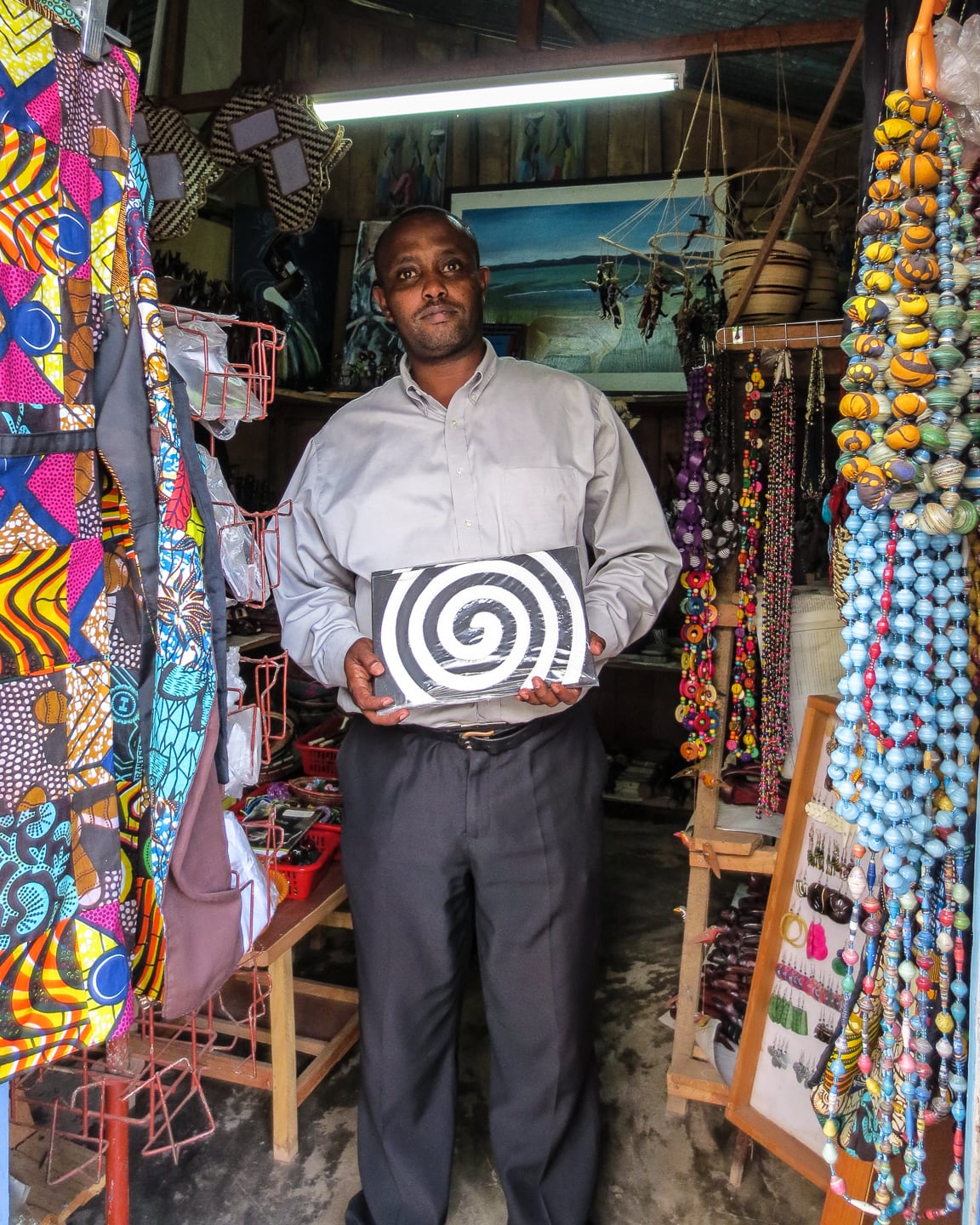 Bargaining & Who to Buy From
In a place like this with so many vendors selling much of the same stuff, it can be difficult to decide who to buy from.
Yes, price is a factor (though it can often seem like a bit of a cartel), but friendliness is a huge factor too.
While it's easy to approach getting gifts for people back home as an errand that must be checked off the list, I like to allow myself plenty of time to try and enjoy the experience.
Don't be afraid to stick to a reasonable offer, but always be polite and courteous.
And don't forget to have fun! After all, the bargaining and banter is a big part of the fun of buying anything in Africa (even if you don't speak the language, but these guys always do).
If you're lucky, you may even walk away wiser and more knowledgable on a country and its people than when you arrived at the market.
How to Get to [the New] Caplaki Craft Village
Important
We updated the information below in June 2021 to reflect the new location in Masterpiece Mall.
The old location of Caplaki Craft Village was a fairly straightforward venture, located just 3 km southeast of the Central Business District, and most taxi drivers knew exactly where the long established location was.
That's all changed, and the current Caplaki Craft Village is located a whopping 10 km from the CBD.
Fortunately, it's a straight shot from the CBD down either the KN 3 Rd. or KN 5 Rd.
Caplaki Craft Village is located in Masterpiece Mall (a three-story modern looking building), just across KN 5 Rd. from the western edge of the runway of Kigali International Airport.
Most times of day you shouldn't have too much trouble getting there in 20-30 minutes by taxi. With that said, I would avoid rush hours and lunch hour if at all possible.
Given the market's close proximity to the airport, it might be worth making your visit on the way to the airport prior to catching your flight.
Find the new Caplaki Craft Village on the map.
When to Visit
The market is open daily from 8am to 8pm year-round, though hours may vary during festivals and holidays.
Where to Stay in Kigali
If comfort, value, and a central location are your aim, it's hard to do better for the money in Kigali than Step Town (from US$43) and B.Maurice (from US$50), both renowned for their top-notch customer service and clean and tidy rooms.
For more upmarket amenities in the heart of the Central Business District, 2000 Hotel (from US$75) is an excellent value for the money.
On the other hand, if you're looking for something extraordinary and are willing to pony up for a once-in-a-lifetime experience, there's nothing quite like a stay at Hotel Rwanda, itself, the one and only Hotel des Mille Collines (check rates). Read all about my stay here.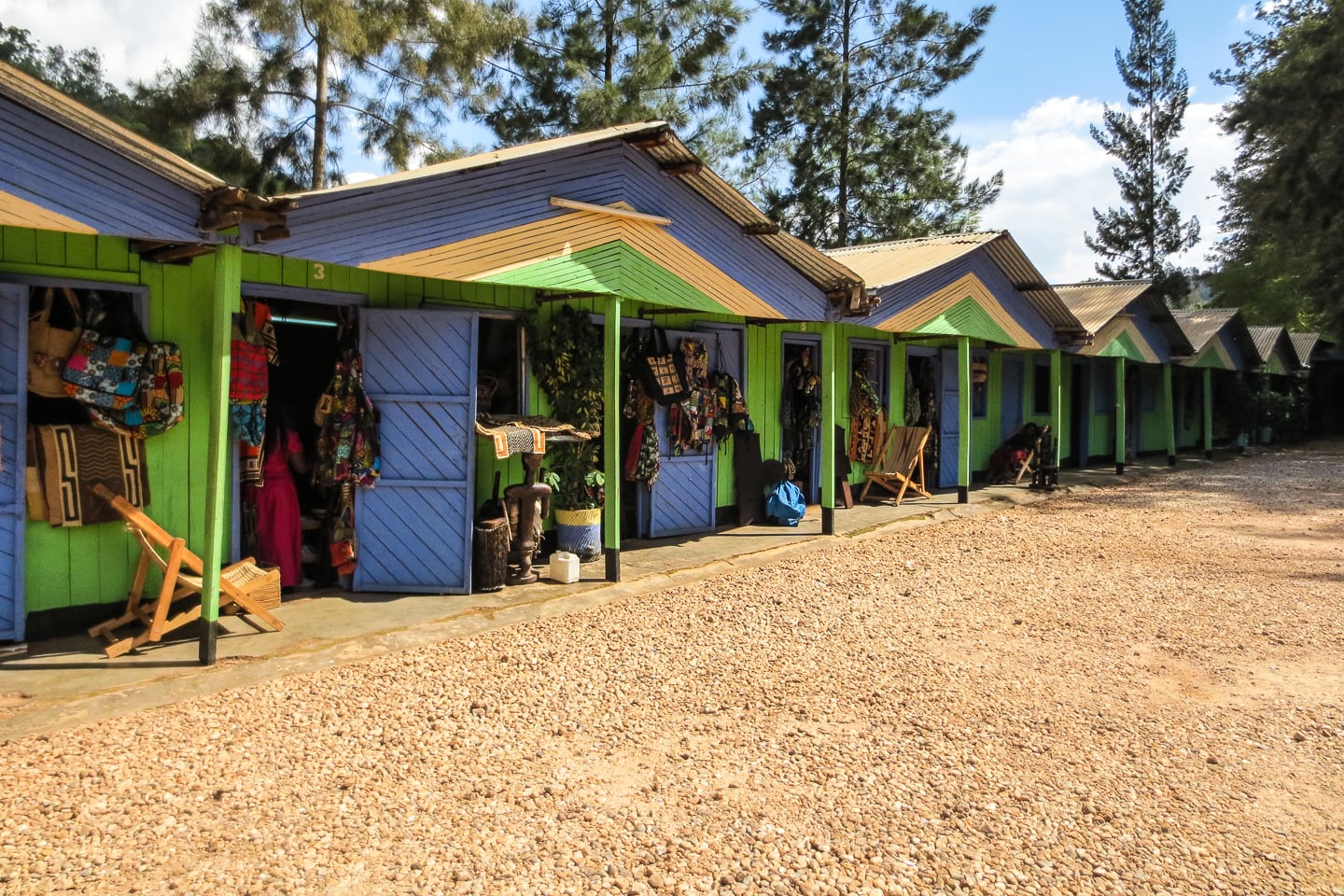 ---
Have you been to Caplaki Craft Village in Kigali?
What did you think? Any tips on visiting the new location? Let us know in the comments section below.
---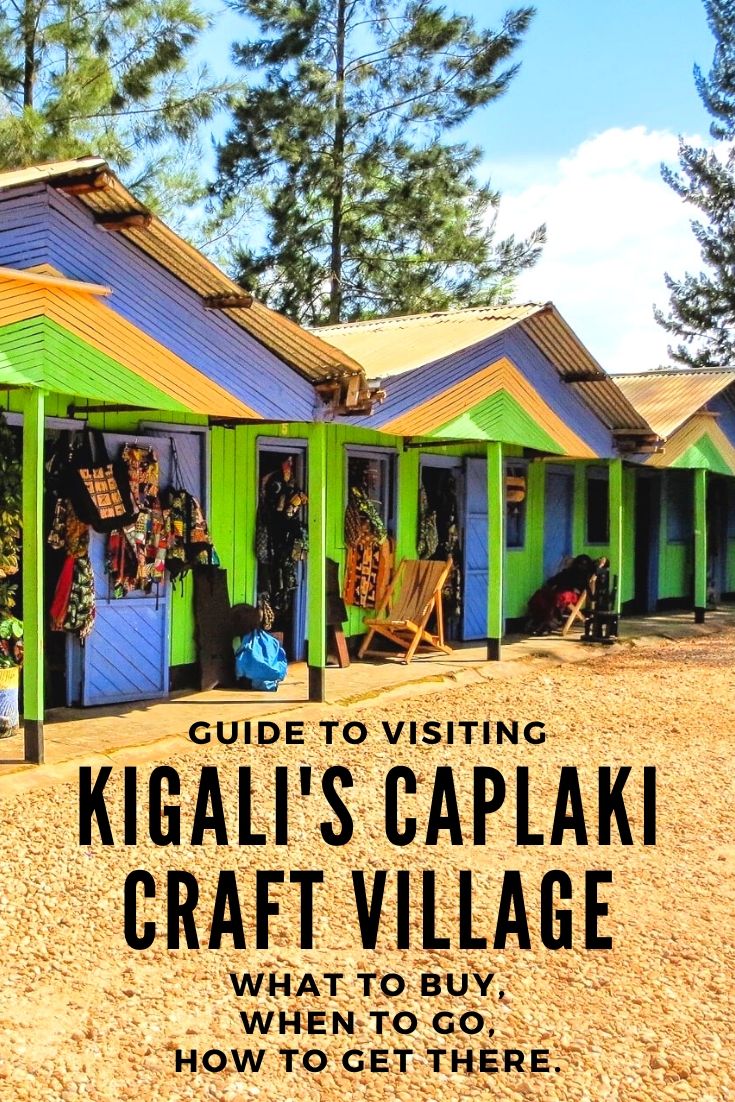 We use affiliate links and may receive a small commission at no extra cost to you. Learn more in our privacy policy.