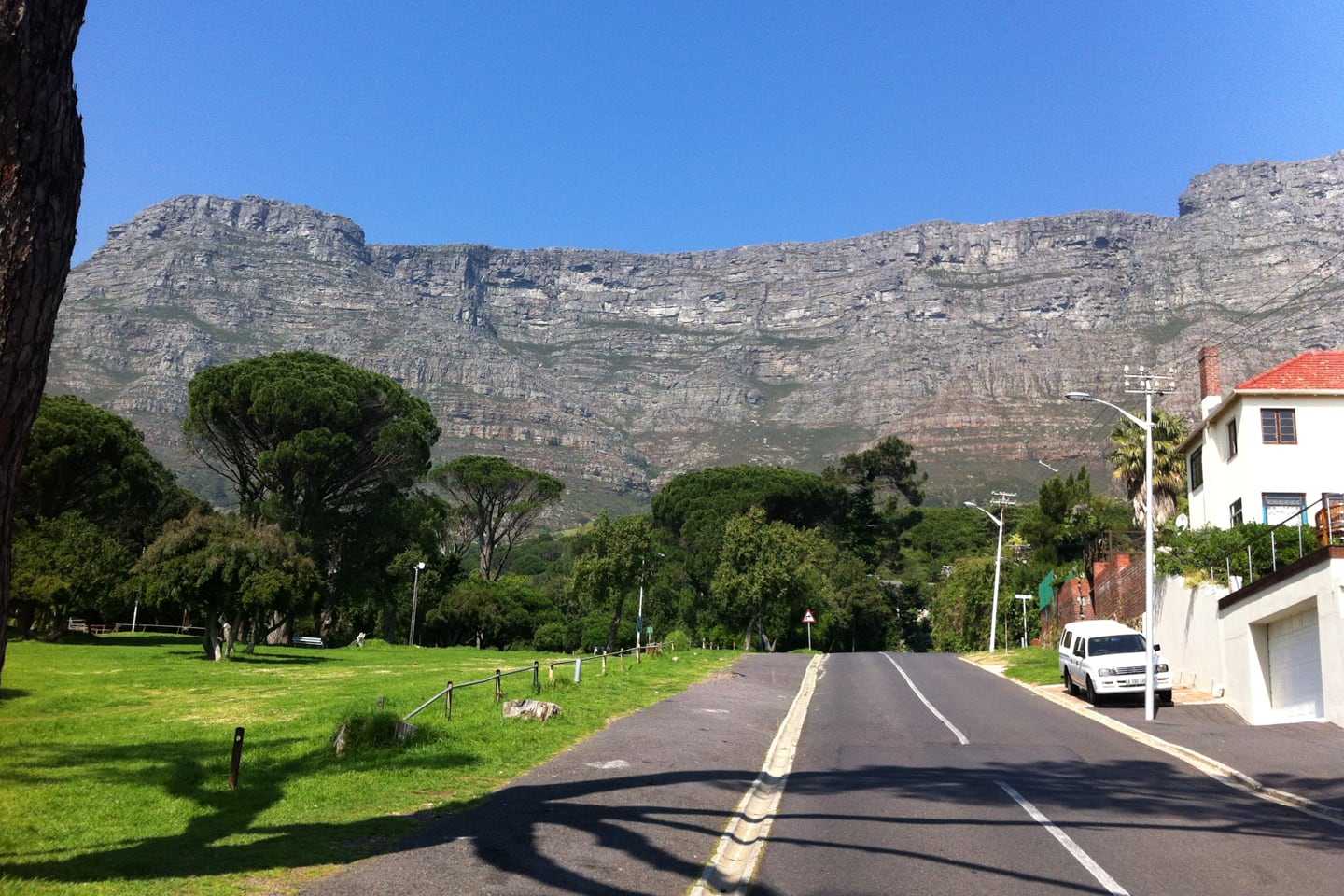 Looking out from the breakfast deck at Signal Hill Lodge, we liked to watch the cable car ferry people up to the top of Cape Town's own Table Mountain, and then back down again. The 3,000 foot monstrosity is a bit hard to miss walking around — well, really anywhere in Cape Town. V&A Waterfront — oh, Table Mountain. Bo Kaap — I see you, Table Mountain! Long Street — Peak-a-boo! Camps Bay — I see your hiney, Table Mountain. Literally, you can't loose sight of the thing.
Back in 2006, I had climbed the thing, and then to our utter dismay, were told that the cable car had been shut down due to high winds, forcing my entire climbing party of three (no sherpas…we were thathardcore) to descend the backside along the route known as Skeleton Gorge, which by all accounts was not advisable in mid-winter after the rains had caused all sorts of havoc. But we lived to tell the tale, though I vowed never, ever to ascend the mountain on a day where the cable car might not be running.
Over our five days in the city, we picked Thursday as the optimal climbing day. Sunshine and low winds were forecast. Perfect. Nothing would stop us. Mere mortals ascend in the cable car –or– take a taxi up to the Platteklip Gorge trailhead. But we wanted a challenge. Over breakfast, we decided we wanted to walk from the center of town up to the top of Table Mountain, decidedly much farther than the norm. Go big or go home, right? However, by mid-morning we would have to alter our plans a bit.
We had walked from our Lodge above Bo Kaap to our usual breakfast spot on Bree Street, Latitude 33, before walking down to Green Market to take care of some errands and ending up at Civic Center. At Civic Center, brand-new MyCity bus basses in hand, we hopped a bus to the Upper Orange bus stop at the foot of the mountain, but still an hour's hike from the Platteklip Gorge trailhead. So, began our day's Odyssey.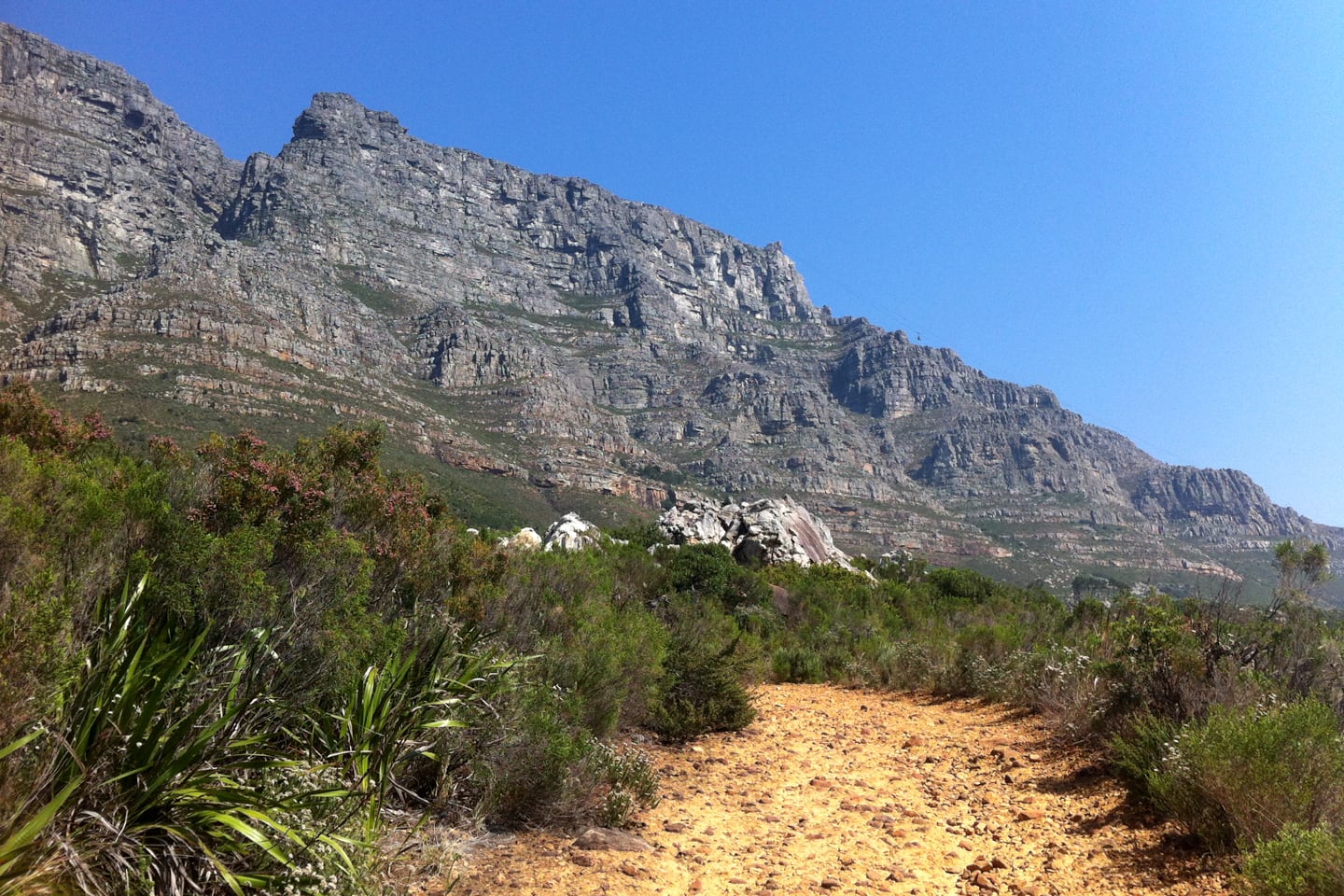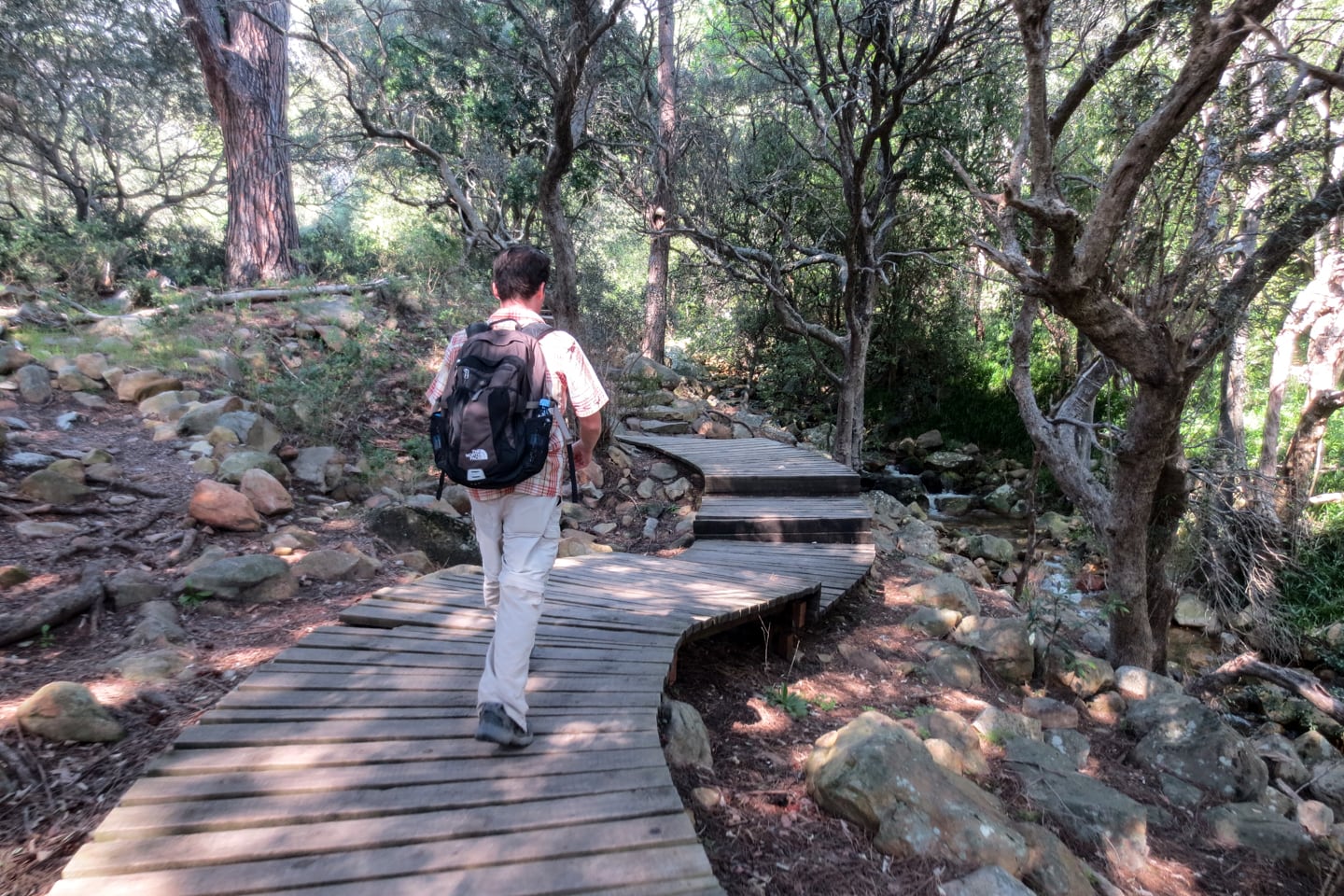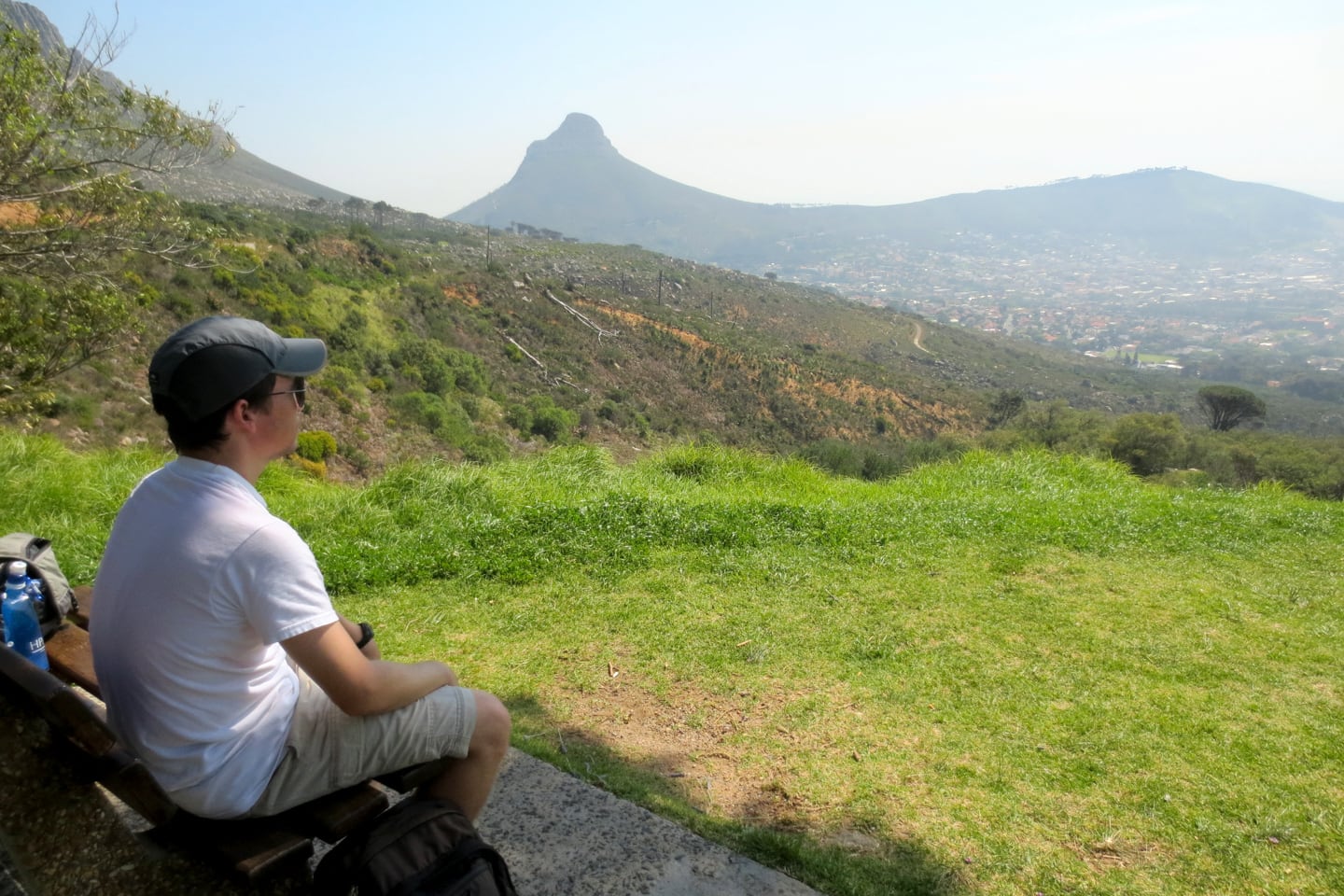 After an hour's hike, we arrived at the main road, and a large shade tree perfect for a good sit 'n' sip.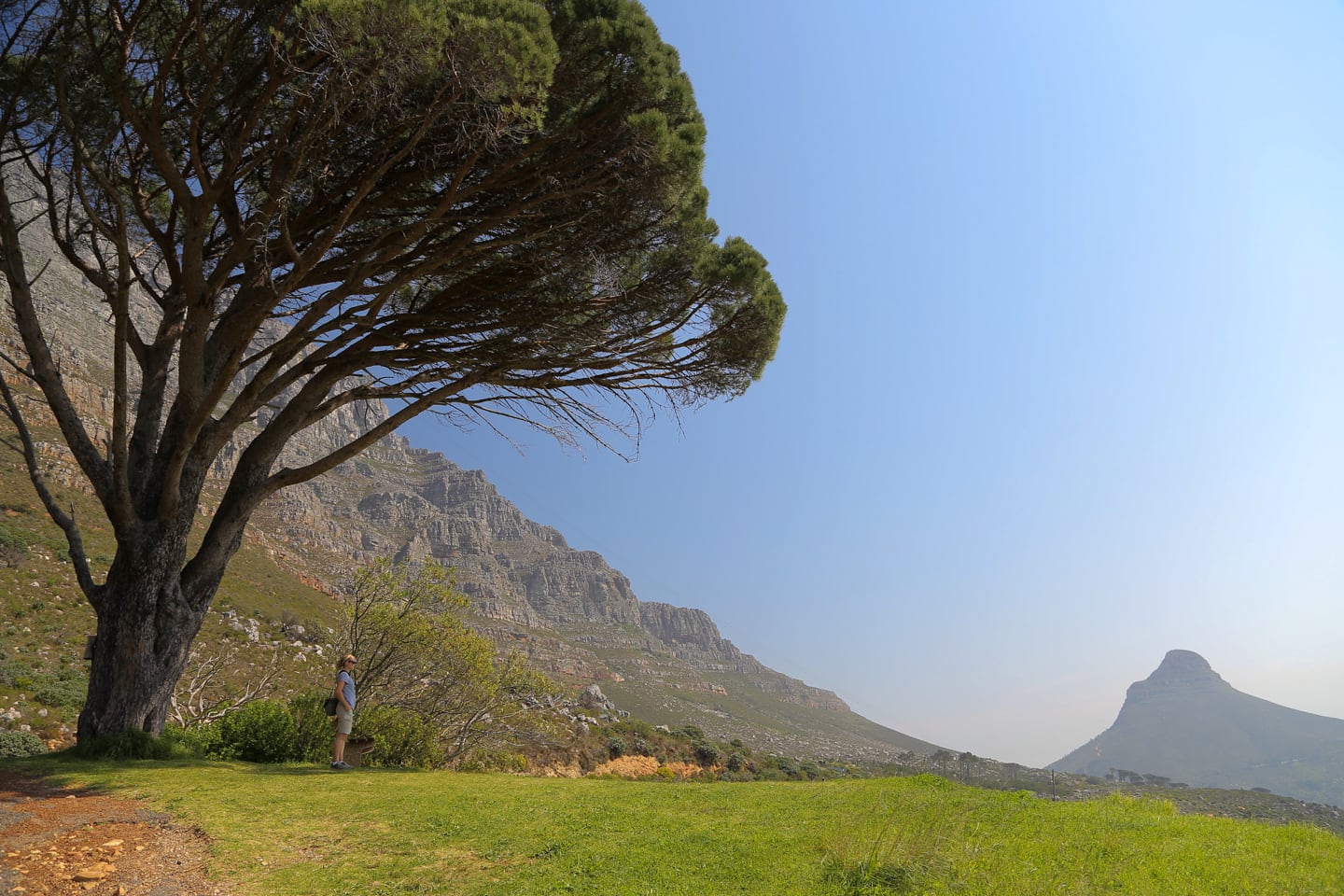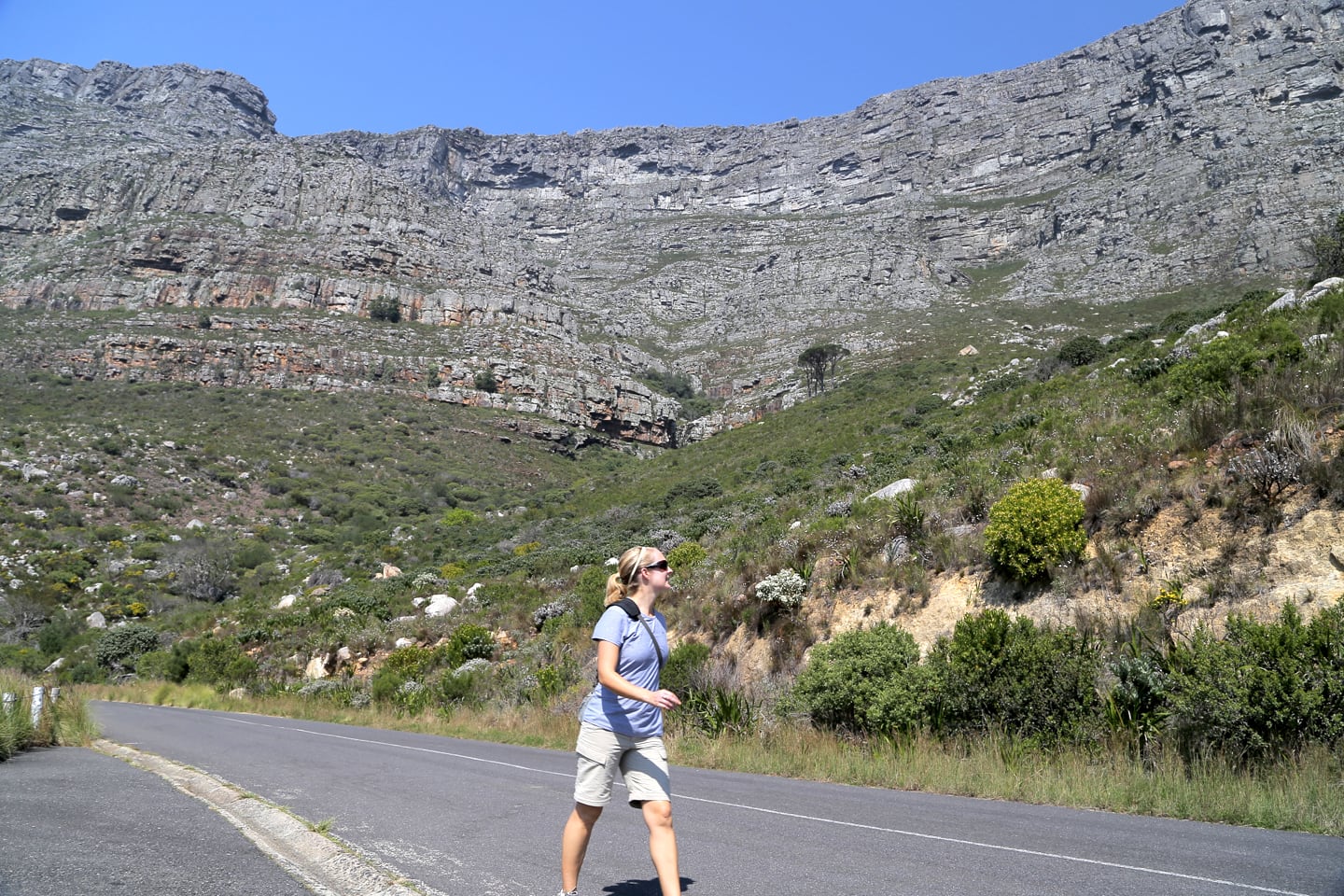 After a short rest, we headed up the highway to our next waypoint: the Platteklip Gorge trailhead.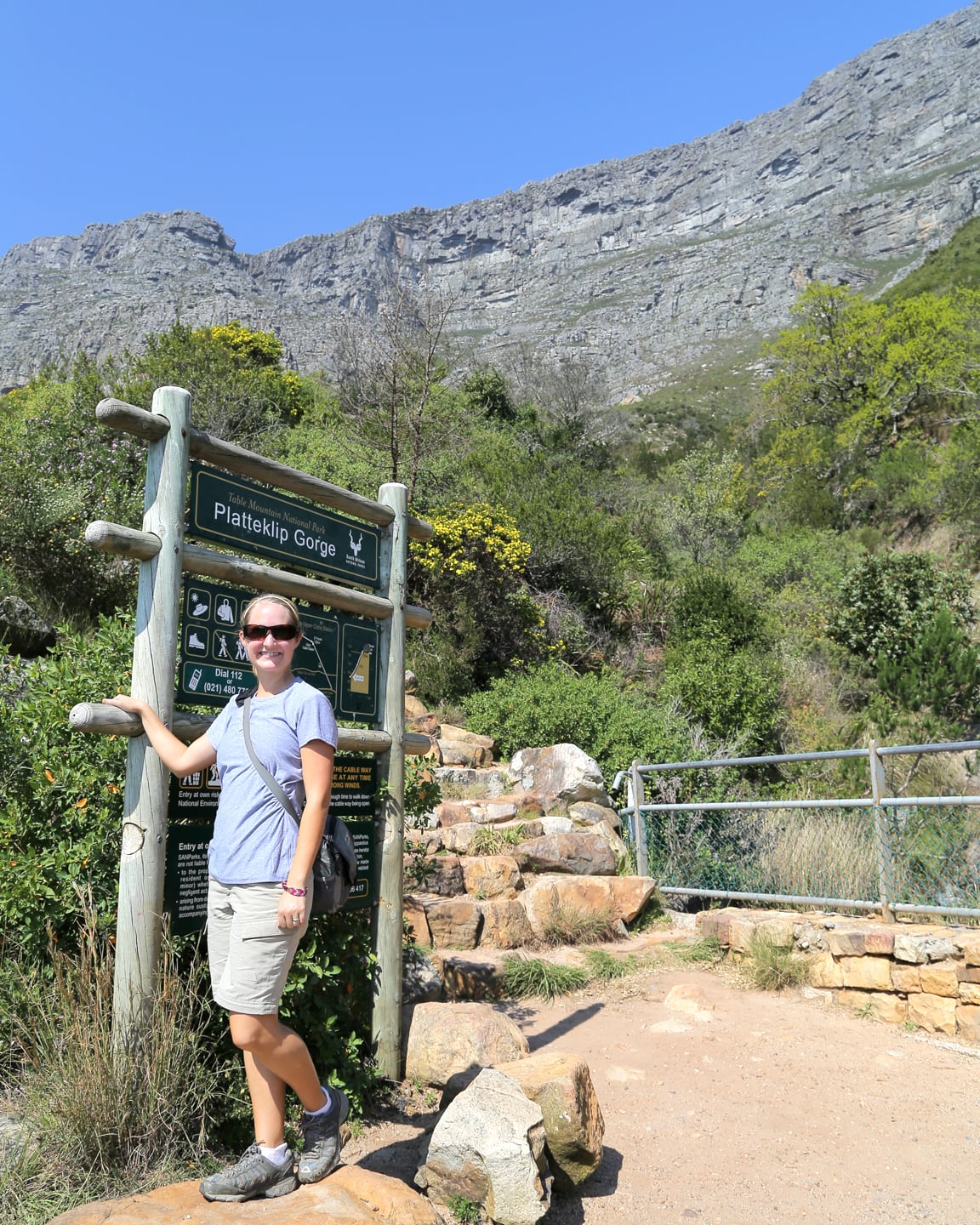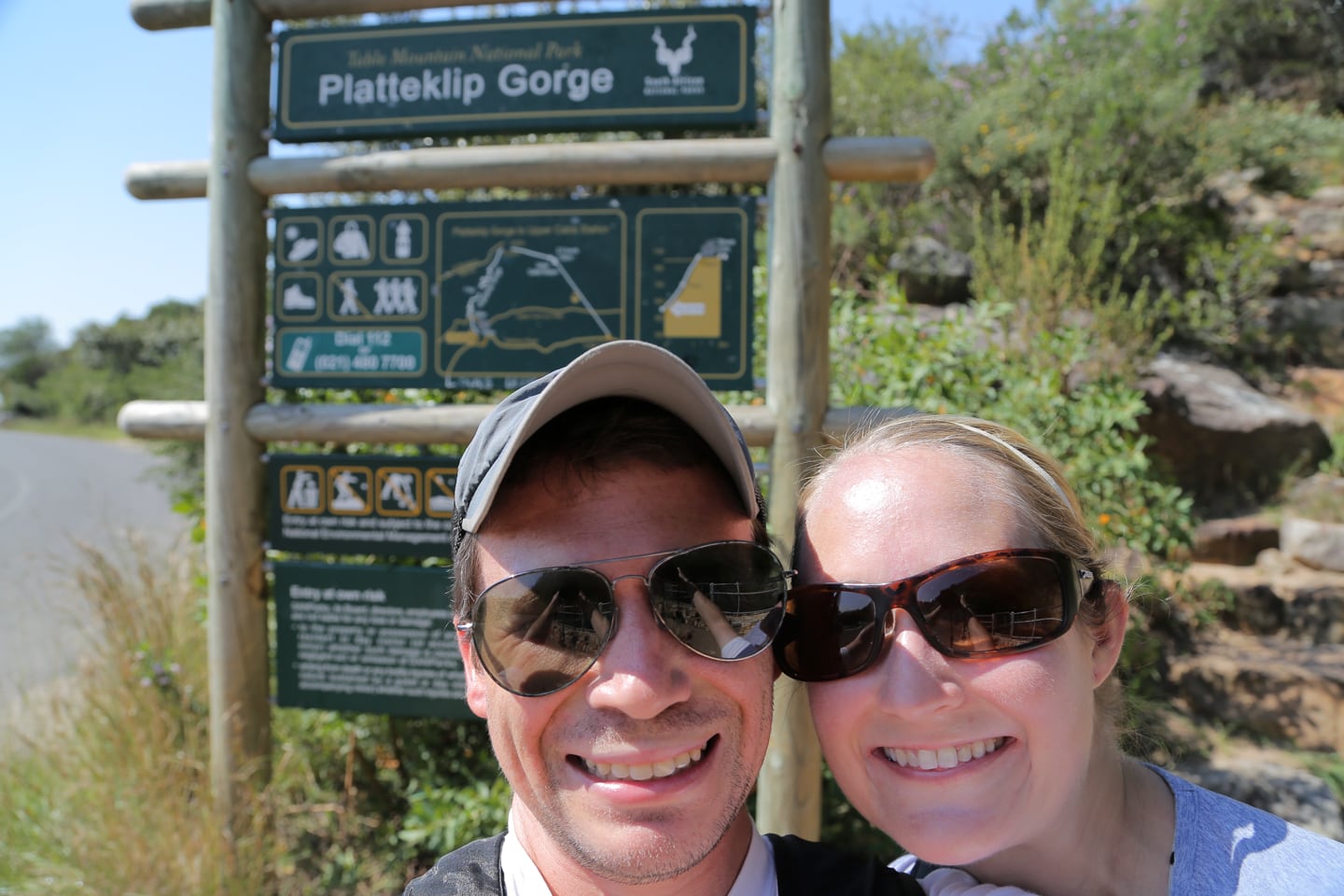 At which point, a friendly gentleman emerged from the woods in a bright yellow reflective vest to give us a quick rundown on the trail we were about to encounter and to point out important emergency phone numbers. Thank you, mystery mountain man. And with that, he disappeared back into the woods. It was time to mount up.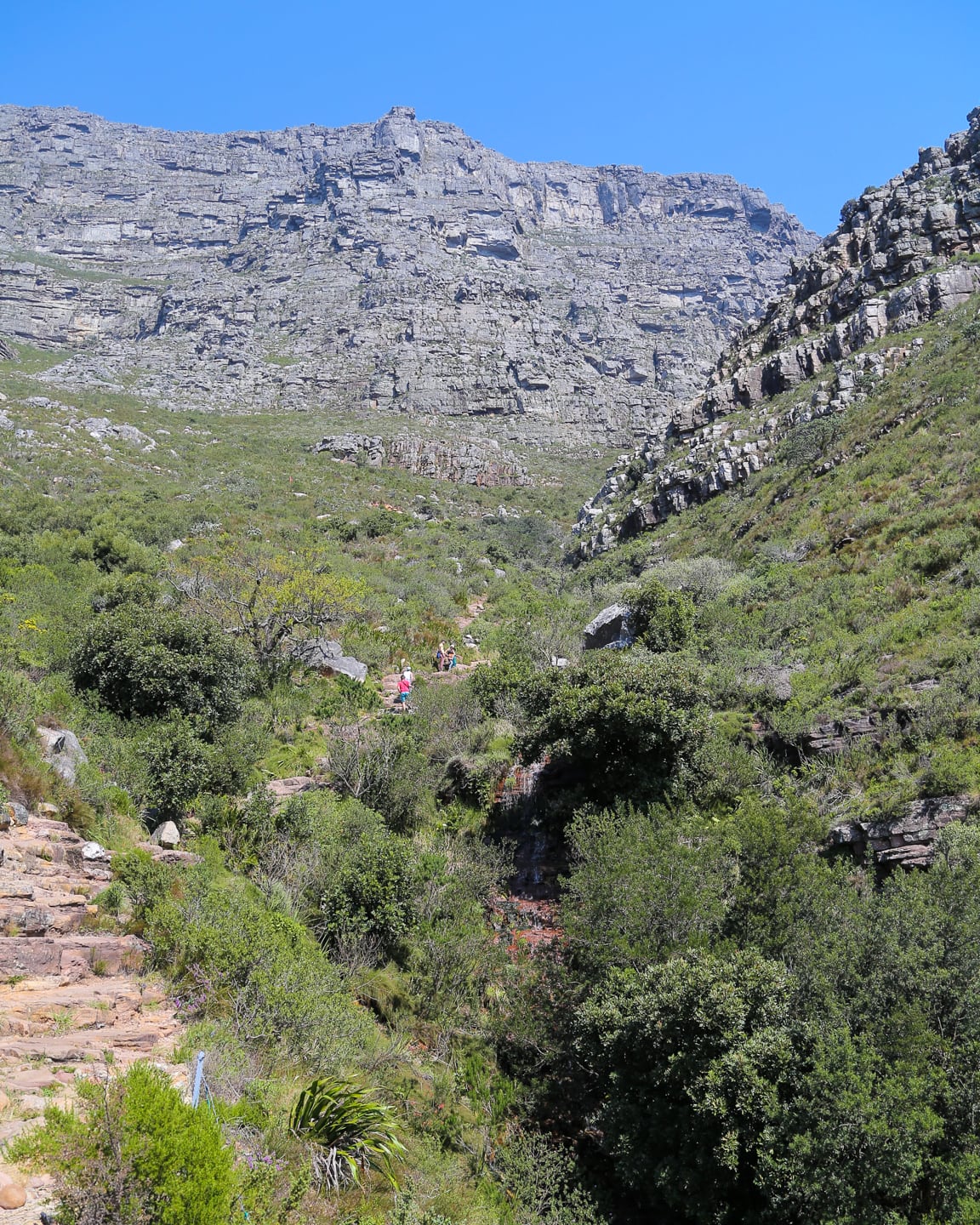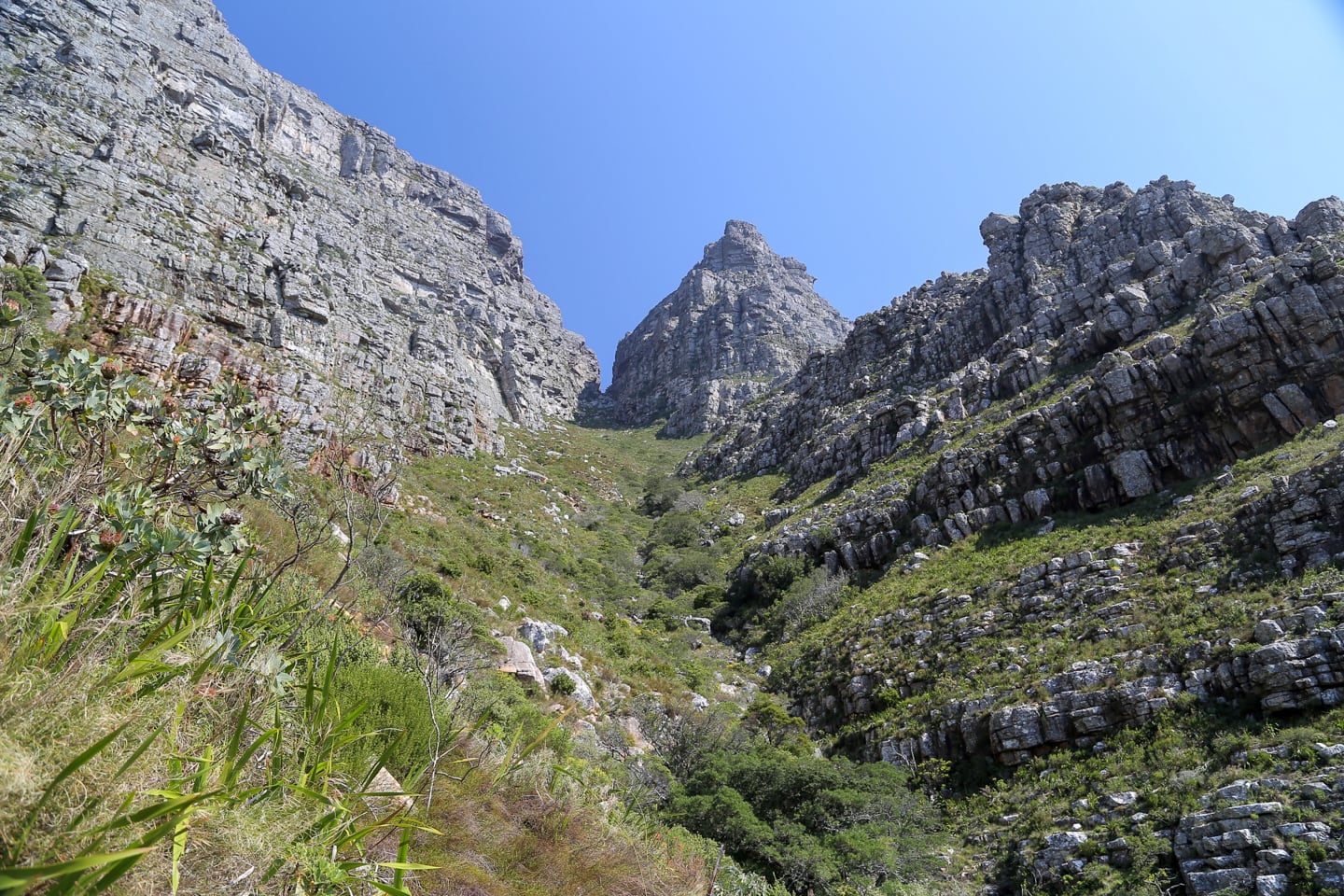 Somehow, I remember Platteklip Gorge being tiresome, but not remarkably difficult. Eight years older (and 20 degrees warmer) it was a whole other story. How spritely my steps were back in those days. How little water I needed in the dead of winter! I remember being exposed to the sun, but I didn't remember needed, yearning for so much water. I didn't remember every step being so relentlessly tiresome. By midway, I loathed my lot in life, to keep moving up, to keep moving my legs up and up and up — steps that surely were made for seven-foot tall climbers, as they must have each been a foot high. Hundreds of them…over and over.
But the views were just as I remember. Fantastic. Even in the morning haze.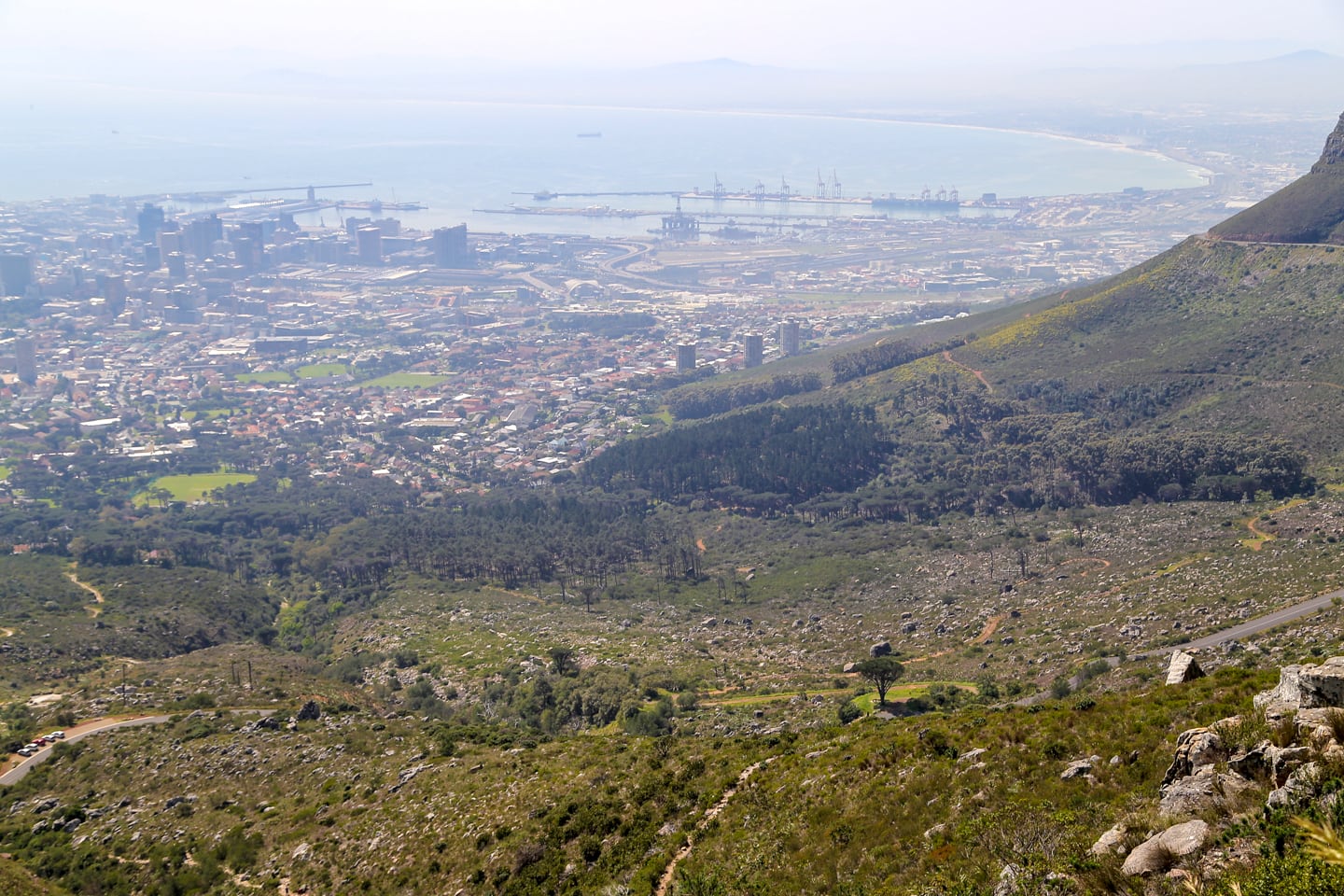 Our gaze was fixed on one spot, high up on the mountain — the shaded spot — inching ever closer. Young, freakishly tall individuals, filled with ungodly amounts of energy, leaped by us, as lead filled my shoes.
Nevertheless, we eventually reached that beautiful, prized and precious shade. So close now. Yet so far.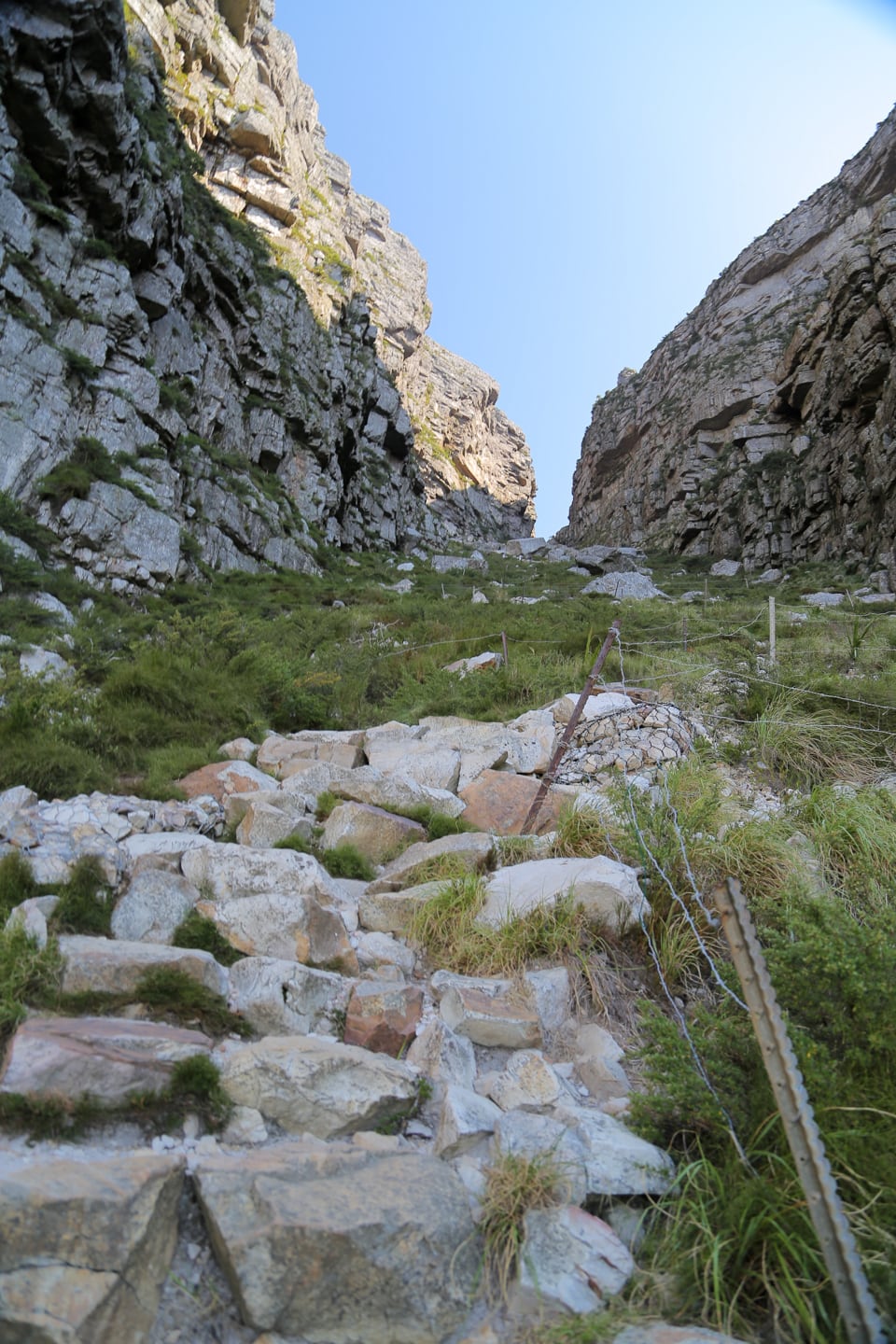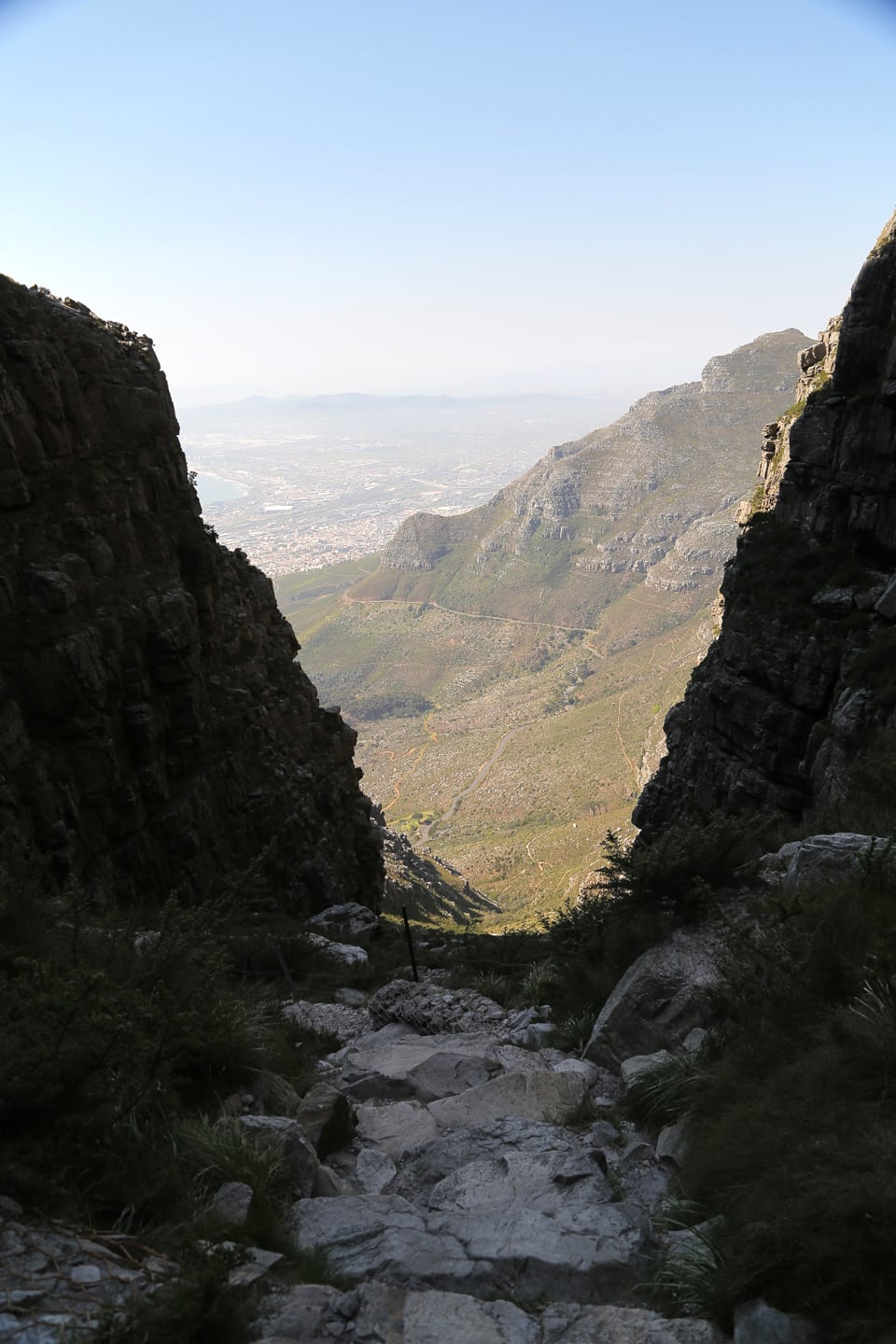 Finally, after 90 minutes of plugging away, we made it to the top of the table, so-to-speak. But not the top-top. Unfortunately, we were set on summiting, which would add another 90 minutes to our time on the mountain, for which we really didn't have the water. But forge ahead we must, and forge ahead we did.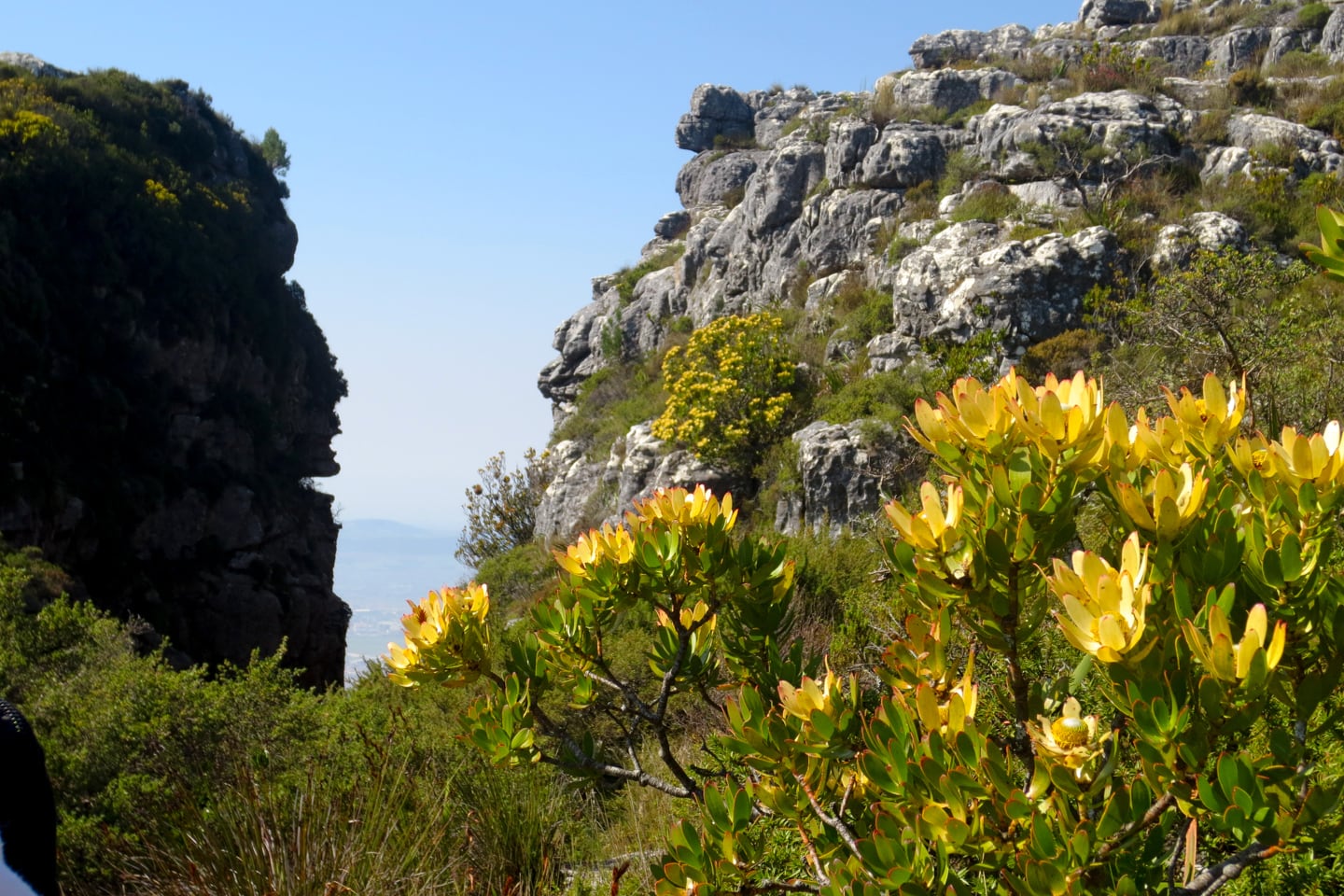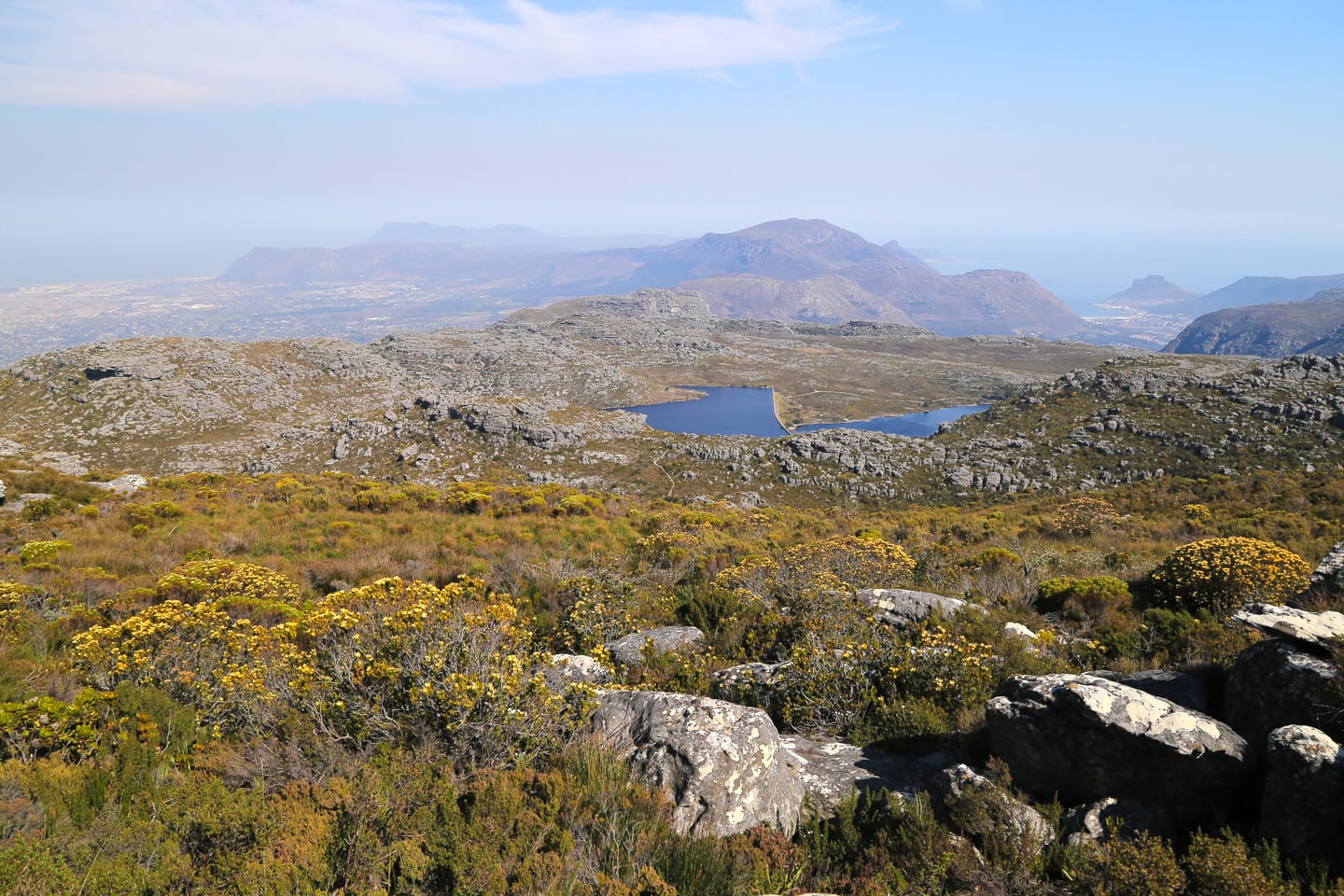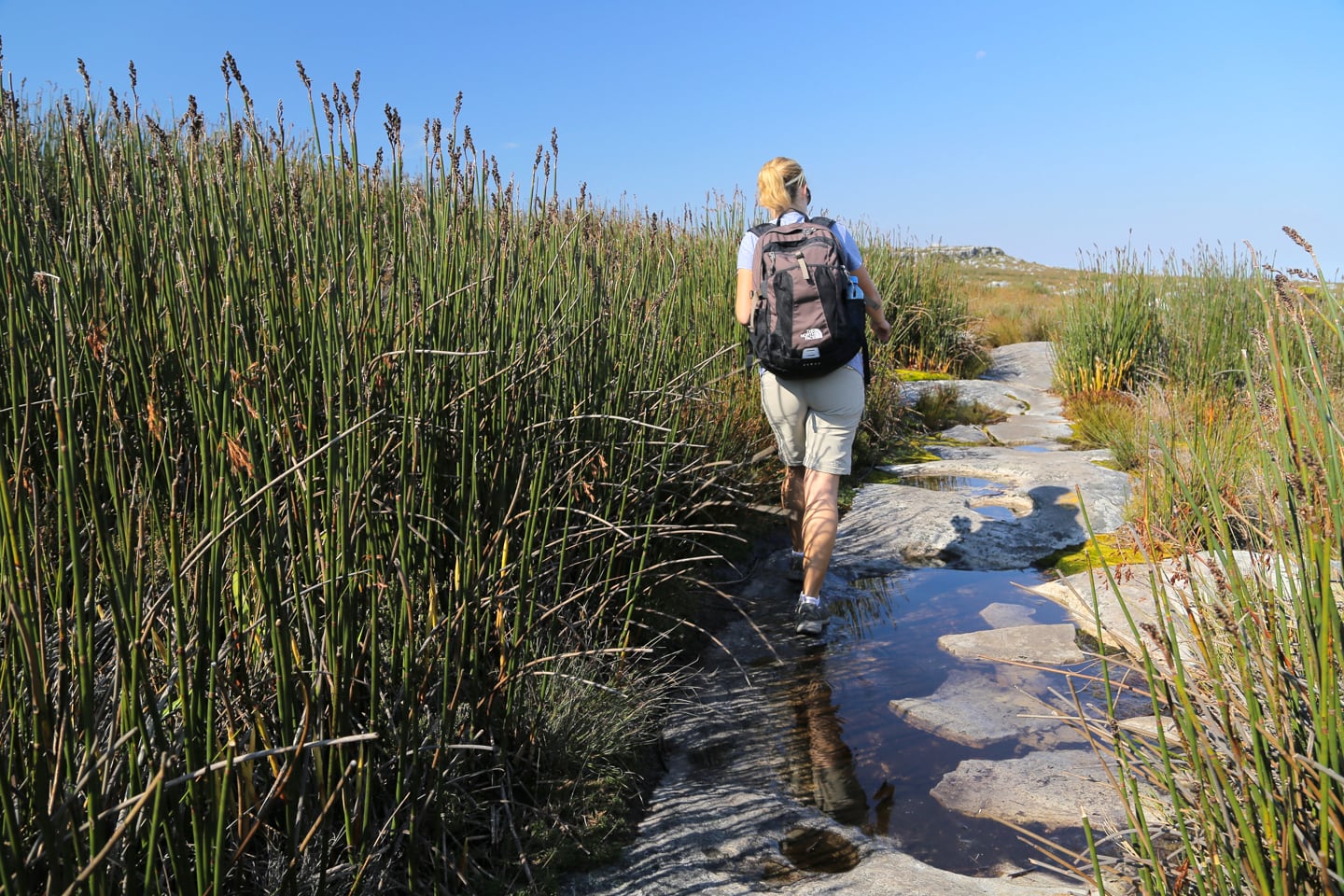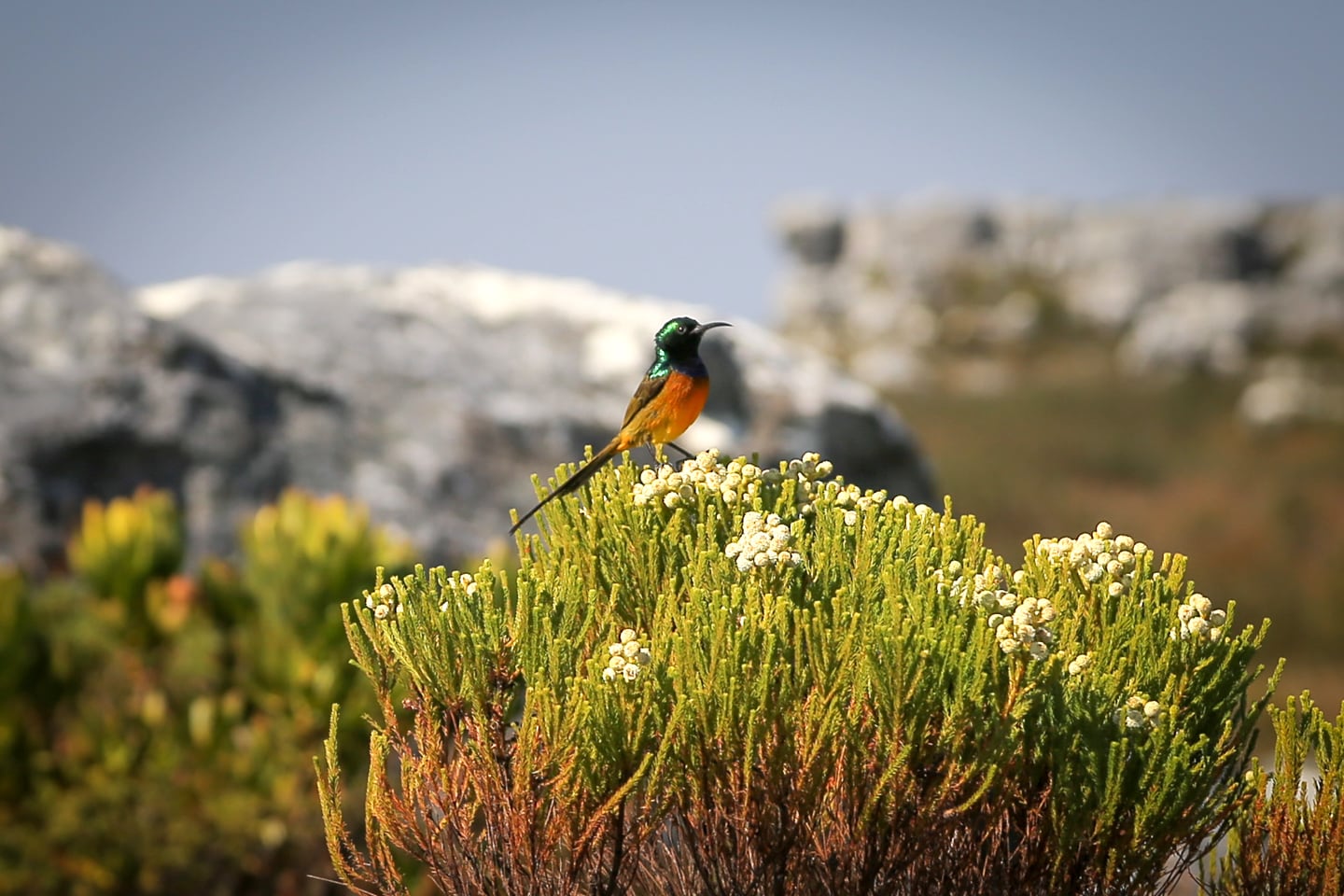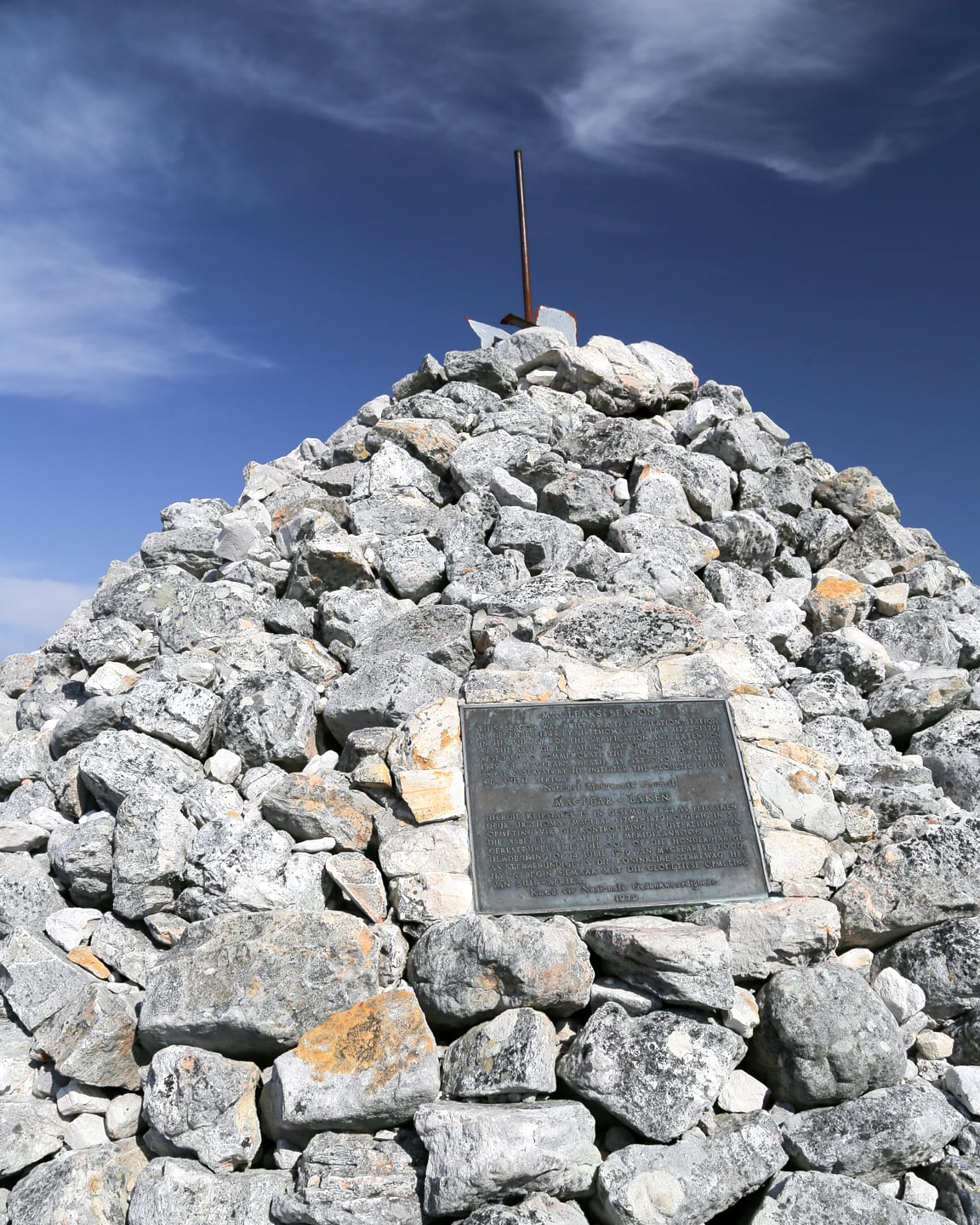 After forty five minutes of plugging along the table top of Table Mountain, we arrived at the marker — Maclear's Beacon, the highest point on Table Mountain. Great! Now, can we go get some water and some food?
Visiting Cape Town?
Check Out Today's Top Tours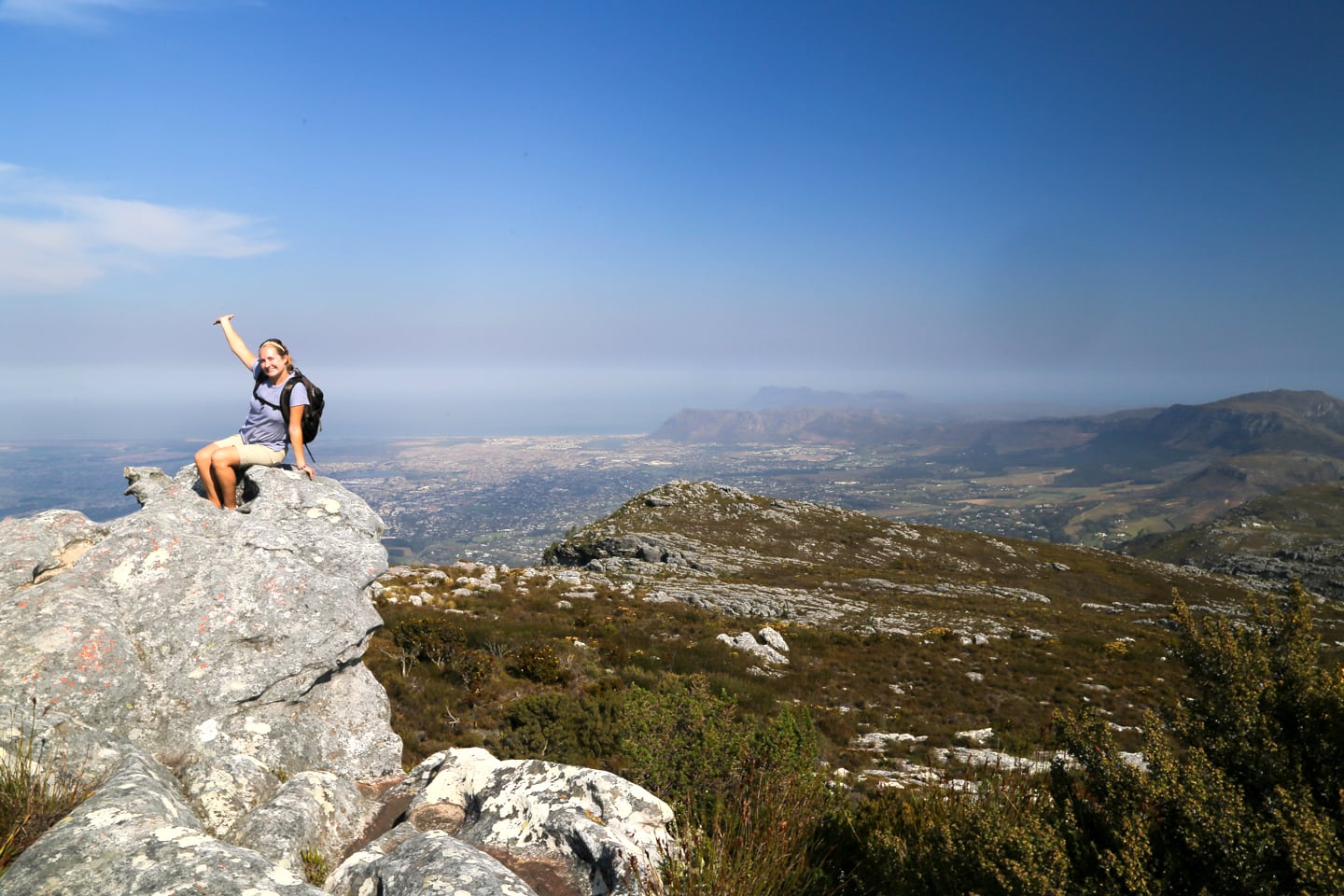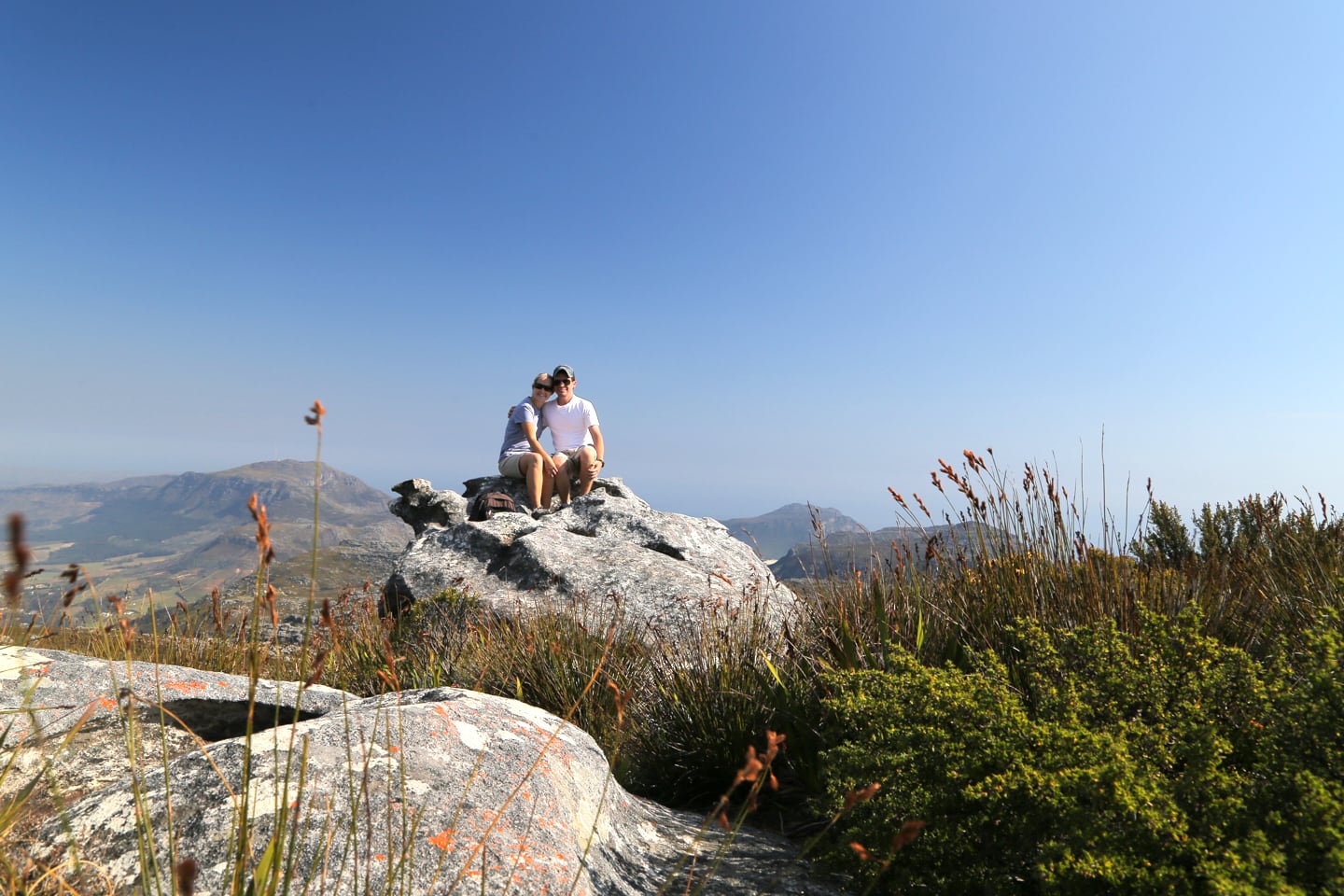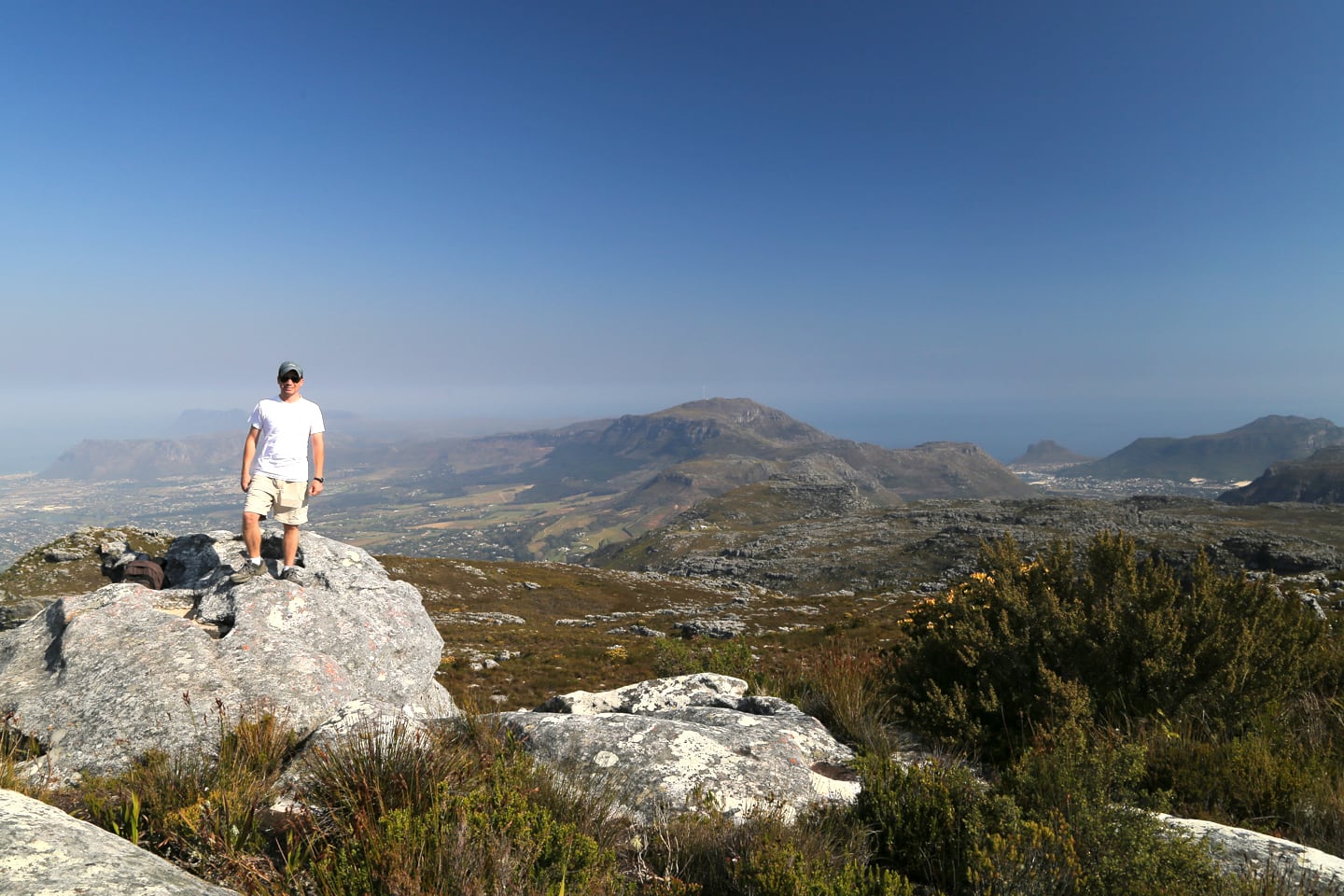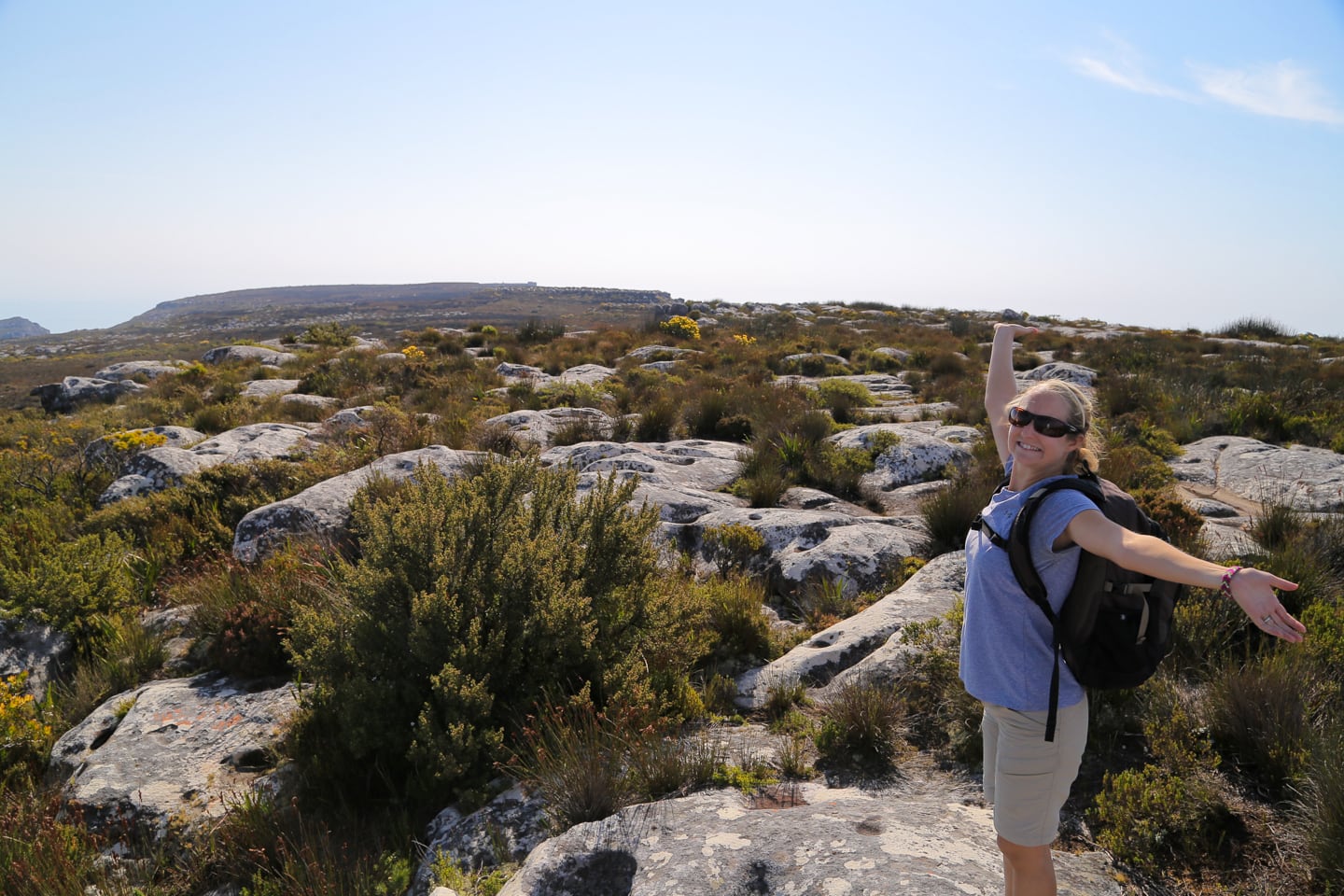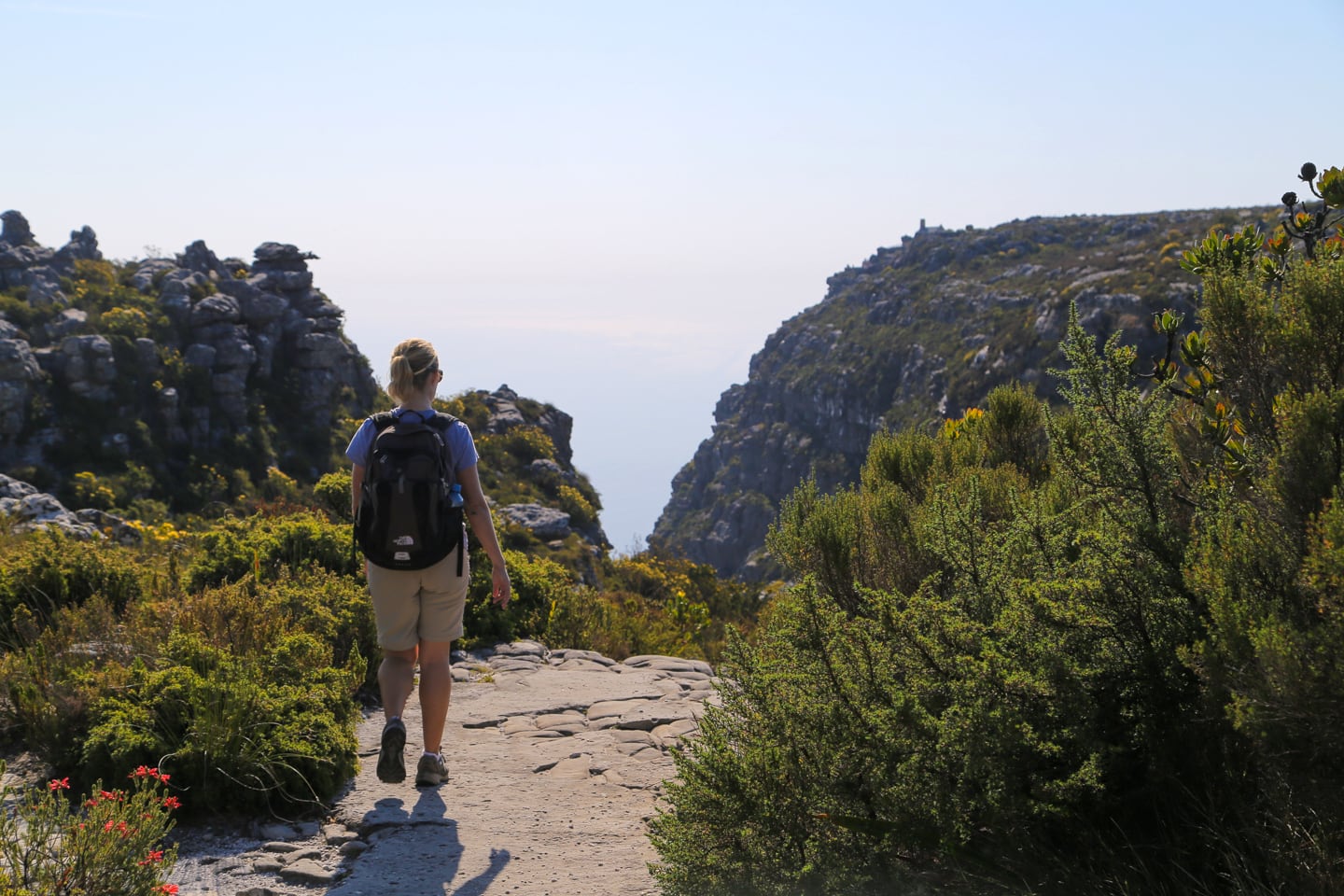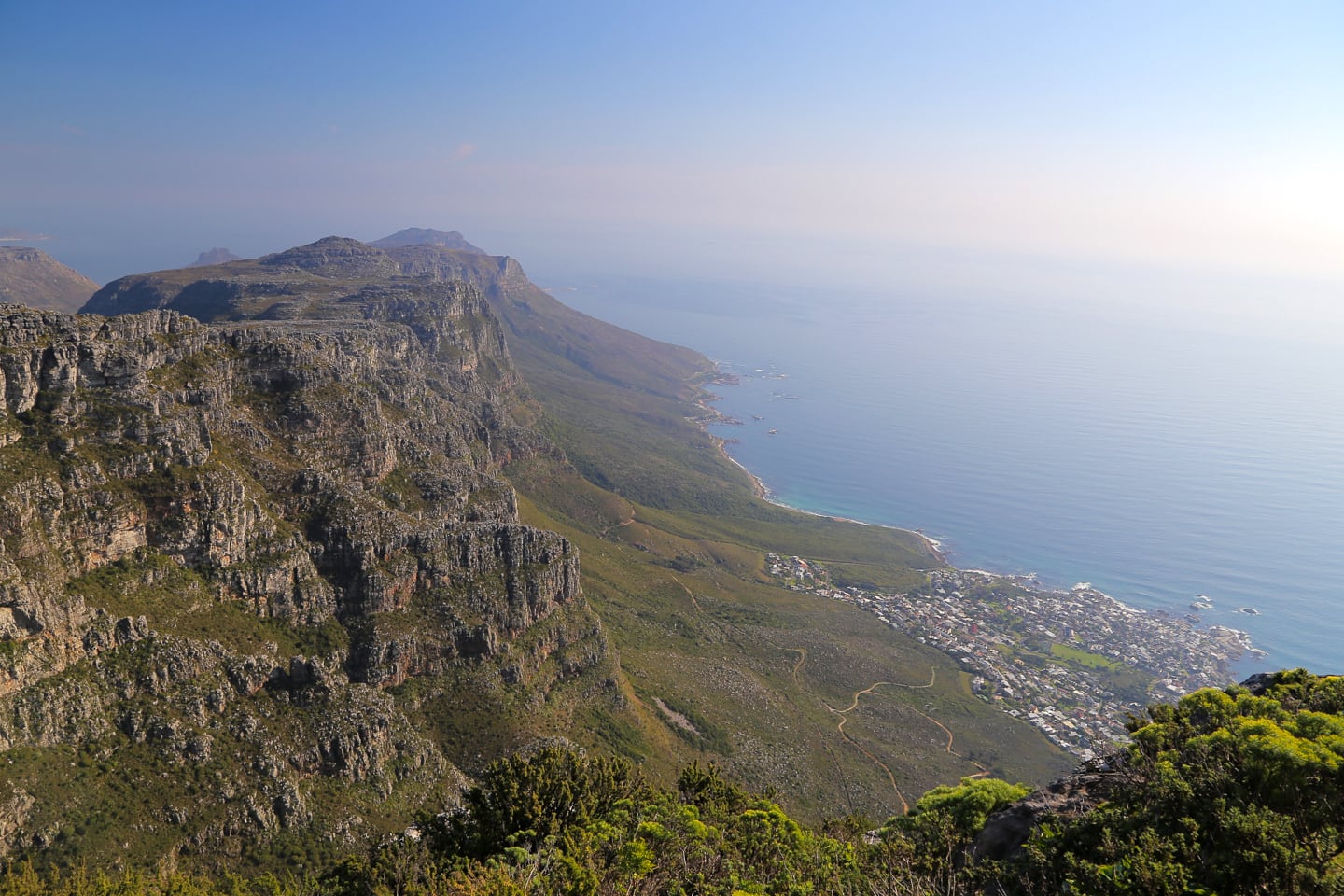 We made it back to the Cafe and had the cheese and cracker box with a bottle of South Africa's answer to Gatorade. Also, a big bottle of water. Ahh… And now we're ready to take in the view!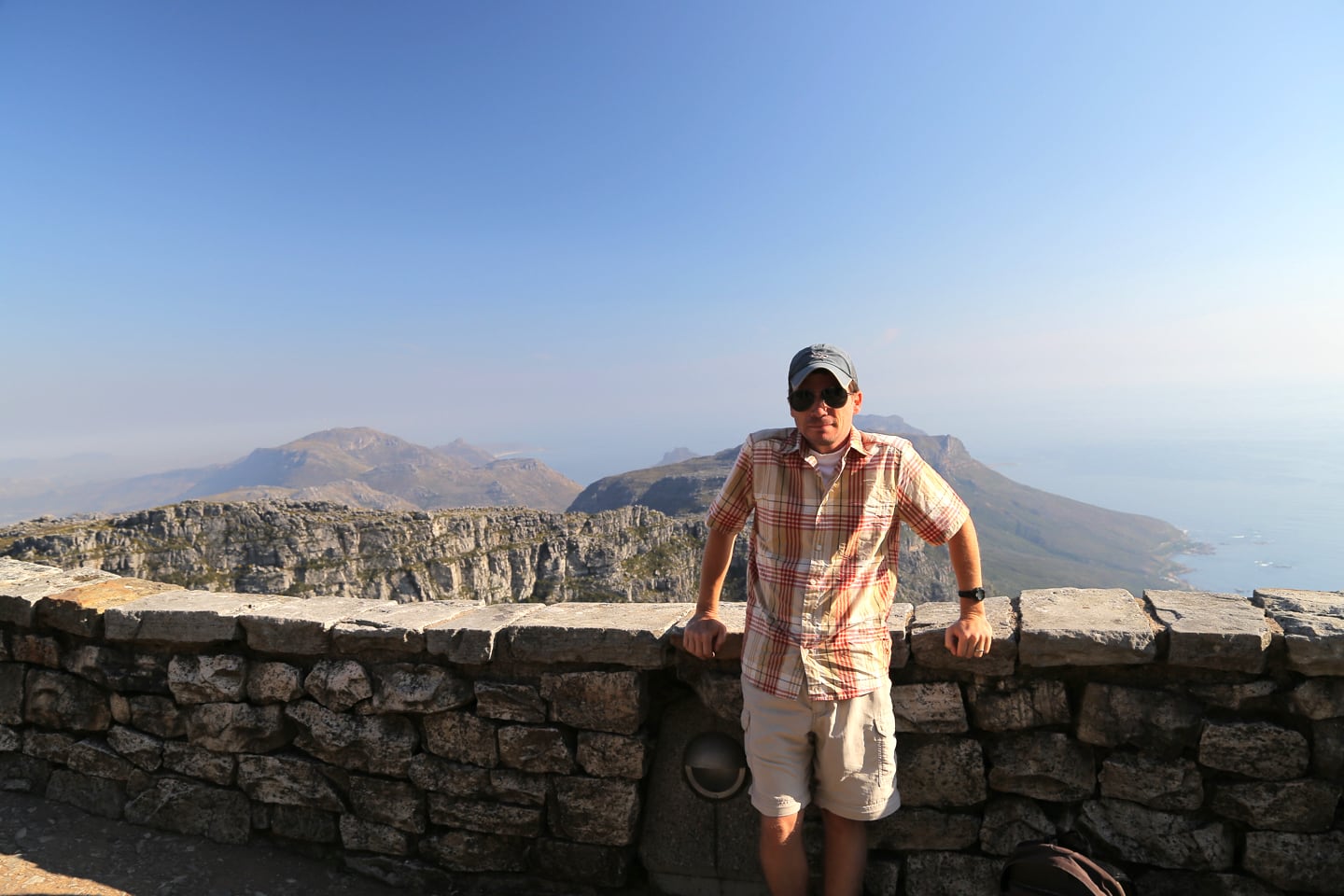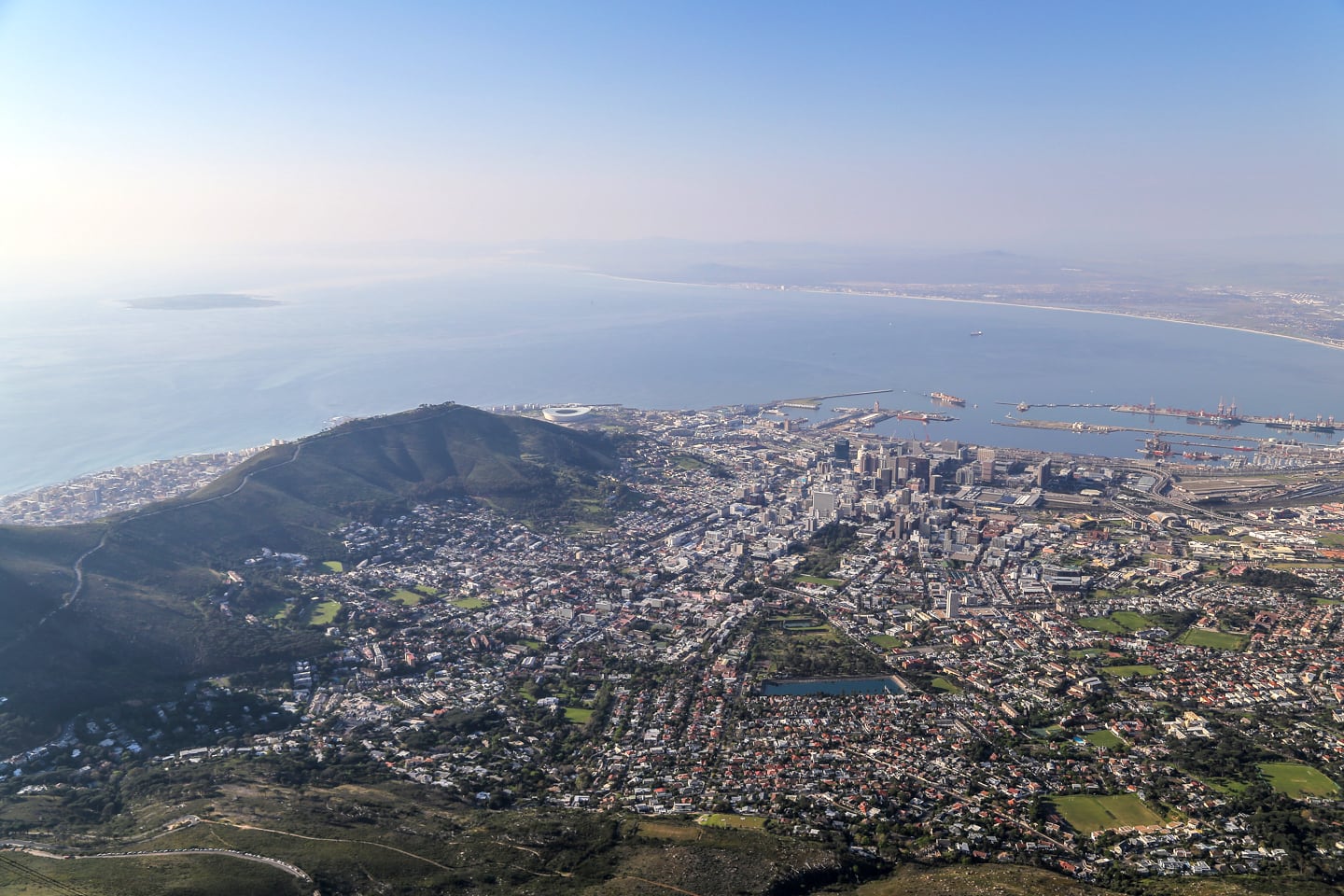 After our fabulously refreshing ourselves, we headed over to the ticket office to buy our Cable Car passes off the mountain. Lori wanted to wait, but I was a bit leery about holding off. There was no way I was going to climb back down that mountain. After my experience in 2006 and the very long day of walking and climbing, I would just assume be medivac'd off by helicopter than have to climb down.
We went to the gift shop to buy our cable car tickets, where about a half dozen workers in green were milling about, obviously bored out of their minds.
Me: Two Cable Car tickets, please!
Cashier: Um…sorry, but we're all sold out for today.
Me: Haha, you're kidding, right? RIGHT!!!?
Cashier: No, I'm terribly sorry! All sold out. You're going to have to climb down.
NOOOOOOOOOOOOOOOOOO!
TO BE CONTINUED….