We spent the month of February with Lori's parents, traveling around Belize and then on to Mexico's Yucatan peninsula.
After staying in the colonial "Yellow City" of Izamal and taking in the UNESCO Mayan city of Chichen Itza, we headed east to Cancun. Honestly, when we were planning the trip, Cancun didn't factor into our plans. But after giving it some thought we decided that it might be a bit weird to spend 10 days in the Yucatan without taking in one of Mexico's top tourist destinations. So we added a two night stop to the itinerary to see what had been missing in our lives all of these years.
The toll autopista (expressway) heading east to the Caribbean coast.
Cancun is actually a pretty fascinating place. None of us knew what to expect and upon arrival, it was very clear that none of us had ever been anywhere quite like Cancun. While Lori and I had been to numerous of beach towns over the years, we tended to avoid the big tourist destinations. But can you really go to Rio without visiting Copacabana or Ipanema, or Honolulu without visiting Waikiki? I mean, really, how could one of the world's top destinations for millions of half-naked drunken college kids not be a place you'd want to spend a few days with your in-laws, right?
A quick bit of background on Cancun. The city of Cancun has a current population of just over 633,000 and hosts over 2 million tourists every year. Yet, Cancun wasn't always the party capital of Mexico it is today. In fact, in 1970 it looked like this:
Cancun — as we know it today — is actually a planned community from the ground up. It was an initiative undertaken by the Mexican government to breathe new life into the fledgling Yucatan economy. The plan was to take a sandy spit surrounded by turquoise waters and make it into a playground for the rich and famous that would rival Acapulco, Mexico's best known beach destination of the time. When development began in January of 1970, Isla Cancún (as it was known) had only three residents, caretakers of a coconut plantation.
Fast-forward four decades and, well, you get: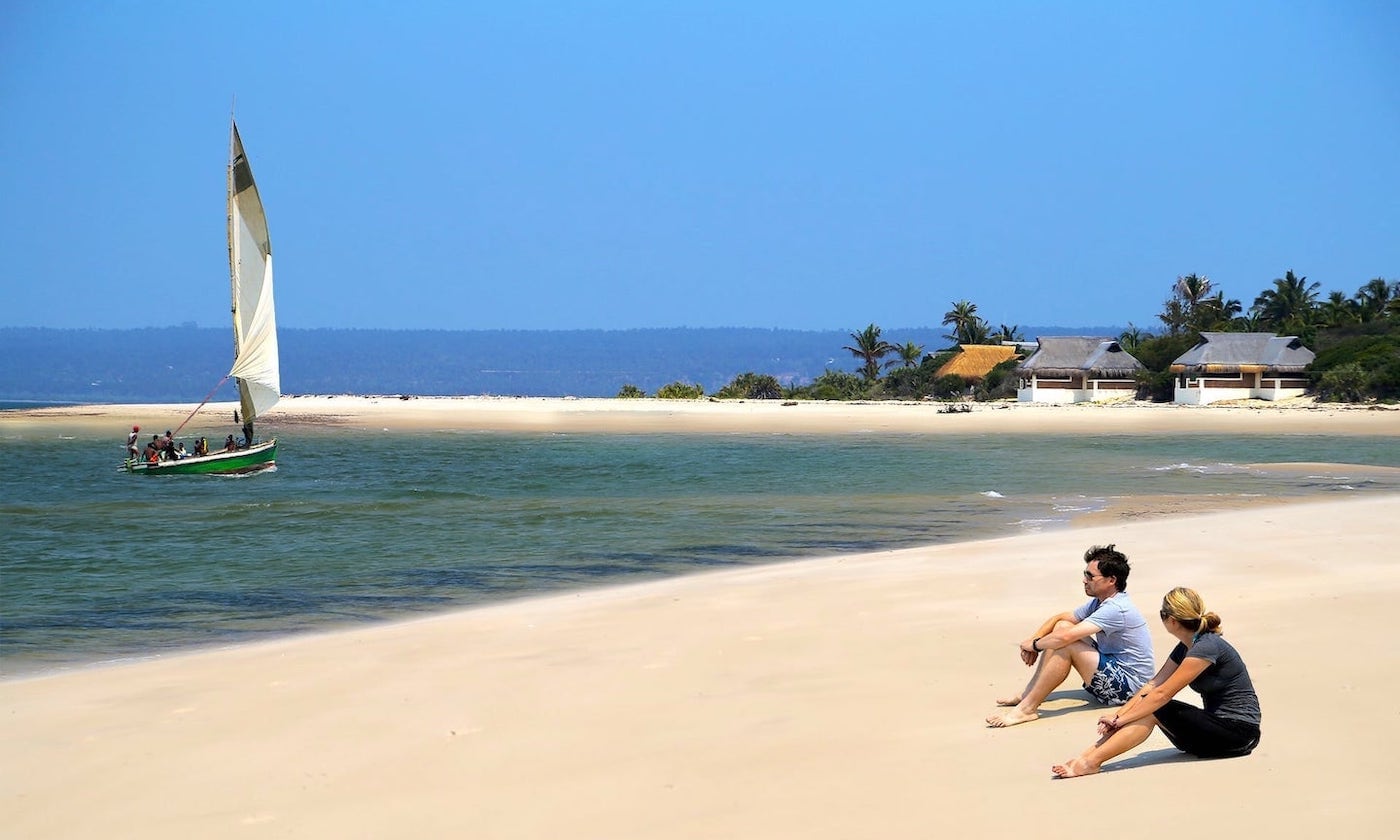 Get Informed. Get Inspired. Get Going.
Get our best travel tips and latest updates in your inbox. And get going!
For more information on how we use your data, see our privacy policy. Unsubscribe at any time with one click.
Day One
Playa Tortugas
We arrived in Cancun in the evening and thought it might be nice to take a stroll along the beach, then find a nice happy hour overlooking the sea. We ended up staying in a hotel a little off of the main drag, which experience had taught us is the way to go in these sorts of places to avoid the rifraf of the party city, loud music, drunk people, etc. (okay, honestly, we were traveling with Lori's parents and wanted to keep our rock & roll  ("YOLO") lifestyle under wraps, you know how it is…) On a map, we were less than a mile from the turquoise waters of the Caribbean — no problem, right? Wrong! In Cancun, it seems, if you're not staying on beach, you're treated like a second class citizen.
This is not simply hyperbole. Literally, in Cancun they make you crawl and clammer over rocky cliffs, walk sheepishly through fancy hotel lobbies, and even sneak through breaks in cyclone fencing (as you'll see later) just to access public beaches.
There are only about a half-dozen legitimate access points for the public to access the water along the most central seven-mile stretch of coastline (about one public access point every 1-2 miles). By Mexican law, the entire coastline in Cancun is 100% open to the public, and no one can legally refuse you the use it. But businesses can refuse access from the road to the beach, and in Cancun hotels and restaurants do everything in their power to make it as difficult as possible to get to the beach.
That short stroll ended up turning into about 40 minutes of walking west around a very large barbed-wire compound (and golf course) until we arrived at the public beach access, where we cut through and immediately started heading in the opposite cardinal direction.
From there, it took another 30-40 minutes of clamoring over rocks and wading through surf to get closer to the center of the action where we thought we might find some small bars serving a happy hour on the sea. However, as we approached the point, we noticed a whole lot of all-inclusive "resorts" and not a single restaurant catering to the likes of us.
After nearly reaching the Point, we had had enough and ended up trudging through the lobby of some overpriced hoity-toity bastion of social decline.
With that said, there's no denying that the beaches and sea in Cancun are gorgeous.
The north shore is calm and tranquil, with crystaline water lazily lapping soft white sands. The eastern shore is quite a bit rougher, but has the wide beaches and deep blue waters that Cancun is known for.
Sunset over the lagoon in Zona Hotelera.
Somehow, after multiple hours and miles walking, we ended up here, at Casa Tequila — not exactly what you'd call an authentic local Mexican eating establishment, but the price was right and they actually had Mexican food (surprisingly not as easy to find in the Hotel Zone, though we hear much easier to get in Cancun City, which lies several miles to the west). The food was tasty and they offered Mexican craft brews in frosty mugs, which was both intriguing and fairly tasty.
TIP: The second night we did find a great little local eatery called Tacos Rigo that had just opened up near Plaza Dady'O between the separated north and south thoroughfares of Boulevard Kukulkan. It's tucked in a plaza and not easy to find, but it's cheap and very tasty. Apparently they have another location in Cancun City that's been open for decades, but in the City I'm sure these places are a dime a dozen. In the Hotel Zone, however, it was a welcome surprise.
Next-door to Casa Tequila, there was this very large cylindrical structure (above) marking some establishment that had since closed. Looked like it was an interesting place…
This also looked like an interesting place. Can't say I've partied in a shopping mall before. I'm sure the laundry service comes in handy after a particularly entertaining evening out with friends…
Lori and I hadn't seen a McDonald's in over six months, and as absence makes the heart grow fonder, we felt particularly drawn to the Golden Arches during our time in Cancun.
Are You Covered?
Find out why we use World Nomads for all our independent travel.
Lori had been craving a chocolate sundae from McDonald's, and as fate would have it, she won a two-for-one deal in the screw-cap of a Coke I bought on the drive up from a convenience store. So, after dinner, we strolled over to Plaza Dady'O, as it were, and treated the crew to chocolate sundaes. However, the Cuarto de Libra was calling my name and so the next day, we returned for a late lunch in which I basked in the taste of the clown's savory siren song, which nearly brought a single tear to my eye.
Day Two
So, I know what you're thinking, right? We totally pulled out all the stops for Lori's parents. Holiday Inn, baby. No, scratch that. Holiday Inn EXPRESS. Triple lux. Champagne wishes and caviar dreams. I mean, get a load of that pool, yo!
In all honesty, the place was a great value. In addition to the phat pool with the waterfall, full-on Mexican breakfast was included and parking was free and easy. Now, I triple-dog-dare you to try and find all three of those things in a hotel in downtown DC.
After a fabulous breakfast of chiliquiles, fruit and pastries, we hopped on the R1 bus and headed to the beach! (yeah, we decided against walking, this time). But first, there was some very important business I had to attend to.
Yep, that's right. Iced-Grande-NoWhip-Mocha. First visit to Starbucks in about six months. I was supposed to share it with Lori, but we both quickly realized that was just wasn't happening. Sorry, hun.
While waiting for my foofy coffee drink, this gave us a good laugh. Granted, half the places in the world that claim to recycle probably just throw everything in the trash at the end of the day. But this takes it to a whole other level…
Playa Chac-mool
Ok, so you remember that whole thing about being treated as second-class citizens for wanting to access the beach? You don't believe me? What if I told you that this is what we had to resort to — entering through a hole in a cyclone fence? We followed the signs to the Chac-mool "public beach" eager not to repeat the prior evening's experience. After all, we wanted to be upstanding and respectful visitors maintaining some degree of dignity (there's a first time for everything, right?). We tried our best to find a proper access point to the beach, but this is what Cancun reduces you to, I guess.
But we were indeed rewarded for our shady efforts with a beautiful day and even more beautiful stretch of sand and surf. Speaking of shady, shade was definitely an issue on Playa Chac-mool. You have this massive, beautiful white sands beach, but it is HOT. No palm trees, no umbrellas for rent. That's not to say that there's a shortage of umbrellas or palapas in Cancun — oh no, there are plenty. But they all belong to the all-inclusive resorts who were not in the business of renting them out. Luckily, in true stowaway fashion, we were able to snag a primo spot in the shade of a parasail tethered to the ground.
Day Three
Playa Delfines
On our way south out of town headed for Playa del Carmen, we stopped at Playa Delfines (Dolphin Beach), and glad we did.
Not only is it one of the nicest stretches of beach in the entire area, it has great public access and a decent size parking lot. Plus, its got many small thatch palapas for shade — no sneaking through rusted fencing or scrounging for shade here! If we did come back, this would be the place we'd likely spend most of our time. Pack a lunch, some beers and a book and you're set.