Buying a used golf cart can feel overwhelming, befuddling, or just downright scary. Most of us have gone through the process of purchasing a car, pickup, or SUV. But when it comes to buying a golf cart, it's hard to know where to start or what to look for.
If you've never owned a golf cart, there are a number of considerations specific to this type of vehicle that you'll want to familiarize yourself with before even thinking about looking for the right cart for you.
A number of questions are bound to crop up along the way: Gas vs. electric? One or two seats? ClubCar, EZGO, Yamaha, or another brand?
To be able to answer these questions, you'll need to give some good thought about your lifestyle, budget, and what your primary intended use will be. These things will help decide which kind of golf cart you ultimately end up with, and, more importantly, whether you'll be happy with your purchase.
---
Related
---
Many first-time buyers are surprised by the price of golf carts relative to more mainstream vehicles. Golf carts are not cheap! All the more reason to do your due diligence to help increase the chances that the cart you get will end up being a good investment for your money and lifestyle.
In this guide, we highlight the most essential considerations to help guide and inform your decision making, empower you as a buyer, and ultimately help you find the right vehicle for you and your individual situation.
This guide is based on our own experience buying and owning a golf cart, in addition to numerous hours of research and conversations with experts and professionals.
While the focus of this guide is what NOT to do when buying a used golf cart, you'll find plenty of tips for things you should be doing at each step in the process.
Let's get started!
10 Things NOT To Do When Buying a Used Golf Cart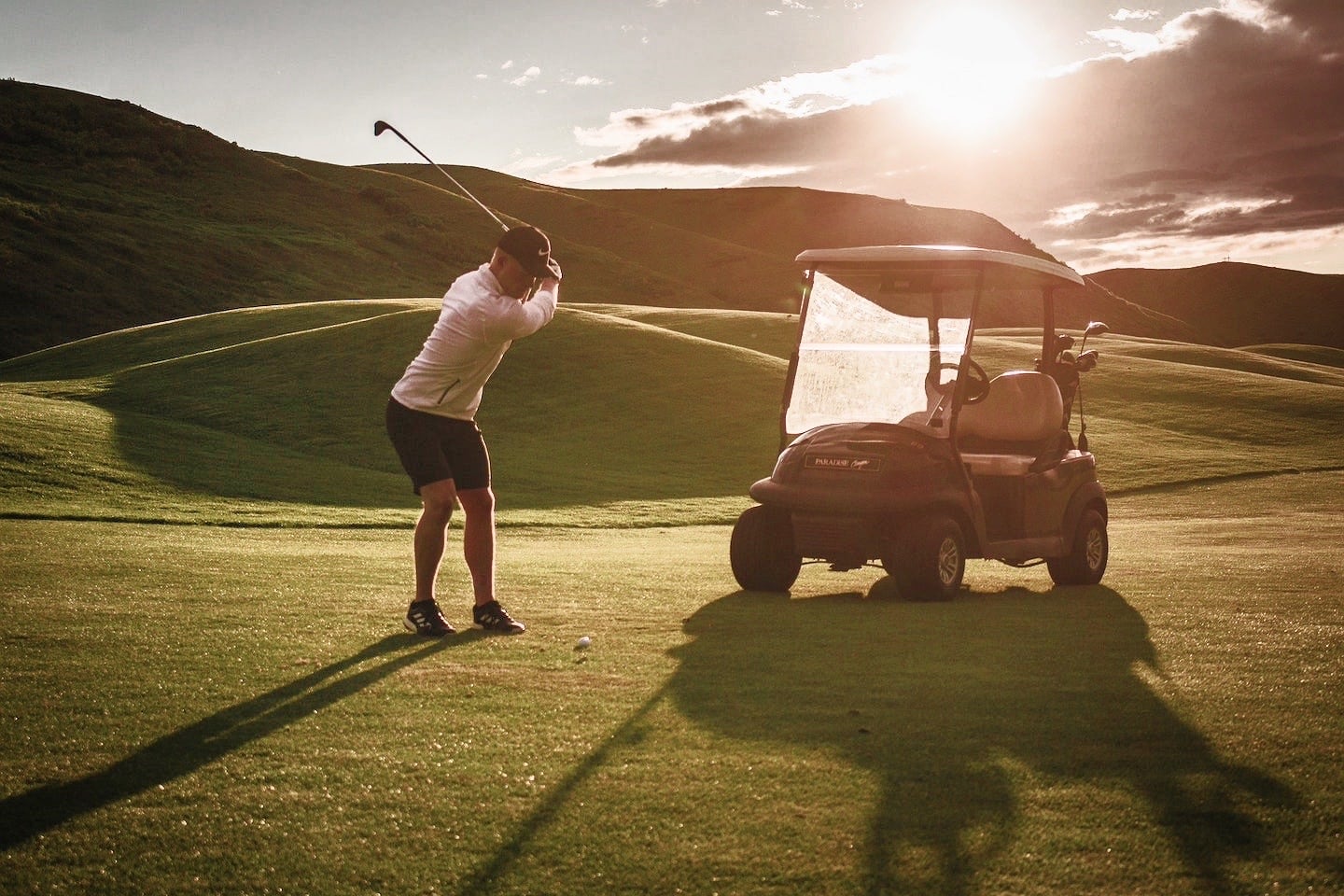 1. Forgetting to Check the Licensing Requirements in Your Area
Before considering buying a used golf cart (or any golf cart, for that matter), make sure you familiarize yourself with the golf cart licensing requirements in your state, as well as local laws and community ordnances regarding the use of golf carts on public or private roads.
In many places, your golf cart will need to be modified to be permitted to drive on public roads. Some places require the addition of a street legal kit, while other places only allow gas-powered carts to use public roads.
If you plan on using the golf cart at a golf course, check the course's rules and regulations first. Not all golf courses allow golf carts.
Make sure you know the rules inside and out before even thinking of shopping for a golf cart. There's nothing worse than throwing down several thousand dollars on a vehicle only to learn that you can't drive it where you had intended.
2. Failing to Get Enough Information on the Golf Cart
Like buying a used car, when buying a used golf cart you are going to want to know some basic information about your vehicle that the seller may be less than eager to share with you.
It might not seem like a big deal at the time of purchase, but failing to get this essential information may come back to bite you in the rear seat later on.
In an ideal world, it would be great to know the maintenance and accident history of the golf cart, and its origin (country, state, etc.). If you can score a logbook and receipts, great! You're ahead of the game.
Oftentimes, however, this simply isn't a realistic expectation to have.
At the very least, you will need to know the following:
Make (e.g. EZGO, ClubCar, etc.)
Model (e.g. TXT, Precedent, etc.)
Serial # (often located on a plate inside the glove compartment or next to the charging port)
Year (e.g. 2013)
Rounds (i.e. # cycles, usually 2005+ records these on the controller)
If you're buying a used golf cart from a private party, there's a chance the seller won't know some of this info, particularly if they're not the original owner.
If you're buying from a dealer and they fail to provide all of this info, walk away. If they're withholding the basics, it doesn't bode well for the rest of the vehicle.
At the very least, if you are able to get your hands on the serial number (and/or manufacturer's number in some cases), that will help you figure out make, model, and year. This site has an excellent guide for figuring all that out.
Finally, if the golf cart is being sold as "refurbished" or "re-manufactured," make sure that it was done by a certified dealer or shop, ask what specifically was done, and request any available supporting paperwork (invoice, etc.), particularly if the asking price seems much higher than a comparable used cart.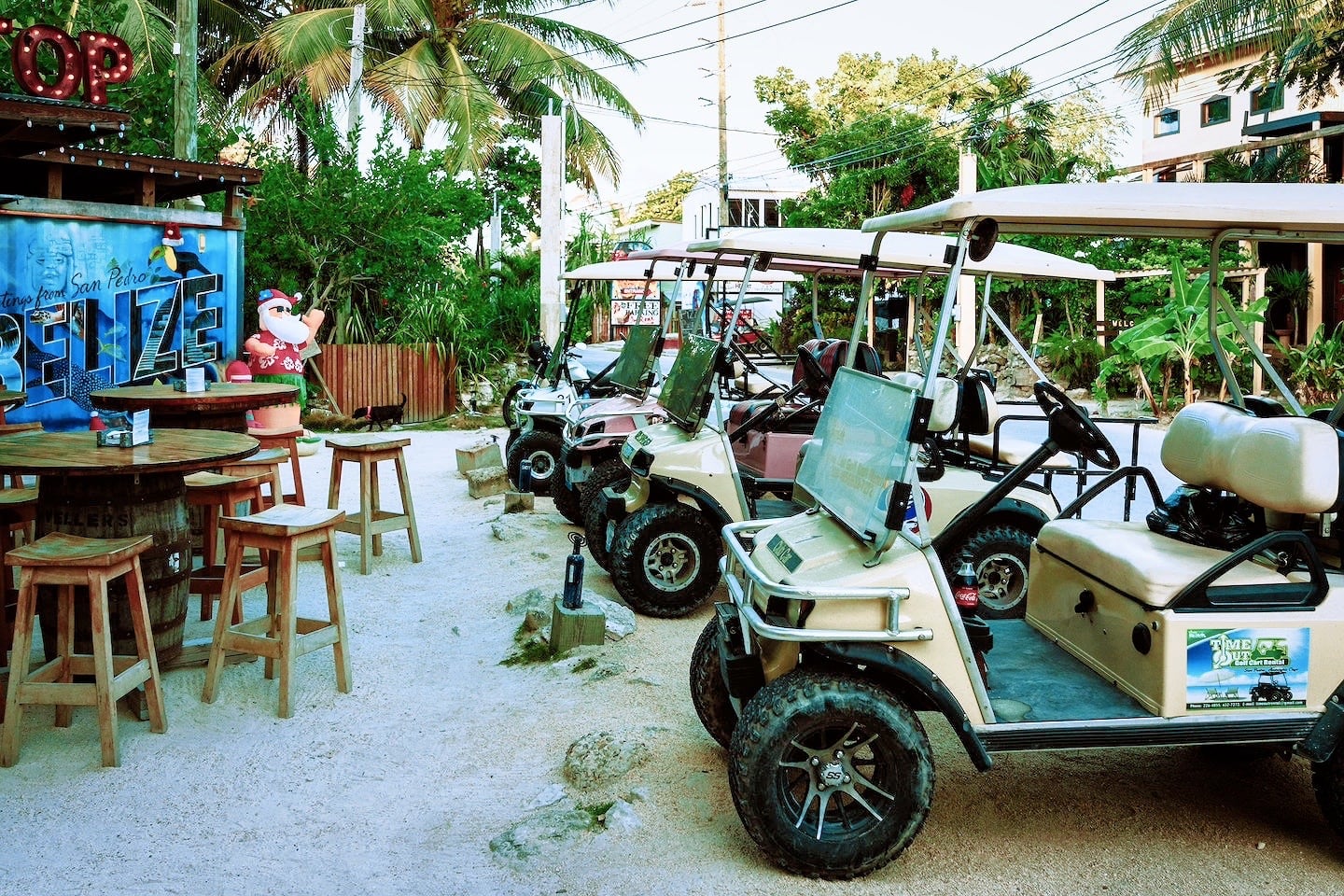 3. Overlooking the Batteries
If you are buying a used golf cart that's electric powered, you will also need to know some basic information about the batteries. If possible, you'll also want to test and inspect the batteries as well.
Golf cart batteries don't last forever, and can easily cost between $1,000-$2,000 for a new set. Faulty or old batteries can also damage other key components of the cart, such as the motor, or the onboard charger (this happened to us).
Keep in mind that these tips are specific to lead-acid batteries, which are the most common types of batteries you're likely to encounter. In the off chance you come across a golf cart with newer lithium ion batteries or some other type, you'll need to research tips specific to those batteries.
At the very least, you're going to want to know:
Battery Brand – Ideally, you're going to want to see Trojan or other top U.S. brands (In Mexico, LTH batteries are also pretty good); you'd also like to see a set of the same brand (e.g. 6 x Trojan 8v batteries for a 48v cart).
Manufacture Date (e.g. 4/2017) (this should be marked somewhere on the battery)
Manufacturer Warranty (newer batteries may still be under warranty)
Charging Habits (frequency/duration) – in the case of standard lead acid batteries, you are hoping to hear "every night" or "any time the golf cart is parked."
Ideally, you'd also want to do three tests when the batteries are fully charged and cooled:
Visual Inspection Inside (e.g. electrolyte levels) & Out (e.g. bulging, cracks/leaks, excessive corrosion, etc.)
Voltage Test (each battery and total)
Hydrometer Test (Specific Gravity)
Always wear protective gear when performing any sort of inspection with batteries. If you don't have the tools and knowhow, be sure to take the cart to a professional who does.
If batteries are cared for properly, they can perform well for many years. It's also possible to find batteries that are only a year or two old that perform poorly due to neglect.
Having an idea of both the age and health of the batteries could save you a ton of money and headaches in the future, so it's important to take a few moments to cover the inspection points above.
4. Buying an Off-Brand Golf Cart
It may seem like a great deal you're getting on that cart brand that nobody's heard of, until you find yourself in need of your first repair or upgrade.
Generally, you can't go wrong with one of the major brands like EZGO, ClubCar, or Yamaha. Parts are easy to come by and golf cart mechanics have lots of experience with the ins and outs of these vehicles, old and new.
Plus, there are millions of customers out there who can attest to the pros and cons specific to each model within the line up of these major brands. Finding similar information for lesser known brands can be extremely difficult, particularly if you are interested in DIY maintenance.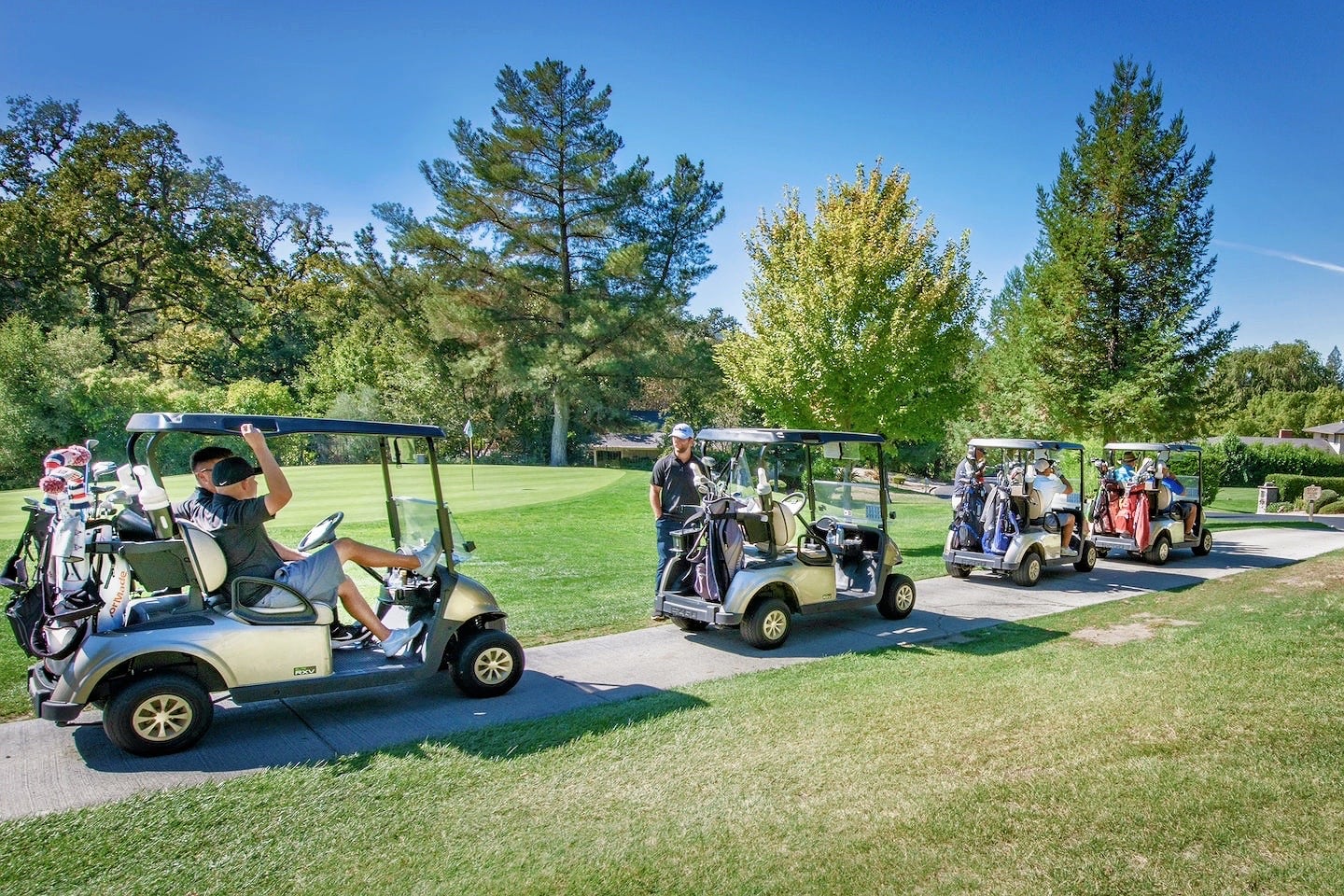 5. Not Taking It for a Real-World Test-Drive
When buying a used golf cart, some prospective buyers take a golf cart for a short spin around a parking lot and call it good. Even worse, they buy a golf cart without riding it at all, or sight unseen.
The only way to ensure that a particular golf cart will be a good investment for you is to take it for a drive that mimics how you intend to use the cart.
If you plan to drive it in a community with steep hills, make sure you test it out on a hill or two to see how it responds.
Likewise, if you plan to use your cart for off-road driving, make sure you spend some time off the pavement, preferably on a variety of terrain that mirrors your intended use.
6. Skipping a Professional Inspection
An essential part of the process of buying a used golf cart that is frequently overlooked (due to time constraints, cost, or just pure laziness) is taking a prospective vehicle to a trusted shop or dealer to have it professionally inspected.
While a professional inspection might be overkill for an older cart with several known defects (and appropriately priced as such), if you are a first time buyer looking at a vehicle with an asking price of several thousand dollars, it's well in your interest to have the cart inspected by a third party if possible.
Why? Unlike traditional gas vehicles, there are a few components in a golf cart that can seem perfectly fine to you in a test-drive, but that can quickly end up costing you hundreds, if not thousands of dollars in a very short time period.
As touched on previously, assessing the health of the batteries should be a top priority. If you lack the tools, skills, and expertise to properly inspect golf cart batteries, critical deficiencies can easily be missed.
Another pricey component that can be challenging to assess is the battery charger, which can also set you back a good amount of money. That's of course in addition to assessing the condition of tires, suspension, electrical, etc.
When it comes to electric carts, the good news is that the motors tend to be pretty durable and robust, and are less likely to fail for no reason, particularly if the cart performs well in a real-world test drive. Also, there's no transmission to deal with, which can be a costly repair or replacement on gas-powered carts.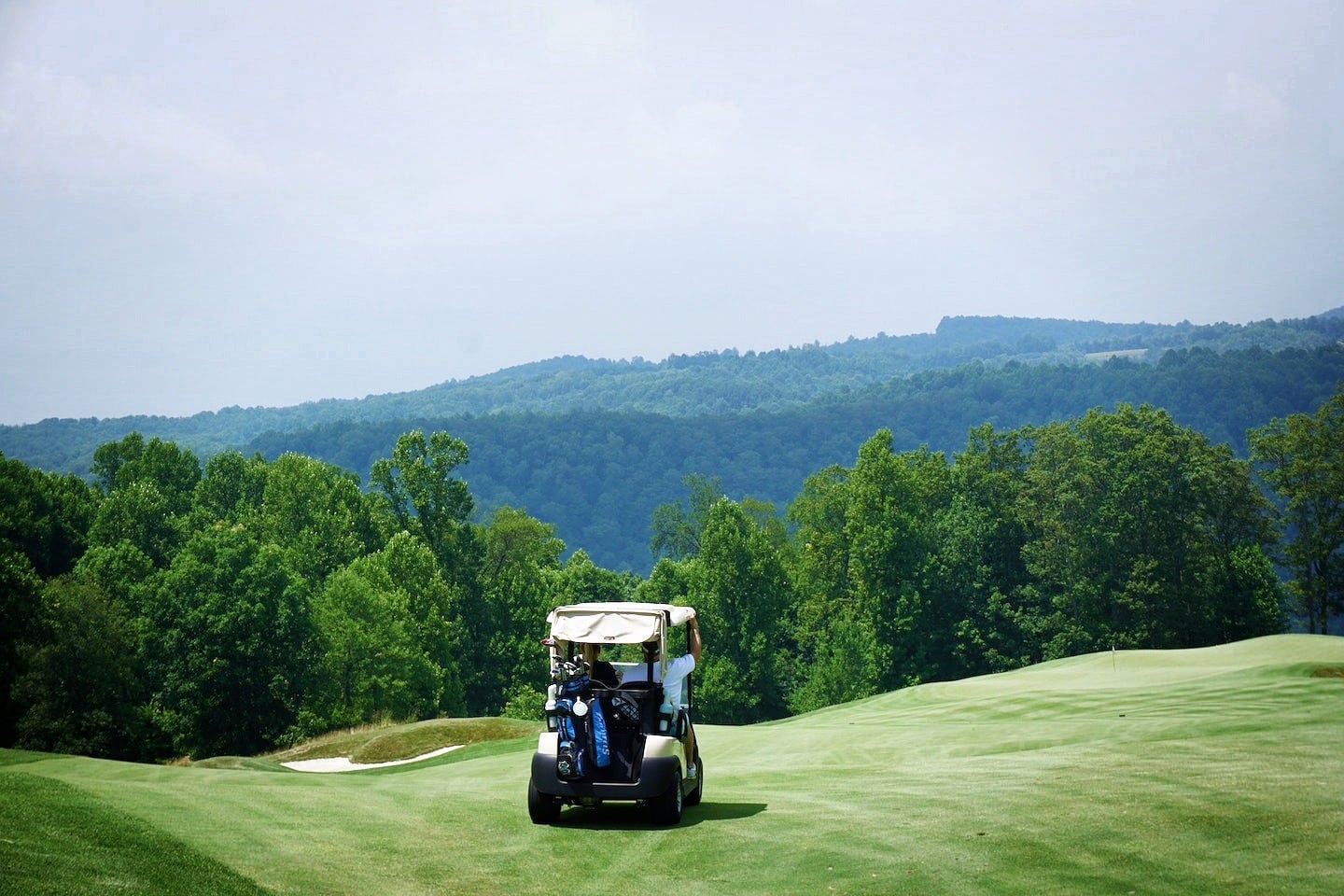 7. Settling for the Wrong Golf Cart
When buying a used golf cart, choices can be limited depending on where you live. It's easy to get impatient and jump at the first golf cart you come across for a decent price. But doing so may very well come back to haunt you.
Consider the use – If you're buying a golf cart to get you from A to B on a relatively flat golf course or retirement community, you're likely to value comfort and easy maintenance over durability, clearance, and battery range.
Consider the climate you live in – EZGO golf carts are very rugged and dependable vehicles, but are built on a steel chassis (versus ClubCar's aluminum chassis). While steel is stronger and superior to aluminum for hard driving and rough conditions (i.e. all-terrain use, ranching, etc.) it is more likely to rust in humid and coastal climates.
8. But…Don't Get Too Hung Up On Features
While getting the options and accessories you want is important, try not to prioritize things like a rear seat, street legal kit, or even a lift kit, as these can all be added later at relatively low cost.
Instead, focus on making sure that the vehicle you are looking to buy is solid and dependable, the batteries are in good shape, its comfortable to drive, and that the make/model fits your lifestyle.
For example, if you're really hoping to get an electric cart with a rear seat, and you are faced with the choice between a gas cart with a rear seat and an electric cart with no rear seat, you'll be much happier buying the electric cart and adding the exact seat you want.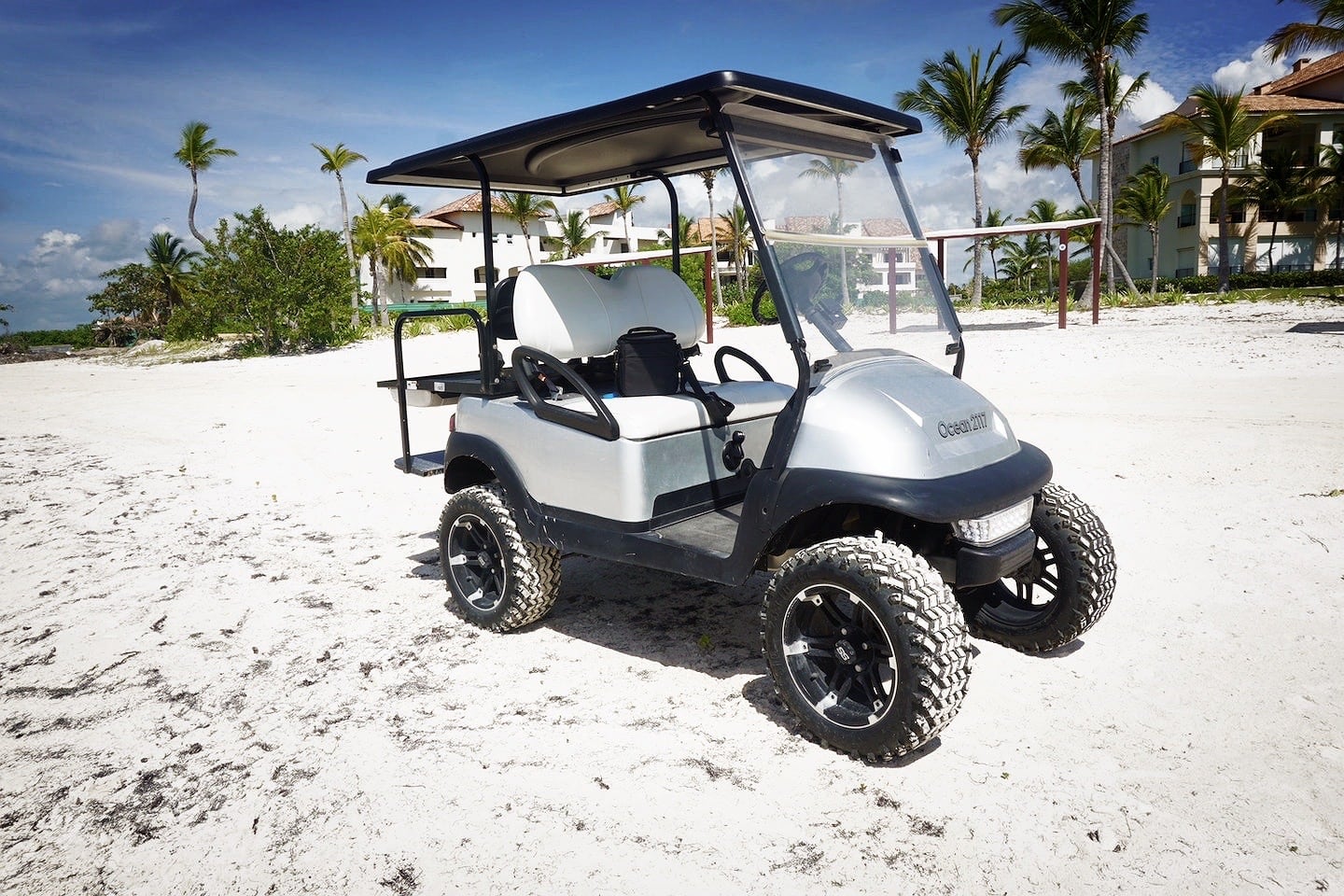 9. Not Negotiating the Price
Keep in mind that even if the price is "Firm" there's always room for negotiations.
Be particularly on the look out for any issues that crop up in the course of your own inspection (or professional inspection, which we highly recommend doing) that weren't originally disclosed by the buyer.
On the flip side, be weary of buyers who seem too eager to sell and are willing to bend over backwards to unload their amazing golf cart (unless the price is insanely low and you know exactly what you're getting).
10. Not Asking Enough Questions
By now, this one should be pretty obvious. Don't be afraid to ask questions about anything, even if you know nothing about golf carts (though hopefully this guide has helped to change that).
Just like buying a car, if the seller gets defensive or makes you feel uncomfortable, there's probably something fishy going on with the cart.
An honest and upfront seller should be happy to answer any and all questions you may have, as it should be in their best interest and they should have nothing to hide.
Essential Golf Cart Upgrades
Depending on where you plan on driving your golf cart, you may need to get a street legal light kit, considering most stock golf carts don't come with lights. If you plan on driving your cart on public roads or at night time, a street legal kit is an essential upgrade. Most kits are specific to the brand of your vehicle (e.g. EZGO, ClubCar, Yamaha, etc.) and usually include head lights and tail lights, brake lights, turn signals and hazards, and horn.
If you plan on riding around with small children, or have a faster gas cart that you plan to drive on public roads, you'll want to consider a seat belt kit. I got one for our cart for our two small children and highly recommend the upgrade!
If you find the perfect single-bench cart but decide later that you'd like to expand the seating capacity, a rear seat is a relatively easy and inexpensive upgrade that will add resale value to your cart in the long run.
Planning on driving your cart off pavement? Maybe you plan to use yours for getting around the farm or ranch. Or like us, maybe the roads in your neck of the woods are a little bit of everything. Then, nubby, all-terrain tires are a must for safety and drivability in all conditions.
If you're thinking of upgrading your tires, you may also need additional clearance for the larger tire size. A lift kit is also an essential upgrade for those who plan to drive their cart off road or on uneven surfaces. The last thing you want is to damage the battery compartment or batteries with a square hit on a sharp rock! Plus, a lift kit with upgraded suspension can significantly increase ride comfort when driving off-road.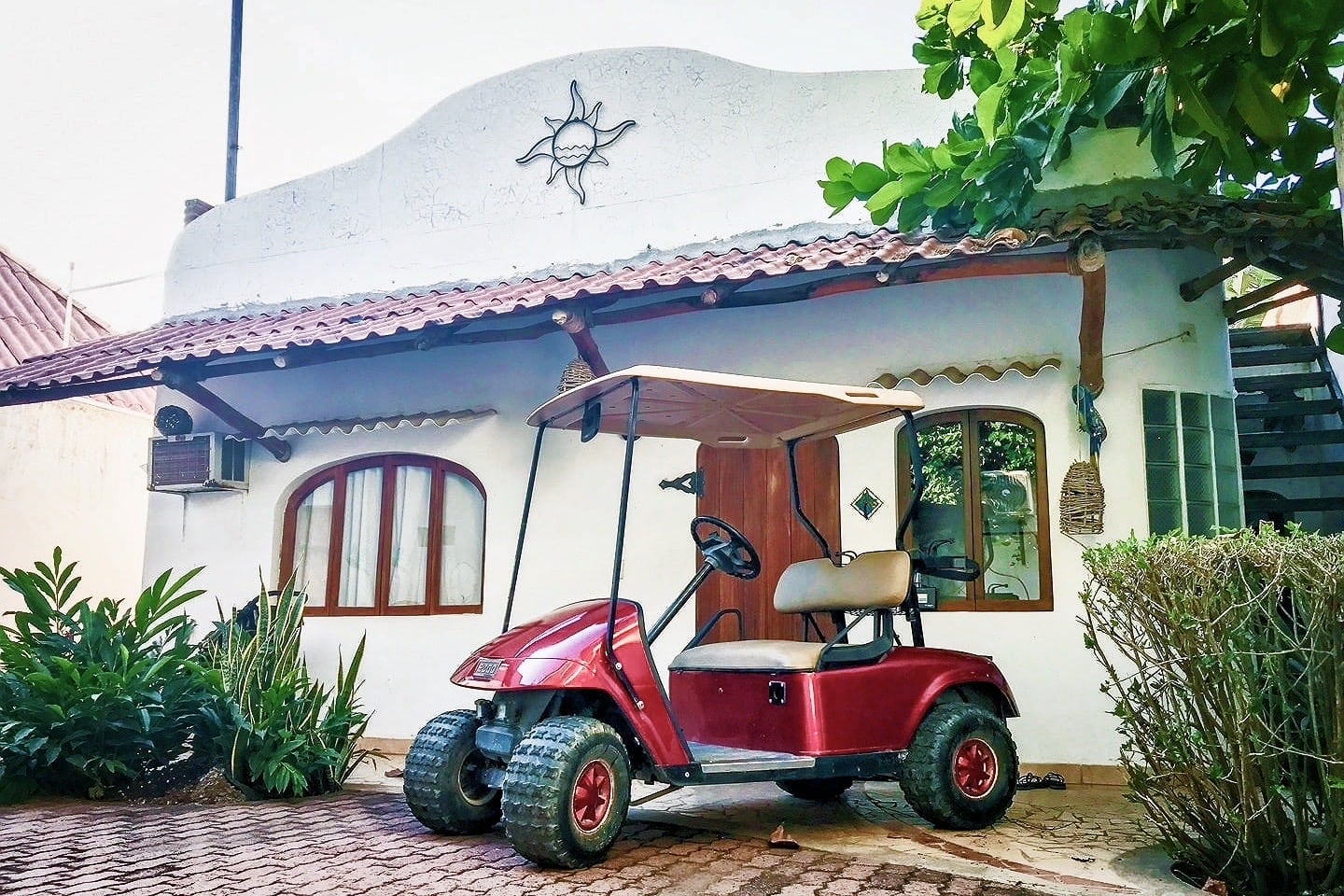 Thanks for Reading Our Guide to Buying a Used Golf Cart
Have you had an experience buying a used golf cart? Let us know what we missed in the comments below.