Every parent has a different idea of what is considered baby travel essentials.
After logging dozens of flights, thousands of road trip miles, and countless hotel and Airbnb stays across three continents with two very young boys, Lori and I have a bit to say on the matter.
Out of the multitudes of pieces of baby and toddler gear we've put through the wringer over the years, only a handful of those really stood out as true travel essentials.
Like any parent, we've made more than our fair share of mistakes along the way. Which also means we've learned a ton as well! A lot of those lessons relate to travel gear for toddlers and babies.
We consider ourselves to be fairly minimalistic in the gear department, so you're not going to find a lot of unnecessary fluff on this list.
What you will find are travel accessories that have made a world of difference in our lives, whether we're on a long-haul flight, doing a road trip with the kiddos, exploring someplace new, or just doing our weekly grocery run.
While travel gear alone won't vanquish the baby travel Bogeyman, knowledge and preparedness make traveling with toddlers a lot less stressful, and a lot more fun!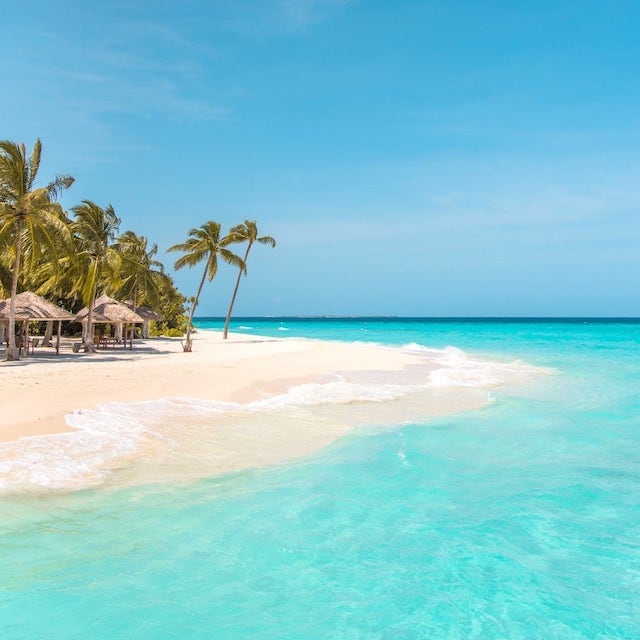 Subscribe to AwayGoWe!
Get our latest articles in your inbox, plus subscriber-only travel tips, special promotions, and more!
And this checklist of baby and toddler travel essentials is a great place to start.
16 Game Changing Toddler & Baby Travel Essentials
1) All-in-One Ergonomic Baby Carrier
Despite all the marketing for baby and toddler gear, there are very few true travel essentials. A comfortable carrier is one of those.
When our #2 came along, we considered a carrier like the Tula for our oldest (who was 2.5), but wanted the versatility of carrying baby or toddler with the same thing. For that and more, the Ergo delivered.
And the new Omni 360 makes wearing either kiddo possible in a multitude of positions. Ergobaby's newest update has been redesigned and is even more comfortable and ergonomic than our old 360.
On the fence? Read our detailed review on both the original Ergobaby 360 and Ergobaby Omni 360.
---
2) Volume Limiting Headband Earphones
For plane rides and road trips, this comfy earphone headband can be a life saver. These headphones make it possible for our son to still listen to Raffi on repeat on an airplane without us receiving death threats from other passengers.
The soft headband means older babies and young kids are less likely to mess with it like earbuds or traditional headphones. And the volume limiting function ensures that the sound will never be too loud for baby or toddler's ears.
---
3) Packable Soft Cloth Highchair
A soft, packable high chair is a true essential for traveling with an older baby or younger toddler, particularly if you travel overseas or find yourself doing snack time out and about where this is no high chair.
This cloth chair turns almost any standard chair into an instant high chair and packs down to less than the size of a baseball.
---
What Makes AwayGoWe Gear Guides Different
Why trust our travel gear recommendations? All of the gear on this list has been personally road-tested by us (unless otherwise noted).
While this page contains some affiliate links, we don't do sponsored content here on AwayGoWe and we don't accept requests to peddle anyone's product.
That means that our opinions and recommendations are 100% independent and unbiased (though we will admit we have a strong bias towards useful gear that's built to last!).
---
4) Safety Harness Backpack
Our oldest absolutely loves his toddler-sized backpack, and we love that he can carry his own water, sun hat, and toys with him when we're out and about.
This particular backpack even comes with a removable "safety leash" tether. We haven't used the tether ourselves, but for cities with wide and uncluttered sidewalks, it could give young toddlers a degree of walking freedom while keeping them from stepping into traffic.
Whether you choose to use the tether or not, this well-made pint-sized pack is worth the investment.
---
5) Packing Cubes
While Lori's been using packing cubes long before the two of us started dating, our travel organizers have become even more essential since the arrival of our first.
If you plan on backpacking, compression stuff sacks are the way to go. But for suitcase travel and everything else, soft packing cubes are the best use of space.
We use them for just about everything from clothes to first-aid supplies, toys to snacks. When we need any of that, all we have to do is reach into the suitcase and we're good to go.
---
6) Travel Foot Pillow for Kids
Turn your toddler's airplane seat into a flat bed! A lot of companies make inflatable airplane pillows, but the wapwap travel bed is unique because the height is adjustable and you can even use the cabin overhead air vent to inflate it!
This is the only one of the toddler and baby travel essentials here that we haven't used ourselves. But we have close friends who swear by these, and we're really hoping to get our hands on one before our next long haul flight.
---
7) Static Stick Car Window Shades
Even if your car already has tinted windows, direct sun can really annoy the heck out of a baby and ruin a trip. These packable sunshades are great for hot climates or summer drives, particularly if you're hoping to work in a nap (for the kid, not the driver…).
No need for suction cups or adhesive because they use static to stay on the window and fold up to the size of a small plate for easy stowage.
---
8) Portable Travel Crib
There's not much more we can say about the Lotus crib that we haven't already said on our blog already. We absolutely love it!
This travel crib is compact, lightweight, and indestructible, with lots of useful features like the side zipper door and carrying case backpack. Definitely one of our best baby travel gear investments!
Undecided? Check out our detailed review of the Lotus Travel Crib for more of our thoughts on the crib after years of use and abuse on the road.
---
9) Insulated No-Spill Travel Cup
These Munchkin cups are hardly a secret, but very much an essential for our boys when we're out and about.
We especially like the insulated cups for the hot weather here, and we know we can always rely on this cup not to leak in the backpack or spill when our youngest inevitably tosses it out of the car seat/ stroller/ highchair to make some sort of baby statement.
---
10) Full-Body UPF 50+ Toddler Bathing Suit
This full-body swimsuit was one of the best purchases we've made, and has proven to be a game changer for us. Instead of having to lather an excited toddler from head to toe in sunscreen every time we go for a swim, we just slap this bad boy on, cover hands, feet, and face with sunscreen, and we're all set!
It was surprisingly hard to find a toddler-size full-body swimsuit, but this one was perfect. It's been worn and washed dozens of times and still looks new.
---
11) Hiking Child Carrier
We love our ErgoBaby carrier (see above), but once our little toddler became a much bigger toddler, it was time to take things up a notch. Our Deuter hiking carrier has now become an essential part of our toddler travel gear whenever we hit the trails.
We've tried to run it into the ground, but this thing is a beast. Lightweight and the most comfortable backpack we've worn. And best of all, our youngest, who is now two, loves riding in it.
---
12) Kids Swim Goggles
Speaking of swimming, if your toddler loves splashing around, goggles will open up a whole new underwater world (and help them to gain confidence in the water).
We searched high and low for goggles that sealed properly around tiny toddler faces, and these Splaqua goggles do just that.
---
14) Video Baby Monitor
It's true, not everyone's situation requires a baby monitor, and many parents these days prefer monitors that connect to your smartphone via wifi.
For travel, however, it's really hard to beat this monitor. Wifi can be unreliable where we travel, but more importantly, we don't generally like having to tie up one of our phones during nap time.
The DXR-8 also uses interchangeable lenses (wide, tele, and normal) so you can adjust the field of view depending on the room.
---
15) Popup Beach Tent
If you spend a lot of time outdoors with your kiddo, sun cover is key in the hot months (or hot climates). Having a pop up beach tent has become one of our top baby travel essentials, especially when we're at the beach.
This WolfWise tent has UPF protection and a ton of cross-ventilation, which is a big plus on a hot day. AND, it's anchored by four sand bag feet to keep it from blowing away.
If we lived closer to the beach, I'd probably invest in the Neso beach canopy (I'm big on getting sand between my toes and as much of that ocean breeze as possible). But for our current circumstances, this popup beach tent ticks all the boxes.
---
16) Washable Bibs with Food Pouch
Last, but certainly not least on our list of baby and toddler travel essentials, we've got these awesome SuperBibs! Easy to wash, adjustable, and virtually indestructible!
We rarely leave home without one of these for either kid. The main disadvantage of the packable cloth high chair that we use (see above) is that there's no tray to eat off of. The built-in pocket of these bibs helps a lot with that.
---
Want More Baby & Toddler Travel Tips?
Check out our other essential reading for traveling with a baby or toddler!
And That's Our Toddler & Baby Travel Essentials List!
Did we miss any of your own personal favorites? Let us know in the comments below!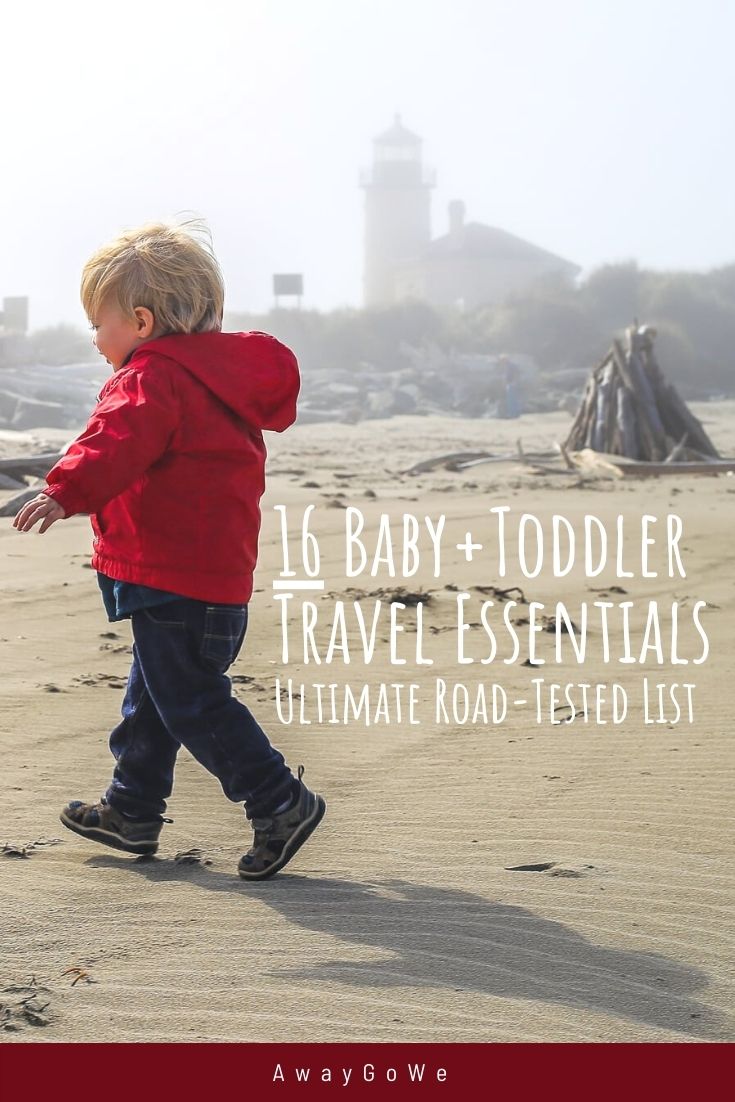 As an Amazon Associate we earn from qualifying purchases. We're also members of other affiliate programs. Learn more in our privacy policy.