It's 8:30am in the eastern Bangkok district of Bang Na and we've just seen off Lori and the rest of the PT delegation from Laos. Well, Noe…what should we do with our day? How about another trip to the corner 7-Eleven? That sounds fun, right?
It can feel at times like Thailand is conspiring against people like us in an effort to make our lives difficult, just for giggles.
At the beginning of 2017, the Thai government thought it best to impose a two-entry maximum per year on non ASEAN nationals (i.e. us!) at land borders, I guess in an effort to raise revenue from numerous foreigners living indefinitely in Thailand by forcing them to apply for a visa after a short interval. However, for people like us on a long-term work visa in Vientiane, that means only two chances per calendar year to cross the Mekong to access a wider variety of first-world medical and dental care and shopping plazas, or just to get out of Vientiane for a few hours and see the historical sights of Nong Khai or famous lotus field lake in Udon Thani.
After your two initial freebee visits, it's about US$35 a pop, per person, just to cross the river (or US$150 for a 6-month multiple entry visa, per person). By mid-May, we had blown threw our two freebies with two hospitalizations for Noe in Udon Thani, which pretty much means that anything short of an emergency to the other side of the river is off limits to us until 2018 (unless we fly, which is of course more expensive than buying a single entry visa). We can't even take an overnight train to Bangkok without a visa, as the same land border rules apply.
It's not even that we feel compelled to shop over the border. We're perfectly happy doing the vast majority of our shopping here in Laos and supporting the Laos economy. But sometimes, you want to see a medical specialist. Sometimes you need some advanced detail work done. Sometimes, you'd just like to peruse strollers or carseats that aren't available in Laos without paying over US$100 just to cross the border for a couple of hours.
And then, there's the whole stupidness of Thai phone SIM cards. And that's where our story starts today.
In 2012, Lori and I knew we'd be in Thailand for about a month, and consequently, bought ourselves a Thai SIM card to make it easier to call ahead to guesthouses and use in an emergency. The SIM cards didn't offer affordable data at that point, but they do now. So, when we made our first trip back to Thailand (Chiang Mai) in October, shortly after moving to Laos, we bought a couple of TrueMove 3G/4G SIM cards for our phones as we knew we'd probably get a lot of use out of them over the next couple of years. Little did we know, they are valid for 30 days…unless you do the SIM dance.
SIM cards are cheap. Credit is cheap. So, in theory, you could just get yourself a new SIM card every time you visit Thailand, but this is a pain in the butt. For starters, you can buy SIM cards at most 7-Elevens, but only certain ones carry the non-tourist SIMs (which limit you to seven days). Two, it takes about 10 minutes to register your SIM at 7-Eleven, requiring that you have your passport on hand. On top of that, you are given a different phone number each time, which I then have to put into Lori's phone so she can text with me, etc. Who wants to waste time doing all of this, even if they only travel to Thailand 3-4 times per year?
This is where the "SIM dance" comes in. The validity of your SIM card is extended by 30 days every time you add credit (top up) — any amount of credit, even $0.15. After going through the effort of securing two new SIM cards on this trip, I was intent on them being usable when we return in early December. That meant five top-ups per phone, or ten separate transactions at 7-Eleven. So this became my mission over the nearly two weeks we spent in Thailand. Any time I saw a 7-Eleven, I'd run in and top-up (our rule is only one phone at a time). Noe and I made it into a fun adventure, trying to avoid topping up at the same 7-Eleven, which isn't difficult to do, given that there are more 7-Elevens in Thailand than the U.S. Yes, there are probably easier ways to accomplish this, but this was more fun, and besides, how else were Noe and I going to pass the time? Visiting more temples and swanky shopping malls? Shah, right?
After our visit to the day's first 7-Eleven, we jumped on the westbound BTS SkyTrain to my favorite-sounding station in the entire city: Ratchathewi! The trip along the Sukhumvit line took us about 45 minutes from Bang Na. Noe loved looking out the windows at all of the buildings and cars flying by. They don't call it the "SkyTrain" for nothing. The elevated railway system is several stories high and traces a major surface road. It feels like your literally flying narrowly between high-rises.
Our objective for the morning (in addition to visiting 7-Elevens) is the popular Jim Thompson house, a short walk from Ratchathewi station along one of the major canals (above).
Jim Thompson was an American CIA (OSS) operative based in Southeast Asia during the Second World War, who became enamored with Thai culture, and more specifically, Thai textiles. As the story goes, he single-handedly (of course) revitalized the Thai silk industry and is apparently responsible for lifting thousands of people out of "poverty" and making Thai silk world famous. He mysteriously disappeared in the 1960s and was never seen or heard from again. Honestly, his background and accomplishments appealed less to me than his house — a solid and beautiful, fully-handmade traditional Thai compound made completely of repurposed timber, with stunning grounds. As a bonus, due to his sudden disappearance, the house remains largely as it had been left in the five decades earlier. Unfortunately, photos of the actual house are not permitted, but Noe and I managed to snap a few selfies at the nearby koi pond and restaurant.
Today's outing marked a significant turning point in traveling solo with Noe. It was my first time using his Sack 'n' Seat without Lori, and, the first time he had 100% grown-up food for lunch.
Visiting Bangkok?
Check Out Today's Top Tours & Experiences
The outing had taken a bit longer than planned, so I hadn't packed one of his pouches of puree. So…Noe and I split a club sandwich, and a tasty one at that. And he loved all of it: the bread, the tomatoes, and of course, the delicious cheese! I chose not to share my bacon. That stuff's a delicacy in Lao and I wasn't prepared to relinquish any of it for fear that he'd only want more. Sorry Noe, I love you buddy, but that's daddy's bacon.
Lori and I have been inspired by the French parents we've met in Laos who firmly believe that children should be fed what the parents eat as early as they are able (you know, filet mignon, cheese, wine…what else do French people eat?). While Noe's diet still mostly consists of homemade baby food and breast milk, we have been increasingly trying to work bits of what we eat every day into the mix (minus the wine, of course, 'cause that stuff's expensive). The biggest downside of this is that he wants to eat everything he sees us eating, regardless of whether its a quick bite of chocolate or a Lao sausage, which has forced us to be a little more covert in consuming our guilty pleasures.
After a full morning of 7-Eleven hopping, house-touring and a delicious lunch, it was time to head back to our hotel in Bang Na. It was also nap time. Fortunately, Noe went right down during our walk back along the canal, and slept for most of the train ride back.
From the Bang Na BTS station, it's a short, 10-15 minute walk to our hotel, Brighton Suites. On the whole, Sukhumvit Road is lined with recently-constructed glass and concrete high-rises, until you get out to Bang Na, where vestiges of old Bangkok (complete with trees growing out of the sides of crumbling concrete apartment blocks) still dominate the landscape.
Crossing the canal back into Bang Na offers another glimpse into the not-too-distant past, when much of this area likely resembled something more along the lines of actual jungle rather than concrete jungle.
During Lori's conference days, we stayed with the rest of the Laos delegation here at Brighton Suites. It's a nice place for the money with apartment-style suites, though I dare say if you aren't attending a function at nearby BITEC (Bangkok International Trade and Exhibition Centre), you likely won't find a need to stay this far out from the city center. With that said, if you do find yourself at BITEC, there are few better options, and it's a short walk from the BTS which can cheaply and efficiently ferry you to the airport or city center.
As we were traveling as a family, our suite was a bit larger. We slept in the bedroom portion and set Noe up in the living area portion just off the kitchenette.
One could easily stay here for weeks, if not months, and indeed they have weekly and monthly rates for such circumstances.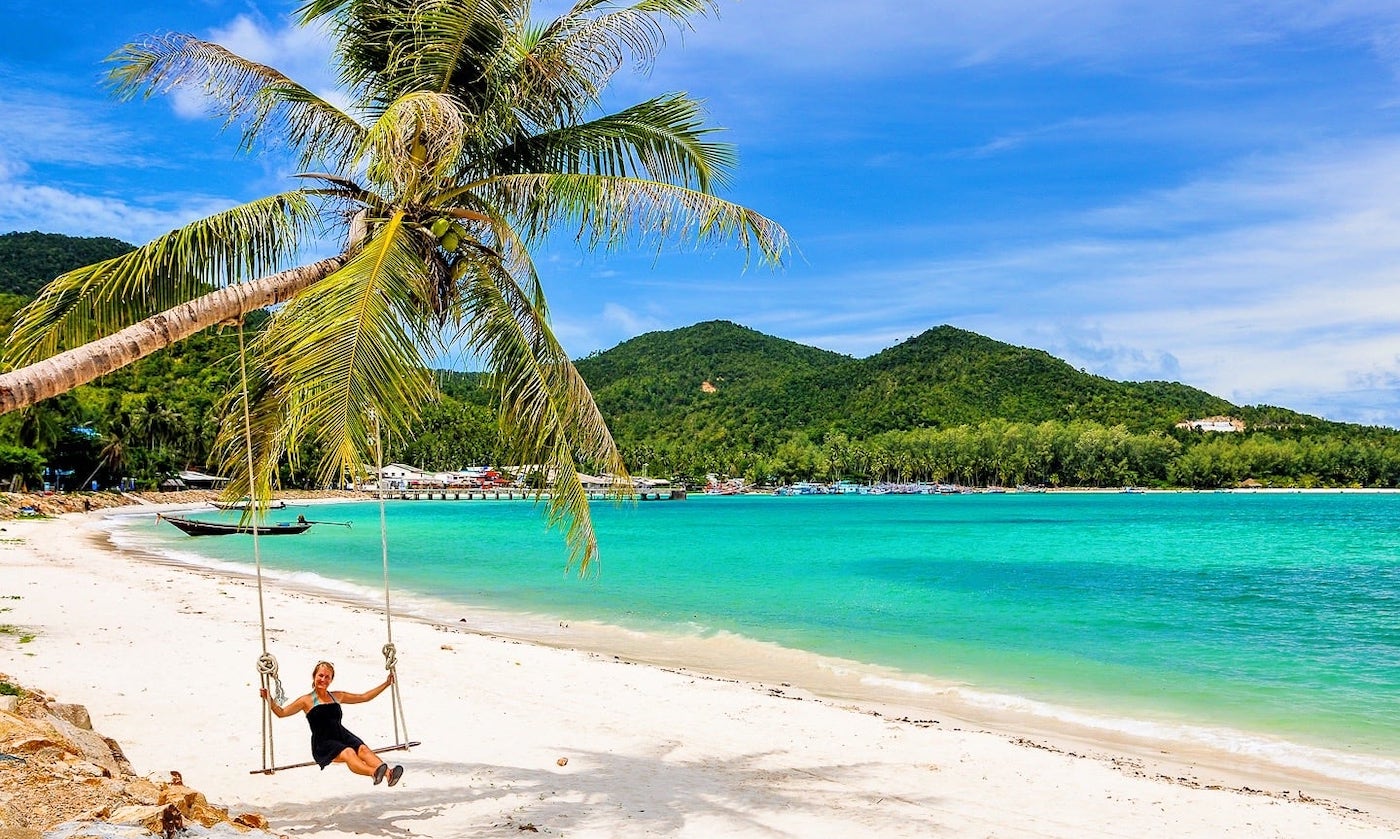 Stuck at home?
Get your free email series now!
5 SECRET BUDGET TRAVEL DESTINATIONS
You'll be amazed how affordable these bucket list destinations are. Plus our best cost-saving tips to help you plan.
For more information on how we use your data, see our privacy policy. Unsubscribe at any time with one click.
My favorite feature of this room was the balcony, which, in addition to offering views of the Bangkok skyline, has it's very own washing machine!
The following day, Noe and I decided to lay a bit lower. Daddy's feet were killing him, and Lori wanted to meet for lunch in the BITEC cafeteria. So, after Noe's nap (and discovering two new 7-Elevens in the neighborhood!) in the morning, we made our way down the street to the imposing BITEC complex.
After a tasty lunch of A&W burgers and Root Beer with Lori and her colleagues, I worked on putting down Noe for a nap on me and made my way slowly back to the hotel.
Walking between BITEC/BTS and the hotel takes you through this funky wat complex (complete with a chedi and roosters each wearing a lei (I think the jokes write themselves for that one). 2560 is, after all, the Year of the Rooster, but I can't say I've seen them displayed so prominently in a temple.
The hotel is nice and all, but Noe and I found it was only a matter of time until we were itchin' to get back outside. But where should we go? We're due to meet Lori in an hour. We could just head back to BITEC a bit early. Hmm…problem is, if we leave now and go early, we're just going to be wandering the main hall for 40 minutes until Lori is finished with her final session of the day. Or…we could just crash her session and join her. But neither of us have ID tags! How will we get in? Fortunately, Noe had a plan…
…which amounted to him hiding while I try to blend in…in a room full of men and women in dark suits. Yeah, this'll work.
In the end, we got there just as the session was ending, and no one seemed to care much that there was a slovenly farang dude with a baby roaming around a regional health professionals conference.
Noe even got to check out his mommy's team's conference poster.
So where to now? Still not satisfied with merely visiting BITEC (albeit twice) on our last full day in Bangkok, we decided to head to the BTS and take the train westbound a half dozen stops for a couple cocktails on one of Bangkok's amazing rooftop bars.
While "reading" a book with Noe on the train, he became distracted by a cute girl about his age across the aisle. He was content to shoot her inconspicuous glances…that is, until a woman came and stood right in front of him, blocking his view completely. So…he leans as far as he can to get another peek of the girl. Cool Noe. Real cool.
I picked Octave bar on the top of the Sukhumvit Marriott for happy hour cocktails because it was the highest-rated rooftop bar within a reasonable distance. I was quite happy with my decision.
We do love our rooftop bars and endeavor to visit at least one (usually the highest) in every major city we visit. Octave is not the highest, but it's got to be one of the coolest.
Occupying the hotel's top THREE levels, it's got a vibe for everyone — comfy lower level (above), mid-level for couples (below)…
…and top level (below) for young guys who like the sound of "VIP" on anything and congregate wherever there's loud music, blue neon lights, and the hope of young, attractive, single women (or men, for that matter).
Just around the corner from the Marriott is Sit & Wonder, a quirky and ridiculously tasty restaurant like none other we've been to in Bangkok.
Apparently, this SkyTrain is sponsored by Chang beer.
Sadly, there were no Chang representatives handing out free samples…maybe we just missed them.
Lori was on a deadline to help finish a big work proposal and Noe was on a deadline to sleep, which left me, by my lonesome, sitting out on our balcony, with none other than a bottle of Chang (guess the advertising worked), taking in the city lights one last time.
Tomorrow, it's island time, baby.